Machine binding a quilt can save you a lot of time and allow a quilt to hold up better with repeated washings. Today I'll teach you how to bind a quilt with a sewing machine using a special trick that will yield great-looking binding and straight stitches every time!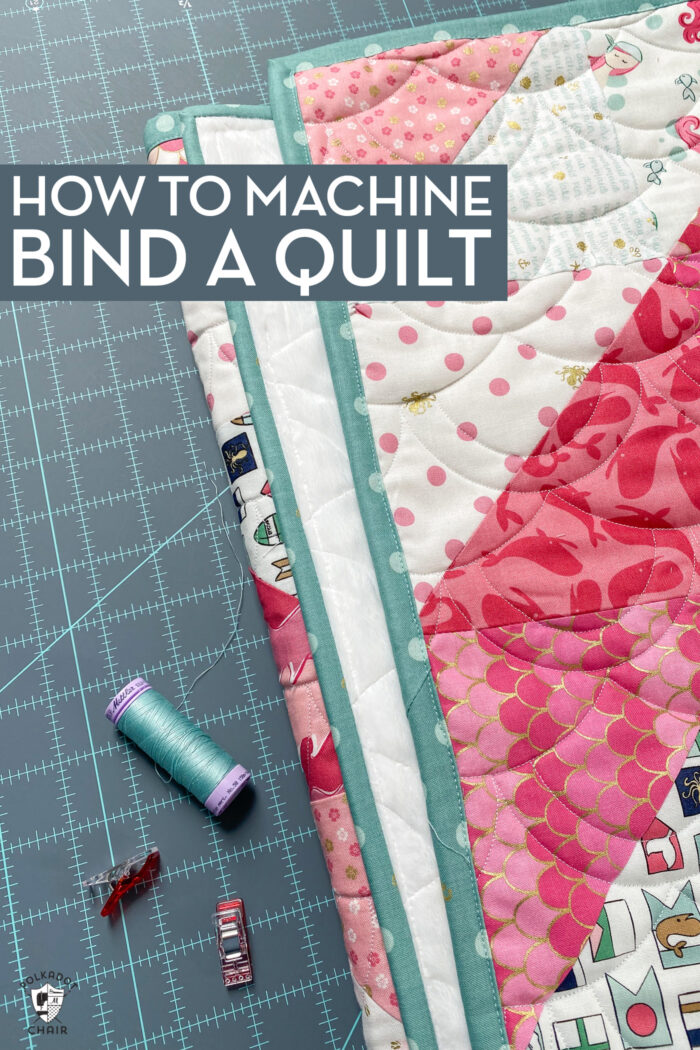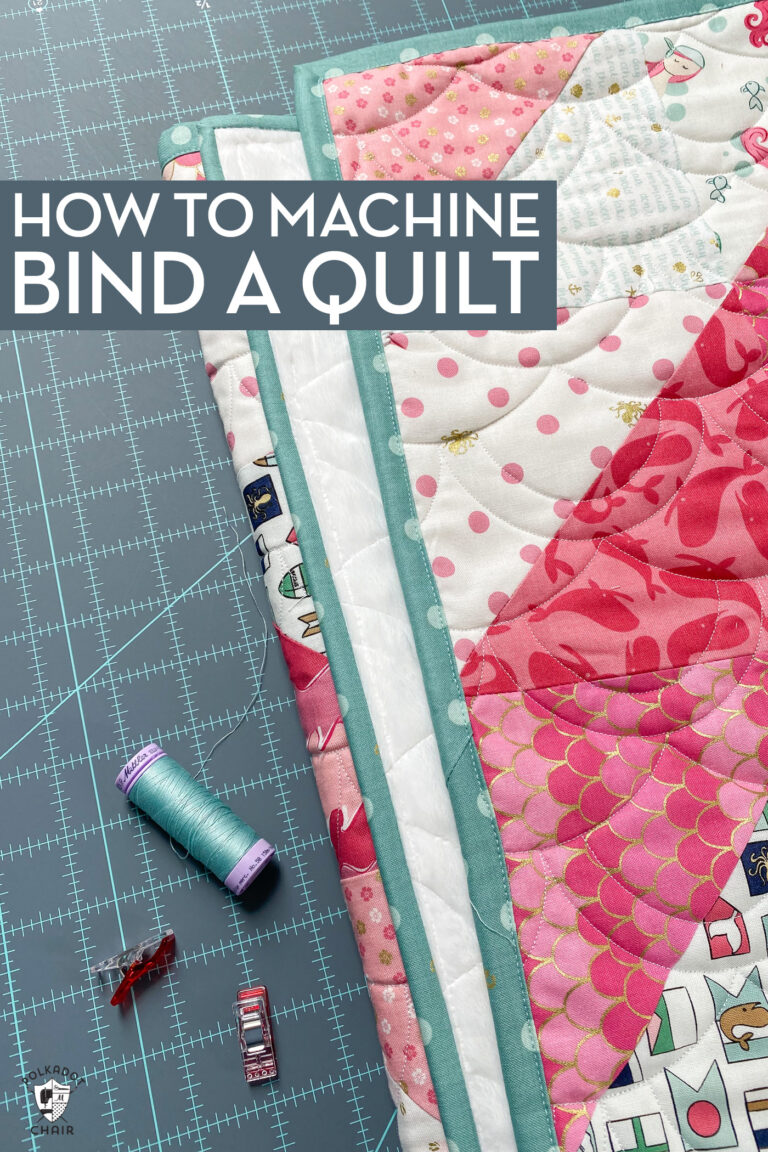 First I'll start by saying that I know this technique is not for everyone. If you prefer hand-stitched quilt binding, that's totally ok. However, if you find the need to sew the binding of a quilt by machine, then I think this post will help you a lot.
Table of Contents
I've bound MANY quilts by machine over the years. Mostly because I was always pressed with a deadline. I've tried many different methods but find myself coming back to this one over and over again.
It involves sewing the binding to the back of the quilt instead of the front and using an edgestitch foot to give you a perfect finish!
Why Would you Machine Bind a Quilt?
There are several reasons that you might want to bind a quilt by machine instead of by hand. First, if the quilt is for a baby or small child, and it will be washed frequently, I feel that machine binding holds up better with frequent washings.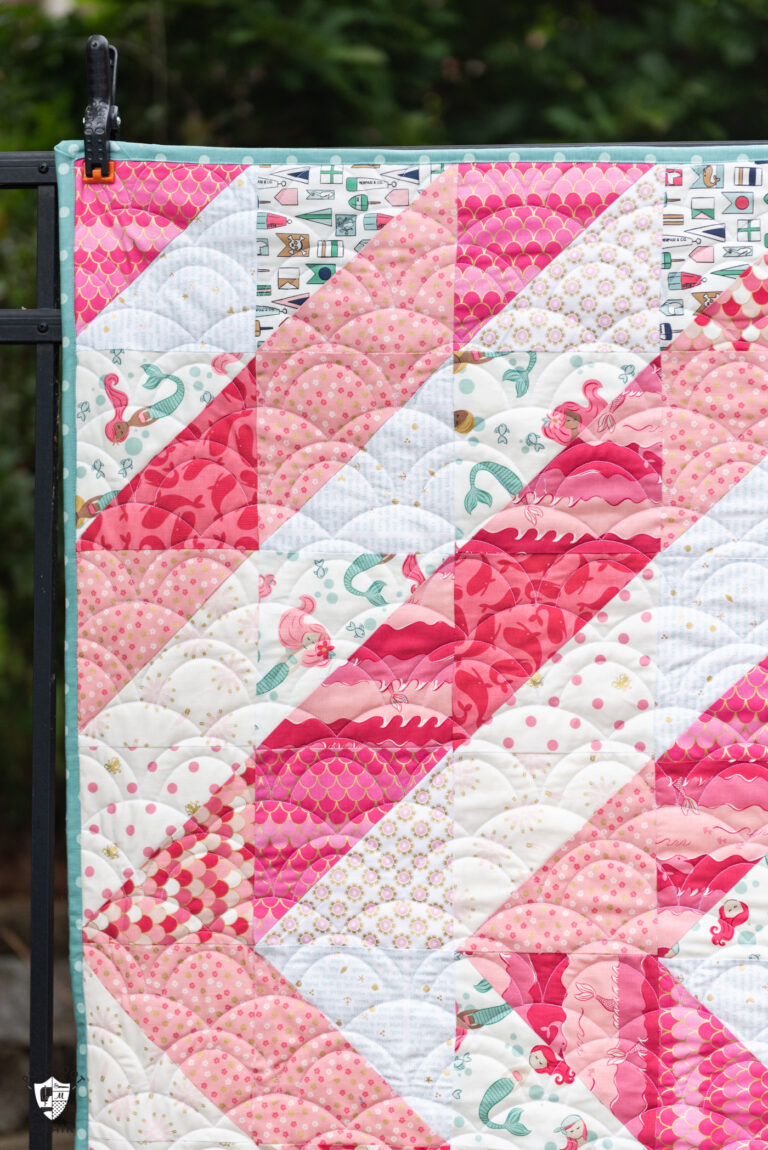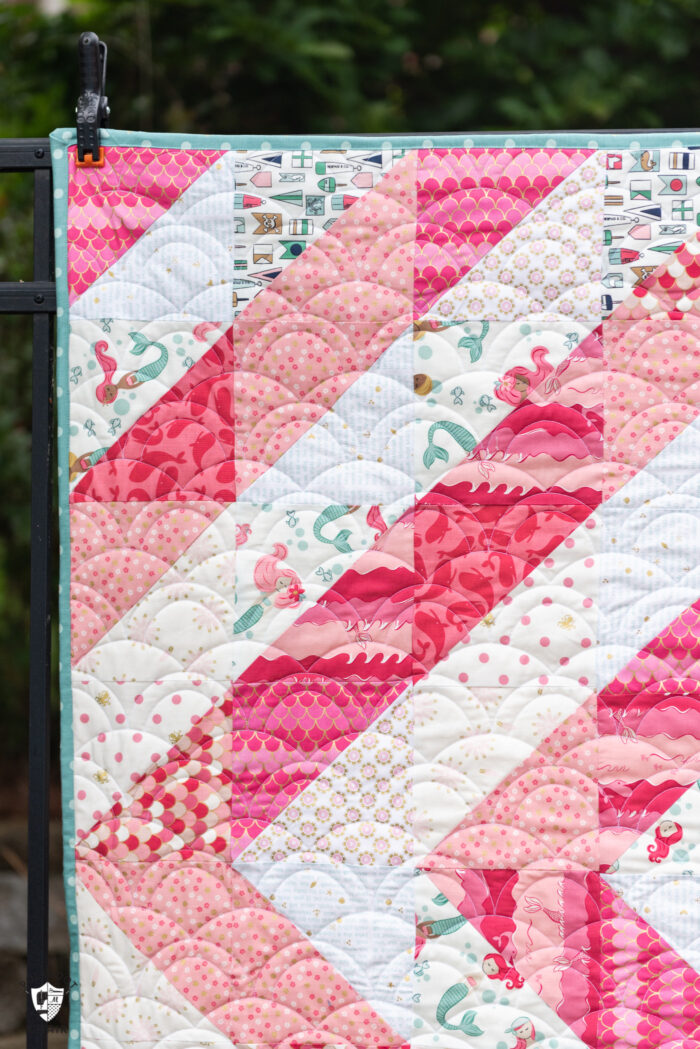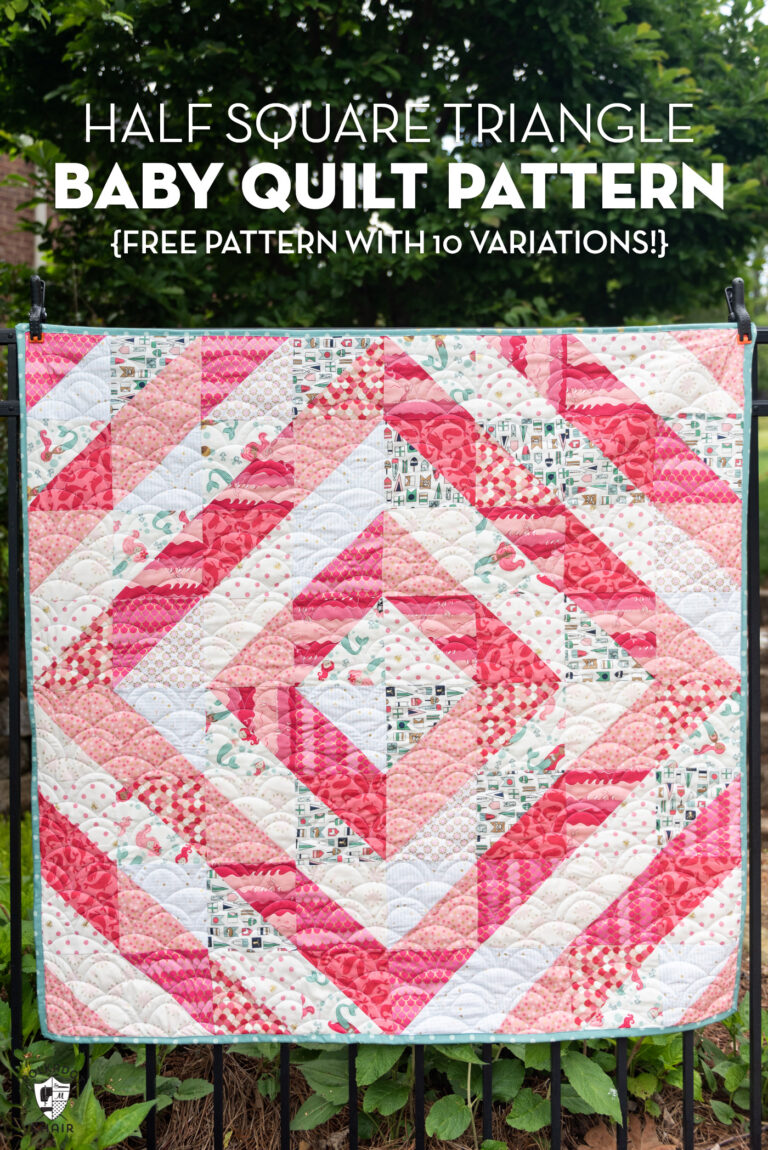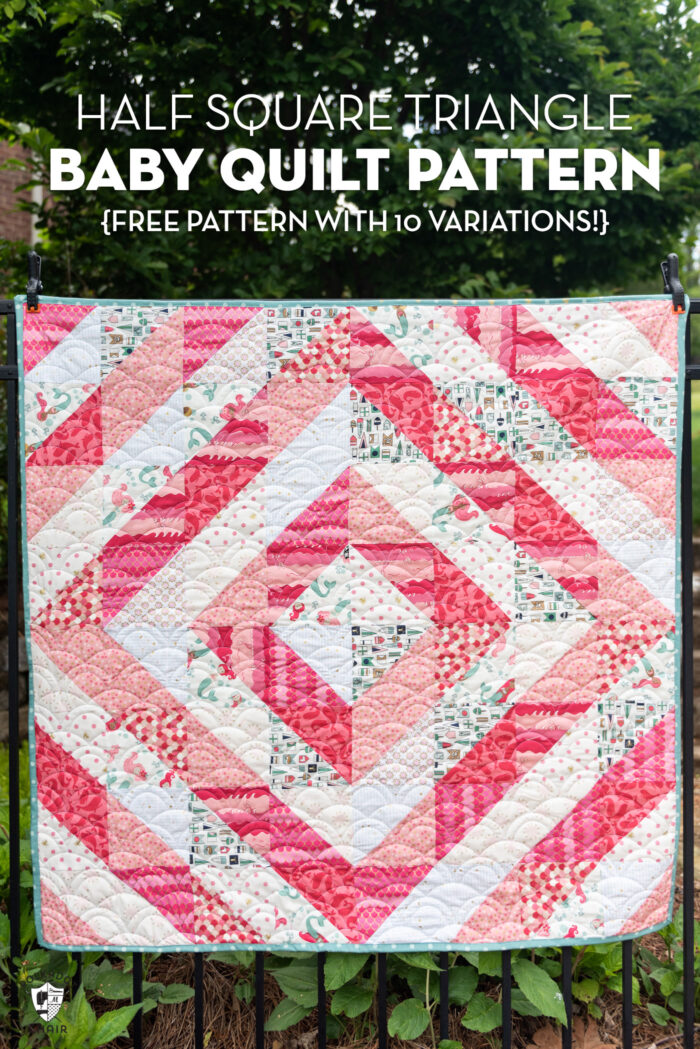 (free pattern for the pictured quilt)
Another reason is that hand quilting is hard for people with arthritis. I have arthritis and find that I've bound a quilt by hand that sometimes my fingers hurt for days. I can't do it. I've found that for me, machine binding is much easier on my hands.
What do You Mean by Machine Binding?
There are two methods to bind a quilt. One is to sew the quilt binding to the quilt with a sewing machine and then hand stitch the binding down. This method yields the "prettiest" results since you can easily hide your hand stitches in the binding.
Machine binding a quilt involves sewing the binding to the quilt by machine and using a machine to sew the binding in place. Some do not prefer this method since you have visible stitches on your quilt when you are done. I'm going to show you a method today that makes those visible stitches look pretty good.
Do I Need to Cut the Fabric on the Bias?
No. The only time you need to cut fabric on a bias when binding a quilt is when you are binding curves. If your quilt has curved corners, you will want to cut your quilt on the bias.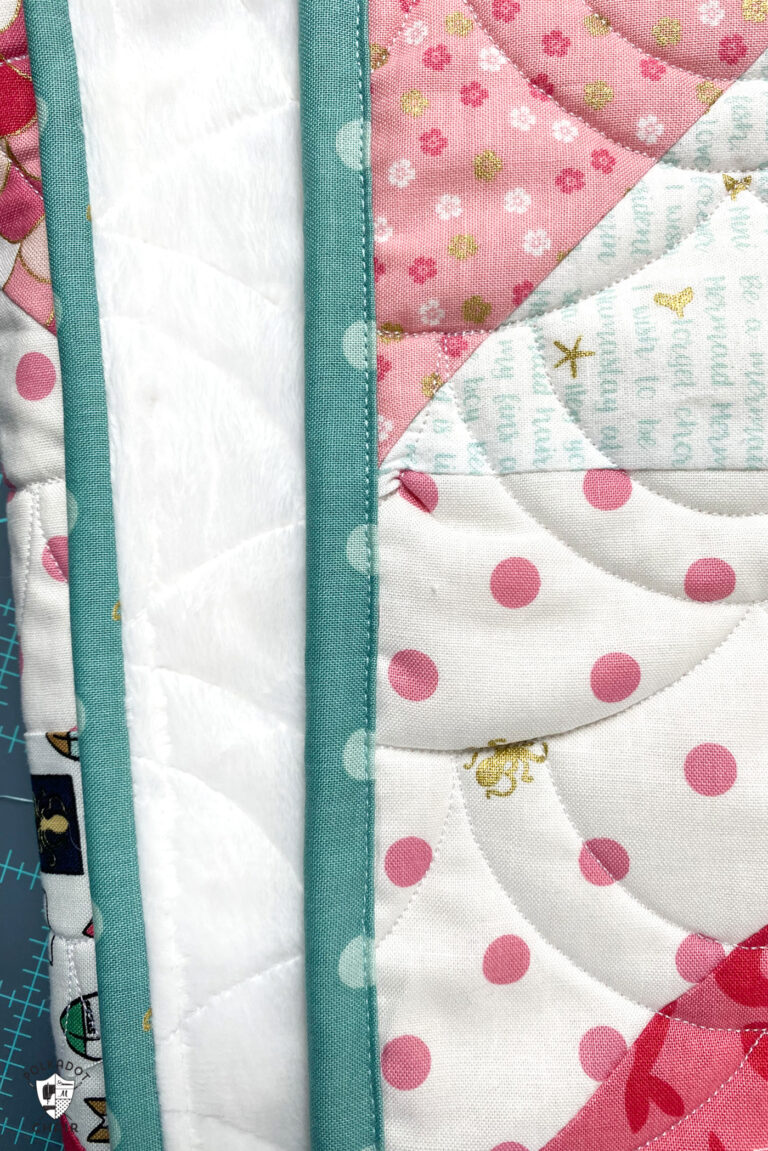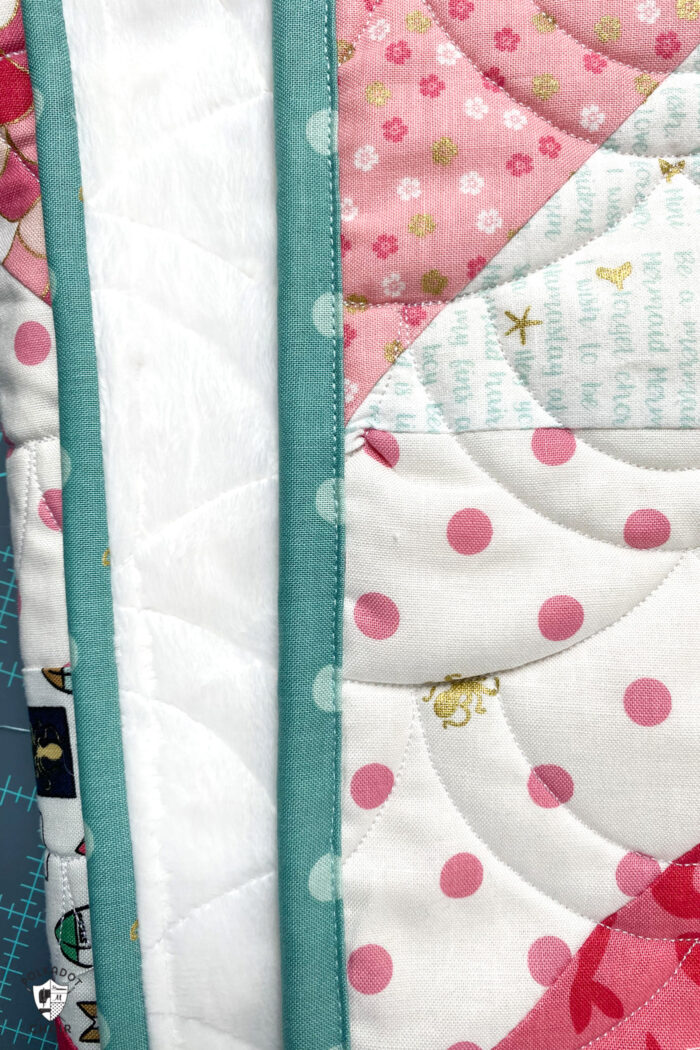 Tools Required
Binding a quilt by machine does require a few tools. You're going to need a Walking Foot with an edge stitching sole plate. My walking foot is made by BERNINA and comes with 3 different foot sole options. I can easily swap out the foot soles on the foot. Walking Feet are specific to machines, so you'll need to check with your sewing machine manufacturer to see which one you need.
You will also need a thread that matches your quilt binding and or quilt back (we'll talk more about that later).
I also recommend that you use:
Binding Clips
Machine Quilting Gloves (these will allow you to better grip and feed the quilt as you sew).
What Size Should I Cut my Binding?
I prefer to work with quilt bindings 2 ½″ wide. I know that many people love 2 ¼″, but I think that extra ¼″ gives you a bit more wiggle room when you are binding. It also gives you a wide enough binding if your quilt is backed in a thicker fabric like Minky.
The length of your binding will depend on the size of your quilt. I use this binding calculator to determine how many binding strips I need to cut.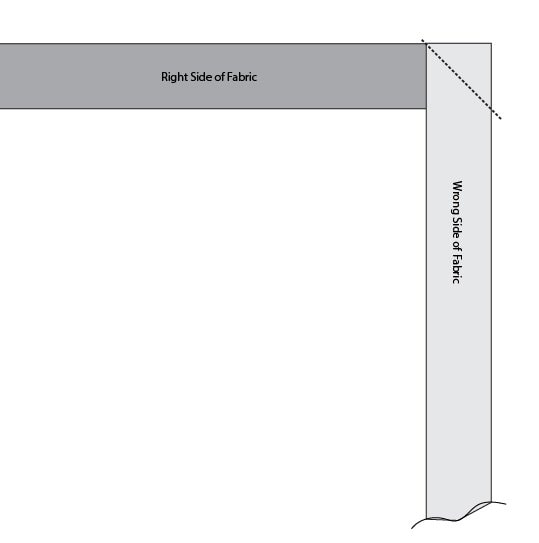 After cutting your binding strips, you'll need to sew them together to make one large binding strip. Sew the strips together at a 90-degree angle from each other and stitch on the diagonal. This will allow you to have a diagonal seam in your binding, which will have a lot less bulk in your binding. Trim off the excess seam allowance between each strip.
What Color Thread Should I Use?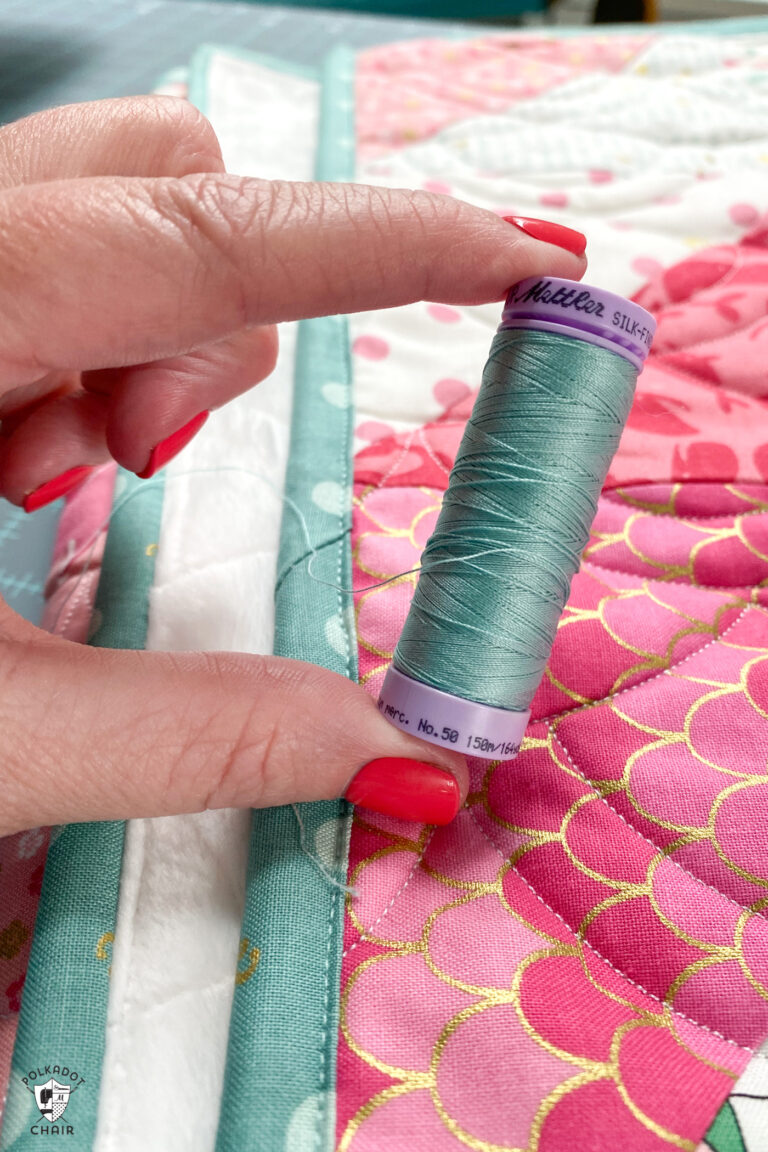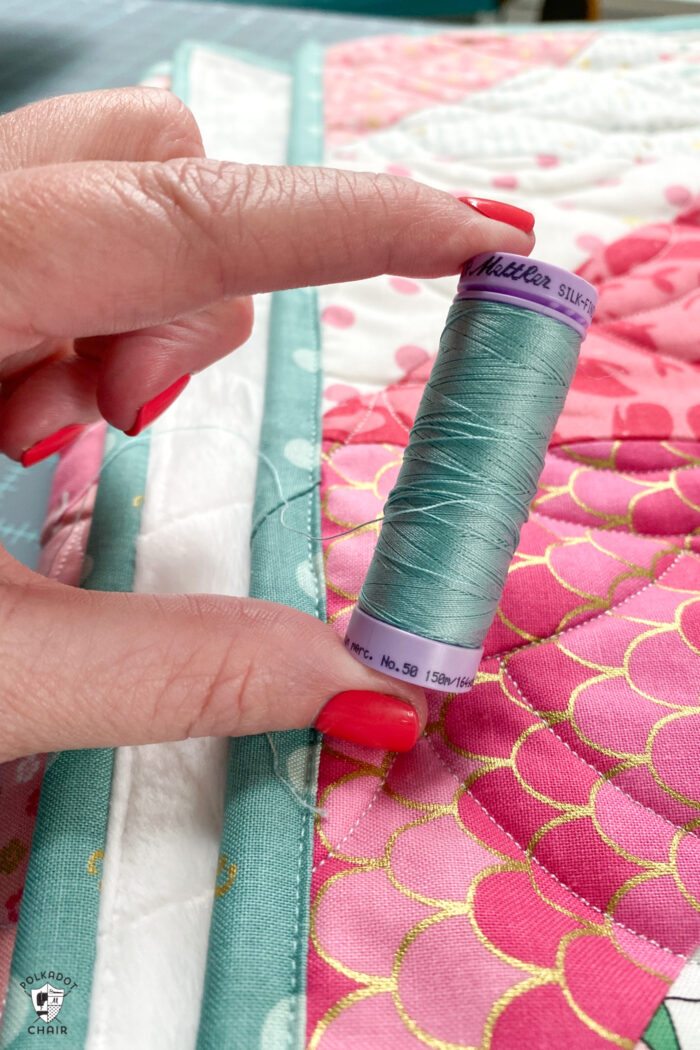 There are a few different ways to approach this issue. One is to match the thread on your binding to the thread your quilt has been quilted with. This method works especially well if your quilt is densely quilted. You'll hardly notice the binding stitches on the back.
Since the binding stitches show on the back of the quilt, I recommend always using thread the same color as your machine quilting thread in your bobbin.
You can match the machine quilting color for the top thread, or you can match the binding. I prefer to match the binding fabric since I feel like it blends better. It is ok to use a different thread color on the top of your machine than your bobbin thread.
Instructions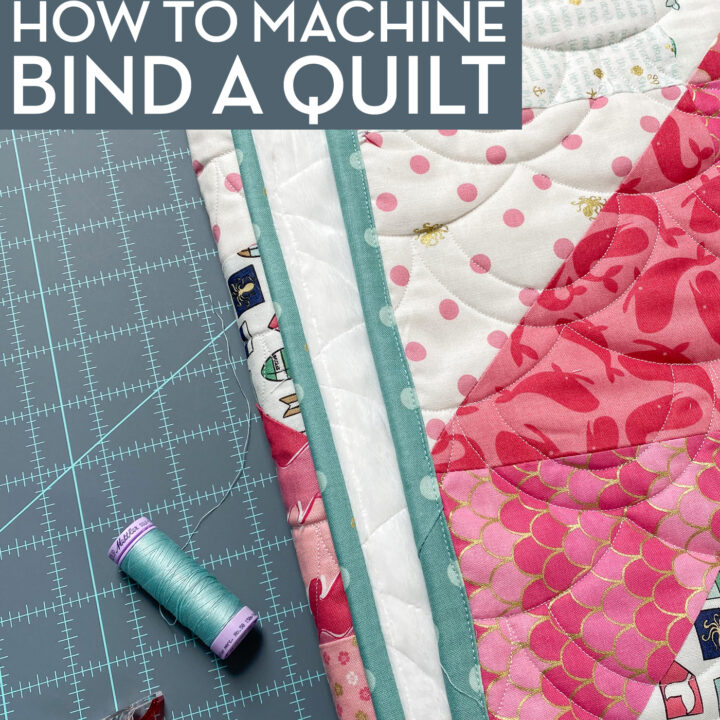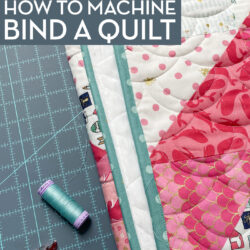 How to Machine Bind a Quilt
Using this method you can both stitch the binding to a quilt by machine and stitch it in place with a machine.
Equipment
Walking Foot with Edgestitch Plate
supplies
2 ½" wide

Binding Strip

long enough for your quilt top.
Instructions
Prepare Binding
After you have sewn your binding strips together, fold the binding in half lengthwise and press.  Roll the binding up to keep it out of your way as you sew.
Sew the Binding to the Quilt Back
Beginning at the bottom of the quilt, stitch the binding to the quilt top on the BACK of the quilt. Use a ¼" seam allowance. Leave about 8" of binding unstitched as you begin. I recommend using a walking foot or dual feed foot for this step (in my photos, I'm using a dual-feed foot).

Sew the binding until you get close to a corner. When you are about ¼" away from the corner, put your needle down and rotate the quilt under the needle. Stitch a short diagonal line towards the corner of the quilt.  Cut thread.

Rotate the quilt 90 degrees and flip the binding straight up so that it is at a 90-degree angle from the binding you just stitched down.

Fold the binding so that it is flush with the unsewn section of the quilt top. 

Starting at the top edge, keep stitching until you get to your next corner and repeat.
Stitch Binding in Place
Flip the quilt so that it's right side up and fold the binding over the raw edge of the quilt. Hold it in place with binding clips. I usually work on one small section at a time and only clip that section.

Put the walking foot with the edgestitch sole on your machine. Adjust your needle right/left settings so that the needle goes into the fabric and catches the folded edge of the binding. The "edge" portion of the machine foot should be flush up against the binding fold.

Begin stitching, taking care to keep the edge foot in place as you sew. 

When you get to a corner, fold the corner over and use a seam ripper to hold the corner in place as you sew. Stitch up into the corner, put the needle down, rotate the quilt 90 degrees, and keep sewing.

When you get to a corner, fold the corner over and use a seam ripper to hold the corner in place as you sew. Stitch up into the corner, put the needle down, rotate the quilt 90 degrees, and keep sewing.

When you get to a corner, fold the corner over and use a seam ripper to hold the corner in place as you sew. Stitch up into the corner, put the needle down, rotate the quilt 90 degrees, and keep sewing.

Repeat until your quilt is completely bound.
Notes
Tip:
If you find that your binding is stubborn and won't stay folded over towards the right side of the quilt. You can iron it in place. Place the quilt, backing side up on an ironing board, and press the binding away from the quilt back. 
PRINT