If you participated in any of Riley Blake Quilt Block challenges, you may be wondering what you should do with your completed quilt blocks. Today I'm sharing 14 quilt block layout ideas perfect for sampler quilts.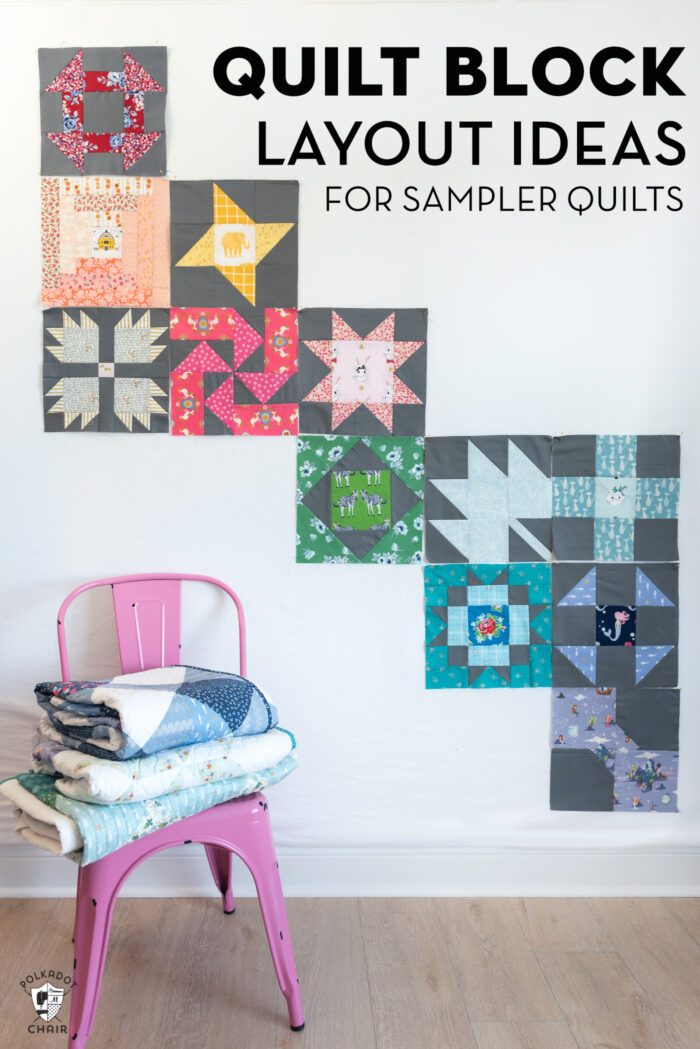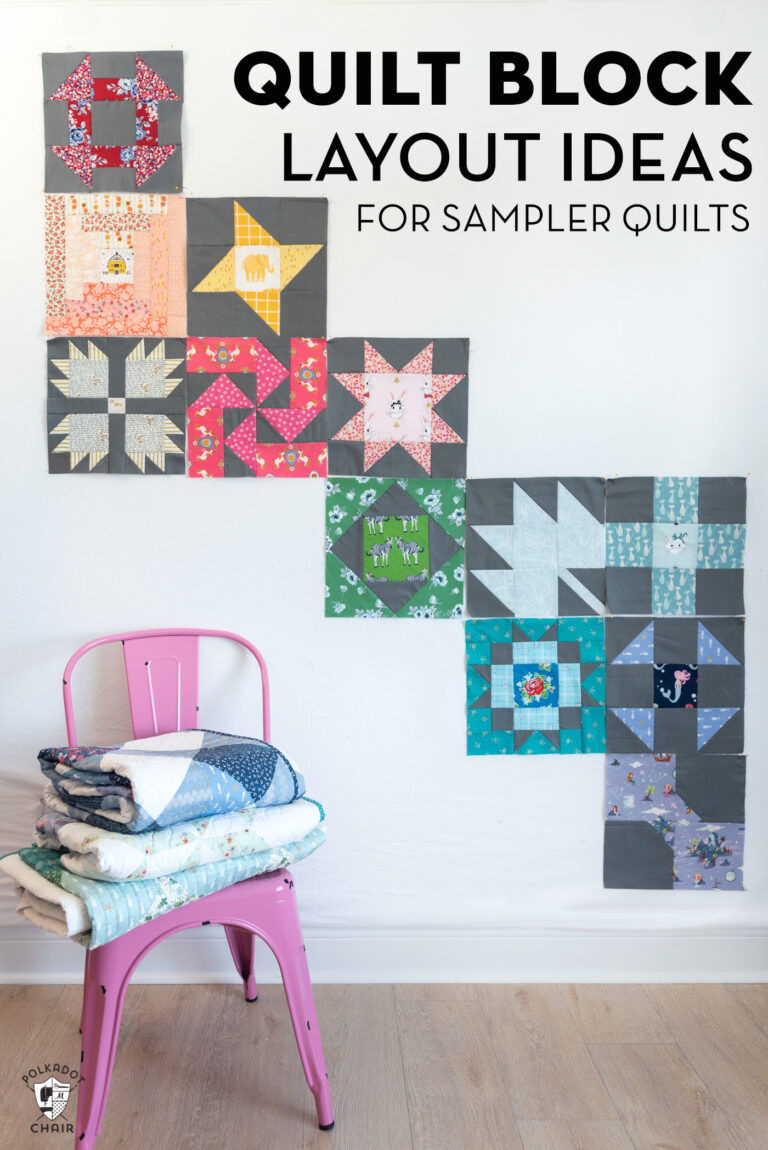 This week I was able to finish the 12″ blocks from the Riley Blake Designs Block Challenge.
What is the Quilt Block Challenge?
In March 2020, a group of Riley Blake Fabric designers coordinated a block of the week challenge. Each week a different designer shared a block pattern for a 12″ & 6″ finished quilt block.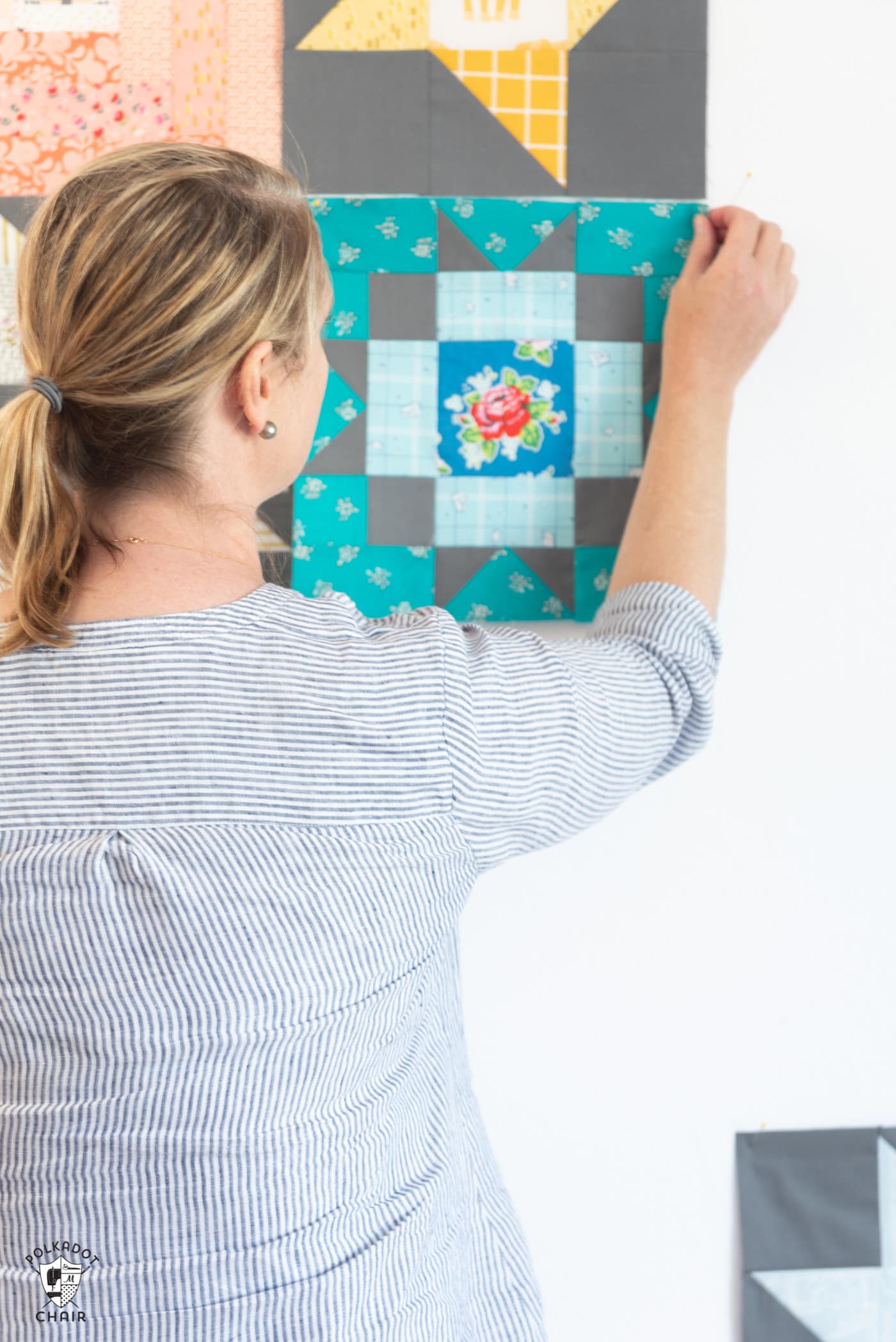 It was such a success that Riley Blake decided to keep the block challenge going and make it an annual event.
The program starts in January and runs for several months. Each year there are a different number of free quilt block patterns shared, and each year there is a different finalized layout. I have no idea what they have planned for next year, but I am very excited to find out.
Where do I find the Block Patterns?
Each of my finished quilt blocks is listed below. I've added a link to the free pattern in my blog posts. For the first year all of the block patterns are hosted on various designer's blogs.
2020 Quilt Block Challenge Patterns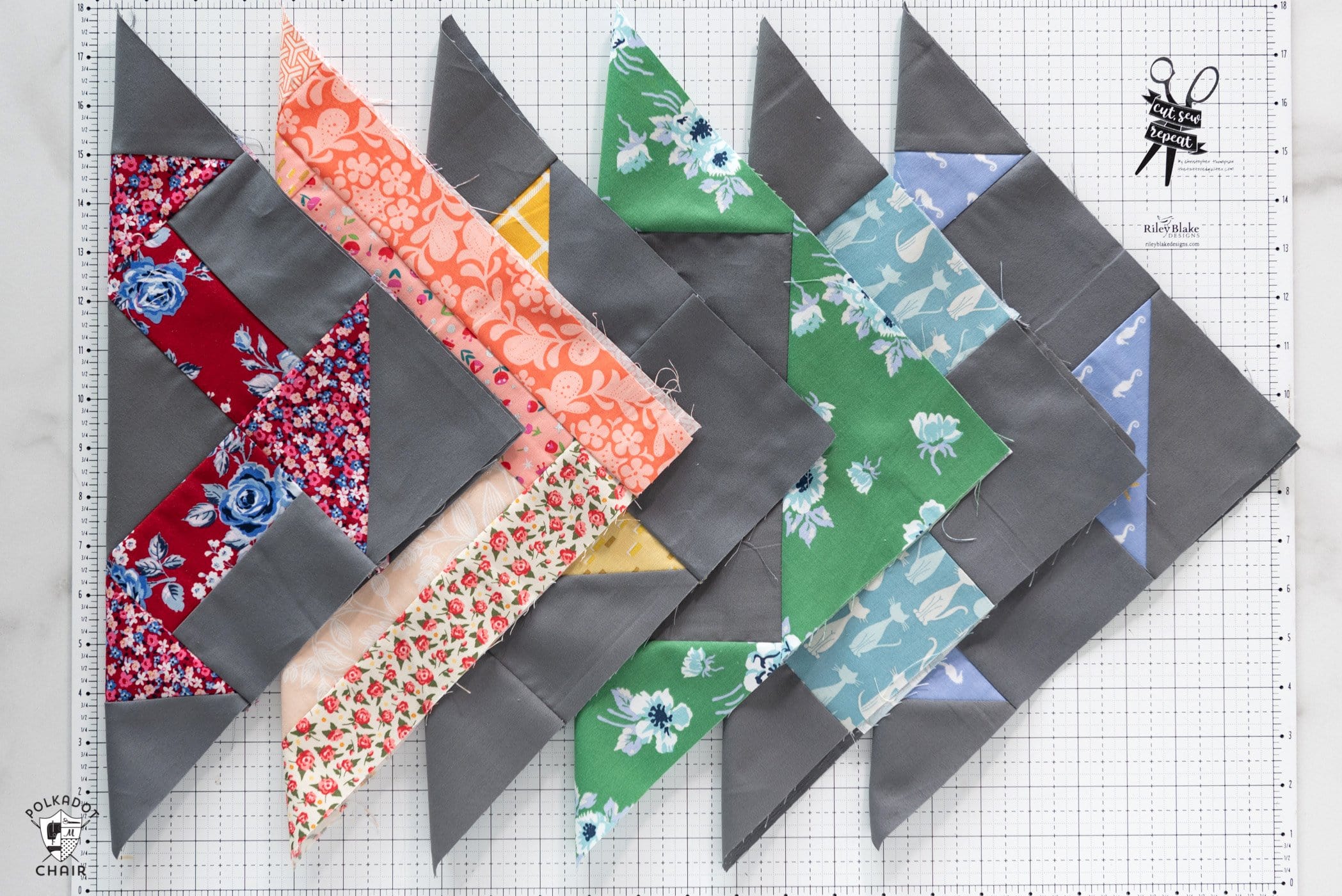 When the quilt block challenge started, it was more informal. Each of the blocks was shared on a different designer's blog, and no finishing instructions were included. For those of you who participated, I wanted to give you a few options for how-to sew your quilt blocks into a quilt.
I also want to give you options if you completed the 2021 or 2022 challenge and don't want to finish your quilt as shown in the Riley Blake instructions.
Riley Blake 2021 Quilt Block Challenge Blocks
For the 2021 & 2022 Quilt Block Challenge, Riley Blake offered a free printable pattern for each block. You can find all of those free quilt block patterns on my site.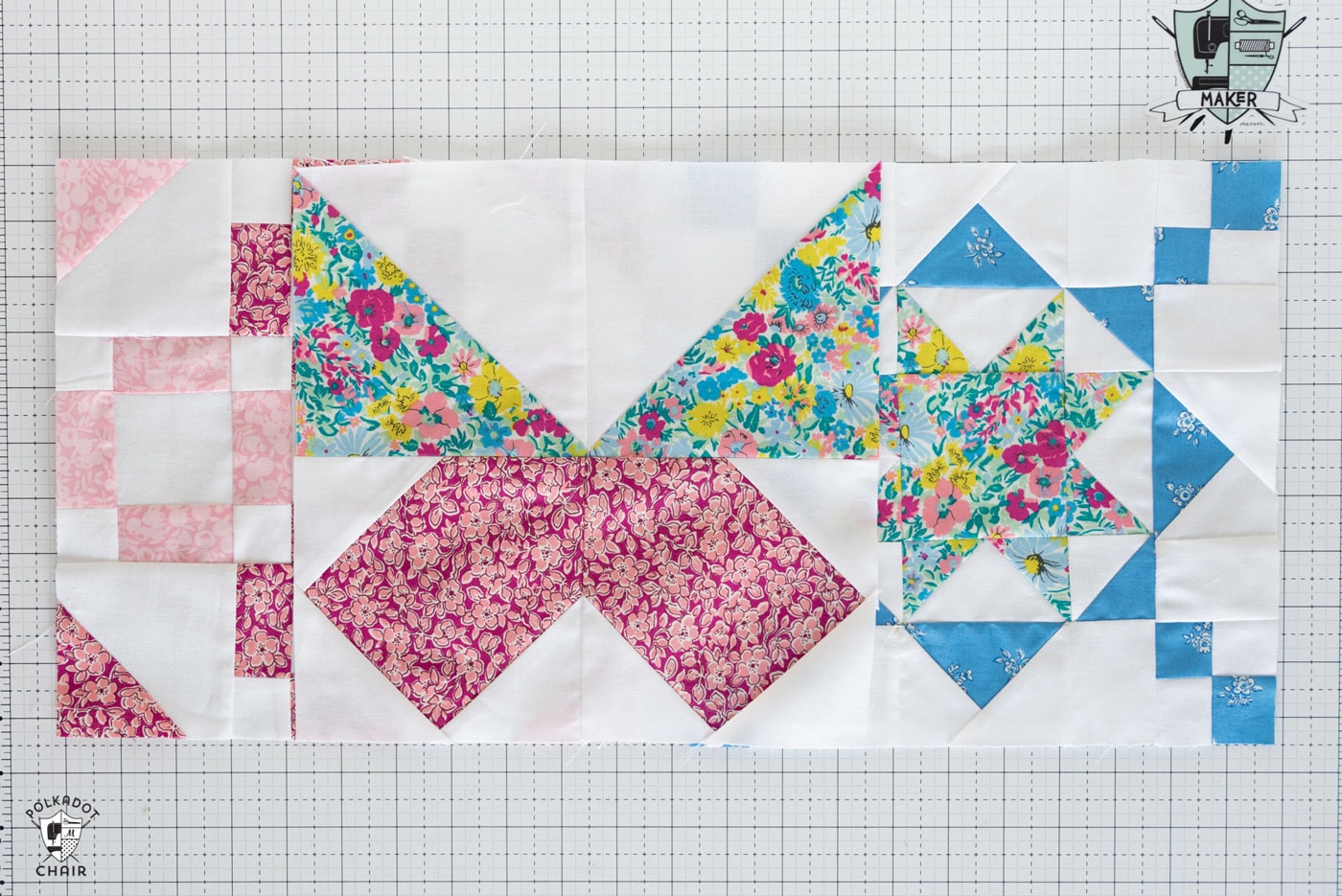 2022 Quilt Block Challenge Blocks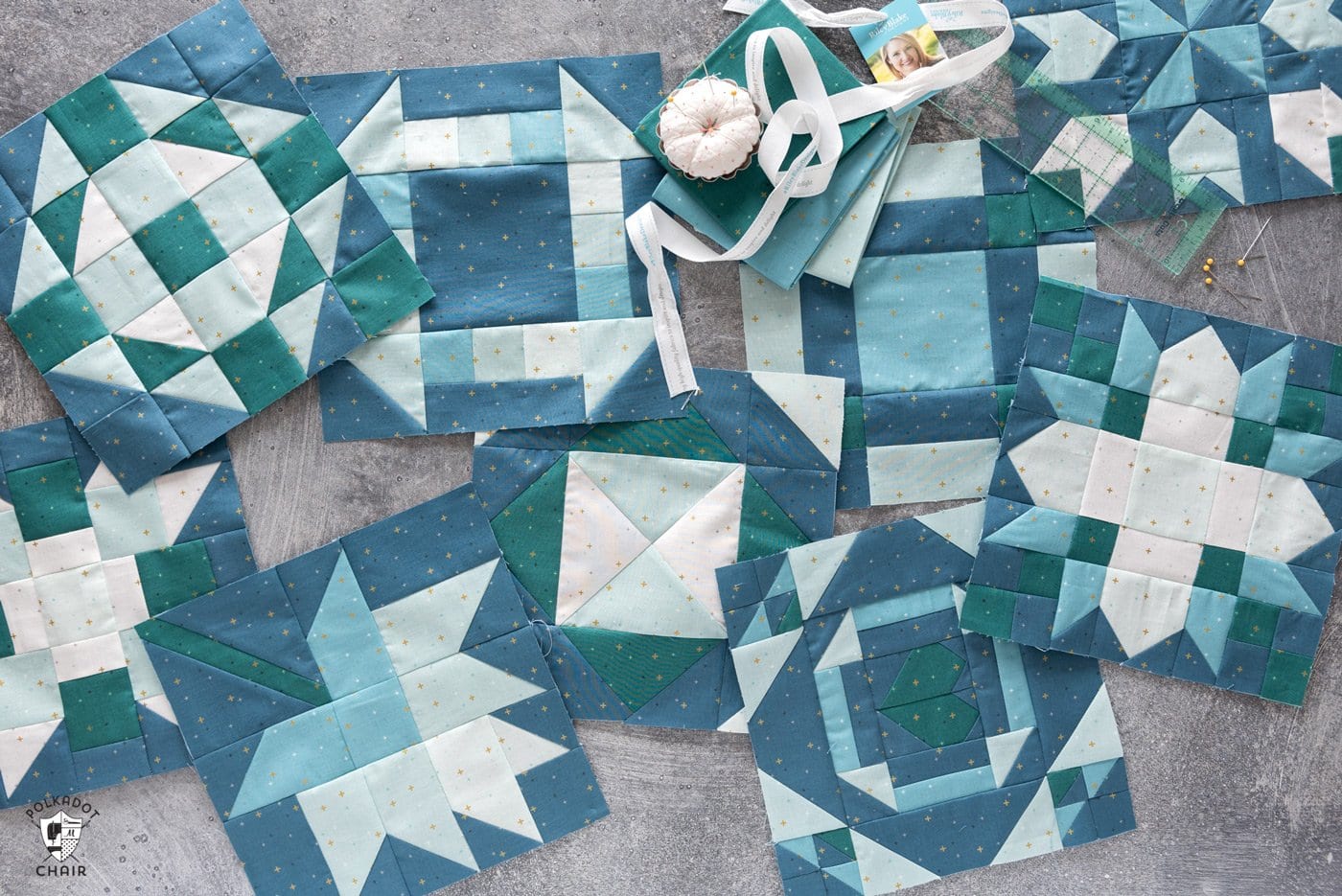 How Do I Sew my Blocks into a Quilt?
The first and easiest option is to just sew your blocks into four rows with the same number of blocks in each row.
The first challenge had twelve blocks, the second and third challenges had 16 blocks. You can sew them into four rows of three blocks or four rows of four blocks.
Layout Ideas for Sampler Quilts with 12 Traditional Quilt Blocks
First, let's discuss setting ideas for the twelve quilt block layout.
At 12″ finished, twelve quilt blocks will yield a quilt that is approx 36″ x 48″. If you'd like your quilt a bit bigger you can add sashing or an outside border.
I am choosing to set my quilt blocks in a less traditional way. After playing around with the blocks, I narrowed it down to two different options.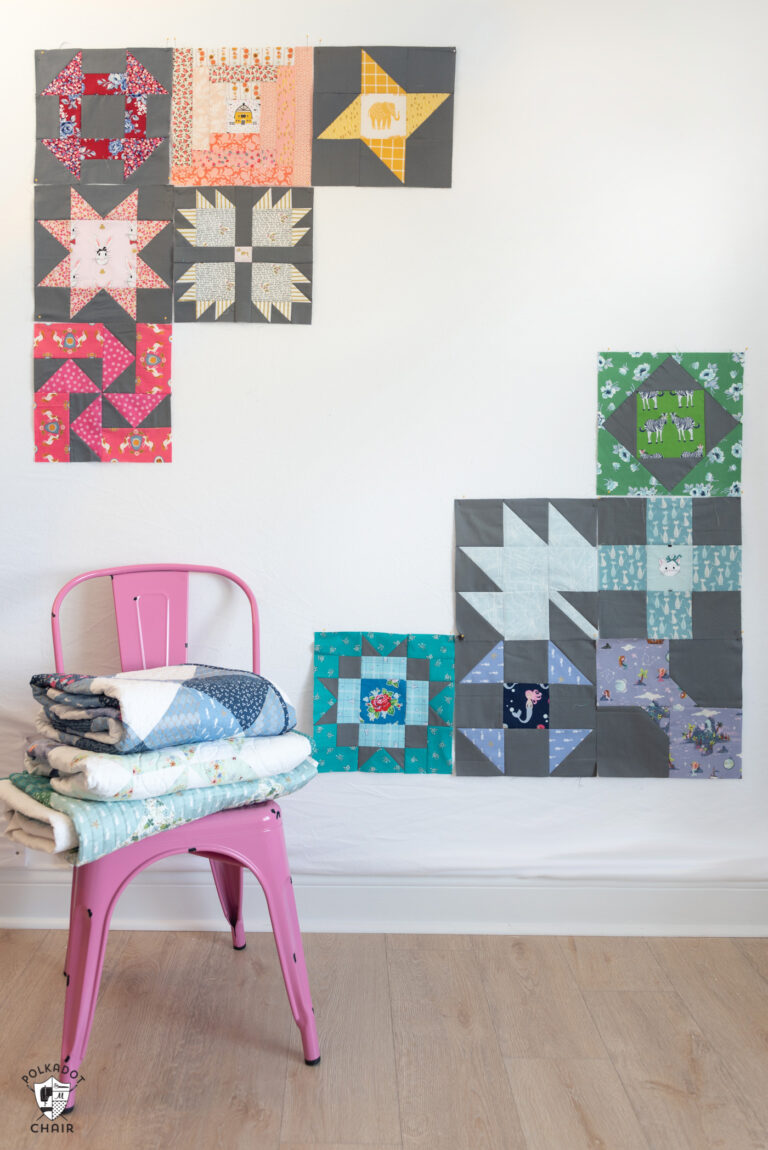 The first one featured 6 rows with 6 blocks in each row, and the blocks clustered in the corners.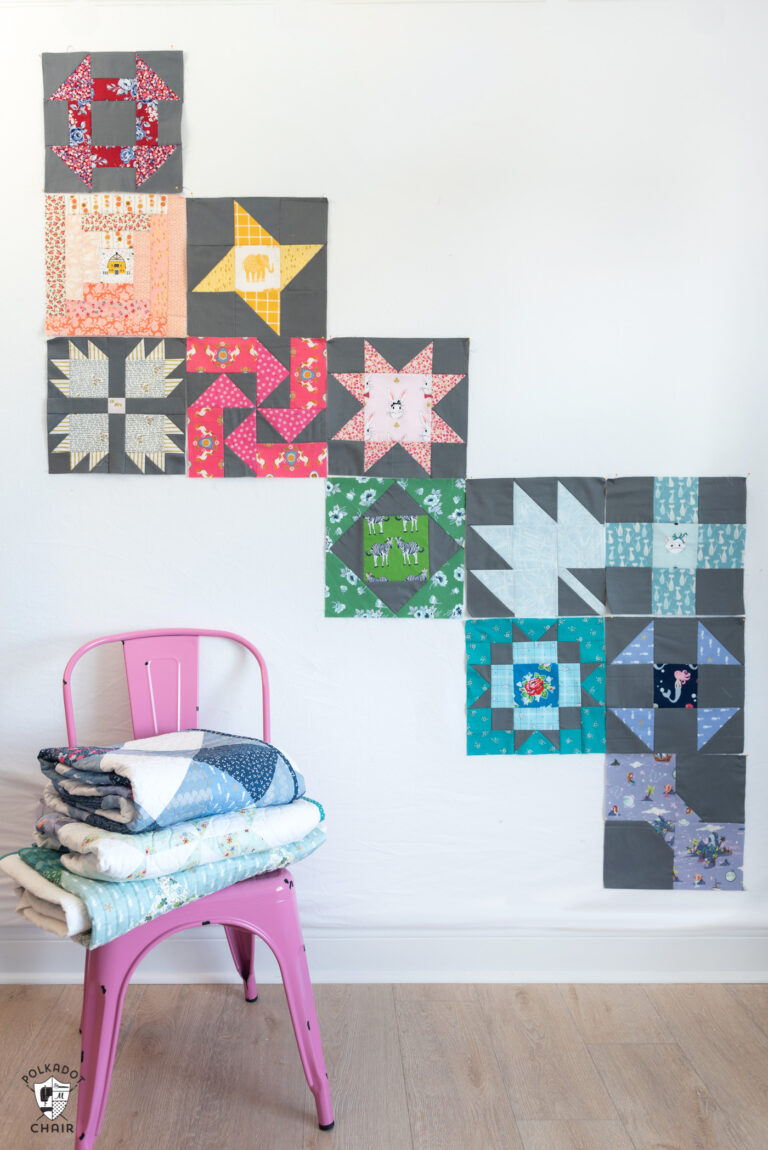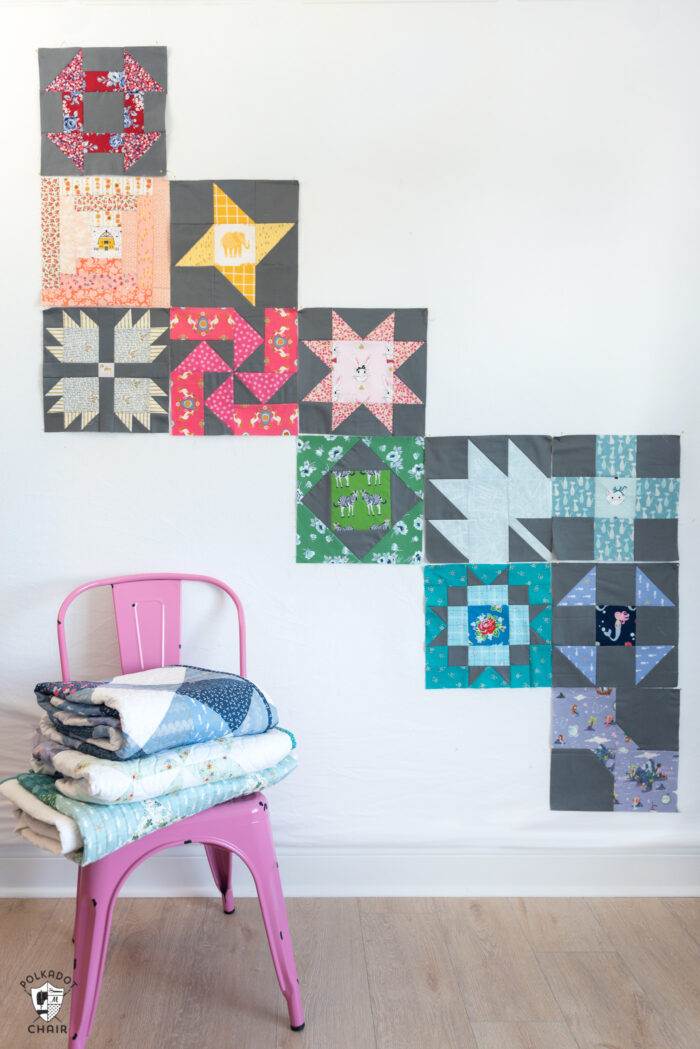 The second layout features the blocks clustered in the center.
Both layouts feature a lot of negative space.
I will be sewing my blocks together in the second layout. The finished quilt will have 6 rows with 5 blocks in each row.
How to Finish the Quilt
Given all of the negative space in the above layouts, you may be wondering how to exactly MAKE the quilt when you're done. I plan to cut 12 ½″ squares of gray fabric for the spots in the "quilt grid" that do not feature sewn blocks, then simply sew them together by rows. It's a very easy quilt layout to complete.
Sampler Quilt Patterns for 16 Block Quilts
The second and third Riley Blake Block challenge quilts featured 16 blocks. These blocks were slightly smaller than the original challenge blocks at 10″ finished.
Option 1: Pieced Sashing
This quilt layout pattern was designed for the 2021 blocks and features all of the quilt blocks laid out in a grid of 4 rows of 4 blocks each. To add some visual interest, pieced sashing and cornerstones are used.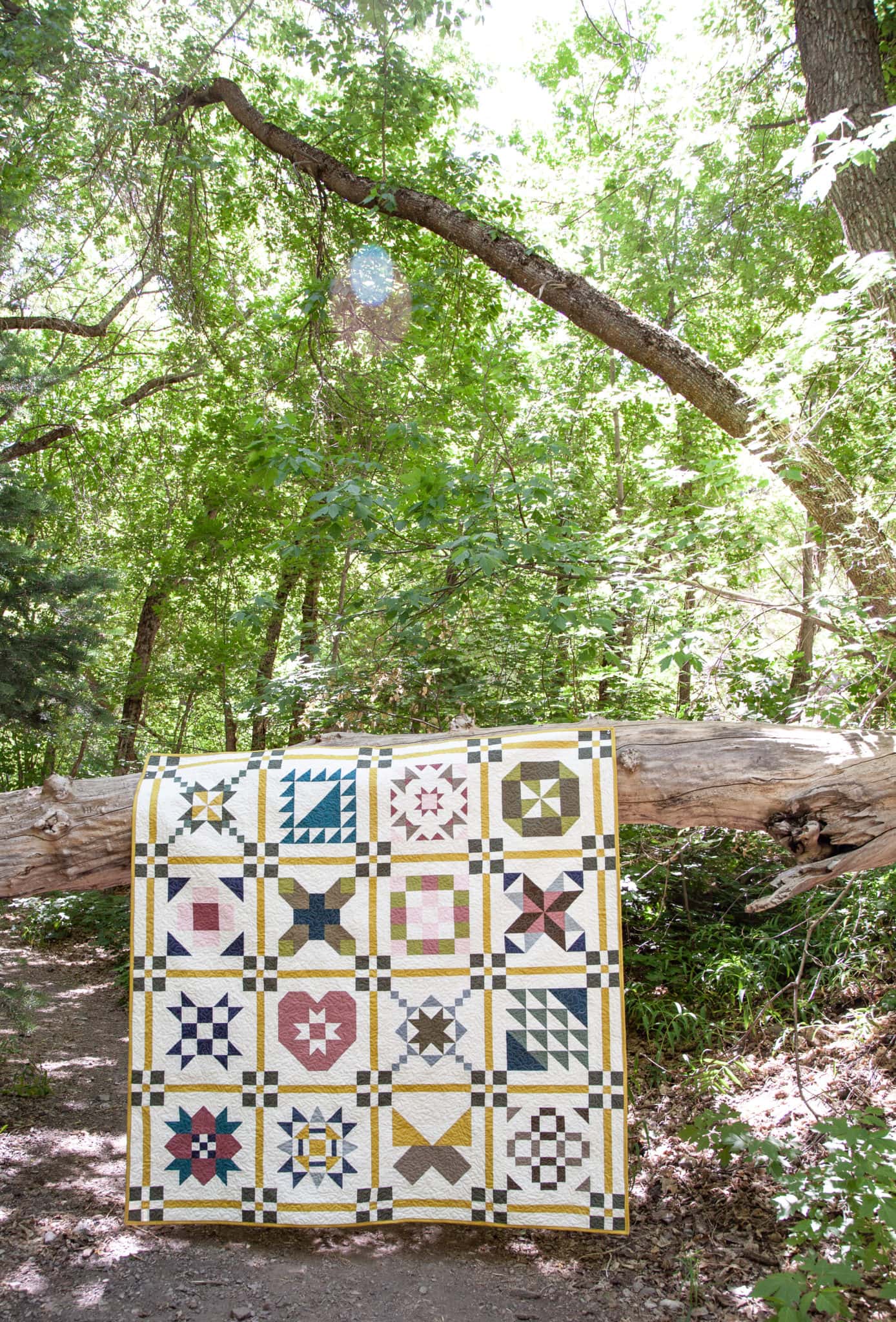 If you were to forgo the sashing and just sew the blocks together, the quilt would look a bit like this one.
You can find the finishing instructions for this quilt on our site.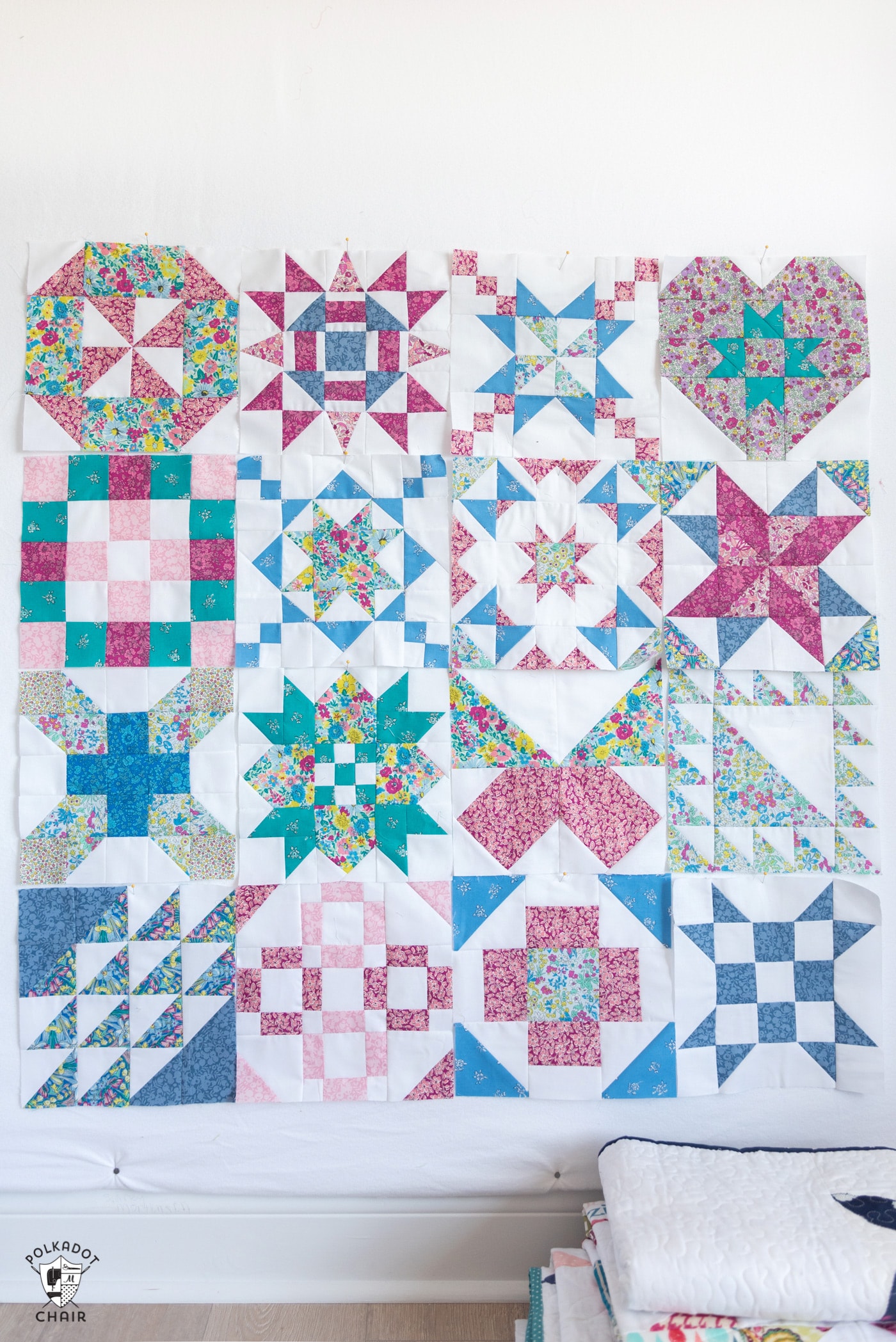 As you can see, it's a bit too busy. Since sampler quilts usually feature a variety of traditional blocks (like maple leaf quilt blocks, log cabin blocks, and star blocks), they can get very visually busy. The addition of sashing gives your eyes a place to rest and breaks up the blocks.
Option 2
This is the final layout provided by Riley Blake for the 2022 block challenge. It features alternate quilt blocks, which are quilt blocks that are all the same and usually alternated with the other quilt blocks. In this case, the alternate blocks create an Irish chain when laid out together.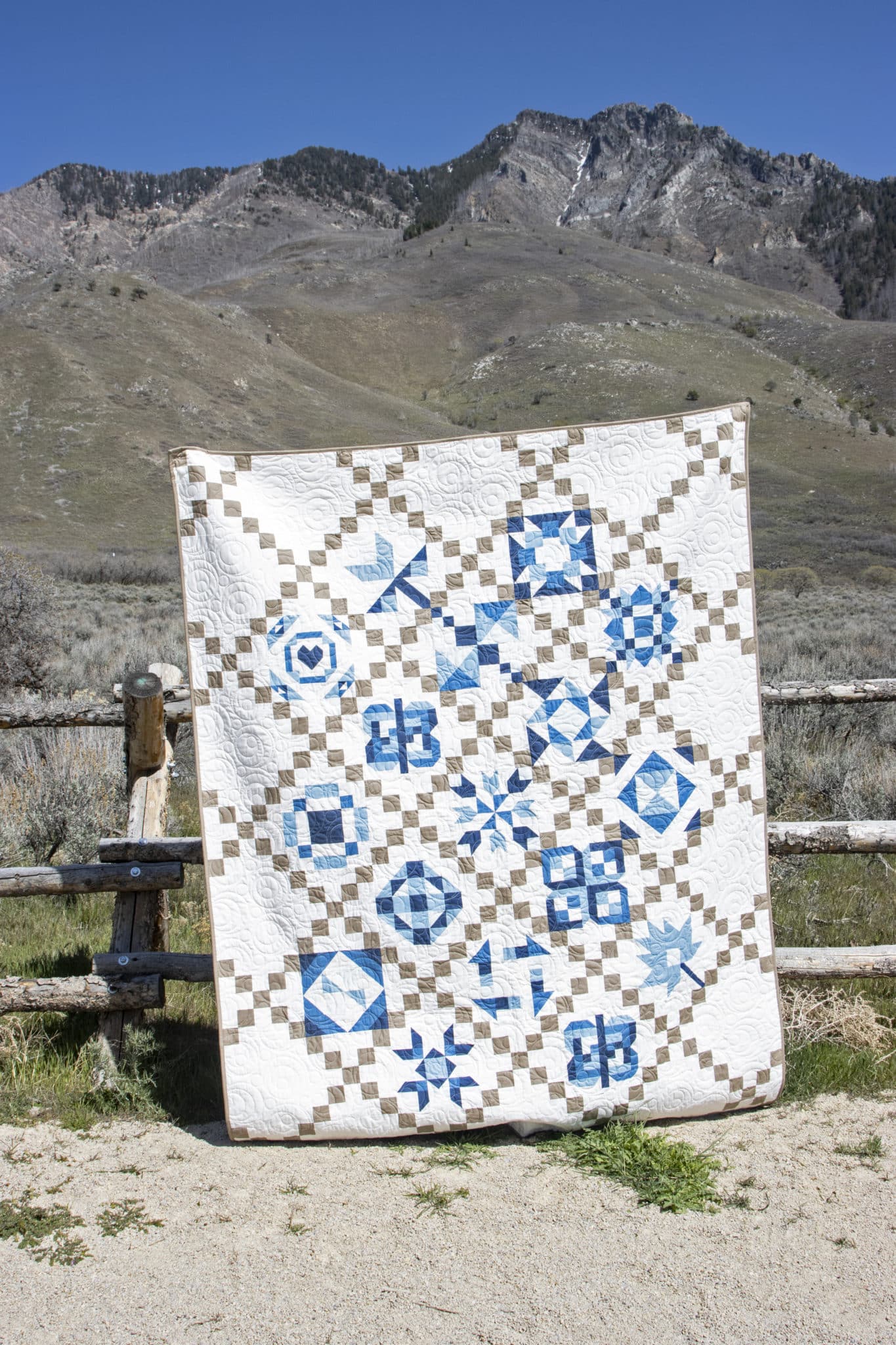 You can find the instructions to get the finishing pattern for the Irish chain layout on our site.
Sampler Quilt Layout Ideas
If you're looking for even more ideas for how to finish your quilt, I've rounded up some ideas for you.
These are just ideas. I do not know what size the blocks are in each of these quilts. Most of these quilts are purchased patterns. They are all unique and different, and I feel like you can get a lot of great ideas from these designers.
Hopefully, one of these ideas will spark creativity in you and help you decide how you want to finish your sampler quilt!
New to Quilting? You May Enjoy These Articles
45+ Quilt Projects Perfect for Beginners
How to Make a Quilt from Start to Finish

This post has been updated from a previous version.