This beginner-friendly quilting patterns list features free quilt patterns all with clear, step-by-step instructions. Learn how to quilt by starting with one of these simple quilt patterns.
I am frequently asked, "What is a good quilt pattern for a beginner?". I've spent a lot of time researching quilt patterns for beginners. Today I'm going to share with you what I've found; most of them are simple, easy to follow, and free patterns!
If you like this post, you may also enjoy this article on three tips for beginner quilters.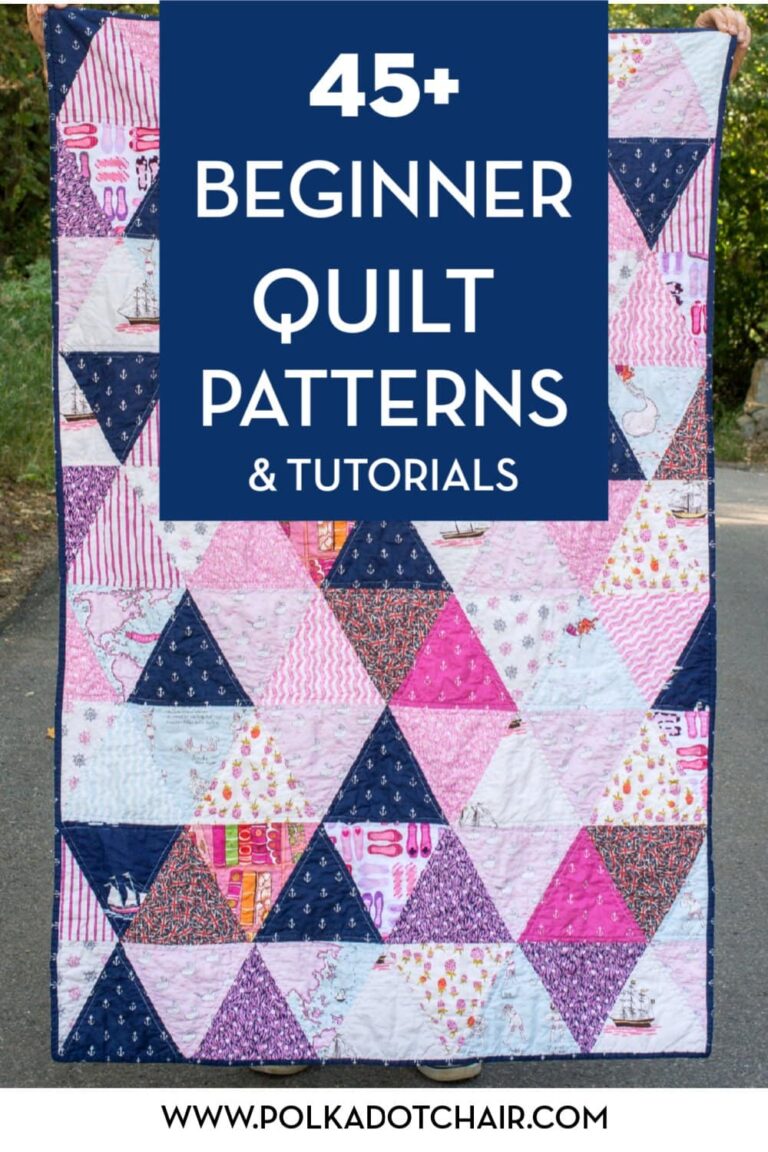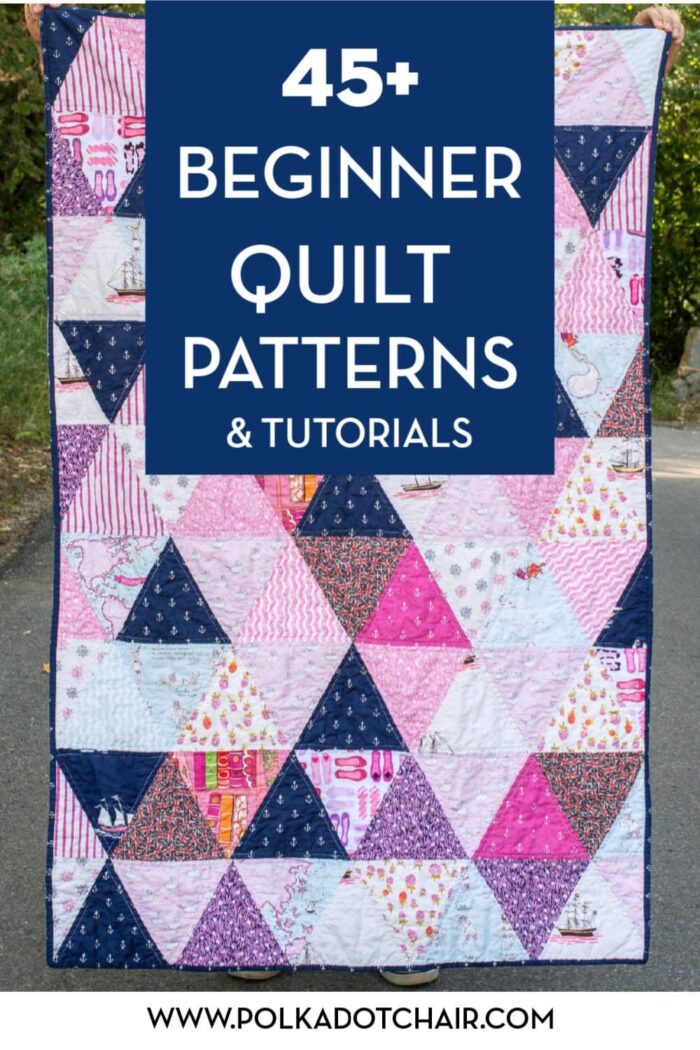 One of the MOST frequent questions I get from readers is, I don't know how to quilt, but I want to; what is a good place to start? How do I make a quilt?
Table of Contents
Having been a beginner quilter in the not-too-distant past, I can totally relate to where they are coming from. The quilting world at times, can seem overwhelming and a bit hard to "break into". You might feel like your sewing skill level is not good enough to make a quilt. But I'm here to tell you that you CAN make a quilt if you choose to do so.
If you want to learn how to make a quilt from start to finish, I recommend diving right into one of these easy quilt patterns or tutorials. I think the best way to learn how to do something new is just to do it!
Aside from taking on a new quilt project, here are a few other resources on this site that I recommend if you want to learn how to make a quilt.
💡 7 Tips for Beginning Quilters!
1- Must-Know Techniques for Beginning Quilters
If you're brand new to quilting these are a few tips that I think are really helpful. Things that I did wrong when I first started to quilt. Sometimes simple changes in what you are doing can make a big difference.
2- Quilting Basics
Before you start, you need to learn the basics of quilting. This post covers the very basics of quilting. What tools you need, how to cut your fabric and some common quilting terms. It's a must-read before you dive right in.
3- Quilt Block Constructions Tips
Once you get started quilting, you'll notice that you're making quilt blocks a lot. I think most people start out with a simple patchwork row quilt, then branch out into a quilt that features a series of blocks. If you're reading to move on to making quilt blocks, then the quilt block construction tips post I think is a big help.
4- Polka Dot Chair Free Quilt Block of the Month Series
Once you're ready to start making quilt blocks, you may enjoy my Block of the Month series. It's a series of free quilt block patterns shared one month at a time designed to create an entire quilt. The year is up, but you can still find all of the blocks in the archives!
5- How to Pick Fabrics for a Quilt
One of the hardest things for people who are learning how to quilt is deciding what fabrics and colors to use. I even struggle with this at times. This post is designed as a jumping-off point to help you get started while choosing your quilt fabric. I take a lot of inspiration for my quilt designs from designer fabric collections. The colors are already coordinated for you so it's a great place to start if you're new to quilting.
6- Tips to Improve Your Quilt Piecing
After you've stitched up your first quilt, you may notice that quilt piecing can be tricky at times. I'm a self-taught quilter and typed up a bunch of tips to help you out! Things that I wish I knew before I started quilting.
7- How to Make a Quilt from Start to Finish
If you're brand new to quilting and don't know where to start, I've created a "go-to" guide to help you out.
✂️ Recommended Supplies for Beginning Quilters
Must-Have (I've linked you to my personal favorites):
Nice to Have:
Binding Clips
Additional Quilt Rulers
Smaller Rotary Cutter
Pre-Cut Fabrics – I love to buy Fat Quarter packs since they give you many fabrics in one package.
What is the Easiest Quilt Pattern for a Beginner?
I believe that there are two quilt patterns that are the easiest for a beginner to sew.
One: Simple Patchwork Quilt
If you're a beginner, a few quilts are simpler to make than a simple patchwork quilt. They are also one of my favorite quilts; I think they are just so charming. If you have novelty fabrics that you want to "show off," patchwork quilts are a great option!
Here on the site, I have a full tutorial for a simple patchwork quilt. It features the use of a pre-cut stack of fabric. So half the work is already done for you! After you've tackled a simple patchwork quilt, you're ready to move on to other shapes. I recommend quilts with simple rectangles or half-square triangles.
Two: Simple Strips Quilt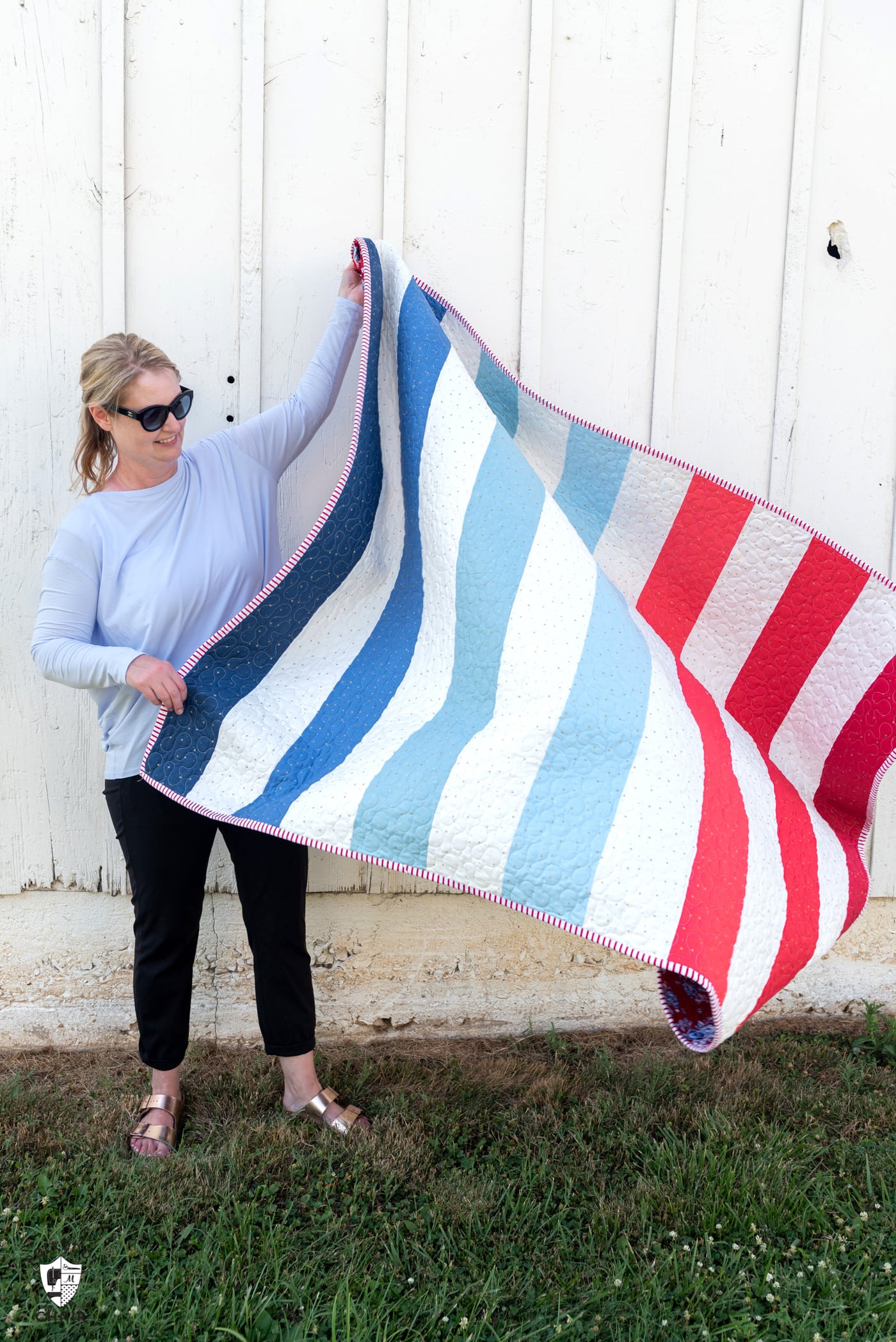 The second quilt that I think is the best for a beginner to tackle is a simple strips quilt (I have a full printable tutorial on the site). This quilt pattern is great for a beginner because there are no corners to match. All of the pieces are long strips of fabric. The construction is really as simple. Just sew rows of fabric together.
Now please enjoy these 45 quilt patterns and tutorials PERFECT for beginning quilters!
🎥 Video Tutorials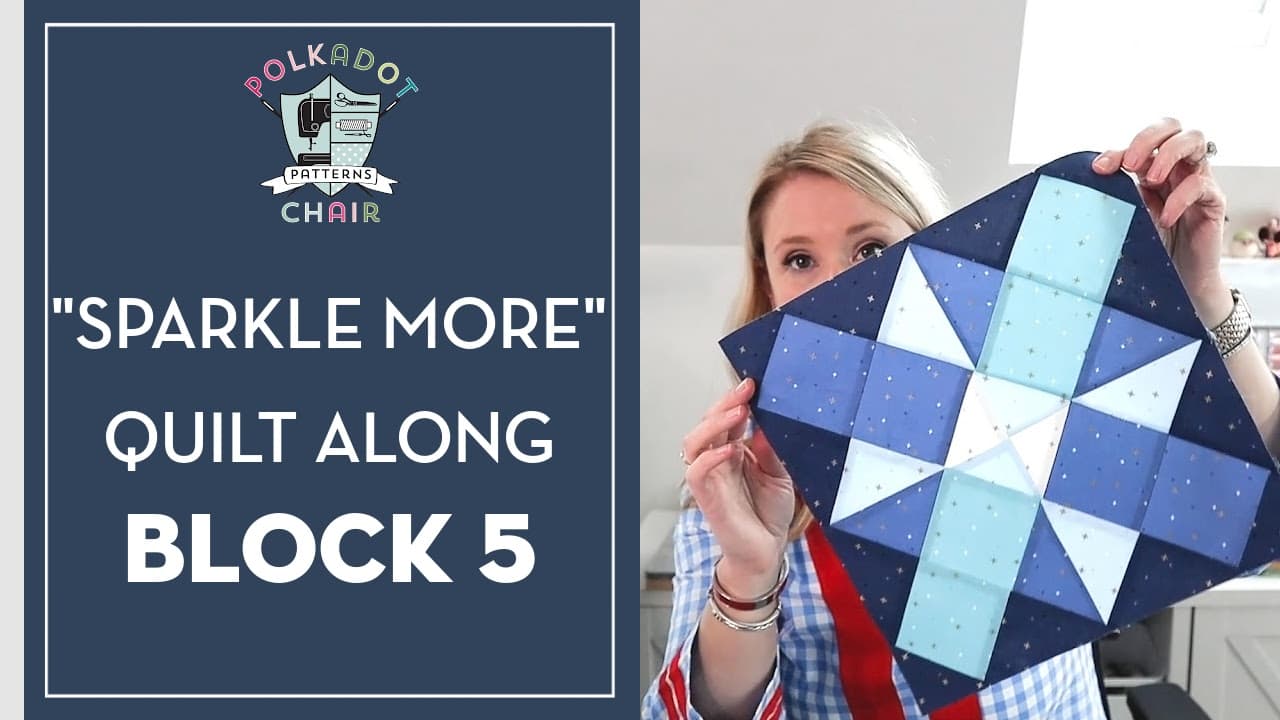 We have so many beginner quilt tutorials on YouTube! A step-by-step video is a great way for a beginner to learn. Stop by our site and check it out; we add new tutorials regularly!
Free Beginner Quilt Patterns & Tutorials on our Site
Even though this is not a formal pattern, I share my process of creating a simple patchwork quilt with you. You don't always need a pattern. In this case, I stitched and cut out triangles until I found a layout I was happy with. If you're someone who likes to "figure it out as you go," then you may like this method for making a quilt.
2. Large Hexagon Quilt Tutorial.
Hexagons are usually pretty tricky to piece, and the technique is usually not recommended for beginning quilters. However, I figured out a "cheater" way to make a hexagon quilt perfect for someone new to quilting. Piecing the quilt using this method makes it as simple to piece as a simple patchwork quilt.
3. Color Blocked Charm Square Baby Quilt.
This is an easy beginner quilt pattern. The quilt uses 5″ pre-cut squares, usually called Charm Packs. Sewing with precut fabrics can save you so much time when you're quilting. There is nothing to cut out when you use this method.
4. Simple Chevron Quilted Throw Tutorial.
This very easy pattern is perfect for a beginner because there are only nine squares. The squares are also quite large, so there are fewer pieces to sew together.
This is a unique take on a simple patchwork quilt. Some of the fabric squares in the quilt are replaced with photos printed on the fabric.
6. Dresden Burst Baby Quilt Pattern
This pattern is a bit more advanced but totally "do-able" for a beginning quilter. I wouldn't recommend this as your FIRST quilting project, but second or third, I'd say go for it!
I love a Simple Patchwork Quilt! This quilt was a gift and remains one of my favorite quilt finishes. If you are BRAND new to quilting and have never made a quilt, then a simple patchwork design is a great place to start.
Matching corners when you're quilting is one thing I find new quilters struggle with most. This quilt is pieced together in a way that there are no corners to match! It also features a unique cutting method that helps you to save time.
This Sensory Row Quilt is a great baby quilt to give as a gift. It features several different fabric textures, making it perfect for a baby. It's also only made from strips of fabric, so there are no corners to match.
10. Snuggly Bricks Quilt.
This quilt is made from a Fat Quarter Pack of fabric. Each piece is cut into 4 pieces then sewn back together again. The pieces are all laid out in a brick pattern.
This quilt features piecing only along the borders of the quilt, making it great for beginners. The names are created using raw edge applique.
A very simple baby quilt made up entirely of fat quarters of fabric.
TIP: When making a baby quilt, you don't need to worry about the quilt dimensions as much. Stick to baby quilts between 40″ to 60″ wide, and they will be the perfect size for a baby. Not too big, but big enough to snuggle a new addition.
What is a Fat Quarter?
A fat quarter of fabric is a quarter yard of fabric that is cut to yield an 18″ x 22″ piece of fabric rather than a 9″ x 44″ piece of fabric from a traditional cut. It is common to see pre-cut fat quarter packs of fabric for sale. Many designers write quilt patterns designed specifically for Fat Quarters.
This quilt is made from a 10″ stacker of fabric to save time cutting. The only yardage needed is the back of the quilt and the binding.
A baby quilt pattern is great for beginners because the pieces are large and not as fussy to sew as some quilts with smaller pieces.
15. Queen Size Patchwork Quilt.
I created this quilt using simple squares organized in rows by color. It is large enough to fit on a queen-size bed.
16. Half Square Triangle Baby Quilt Tutorial
Once you learn how to make a half-square triangle, which is one of the basic building blocks of most quilt patterns. You can rearrange the triangles to make so many designs! This pattern can be easily rearranged to make nine different baby quilts!
Fabric panels, sometimes called "cheater panels," are fabric prints that are created to look like a finished quilt. There are so many CUTE panels on the market today. Most of the work is done for you, and it's easy to personalize the panel a bit if you'd like.
18. Herringbone Quilt Pattern (or Chevron Quilt)
Another quilt pattern was made using Half Square triangles. This quilt pattern appeals to those who prefer modern-style quilts.
Free Quilt Patterns from Quilt Blogs
There are so many great Quilt Blogs online now. Here are a few beginner patterns from some of my favorite Quilt Blogs.
19. Strip & Flip Quilt Tutorial. This quilt is made using 2 ½″ strip precuts, sometimes called jelly rolls.
20. Weekend Flannel Squares Quilt Tutorial
21. Baby Quilt made from Scraps
22. Easy Quilt Top Tutorial. If you're looking for an easy quilt pattern with detailed instructions, this tutorial by Simple Simon & Co is great. I
23. Sunny Tied Quilt. A colorful take on a simple strips quilt. You can find step-by-step instructions (including fabric color names) on the Purl Bee website.
25. Road Trip Quilt
27. Seeing Red Quilt. This quilt is made from simple half-square triangle quilt blocks. It's a great one for a beginner since you get a lot of practice making the blocks. By the time you've sewn enough blocks for the entire quilt top, you'll be an expert at half-square triangles.
28. Simple Stripes Easy Baby Quilt
30. iSpy Baby Quilt
31. Patchwork Quilt
32. Churn Dash Quilt
35. Fast 4 Patch Quilt Tutorial
36. Polaroid Quilt – this tutorial has been removed. You can find a tutorial to make Polaroid Quilt Blocks HERE
38. Plus Quilt
42. Simple Heart Quilt Tutorial
Newest Free Beginner Quilt Patterns
I keep this post updated regularly, so you guys always have access to some of the best free quilt patterns and tutorials. These patterns are new patterns since the first time this post was published.
43. Scrappy Strips Free Baby Quilt Pattern
44. Turnstile Baby Quilt Pattern
45. Sundance Quilt Pattern – A Modern, Simple Southwest Inspired Quilt Pattern
Beginner Quilt Patterns You Can Buy
Each of these beginner quilt patterns are not free but comes with LOADS of tips, photos, and instructions to help you out. With purchased patterns, you normally get a lot more instructions,s o sometimes it's best to purchase a pattern vs. finding a tutorial online.
Gingham Daydream Quilt Pattern
Looking for more fun quilting ideas? Follow me on Instagram!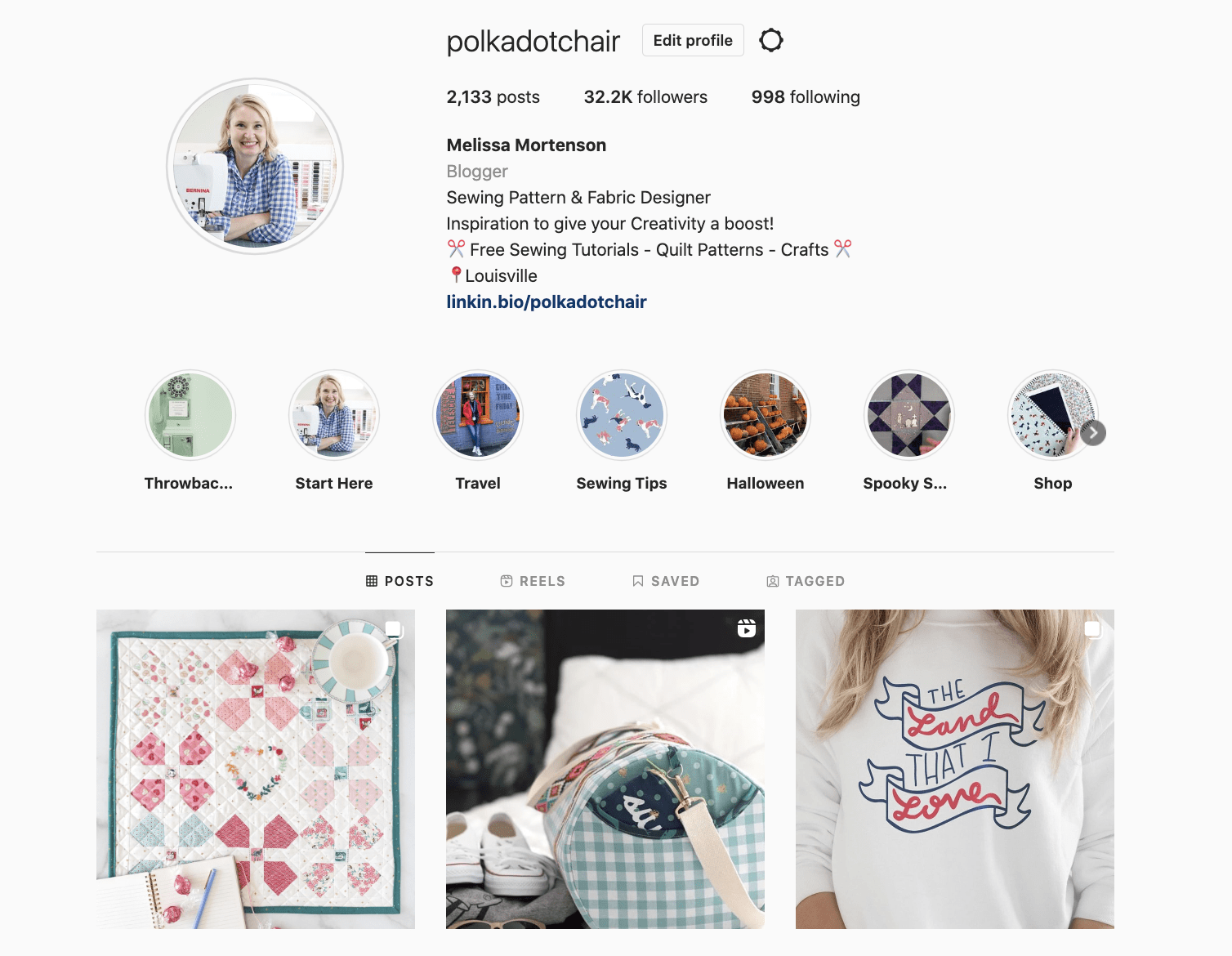 You May Also Like: