Last week I announced a fun Quilt Block Challenge being hosted by Riley Blake Designs. This week I'm excited to share with you my block for this weeks challenge which is to create Log Cabin Quilt Blocks.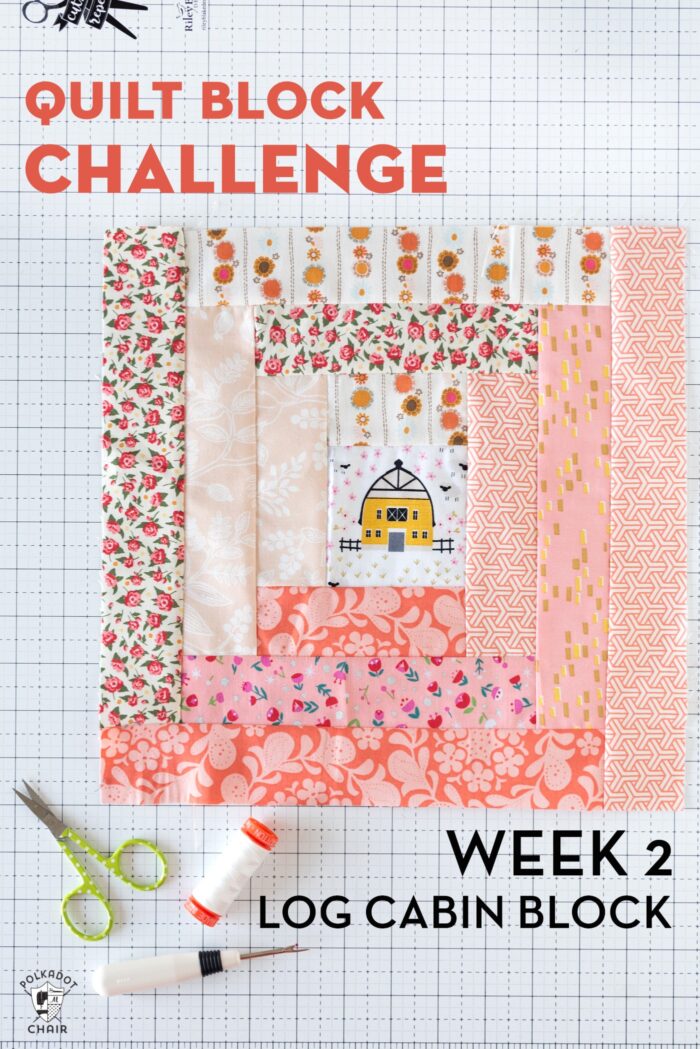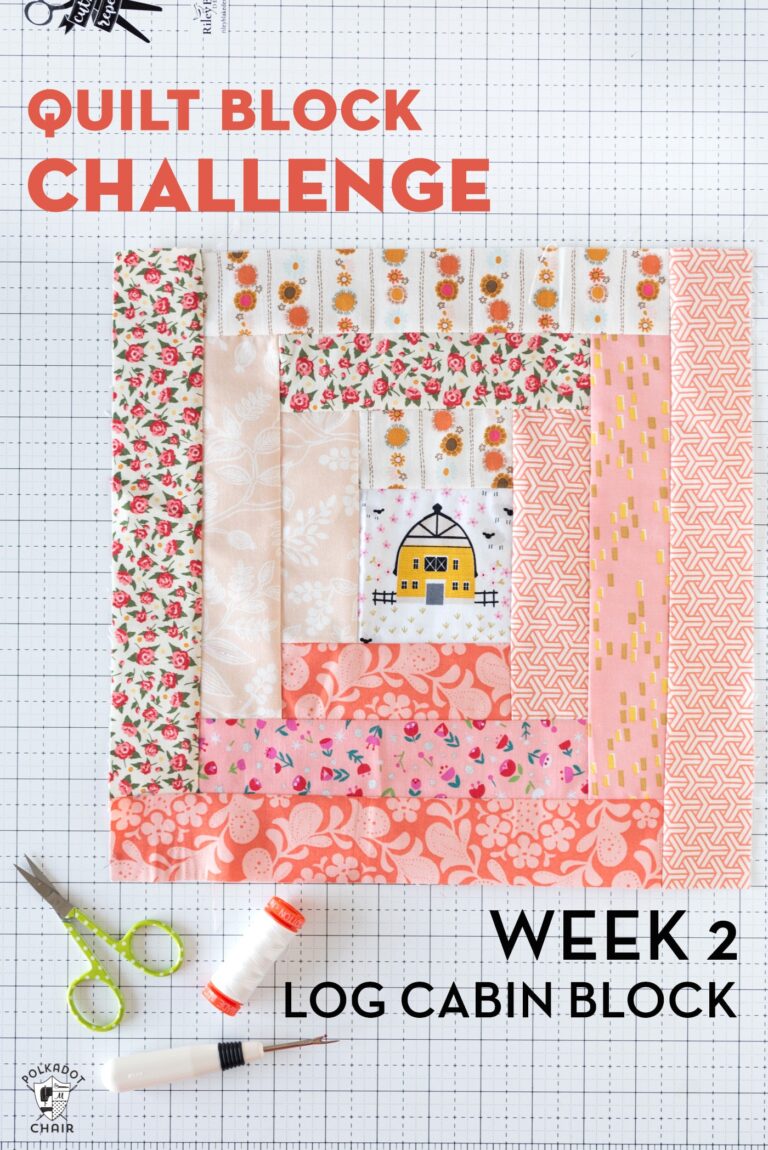 It's week two of the Quilt Block Challenge and I'm excited to announce that I'm all caught up. (We will see how long that lasts!) Last week featured Churn Dash quilt blocks. You can see my block here.
Table of Contents
How the Quilt Block Challenge Works
To play along visit the blog of a Riley Blake designer to get a free pattern for a 6″ and 12″ version of the block (Note: you will visit the blogs for the patterns, I will not be reposting their patterns here). Look for the link each week to the pattern. Then just sew the block. How you put the blocks into a quilt is up to you. I plan on sewing along with the challenge and will share with you how I completed my quilt at the end if you need ideas.
I could not decide what fabrics I wanted to create my blocks out of. As much as I love sewing with my fabric lines, I sew with them A LOT. Between creating samples and writing blog posts sometimes I just need a break and to work with something different.
After thinking bout it for a week (it turns out it was quite necessary to overthink this apparently *wink*), I settled on a scrappy quilt in a rainbow theme.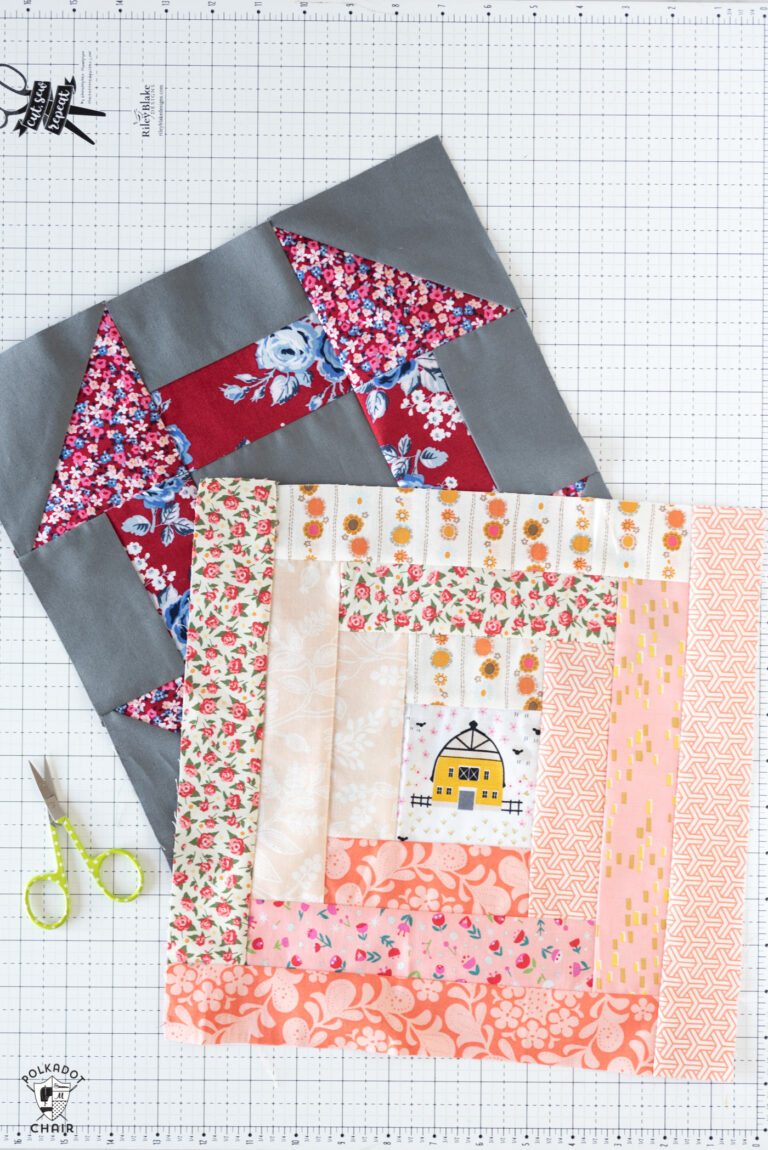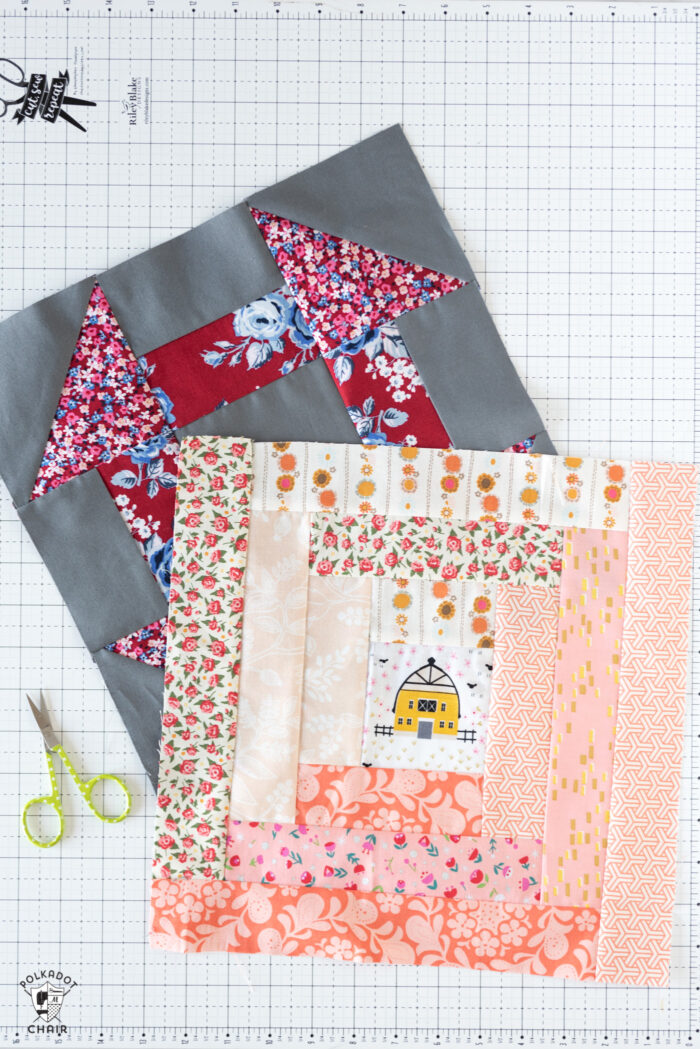 I chose a dark gray for my background fabric (Iron by Riley Blake) and will be creating my blocks all out of scraps. Each block will be a color and in the end, I'll have a rainbow inspired quilt. It won't be a true rainbow as I plan to swap out some colors. I felt the rainbow theme was appropriate given it's symbolism of hope and rebirth.
This week I did not include the gray as I want this block to pop in my finished quilt.
Log Cabin Quilt Block Pattern
This week takes us to Rachel Erickson's blog, Citrus, and Mint. She's sharing a free tutorial to create both a 6″ and 12″ Log Cabin Quilt Block.
Get the Log Cabin Block Pattern at Citrus and Mint by clicking here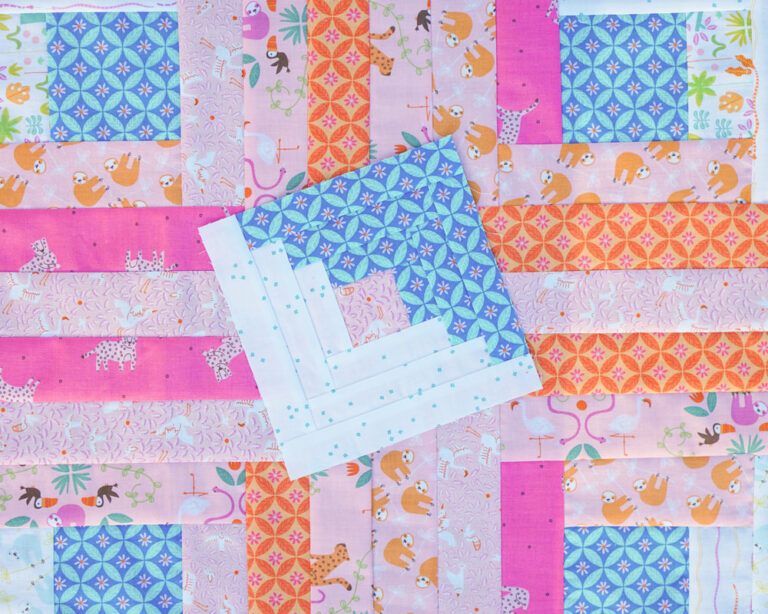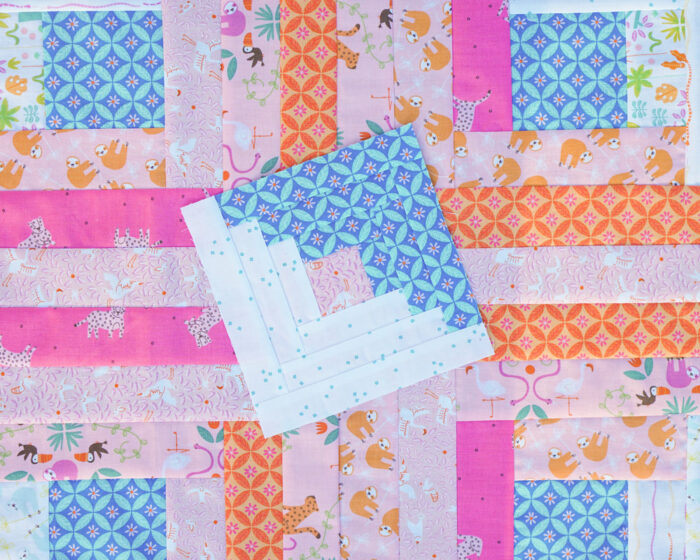 Rachel stitched up her log cabin blocks in some of her Under the Canopy fabrics with a bit of Blossom basics thrown in. Her "Under the Canopy" line is one of my favorites. If you're not familiar with her be sure to visit her blog. She also has Pemberly which another one of my favorites.
Here's the schedule for the rest of the challenge.
Quilt Block Challenge Schedule
How to Participate
You do not need to use the block tutorial I've mentioned in this blog post. You can use any quilt block tutorial that you like. Just make a block! If you have an Instagram be sure to share the block on Instagram with the #RBDblockchallenge. You can find me on Instgram too! I'm @polkadotchair
Some of our Best Quilting Tips: