The block in this week's Block Challenge is a new one for me! We are learning how to make Bear Paw Quilt Blocks. I have two different Bear Paw block tutorials to share with you today.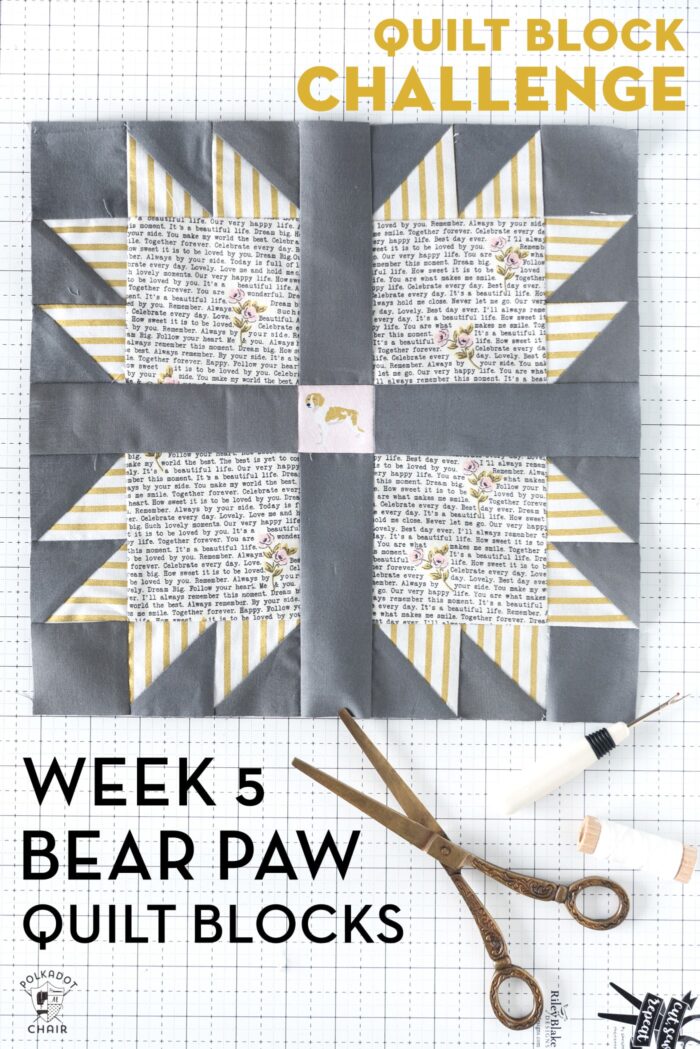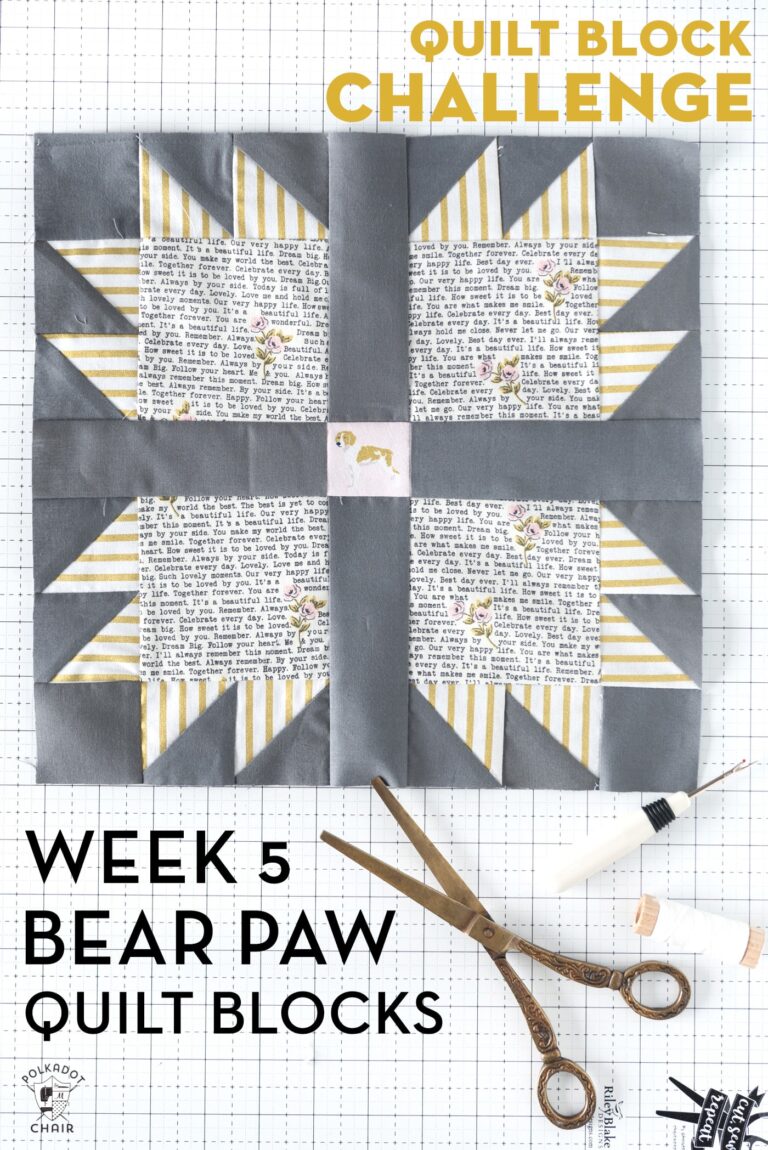 How is everyone doing with their Block Challenge Quilt Blocks? I've mentioed before that I'm really enjoying the process of creating these blocks. I love that I can just make them and not worry too much about what I'm doing with them when I'm done.
Table of Contents
What is the Quilt Block Challenge?
To play along visit the blog of a Riley Blake designer to get a free pattern for a 6″ and 12″ version of the block (Note: you will visit the blogs for the patterns, I will not be reposting their patterns here). Look for the link each week to the pattern. Then just sew the block. How you put the blocks into a quilt is up to you. I plan on sewing along with the challenge and will share with you how I completed my quilt at the end if you need ideas.
This week the challenge calls for Bear Paw Quilt Blocks.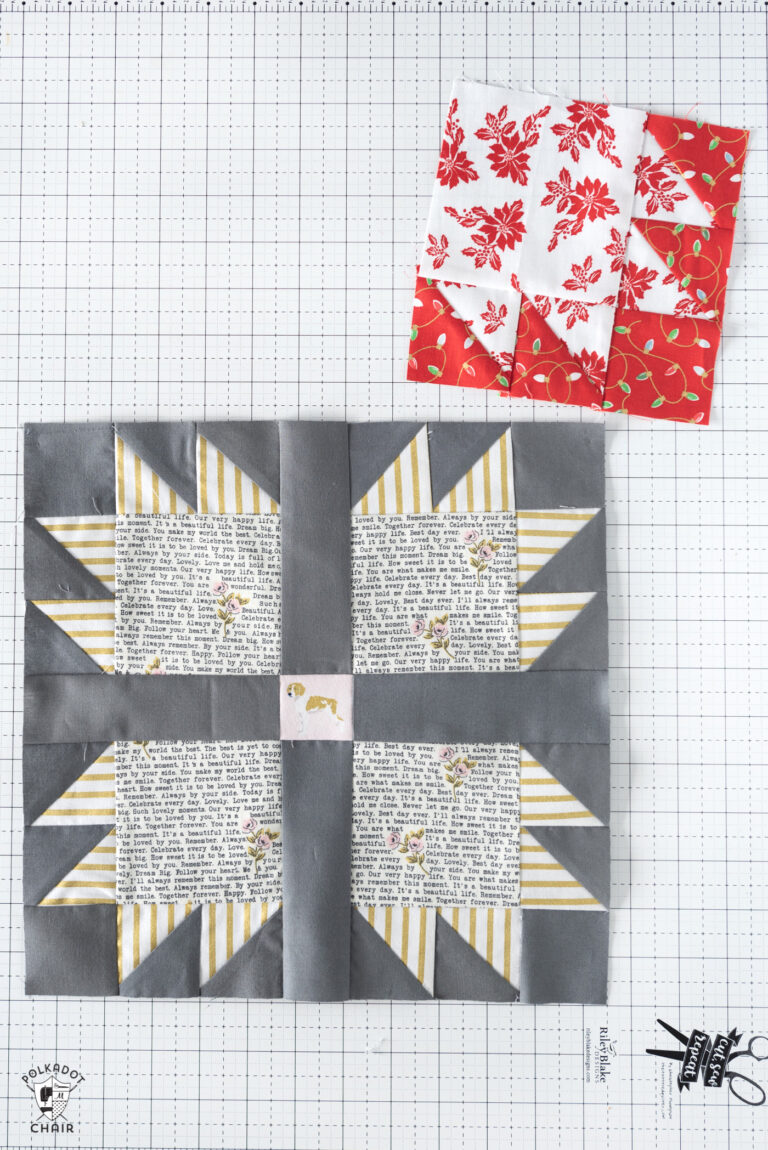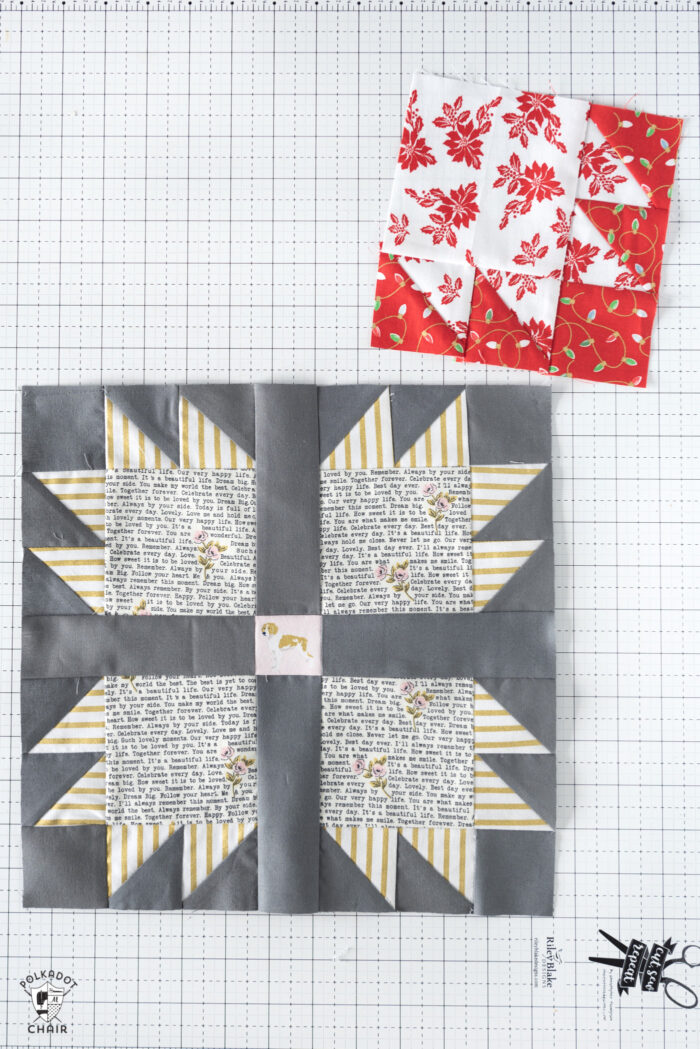 About Bear Paw Quilt Blocks
The blocks are made up of four "paw" pieces stitched together with a border in between. Most of them feature a contrast square in the center.
For me, this was the most challenging block I've sewn yet. Mostly becuase I chose to make the triangles in my block out of striped fabric.
When you create half-square triangles out of striped fabric, you get one triangle with stripes facing one way and the other triangle with strips facing the other way.
When you construct your block you need to make sure that all of the stripes are facing the same directions. For my block the side triangles had stripes horizontally and the top and bottom blocks had vertical stripes.
It seems like this would be a simple process, yet somehow I messed it up several times!
How to Get the Bear Paw Block Tutorials
Amanda Castor form Material Girl Quilts is hosting this week's block tutorial. She has a free tutorial for both a 6″ & 12″ block on her blog.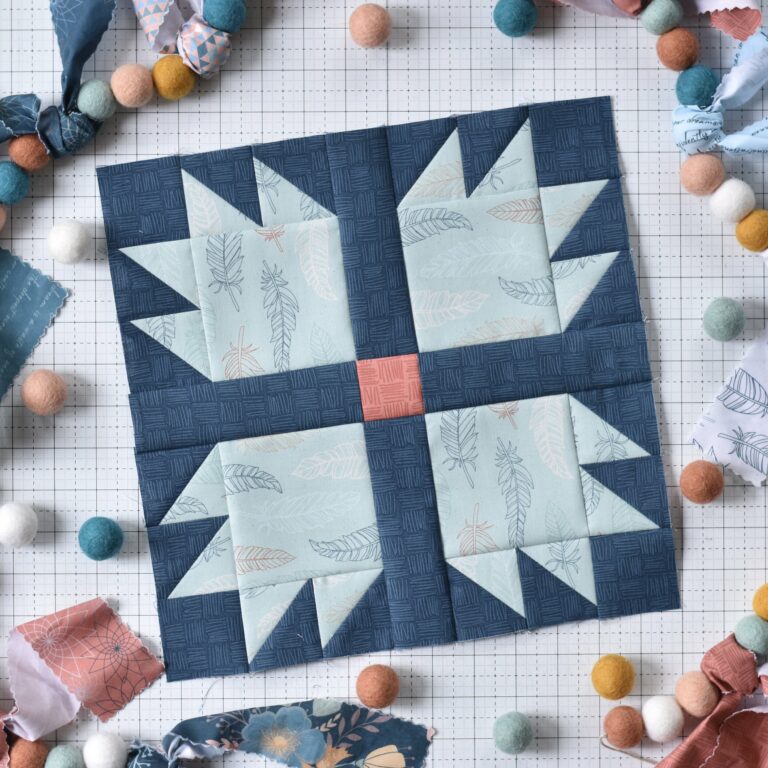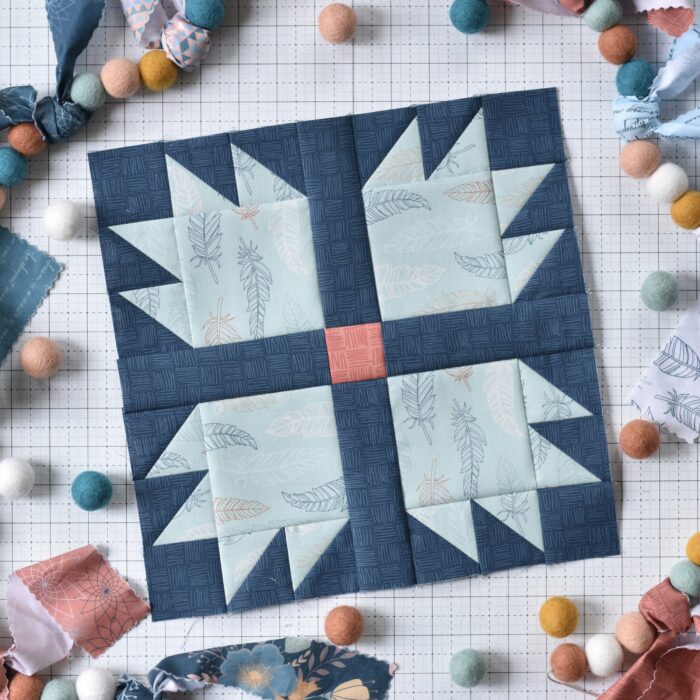 Bear Paw Quilt Block Tutorial @ Material Girl Quilts
While you're over on Amanda's site be sure to also check out her Quilt Patterns too!
For my 6″ block I was way too intimitaed to make a bear paw block. The pieces would just be way too small. I was going to only make one of the paws for my quilt and write up a tutorial.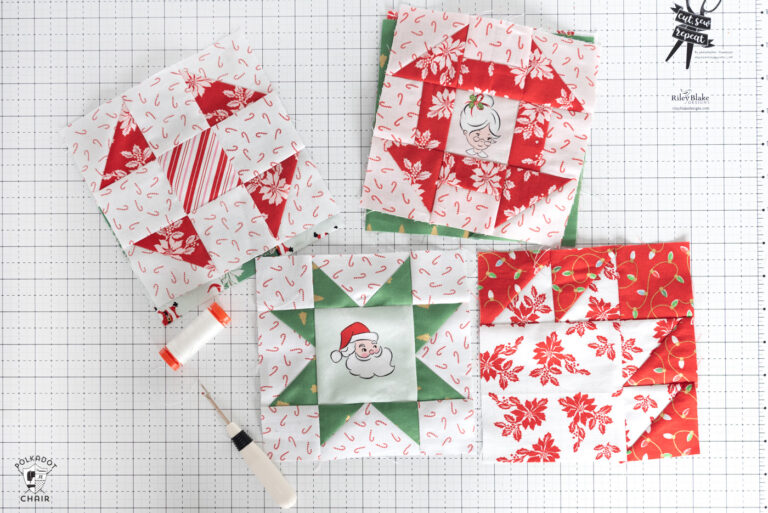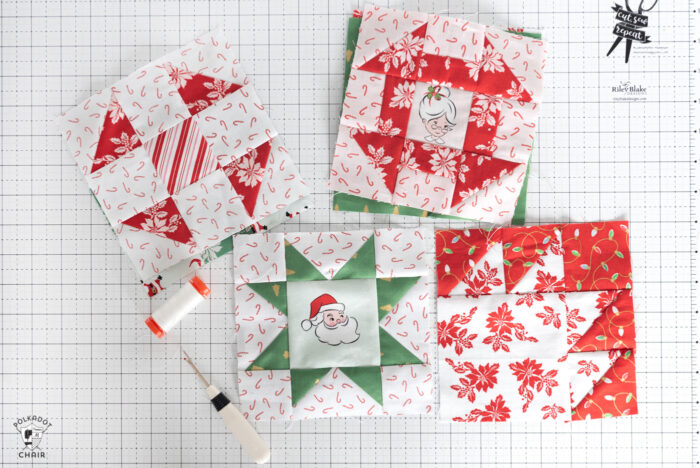 Lucky for me, Amy and I had the same idea and she wrote up a tutorial for a 6″ "paw only" block.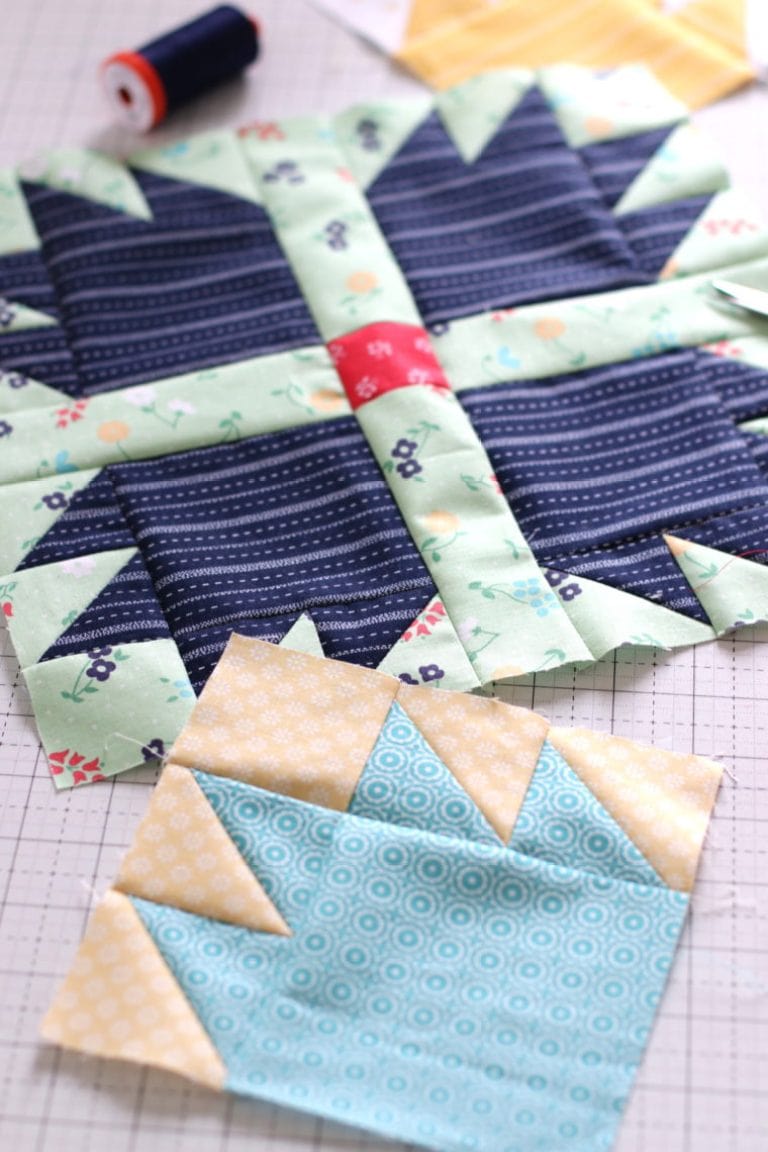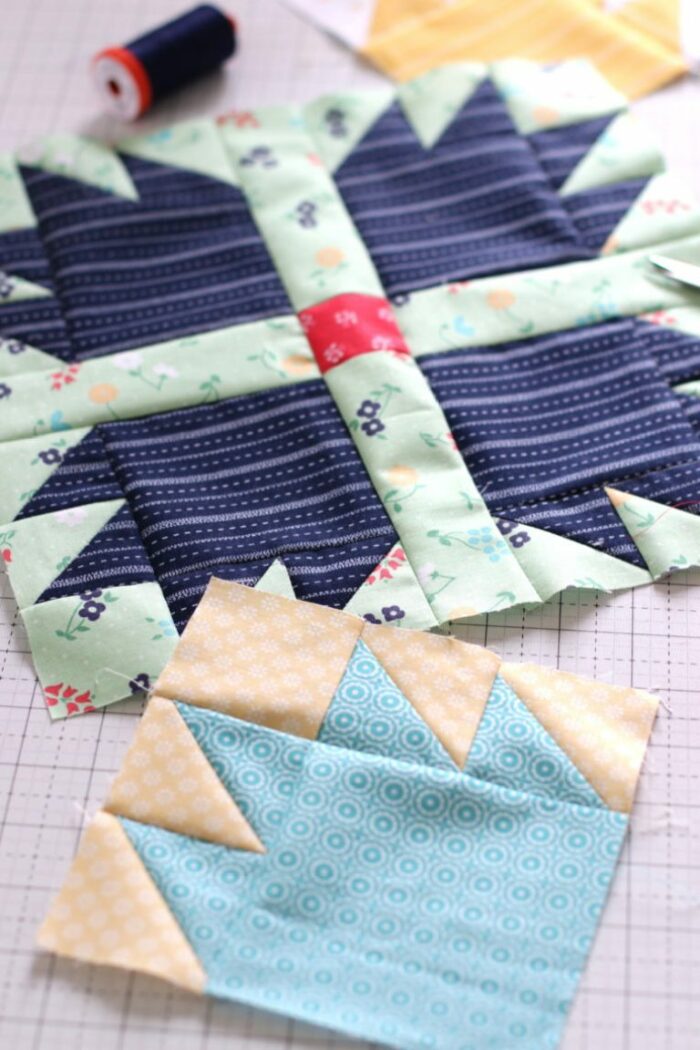 Paw Only 6″ Quilt Block Tutorial at Diary of a Quilter
Bear Paw Quilt Ideas
I also wanted to share this amazing bear paw quilt by Heidi Staples. I love her color choices and the way she combined a bear paw block with a log cabin block.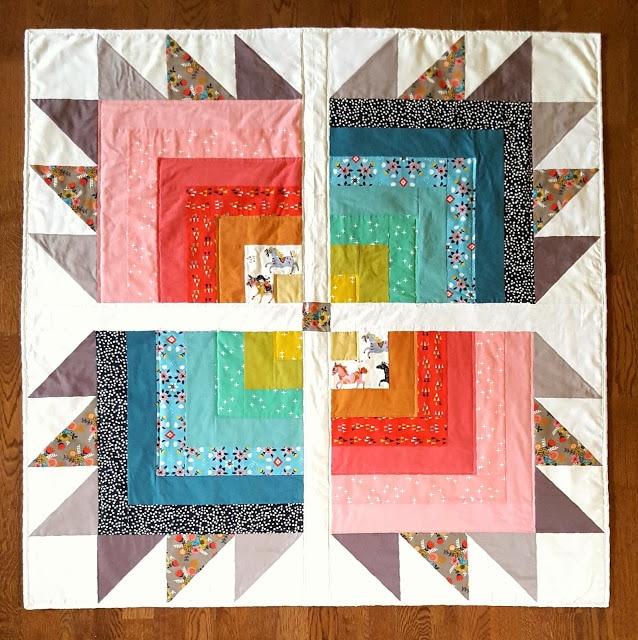 Big Bear Cabin Quilt by Heidi Staples
I took a few minutes to pin all my blocks on my wall. I did it quite haphazardly so don't pay too close attention.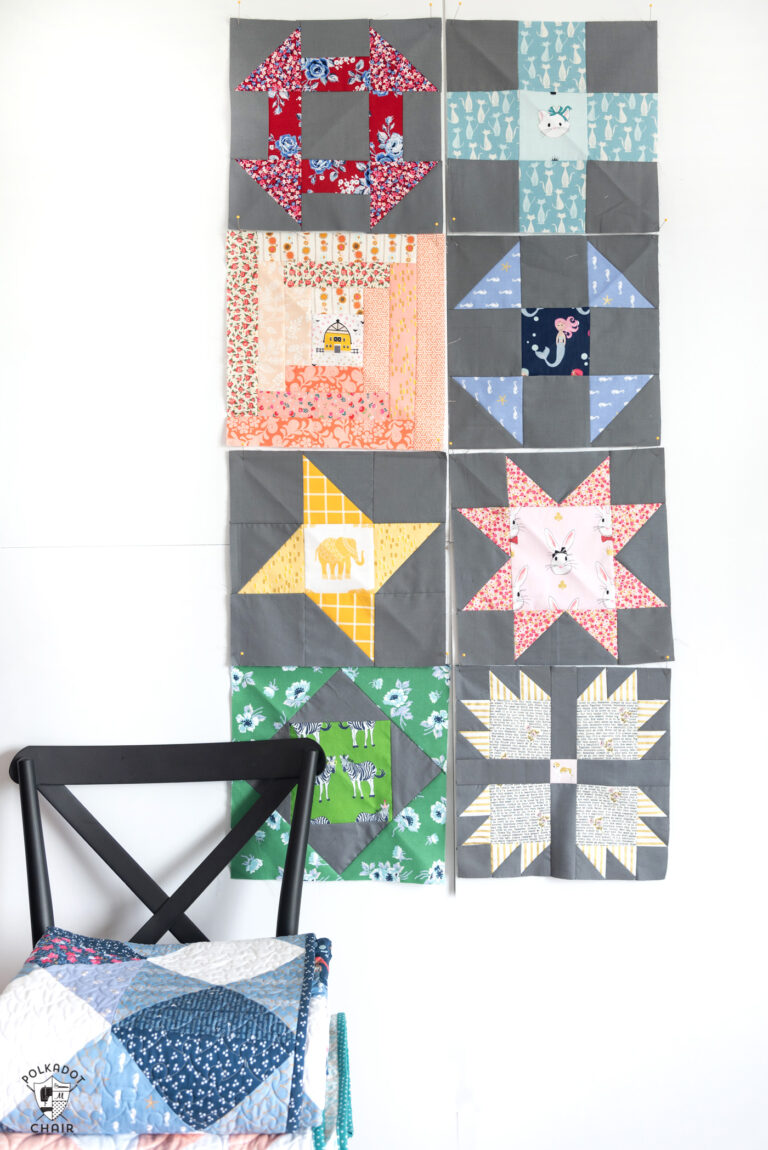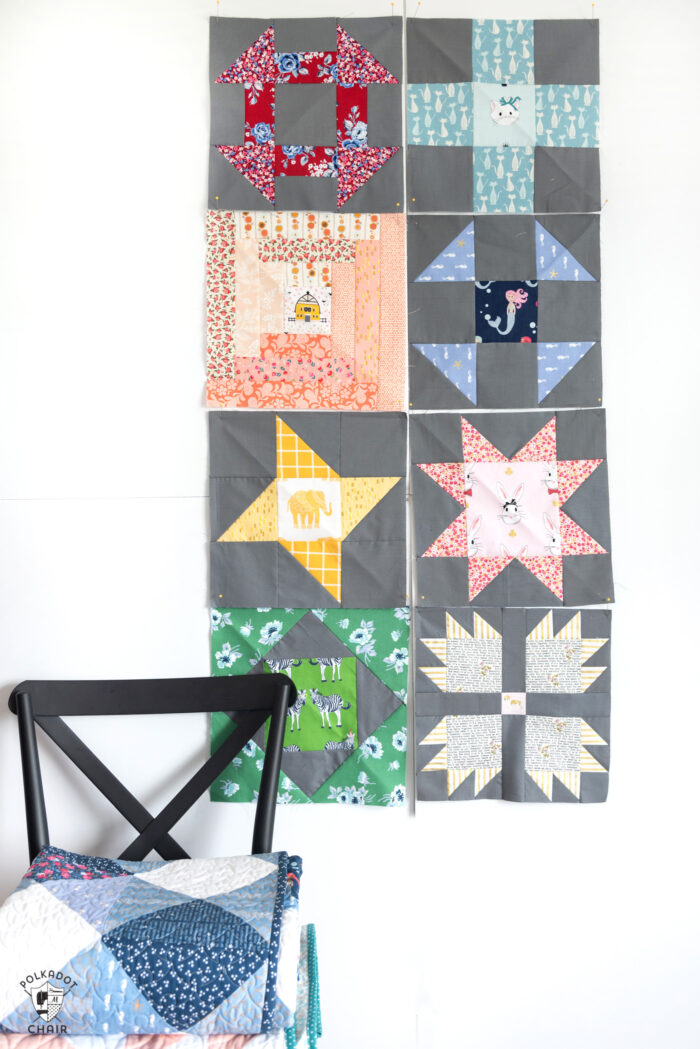 I'm going to start thinking of how I'd like to set the blocks in a quilt when I'm done and how many blocks I want to create in total. I'll be sure to share with you what I decide.
How to Participate
You do not need to use the block tutorial I've mentioned in this blog post. You can use any quilt block tutorial that you like. Just make a block! If you have an Instagram be sure to share the block on Instagram with the #RBDblockchallenge. You can find me on Instgram too! I'm @polkadotchair
Block Schedule
If you're new to quilting be sure to check out our list of resources for beginning quilters.