Celebrate your favorite Graduate with this cute One Smart Cookie Graduation Party!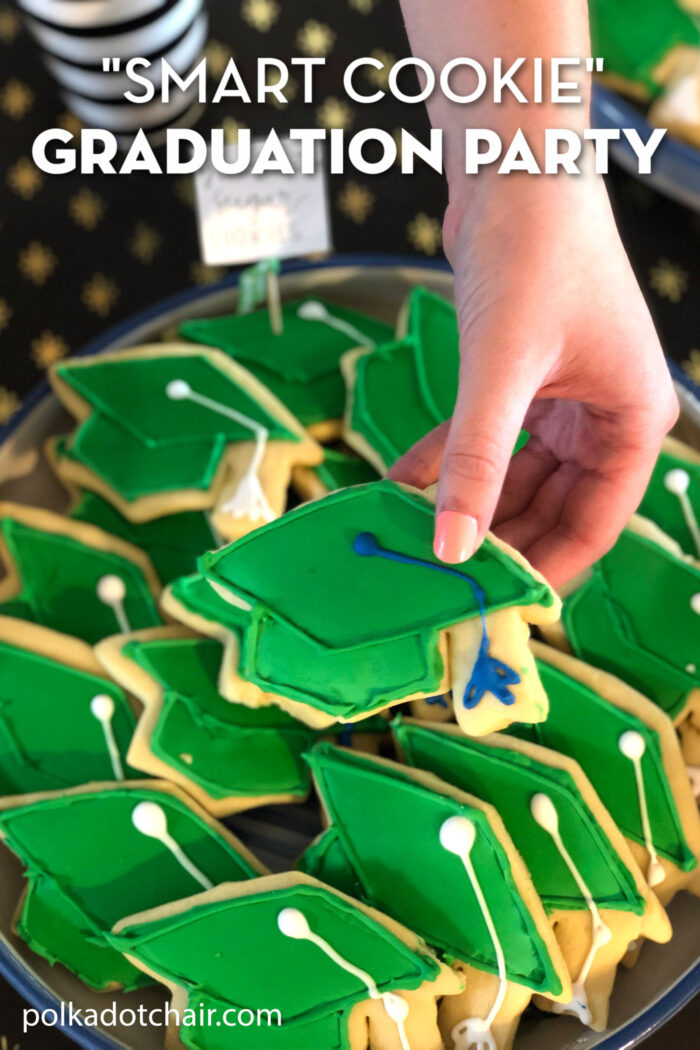 When my kids graduated High School, we wanted to invite our family and close friends to celebrate with them. Each time we hosted a graduation party, I knew that I did not have time to make any complicated decorations but still wanted something fun to celebrate our graduates.
Table of Contents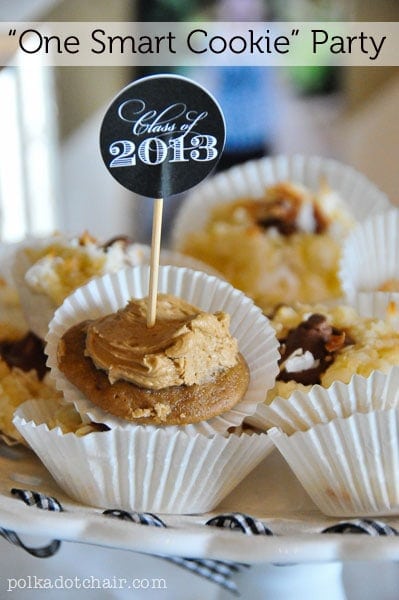 After much thought, I settled on a Cookie Bar idea for her Graduation Party.  I hosted a Cookie Bar party for my oldest daughter's graduation and have since then hosted another "Cookie Party" when my twins graduated high school. I know, I'm biased, and I think "Kari is One Smart Cookie"!
"One Smart Cookie" Graduation Party Details
How To Create a Party Backdrop
Showcase some of your graduates greatest accomplishments and take a quick trip down memory lane by creating a custom "graduate spotlight" backdrop.
If you don't have a blank wall in your home to use for a backdrop, this is the perfect solution as it can be pushed up against the wall and covers what is already on the wall. For mine,  I pushed my dining room table up against the wall then just propped the foam core against that.
Backdrop Supplies
2-3 Foam Core Boards
Masking Tape
Roll of Wrapping Paper
Photos & other Memorbilia
Washi Tape or Push Pins
Instructions
Tape 3 foam core pieces together, then cover them with a roll paper (like a cute wrapping paper).
Gather a collection of photos of the graduate and add them to the display that you created. I gathered some of my favorite photos of our daughter and used washi tape to tape them up to the board (that way, they are removable).  After I finished, she promptly went and got different pictures that she liked better (she's the independent sort).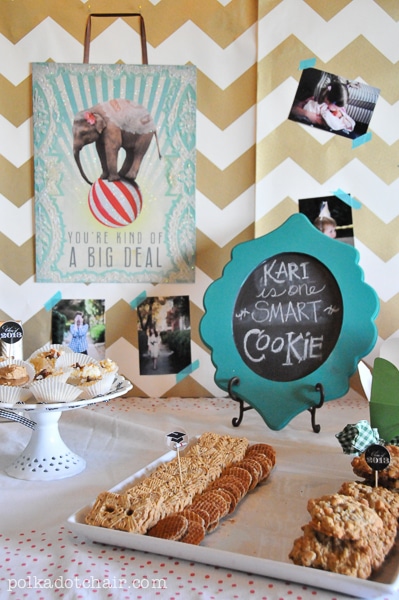 Ideas to Personalize the Display
Does your child participate in sports or have a favorite movie or animal? Set things out on the table that represent them and the things that they like.
My daughter has been a collector of elephants since she was little. When I saw the poster, I knew it would be a fun touch to the party.  I just attached it with pins to the foam core.
DIY One Smart Cookie Sign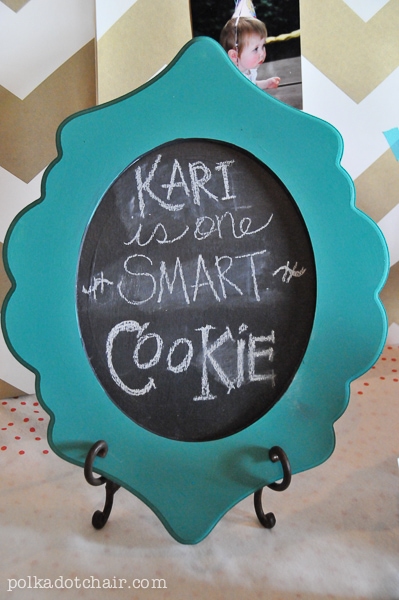 I recommend using a reuseable surface to create your sign. Adding a sign to your party table will help to communicate your party theme to your guests! I painted a frame to use a chalkboard.
The bonus is that she can take it to her dorm room to use as it's really light, and we can hang it up easily. If you don't want to paint your own frame, you can use a purchased chalkboard. If you don't like your handwriting, you can cut out the lettering with a Cricut machine.
What Food to Serve at a Graduation Party
Since this is a One Smart Cookie Party hosting a Cookie Bar is perfect! Not only are cookies easy to serve (they don't require any utensils) but you can easily mix and match home-baked and purchased cookies on your cookie bar.
For our party treats, my Mom came and baked cookies for days!  She was so sweet to do that we also had a few good friends donate cookies.  
We ended up with a fun combination of sweets! I've linked up a few of my favorite cookie recipes at the bottom of the post.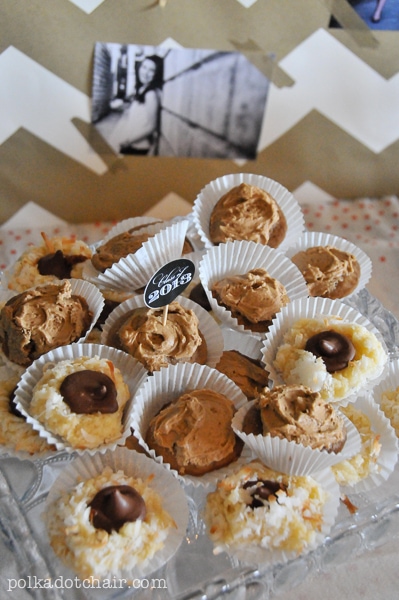 Serving & Display Tip!
One great idea my Mom had was to place some cookies in liners, this made them easier to eat, and they looked pretty sitting on the table.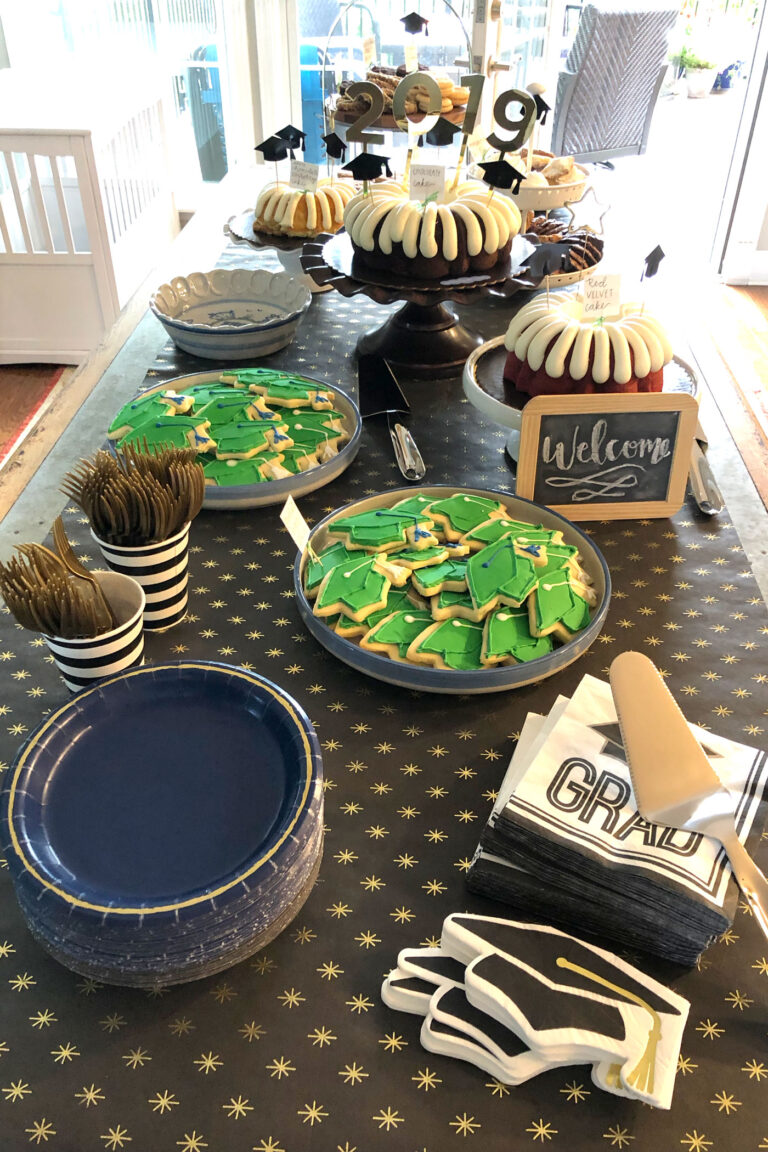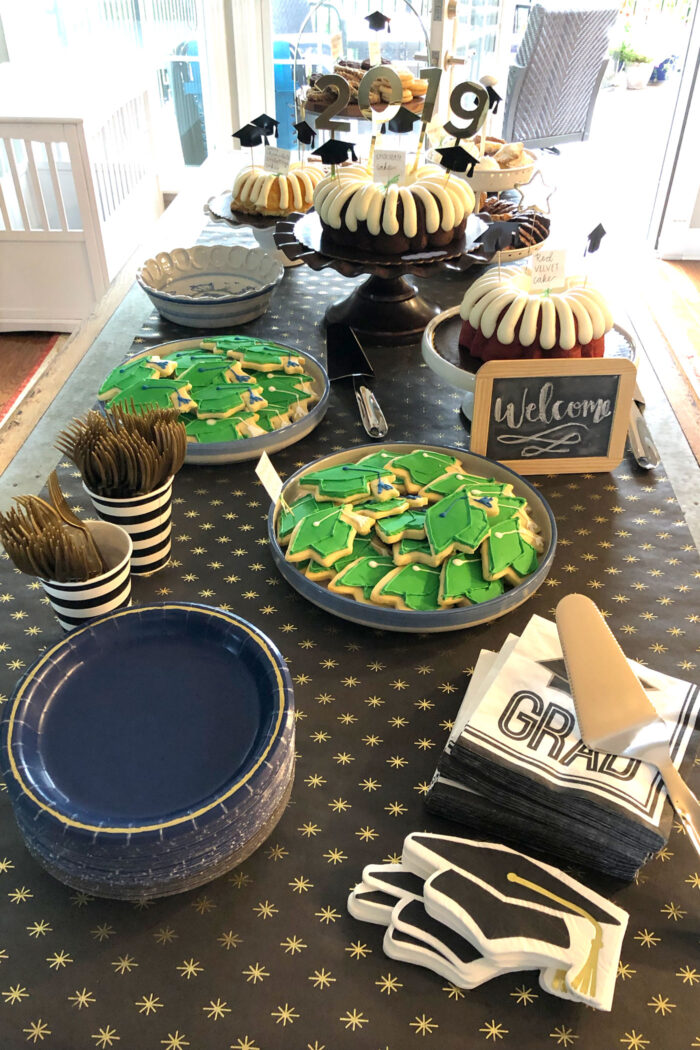 Place the cookies on a variety of plates and stands. Adding height will give visual interest to your party table.
Party Favor Ideas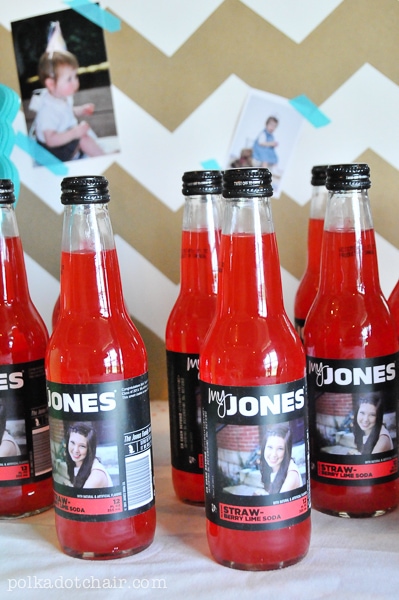 A few years ago my sister ordered Jones Soda's for us for Christmas and I thought it was the cutest gift! I ordered a few to have out at the party.
How to Decorate the Party Table
Pick one table in your home to use as the "party table" it can be a kitchen table, dining room table, or even a plastic folding table. I recommend keeping all of your "party items" in one spot in your home. However, if you'd like your guests to move out of the kitchen (or wherever the treats are!), place your drink station in another part of your house (or backyard if the weather permits)
A Few Tips & Ideas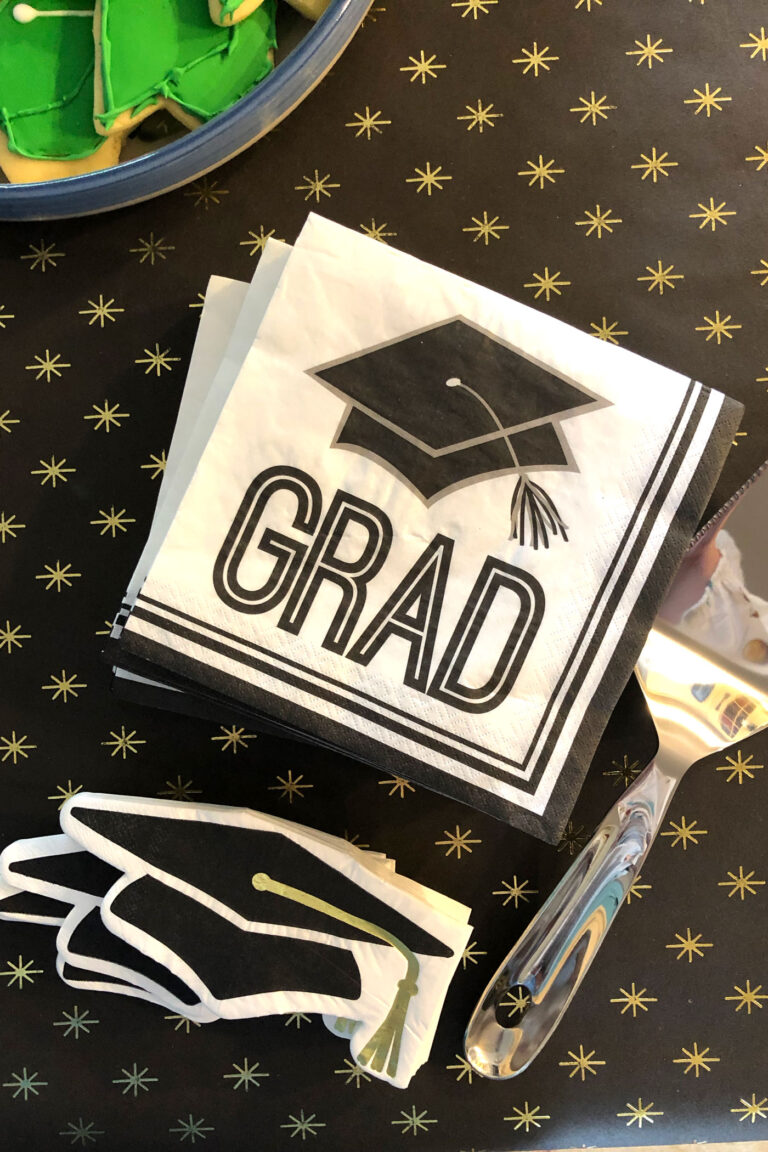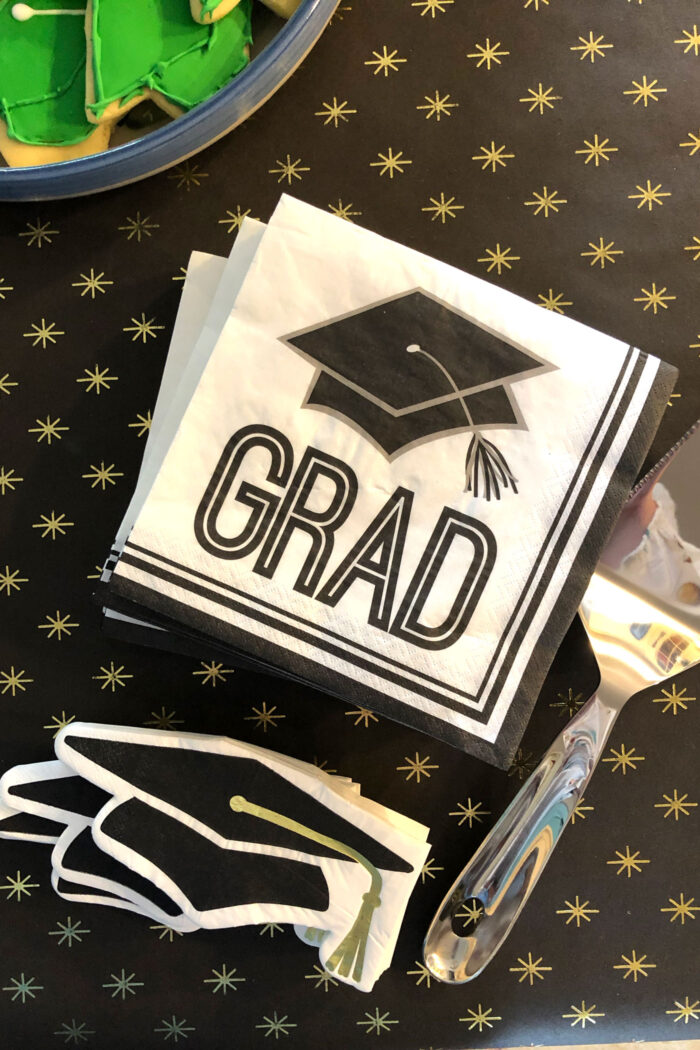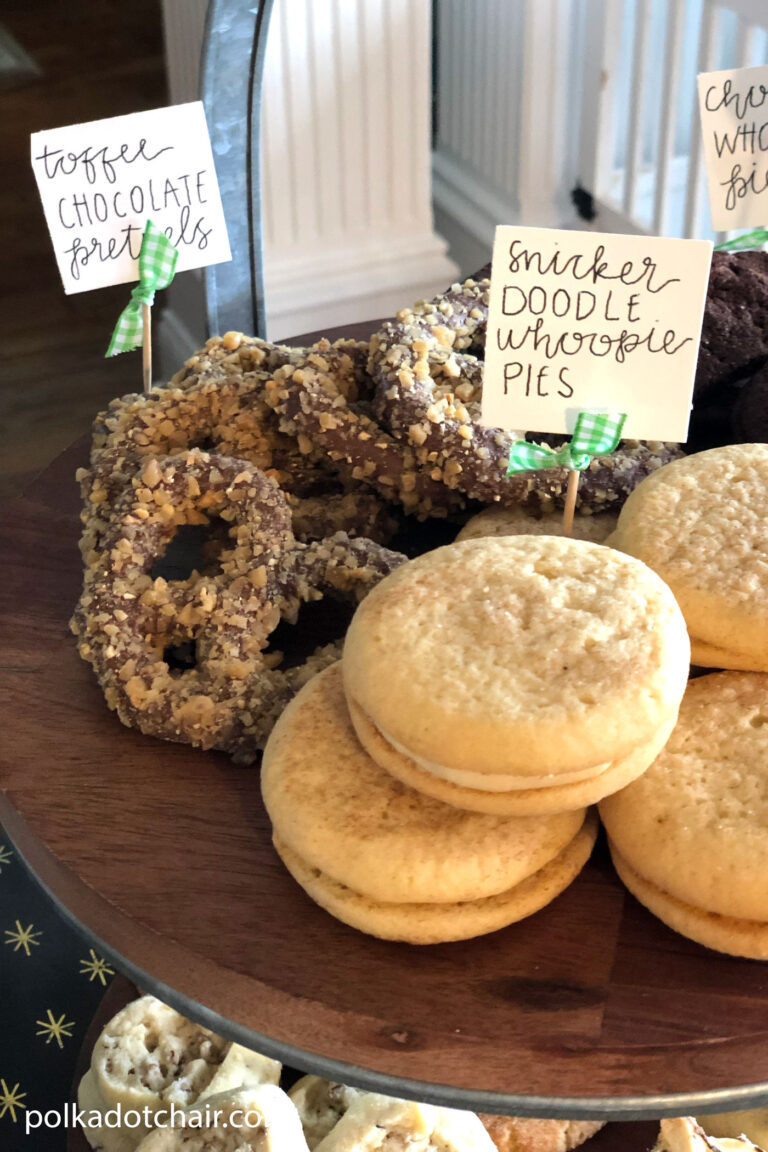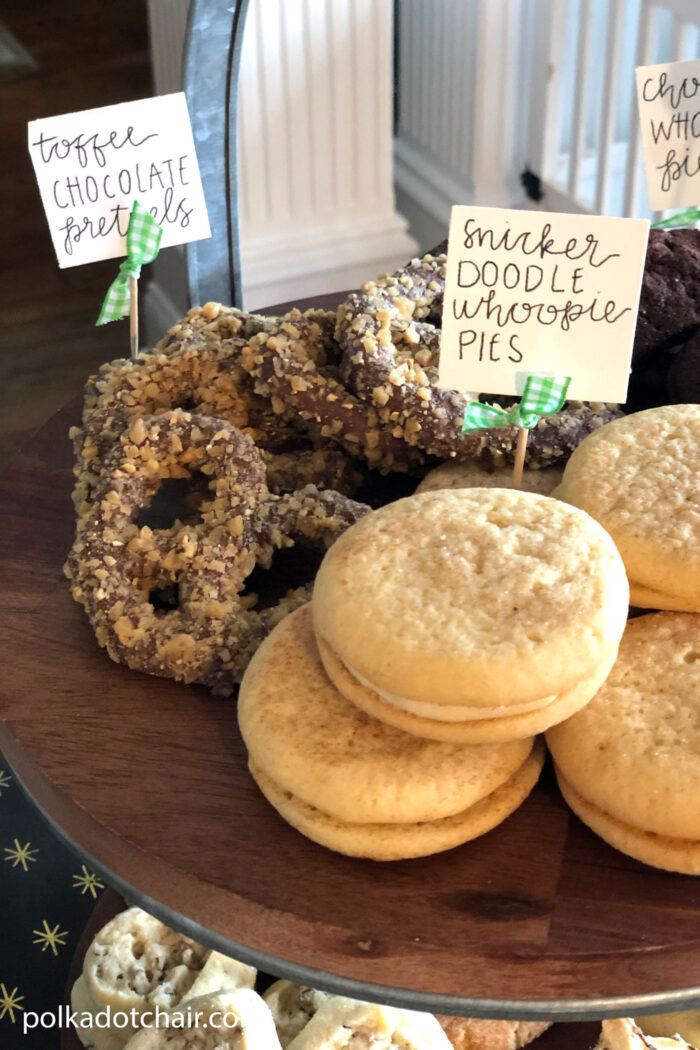 Use Wrapping Paper as a Table Cloth. Forget using fabric tablecloths that need to be laundered later. Instead, pick out wrapping paper in a simple design in your party colors and tape it to the tabletop. You can even layer multiple layers of paper.
Add toothpick "decorations". Buy a set of graduation stickers and attach them to toothpicks to create custom "cookie picks."
Label the Cookies. Use squares of scrapbook paper and toothpicks to create "labels" for the cookies on the cookie bar. Just attach the toothpicks to the back of the paper using washi tape.
Buy Number Candles. Buy number candles with the graduation year. Add them to cookies or cupcakes on the table.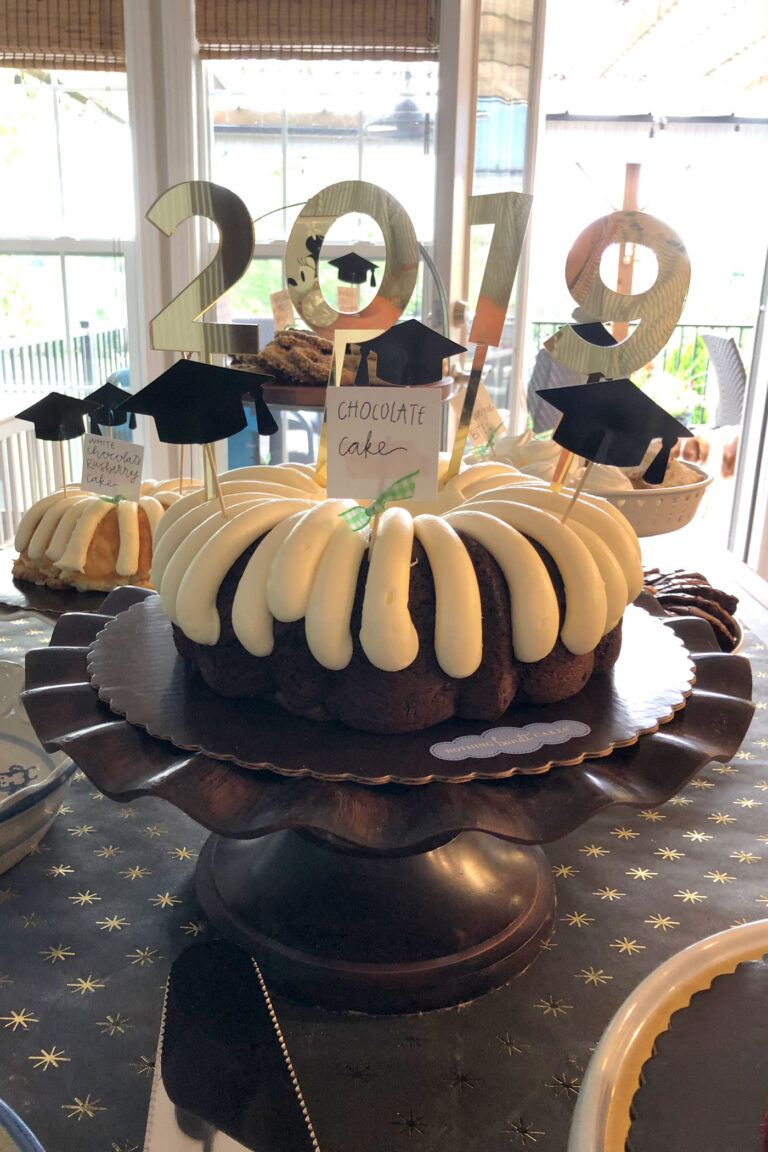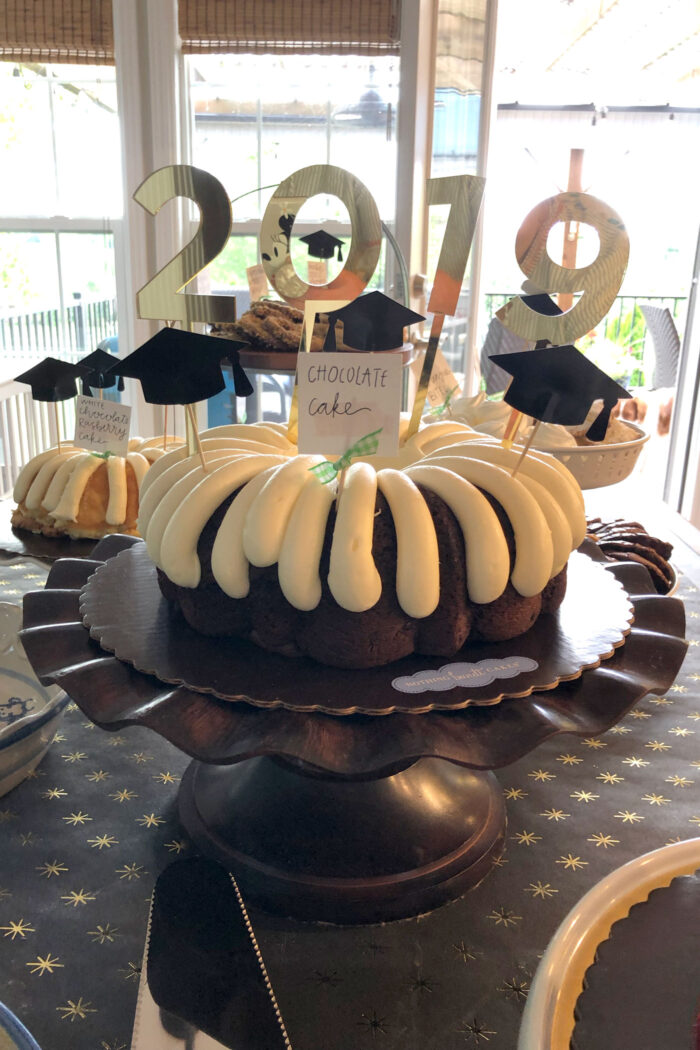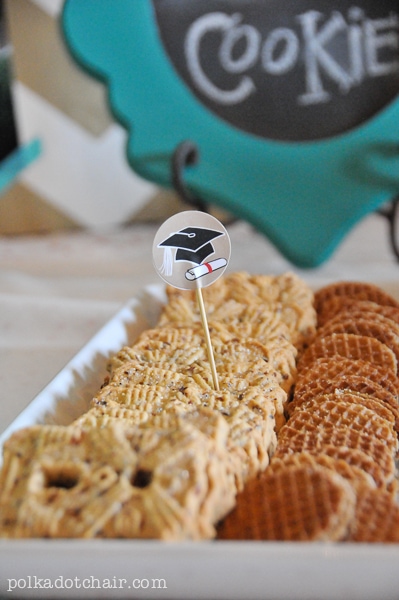 More Graduation Ideas:
How to Decorate Graduation Caps & Create a Shadow Box
DIY Dorm Room Decorating Ideas
Our Favorite Cookie Recipes:
Graduation Sugar Cookies – Cookie Cutter purchased on Amazon
Family Favorite Chocolate Chip Cookies
A hint of Coconut Chocolate Chip Cookies
Malted Milk Crispy M&M Cookie Recipe
Pumpkin Chocolate Chip Cookie Recipe