Today I'm going to share with you how our Kitchen turned out after we Painted our Kitchen Cabinets and did a few other minor updates.  Hopefully you'll get lots of painted kitchen cabinet ideas along with a few other ideas for updating your kitchen without spending a lot of money!  If you like this project you may also like to see how we updated our Living Room with a simple coat of paint!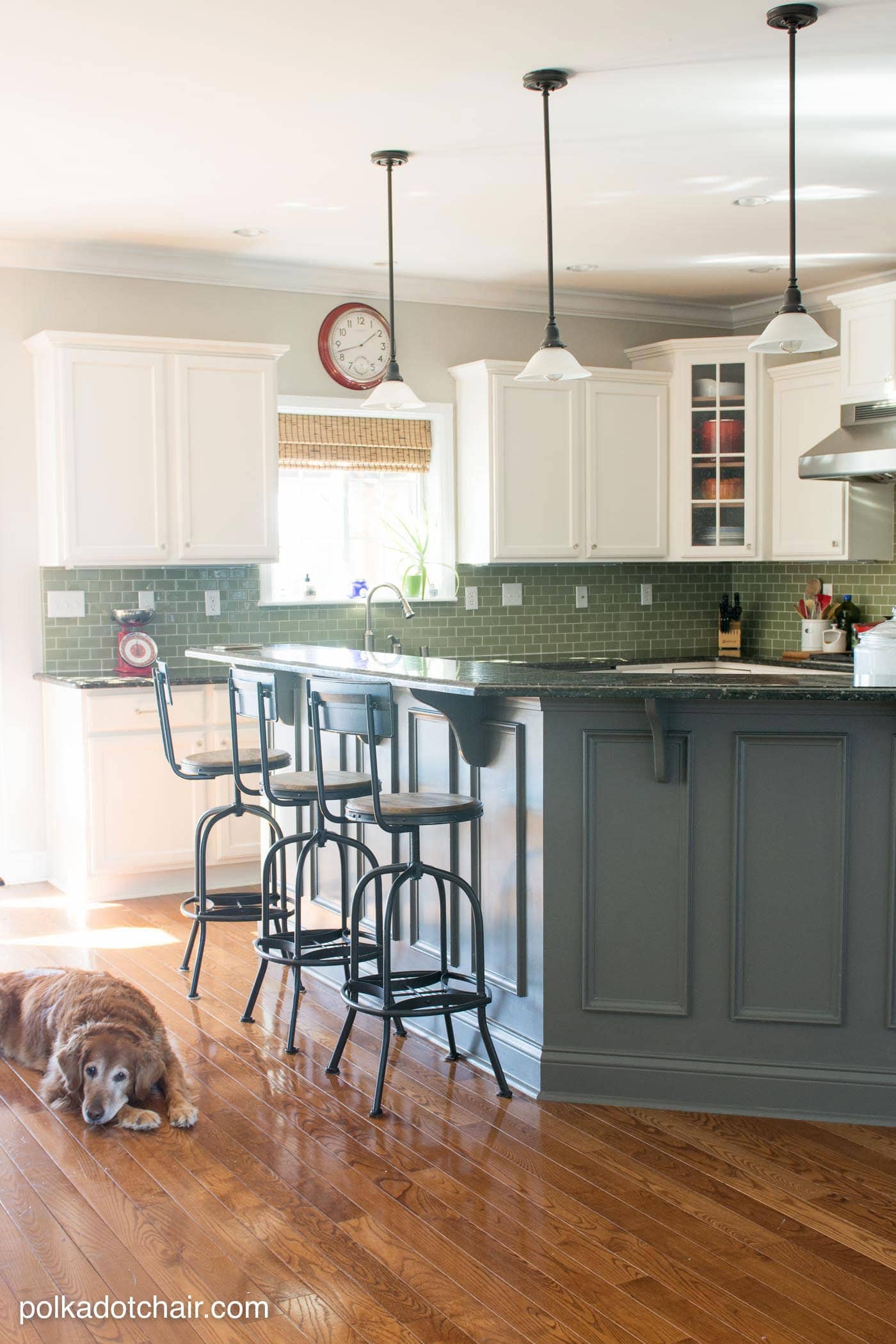 When we purchased our house 8 years ago I knew that I wanted to give the kitchen a facelift.  The cabinets were a cinnamon maple color and while it was pretty, it just did not suit the look I wanted for the kitchen.  We purchased our home because it was in a great location for our kids (close to church and schools) and had more than enough space for what we needed. (In fact, now that my kids are leaving the house it's too much space and I think we will downsize soon.)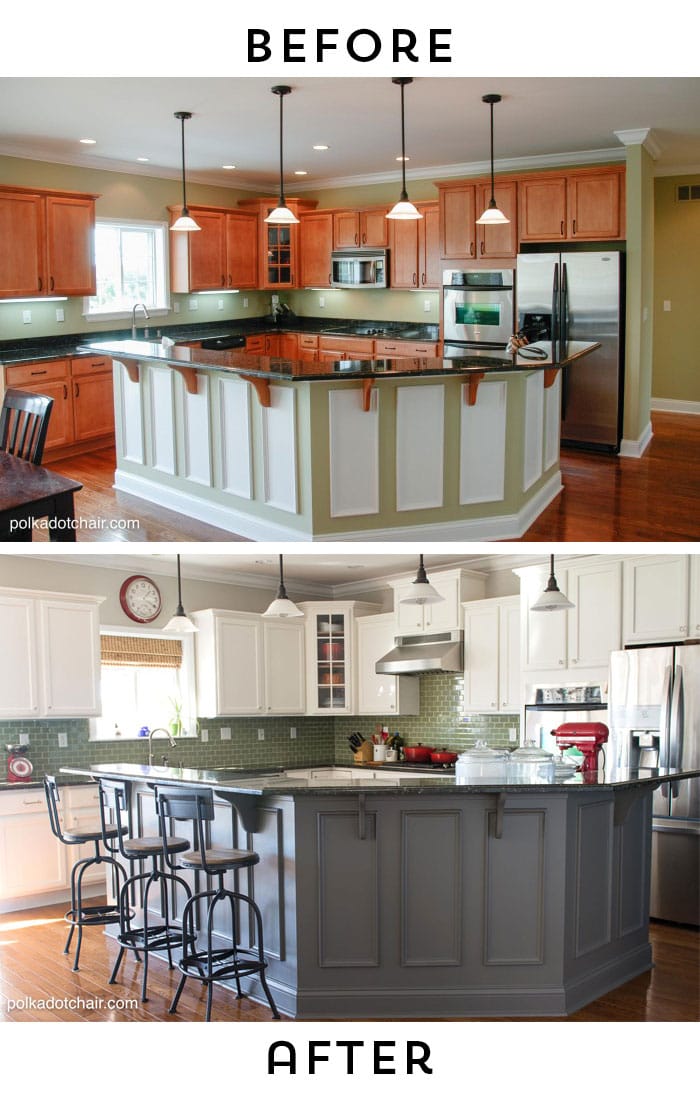 I did not like the kitchen.  It had an electric cooktop and a microwave above the stove that I kept hitting my head on. It also had no backsplash. After cooking one meal, and splattering spaghetti sauce all over the wall I knew that we would need to remedy that situation soon.  (yes, I know these are all "first world" problems, but this is a DIY blog, so I'm going to show you how we DIY'd our way into a kitchen that I now love).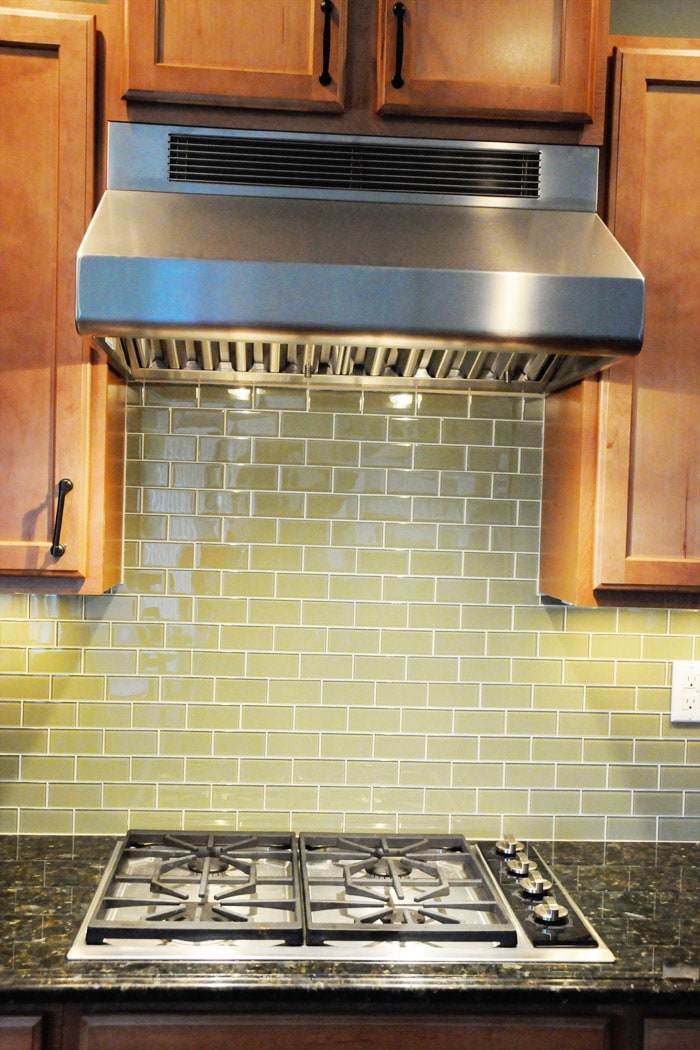 We began by moving the microwave from above the stove top and placing it in a bookcase on the other side of the kitchen.  We then swapped out the electric cooktop for a gas one (the old one was donated to Habitat) thankfully there was already a gas line under the sink so it was not hard to do.
We also had to move the kitchen cabinet that was above the stove to accommodate a vent hood.  To do this we simply pulled off the crown molding, removed the cabinet, and reattached the cabinet to the wall. We used some 2×4's to make the cabinet stick out a bit more from the wall so it would be flush with the new vent hood.
We had to have a plumber install the gas stove, but were able to move the kitchen cabinet and install the vent hood ourselves with the help of some friends.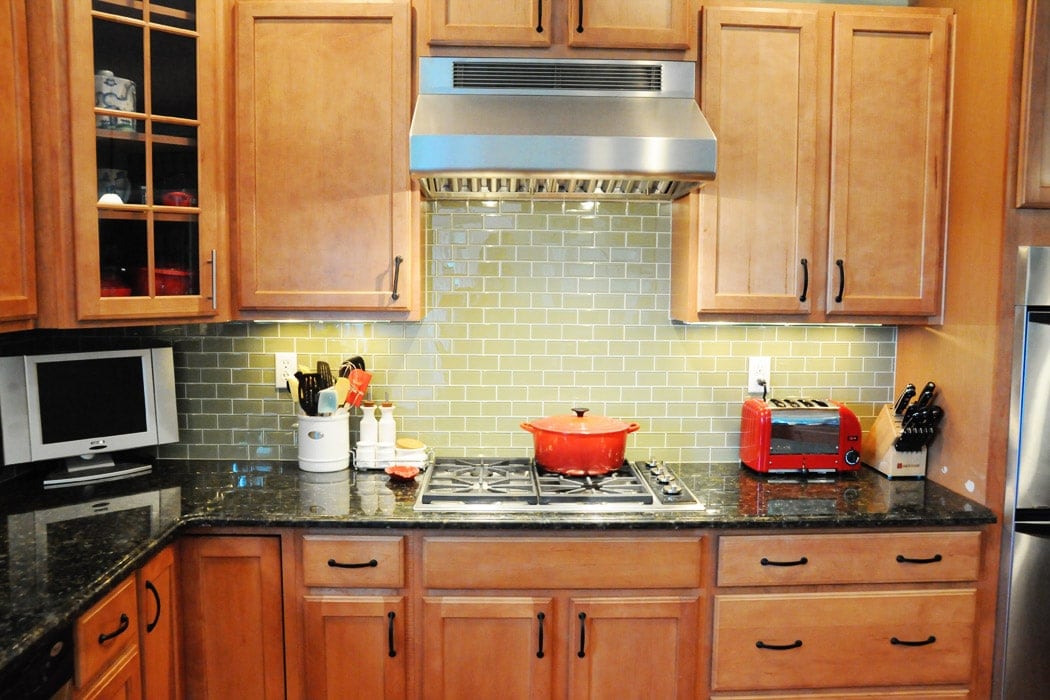 We then picked out some green glass tile for the backsplash and had someone install it for us. We debated about doing this step ourselves for a while, but in the end were very glad that we hired someone to do it for us.  The people at the tile shop mentioned that the glass subway tile is hard to work with, and it was. Even the experienced installer had a bit of trouble with it.
We never got around to replacing the crown molding over the cabinets because we were going to paint them "soon"…..  Well the kitchen sat like that for about 5 years.  Do you see the mismatched cabinet handles? Yeah, I was trying out new ones of those too…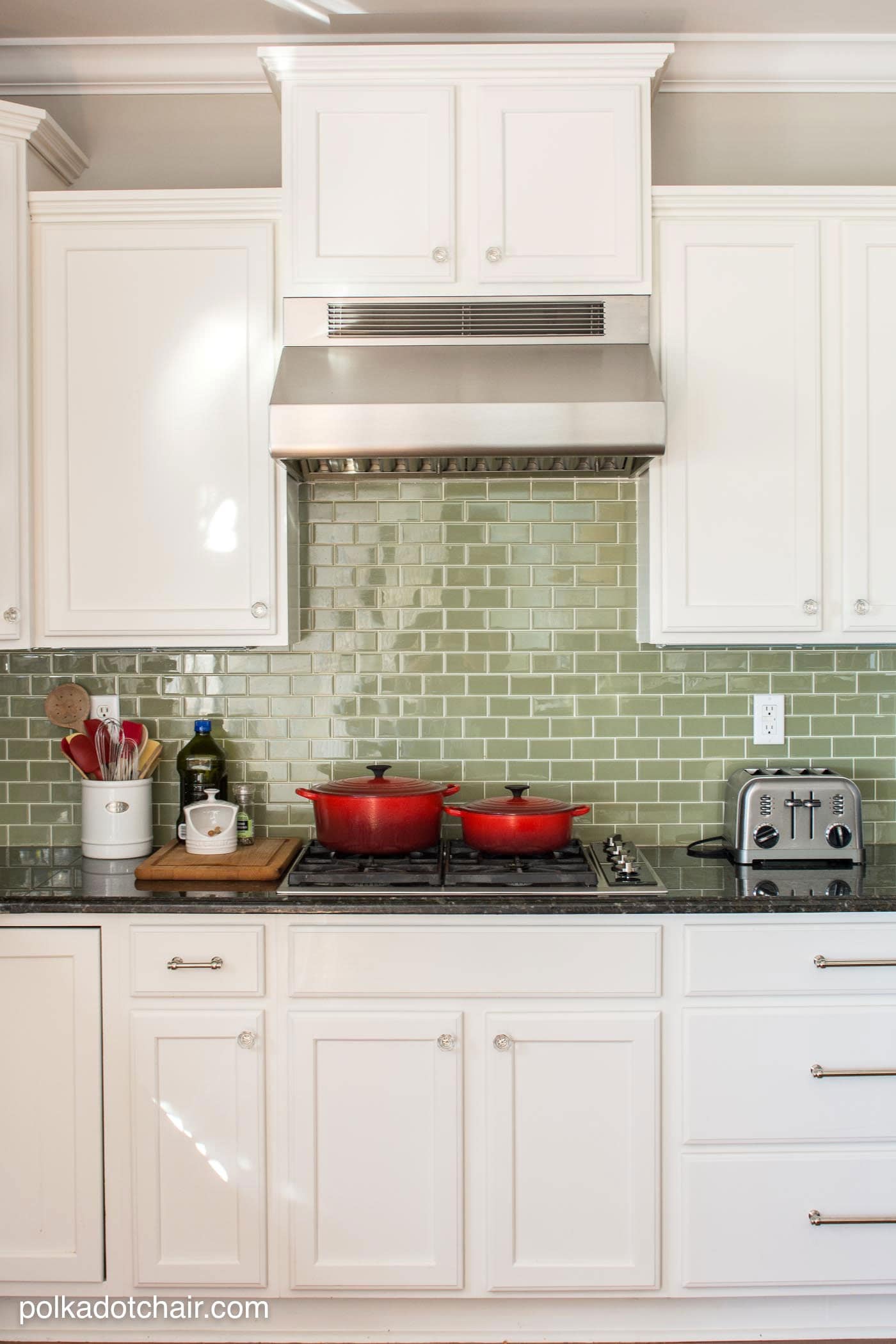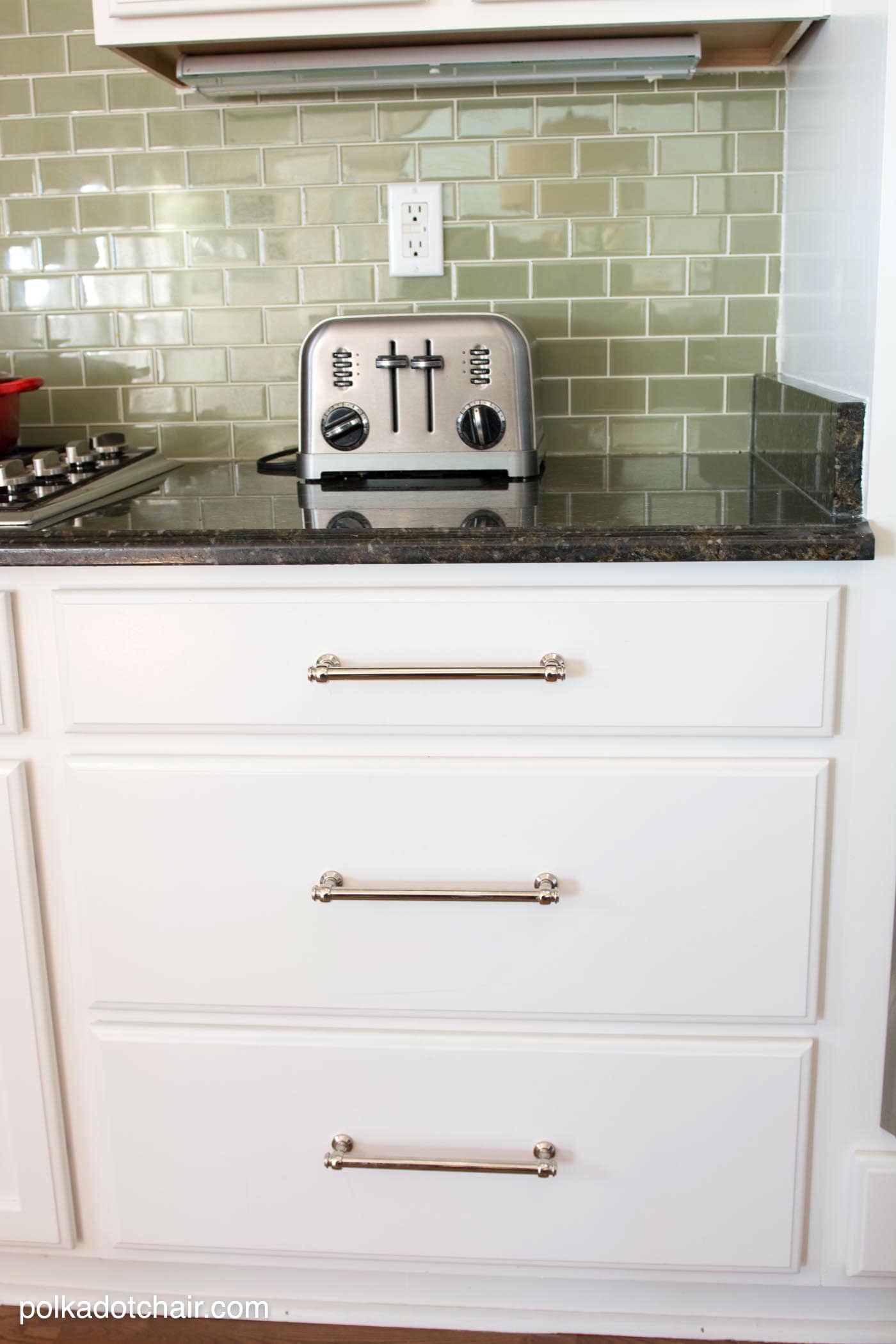 We got a few bids to have the cabinets professionally painted and they were much more than what we had in our budget.  We decided to just wait and "decide later" what to do about the cabinets.
After tackling a few smaller cabinet painting jobs around the house, we decided to take on the job ourselves.  You know those blogs that you read where you see the kitchen magically transform over the course of a week? Well let's just say that was NOT us. We ended up going without kitchen cabinet doors for about 6 months and the entire process took even longer than that.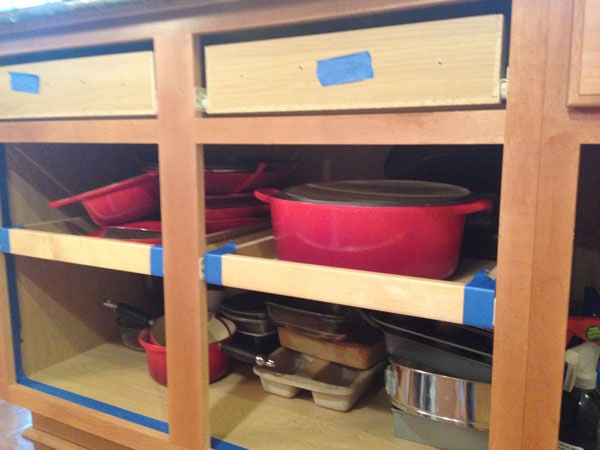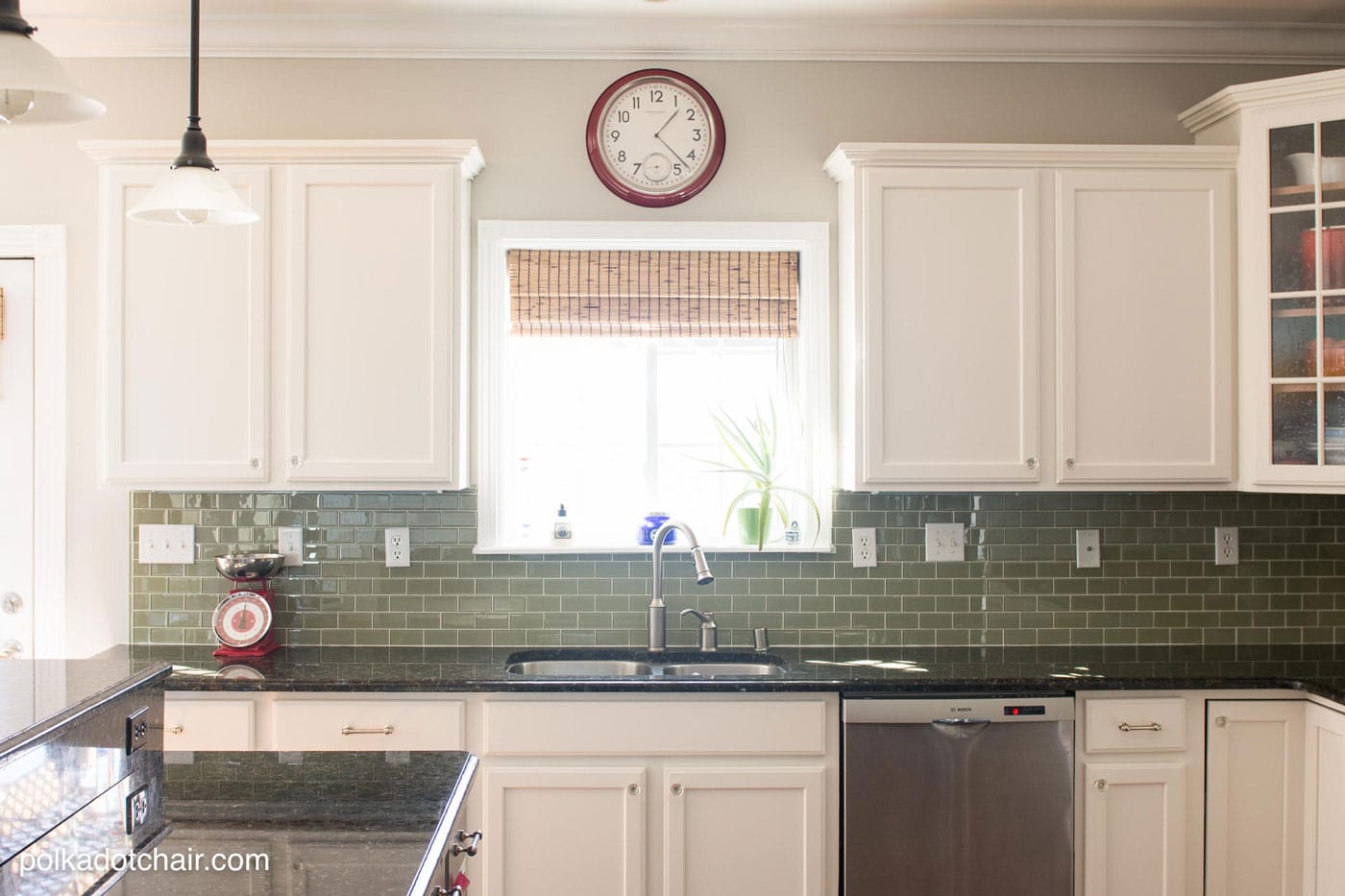 I assumed painting kitchen cabinets would be a pretty simple task, I mean you see people do it ALL. THE. TIME.  Well it was not.  I am planning a "how NOT to paint your kitchen cabinets" post but for now lets just say it ALL COMES DOWN TO THE PAINT! I'm not even kidding you. We got night and day differences in paint quality using different types and brands of paint.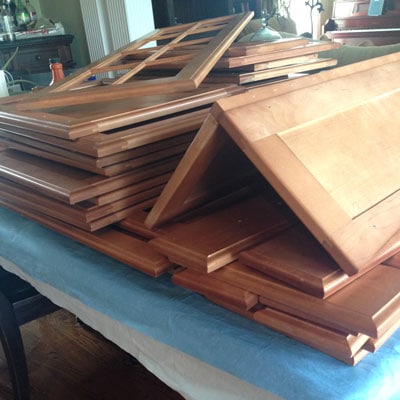 I'll break it all down in the next post (it would be way to long for all one post)— for now I'll just say that the paint that we used in the end that was WONDERFUL was "Cabinet Coat Enamel Satin" you can buy it at Benjamin Moore stores, but it's not Benjamin Moore labeled paint.  We started with paint from company X (which I won't mention because they did nothing wrong, we just were using it for the wrong purpose) and it was a disaster. It left an orange peel, chalky texture on the cabinets (we did use a paint sprayer both times).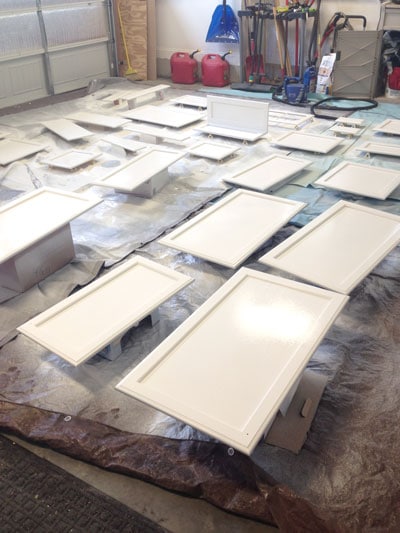 After we had painted all of them we had to go back and sand off ALL of the paint and start over again. Like I said, a story for another day. Oh and did I mention that BUGS kept getting stuck on the paint while the cabinet doors were drying???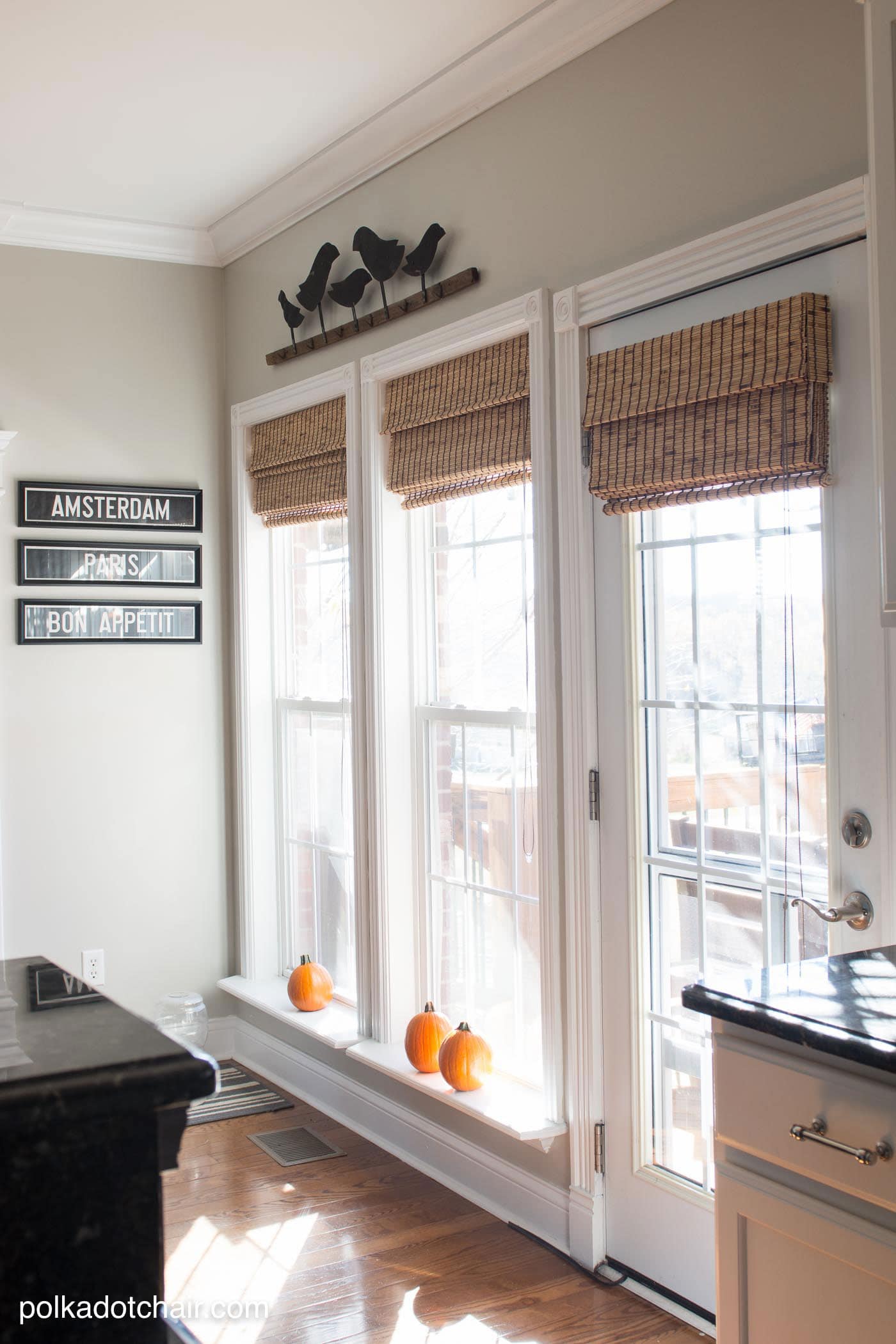 At the same time we painted the kitchen cabinets white, the island was painted a dark gray, Kendall Charcoal (better to hide foot marks). We painted both the drywall on the back of the island and the cabinets on the island all the same color so that it looked like one big piece of furniture instead of several pieces that were thrown together.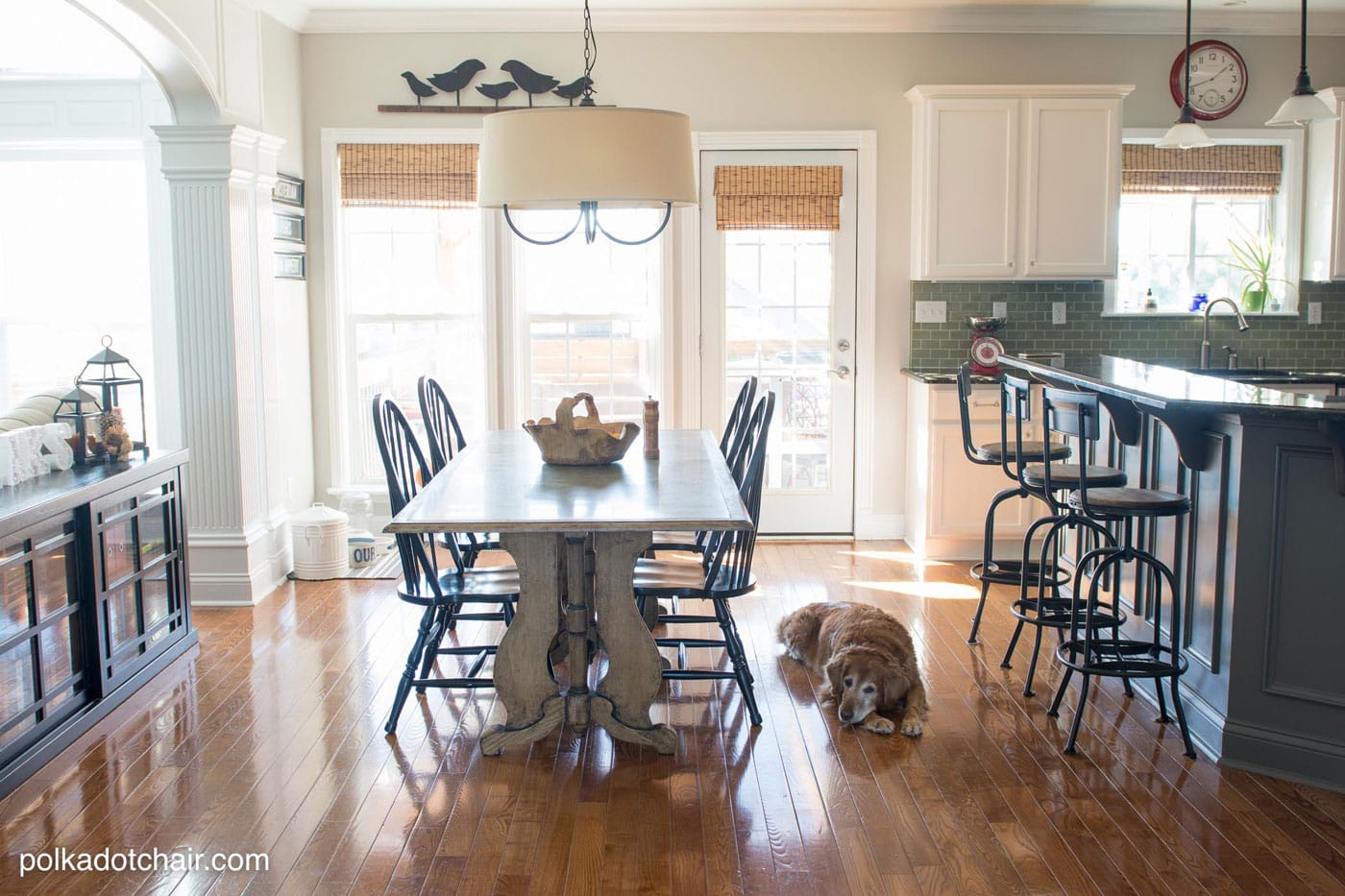 Last Fall we finally finished the project when we replaced the glass in the kitchen cabinet (another DIY gone wrong).  I took some time to snap some photos of the kitchen on a sunny day and am sharing them today (as you can see by the pumpkins in the window, these photos were not taken recently). Things just got too busy over Christmas to share them with you, plus I figured NO one was going to tackle a kitchen redo in December :).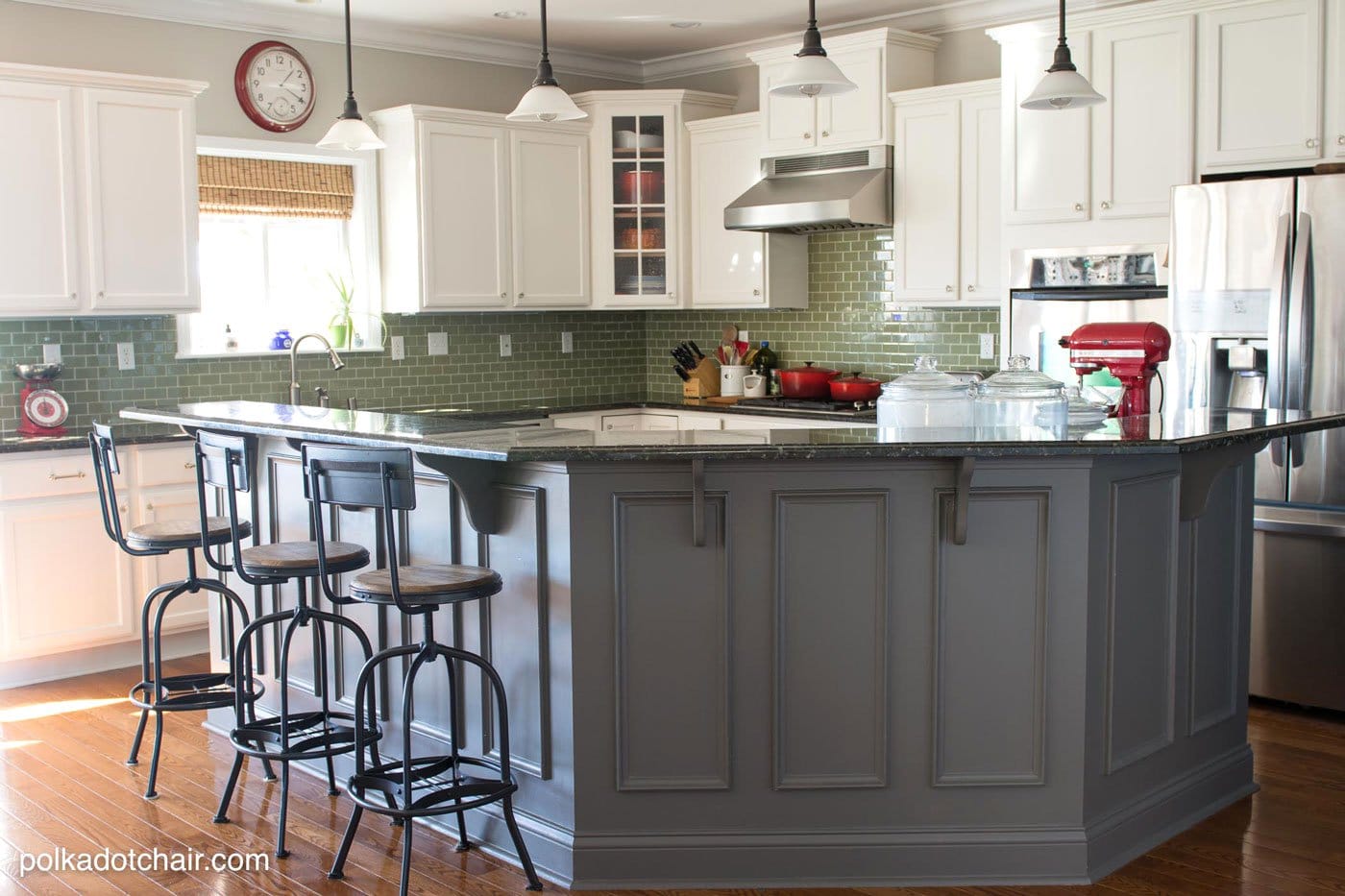 The very last step in the redo was to re-paint the walls, they started out as green and we repainted them a soft gray (Revere Pewter by Benjamin Moore).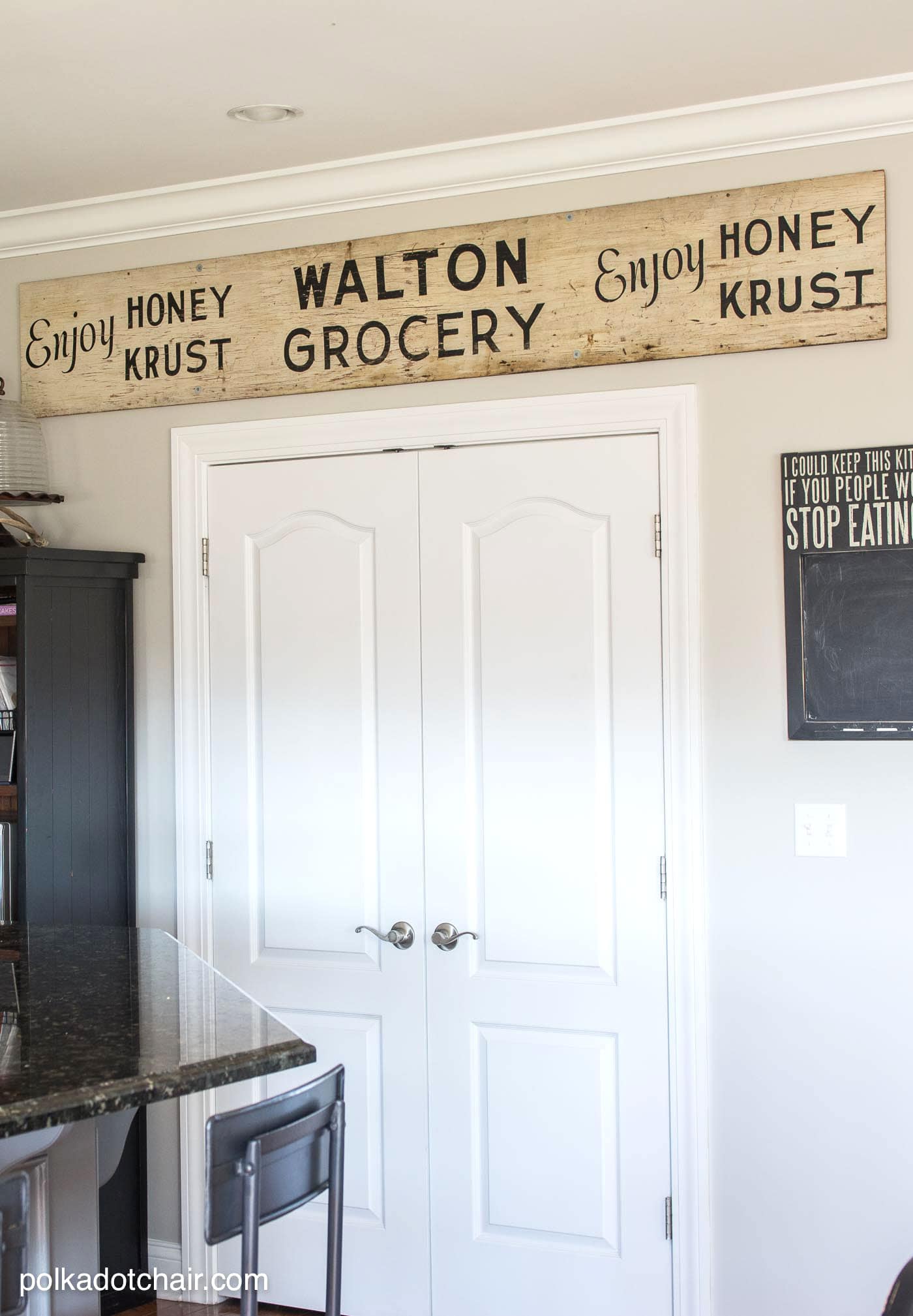 The rest of the kitchen redo was swap outs… different bar stools, and a vintage sign on the wall (purchased at a really fun antique store in downtown Louisville).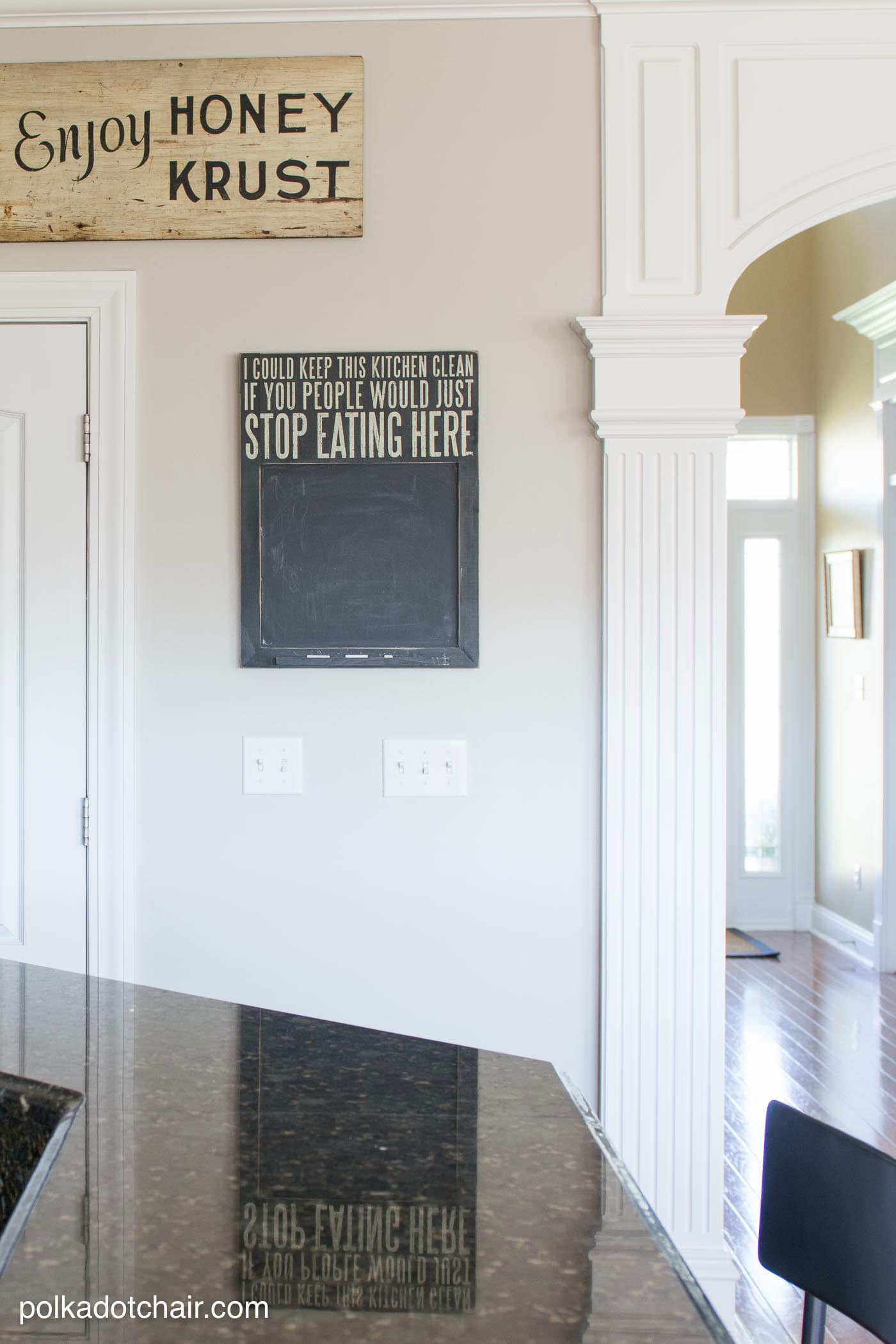 I'm still debating the chalkboard on this wall. I think it's too much text. I'm going to swap it out when I find a piece of artwork that I like (which might take another 8 years, I'm picky about art).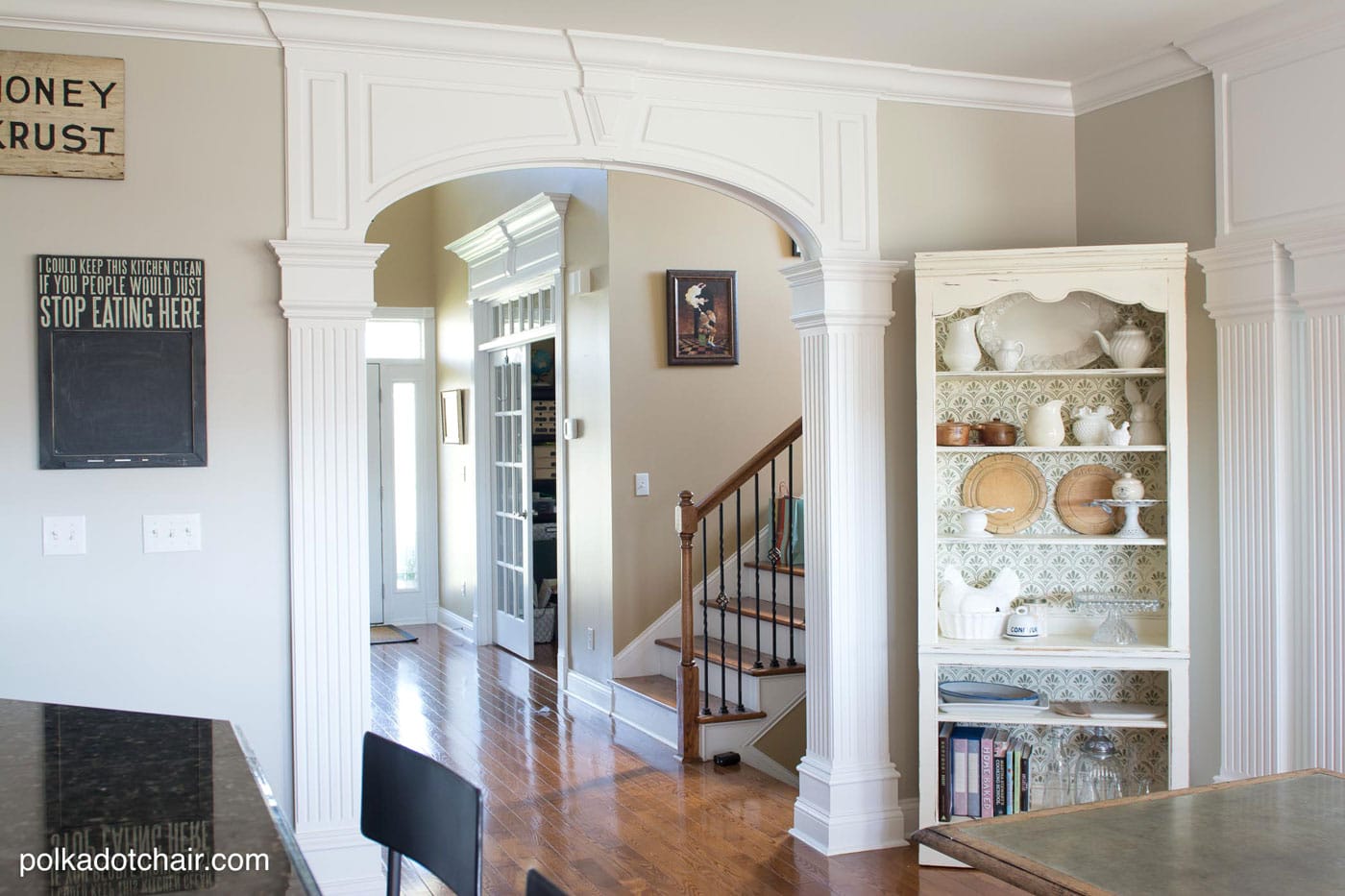 In this corner you can see the bookcase that I refinished with Chalk Paint (details of that project can be found HERE).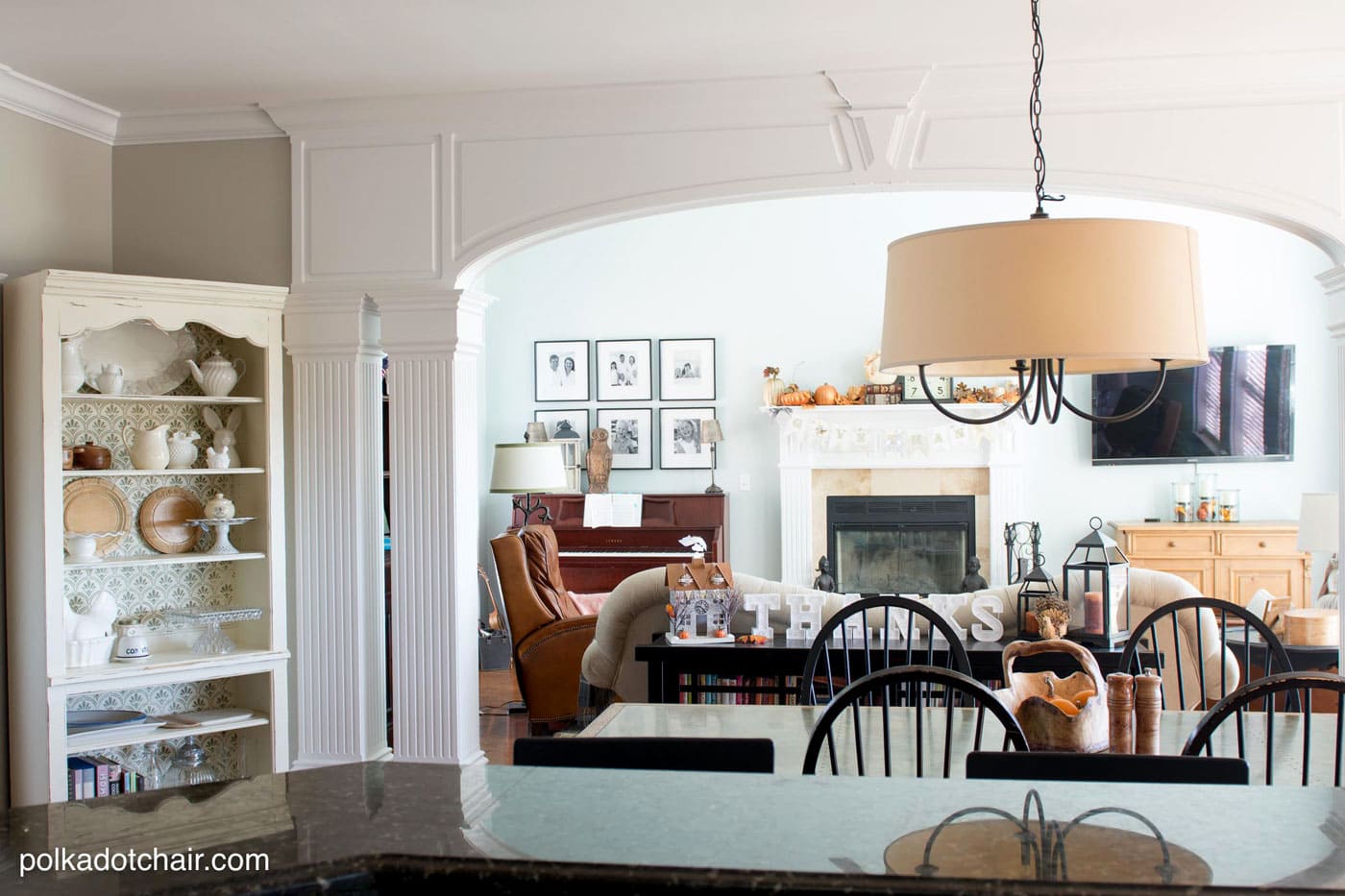 The kitchen looks into our Living Room which we also recently repainted. I'm bound and determined to get all of the yellow'y' tan paint OUT of our house this winter. We still have the 2 story entry way to repaint and we're not quite sure how to do it.  We joked that we'd get a ladder and just paint as high as we could then figure out the rest later *wink* (don't laugh, we might just do that).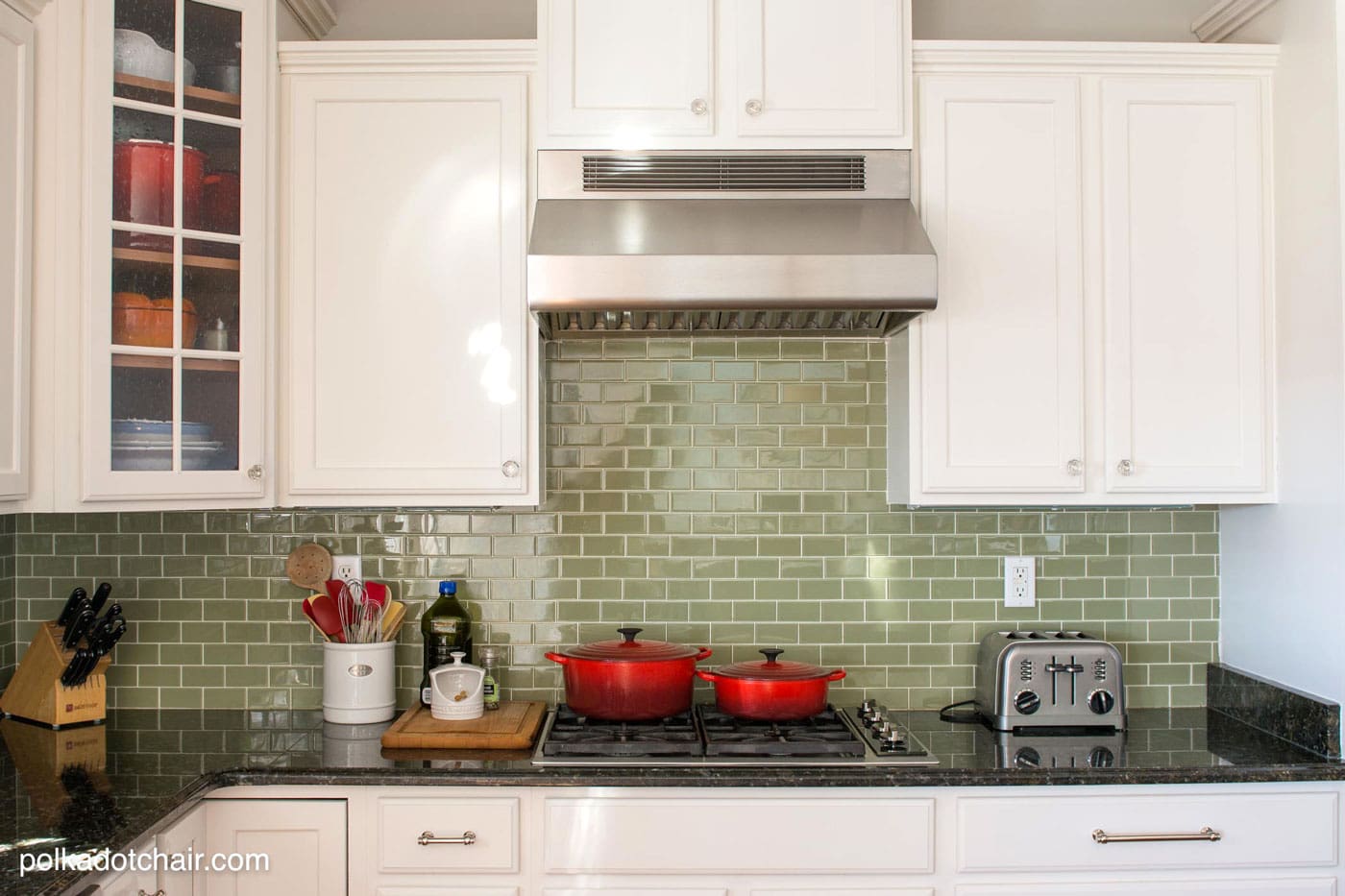 It's been a year since the cabinets were repainted and I can say that I'm so glad that I did it, long process, dead bugs and all.  The cabinets are holding up great they just wipe off if they get smudged.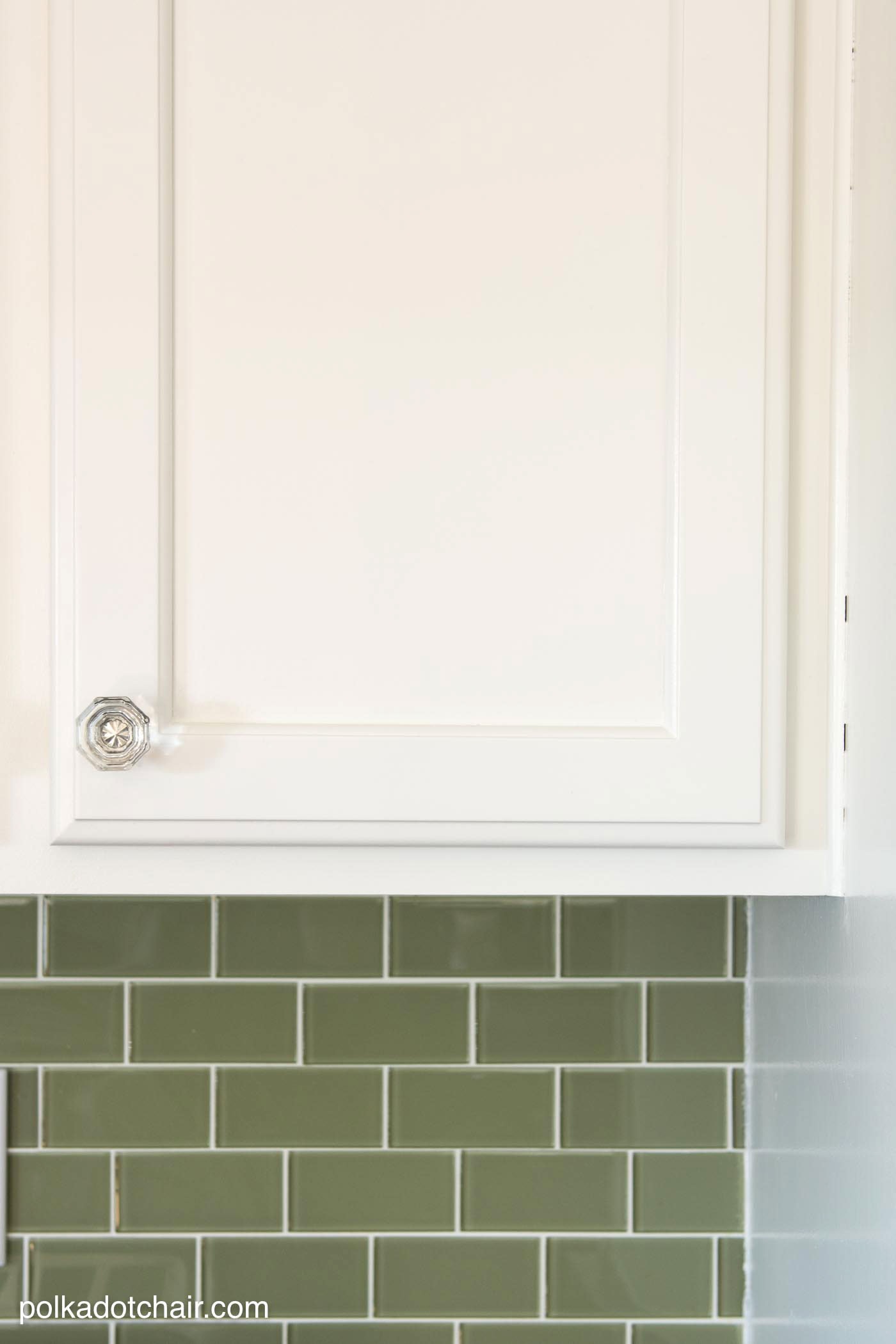 Of course after we finished this project, I got lots of brilliant ideas for how to change the kitchen completely by knocking out a few walls. We will have to see if we decided to stay in our house long enough to make that type of commitment.  Right now we change our mind daily about moving.