Today I'm excited to introduce you to my newest quilt pattern, Picnic Crossing. Picnic Crossing is a modern take on a traditional Goose Tracks Quilt Block. It's fun to make, fast to assemble, and oversized and cozy when completed.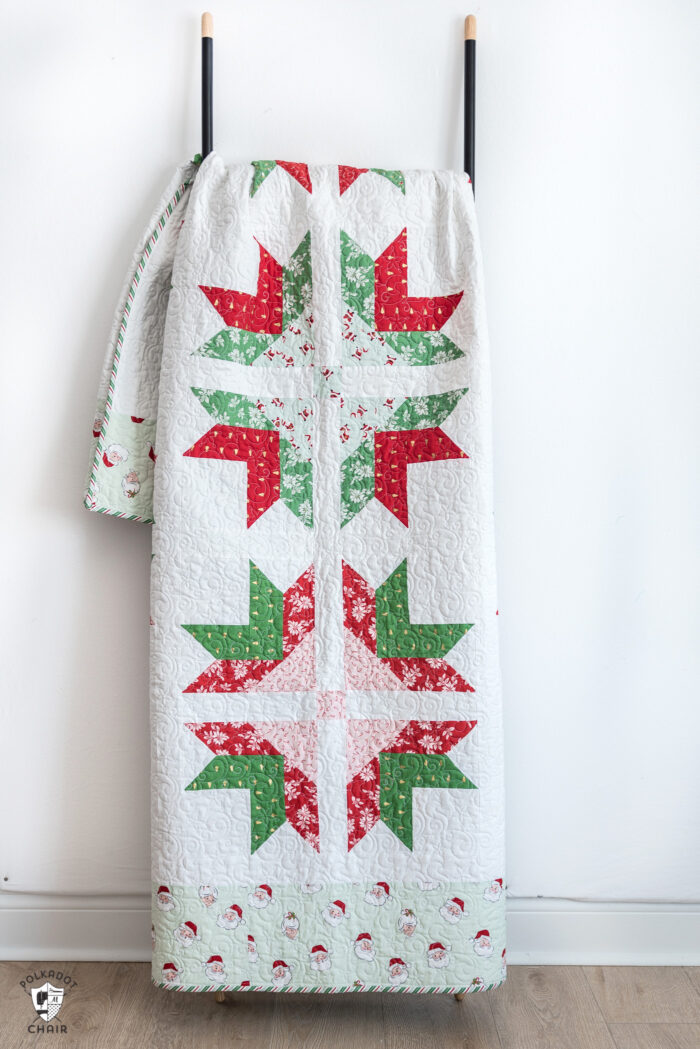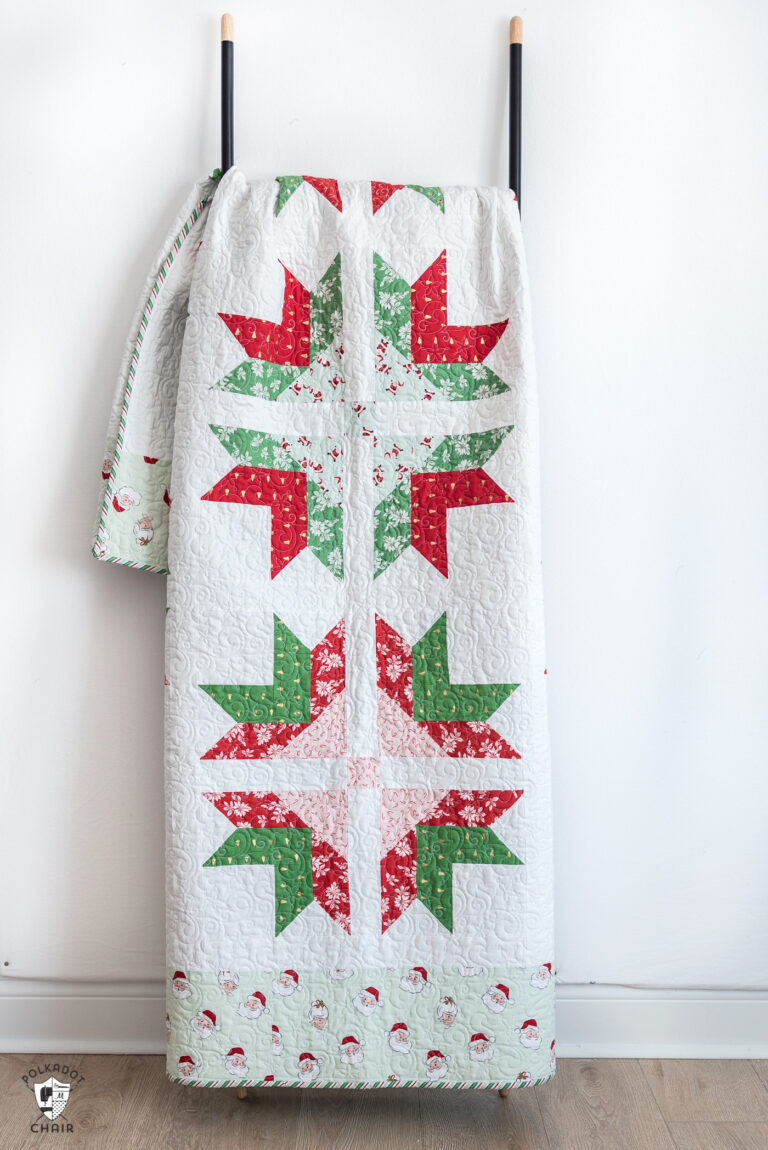 Table of Contents
I'm excited for you guys to meet the first of two new quilt patterns I'm releasing this month! The release coincides with my new fabric collection with Riley Blake Designs, Summer Picnic.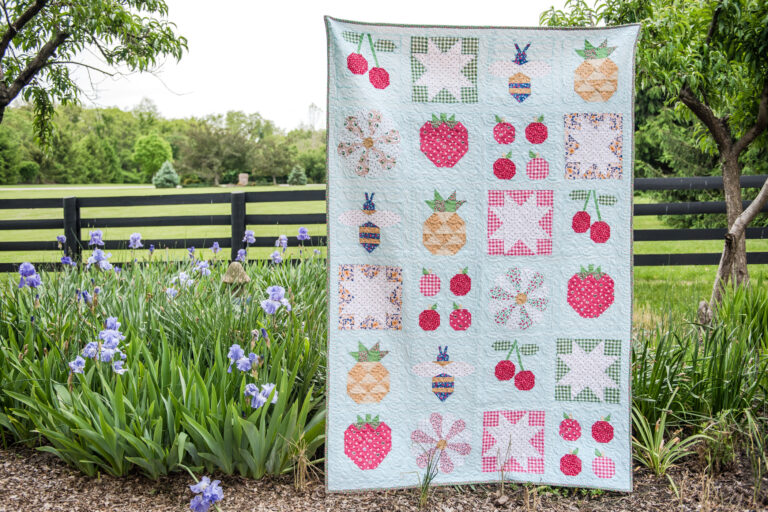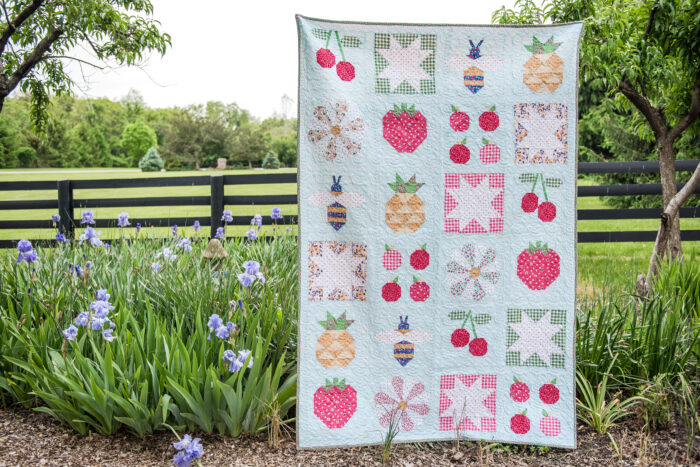 This quilt and the Summer Sugar Quilt pattern are now available. We'll talk more about the Summer Sugar quilt soon!
The Story Behind the Quilt Pattern
Several years ago, I picked up a vintage quilt at a local antique store. I was redoing my guest room at the time and looking for a bit of inspiration.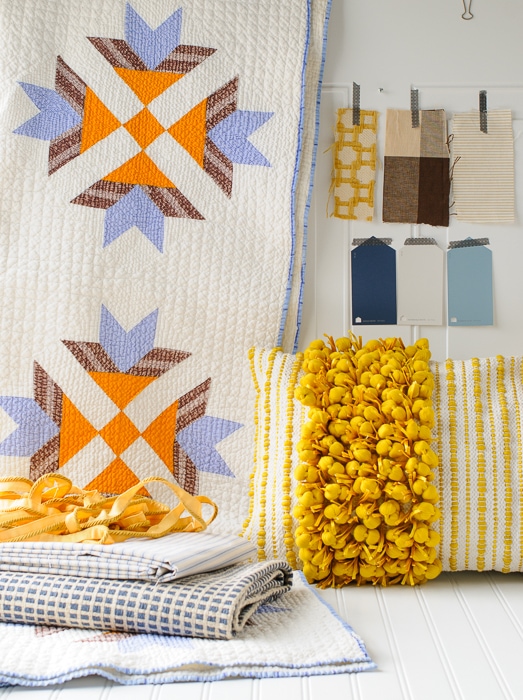 I brought the quilt home and found a place for it in our newly renovated room. The longer I looked at it, the more I thought it would make a great quilt pattern.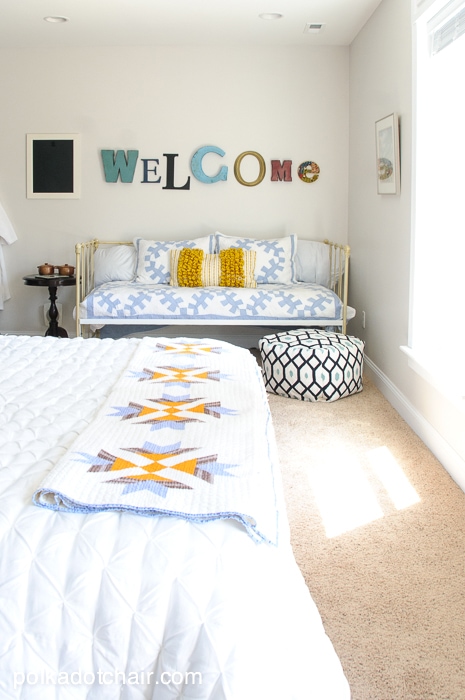 I start experimenting with block layouts and patterns and even made a few "test blocks". The vintage-inspired blocks, however, were not turning out the way I wanted.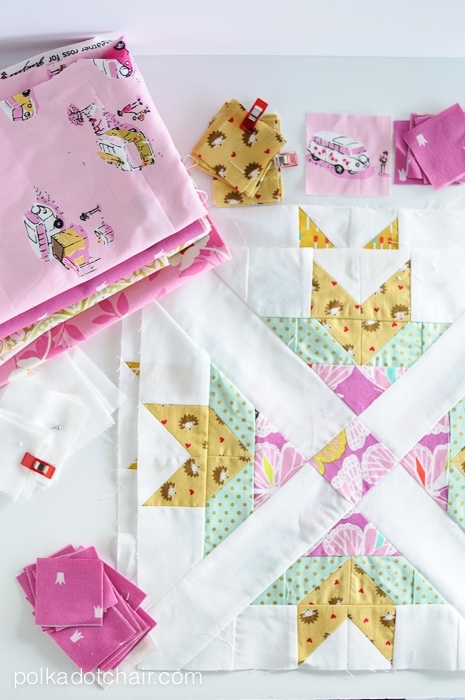 (I still love the color palette of those test blocks, they were just too fussy and not super fun to construct)
They featured a lot of small pieces and were very fussy to create. I think I ended up with more "too small" or "too big" blocks than ones that I loved. I couldn't land on the "Goldilocks" of the blocks *wink*. I set the blocks aside figuring I'd come up with an idea eventually.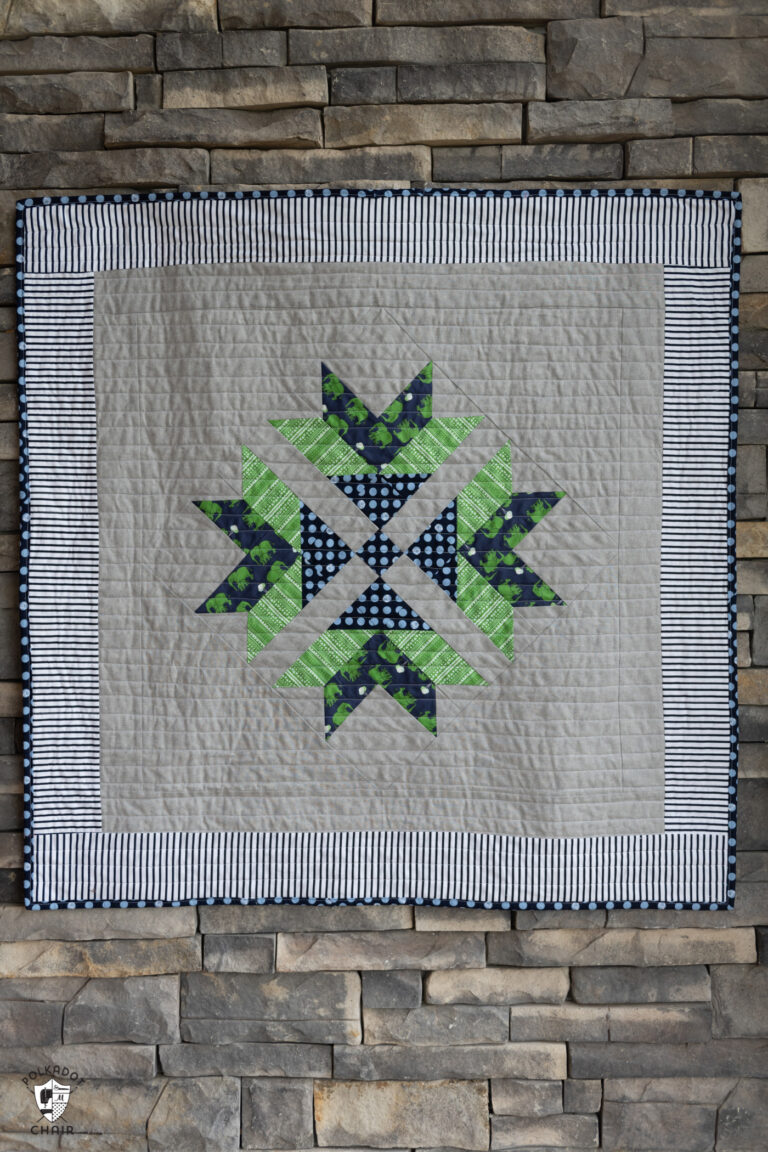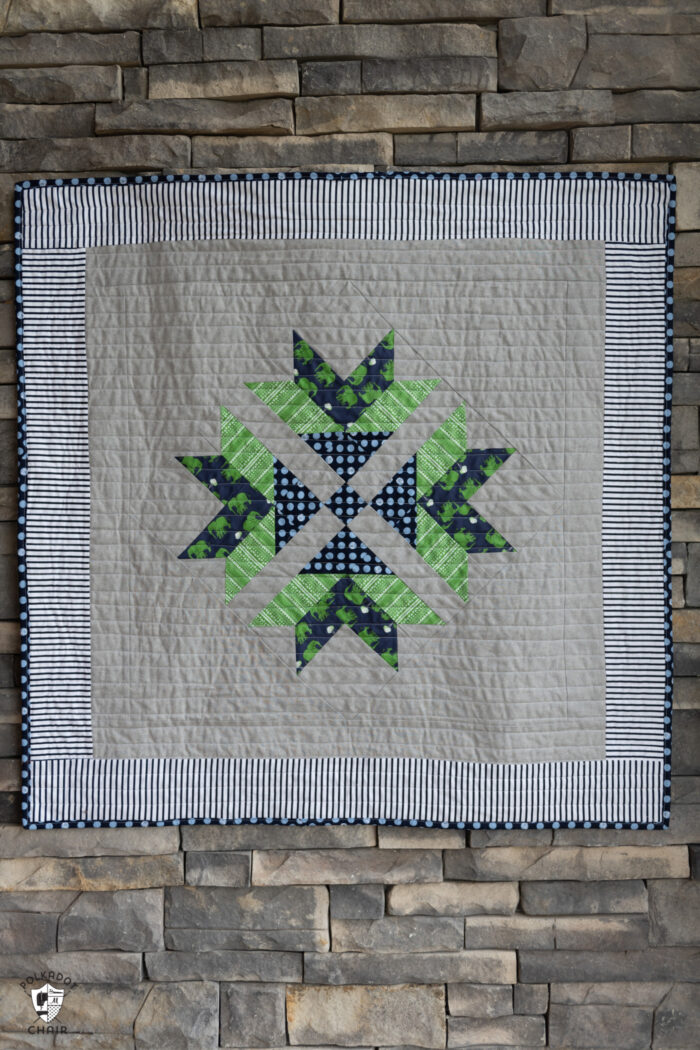 A couple of years later, I created a baby quilt for my niece. But this time enlarged the block and added a graphic border.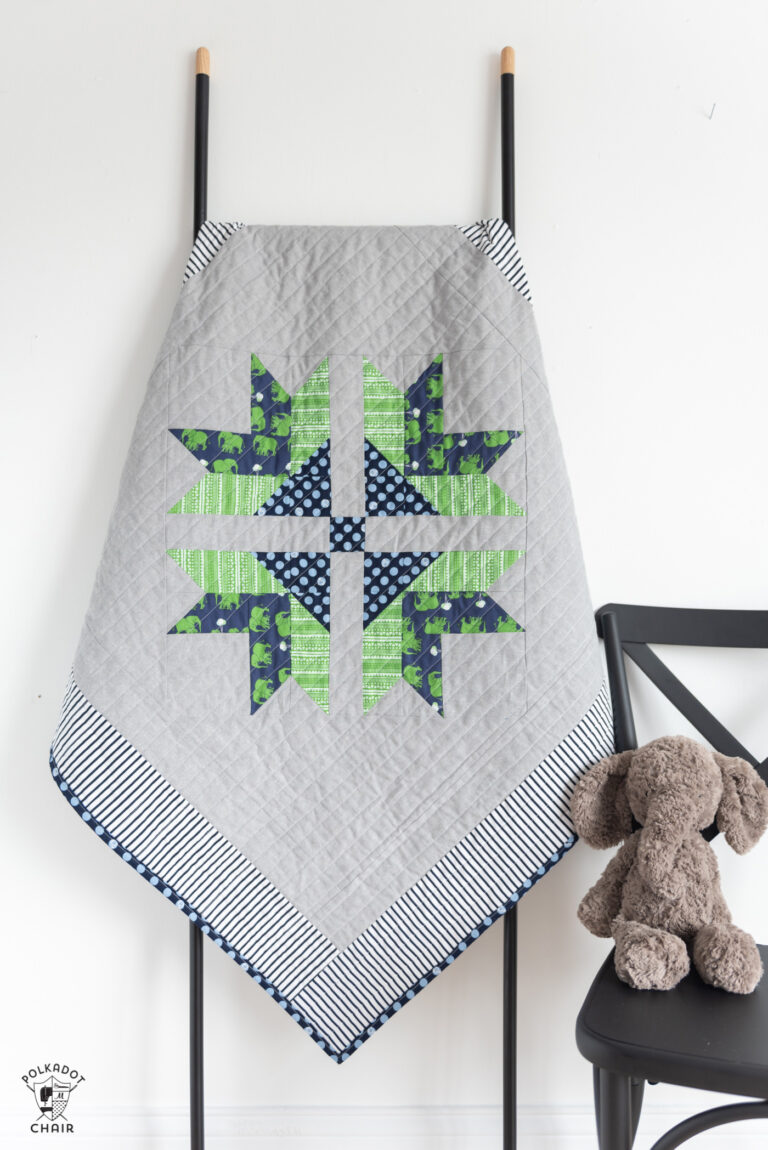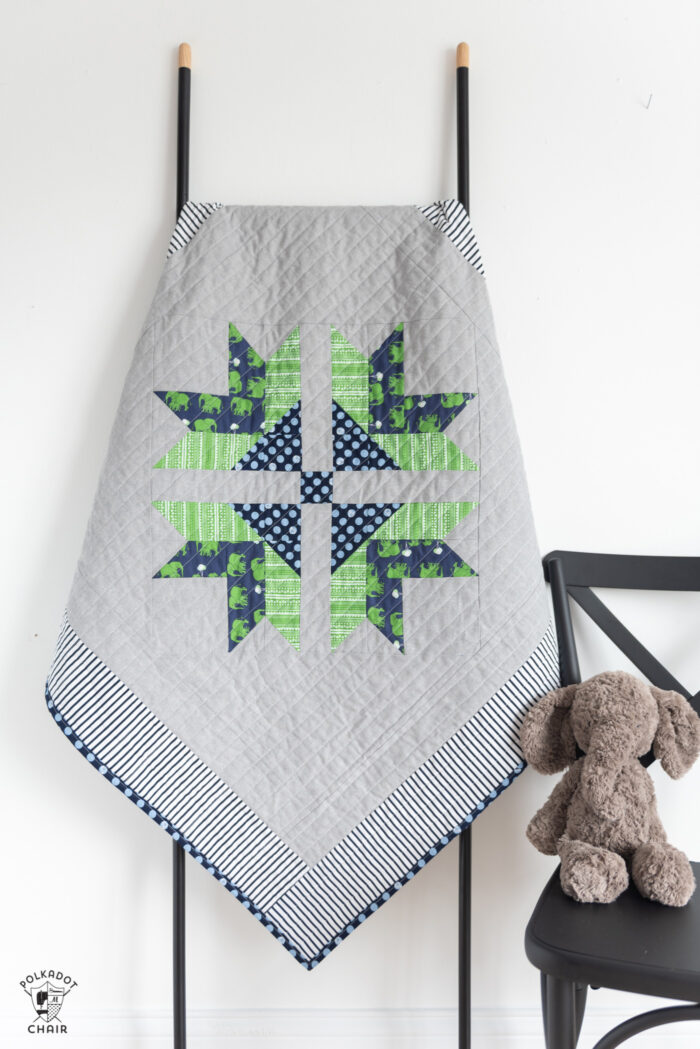 I love how the quilt turned out (the pattern is included in the new pattern)! I still needed to work out how to turn it into a larger quilt pattern, though. I ended up rotating the blocks and setting them in a simple staggered grid.
Many block layouts later, I settled on the Picnic Crossing quilt!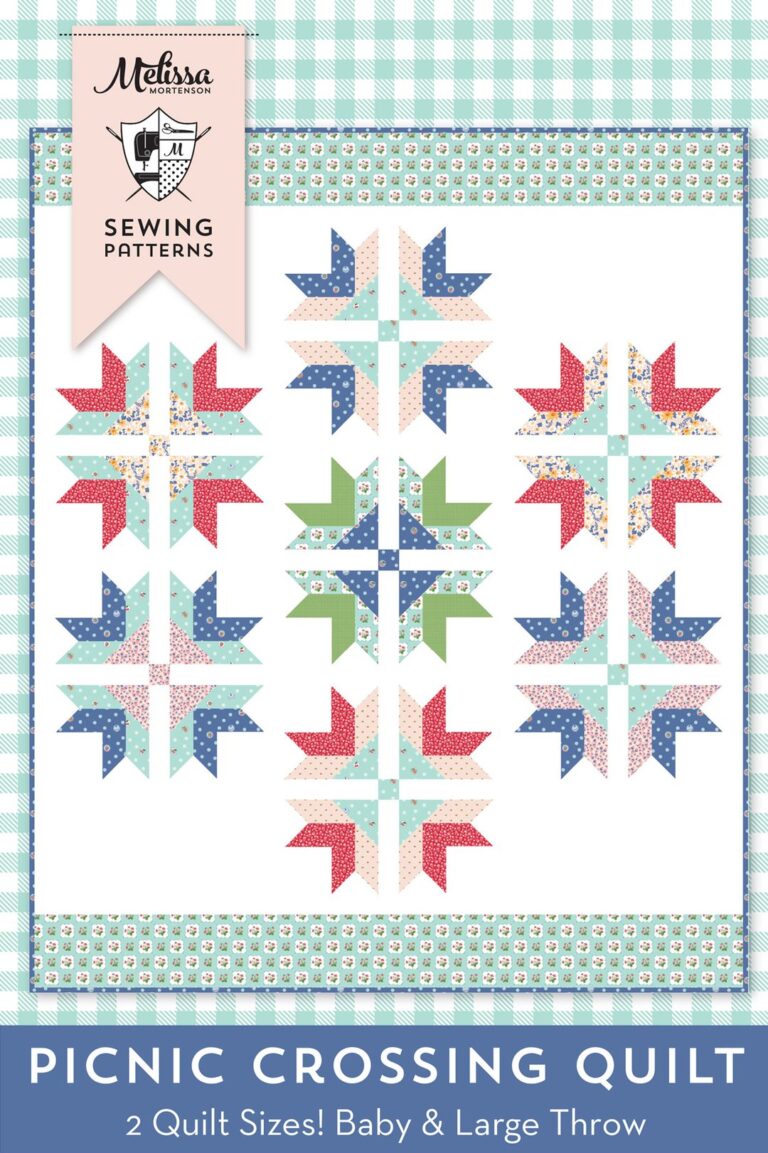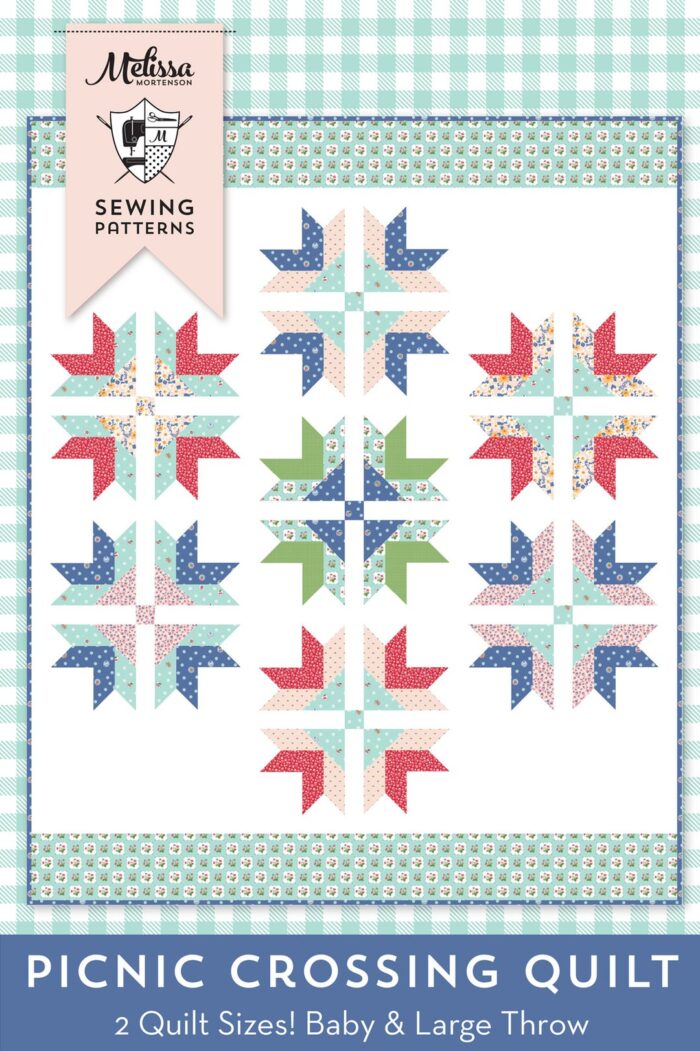 Pattern Features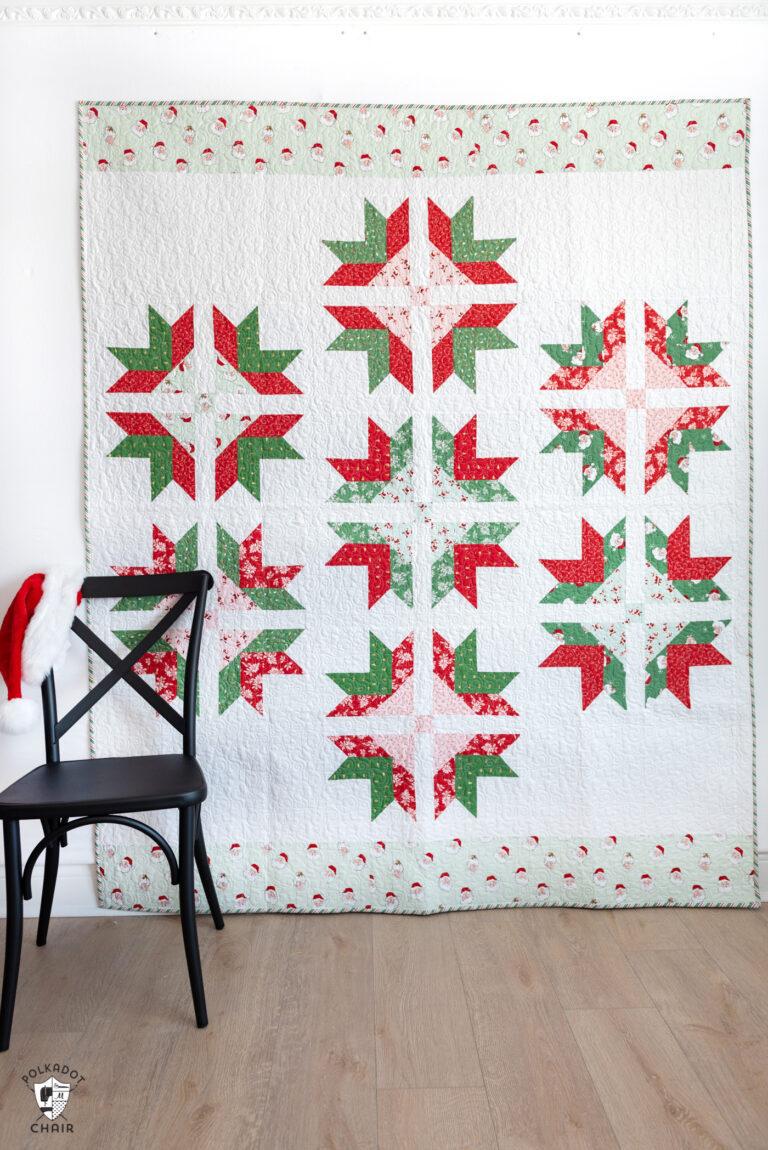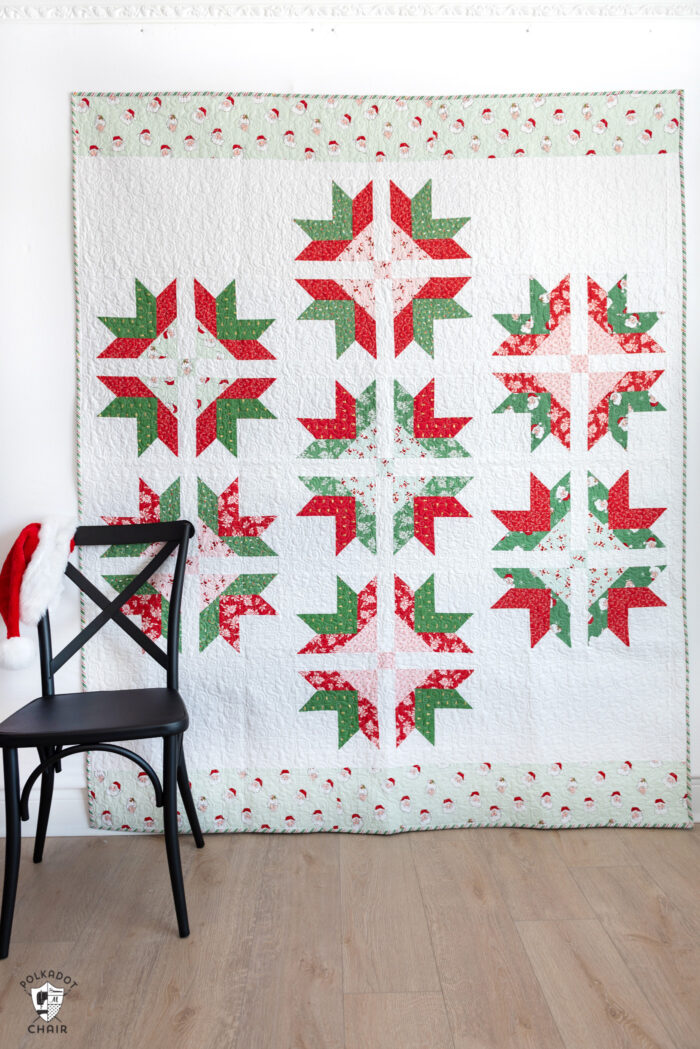 The quilt pattern features 7 oversized Goose Tracks blocks, set in a staggered layout. Since I know many of you don't like making square quilts (hello cold toes!), I added a top and bottom border that ended up being the perfect place to showcase a fun novelty print.
Enlarging the blocks made them much quicker to piece and much less fussy.
Quilt Size
The quilt pattern is offered in two sizes, a large throw quilt measuring 68″x82″ and a baby quilt measuring 39″x39″.
Fabric Selection
Each block in the quilt takes ¼ yard each of 3 different prints. Making this a great quilt to mix and match colors and prints.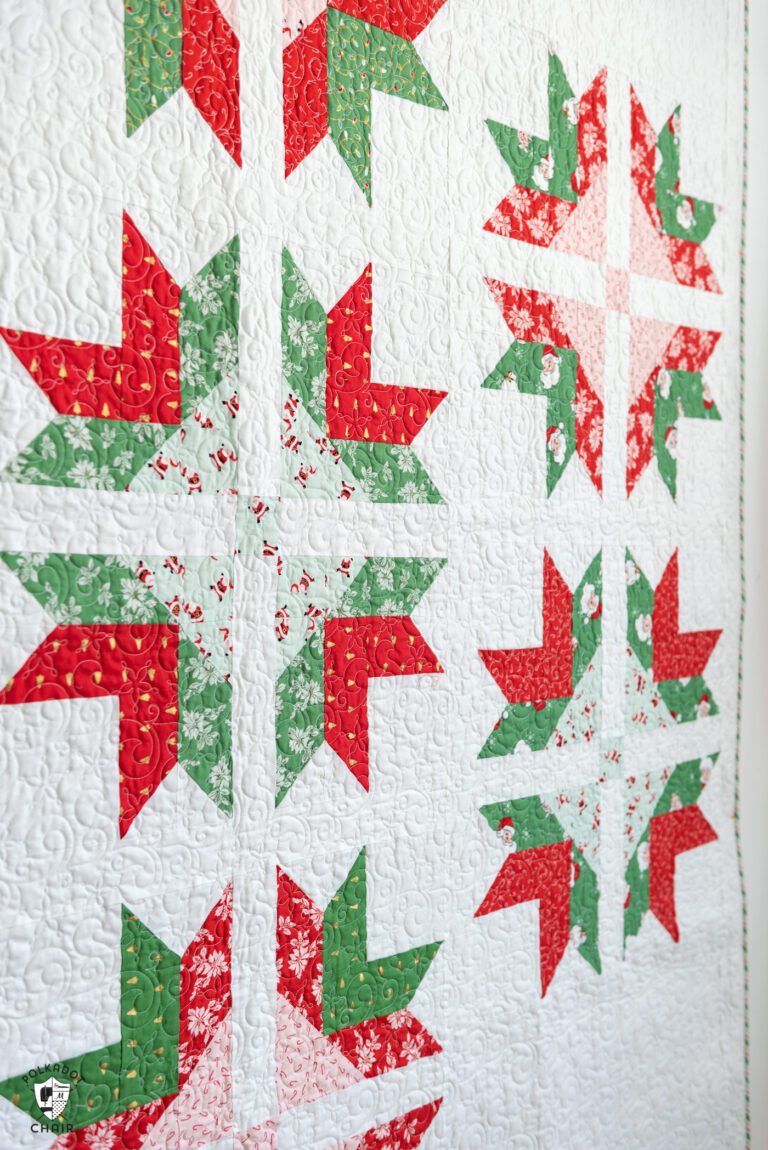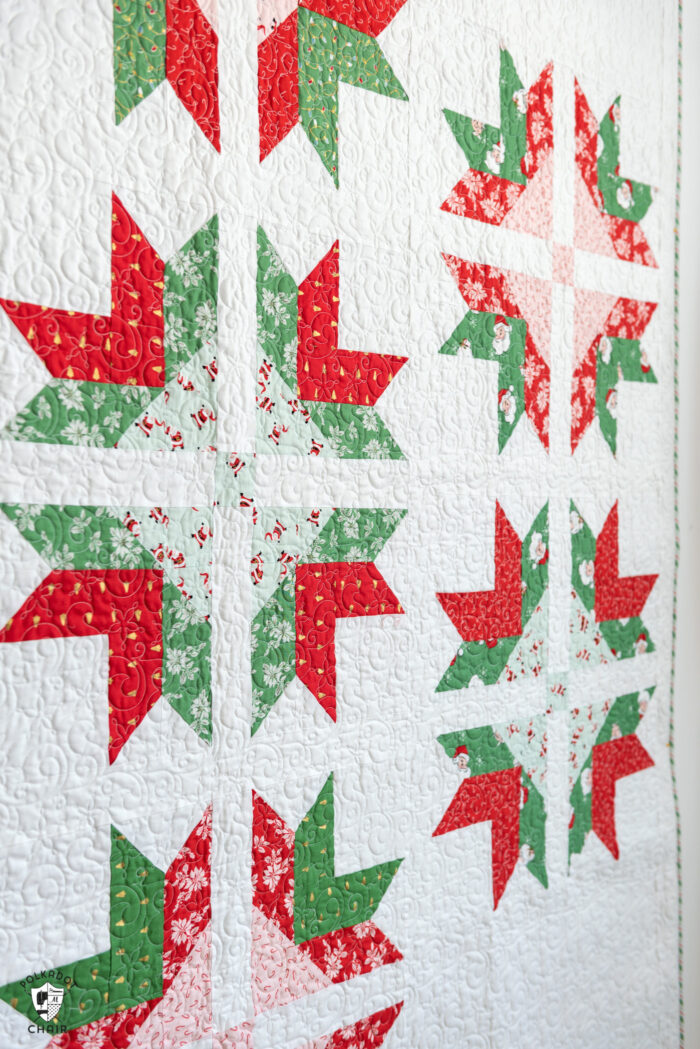 This quilt is made from Santa Claus Lane fabrics and features 4 colors from the line (green, aqua, pink & red).
The quilt got its name because the graphic blocks reminded me of street crossing signs. I am releasing the pattern with my new Summer PIcnic line, so Picnic Crossing seemed like the perfect name.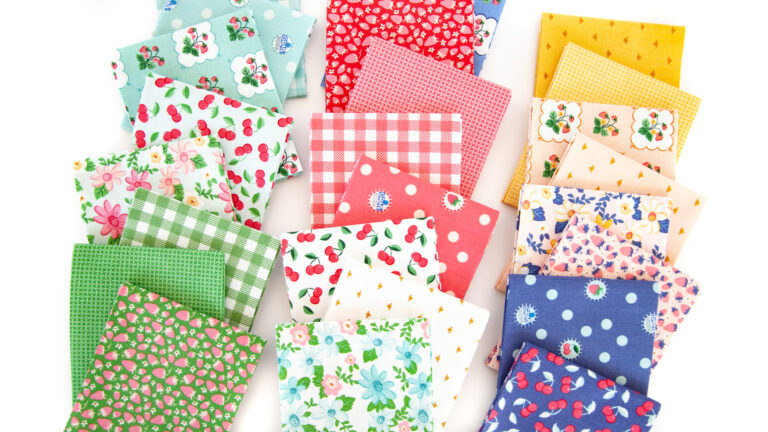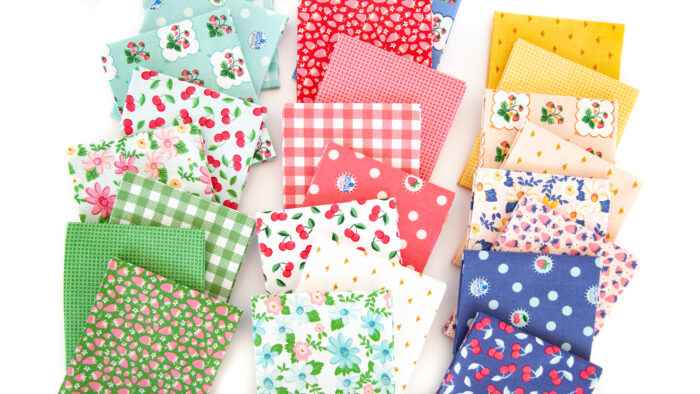 The cover quilt is made from Summer Picnic Fabric. The fabric requirements to make the quilt EXACTLY like the cover are as follows.
½ Yard Bees; Pink
1 Yard Bottlecaps; Songbird
1 ¼ yard Bottlecaps; Coastal Blue
½ Yard Floral; Pink
¾ Yard Tiny Strawberries; Red
¼ yard Tablecloth; Songbird
¼ Yard Wicker Basket; Green
½ yard Tiny Strawberries; Pink
Top & Bottom Border; 1 yard; Tablecloth; Songbird
How to Get the Pattern
You can get the pattern in our shop! Like all of our new patterns, the PDF of the pattern is on sale for one week only as a way to celebrate its release. (My 2nd July pattern, Summer Sugar, is also releasing this week and is also on sale)
Digital Pattern
Printed Pattern
If you are outside of the US, you'll need to purchase on Etsy.
We also have printed copies of the pattern available to you. You can get them wholesale from us, Checker Distributors, or Christensen Wholesale.