Add a bit of spooky style to your Halloween table this year with this adorable Quilted Placemat. Learn how to make one with our Quilted Halloween Placemat pattern.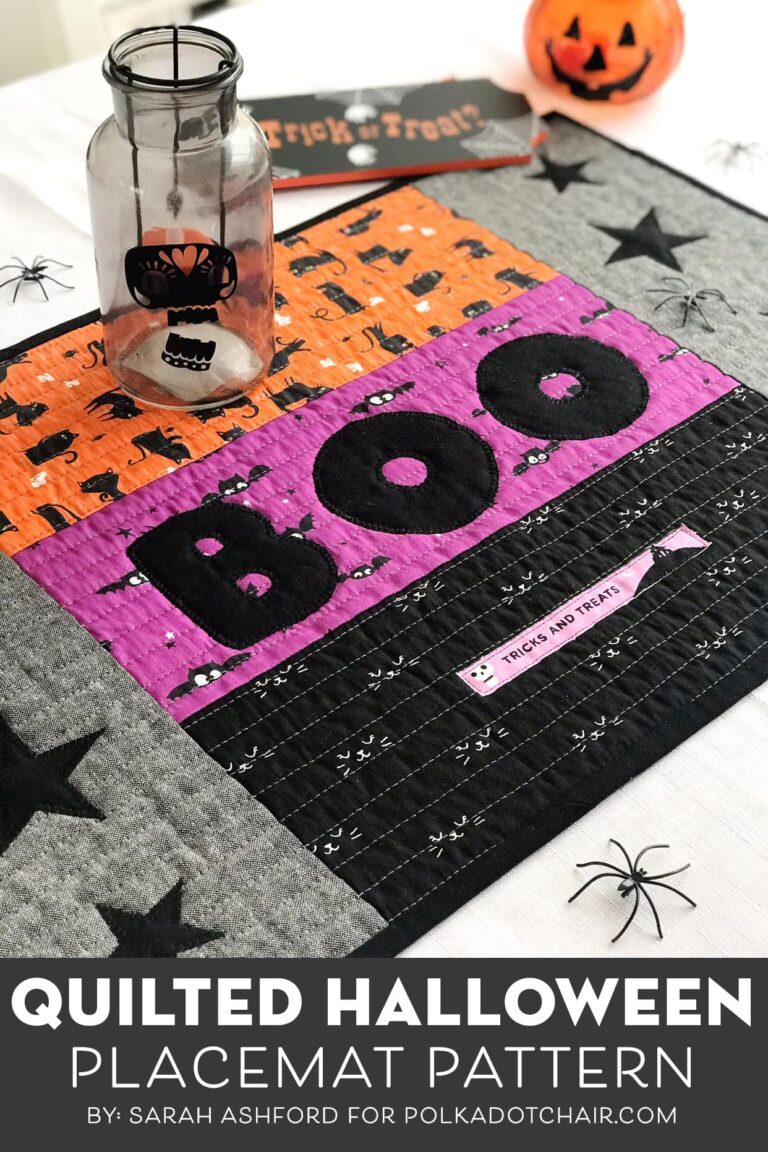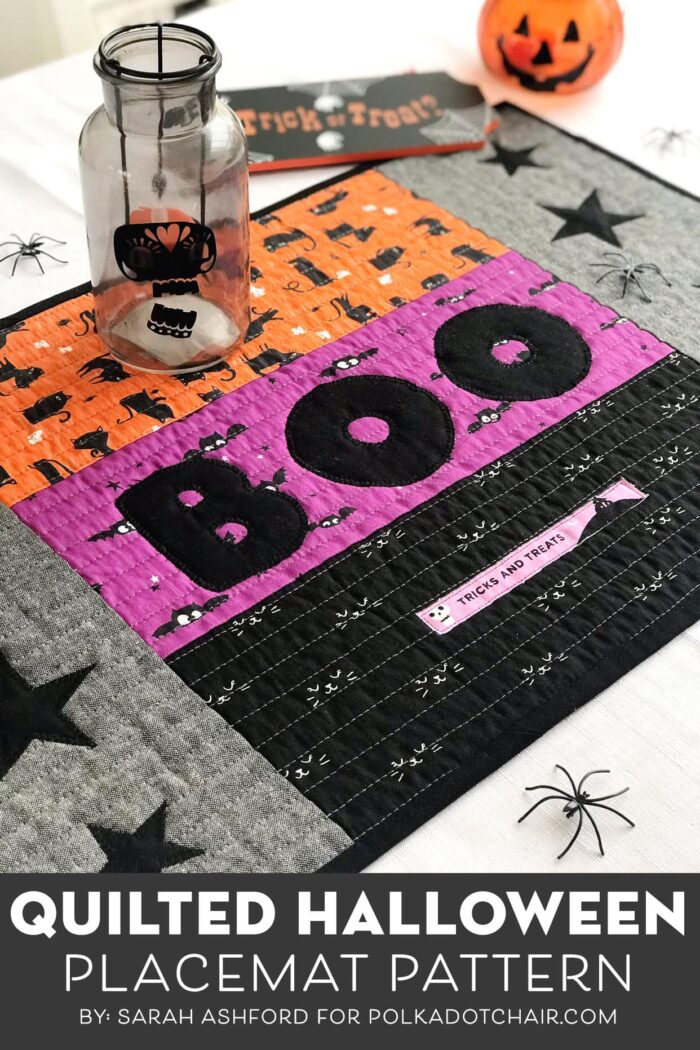 Halloween is nearly upon us and who doesn't love the opportunity to decorate the house, plan some spooky-themed games and hit the streets with the kids, dressed up in their very scariest (and often super cute) outfits!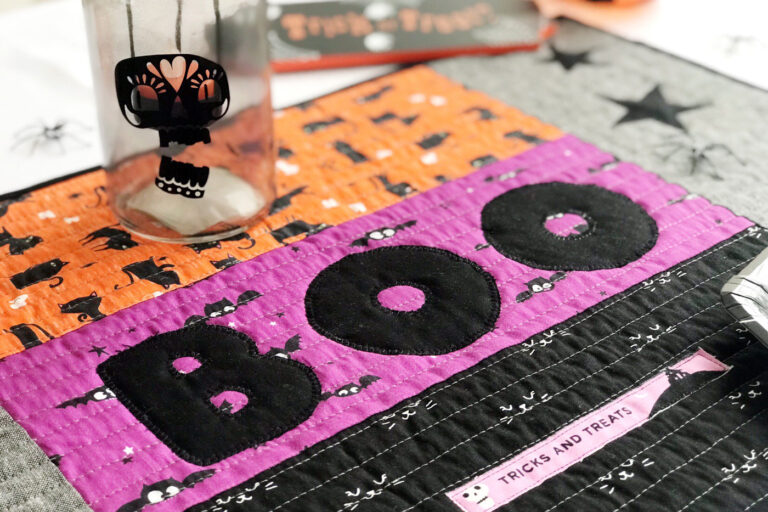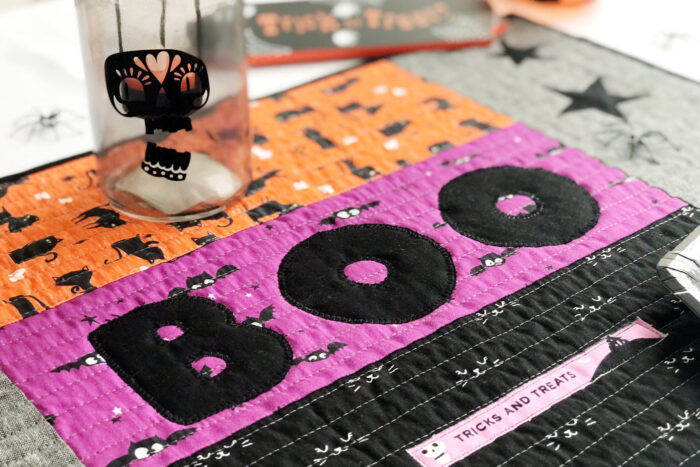 Quilted Halloween Placemat Pattern:
I love going to town with the decorations, and dressing a 'spooky' table for a Halloween feast is the top of my list. So I thought it would be fun to make a spooky placemat as the centerpiece, using these fun novelty Halloween fabrics.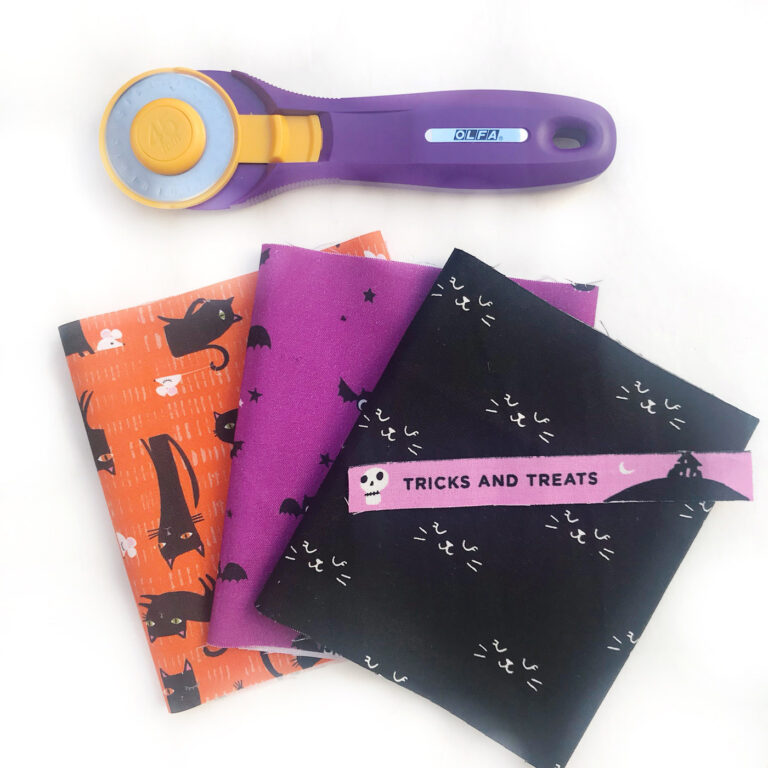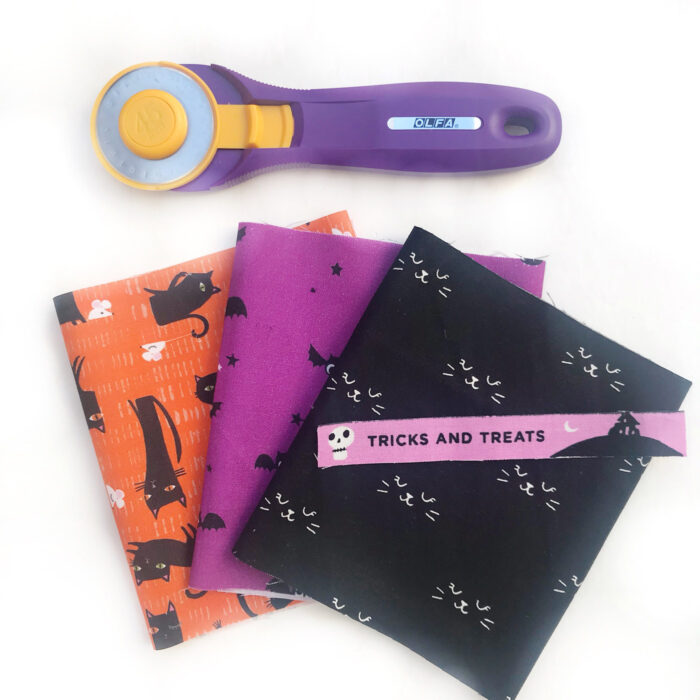 Supplies You Will Need:
3 fat quarters Halloween themed fabric
1 fat quarter charcoal grey linen
1 fat quarter black for binding and star appliqué
2 fat quarters backing (or use scraps to make a 25" x 17" backing)
25" x 17" batting
'BOO' letter templates and star templates (PDF here)
Cutting Directions:
3 x Halloween panels 5 ½" x 14"
2 x charcoal strips 5 ½" x 15 12/"
Time needed: 1 hour and 30 minutes.
Quilted Placemat Instructions
Piece the Placemat

Take the three Halloween strips and stitch together, ensuring that there is a lighter colored fabric in the center as later you are doing to be appliquéing the black letters over the top.

Add Borders

Next, add on the charcoal grey panels to the right and left.

Make a Quilt Sandwich

Next, we are doing to add the batting and backing and prepare to quilt it. Make a quilt sandwich using your preferred method; I like to use spray baste to adhere to my layers together.

Machine Quilt the Placemat

And now to quilt your table mat. I've decided to use a neutral-colored thread (Dove 2600) with horizontal lines, approximately 1" apart. But you may quilt it as you choose. Remember we are going to be putting the appliqué lettering and stars over the top to make them really pop, so I'd recommend keeping the quilting quite simple.

Trace the Applique Letters

Cut out the 'BOO' letter templates and place the wrong side facing on the reverse of the black fabric. Use a chalk pencil to draw around the letters.

Cut out with a sharp pair of fabric scissors. Use small, sharp embroidery scissors to cut out the center of each letter.

Attach to Quilted Placemat

Use a light covering of spray baste on the reverse of each letter and position the letters in place on the center of the table mat.



Zig Zag in Place

We are now going to secure the letters down by using a zig-zag stitch. I like to do the center of the letters first and then the outside. This can be tricky if you've not done it before, so it might be a good idea to practice on a piece of scrap fabric first! It's also a good opportunity to find the stitch size that you like. Then stitch slowly and take your time!

Pull the tails to the back of the mat and tie off.

Repeat Above Step for Stars

Now do the same for the stars. Cut out the templates and make as many big and small stars as you like! I've gone for two big stars and two small stars on each side. Adhere with spray baste and stitch down with a zig-zag stitch.

Finishing

I also added a 'Trick or Treat' selvage, because, if you've seen my projects before, you know I love a selvage!

Finally, add the binding using your preferred method. I like to use single fold binding as it uses less fabric, and less bulky, but everyone has their own way of doing it.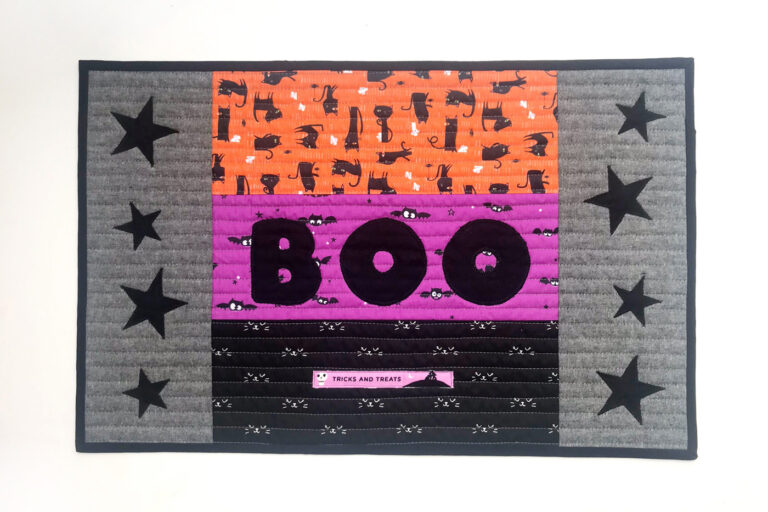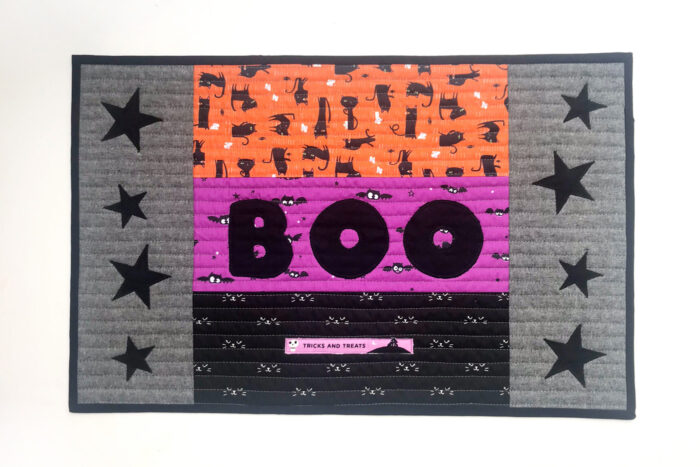 Now you're ready to lay your spooky Halloween table. Light the candles (or turn on the much safer battery operated ones!) make some spooky cupcakes and get those tricks and treats ready, for a night of Halloween fun!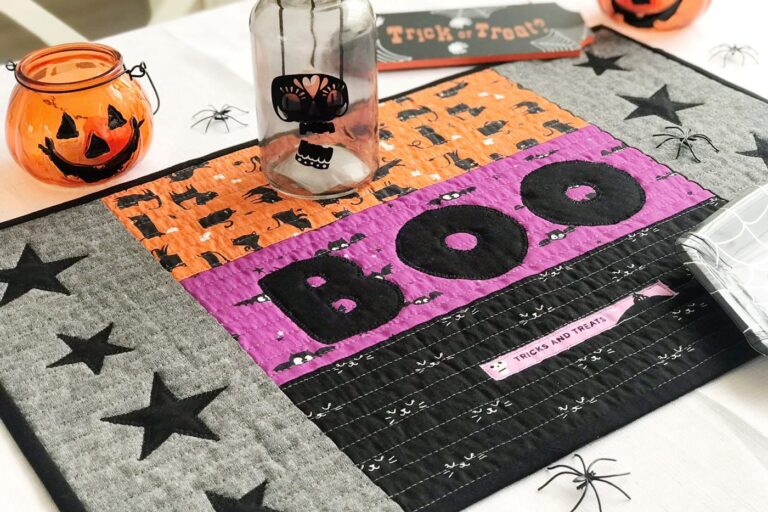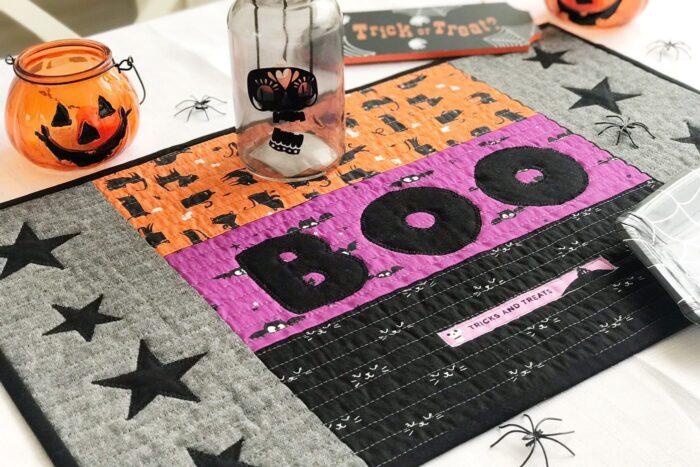 About the Maker: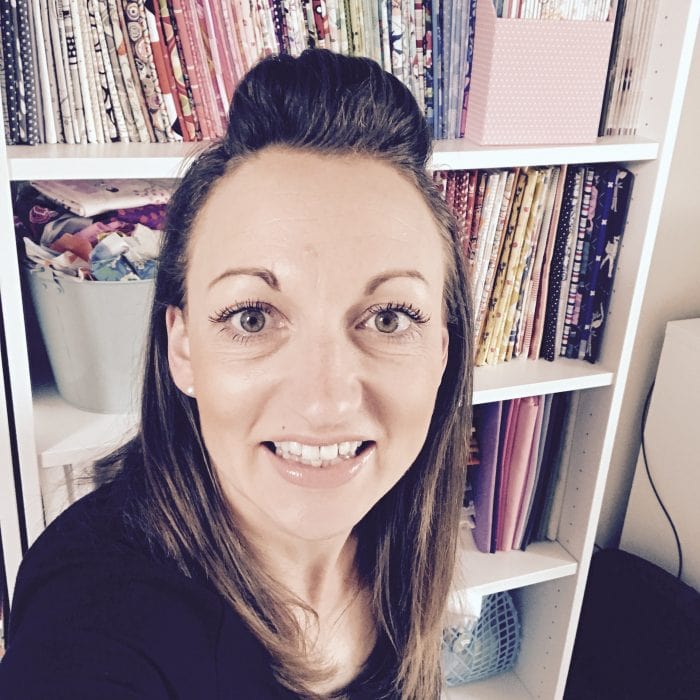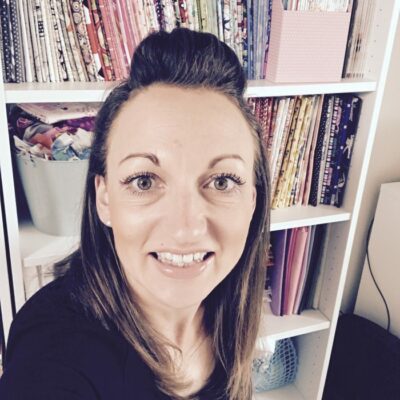 Sarah Ashford is a British Quilter and embroiderer and founder of the GreatBritishQuilter challenge on Instagram. Sarah regularly contributes projects to magazines and loves to spread the joy of quilting everywhere she goes. Follow her on Instagram at @sarahashfordstudio and be sure to check out her beautiful sewing room decals in her Etsy shop www.etsy.com/shop/sarahashfordstudio
More Cute Quilting Halloween Projects to Sew:
Quilted Halloween Table Topper Pattern
Tic Tac Cat Halloween Quilt Pattern
Witch's Silhouette Pillow Pattern