Recently I decided to make new Christmas Stockings for my family. While searching for a Christmas Stocking Pattern, I found so many cute ideas that I thought I'd share what I found with all of you! I hope that you find loads of great inspiration for your project! If your family does not need new stockings, any of the stockings on this list will make a great gift!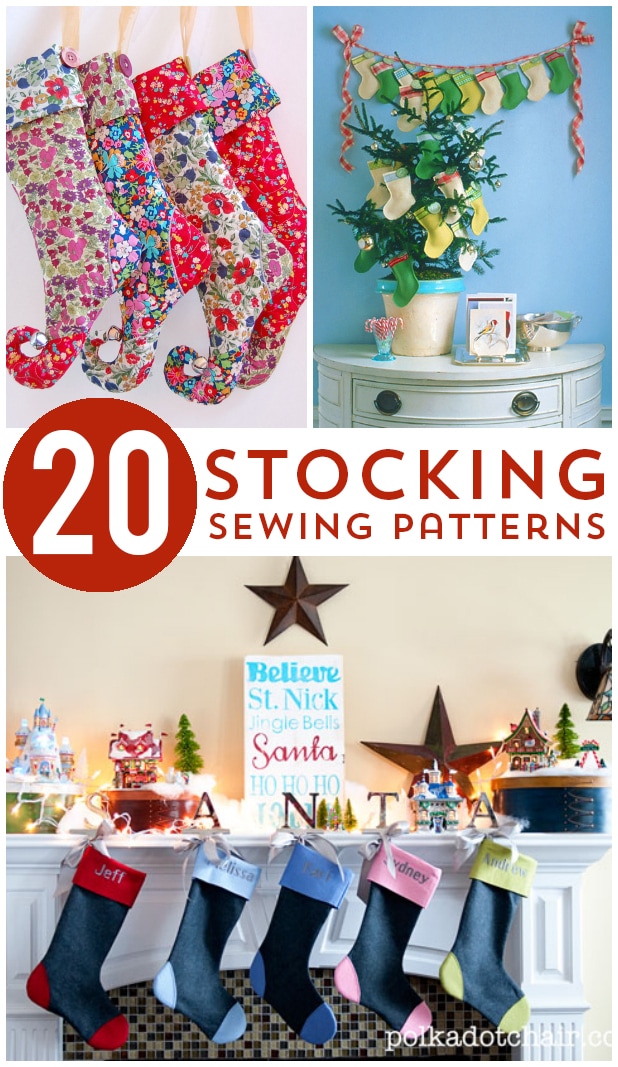 Table of Contents
A couple of years ago, I bit the bullet and made all new Christmas Stockings for my family. The original ones were cute but too small to stuff giant chocolate bars inside!
I had been putting off sewing my own Christmas Stockings for a few years, mostly because I kept waiting until after Thanksgiving to remember that we needed new stockings. I was usually overwhelmed with Christmas preparations and not ready to take on another project by that point.
Then I finally decided to DO IT, and I was able to knock the stockings out in a few afternoons. Part of what held me up from making new stockings was that I didn't know what I wanted to make.
If you're stuck in that same predicament, I've rounded up 20 different stocking tutorials and patterns for you! The list starts with the stockings that I made a few years ago!
How much fabric do I need to make a Christmas stocking?
Generally speaking, you need ⅜-1/2 yards of fabric per stocking if it is unlined. If you want to line your stocking, you will need another ½ yard of fabric. If you're going to add contrasting cuff or toes, then purchase an additional ¼ yard of fabric, or use a fat quarter.
How do you make a simple Christmas stocking?
The simplest way to make a stocking is to create one that is not lined with a fabric that does not fray, such as wool or fleece. If you feel confident in your sewing abilities, you can trace a stocking that you already have to create a stocking pattern piece.
Step One:
Then cut two pieces of fabric, one for the front and one for the back. Sew the two pieces together, right sides facing. Turn under the top edge of the stocking and hem it. Then turn it right side out.
Step Two:
If you want to hang the stockings from your fireplace mantel, you'll also want to sew a piece of ribbon to use as a hanging loop to the inside seam of the top of the stocking.
As I said, that's the most basic way to sew a stocking. The tutorials below will give you tips and ideas to create all kinds of really CUTE stockings!
20+ Free Christmas Stocking Patterns
Tips for Sewing Christmas Stockings
Try substituting cotton fabric with faux fur or velvet on any of the above tutorials. The texture added by the fabric will make for elegant and fun stockings.
I mentioned it a few times above, but I'll say it again. Make sure you double-check what seam allowance is needed for your project, especially for the smaller stockings. If your seam allowance is too wide, you won't be able to turn the stocking right side out.
Cut your lining pieces from contrasting fabric for a fun pop of color on the inside of your stocking.
More Christmas Sewing Projects:
More than 25 Cute Things to Sew for Christmas
Merry & Cheer Quilted Christmas Table Runner Pattern