I love to dress up for Halloween and I love to create matching Halloween family costumes. Today I'm going to share with you some fun and unique Witch Costume ideas for Halloween. All of these costumes were created with a combination of no-sew elements and simple costume sewing patterns.
A few years ago we booked a trip to Disney World for fall break and decided to attend Mickey's Not So Scary Halloween Party. I have not dressed up for Halloween much since I was a kid and was really excited to plan a Halloween costume for myself. I was also so happy to be able to plan matching family Halloween Costumes.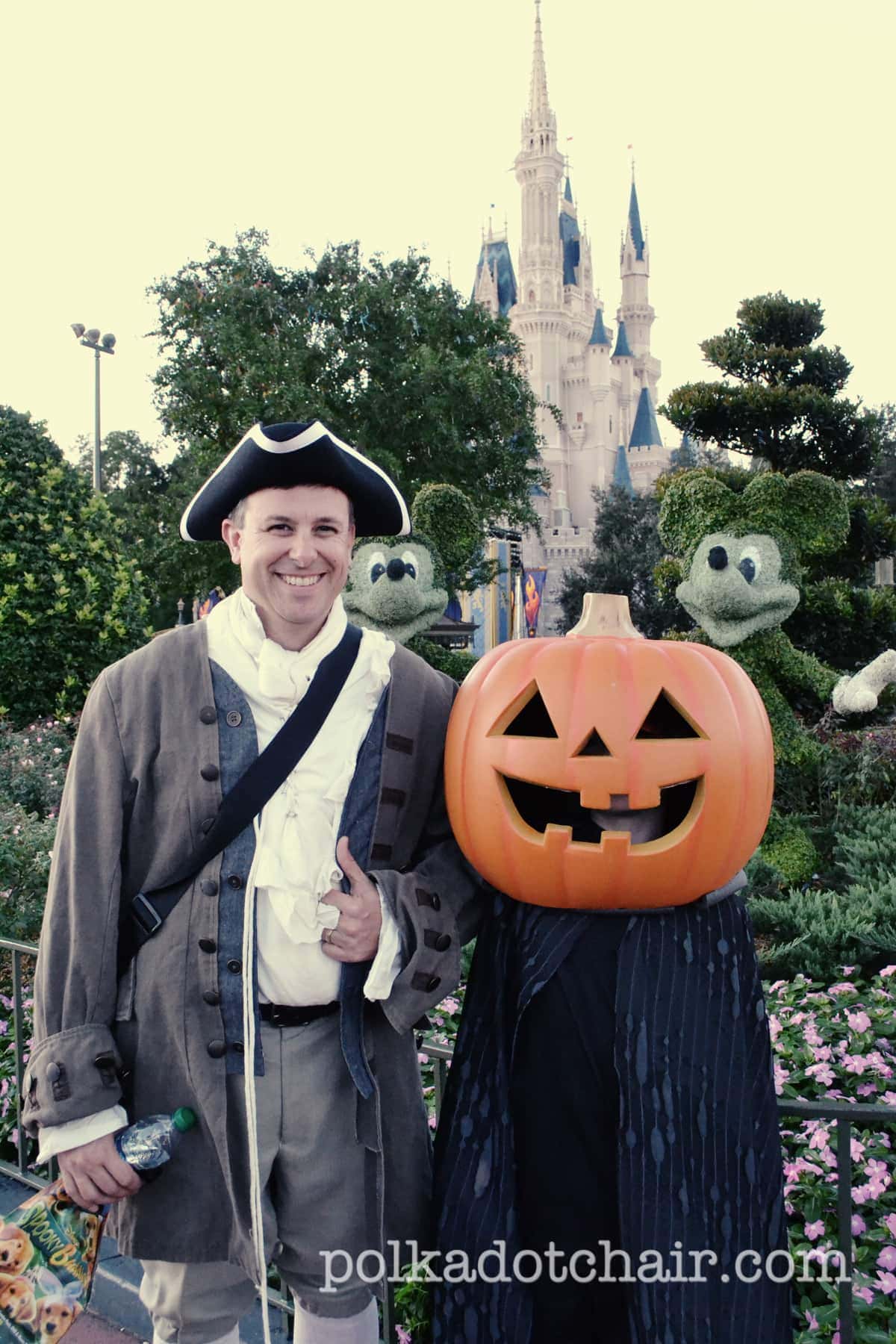 After much discussion as to what we should all dress up for Halloween, we decided on Witches Halloween costumes for the girls in the family. The guys went as the Headless Horseman and Ichabod Crane.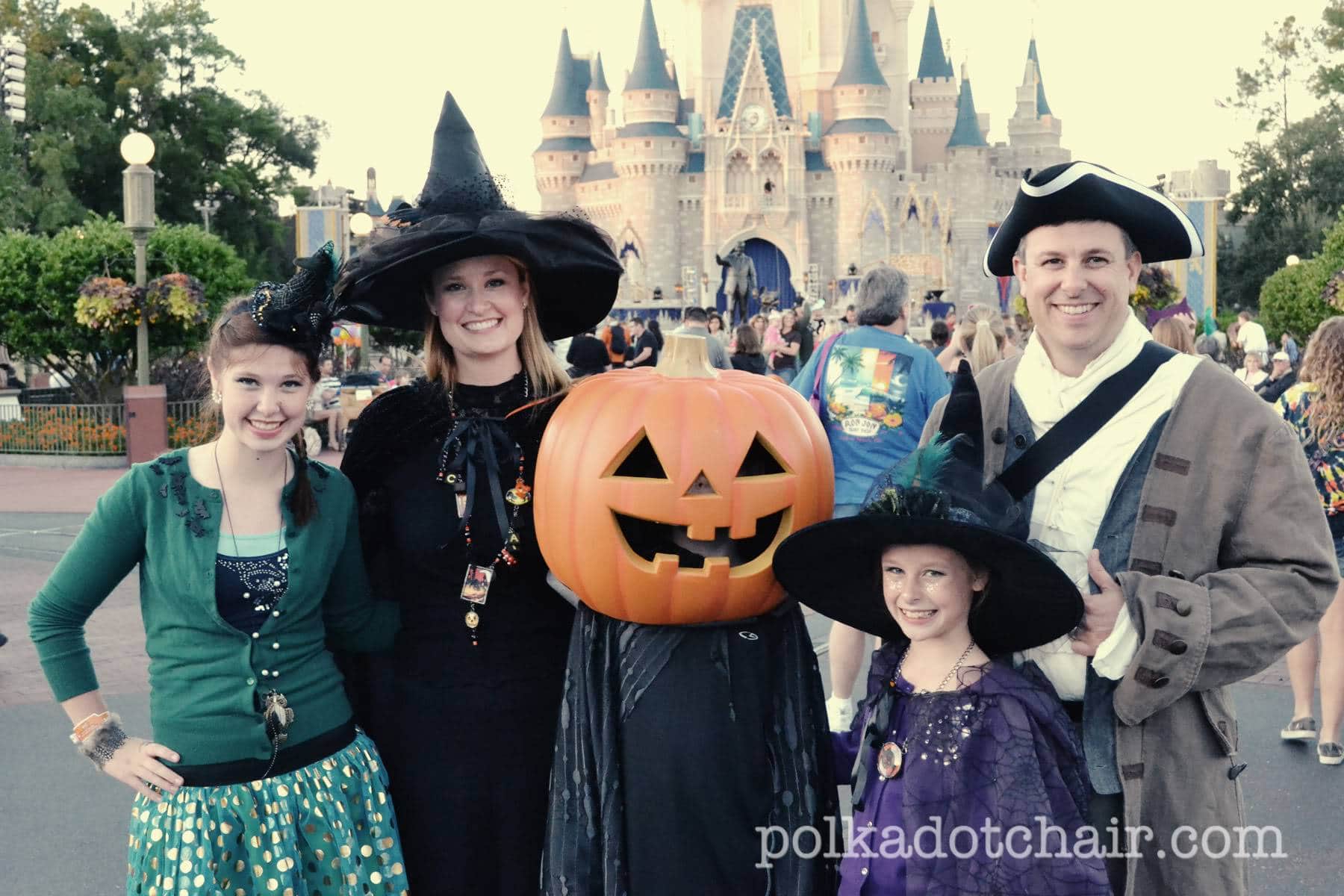 I was so proud of my kids this year because they picked out EVERYTHING themselves and just gave me sewing instructions. I was amazed at the way they could pull fabrics together and the creativity they put into the design. Much better than I would have come up with on my own.
Witch Costume Ideas:
Halloween Costume Idea #1 – Bird Witch Costume:
My oldest daughter got the idea to make Witches with Identities- so we had a Bird Witch, a Spider Witch, and the Momma Witch, so much better than just a regular witch.
My oldest was 16 at the time and was just too cool for a normal witches costume. She decided to design a bird witch costume.
She picked up a peacock feather in the craft store and used that as her inspiration. We then created her costume out of colors that matched the peacock feathers. We went with a simple blue tulle skirt and a green cardigan.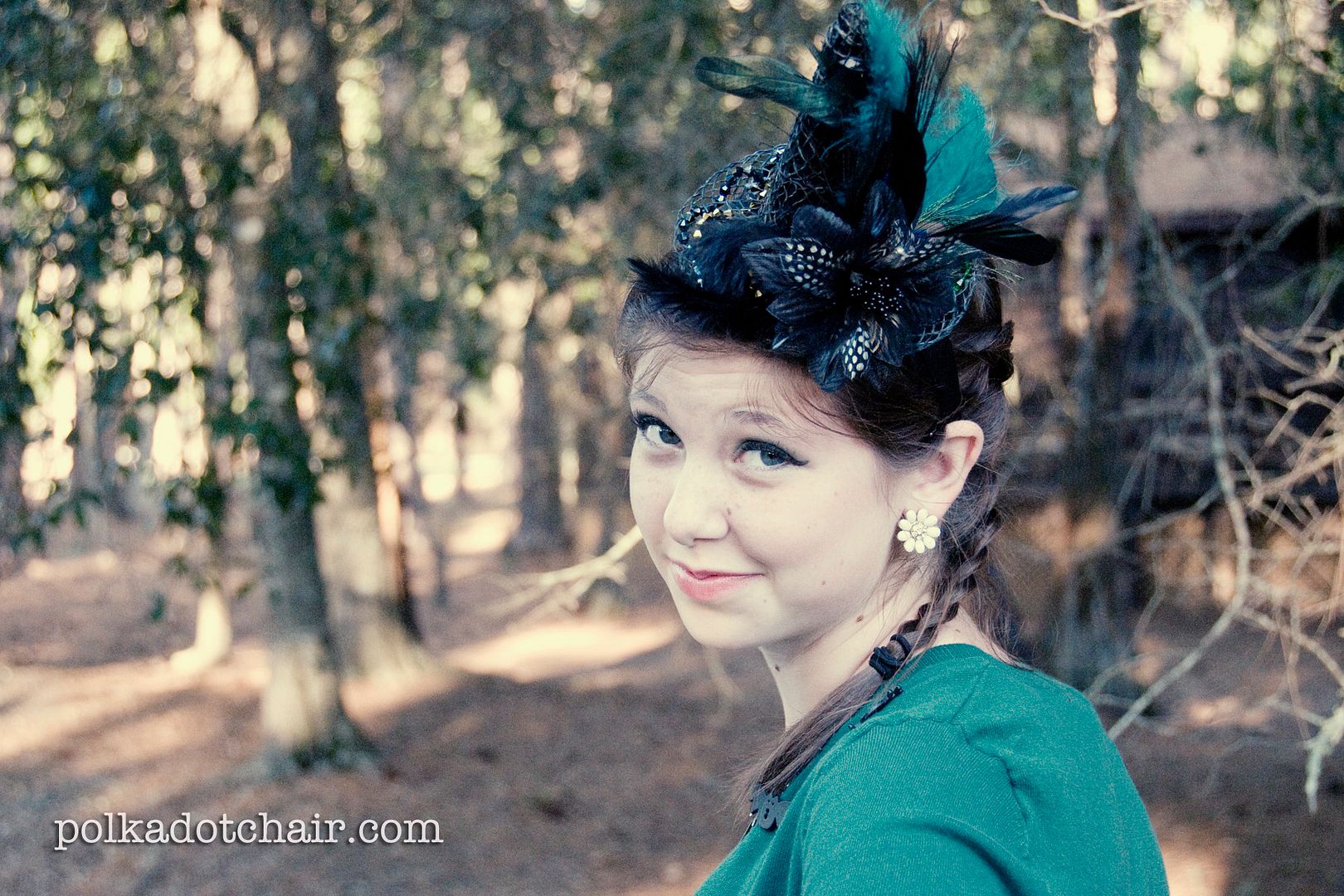 After refusing to wear a witches hat, she came up with the idea of a Witches Hat Fascinator. She picked out all the supplies and put the hat together ALL BY HERSELF, right down to the hot glue, feathers & beading.
If you'd like to make your own Witch's Hat Fascinator you can find a tutorial for one here.
The top of her costume was a plain green cardigan. To make it work for a Halloween costume I sewed black buttons around the collar.
Costume #2: Spider Witch Costume:
My youngest girl went as a Spider Witch. She wanted a witch costume that was purple and green.
Her skirt is made from green tulle with a satiny harlequin overlay (just used one of my skirt tutorials for the skirt.
I stitched a bit of Halloween garland to the hem of the top layer of the skirt.
Her cape is purple tulle. You can find a tutorial for a simple hooded cape here.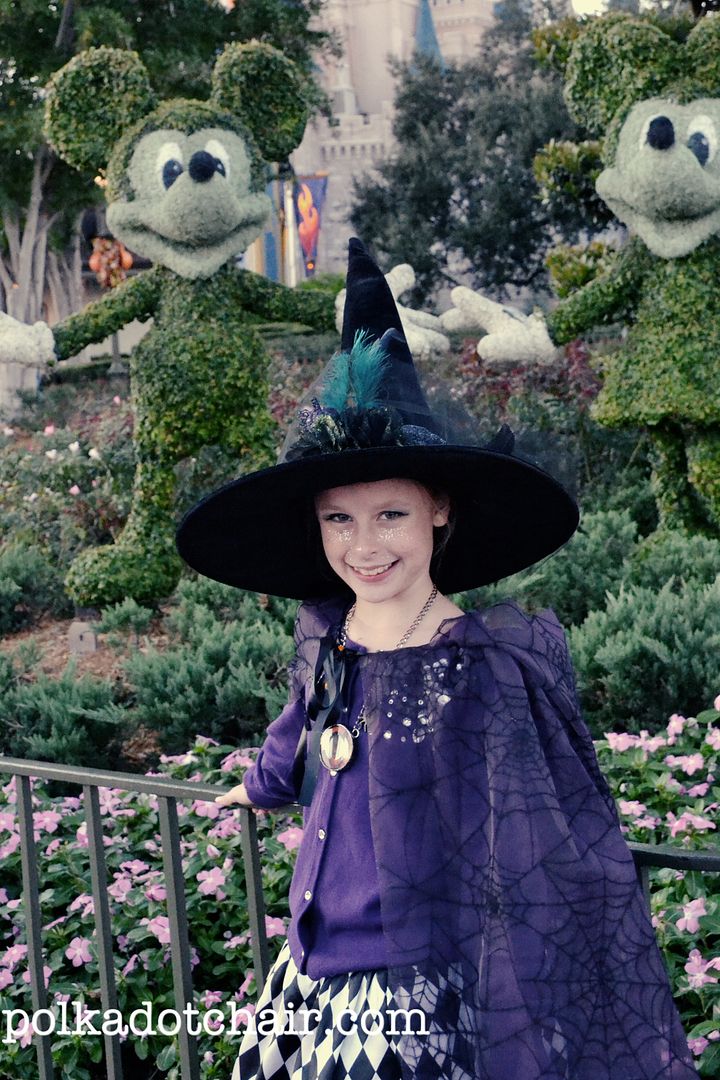 Her hat was just a plain black hat. To dress it up we added ribbon, flowers, and feathers. I tried to get a better photo but black does not photograph well.
To top off the whole look we added spider buttons and sequins to her cardigan.
Momma Witch Costume Idea:
As for me, I was happy to have an excuse to dress up for Halloween again. I made the cape from black glittery fabric and lined the hood with orange crushed velvet.
Find a free sewing tutorial for a simple Halloween cape here.
I've wanted a cape for years, I think it will be fun to wear to greet trick or treaters at the door.
To complete the outfit I added:
Simple Black Flowy Skirt
Handmade Halloween Necklace purchased from a Local Artist
Black Striped Tights
Black Lace Shirt
Purchased Witch Hat
The costume came together rather quickly since the only thing I had to sew was a cape. I was able to put the rest of the Witches costume together with items from my own wardrobe.
More Halloween Costume Ideas for Mickeys Not So Scary Halloween Party:
How to Make a Witch's Hat Fascinator
No Sew Alice in Wonderland Costume Ideas
How to make an Ariel Costume (Ariel dress costume that is)