Today I'm sharing with you a way to make your own Quidditch Robes create a simple and clever Harry Potter Halloween Costume. I made this Halloween Costume for my son several years ago and it's been lent out and worn many many times (hello midnight movie premiers!)  
The robes make a great DIY Harry Potter costume for Halloween or just a fun dress-up for the crazy Harry Potter fan in your house.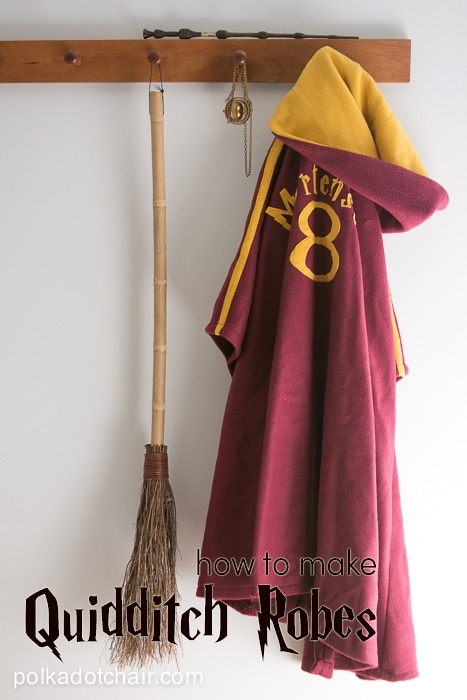 Okay,  we admit to being a little Crazy for Harry at our house!  In fact, when I go to London, touring the Wizarding World Harry Potter studios is one of my top 3 MUST Do's. A few years ago, we even dressed up as Harry Potter characters for Halloween (my husband and I included).  So when I found out about the Happy Harry Potter Series over at Rae Gun Ramblings, I was more than happy to participate!
Table of Contents
DIY Harry Potter Costume; How to Make your Own Quidditch Robes
In celebration of Harry's Birthday, Marisa of Rae Gun is featuring great DIY Harry Potter projects, giveaways, and ideas on her blog. Check out all of the other ideas shared. For my part, I'm sharing a few Harry Potter Costume Ideas.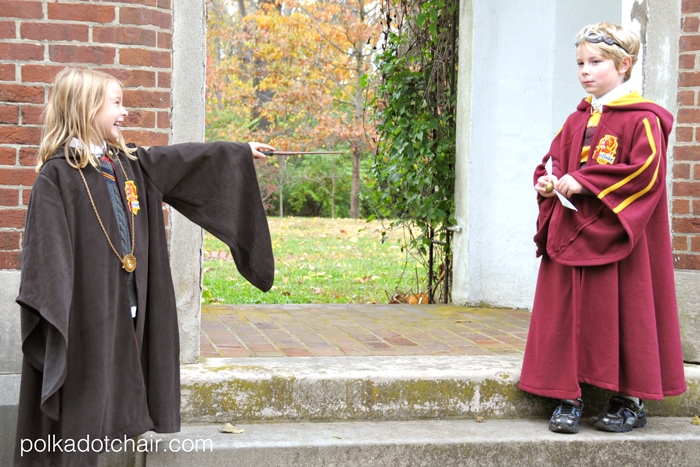 Supplies for Quidditch Uniform Pattern
This DIY costume is made by making simple modifications to a basic robe pattern. I'm sure you can find a free tutorial online for a robe pattern if you don't want to buy one, but since you can usually get sewing patterns on sale for as little as .99 I think it's worthwhile to buy one.
Trust me, it's easier to buy a pattern on sale than to draft this yourself! You'll save yourself LOADS of time. Simplicity Pattern 9877 or 1582 is great for adults and Simplicity 3998 or 1583 will work for kids.
Supplies To make the Quidditch Robes:
Pattern – for kids Simplicity 1583 or 3998
for grown-ups – Simplicity 1582 or 9877
Polar Fleece in 2 colors.  I chose Gold Fleece and Maroon Fleece for Gryffindor… pick colors as you want for which house you're in 🙂
Heat N Bond Lite
Steam a Seam (less than 1″ wide)
Matching Thread
A Harry Potter Inspired Font like Harry P
Light Box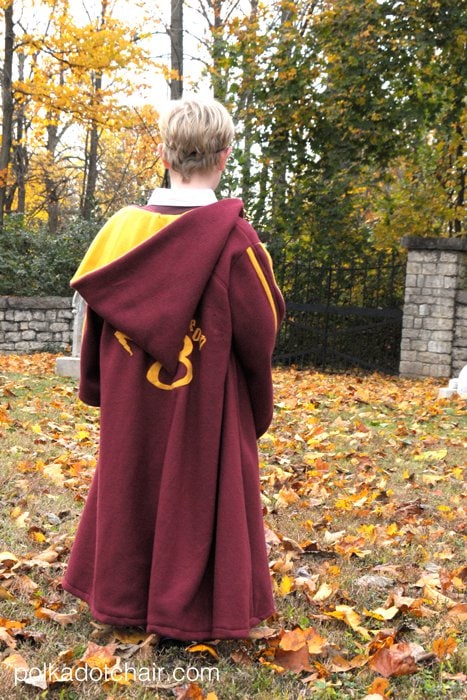 DIY Harry Potter Robe Pattern Directions
Step one:
Cut out and sew the pattern as you normally would, do not sew on the sleeves yet. Make sure you cut out the robe hood lining from your contrasting fabric.
Make the following changes:
Cut 4 strips of contrasting fleece 1″ wide and the length from your shoulder seam to the sleeve end. Using steam a seam iron 2 stripes on top of each sleeve side seam. Top stitch both stripes. You'll want to complete this step BEFORE you sew your sleeve into your robe.
Line the hood of the robe but not the rest. Since you're using polar fleece it won't fray so there is no need to line the inside, plus it would get very very hot with 2 layers of fleece. However, if you're making this as a DIY Harry Potter Costume for Halloween and it's cold where you live, you may want to go ahead and line the robe.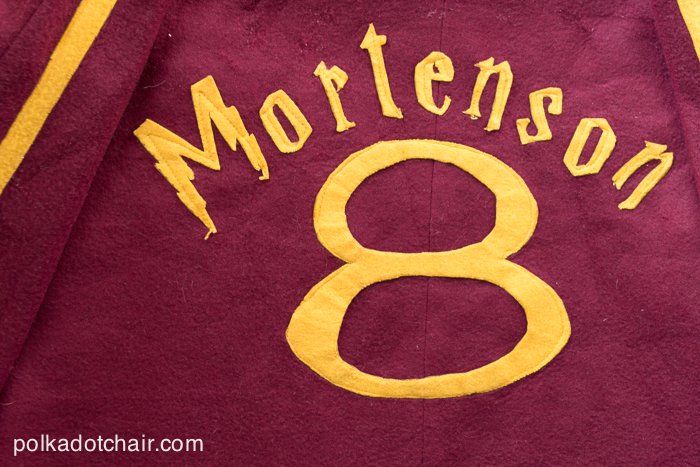 How to Create the Applique Letters
Next, type your name using the Harry Potter font in a word program. Then print out your name on plain white paper using a Harry Potter font- my font is called Harry P.
Reverse the font by placing your paper upside down on a light box or window. Trace the font onto the paper side of a piece of heat n bond lite. Cut out the letters roughly and press onto a piece of contrasting color fleece.
Next, cut out the letters precisely. Press onto the back of your quidditch robe. Use a pressing cloth with the polar fleece to keep it from melting.
Stitch around each letter (or in the center of the more difficult shapes) to attach to the robe.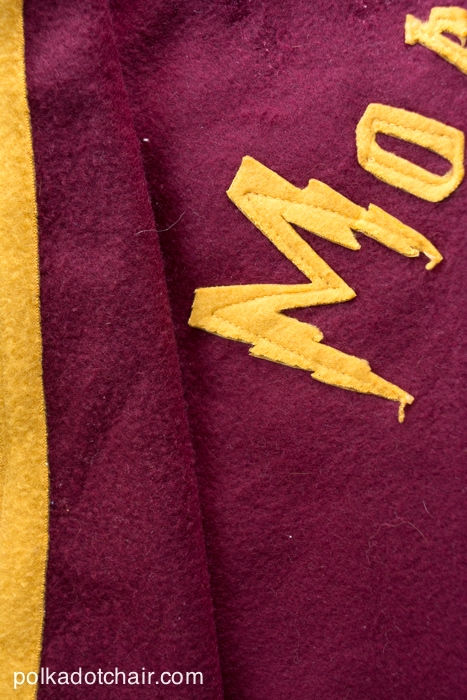 That's it. You're done .. now just accessorize away with a broomstick, some cute goggles, and of course, your Golden Snitch!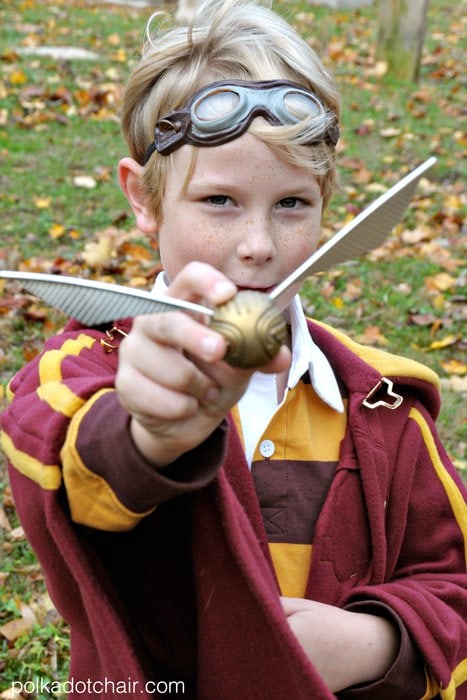 You can use the same technique to make Harry Potter Robes. Here's his twin sister all dressed up like Hermione!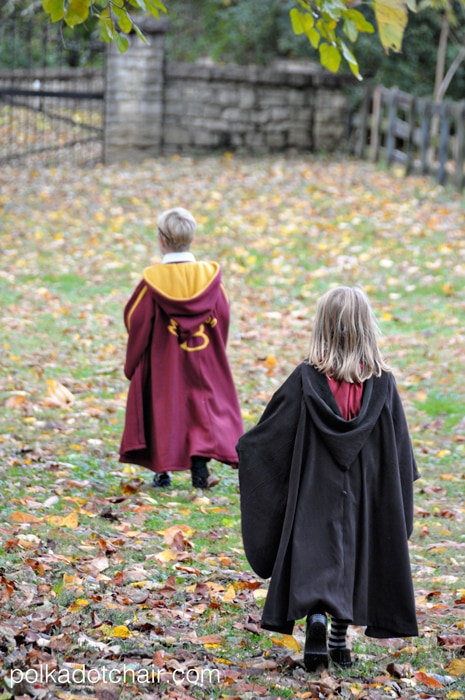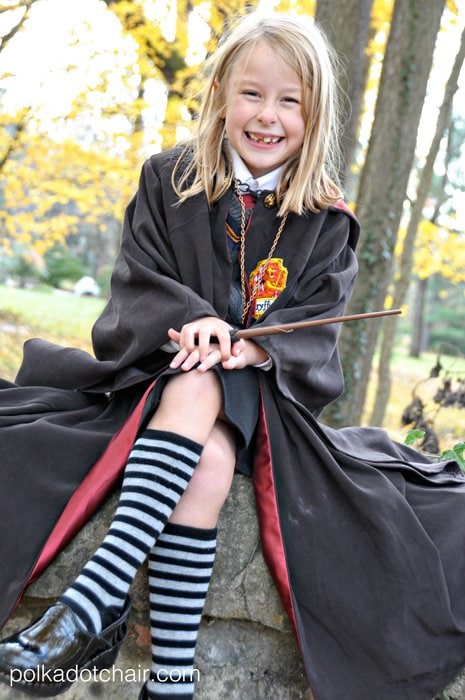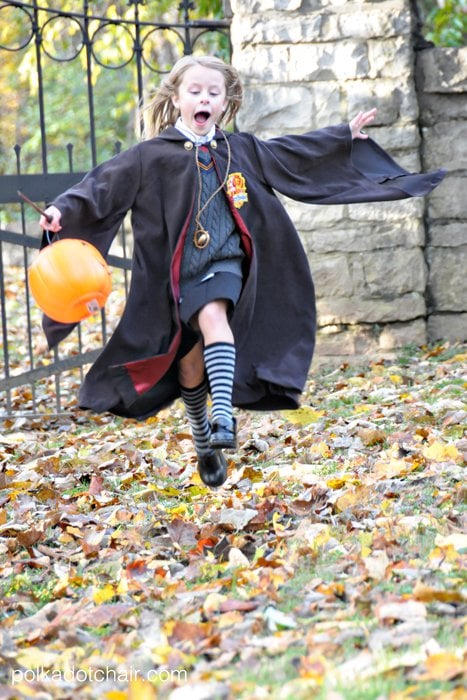 A shot of the whole family dressed up-and, in case you were wondering, yes we went as the "Epilogue" *wink*.
Now all you need is a Sorting Hat, learn how to make one here.
More Harry Potter Inspired DIY Projects
DIY Hogwarts House Notebooks and free printable notebook covers
DIY Harry Potter Pencil Pouches
Quidditch Mom Tote Bag Tutorial
Harry Potter Printable Luggage Tags
DIY Halloween Costumes to Make for Kids
DIY Skeleton Costume made with a Cricut
Mad Scientist Halloween Costume
25+ DIY Halloween Costume Ideas for Kids