I'm excited to introduce you to my newest fabric collection with Riley Blake Designs, a Valentine-themed collection called "Mint for You."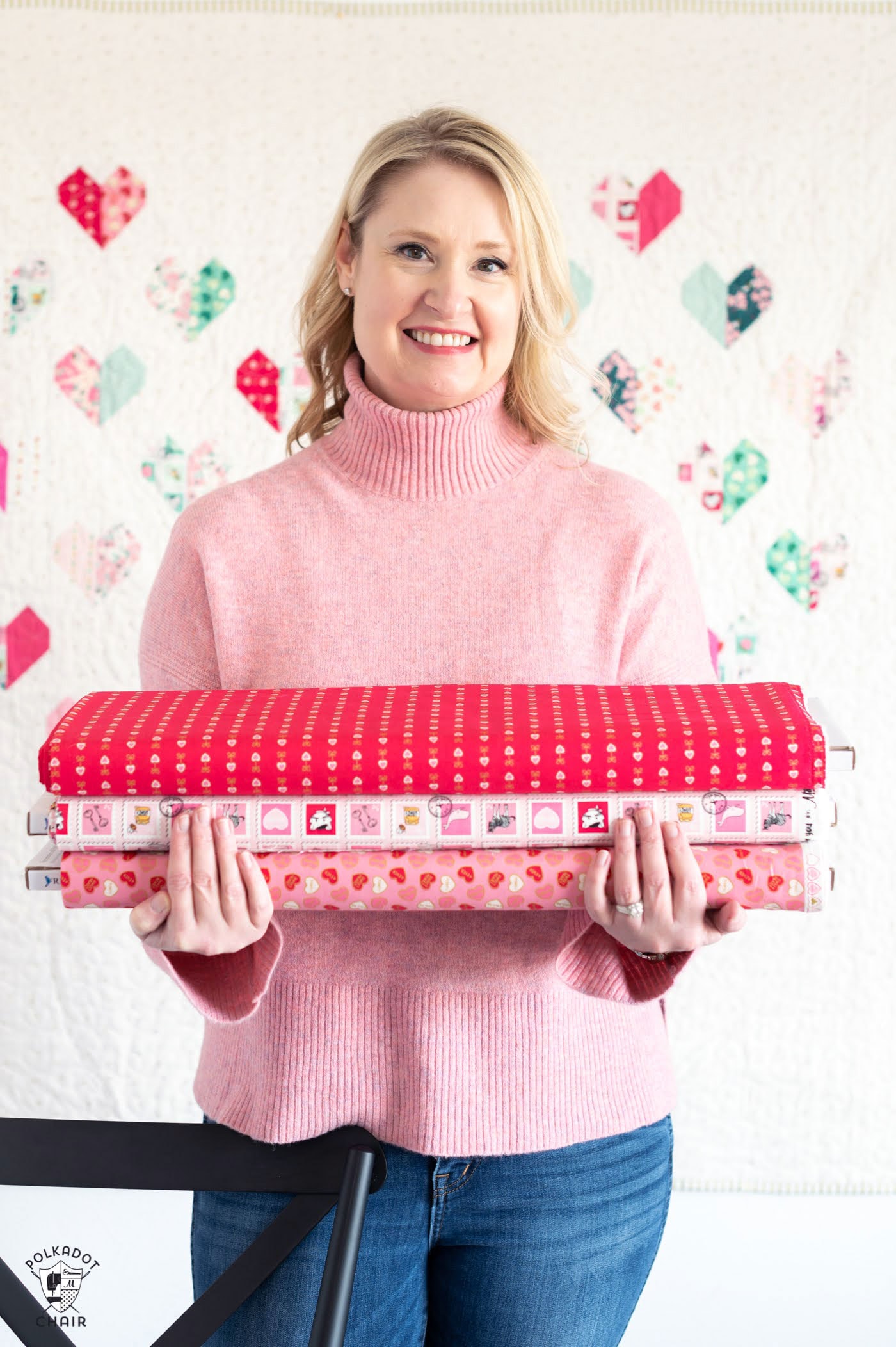 Last Fall, I shared a sneak peek of my new fabric collection, Mint for You, with my YouTube audience.
I've shared a bit here on the site as well and thought today I'd share a bit more about the collection and my inspiration for the line and give you some project inspiration.
Table of Contents
About the Collection
The Mint for You collection was inspired by "punny" vintage Valentines from the '40s and '50s. I love a good pun and had so much fun coming up with illustrations and sayings for the line.
The line features a variety of heart-inspired prints in cranberry red, pink, and mint colors. There's a conversation heart print, a "bee mine" floral, sprinkle hearts, a heart on a string, and a scallop heart print.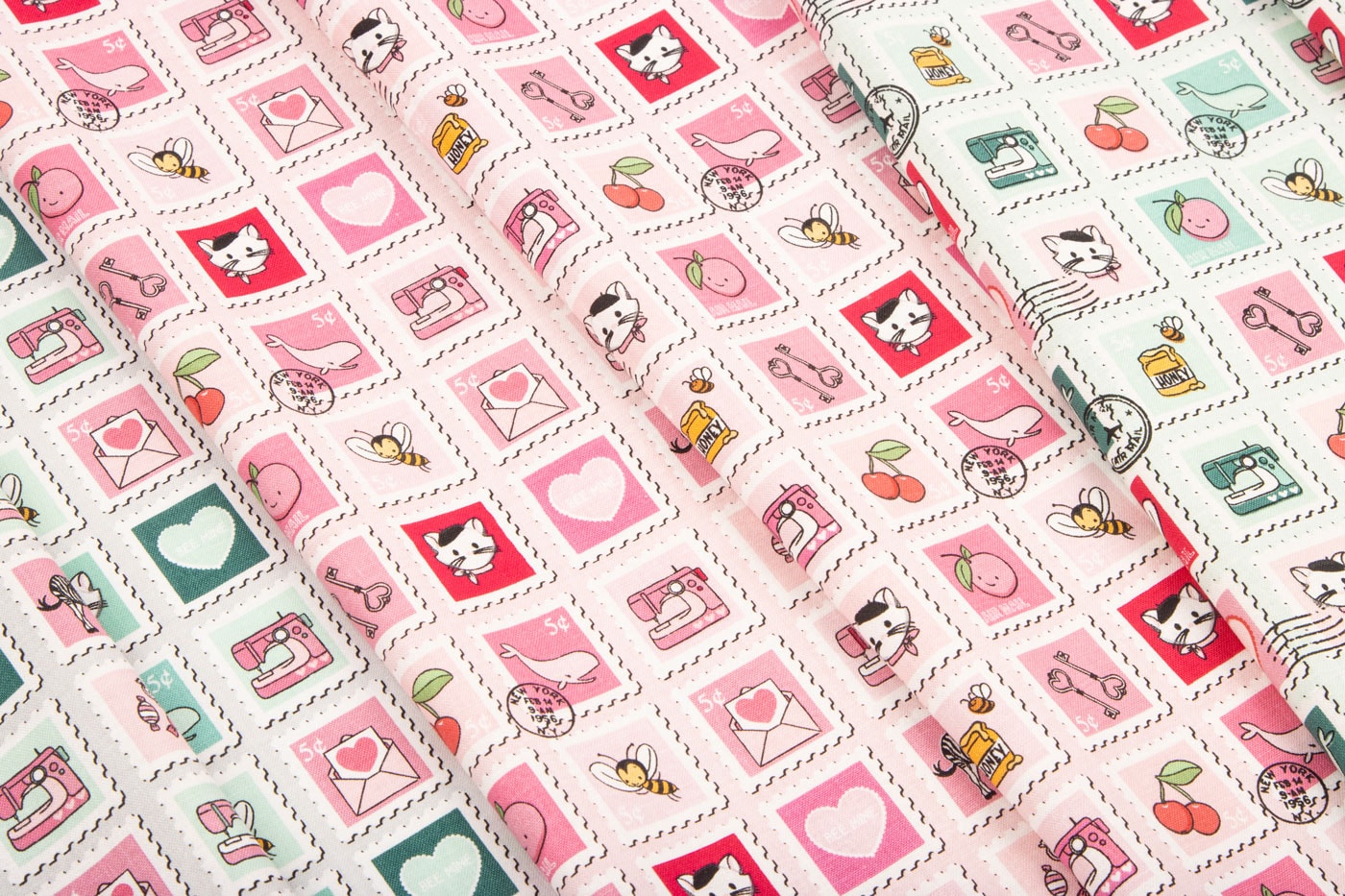 The main print of the line was inspired by postage stamps and features a variety of images on stamps. I think that those of you who love to fussy cut fabric will love this print!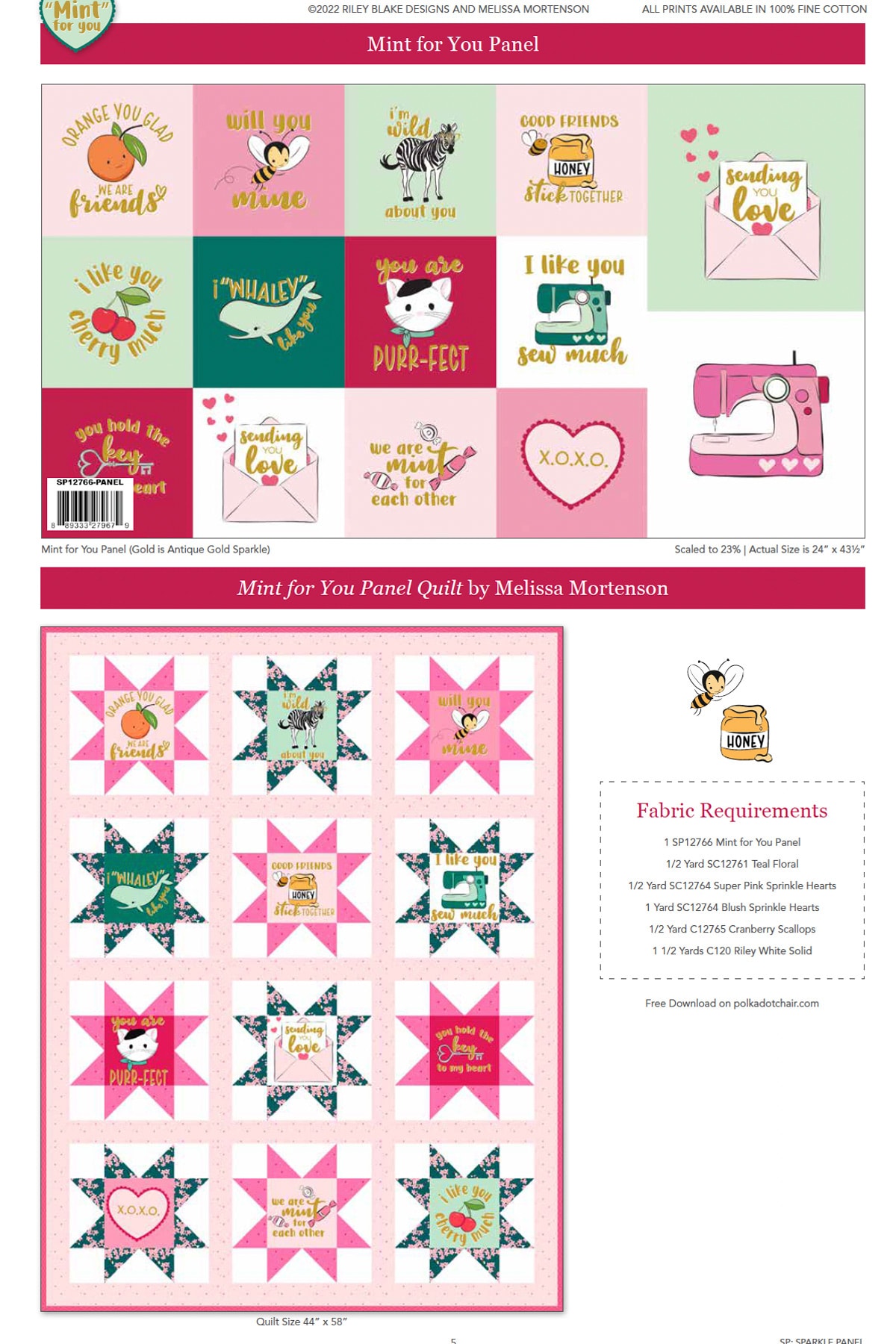 In addition to the 18 prints in 3 different colorways, the line also features a Fabric panel, meant to be cut up into many different projects (keep reading to find out how to get that quilt pattern).
Projects for Valentine's Day Fabric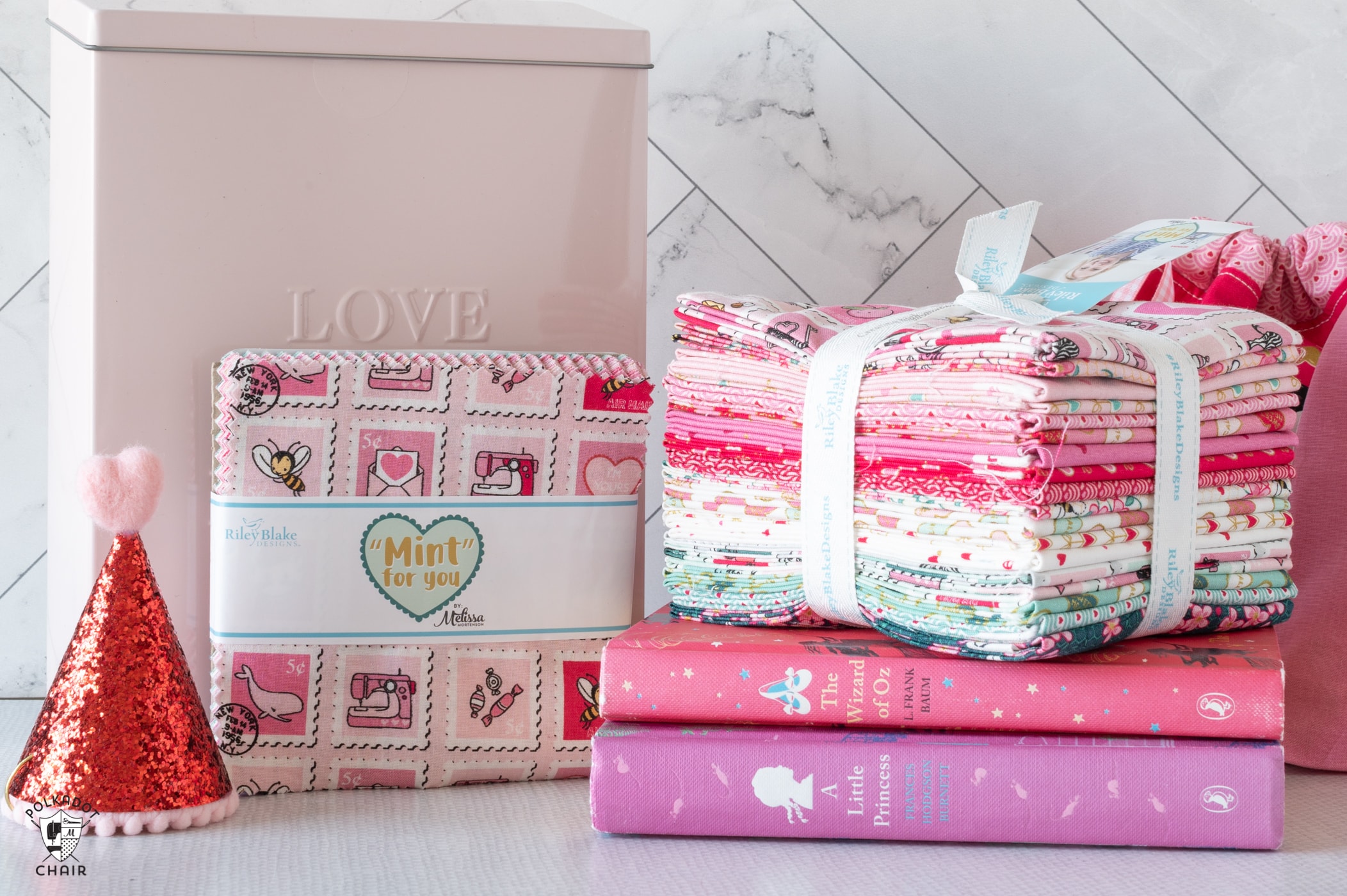 I have FULL tutorials planned for these projects in the coming weeks. I've spaced them out, so you get a little bit of "love" through the end of January and the beginning of February. A few of the projects are already available, and I've linked them where appropriate.
For the rest, you'll have to follow along (you can subscribe to our newsletter to be notified when new projects are added) to get all of the fun patterns!
Valentine's Day Pot Holders
When I designed the fabric panel for Mint for You, I specifically designed the squares in the panel to fit on our Pot Holder Parade pattern!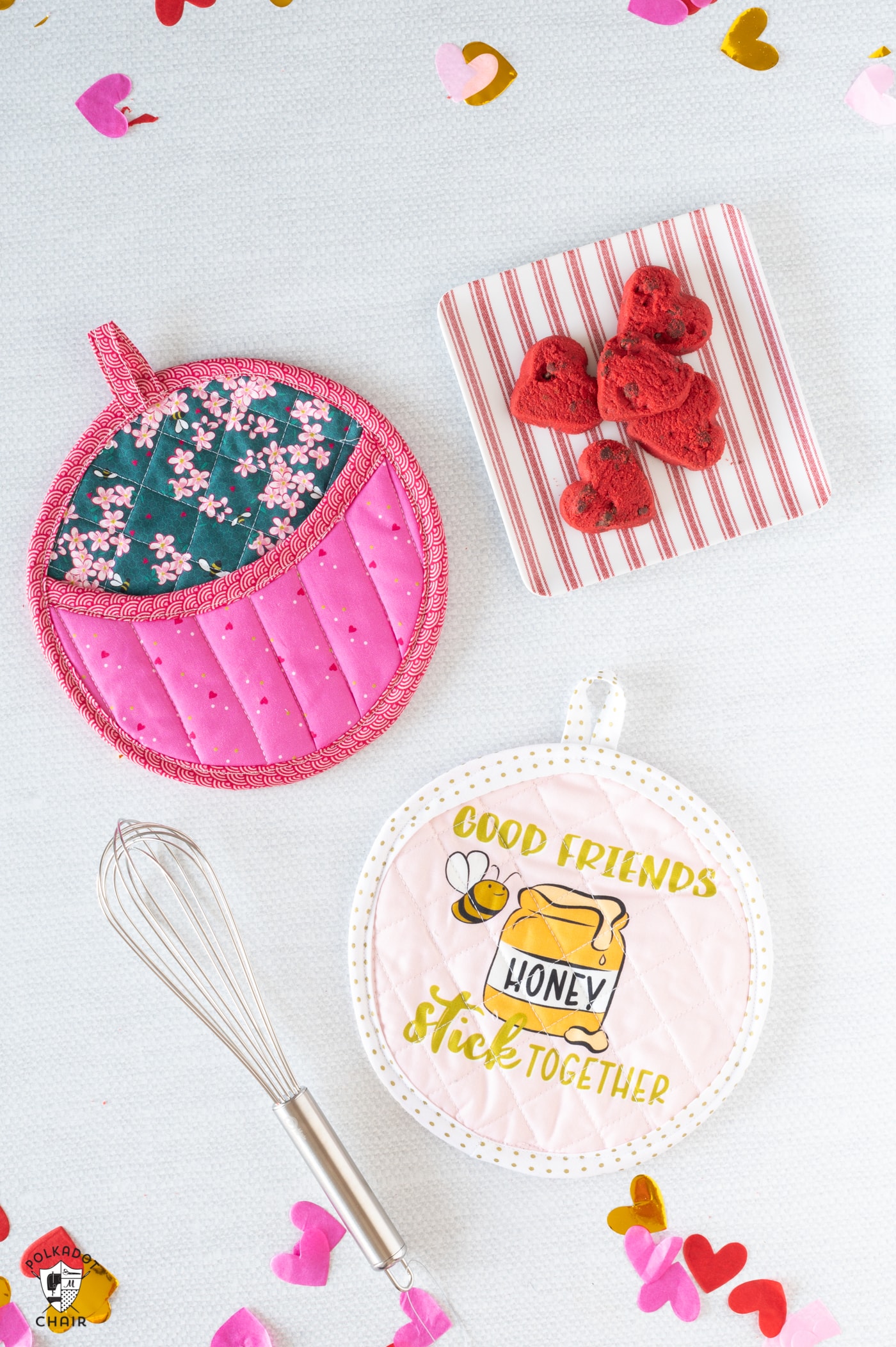 Make the rest of the pattern from fat quarters if you'd like! There are twelve different squares on the panel to choose from
How to Get the Pattern:
Heart of Hearts Pattern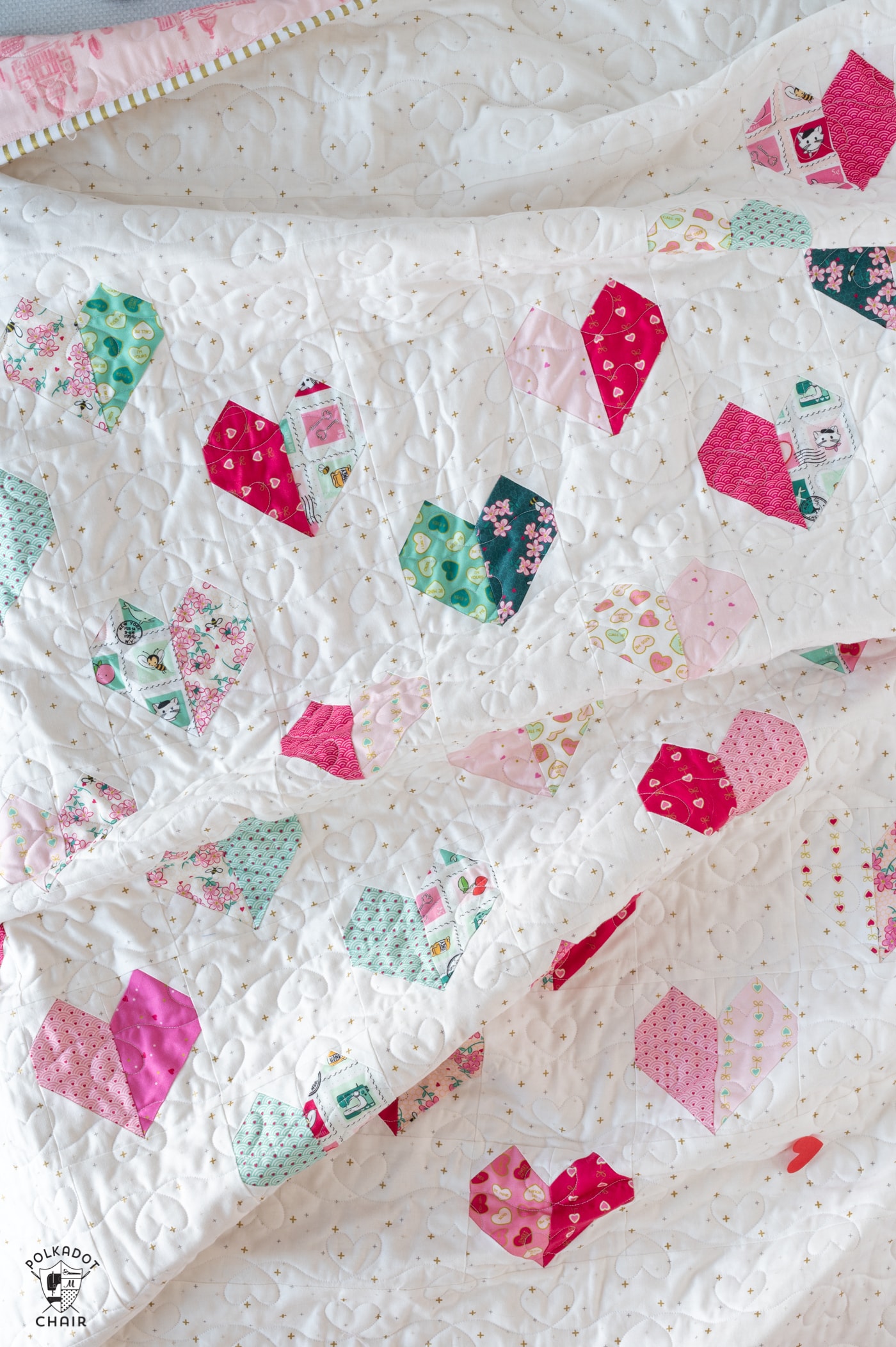 This pattern is available now! It's a heart quilt made out of heart quilt blocks! My favorite part about this pattern is that it's made using yardage (for the background fabric) and ONE 5″ stacker of fabric!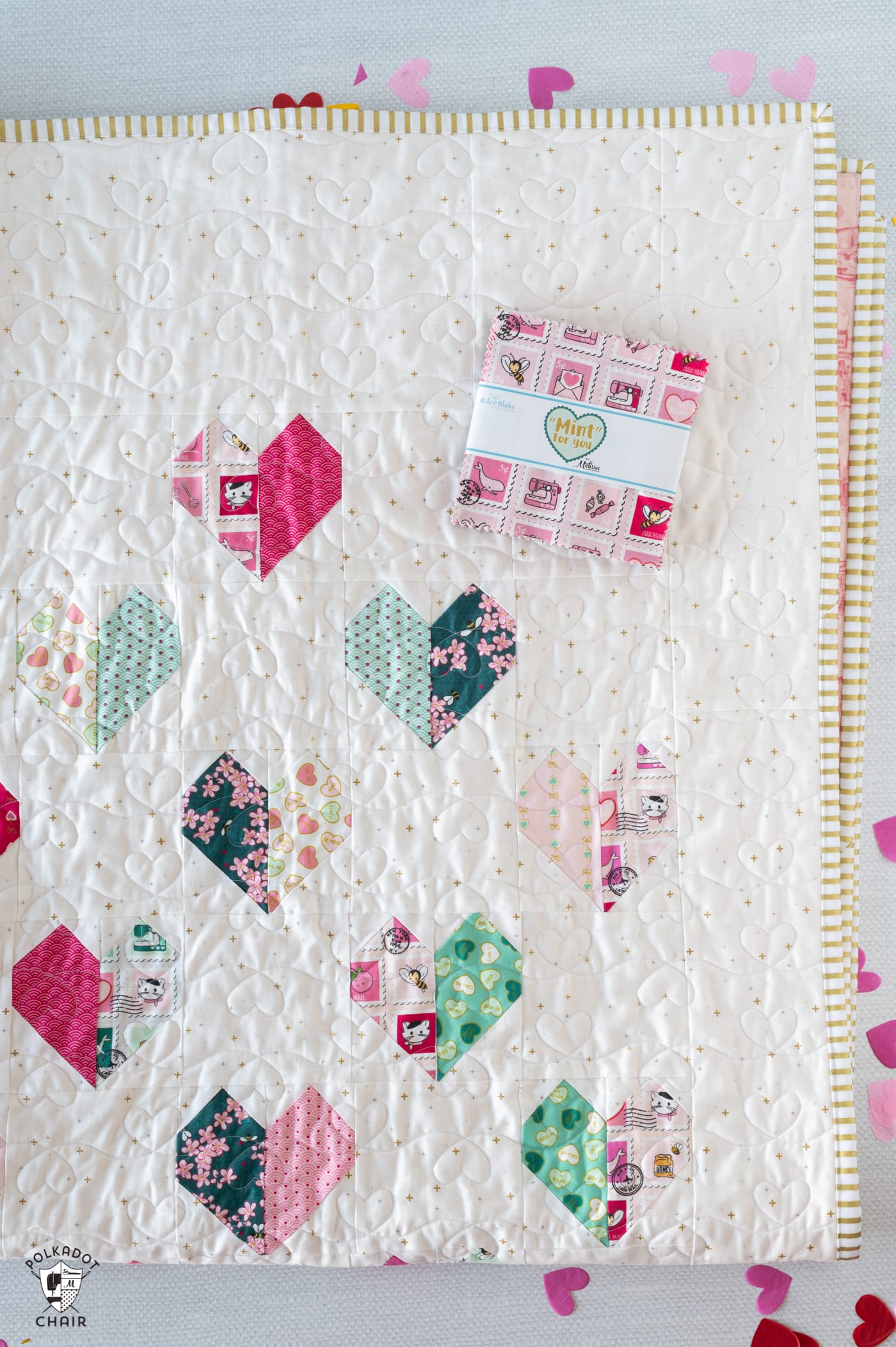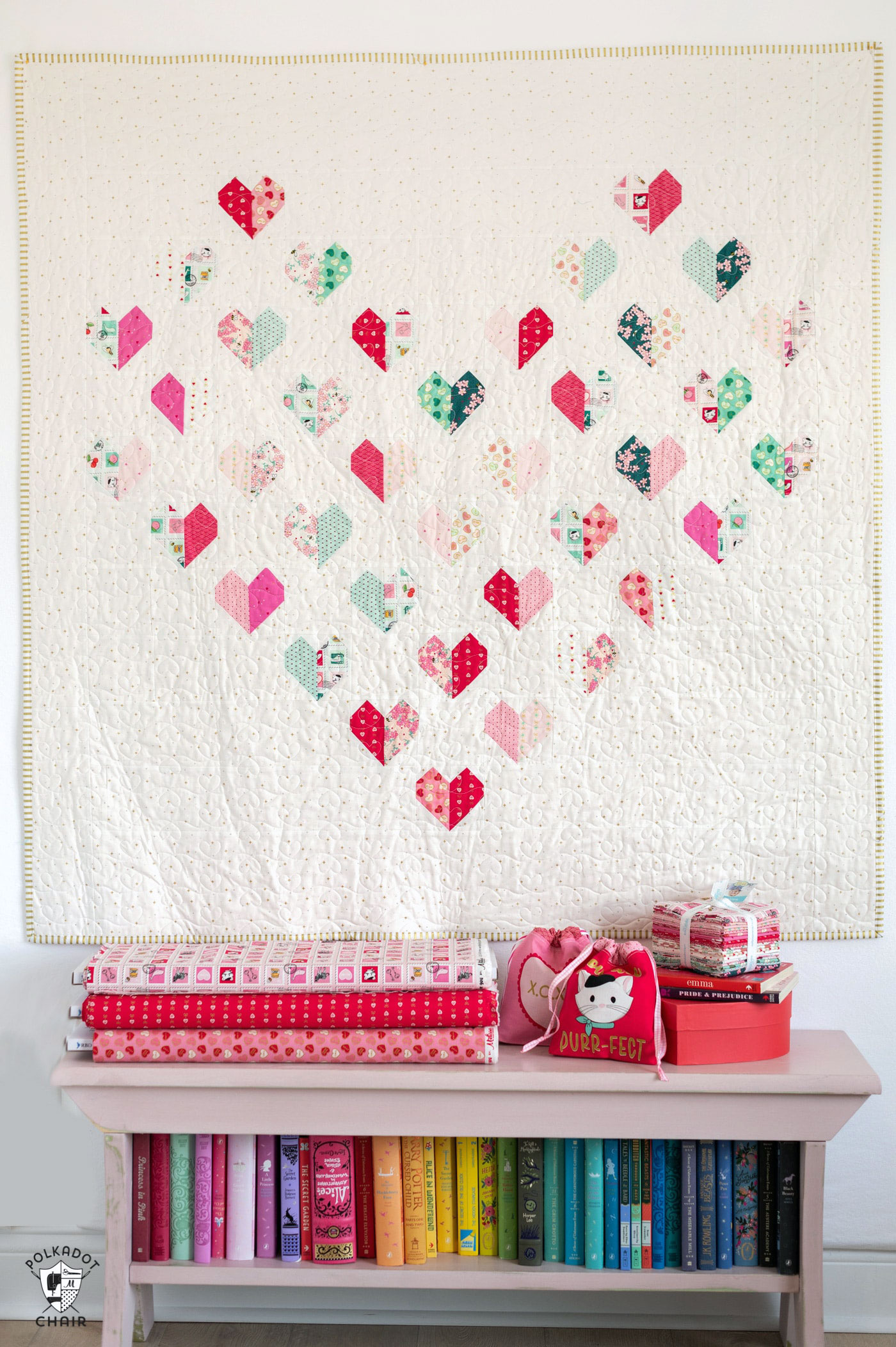 How to Buy the Quilt Pattern
Drawstring Gift Bags
One of my favorite features of the line is the included fabric panel. It's made up of mostly 8″ squares of fabric (and two larger squares) that are meant to be turned into a quilt or other project.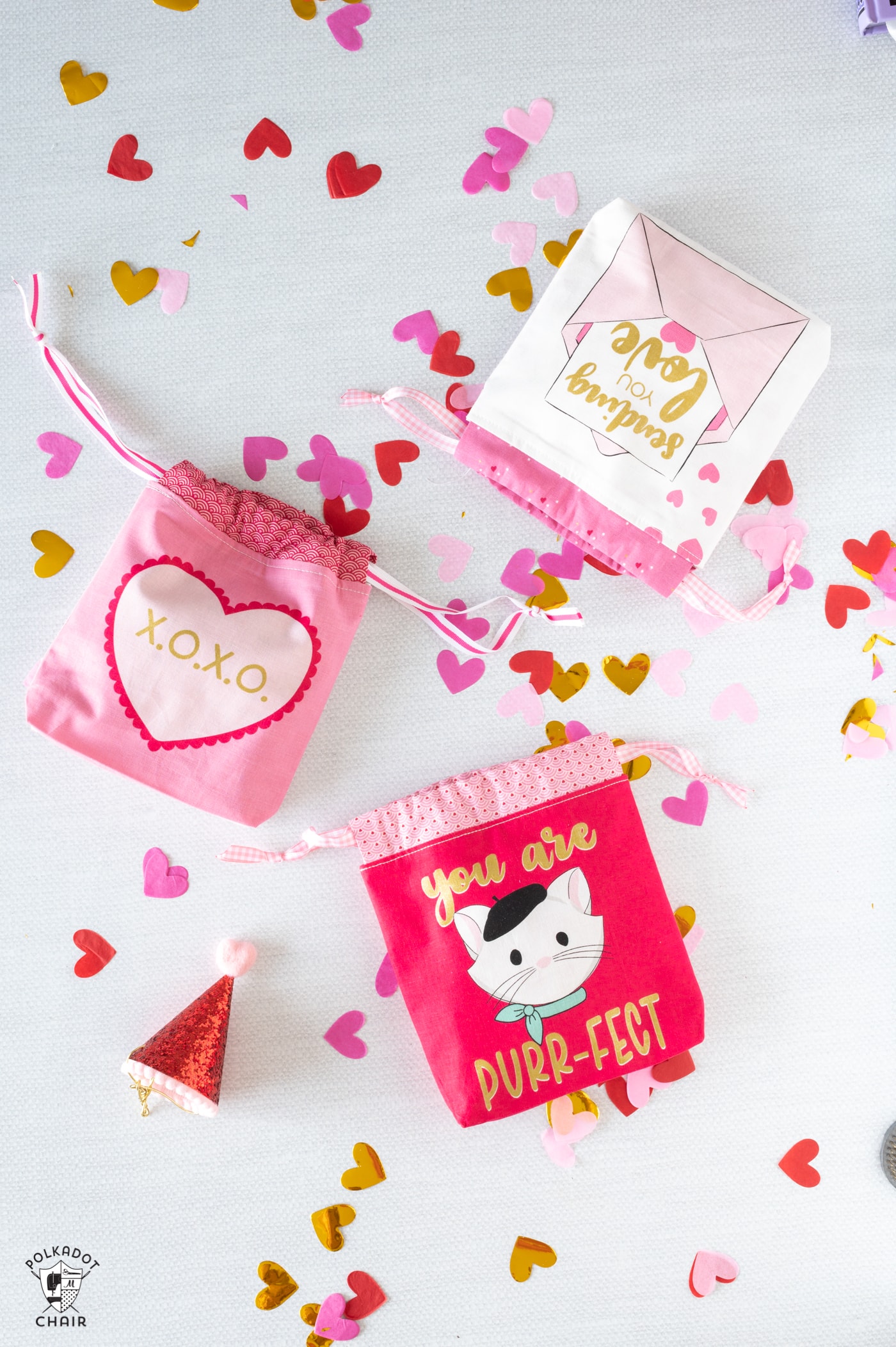 I cut them up and used them to make some simple drawstring bags. You can find the drawstring bag tutorial on our site, and I'll share a more detailed panel-specific tutorial later this week.
Valentine's Day Fabric Envelopes
I have a tutorial for these envelopes scheduled for next week! I hope you will love them as much as I love making them. They are made with pieces from a 10″ precut stack of fabric.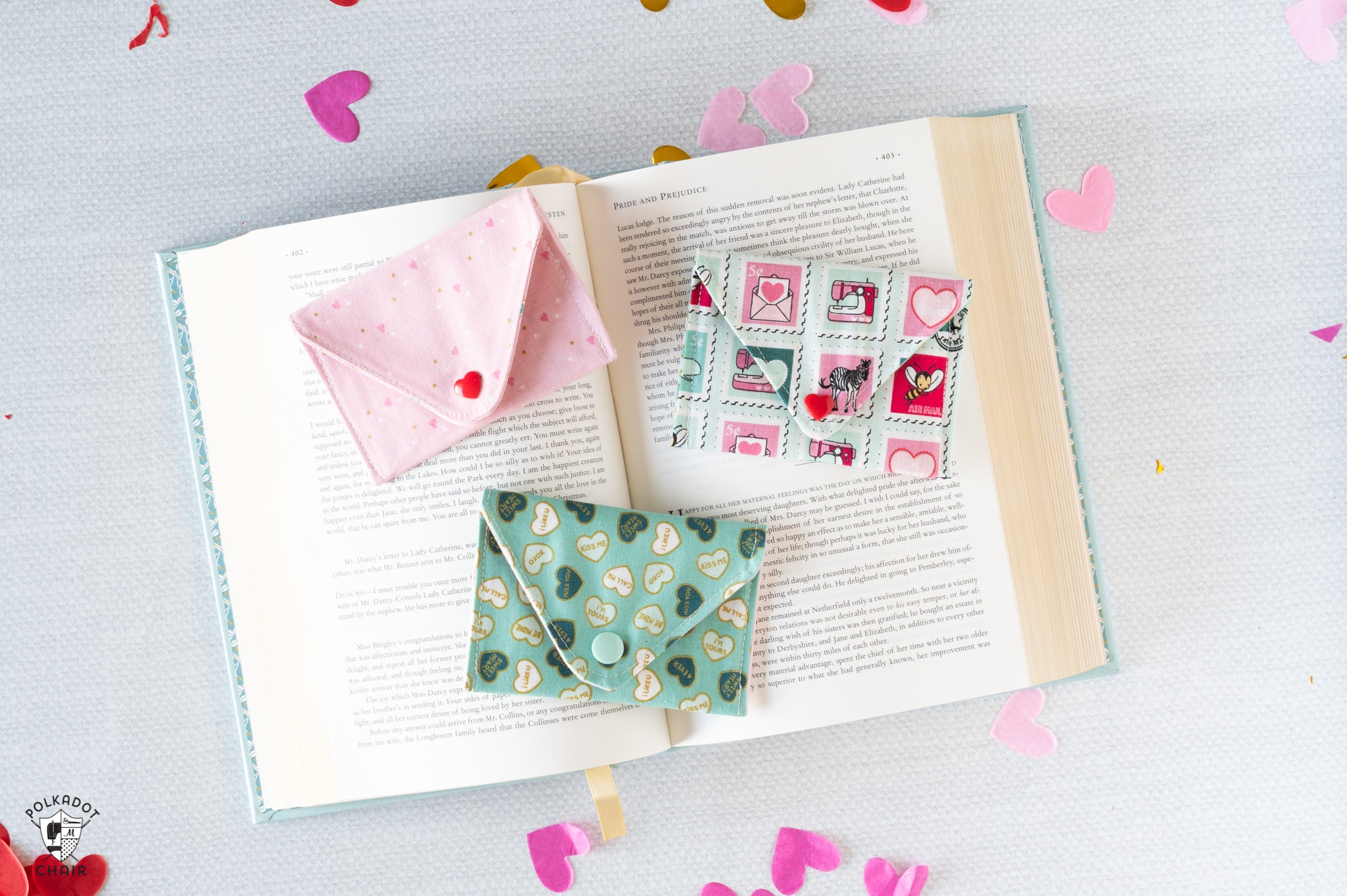 Free Mint for You Stars Quilt Pattern
I've written a free quilt pattern designed to compliment the line. It uses all the squares from the fabric panel and makes the cutest Valentine's Day quilt!
To get the pattern, fill out the form above, and we will email it to you!
Embroidered Heart Mini Quilt
I combined some prints from the line with a bit of hand embroidery to create a sweet mini quilt that's just the right size to be used as a table topper for Valentine's Day.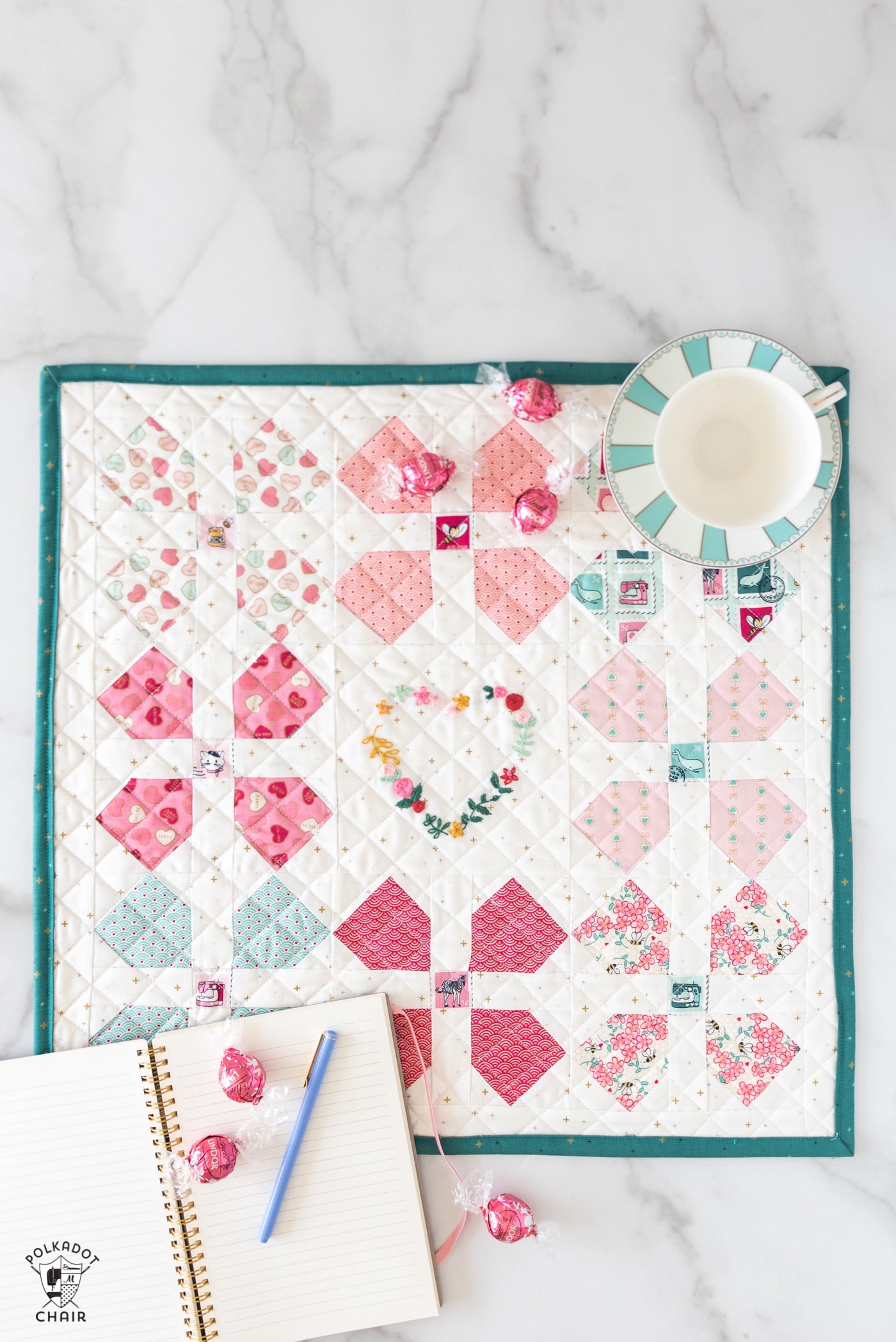 Where to Buy the Fabric
Many brick-and-mortar fabric shops have ordered the line.
In addition, you can get it online. I have seen it at Fat Quarter Shop and on Etsy.
If you are out of the USA, Etsy is a good place to look since there are many sellers worldwide. If you are a shop that carries the line, let us know, and I'll be happy to add you to the list!
You May Also Like: