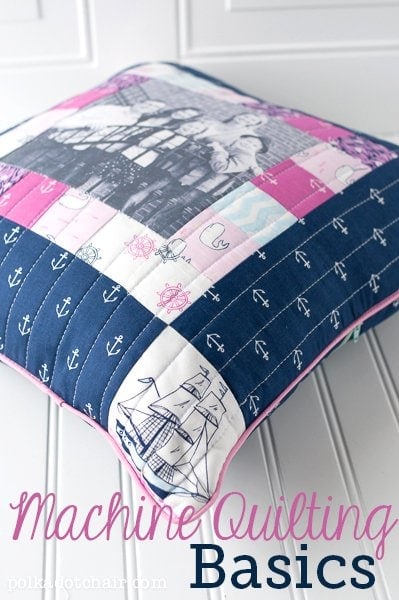 Today I'm sharing with you another post in my Sewing Lessons Series sponsored by Bernina. This lesson is on the Basics of Machine Quilting, or How to Quilt on a Sewing Machine.
You can find previous lessons on, How to Sew a Zipper, How to Make and Sew Piping, Curves & Corners, How to Finish Seams and What to do when you get a New Sewing Machine.
When I asked what you wanted to learn you overwhelming told me that you wanted to learn how to Machine Quilt.  I have been hesitant to post this lesson because I know there are some AMAZING machine quilters out there and was feeling a bit intimidated.  Just know this is a very basic lesson.  It works for me hopefully it will work for you too.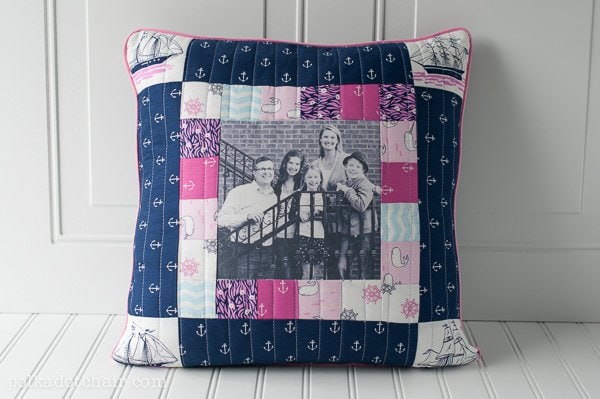 Dorm Room Pillow Project on We All Sew.com 
Honestly I quilt almost all of my quilts myself. I've sent quilts out to be professionally quilted, but sometimes it's not in the budget or I'm too impatient. I will say, if you can send your quilts out DO IT! Natalia Bonner machine quilted the quilts for my upcoming book and you'll be AMAZED when you see her work.
That being said I want you to feel like you CAN quilt your own quilts at home. I think it makes the process seem so much more "doable" when you feel confident to complete all of the steps yourself (even if you decide not to).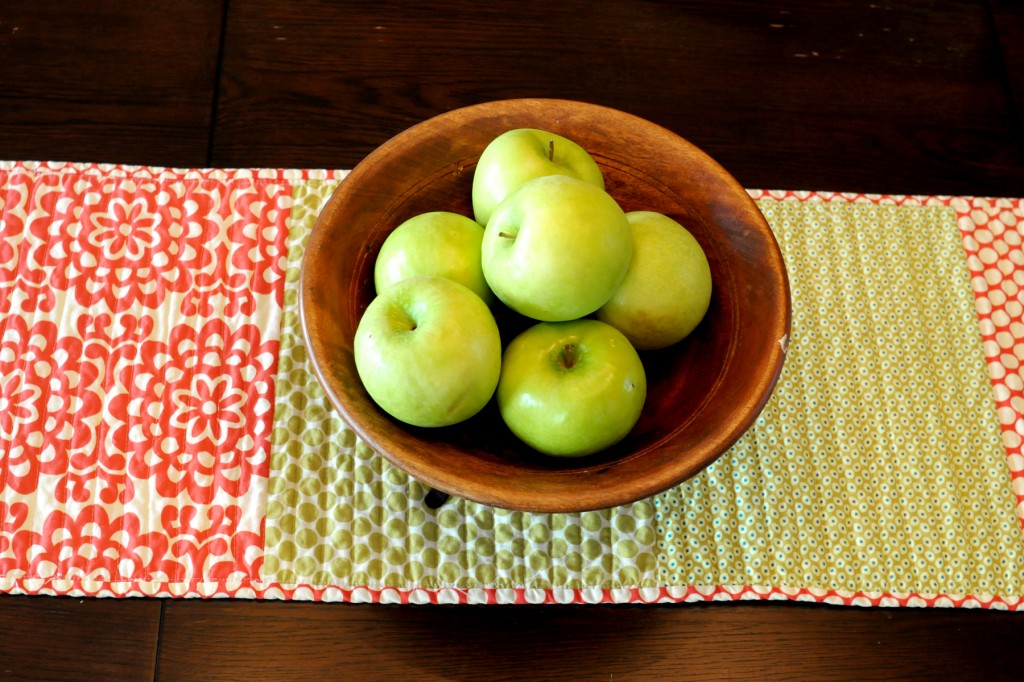 Simple Skinny Table Runner Tutorial
I've machine quilted on 3 different machines, my current Bernina 710 and previously on a Husquvarna Viking and a very very basic Singer.  I was able to machine quilt on all of the machines, but since the Bernina is made to handle a quilt it was by far the easiest!  That machine quilts like a DREAM! But I want you to know,  you can do this regardless of your machine.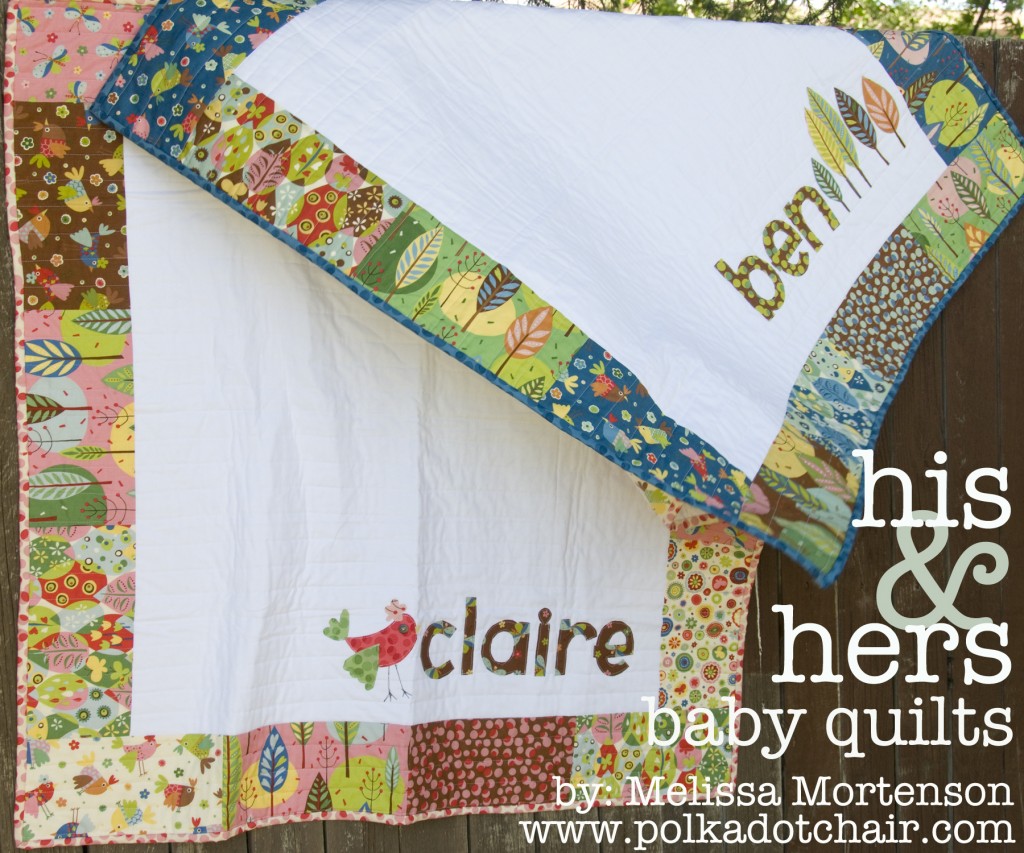 His & Hers Baby Quilt Tutorial
First you're going to need to know a few things:
-You need a Walking Foot: This is a MUST. If you don't have one the layers of your fabric and batting will bunch up and you'll be FRUSTRATED! Not fun.  They are brand specific so get one that will fit your machine. Just a tip: they are great for more than just quilting, I use mine when sewing handbags also.
-Start on something small: The example I'm working with today is a pillow. I also quilted lots of table runners BEFORE I tackled a quilt. Half of what's hard is wrangling your fabric, so start on small projects until you're comfortable.
-Always have a test piece.  Make a little square of your fabric and batting and test out your machine and thread to make sure it's working before you start your quilt.
-You need a Machine Quilting Needle. It's sharp and will help punch through the layers smoothly. Rule of thumb, one needle per quilt as they dull quickly.
-Use a longer stitch length. I like 4 to 4 ½ depending on the project.
-Baste well! Using spray basting and quilters safety pins. We'll talk about that in a minute.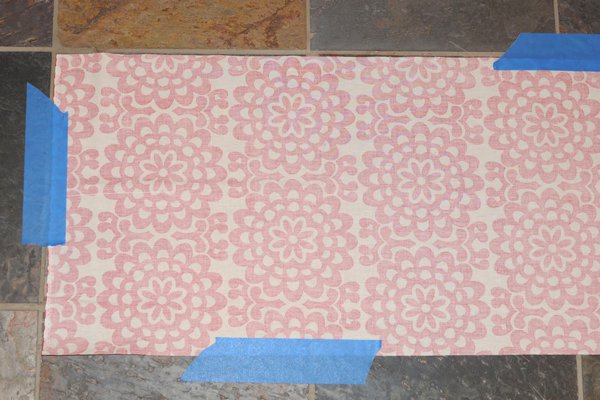 The first thing you need to do is make a quilt "sandwich". It will consist of your backing fabric, your batting and your quilted piece. Your backing will be the largest piece with your batting slightly smaller and your quilt top the smallest piece.
You need these layers to go together FLAT. To do this I like to baste my projects on my tile floor. I start by taping my backing fabric to the floor wrong side up. You don't want this fabric to move around at all.
Next spray a layer of spray basting on your backing fabric. Then layer on your batting and smooth out all your layers. Spray more basting on and layer on your quilted piece right side up.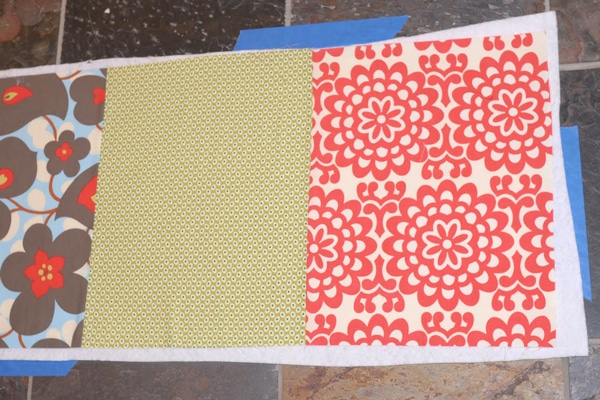 Get all your layers flat again. Now it's not shown here but I've started adding safety pins to the perimeter, last time I machine quilted a pillow the fabric moved around too much. I added a few safety pins and it worked like a charm. Roll up your quilt/pillow/table runner to make it easy to work with.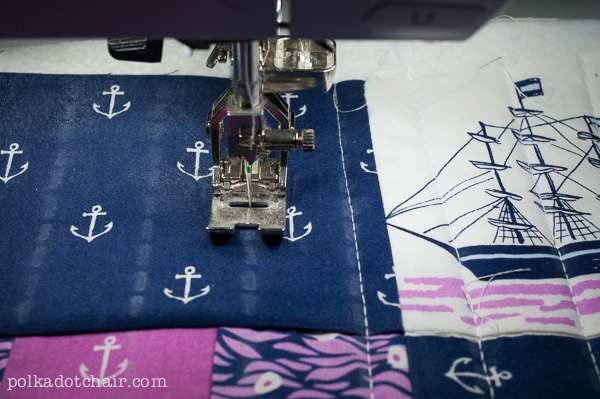 Next mark your fabric. You space your stitching lines apart using your walking foot, but I like to mark the fabric.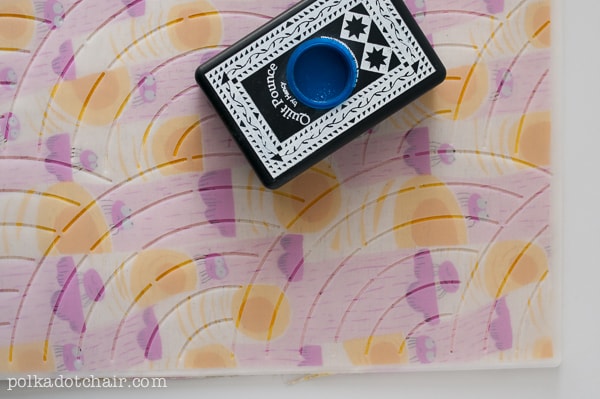 To do this I use a stencil and quilt pounce. Note, we are straight line quilting, not free motion quilting (like in the pattern shown above), so in the example I used today I used a stencil with STRAIGHT lines on it not curves.
You can also just "stitch in the ditch" of a quilt, which means to quilt on top of existing seams. Then there is no marking necessary.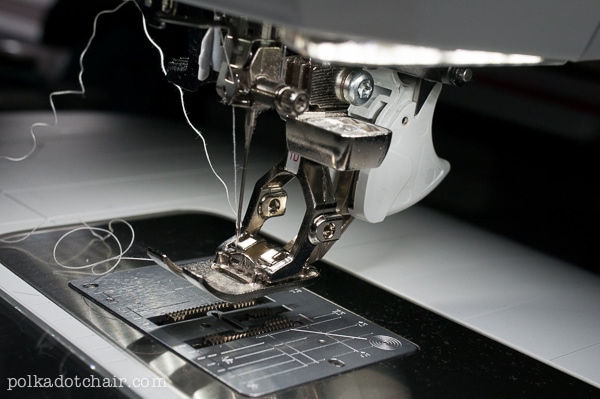 Put your quilting needle on your machine and your walking foot. If you have a Bernina 710 engage the dual feed.
I like to use 100% cotton or 100% poly 40 wt thread in my machine with a 60wt thread in my bobbin.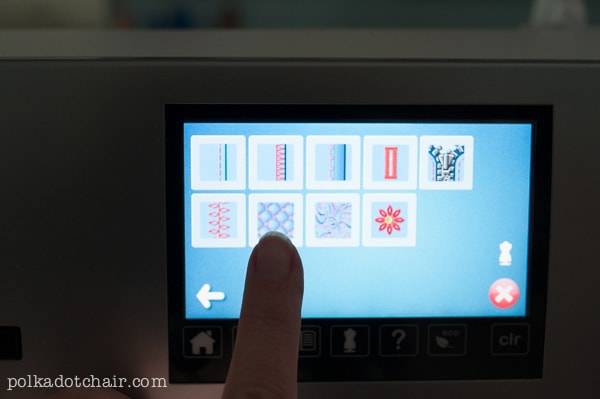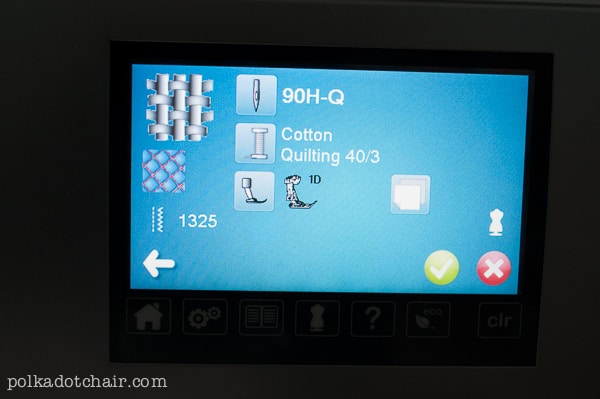 On the 710 go to the Sewing Advisor and select the quilting icon. Note it will tell you to use 40wt quilting thread and a 90 needle (smart machine!)
Set your stitch length to 4.0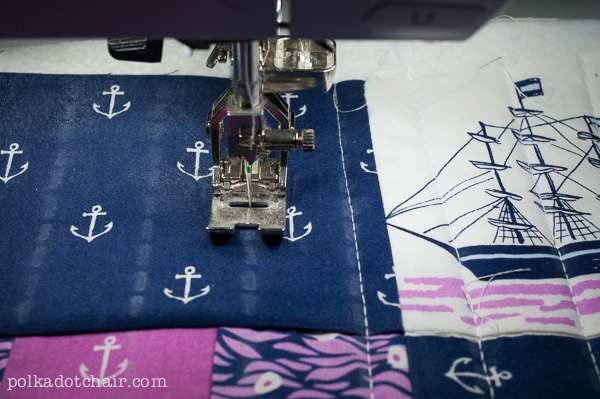 Begin stitching. Always move the same direction. Don't get to the bottom then pivot and go back up to the top. Stop at the bottom and start again at the top. This will keep the fabric from bunching up.
If you are quilting something that you are quilting vertically and horizontally, do one line of vertical stitching. Then rotate the quilt 90 degrees and do one line of horizontal stitching. Continue your quilting. This will also help to stabilize your quilt.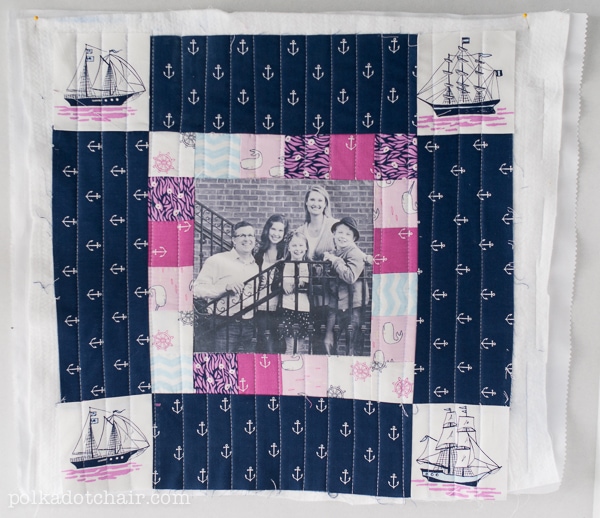 Keep quilting until you're done.
Now use a ruler and a rotary cutter to trim all of your layers even. Then bind your quilt (or make your pillow).
So does that help? Any questions? Leave them in the comments section for me.
Connect with me: