Today I'm going to share with you a cute neighbor gift idea for Christmas, these DIY Gingerbread House Snow Globes. I've even included a free printable Christmas tag for you to download!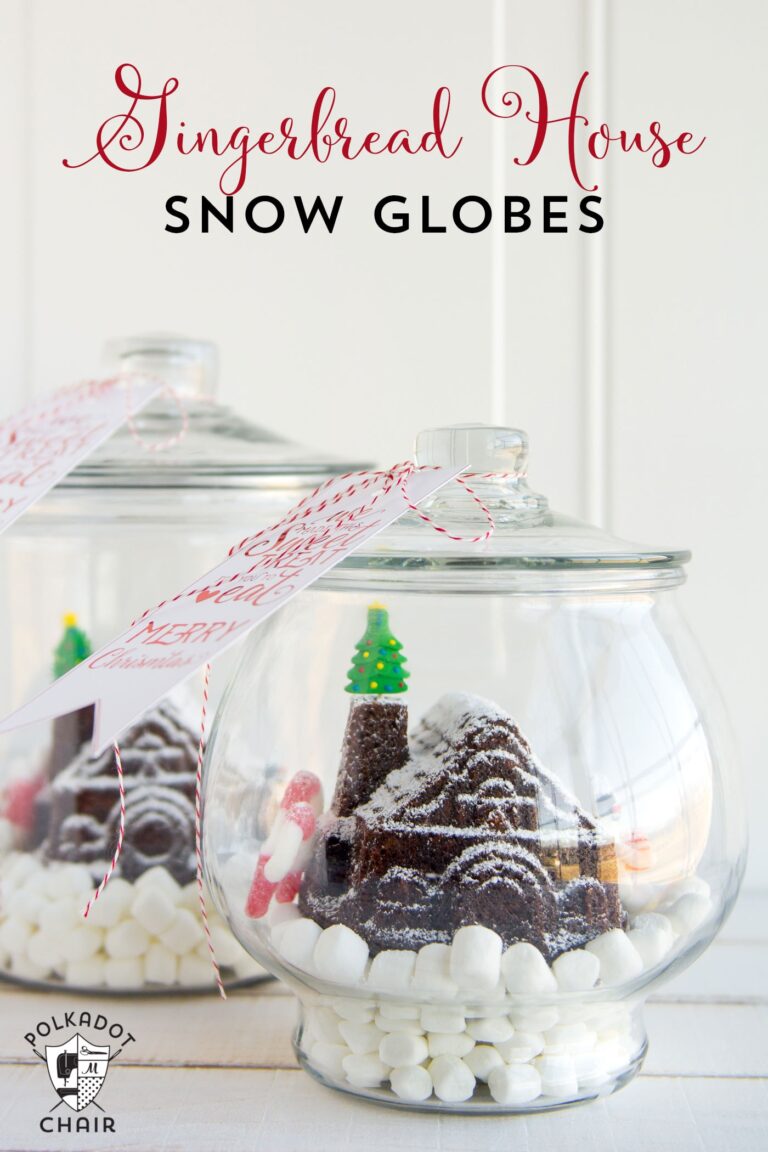 Each year after Halloween I sit down and make a "list" of projects that I want to complete before Christmas. Some of the projects are purely for personal use and some are created to be shared with all of you here.
Table of Contents
Last year, I got the idea to make mini gingerbread house snow globes to give to my friends and family. My intention was to make them early, deliver them and photograph them so that I could share the idea (and free tag) with all of you before Christmas.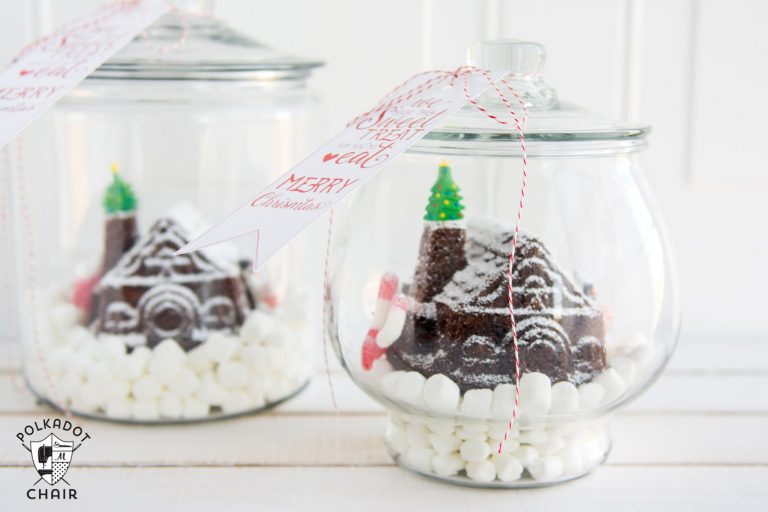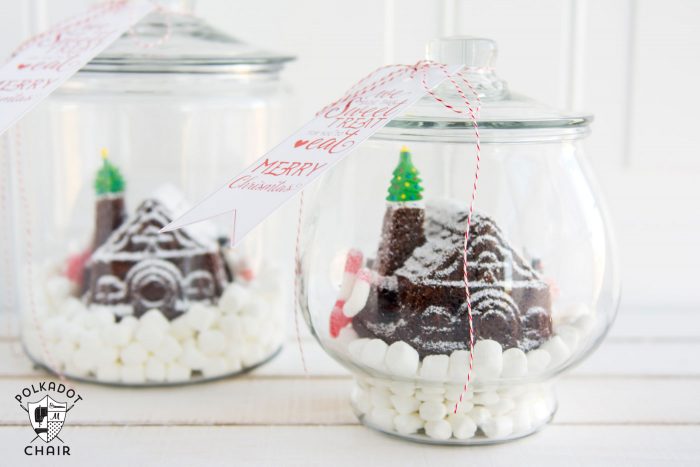 Soooooooo…. we have the intention, and we have reality. The reality is they got delivered on Christmas Eve day (which in the end was okay because I'd like to think that my friends had a fun dessert to eat on Christmas day). After Christmas, there was really no reason to share the idea with you, so I "filed" it away to be shared "next year". Well, now it's next year!
How to Make DIY Gingerbread House Snow Globes:
These snow globes are not as complicated to make as you think they would be. They are also not as expensive to make as you may think. I got the jars for $5, and the cost of the baking ingredients was also low.
To summarize, here's what you need to do.
Purchase the Jars & Cake Mold.
Bake, the Gingerbread House Cakes using the mold.
Fill the bottom of the jars with marshmallows.
Place the baked cakes in the jar.
Dust with powdered sugar.
Attach the tag & enjoy!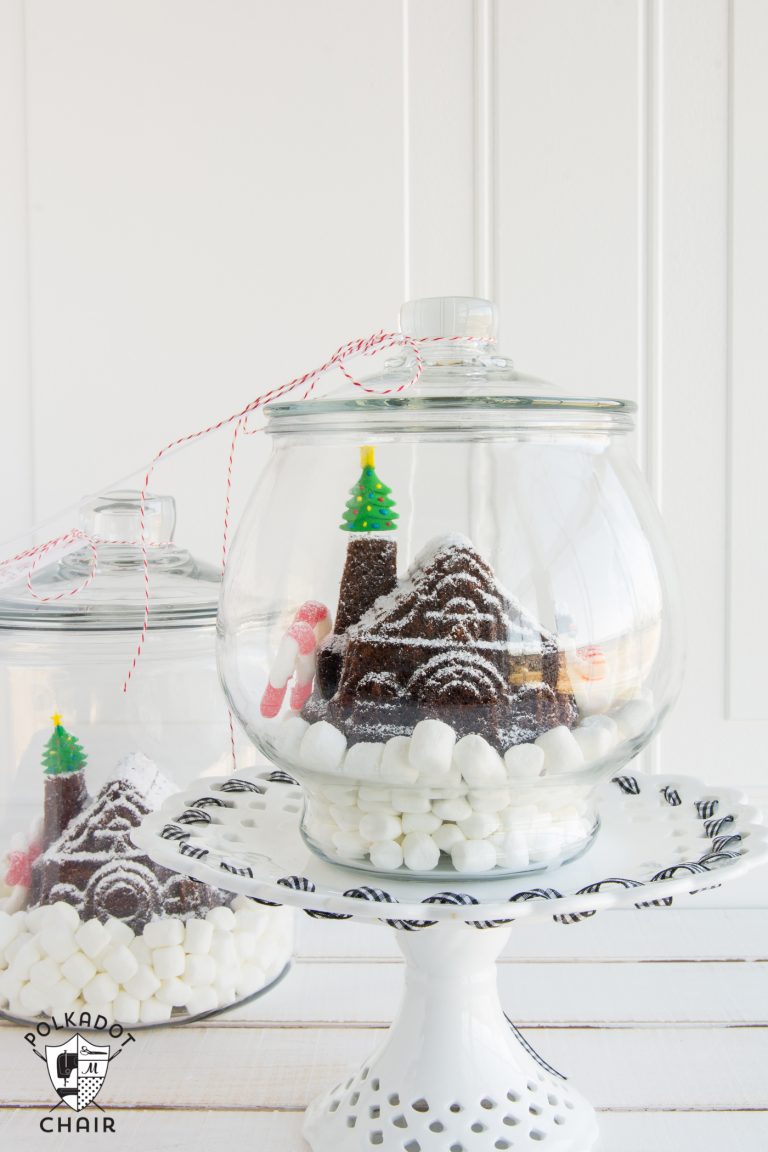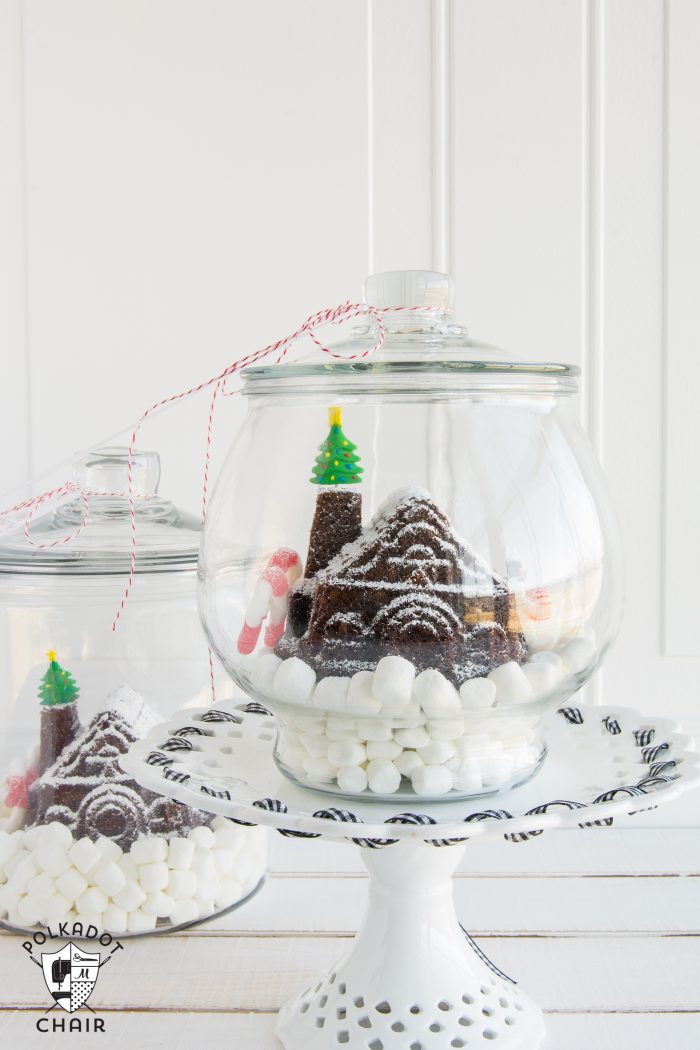 I wanted to "bake" something for Christmas for our friends but was coming up short on ideas. I'd spied a lot of "snow globes" online that year and thought it would be cute to make one using food instead of miniatures.
Gingerbread House Mold
To create the gift, I used this gingerbread house mold (you can get it on Amazon) and the recipe that came with the mold. If you don't have your recipe anymore, you can find it on the Nordicware site.
Baking Tip
I was able to bake two houses at a time and just started a day or two ahead. I left all the ingredients out on the counter and noticed it did not take much time to finish baking a dozen or so houses. Let me tell you, the house smelled AMAZING those two days!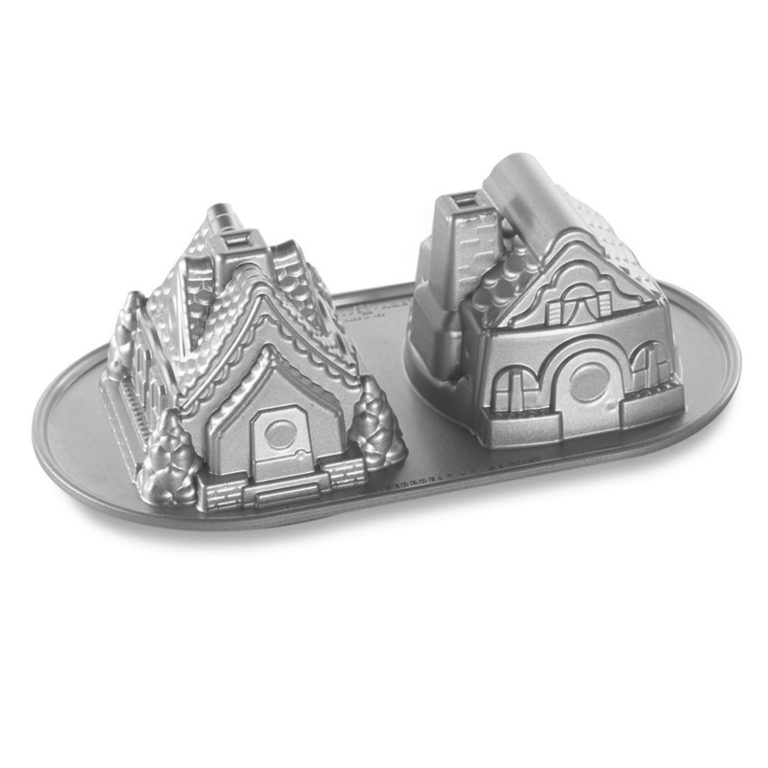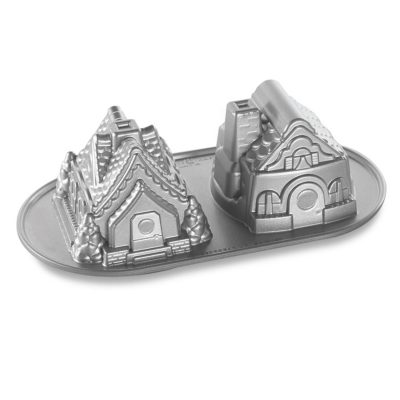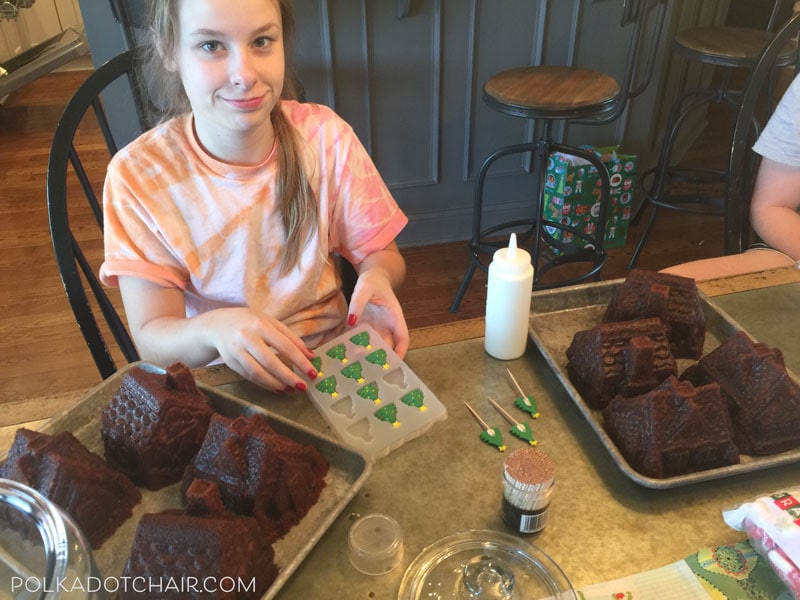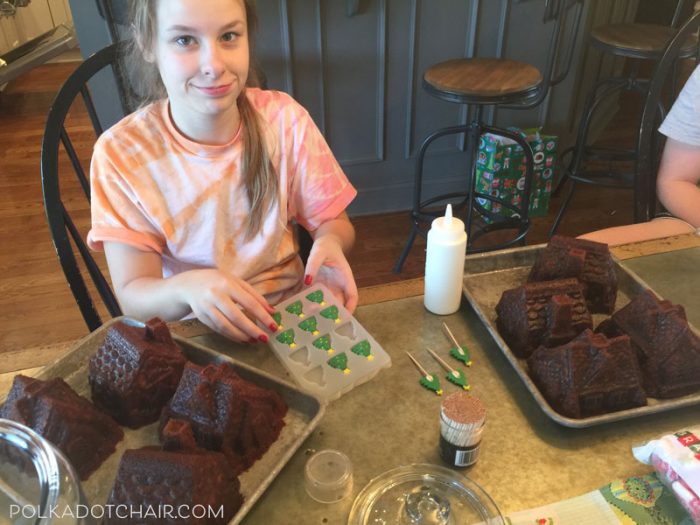 Packaging Details
We (I say we because the kids totally helped) decorated the houses very simply with powdered sugar and a few Christmas candies. We also added marshmallows to the bottom of the jars to help "prop" the houses up a bit!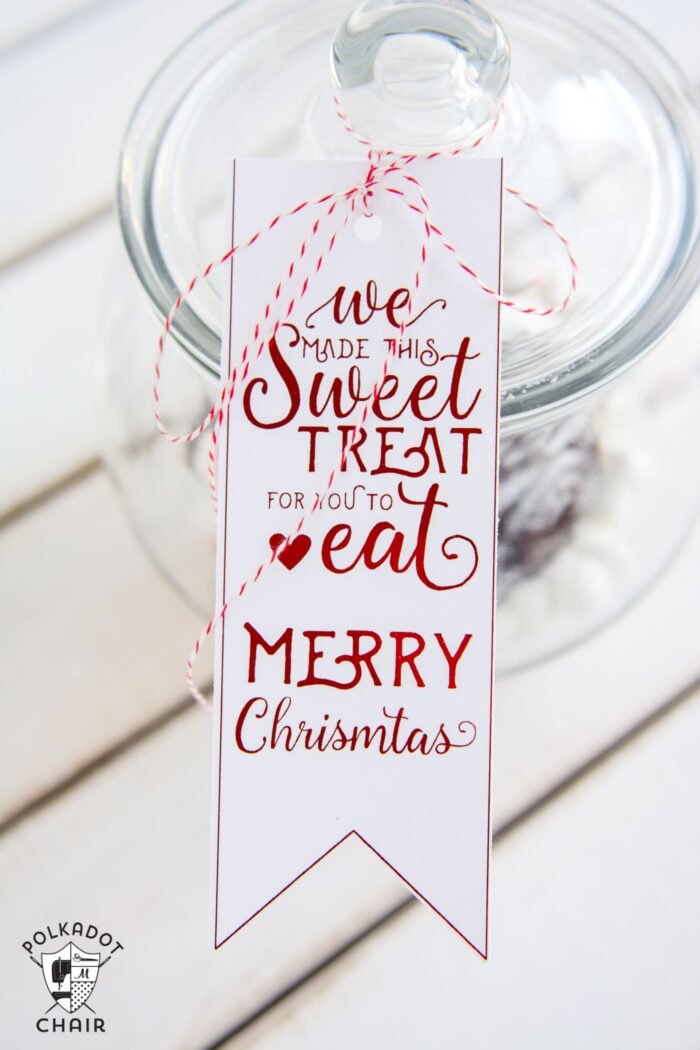 As a finishing touch, I tied a tag that I created to the top of the jar it reads, "We made this sweet treat for you to eat. Merry Christmas".
Supply List & Sources
-Mini Gingerbread House Mold (purchased from Amazon)
–Glass Jars (purchased from Target online; they had the best price, and we were so well packaged that none of them broke during shipping. If you can't find the ones with glass lids, they also have ones with metal lids.
I used a coupon code to purchase them. Keep an eye out. Target has a lot of online deals this time of year). You can also find jars at Hobby Lobby (also watch for sales)
-Mini Christmas Trees – I used a toothpick to attach them to the chimney.
-Gift Tag – you can download it for free on the TEMPLATES page (click here). Just make sure you READ the instructions at the top of the page! The tag prints in black or red. You can also add foil to make it "fancy." If you don't want to add the foil, I suggest printing the tags on some simple patterned or kraft-colored paper.
-I added foil to the tags with my Minc. I used red foil. You can pick up a Minc. on Amazon.
Note: for the foil to adhere, you need to print the tags with a laser printer. If you don't have a laser printer, you can use a copy machine or have them laser printed at a local copy shop.
-Red Bakers Twine. I bought a giant roll a few years ago and still haven't used it all!
That's it! I hope you enjoy this idea, and if you make them, be sure to drop me a line and let me know!!!


A few more Christmas Neighbor Gift Ideas:
How to Make a Simple Felt Holly Banner
"Sparkle All the Way" Nail Polish Gift Idea