Several years ago, my husband and I bought our first RV. Today I thought I'd share some of our experiences as RV owners with you guys, along with a pillow sewing tutorial! It's called the "Hit the Open Road" Pillow, a fun DIY project for an RV. This post is sponsored by Go RV'ing.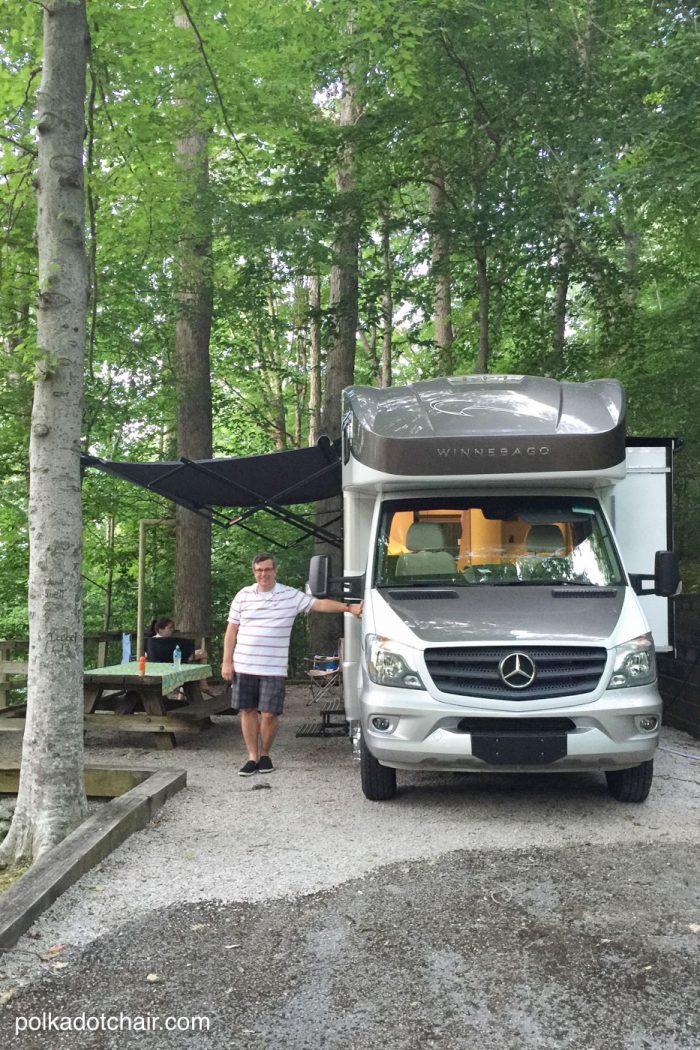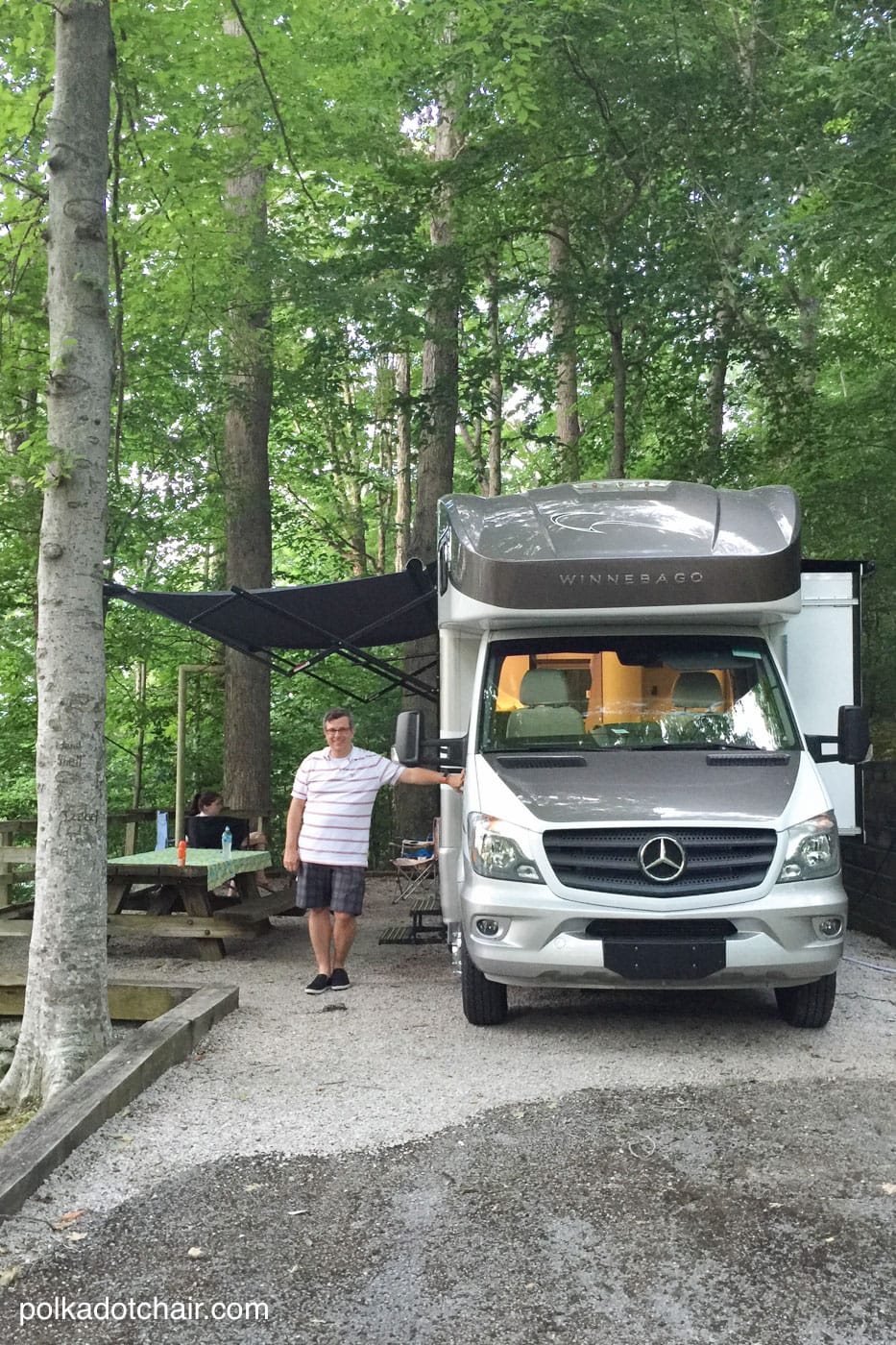 I've mentioned a few times in the past that this year our family took on a new "project." In January, we decided to purchase an RV. We have been talking about something for nearly 10 years, and this year we finally decided it was time.
Table of Contents
Since we've purchased our RV, we've had lots of chats with friends and family about it. Plus, a lot of questions about our RV experience. Today I thought I'd sit down and share how our RVing experience has been so far, answer some of the most frequently asked questions and share with you a tutorial for a fun pillow that I stitched to decorate our RV.
Things to Consider when Buying an RV
We frequently ask what made us decide to buy an RV and how we picked the one we did.  It was hard for us to decide which RV to buy, and some days I go back and forth deciding if I'm 100% sure we got the right model. Today I'd say I'm 98% sure *wink*.
My husband and I have been talking about purchasing an RV for a long time. In that time went back and forth between buying a motorhome or a travel trailer. We found that there are many pros and cons to each one.
Motorhome or Travel Trailer?
For example, motorhomes make for insanely comfortable road trips, yet towable units allow you to use your own car when you're on a trip (you can also tow certain cars behind a motorhome, we tow a Jeep Wrangler behind ours).
Price Range
There is also a price range we had to consider; you can find nice towable RVs starting around $6,000 with prices for some decked-out motorhomes going all the way up to "celebrity level."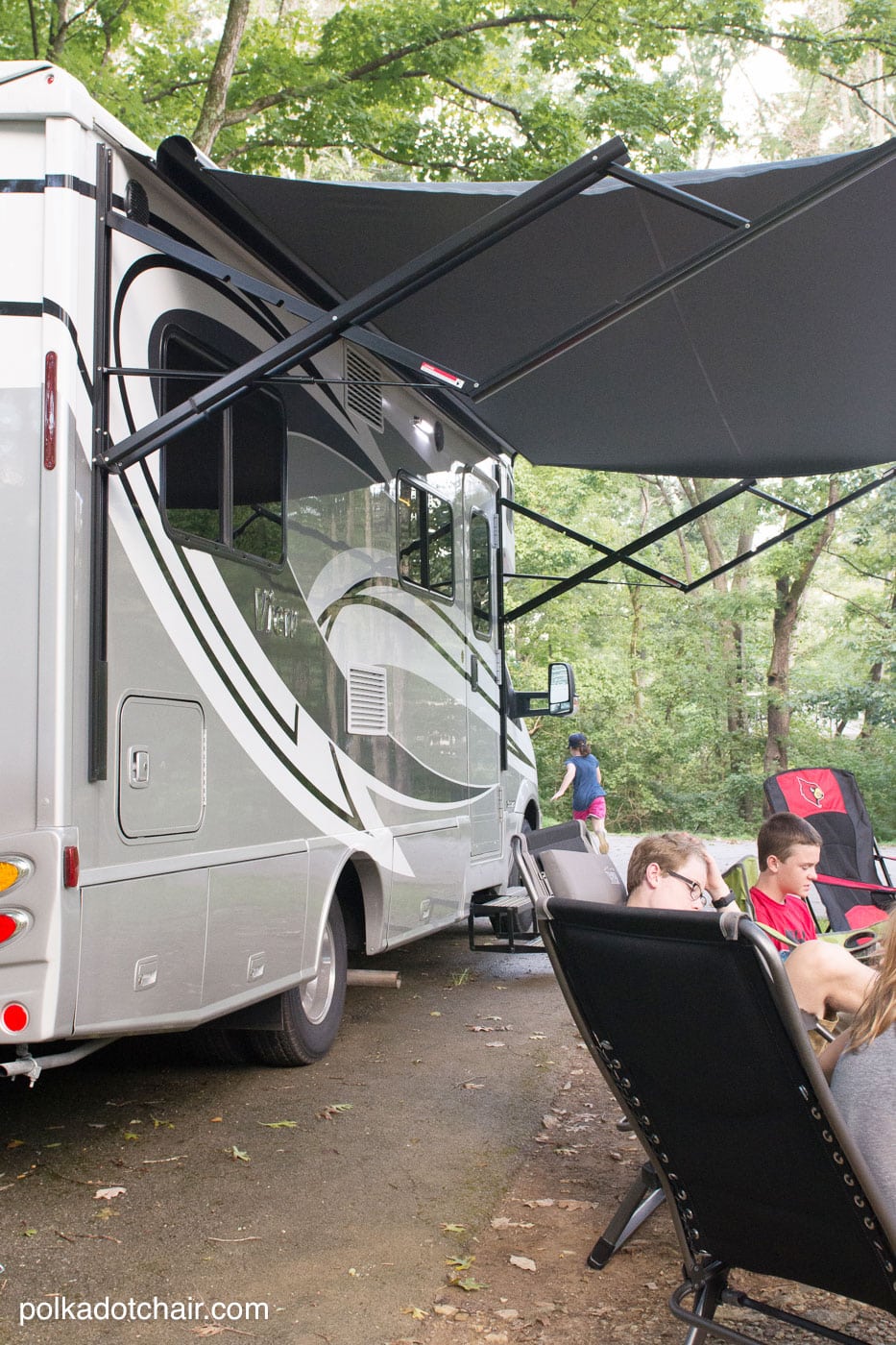 After deciding on an RV, we next needed to decide the type and size of RV that we wanted. We went back and forth on this FOREVER and finally made a decision. Like I said I'm 98% sure we picked the right one.
After thinking about it for a while, I've finally decided that there are things that I would love about each type of vehicle. So no matter what I bought, I think I'd be wondering if we should have bought the other. Does that make sense? Isn't it like that with everything in life??? You pick one thing and spend time wondering about the other; it's just human nature. So I need to figure out how to stop doing that.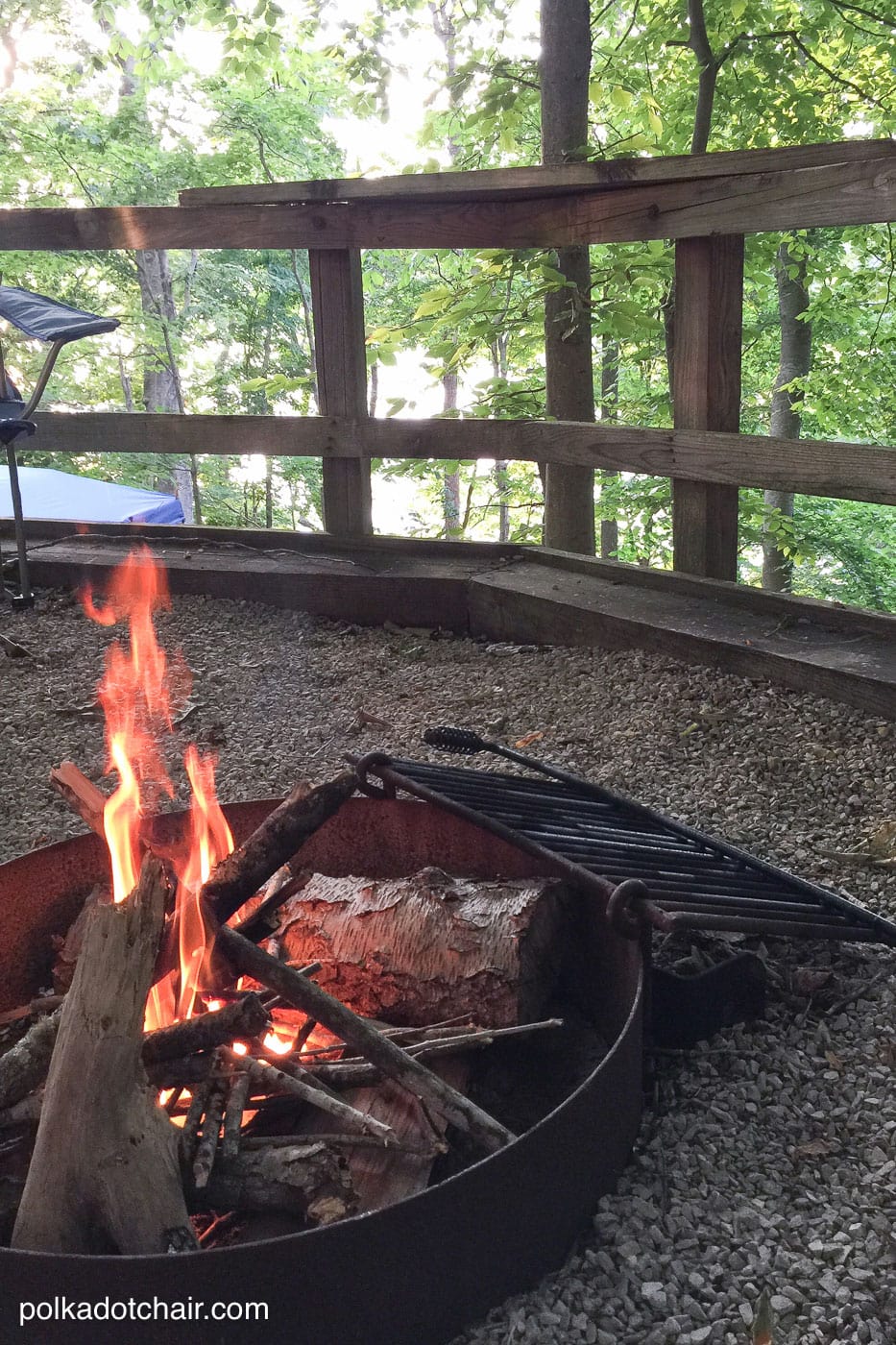 4 Things You Need to Know about RV'ing
Think about how you're going to travel in it. I mean the logistics of where everyone will sit when you're on the road. I mention below the mistake we make with the seatbelts. I had envisioned a big empty RV with kids laying all around the back and me making lunch as we drove. It's not like that. The RV is really too bumpy to assemble lunches while in motion, and the kids really need to be buckled into they don't bounce around when it's in motion.
RV spots fill up EARLY. You need to plan months, if not a year early, to get a good RV spot. When we visited Arches & Zions, we reserved our spot a year in advance. I had imagined packing up and taking off for the weekend at the spur of the moment. You can't do that; there won't be anywhere to park.
Repairs take a long time. We have had a few things break on our RV. Once it was in the shop for 5 months. I'm not joking. I had to call the manufacture and complain. Unfortunately, it seems to be the norm in the industry. I don't know why it's just "how they do things". My husband and I have figured out how to do much of the maintenance ourselves to avoid this.
If you live in a hot area, you need to run the A/C when parked. This means you'll need to be hooked up to RV electrical or run your generator. An RV is like a car; leave it in the sun all day can be dangerous. If you're not hooked up (called boondocking), you'll be limited in what you can do and run in your RV. You can get around this a bit by adding solar panels to your camper. But most A/C units won't run on the electricity generated by Solar. They need more amperage.
Our Biggest Mistake
As far as tips go, I will give you one today: if you buy an RV, you need to pay attention to the seat belts. We have 4, but I wish we had 6. We might have made a different decision if our salesman had been clearer during our purchase. Ultimately it's our fault for not researching it more on our own. Each State is different, but many require each passenger riding in the back of an RV to be buckled into a seat belt.
About our RV
Our RV is a Winnebago View 24V. If I had it to do over again, I'd buy the View 24D since I think it makes sense to have a murphy bed and more living space.
We tow a Jeep Wrangler behind our RV so that we have a car when we travel. We've been doing it for years, and it's worked out well for us to have a tow vehicle.
Our RV is considered a Class C Motorhome. Which means it runs on a truck chassis. It has a diesel engine. Our RV is smaller than many Class A Motorhomes, but we have found that we prefer the smaller size. It's easier to back into camping spots and maneuver when we are traveling. It also only takes us 30 minutes to set up when we camp. Some travel trailers take hours!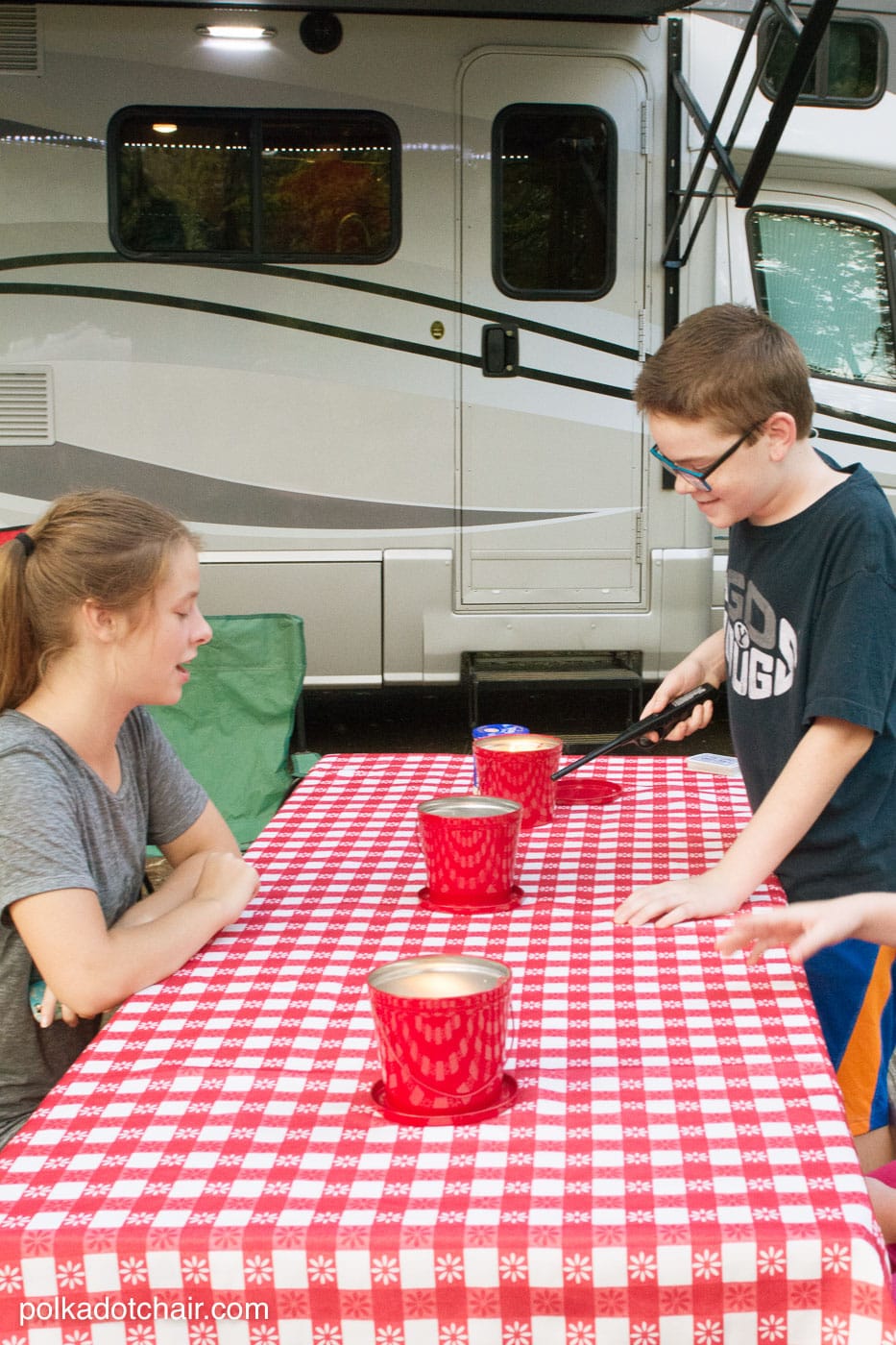 Adding our Personal Touch to the RV
As soon as we bought the RV, my husband wanted to go shopping to get "the RV stuff." I think it's a guy thing. He began researching the "best" and most necessary accessories, and for the most part, I just let him do his "thing." Until one day we were shopping and he wanted to buy blankets for the beds. At this point, I had to interject and say, "NO, that is my department." *wink*.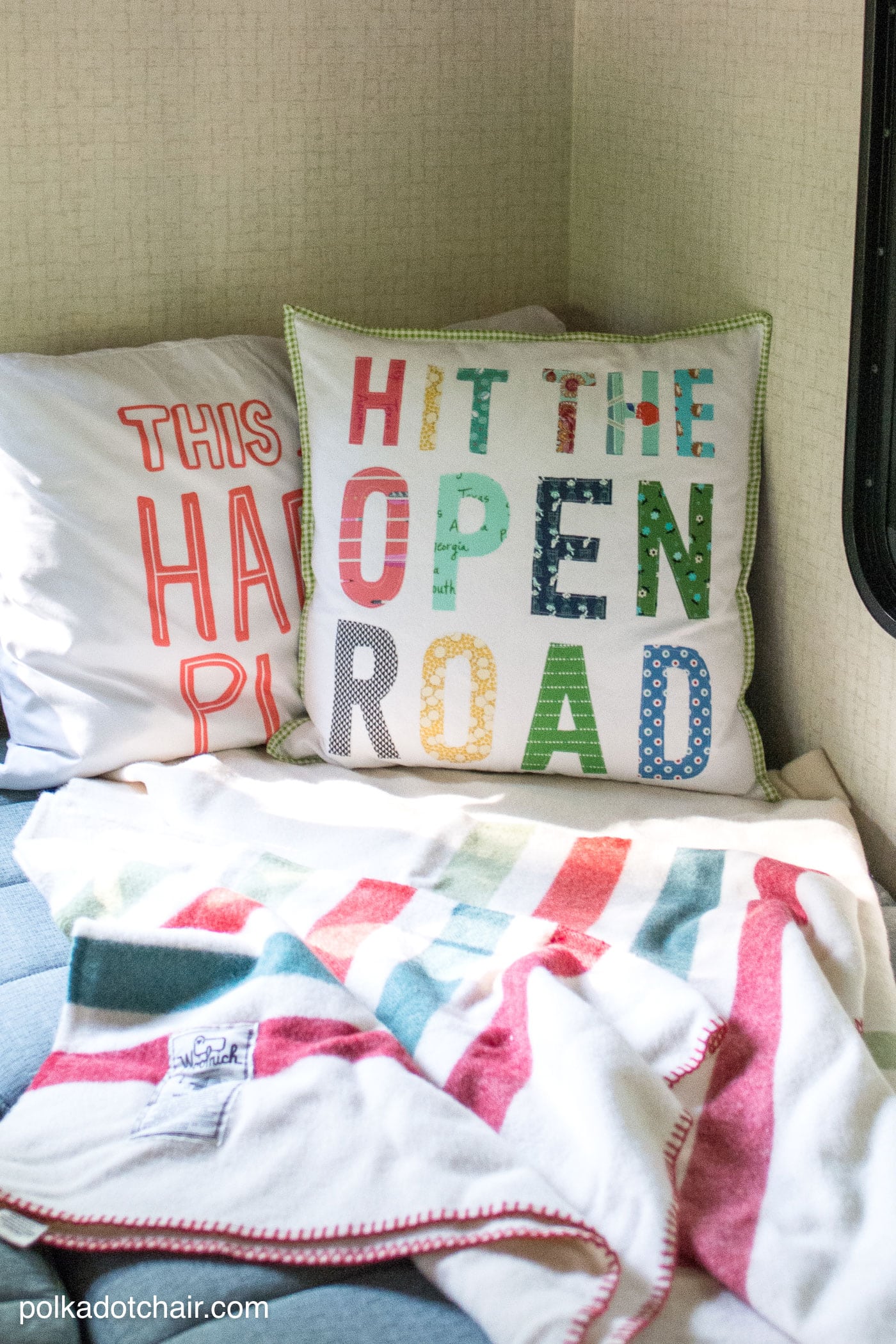 Let me tell you; you can bet that at some point, the inside of this RV is going to be covered in handmade quilts and pillows. I've already started construction on the quilts; they are not done but are getting close. One day while working on the quilts, I noticed that I had accumulated a big ol' pile of scraps. So today, I'm going to share with you what I did with some of those scraps by creating this Hit the Open Road Appliqué Pillow.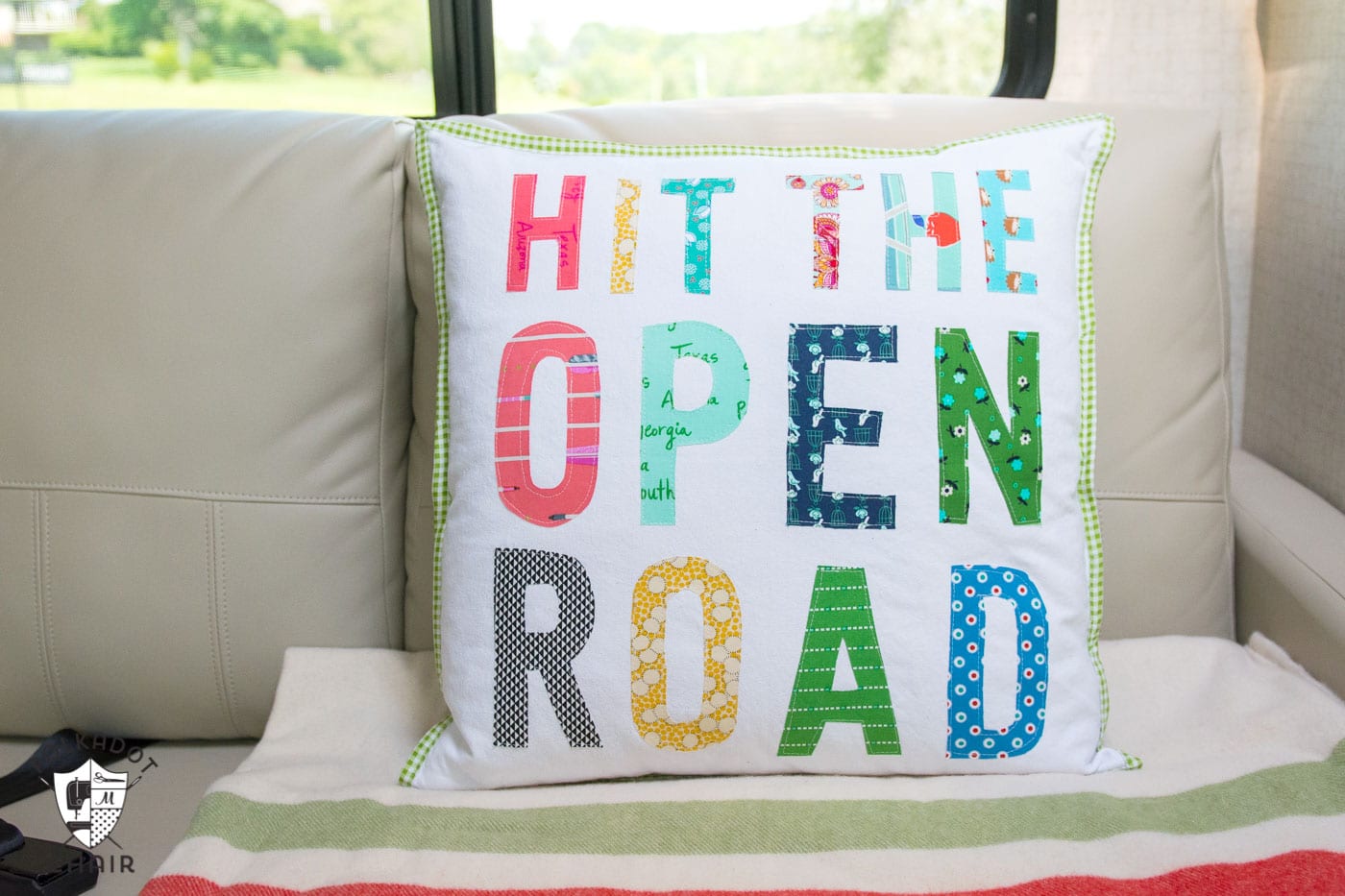 Many people have asked us if we like our RV and RVing. They also want to know if it was hard to figure out how to use all of the "stuff" on the RV. The thing is pretty much a house on wheels complete with electrical and plumbing systems.
RV FAQ's
How Did you Figure out How to Work all the "Stuff"?
The first time we took the RV out was a pretty big experiment, with us referring to YouTube videos and owners manuals all day. After that first trip, things got pretty easy, and we seemed to have figured most of it out (I don't want to say we've figured it all out because I don't want to jinx it, but we're feeling pretty confident).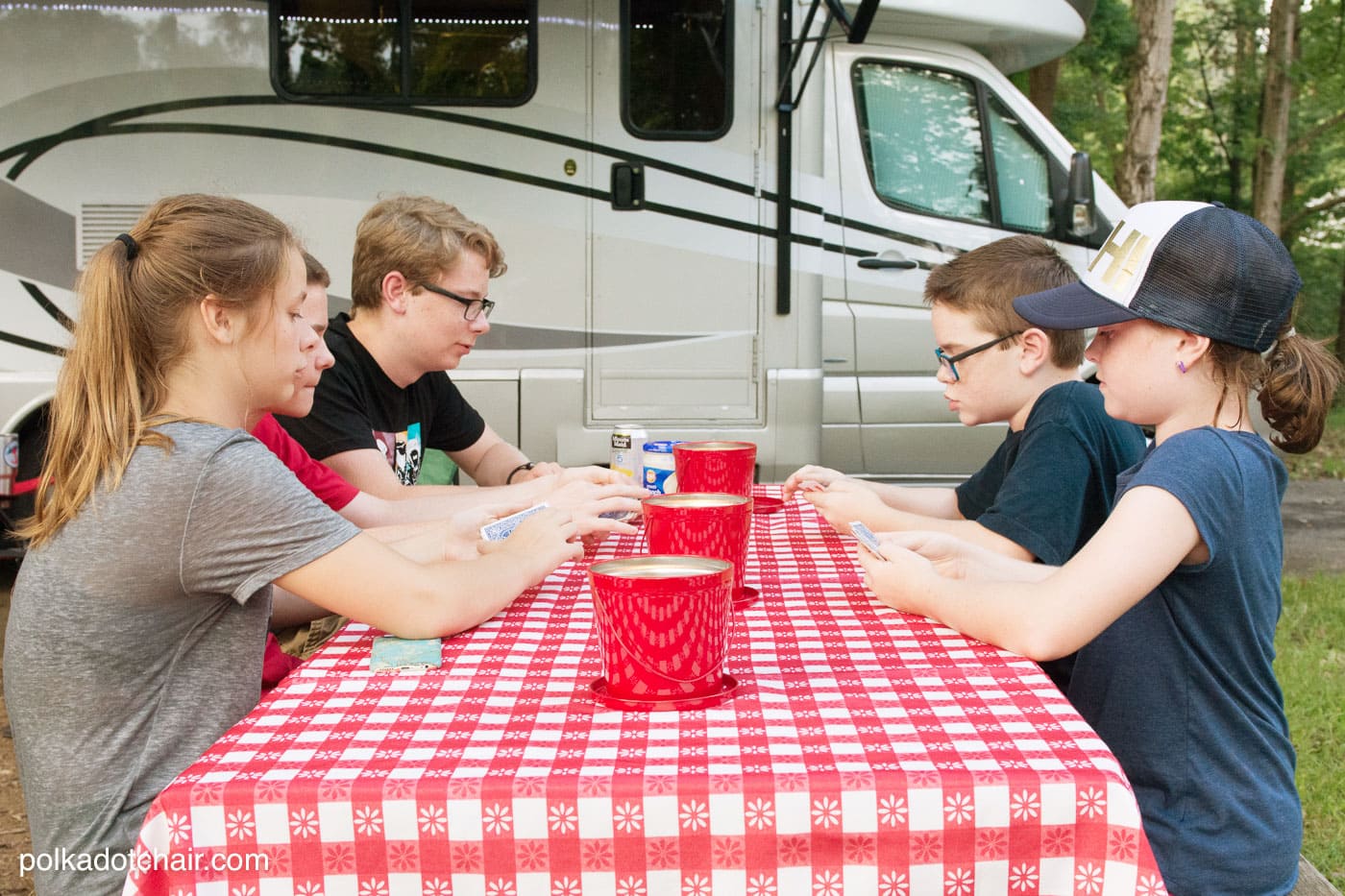 Do you Like your RV?
Yes! We love it. We've taken it on long road trips (to Disney World in April, where we stayed at their campground) and short trips to local campgrounds. I have to tell you that the thing is pretty dreamy on long trips.
I love the fact that I have my own bathroom. All we need to do is pull off the road for a super-quick pit stop to let someone use it, no hunting for clean restrooms on the road. I also love that I have my own bed, my own pillow, and my own sheets.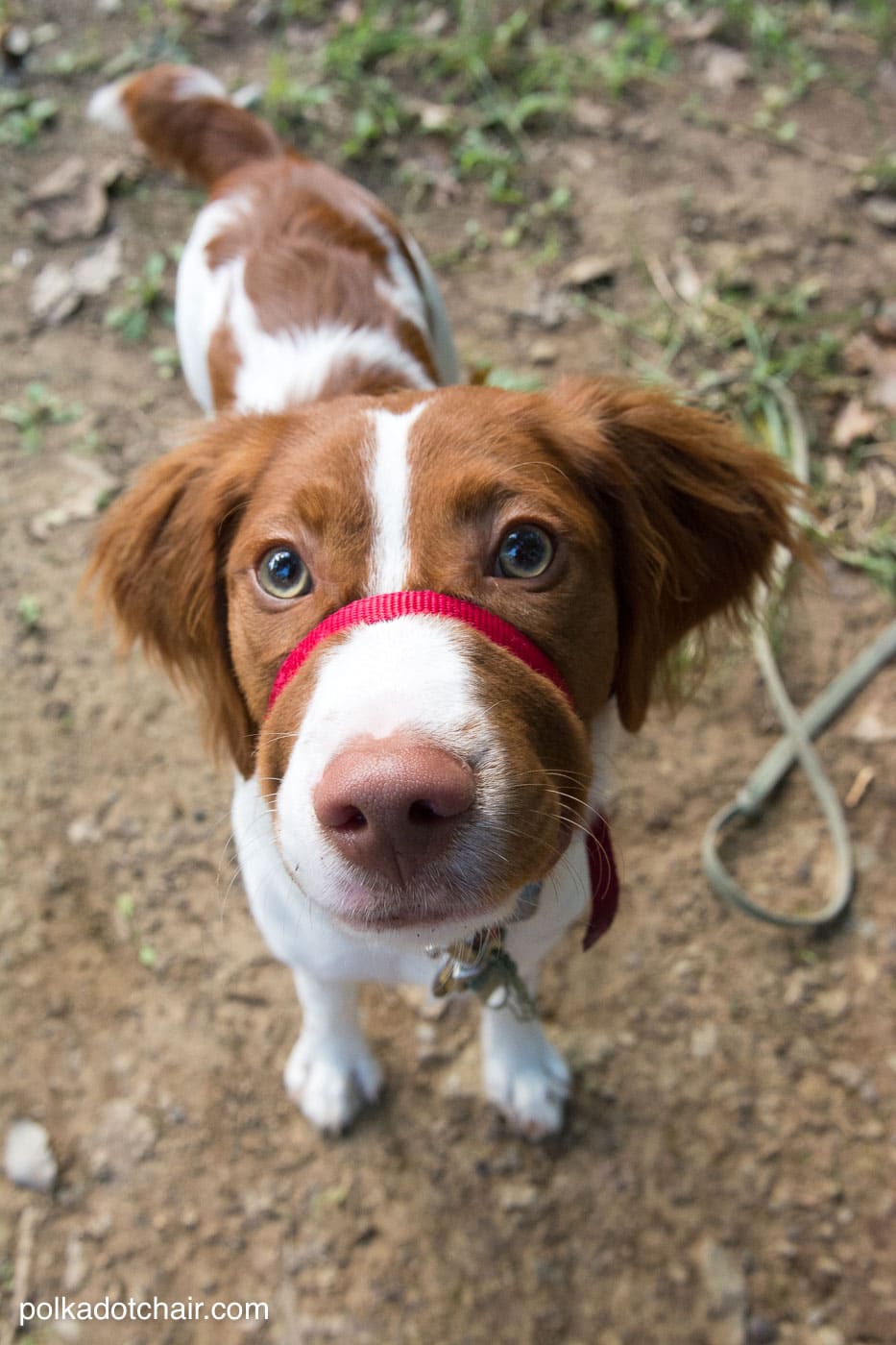 One of our favorite things is to take it on quick trips; sometimes, we don't even stay the night. Instead, we love to pull into a campground, cook dinner, and spend the evening enjoying the outdoors.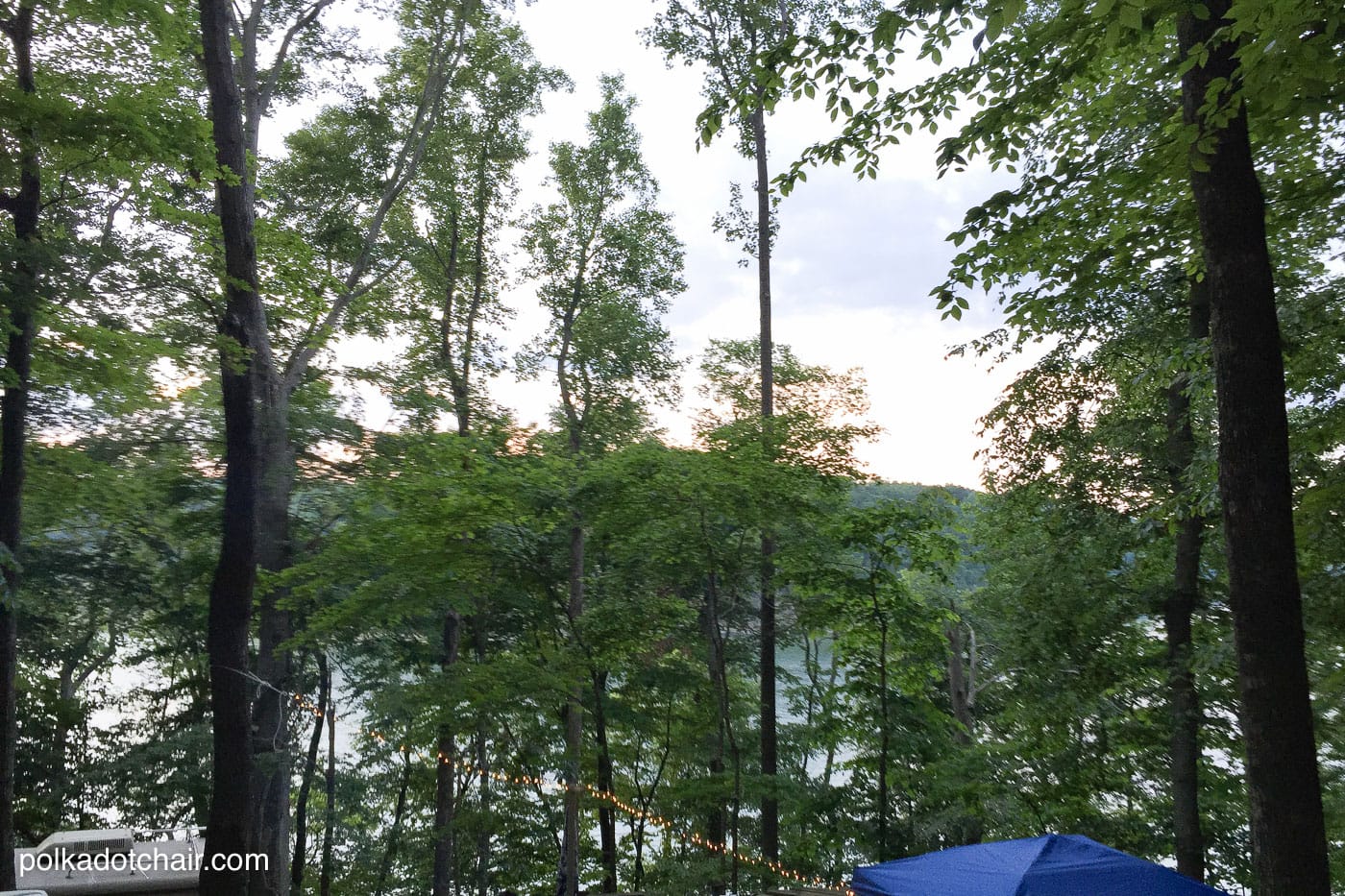 Personally, I love that the RV has a fridge and a kitchen. There's nothing quite like the smell of waffles cooking on an early Saturday morning when you've got a terrific view out your window.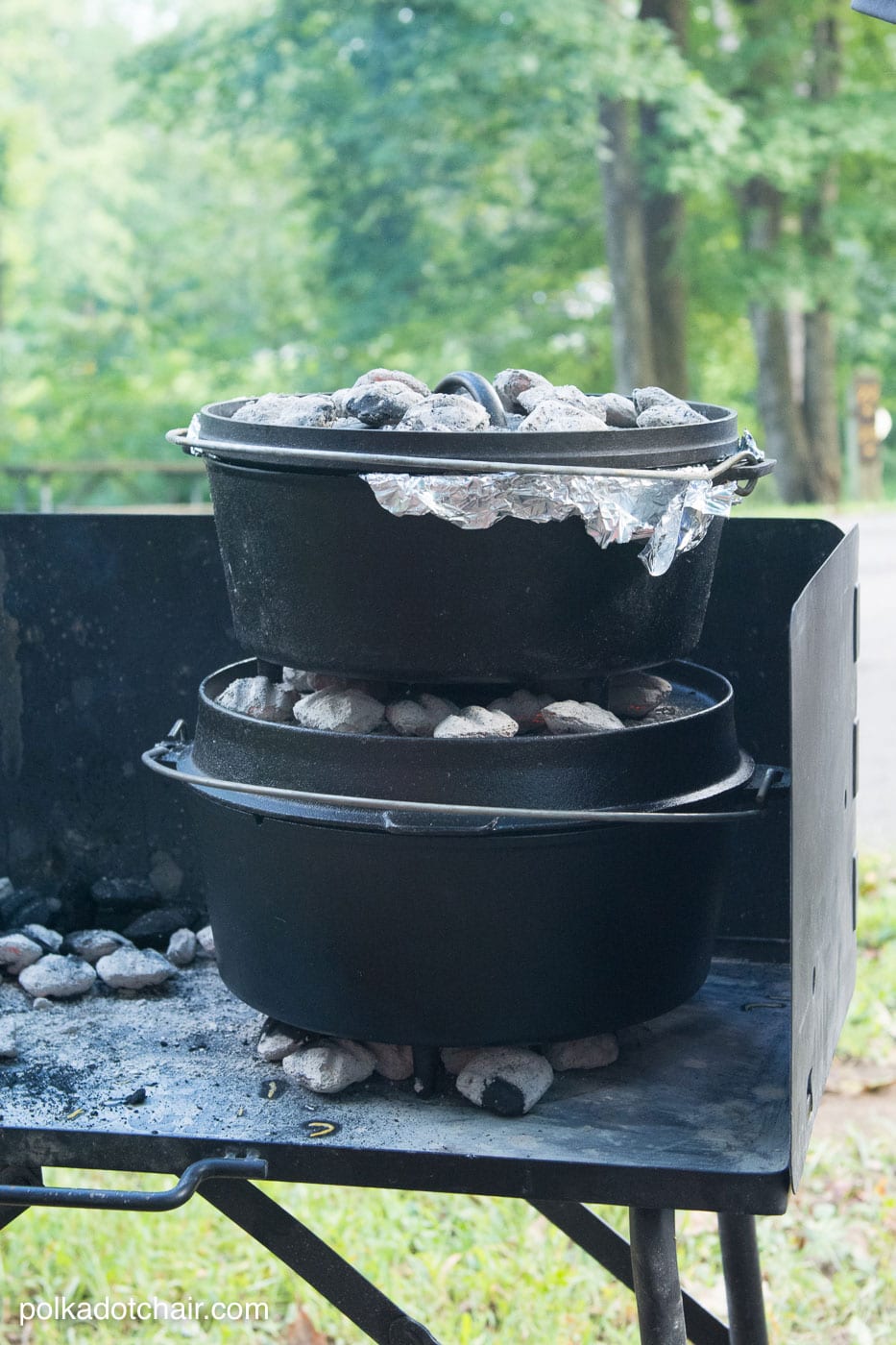 We've been playing around with Dutch oven recipes all summer and have discovered a few favorites. Once we get them perfected, I'll have to share a few recipes with you guys. The best thing about it is that my husband does most of the Dutch oven cooking, which is a major bonus for me!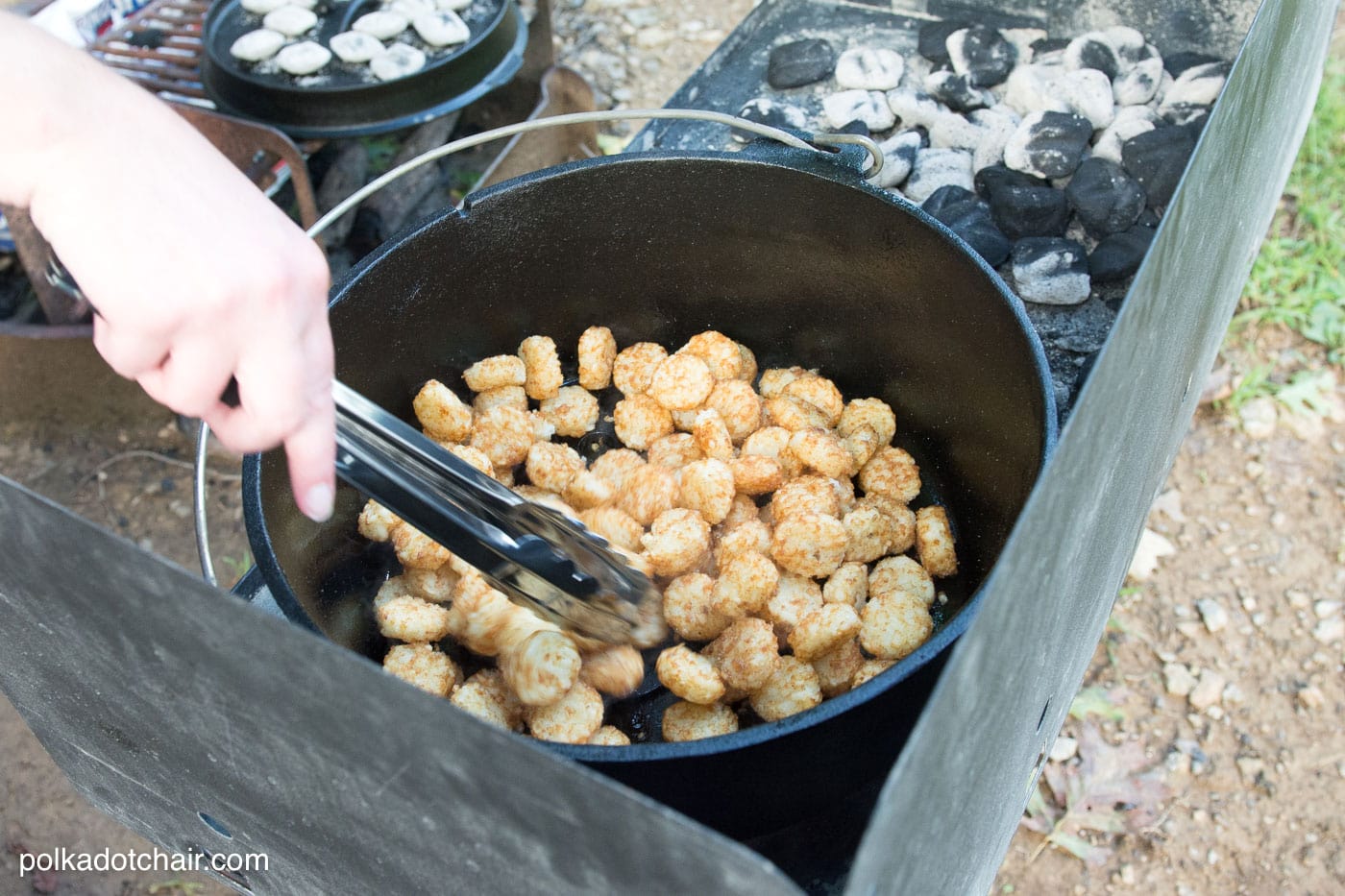 It's been so nice to get the kids AWAY. Yes, they still take their phones, but most of the other distractions are far away. We play cards, watch movies, take the dogs on walks, and spend a lot of time talking to each other. SO much better than everyone retreating to their "spaces" at home.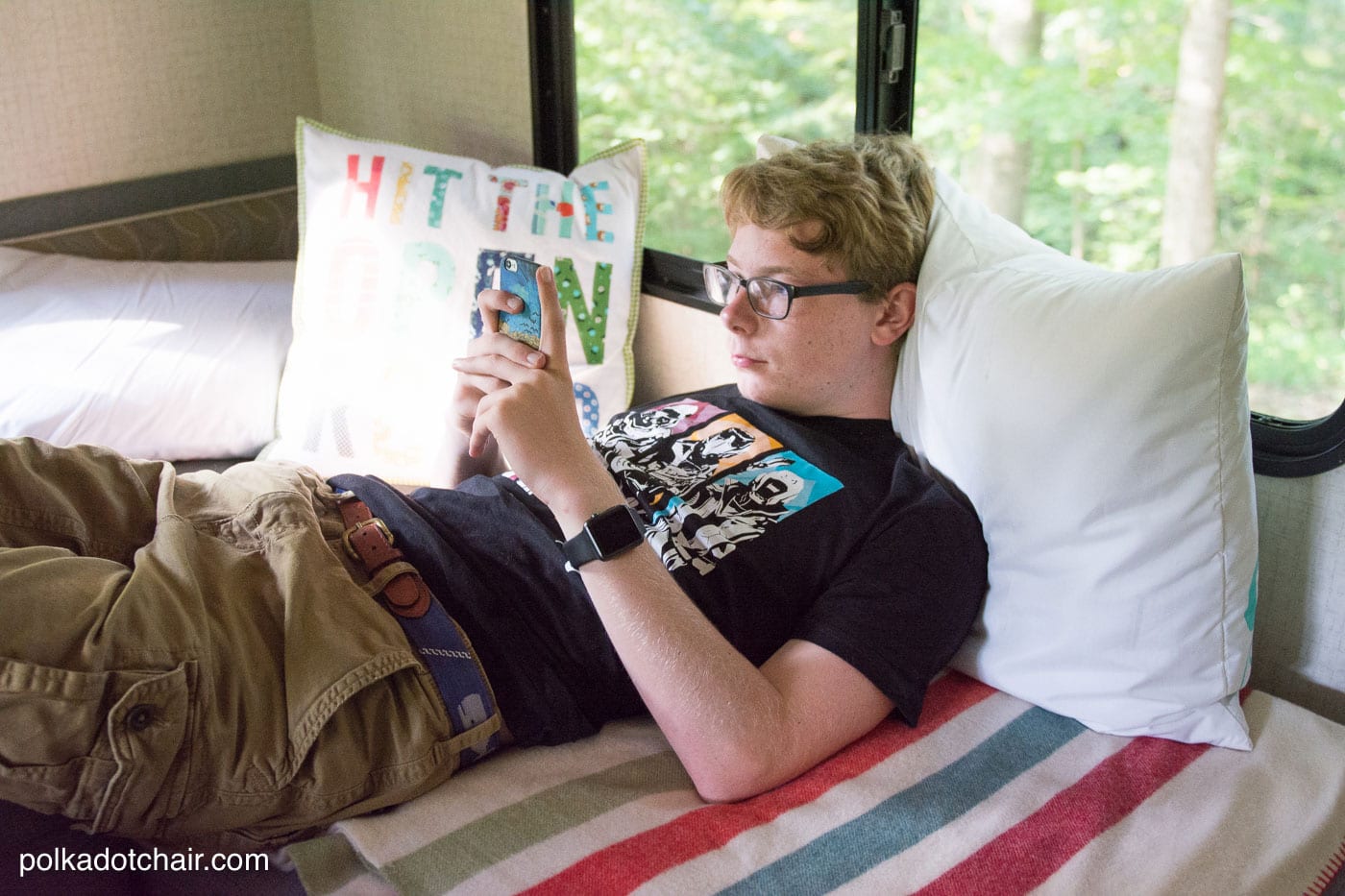 We live in Kentucky and are always on the lookout for fun new places to park. If you know of any places in Indiana, Kentucky, or Tennessee, let me know. Part of the fun has been exploring new places in our area that we've never been to before.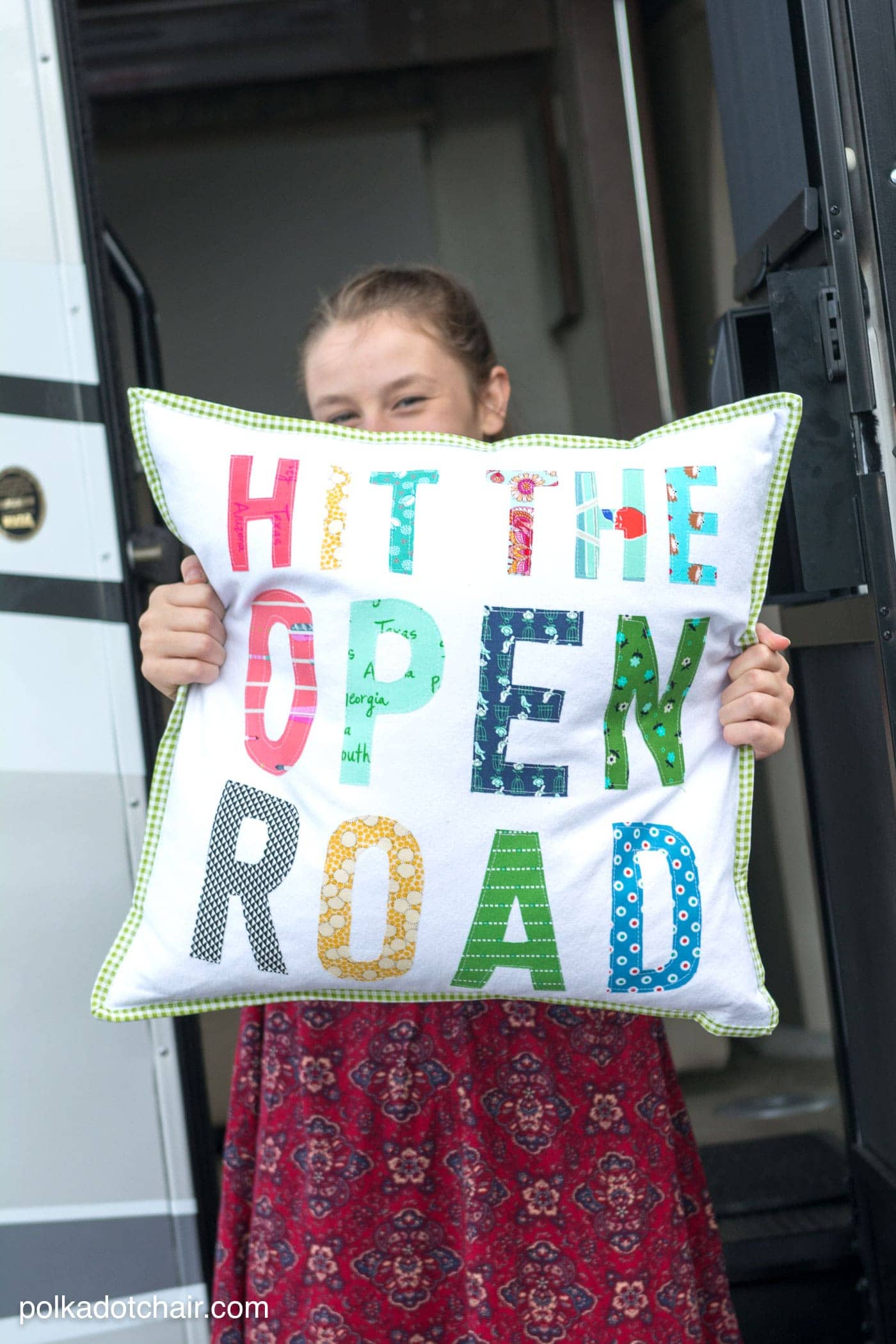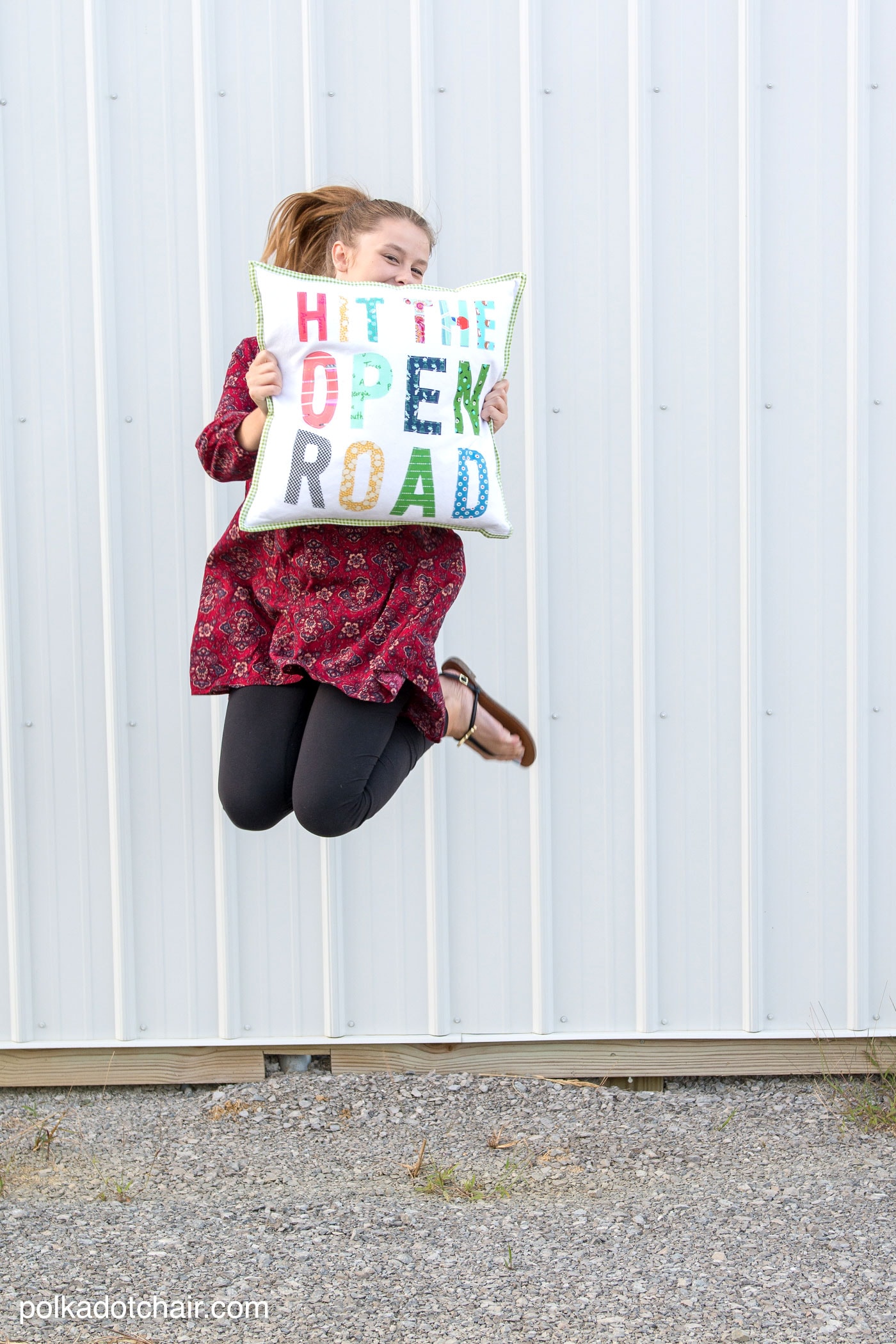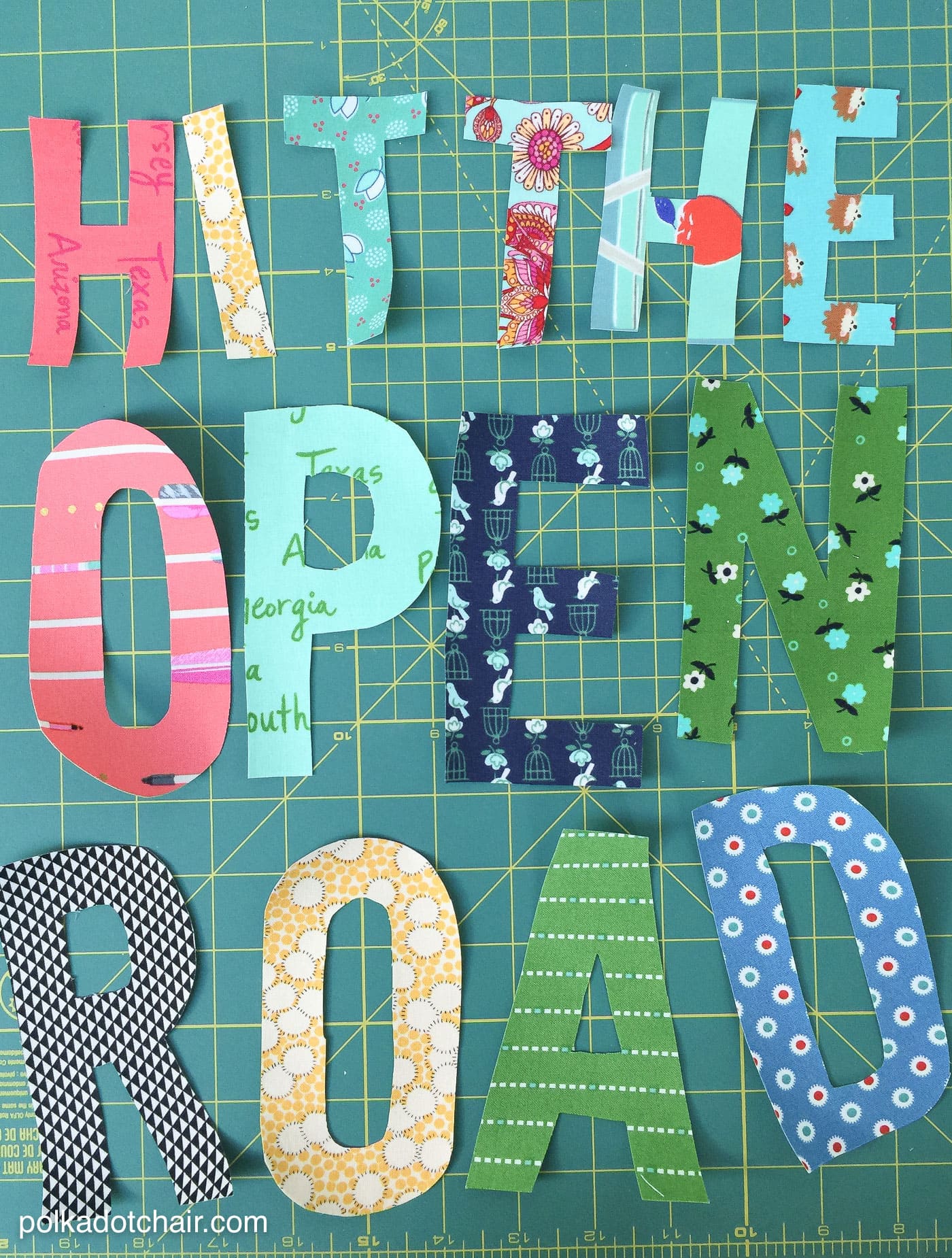 Free Hit the Open Road Pillow Pattern
This pillow is SUPER easy to make; you can even make it without a sewing machine if you want. You'll need to purchase an already sewn pillow cover. I've included a free pattern printable for the HIT THE OPEN ROAD lettering (the tutorial is pretty long and detailed, so I've moved it to another page to make things simpler).
If any of you are experienced RVers I'd love to hear your best tips and places to go, just leave them in the comments so that everyone can see them.