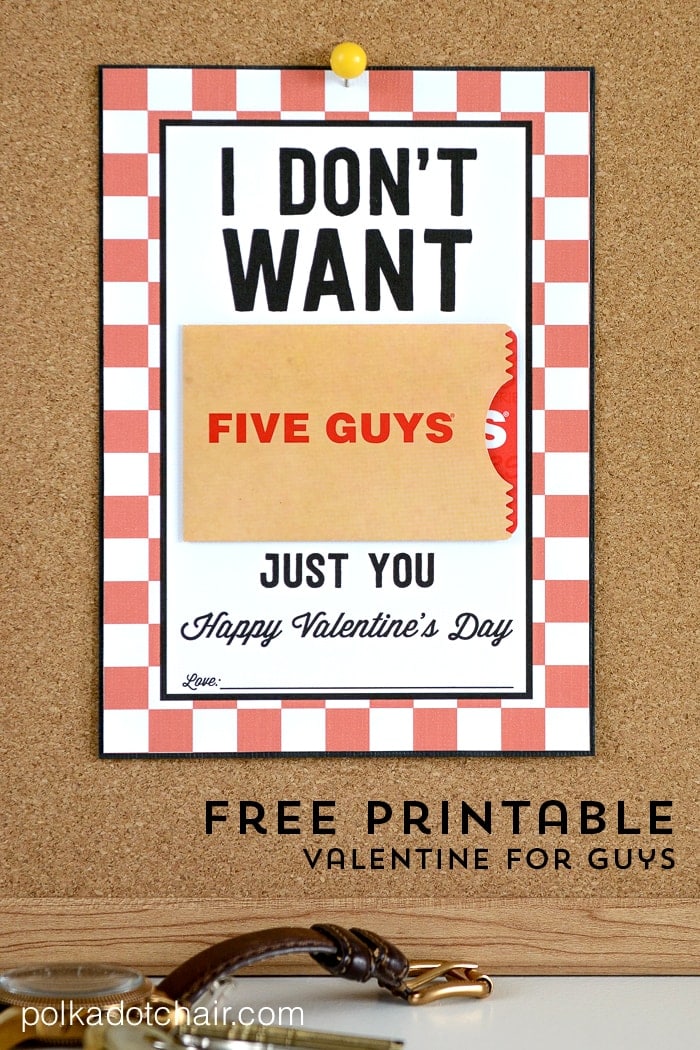 Head's UP! Valentine's Day is this Saturday! If you haven't had the chance to pick something up for your special guy yet, I've got a little project that may just help you out!   I give you the "punny"  – "I don't want 5 guys, just you" free printable Valentine.
This project also kicks off a NEW series for the Polka Dot Chair called "10 Minute Tuesdays".  I absolutely love planning out and completing large projects. There is something very satisfactory of having the patience to follow a big project (like a quilt) from beginning to end…..  BUT let's be honest… sometimes you just need to get something DONE!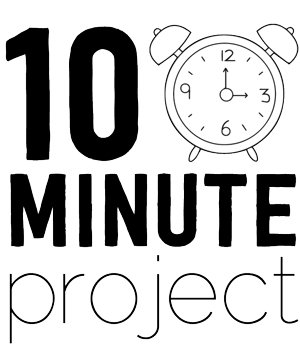 A wise friend told me once to try to accomplish one thing a day that can't be undone.  (Dishes don't count, they are "undone" later in the day). Something simple like hanging a picture on the wall,  calling a friend or starting a sewing project.  Ten minute Tuesdays are designed to help you guys with those kinds of things. Simple (but meaningful) projects that can be completed in about 10 minutes. There will be all types of projects featured, from sewing to crafts to decor and food.   The rest of the week will be devoted to other projects, some of them large and some of them small :).
Make sure you check back each Tuesday for a different 10 minute project!
Now onto today's 10 minute project…
You may not know this about me but I love a good pun, and I admit as far as puns go this one's pretty silly.  I was stumped as to something simple to get my husband for Valentine's Day.  Some years we exchange "fancy" presents, but this year is not going to be one of those years. I wanted something simple but fun all at the same time, because honestly being able to share a laugh together to me is one of the best parts of being married.
Plus seriously, what guy doesn't love a good Cheeseburger?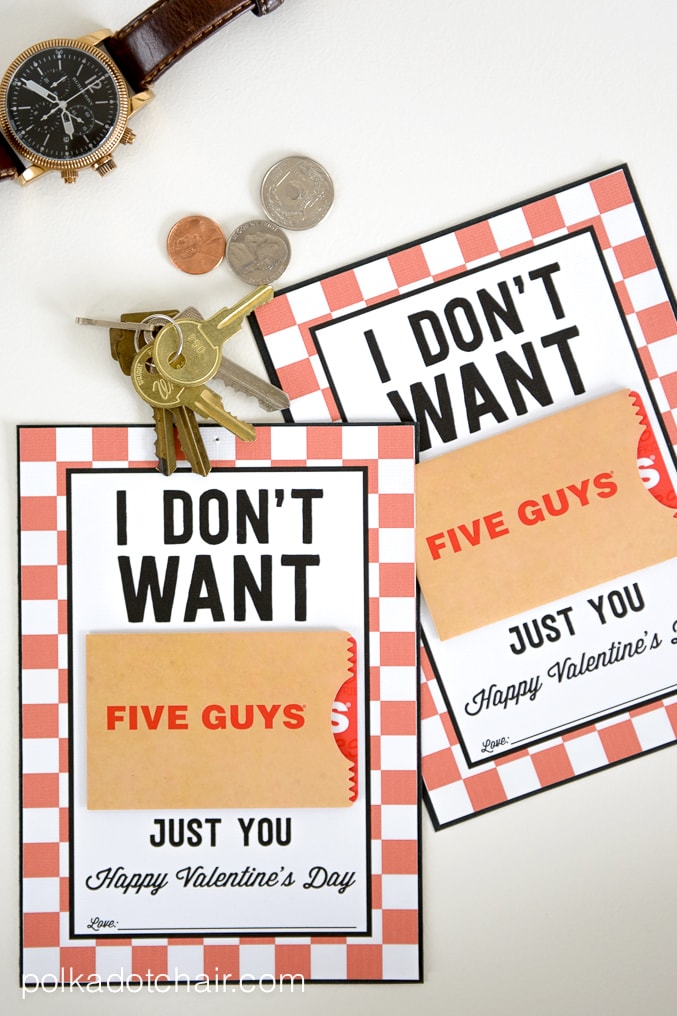 This pun is really simple to make and was taken from an ACTUAL vintage Valentine. Yes, someone else came up with this silly saying, not me.
To make this all you need to do is get yourself over to a 5 Guys restaurant and pick up a Gift Card. Then print the Valentine from the templates page .
Cut out the Valentine and mount it on a piece of 5″ x 7″ black cardstock.  Use a glue stick or double stick tape to mount the gift card to the front and VOILA!  A silly Valentine for your guy.  I designed them for my husband but they'd be cute for any special guy in your life.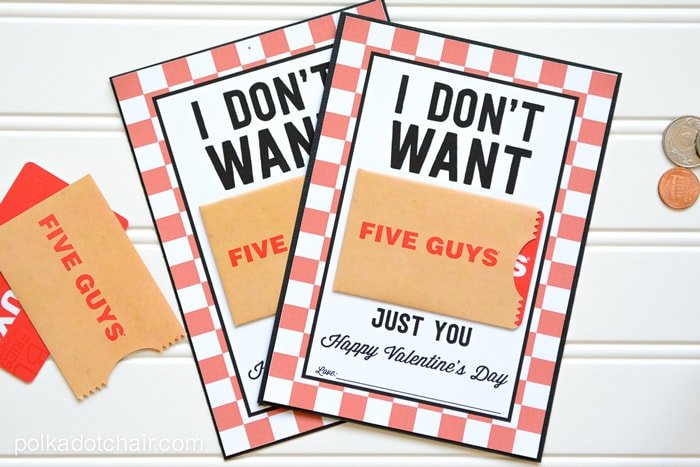 If you've got a teenage son (or 2, but less than 5 *wink*) I think that this would be really cute to give them too.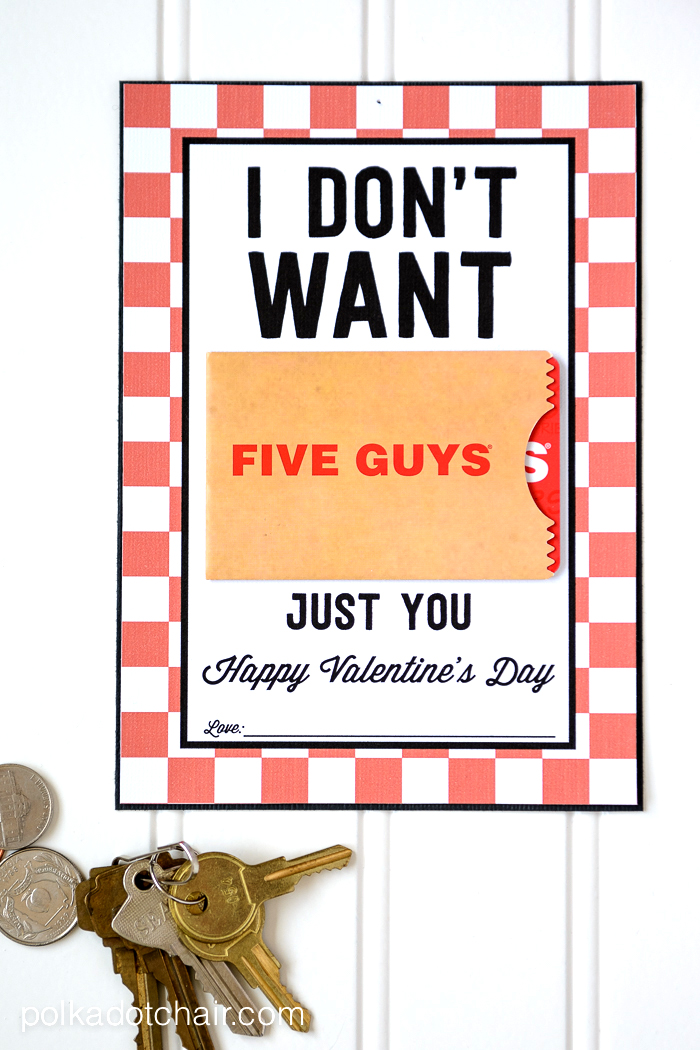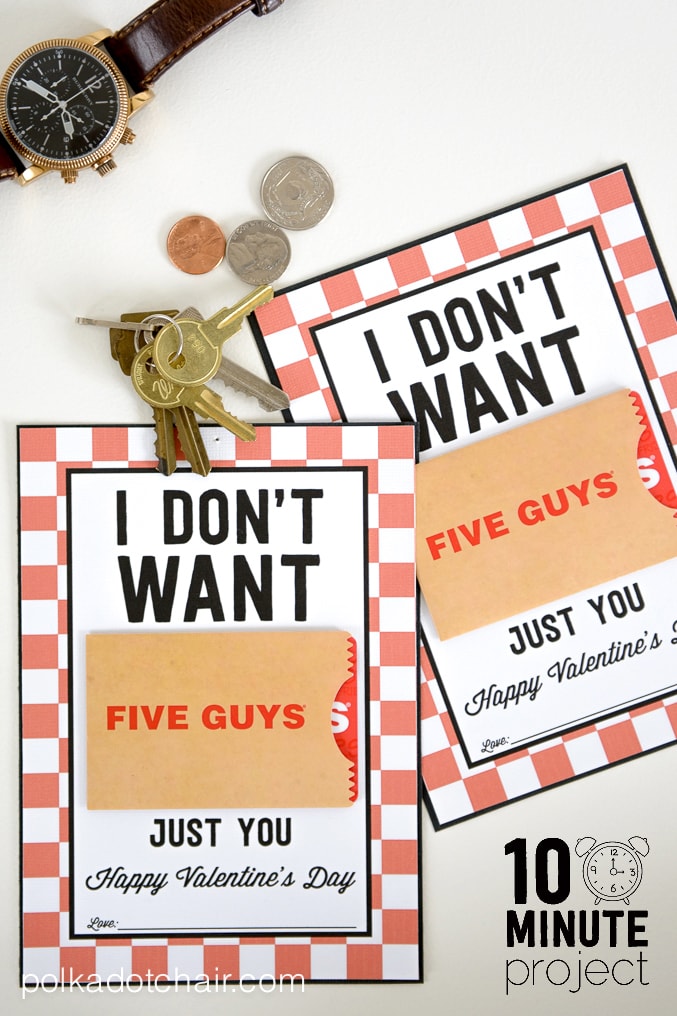 Connect with me: