This cute an "punny" Valentine makes a great Valentine gift for your favorite guy! Keep reading to find out how to grab the free printable.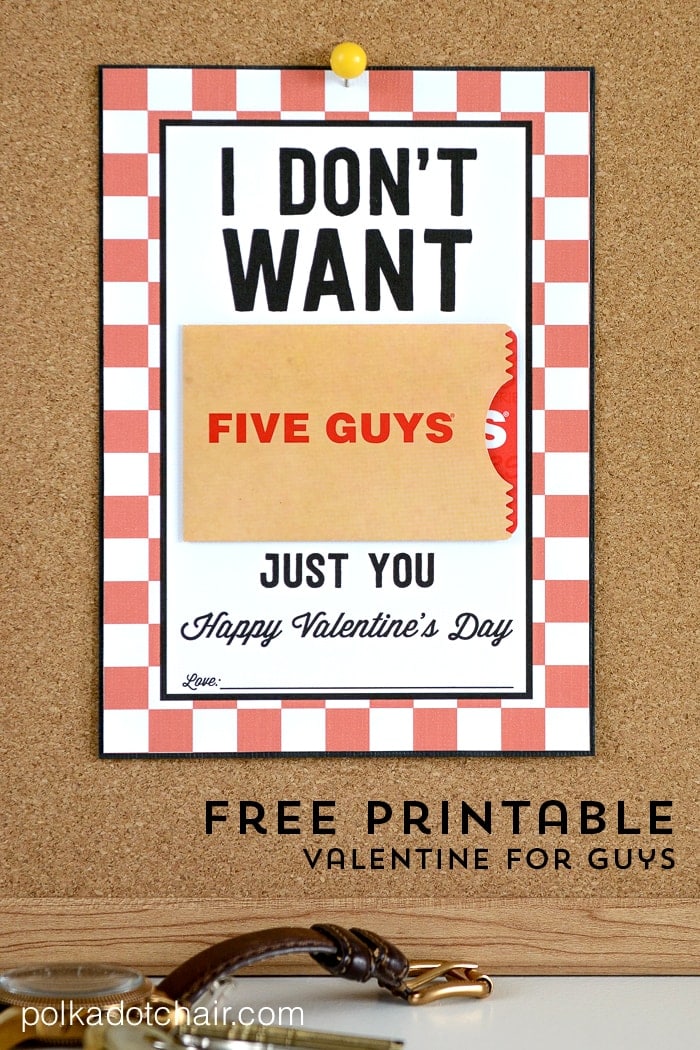 Head's UP! Valentine's Day is coming up quick! If you haven't had the chance to pick something up for your special guy yet, I've got a little project that may just help you out!
DIY Funny Valentine Gift Idea for Guys:
I give you the "punny" – "I don't want 5 guys, just you" free printable Valentine.
You may not know this about me but I love a good pun, and I admit as far as puns go this one's pretty silly. I was stumped as to something simple to get my husband for Valentine's Day.
Some years we exchange "fancy" presents, but this year is not going to be one of those years. I wanted something simple but fun all at the same time because honestly being able to share a laugh together to me is one of the best parts of being married.
Plus seriously, what guy doesn't love a good Cheeseburger?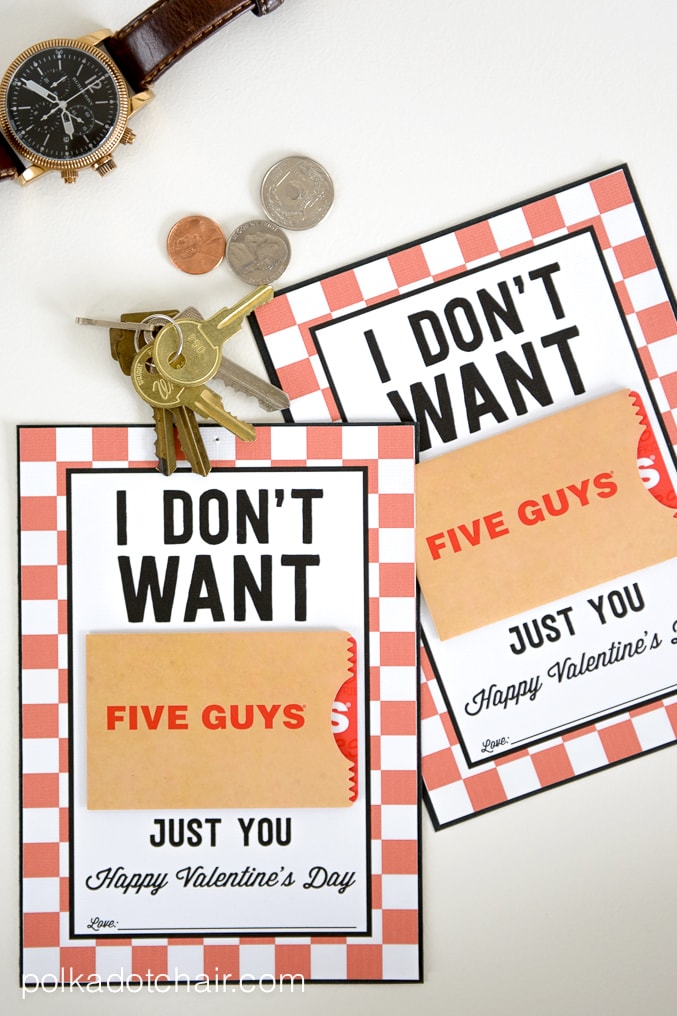 This pun is really simple to make and was taken from an ACTUAL vintage Valentine. Yes, someone else came up with this silly saying, not me.
Guys Valentine Supplies:
Five Guys Gift Card
5″ x 7″ piece of cardstock
Double Stick Tape
Step One: Buy a Five Guys Gift Card
To make this all you need to do is get yourself over to a Five Guys restaurant and pick up a Gift Card. Then print the Valentine from the printable library.
Step Two: Download and Print out the Valentine Card
How to Get the Printables. You can get a copy of the printable featured in this post in our Printable Library. Access to the library is for our Newsletter subscribers, and subscriptions are FREE. Please follow the instructions to obtain the printable. PLEASE READ the instructions on that page. Note: Printables in the library may not be sold or used for commercial purposes.
Step Three: Attach the Gift Card
Cut out the Valentine and mount it on a piece of 5″ x 7″ black cardstock. Use a glue stick or double-stick tape to mount the gift card to the front and VOILA! A silly Valentine for your guy. I designed them for my husband but they'd be cute for any special guy in your life.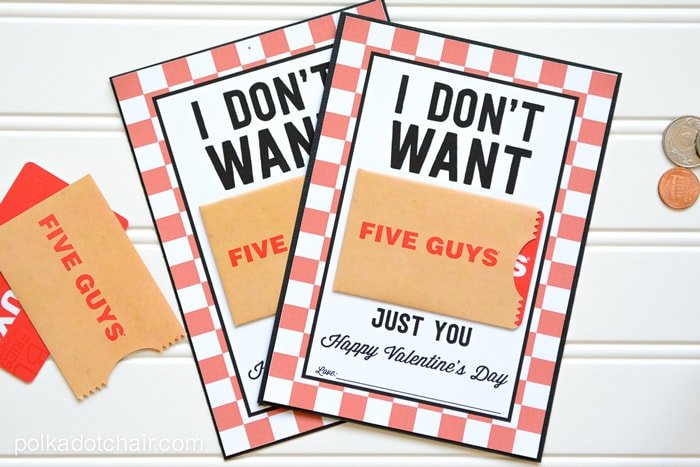 If you've got a teenage son (or 2, but less than 5 *wink*) I think that this would be really cute to give them too.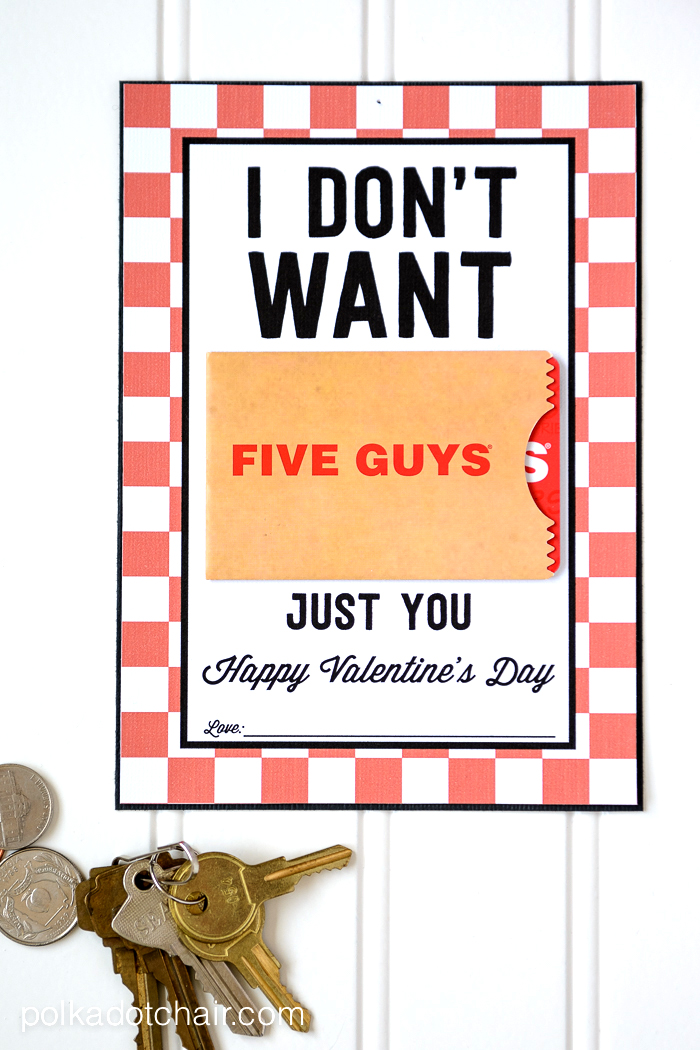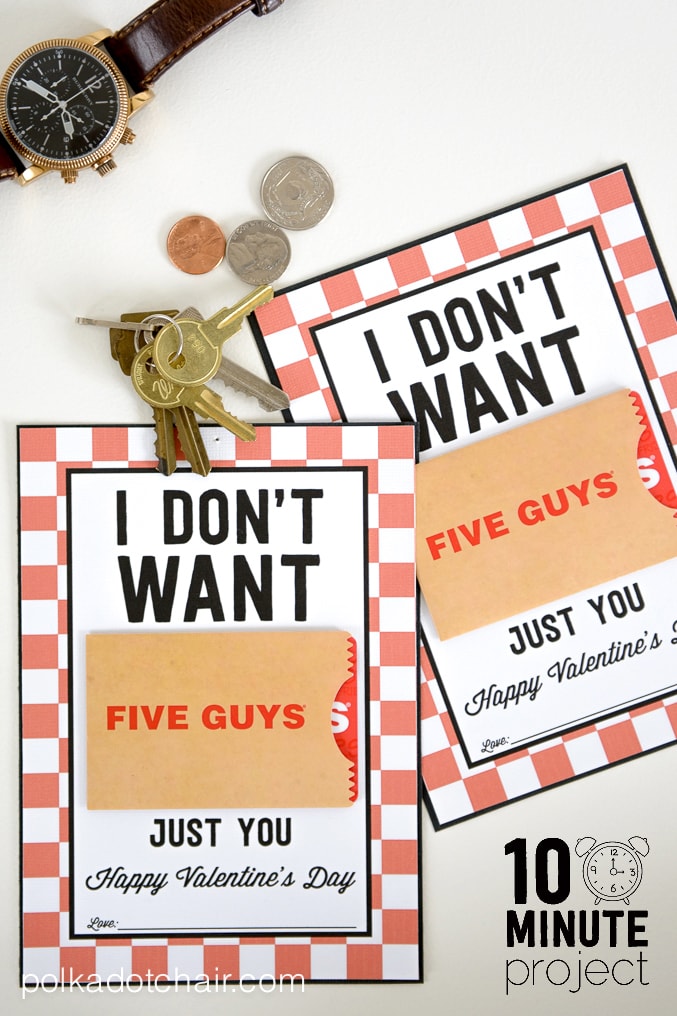 More Free Printables that you Might Like:
"Bee" My Valentine Free Printable Kids Valentines
Free Printable Disney Luggage Tags