Today I've got a fun project for you that I dug out of the archives! This Quilted Christmas Table Runner Pattern was in desperate need of an update! Enjoy!!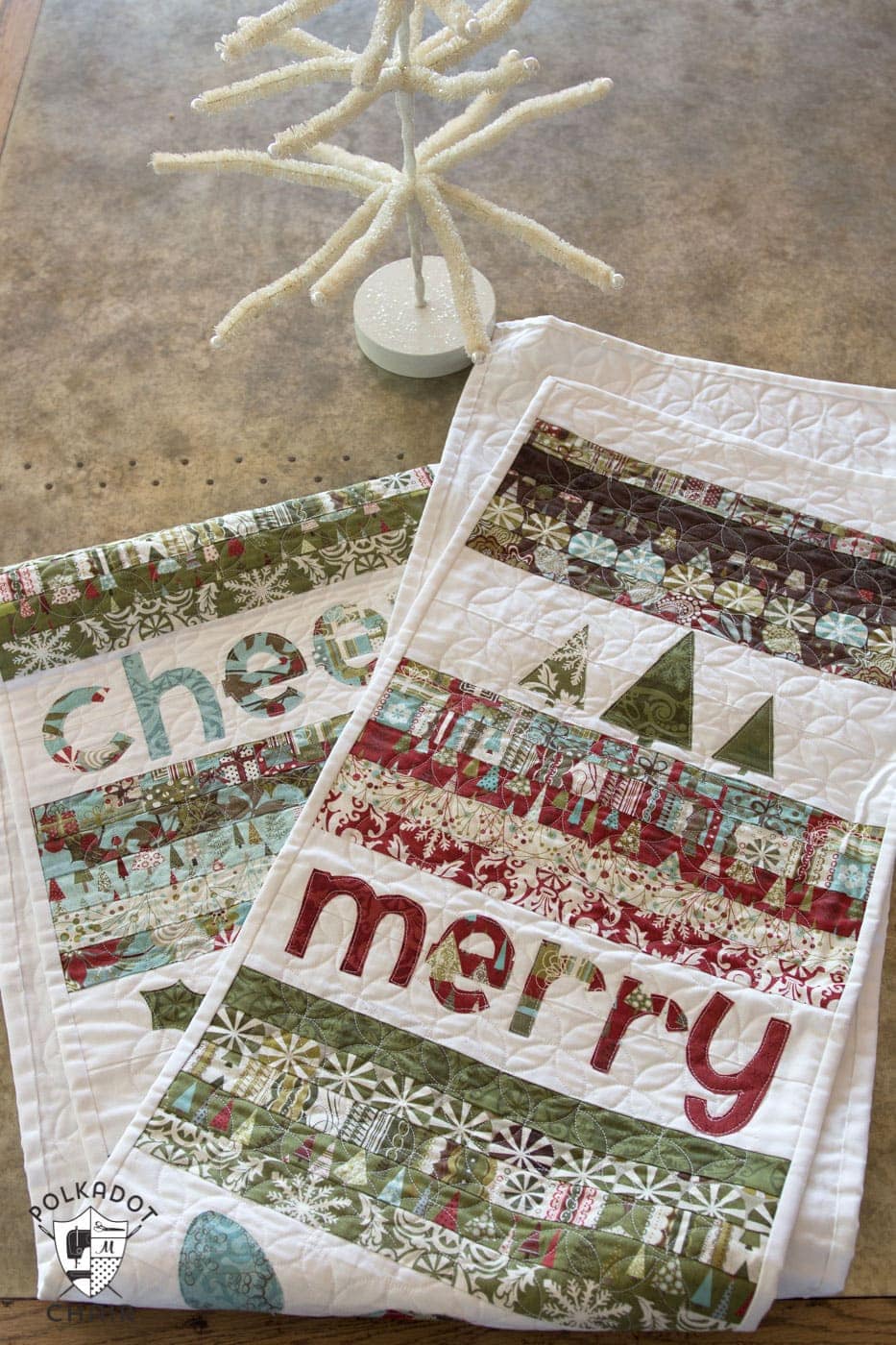 One of the very first quilting projects that I tackled in my "blogging career" was this Skinny Quilted Christmas Table Runner. I still remember the day I got the idea to make it, and sketched it out on a notepad in my house.  
This project was originally posted on the Moda Bake Shop site and now looking back I realize that I had no idea what I was doing! (well for most of it I knew what I was doing, for one part I totally winged it).  Things went pretty smoothly until it was time to quilt the runner. I decided that since I had NO idea how to machine quilt that I'd just put the runner in the hoop of my embroidery machine and quilt it once section at a time.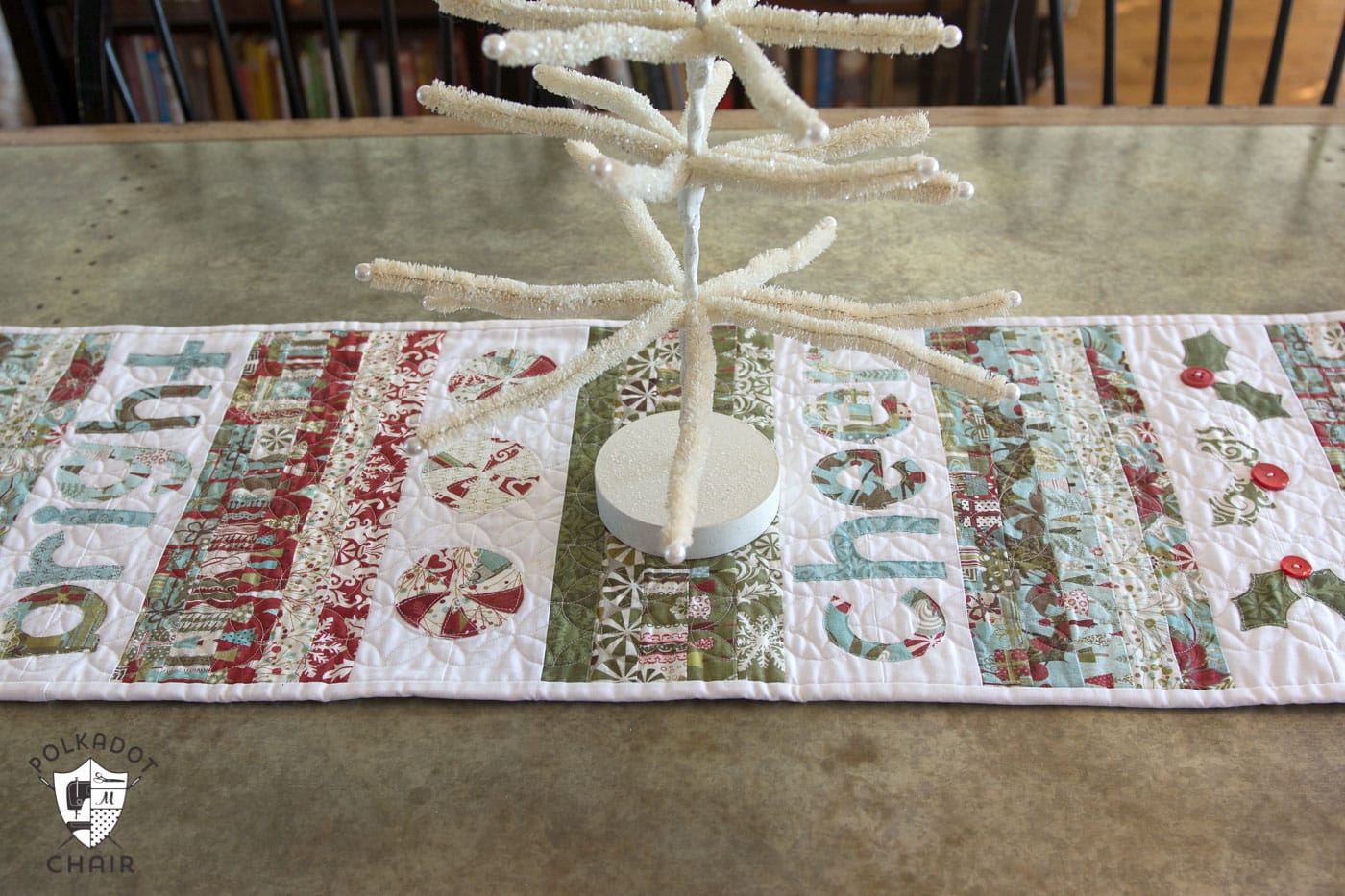 Great idea, in theory…. the stitches were all even and perfectly lined up.
Bad idea in practice. It took me almost a week to move that LONG table runner through the hoop on my machine. Stitch one square, move the runner, stitch another square, move it again… etc.. over and over and over again.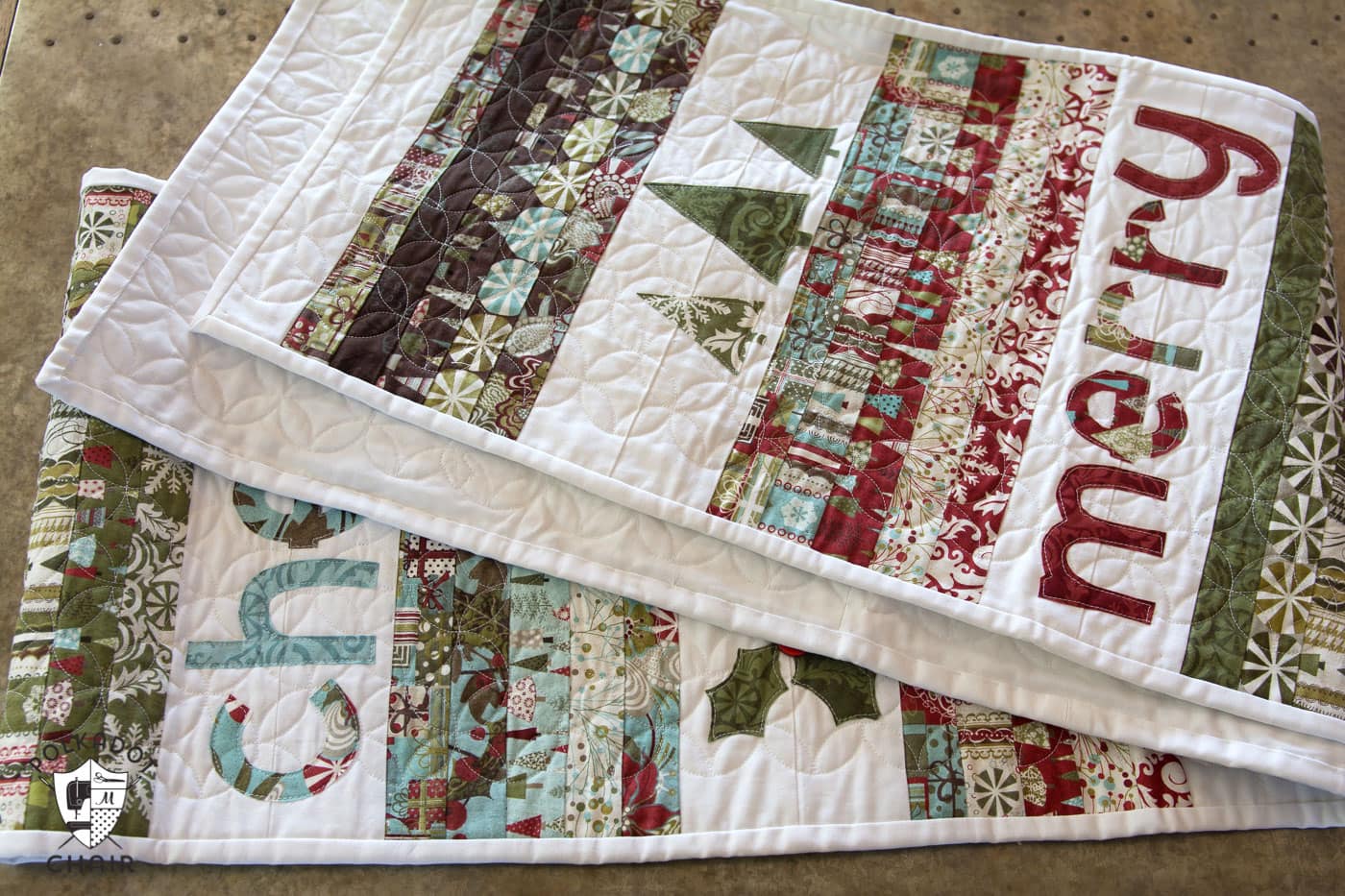 After all of that work, I was so sick of looking at it that I didn't even know if I liked it anymore.  Now several years later I can say that it is one of my favorite Christmas decorations.
Merry & Cheer Christmas Table Runner Pattern
I've gone through and cleaned up the tutorial and added more instructions when needed. I also created a PDF document with the words on it – the font is not a 100% match but it's pretty dang close. It should save you some time if you make it since you won't need to design them yourself on the computer first.
If you'd like to make one you'll need: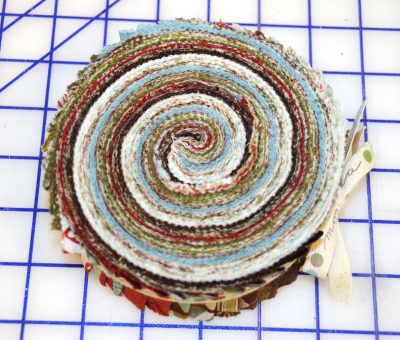 Supplies:
1 roll of color 1 ½″ wide strips (sometimes called a honeybun) you can also cut the strips from yardage if you like, the number required are listed below, however you won't get as much variety in the prints)
10 Fat Quarters (for words) OR one Charm Pack (sometimes called a 5″ stacker). If you want your words to have the same fabric on every letter use fat quarters, if you want the fabrics to be varied, use the charm pack.
1 roll of White 2 ½″ wide strips (sometimes called a jelly roll)
2 yds white fabric for backing
¼″ yd. or 1 fat quarter,  blue fabric for binding on tree skirt
Buttons
Heat n Bond Lite
Batting (I used quilters dream cotton)
Download with the templates for the WORD blocks, get it on the templates page for free or make your own at home with a font that you like.
Instructions
To create the color blocks:
From your roll of 1 ½″ strips, collect 5 strips each of 4 different color ways. I used the blues, greens, reds & browns.
If you are cutting yardage, you'll want to cut 20, 1 ½″ strips in 4 different color schemes.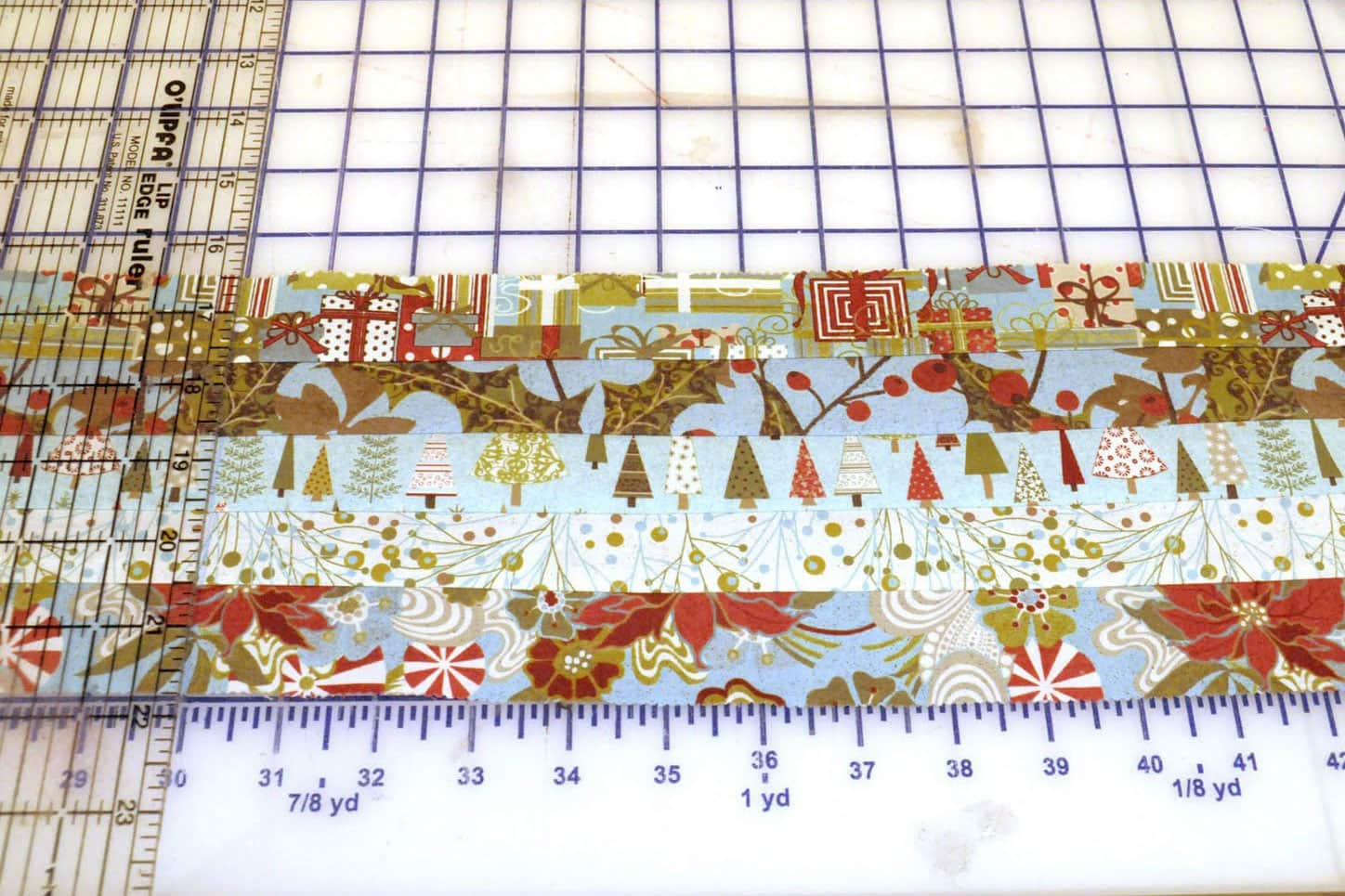 Start by working with one color scheme at a time.
Arrange the strips in a pattern that you like,  and sew together with a ¼″ seam. Press seams to one side.
Cut sewn strip into 3, 14″ pieces, cutting off selvage edges.
Repeat with the other 3 colors.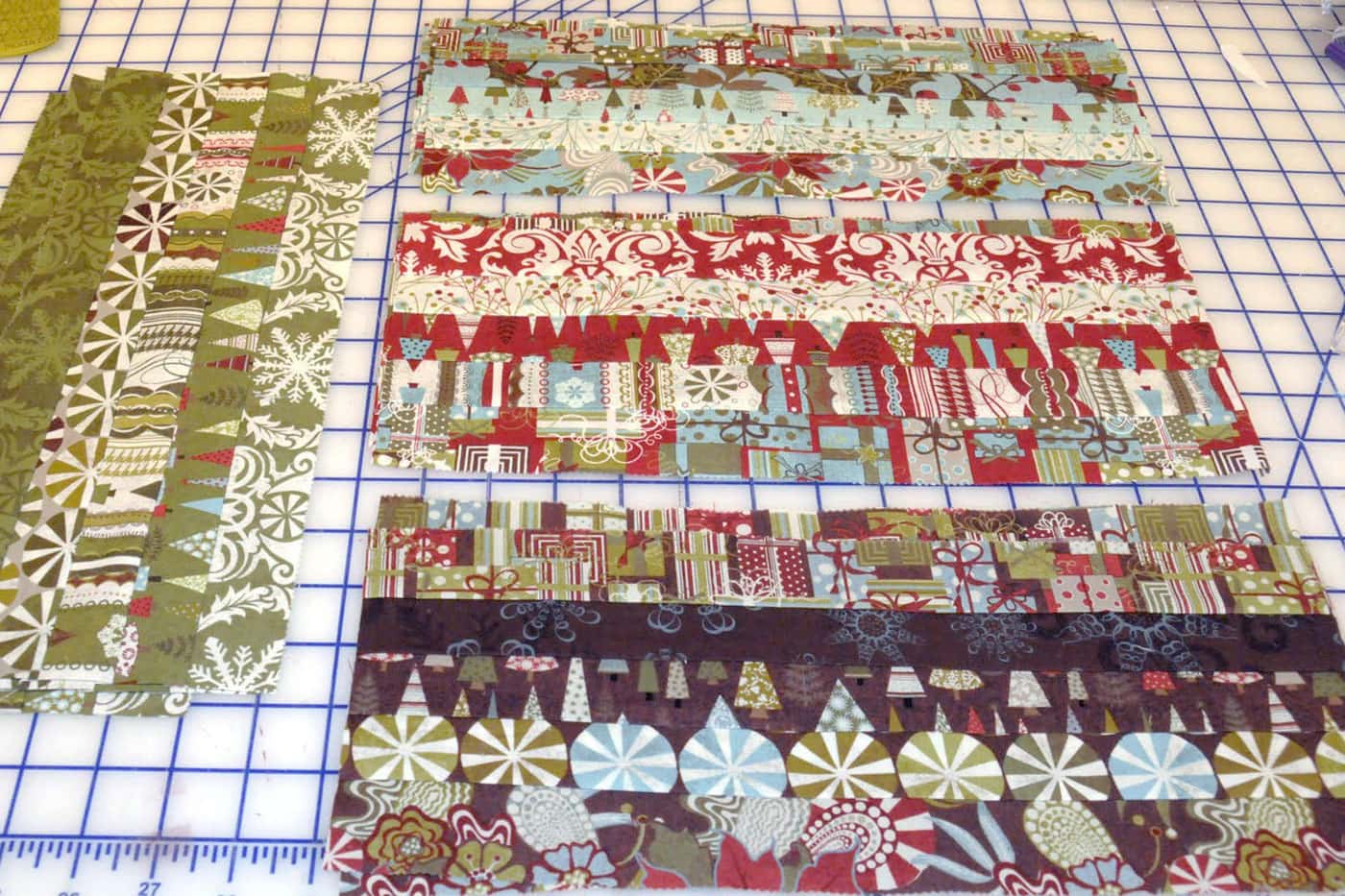 You will have 3 blocks each of 4 different colors (for a total of 12 blocks).
To create the White Blocks:
Sew 2 white jelly roll strips together. Cut into 14″ pieces (same as you did for the honeybun pieces, remember jelly roll strips are wider, 2 ½″ wide).
Repeat this 4 times so that you have a total of 10 white blocks each 2 strips tall x 14″ wide.
Also cut:
Two 14″ pieces from 1 white jelly roll strip.
Note: I quilted this on an embroidery machine so I didn't have much control over where the stitches went, if you are going to free motion quilting the runner, BEFORE you sew your blocks together, skip to the applique steps below. It will be easier to applique the white blocks before they are sewn with the colored blocks.
Sew blocks together. This is the color arrangement that I used, but you can change yours to your taste (it would also look nice going dark-light)
1:   One 14″ white jelly roll strip
2:   Brown
3:   White
4:   Red
5:  White
6:   Green
7:   White
8:   Blue
9:   White
10: Red
11: White
12: Green
13: White
14: Blue
15: White
16: Red
17: White
18: Green
19: White
20: Blue
21: White
22: Brown
23: 1 – 14″ Jelly roll strip.
You will have 1 brown block left over, you can use it if you need to make your runner longer.
Layer runner with batting and backing and quilt as desired, I quilted mine with an interlocking circle pattern.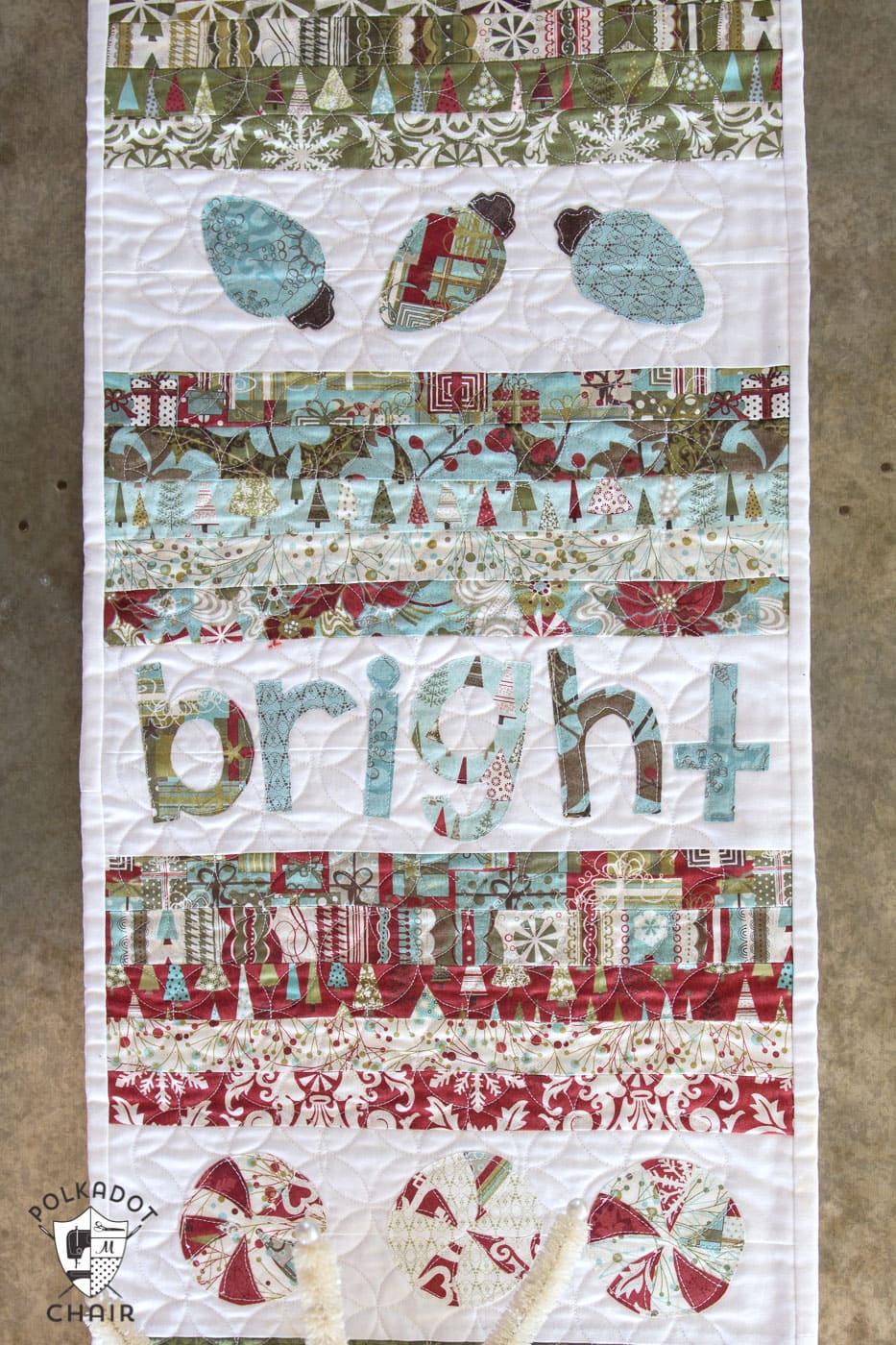 Applique Steps:
Print out the document with the words. Trace onto the paper side of paper-backed fusible web, (make sure you cut the letters mirrored) cut out loosely, then press onto the wrong side of your fat quarters. Cut out more precisely.
For a more detailed tutorial to do this click here.
Peel of the paper backing from the letters and arrange on the white blocks in the table runner. When you've got them in a spot that you like, iron them in place.
This is how I laid out the appliques on my runner: The color in parentheses is the color I cut the applique out of the fabric.
For the applique shapes, I used various clipart, for the holly leaves I used Camille's pattern. The peppermint swirls are also from that pattern, reduced 50%. The trees are just triangles.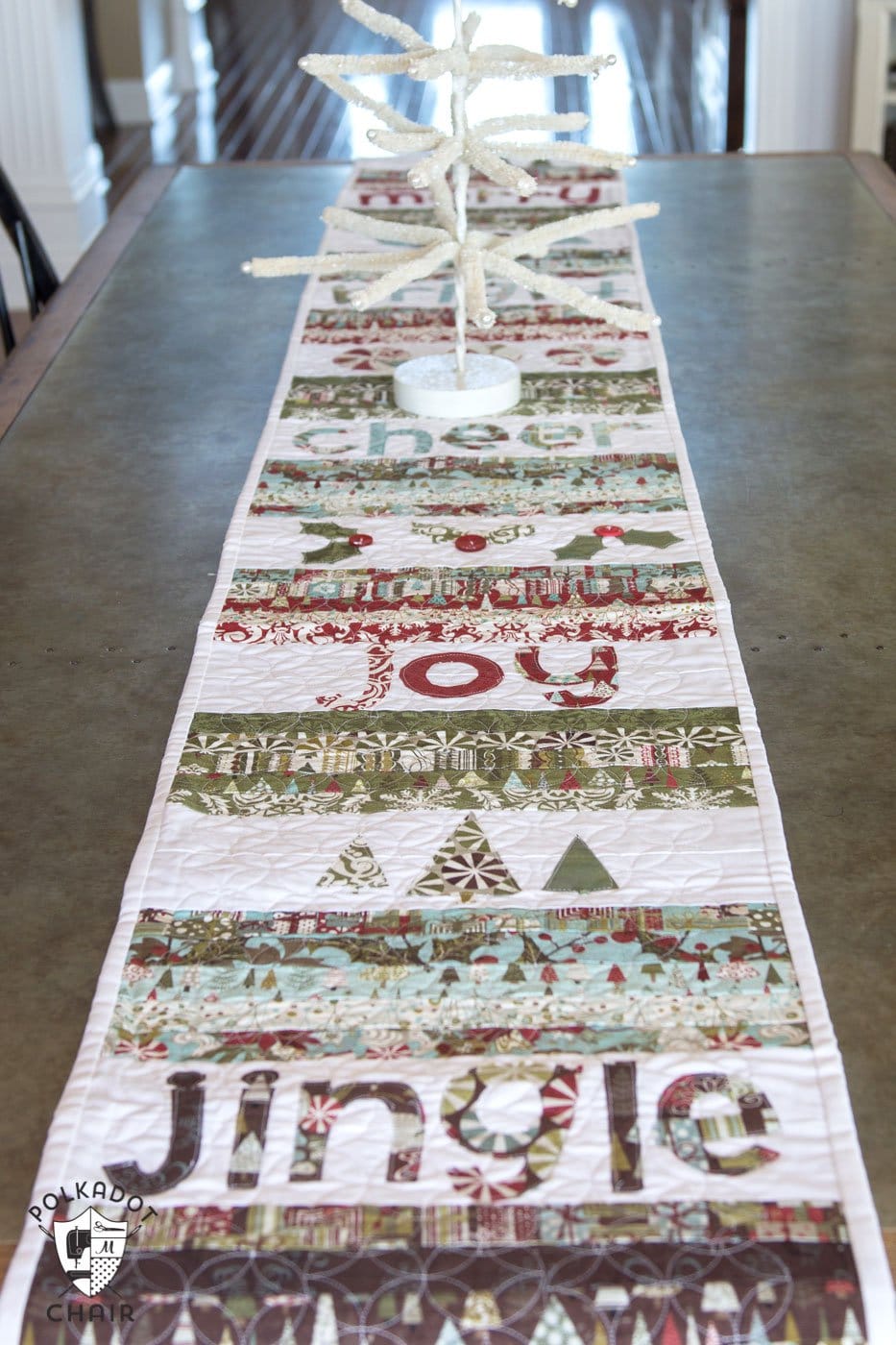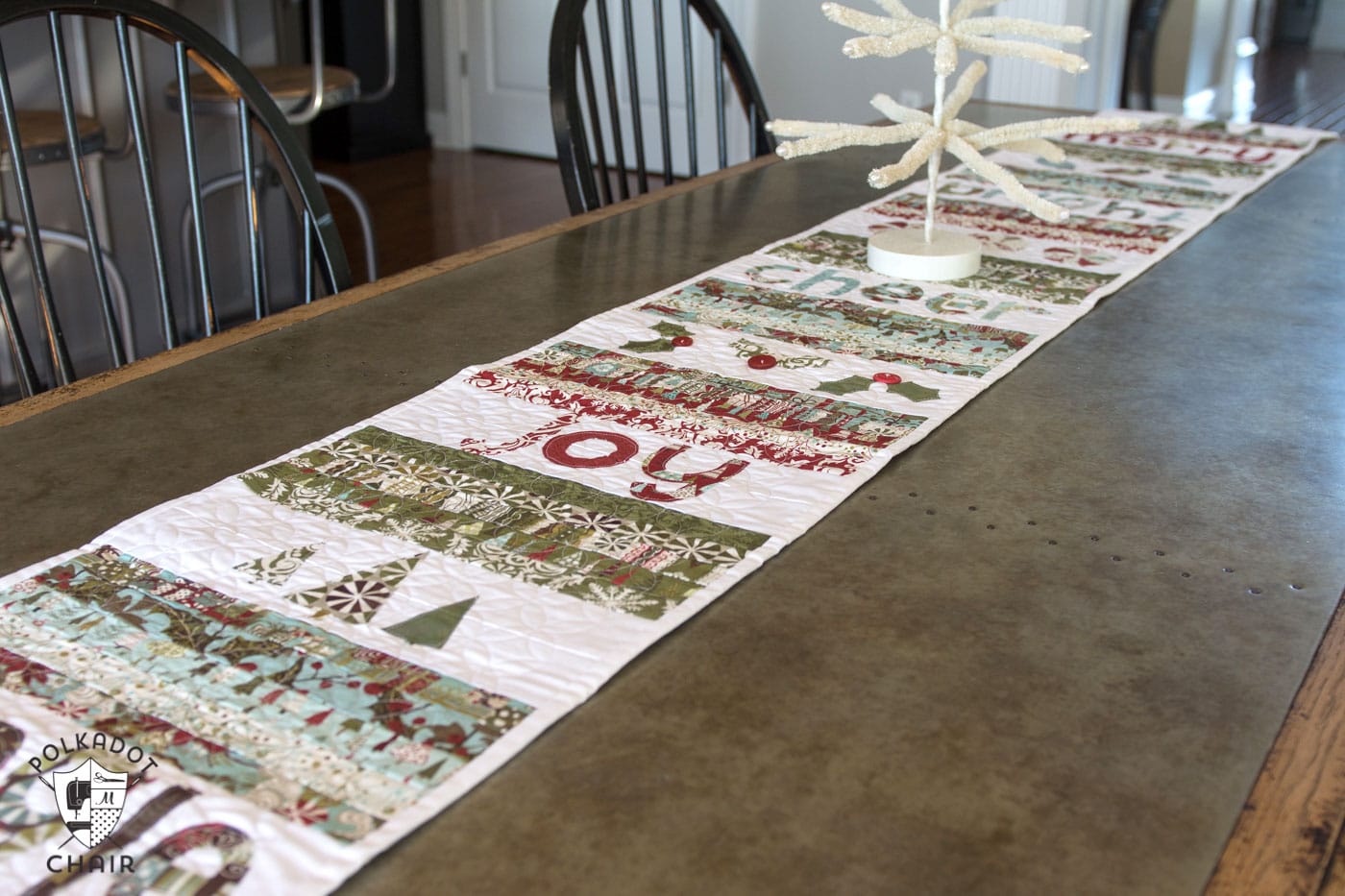 Order of the white blocks: (refer to photos above).
1:  trees (green)
2: "merry" (red)
3:  ornaments (blue)
4: "bright" (blue)
5:  peppermints (red/white)
6: "cheer" (blue)
7:  holly leaves (green)
8: "joy" (red)
9:   trees (green)
10: "jingle" (brown)
After you iron the appliques onto the runner. Stitch around each with a straight stitch. I just used raw edge applique with a straight stitch. I am okay if it frays (I actually prefer that look for this project).
Bind using leftover strips.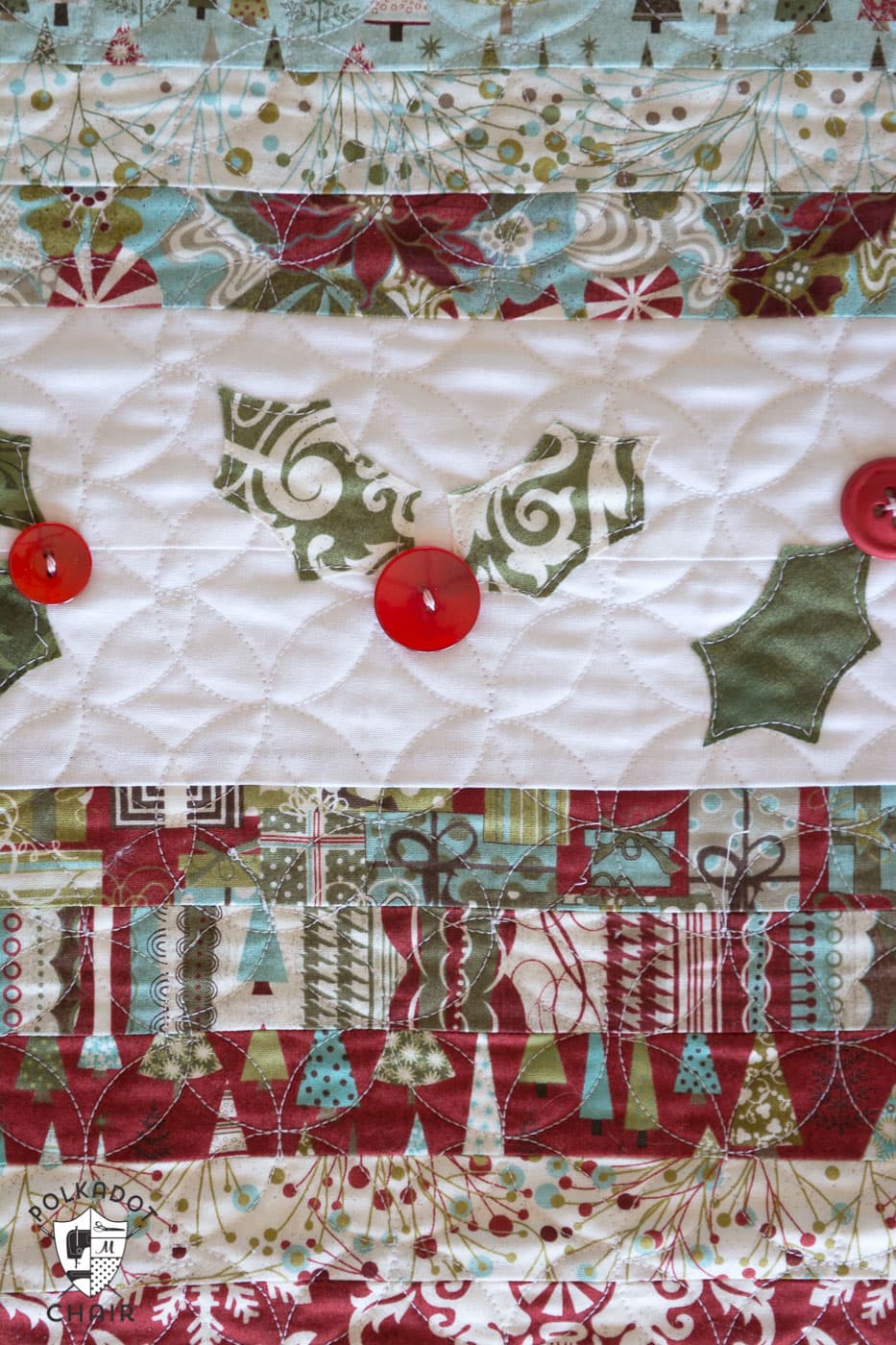 Sew buttons for the holly berries.