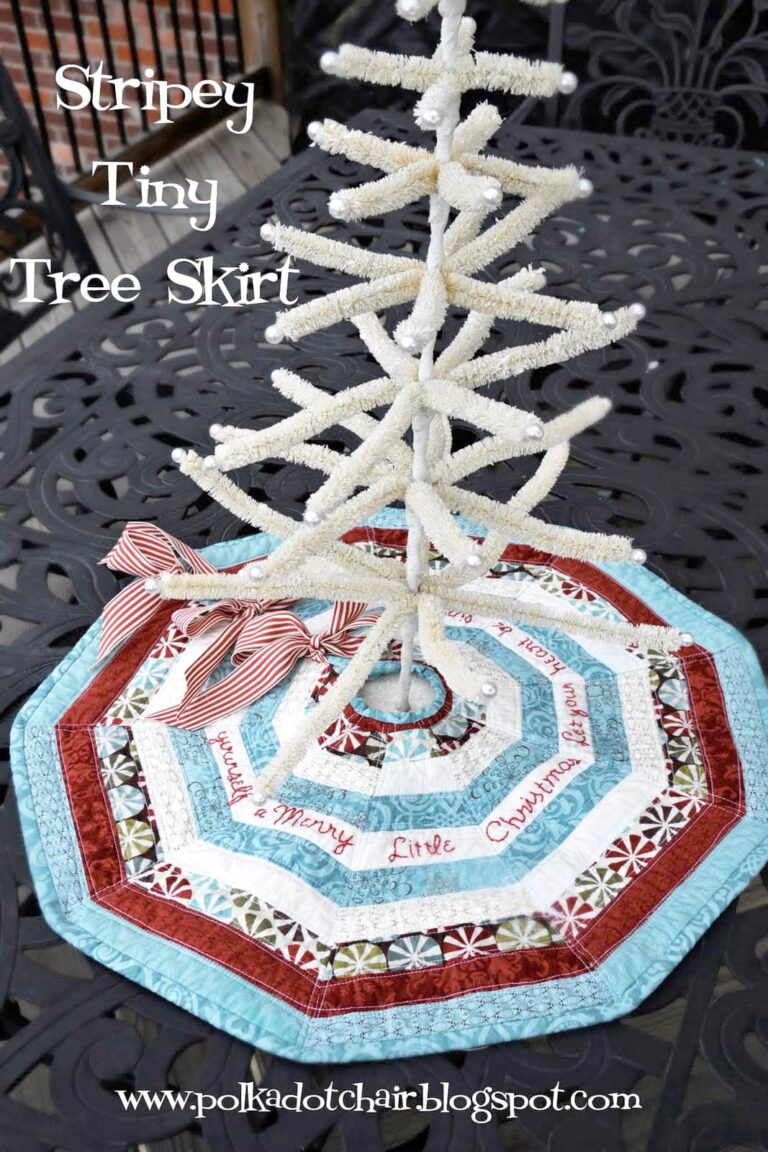 Today I'm sharing a tutorial for this Christmas Table Runner and Tabletop Christmas Tree Skirt. Do you have a cute little tabletop Christmas tree? Why not make a quick and easy tree skirt for it? Plus you might have enough fabric left over to make a table runner to match!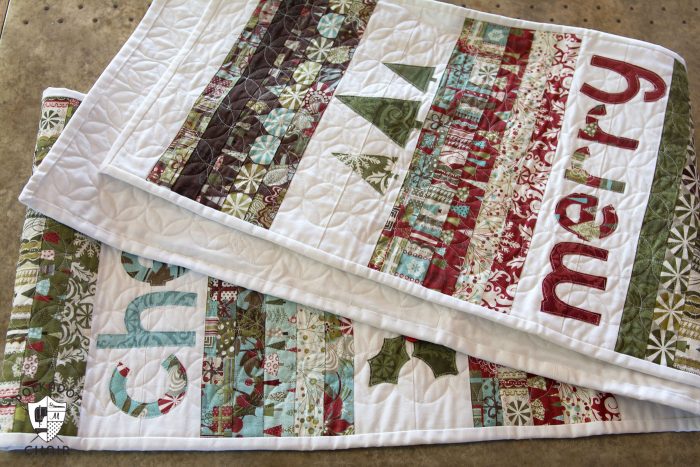 Free Pattern for the Table Runner can be found HERE.
Supplies for the Mini Tree Skirt:
1 Pre Cut Bundle of 1 ½″ Wide Strips (my fabric is Figgy Pudding by Moda). If you can not find a pre-cut bundle of 1 ½″ strips you can cut your own fabric strips. You need 5-10 different prints.
1 yd white fabric for the backing
¼″ yd. or 1 fat quarter,  blue fabric for the binding on the tree skirt
Embroidery floss
Buttons
Ribbon
Batting (I used quilters dream cotton)
How to Make the Tree Skirt:
To begin, you need 11 honey bun strips (or 11 strips of 1 ½″ wide fabric). You need to arrange them in a color pattern that starts in the center and mirrors out to the edges.  Make sure you match the colors in rows 1 & 11, 2 & 10, 3 & 9, 4 & 8, 5 & 7 and row 6 will be your center row.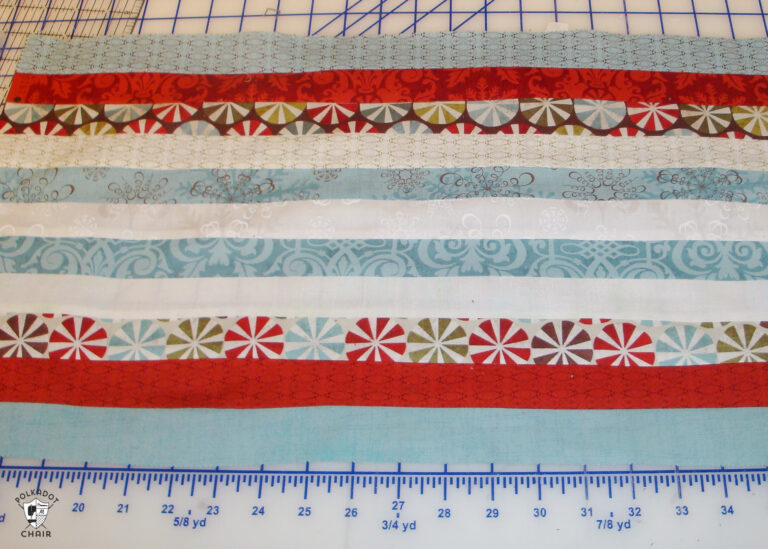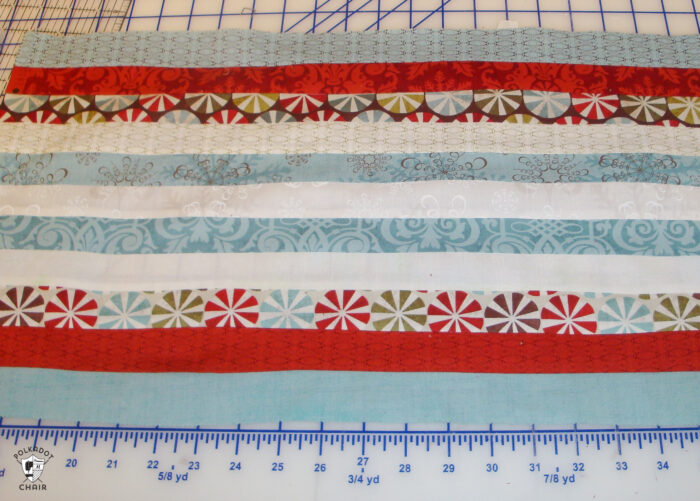 You need them to match because you are going to cut them into triangles and flip the template after each cut. (if you are confused now, don't worry just keep reading it will make sense with the photos).
Sew all rows together with ¼″ seam. Press all seams to one side.
Next, you need to make a template.
To do this you need 1, 12×12 piece of paper. Cut it to 9×12, find the center of the 9″ side, measure from the center down to the opposite corners, cut. Repeat on the other side.   You should now have an isosceles triangle that is 9″ wide by 12″ tall.
If you haven't already, cut off selvage edges of your sewn strips.
Cut Out Triangles from the Sewn Strips: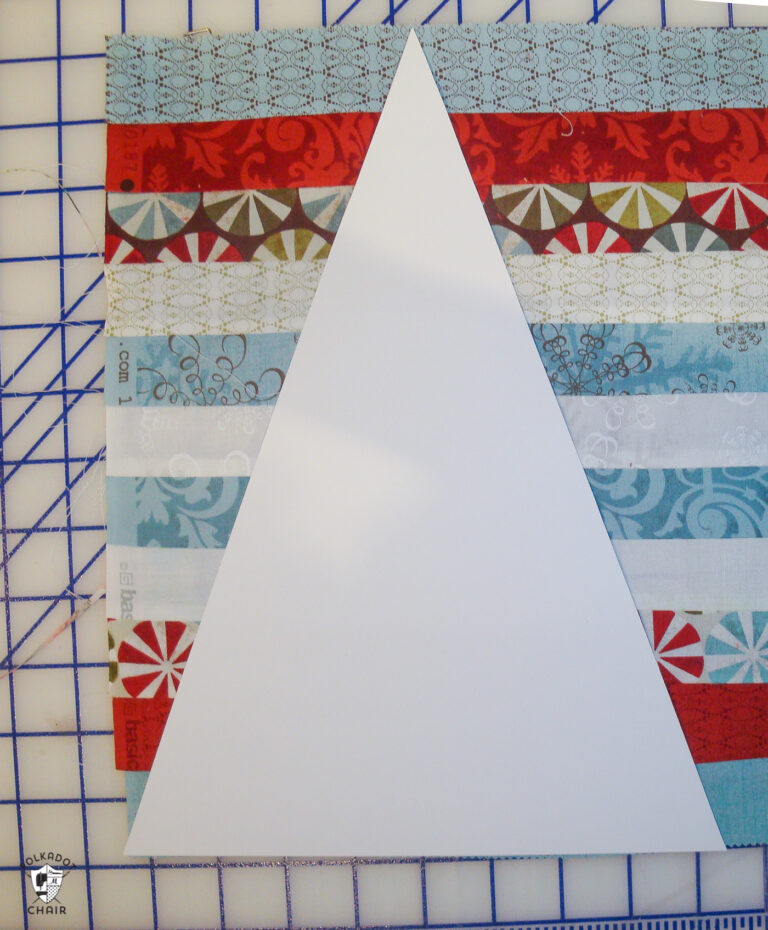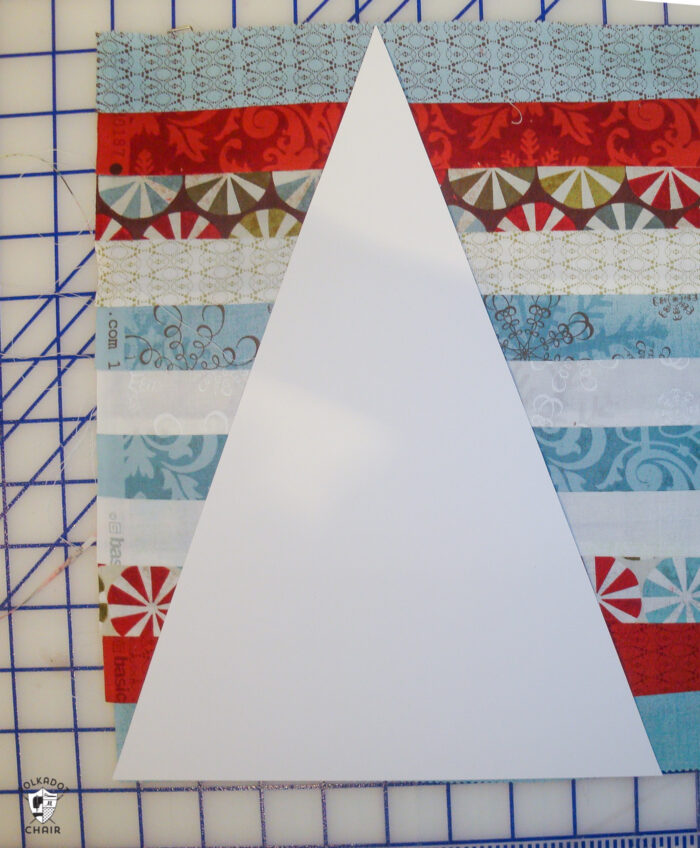 After you have made your template, lay it out on your sewn rows of fabric. Using your ruler & rotary tool, cut out the triangle, making sure that it is all the way over to the edge, you will need every centimeter of fabric, so double-check it.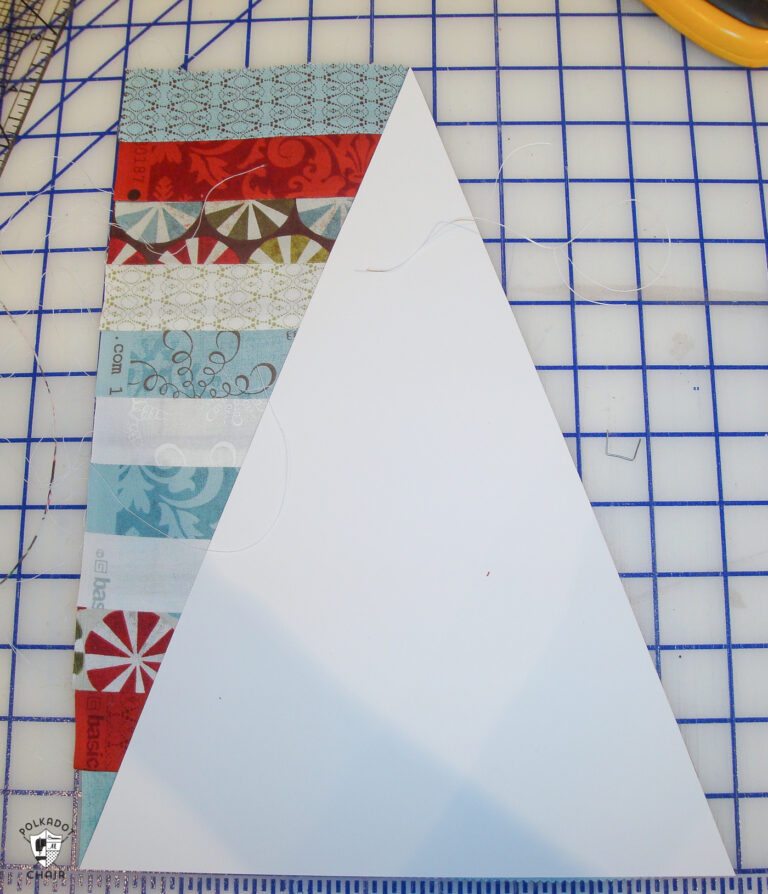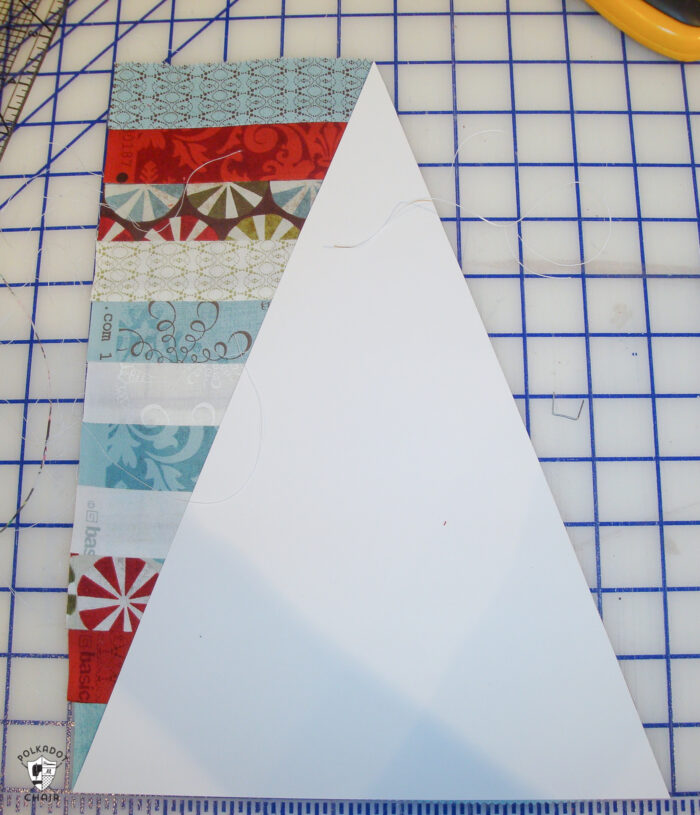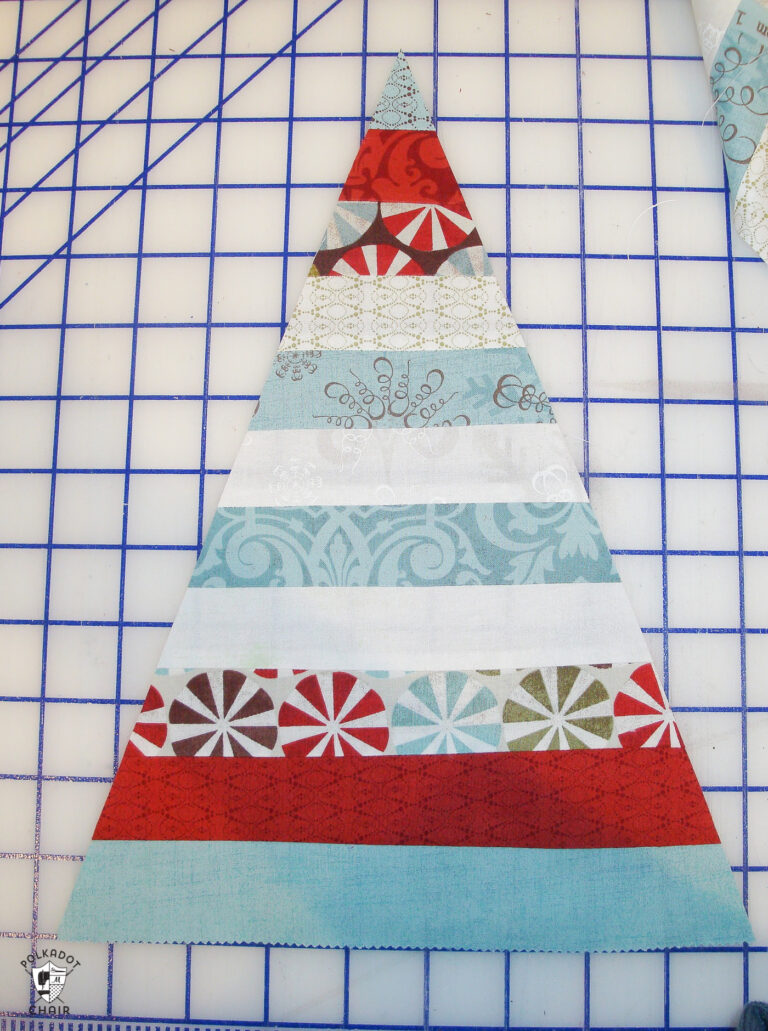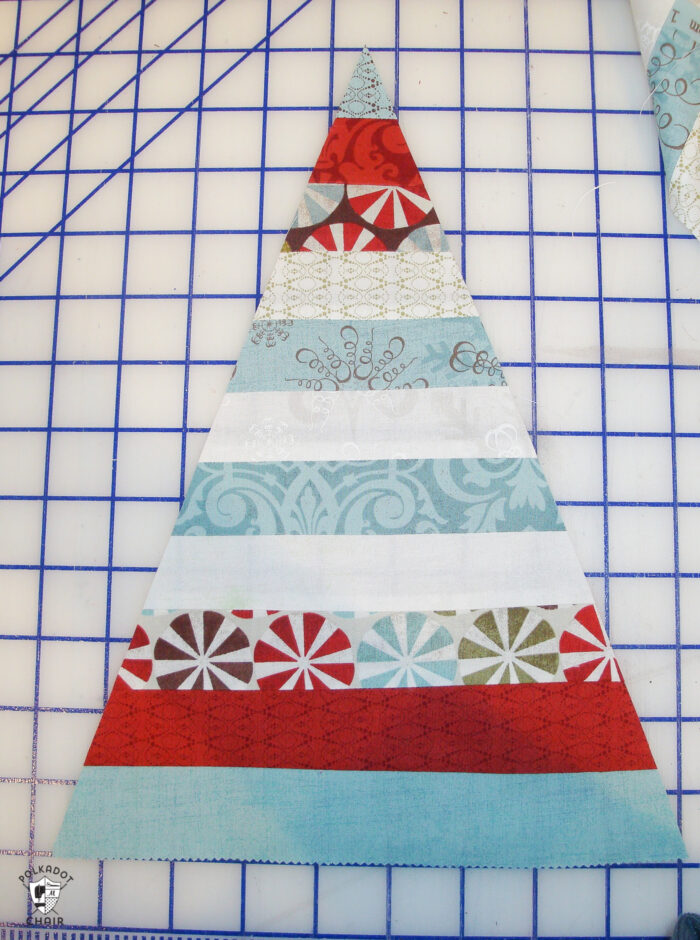 Next, flip the template 180 degrees.  Line up the edge of the template with the cut edge of the fabric strip.
Cut out your next piece.
Flip template again and repeat, until you get 9 triangles.
(note your last triangle you may be a little short, don't worry still cut it, that will be the edge piece of your tree skirt).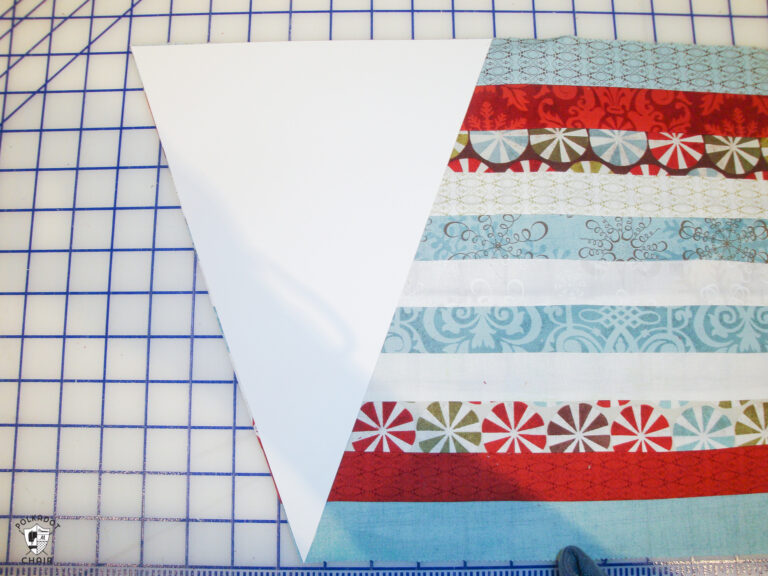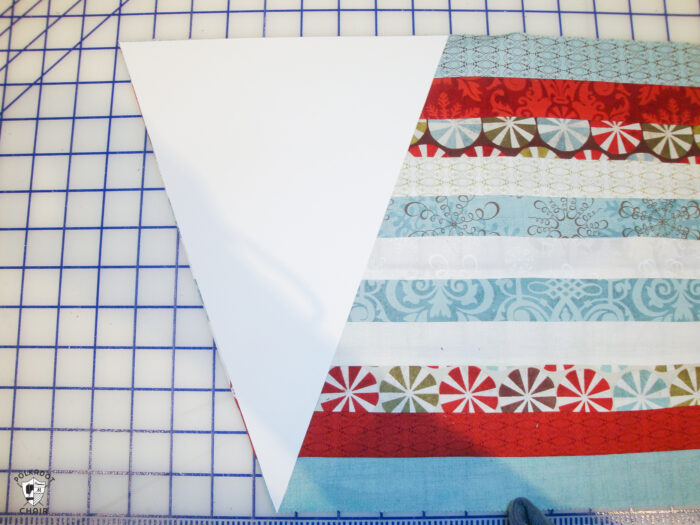 Arrange your cut pieces into a circle, alternating patterns. (you will have 2 next to each other that are the same pattern, use this as the "seam" or opening of your tree skirt).
Sew the Triangles Together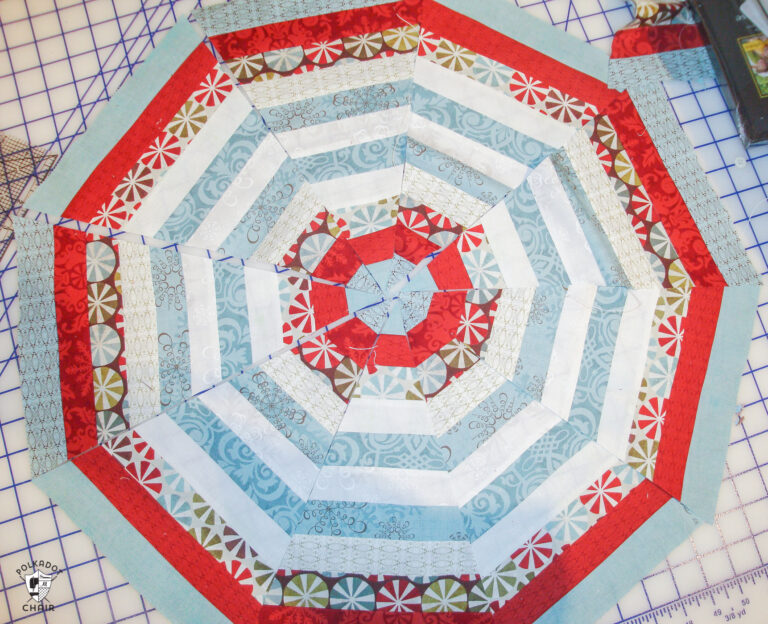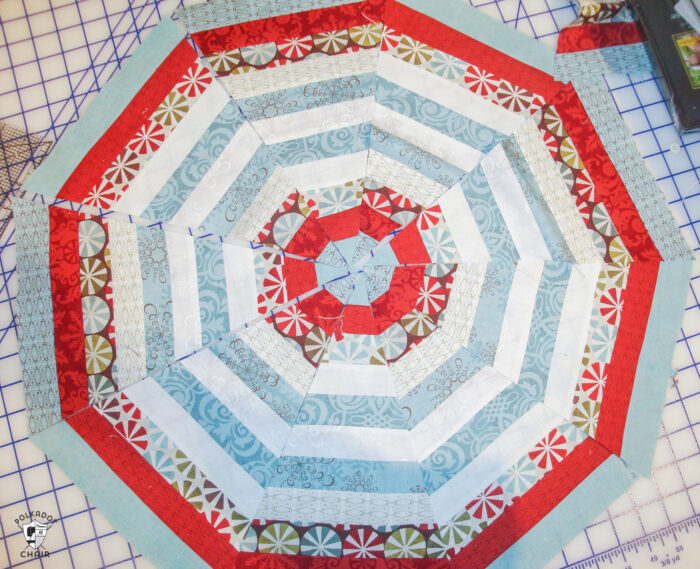 Sew pieces together with ¼″ seam. Leave one seam open, this will be the opening of your tree skirt.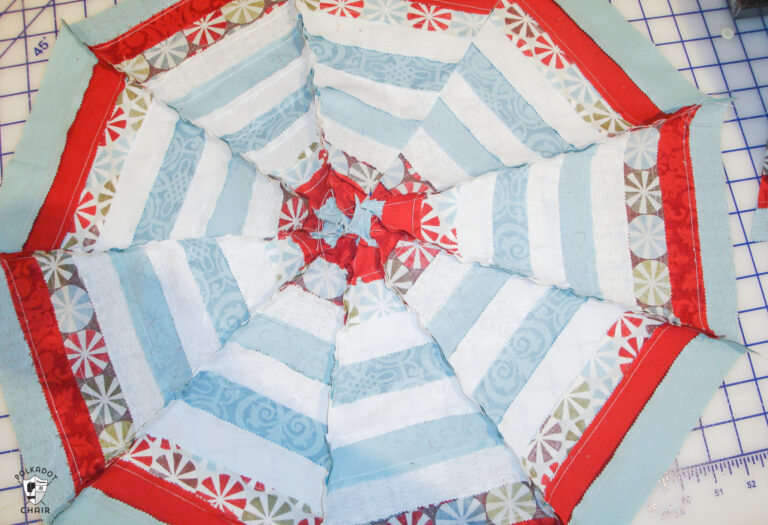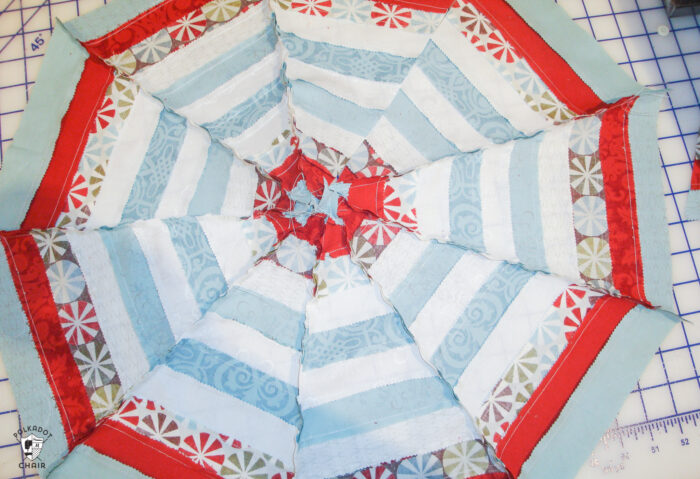 Cut out the center of the skirt, leaving 1″ of the red strip still showing. (if your tabletop tree has a wider trunk, cut a larger hole).
Add Hand Embroidery Details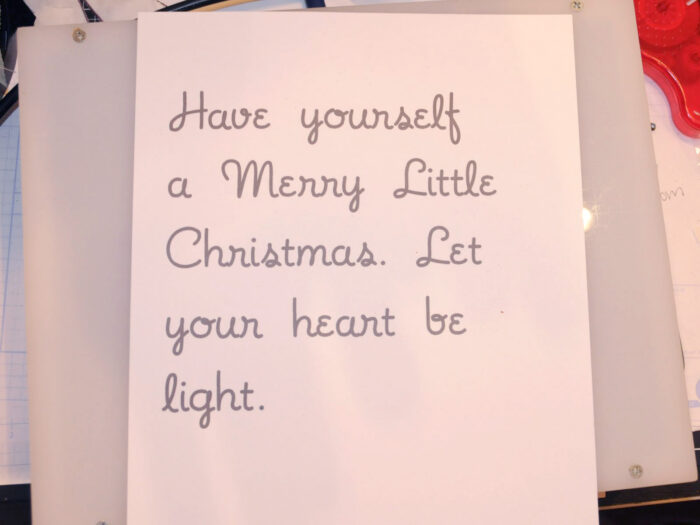 If you wish to hand embroider a phrase on your tree skirt do it now.  Print off your words, (the font I used is called Noodle). Then using a lightbox and a water-soluble pen, trace the letters onto the tree skirt.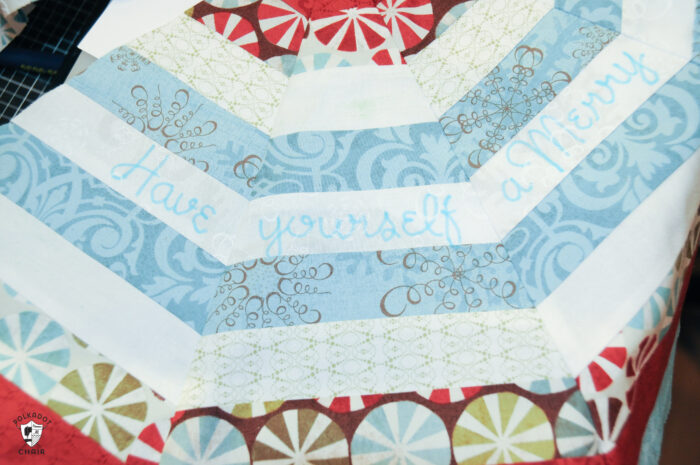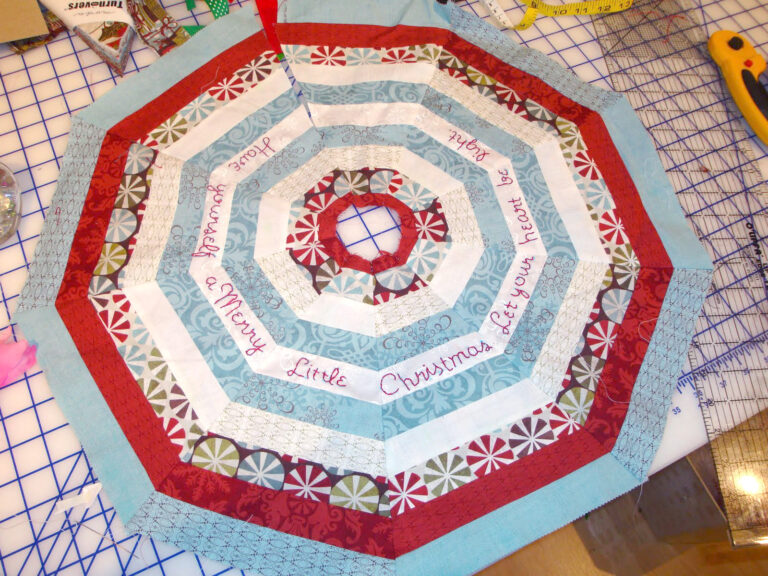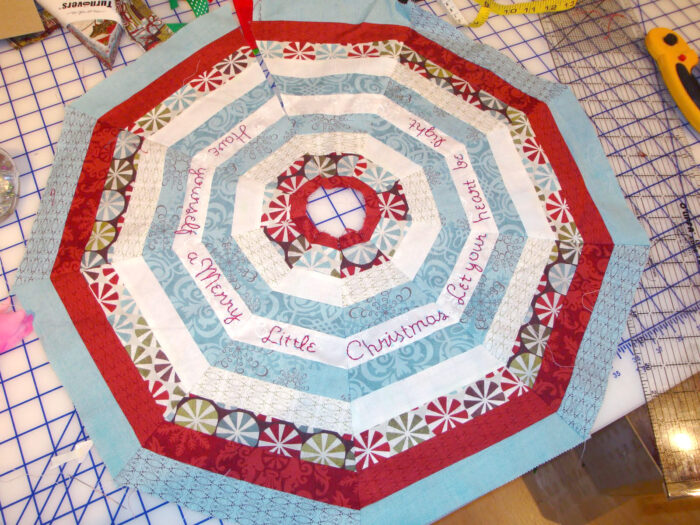 Hand embroider the words you traced, using a simple backstitch.
Finishing
When finished with the embroidery, layer with batting and backing and quilt as desired. I just did a stitch in the ditch.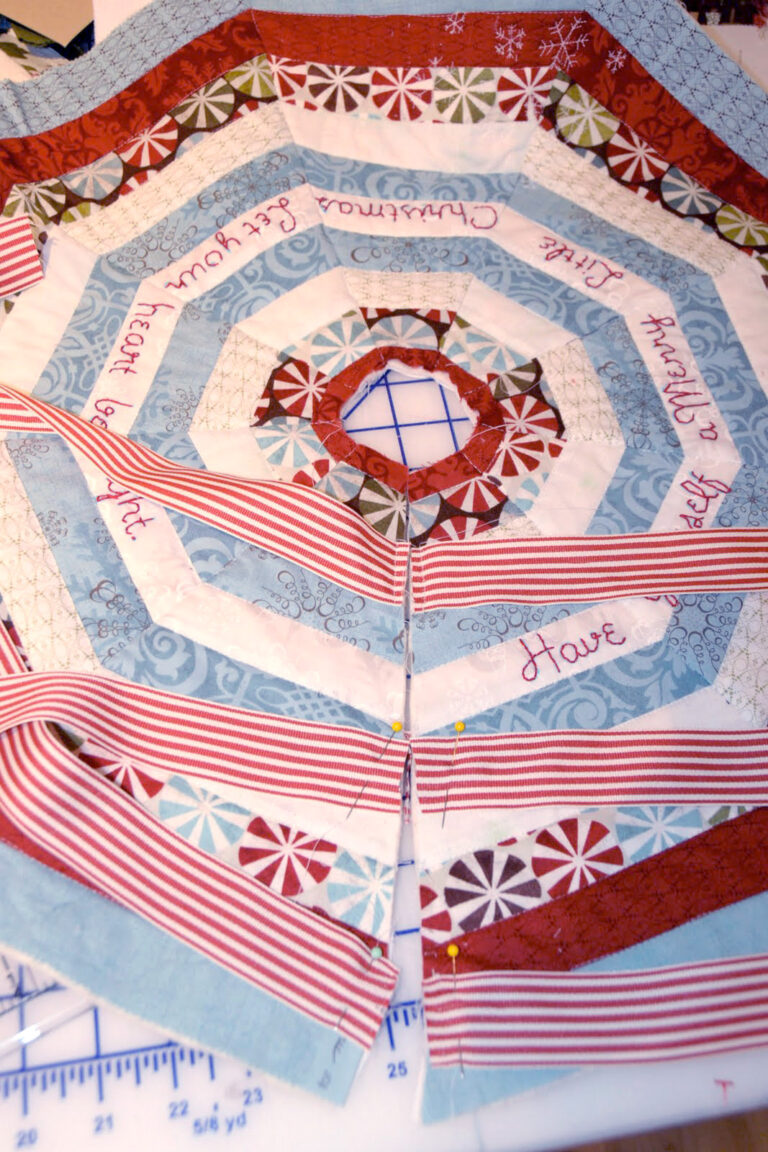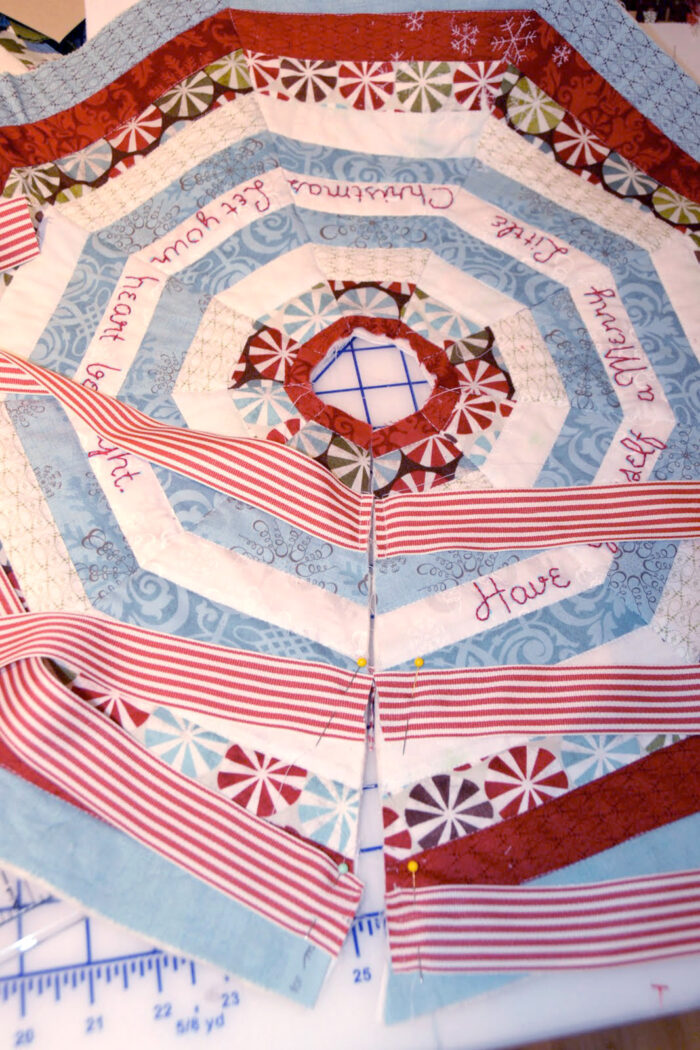 Cut 6 pieces of ribbon about 10″ long.  Pin to the opening of the tree skirt. Sew in place before you bind it.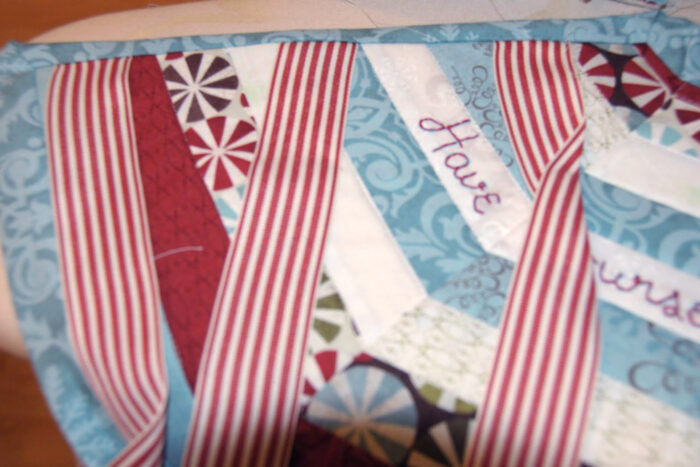 Sew on binding, making sure not to catch the ribbon in binding.