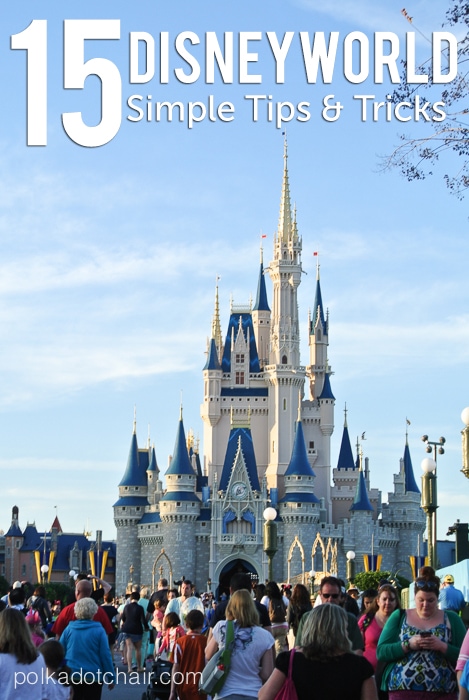 I know that the internet is FULL of all kids of Disney World tips, tricks, and advice. Most of it is really good advice and  some of it is terrible. Because of all of this advice, I've contemplated writing this post for about 3 years now, I just wasn't sure about it-  I didn't want it to just get "lost" in the sea of Disney related information… and I wanted to make sure if I wrote a post about Disney World that I knew what I was talking about.
I've been asked many times about my advice for traveling to Disney World, by friends and family, so I decided to sit down and type it up, and since I was typing it up I thought I'd just go ahead and post it here, so that hopefully it will help you out too.
I don't know how many times I've been to Disney World, let's just say it's more times that I would have guessed when we first went 17 years ago.  I guess it's just one of those places that actually lives up to the expectation you put on it. I don't know how it really happened that we went so much, it seemed like it Disney was "on the way" to somewhere, or my husband had a class in Orlando, or they were offering a killer deal, but after a few years of "stumbling" our way to Disney, we just decided to jump in and PLAN to go to Disney World on a regular basis. We live close enough to drive, which helps a lot,are DVC members,  and now have annual passes, so I guess we've evolved into "Disney People".
This is not however a "how to see everything at Disney World and not spend any money" post, although those do exist, just google it… I'm not going to talk about costs and Disney, because it's so different for each person that goes,   I will say this, there are ways to save money at Disney World and to get more "bang for your buck" but Disney is not cheap,  and I realize that. So my goal today is to hopefully offer you some tips to make the most of the time and money that you do spend at the "happiest place on earth".
That being said, we have "our" way of doing Disney. Someone else might have another favorite way to do Disney, but this is ours.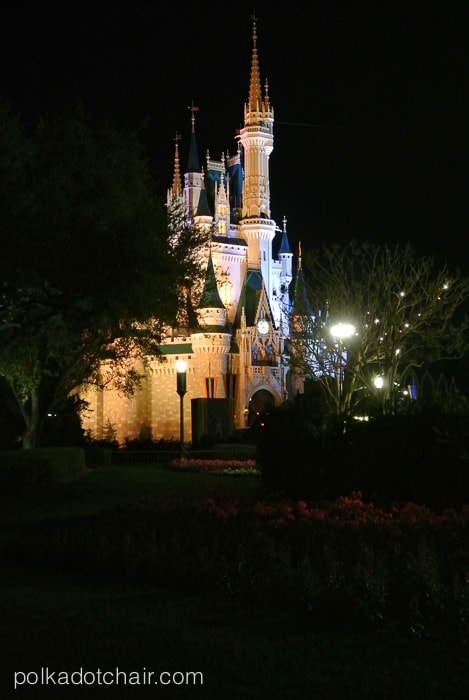 1. Try to stay til close. Okay here's what happens at Disney World most days.  People wake up and try to get to the park when it opens. Well, we all have kids and know how that usually goes. Someone is tired, traffic is bad,  you miss a bus, someone can't find a clean shirt,  etc.  Most people don't get there when it opens but soon after. About 2 o'clock  you look around and swear it's so crowded they couldn't get another person in the park if they tried…
Most people intend on staying til it closes, (closing time changes by park per day) but after about 6 o'clock  are done for the day.  The park slowly begins to clear out…. next thing you know you look up and it's 8 o'clock at night and the park feels downright roomy :).
There is something that is dare I say, magical about walking out of a Disney park at closing time.  It's quiet, and dark and you get such a nice view of the park. We love to stop for a treat on our way out, visit some shops and just meander our way to the exit. There's going to be a HUGE line for the buses at closing time anyway, why not just take your time getting out?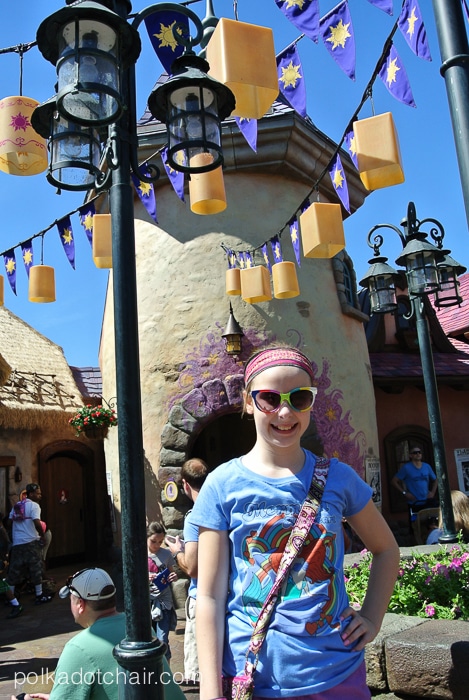 2. Get out of the main aisles. Okay, for some reason most people congregate to the middle of things at Disneyworld. I guess it's just simple crowd mentality… but before you walk into a big crowd of people, take a second and look around, to make sure it's where you want to go, is there a side path?  Is there another way around?  Is there a ticket kiosk with no people in line (and usually a employee waving for people to come over  to the side!) ? If you see a path and wonder where it goes, walk down it.  There are all kinds of fun little shortcuts and passages in the parks…did you know you can walk from the new Fantasyland to Tomorrowland in Magic Kingdom? There's a cute little path that lets out by the cars.
On Main Street in the Magic Kingdom there are little side streets with fun things to see, and places to SIT! In Epcot the World Showcase is FULL of little paths, if you stay on the main drag you'll miss 90% of what's back there.  Take a second and look around, you don't have to follow the crowd down the middle of Main Street if you don't want to… and if you want your photo taken with the castle in the background, try the evening, it's less crowded that at the beginning of the day.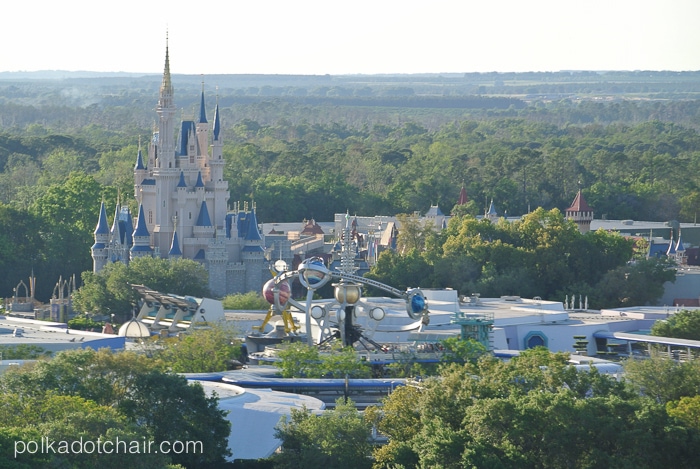 3. Stay on property (book online at Disneyworld, watch this page for specials, and sign up for their emails, there have been deals pop up there ranging from hotel discounts to free park days to free food).
People always ask me where to stay and how I booked my room. It's pretty simple, I stalk the Disneyworld specials page until one pops up for the time frame I'm looking for. Then I book a whole package together. I like this for lots of reasons… You get extra magic hours in the parks (i.e. you can stay past closing time)… you don't need a car, you can take the bus (but if you have a car, you can park at the parks for free if you're staying at a Disneyworld hotel), and with the new Magic Bands you can book your ride reservations 60 days before you leave.
That being said, if you don't stay on Disney property you're still going to have a great time, I just prefer it when it's an option.
Also, we have found unless it's offered for free as part of a promo, the Dining plan is too much food for us to eat in a day, so it's not a good deal for us to buy it (more on food in a minute).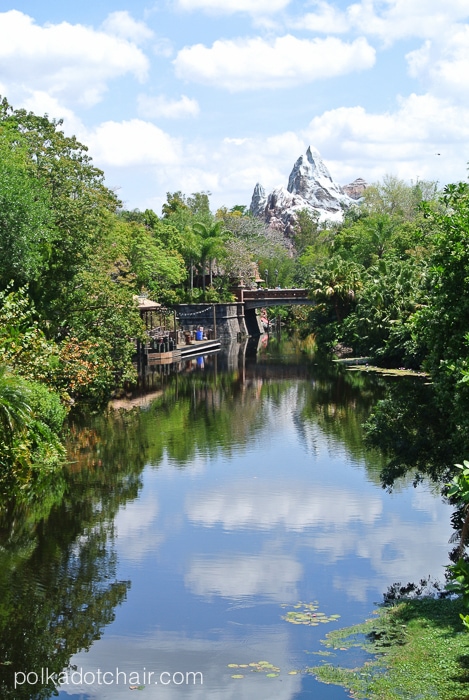 4. Plan for breaks and snacks. Okay, slow down and make sure you take breaks frequently, even if you don't think you need it, your kids might.  Find a nice quiet (or at least shaded) place to sit and have a soda and a rice krispie treat. If you're going an a million miles an hour all day you're going to wear out and fast.  Last time we were at Epcot we walked 10 miles! That's insane!!! It's a place that requires a lot of walking, so don't wear yourself out.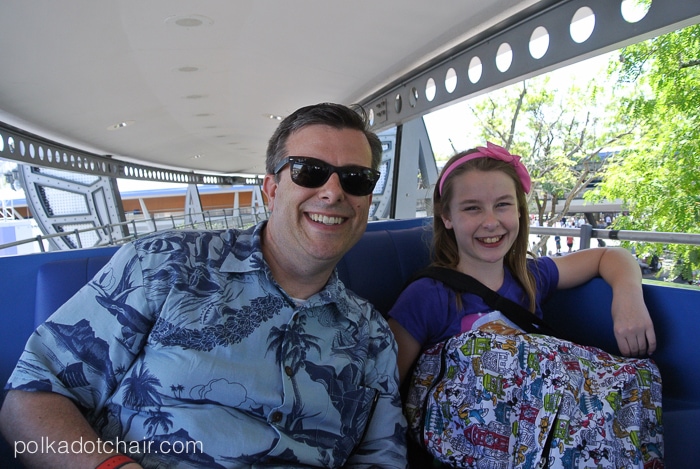 5. Know the places to take a break. Okay, so now that I said, "don't wear yourself out" lets talk about what to do if you DO wear yourself out.  If you're needing a nap or a cool air conditioned place to sit, here are my choices:
Magic Kingdom:
Carousel of Progress (okay, sorry Walt but this is the most boring ride ever!!)—but it's air conditioned, you can sit and it takes about a half an hour… you could even take a nap if you wanted to.
People Mover- one of my favorite rides in the park actually, it's slow moving but is very relaxing and you get a great view of the park.
Get on the train and ride it in circles until you're not tired anymore!
Epcot:
Spaceship Earth- Sorry another kinda boring ride in my opinion, but you sit down, and it's cool and dark.
The Seas with Nemo and Friends- a really cute ride and at the end is an aquarium, very relaxing if you're feeling stressed out.
Grab a pastry at the cafe in France (it's in the back you have to go find it our you might walk right by)- delicious pastries, and it's now bigger (so the lines are shorter) get an eclair find a place to sit near the lake, and relax for a bit.
Hollywood Studios:
American Idol Experience- This is actually a really FUN show to watch. Not good for a nap, but great if you just NEED to get off your feet for a bit (and once again, it's air conditioned).
Animal Kingdom:
Ride the train to Conservation Station- there is a petting zoo there and a nice big room with educational things to do. It's cool and not usually very crowded. A great place to recharge for a bit.
6. Buy Pins & T-Shirts before you go.  My kids are older now but they still love to wear Mickey Mouse (and other Disney) t-shirts when they visit Disneyworld.  The shirts at Disney are very cute and unique, but you can get great deals on shirts at Target and the Disney Store– buy them before you go to save $.  Also if you want to trade pins (you can read more our pin trading experiences here) consider buying them on ebay before you go… just be SURE you are buying genuine pins from a reputable seller- don't waste your $ on fakes. You get a variety of pins and since you're going to trade them anyway, it doesn't matter which ones show up in your grab bag.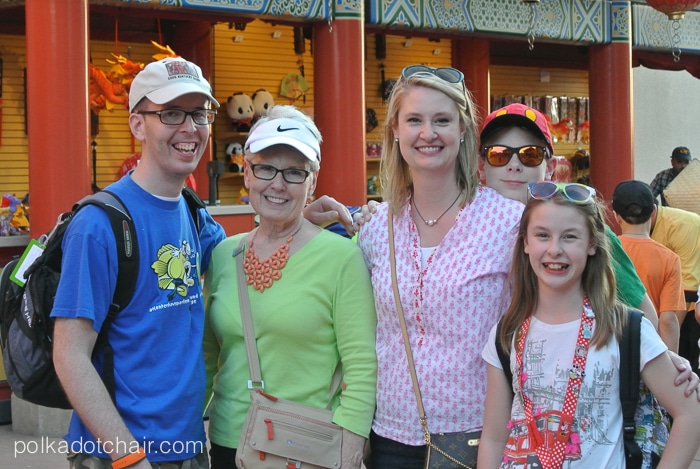 7. Watch the Food Prices. Okay, crazy thing, one day we all went out for breakfast, to a sit down restaurant (Kona Cafe in the Polynesian Restaurant) and the total bill was less than the fast food lunch meal we had the day before! I've figured out that some sit down restaurants are the same price as fast food, so for the cost of a tip you can sit and enjoy your food (mabye even less if you share a meal). But watch out,  some are much more expensive-before you go check the menus, and don't automatically rule out the sit down restaurants.
Also, if there is somewhere you KNOW you want to eat make reservations in advance.
Our favorites (both fast food and sit down): Via Napoli in Epcot, Liberty Tree Tavern in Magic Kingdom, Ohana and Kona Cafe at the Polynesian Resort, the Hoop Dee Doo Musical Revue, Flame Tree BBQ in Animal Kingdom, Mama Melrose's and Sci Fi Dine In Theater in Hollywood Studios. One last thing, don't shoot me, but I'm not a big fan of the Princess Breakfasts, BUT my kids were never DYING to see Cinderella either.  They are a great option if you know your kids LOVE characters, you'll knock out a bunch in one sitting (but you'll also pay for it).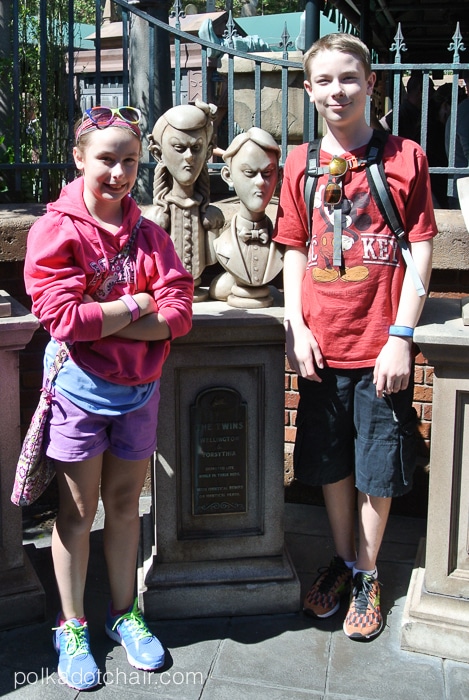 8. Don't be afraid of lines. There is a lot of information online about the BEST way to see a Disney Park, what to go do first, in what order, you can even make a plan for your ENTIRE day before you go…  I think in all of the hub bub of trying to avoid lines at all costs,  people have been just afraid of lines in general.
I'm here to tell you if it's less than 30 min, it's not bad at all. 45 min and longer, I'll be honest, is not super fun…  If you find yourself waiting in line for a ride (and by all means, DO use your fast passes, stay late, go early or whatever to avoid the line if you can)…   find things to do, play games with your kids, pull up Disney Trivia on your phone, take silly photos in line, Look for Hidden Mickeys etc… You can find ways to pass the time, and Disney has gotten better at finding ways to entertain you while you're in line.  Also, if you're trying to get on Toy Story Mania, I think they lie about how long the wait is at the end of the day to keep people from getting in line…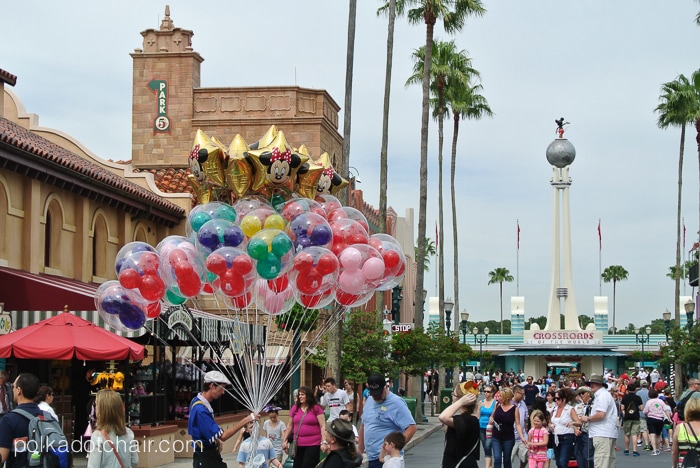 9. Look for Hidden Mickeys. We started this a few years ago, and my kids love it now. It's a really fun thing to do while you're waiting in line and I think it makes you "slow down" and notice what's going on around you more– You know that whole "be in the moment thing"…  A hidden Mickey is a Mickey Mouse head hidden somewhere it's not supposed to be. Some are so obvious and others are harder to find. You can get an app on your phone or a book to use as a guide. We now walk around calling them "hidden Mickeys" and "Totally Obvious Mickeys"… it's become a fun inside joke.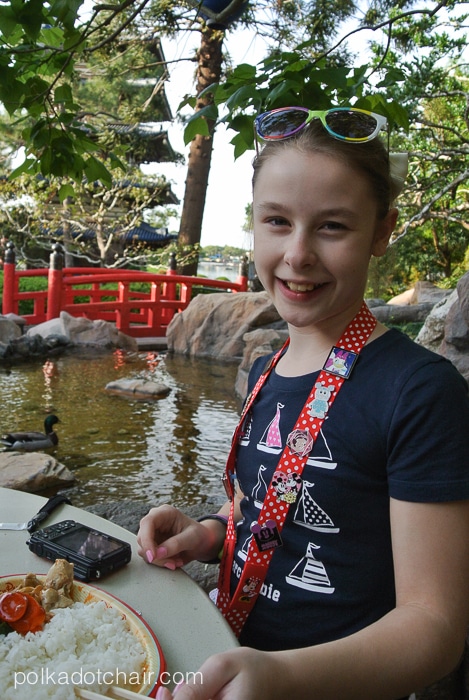 10. Rethink Lunch. Okay this is my favorite trick… don't eat lunch at noon.  We like to do one of two things. Eat snacks in our hotel room for breakfast then eat lunch at 11 am right when the restaurants open. OR eat a bigger breakfast and wait to eat lunch til after 2 pm.  We also prefer to sit down for lunch rather than dinner. It gives you a nice break in the middle of the day and most times we end up so full from lunch that all we want for dinner is a snack.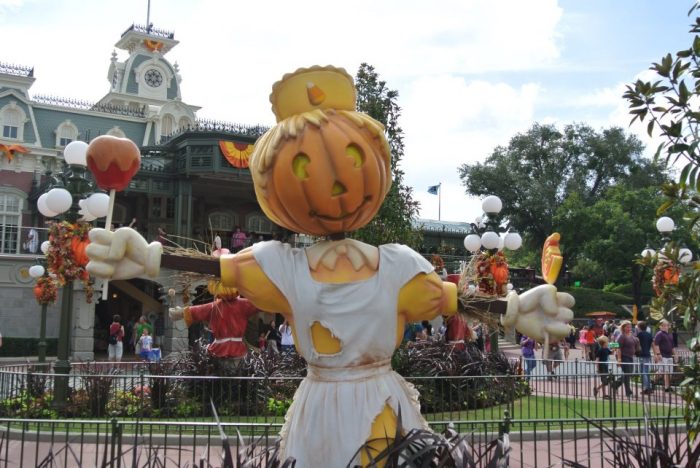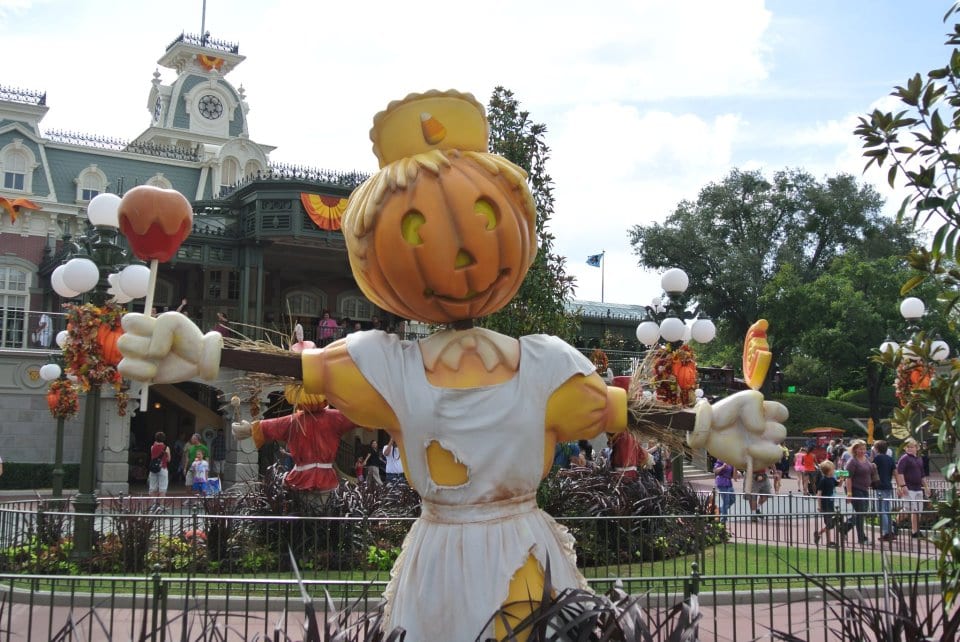 11. Travel Off Season —  (January, September &  October and between Thanksgiving and Christmas) Disneyworld is most crowded at Christmas and Thanksgiving. After that most of April is busy for Spring Break and the weekends in May are busy for Star Wars weekends. You can find crowd calendars online. Orlando in July is INSANELY HOT, it's also crowded, if you have the option, Fall is by far our favorite time to visit.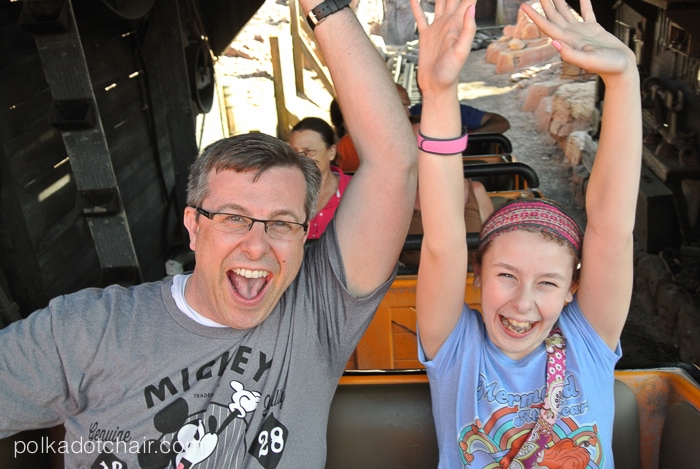 12. Don't try to see it all – Just realize before you go that you're not going to see EVERYTHING and ride EVERY ride.  You'll make yourself crazy trying.  Although I'm a "check off the list" type when I'm on vacation, I have to let go of that instinct a bit at Disney. If you love it, you'll probably go back, save some things for next time.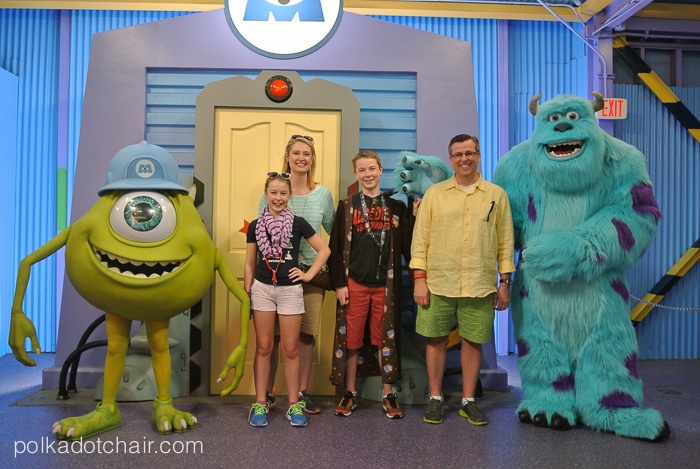 13. Prioritize – Before you go decide whats most important for you and your kids to see. If they are crazy for characters make a plan around seeing characters (fast passes and character meals)… If you want to ride ALL OF THE RIDES then plan your fast pass times close together so you can get to as many rides as you can.  Whatever it is you decide, leave some time unplanned for just wandering around the parks and popping into the shops.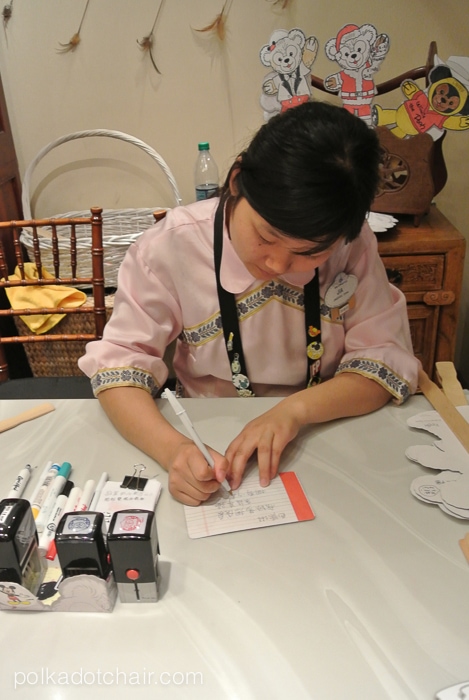 14. Take project life cards autographs.  If you are going to try to get autographs from characters and employees at Epcot, take along Project Life cards for them to sign, then when you get home you can just slip the cards into your scrapbook album and not worry about losing an autograph book (btw, not my original idea, saw it on Instagram one day).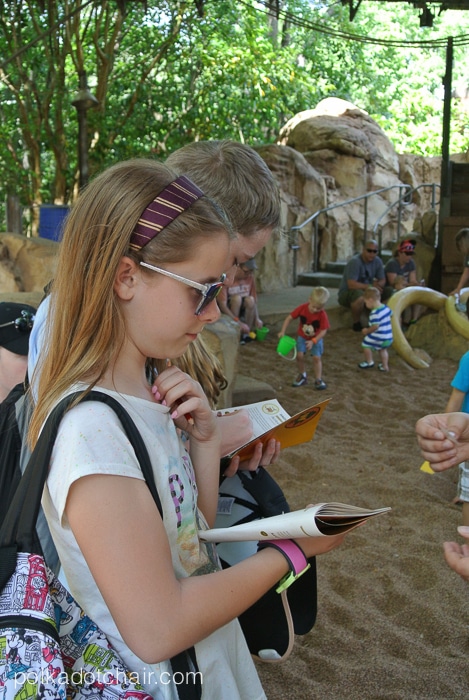 15. Visit KidCot Stops at Epcot and become an Adventure Scout at Animal Kingdom – Disney has done a good job finding ways to entertain kids as they move through the parks. Each country in Epcot has a KidCot stop — the kids can sit and color and get their passport (or project life card) signed by a person from the country they are visiting. It's a great way to get your kids to chat with people and it's really fun to see how each culture is different.  At Animal Kingdom the kids can visit several educational stops and become and Adventure Scout- we did it this last time and my kids loved it (they are 12)…
and….
if you'd like to see what Disney World is like in 2 minutes or less and in stop motion video no less, check out this video my husband made of our last visit.  He is to Go Pro camera's what I am to Sewing Machines *wink*
I hope you've enjoyed my tips! If you have any please feel free to leave them in the comments section, I'm always looking for fun new ideas for Disney World!
Other Disney Related Posts you may enjoy: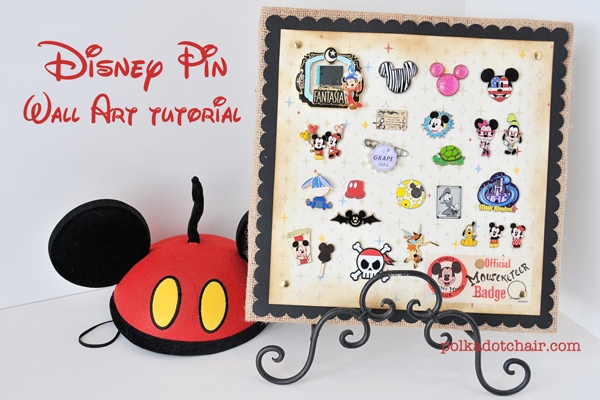 How to Display Your Disney Trading Pins
Simple DIY Disney Vacation Photo Album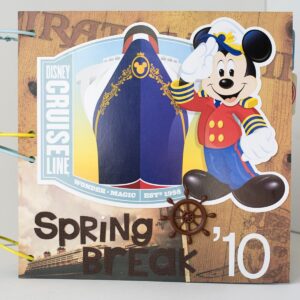 DIY Disney Cruise Scrapbook Ideas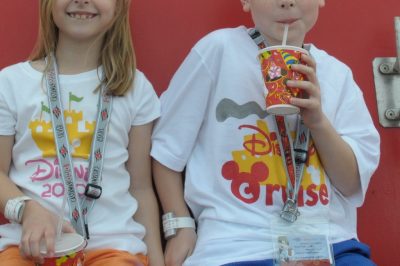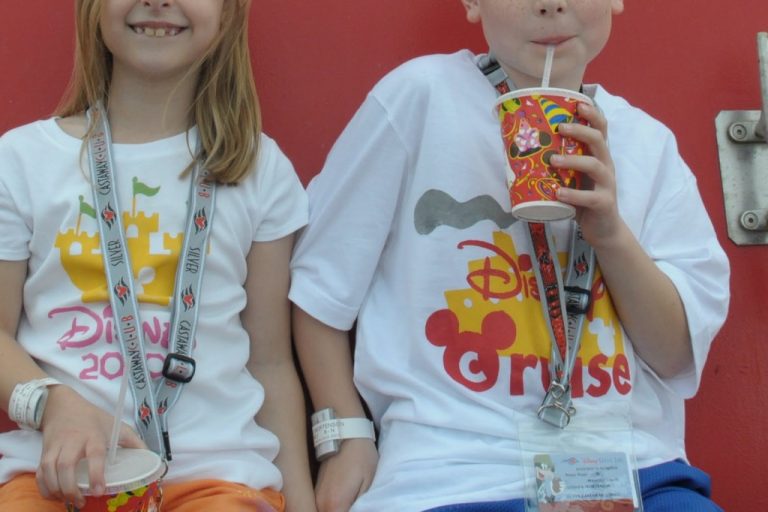 5