Create a quilt block each week while you participate in the Riley Blake Block Challenge. Each week a new, free quilt block tutorial will be shared. This week we are making Friendship Star Quilt Blocks. Keep reading to find out how to get the free pattern.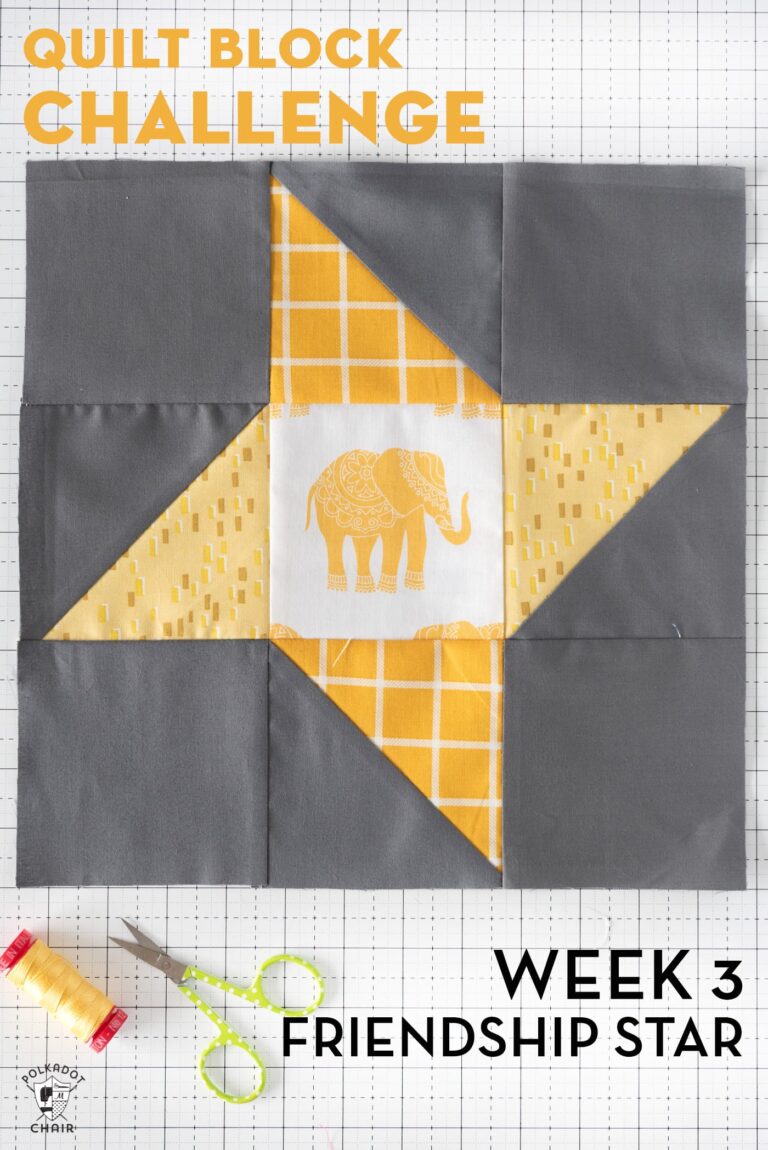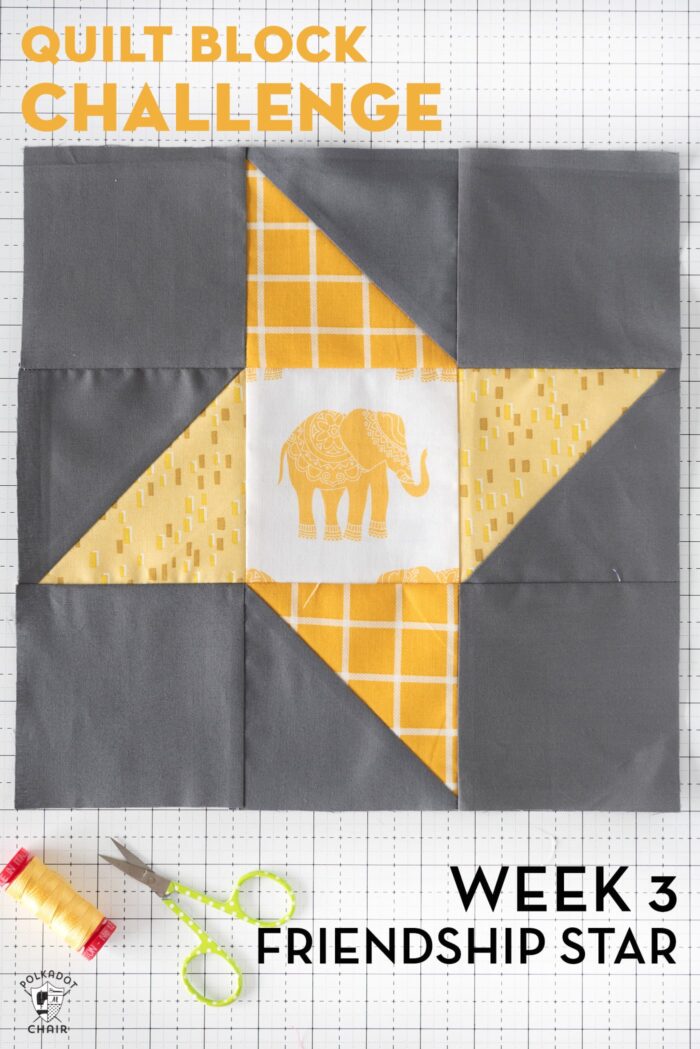 Jump to:
This week for the Riley Blake Quilt Block challenge the theme is Friendship Star quilt blocks.
What is a Friendship Star Block?
Friendship Star quilt blocks are a 9 patch quilt block made up of 4 half square triangles and 5 square pieces of fabric. The pieces are arranged to create a "star" when sewn together.
This quilt is turning out to be my "can't leave the house" project. It was an unexpected "add" to my to-make list but I'm really enjoying the project so far. For my quilt, I'm taking the "don't think too much" approach and trying to stick with my first instinct for the fabrics for the blocks. To be honest, even if I wanted to I probably couldn't think too much about it anyway. My attention span is negligible right now.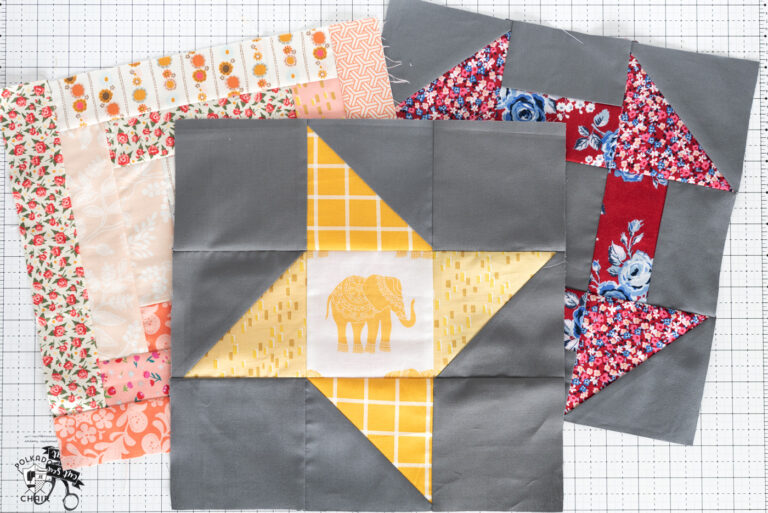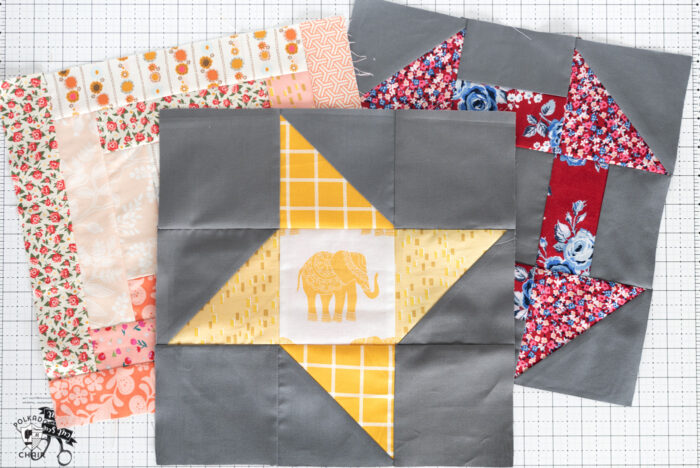 My quilt will have a rainbow theme. You can see the blocks I'm finished so far. Next week I'll sew my block with green fabrics. I love the symbolism of the rainbow and the promise of a fresh start with a new beginning. It seems appropriate for a project right now.
Where to Get the Friendship Star Block Tutorial
To play along visit the blog of a Riley Blake designer to get a free pattern for a 6″ and 12″ version of the block (Note: you will visit the blogs for the patterns, I will not be reposting their patterns here). Look for the link each week to the pattern. Then just sew the block. How you put the blocks into a quilt is up to you. I plan on sewing along with the challenge and will share with you how I completed my quilt at the end if you need ideas.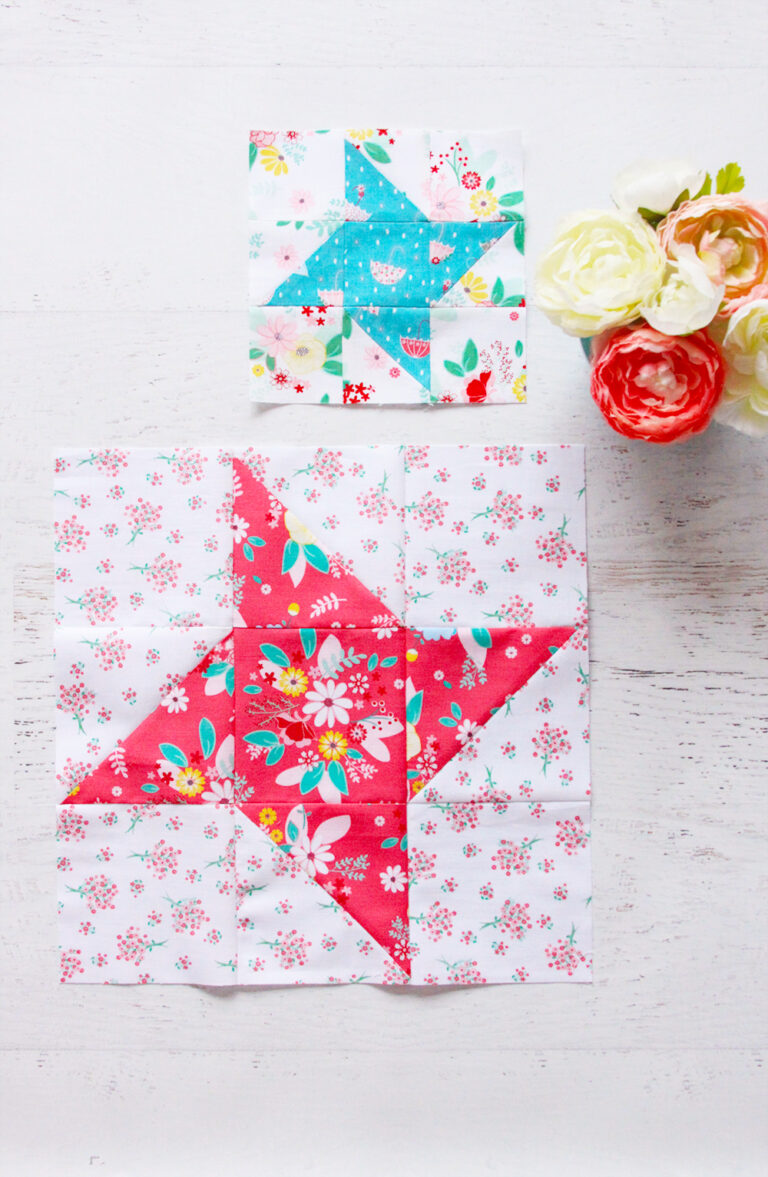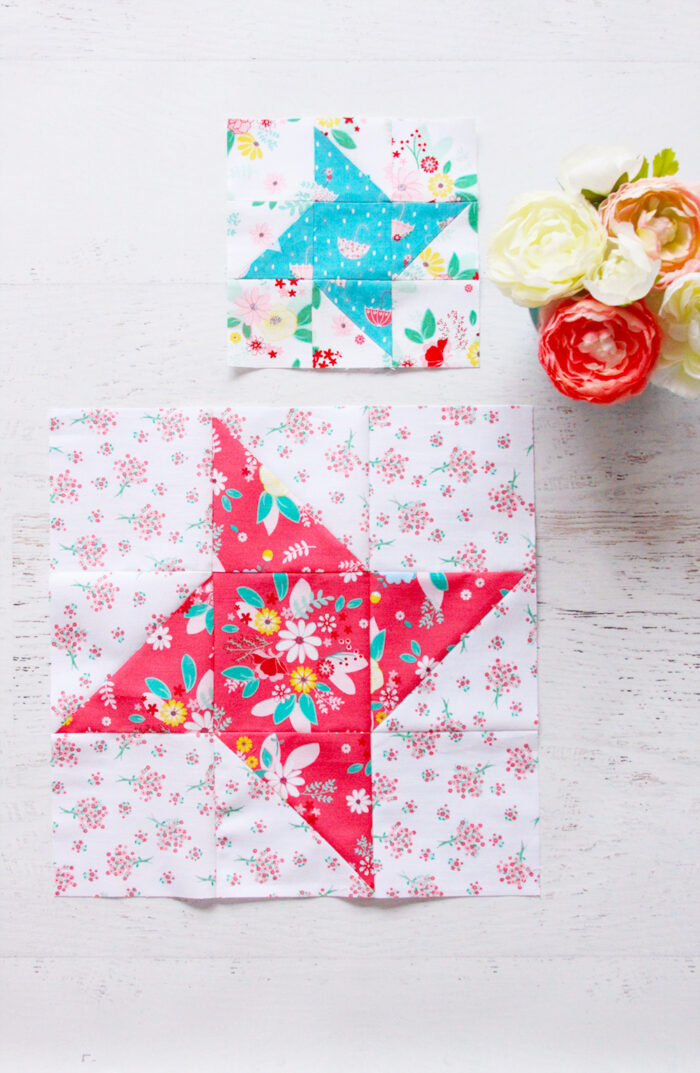 This week Bev of Flamingo Toes is sharing a tutorial for both a 6″ and 12″ Friendship Star quilt block (CLICK HERE). Just hop on over to her blog to get it. While you're there be sure to "poke" around a bit. Bev shares amazing tutorials and also has quilt patterns.
All the Quilt Block Tutorials in the Challenge
Each block is linked below. If there is not a link, it is because that week's tutorial has not been posted yet. The challenge runs for 12 weeks beginning in March.
How to Participate in the Challenge
You do not need to use the block tutorial I've mentioned in this blog post. You can use any quilt block tutorial that you like. Just make a block! If you have an Instagram be sure to share the block on Instagram with the #RBDblockchallenge. You can find me on Instgram too! I'm @polkadotchair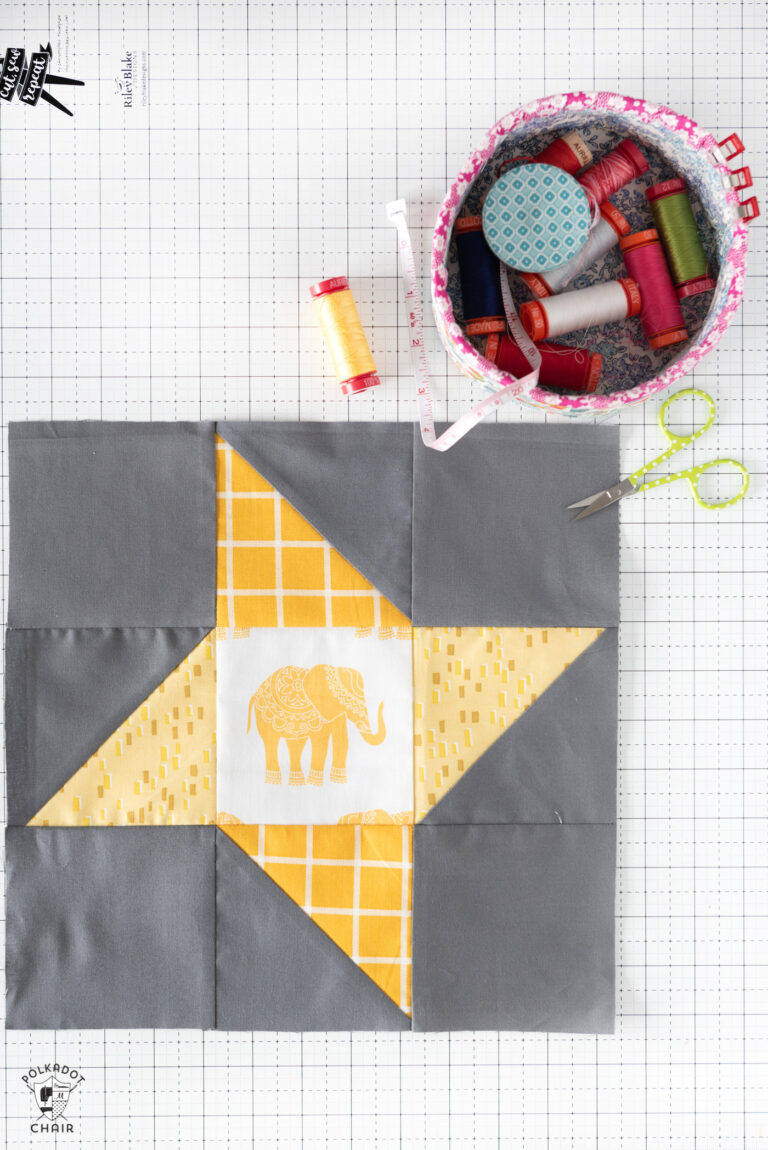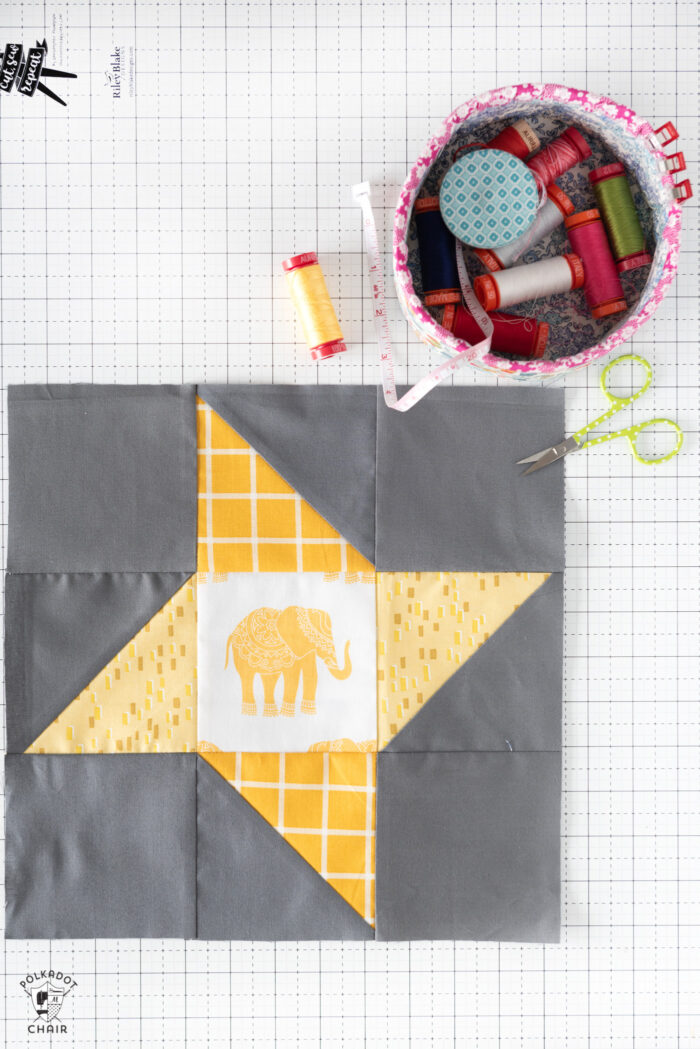 More Quilt Along's that you Might Enjoy
Choose Happiness 2020 Quilt Block of the Month