Who wants to make a fun Halloween Quilt?!? ??‍♀️If you're looking for a new Halloween quilting project then I invite you to participate in our Halloween Haberdashery Quilt Along. You'll make this fun Witch's Hat quilt and improve your quilting skills at the same time! Keep reading for more information about joining our quilt along.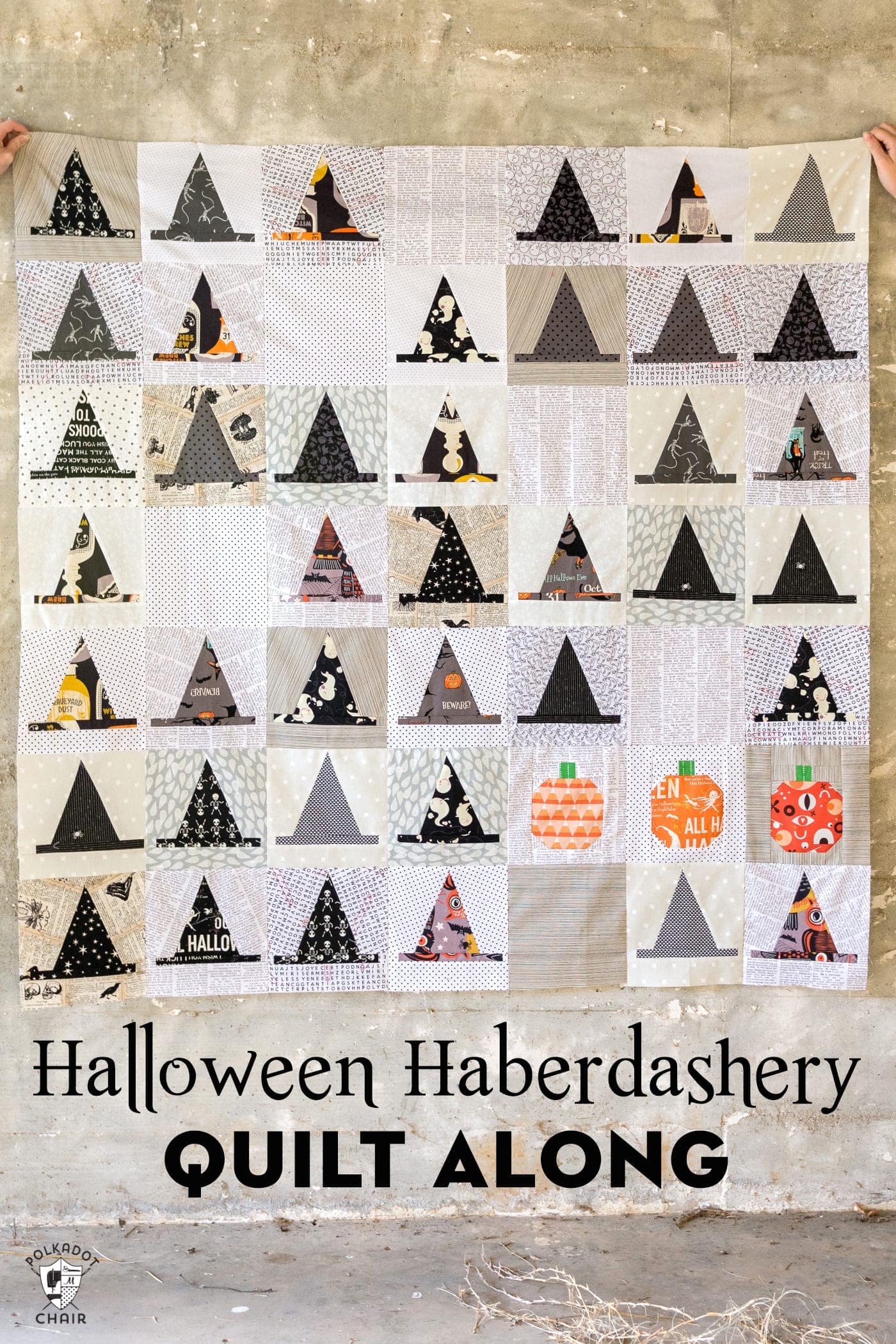 Today I'm really excited to share something with you that I've been working on for the last few months.  It's a Quilt Along for my Halloween Haberdashery Quilt!  The quilt pattern was released 3 years ago a few days before Halloween. Which is not great timing, I know. But when you get an idea you get an idea, and the idea for this quilt didn't come until the beginning of October that year.
The next year the quilt started to build steam and I loved stalking Instagram for all of your Halloween quilt creations. Thank you so much to everyone that tagged me in your Insta photos!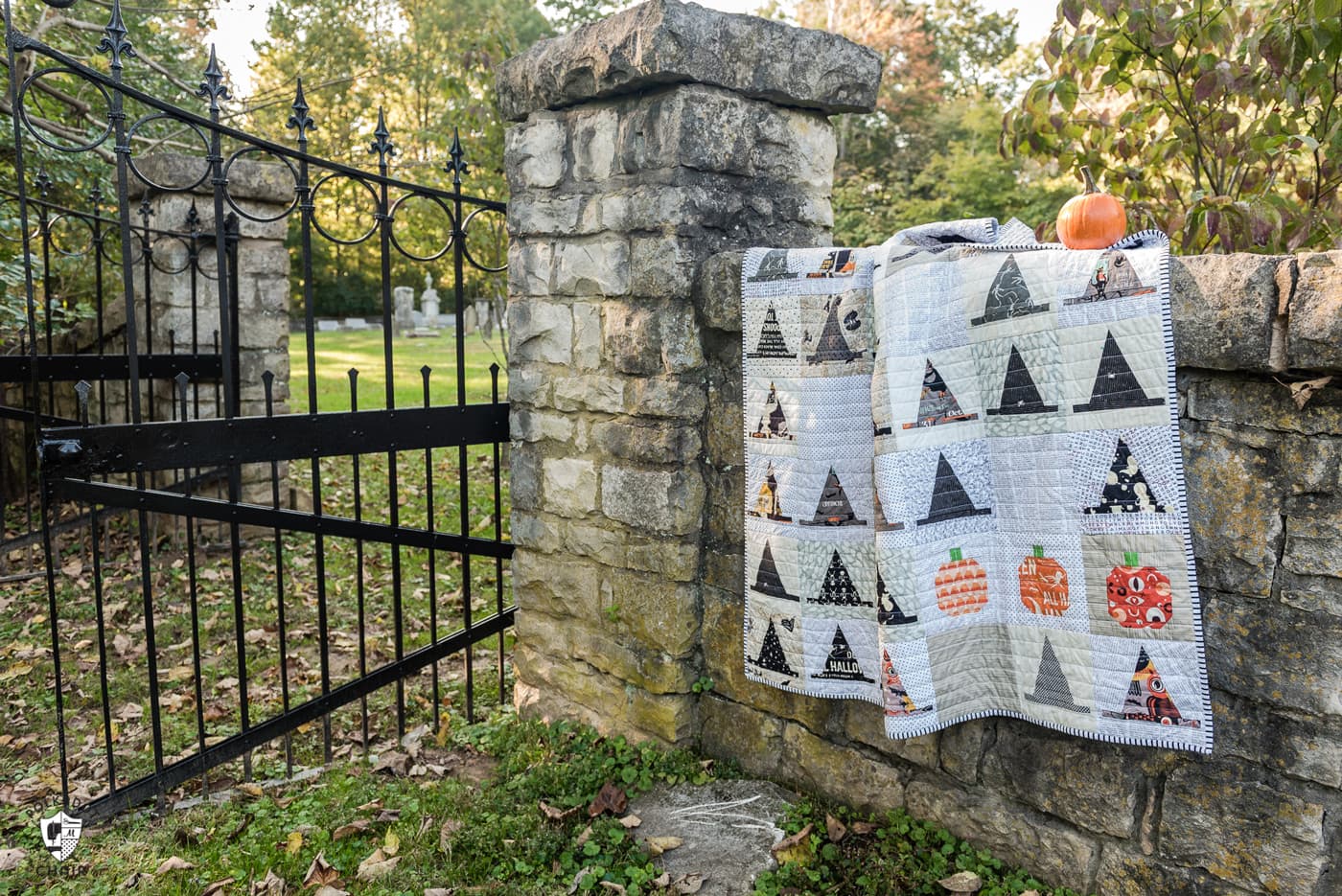 Last year we released a print version of the quilt as well and this year I'm excited to hold an official quilt along for the pattern.
Now that it's after Labor Day it's totally acceptable to start putting out Halloween decorations (in my humble opinion). I've been known to go a little bit crazy around Halloween. My kids always tease me about it, but I love the holiday!
Let's chat a little bit about the quilt.
Halloween Haberdashery Quilt, aka the Witch's Hat Quilt
The Halloween Haberdashery quilt measures approximately 53″ x 53″ when finished and is made up from a combination of witch hat, pumpkin, and "blank" blocks.  The blocks are all traditionally pieced (although we now have an FPP version available too).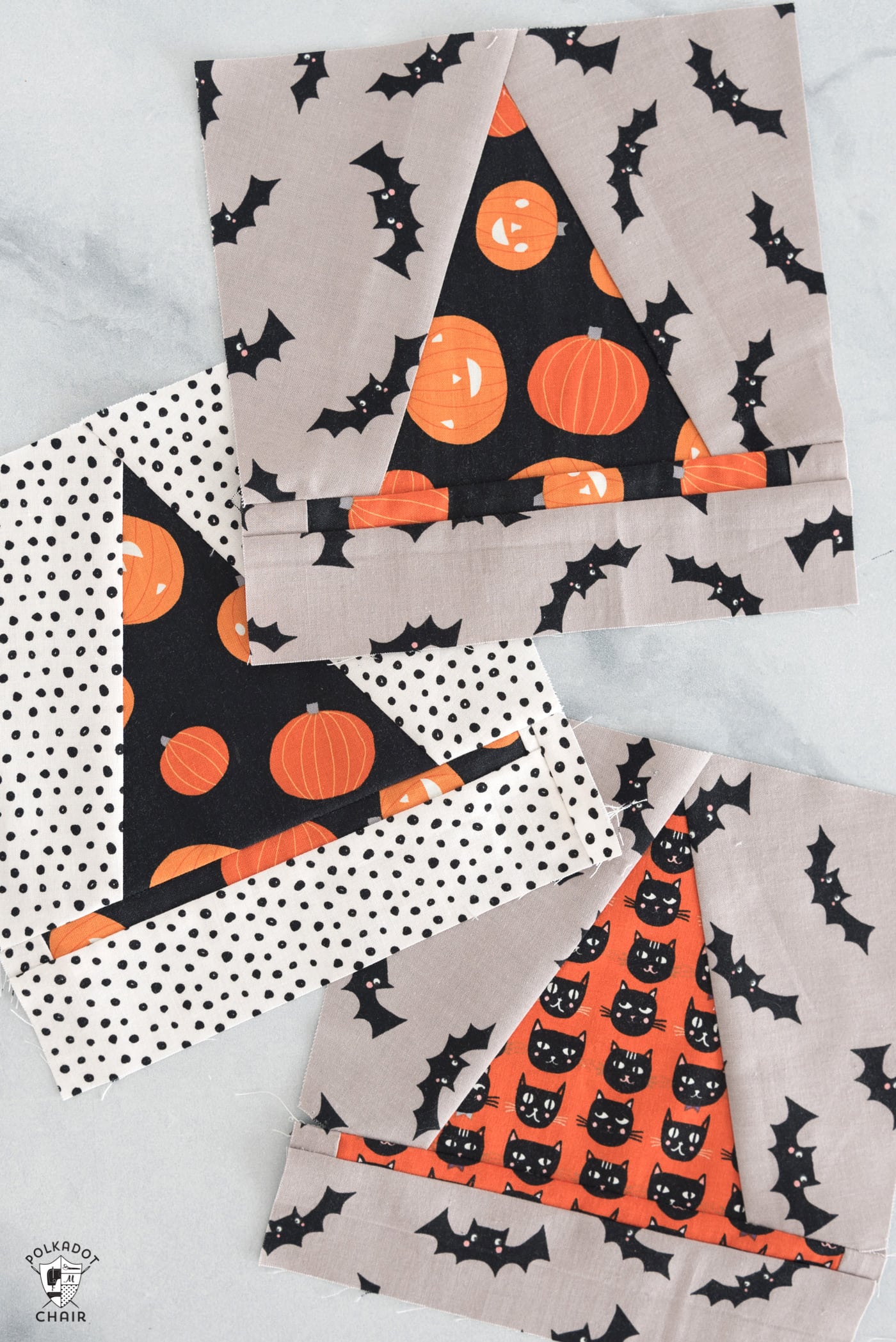 The witch hat blocks are made up of a pretty big piece of fabric and because of that are a really fun way to show off all of those novelty Halloween fabrics that you've been hoarding.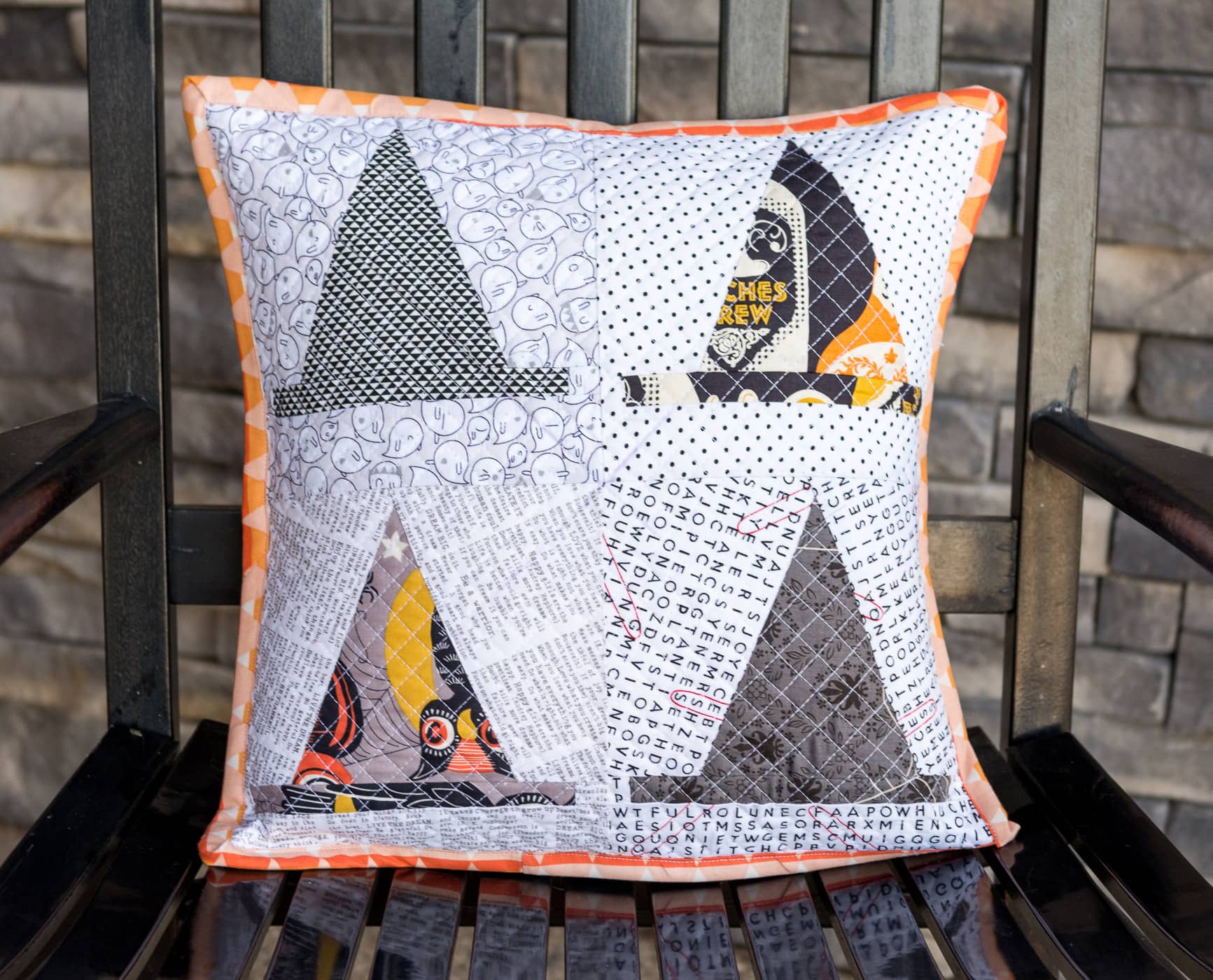 If you're not in for making the entire quilt, you can make fewer blocks and turn them into a pillow, table runner or table topper. We will chat more about other block options in another post.
This quilt is not a beginner quilt, but it's not really advanced either. If you're good with keeping your seam allowances at ¼″ and are careful with your pressing an advanced beginner could tackle it easily.
The pattern has step by step photos so it's a good one to tackle if you're wanting to move a bit beyond just "squares" when it comes to quilt making.  I will say that the Foundation Paper Piecing (FPP) pattern version of the block is a beginner FPP pattern. So if you're new to that you'll be fine.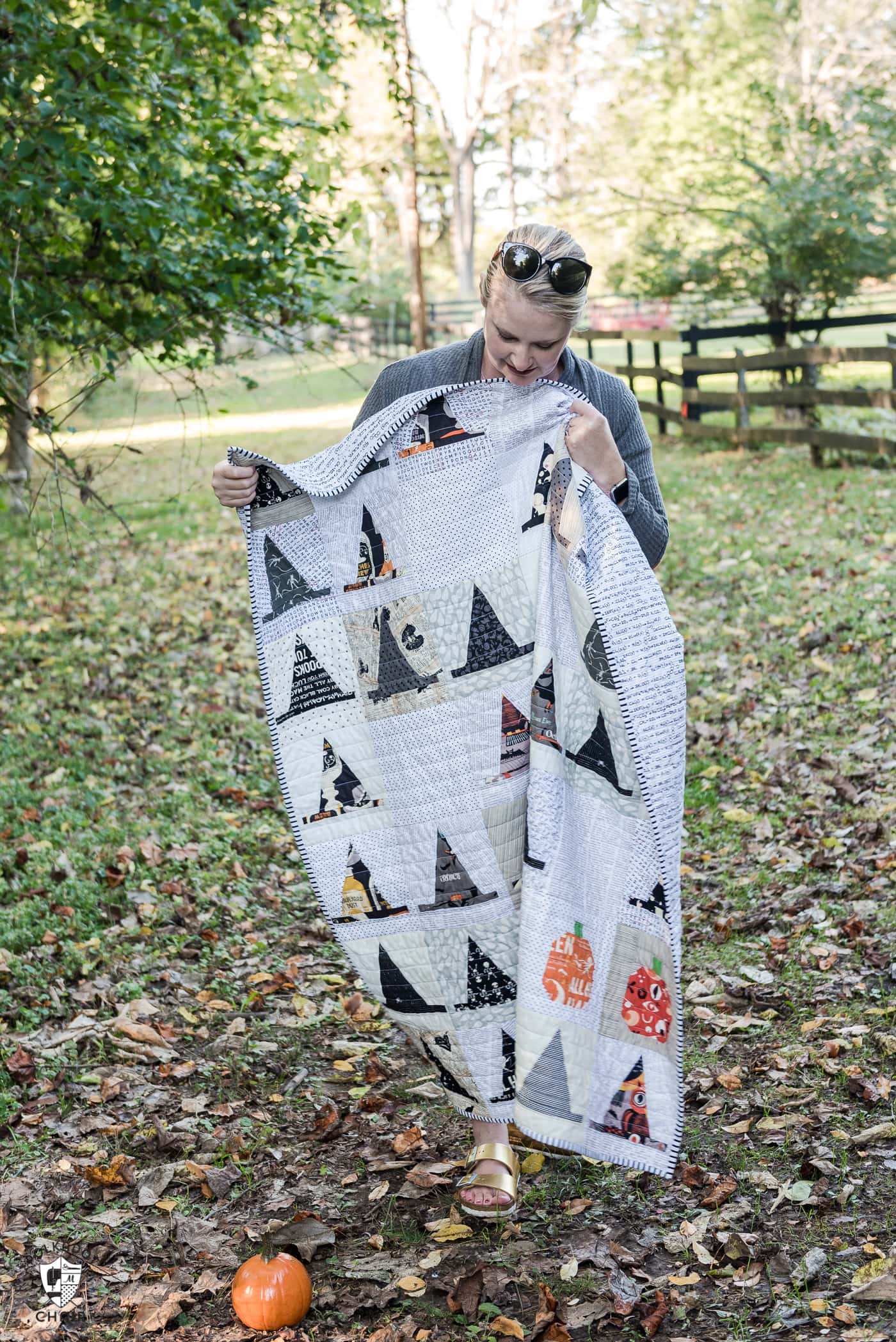 How to Follow Along with the Halloween Quilt Along:
All of the quilt along steps and tips will be posted here on the blog. There is nothing to "sign up" for.  You can also subscribe to my newsletter (link at the very top) to get weekly emails letting you know what new projects have been posted!
Also, follow me on Instagram as I'll be doing quite a few InstaStories as we go giving you a bit more of the 'behind the scenes' of the quilt along. There is just more I can share in a video on Instagram than here in text.
Also if you participate make sure you tag me @polkadotchair and use the hashtag #HalloweenHaberdashery so everyone can see your creations. (Also, if you share on Instagram and have a private account, your hashtag won't show up in the search)
Halloween Quilt Along Supplies:
So let's chat about what you'll need to make your quilt!
The Pattern:
You will need the pattern. You can buy it in my shop. There is a PDF version and a Paper version.
The paper version gets mailed to you. You can use the code FREESHIP until September 14 to get the paper pattern shipped for free (and any other paper pattern you've got your eye on).
The digital PDF version will be sent to you as soon as you complete your purchase. If you are outside of the US you need to use Etsy due to international tax issues.  (you can find it on Etsy here).

Many shops are also stocking the pattern, so check your local quilt shop! Many of them also have kits available.

The Halloween Fabric:
This quilt is meant to be scrappy.  Here are the MINIMUM fabric requirements. I recommend you use more fabric prints that recommended. But you need to know how much to buy:
6 Fat Quarters for the Witches Hat (you can get 7 witches hat block pieces from one fat quarter)
20 Fat Quarters for the Background of the Witch Hat, Pumpkin Blocks
2 Fat Quarters for the "Blank" blocks- these measure 8″ x 8″
1-3 Fat Quarters for the Pumpkins
Scraps of Green fabric for Pumpkin Stems
Binding: ½ Yard
Backing: 3 ½″ Yards
Notions: Template Plastic or 5″ x 6″ Isocoles Triangle Quilt Ruler or Die Cut
Quilt Along Dates:
Ok, let's talk schedule. If you're participating the only thing you need to do is to start gathering fabric. We won't start cutting until next Friday, and you'll have 3 weeks after that to make your blocks. So plenty of time, if you don't have all your fabrics by the 14th.
September 14th: Cutting Tips
September 21st: Block Piecing Tips
October 5th: Ghost Block Free Tutorial
October 12th: Finishing & Other Options for using the Blocks
This will leave you enough time to quilt your quilt before Halloween. You can, of course, work ahead if you'd like more time to complete the quilting section. I quilted straight lines on my home machine which only took an afternoon.
Each week, I'll pop in and offer you information and tips for completing that step of the quilt along. I've also got a few fun "extras" planned as you can see!
Ghost Quilt Blocks: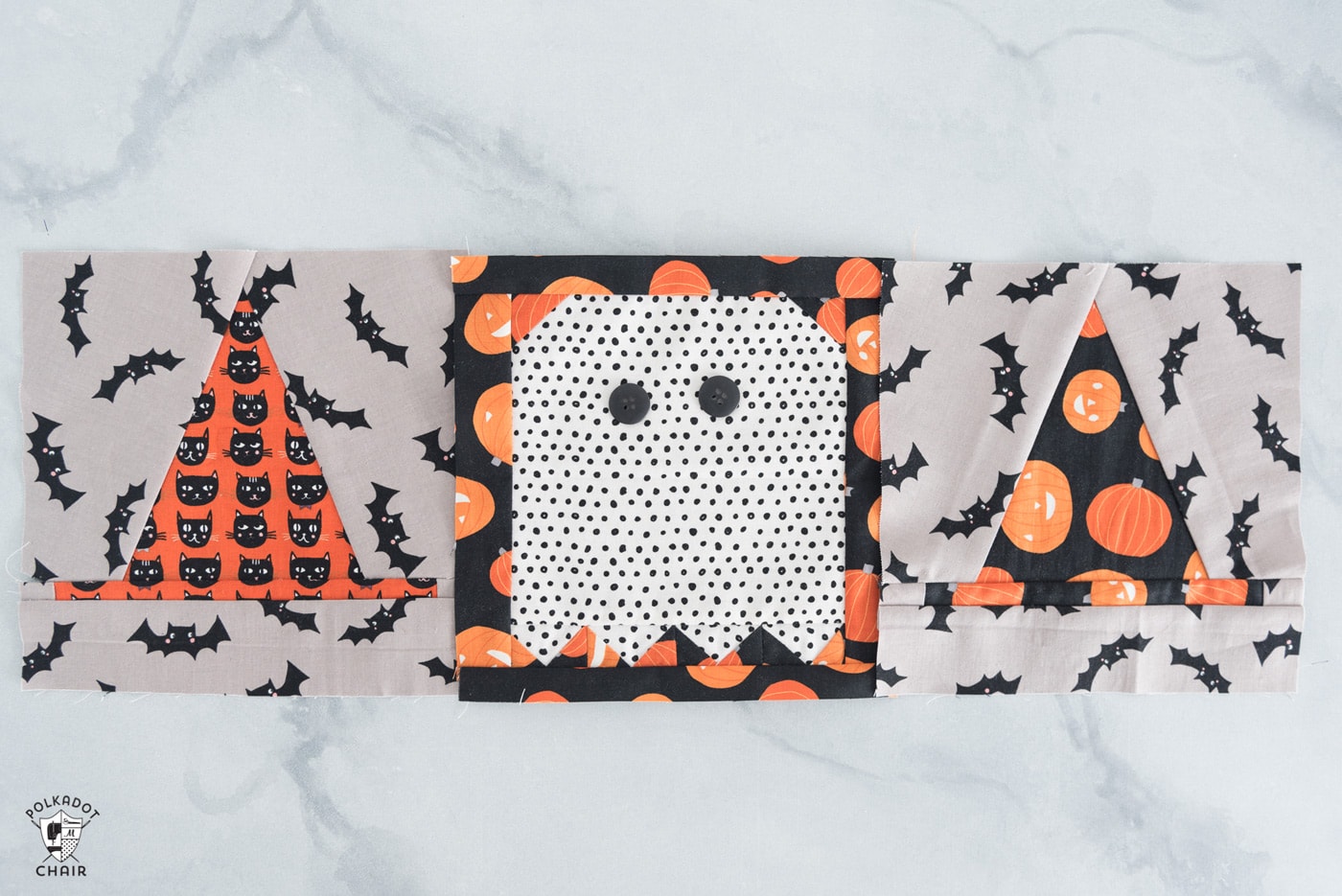 This year I'm so excited to be offering you another Halloween "icon" for the quilt.  You can tell I'm a child of the 80's because this Ghost Quilt Block is totally inspired by Pac Man!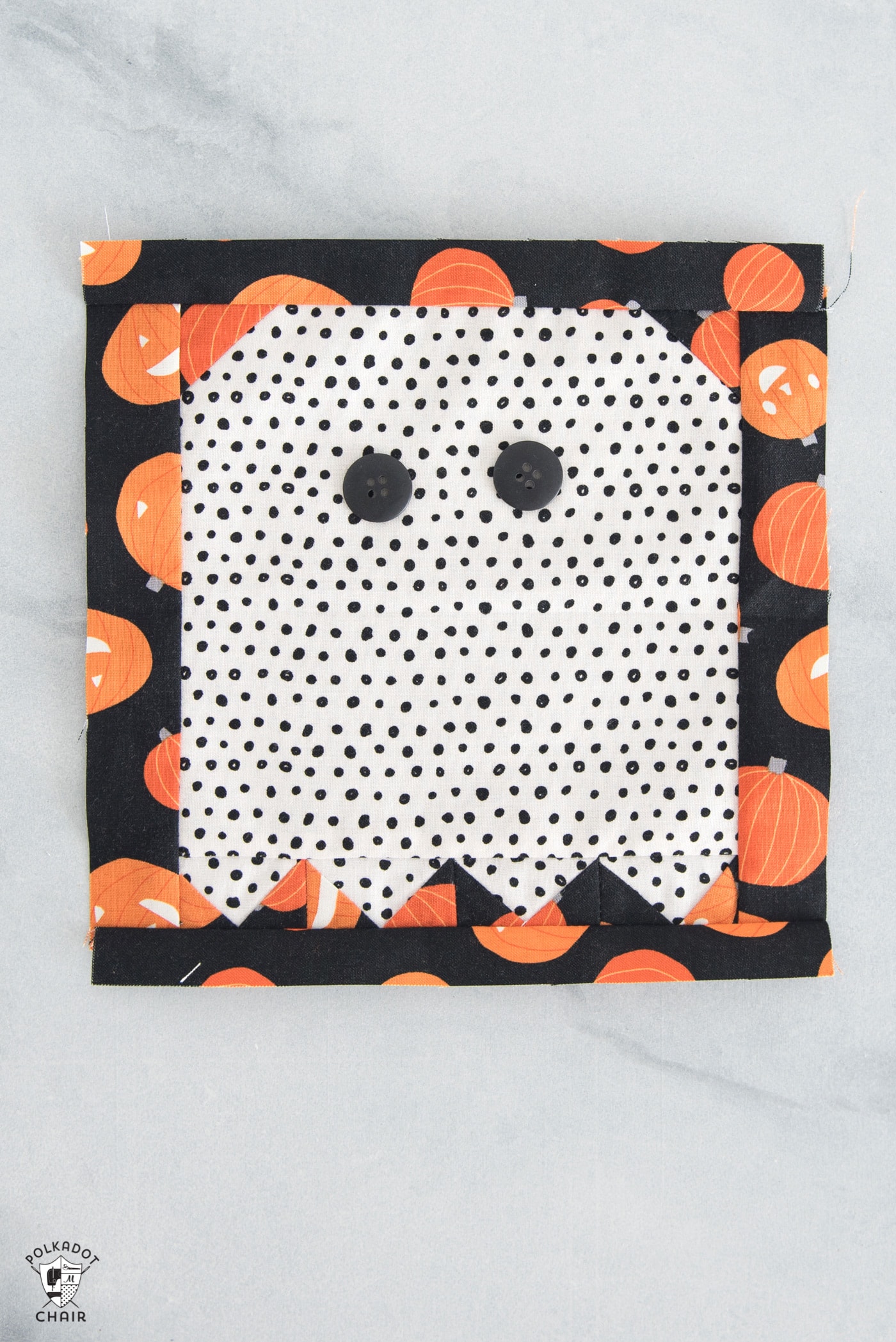 I stitched up this block last week and was so happy with how it turned out.  I think I need a version with a bow for "miss Pac Man" *wink*.  The block is pretty simple to piece, the bottom triangles are a bit fussy but doable.
Instead of over-complicating the block to make pieced eyes, the eyes are buttons that you can easily sew on at the end. If you intend to wash your quilt just make sure you buy apparel buttons since they can be put through the washing machine. (Some decorative buttons don't hold up well to washing).
The pattern for the Ghost will be free and will be on the site on Frida,y October 5th. If you want to incorporate a few of the Ghost blocks into your quilt, just plan where you want them to be and hold off on making those blocks. Personally, I'd recommend swapping out some of the blank blocks for Ghost blocks.
Picking Fabric For Quilt: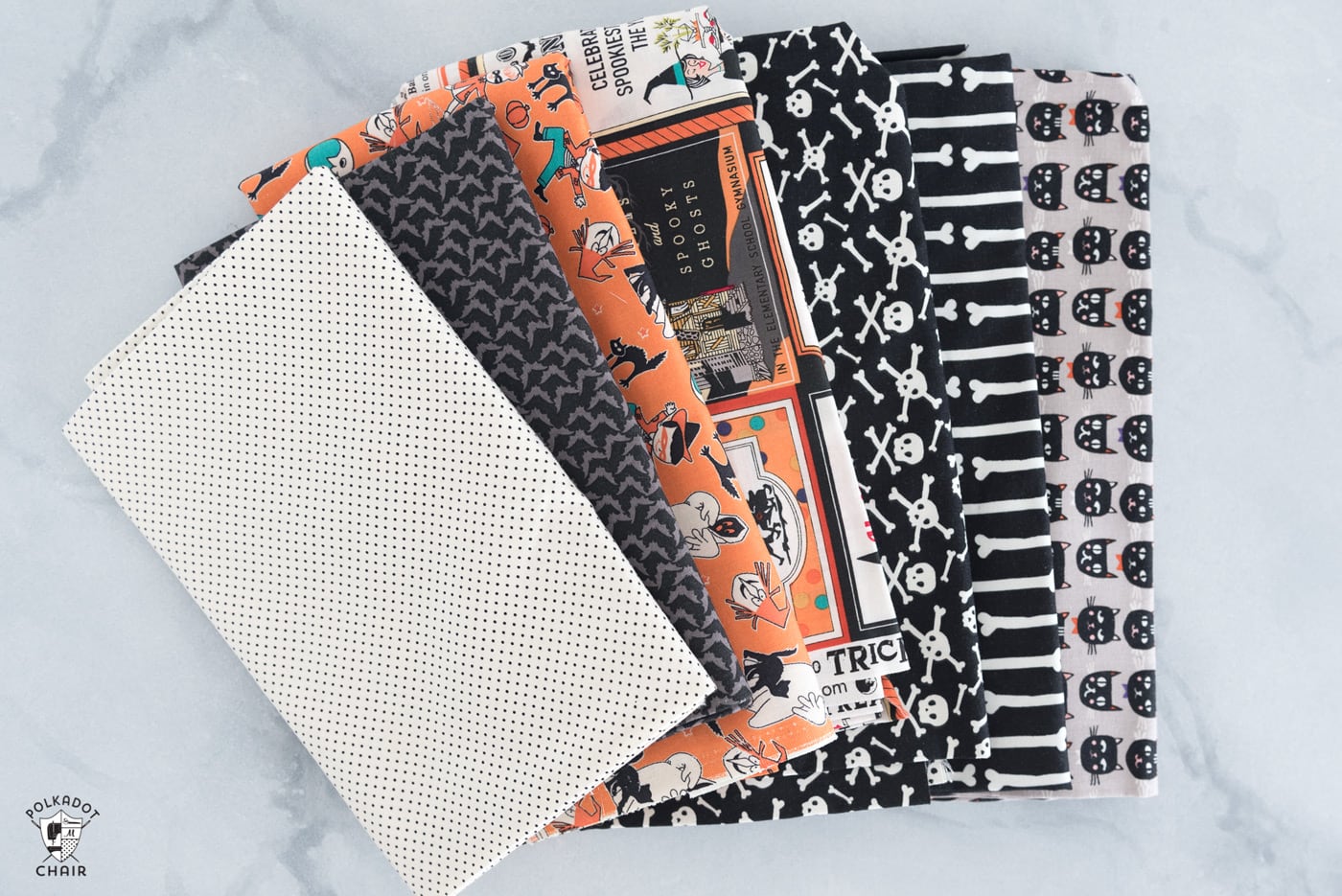 There are a few different ways you can go about picking out your fabric for this quilt. The first one is to do like I did and make all of the backgrounds from varying low volume prints and the Witch's Hats from brighter prints. I actually stuck to mostly blacks.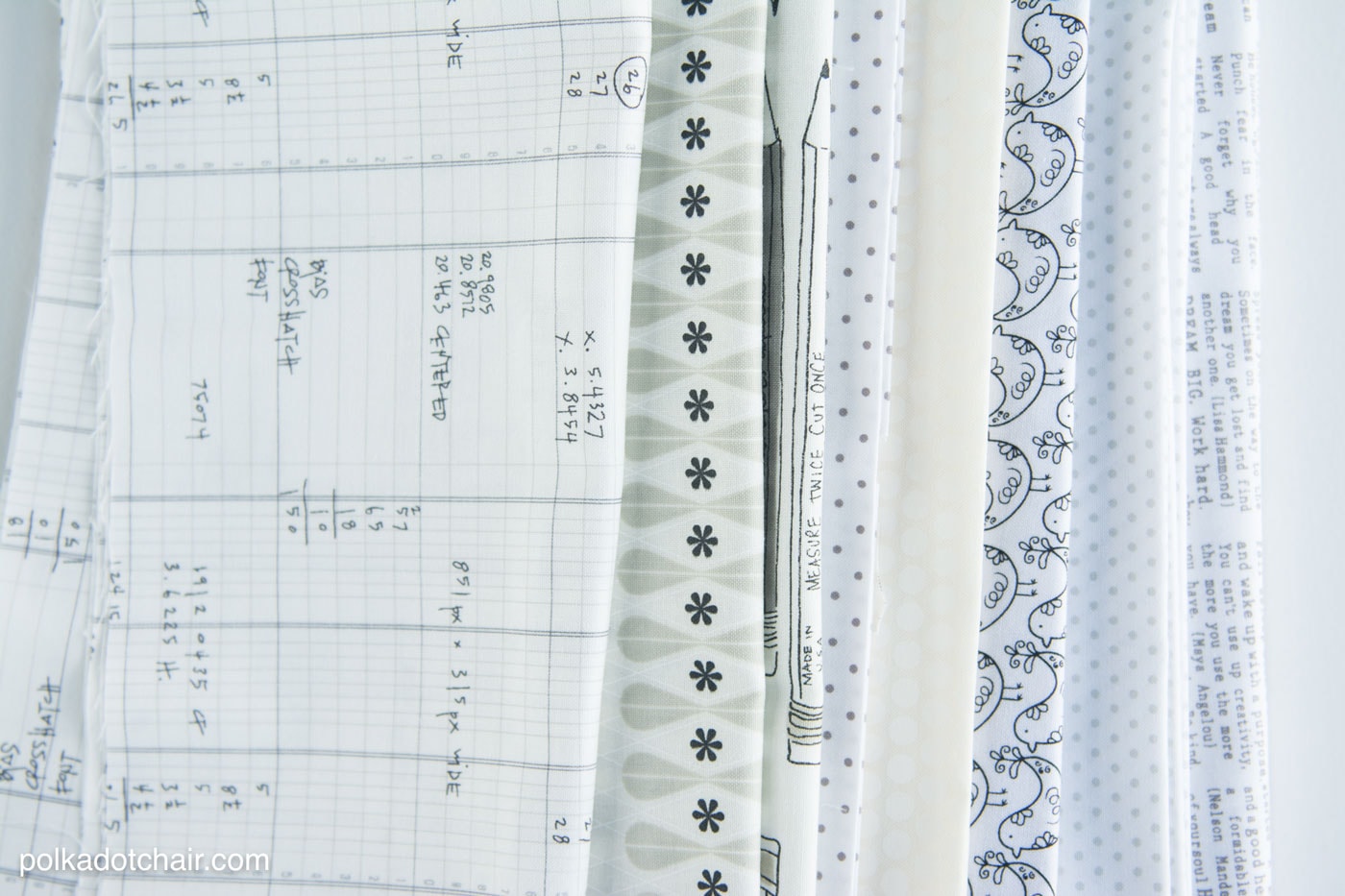 Above you'll see a bit of a sampling of some low volume fabrics. They are fabrics that from far away "read" as white or solid. They don't carry much visual weight but the pattern gives a bit of texture.
You can also make this quilt with an all solid background. A nice gray would be so cute!
The other option is to make it completely scrappy and choose all different fabrics for your block and backgrounds.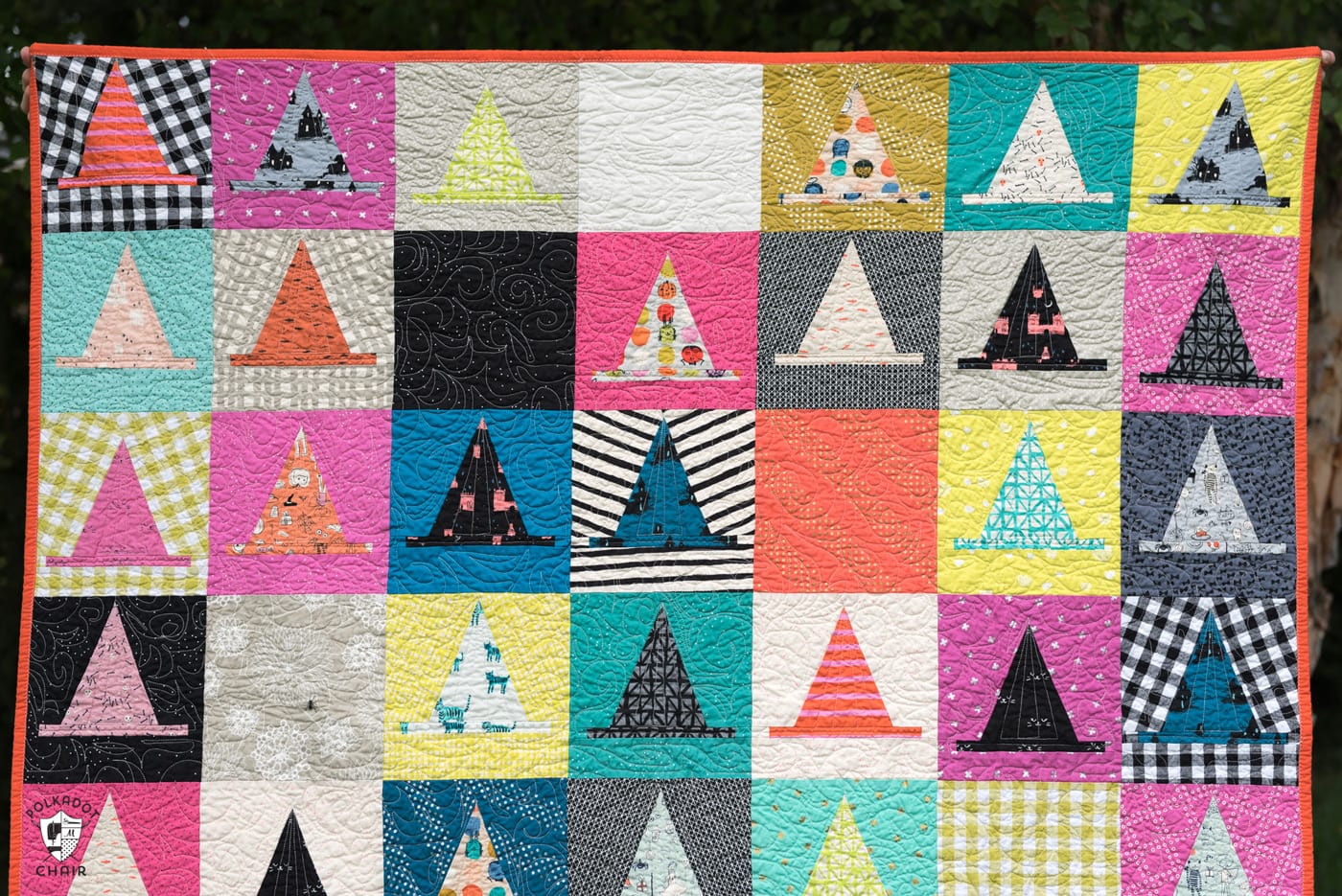 Quilt by Erin Harris of House on Hill Road
If you go this way the advice I would give you is to make sure that your Witch Hat and Background fabric have a lot of contrast. So they need to be colors that stand out from each other, or one needs to be dark and the other light. Otherwise, you'll lose your witch hats in the blocks.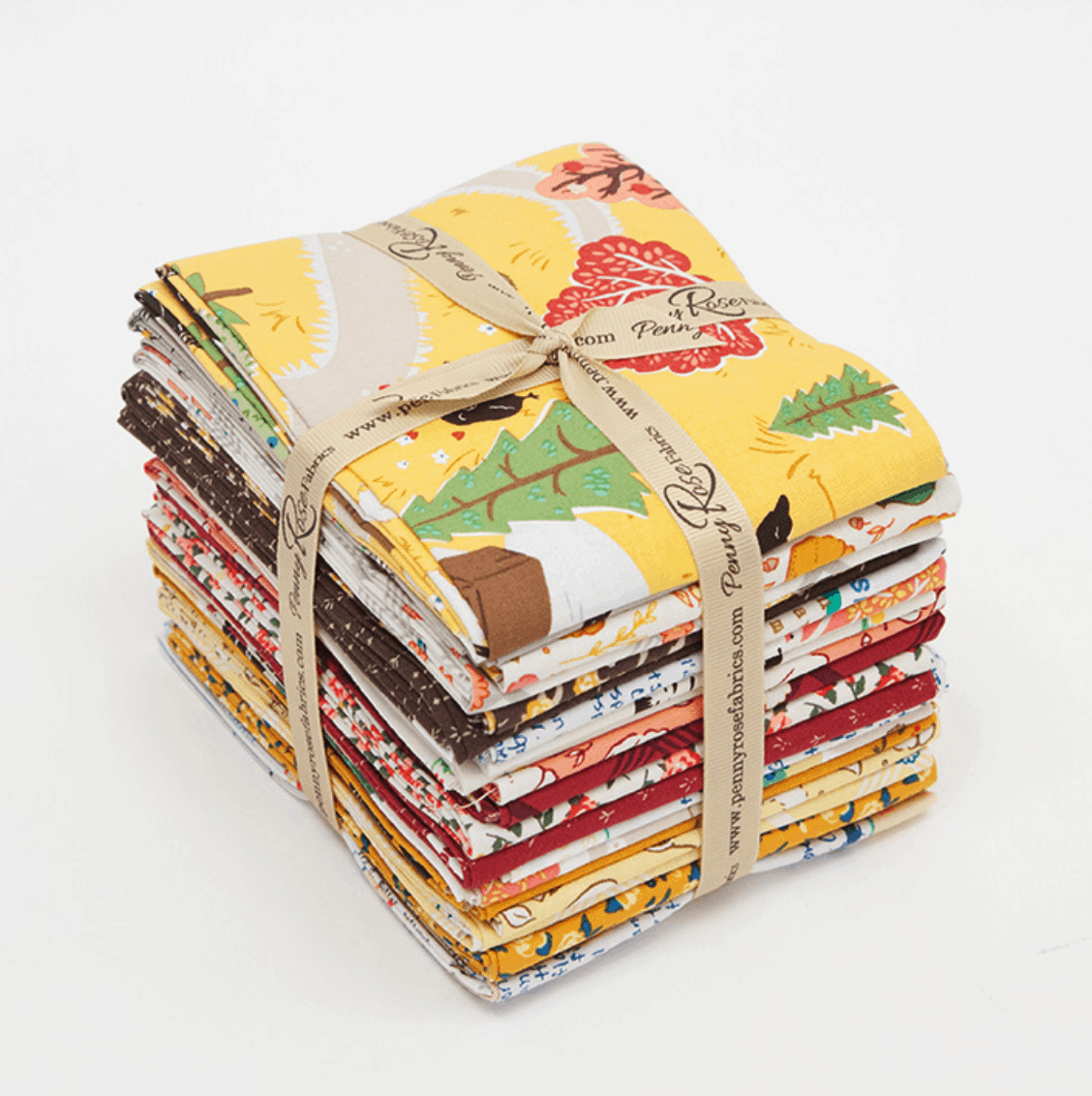 Calico Crow by Riley Blake Designs/Penny Rose – not a Halloween line, but a Fall one that would be adorable in this pattern
Since this quilt uses SO many fat quarters it's perfect for a fat quarter pack! There are so many cute ones offered for Halloween that you should have no problem picking a cute one.
The nice thing about going that route is that the designer has already picked colors, prints, and scales of prints that go well together. So a bit of the guesswork is done for you.
The fabrics in my photos and blocks are almost all from the Cats, Bats & Jacks line by Riley Blake Designs. The fabrics in my actual quilt are a hodgepodge of 5 years of collecting Halloween fabrics. There's a bit of everything in there!
Foundation Paper Pieced Witch Hat Quilt Block: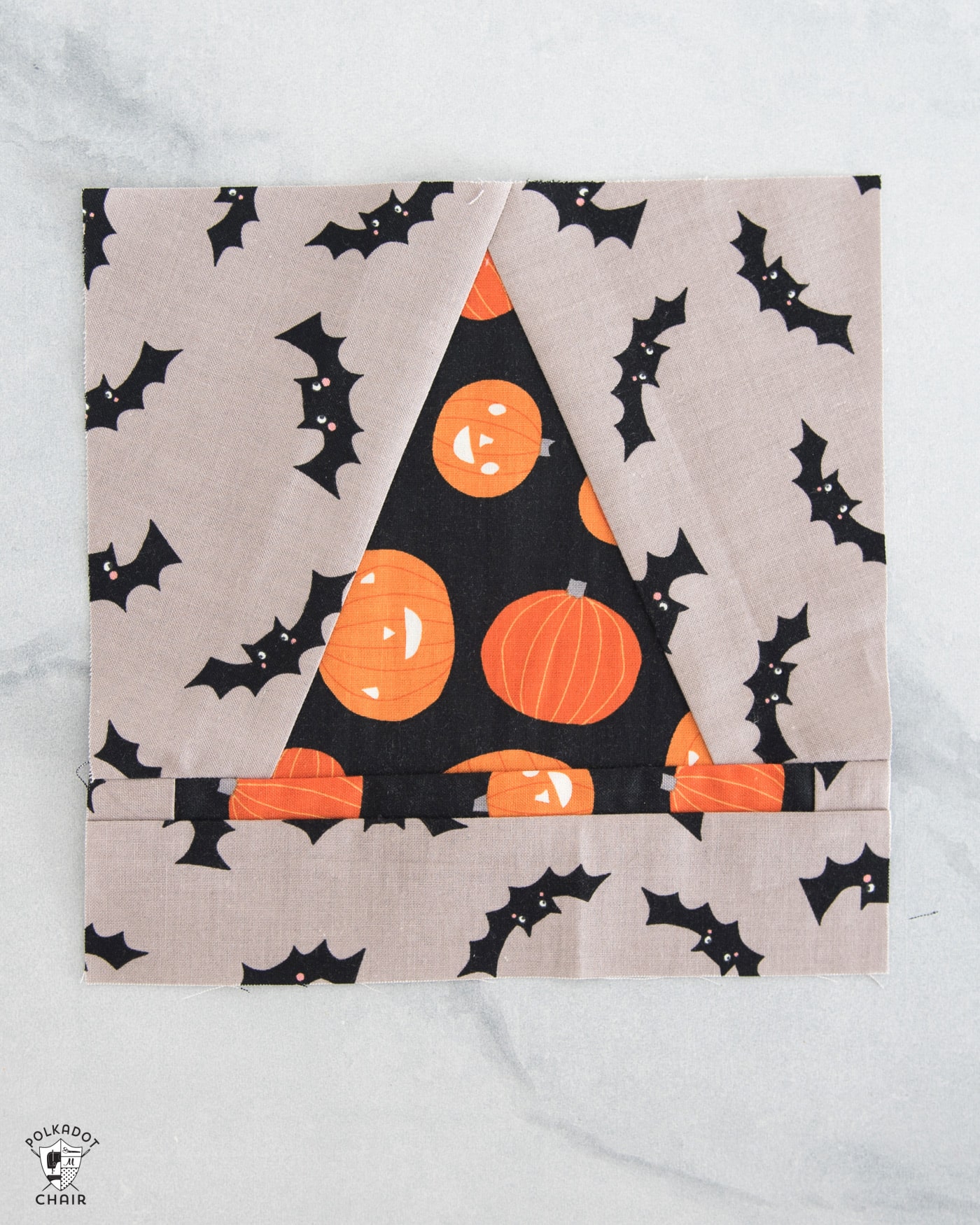 Just this year we are offering an expansion pack for the pattern that includes a Foundation Paper Pieced block! If you already bought your pattern no worries, because this is an expansion pack. It does not include the actual quilt pattern.
It does include the FPP pattern along with step by step photos of creating the block using FPP. If you want to make the FPP version of the quilt you'll need to buy both the FPP pattern and the Quilt Pattern.
You can find it in the shop as a PDF Digital Download.
More Quilt Inspiration and Options: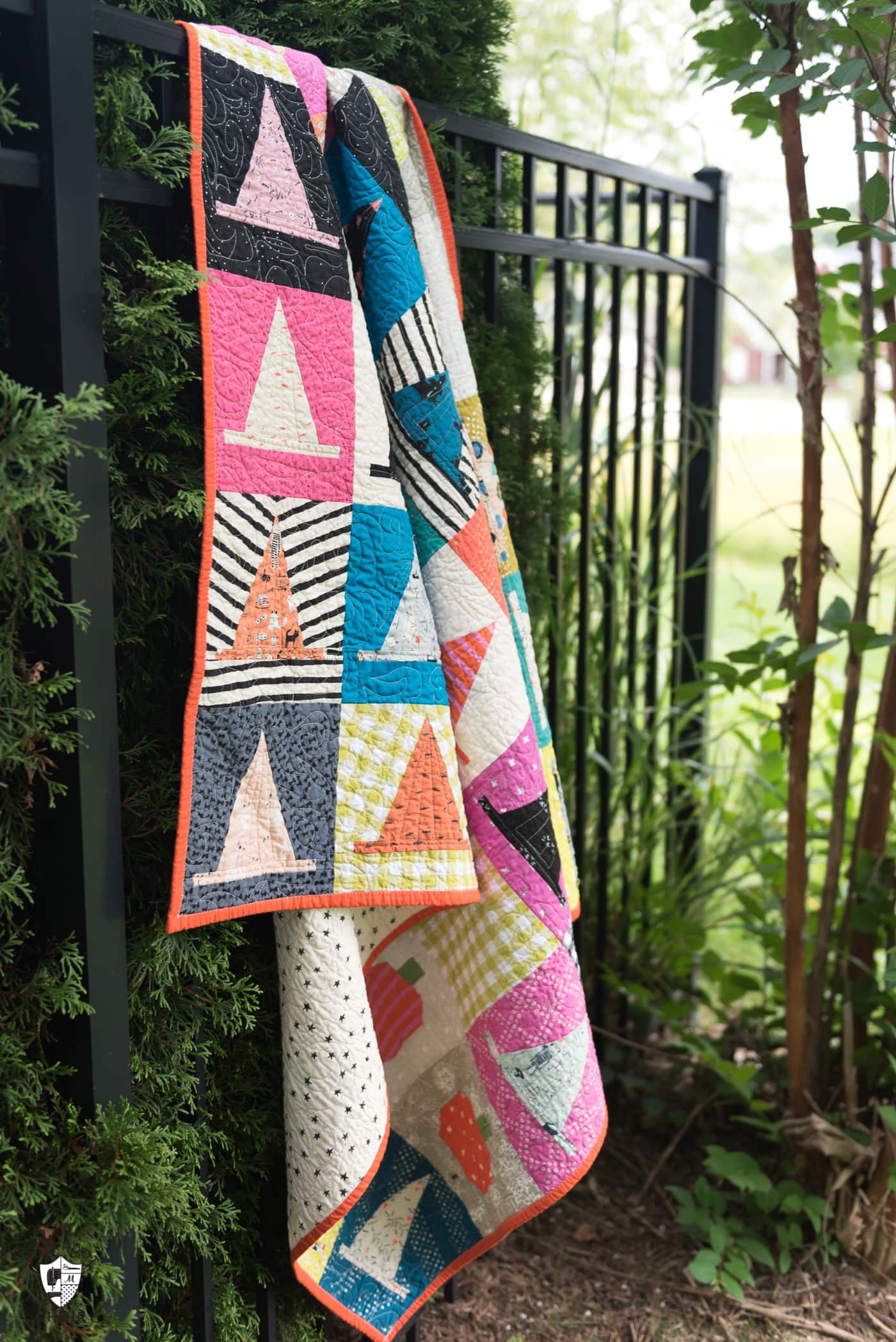 I shared a photo of it above, but my friend Erin of House on Hill Road made a version of this quilt last year that I just love. Instead of going for the traditional black, white and orange Halloween color scheme she made hers bright!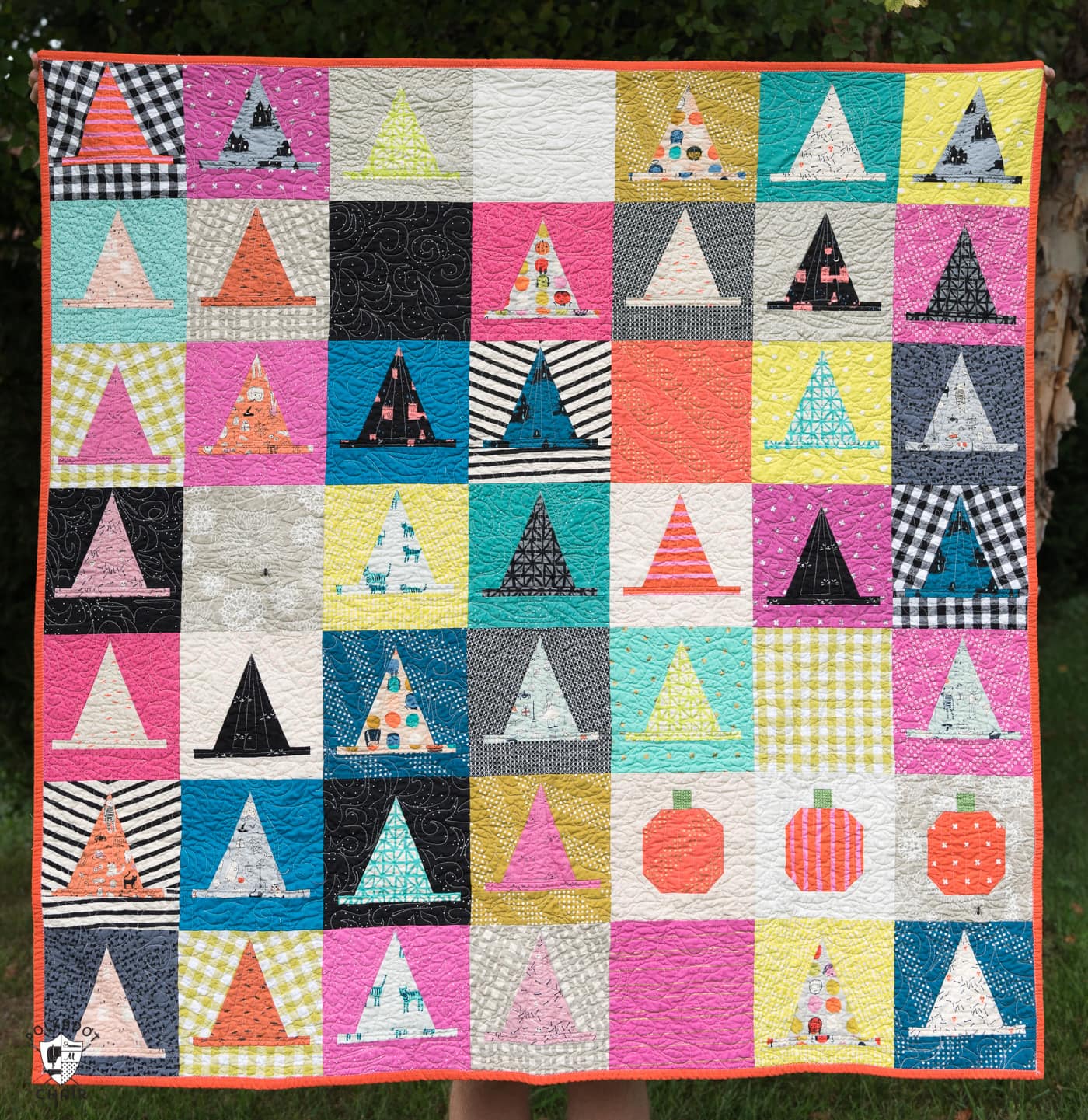 Her witch's hats are all different colors (besides black) and she used a variety of colors and prints for the background. There are so many ways to go with this and I can not wait to see what you guys come up with for your quilts!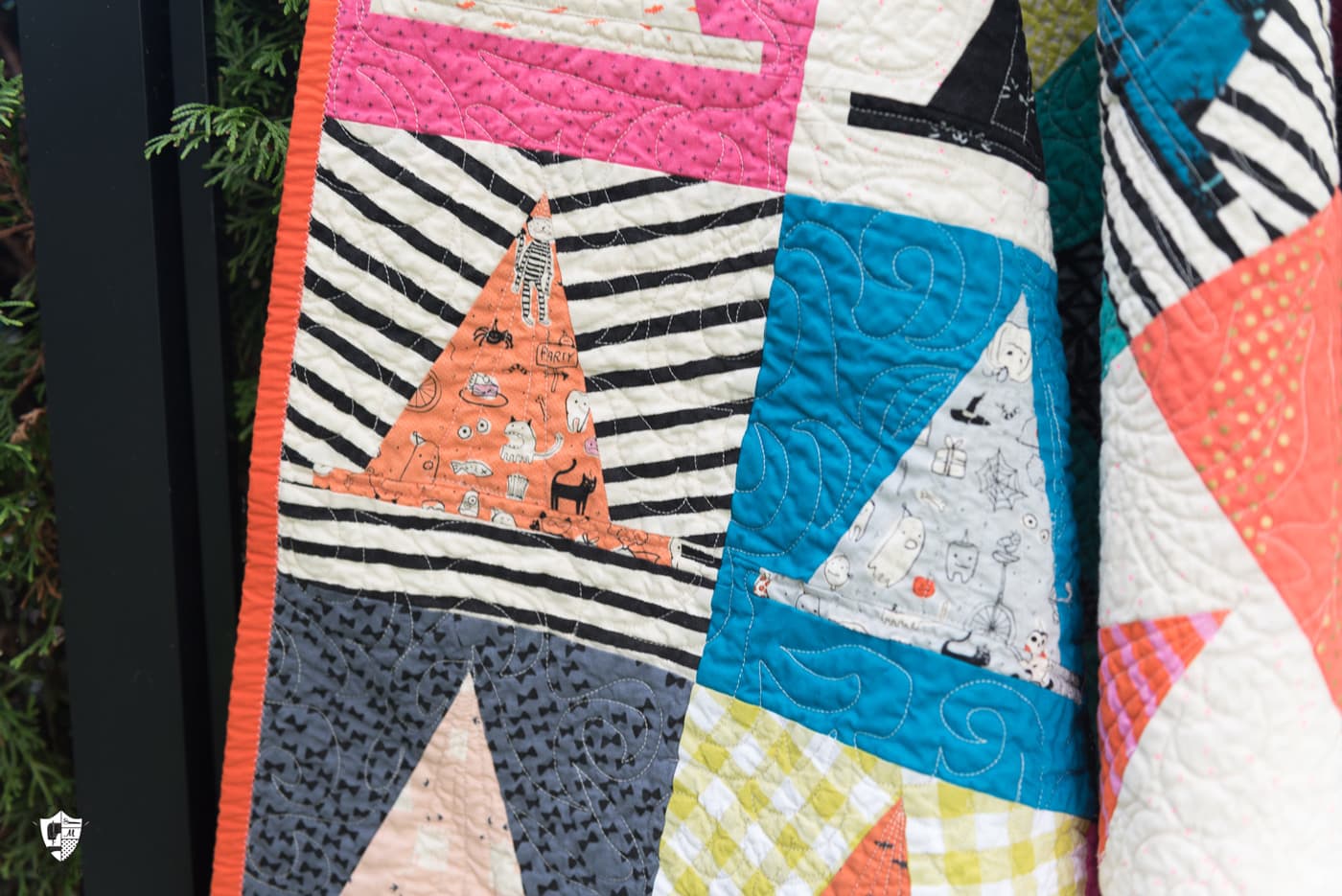 If you take a look at the #HalloweenHaberdashery quilt hashtag on Instagram you can see even more of the finished quilts.  If you have any questions be sure to leave them in the comments section and I'll get to them as quick as I can!
Other Quilting Projects You May Like:
Tips & Tricks for Picking Fabric for a Quilt
Scrappy Strips Baby Quilt Pattern