Have you ever wanted to make a gingham quilt? Then you might like my Gingham Daydream Quilt Pattern. It's a fun, scrappy take on a simple gingham quilt. It has recently been updated to include more quilt sizes!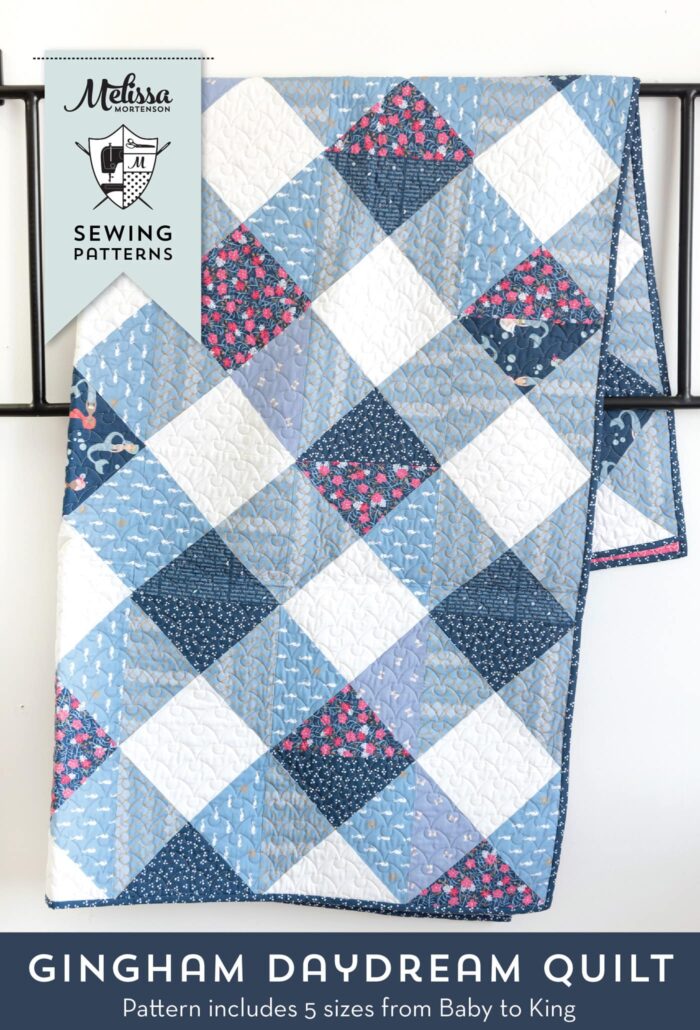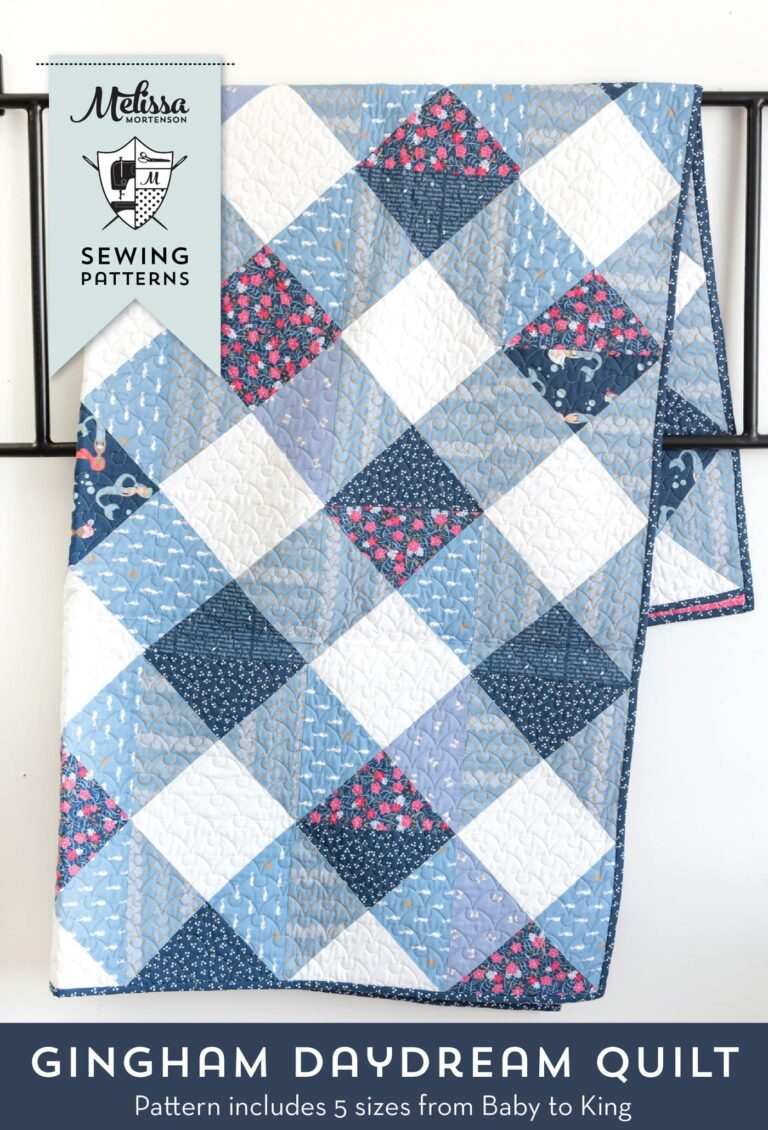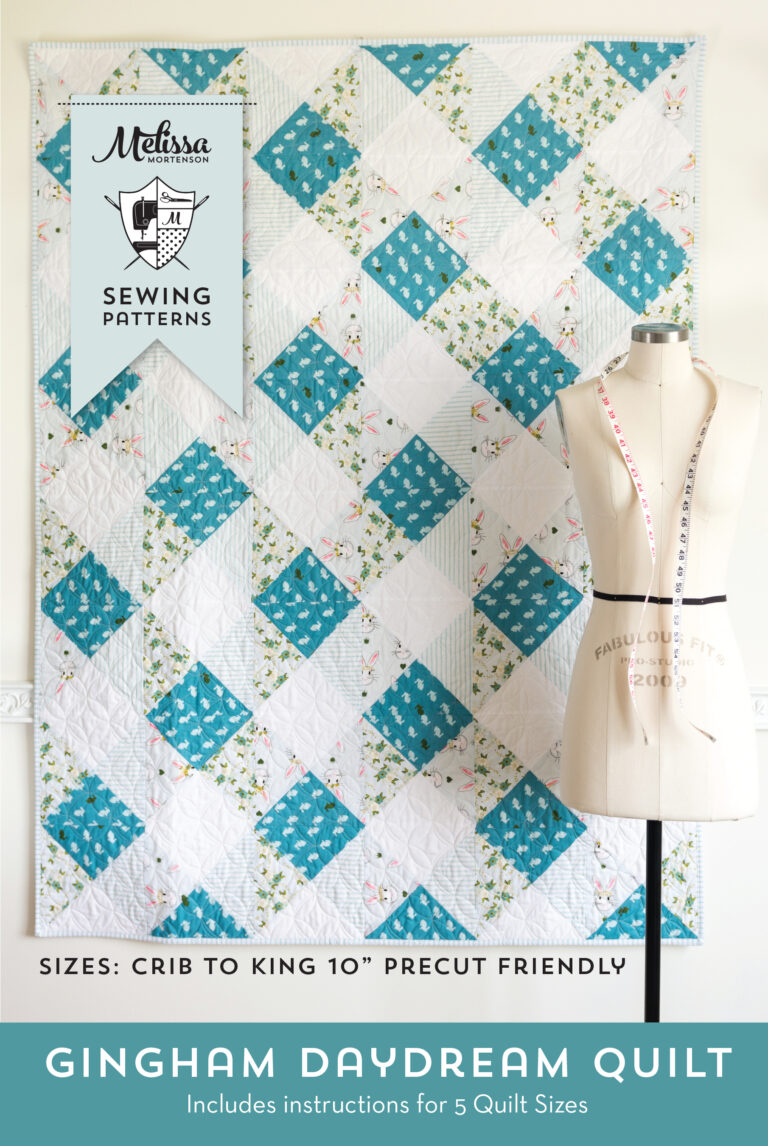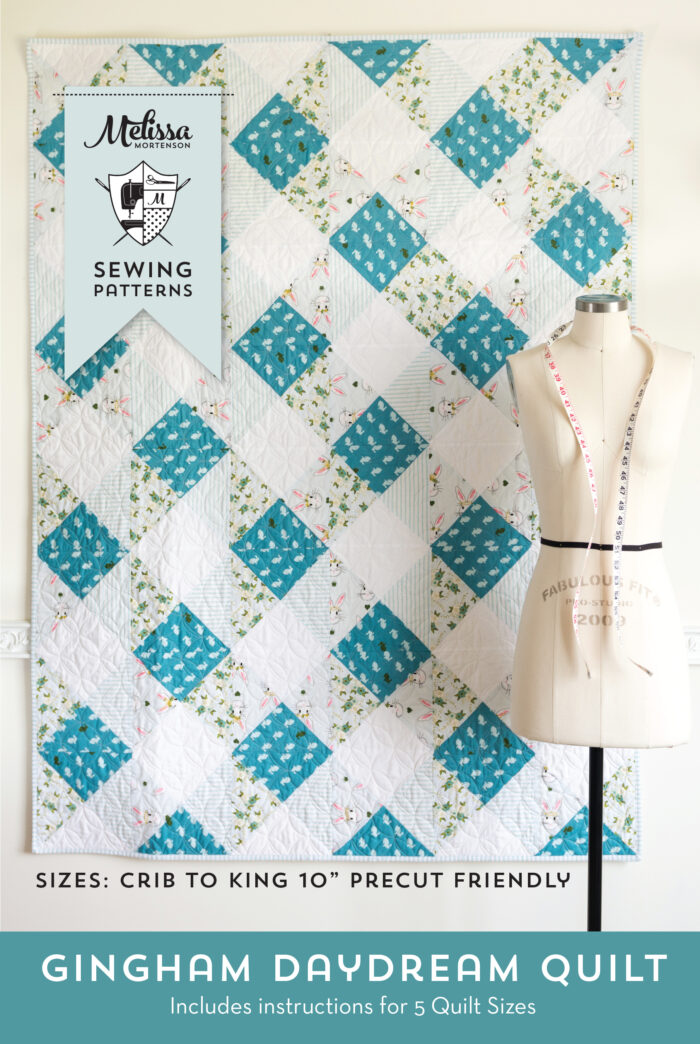 Table of Contents
A little while ago, I decided I needed to stop "reinventing" the wheel over and over again. I realized that I have over 10 years' worth of content here, and a lot of it still had a lot more "life" in it.  Although I do have to say that some of the old stuff I now think is quite cringe-worthy. All I have to say is, you can tell when I "figured out" my camera. The photos got a lot better, LOL!
As a fabric designer, I'm tasked with creating so many samples for upcoming fabric lines.  Most of the time, I'm working with fabric that won't be out until several months (if not a year) later.  To be honest,  at times, I feel that I use all my "ideas" coming up with the fabric line. By the time it comes to making stuff with it, I'm kind of brain dead, LOL!
Navy & White Gingham Quilt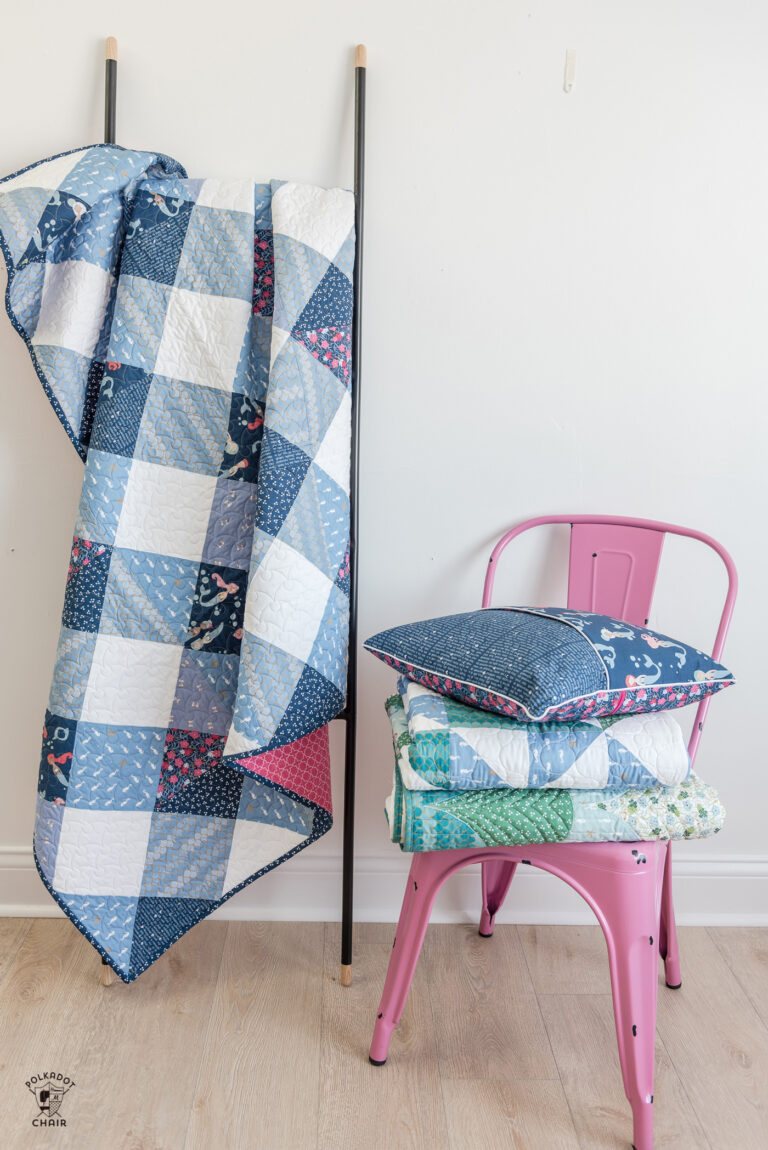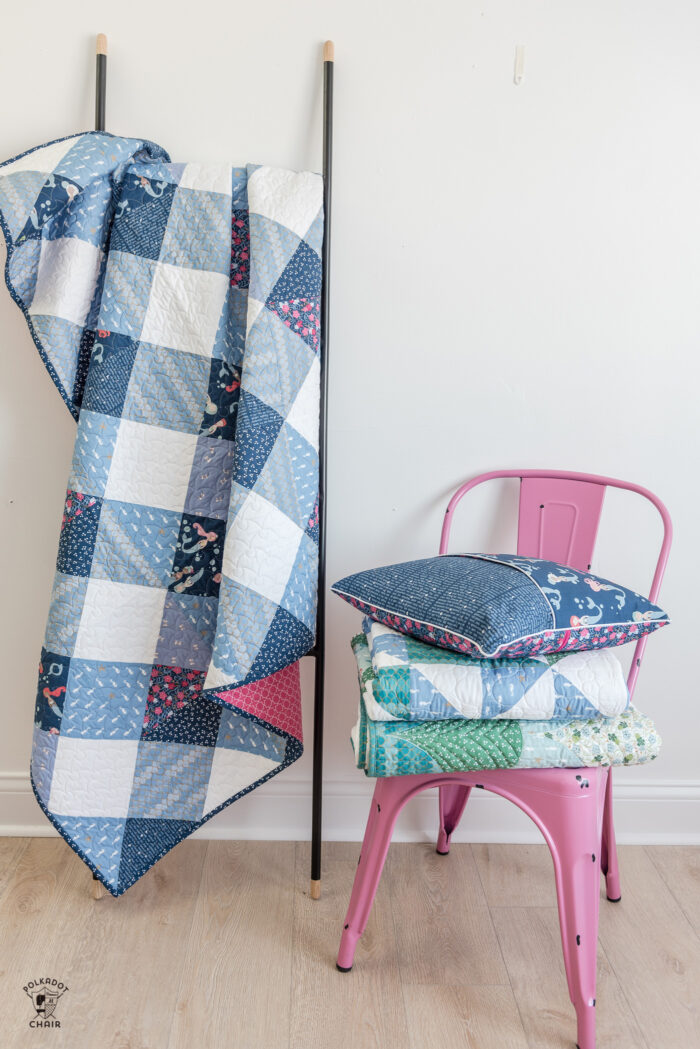 Last spring, I had a full booth at Quilt Market (an industry show for the trade) to introduce my Let's Be Mermaids fabric line. I was tasked with designing and creating projects that would show off how I envisioned the fabric to be used. If there is one thing that I've learned in 10+ years of blogging, you need to show people what to do with stuff!
I won't go on forever, but long story short, I needed a quilt to fit on a bed. I always loved my Gingham Daydream quilt and thought it would be nice to make it in a larger size for the booth. The gingham pattern I thought would blend well with the other elements in the room.
For the booth, I needed the quilt to fit on a Twin bed. The one in the original pattern was more of a generous throw size than a true twin. I did a bit of math and was able to easily increase the size of the original quilt pattern.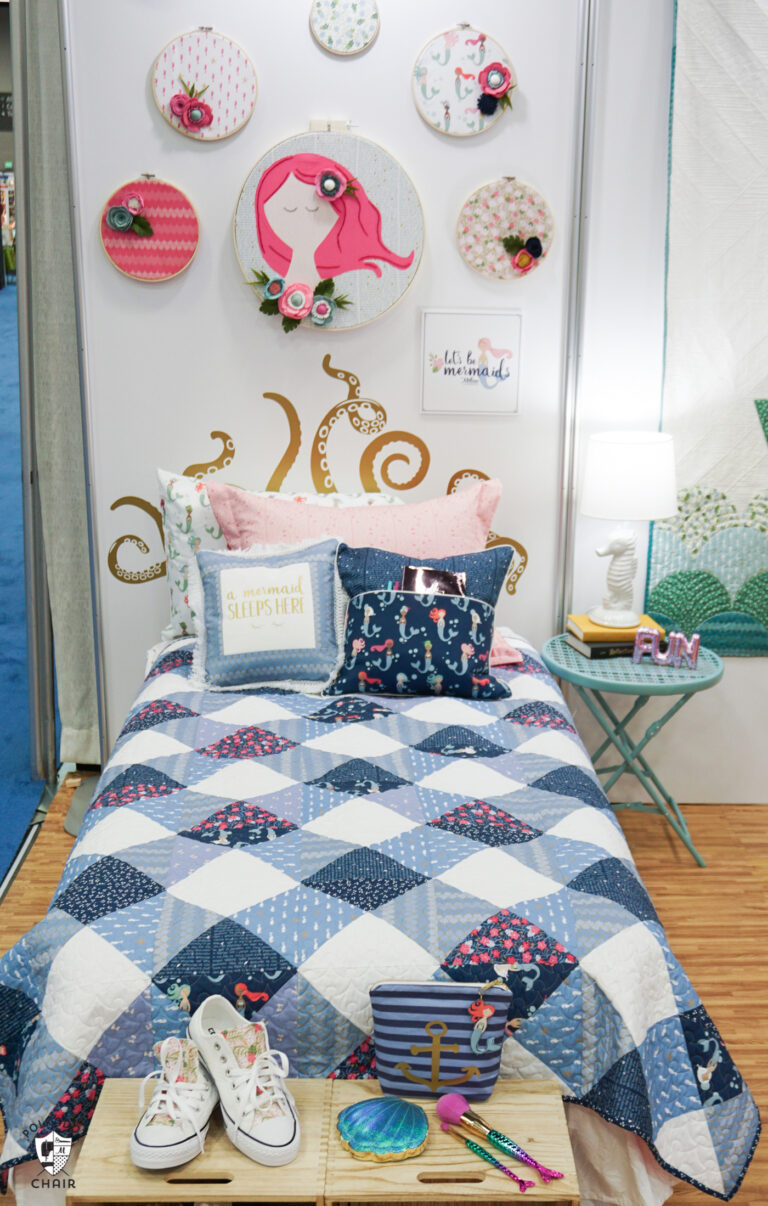 About the Gingham Daydream Quilt Pattern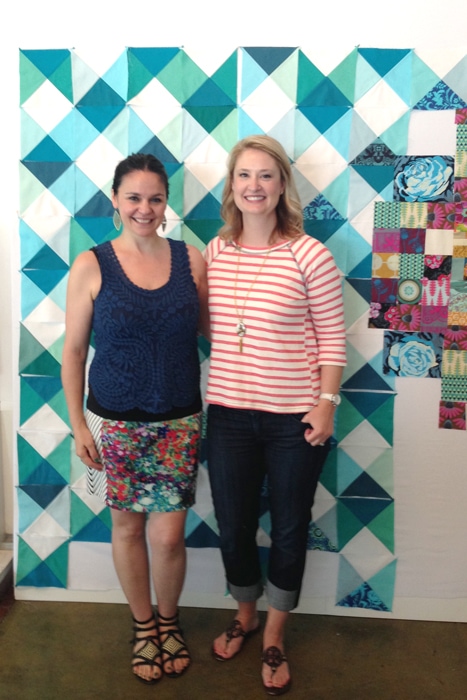 If you're not familiar with this pattern, it's one I released a few years ago. It's made up of 3 "values" of fabric, light, medium, and dark. Those fabric values are then arranged in a way that the quilt, when finished, looks like gingham.
This quilt is pretty close to my heart.  A few years ago, I attended a Craft South workshop with Amy Butler and Anna Maria Horner. I brought the fabric for the quilt with me and a sketch of it on graph paper.  I sat and worked on the layout for most of the afternoon. Amy and Anna came over frequently to chat with me while I worked.  It was one of those crazy "how did I get here??" kinda moments.
The original quilt was stitched out of solid fabrics (I still need proper photos of it, but you can see it in the background of the photo above). More about the Craft South weekend HERE.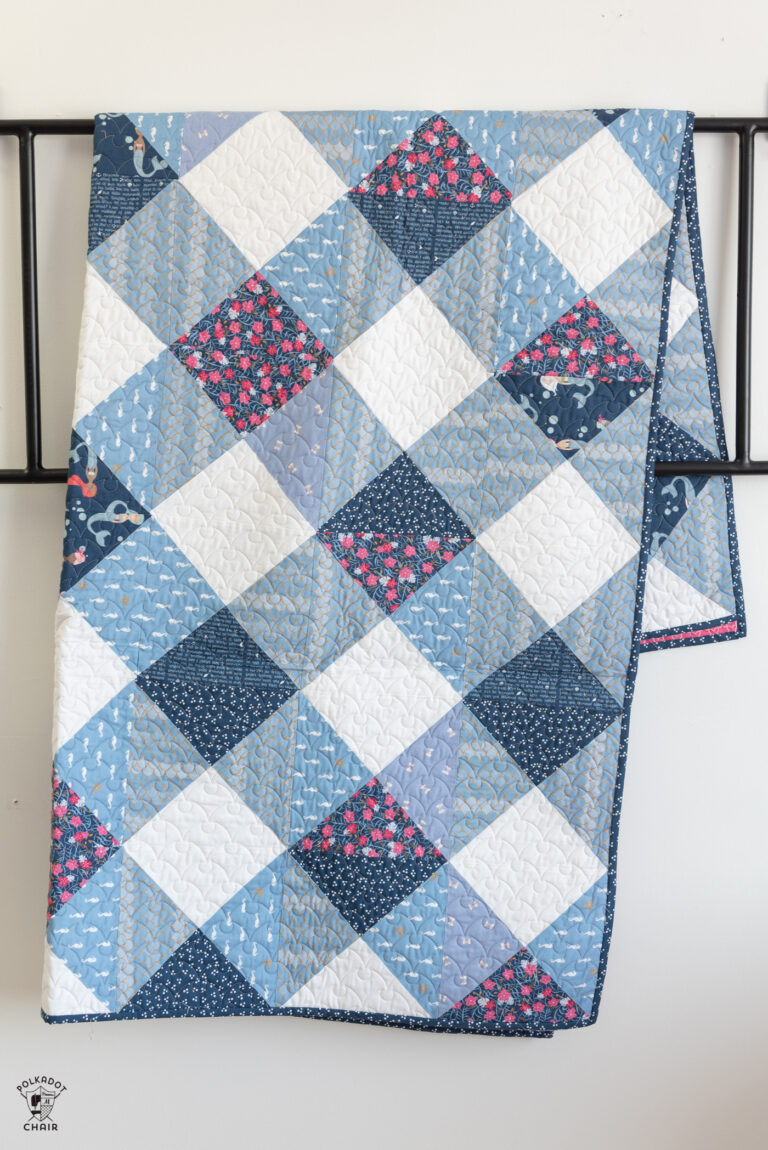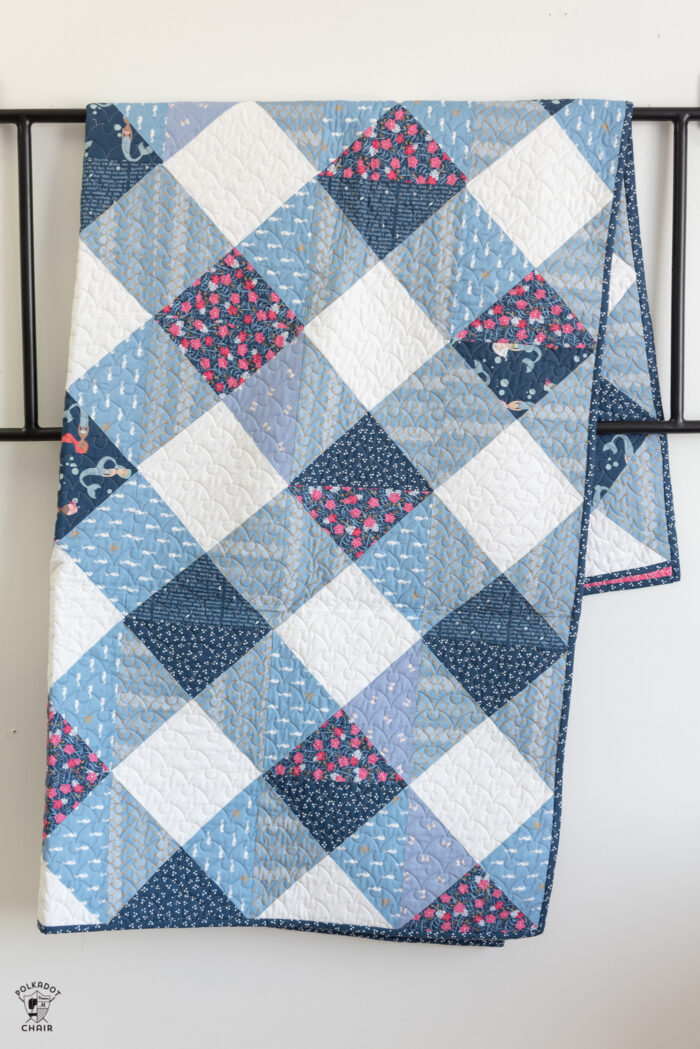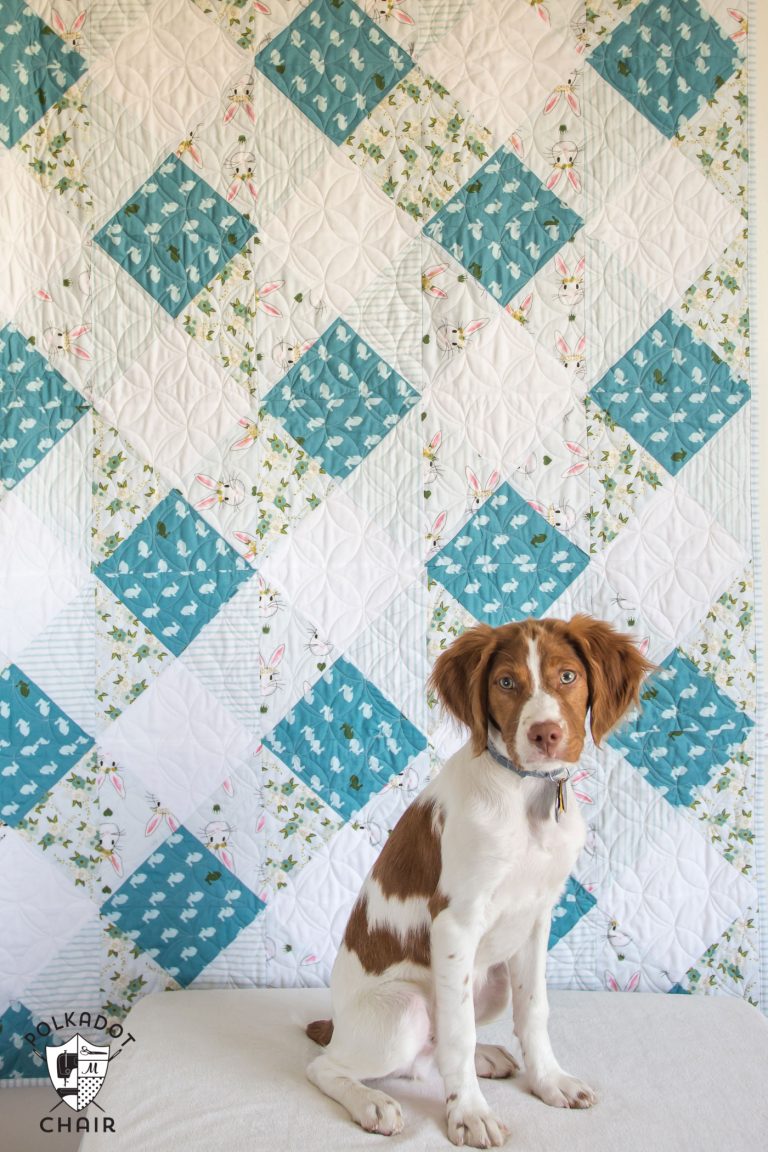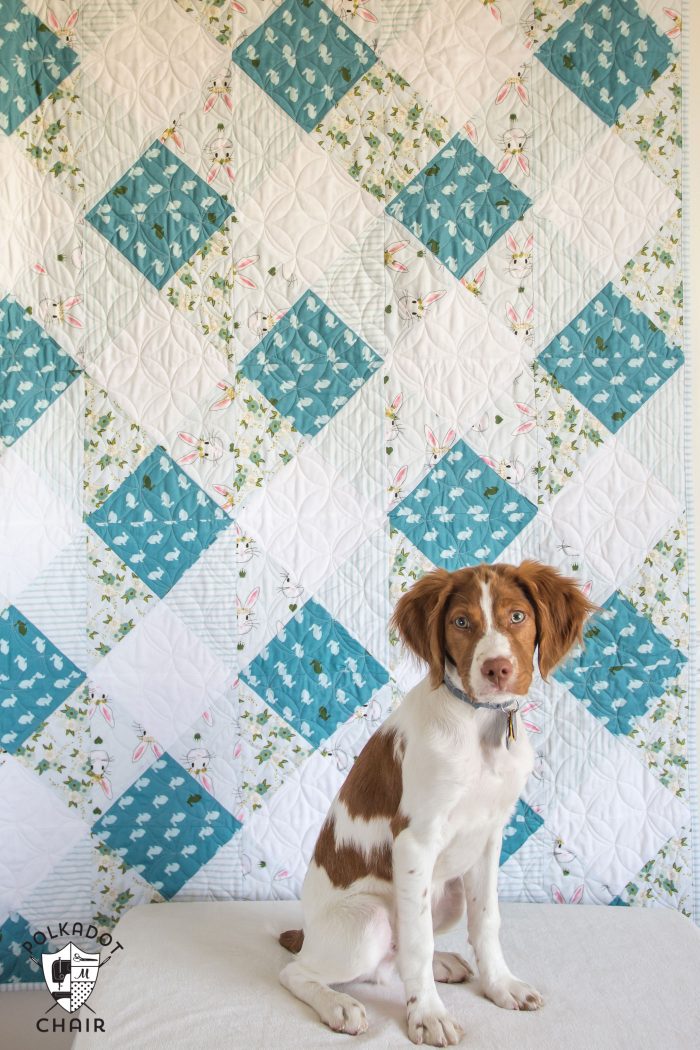 You can easily make this quilt with solid fabric or print, or a combination of both.
In this example, I've stitched it up in more fabric colors, so the quilt is not as monochromatic (the fabric line is from Oliver +S and has been out of print for a while).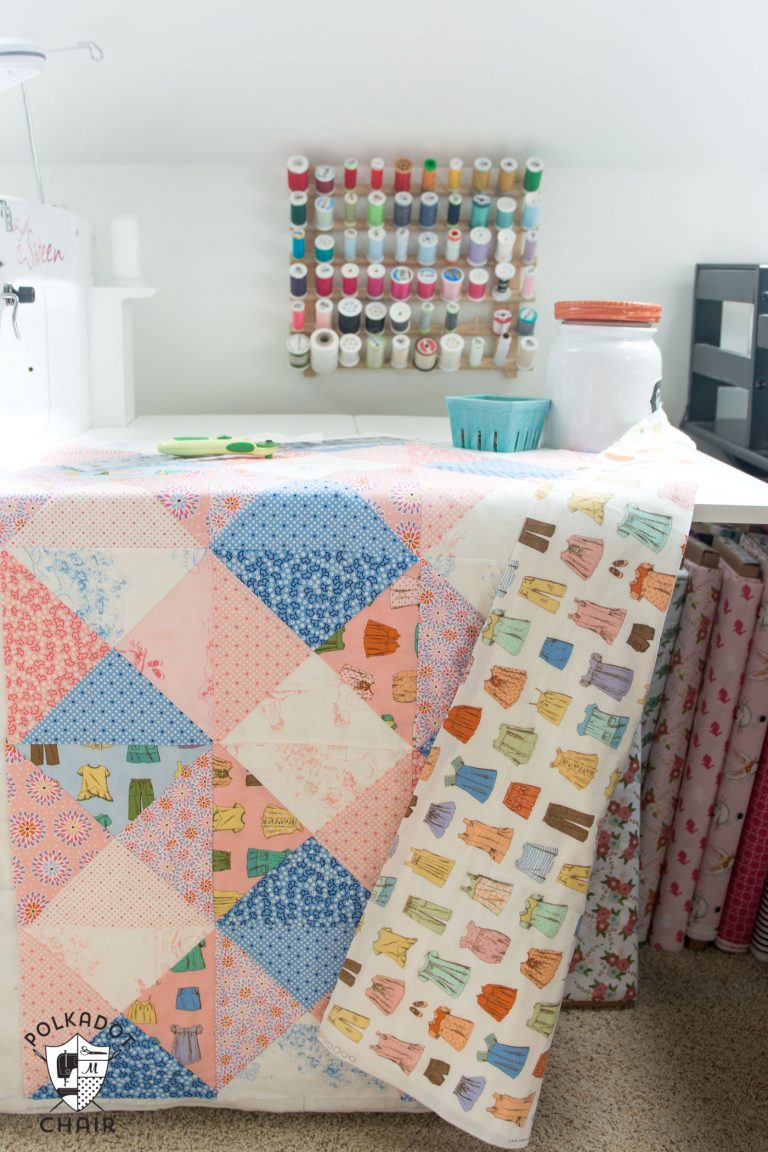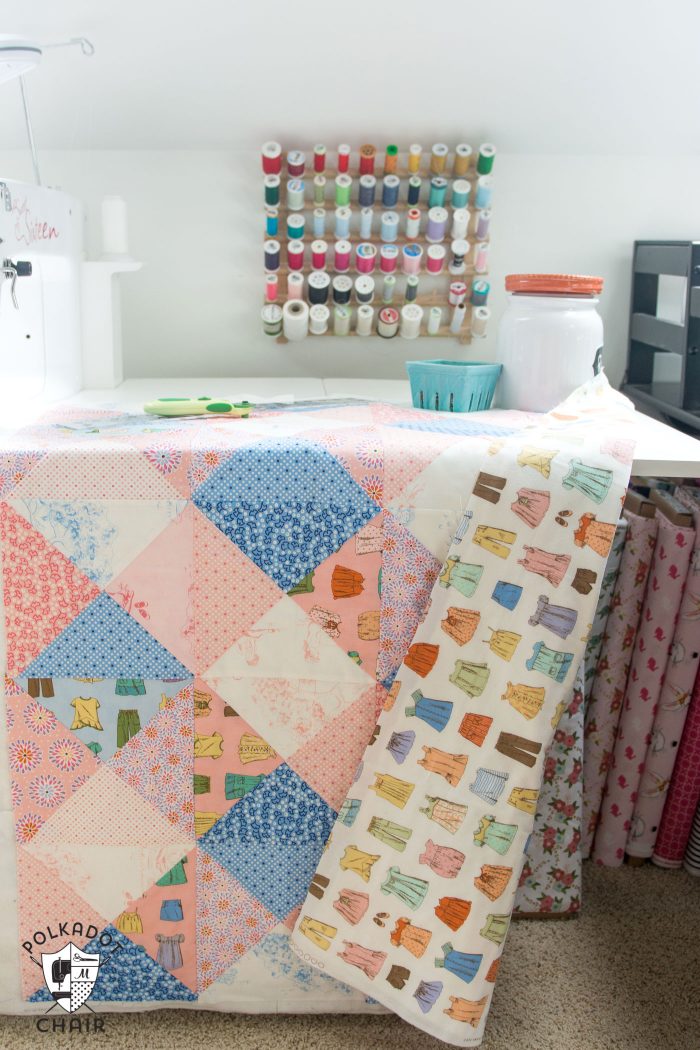 After I stitched up the quilt for my market booth, I went back to update and rewrite the pattern to include the larger size. While I was doing that I figured "what the hey" and went ahead and updated it to include 5 different sizes.
Quilt Pattern Sizes
Since the same block is repeated over and over again, it was a no-brainer to increase the size options for it. Included in the pattern are layout diagrams and updated fabric yardage requirements for each size.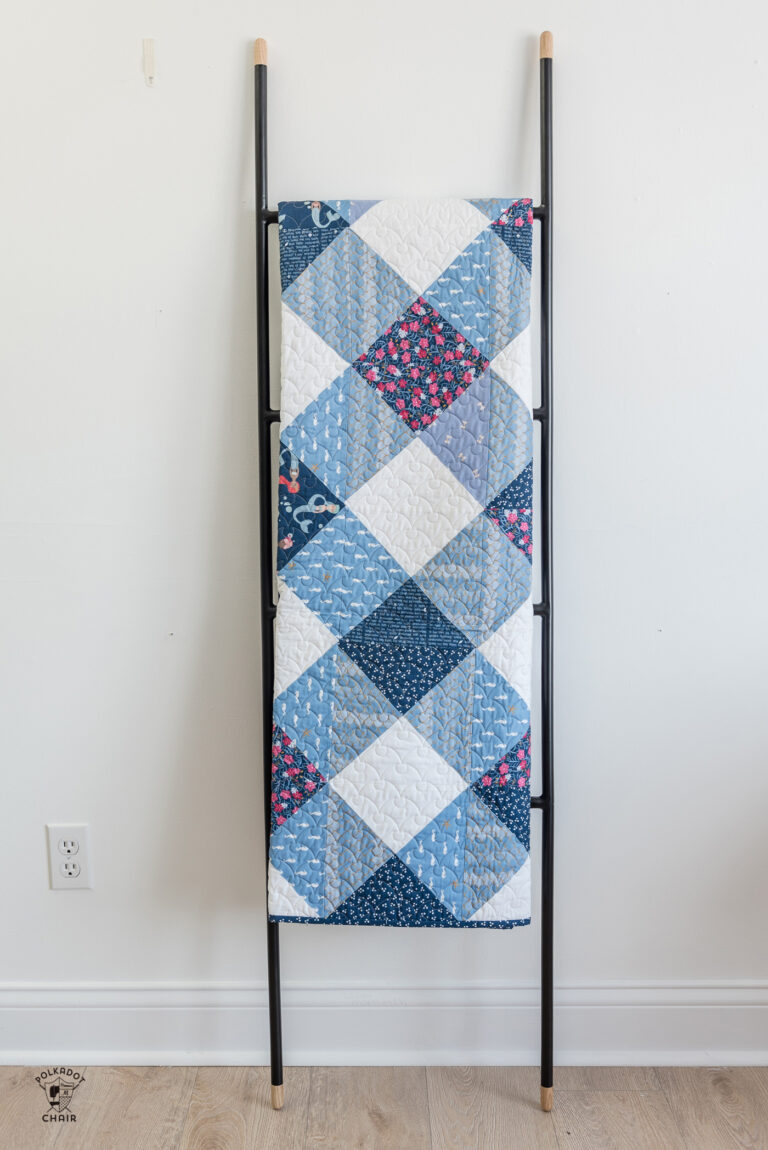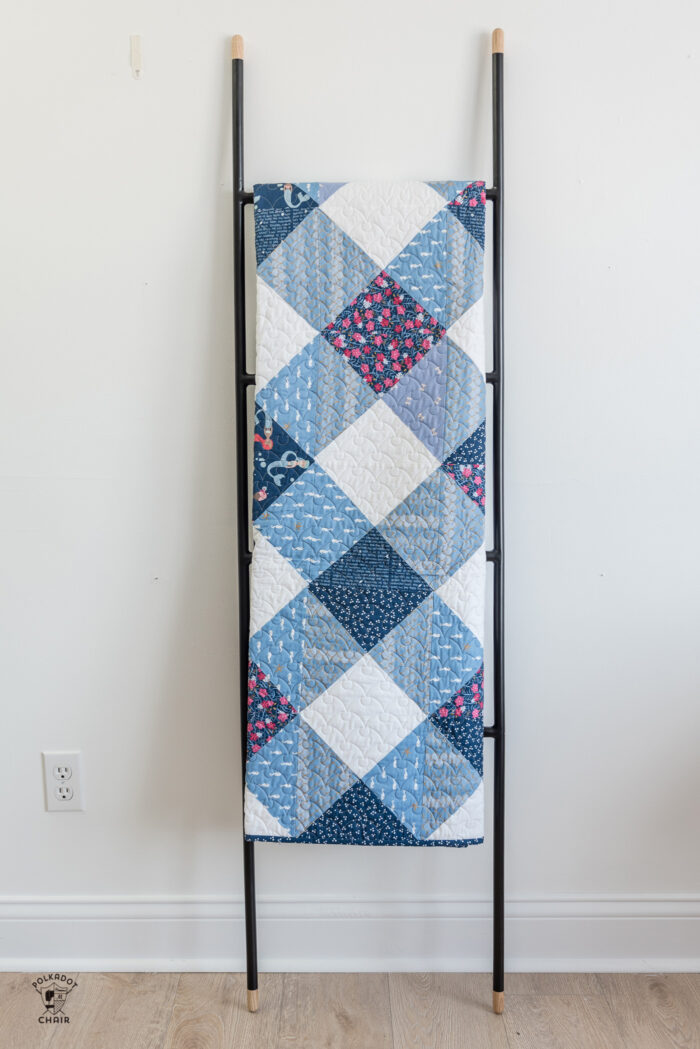 One of my favorite parts of this pattern is that it is 10″ stacker (layer cake) friendly!
If you have enough light/medium/dark fabrics in your pre-cut stack, you don't even need to buy any yardage (other than binding and backing).  Here's a small example of one "mocked" up from various prints from my upcoming Fox Farm Line. Since each 10″ stacker comes with 42 pieces, you should be able to arrange your blocks to make a crib size quilt.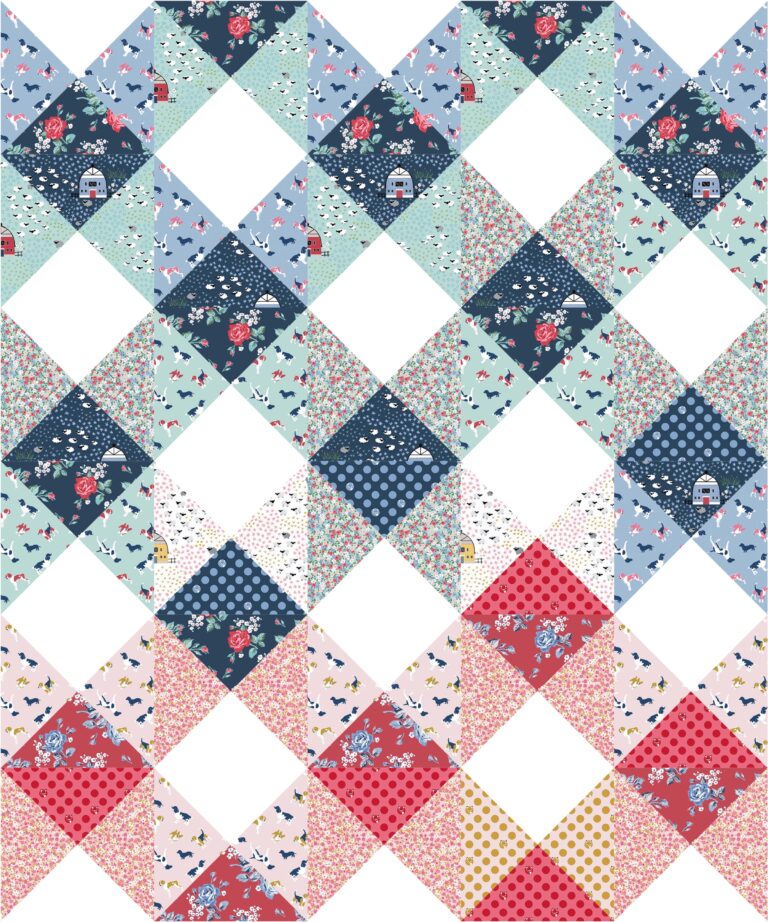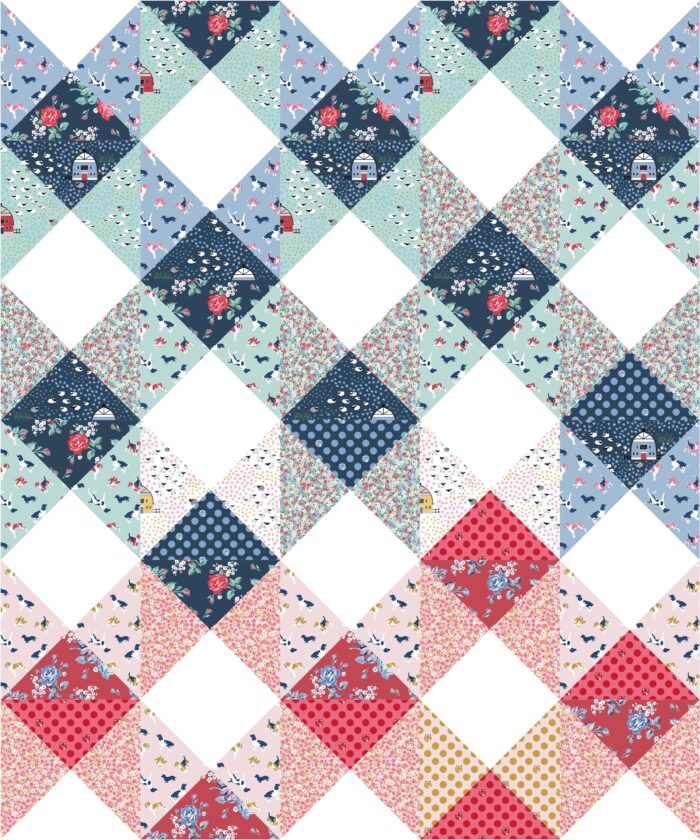 It gives you a super scrappy look when you do it this way, but I think it's kinda fun and a bit different. The pattern tells you how many pieces you need of each fabric based on the size of quilt you are making.
For my quilts, I started with a 10″ stacker of white fabric, then cut the other prints and colors of fabric from yardage.
About the Update
If you've purchased a PDF pattern in the past, you should have received an email inviting you to download the updated version.  If you didn't, email me your order number, and we can get it figured out. Updates to patterns are always free.
Unfortunately, the printed patterns can't be updated, but if you have a PRINT version, I'll send you the PDF update for free. Just email me. I'll also be adding a sticker to the back of the physical patterns with instructions to get the updated version.
How to Get the Pattern
Just hop on over to the shop. It's in PDF & print format. If you buy a PDF you will be able to download it automatically right after you purchase it. If you are outside of the US you need to order it from Etsy.
Let me know if you have any questions!!
Love to Quilt? You may also like these posts!
45+ Quilt Patterns for Beginners