Whether you call it a Wash Bag, a Toiletry Bag or a Dopp Bag, I think you're going to love today's tutorial. Sarah is teaching us how to make a Laminated Toiletry Bag. Stitch one up to take with you on your next adventure.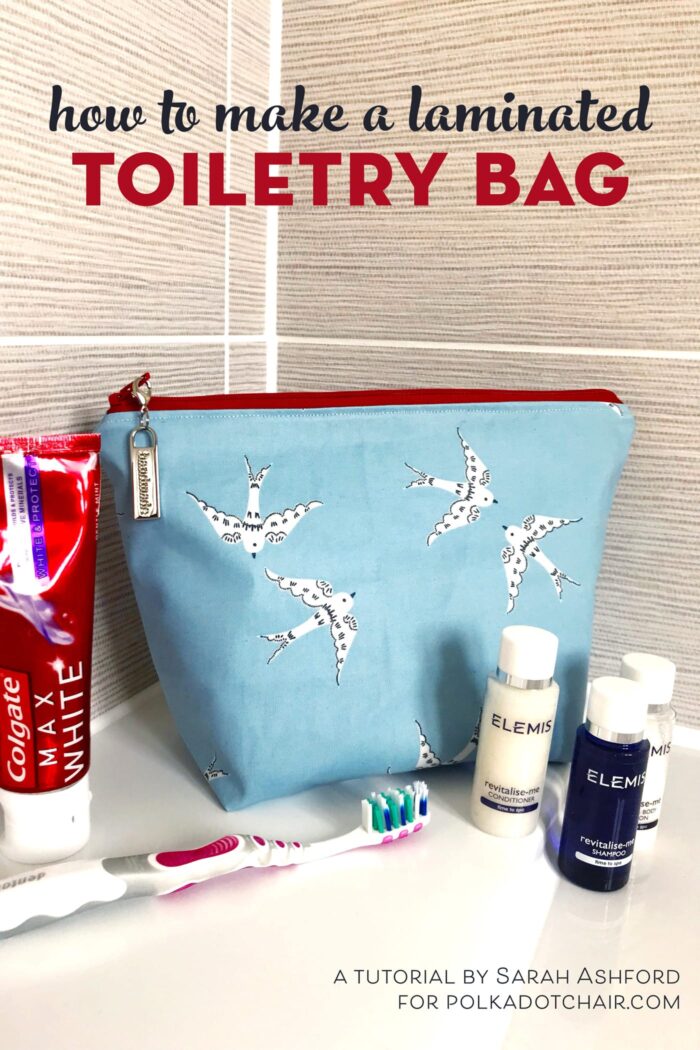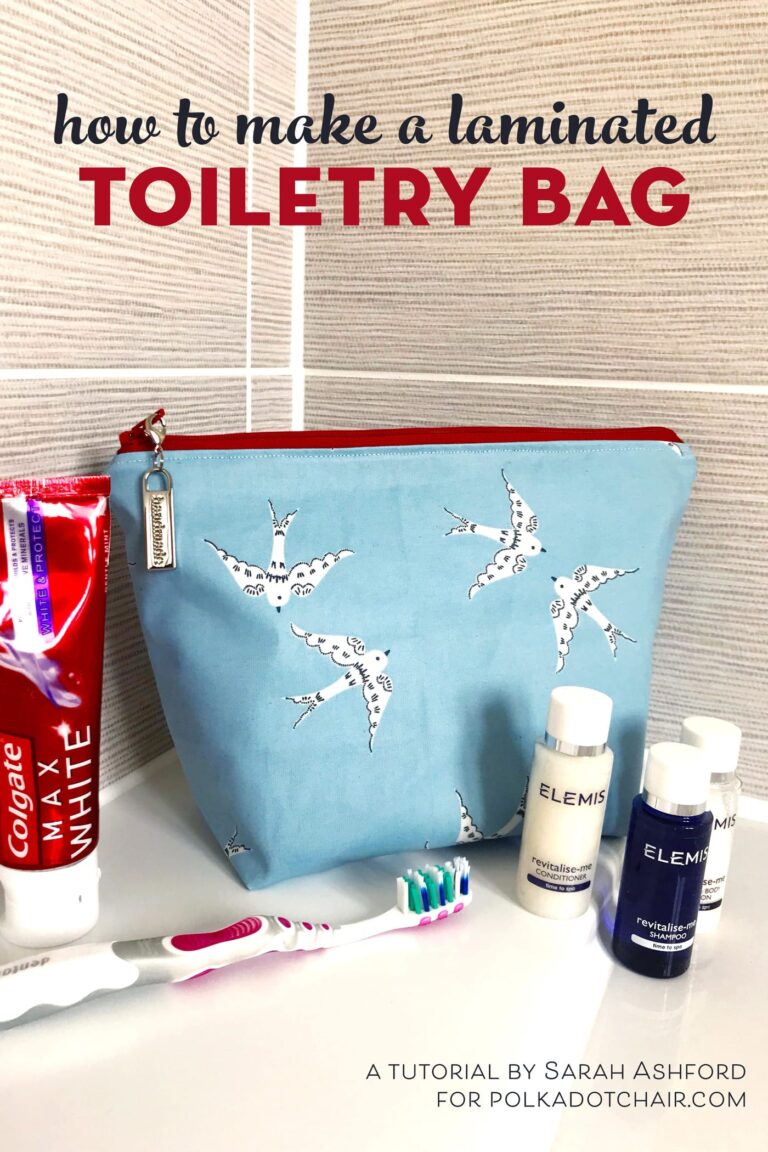 School's out and for many of us, we are on our travels. So I thought it would be fun to make something quick and easy and useful to take on your vacation.
As it happens, I have recently acquired some matte laminated cottons, which are essentially like oilcloth in that they are wipeable, but they are also very soft and much easier to manipulate and sew with.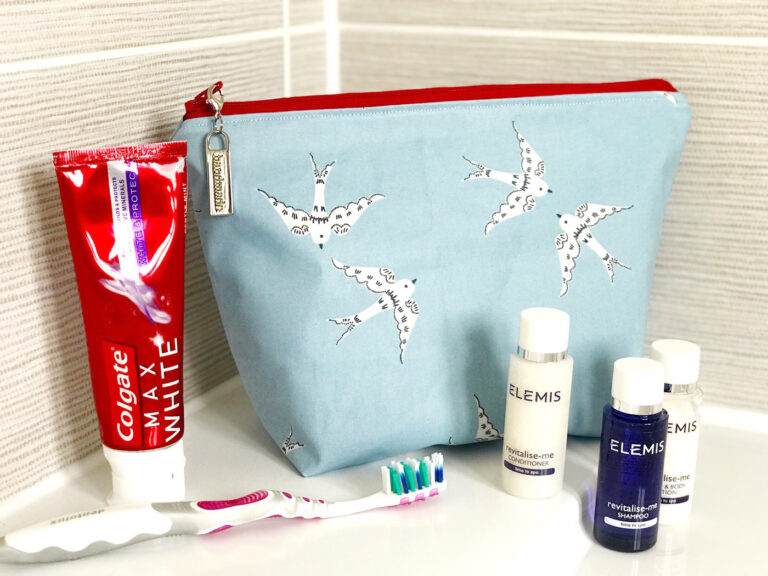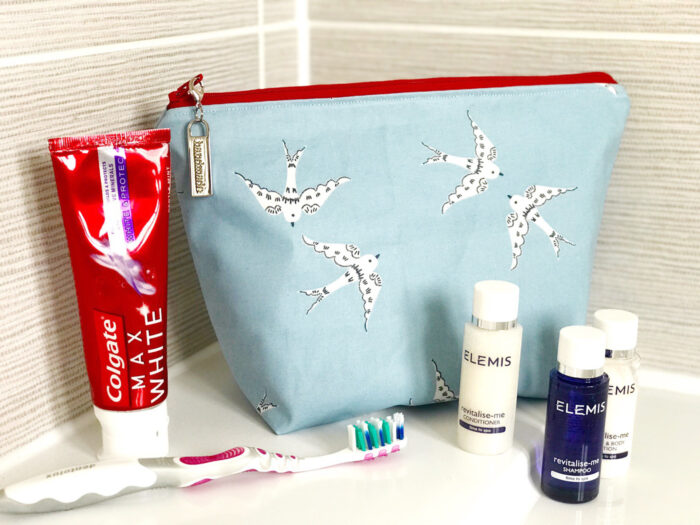 So it got me thinking that they would be perfect to make a wash bag for all those bathroom essentials…toothbrush, toothpaste, flannel, etc. It would also make the perfect makeup bag, in fact, it would be great for sewing stuff too!
Tips for Sewing with Laminated Fabrics:
Note from Melissa: If you've never sewn with Laminated fabrics (sometimes called coated fabrics before) you can check out THIS post full of tips for sewing with Laminates.
A lot of people ask me where I like to buy Laminated fabric. My favorite place is the Laminates Shop on Etsy.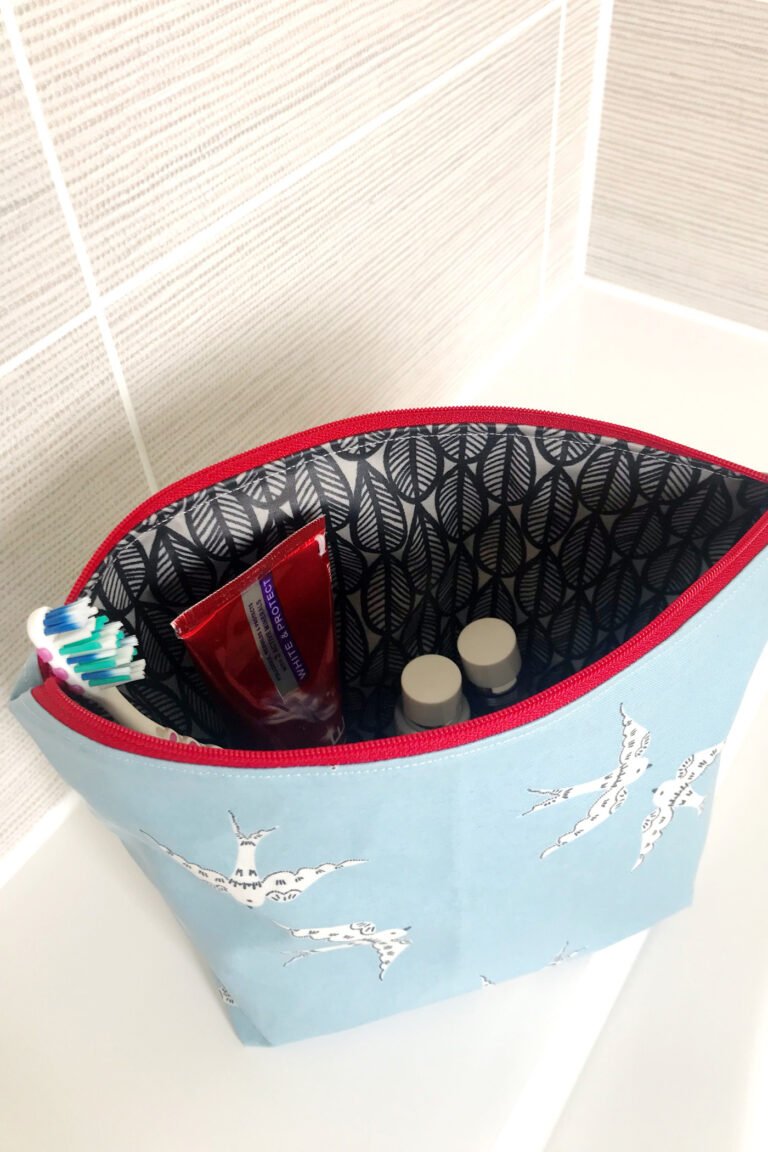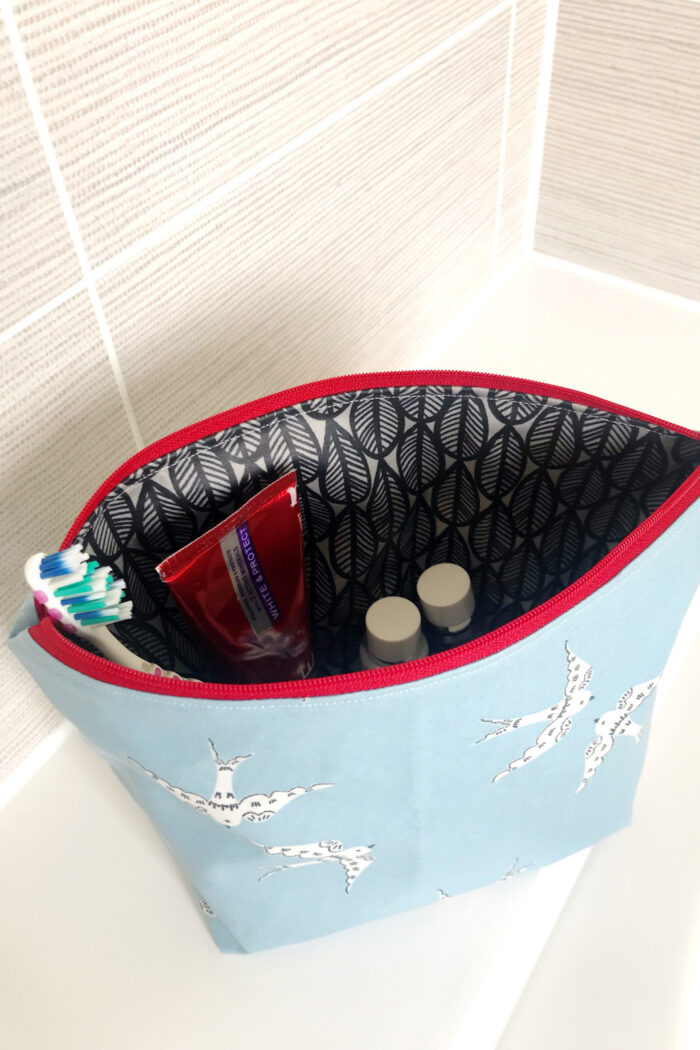 How to Make a Laminated Toiletry Bag; a Free Sewing Tutorial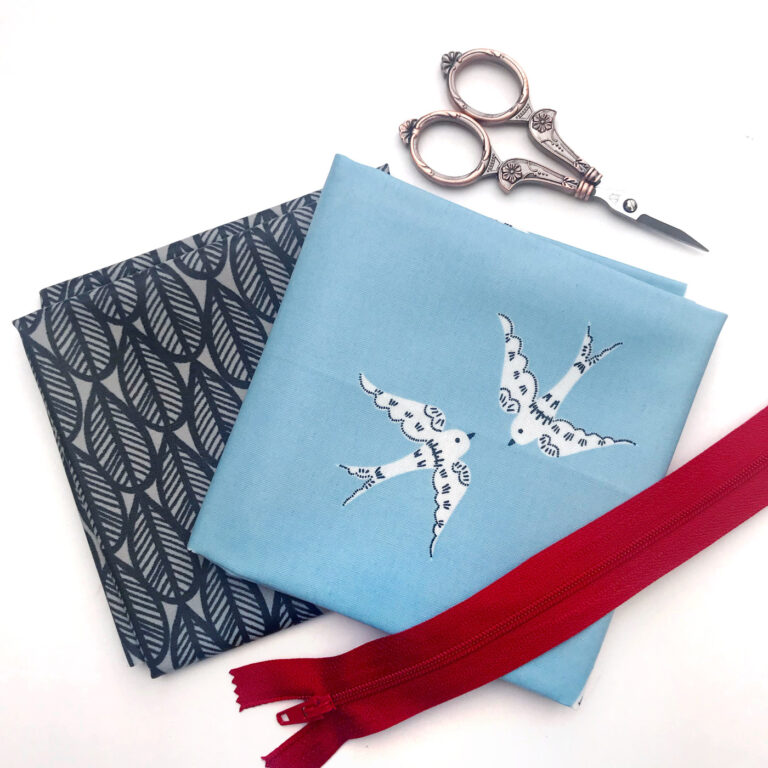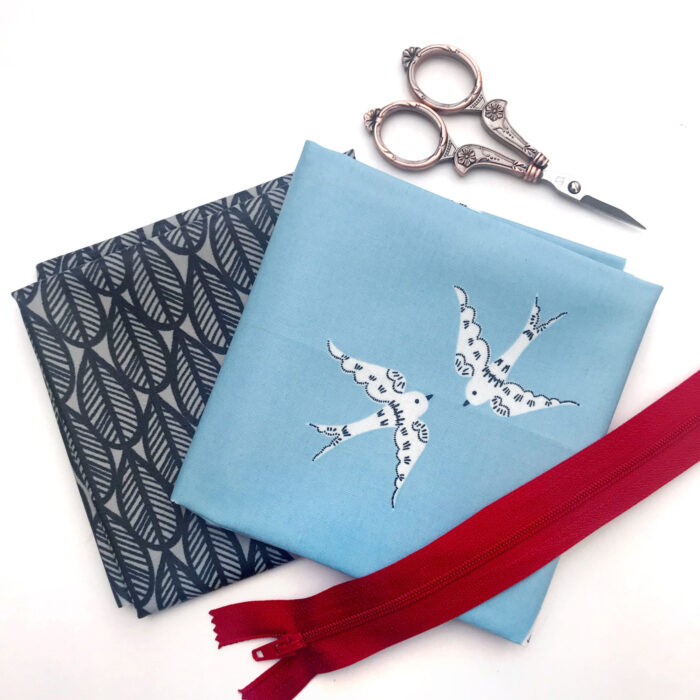 Supplies Needed to Make the Toiletry Bag:
11" x 9" exterior laminated cotton, 2 pieces
11" x 9" lining laminated cotton, 2 pieces
12″ -14″ Polyester Zipper
Usual sewing supplies (rotary cutter, mat, sewing machine etc.) 
Time needed: 1 hour and 30 minutes
How to Make a Laminated Toiletry Bag
Attach the Zipper

Take one exterior panel and place right side up. Place the zipper right side down with the zipper to the left, and then place the lining piece right side down, ensuring that they all line-up.

Hold together with binding clips. Stitch across the top close to the zipper. A zipper foot is useful for this if you have one.

Top Stitch the Fabric Along the Zipper

Flip the fabrics so that both sides are right sides out. Finger press well and topstitch in place.

Take care with this bit, because you can't iron the top side of the fabric you need to ensure when you stitch that everything is lying nice and flat.

Attach the Fabric to the Other Side of the Zipper

Now for the other side.
Lay the remaining exterior piece right side up. Next, lay your completed section right side down (so the exterior pieces are right sides together) then place the lining piece right side down on top of the zip. Use the binding clips to hold in place.

Stitch along the top close to the zip, as before.

Topstitch

Topstitch on the other side in the same way.

Sew the Bag Front & Linings

Flip the layers around so that the lining pieces are touching and the external pieces are touching, both right sides together. At this point open the zip halfway.

This is very important, otherwise, you won't be able to turn your pouch fully right side out!! Clip in place with the binding clips, leaving a 3 in gap in the lining for turning

Stitch Around the Outside Edge

Stitch all the way around with a generous ¼" inch seam, reinforcing the zip sections and at the beginning and end of the opening.


Box the Corners

Next, we are going to box the corners. Take the exterior fabric corners and pull apart and lie flat.

A top tip to ensure that the seams are lined up is to take a pin and push it through to check that it also goes through the seam.

Use a ruler to draw a line at the 2" position, starting from the 'v' edge of the seam. Clip in place to secure.

Stitch down this line and trim to a ¼" seam. Repeat for all four sides of the pouch.

Turn the pouch right sides out and stitch up the gap in the lining. It's a little tricker to hand stitch as its the cotton laminate, but totally doable!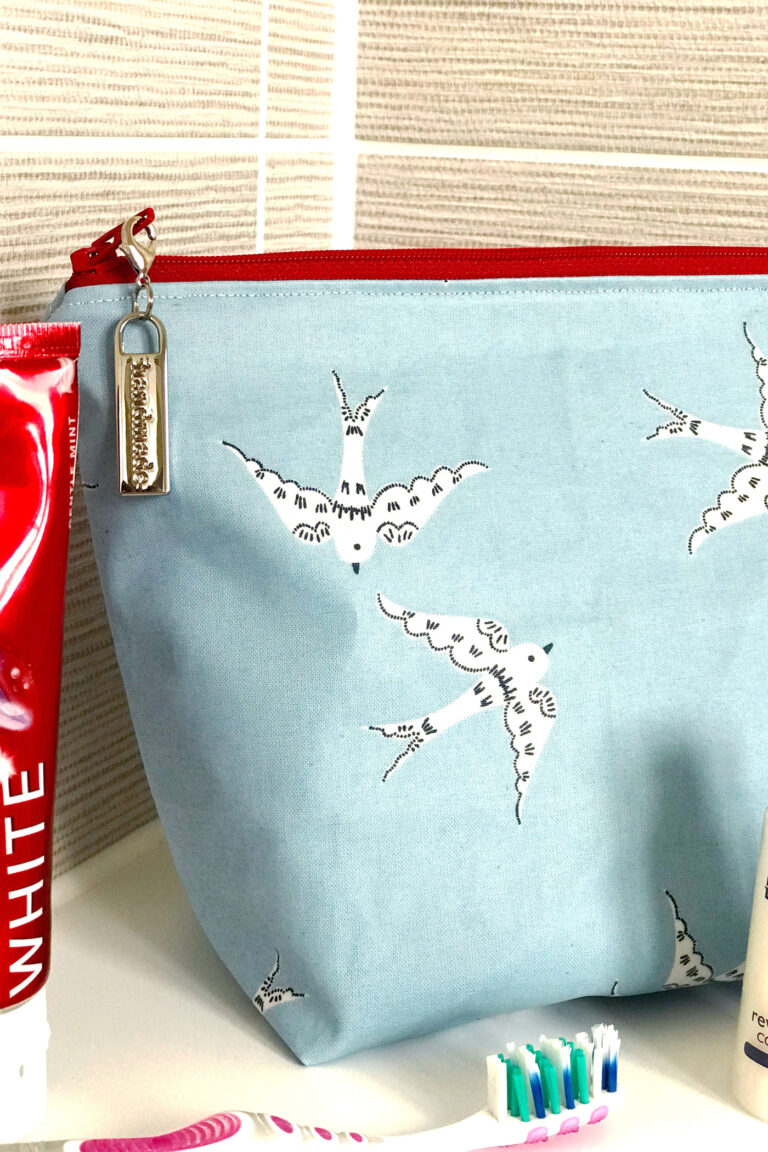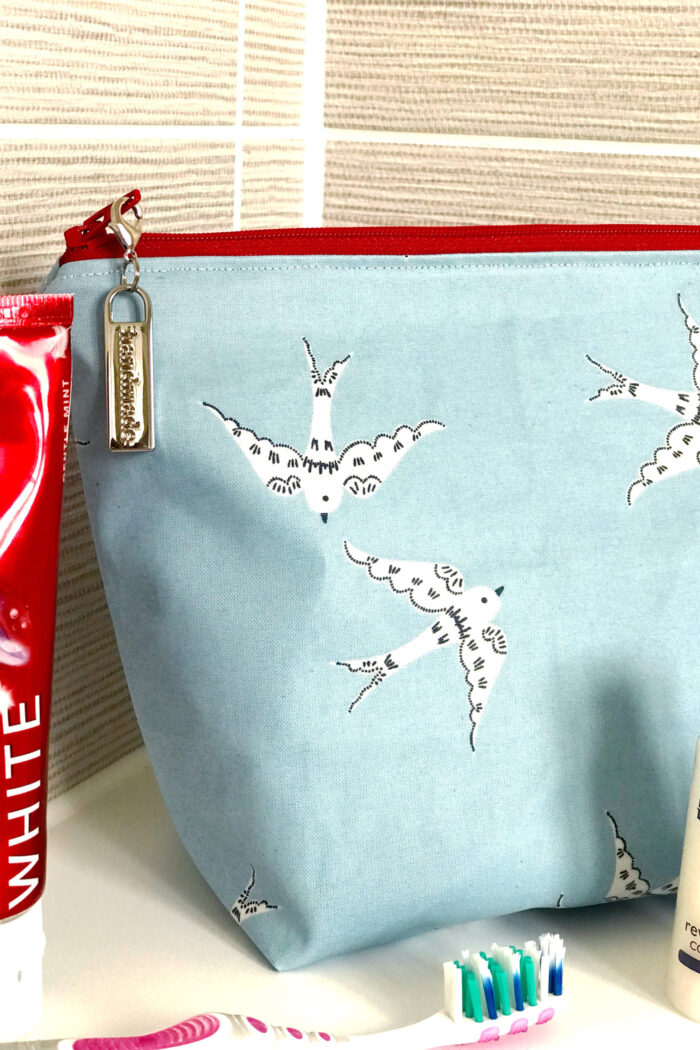 I've added a charm on my zipper, for that extra finishing touch. But that's optional of course.
And ta-da, your pouch is ready for your travels! All you need to do now is fill it with your vacation essentials!
About The Maker: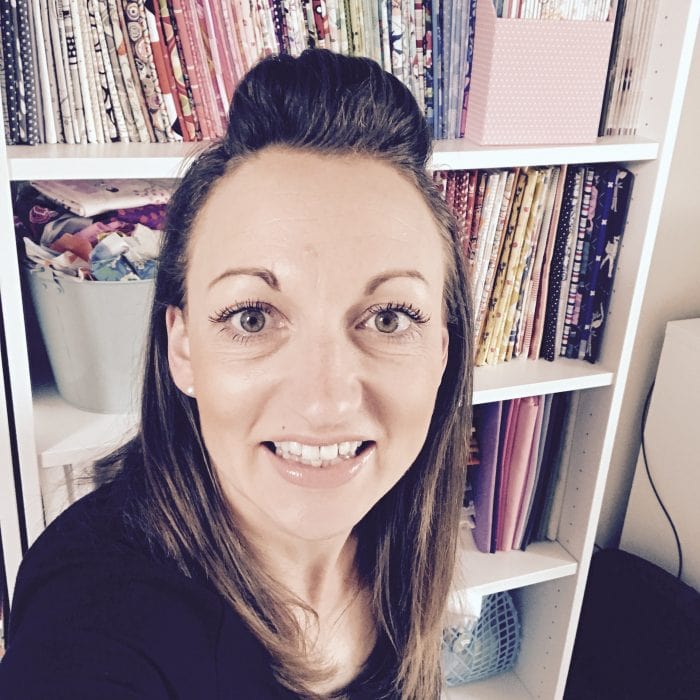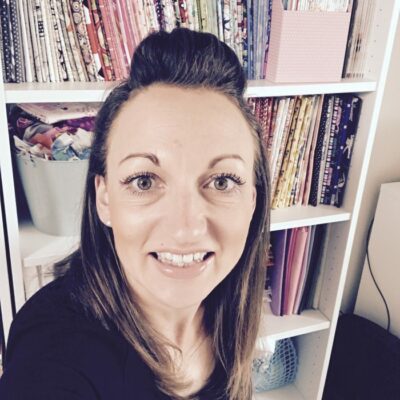 Sarah Ashford is a British Quilter and embroiderer and founder of the GreatBritishQuilter challenge on Instagram. Sarah regularly contributes projects to magazines and loves to spread the joy of quilting everywhere she goes. Follow her on Instagram at @sarahashfordstudio and be sure to check out her beautiful sewing room decals in her Etsy shop www.etsy.com/shop/sarahashfordstudio
More Free Bag Tutorials:
How to Make a Metal Frame Clutch
Learn to Sew a Flat Bottom Zip Bag