Today I'm so excited to announce something that I've been working on for months! I'm hosting a summer quilt along for the Let's Stay Home Quilt pattern.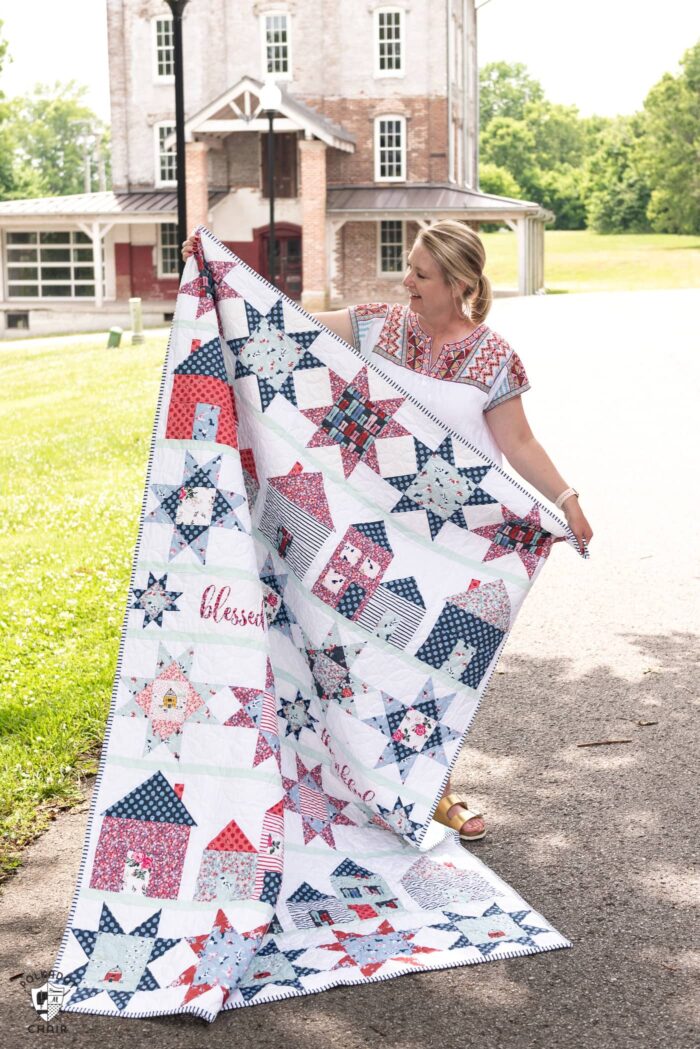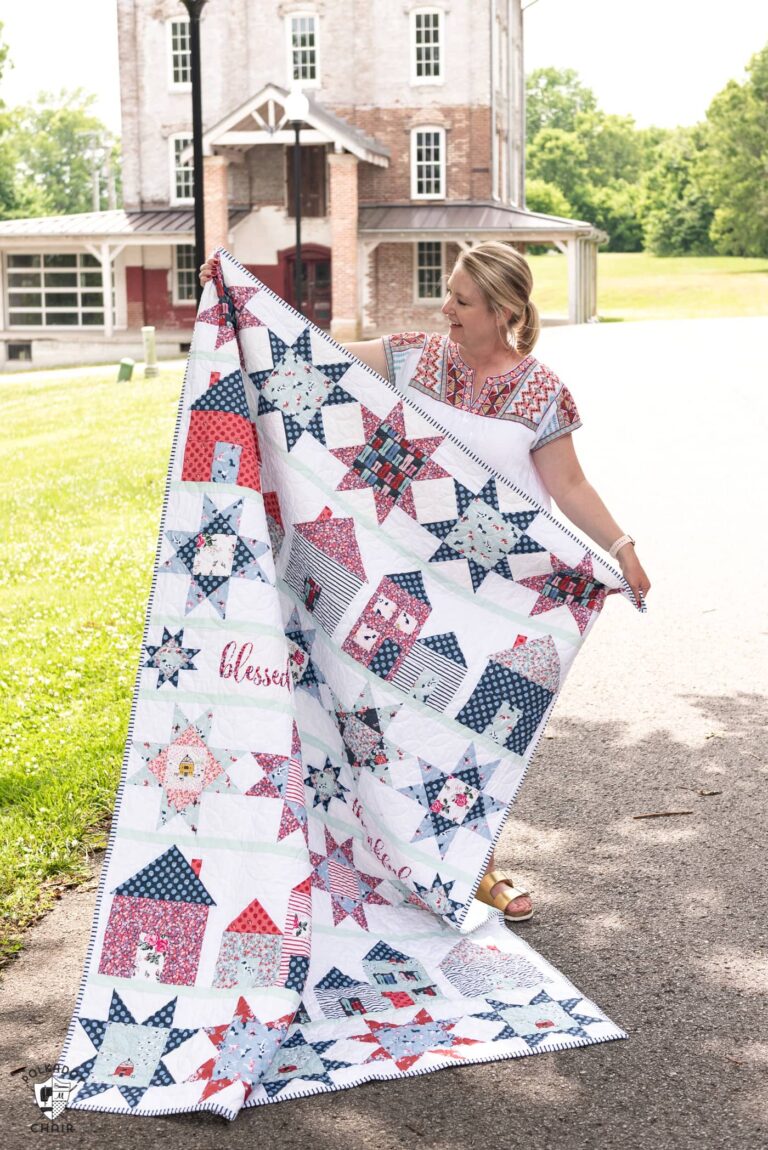 I have partnered with Fat Quarter Shop to bring you a series of videos teaching you how to make the quilt!
I know that video is something that you guys want more of. I'm working on it as much as I can in my home studio but let me tell you, making a video is no joke!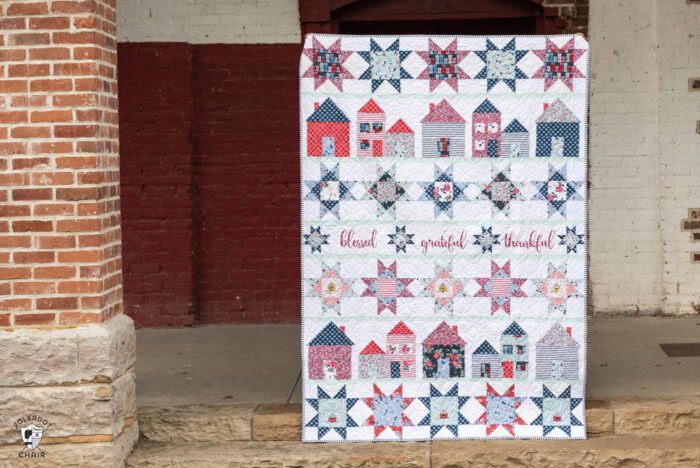 That's why when Fat Quarter Shop asked if I wanted to fly to Texas to film with them I said yes right away! I knew that video is something that would be beneficial to you guys!
The Let's Stay Home Quilt Pattern was released in April. At that time we had a tentative schedule posted for the Quilt Along. The kits for the quilt were being made overseas so we had to wait for them to show up before we started. There was a bit of a delay (due to a Typhoon of all things!) and I'm excited to say we are ready to get going!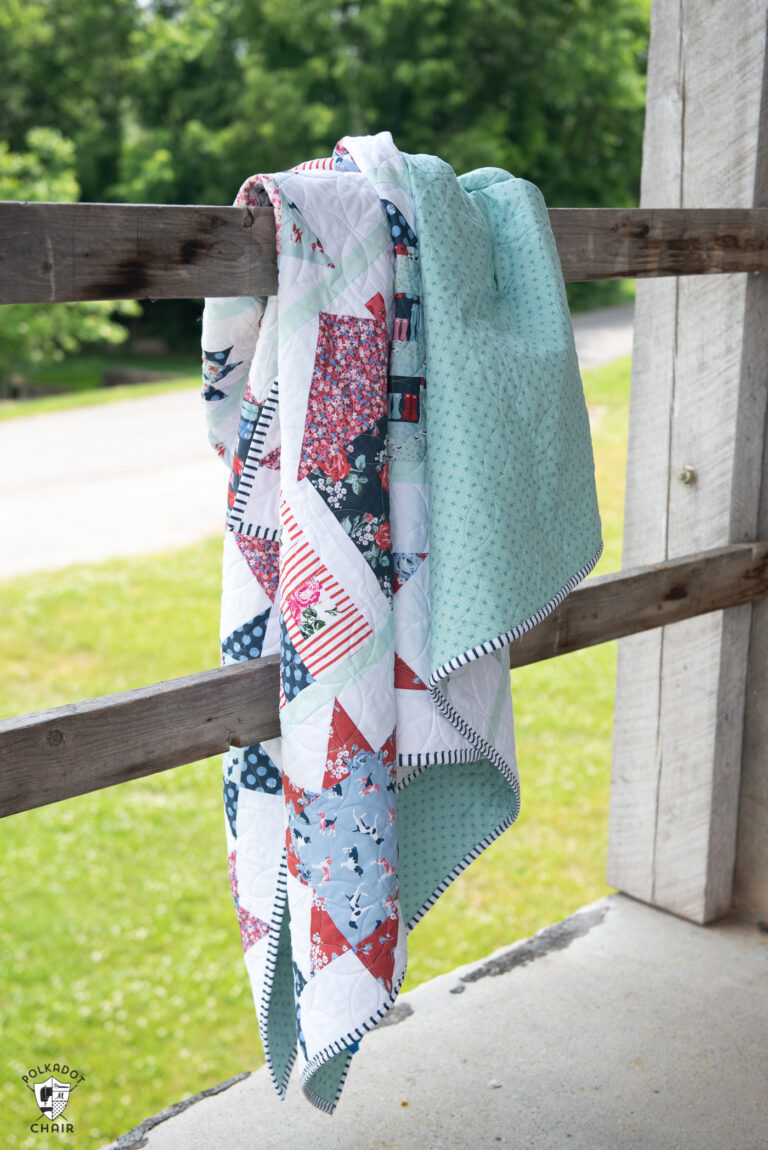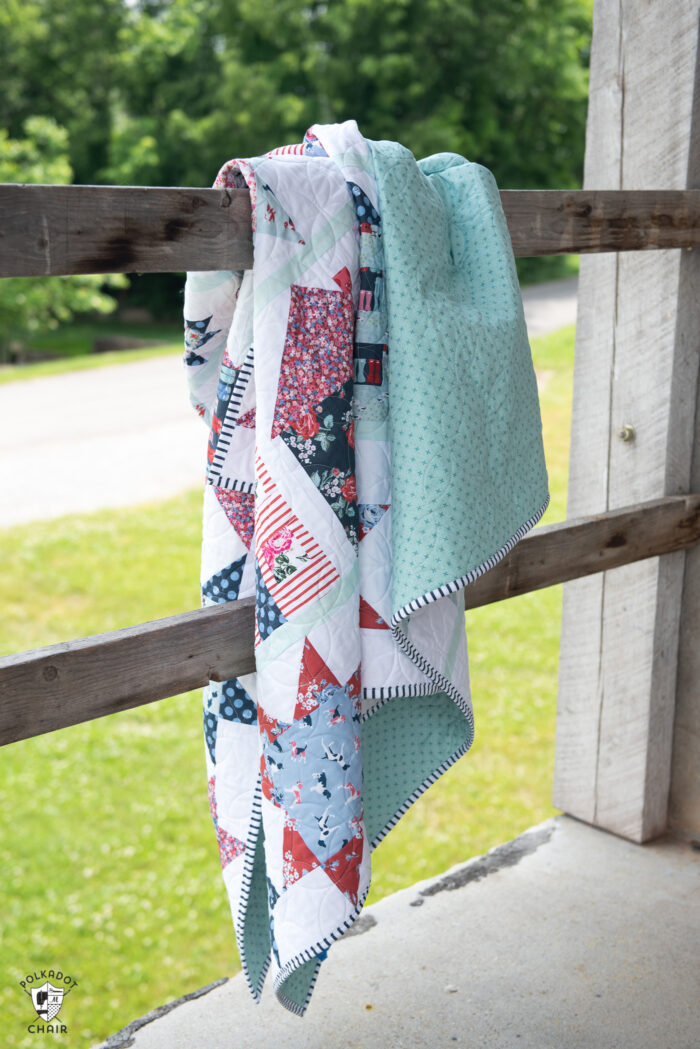 Here's a video introducing you to the Quilt and giving you a brief overview of what we will be making.
Now for the nitty gritty details!
Let's Stay Home Quilt Along Schedule:
Here is the revised schedule for the Quilt Along. It's being hosted as a Row Along with one row shared per week. You will actually make each row twice.
There is also a catch up week planned in the schedule.
Summer Quilt Along Schedule:
Each week I'll share tips for making your blocks, and the link to the video on the Fat Quarter Shop YouTube page.
About the Supplies:
The Quilt Features fabrics from my newest line with Riley Blake Designs called Fox Farm. You can find it in many local quilt shops and online.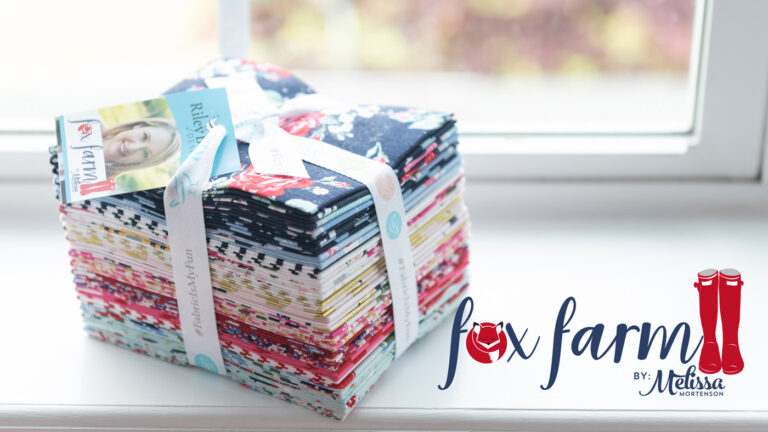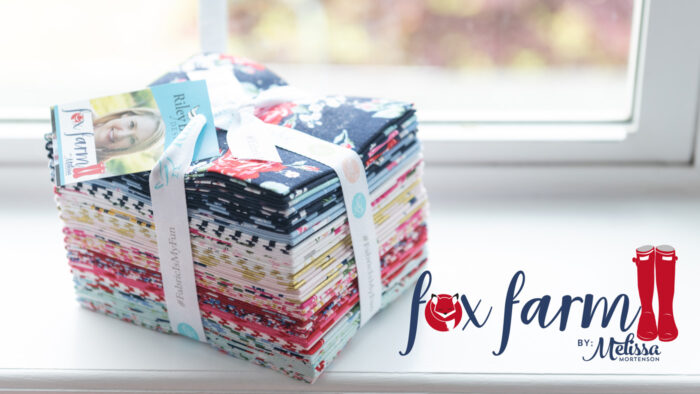 Obviously, you do not need to buy a quilt kit to play along. You can use any fabric that you'd like.
If you would like to purchase a quilt to make one just like mine, they have them in stock at Fat Quarter Shop. You can buy it here. That quilt kit comes WITH a pattern.
Note: It looks like the image that was printed on the front of the quilt kits is from an older version of the quilt. It was changed so that you needed less fabric (hence bringing the cost down). Here is the image (with fabric placement) that corresponds to the kit. You can save it and print it by right-clicking on the image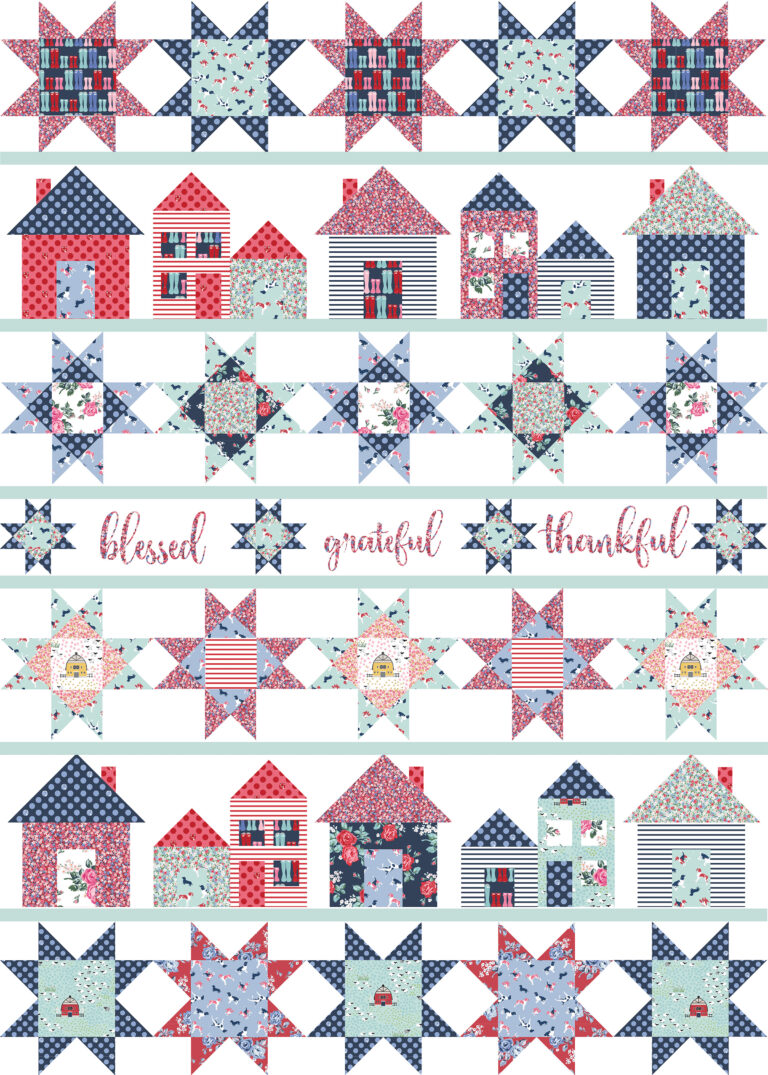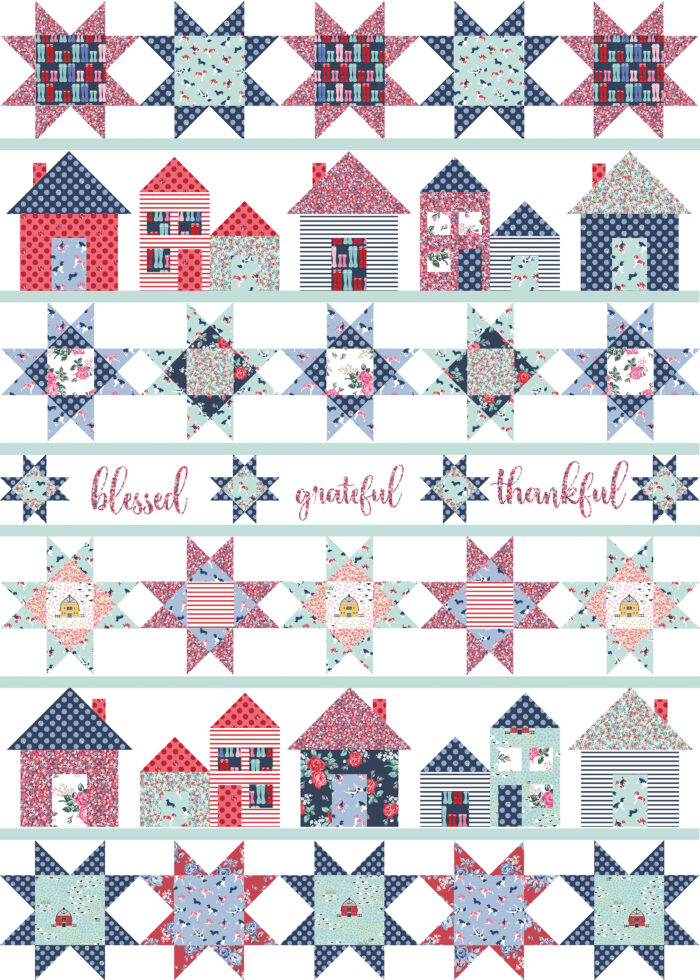 If you use your own fabric stash you'll need a pattern. You can get a printed pattern mailed to you OR you can get a PDF.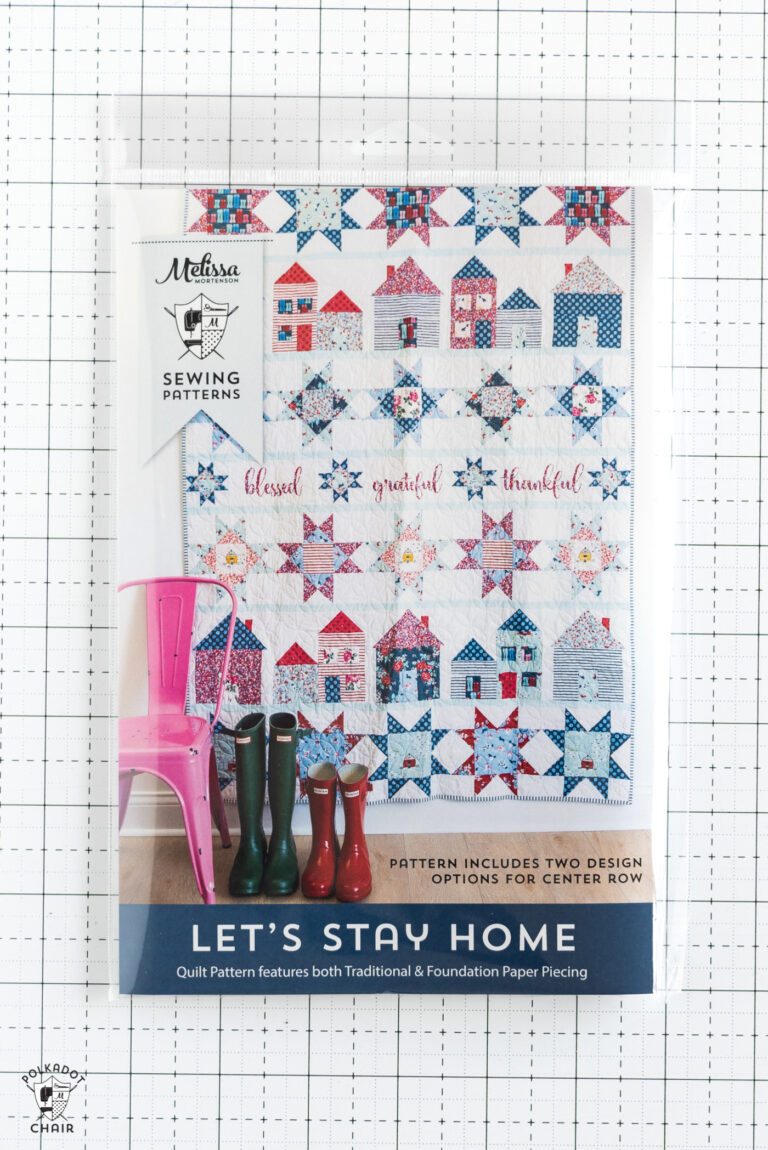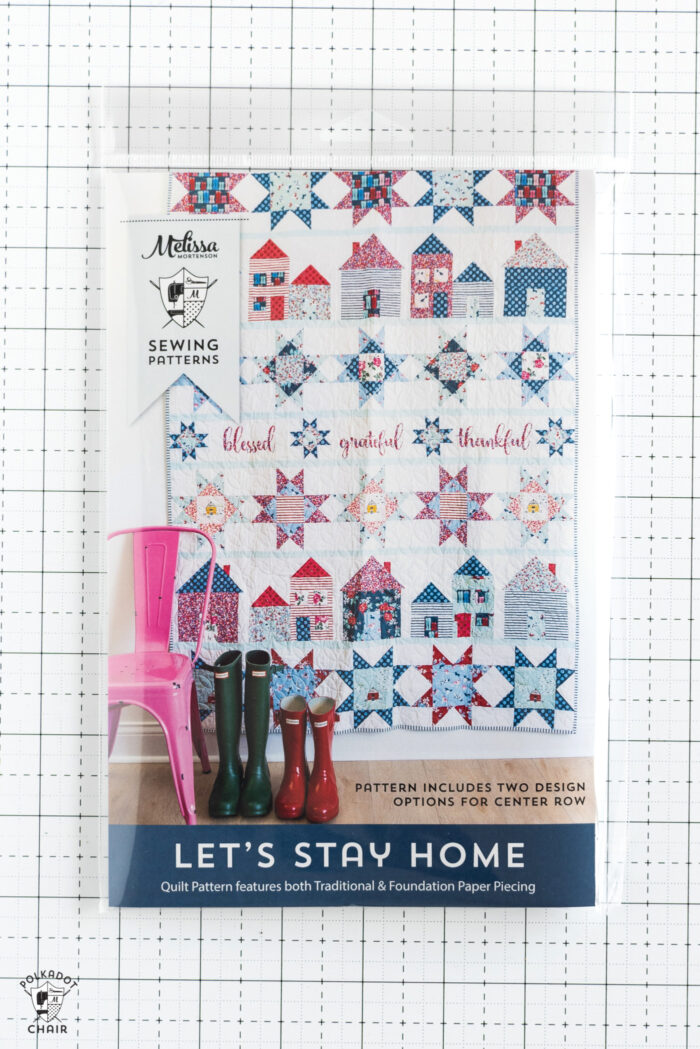 Click here to buy the Printed Pattern
Click here to buy the PDF (Digital) Pattern
Full Supply Lists are on the pattern. If you are buying a Printed Pattern and want the supply list right away, just look at the listing in the shop. It's got all the supply requirements listed and you can use that to plan your purchases.
Many of you guys have asked me if you could make this with a Fat Quarter pack of Fox Farm Fabric. I "think" you can. Full disclosure: I have NOT tested it that way.
I did some math last week and it should work, but you may need to change your fabric placement. I repeat many fabrics (like the houses have red stripes) and you won't be able to do that. You'll have to have more variety in your quilt if you do it that way.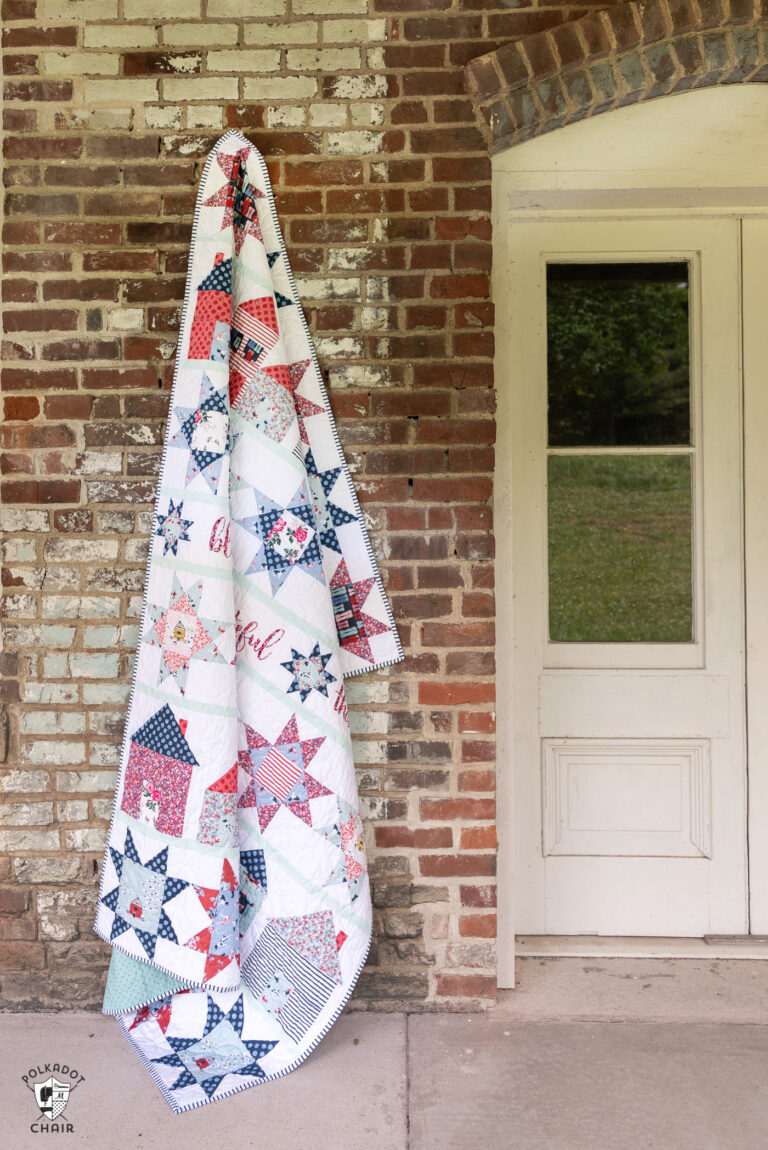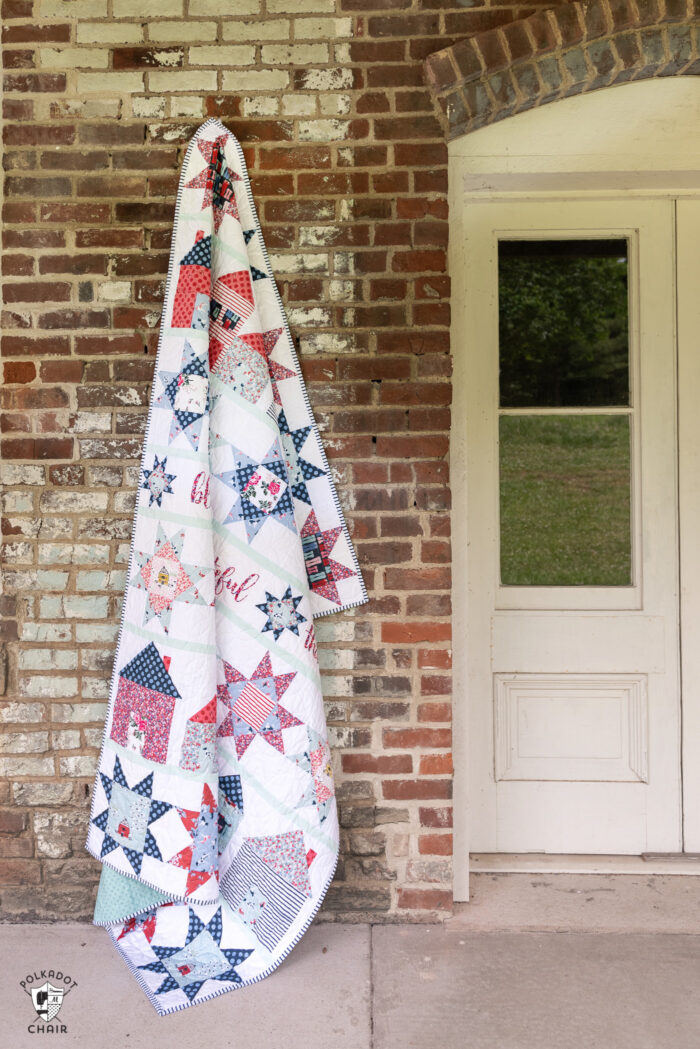 Ways to Keep in Touch as you participate in the Summer Quilt Along.
There are a few ways you can connect with others as you participate in the Quilt Along. Pick the ones that suit you best.
Instagram
Follow me on Instagram. I'll be doing weekly InstaStories chatting about the quilt along and the progress. I'll also be sharing your creations on my Insta Stories.
Please share your progress and creations on Social Media. We are using the hashtag #LetsStayHomeQuilt – you can also use #polkadotchair or #MelissaMortenson and I'll be able to find you!
Join our Facebook Group
We have Quilt Fun Facebook group that is not just for this quilt along but other quilt projects as well. Just click here to join!
Join our Weekly Newsletter
Our newsletter goes out each week. We share all the newest patterns and projects featured the week. We also link up a few older posts that we think you will love! It goes out on Sunday night and is a great way to help you plan out your "making" time for the week!
[optin-monster-shortcode id="vrbmhxkz5qwzgg51″]
Let's Get Sewing!
So now all you have to do is gather your supplies and meet me back here next Friday! Oh, and don't worry if your stuff doesn't all arrive by next Friday. Just jump in whenever you can. This is supposed to be fun, not stressful so PLEASE just work at your own pace!