Create a beautiful quilted placemat with a heart in the center with this free Liberty Love Placemat tutorial.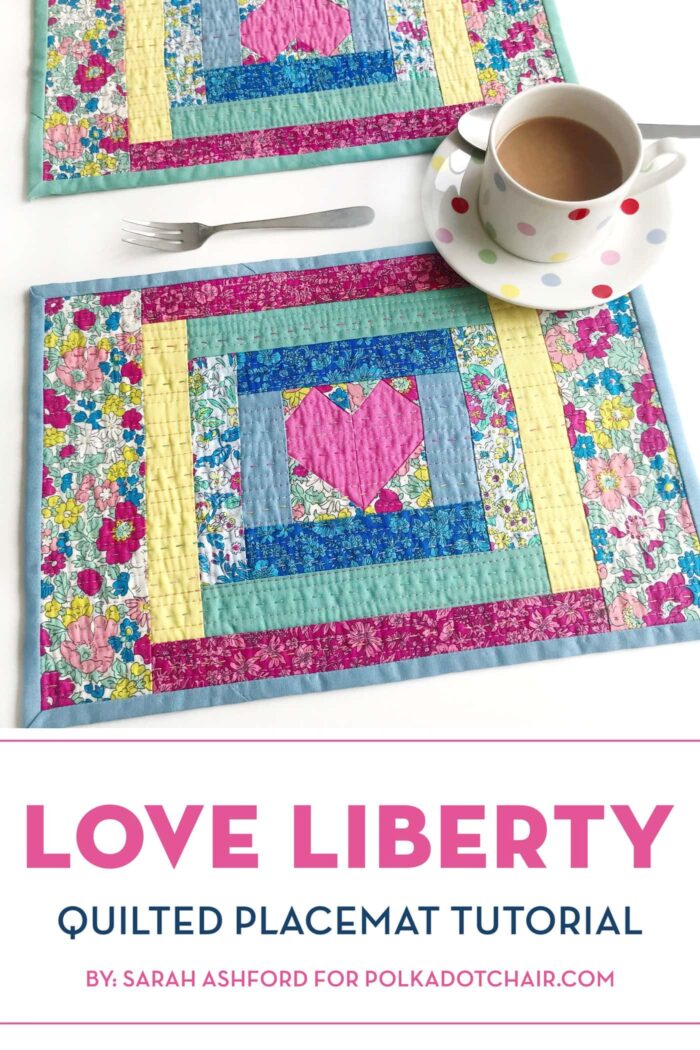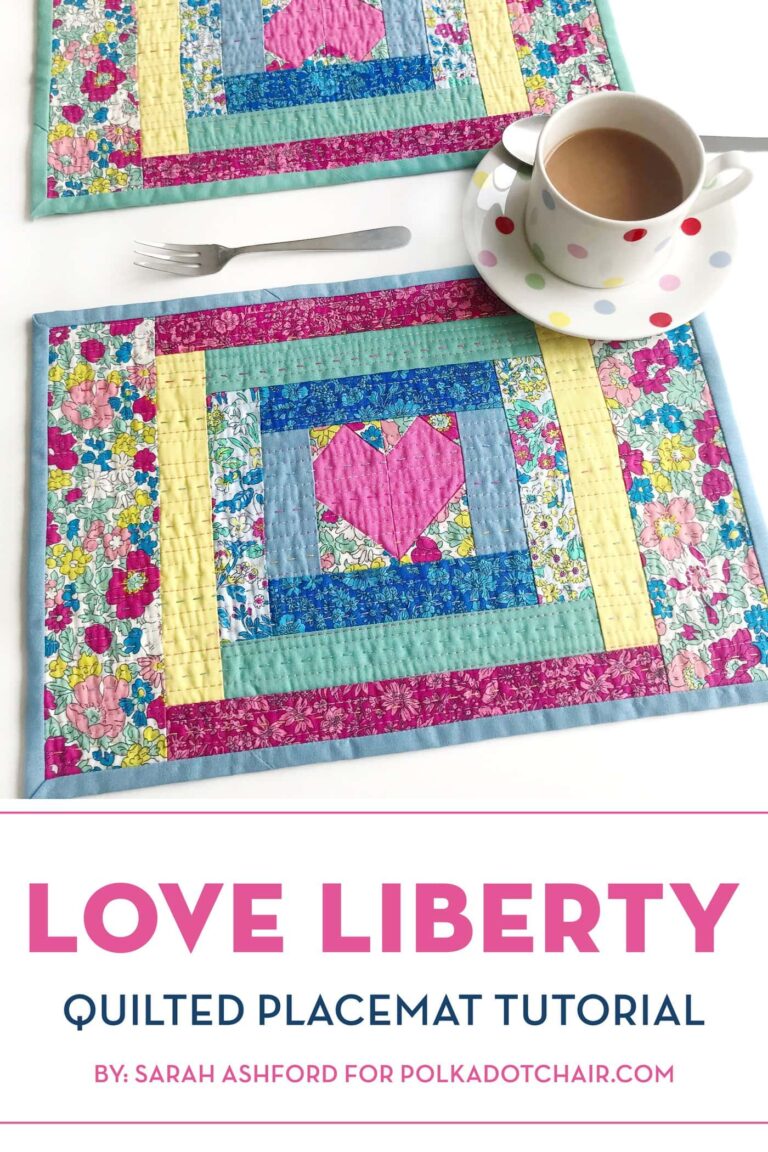 Sarah Ashford is joining us today and sharing a tutorial for a beautiful Love Liberty Placemat.
The placemat is quilted by hand and features a combination of Liberty of London fabrics and solid fabrics. For the Liberty fabrics in the project, she is using the Liberty of London Quilting cotton.
I've sewn with the quilting weight Liberty fabrics a few times in the past and many of you have asked what is the difference between the Liberty quilting cotton and the Liberty lawn fabrics. I thought I'd share what I've found to be the difference in the two fabric lines.
Table of Contents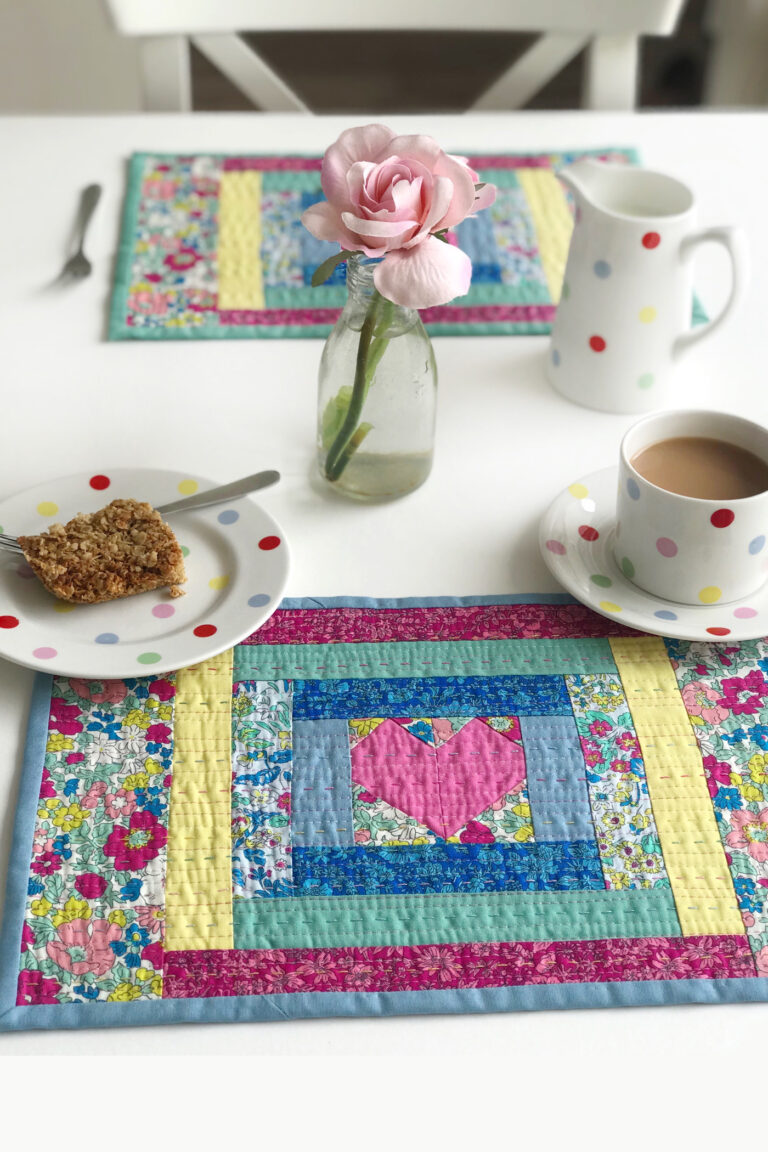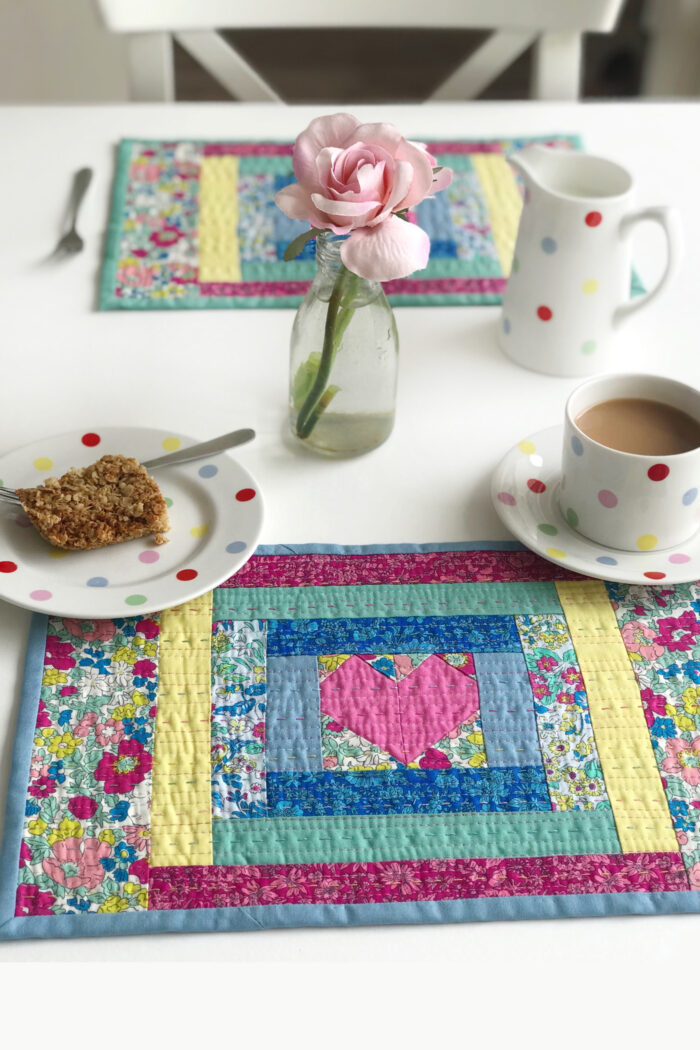 What is the difference between Liberty Quilting Cottons & Liberty Lawn Fabrics?
Liberty Quilting Cotton
Liberty Quilting cotton fabrics are manufactured by Liberty of London and distributed in the US by Riley Blake Designs. They are 100% cotton. They are a heavier weight fabric than the Liberty Lawn fabric that you may be familiar with. I would not call them heavyweight fabrics by any means. They are cotton fabric designed for quilting. They are usually crisper, and hold their shape better, than a cotton fabric used for apparel. I've sewn with them quite a bit and they are wonderful to work with. They have a high thread count and a beautiful sheen.
Liberty Tana Lawn Fabric
Liberty Tana Lawn fabric is also made by Liberty of London but is finer weave cotton. Lawn fabrics are made with very fine, very long cotton fibers and are tightly woven. This gives them a silky sheen and a beautiful drape. They are wonderful for many uses, including apparel and quilting. These fabrics are more expensive than quilting cottons.
Now that you know a bit more about the Liberty Fabrics that Sarah is using in the tutorial today, let's move onto the project!
Love Liberty Quilted Heart Placemat Tutorial
Sometimes I'm inspired to make projects based on a theme, sometimes it's a technique I want to use, and sometimes it's the fabric. Today it's all about the fabric! I've been so excited to use these gorgeous Liberty Flower Show prints with some beautiful Oakshott solids. They are the perfect pairing.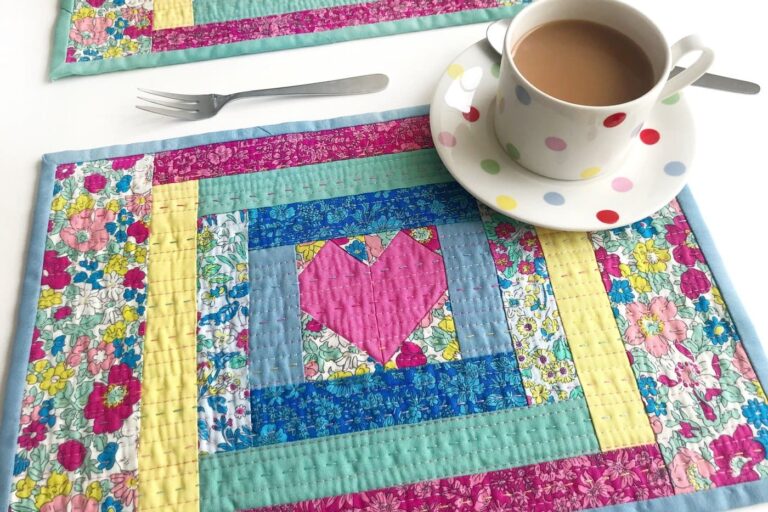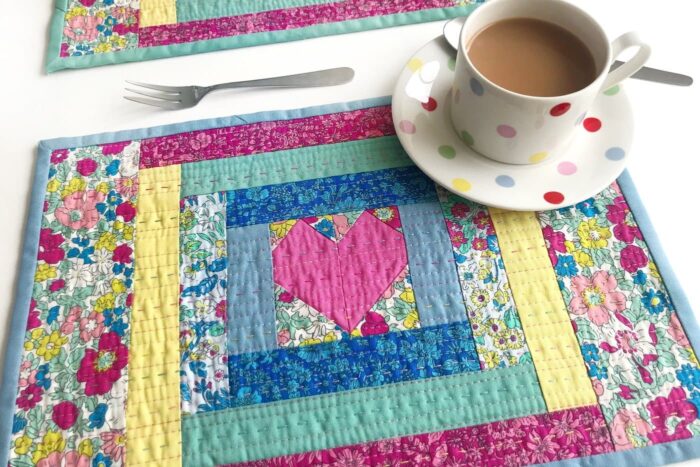 I decided to make 2 placemats with a heart at the centre, to create special place settings at the table. I'm thinking afternoon tea, scones, jam, cream, sweet treats, the full works; a British celebration alongside beautiful British fabric!
This project uses a combination of foundation paper piecing (FPP) and regular piecing. If you are new to FPP you can find my tutorial here. It's a very simple FPP pattern and a great place to start if you are a beginner.
How to Get the Printable Pattern Pieces. You can get a copy of the pattern pieces used in this project in our Template Library. Access to the library is for our Newsletter subscribers, and subscriptions are free. Please visit this page and follow the instructions to get the pattern pieces. PLEASE READ the instructions on that page. NOTE: The PDF only contains the pattern piece; you still need to read this tutorial to complete your project.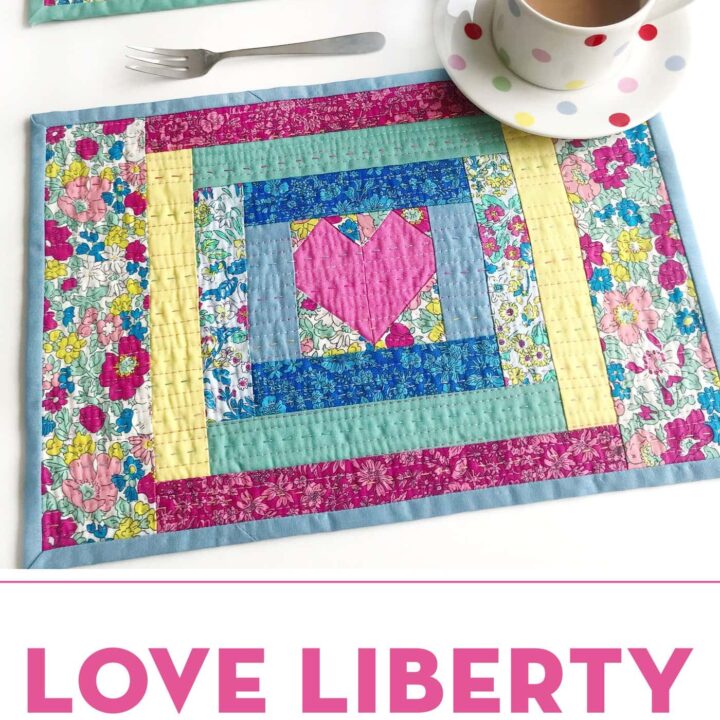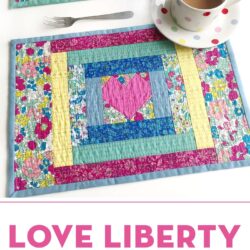 Love Liberty Quilted Heart Placemat
Create a beautiful quilted placemat using Liberty Fabrics.
supplies
5

Fat Eights

Liberty Fabric

6

Fat Eights

Solid Fabrics

1

piece

Backing – 16" x 12" approximately

1

piece

Batting – 16" x 12" approximately

1

Fat Eighth

Binding

FPP Template

Download here using this link

Hand quilting thread

optinal
Instructions
Cutting Guide:
Note: These are the cutting instructions to make ONE placemat.
Pieces to Cut for Foundation Paper Piecing
A1 and B1 (heart)
2 pieces each, 4 ½" x 2 ½"
A2, B2, A3 and B3 (background)
A
2 pieces each, 3 ½" x 1 ½"
B and C
4 pieces each, 5 ½" x 1 ½"
D and E
4 pieces each, 7 ½" x 1 ½"
F
2 pieces each, 9 ½" x 1 ½"
G
2 pieces each, 9 ½" x 2 ¾"
To Make:
Print off the FPP template and make up the heart block. When you stitch section A and section B together, press the seam open to reduce bulk in the centre.

Add 2 section A pieces to either side of the heart block.

Now add section B.

Add section C.

Add section D

Keep going in this way, alternating between a pattern and a print until you have completed the placemat top.
Quilt
Layer up the backing, batting and placemat top ready for quilting. I like to use spray baste as this negates the need for pins. Quilt as desired. I have used horizontal organic straight line quilting and added some hand quilted rows using my favourite 12 weight Aurifil thread for added detail.
Bind
Cut the binding at 1½" x 50". You may need to join 2 strips to get this length. This is for single fold binding, which I like to use for small projects as it uses less fabric and is less bulky at the joins.

Trim off the excess batting and machine sew the binding onto the front of the place mat, mitring the corners. Fold to the back and hand stitch the binding to the back for a neat finish.

You may want to make multiple place settings, and if so, I would recommend stitching them 'production line style' by completing each stage at the same time to make it quicker.

Now all you need to do is set the table ready for an indulgent feast with some very lucky family and friends!
PRINT
About the Designer: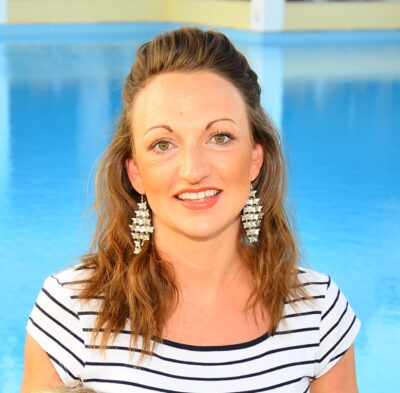 Sarah Ashford is a British Quilter and embroiderer and founder of the GreatBritishQuilter challenge on Instagram. Sarah regularly contributes projects to magazines and loves to spread the joy of quilting everywhere she goes. Follow her on Instagram at @sarahashfordstudio and be sure to check out her beautiful sewing room decals in her Etsy shop www.etsy.com/shop/sarahashfordstudio
If you love sewing with Liberty Fabrics, make sure you check out these other projects.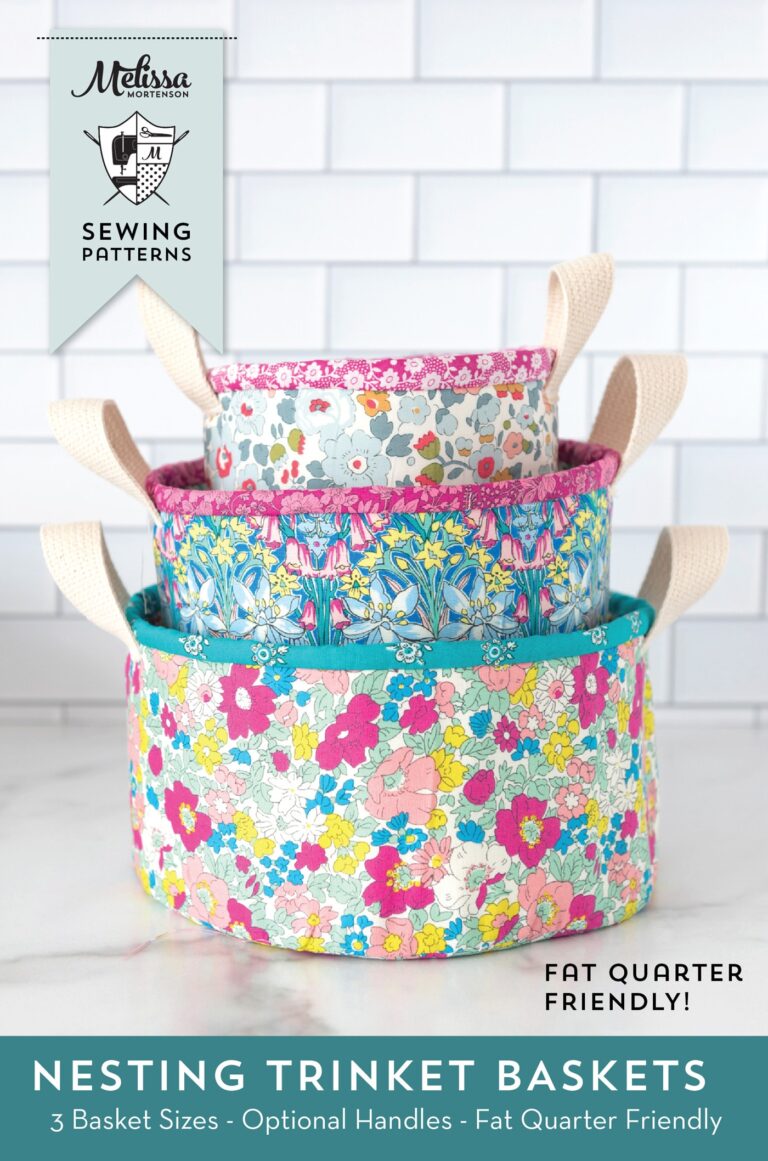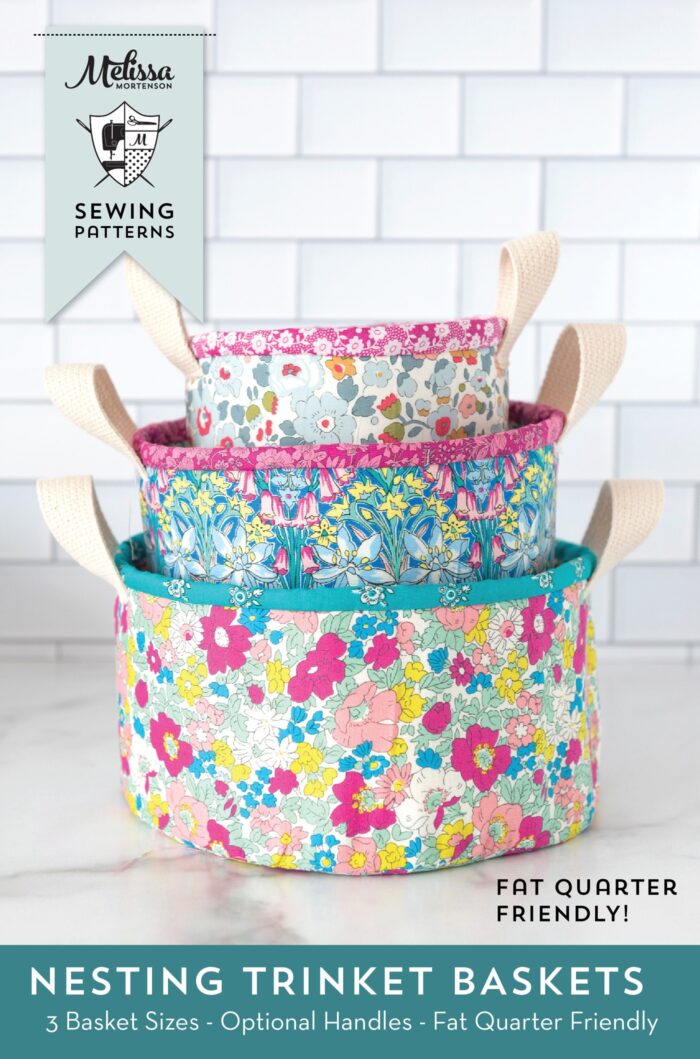 Liberty Nesting Trinket Baskets Sewing Pattern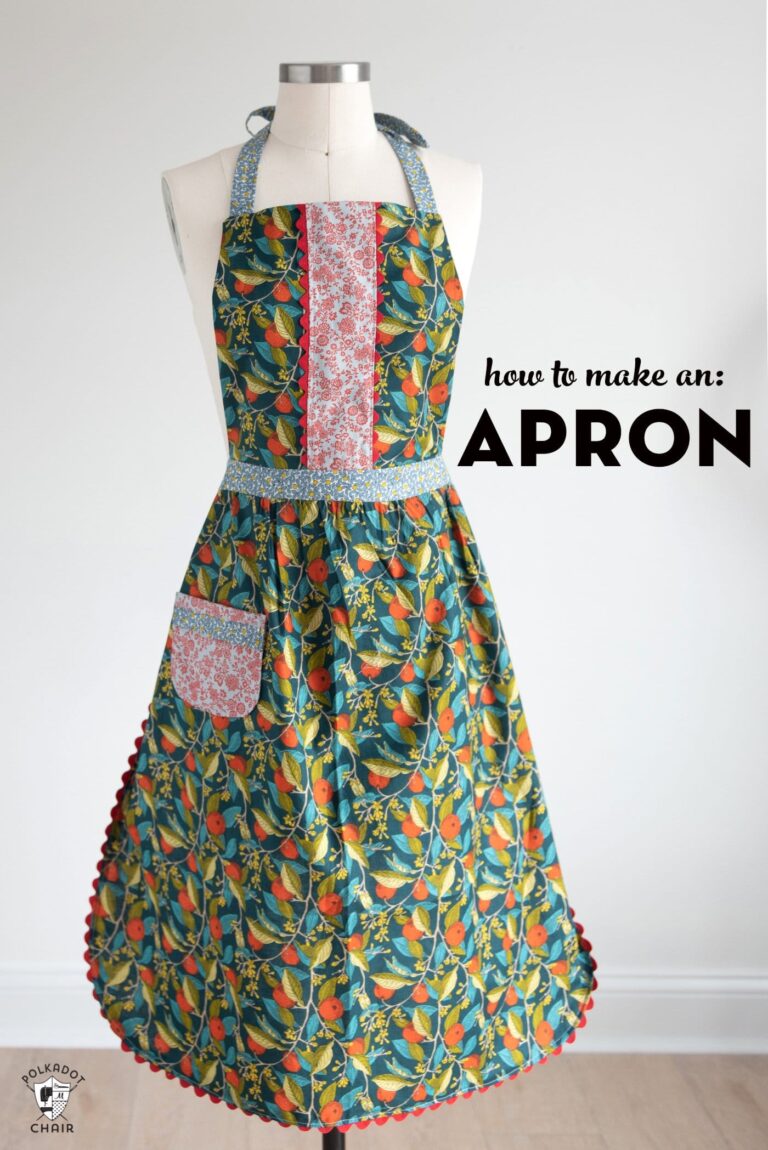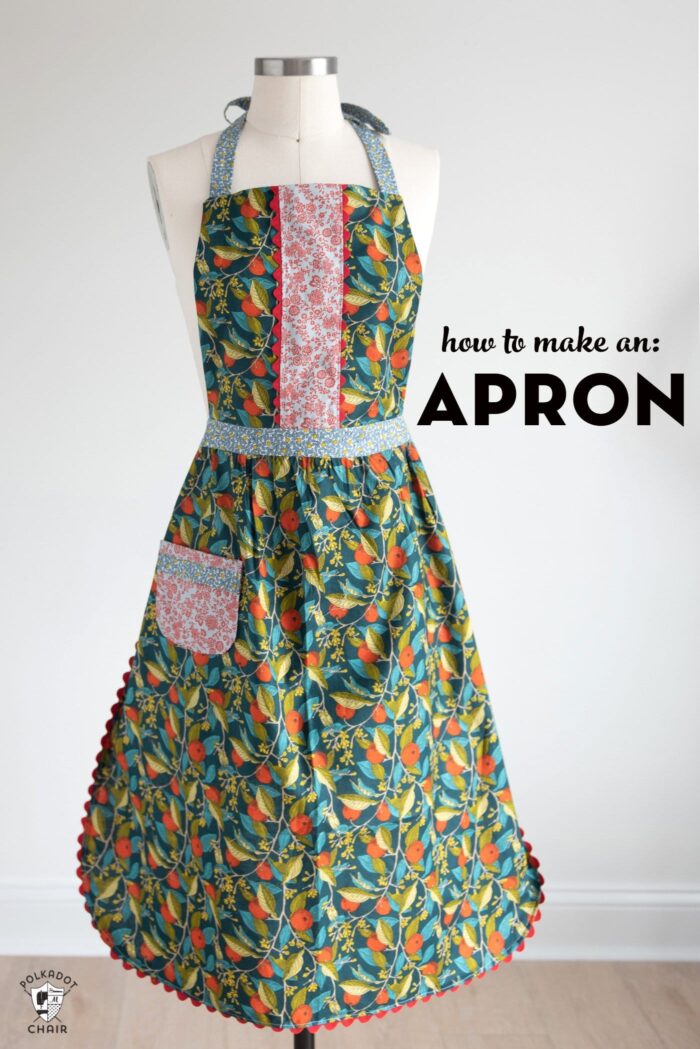 How to Make an Apron with Liberty of London Fabrics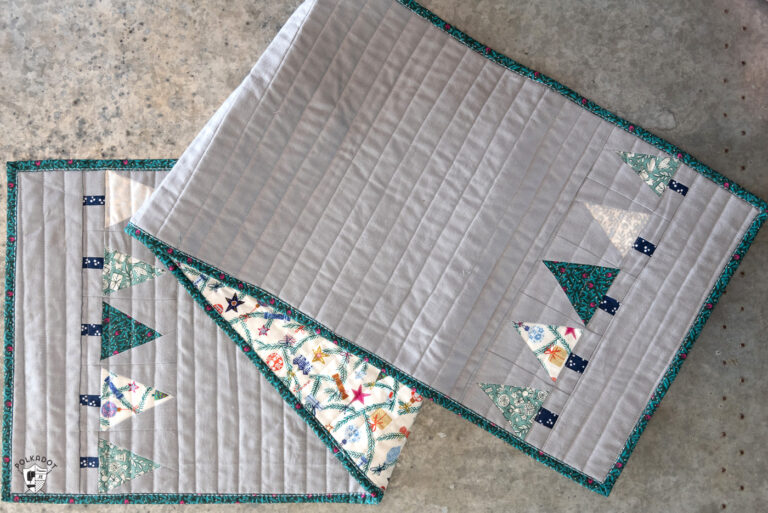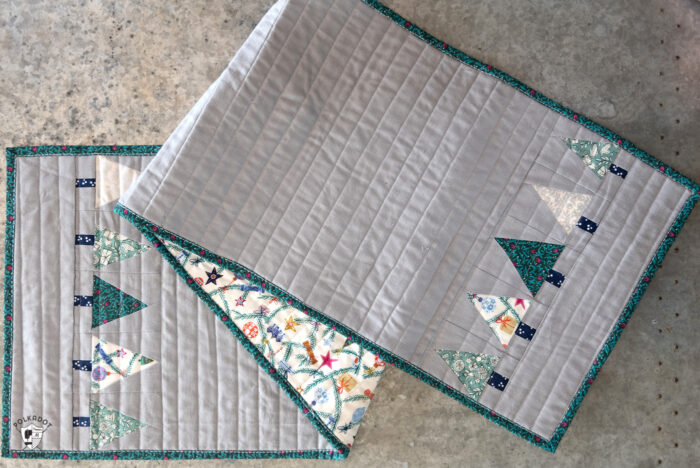 Quilted Linen Christmas Table Runner with Liberty Fabrics