Create a gorgeous table runner for your Holiday table! This Quilted Linen Christmas Table runner is fun and fast to stitch thanks to the inclusion of some improv pieced Christmas Tree quilt blocks.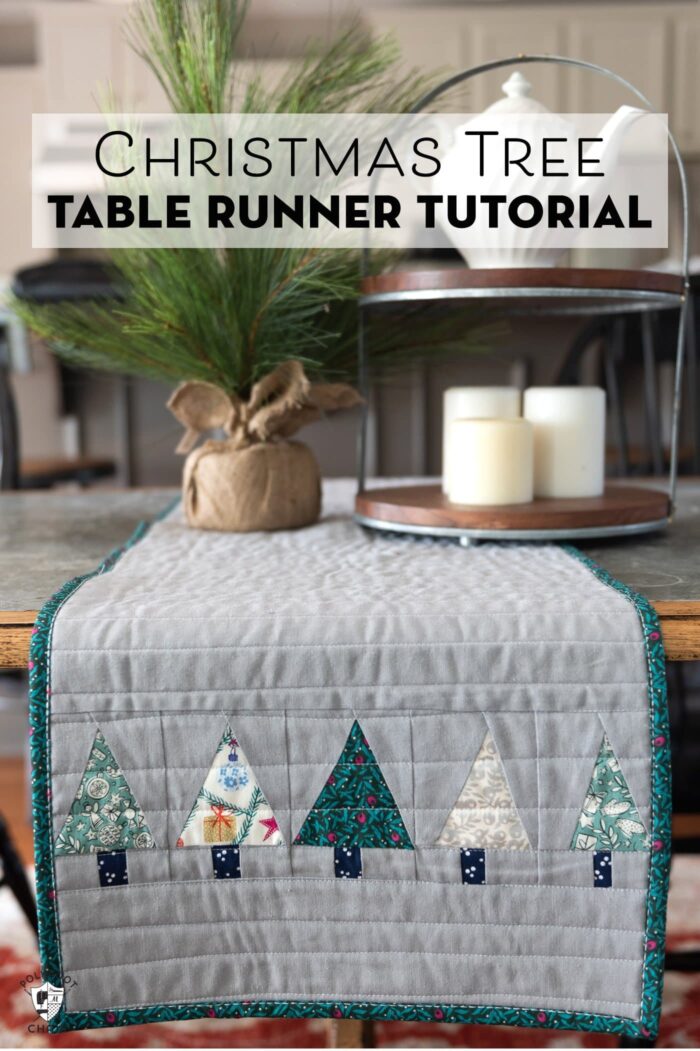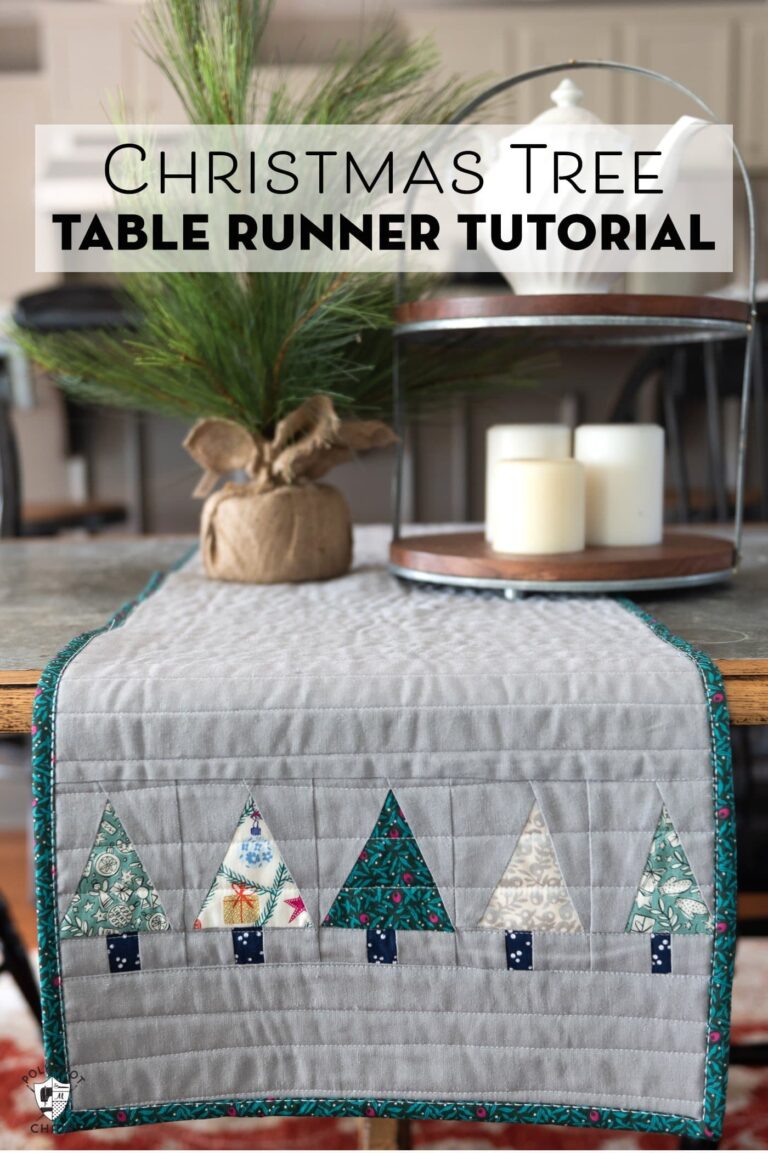 Recently Riley Blake Designs became the US distributor for Liberty of London Quilting Fabrics. If you have followed me for a while then you know that I go a bit "ga ga" for Liberty fabrics.
Table of Contents
I stopped at the store when we were in London a few years ago and it was a major exercise in restraint to only buy 1 meter of fabric!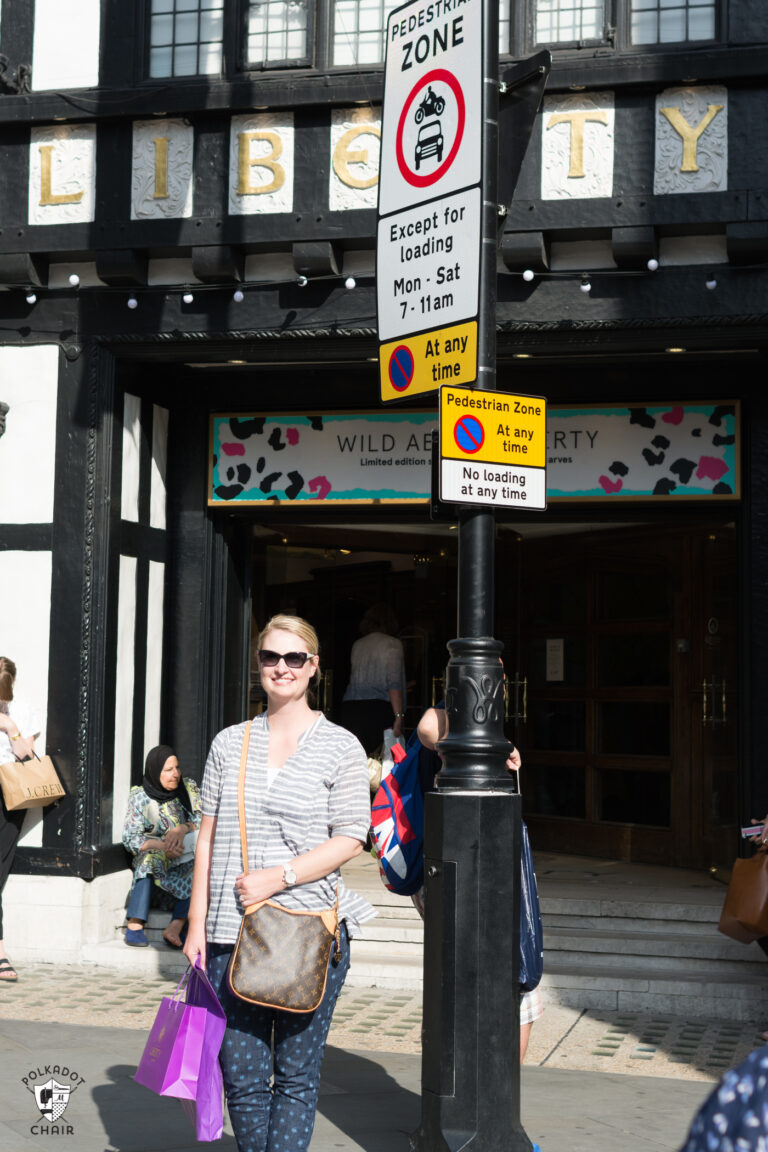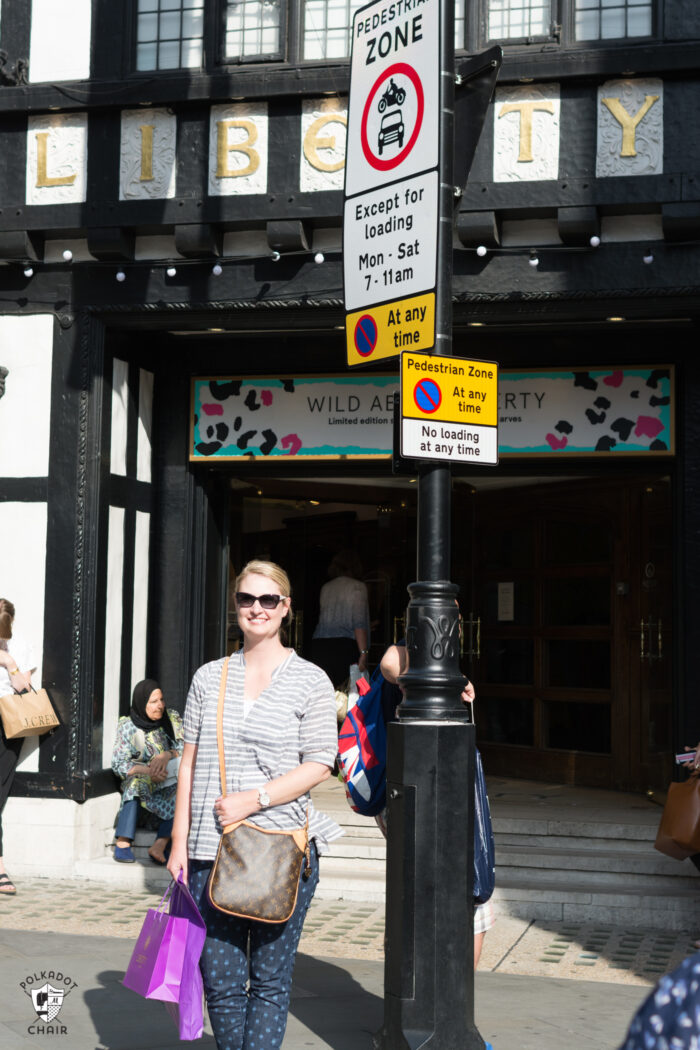 About Liberty of London Quilting Cottons
One of the Liberty quilting fabric lines that Riley Blake is distributing right now is a fun Christmas line called Seasons Greetings.
It's full of all of the amazing prints and colors that you'd expect from a Liberty fabric, and I was immediately smitten.
In case you're wondering the Liberty quilting cotton are not the same as the Liberty Lawn fabrics that you may be more familiar with. These cottons are more like what you'd expect a quilting fabric to be. They feel a bit heavier however they still have that gorgeous Liberty drape and sheen.
The fabrics are made by Liberty of London and distributed by Riley Blake Designs.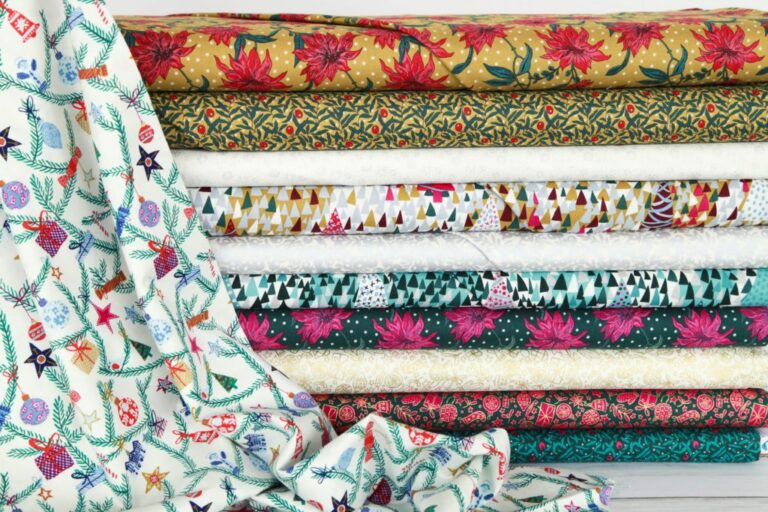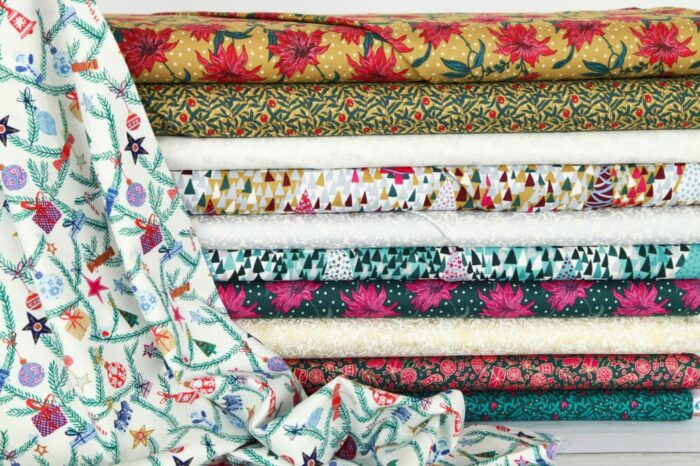 Riley Blake sent me a bundle of fabrics and I chose to create a Christmas table runner. I think the "less traditional" Christmas colors coordinate well with my home's decor. Since I'm always feeling so behind each Holiday Season I figured this year I'd embrace the whole "Christmas in July" thing and make something for Christmas really early!
If you're wondering where to buy the fabric, you can find it at most stores that carry high-quality quilting cottons. The fabric is due to arrive in stores sometime in early Fall.
Improv Tree Christmas Table Runner Tutorial
For this tutorial, you will need to refer to Amy Smart's Improv Christmas Tree quilt block tutorial. It's a free one on her site. I'll include the link in the instructions.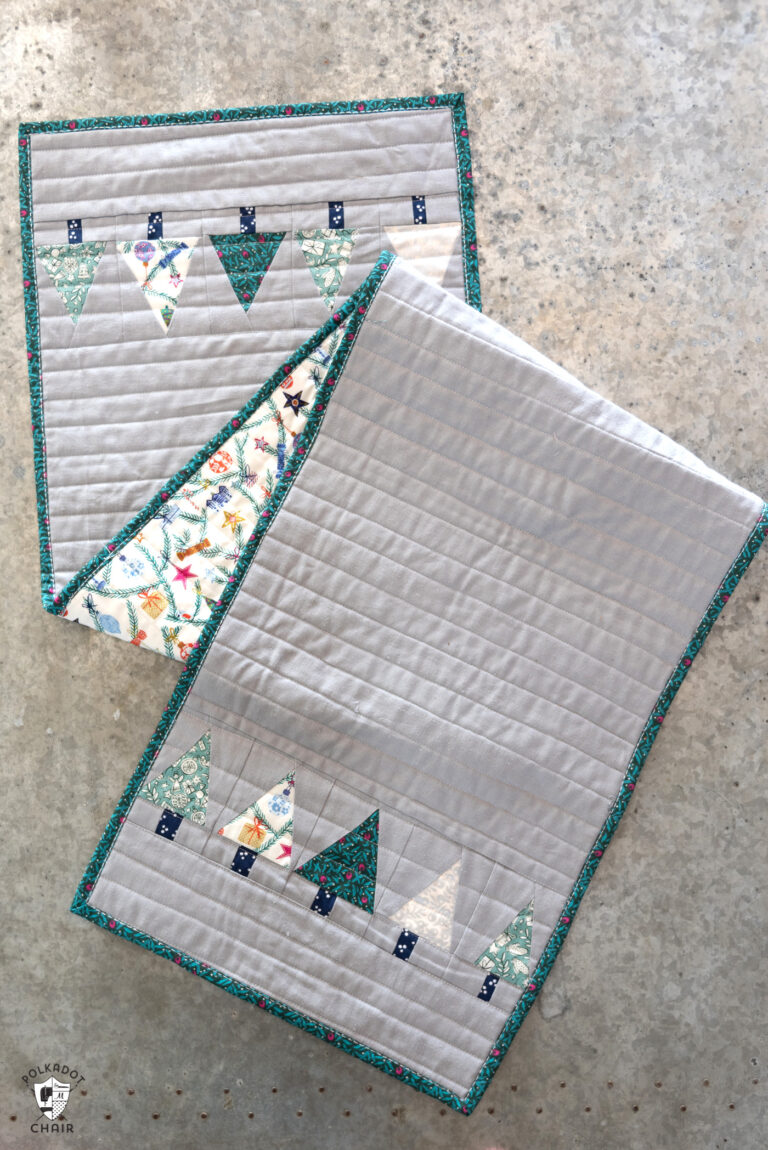 Table Runner Supplies
2-3 Fat Quarters of Seasons Greetings Liberty of London Fabric (you need pieces 4 ½″ x 4 ½″ for this tutorial).
1 Yard Linen Fabric. I don't know the brand name of mine but it matches well the Riley Blake Gray Linen on the color card I have.
1 Yard Fabric for Backing
½ Yard Fabric for Binding
1 Yard Cotton Batting
Table Runner Measures approx. 15 ½″ x 58″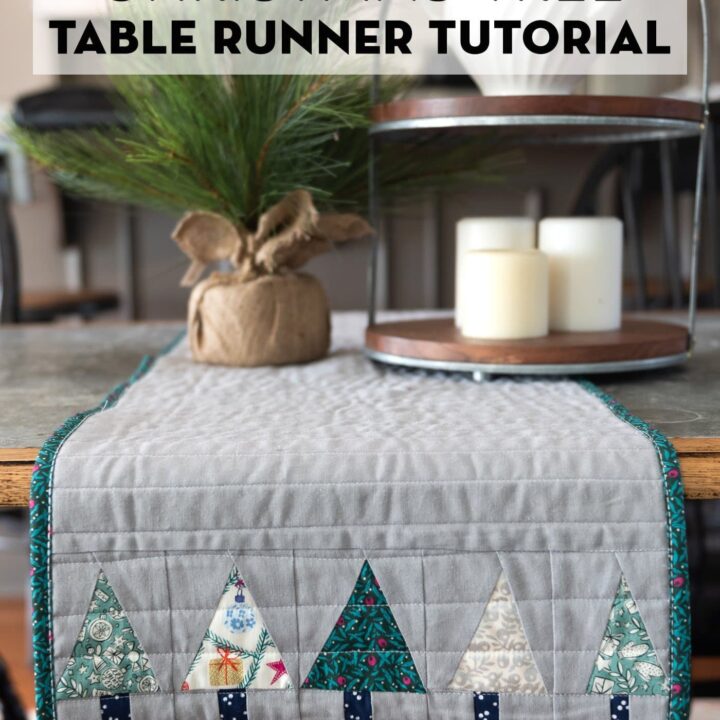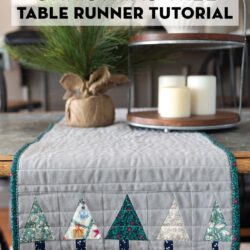 Quilted Linen Improv Christmas Tree Table Runner Pattern
Create a beautiful Christmas Table Runner that features Improv Christmas Tree Quilt Blocks. Table Runner Measures approx. 15 ½″ x 58″
Instructions
Create the Christmas Tree Blocks
Following the linked tutorial on Amy Smart's blog, create 10 Improv Christmas Tree blocks.

You will use the gray linen as the background fabric and the Liberty fabric for the trees.

I did not use the "mirror" image of my tree blocks as Amy did. You can it's up to you. https://www.diaryofaquilter.com/2014/11/patchwork-tree-quilt-block-tutorial.html

Trim your blocks to 3 ½″ wide by 5″ tall.
Sew the Blocks into Rows
After you've created your blocks, sew them into 2 rows of 5 blocks each. Add Borders Cut 2 pieces of linen fabric each 4" x 15 ½"

Stitch one piece of fabric to the bottom of each the row of blocks.

Add Center Section

NOTE: I knew that I wanted my table runner to sit on my tabletop a certain way.

I wanted the tree blocks hanging over the side and the part of the runner on the table to be plain linen fabric.

If you'd like yours to be the same way.

1- Measure the width of your table. Add 4″ to that measurement.

2- Cut the piece of linen for the center of the runner 15 ½″ by the length measurement you just made.

For example, my center section was 42″ x 15 ½″ since my table is 38″ wide. (note: most linen fabric is wider than 42″ so you can make your runner longer without buying a lot of extra fabric)

Stitch one row of blocks to each end of the center section.
Quilt as Desired
If you have not quilted a table runner before there is a full tutorial with lots of photos that you can find here. I

walk you through all the steps in detail. https://www.polkadotchair.com/tuesday-tutorial-skinny-simple-table-runner/ Bind as Desired

I chose to bind my table runner by machine. Since the stitching was showing I used the Hand Stitch feature on my machine.

If you'd like to do something similar, just look for a stitch on your machine that stitches then does a backstitch before it moves along. Essentially it double stitches as it sews.
PRINT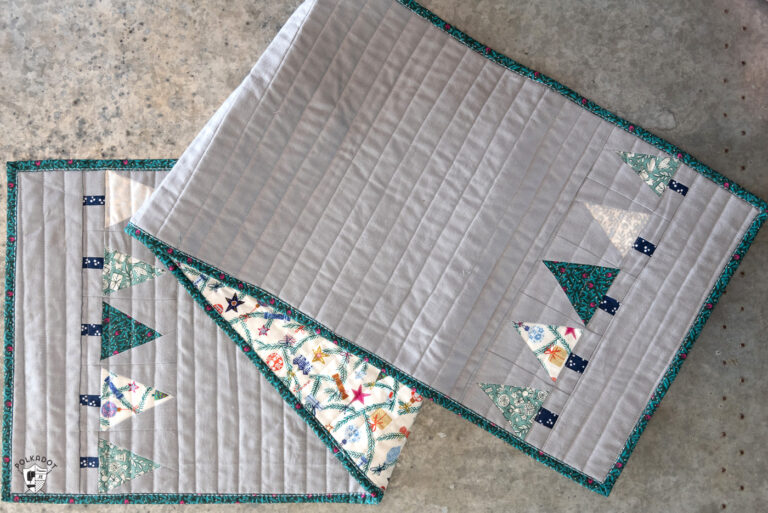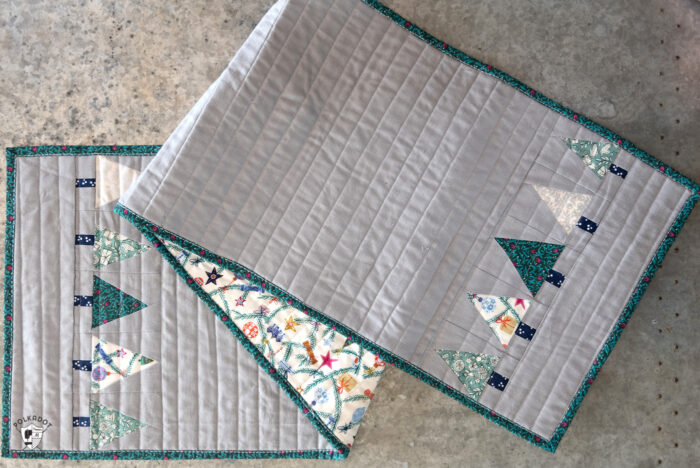 More Liberty of London Sewing Tutorials:
Spring Top made with Liberty Fabrics
Star English Paper Pieced Quilt Block with Liberty Fabrics