Stitch up a duffle bag that is perfect for everything from a trip to the gym to an overnight trip. This round duffle bag sewing pattern is available in 3 different sizes and features a detachale shoulder strap and optional side pockets.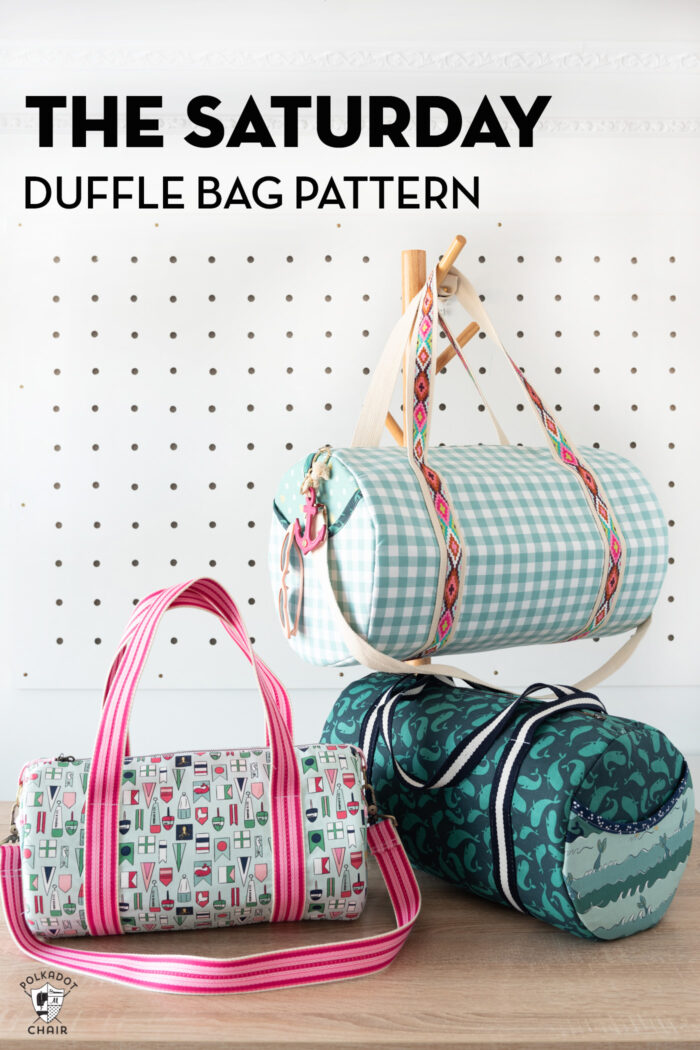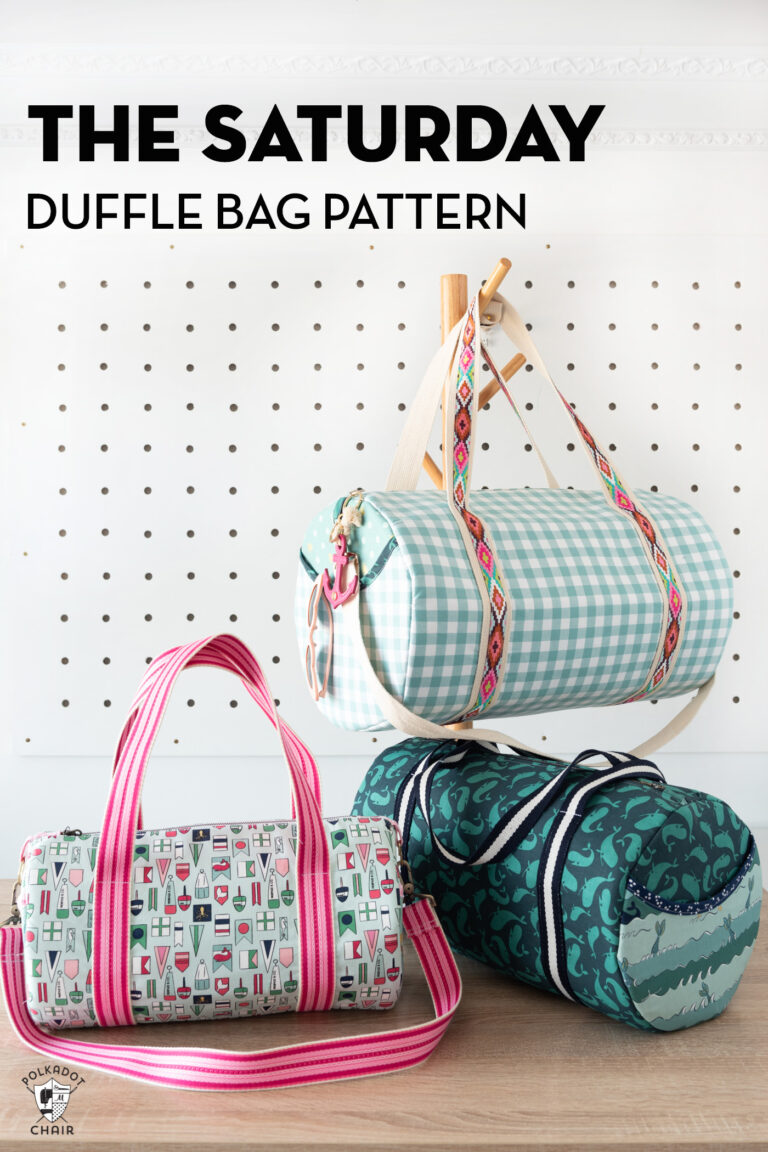 Table of Contents
Today I'm so excited to introduce you to a bag sewing pattern that I've been working on for over 3 years! The Saturday Bag. A few years ago, when I was prepping for my booth at Spring Quilt market, I decided to make a round duffle bag for my booth. I was inspired by the "old school" round duffle bags that I used to have in the '70s & '80s.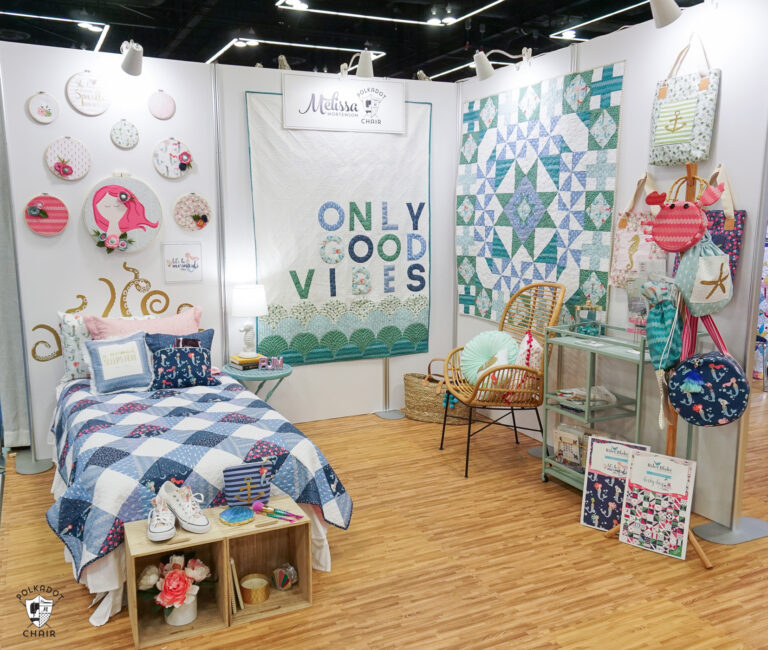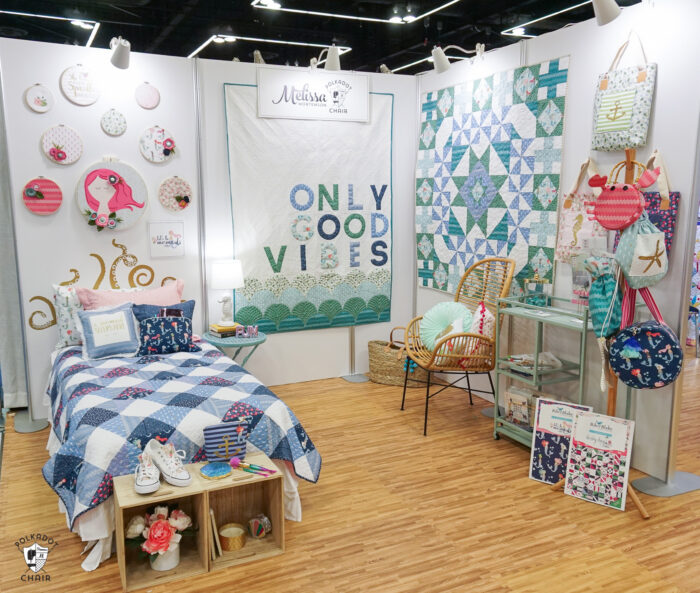 (you can see the bag in the corner of the booth)
I wanted to give it a modern spin but still keep the design simple and easy to construct.
I stitched up the duffle bag. I then started to write the pattern and thought of a million different things I wanted to add or change. I slowly kept working on the pattern and am now ready to release it!
About the Bag Sewing Pattern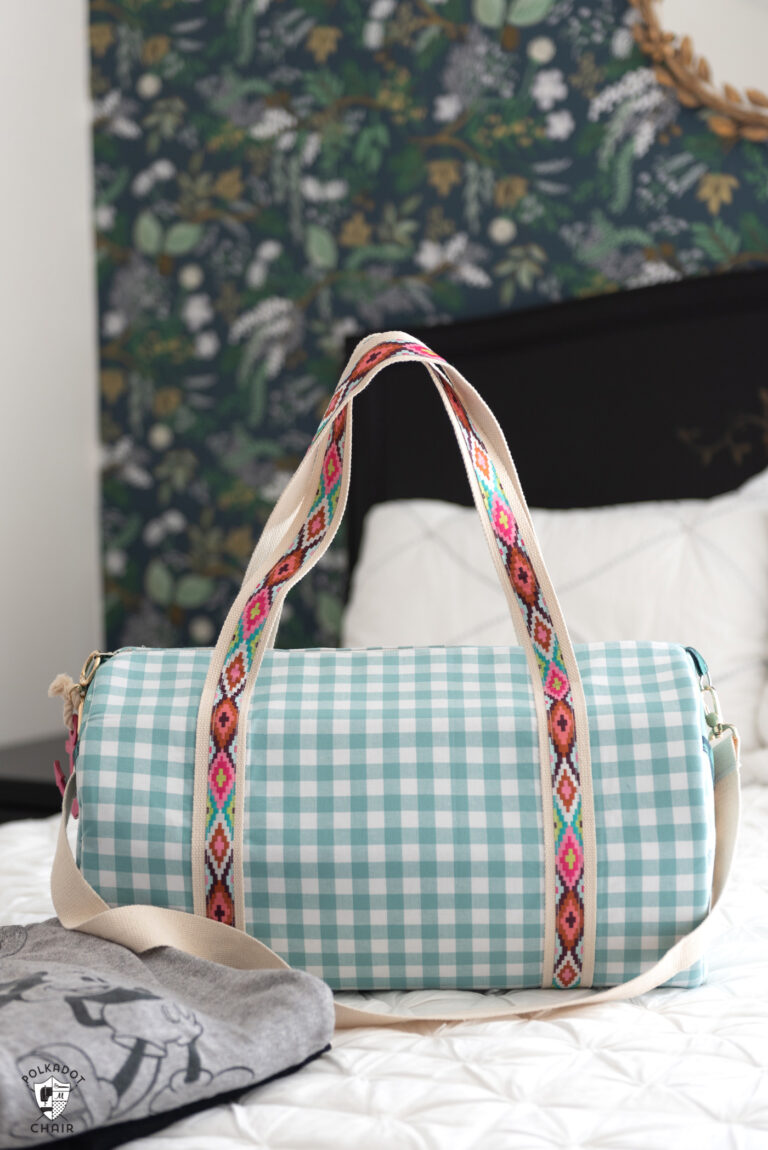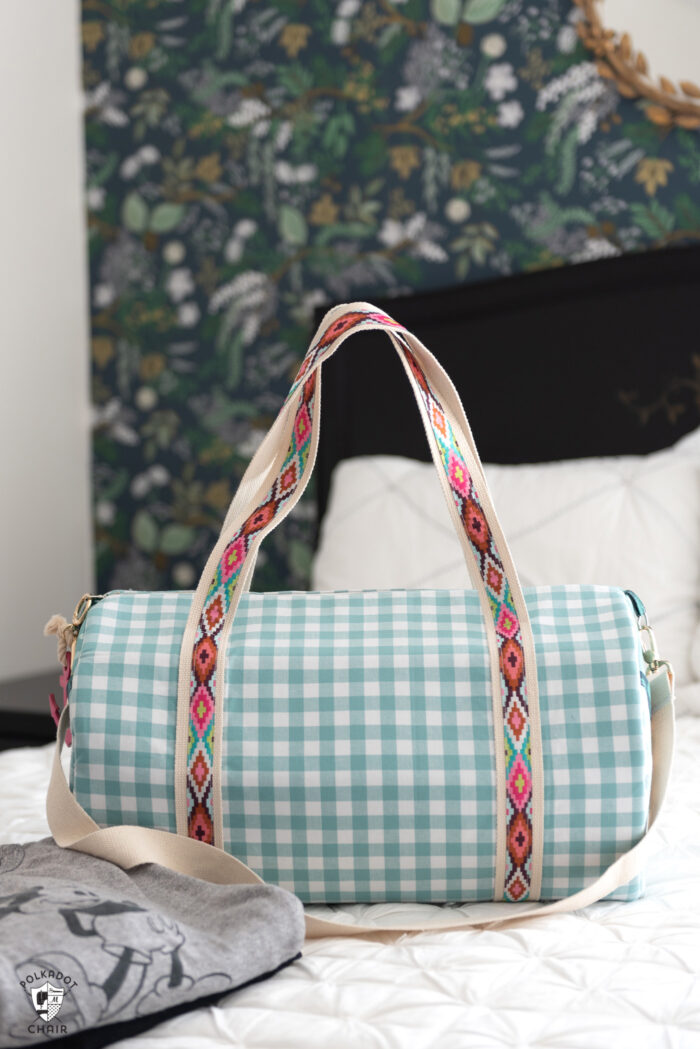 The Saturday Bag is a sewing pattern for a lined, round duffle bag pattern. It features an optional side pocket and a detachable shoulder strap.
It's just the right size for a weekend away! My daughter also would have loved a bag like this when she was a ballerina to take with her to dance class.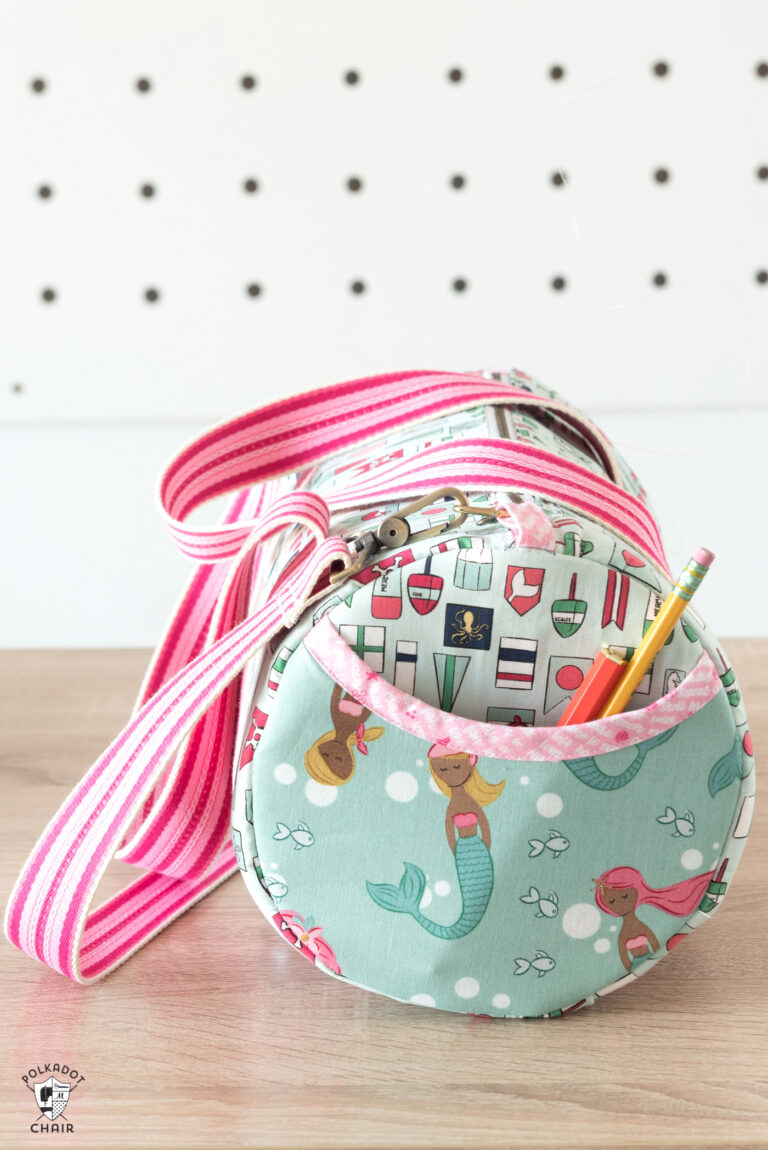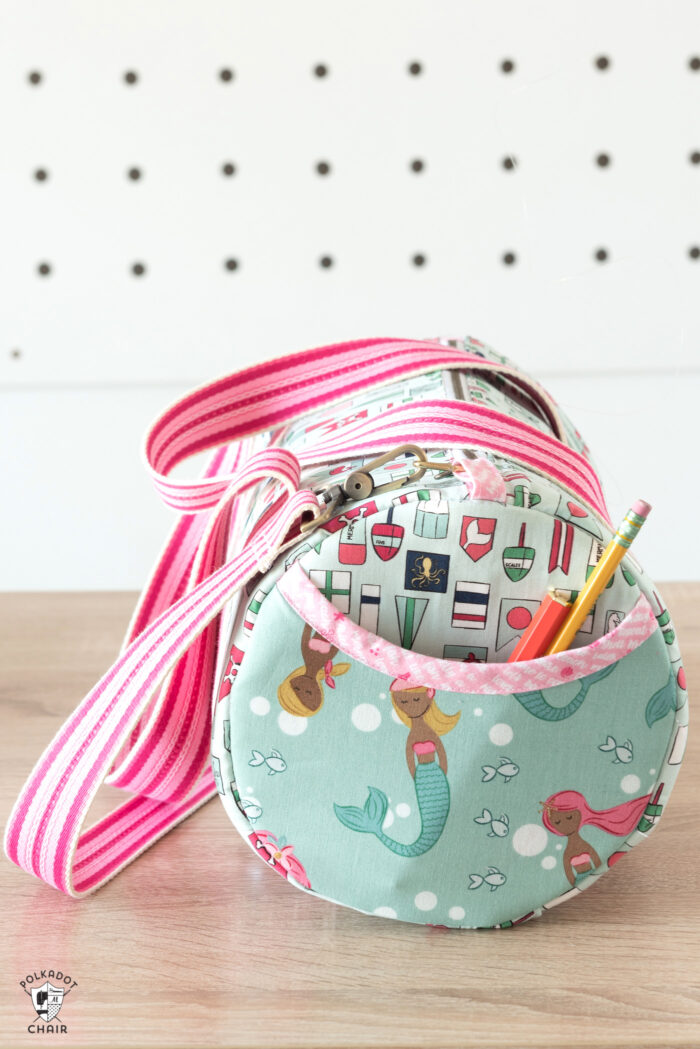 The pocket features a simple curve, reminiscent of my Round Pot Holder pattern. The edge is finished with bias tape (which is SO easy to make, don't be intimidated by that step)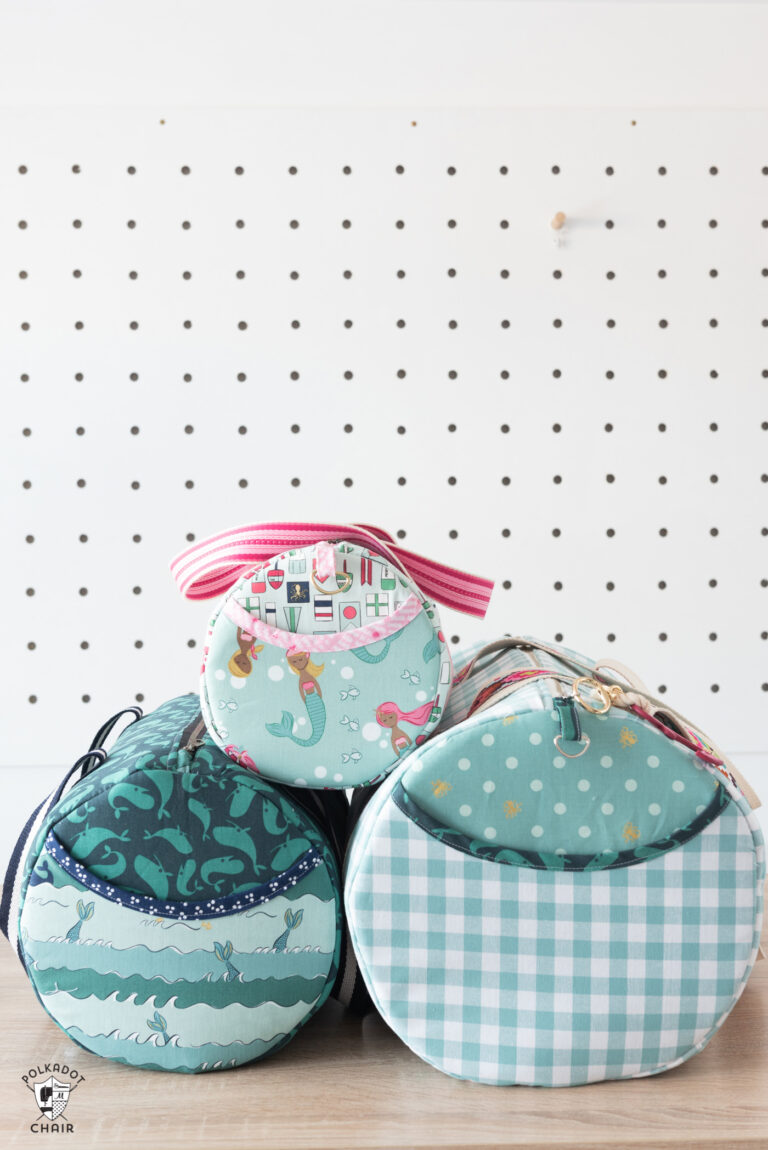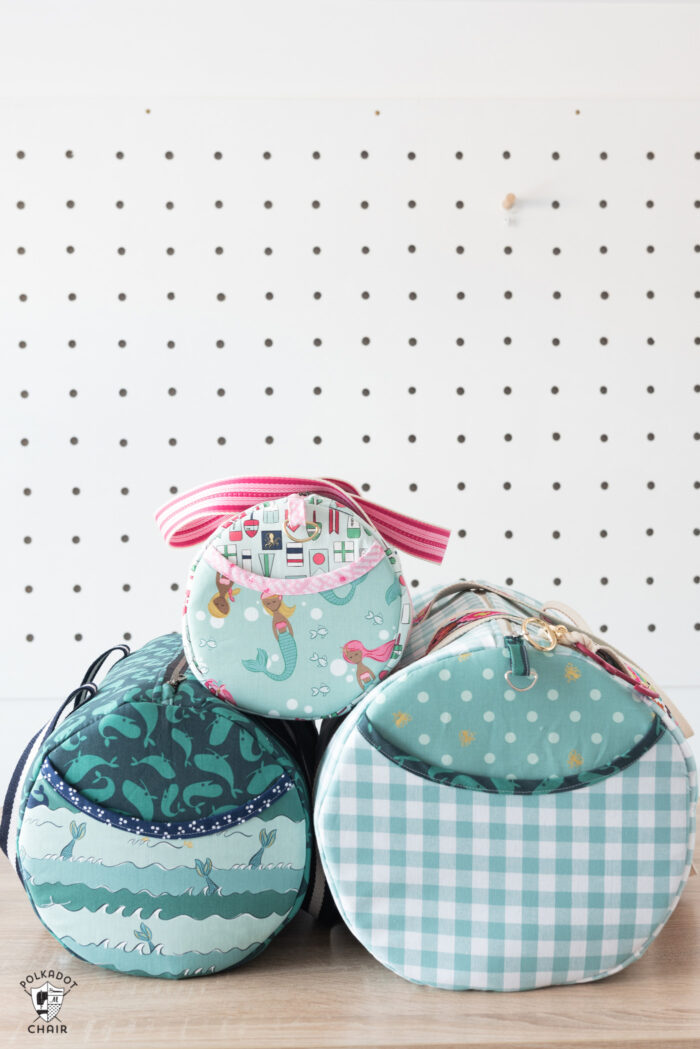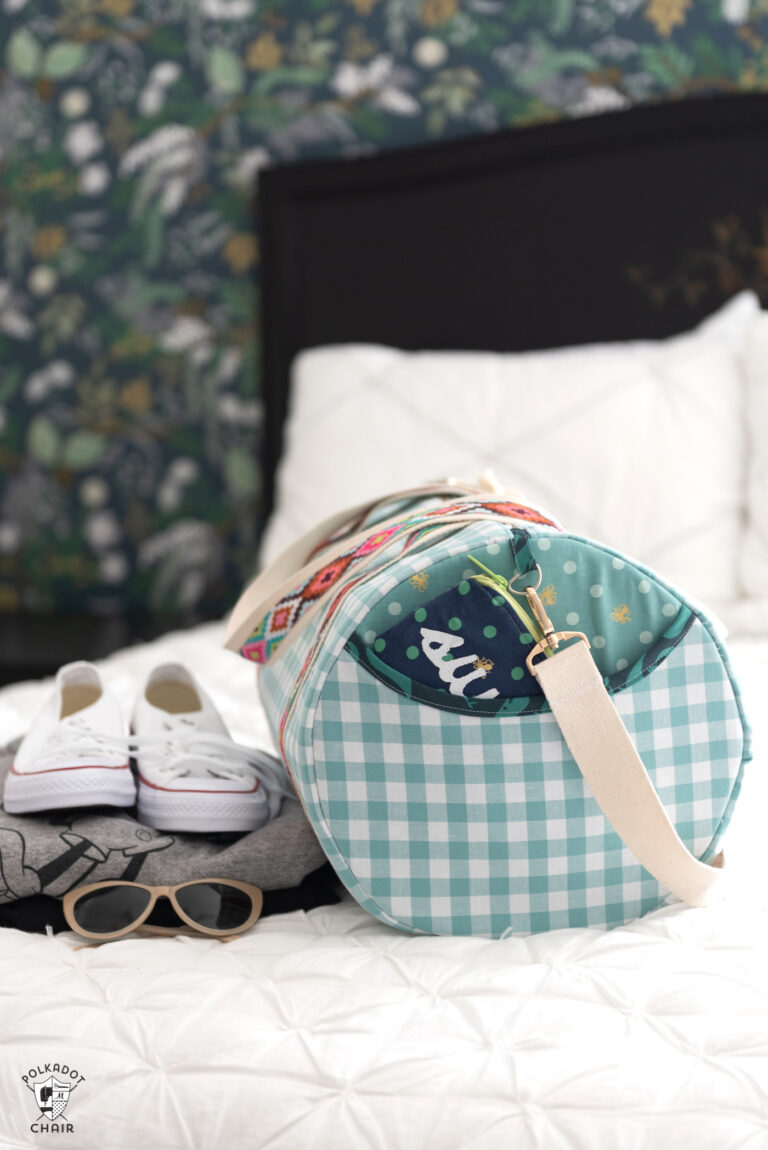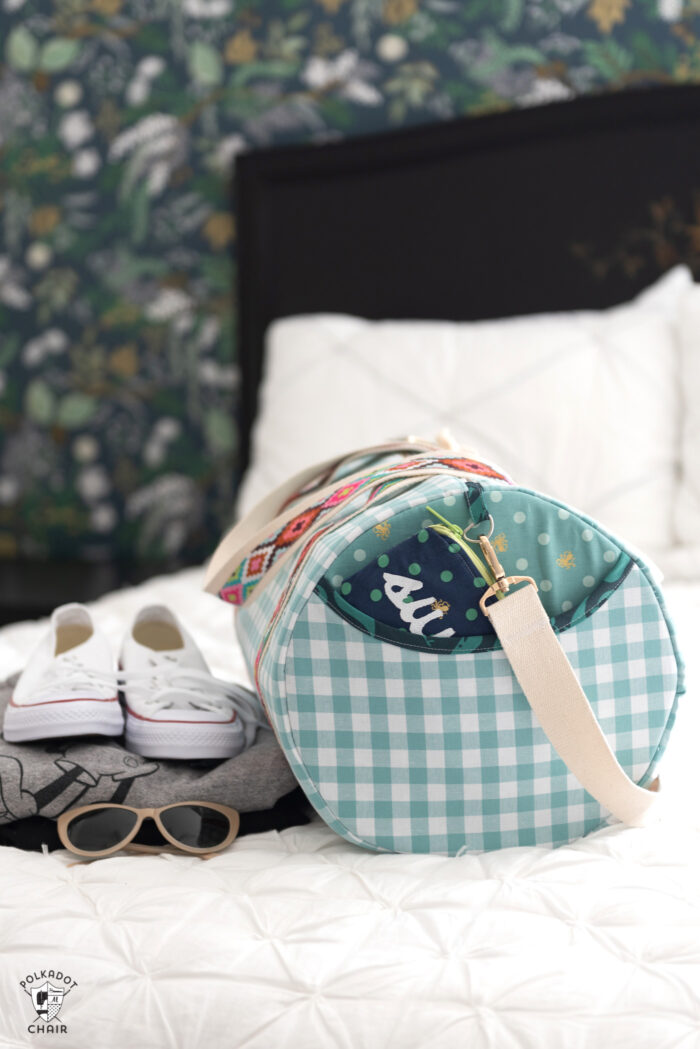 Key Features of the Bag Pattern
The bag can be made in 3 different sizes. Small Bag: 14″ long by 7″ deep. Medium Bag: 16″ long by 9″ deep. Large Bag: 19″ long by 11″ deep.
It would be great to use a dance bag, swim bag, pool bag, or weekender bag.
Features an optional size pocket.
Instructions include an optional detachable shoulder strap.
If you can't find webbing that you like, you can use decorative trim.
Constructed using readily available quilting weight cotton.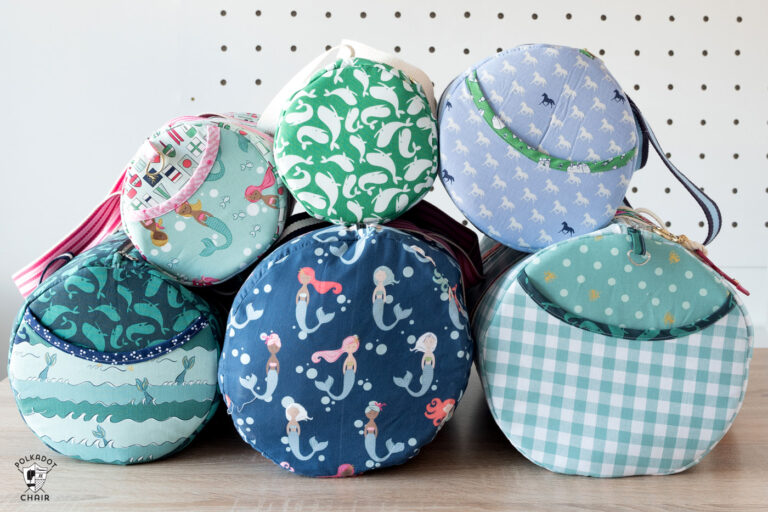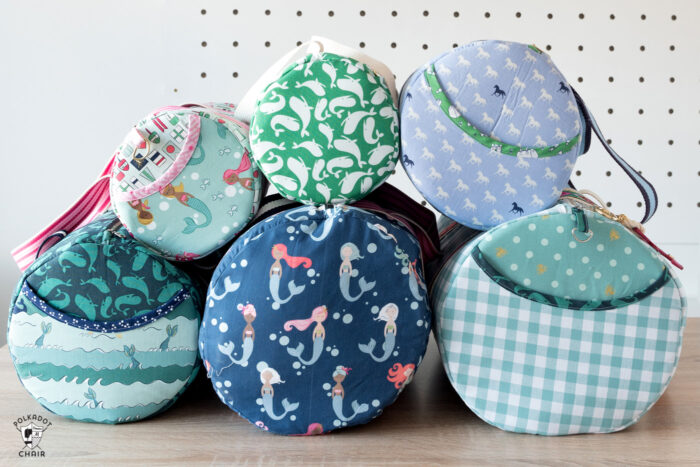 I'm sure you have many questions about the pattern; I thought I'd answer some of the most frequently asked ones below.
Frequently Asked Questions about the Duffle Bag Pattern
Q: What is the difficulty level?
A: I would say that this bag is an advanced beginner. It would not be good to make your first bag ever (this pattern would be better for that). If you go slow, read all the directions, and are patient with yourself, a confident beginner should be able to construct this bag. FYI: The zipper is NOT scary!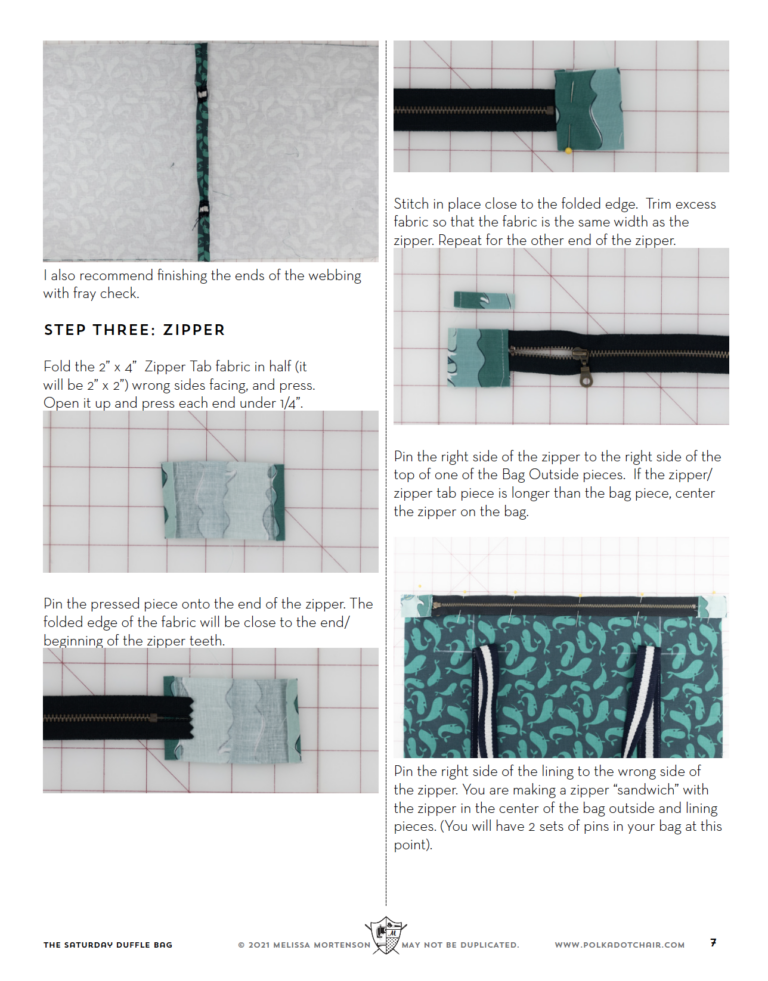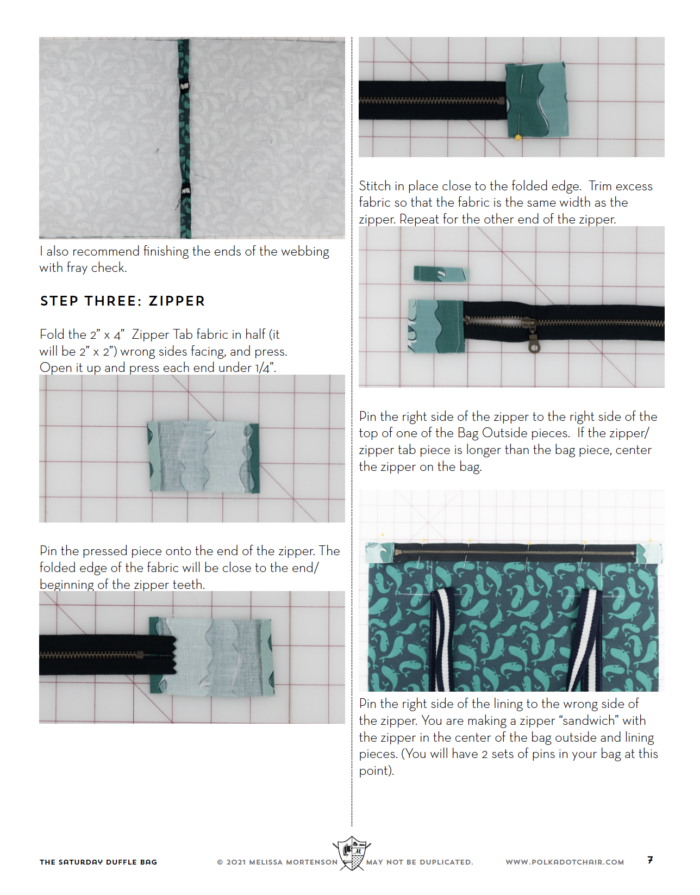 (Sample page from the pattern)
Q: What materials do you need to make it?
A: The bag takes between 1-2 yards of fabric, flex foam, a zipper & canvas webbing for the straps. The full supply list can be found on the pattern page in our shop.
Q: Where did you get the webbing & the zipper?
A: I purchased both on Etsy. I bought the cotton webbing a very long time ago and could not find the exact seller again. However, there are SO MANY listings for webbing on Etsy. Just do a quick search. All of my zippers were purchased from ZipIt.
Q: What fabric did you use to make the bags?
A: Most of the bags were made from my new fabric collection, Ahoy Mermaids. The large bag was made from some blue gingham fabric that I've had in my stash for a very long time. I don't know the manufacturer.
Q: Can I use fusible fleece instead of foam?
A: Yes. One of my pattern testers created hers from fusible fleece. It's not as "bouncy" and sturdy as the foam, but you'll still get a great result.
Q: Is it hard to sew a circle?
A: No! I don't think so. The trick is to keep your seam allowance consistent and to frequently put your needle down, lift your presser foot, and pivot as you stitch around the outside of the circle.
Q: How is the pattern delivered?
A: The pattern is in PDF format. You'll need Adobe Acrobat to open it. Acrobat is a free program from Adobe. After you complete your purchase you'll be sent a download link. Click the link, and download your pattern. Make sure you save it to your hard drive so you have it forever!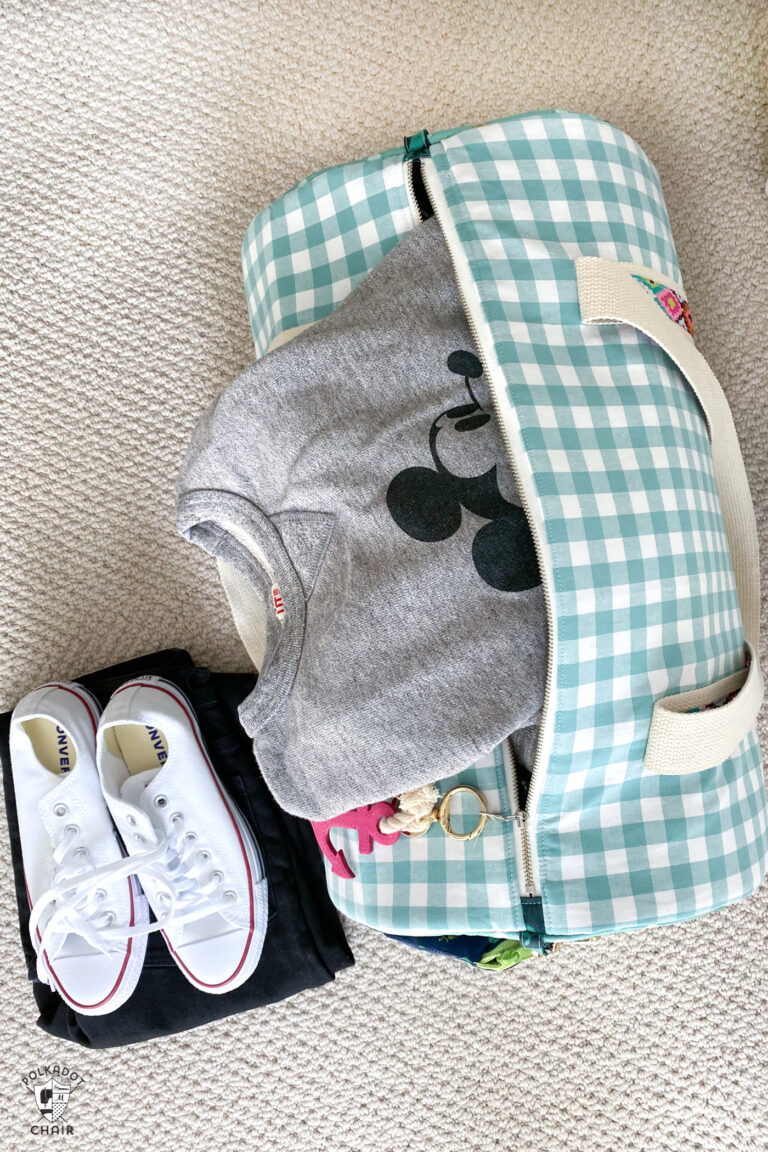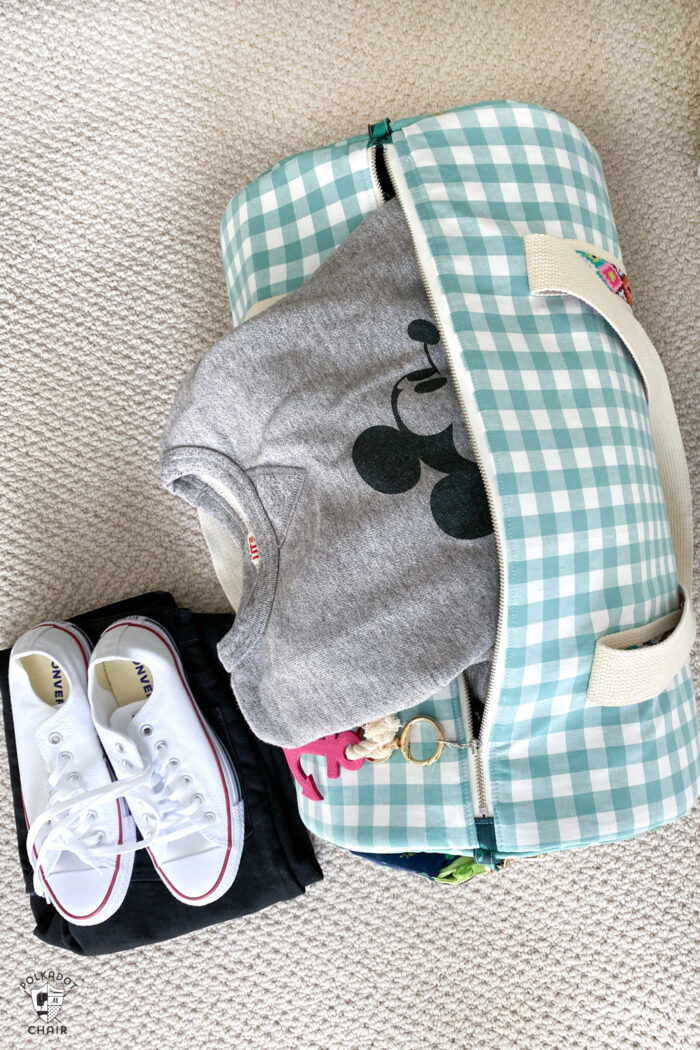 How to Get the Pattern
When I release a new pattern I like to offer it at a special price to celebrate! The pattern is on sale for one week only!
You can get the pattern in our shop! If you are outside the US you'll need to purchase via Etsy due to VAT issues.
Video Instructions
You can find a series of YouTube videos walking you through all the steps to create your own duffle bag on our YouTube channel.
Additional Project Photos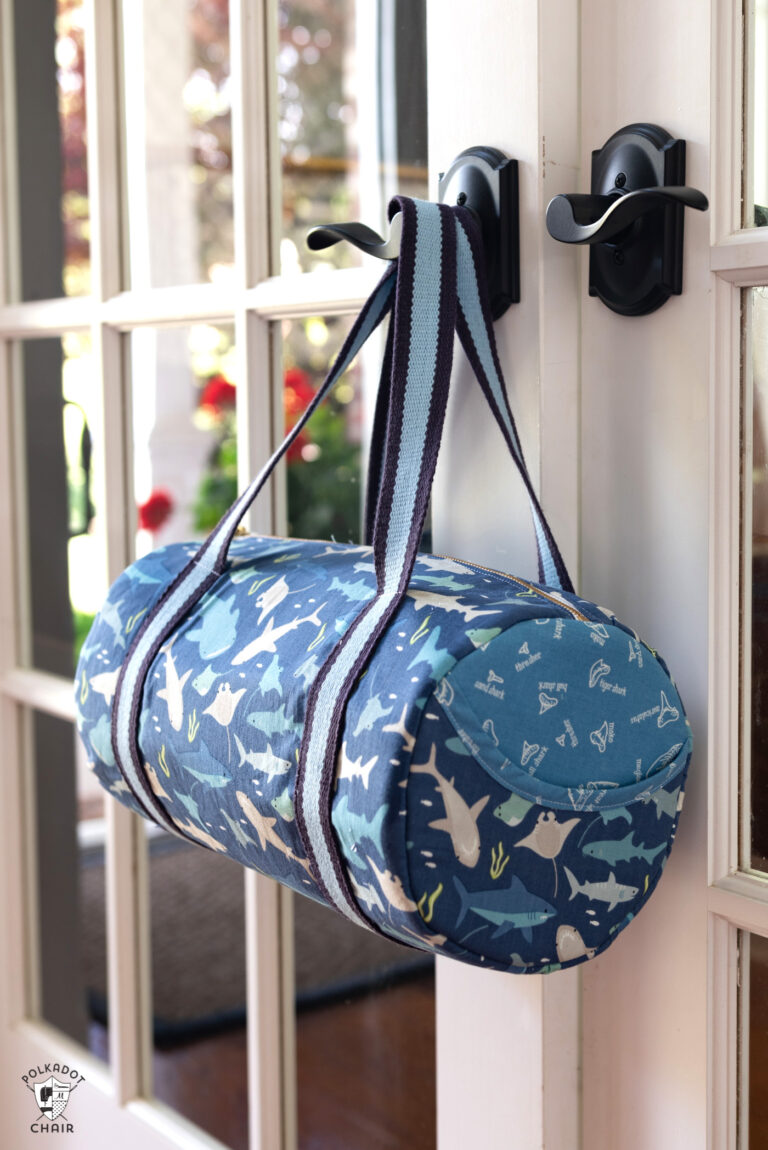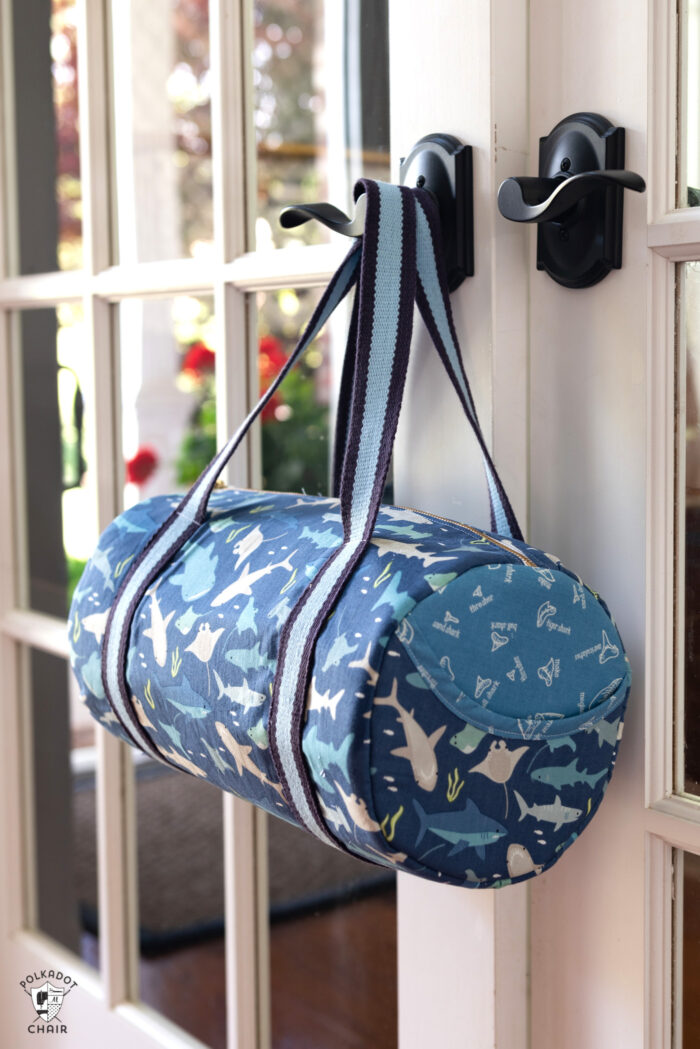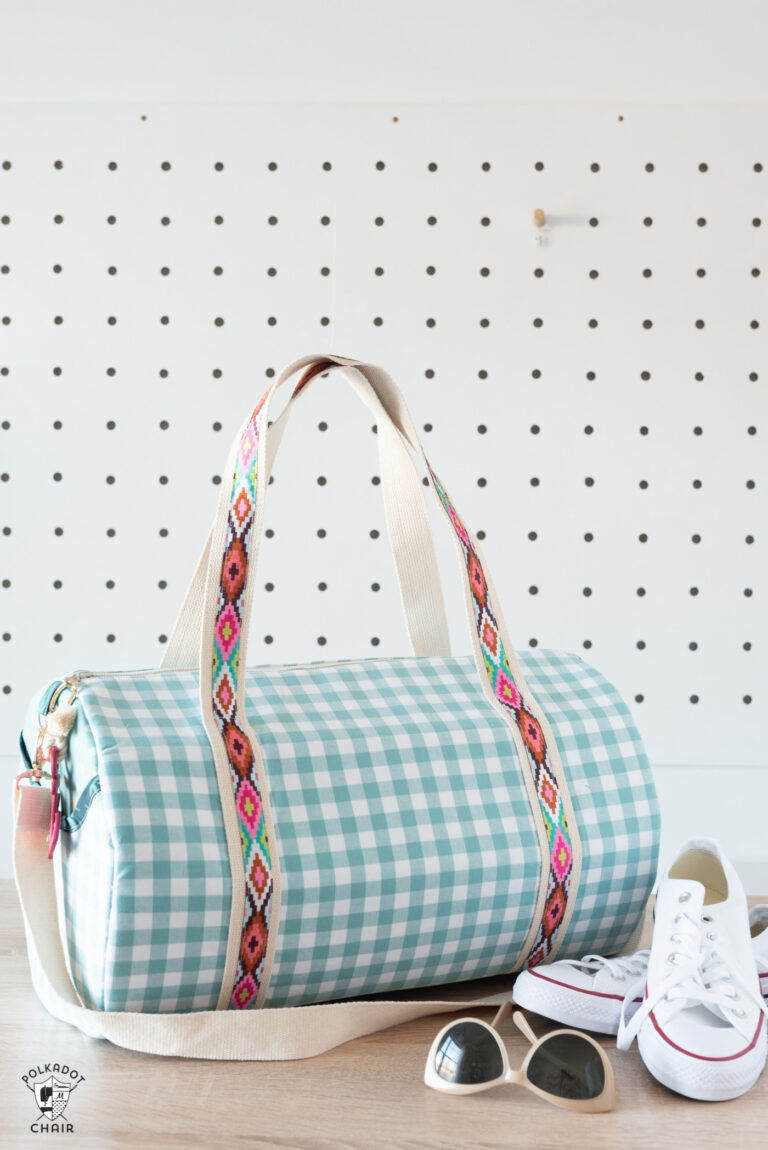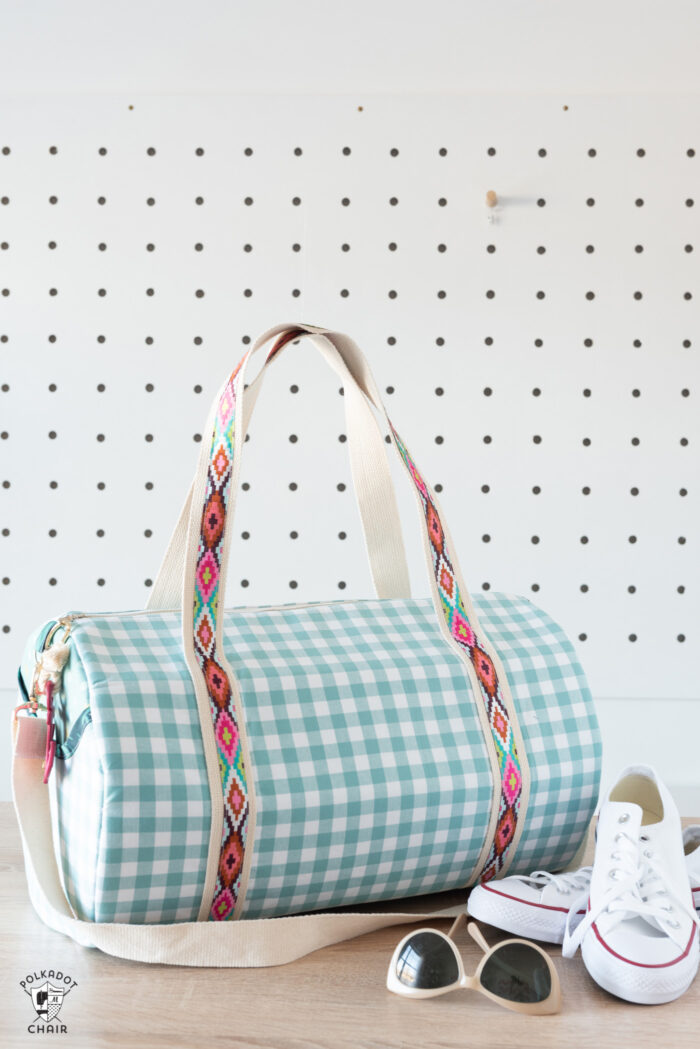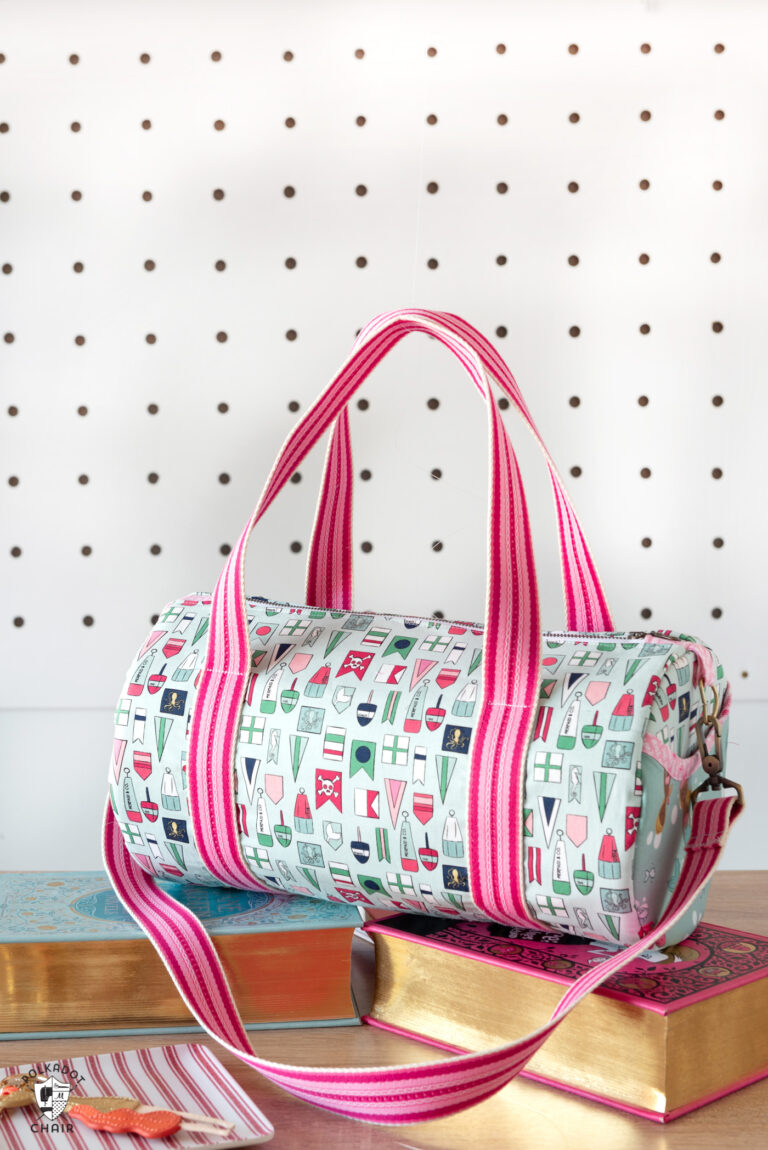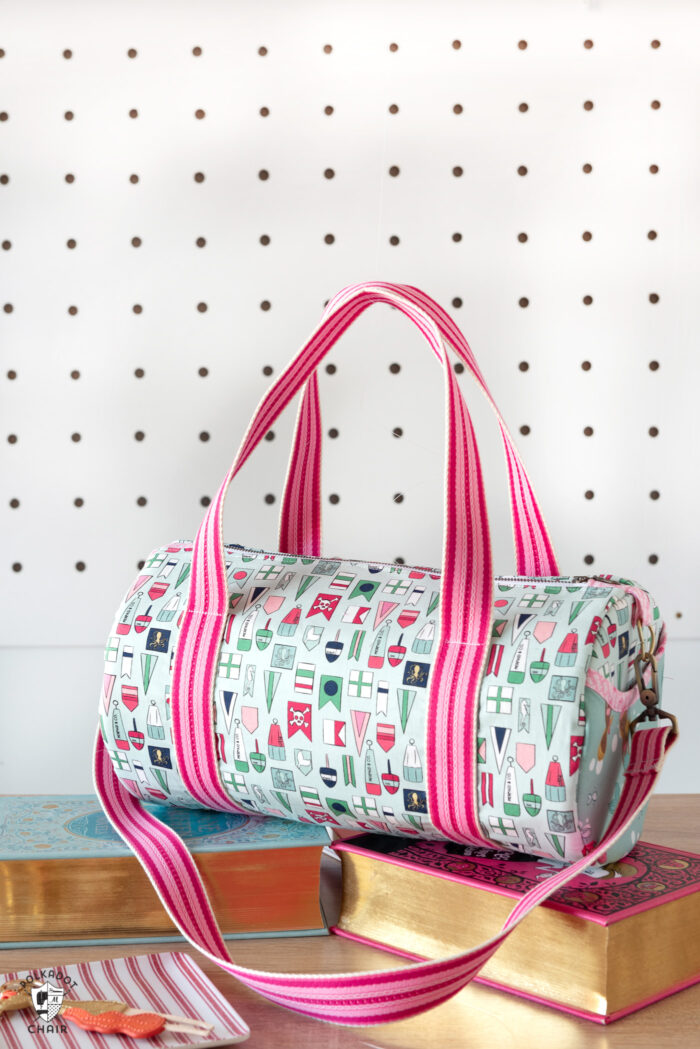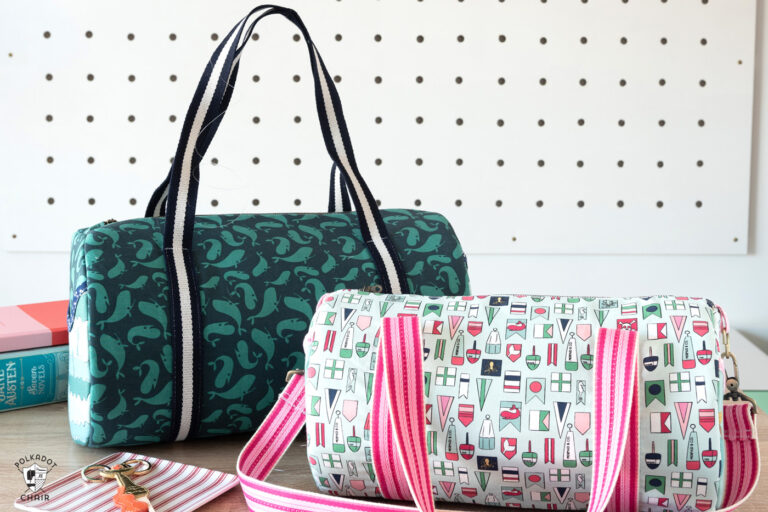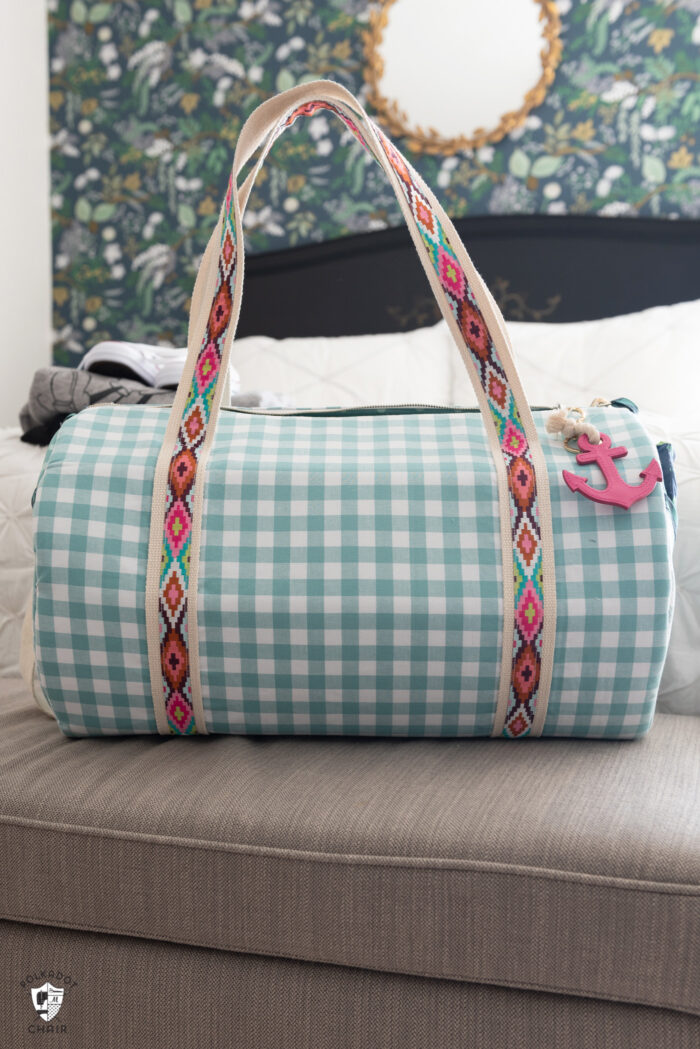 You Might Also Like:
15 MUST Know Bag Making Tips & Tricks
30 of my Favorite Bag Sewing Patterns