Add a little "sparkle" to your year by participating in the 2023 Polka Dot Chair Block of the Month program. Make a quilt one month at a time with our Starlight Sparkler quilt pattern. You'll build your skills as the year progresses and have a lot of fun in the process!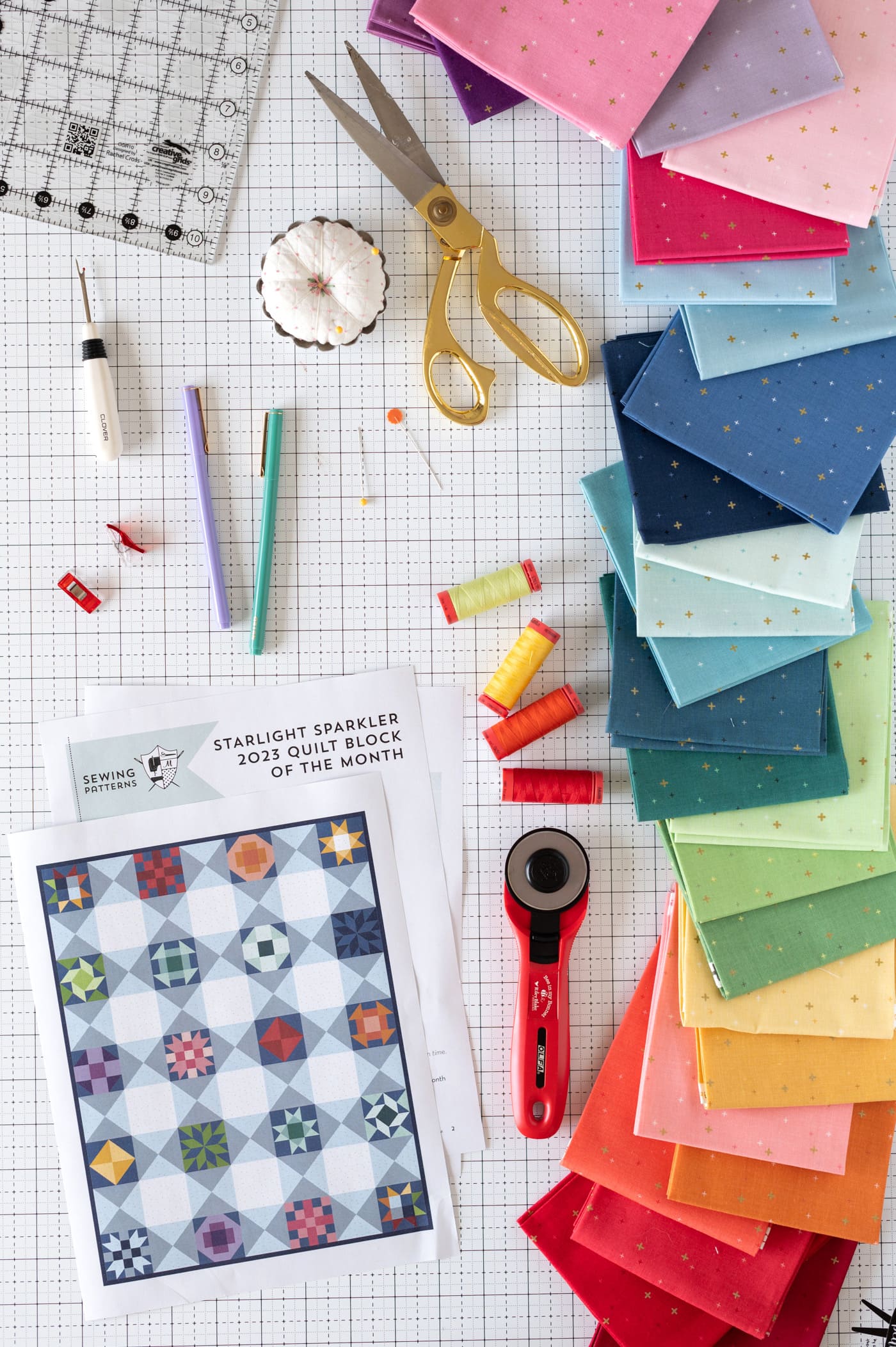 This year we're making the Starlight Sparkler Quilt! It's a sampler quilt pattern that features ten different quilt blocks. Each block is created twice, so there are twenty blocks in the quilt. The blocks are all 10″ finished.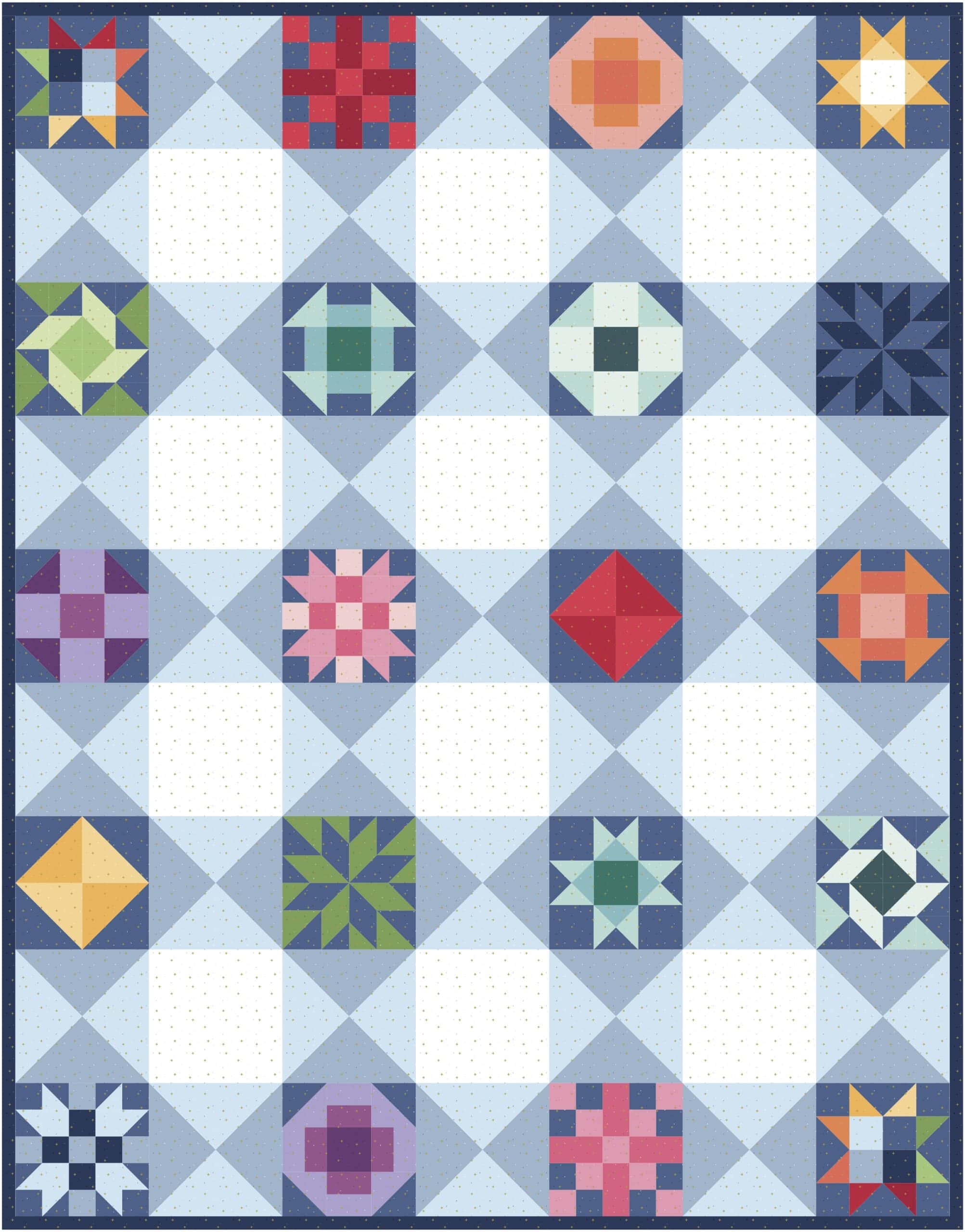 Table of Contents
This is the 5th year we've offered a Block of the Month quilt!
Why a Block of the Month Quilt?
1. Make a Quilt One Step at a Time
Create a Sampler quilt slowly throughout the year. It's a great way to tackle a big project without becoming overwhelmed. Simply set aside time for yourself each month to construct your blocks. You will get one quilt block pattern emailed to you each month.
2. Build your Quilting Skills
The blocks start very simple and grow in detail as the year progresses. That way, as your piecing skills improve, you can more confidently tackle the blocks with more details or smaller pieces.
3. Help Along the Way
We will have videos on our YouTube channel periodically throughout the year to help you construct your blocks. There will not be a video every month, but on months when we feel you might like a little extra instruction!
Be sure to follow us on Instagram (@polkadotchair), as we will also share tips for the blocks throughout the year.
About the Pattern
The finished quilt measures 70″ x 90″ and is made up of twenty 10″ sampler quilt blocks. The blocks are set with alternate blocks in the final layout, which creates a fun "transparency" effect in the background.
All of the blocks are traditionally pieced.
How It Works
Each month you will receive a PDF via email with ONE block pattern. Except for block 1 (which will be emailed on January 15th), Patterns will be emailed on the 5th of the month before midnight Eastern time.
Each block is made twice. You will make two quilt blocks a month in two different colorways (same block patterns, different colors). On the 11th month, you will receive the pattern for the alternate blocks and finishing instructions.
How to Get the Pattern
You can find the pattern in our shop. It's listed at an introductory price, which will go up on January 15th after the first block is released.
As a reminder, you can also get a FREE project planner with your purchase; add both products to your cart before you check out!
Note: Using our onsite checkout link on Chrome browser will redirect you to our direct shop. Just add items to your cart and checkout on our Shop page.
Frequently Asked Questions
Is this a one-time fee or a per-month fee?
It's a ONE-time fee. There are no other fees throughout the year.
Can I get the block patterns early?
No, we do not offer the blocks early. There are no exceptions. We are sewing this quilt along WITH you and need adequate time to test the blocks before they are sent to you each month. 
What fabric did you use for your example quilt?
Sparkler by Melissa Mortenson for Riley Blake Designs. The exact colors are listed in the fabric requirements.
Do I have to use Sparkler Fabric?
Nope! Use whatever you'd like. All the block instructions will refer to the colors in the example quilt. If you sew it with other fabrics, I suggest making a "key" with fabric swaps.
How do I purchase the pattern if I'm outside of the USA?
Please use our Etsy shop (etsy.com/shop/polkadotchair) to purchase; they handle all of the international tax stuff for us. After your purchase, we will add you to our website's "block delivery" system. 
Block Release Schedule
January 15th; Block 1
February 5th; Block 2
March 5th; Block 3
April 5th; Block 4
May 5th; Block 5
June 5th; Block 6
July 5th; Block 7
August 5th; Block 8
Septemeber 5th; Block 9
October 5th; Block 10
November 5th; Alternate Blocks & Finishing Instructions
Fabric Requirements
All fabrics are from the Sparkler Line by Riley Blake Designs
Background Fabrics:
Lake Blue Fabric: 2 yards
Boy Blue Fabric: 2 yards
Dark Denim Fabric: 1 ½ yards
White Fabric: 1 yard
1 Fat Quarter Pack of Sparkler Fabrics.
We will not use the prepackaged pack's Gray, Black, or Alpine Green Fabrics.
OR
1 Fat Quarter Each
White
Dark Denim
Lake Blue
Boy Blue
Navy
Songbird
Bleached Denim
Mediterranean
Bear Lake
Riley Green
Clover
Celery
Red
Cayenne
Redwood
Rouge
Pumpkin
Apricot Blush
Daisy
Beehive
Lilac
Eggplant
Orchid
Baby Pink
Rose
Raspberry
Binding: ¾ yard
Backing: 6 yards
Where to Buy Fabric for the Quilt
Many brick-and-mortar quilt shops carry Sparkler fabric. If you don't want to use Sparkler, I designed this quilt so that it could also be sewn from your existing fabric stash! Just curate a selection of prints in colors similar to the Sparkler Fabrics.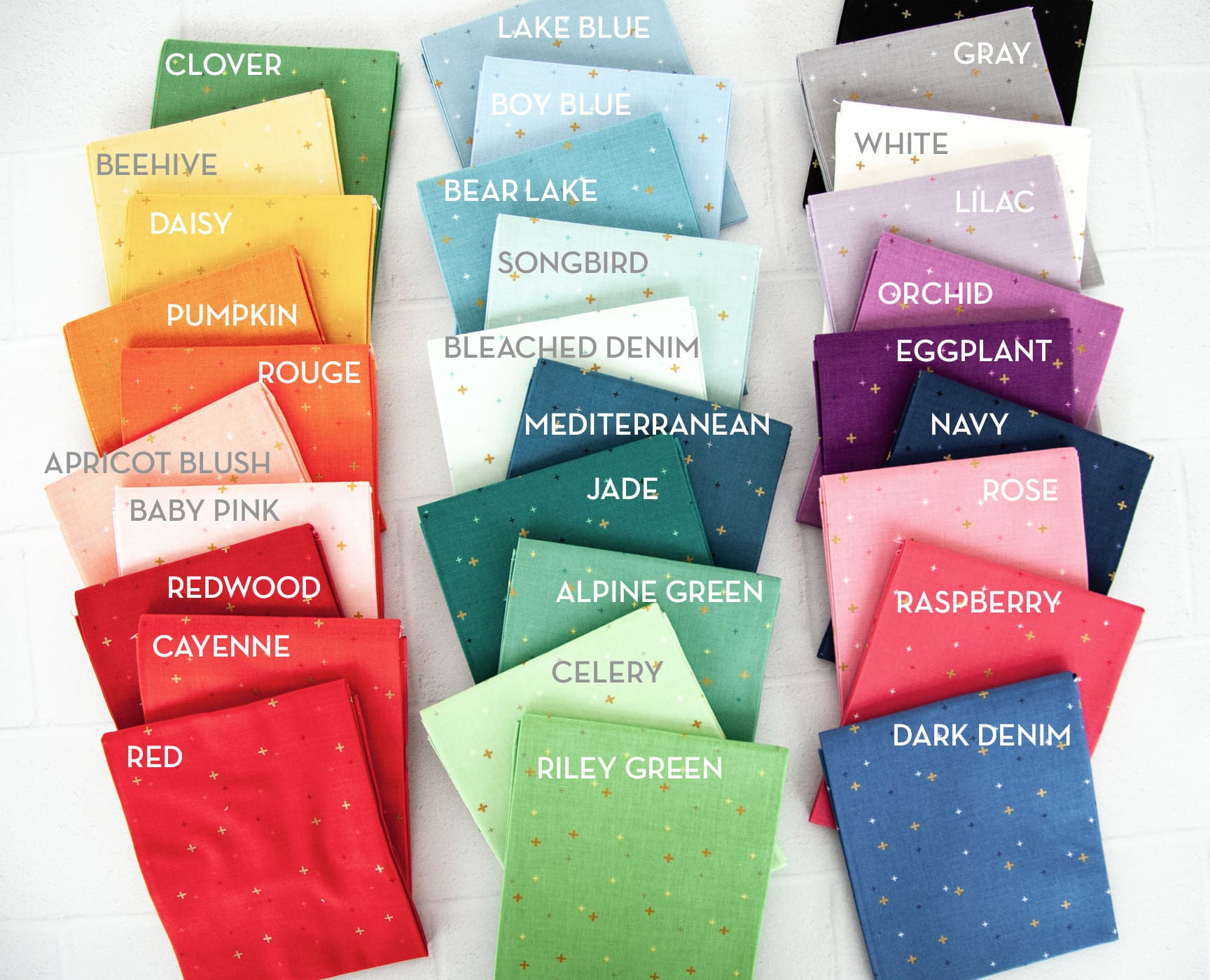 Fat Quarter Shop & Many Etsy sellers carry Sparkler Fabrics if you want to buy fabrics online.
In addition, Simply Love Fabrics on Etsy has agreed to cut extra Fat Quarter Packs of the fabric if they sell out. If it's showing as sold out, just message them to request another pack.
This is the fifth year that we've run this quilt along! I hope that you will join me this year!!
You May Also Like