The All Ears Pouch is a whimsical curved top zip pouch pattern with options to add three different ear styles! We've even included instructions to turn the pouch into a cute little crab! It's our Spring Sew Along project, and we'd love you to join us!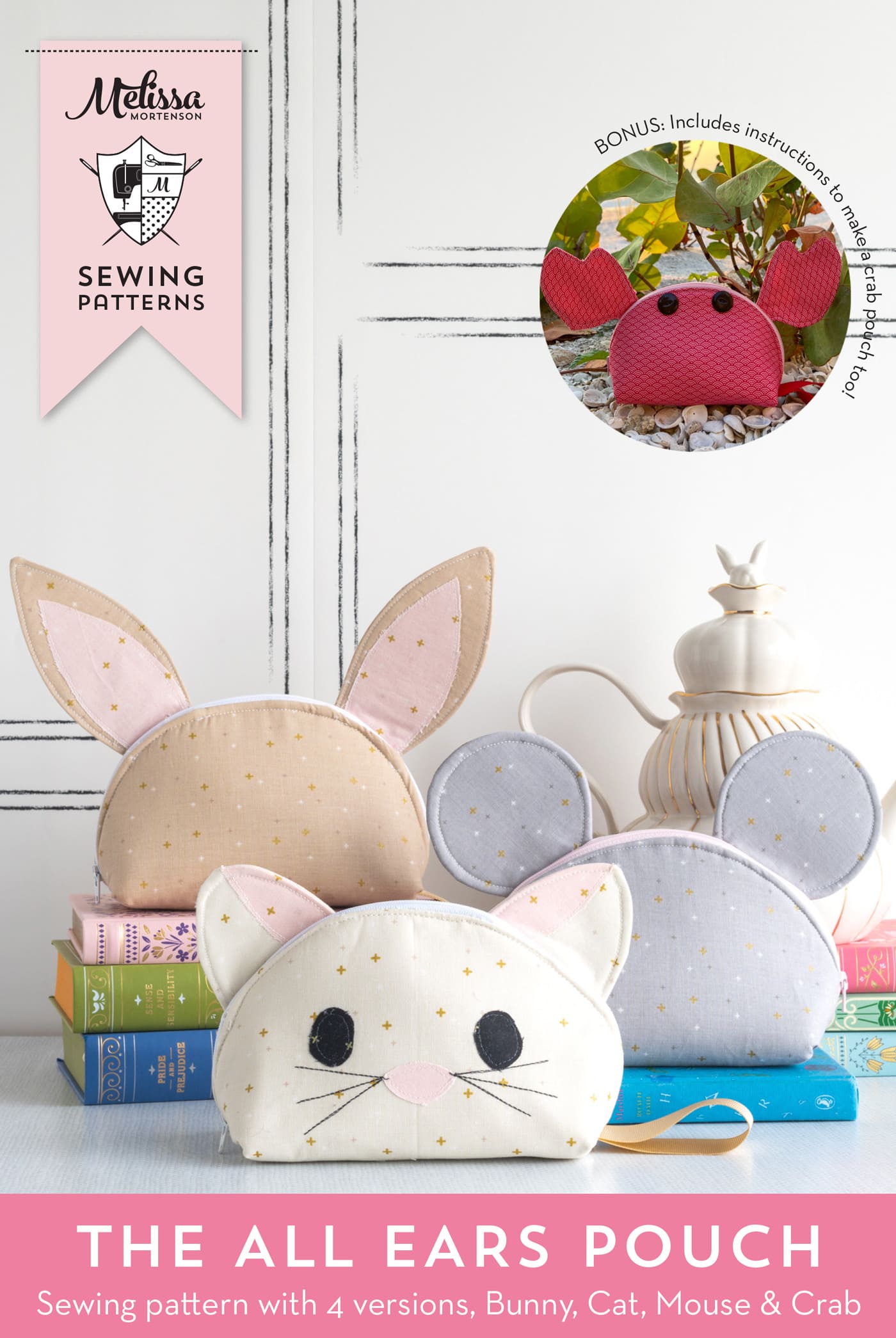 Today I'm excited to share with you a new sewing pattern that's been in the works for over two years! We were planning a trip to Disney World, and I decided that I wanted to make something to take with me!
Table of Contents
If you've been a long-time follower, then you may know that one of my FAVORITE things to do is to create a project to take with me on vacation! To me, it's a great way to "stretch" out the joy of a vacation and build a little pre-trip excitement.
All About the All Ears Pouch
I LOVE dreaming up projects inspired by my vacation destinations. Disney has always been one of our family's favorite trips; I have a million sketches in my book for cute projects inspired by the parks.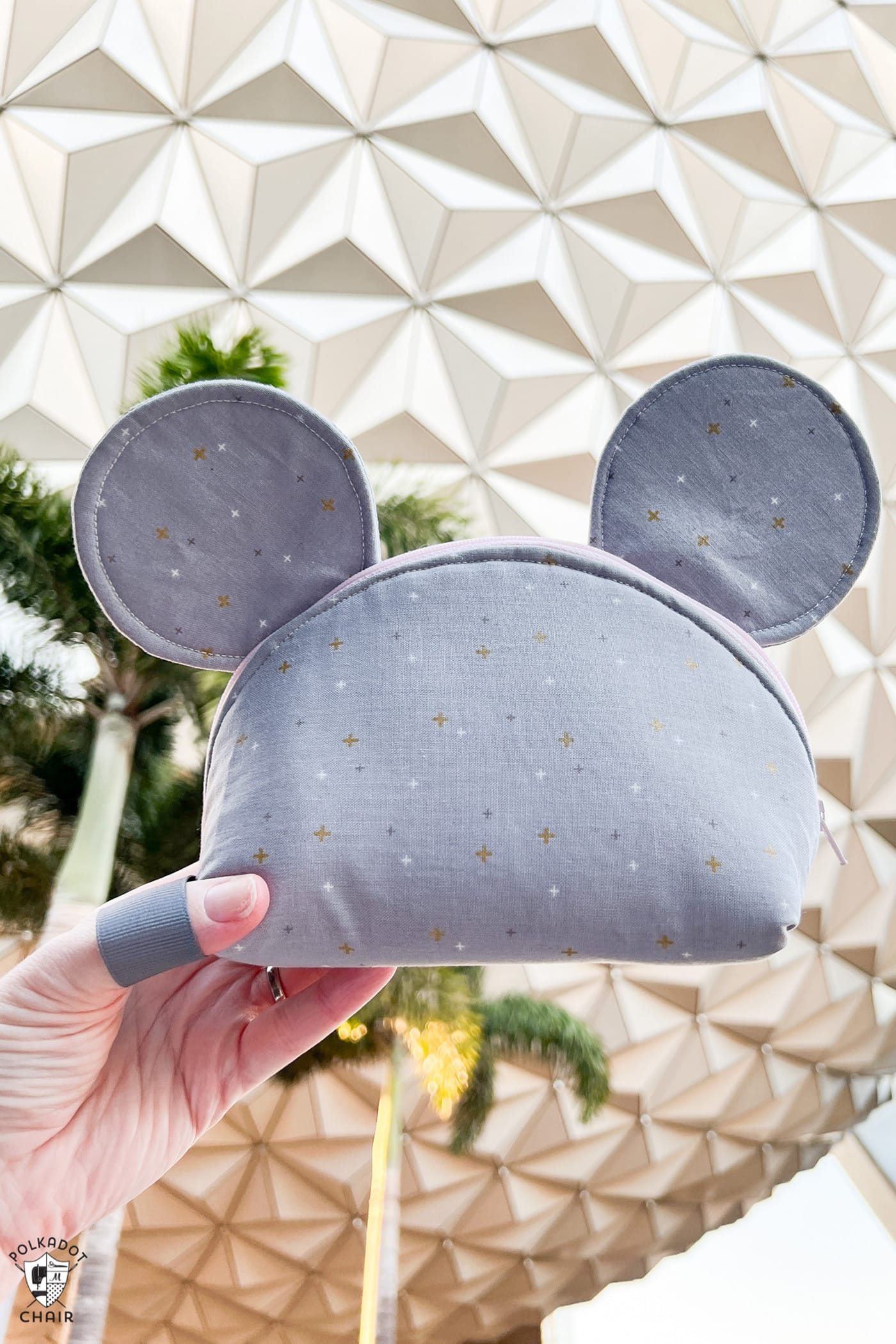 I sketched out the first version of the All Ears Pouch a few years ago and decided last year it was time to create it.
I stitched up two versions, one in black and one in gray. I then got busy with other projects and didn't release the pattern.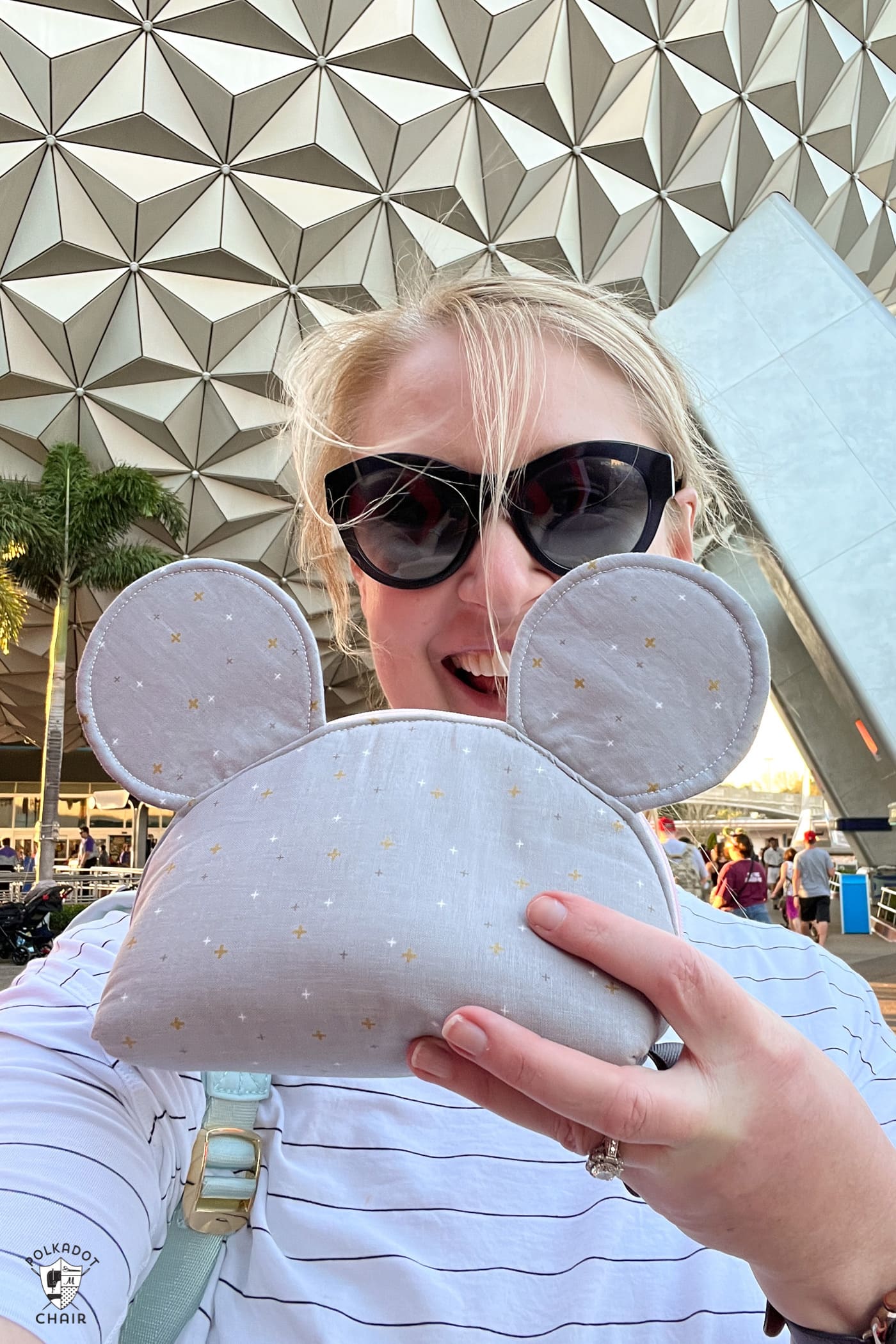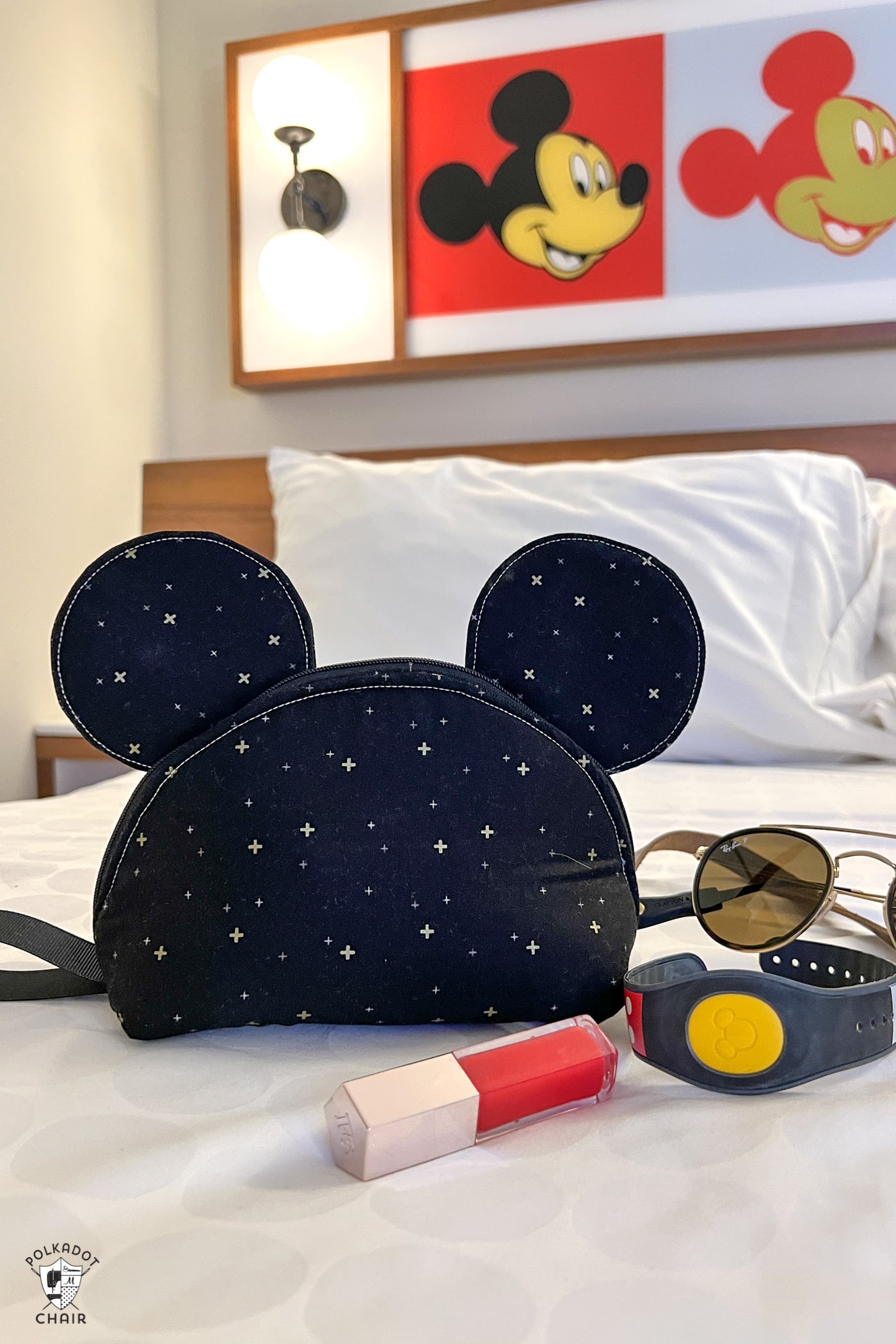 I got the pattern ready last summer but didn't release it. It felt like it was missing "something." Earlier this year, I figured out what it was missing; it needed a few more body parts, LOL!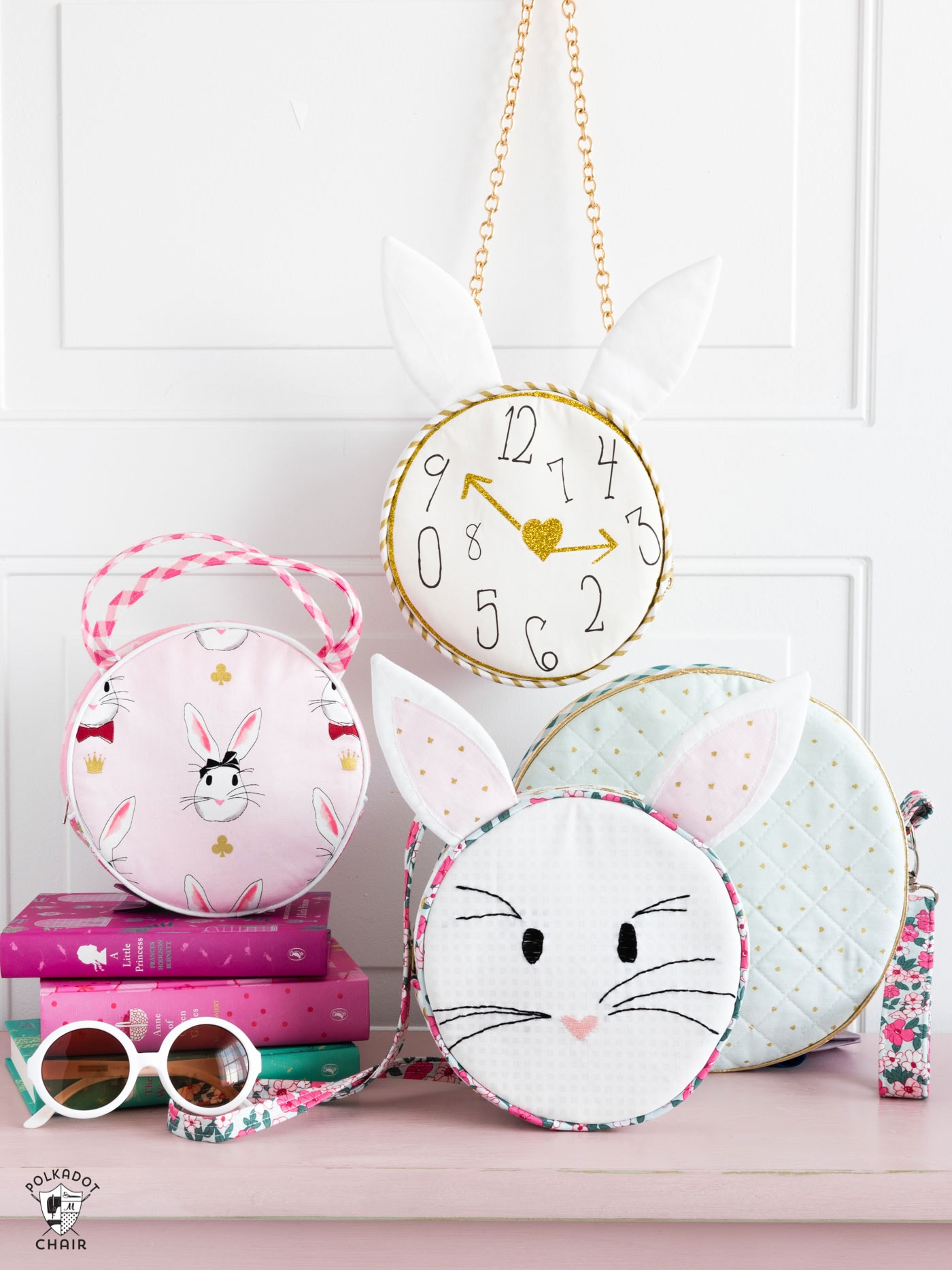 Inspired by my Alice Bag Sewing Pattern, I added the option for additional ears! In addition to the ears, I added two crab claws similar to a project I made for my Let's Be Mermaids line a few years ago.
Bunny Version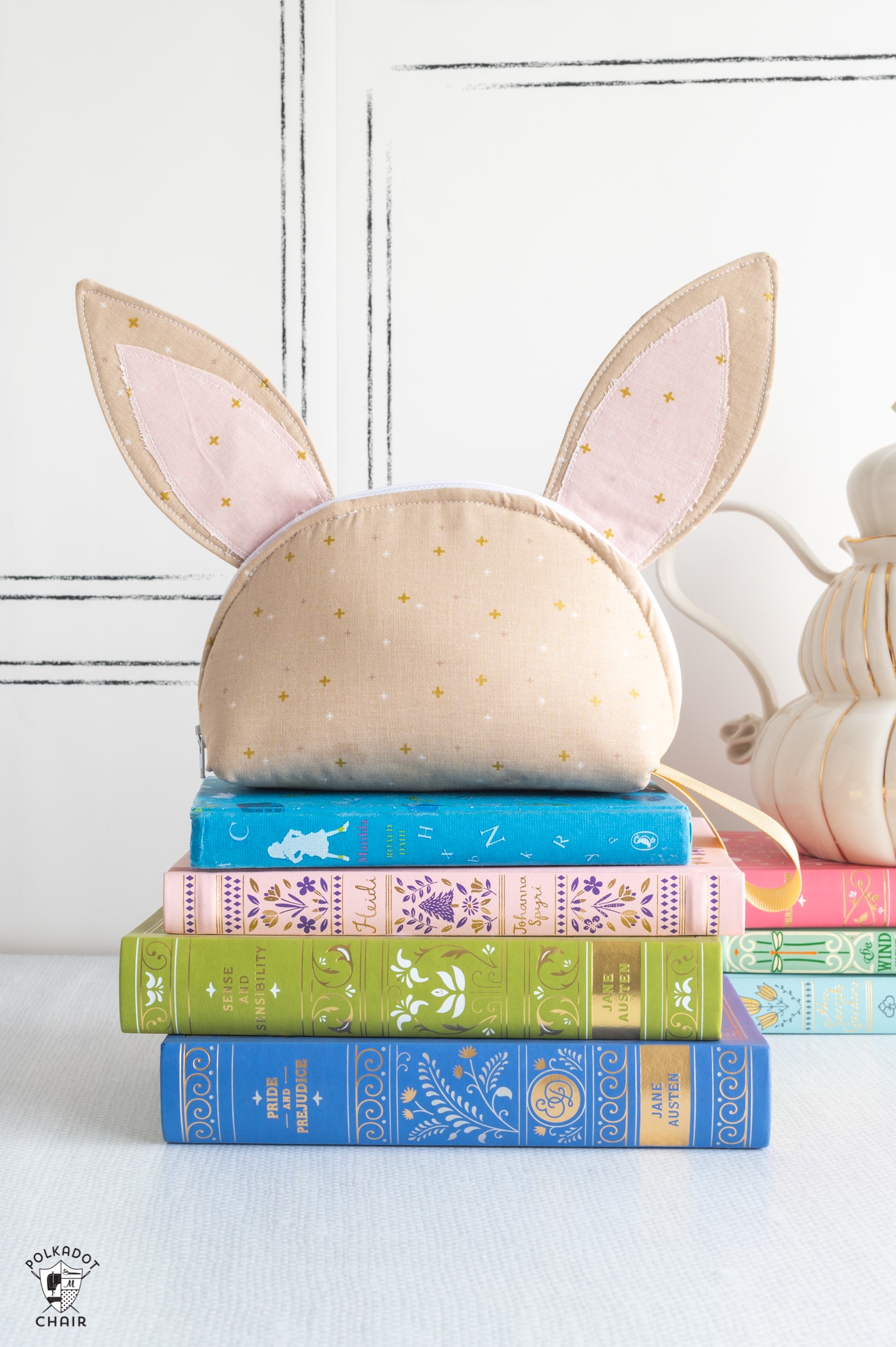 The first version features two bunny ears with contrast fabric. The contrast on the ears is raw edge appliqued. If you want, you can add a face by using the enclosed applique pattern (it's the same pattern as the cat).
Cat Version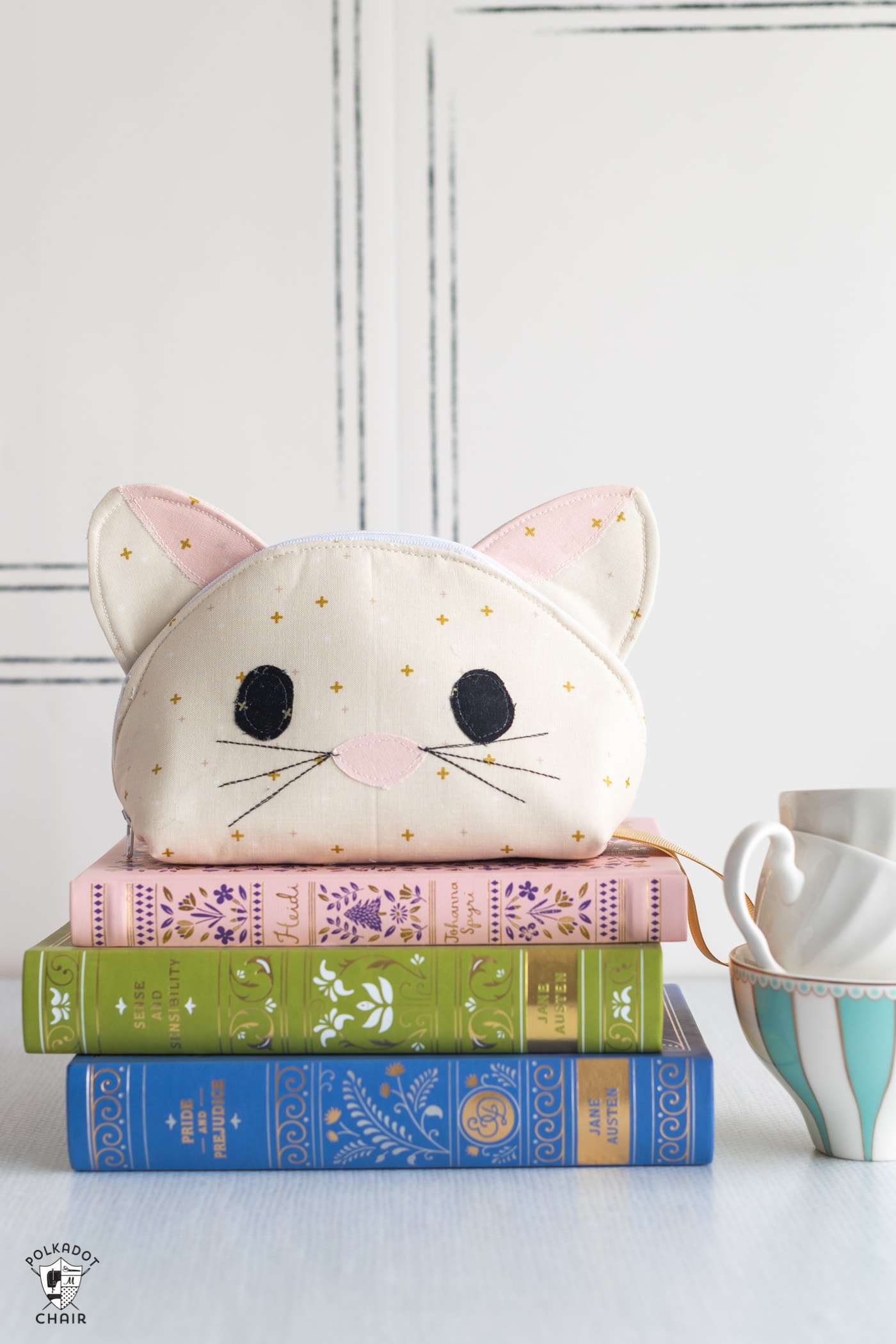 The cat version includes a pattern for two cat ears with contrast. As I look at this photo, I realize that I put the ears on wrong. The pink contrast should be facing out, not in! You can place the ears in anyway that you like when you sew your own bag!
Shown is the appliqued face version that can be used on the bunny and mouse pouches as well.
Mouse Version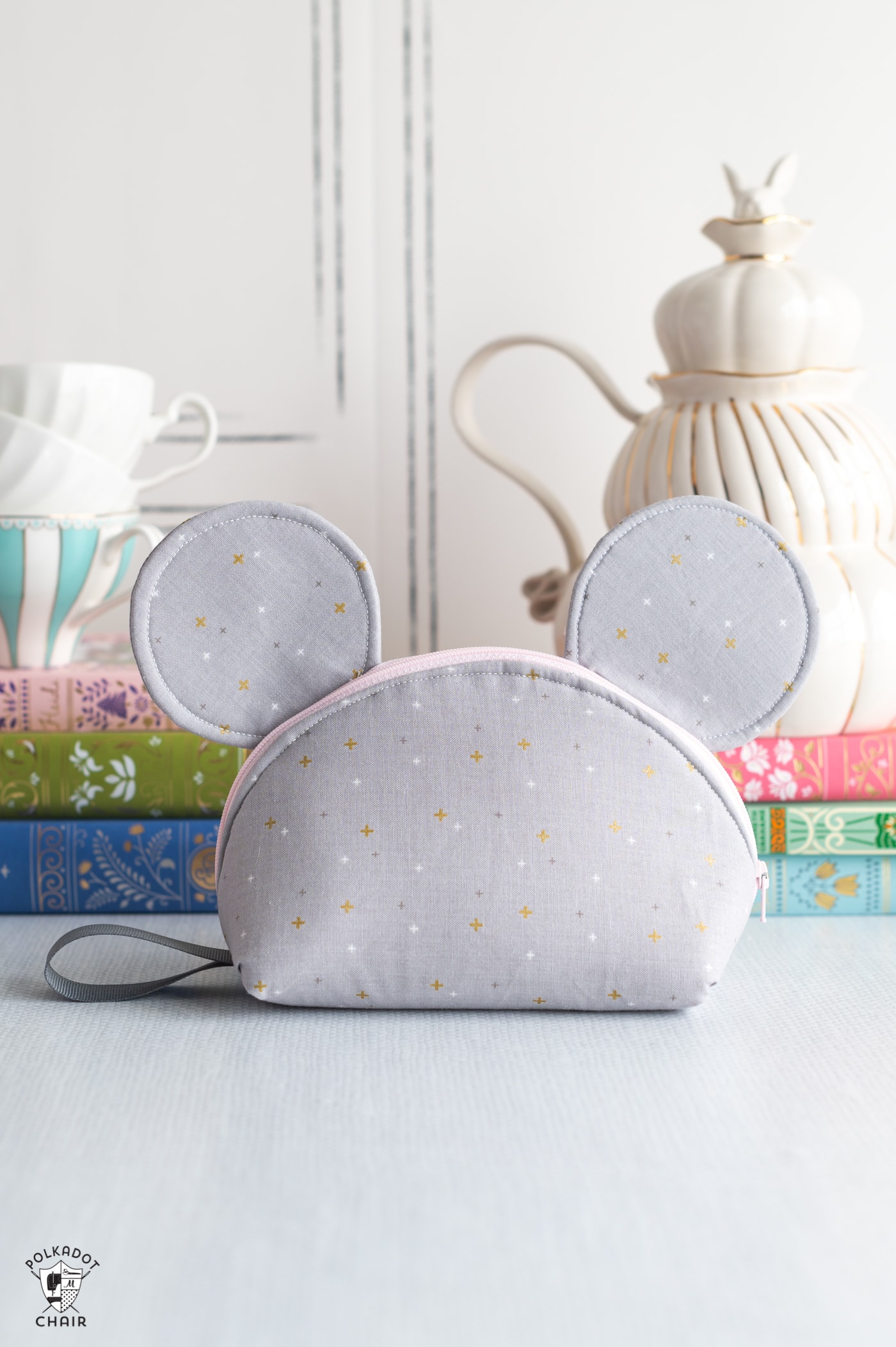 This version can be a cute "field mouse" type pouch with the added applique face pattern. You can also make the Disney Mickey-inspired pouch by sewing it out of black fabric (although I think the gray looks pretty good for Disney stuff too!)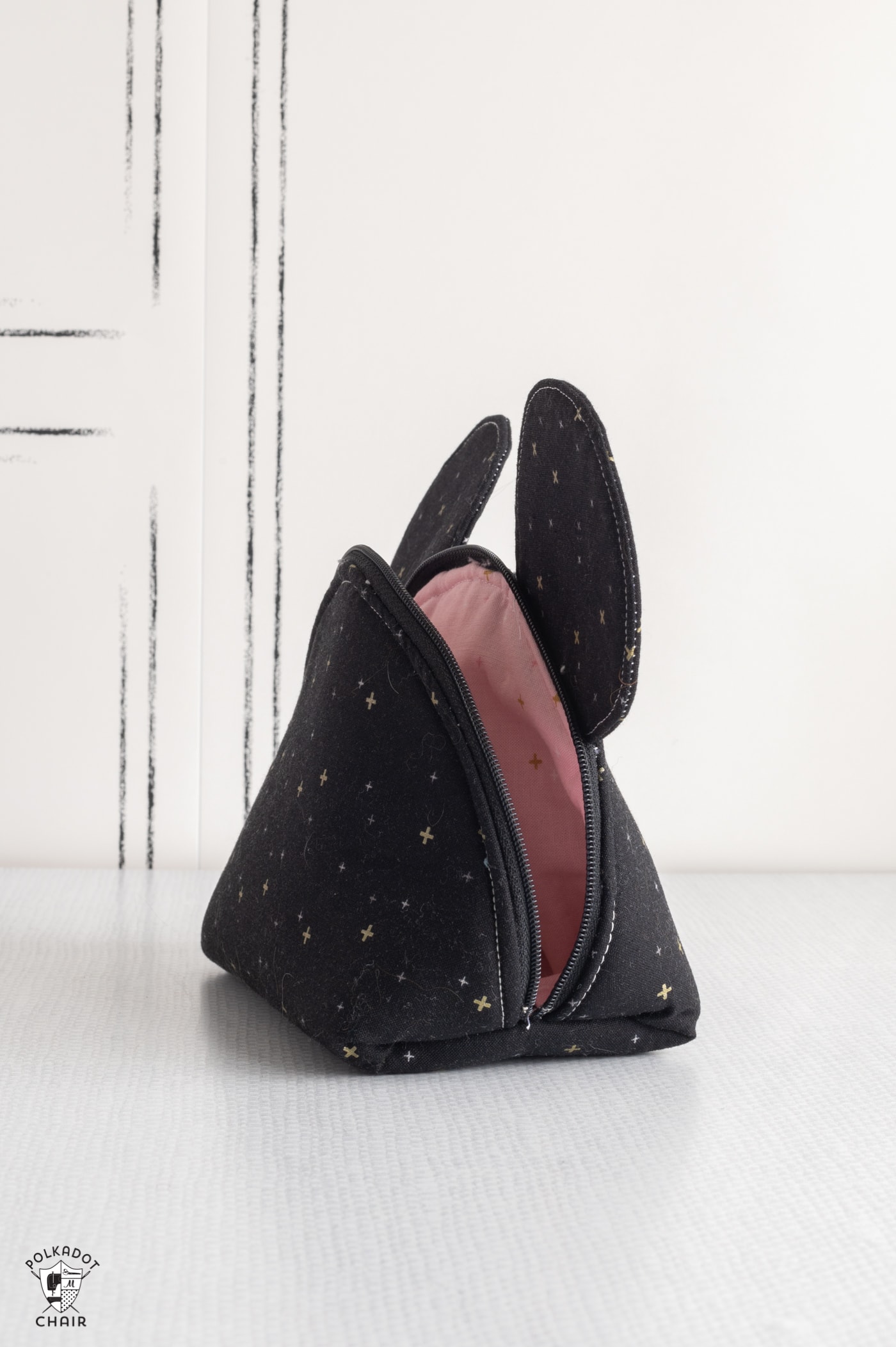 Crab Version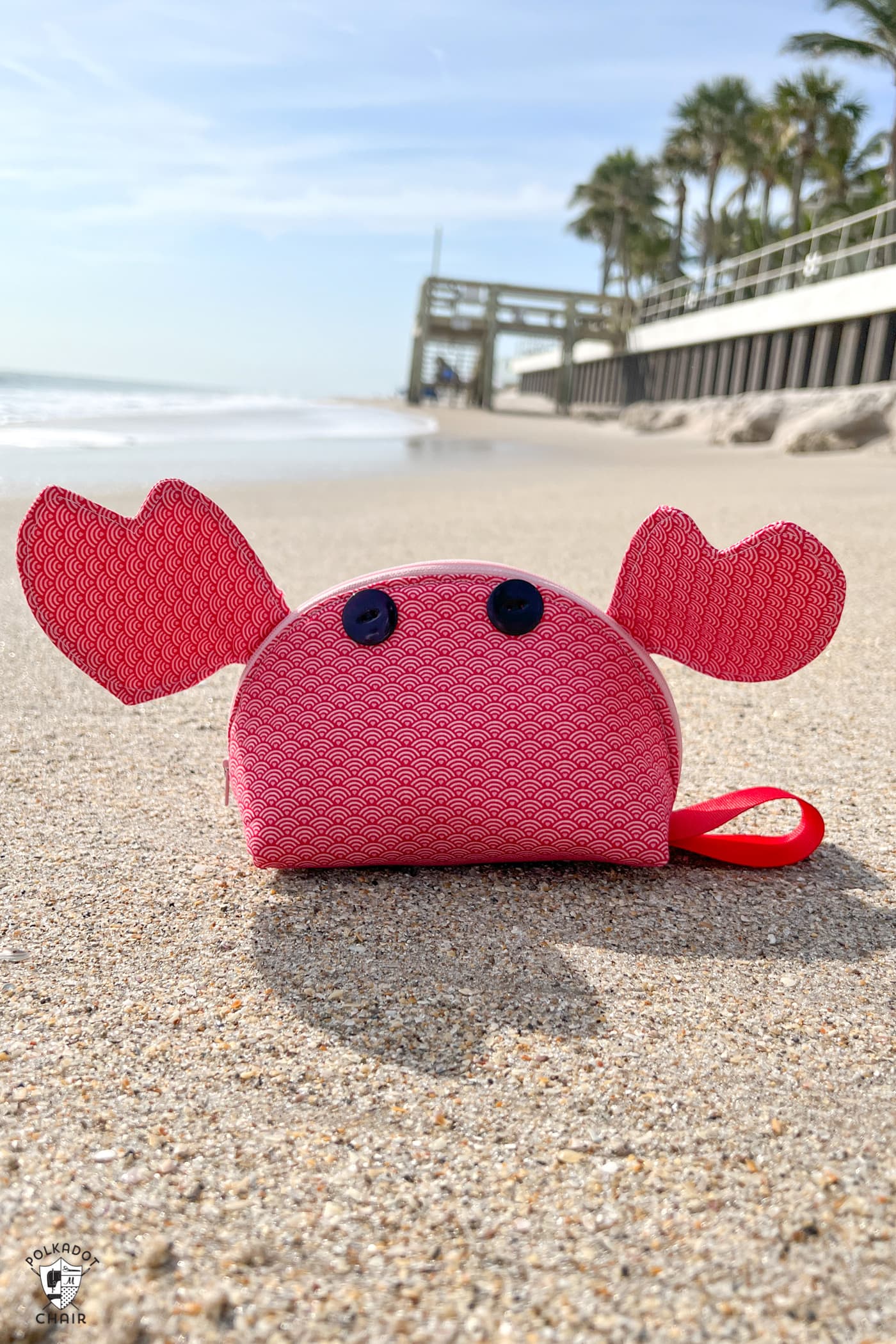 At the last minute, I added one more version of the pouch, the crab! Instead of ears you can add two claws to the bag.
The eyes are created by sewing buttons to the finished pouch.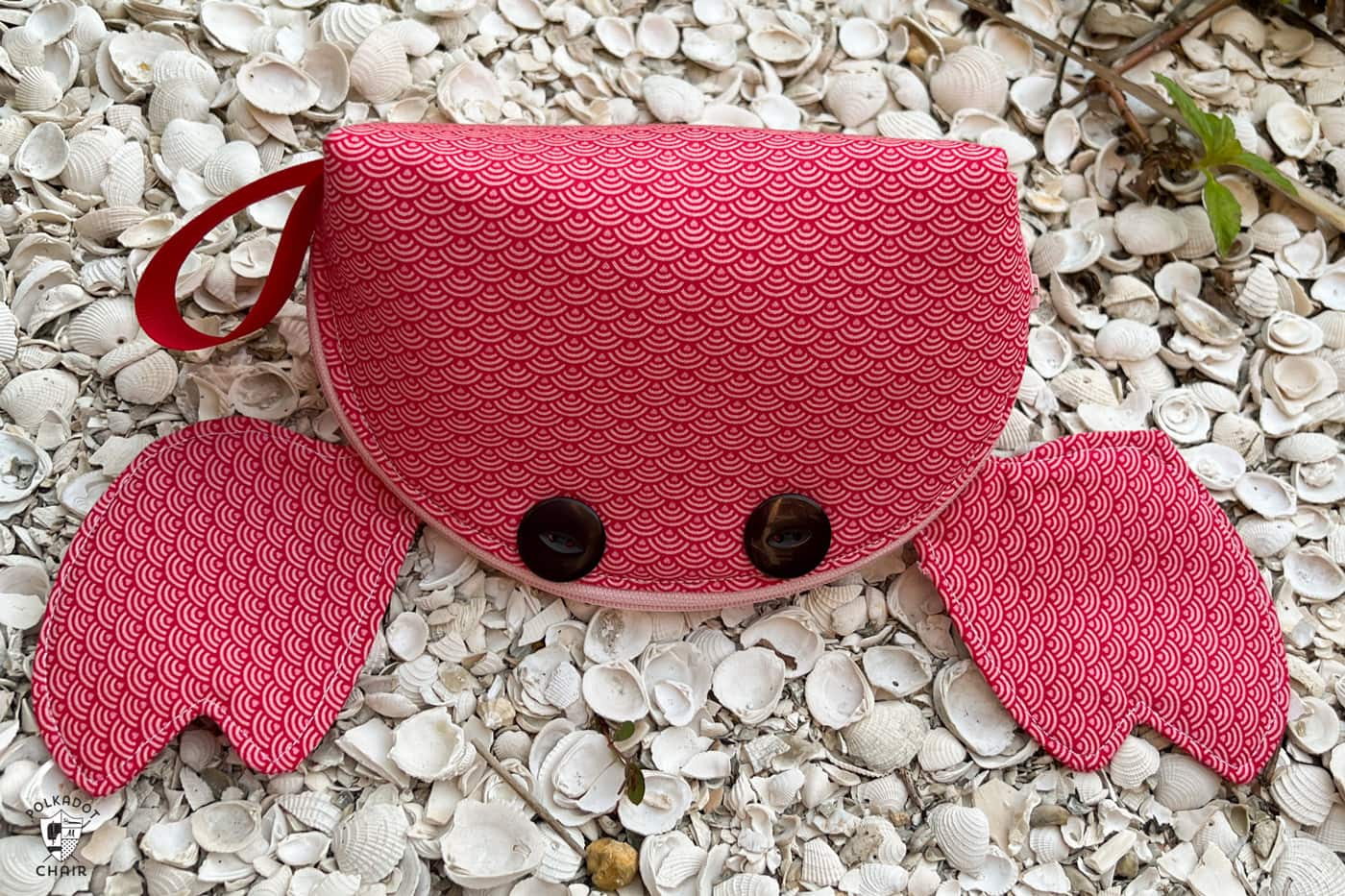 How to Get the Pattern
If you are outside of the USA, you'll need to order on Etsy.
US Orders for the All Ears Sewing Pattern PDF or use the button below.
Sew Along Information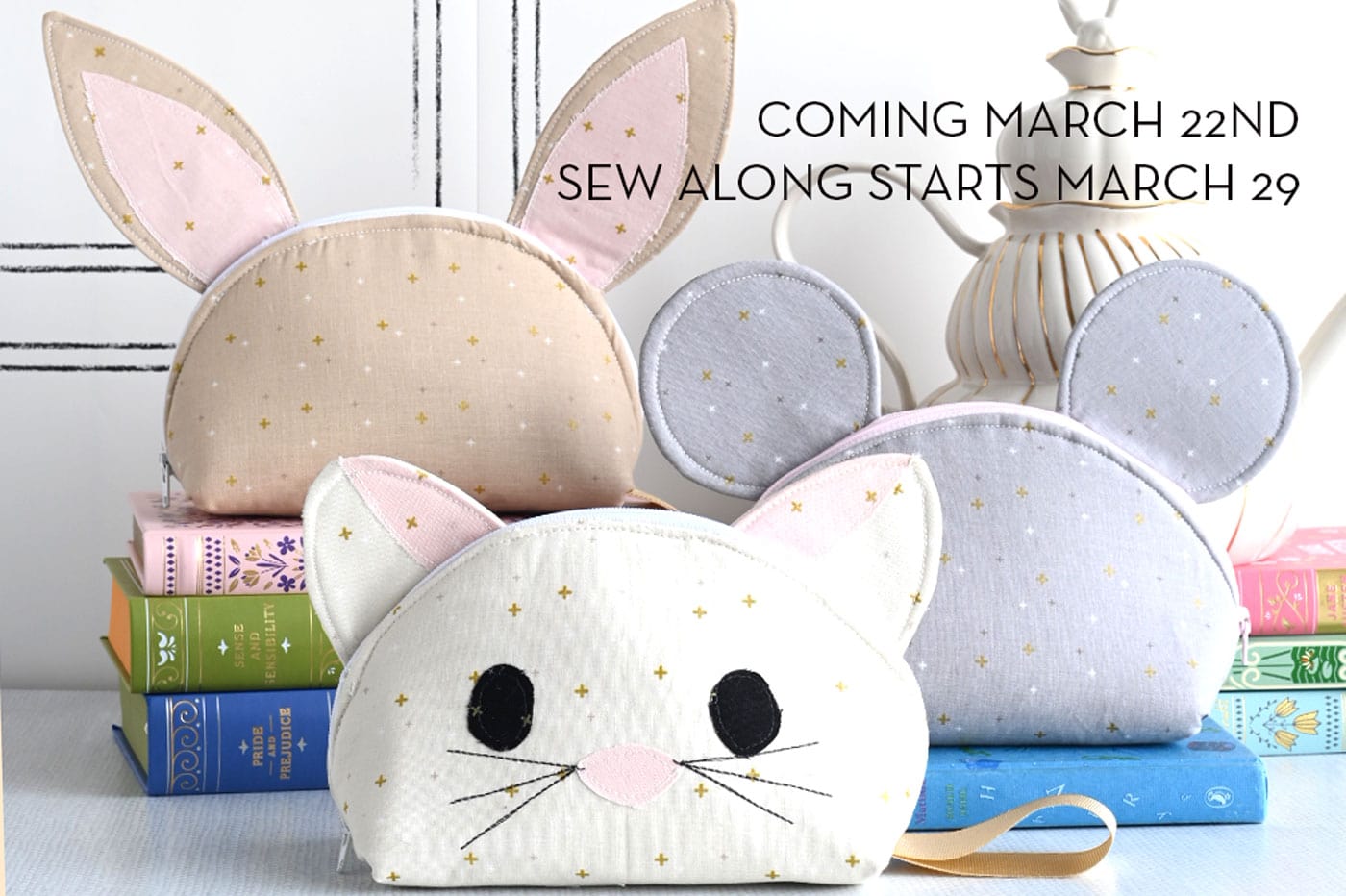 Every six weeks or so, I host a quilt or sew along on Instagram & YouTube. Our Spring sew along will be the All Ears Pouch.
There will be three videos, all walking you through most of the steps to create your own pouch. They will be uploaded videos, not live; estimated post times are below.
Sew Along Begins March 29th 8pm- Intro and Prep video
March 31st 8pm- Sewing
April 5th 8pm – Finishing
The videos will all be on our YouTube Channel.
The sew-along is FREE if you buy the pattern. There's no additional fee for the instructional videos.
How Do I Sign Up?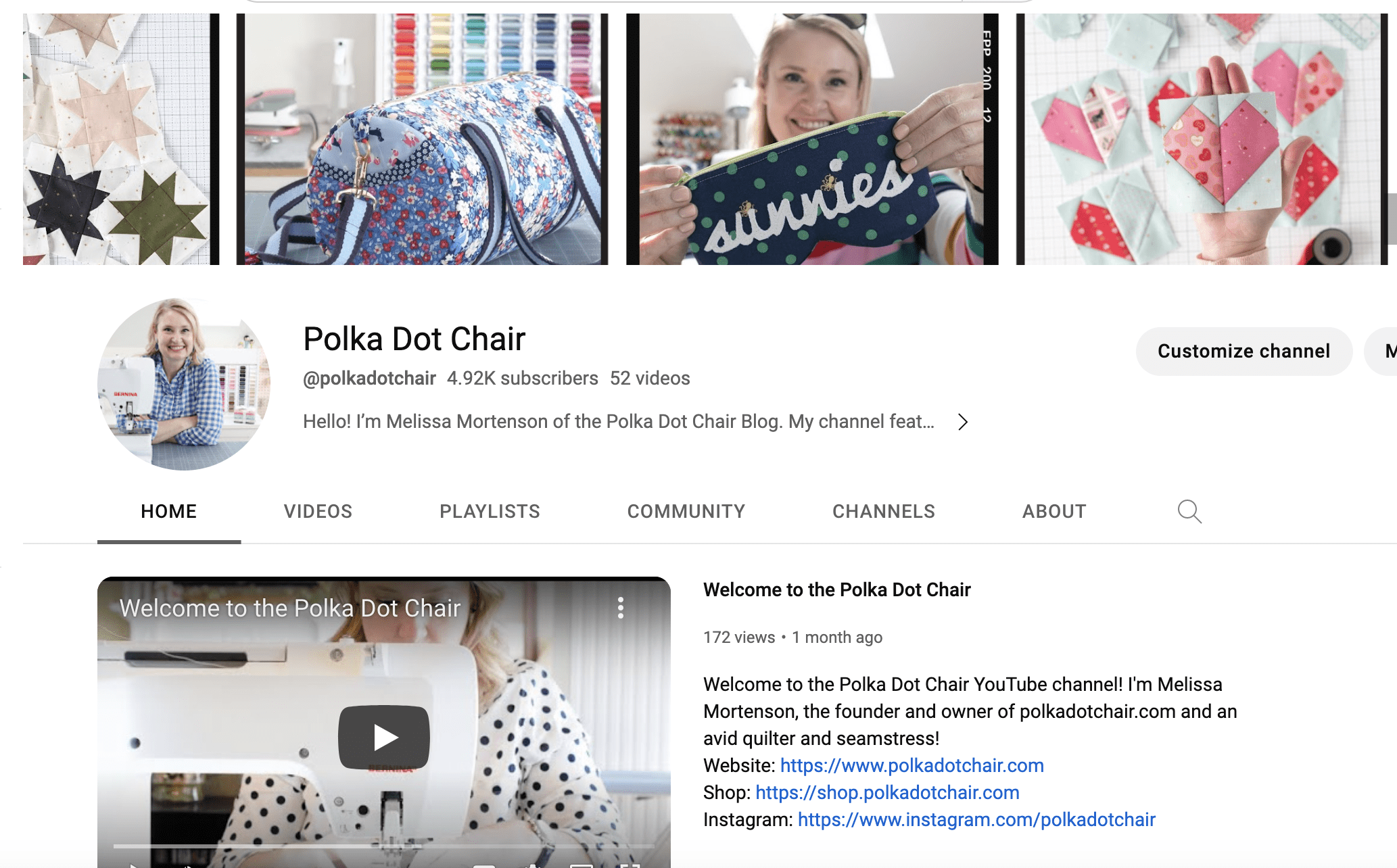 Subscribe to our YouTube channel, and you'll be notified when the sew-along videos are posted.
Supply List
Fat Quarter Sparkler Fabric for Pouch Lining (or ⅜ yard fabric)
Fat Quarter Sparkler Fabric for Pouch Outside (or ⅜ yard fabric)
16″ or Longer Polyester Zipper
Flex Foam, Fusible Fleece & Lightweight Interfacing
additional supplies listed on the pattern
Frequently Asked Questions
What fabric did you use?
All of the pouches except the crab are made from my Sparkler fabrics collection. The colors are Gray, Beach (bunny), Pina Colada (cat) & Ballerina (lining of ears).
Can I add a face to all versions?
The pattern includes one face applique. Since there is only one size bag, it fits on all the zip bags. So you can create the bunny, mouse or cat pouch with a face.
What is the difficulty level? Could a beginning sewist make it?
I believe anyone can sew anything if they take their time and read all the directions. One of the best ways to learn how to sew is JUST to DO IT! That being said, I would say this is a confident beginner project. If you're a quilter and have never made a bag, you should be able to complete this project as well.
Can I use Fusible Fleece instead of Flex Foam?
I would not recommend it. The foam has unique qualities that give the pouch its shape. The pouch stands up well, doesn't wrinkle easily, and retains its shape with multiple uses. You can get Flex Foam online. If you can't find flex foam, then I recommend Auto Liner Foam, which you can buy at big box fabric stores.
Can the ears & claws also be used for the Alice Bag?
Yes, if you'd like to make a cat or crab version of the Alice Bag, the "ears" on this pattern will fit the Alice Bag as well.
Are paper copies of the pattern available?
Not right now; we may offer paper copies in the future if there is demand.
You May Also Like: