Introducing a new Quilted Christmas Potholder Pattern just in time for the Holidays. My new Potholder Parade pattern features instructions to make 4 different styles of holiday hot pads and includes a bonus pattern to create a matching dishtowel.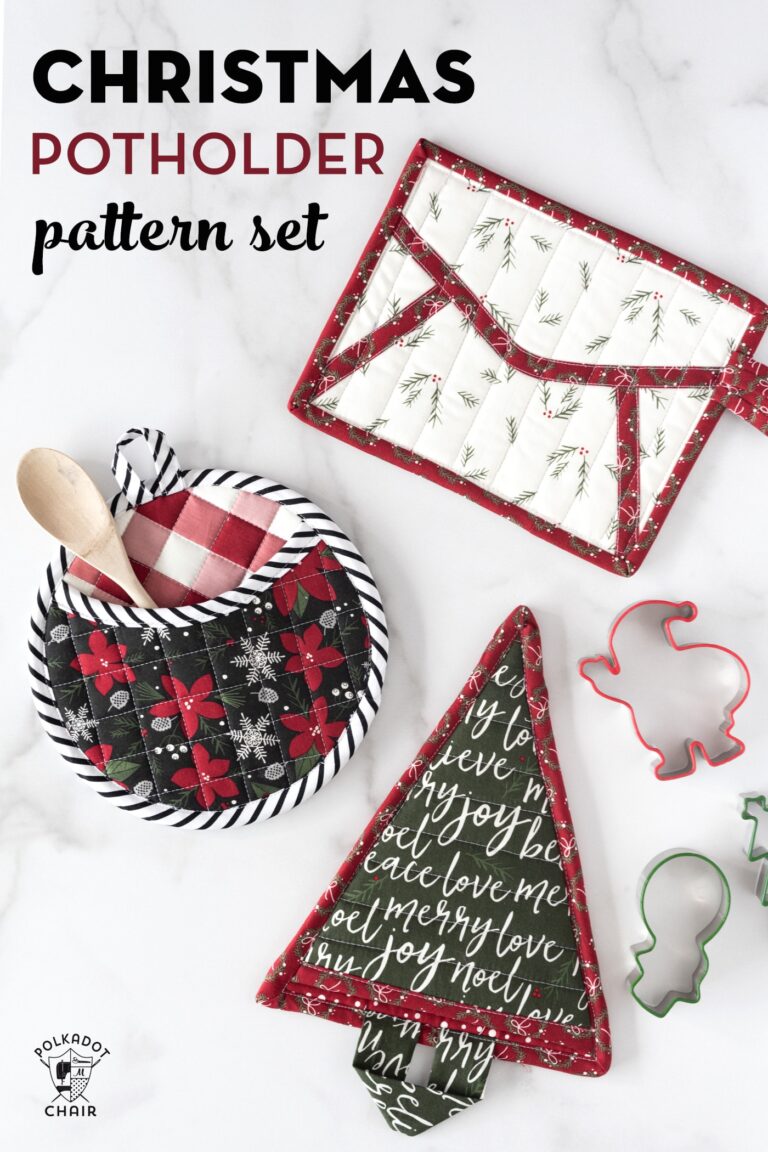 Table of Contents
Earlier this year I wrote a tutorial for a set of round quilted potholders. I think you guys loved the project based on the response I got to it.
Since that post, I've received several requests for MORE potholder shapes in different varieties. I spent most of the Fall sketching out and prototyping ideas for new hot pad designs. I then made and tested the patterns and am excited to be announcing the pattern today.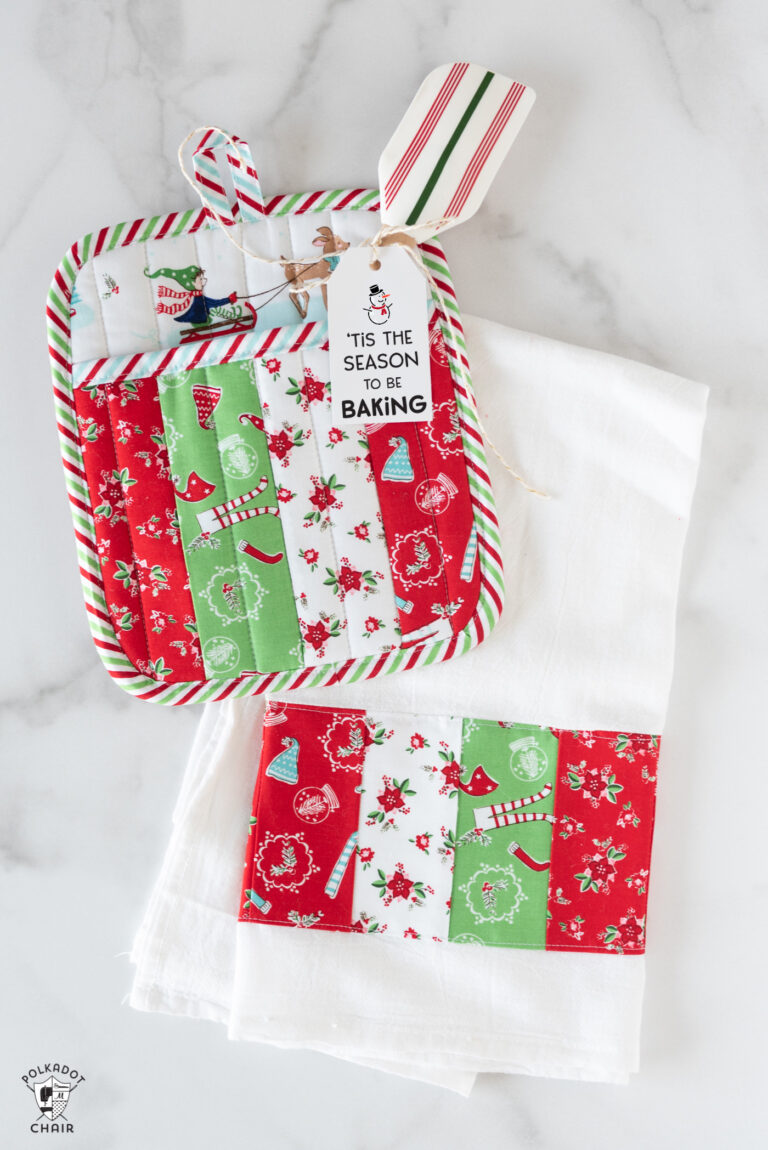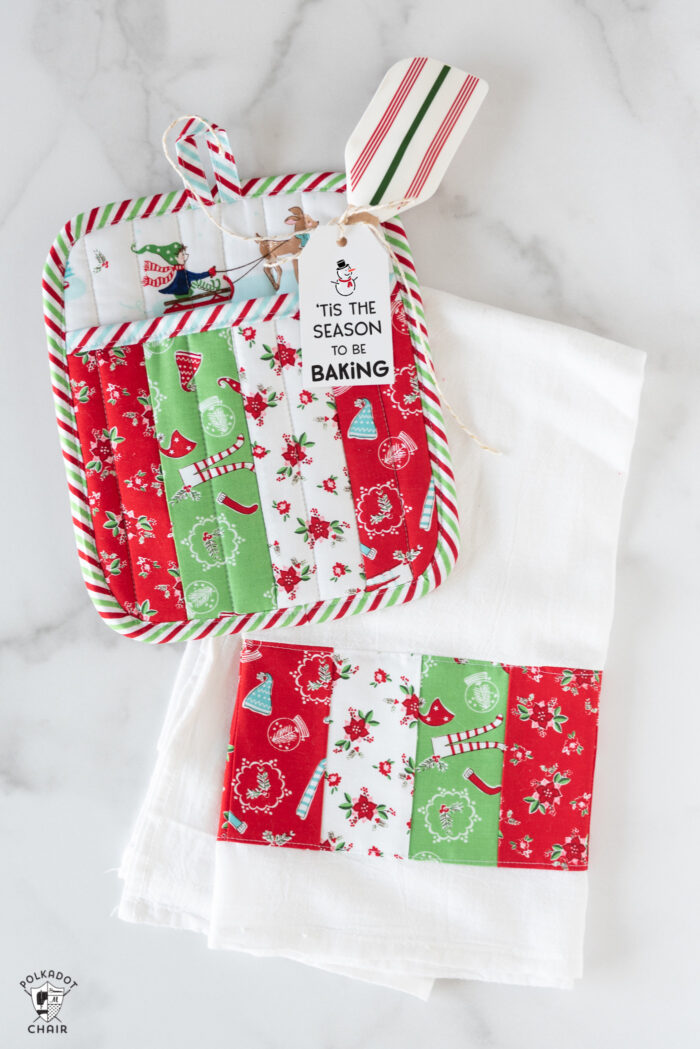 All of these potholder patterns are PRE CUT FRIENDLY! In fact, the stripey version above uses just four 2 ½″ pre-cut strips.
This kitchen sewing "set" makes a great gift for the Holidays for teachers, friends or neighbors. The pattern is really fast to sew. In fact, I made the stripey version above in just a couple of hours the other day.
Let me tell you about the pattern!
About the Quilted Christmas Potholder Sewing Pattern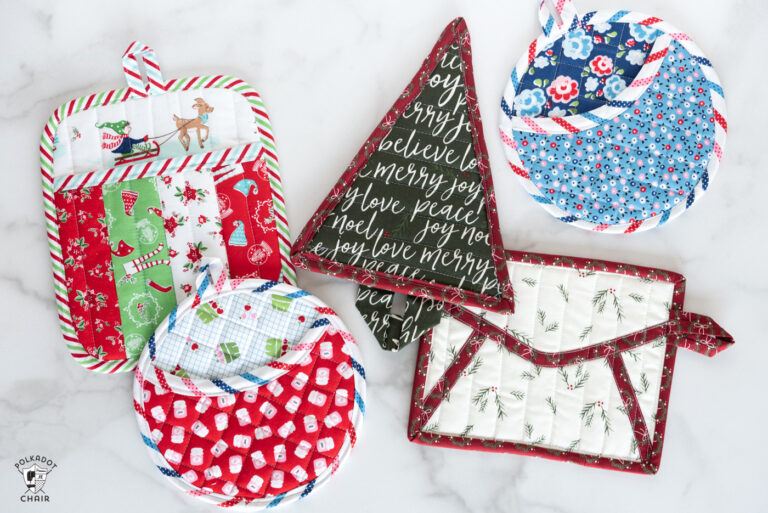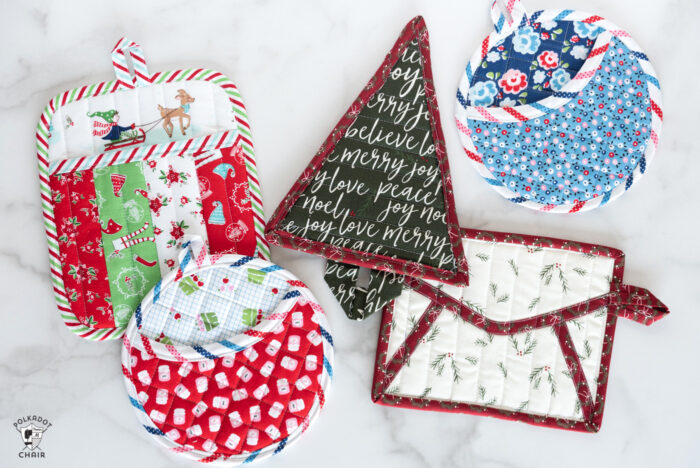 The pattern includes instructions for 4 different potholder styles. I'll chat more in detail about each one below. Included in the pattern.
How to Get the Pattern
You can purchase the pattern in our shop using the link above. You can also click HERE to view it in our pattern shop. The pattern is in full color and comes with printable pattern pieces, directions, and tips for creating your items.
Merry Go Round Quilted Potholder
Envelope Potholder
Christmas Tree Pocket Potholder
Stripey Potholder
Stripey Dishtowel
Printable set of Holiday and General Baking Gift Tags
Details of the Projects Included in the Christmas Pot Holder Pattern
One: Round Potholder Pattern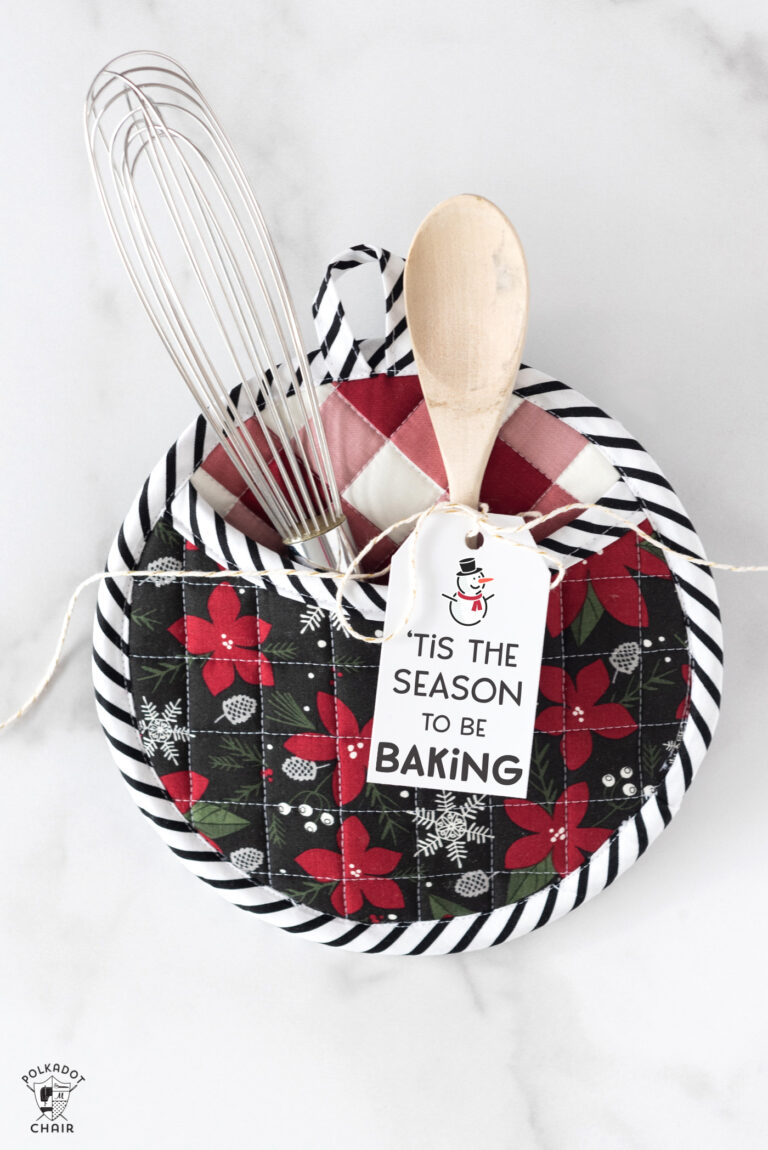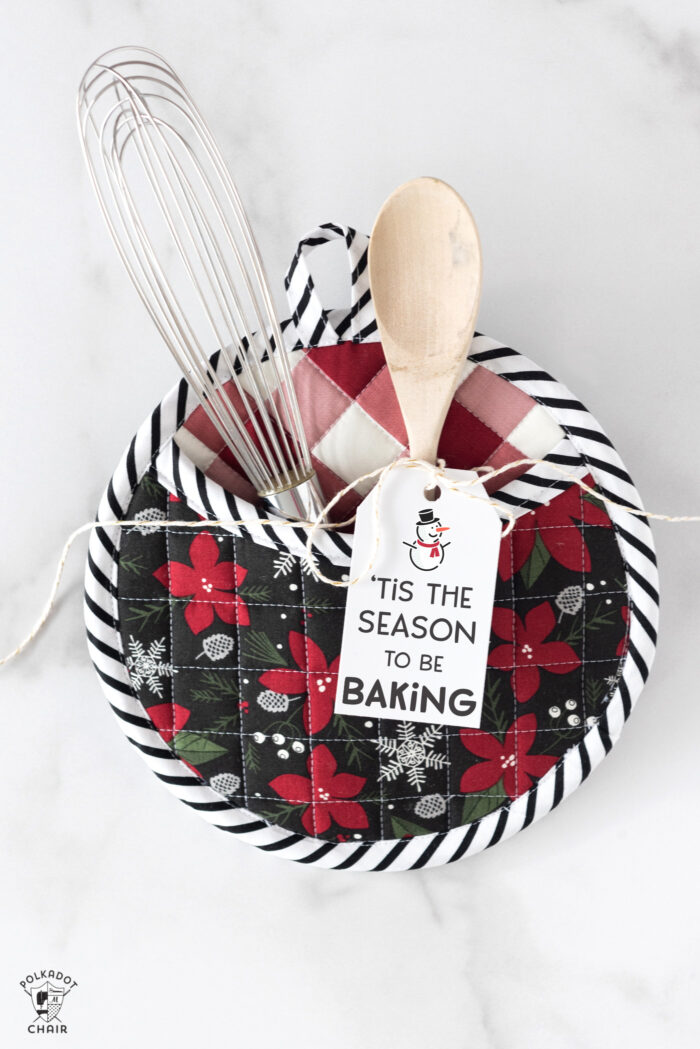 This whole project started out with a project to make a set of quilted Christmas potholders for gifts for friends this year. I know that many of you love the Merry Go Round pattern and have requested a simple to print format for the pattern.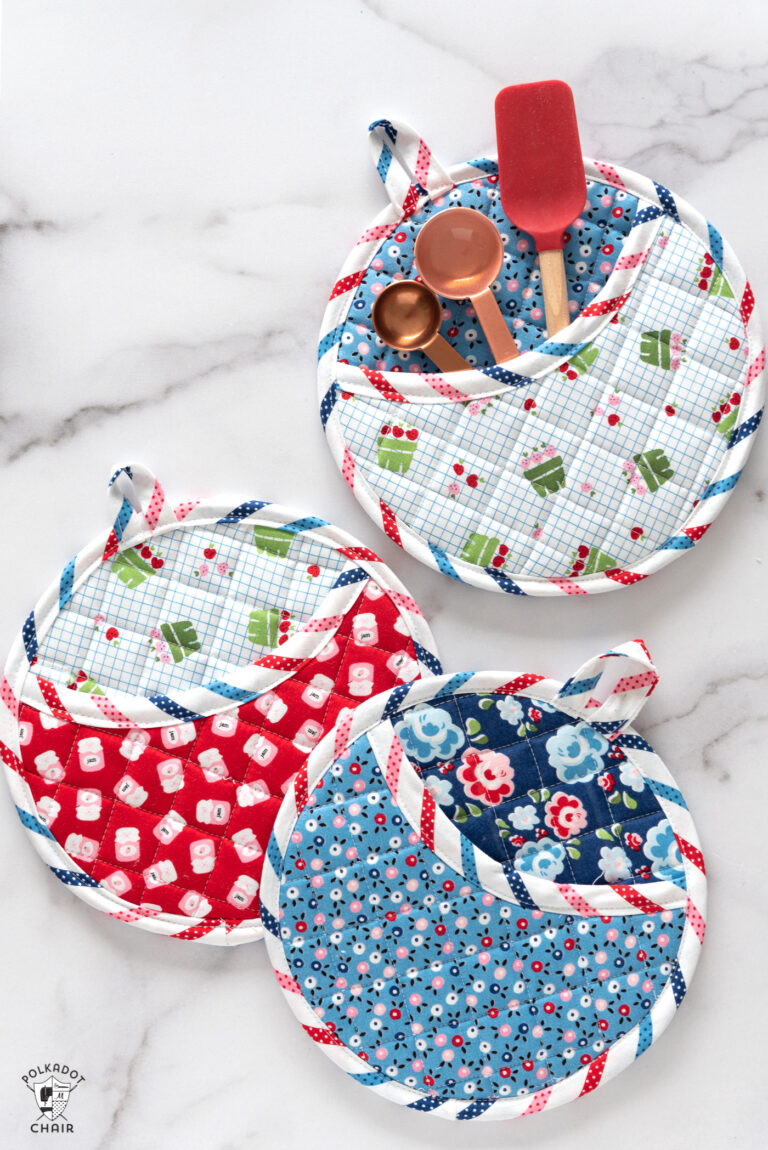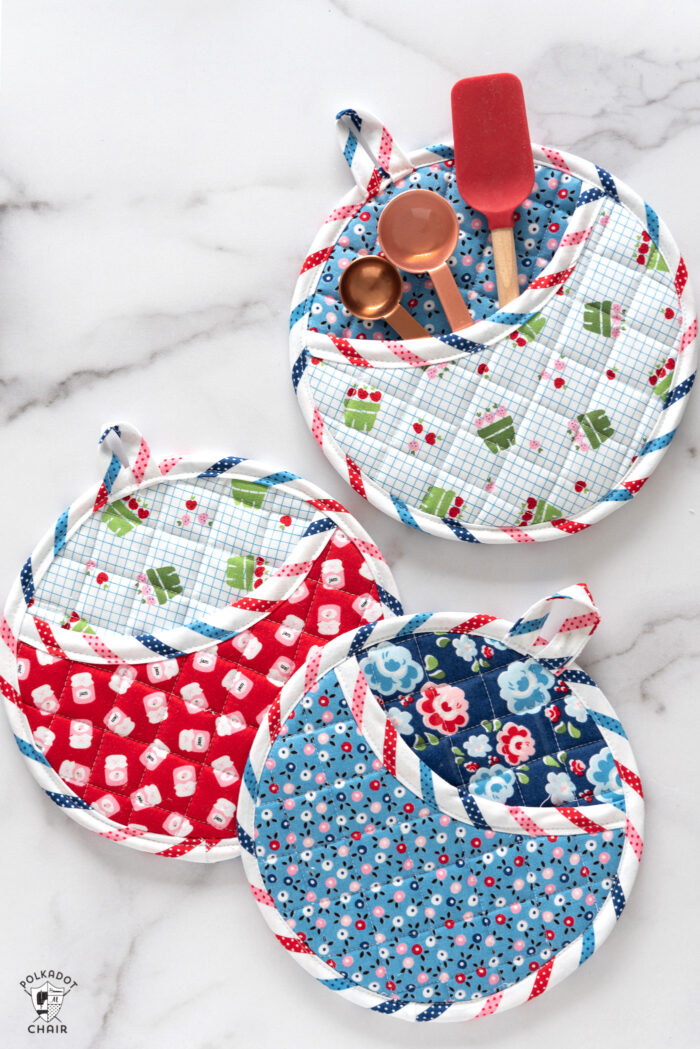 I'm excited to include it in this new pattern. For my hot pad above, I used a gingham fabric for one side (they are reversible) and just quilted along the gingham lines. I love the effect it creates on the finished hot pad.
Two: Christmas Tree Potholder pattern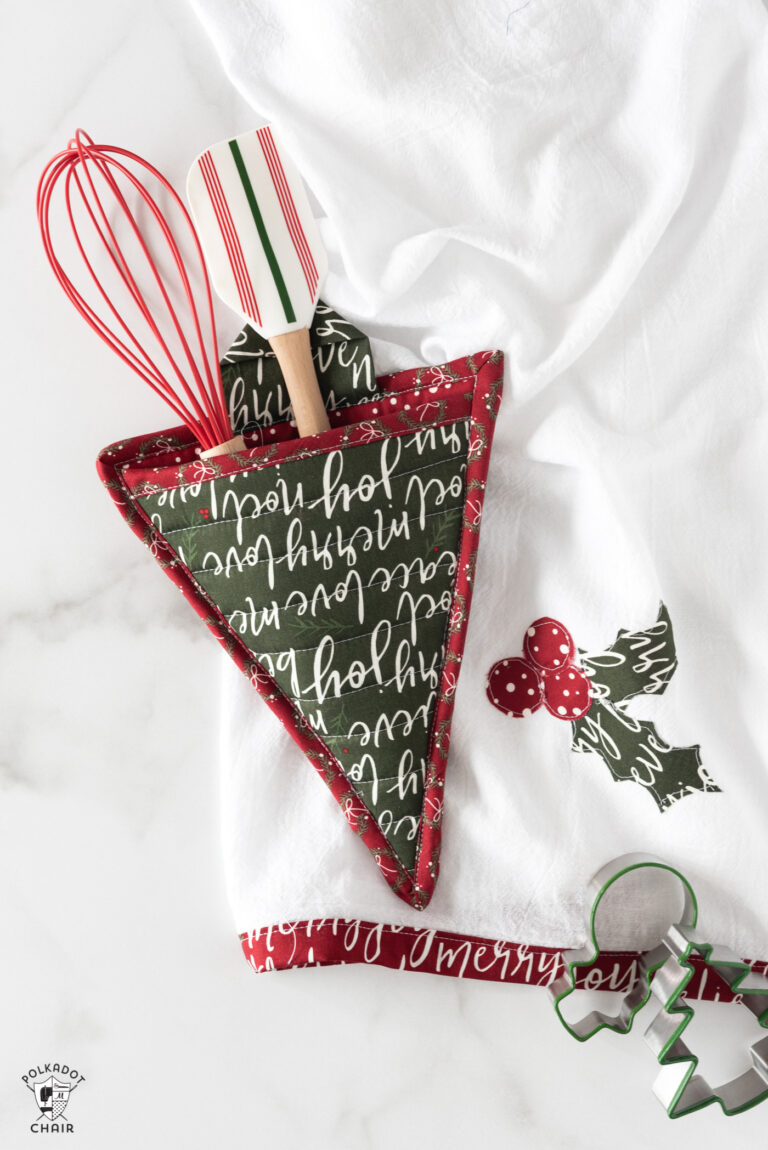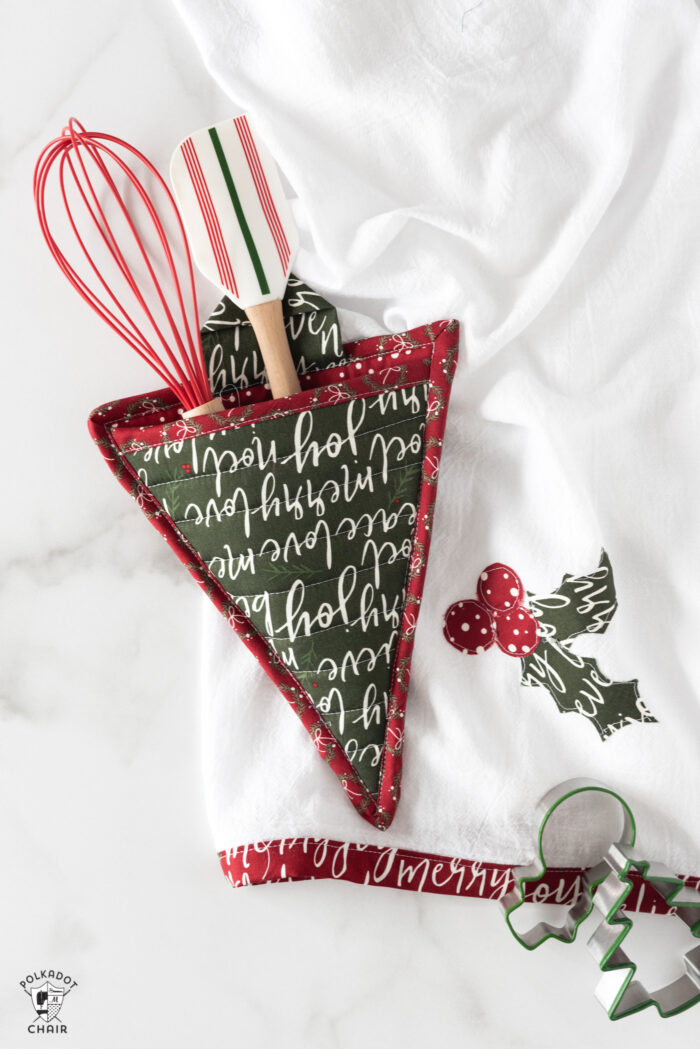 The second pattern included in the bundle is this fun Christmas Tree Potholder. It features a fun front pocket that you can "stuff" with goodies for the gift recipient.
I added a big loop at the bottom to create the illusion of a tree trunk.
This hot pad is just the right size to use to quickly grab something out of the oven. It's not designed to fit your whole hand inside, just to be used as a quick grip to grab hot stuff.
The dishtowel in the photo above is not in the pattern, it's based on a free tutorial that I created HERE. I'm working to get the pattern for the holly berries uploaded online. I'll let you know when it's ready.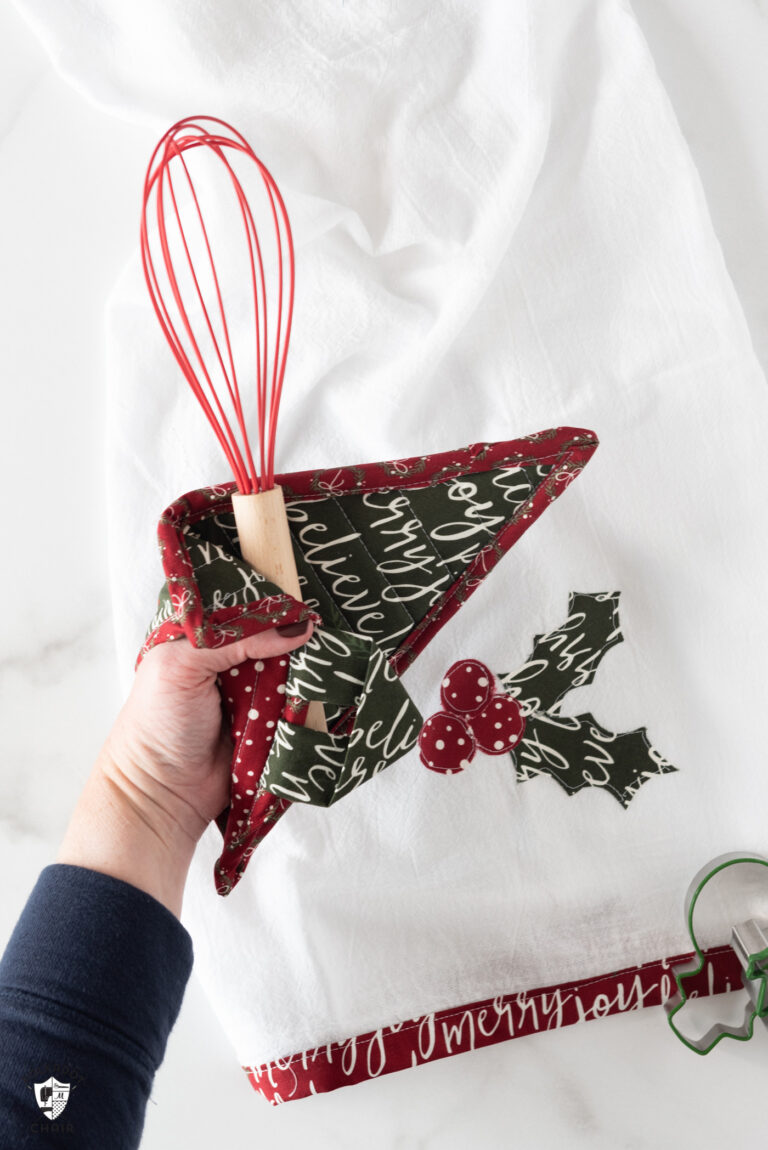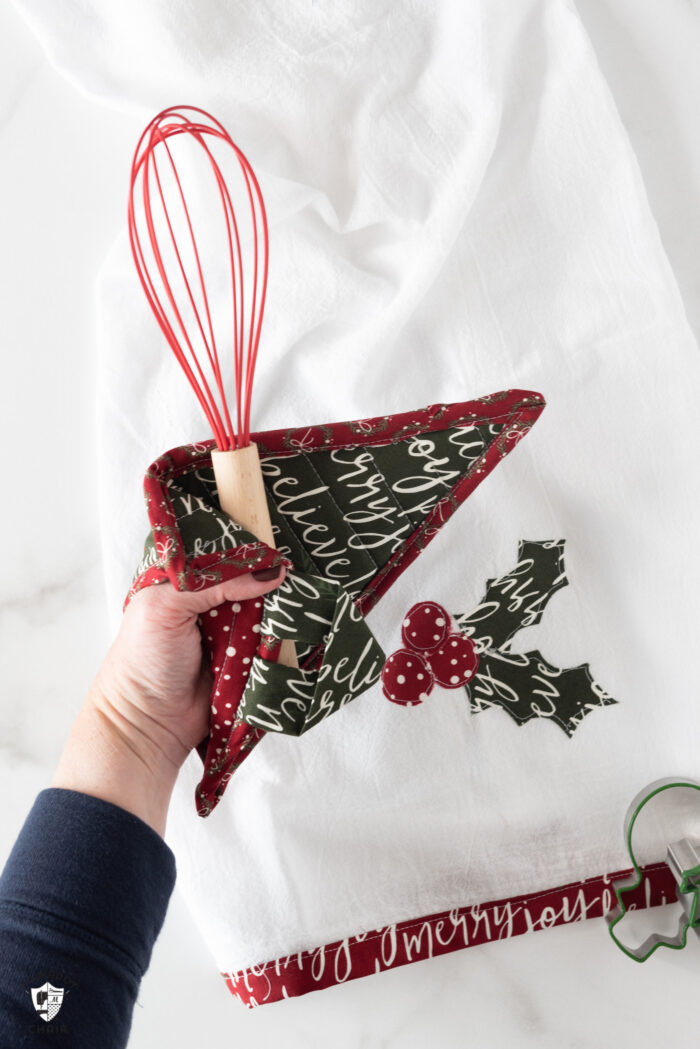 Three: Envelope Christmas Potholder Pattern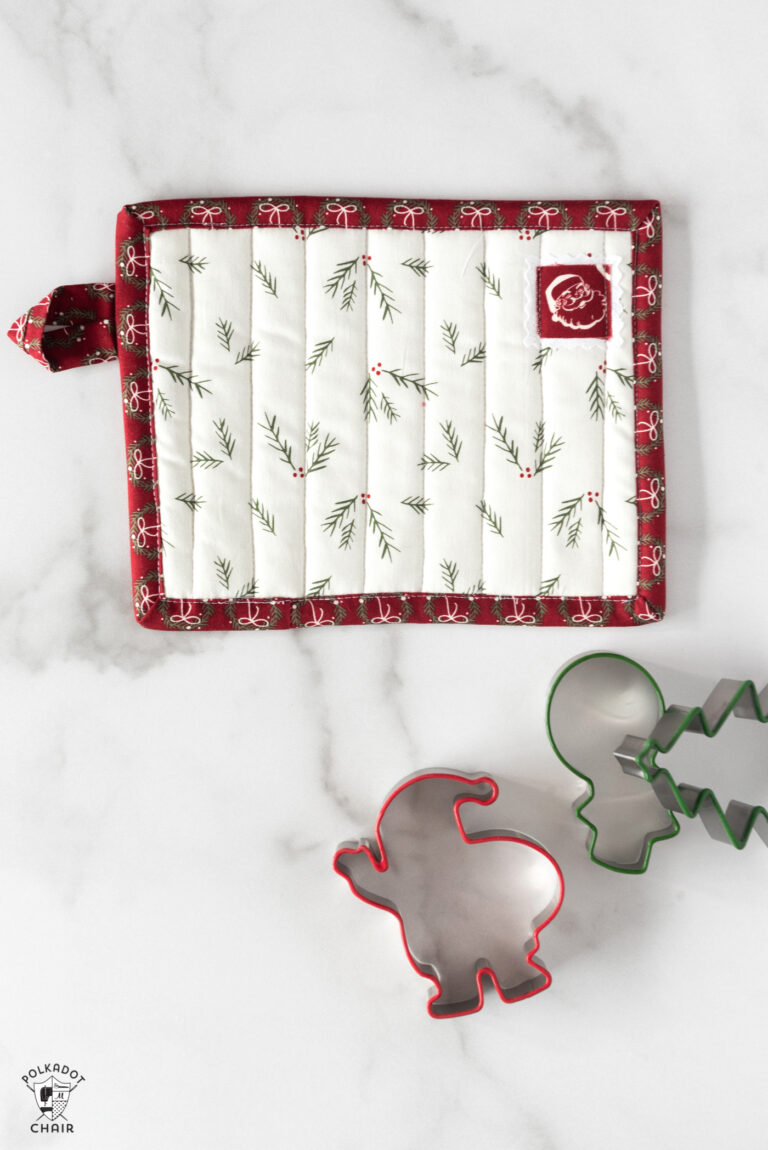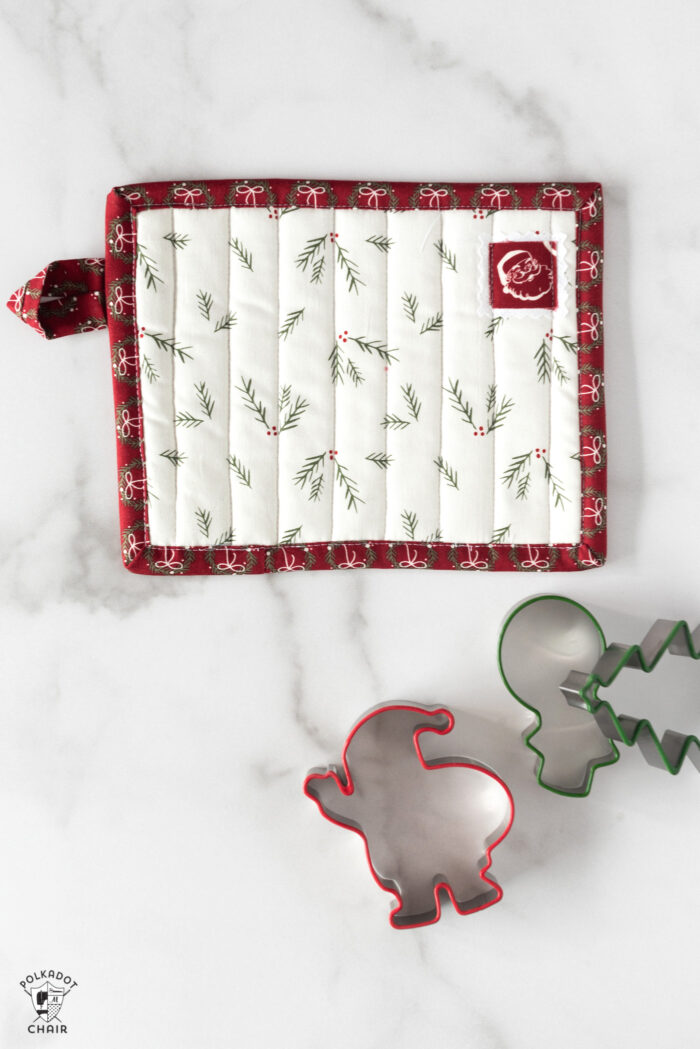 This sweet envelope hot pad was the brainchild of a good friend of mine that came over to sew one day. I told her I needed "one more" hot pad design for my pattern and she sketched it out.
One side of the potholder features a fun stamp that is fussy cut from Christmas fabric and the other side features a bias tape outline of the envelope.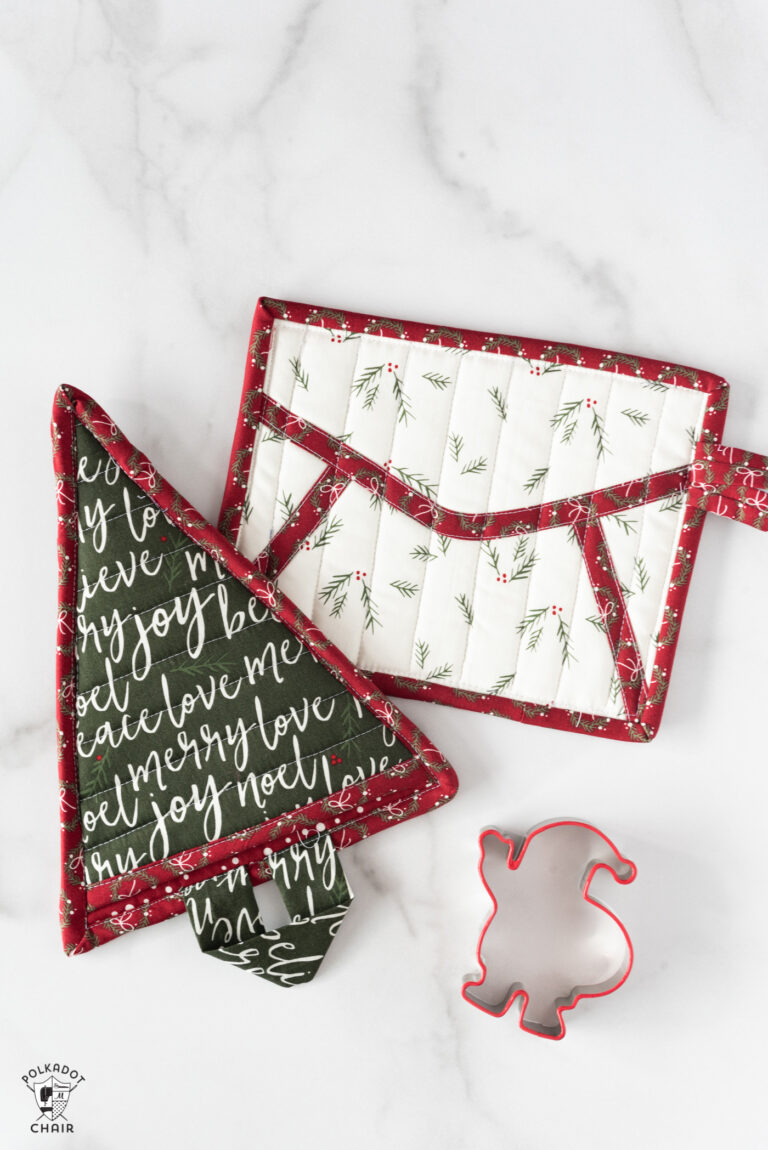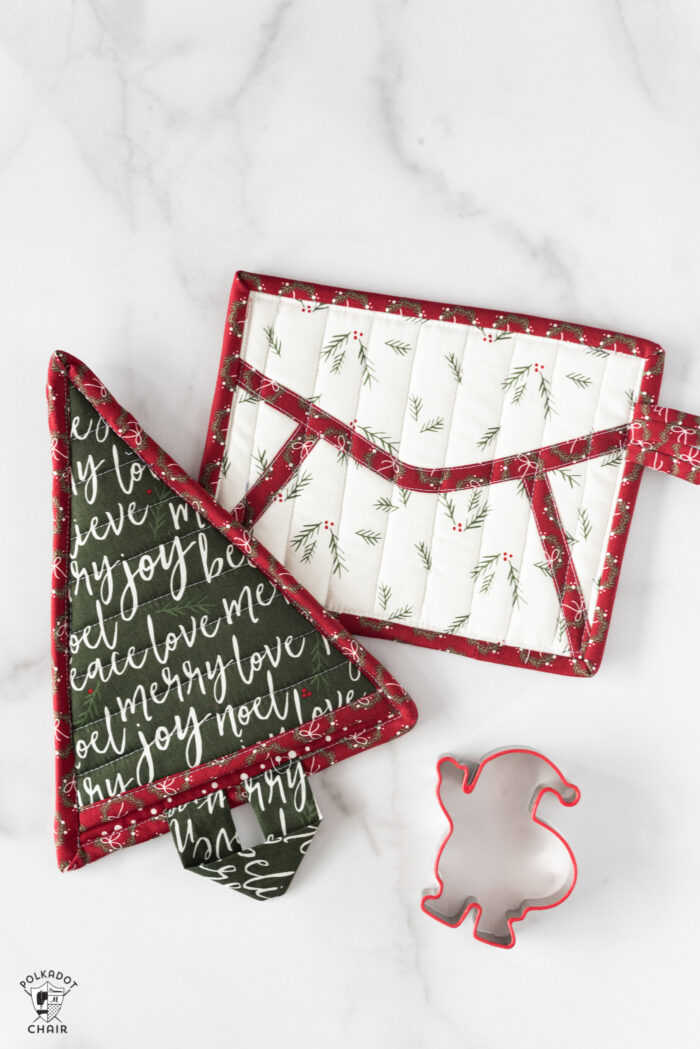 Four: Pre-Cut Friendly Stripey Hot Pad Pattern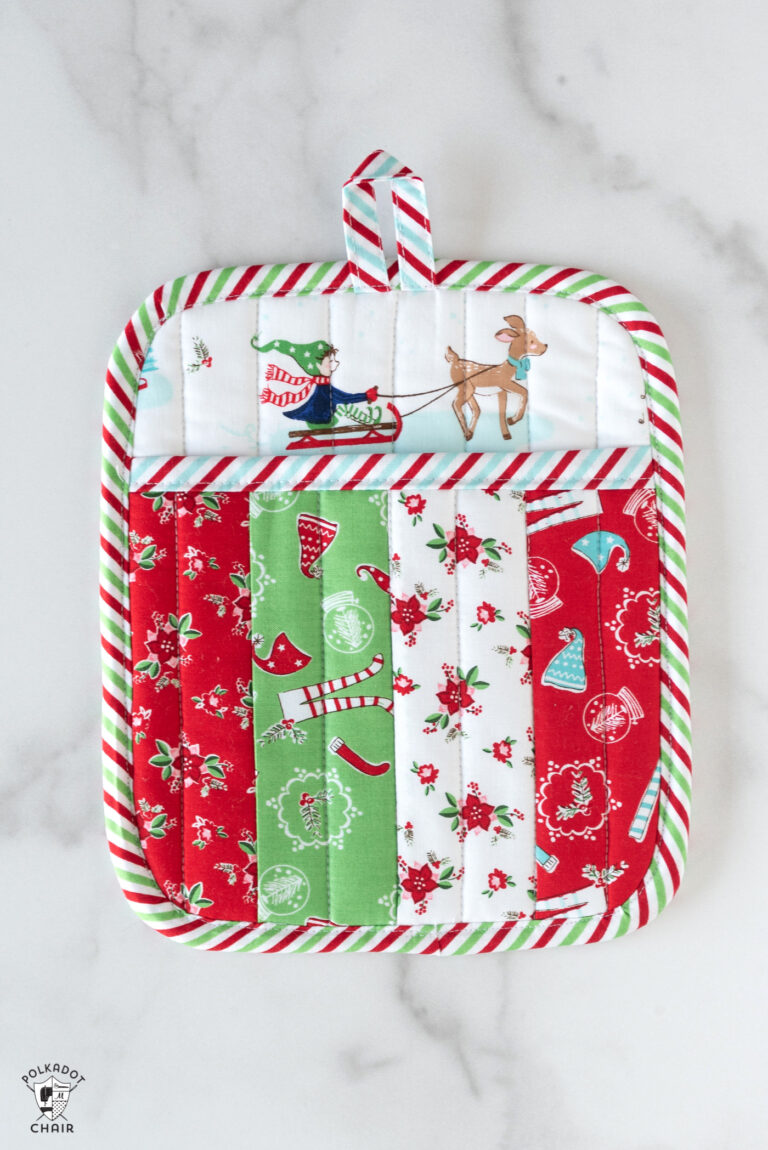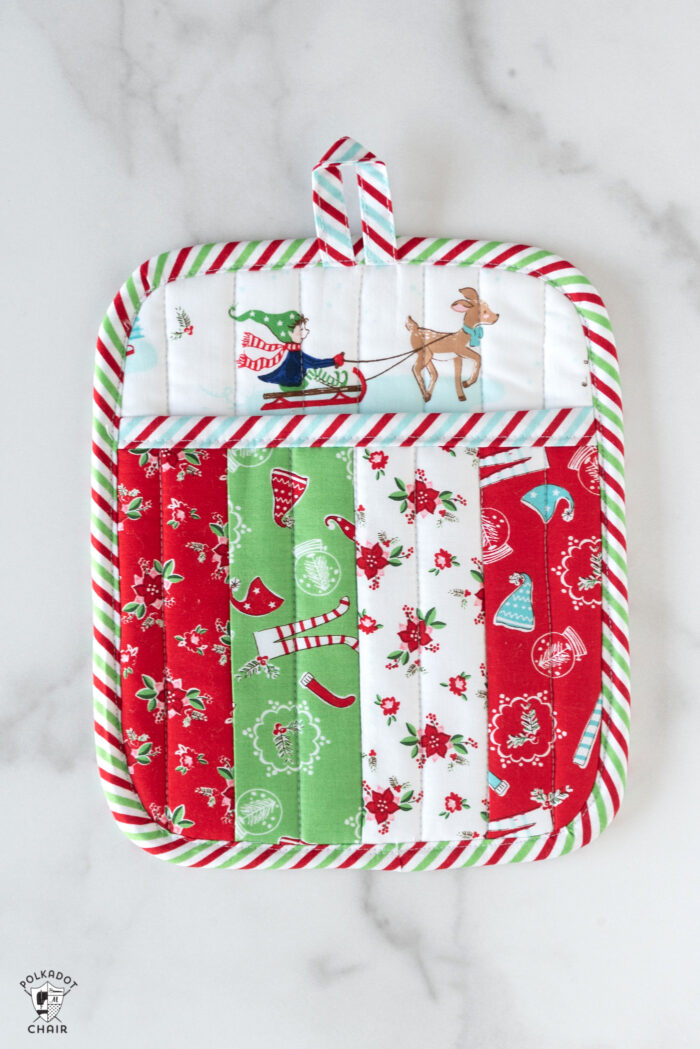 I came up with the idea for this hot pad while lying in bed one night. I love that I can come up with ideas that way but don't always love that I can't shut off my brain at night!
This Christmas pot holder is made from four 2 ½″ wide precut strips (sometimes called Jelly Rolls). One side features a pocket and the other side is striped. This one is super easy to quilt since you can follow the lines in piecing and you don't need to mark your fabric as much.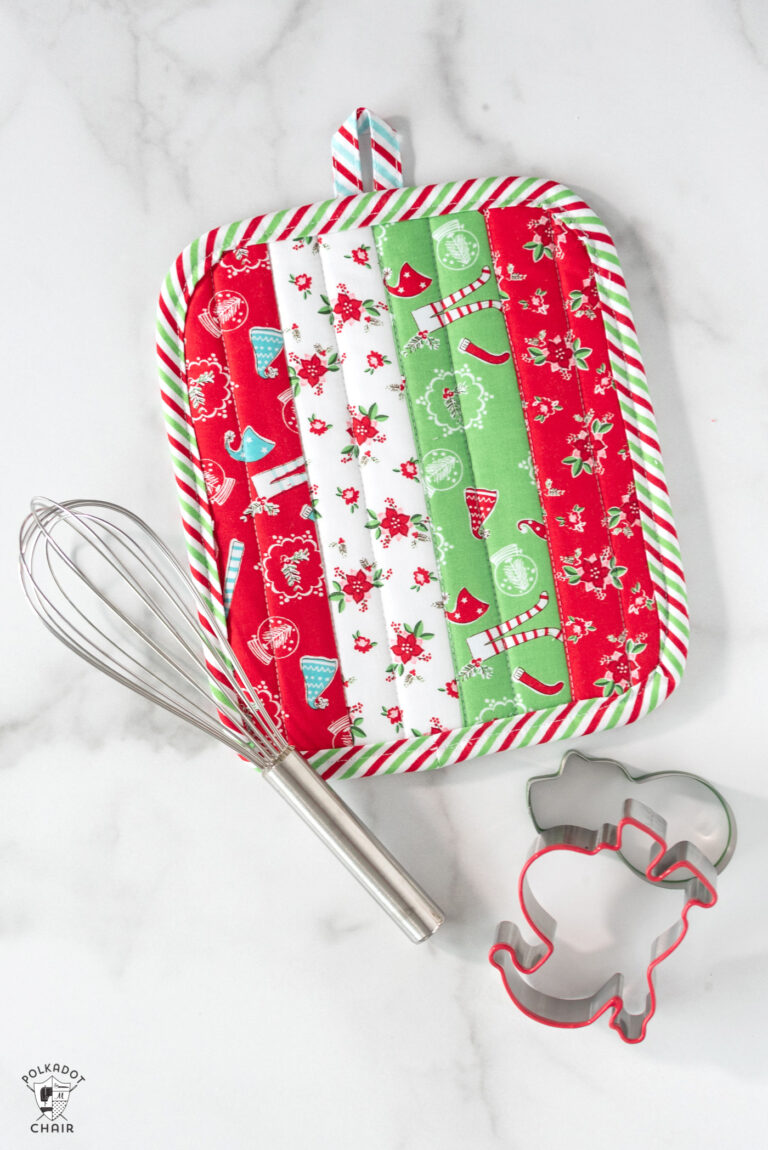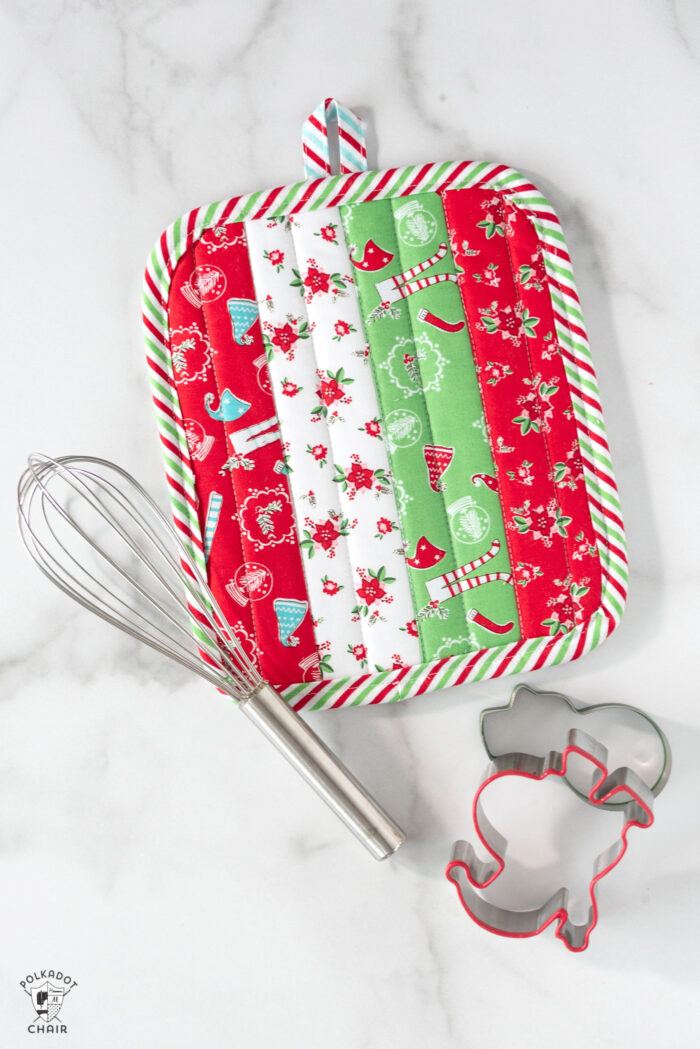 Five: Stripey Dish Towel Pattern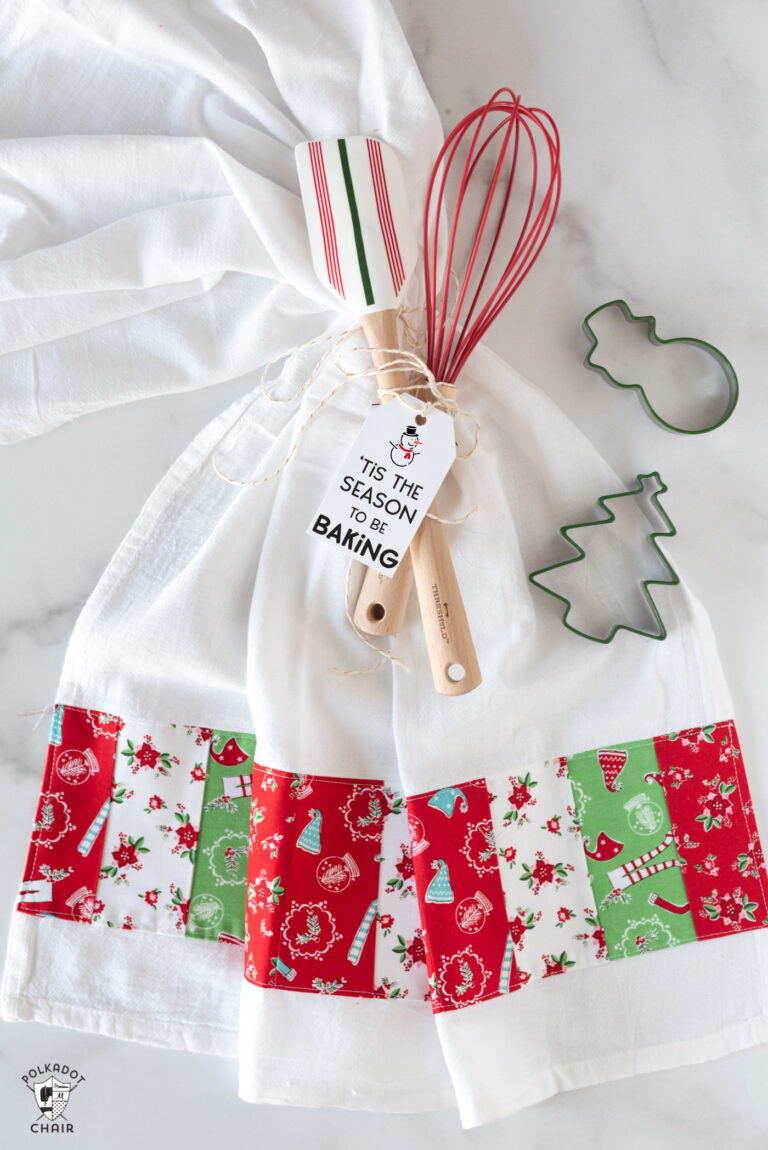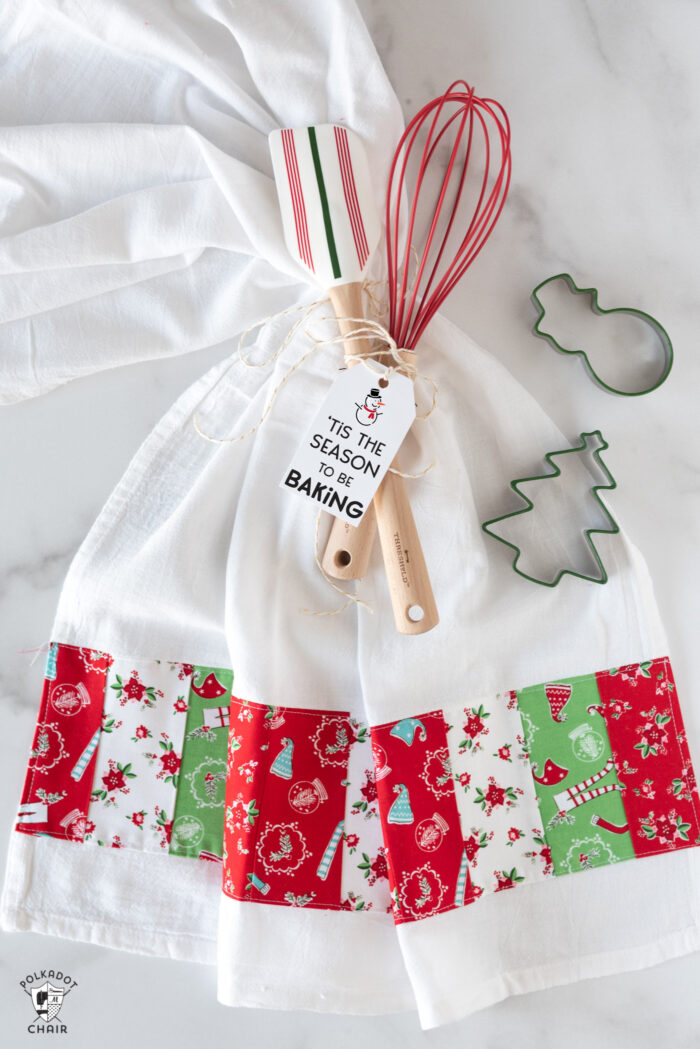 You can make the Stripey Dish Towel from the leftover strips from the Stripey Potholder. This pattern uses a simple 30″ x 30″ pre-made feed sack towel and is SO fast to create. Instructions are included in the pattern to create JUST the dishtowel too (in the event that you don't want to make the matching potholder).
Free Printable Baking Tags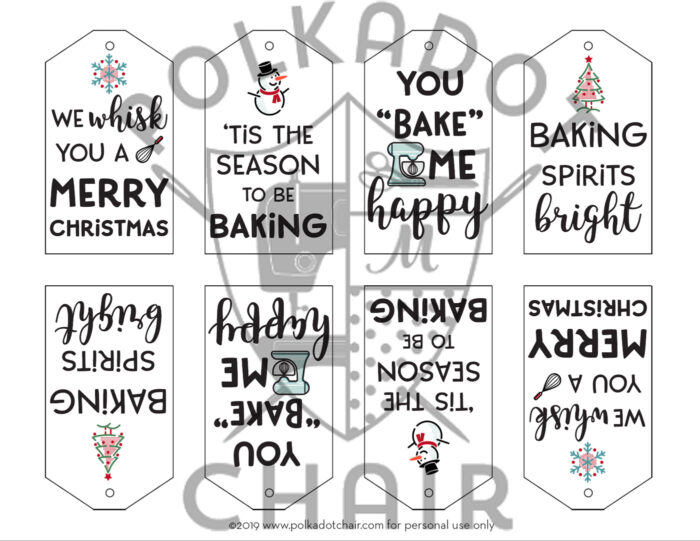 The digital PDF pattern Also includes a set of printable baking tags. Just print them out on cardstock and attach them to your gift. There are 4 different ones to choose from. I also included the original tags in the download (the non-holiday) themed version.
Included in the pattern is a sheet with a variety of tags. If you prefer ONE style of tag per sheet, you can grab our Ultimate Christmas Tag Bundle in the shop. It includes 23 pages of printable tags, with one style per sheet.
More Christmas Sewing Projects:
25+ Cute Things to Sew for Christmas
Improv Christmas Tree Table Runner