Hi there! Today I'm excited to introduce you to the next person in our new contributor team, Jessica of Cutesy Crafts. She is sharing the tutorial for this adorable Thanksgiving Embroidery Hoop with you. If you like this project then you may also like these 25 Thanksgiving Sewing Project Ideas.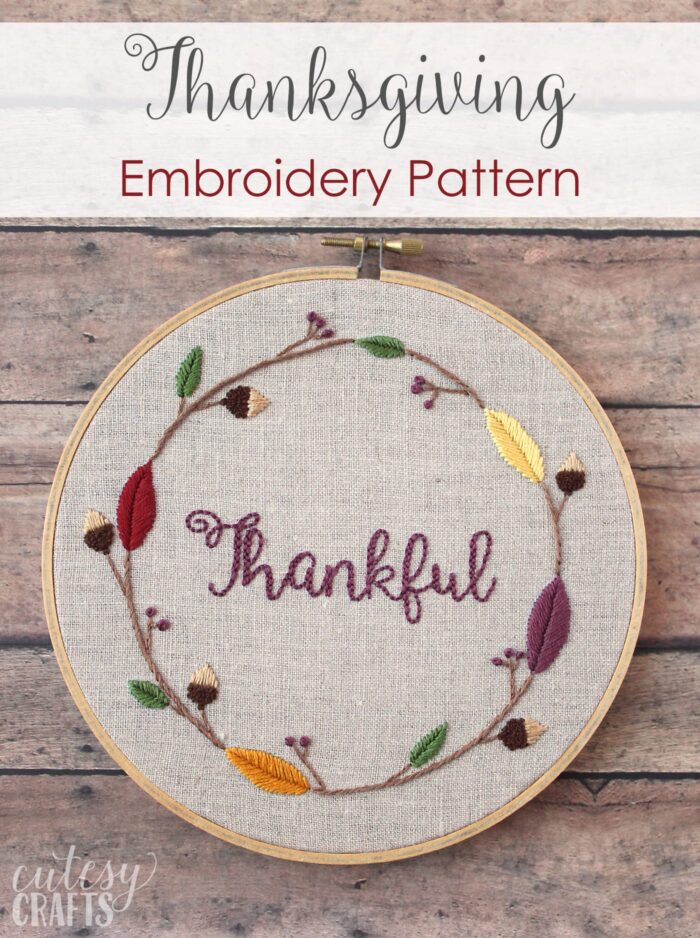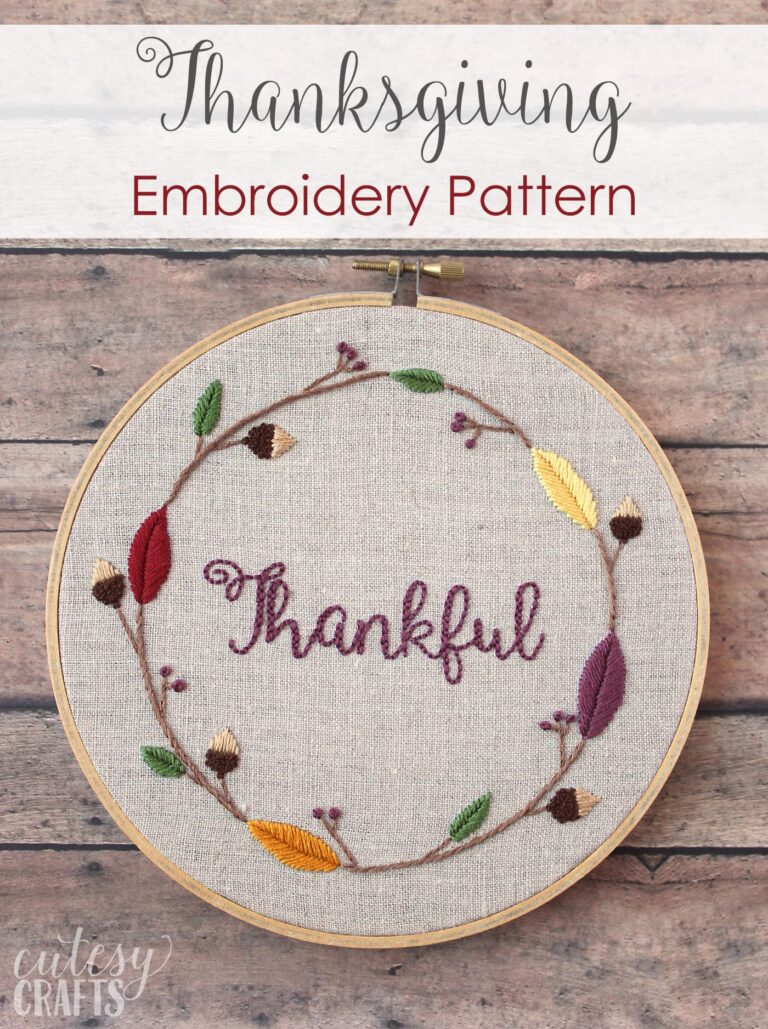 Hi, I'm Jessica, and I blog over at Cutesy Crafts. I love to hand embroider, so that's mostly what I will be sharing here. My blog is also filled with lots of fun holiday crafts, and things that I make for my kids.
Table of Contents
Thankful; Hand Embroidery Pattern & Tutorial
Today, I'm sharing this pretty "Thankful" hand embroidery pattern. It would look so cute on a fall mantel for Thanksgiving!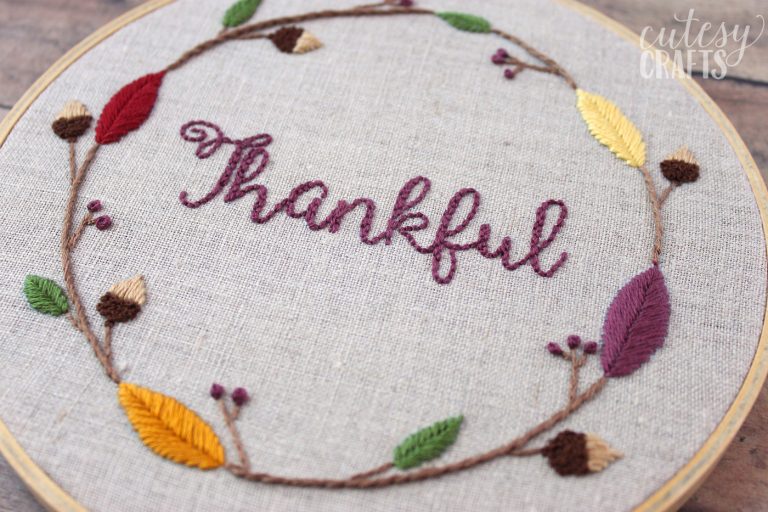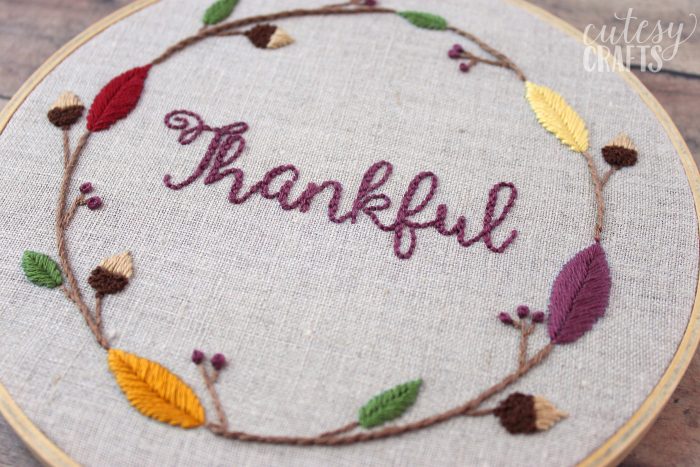 Supplies
"Thankful" embroidery pattern – visit here to download it. 
7-inch embroidery hoop
natural colored linen
embroidery floss (DMC 898, 422, 3862, 3777, 315, 3346, 3822, and 3852)
embroidery needles
felt for backing (optional)
dressmaker's carbon paper to transfer the design (optional)
Instructions
I designed this pattern mostly because I wanted to try stitching up some acorns and brush up on my leaf-making skills. The acorns are made with little french knots and a satin stitch. The leaves are made using a fishbone stitch, and I love how they turned out! That stitch was a little tricky for me at first, but I think I've got it down now.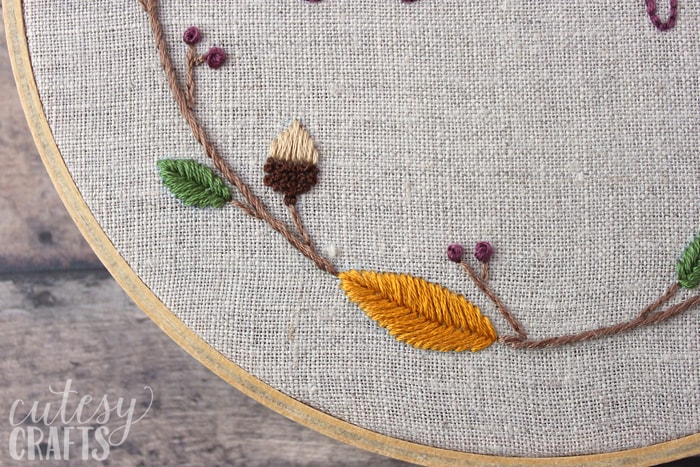 About the Embroidery Stitches
The hardest part for me is always the lettering because I want it to look perfect. I used a small backstitch for the letters and made the second row of stitches on the thicker parts. I tried to offset the second row of stitches from the first row because I just think it looks better that way. There's really no right or wrong way to do it.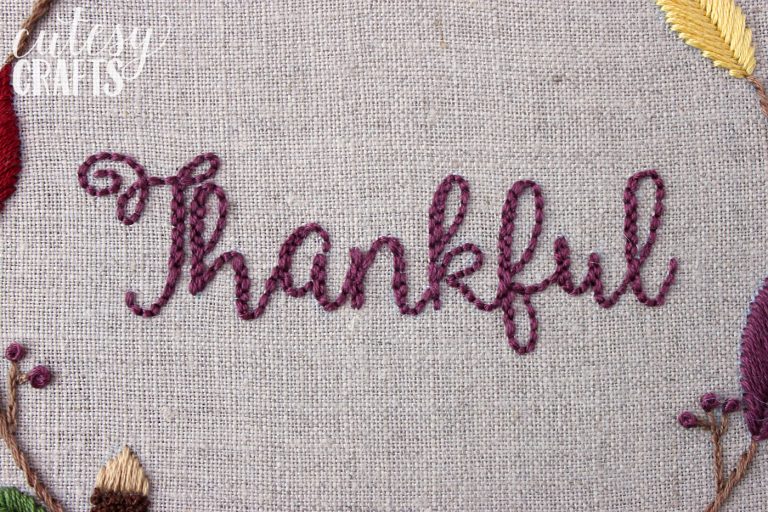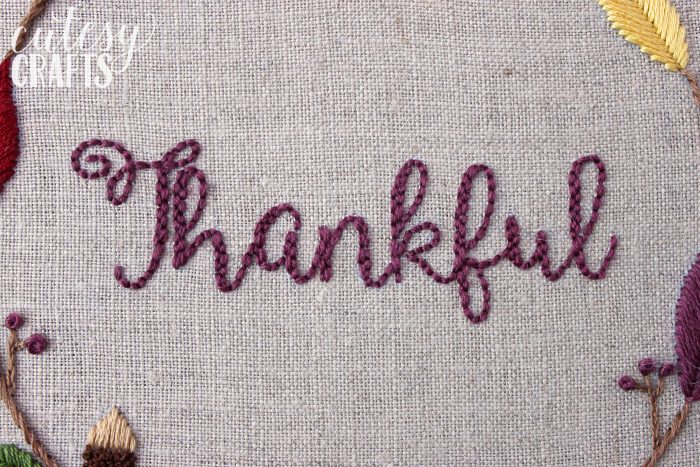 The rest of the stitches are listed on the pattern. Check out my video here to learn how to back the hoop with felt when you are done.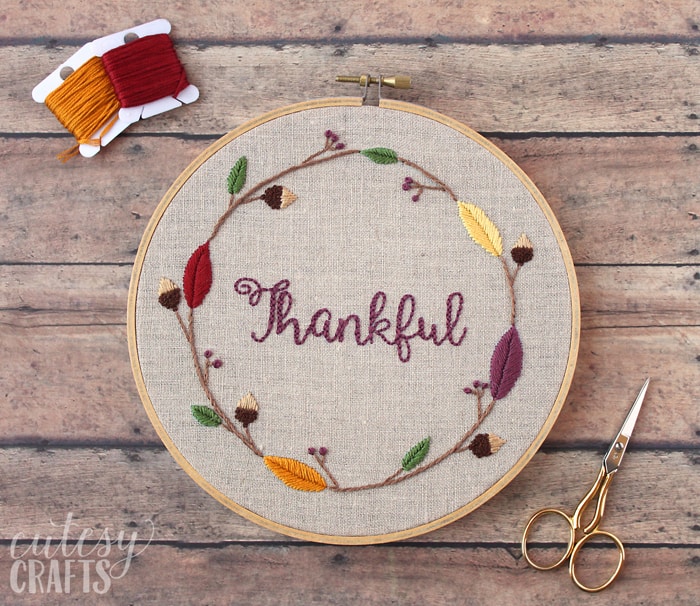 The perfect addition to my fall decor!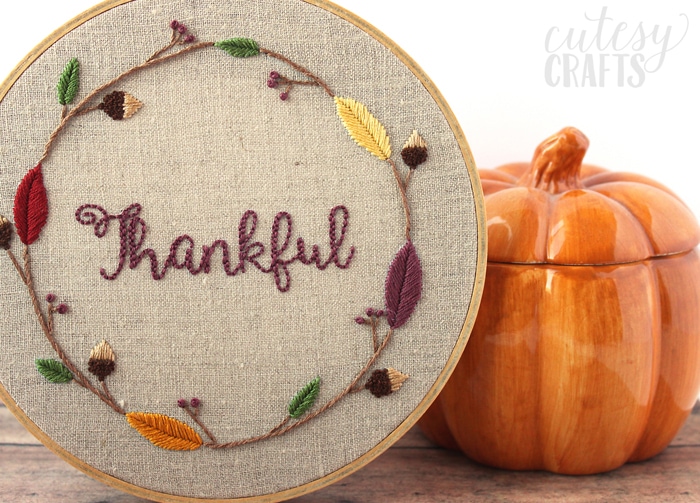 Check out these other embroidery projects from Cutesy Crafts: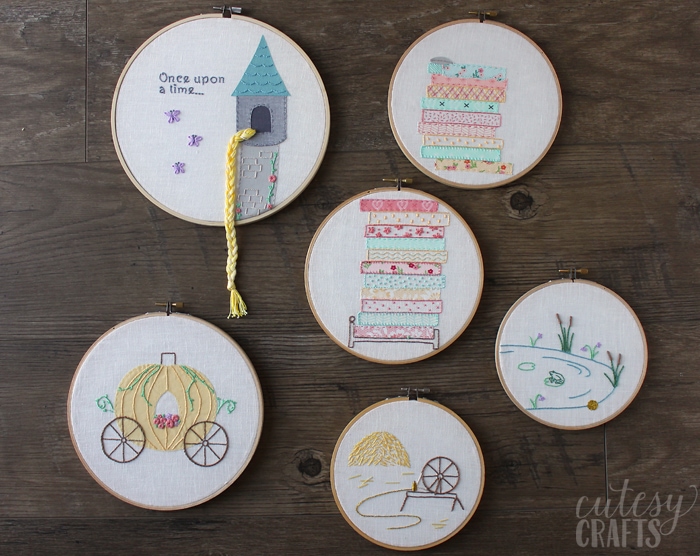 Fairy Tale Hand Embroidery Patterns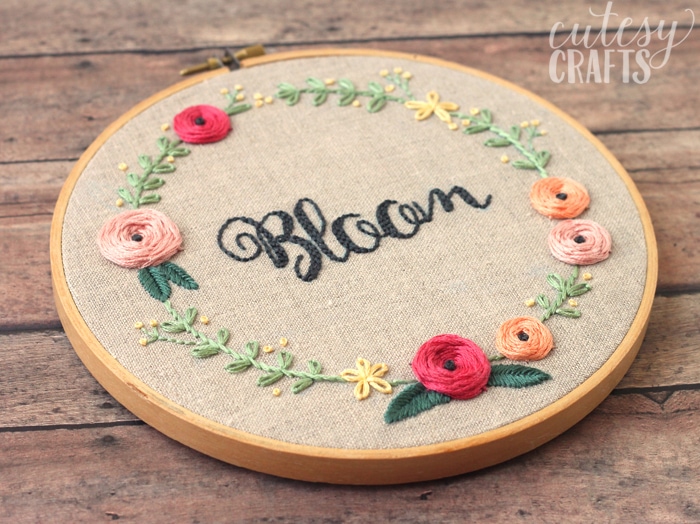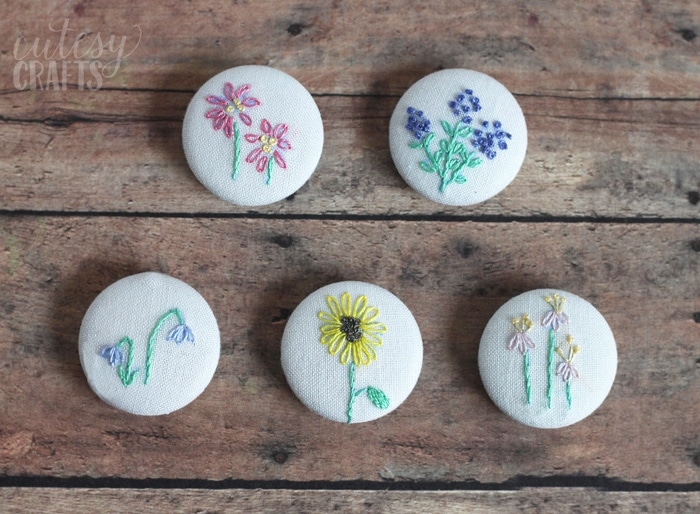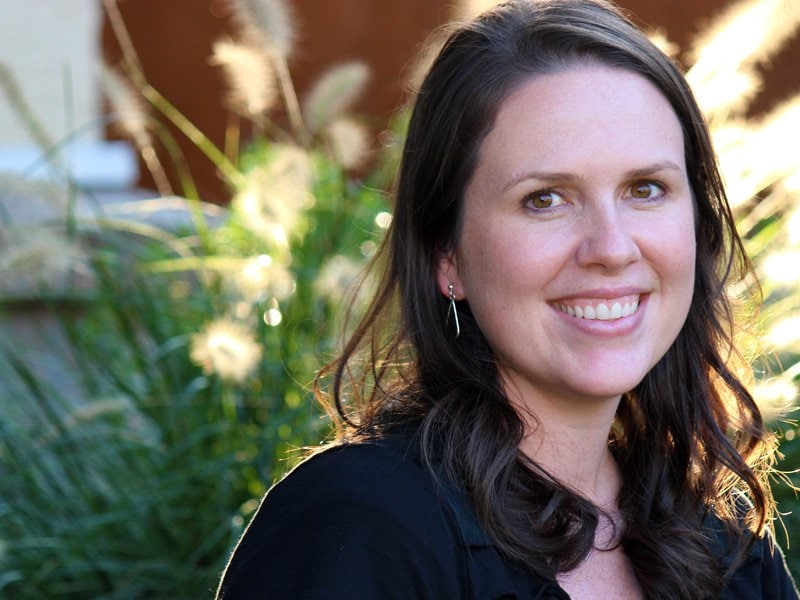 Hi, I'm Jessica, and I blog at Cutesy Crafts. I'm a stay-at-home mom to four cute kids, and I love all things crafty! My blog is filled with all kinds of crafts, mostly for my kids and my home. I believe that handmade items are special because of the details and special touches that a machine can't reproduce. For that reason, I'm also a big fan of hand embroidery. I hope I can inspire you to be creative!
More Free Embroidery Patterns:
Flamingo & Peacock Free Embroidery Pattern
Adorable & Humble Wreath Embroidery Pattern