This triangle quilt is speedy to sew and a great project for a beginning quilter. If you like this quilt project, you may also enjoy this Hexagon Quilt Tutorial.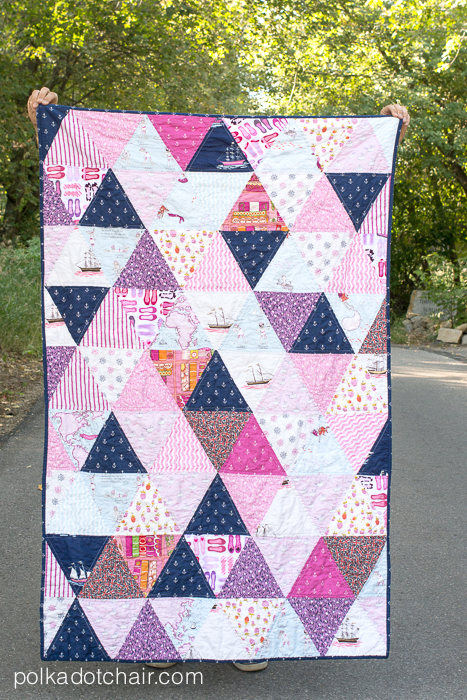 We just returned from getting my daughter set up for her 2nd year of college. I can't believe she's old enough for college, let alone old enough to be starting her second year!
Before she graduated High School, she picked out some fabric that she liked for a quilt for her dorm room.  She went with Out to Sea by Sarah Jane, as she's a huge fan of pink and navy. We ordered the fabric, then it sat.
Table of Contents
Distracted by all of the deadlines I had to meet the last year, her project never made it to the top of the "to do" list. How does that saying about the shoemaker's children go???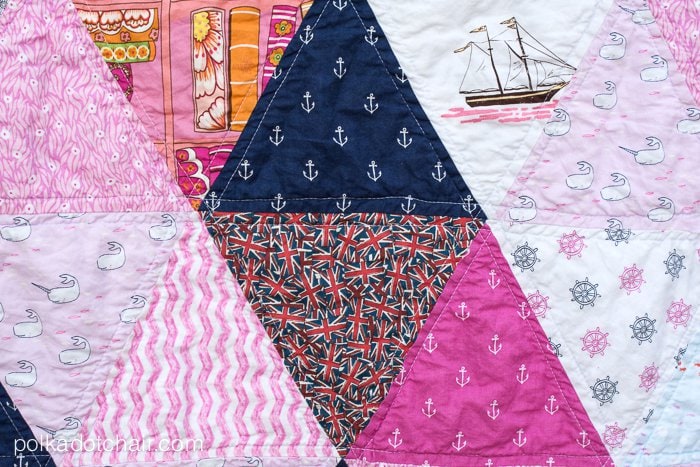 She was in London over the summer for study abroad, and I decided that I'd finish the quilt while she was gone. That way, she could take it to school with her this year.
She left the design of the quilt up to me, in fact, she had no opinion on the layout. I had been itching to make a triangle quilt and thought this would be a great project for it.
How I made My Triangle Quilt
This quilt is made from a basket of scraps. Because of this, you won't find a "precise" tutorial here. Instead, you will find a set of instructions to make your own scrappy triangle quilt!
Quilt Size
I know it can seem intimidating to sew this way, especially if you're new to quilting. Don't be afraid to make something your own! There are no quilt "rules" that you have to live by. This quilt can be any size you'd like!
My Quilt is approx. 45″ x 72″.
How Much Fabric Do I Need?
As for fabric yardage estimates, I think this quilt is best made "scrappy." With that in mind, it works well for a "stash buster" quilt. Meaning you can use up some of your stashed and leftover fabrics while making it.
If you don't have a "pile" of scraps to begin with (remember it's a scrappy quilt!) I recommend starting with a fat quarter pack. It will give you a wide variety of prints and colors. You can get 6 triangles from one fat quarter piece.
Most fat quarter packs have 24 fat quarters, so you can get 144 triangles from one pack, more than enough for a quilt!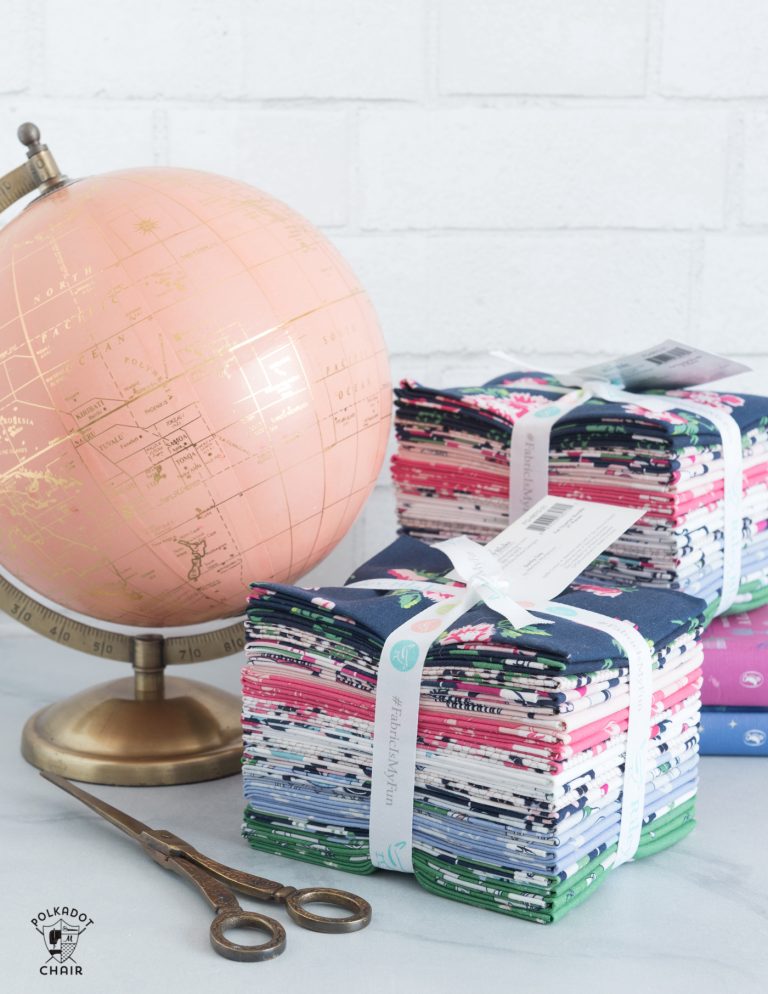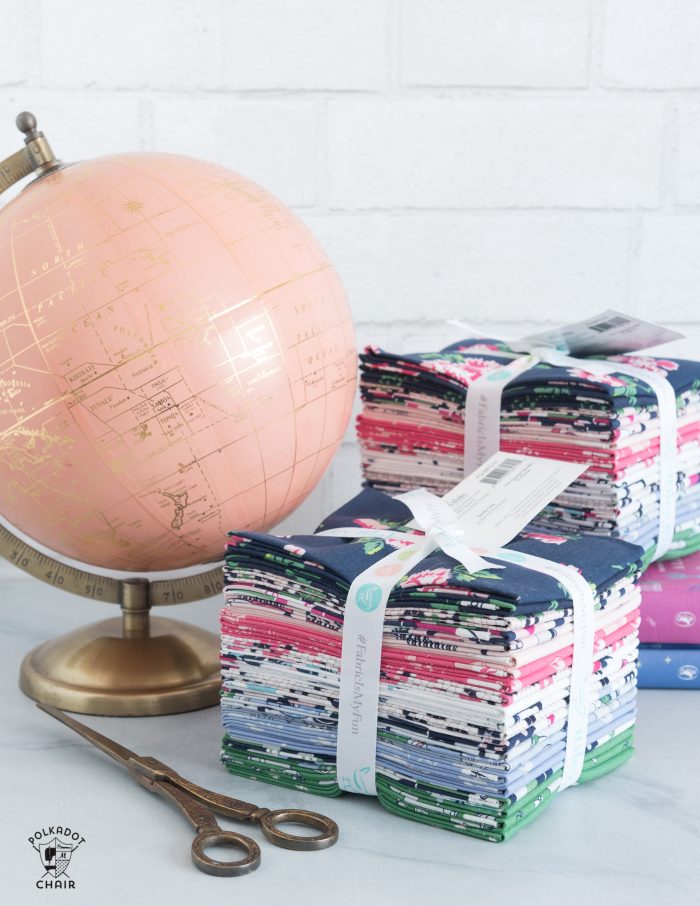 Step 1: How to Cut the Triangles
To make this quilt, all you really need is ANY 60-degree triangle ruler.
The quilt was made by cutting triangles using the Jaybird Quilts Hex and More ruler. My triangles are 9 ½″ wide by 8″ tall after they are cut out. The ruler is designed to cut several different shapes, but I just used it for its simplest application, triangles.
I used 99 triangles in my quilt top.
Step 2: Lay out the Cut Triangles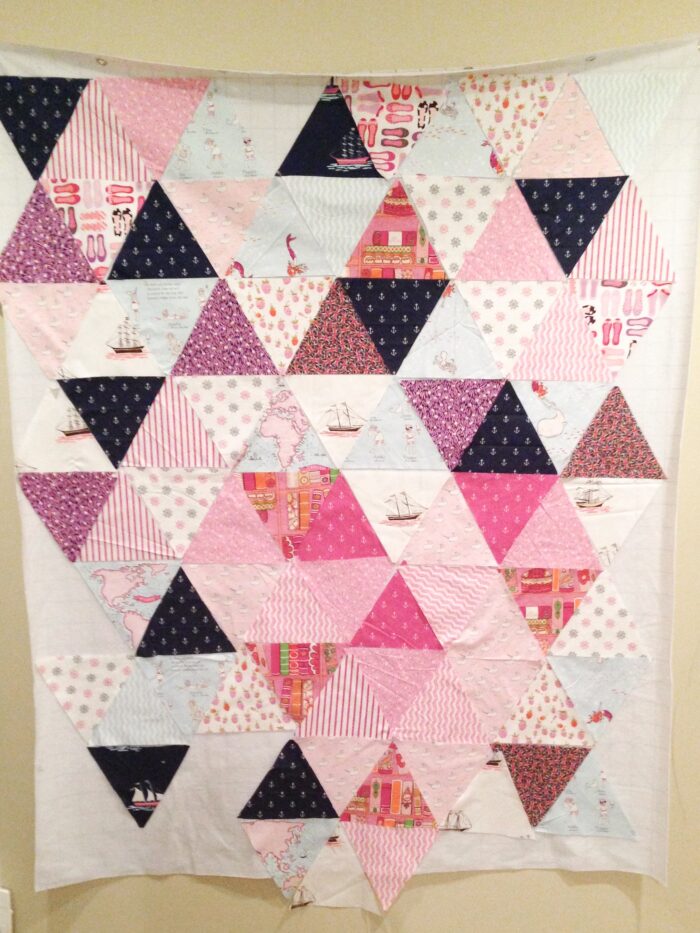 There wasn't too much rhyme or reason to how I cut the triangles; I cut several out of different fabrics then laid them out on a design wall to balance out the lights and darks.
I ended up with 11. And 9 rows of triangles down. Note: (the triangles on end are trimmed in half so that you have a straight edge to work with when making your quilt). The finished quilt features 9 triangles across plus two half triangles (one on each end).
Step 3: Sew the Triangles Together by Rows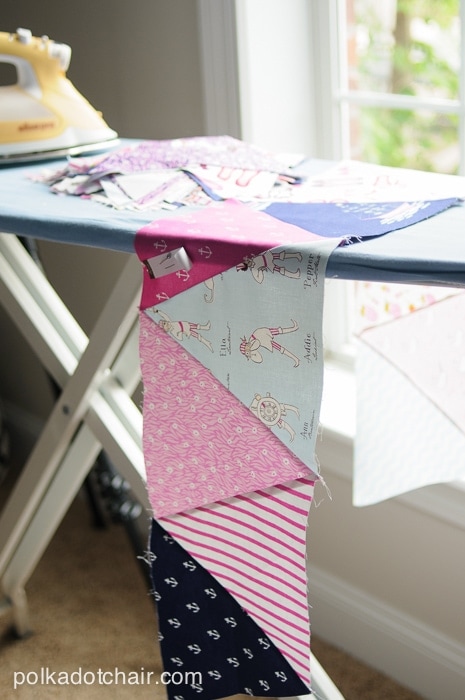 After I had a layout for the quilt that I liked, I removed the triangles from the design wall one row at a time and stitched them together.
TIP: Make sure that you label your rows as you sew to put them back together in the correct order. I just use a post-it note and a pin to number the rows.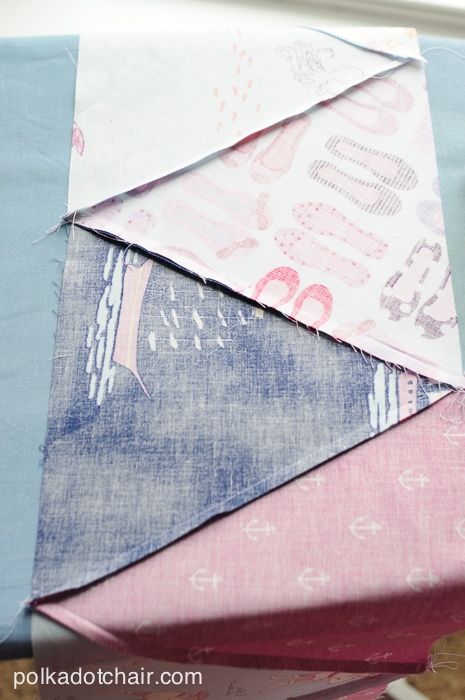 Step 4: Press
Pree the seams to one side and labeled the row, then move on to sewing the next row. Keep doing that until all the rows are sewn together.
Step 5: Assemble
After that, sew the rows together.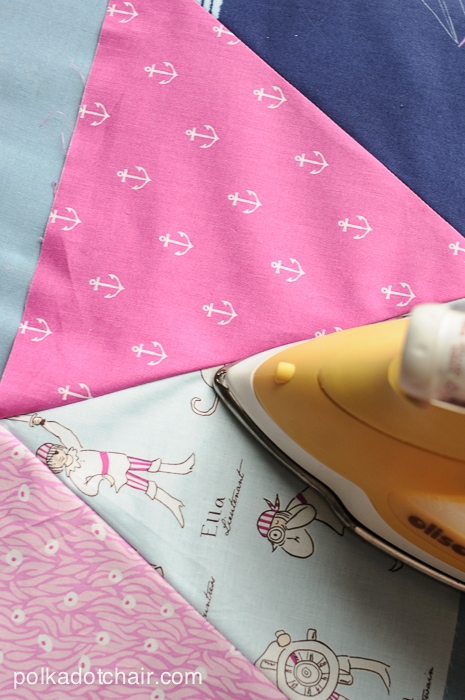 This quilt is constructed almost identically to my Halloween Hexagon Quilt it just features triangles instead of hexagons.  Cut out the shapes, arrange as you like then sew together in rows.
If you're the type that needs a full pattern to work from, you can find a great Triangle Quilt Pattern over at Jeni Baker's site.
If you're ok with "winging it" then give this technique a try!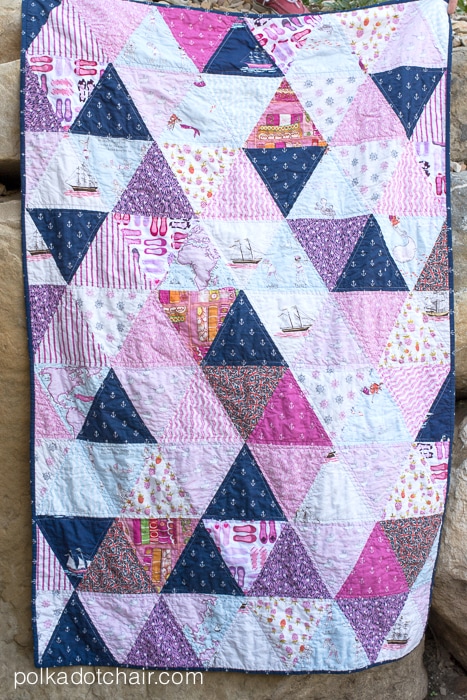 How I Quilted my Triangle Quilt
I had considered free motion quilting the quilt (or even sending it out to be quilted), then I decided with all of the straight lines on the quilt that it would look best with straight line quilting. My BERNINA 710 is a dream for this kind of project, and I was able to finish quilting it in about an hour or so.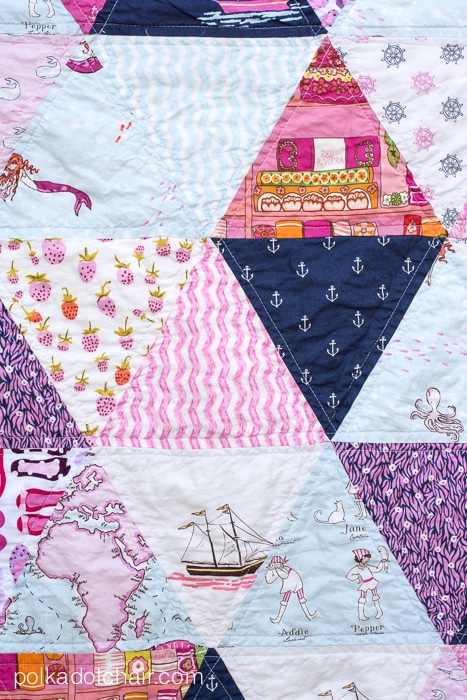 I used 40 WT white Aurifil thread for the top and 50 WT thread in my bobbin. I love how the stitches on the top look with the heavier 40 WT thread; so nice and distinct.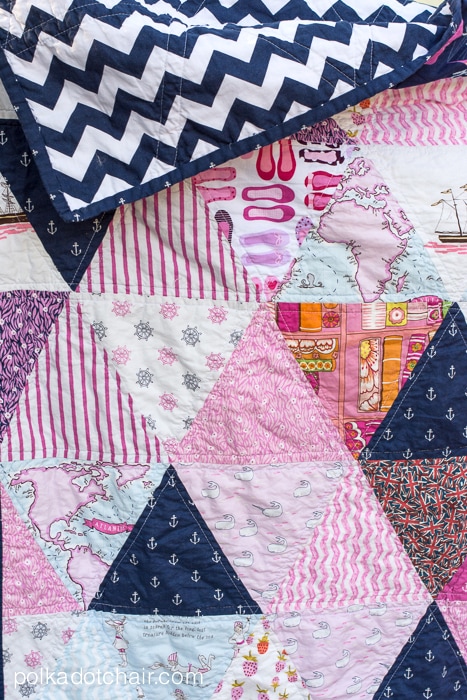 For the back, she wanted a chevron. I think I'm about "over" chevron by now, but it's what she wanted. Plus, I ordered the Riley Blake 108″ wide quilt back, which meant I didn't have to piece the back.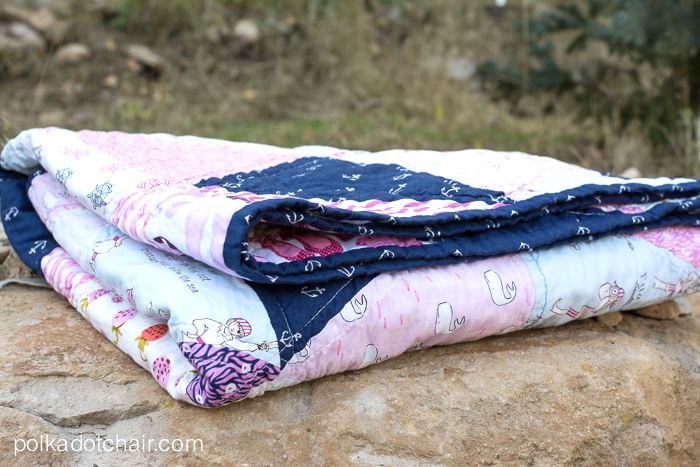 Now it's done… a year late, but hey…. done!
More Fun Quilt Projects to Try:
Scrappy Strips Baby Quilt Tutorial