Who's ready to start quilting? Today is the first day in our 2020 Quilt Block of the Month program! The quilt pattern is called "Choose Happiness" and the first block pattern is now available. I've named in the Sunshine Quilt Block after the bright and sunny colors featured in the block.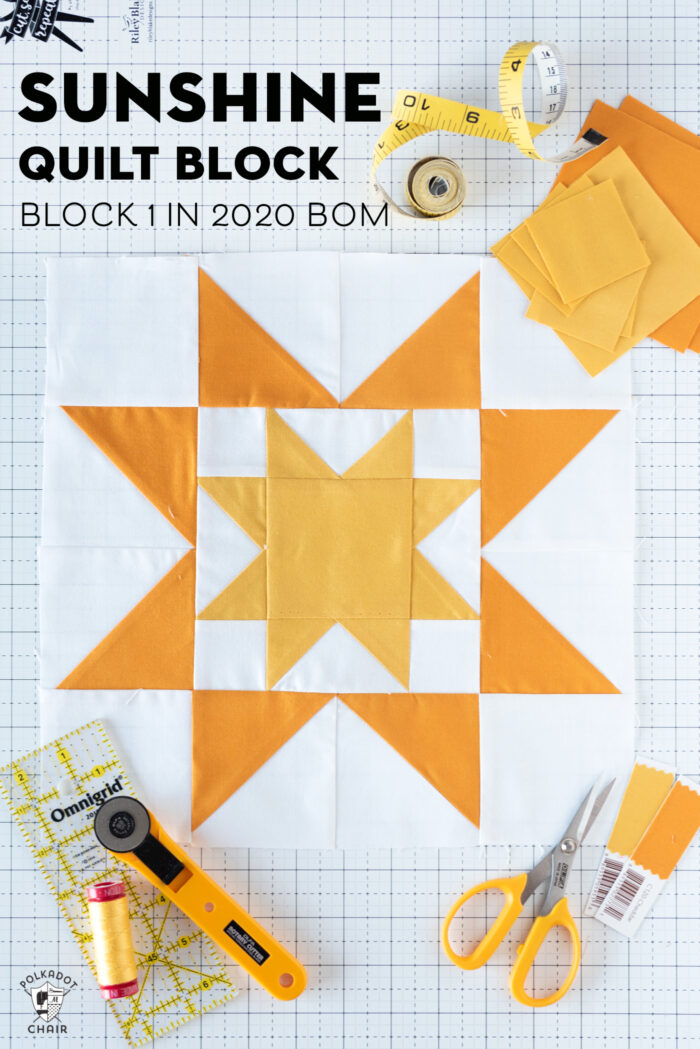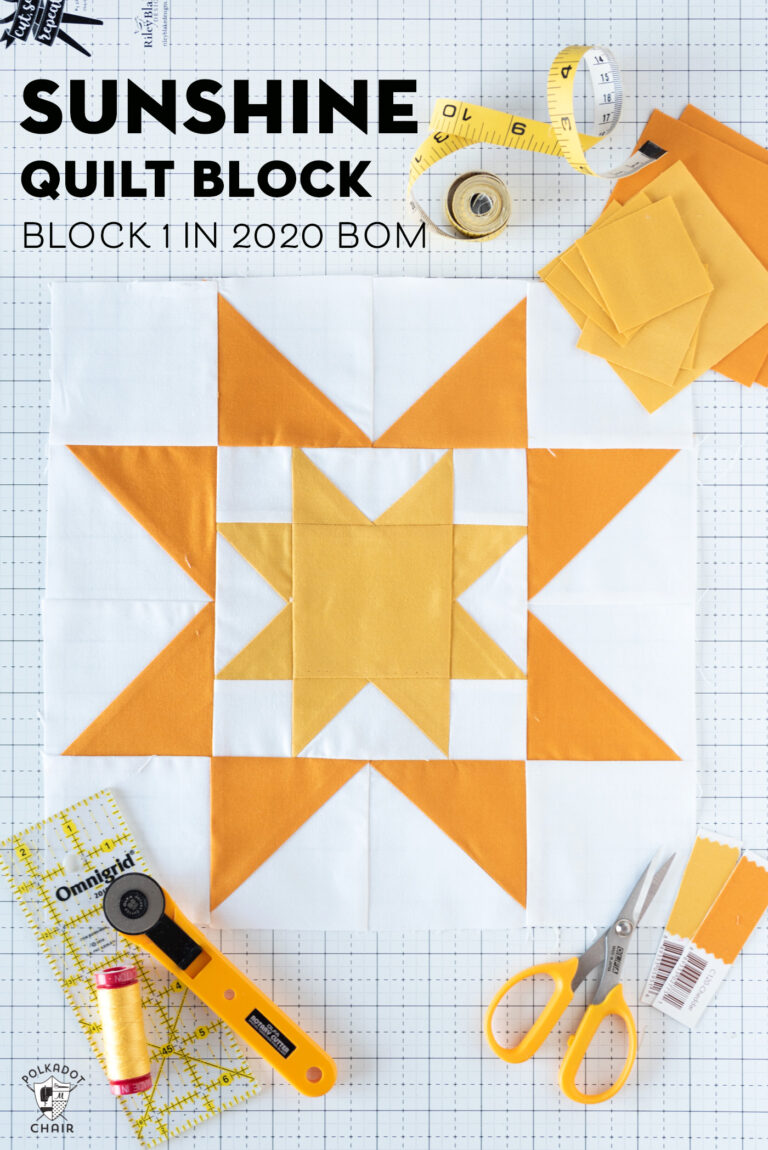 Today the "Choose Happiness" quilt along officially begins! If you've ordered the quilt pattern you should have received (or will receive shortly) an email with the link for you to download your second PDF. (The first one was the intro PDF with yardage requirements).
Table of Contents
If you didn't get an email, be sure to check your spam folder, and if you check that and still don't have it email me. If you ordered the pattern on Etsy we had to manually input your email into our system, so check the email address that you use for Etsy if you have more than one email.
Sunshine Quilt Block Pattern; for the Choose Happiness Quilt Along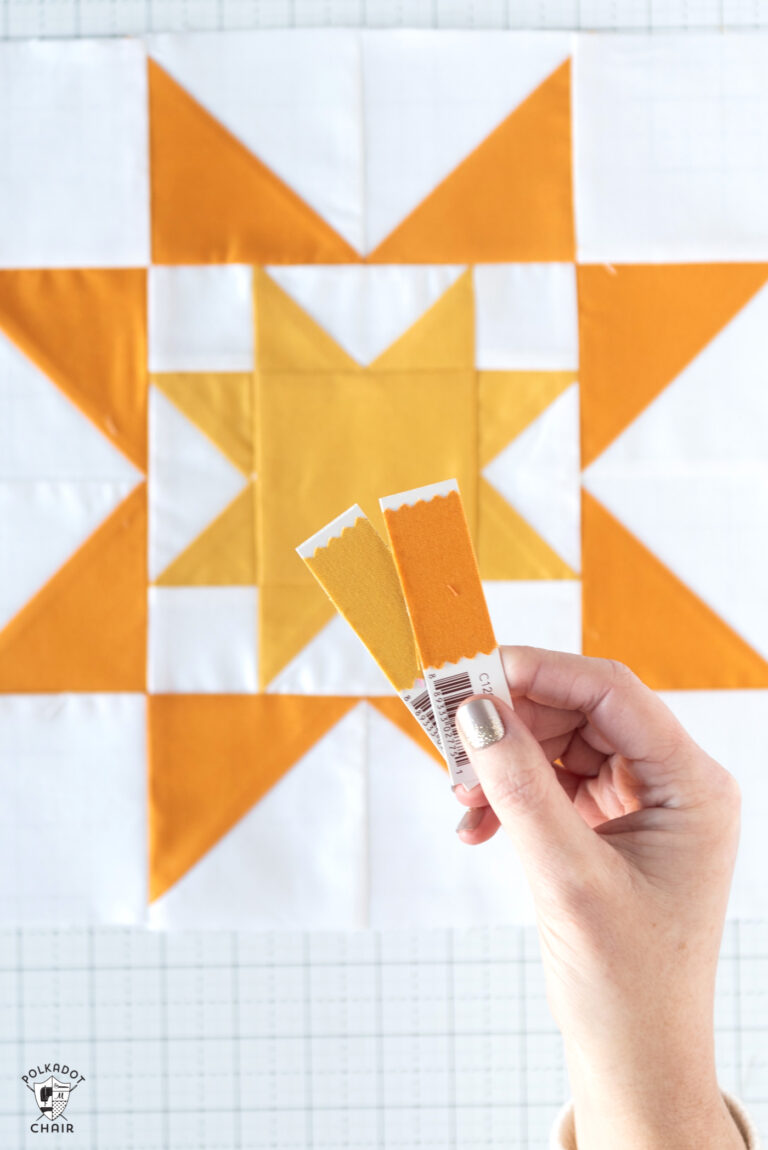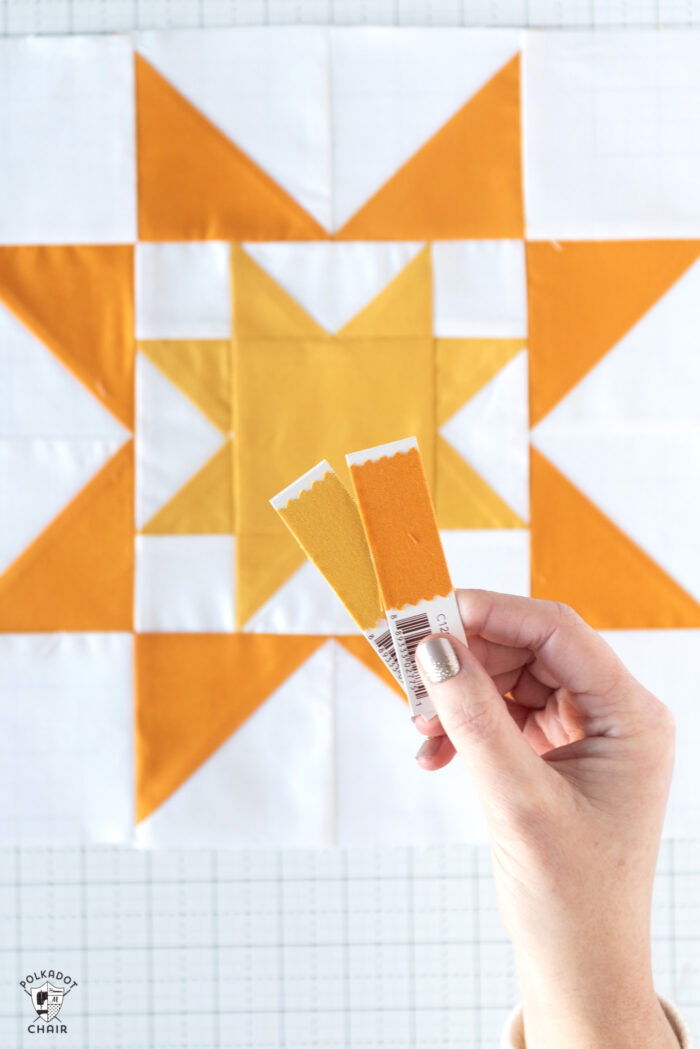 Color and Fabric Selection Suggestions for your Quilt
I wanted to chat a bit about fabric selection before we get going. I chose a triadic color scheme for my quilt. Within those 3 colors, I chose a light and a dark of each color.
If you are making this quilt from other fabrics I recommend sticking with 3 colors that complement each other. Then choose a light and a dark in each fabric color.
You can also make this quilt scrappy. If you do that you'll want to make sure that the two fabrics you choose for any particular block are different values.
Meaning either one is dark and one is light, or they are opposites on the color wheel. For example, you could do red and green or blue and orange. Those work with each other but are different enough that your eye views them as two different colors.
What you want to achieve is contrast. Choosing colors that stand out from each other helps you to achieve that contrast.
Fabric Colors Featured in my Quilt
Again if you missed it before, the colors used on my quilt are all Riley Blake Confetti Cottons and are as follows:
Bear Lake
Song Bird
Super Pink
Rose
Cheddar
Honey
Riley White (background fabric)
A bit of housekeeping:
If you'd like to play along this year with our quilt along, you'll need to get a pattern. You can find it in the shop.
Each month you will receive a new PDF with that month's quilt block. If you sign up late you will get all blocks released as of the date you sign up.
The $12 is a one time charge, there are no other fees throughout the year.
What's in the PDF:
The PDF for this month includes directions for the block, along with a reference section to refer back to as you make the quilt.
It also contains a printable coloring sheet to plan your quilt layout and a fun SUPRISE that you'll have to check out yourself in the PDF!
All of the Choose Happiness Quilt Along Blog Post Shared to Date
Facebook Group:
Join our Quilt Fun Facebook group to share your progress or ask questions.
Love to Quilt? Please join us in our Quilt Fun Facebook Group!
About the Sunshine Quilt Block
Since the quilt is called "Choose Happiness" (Inspired by my personal "word of the year"), I thought it would be fun to name each of the blocks after some of the things that help bring happiness to my life.
I'm taking a bit of an artistic license here. Each of these blocks is designed by me and the names are all made up! I can do that since it's my pattern LOL! But there may be other more "official" names for these quilt blocks. However, I'm still choosing my own quilt block names!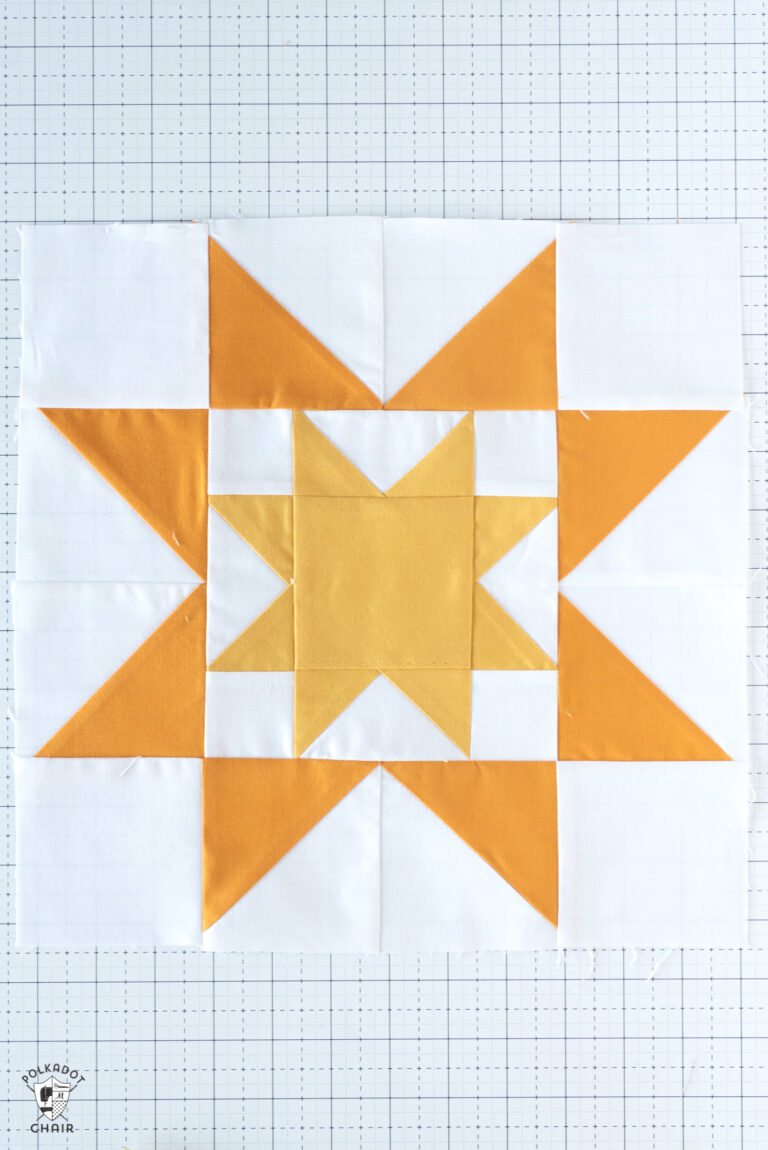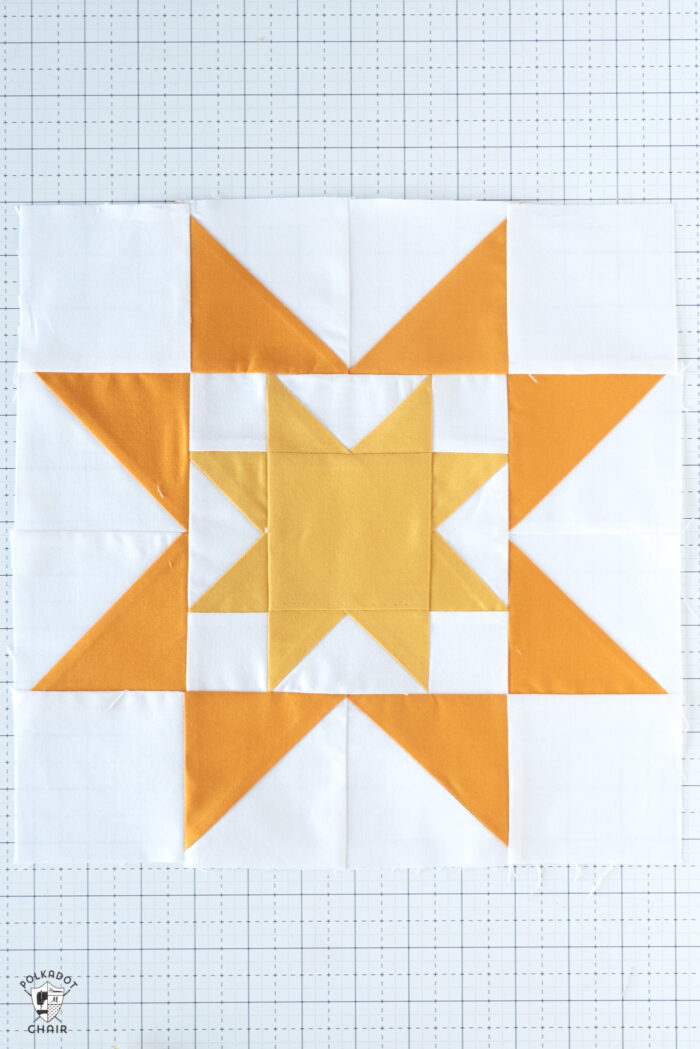 Block number one in our quilt is called "Sunshine". I don't know if it's because it's winter, or because I've managed to turn myself into a "Summer person" the last few years, but I'm really craving some sunshine right now!
Getting outside on a sunny day regardless of the weather always makes me so happy.
The name is also inspired by the bright sunny colors featured on this block.
The Quilt Blocks Will be Set "On Point"
You may be thinking, "wait, why doesn't this quilt block look like the one on the diagram". You'll notice that the quilt block in the diagram has been rotated 45 degrees.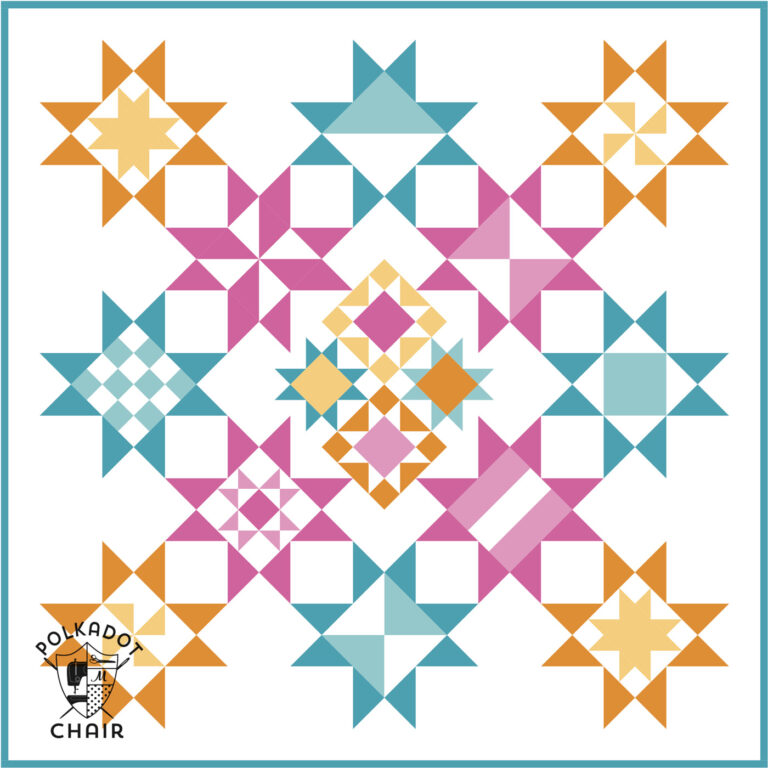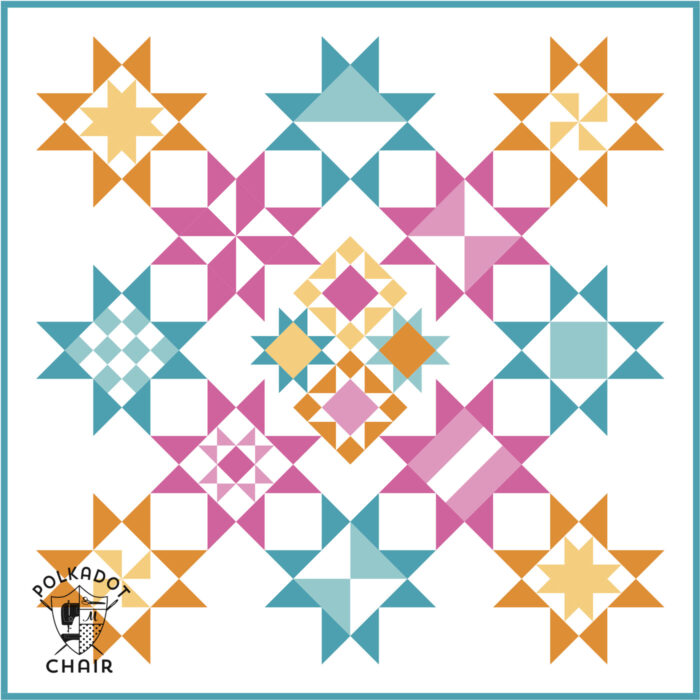 That is referred to as setting a block "on point". All of the blocks in the quilt are sewn together so they make a square, then when they are sewn into the quilt they are rotated 45 degrees.
This fun little trick makes the quilt look much more complicated than it actually is. Directions to do that will be provided in the last PDF this year.
The Sunshine block is a "block in a block" as I like to call it. It's a quilt block with another block inside. The basic shape is a sawtooth star block.
Construction for this block features both the creation of half-square triangles (also called HST's) and the creation of flying geese blocks. Both are easy to make, I walk you through the process in the pattern.
Tips for constructing the block
Tip One: Be sure to square up your Half Square Triangles
Make sure that you square up your half square triangles – if you skip this step your block pieces may not fit together correctly.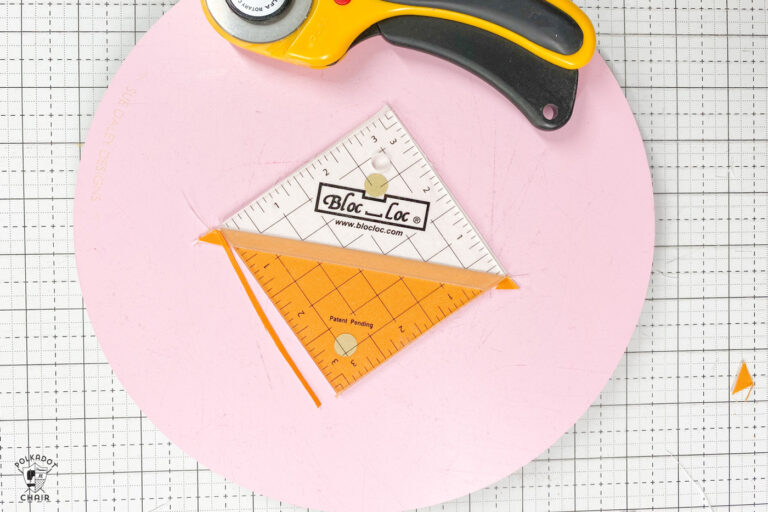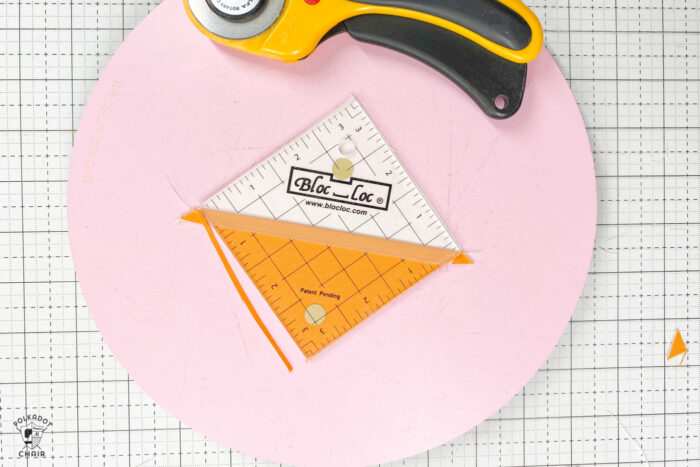 To square up my blocks I like to use a Bloc-Loc ruler. It has a "groove" down the center of the block that you line up with the seam of the block.
This allows you to get a perfectly square block.  Most of the HST in this quilt are 3 ½" squares. If you purchase one Bloc-Loc ruler that is the one I recommend.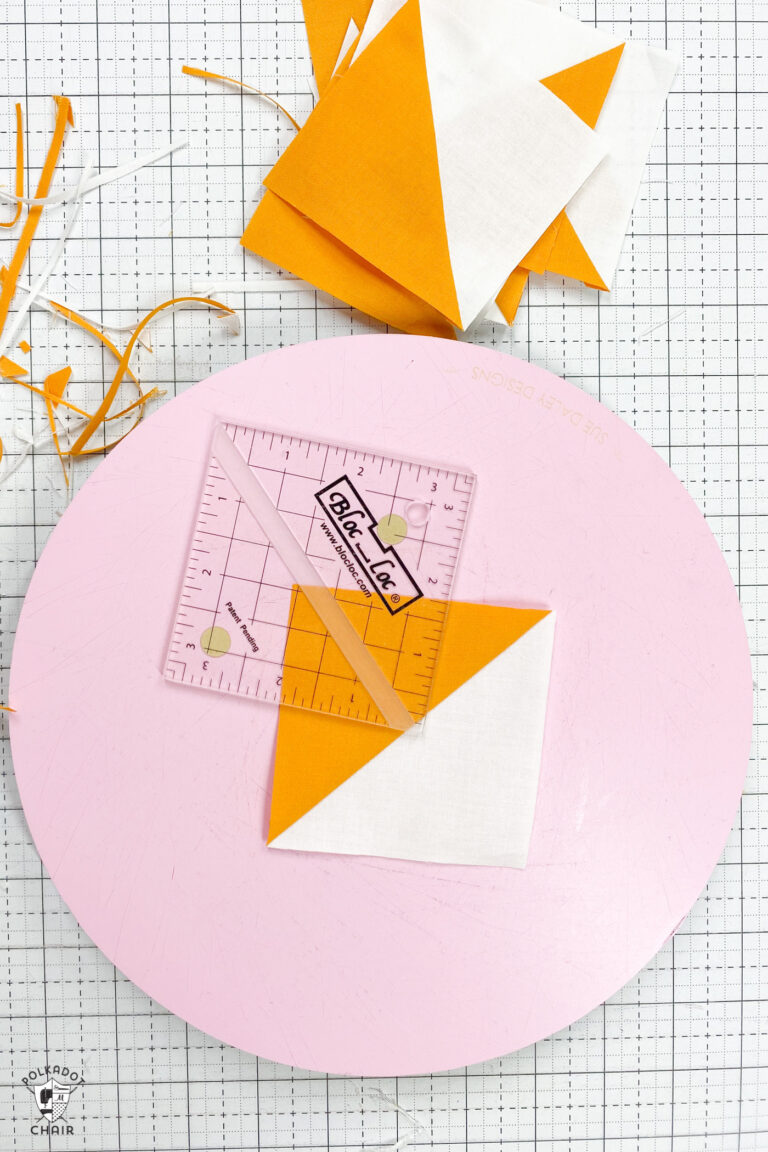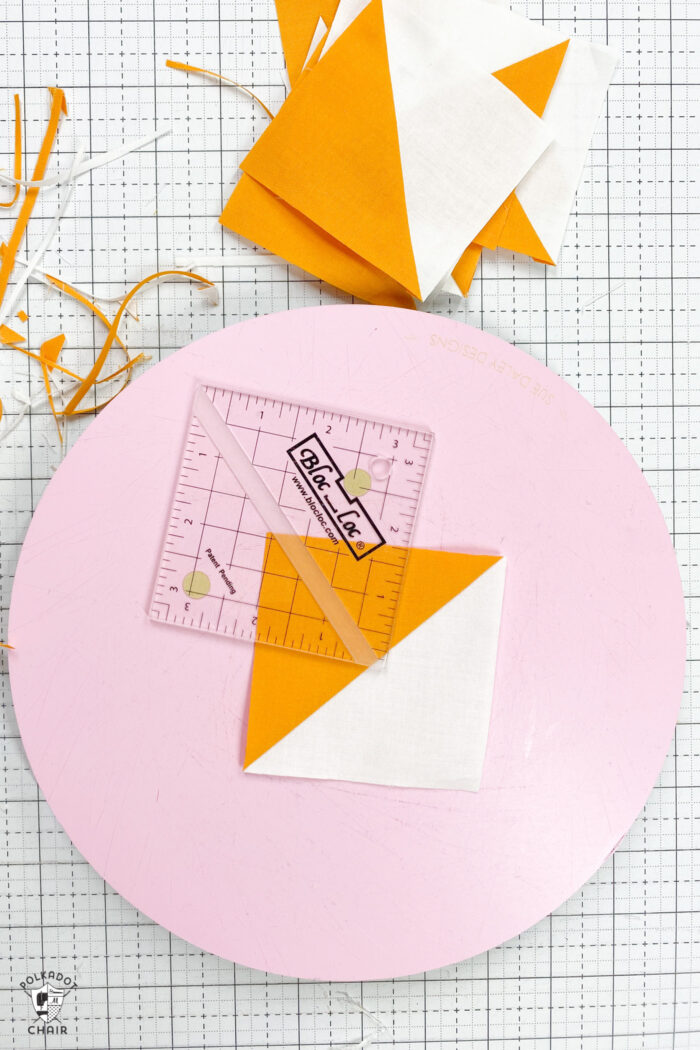 Tip Two: Press Carefully
Take care as you press. The flying geese blocks in the center of the quilt block are small. As you press them take care not to distort the seams.
Tip Three: Double Check the Seam Allowance
Double-check your seam allowance. Before you start make sure you are using a ¼" seam allowance. I like to use a seam guide to do this. I also like to mark the ¼" on my machine with a bit of washi tape as well. (This Washi tape by Allison is genius).
I think that's it as far as tips go. If you make the quilt be sure to share it with us on social media. Use the hashtag #Polkadotchair or #ChooseHappinessQuilt – I love to reshape what you are making on my Instagram stories!
Love Quilting? You may also like these projects!
Soft N Snuggly Sensory Baby Quilt Tutorial
How to Make a Simple Patchwork Quilt
Scrappy Strips Baby Quilt Pattern