Welcome to week two of the Riley Blake Designs, quilt block challenge. This week we are creating the Shining Star Quilt block which was designed by Bev McCullough.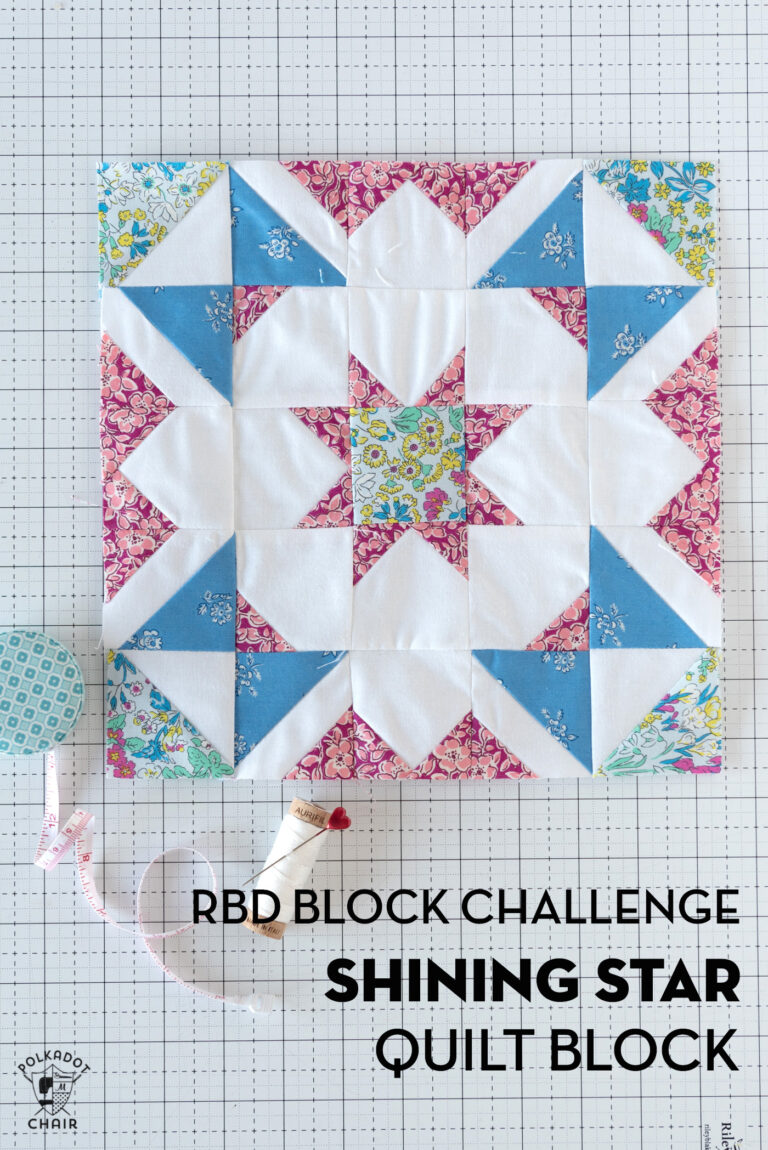 Table of Contents
I am so excited that you guys are excited for this years RBD block challenge! Last year when we hosted the first block challenge,I really loved having something "fun" to look forward to each week. This year I love it even more.
It may sound cheesy, but it's SO COLD outside. The good old Polar Vortex is coming back this week to Kentucky and I'm dreading it. The low temperatures predicted have a "-" in front of the number. Ugh.
It's too cold to do much outside, and there's not really anywhere to go, so why not stay home and quilt right?
Quilt Block Fabric Ideas
My quilt block is created from Liberty Fabrics Summer Flower Show quiltling cotton.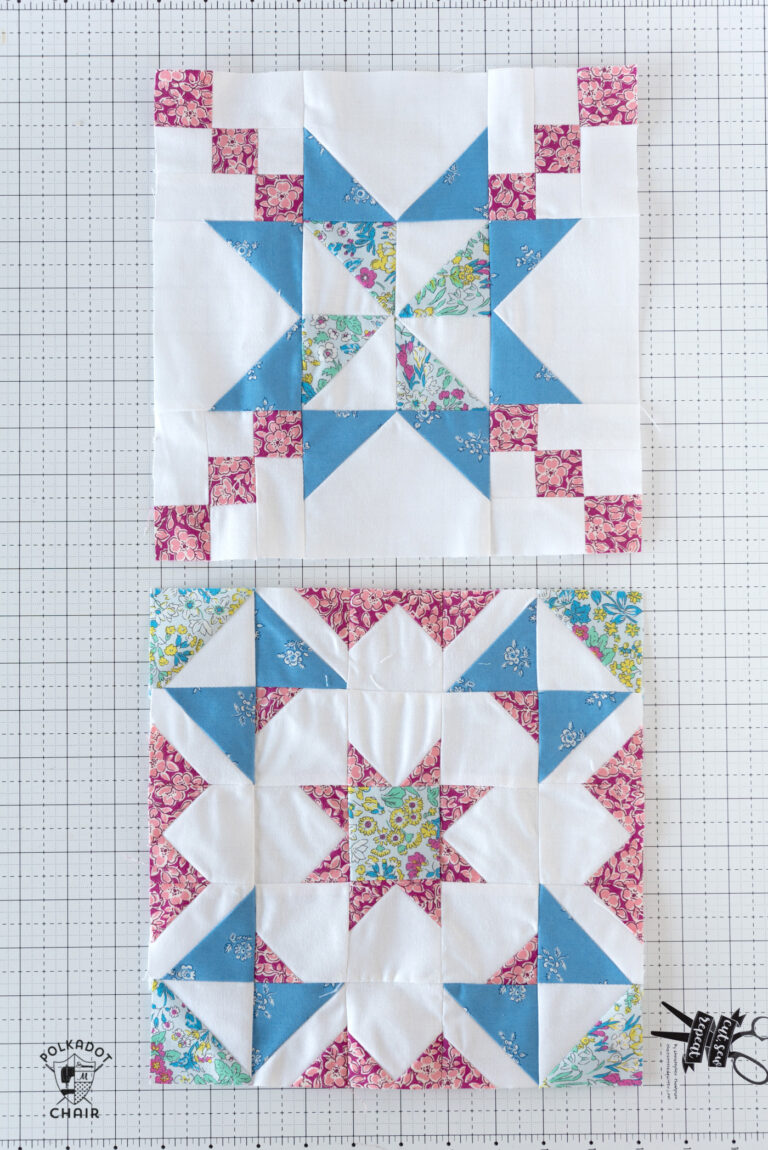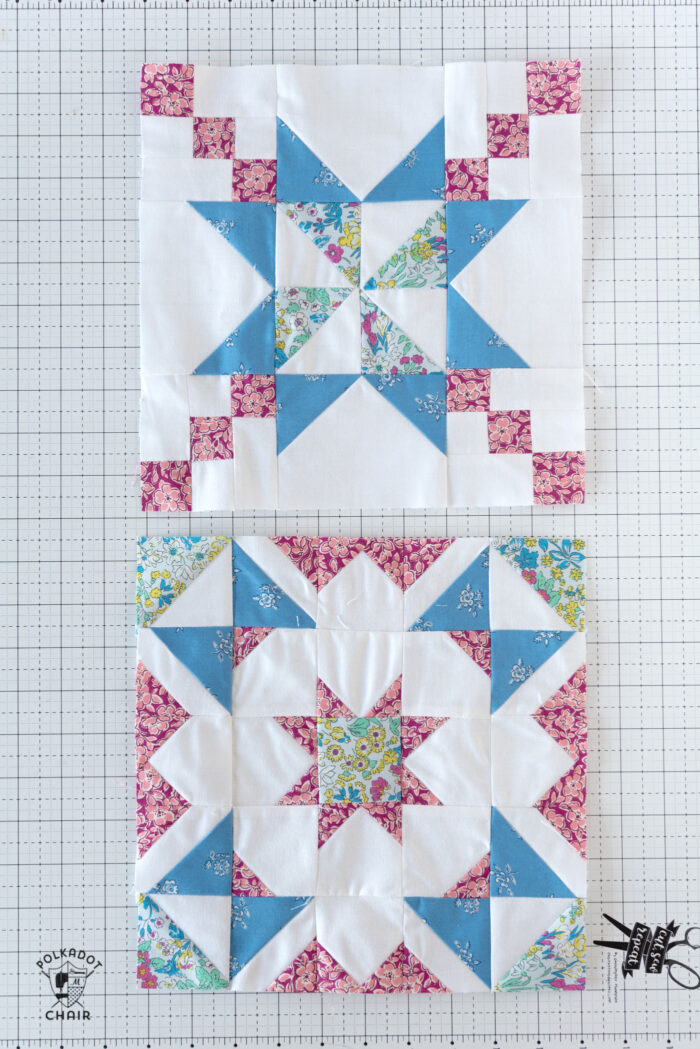 I'll be using fabrics from that collection for my entire quilt.
This week's block is designed by Bev McCullough of Flamingo Toes. Bev is a fellow Riley Blake designer and creates the most beautiful vintage-inspired fabrics.
She created her block for this weeks challenge from her new line, Stardust.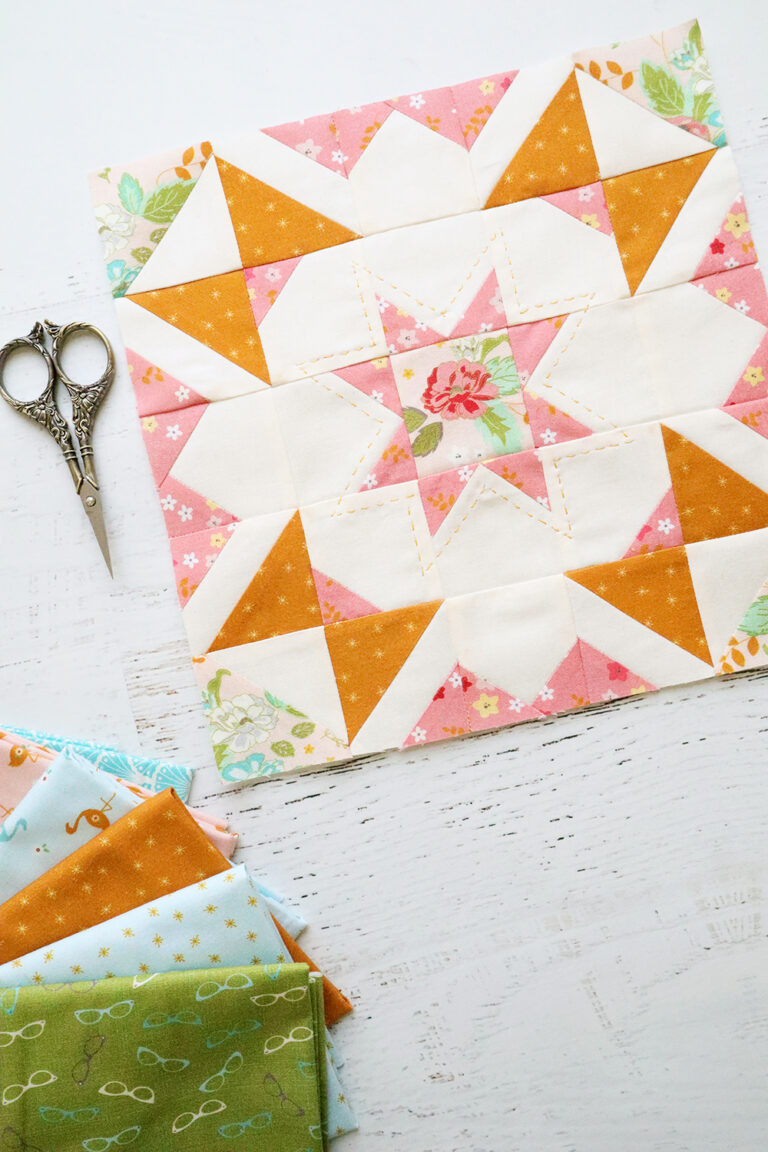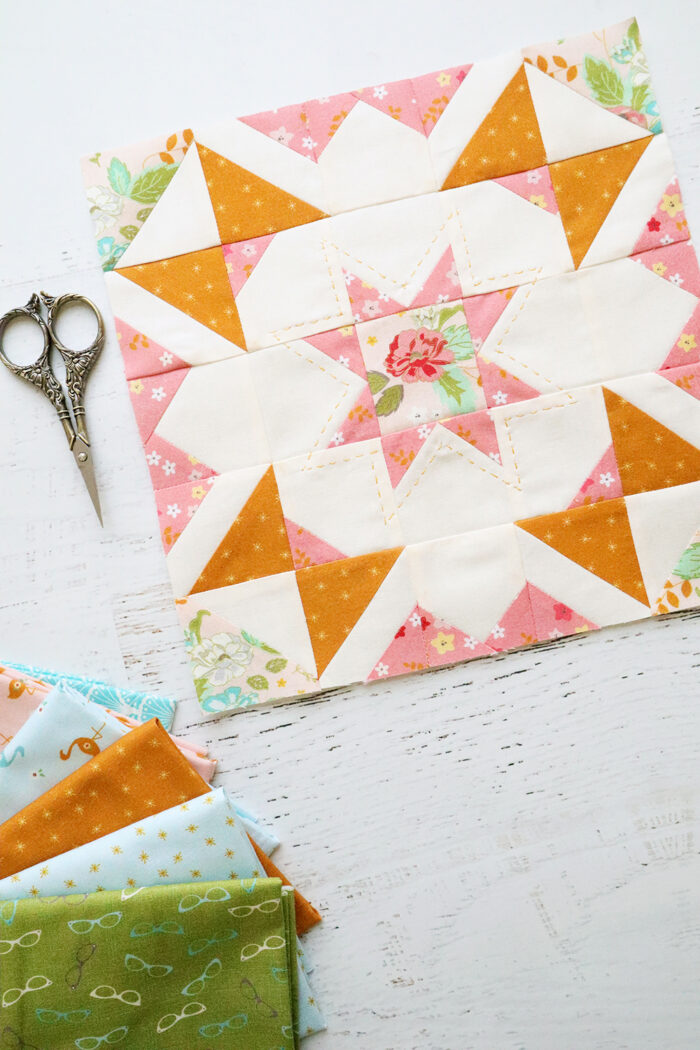 Riley Blake is creating their quilt from their line of confetti cotton solids. All of the colors are from their newest release. This week's block is constructed from colors named Pebble, Marsala, & Frosting.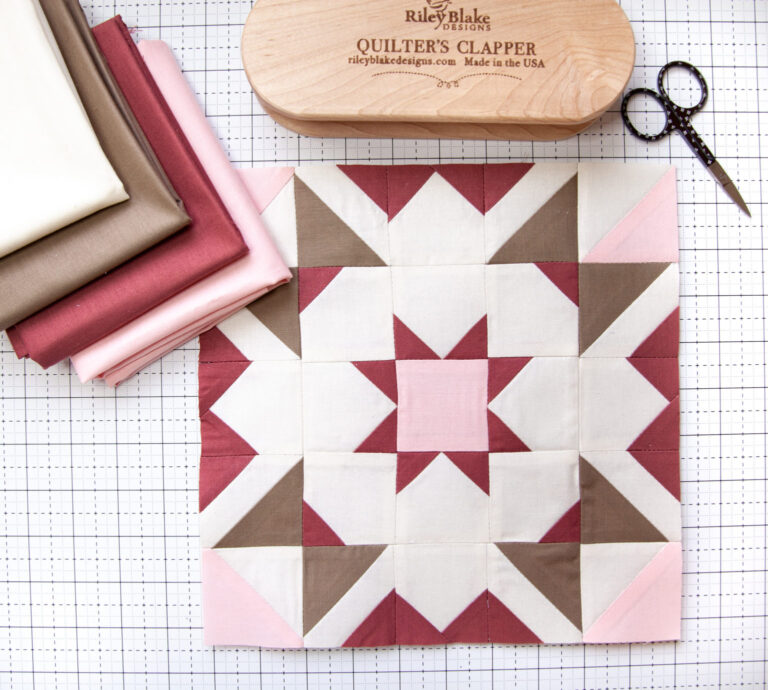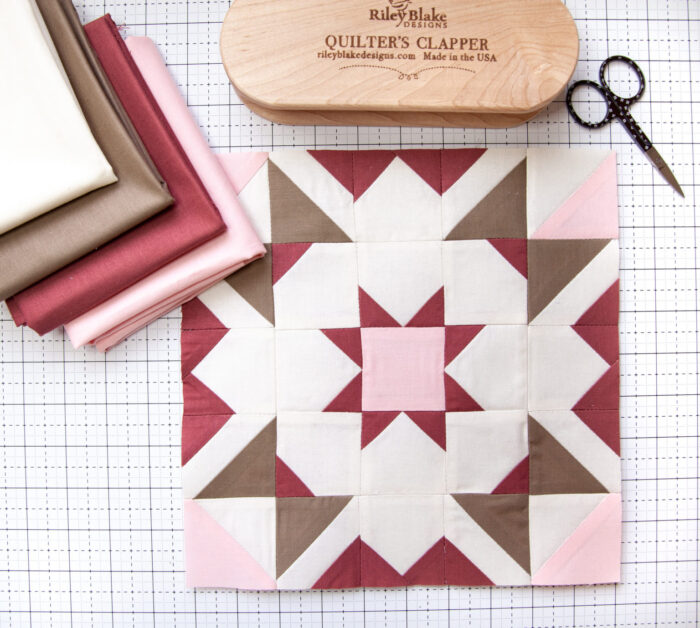 How to Get the Pattern
Fill out the form below and we will email you all of the blocks in the challenge.
Block Schedule
All blocks release on Tuesdays in 2021. Blocks that have already been released are linked below.
Fabric Selection Tips
A few of you have emailed me asking what I think is the best way to pick fabrics for this quilt project since the final layout is a mystery. I have seen the final quilt layout, and to be honest, I did not change my mind regarding fabric choices after seeing it.
I decided to create my own quilt from the Liberty Flower Show line. I'll tell you how I'm handling fabric selections, maybe that will help you out a bit.
Each month 3 block patterns will be released. I decided to create all 3 of my blocks in a given month from the same fabrics. Most of the blocks feature 4 fabrics. 3 color fabrics and a background fabric. Since the blocks are not laid out in the quilt in the order they are released, I figured this would give me a good balance of color and fabric print in my quilt design.
If you look at the PDF released by Riley Blake with fabric requirements, you can see that some colors require more fabric than others. I'd just make sure that the colors on their sheet with more yardage are colors that you like. I'd also recommend that those colors be a "smaller" or not busy print since they are used widely in the quilt.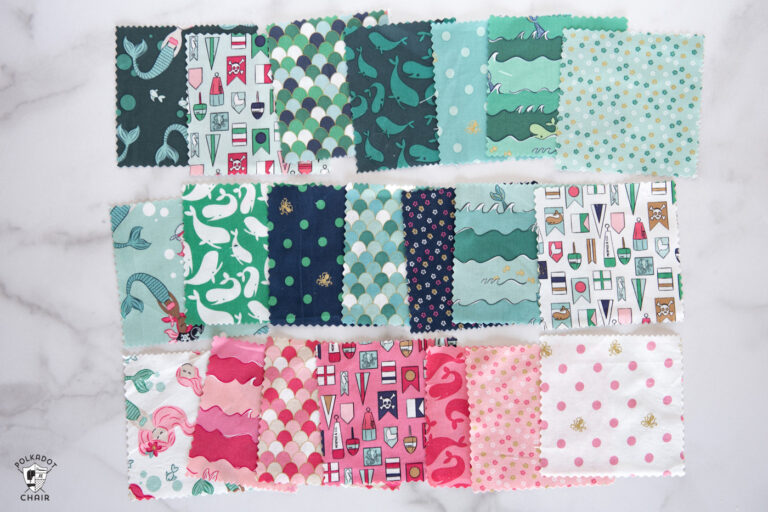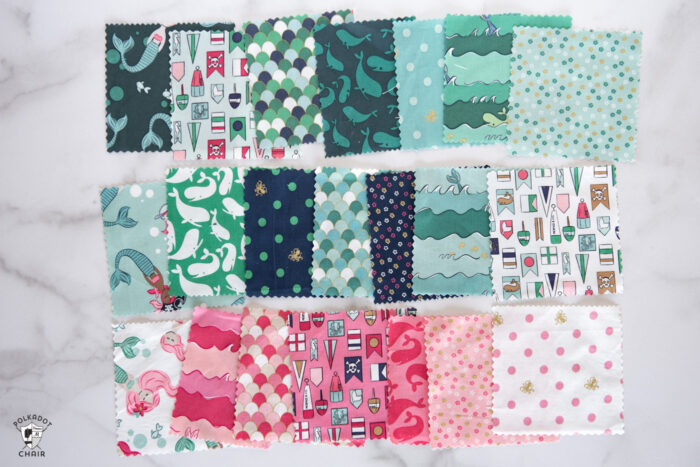 (fabrics shown above are from my Ahoy! Mermaids line, due to arrive this month in stores)
If you're totally stumped, stick to one fabric collection for your quilt. Fabric designers create collections of fabric prints that are designed to work together. They have done the "hard work" for you. If you begin that way then you know that the colors and prints will work together in the quilt when you are done.