Create a set of chinoiserie-inspired blue and white pumpkins to add to your Fall decor this year! It's an elegant take on Autumn decor and oh so easy to create with a Cricut machine. No drawing or hand painting skills are required!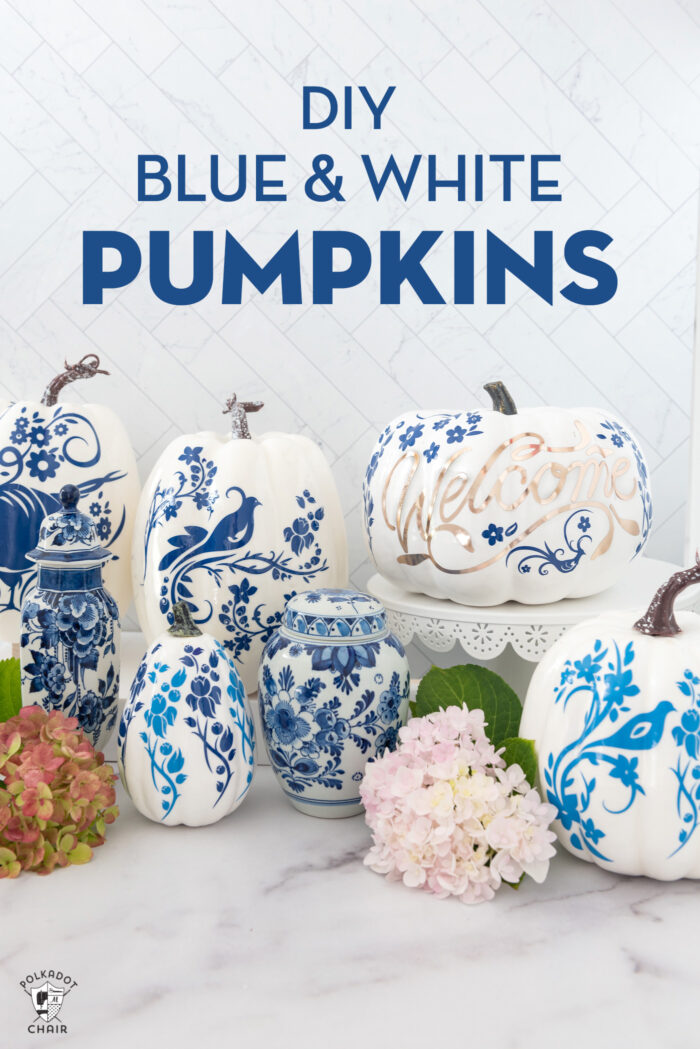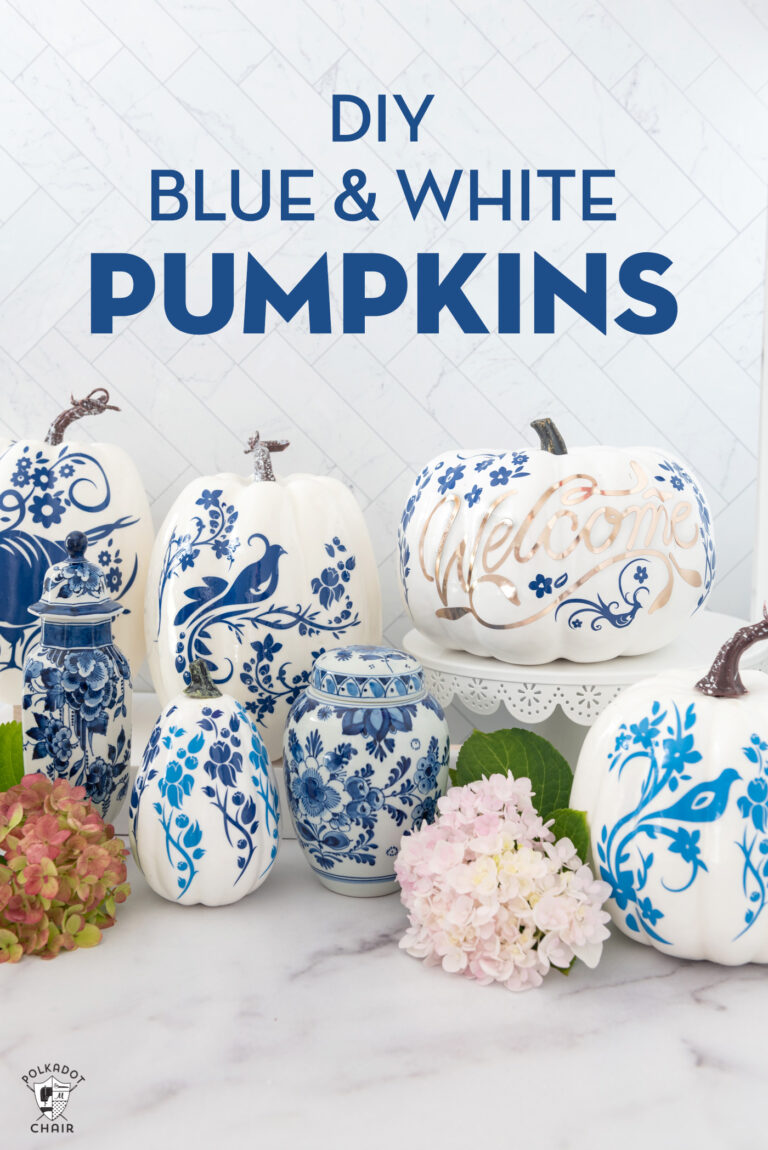 The last couple of years I've noticed blue and white pumpkins popping up everywhere. The recent resurgence in blue and white pottery and china in home decor doesn't surprise me. (I love the blue trend!)
Table of Contents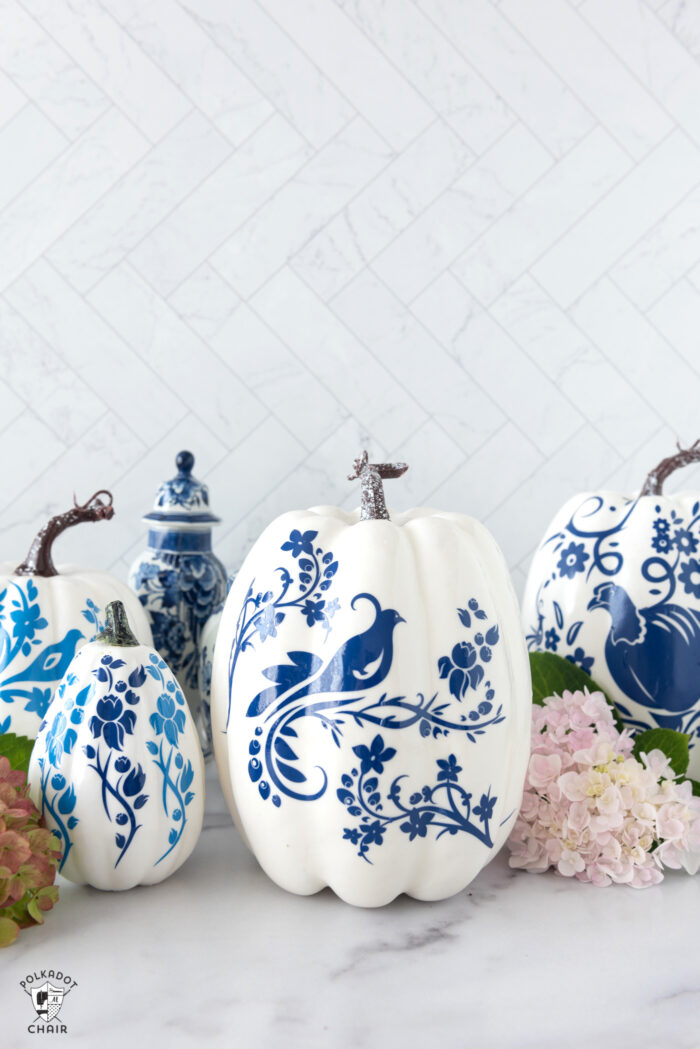 Personally, I have a small collection of Delft pottery that my husband picked up while he was living in the Netherlands. We keep it in our dining room. In the years since he's been home, we've added a few pieces to our collection (the ginger jars might be some of my favorites in the collection).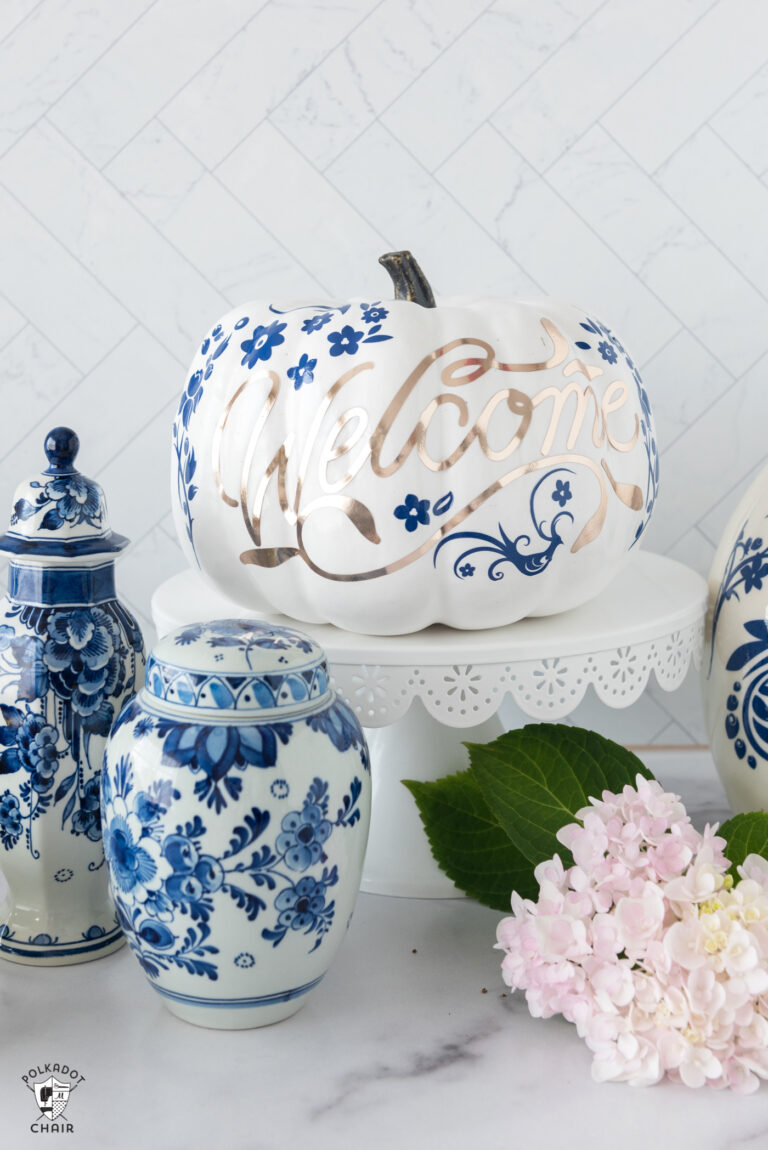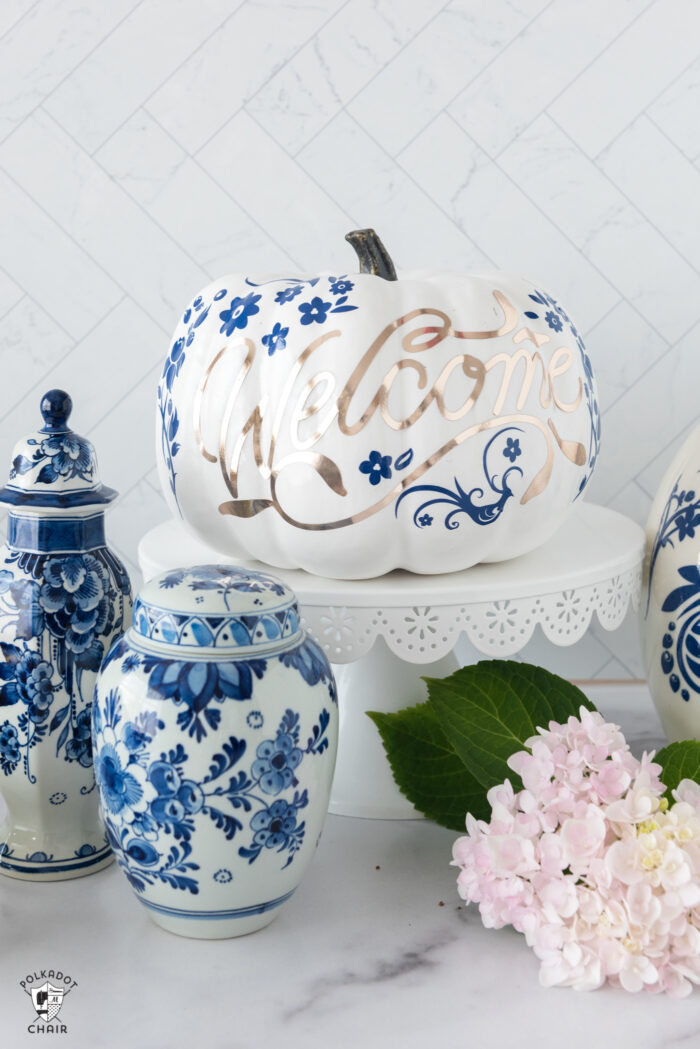 Most of the blue and white chinoiserie pumpkins that I have seen are hand-painted. They are gorgeous but I know that not everyone has the skills to hand paint a pumpkin.
I've also seen chinoiserie pumpkin DIY's that feature decoupaging pumpkins with blue and white paper napkins. I don't love how messy a coat of mod podge can be (it's hard to get a clean coat without fingerprints), so I decided to try DIY pumpkins with Glossy Vinyl from Cricut instead of paint or napkins.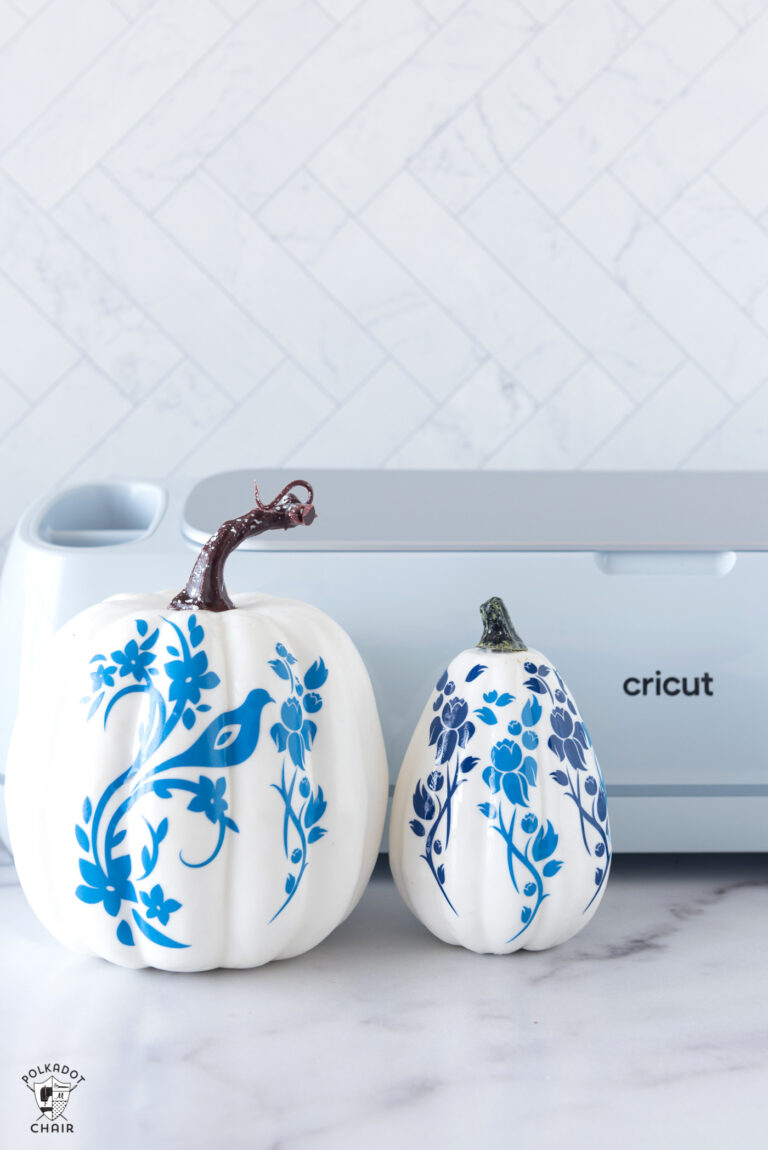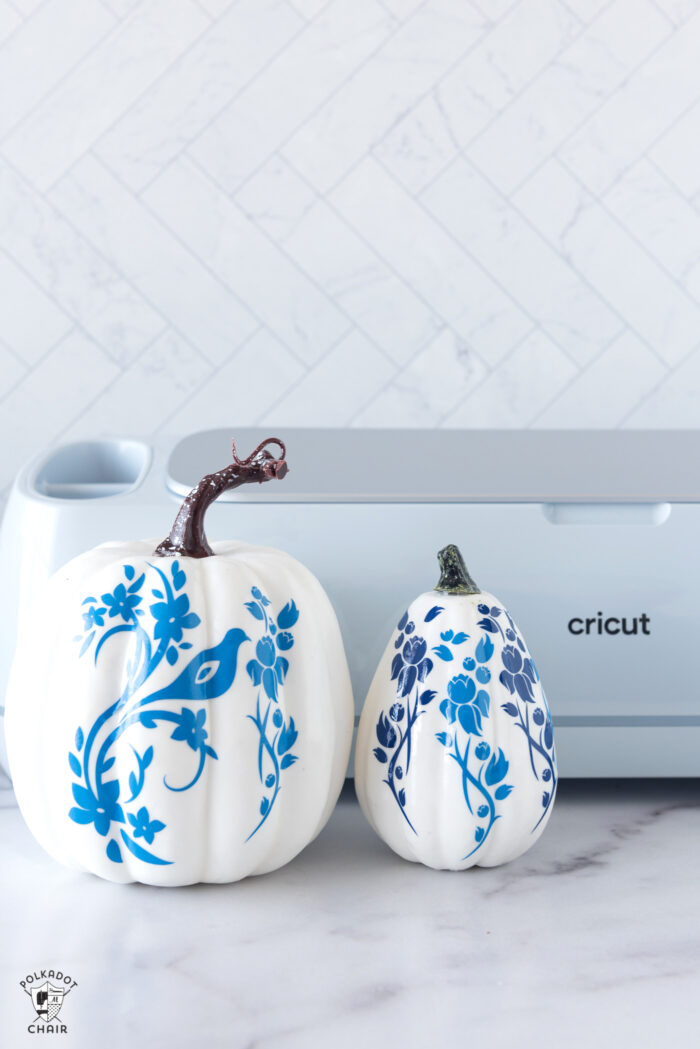 I decided to figure out a way to create these blue and white pumpkins using my Cricut (I have the Maker 3) machine. Today I'm excited to share with you how I did it!
TIP: If you don't love the blue and white color scheme, you can easily choose whatever colors of vinyl match your home decor the best! These would also be beautiful in black and white.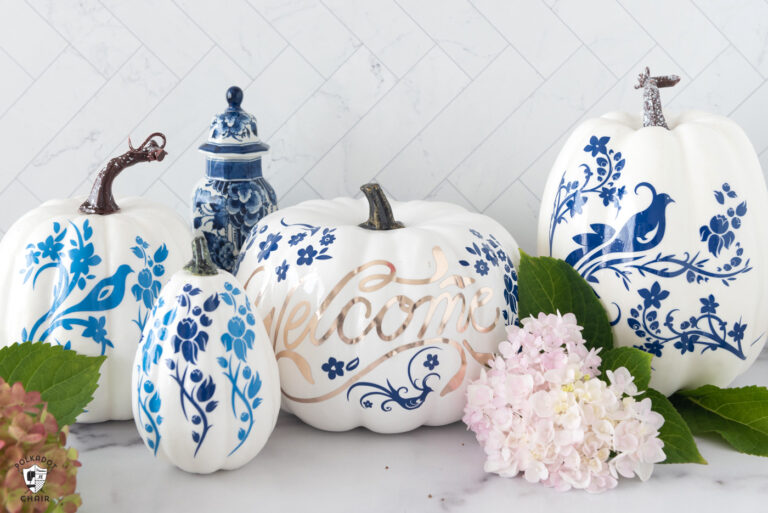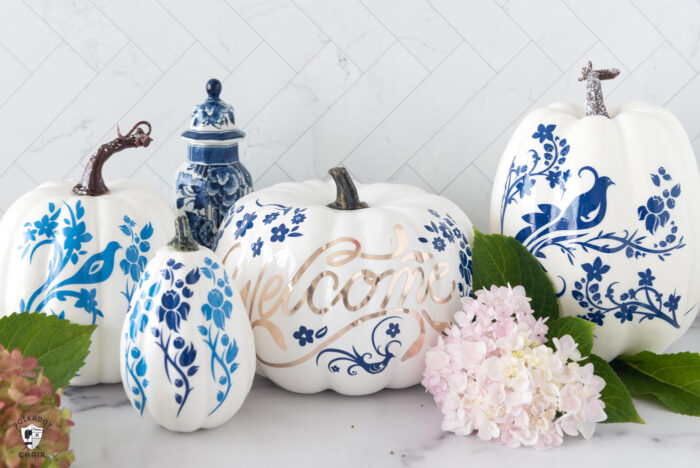 Supplies Needed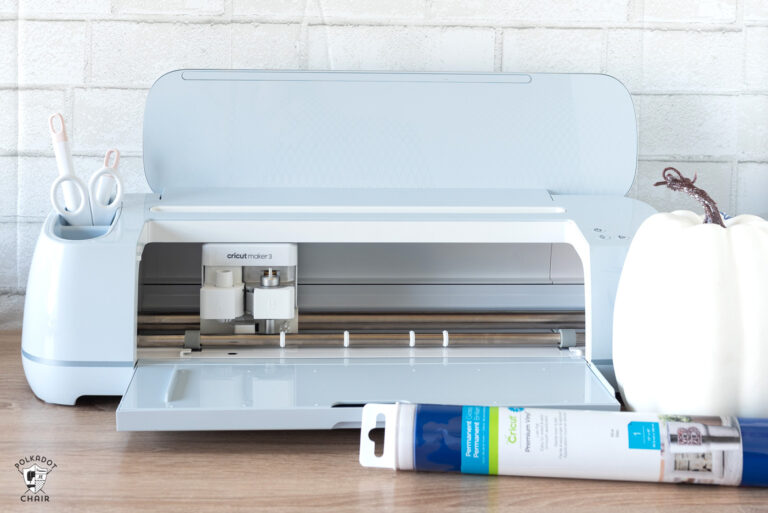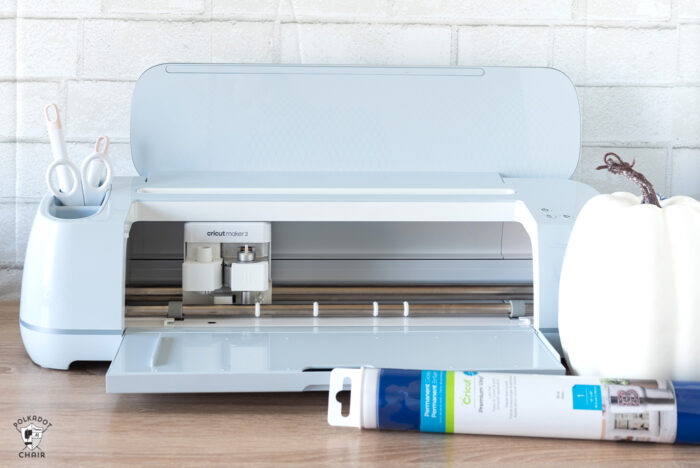 For this project, you're going to need a few supplies. The images that I cut out with my Cricut machine can be found in Cricut Design Space, just type "bird floral" into the search box and an entire set of chinoiserie images will pop up. You'll have plenty to pick from!
Optional: Gold paint for the stems, I didn't paint mine gold, but might go back and do it later.
Video Instructions
I've created a very short video walking you through the basic steps on how to make a blue and white pumpkin.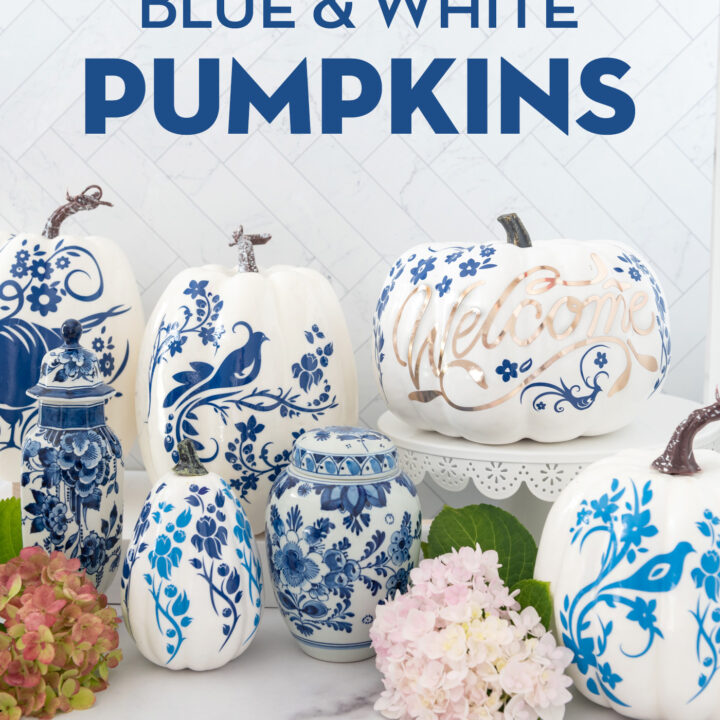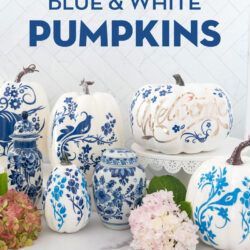 How to Make Blue & White Pumpkins
Use your Cricut to create a set of chinoiserie pumpkins. Beautiful blue and white pumpkins that you can DIY. Perfect for elegant Fall decor.
supplies
1

Roll

Permanent Glossy Vinyl

Blue

1

Roll

Adhesvie Foil

Rose Gold

1

White Pumpkin

1

can

Spray Sealer

1

Roll

Transfer Tape
Instructions
Create the File in Cricut Design Space
In Cricut Design Space, create the file that you want to cut out to apply to your pumpkins.

The files I used can be found in design space by typing "chinoiserie" into the search box.

Measure your pumpkin and size the images in design space accordingly.

TIP: Because of the grooves in the pumpkin, it will be easier to apply many smaller images to the pumpkins than one large one.
Cut Out Images
Once your files are prepared, send the images to your machine to cut.

Remove the excess vinyl (a process referred to as weeding) and cut the images out so that there is not a lot of excess backing paper.

Cut out a piece of transfer tape about the same size as your image. Peel off the backing and apply it to your cut-out vinyl, sticky side down.

Remove the vinyl from the paper backing. It should be stuck to the transfer tape.
Apply to Pumpkin
Place the vinyl on top of the pumpkin in the desired location. Adhere a little bit of the vinyl at a time so that you can bend it around the grooves in the pumpkin. Remove the transfer tape as you go.
Finishing
Using a flat surface (like the Cricut tool, or an old credit card), smooth the vinyl out and remove as many bumps and bubbles as possible.

To finish, coat the pumpkin with a clear glossy sealer.
Notes
Tips:
When working with larger images, cut "slits" in your transfer tape/vinyl to allow the image to bend around the pumpkin grooves.
Cut out a sheet of extra flowers to add to the pumpkin to fill in blank spaces after you are finsihed.
PRINT
You Might Also Like