We recently had the opportunity to explore Jacksonville, Florida. The beautiful city and gorgeous beaches were a welcome respite for our family! To prep for our trip, I made myself a new beach bag. I have written up a free sewing pattern for the bag to share with you today! This post is created in a partnership with TravelingMom & VISIT FLORIDA.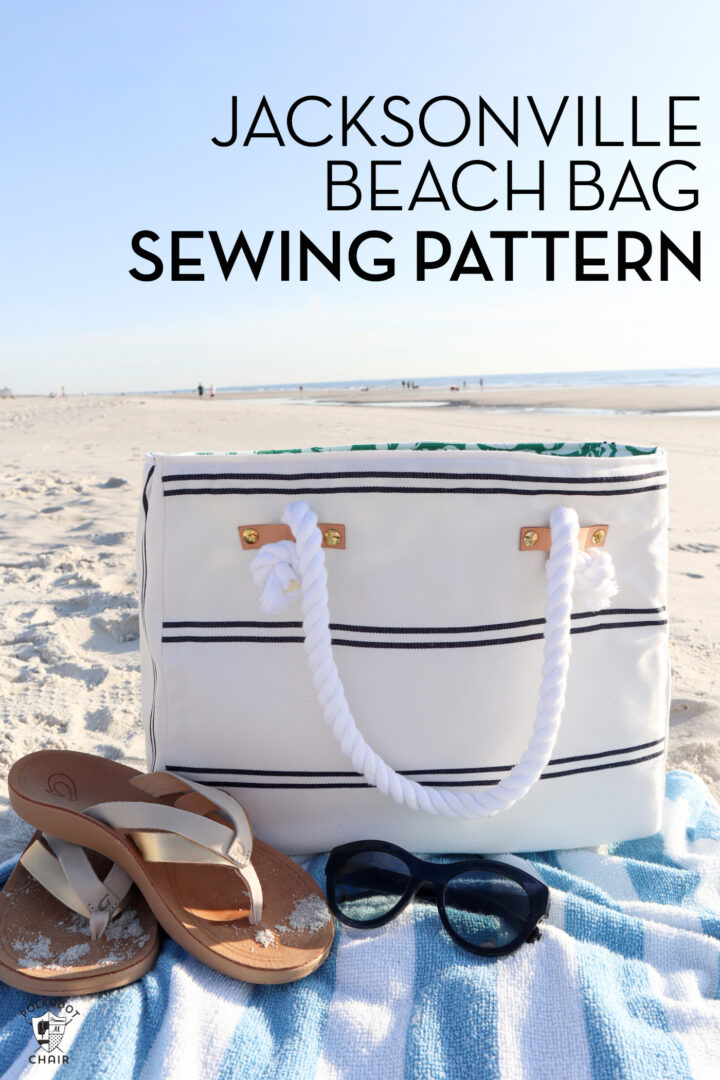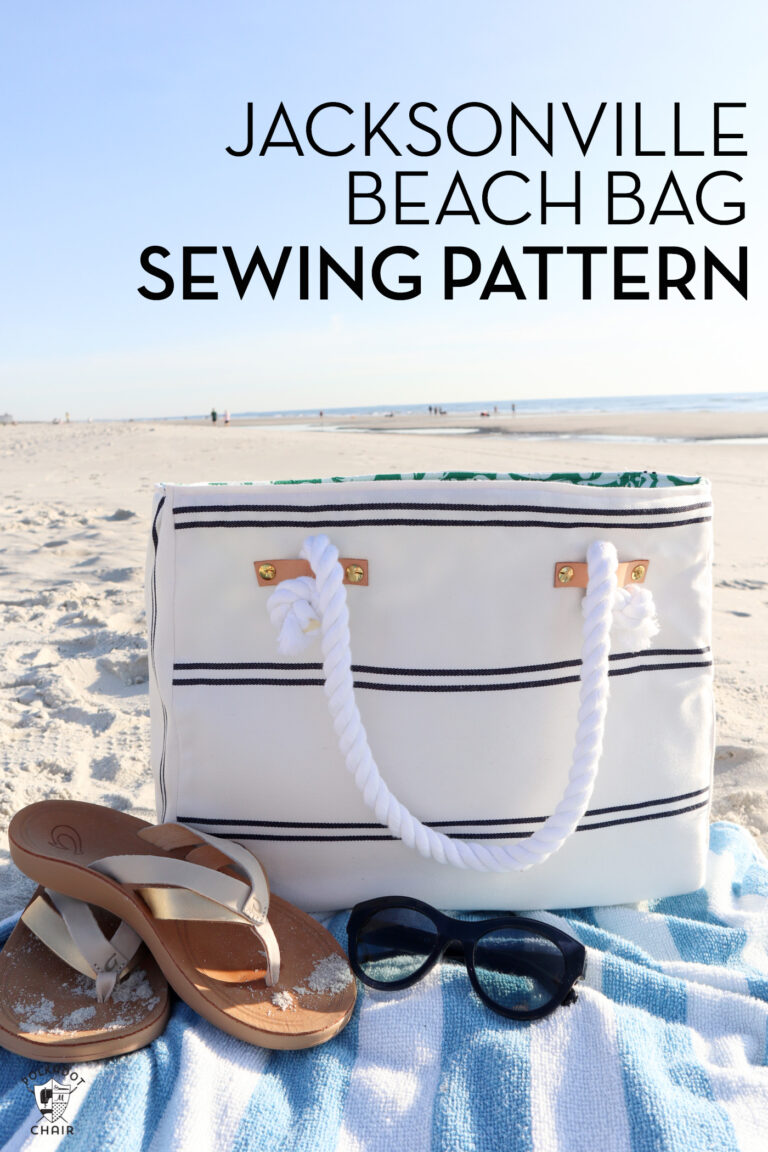 I feel like I'm not the only one that felt like the previous winter was the Longest. Winter. Ever! I don't know how it was where you live, but we had so many cold and dreary days here in Kentucky. By Spring, I was ready to hit the road, searching for warmer weather and fresher scenery.
Table of Contents
In late April, our family took a trip to Florida. We began our vacation in Disney World, then rented a car and drove a couple of hours to Jacksonville for a bit of much-needed R&R!
I shared much of our trip on Instagram and got lots of DM's with questions about where we stayed, what we did and what we ate. As promised, here is a recap of the trip for you guys.
This was our first visit to Jacksonville, Florida. We've (myself and my adult kids) decided it has "all the things" that you want from a beach vacation: a beautiful beach, great restaurants, shopping, and other activities. We've been to beach towns previously where the only thing to do was the beach.
As much as we love lying on the beach all day, we usually need a break from the sun on our vacations. Jacksonville provided us plenty of things to do aside from the beach. Jacksonville is also a large city, so it's simple to find groceries, food & other necessities.
Things to Do in Jacksonville
Outdoor Activities
The Beach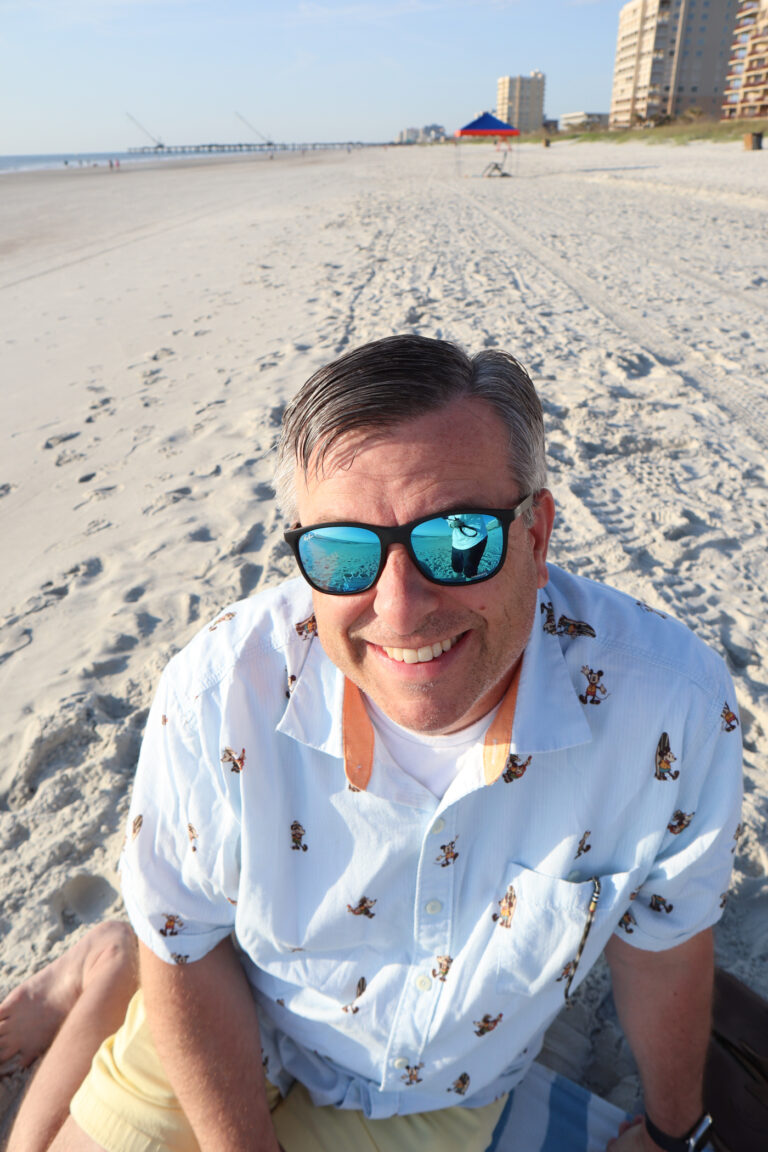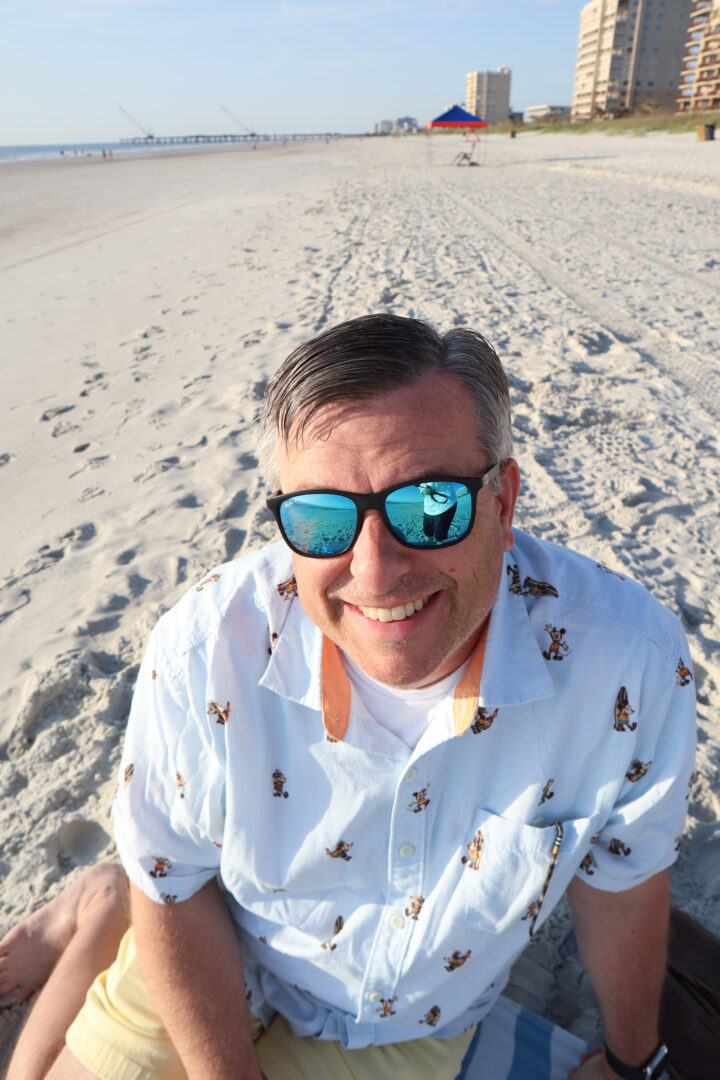 We can't talk about Jacksonville without mentioning the beach. This was our first visit, and I fell in love with the beaches. I was expecting a more "Carolina" type beach with darker, more compacted sand. However, we found that the beach was a bit more powdery in Jacksonville. Not quite panhandle powdery, but a good cross between the two.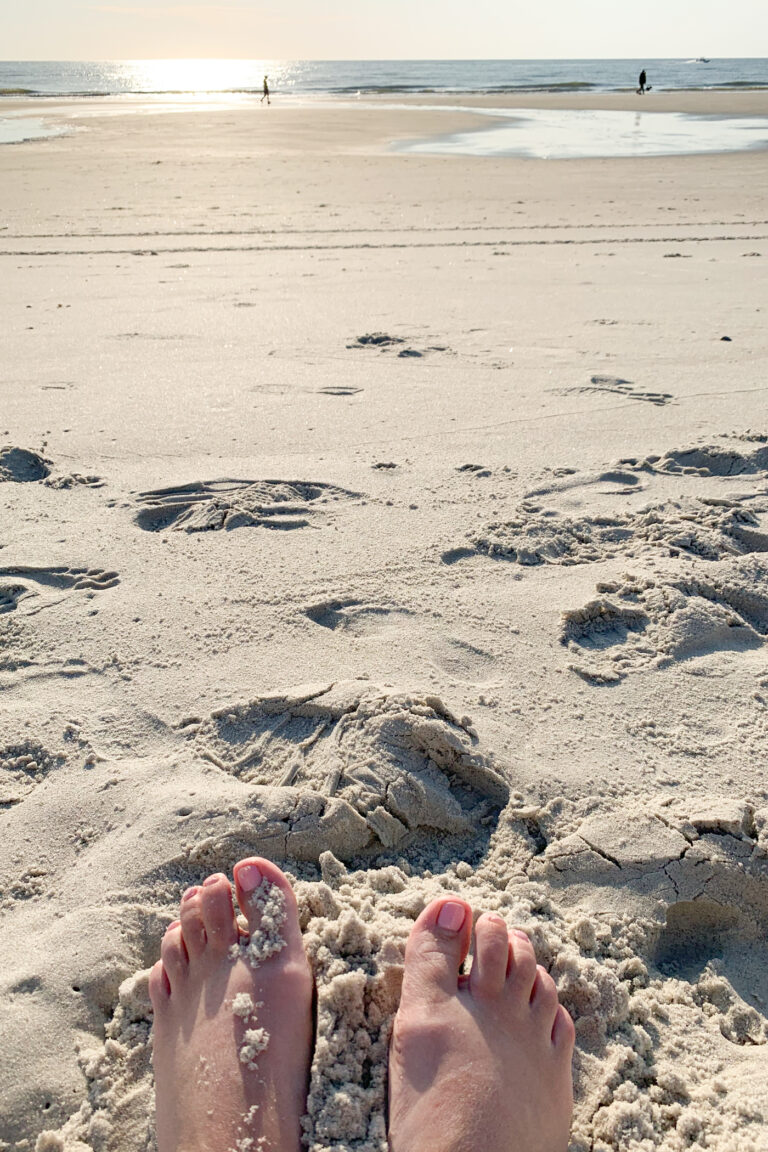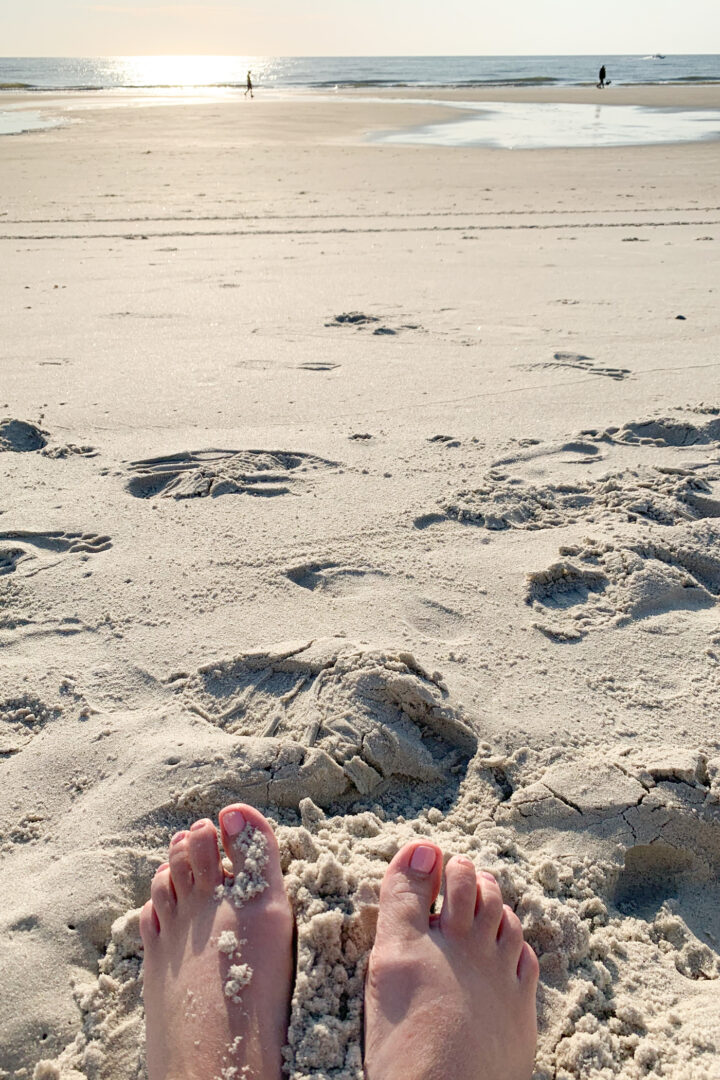 The sand is soft enough to play and relax on but firm enough that you can ride a bike up and down the beach! The city's location on the Atlantic Ocean makes it great for beach activities, and we saw many people paddleboarding, boogie boarding, and surfing.
Stand Up Paddleboarding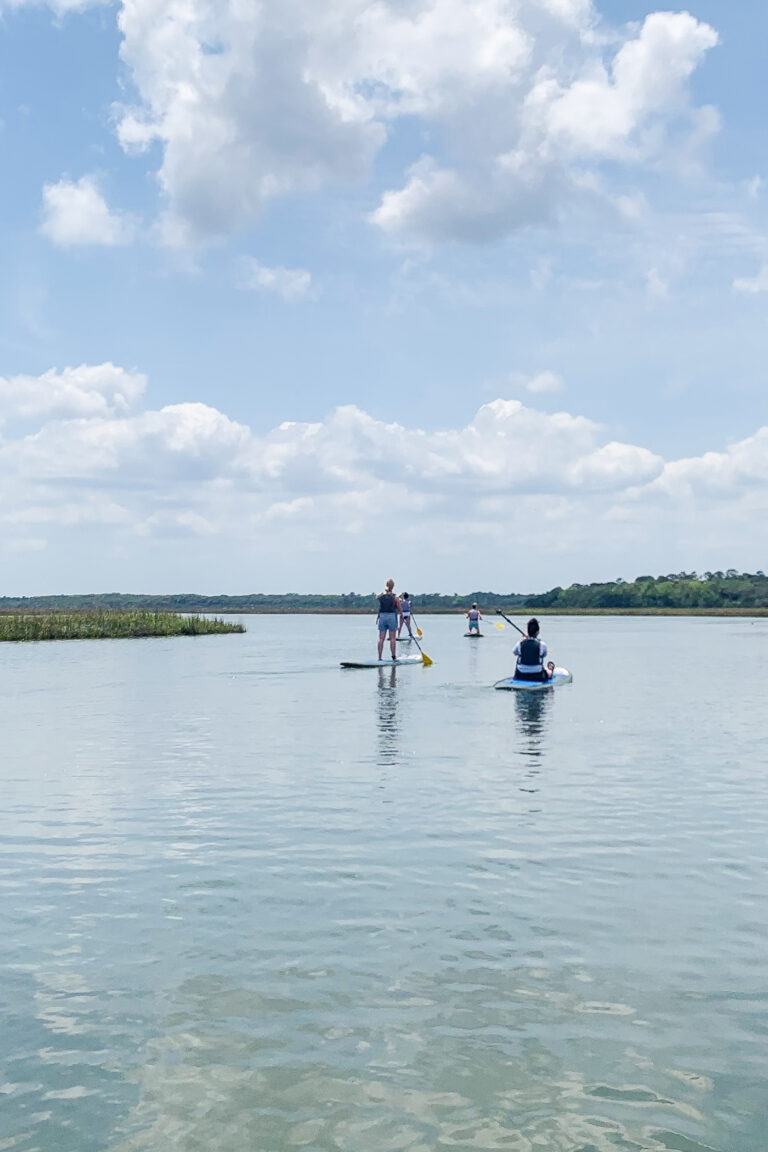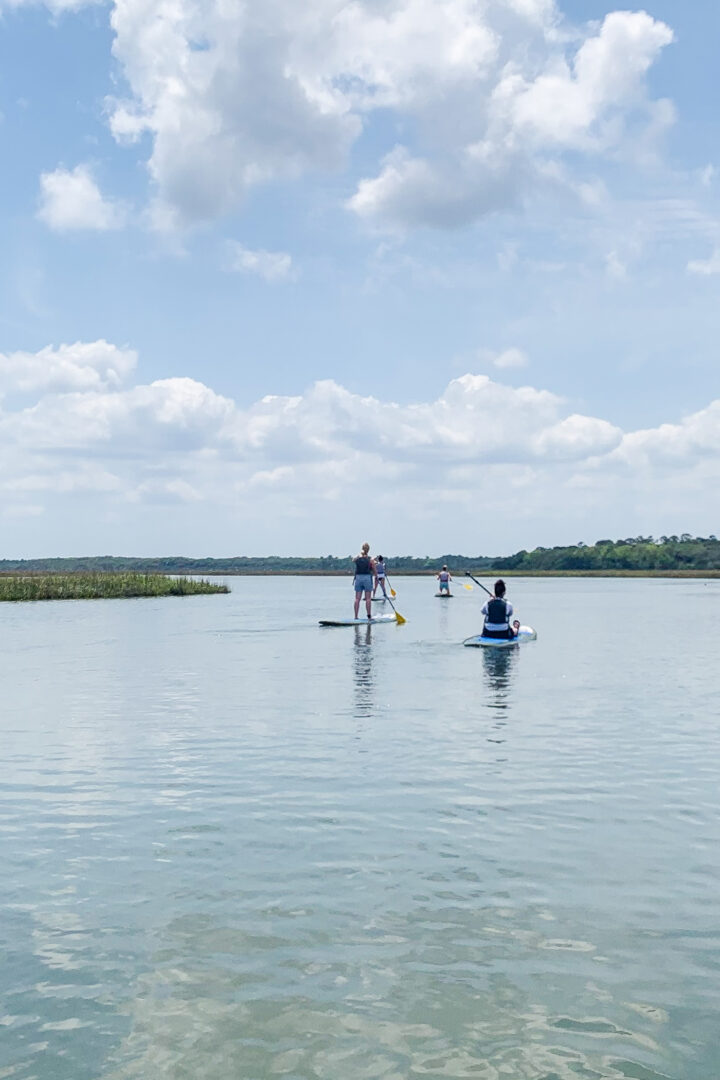 Our family loves stand-up paddleboards (SUP). We paddleboard during the summer in our local lake & have attempted to paddleboard in the ocean (it didn't end well *wink*).
We've never actually taken a lesson in paddle boarding, though. During our trip, we were able to take a beginner SUP lesson at Kayak Amelia.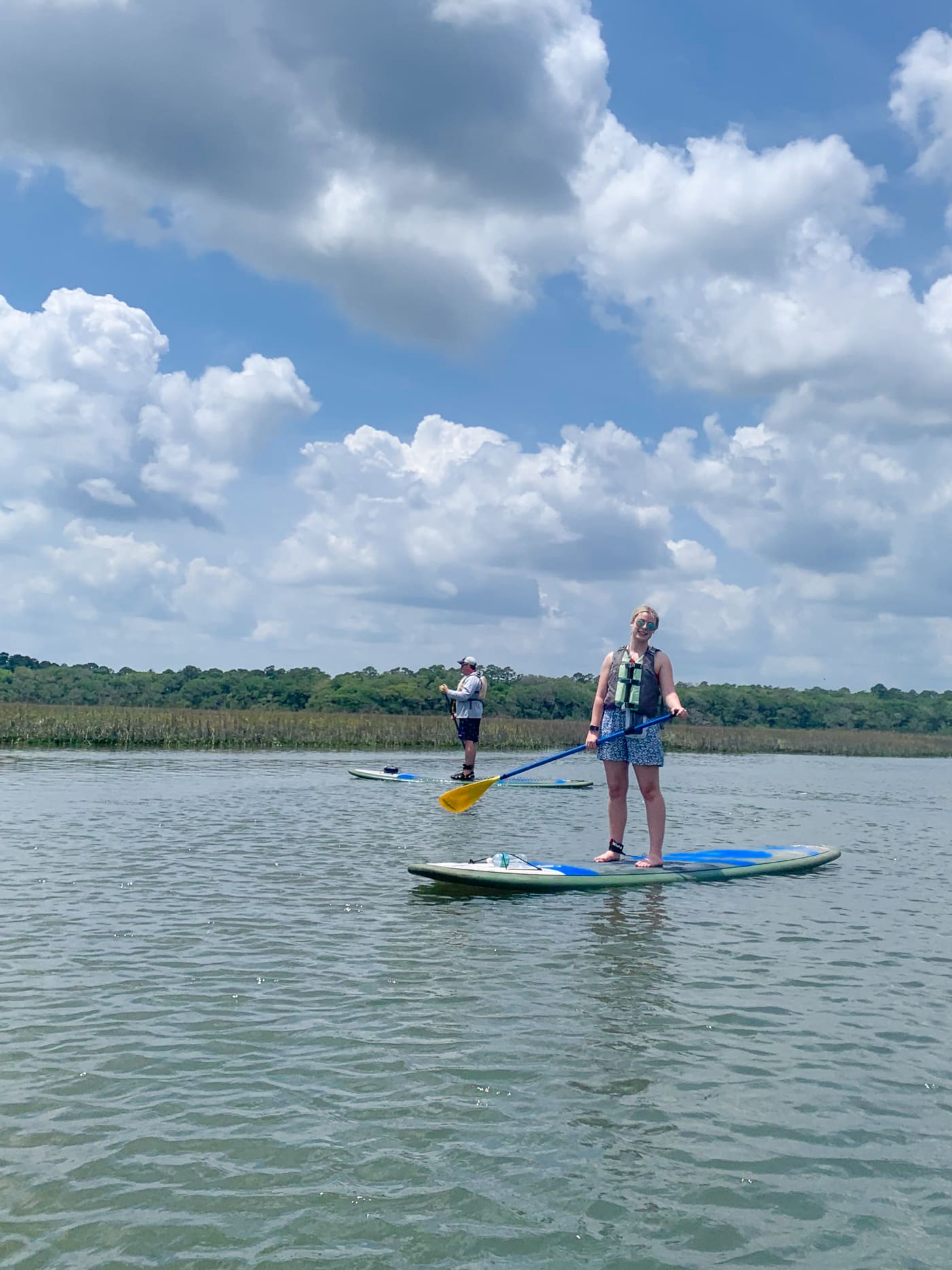 I want to preface this by saying, I'm not athletic. Not even a tiny bit. And I could totally do this! My kids, of course, paddled circles around me, but I was able to hold my own and felt like I was improving quickly.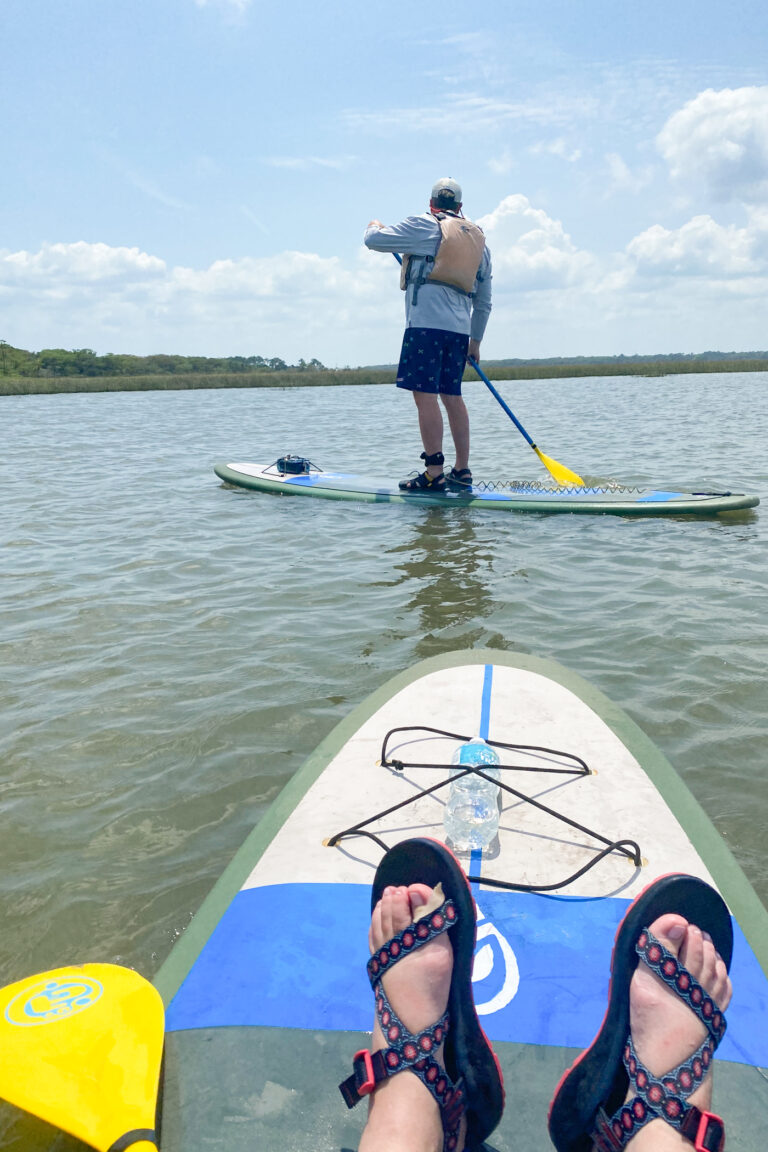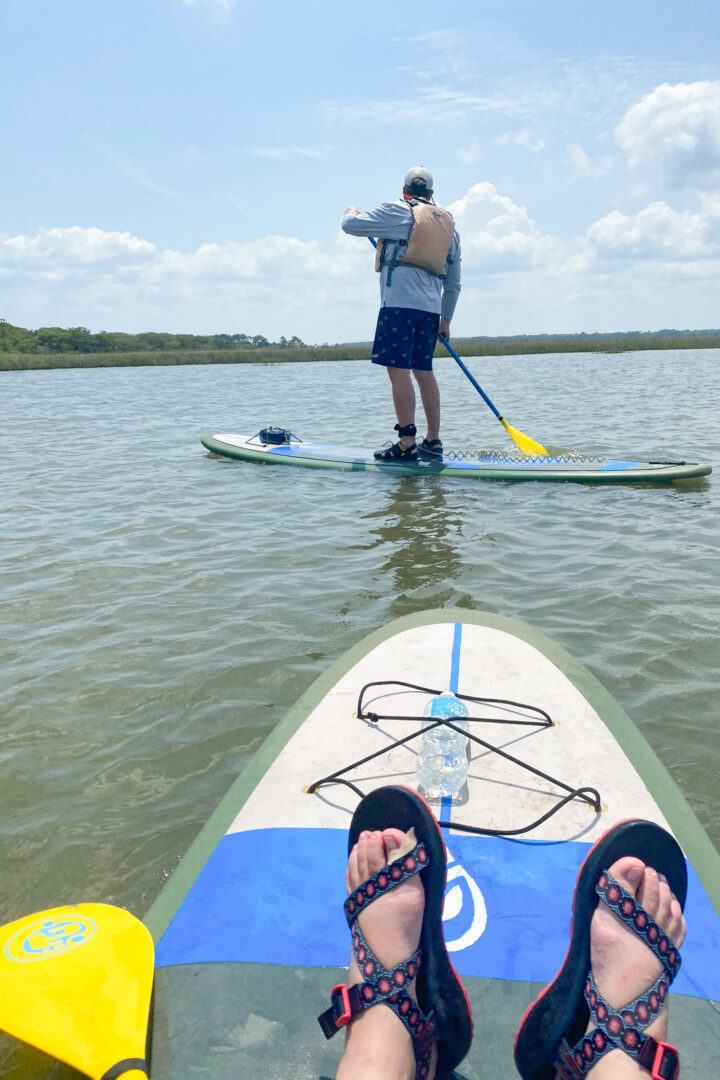 The lesson walked us through the basics of paddleboarding, including how to turn & the proper way to hold the paddle. I particularly enjoyed the location. It was in an estuary close to the ocean, but not in the ocean. Which made the water as calm as a lake. It was salt water, however, so you didn't need to worry about alligators as much.
It's going to make paddleboarding in our lake much harder now! It was so beautiful. The experience was calm and refreshing and exactly what we needed after a week walking miles and miles at Disney World.
13030 Heckscher Dr. Jacksonville, FL 32226
Sunset River Cruise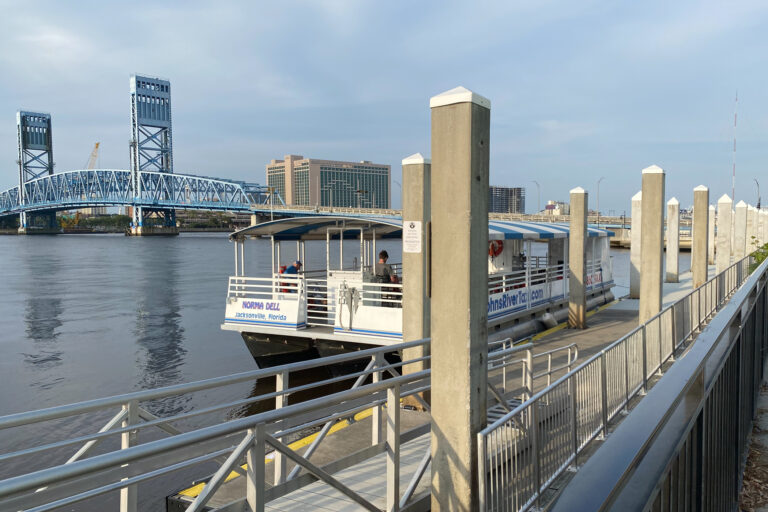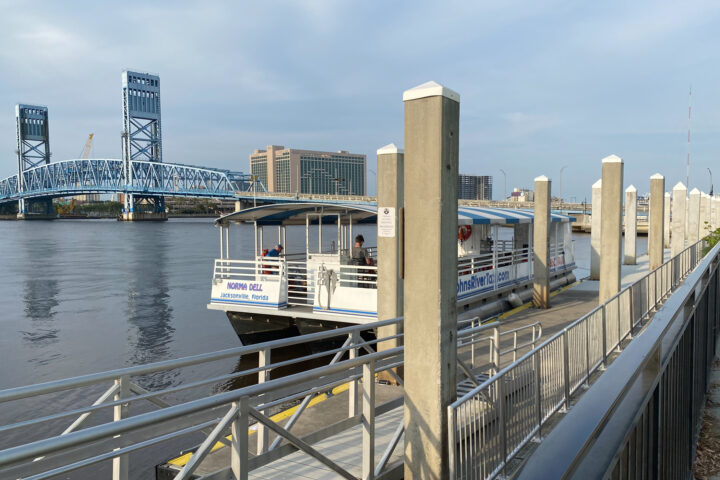 We spent one of our evenings on a river cruise on the St. Johns River. We lucked out and had amazing weather. The vibe on the boat is very casual, and you are welcome to bring snacks and drinks on board.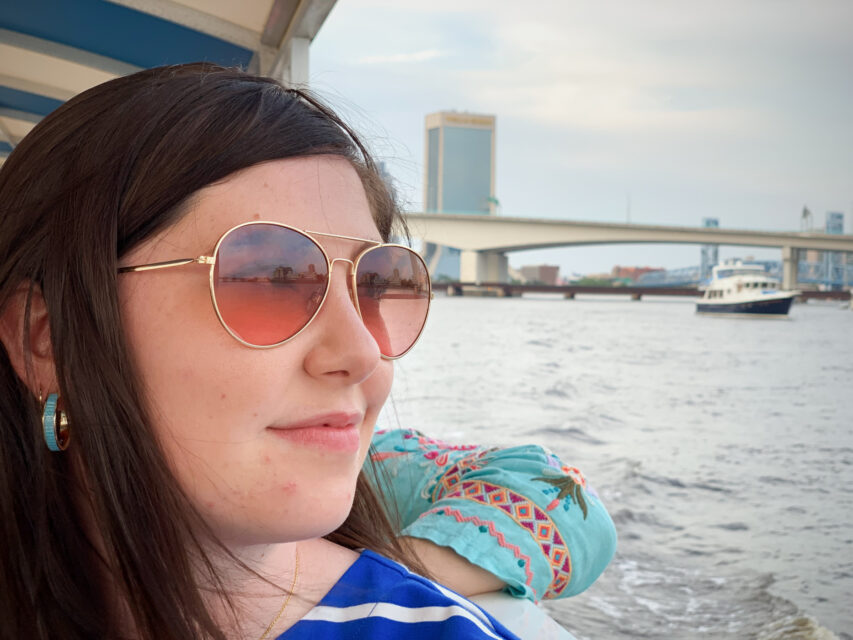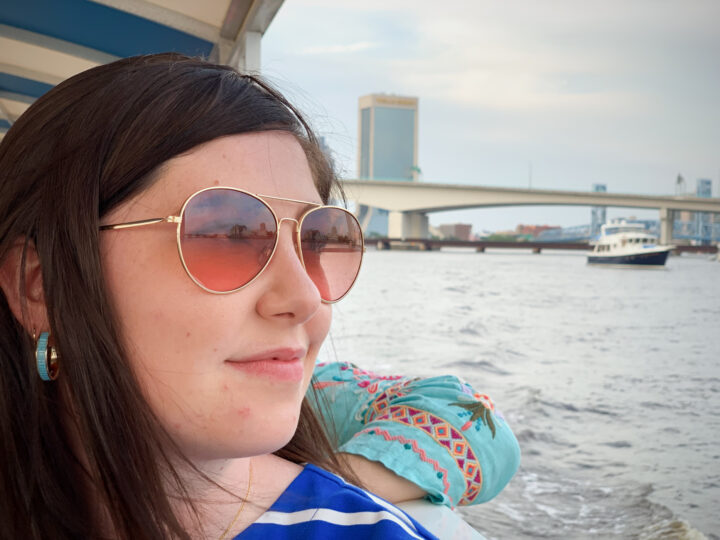 During the sunset cruise, the guide gives you a brief history of the river and points out landmarks in the city as you cruise. We didn't see any, but a friend told me it's really common to see dolphins during the cruise.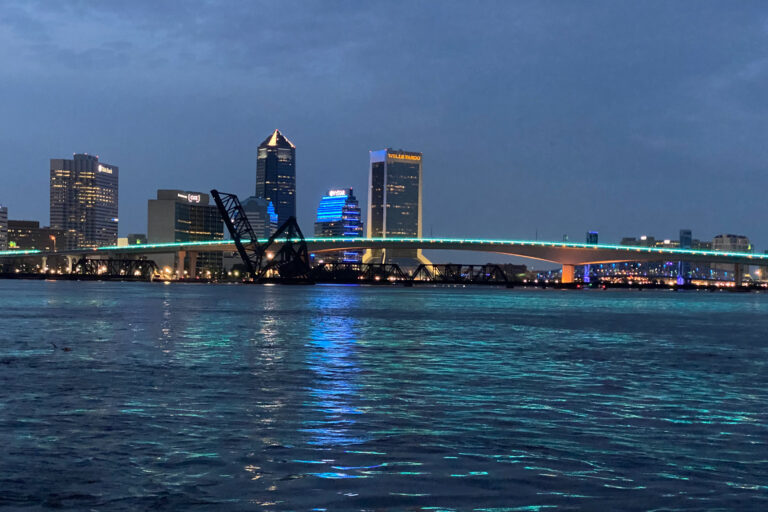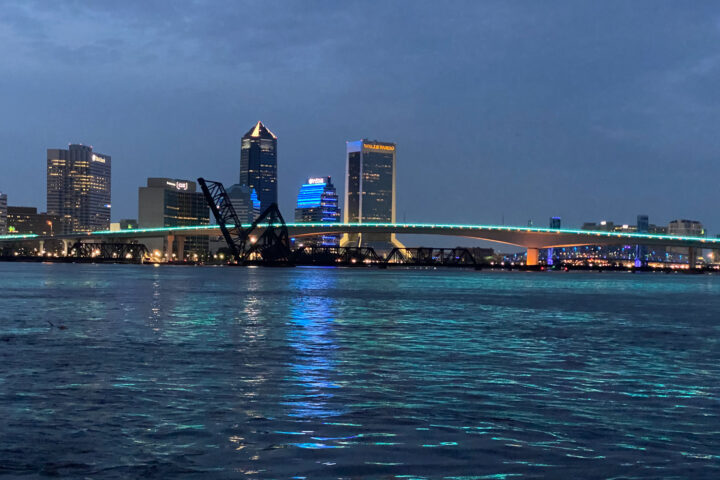 1015 Museum Cir, Jacksonville, FL 32207
Other activities that were recommended to us
We didn't have time to do everything, but these activities were highly recommended to us before our trip.
Jacksonville Arboretum
Memorial Park
Castaway Island Preserve
Shopping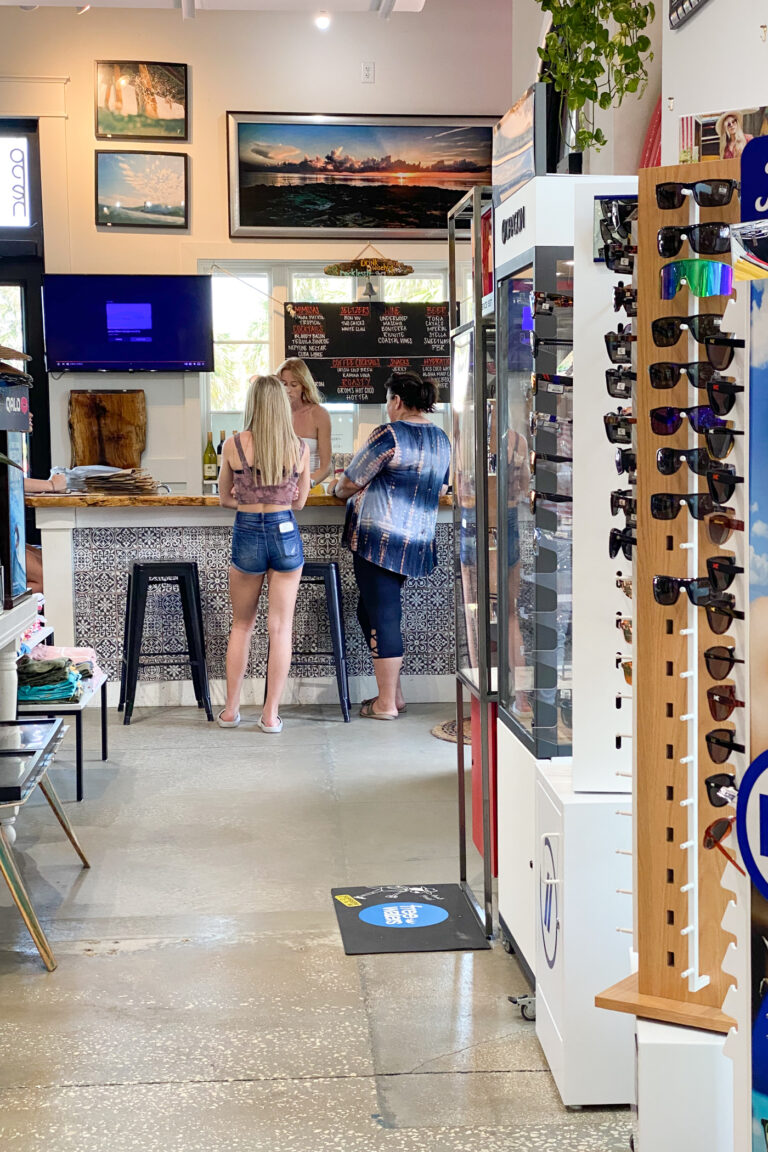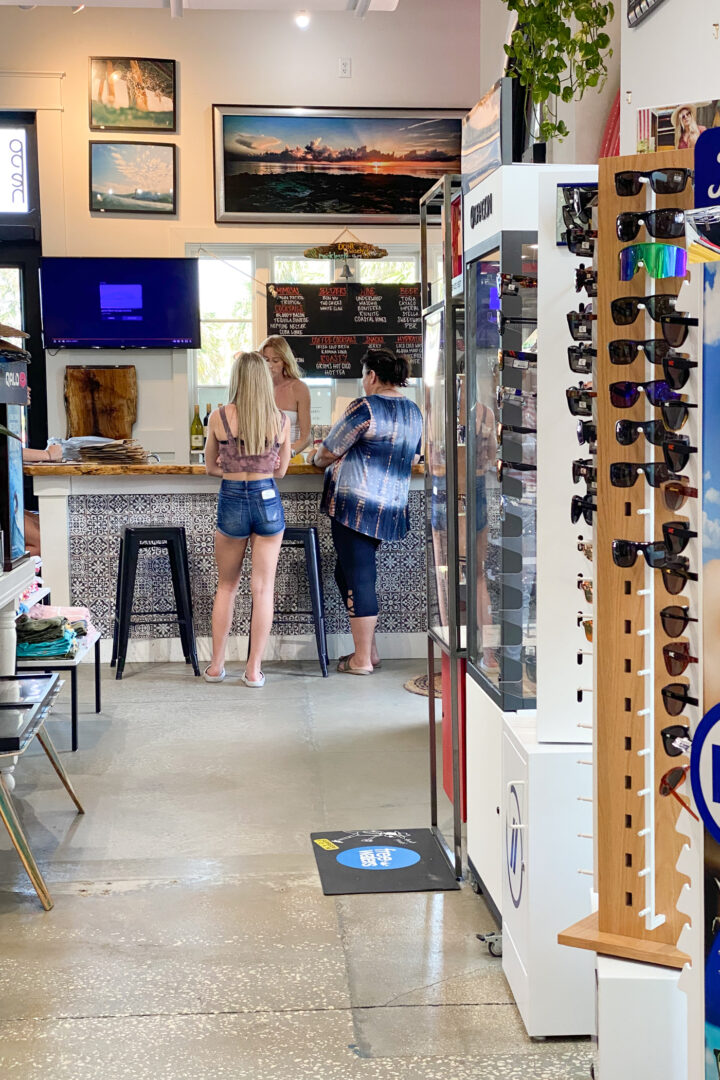 On our last day in Jacksonville, we decided to check out Beaches Town Center. I am so glad I did. It's a quaint shopping area with a village feel close to the beach.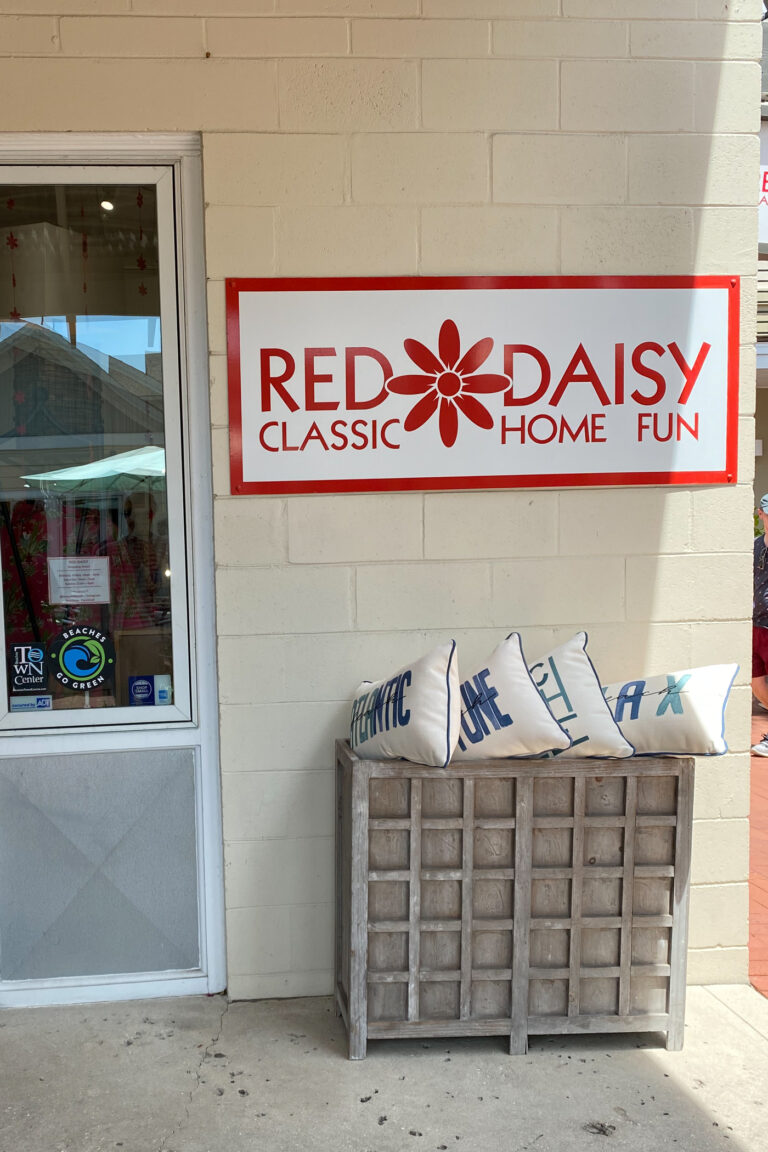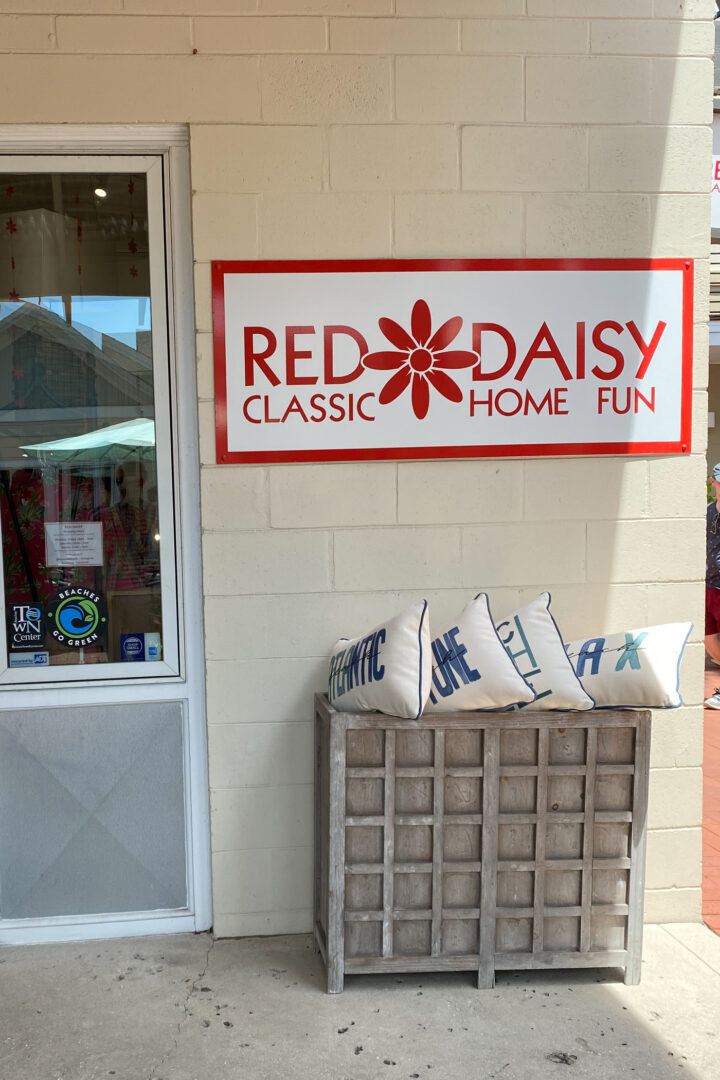 All shops are independently owned (no chain stores) and featured a finely curated selection of goods for sale.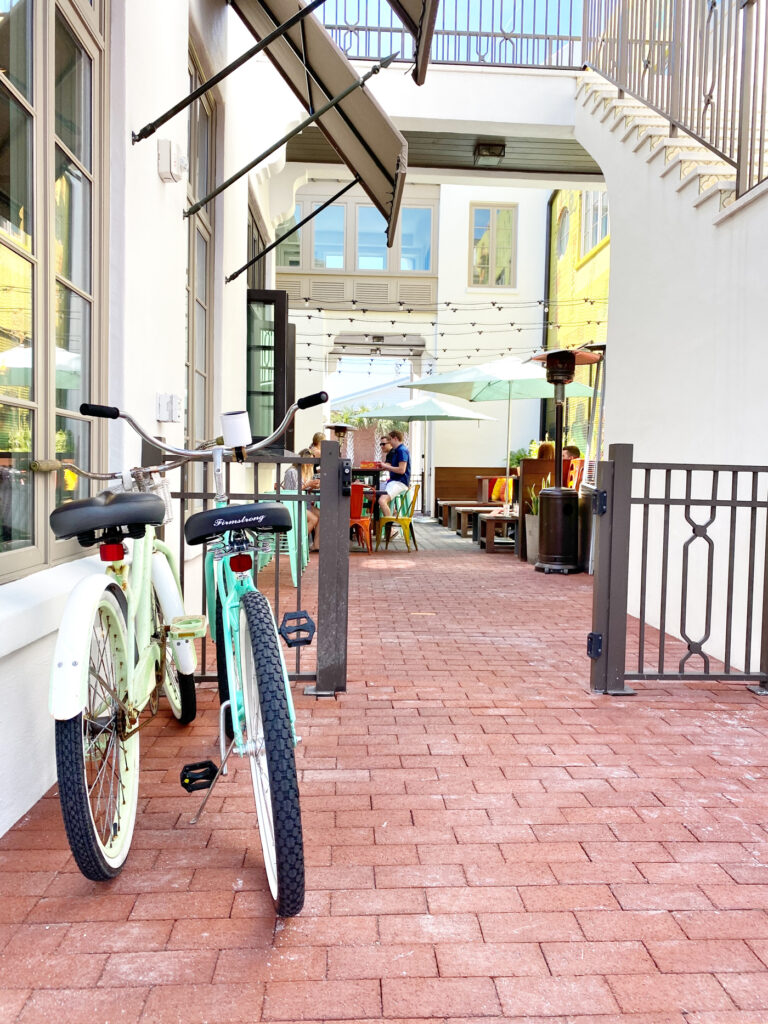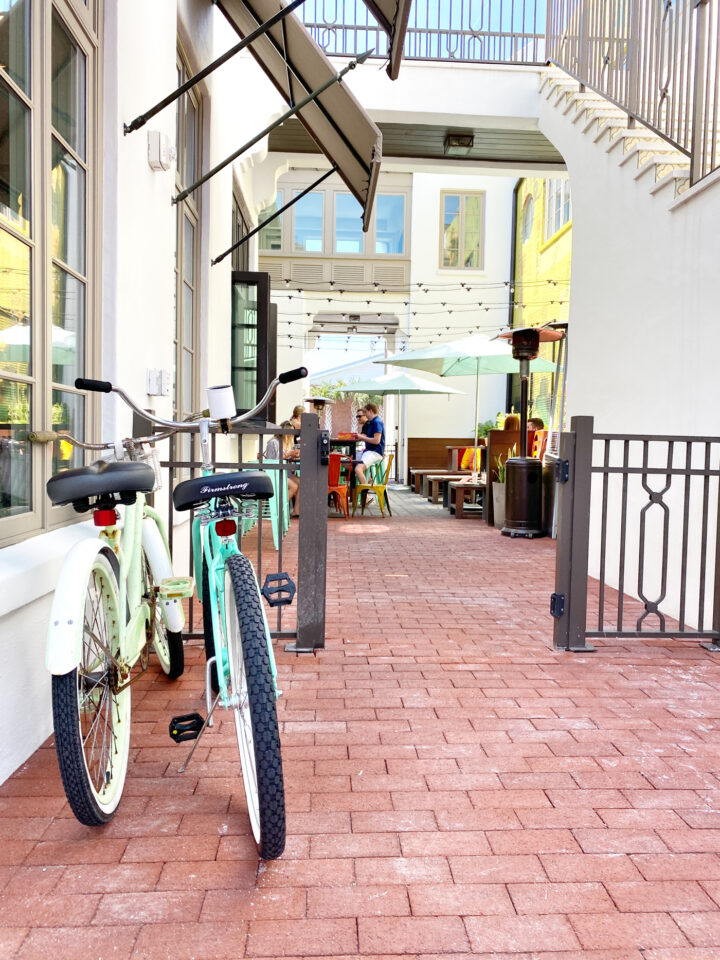 There are women's & men's clothing stores, home decor shops, and children's stores. The area also features several sit-down and casual restaurants.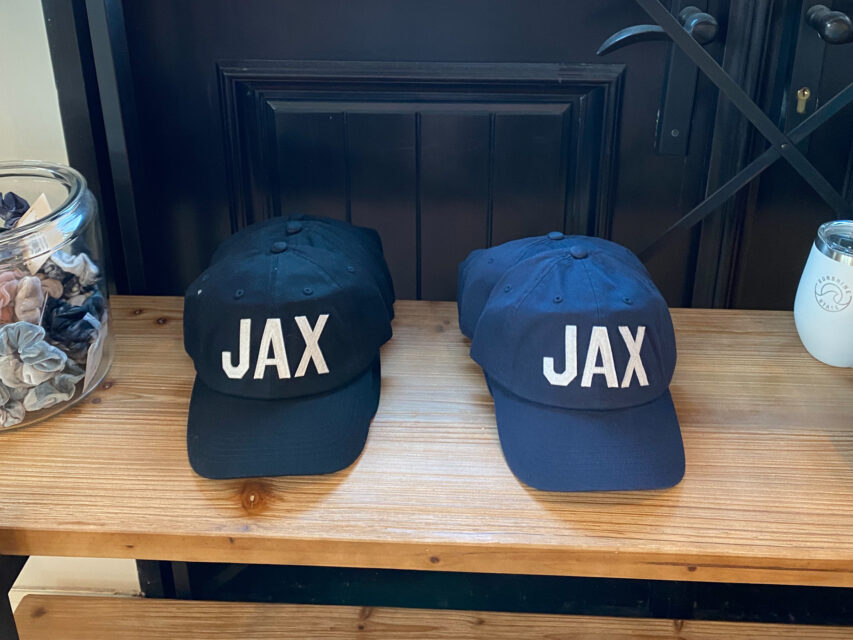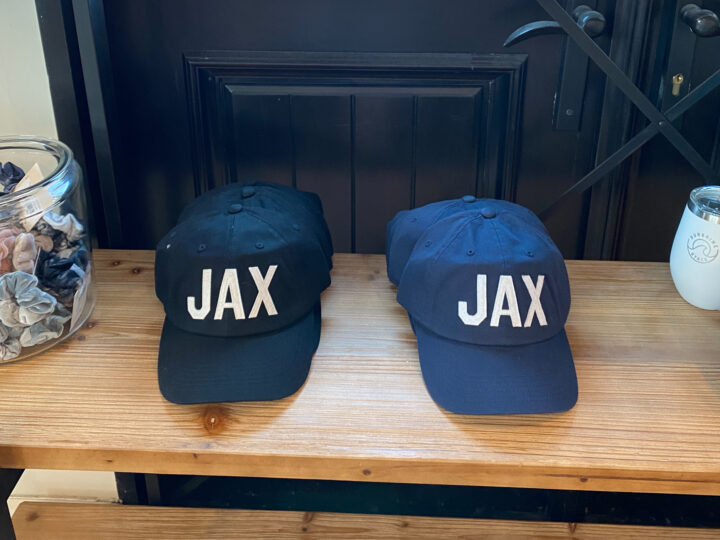 Other Recommended Shopping
San Marco Square
St. Johns Town Center
Riverside Arts Market
Where to Eat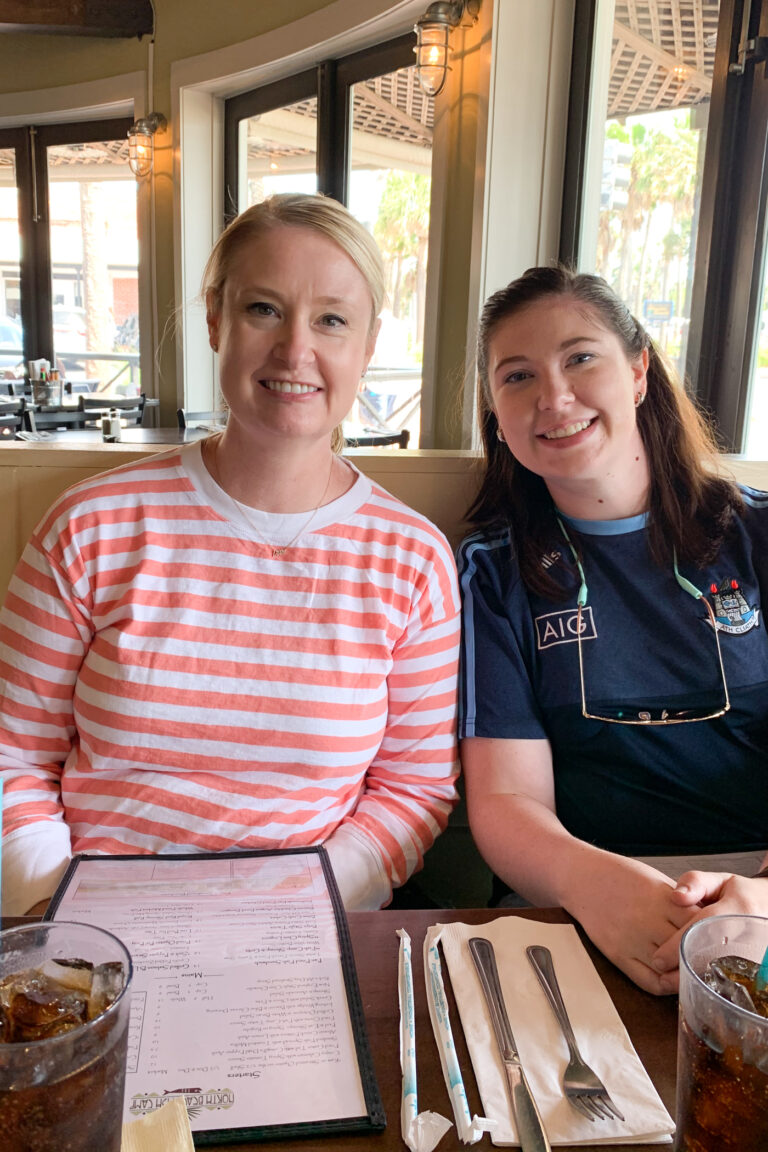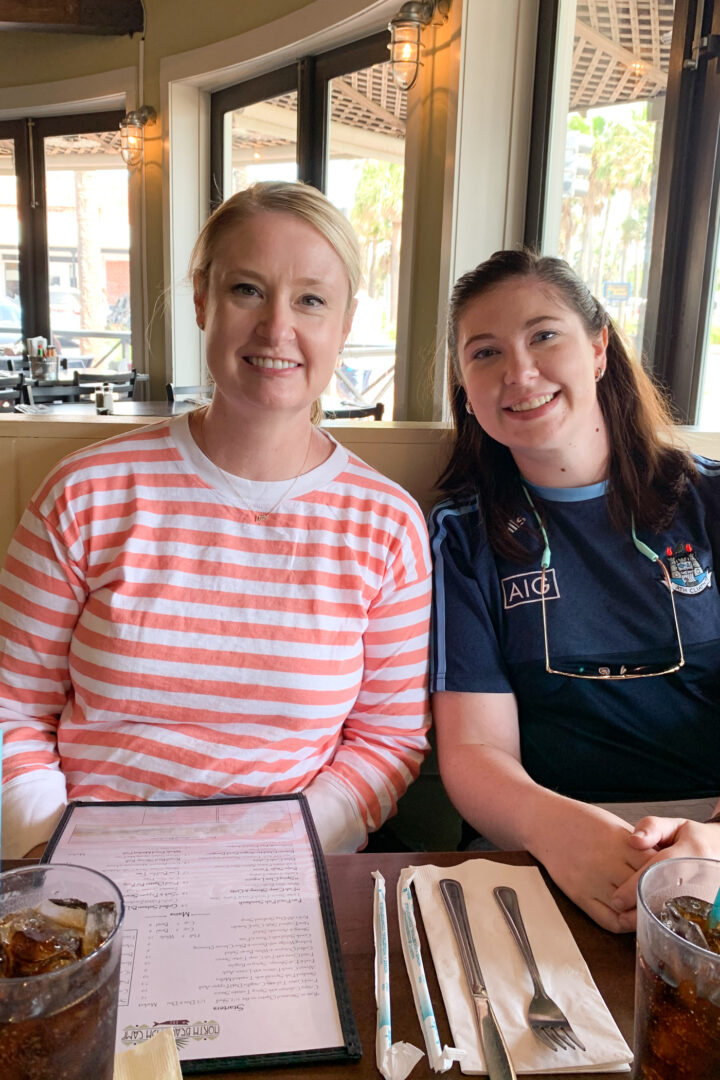 My kids joke around with me that there is nothing that I love more than eating seafood outdoors, looking at the water. It's truly one of my favorite things to do. I made sure that I took full advantage of all of the fresh seafood options while I had the opportunity.
Safe Harbor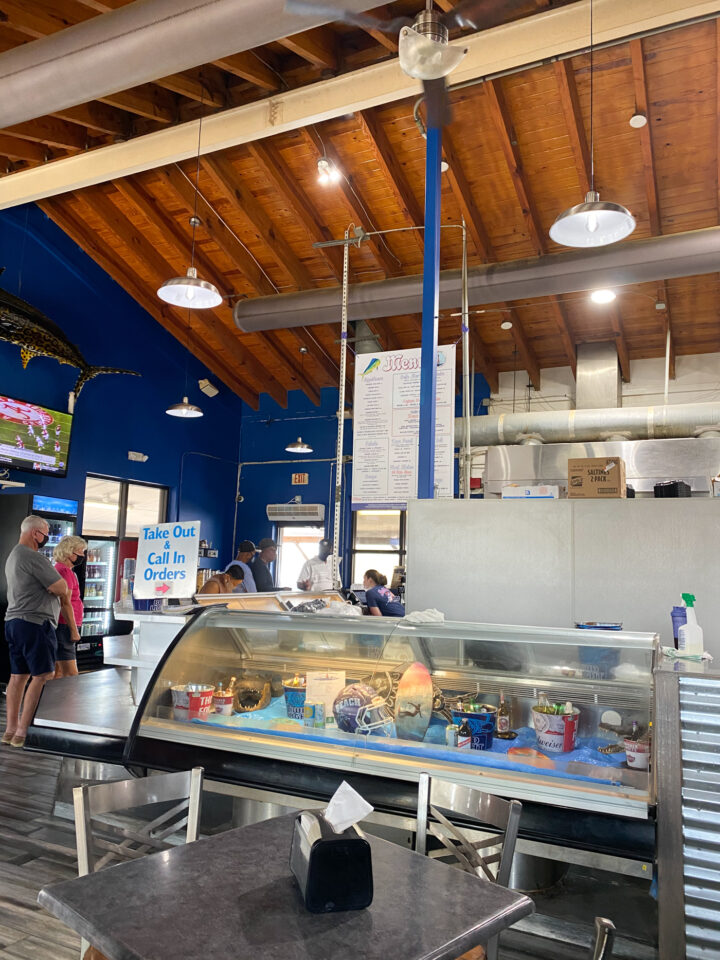 Safe Harbor restaurant is close to the Jacksonville Ferry (if you can, take the ferry. It's pretty fun!) It is a very casual place that features fresh-caught seafood. (They also have chicken if you're traveling with picky eaters). There is both indoor and outdoor seating.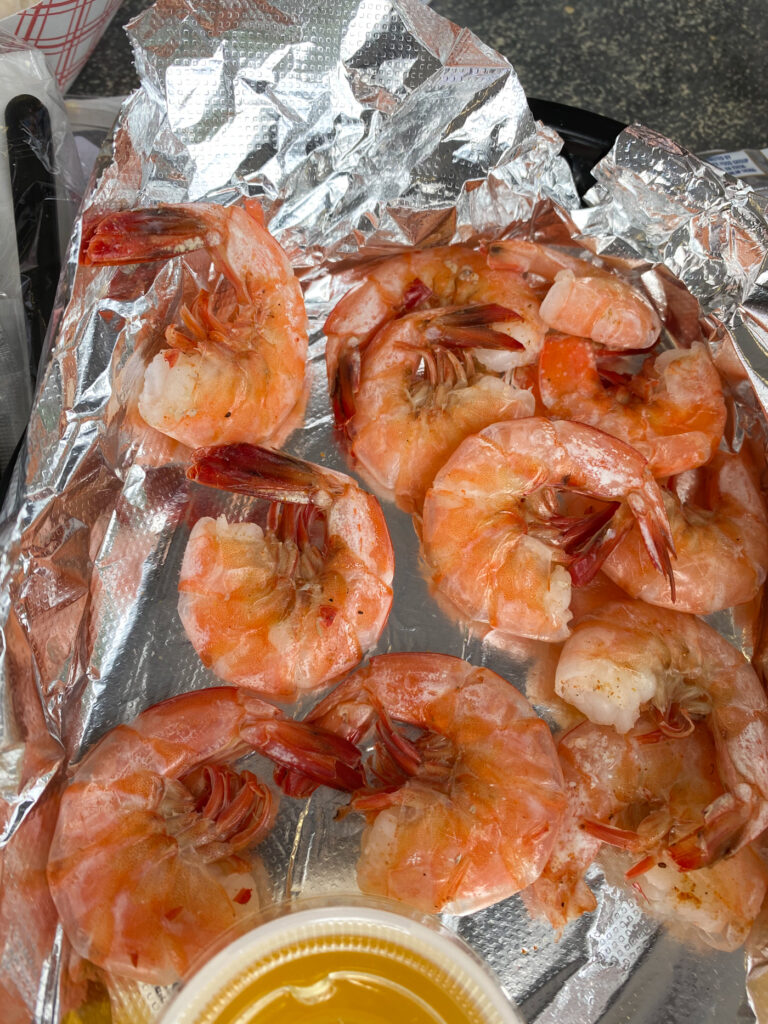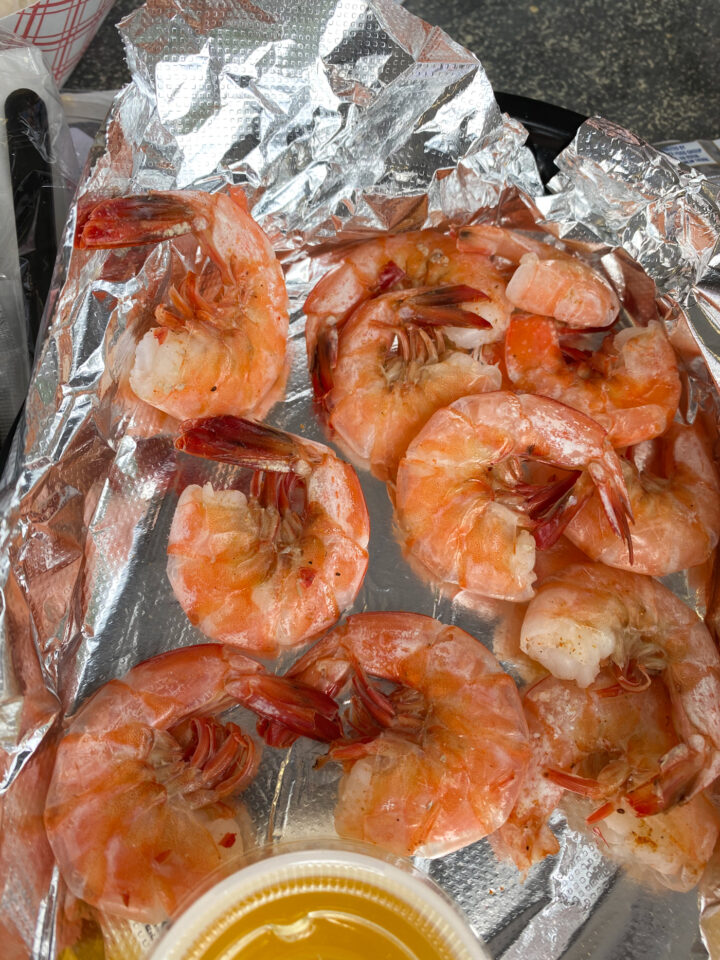 We were lucky to get a table out on the patio and watched the boats come in and out of the harbor as we ate.
Address: 4378 Ocean St #3, Atlantic Beach, FL 32233
North Beach Fish Camp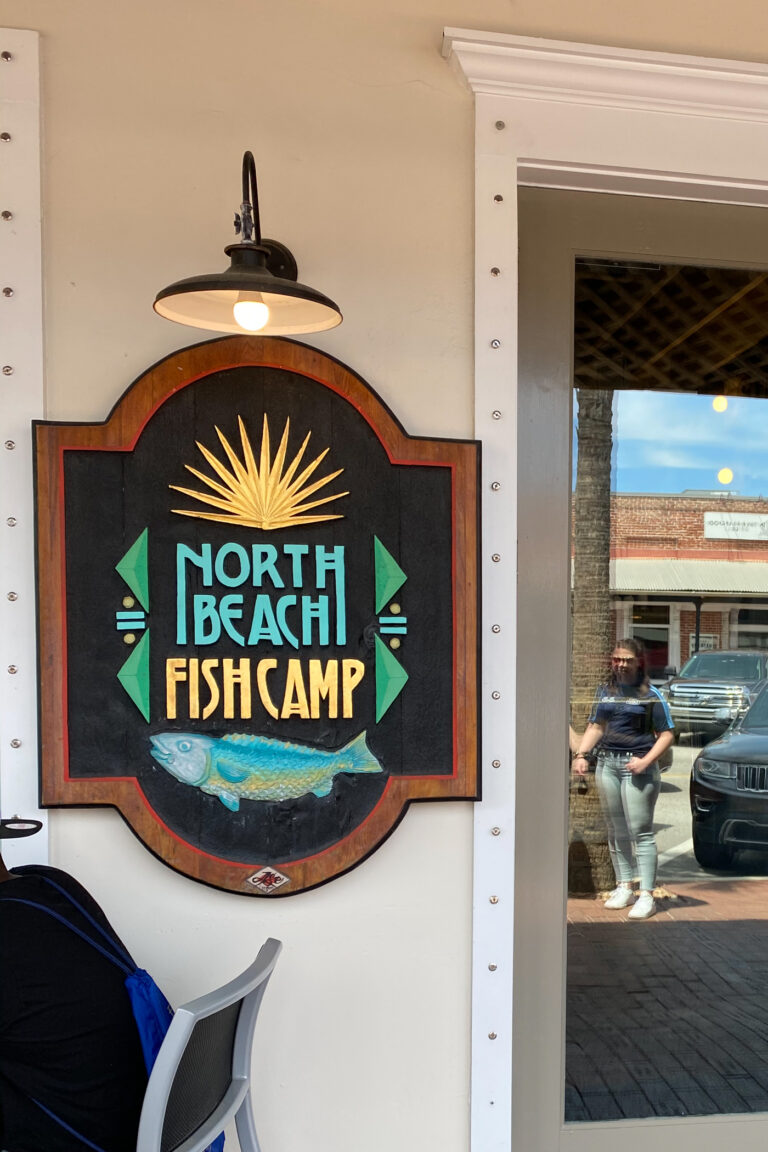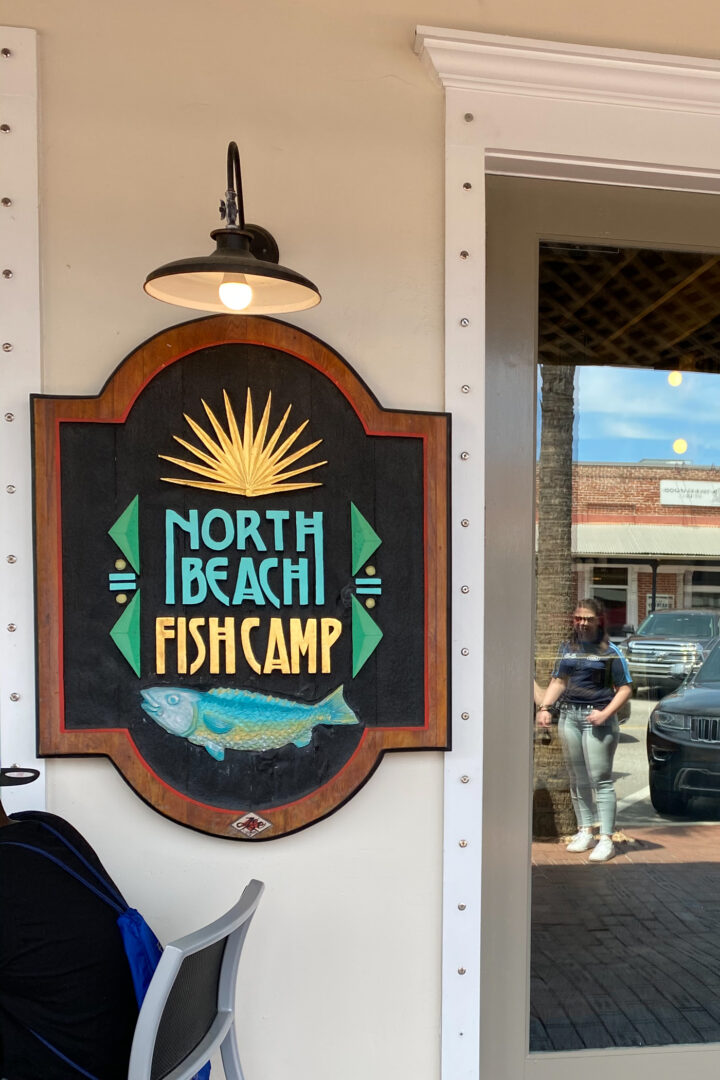 North Beach Fish Camp is a sit-down restaurant a couple of blocks from the water in Neptune Beach. I would recommend making reservations if you'd like to eat there for dinner. We had lunch reservations, but I think we would have been ok without them.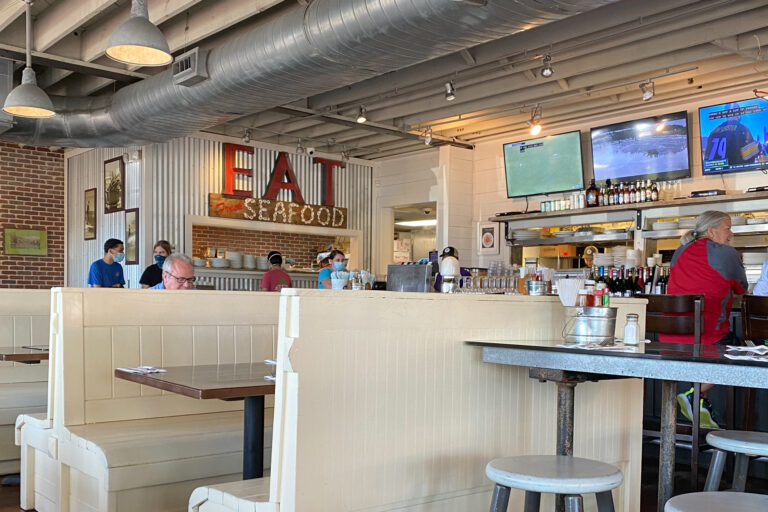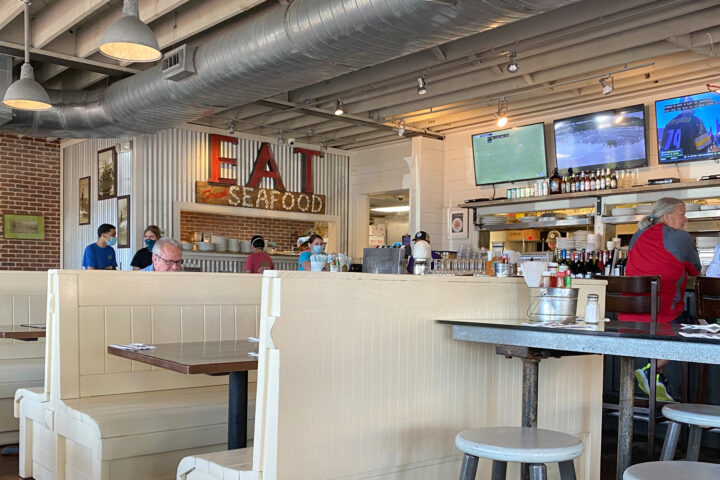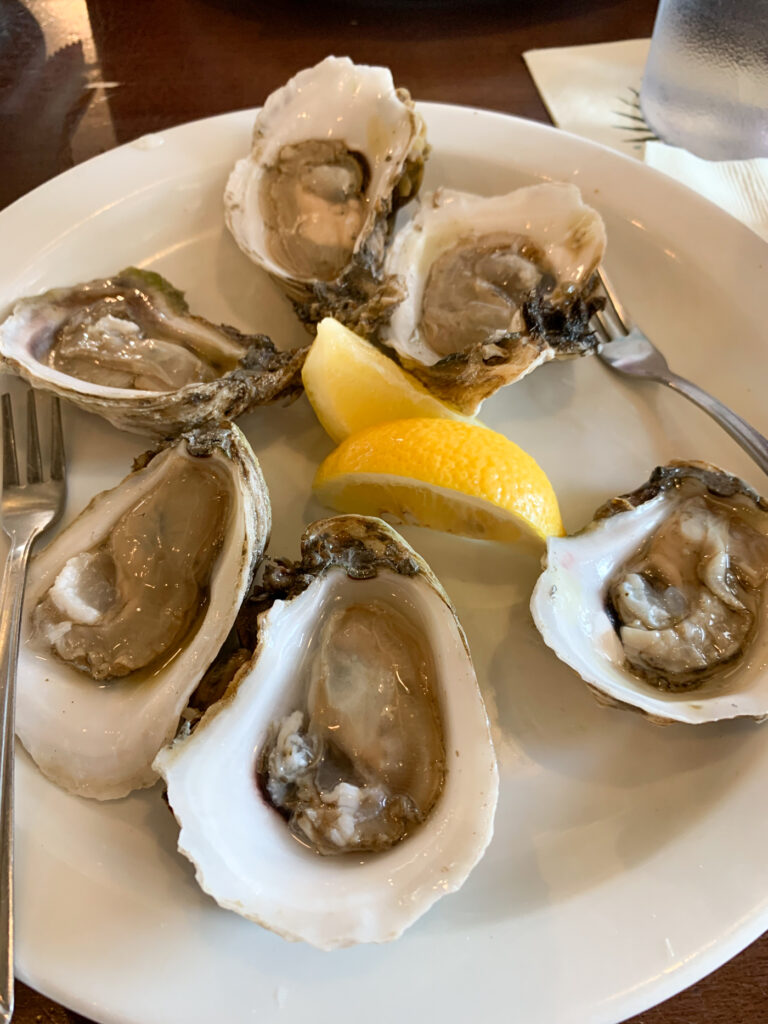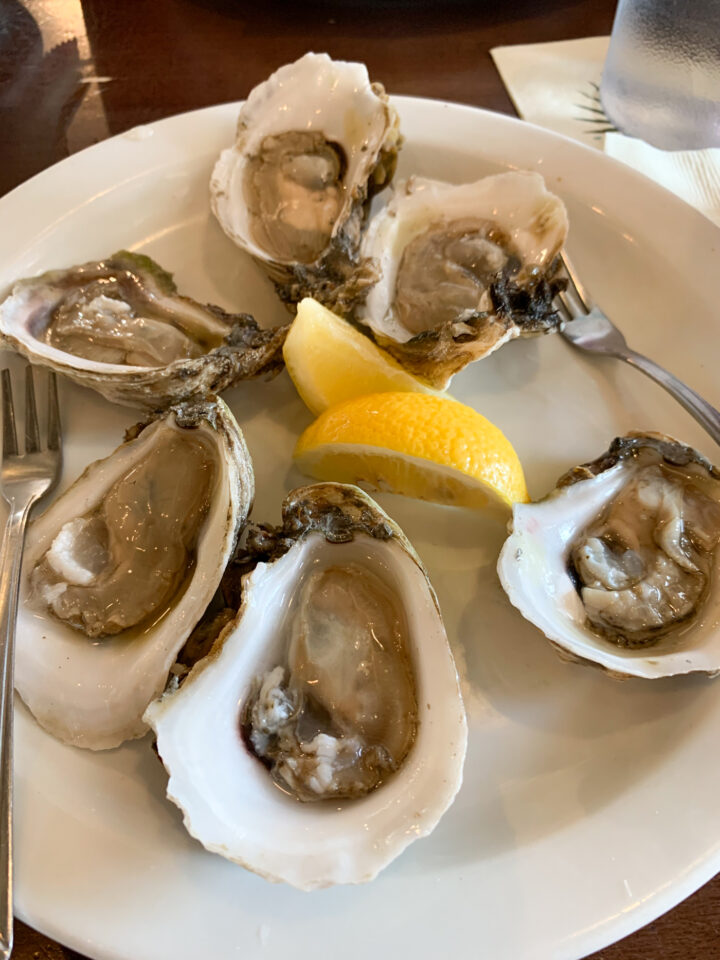 They feature fresh fish (you can even see the fish you're going to eat before you order it), seafood, and oysters. I had the shrimp and grits, and my husband loaded up on fresh oysters. They are his favorite; I'm not really a fan of them, are you?
Address: 100 First St, Neptune Beach, FL 32266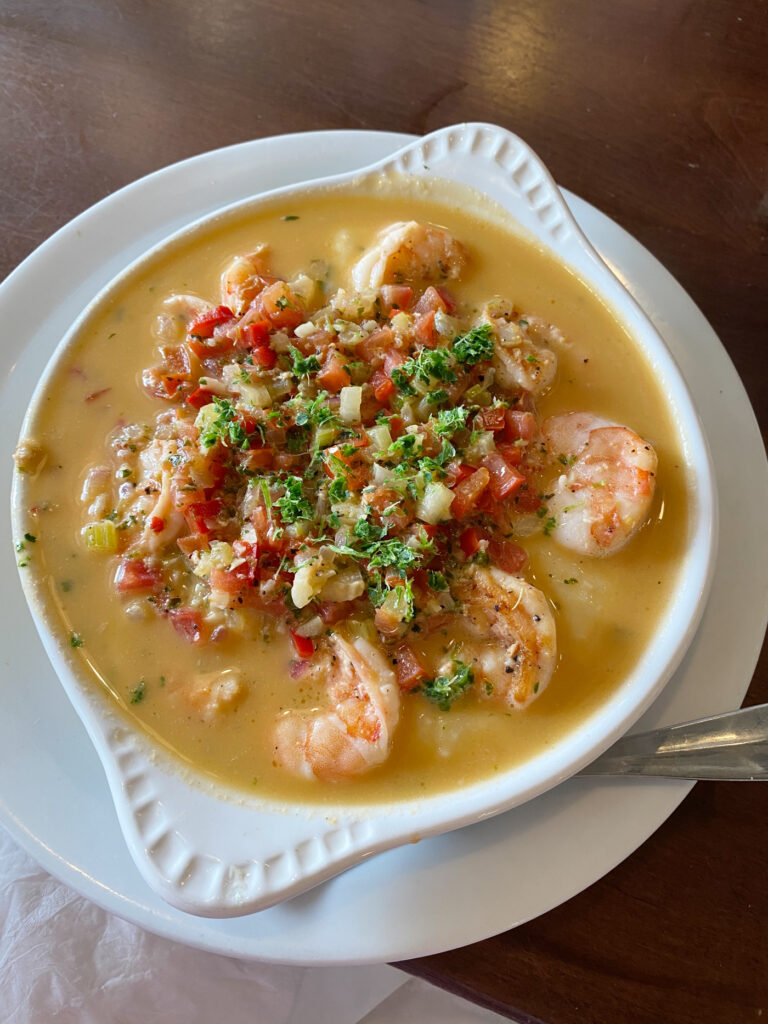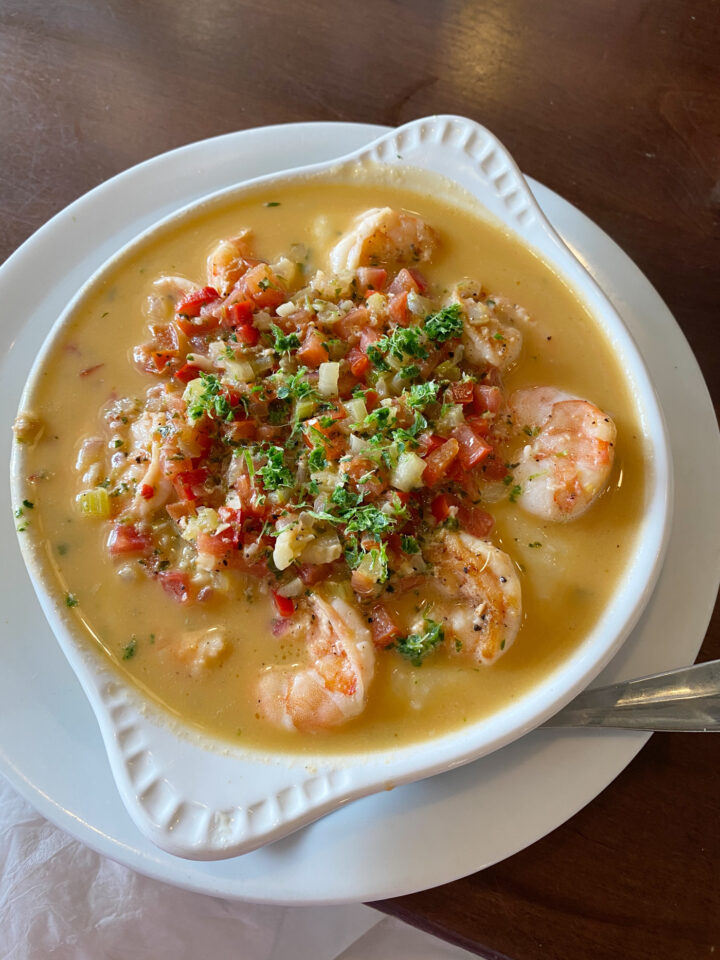 Other Recommended Restaurants:
These restaurants were recommended to us before our trip.
The Flying Iguana
Taco Lu
The Local
Poe's Tavern
M Shack
Burrito Gallery
Jax Beach Brunch House
Indochine Downtown
The Bearded Pig
Where to Stay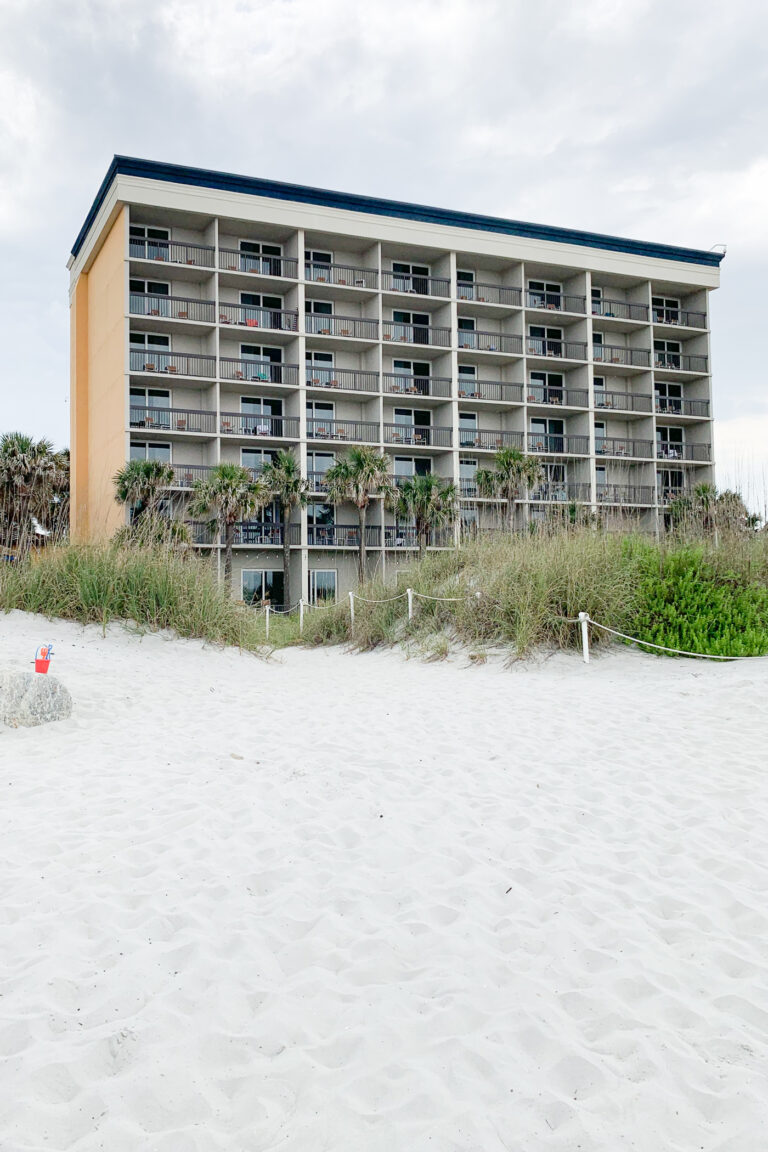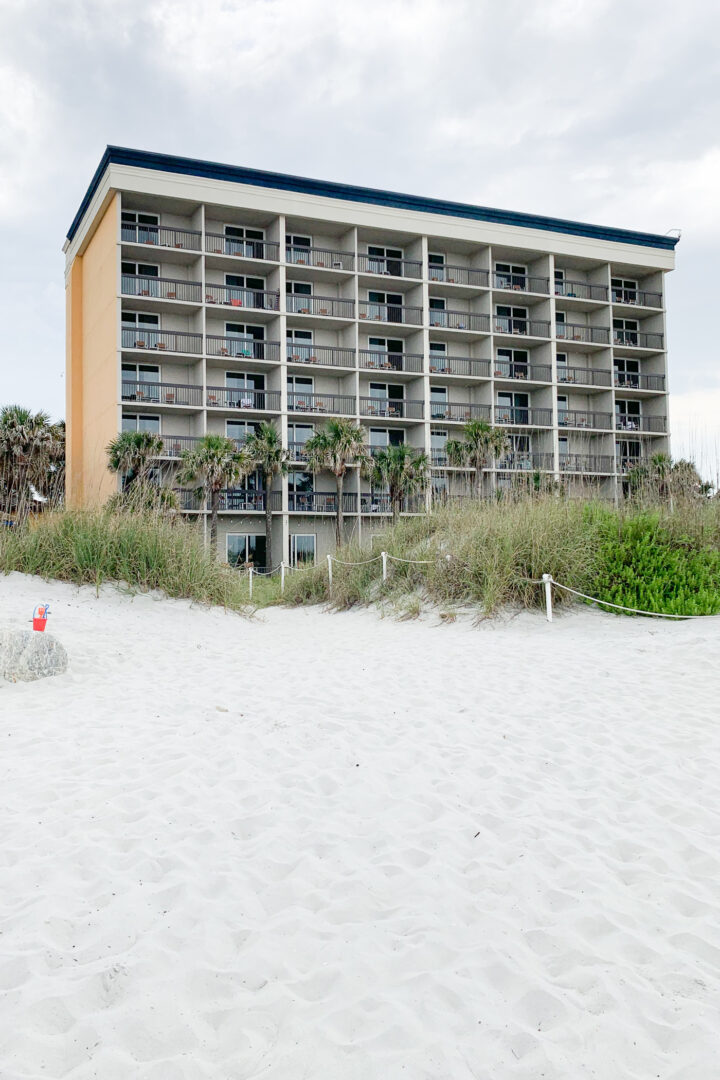 If you can, I recommend staying directly on the beach in Neptune, Jacksonville Beach, or Ponte Verde Beach. We stayed at the Jacksonville Hampton Inn, Oceanfront.
Our hotel was literally steps to the beach. We had a room with a balcony overlooking the ocean. The hotel offered free breakfast, beach towels, and had a beautiful pool.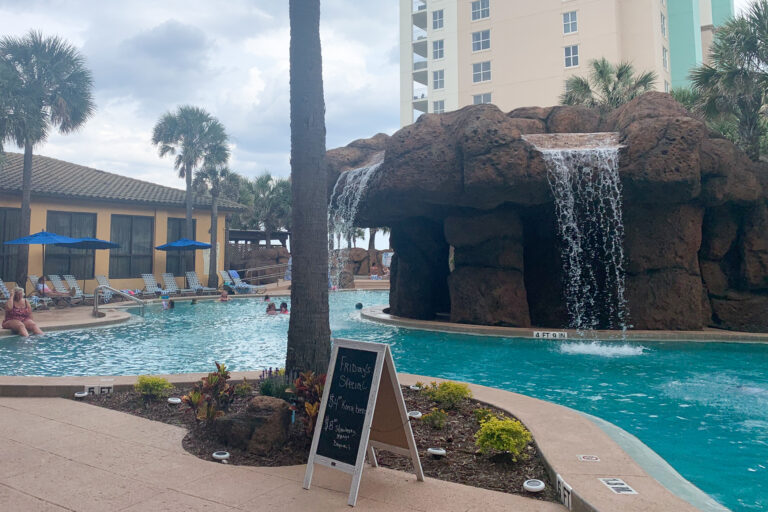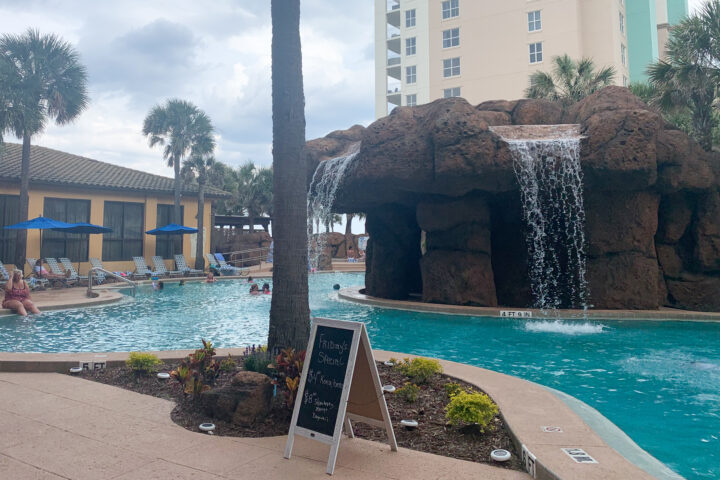 Jacksonville Vacation Tips for Younger Kids
If you're planning a vacation to Jacksonville and you have younger kids, then you might want to check out Traveling Mom for tips for visiting Jacksonville with smaller children. Sarah, the author of the article, travels frequently and has a toddler and two older children.
Free Beach Bag Pattern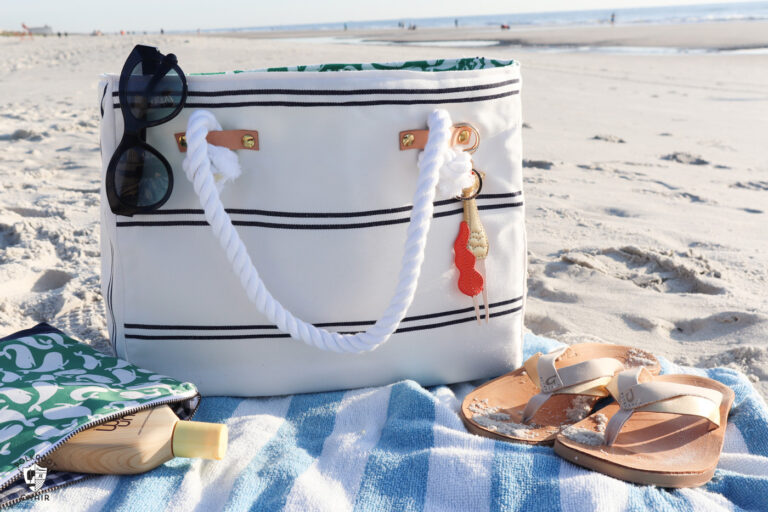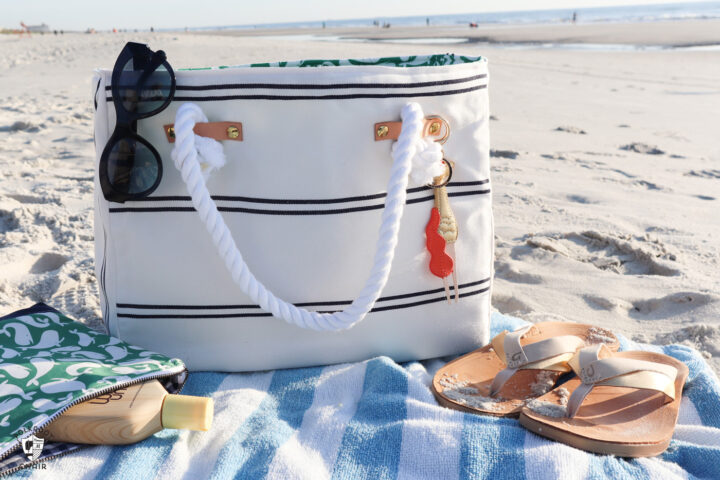 Someone told me once that you enjoy a vacation 3 times. Once in anticipation, once while you're there, and once while reliving the memories.
That pretty much sums up how I like to view my vacations. One of my favorite things to do is create something new to take with me on a trip. In the past, I've made swimsuit cover-ups, custom t-shirts & luggage tags.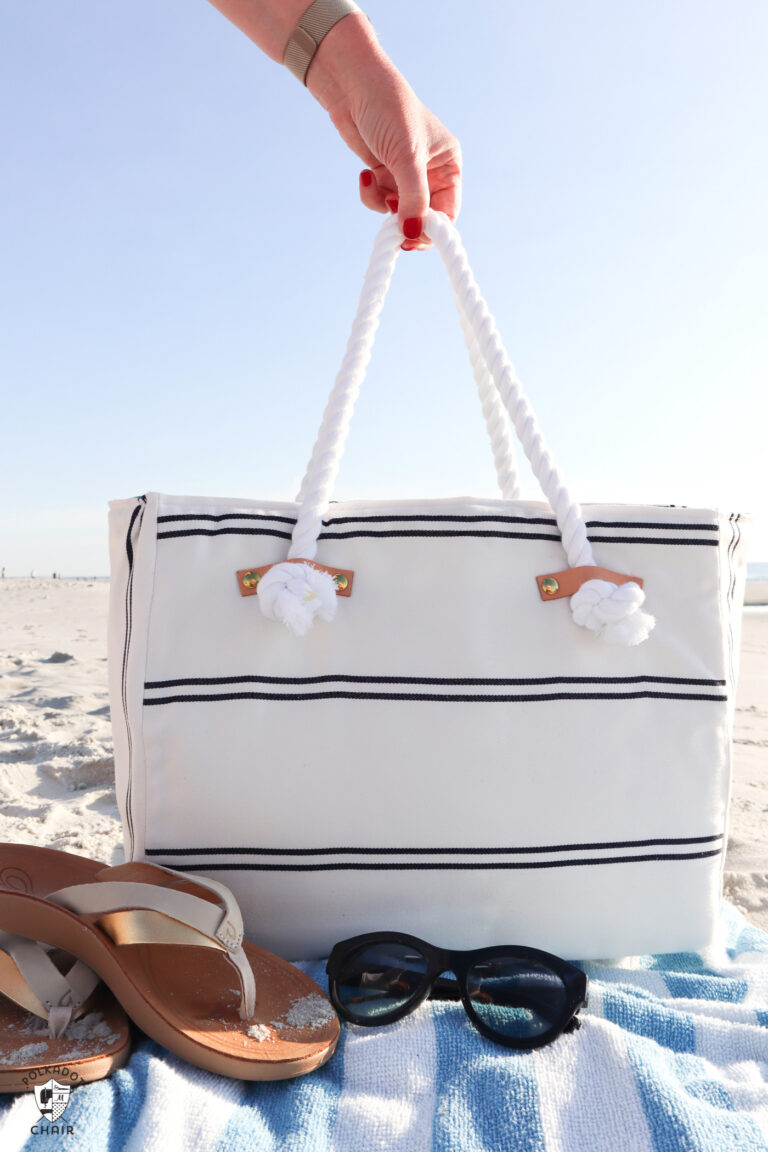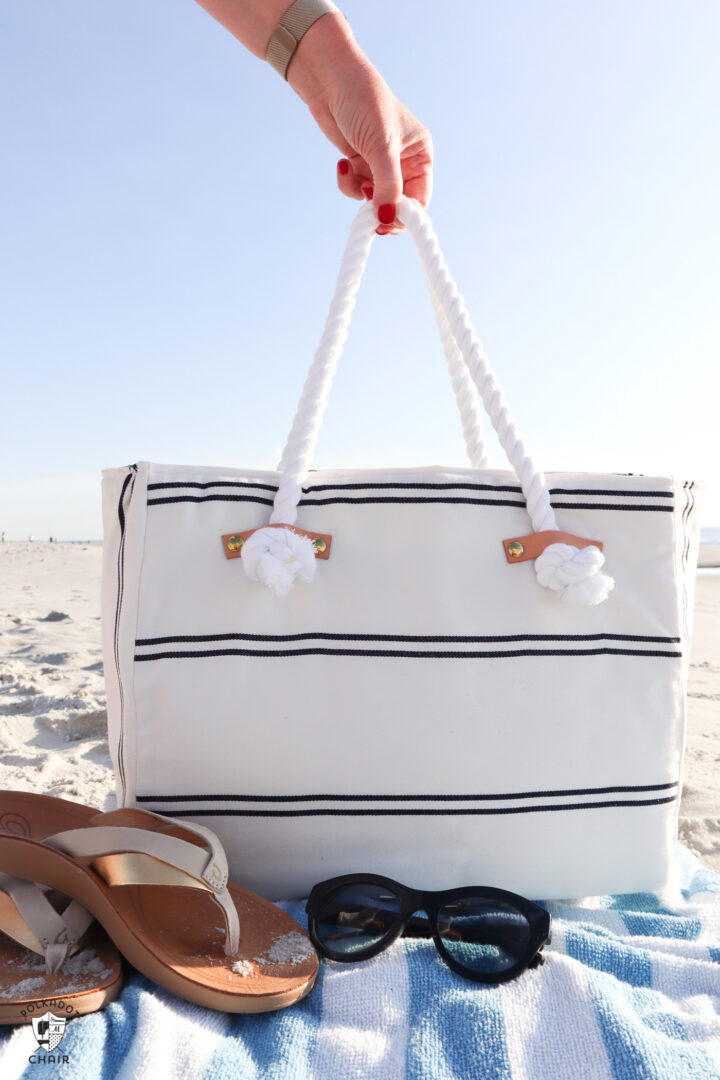 Since I LOVE the beach and needed a new beach bag, I thought this would be the perfect time to sitch up a new beach bag for myself. After I created the bag, I sat down and wrote up a pattern for it so that you can make one too!
I've partnered with VISIT FLORIDA on this post which means I can offer the beach bag pattern to you for free!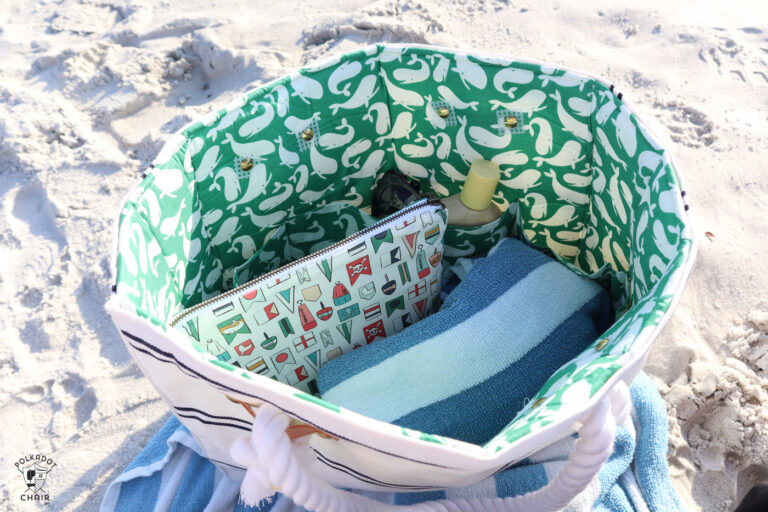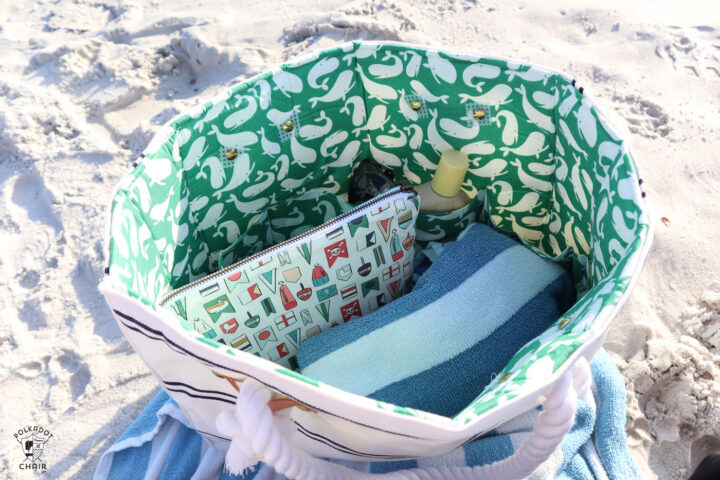 Simply fill out the form below and we will email you the pattern.
The beach bag is constructed of outdoor fabric (so it can hold up to the elements) and lined with a whale print from my mermaid fabric collection. It features rope handles, interior pockets, and a touch of leather (you can use vegan leather instead if you prefer).
If you make the bag, be sure to let me know! Share a photo on Instagram and tag me @polkadotchair .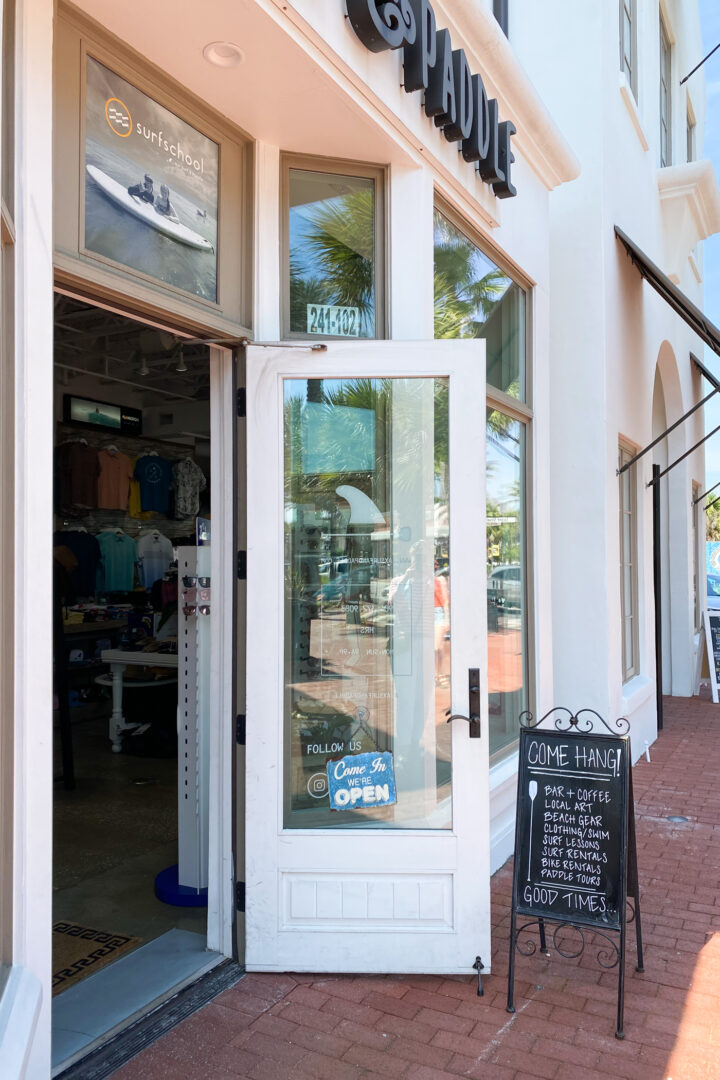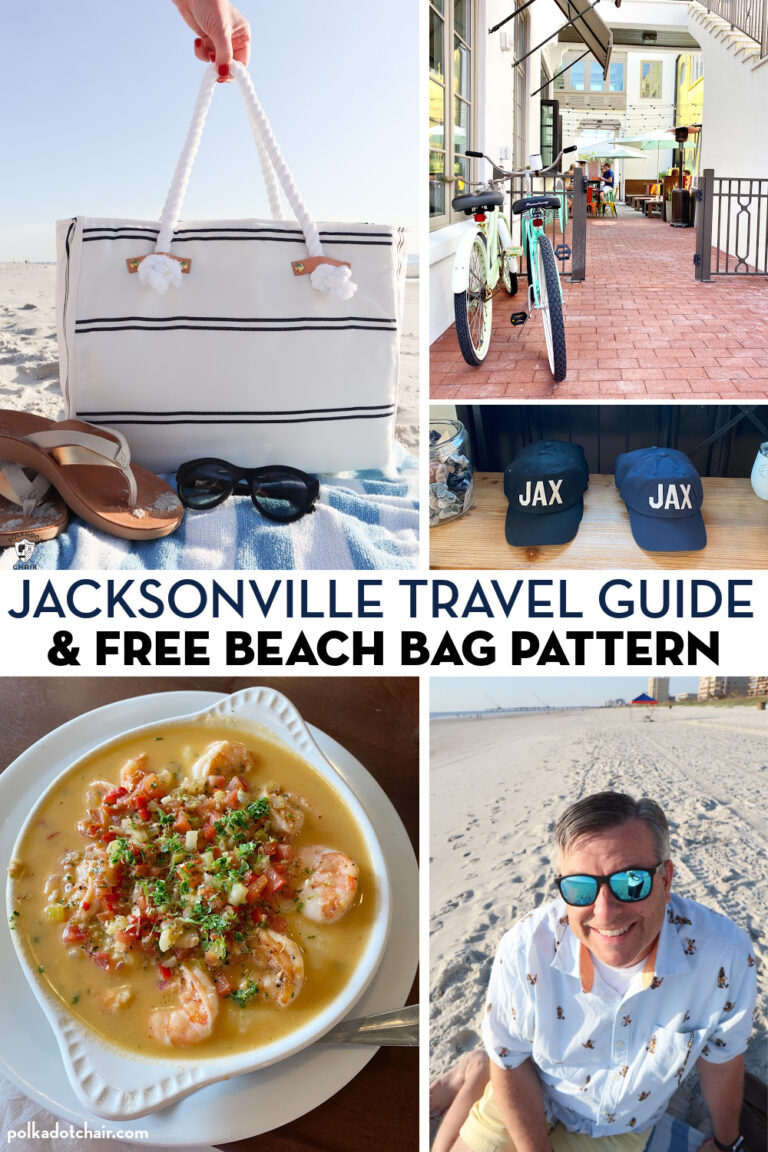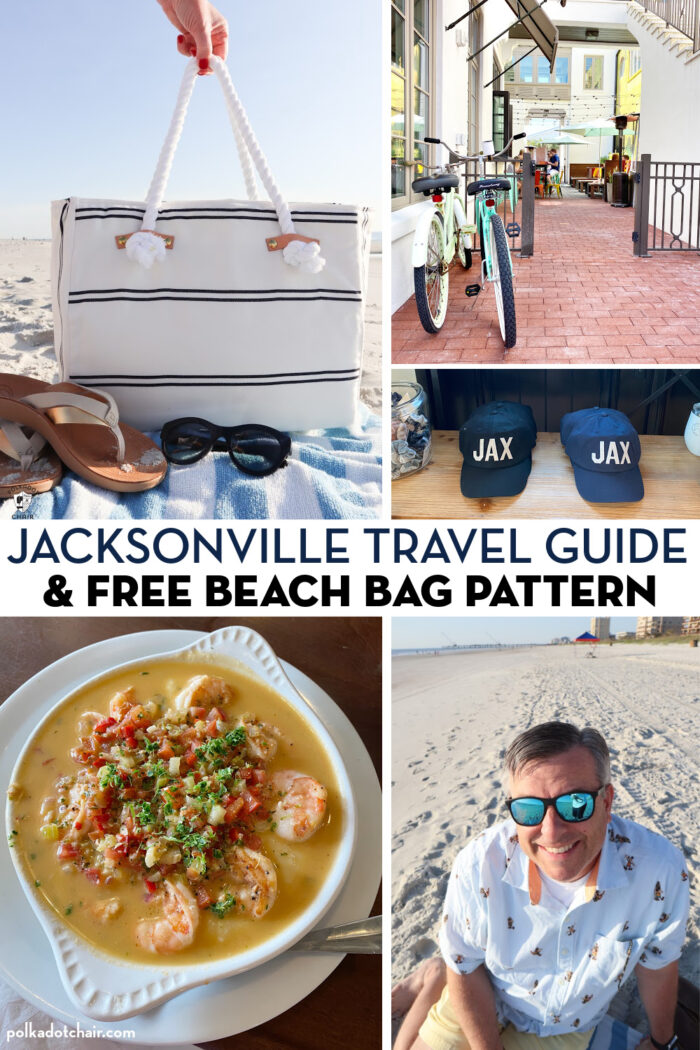 If you've been to Jacksonville before or live there and have recommendations for our readers, be sure to leave them in the comments section so that everyone can benefit from your knowledge.