Hi there! I'm so excited today to share the tutorial for this Large Hexagon Quilt with you. I was able to whip this Halloween Quilt up very quickly using half hexagon quilt pieces, this free Hexagon Quilt Pattern, and a bunch of Halloween fabric fat quarters.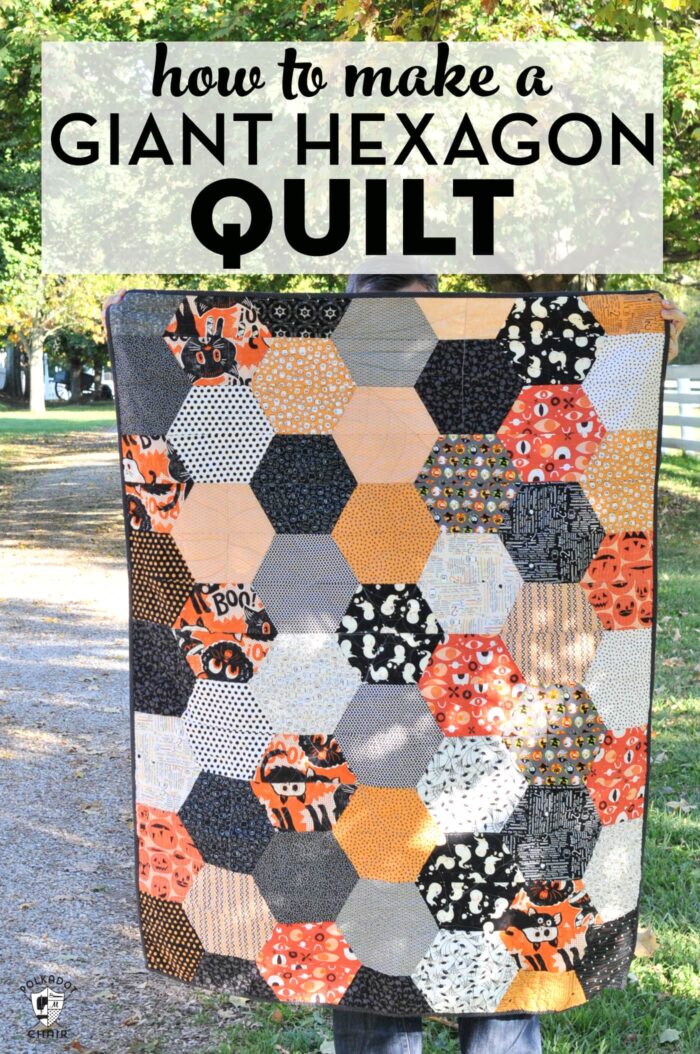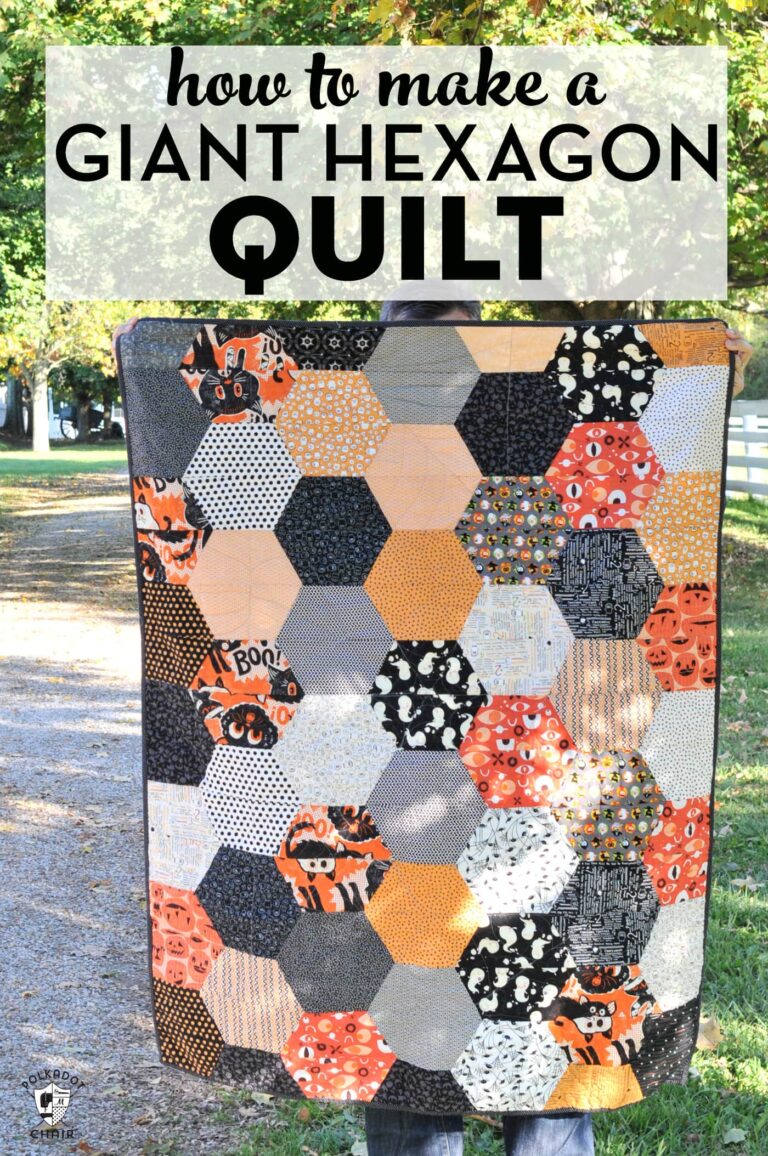 This large hexagon Halloween quilt comprises an extremely random selection from my Halloween fabric stash.
Table of Contents
I decided to stick to blacks, oranges, and whites, trying to vary the scale of the prints for interest. I think that all large-scale prints would have been a bit overwhelming for this quilt size.
However, I think the large hexagon shape lends itself well to both large and novelty prints. It's a great quilt to make if you're looking to use up a lot of fabric scraps.
You could easily use this Large Hexagon Quilt pattern to make a quilt for any season or occasion. It does not have to be a Halloween quilt. This pattern would also make a great baby quilt!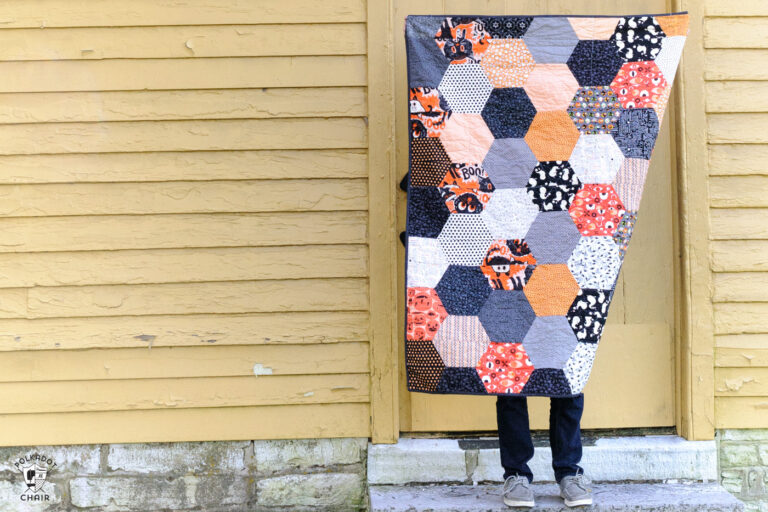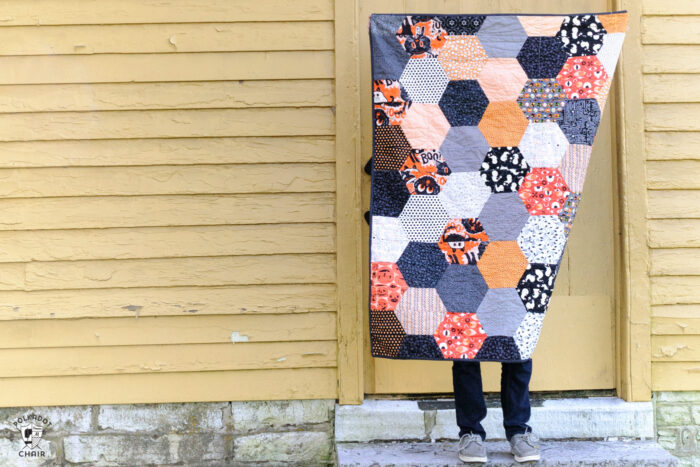 Why This Quilt is Constructed with Half Hexagon Pieces
Usually, when you piece hexagons together for a quilt, you have a difficult to sew "Y" seam. To avoid having to sew Y seams, I used a special half hexagon quilt ruler when I cut out my quilt.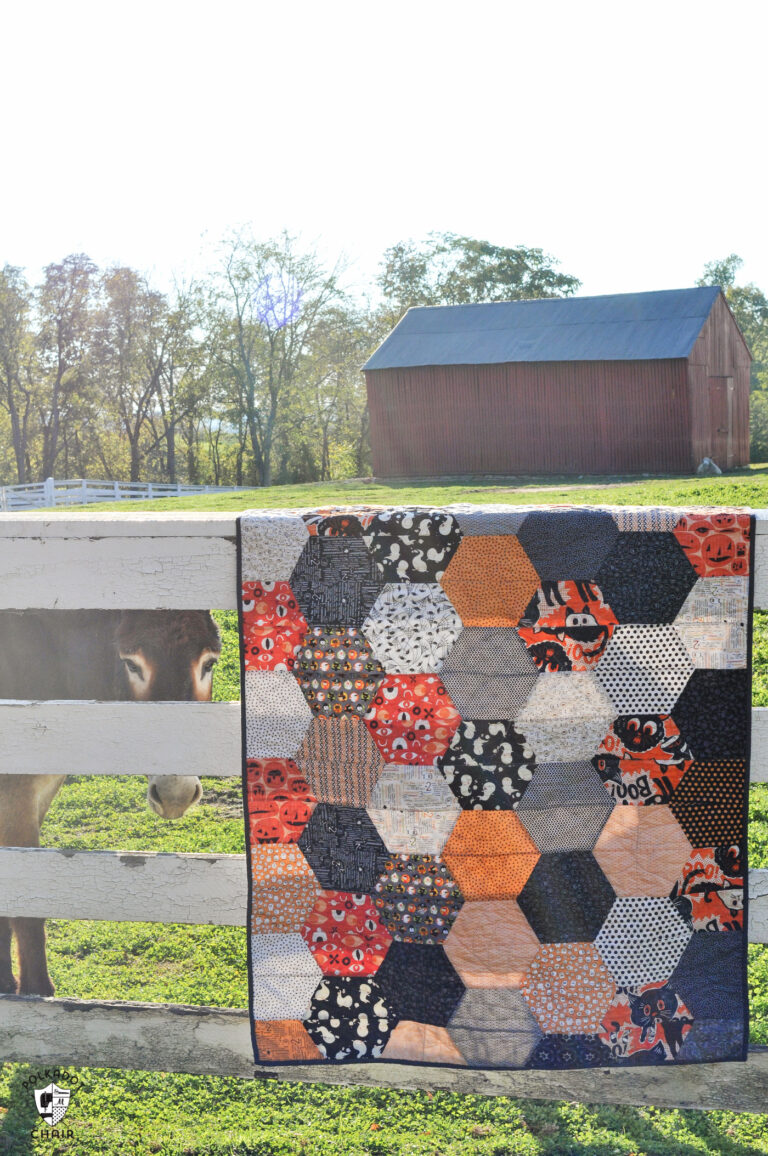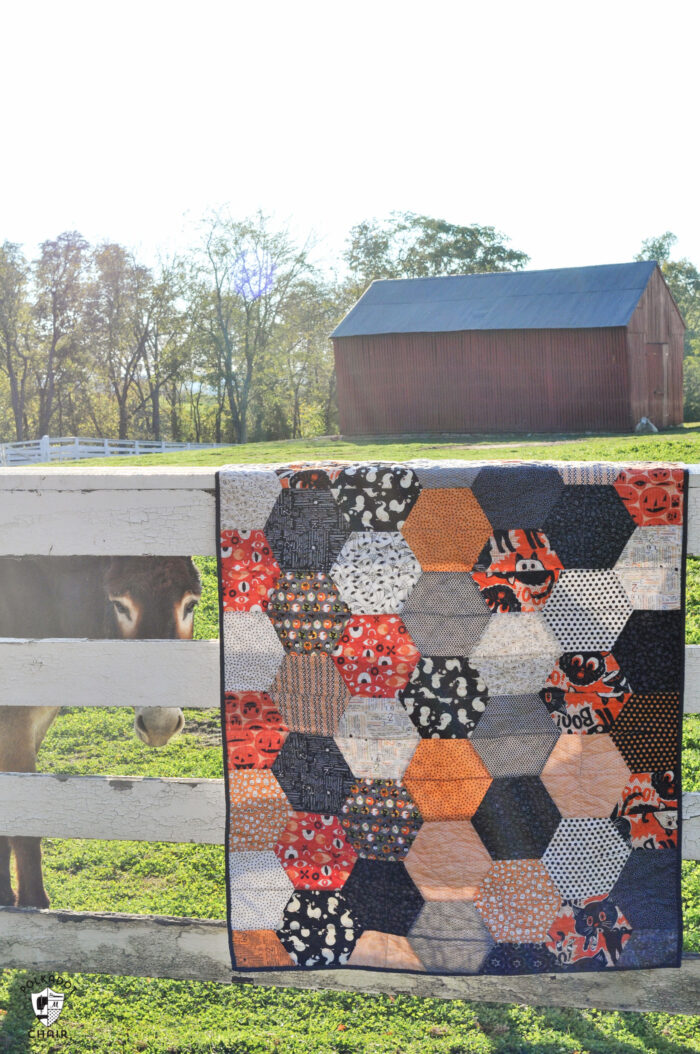 By cutting the hexagon in half you can avoid this by sewing ½ hexagon shapes together in rows, thus avoiding Y seams.
Just know that you have to plan ahead to get the look you want.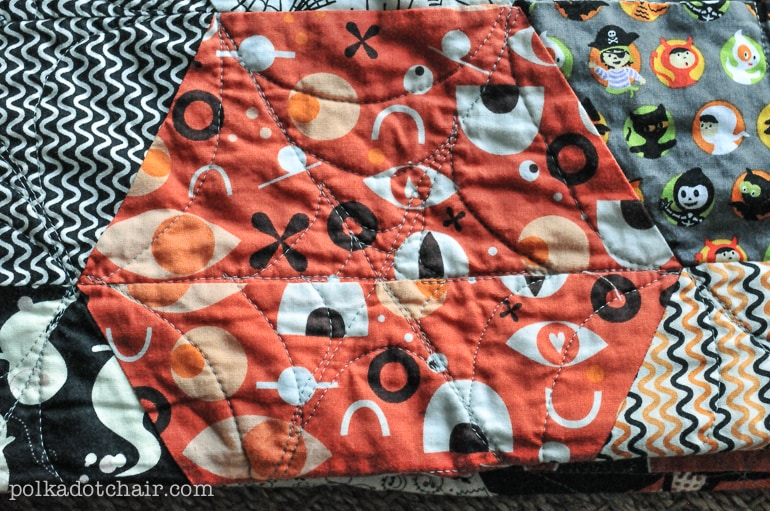 To finish the quilt I decided to free-motion quilt spiderwebs onto the quilt. I couldn't bring myself to quilt a spider web in every hexagon (although that would have been cool), so I chose to quilt 5 large spiderwebs and then fill in a few of the hexagons with their own web.
The photos of the finished quilt were taken at Shaker Village in Kentucky. It is one of my favorite places to visit in Autumn.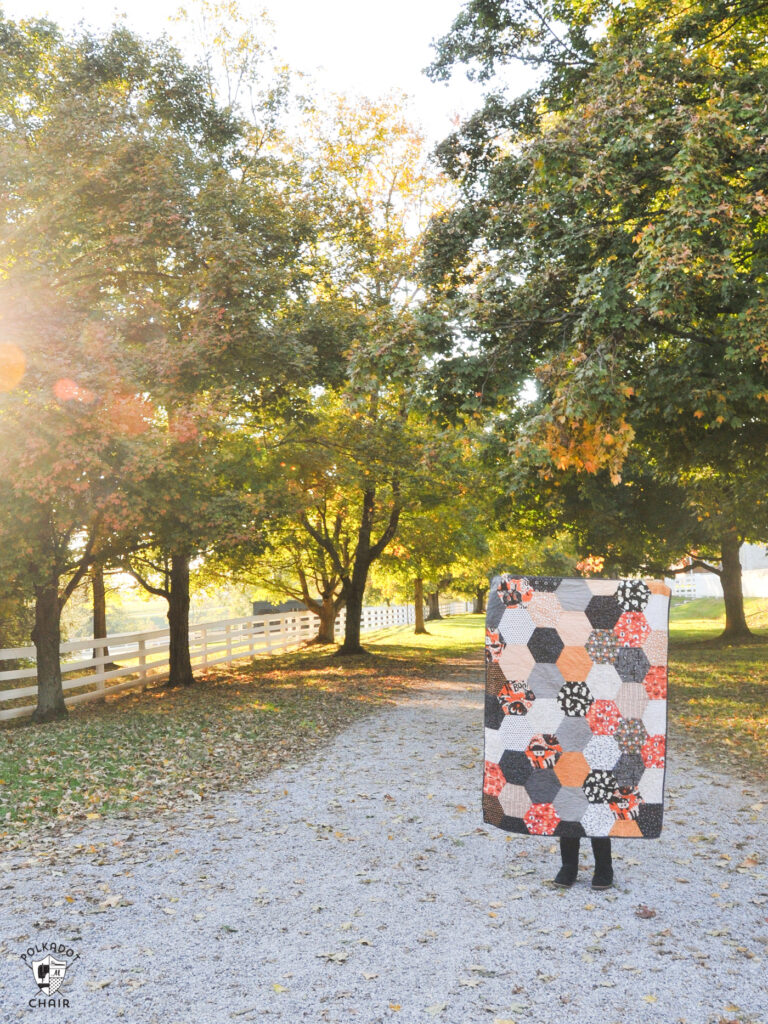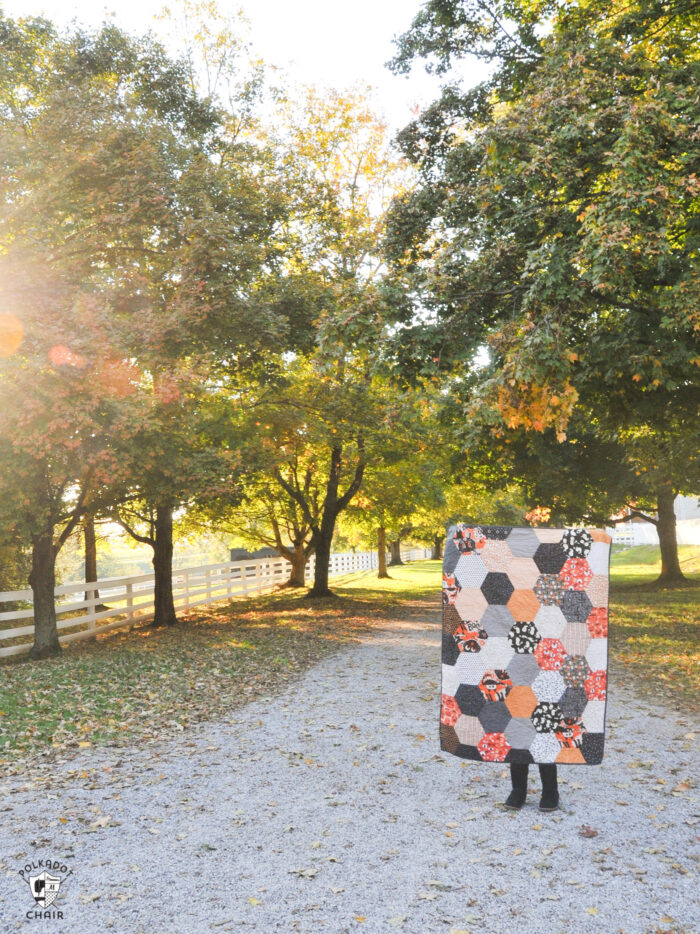 How to Cut out the Half Hexagons
This post is a few years old. I've gone through and updated it extensively. You now have 3 different options to cut out the hexagons for your quilt. I'll briefly discuss each of them.
Option 1: Use a Quilt Ruler
You can use a quilt ruler to cut out the pieces for this quilt. I've linked to one in the instructions. The ruler I used is 9″ wide and sized to fit on a 10″ piece of fabric. This makes this quilt particularly easy to make since you can use a pre-cut stack of fabric.
Option 2: Paper Template
If you choose this option you'll need to get the PDF of the template then print it out and cut it out. You can cut the template from template plastic so that it will hold up better as you complete your quilt. You can find the information to get printable under this post's "How to Get the Hexagon" section.
Option 3: Cricut SVG File
In my opinion, the easiest way to cut out this quilt is with a Cricut Maker and a pre-cut 10″ stack of fabric. Get the SVG file in our Cricut Library. Upload it to Cricut Design space, then insert it into your project twice.
What is a Cricut? A Cricut Machine is an electronic cutting machine. It hooks up to your computer via USB or Bluetooth and cuts images you send to it, much like a printer. It just cuts instead of prints. It can cut vinyl, paper, fabric, and much more. The images are all digital; you can upload your own images or buy images in the Cricut Design space individually. You can read my full review of the Cricut Maker Machine HERE.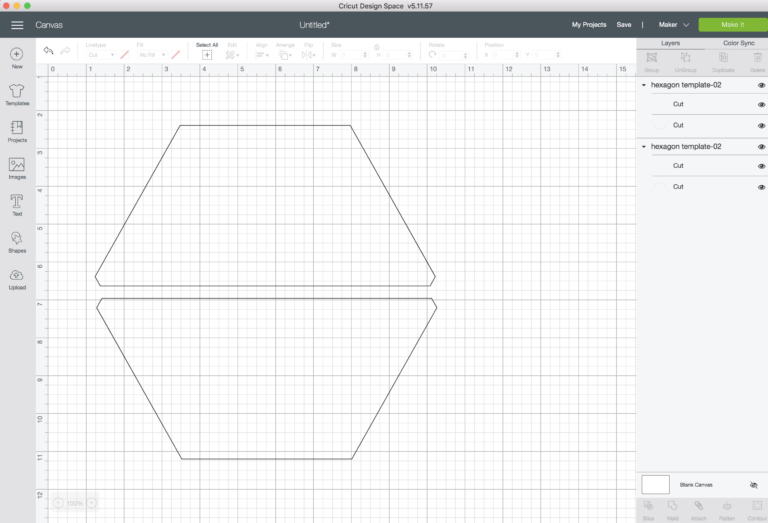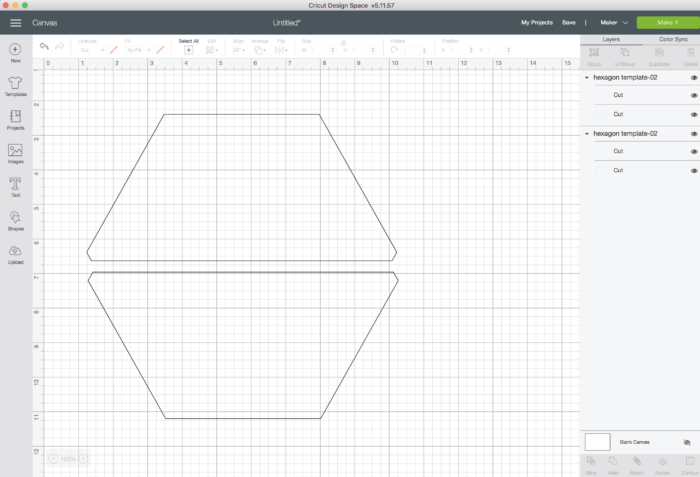 Flip the pieces, so they are on top of each other. One right side up and one upside down. Select both pieces, then ATTACH in Design Space.
When you select "Make it," double-check that the entire cut will fit on the 10″ piece of fabric (you can see a grid on the preview screen), and use your mouse to move the design if necessary.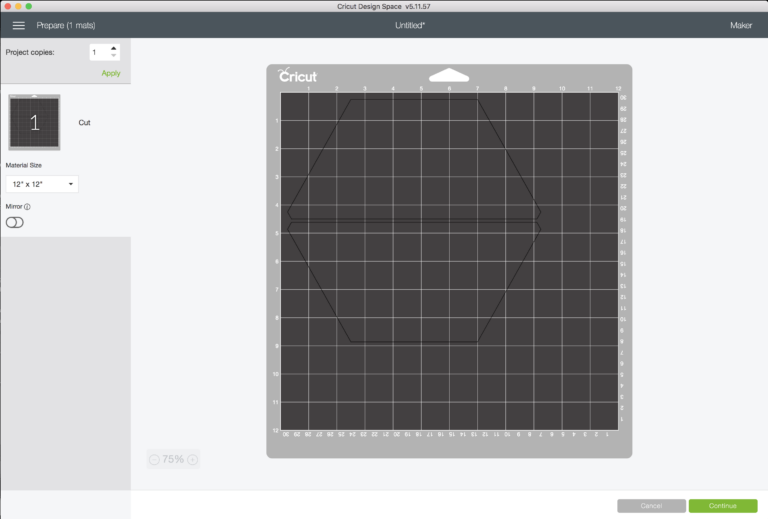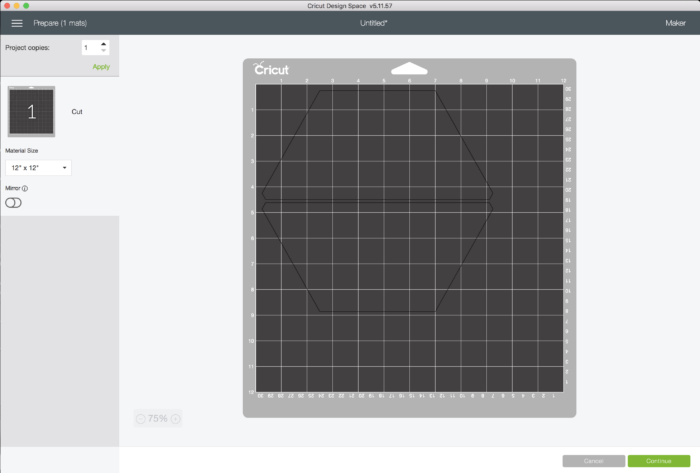 Then select continue and keep cutting until you are done. If you tell the machine to make 53 copies, it will keep prompting you to insert a new mat. It will go very quickly. To see more about cutting fabric with a Cricut Maker, you can check out our detailed tutorial.
How to Get the Hexagon Templates
Fill out this form and we will email you BOTH the Printable Half Hexagon Template and an SVG File that can be used with a Cricut Machine.
Large Hexagon Quilt Pattern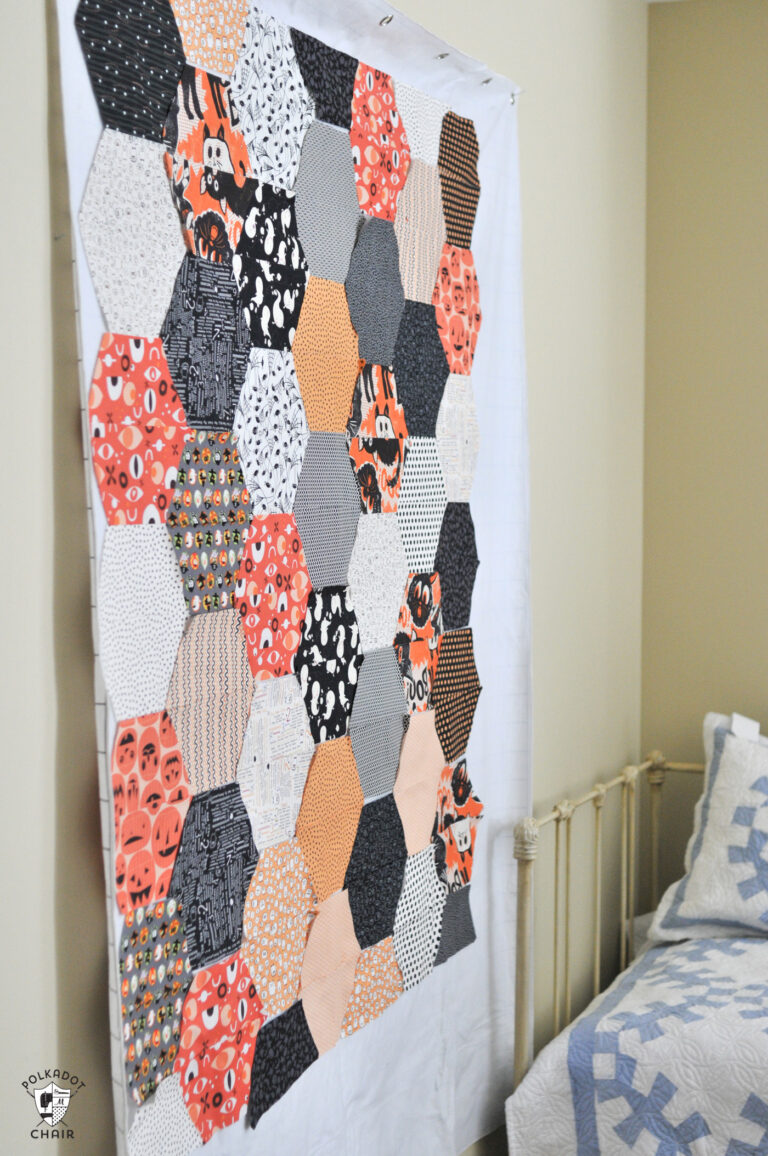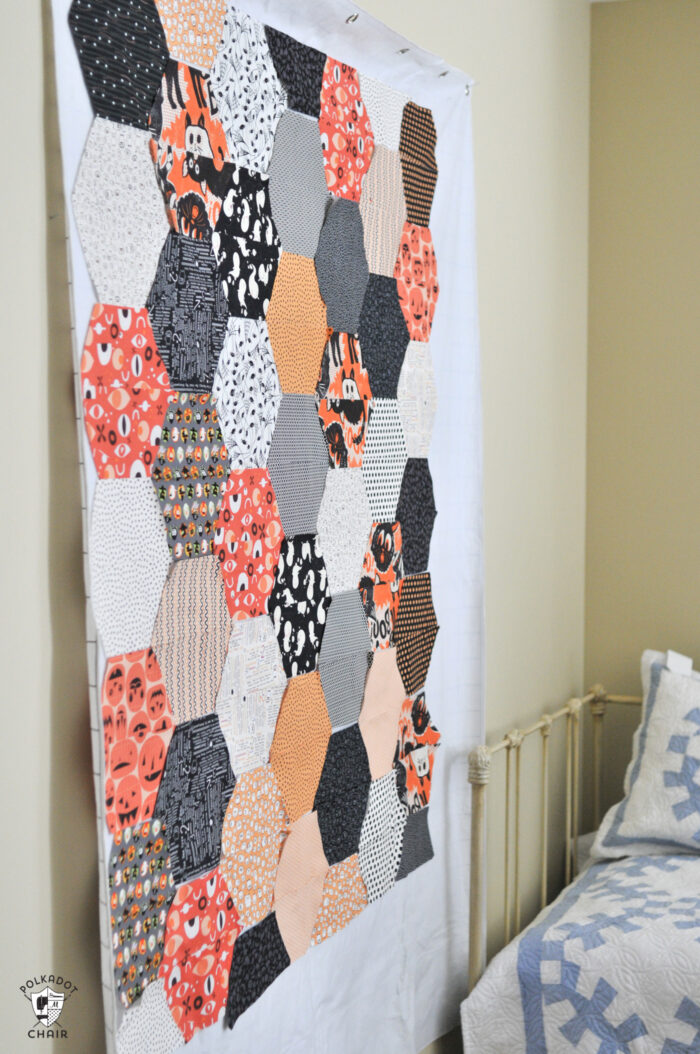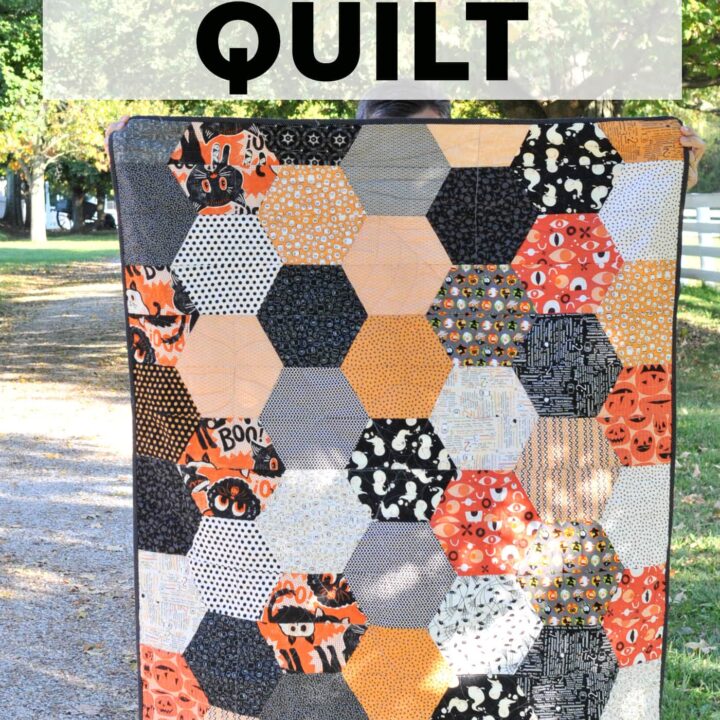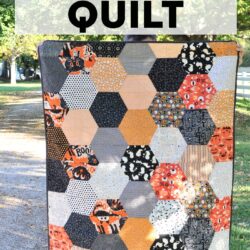 Giant Hexagon Quilt Pattern
Create a giant Hexagon quilt with our free pattern. This pattern uses half hexagon quilt pieces so there are no "Y" seams to piece.
Quilt Size: The quilt is approx 40″ wide by 56″ tall.
supplies
Half Hexagon Template; Choose 1 Option
Half Hexie ruler that is 9" Wide OR

You can also use the paper template linked below on our site.

Paper Template for Half Hexie Ruler

Obtain for free using the form on this page.

Half Hexagon SVG File for Cricut Maker Machines

Obtain for free using the form on this page. Make sure template is 9" tall when imported into Cricut Design Space.
Fabric
Option 1: Buy a 10″ stacker of fabric. You can cut 1 completed hexagon from each 10″ piece of fabric.

You will need 53 10″ pieces for this quilt as shown. Most pre-cut stacks come with 42 pieces, you will need a few additional pieces of fabric to complete the quilt.

Option 2: Various Fabric Prints- enough to cut 53 10" squares.

You could, in theory, get 2 full hexagons from one fat quarter. Which means you need a MINIMUM of 27 Fat Quarters.

3

Yards

Fabric for backing

Batting

I prefer 100% cotton.

½

Yard

Binding Fabric

Assumes binding cut to 2 ½" wide.
Instructions
Cutting:
Cut 106 half hexagons from your prints in groups of 2. Which works out to be 53 sets. (remember that the hexagon is cut in half and you will sew it back together).

A note about fabric direction:

I chose not to try to match the direction of the prints on my half hexagons. As I was cutting out my fabrics I didn't try to match the "repeat". You can spend a bit of extra time when cutting if you wish to match the pattern of the fabric on the pieces. Just be sure to account for the ¼" seam allowance.

Remember as you sew the pieces together that one half-hexagon is right side up and one is upside down, so flip your template when you cut the second piece so all of the fabric is facing the same direction when sewn.

You can cut the way you think is easiest. If you want to first cut 53 10" squares then cut your hexagons from that you can.

If you are not concerned about fabric direction, you can fold the 10" piece of fabric in half and cut out both pieces at the same time. This is what I did.

TIP: A spinning cutting mat and it made quick work of cutting out the shapes.
Layout the Cut Pieces:
You'll need to pre-plan your layout before you start sewing. Layout your half hexagons so that you have 7 half hexagons across by 15 half hexagons down.

Make sure that your prints match up to create the full hexagon when sewn together. I used a design wall for this (linked above). If you don't have a design wall, just layout the pieces on the floor.
Sew the Half Hexagons Together:
Start sewing the ½ hexagon shapes together by row, along the short edges. Making sure to keep them in the exact same order as when you laid them out.

Use a ¼" seam allowance. I always label my rows with a water-soluble pen, so I know what order they go back together.

Now press the seams to one side. Press the seams on the odd # rows to the right and the seams on the even # rows to the left.
Finishing:
Use a quilt ruler to cut the extra parts of the hexagons off the edges so that you have a clean edge when you are done.
Notes
My quilt is scrappy. I used a bunch of leftover Halloween fabrics to complete it. I've included options if you want to buy yardage for this quilt.
Quilt Size: The quilt is about" 40″ wide by 60″ tall. Since it is made from Hexagons the math is a bit harder to calculate on a finished size than a quilt made from rectangles. If you want the quilt larger, you can use the Hexagon Calculator found here.  Again, hexagon quilt math is a bit complicated. If you use the calculator the hexagon diameter used in this tutorial is 9″. 
PRINT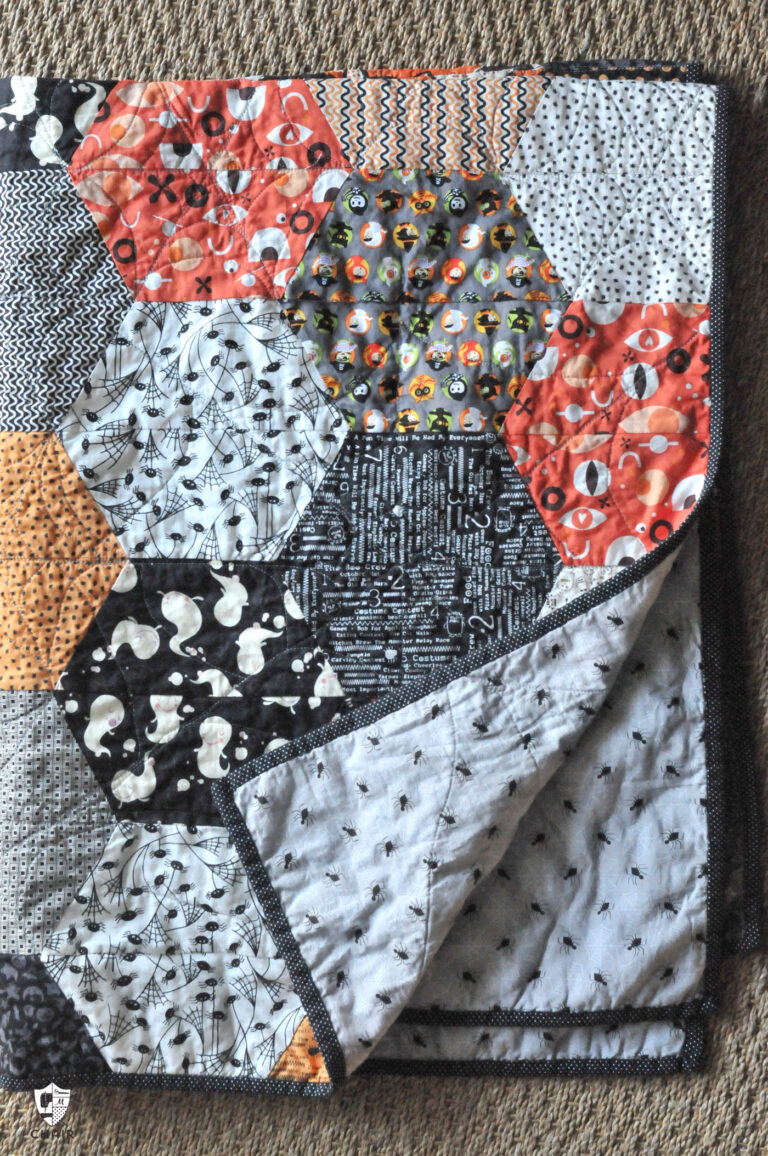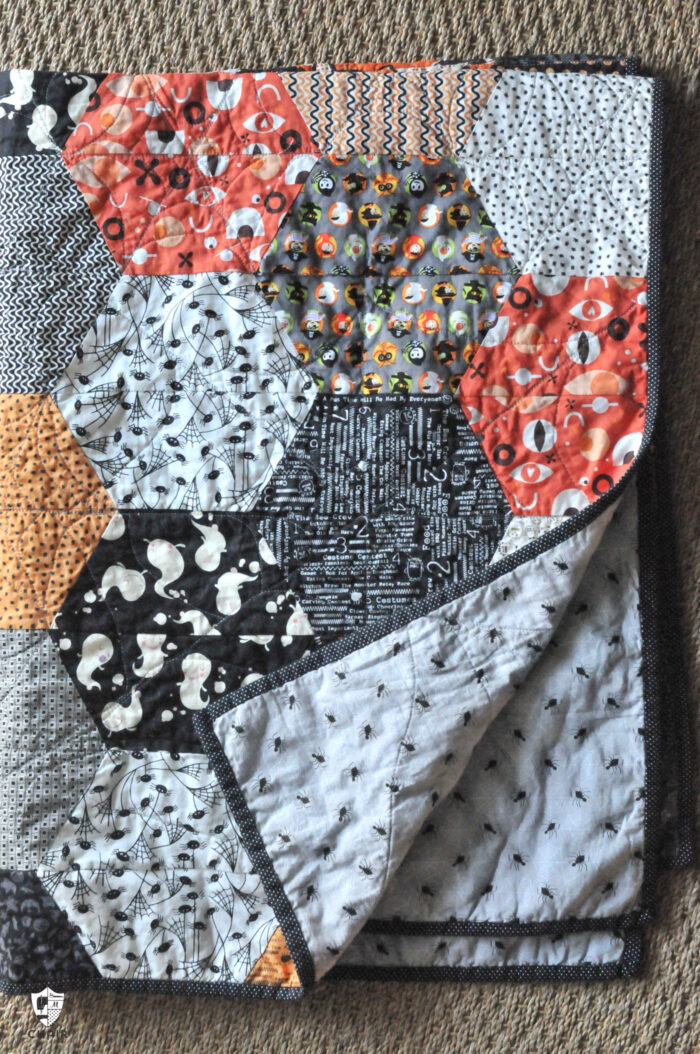 You May Also Like:
A Tour of Shaker Village in Kentucky
Halloween Haberdashery Witches Hat Quilt Pattern
Free Mini Quilt Pattern; Dresden Plate Mini Quilt
Tic Tac Cat; Witch Hat & Cat Halloween Quilt Pattern