A few weeks ago I attended QuiltCon in Savannah, Georgia and taught a mini class on how to make "no math" Polaroid quilt blocks. Today I'm going to share with you what I taught in my demonstration, and give you a few ideas of things to make with Polaroid quilt blocks.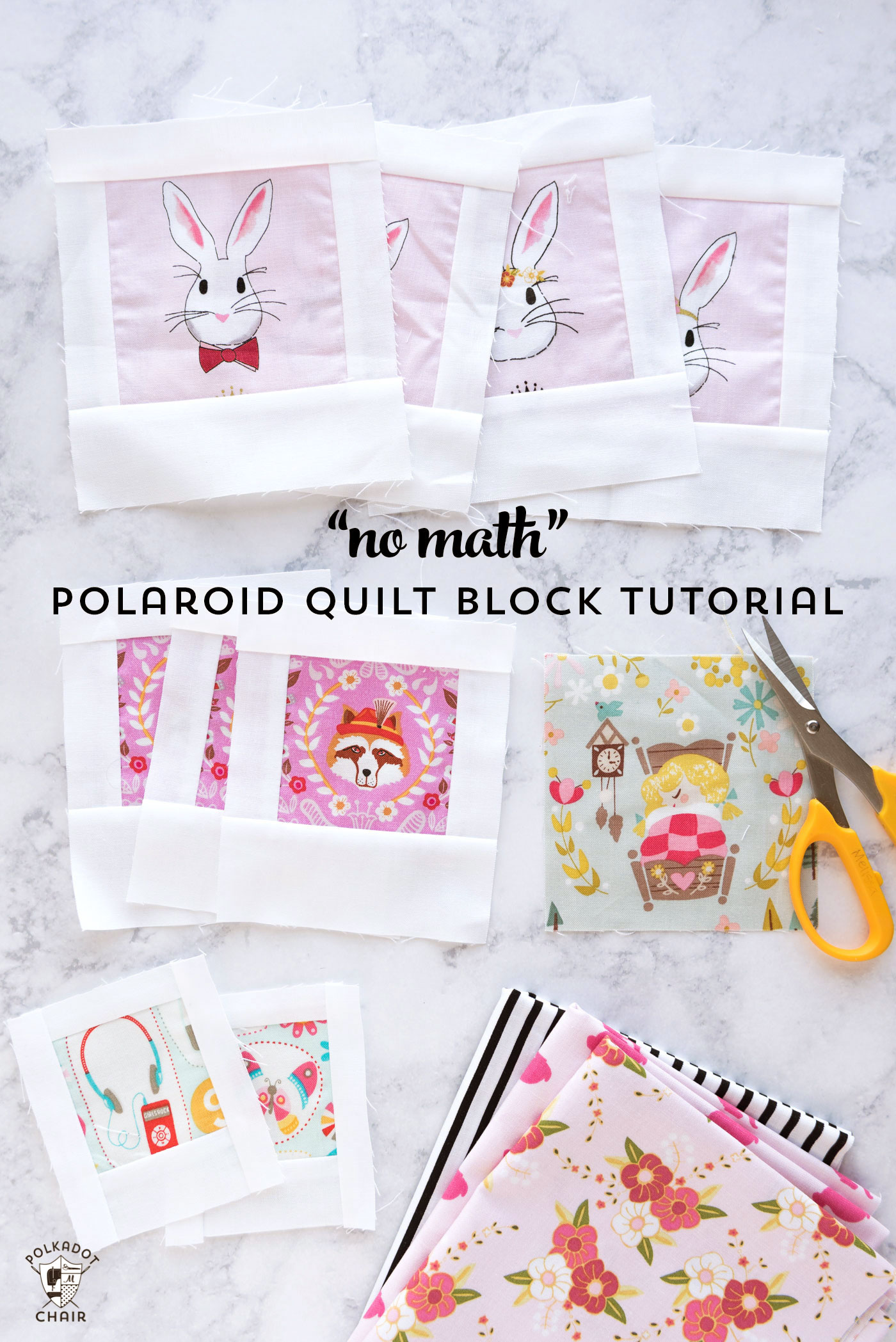 As I mentioned above, in late February I attended the Quilt Con convention in Savannah, Georgia. Quilt Con is a quilt convention that is open to the public and designed to appeal to those interested in modern quilting.  For the past 5 years I've been wondering if I could be considered a 'modern quilter', and to be honest I'm still not sure if I am but I am not in big hurry to figure it out.
I was planning to attend Quilt Con as soon as it was announced, especially since it was a quilting event on my side of the country! It seems like most things are on the west coast, and I was thrilled to see that they were holding an event in the southeast part of the country. Savannah is not exactly in my backyard, but I have been there several times, and it's less than a days drive or a short plane ride away.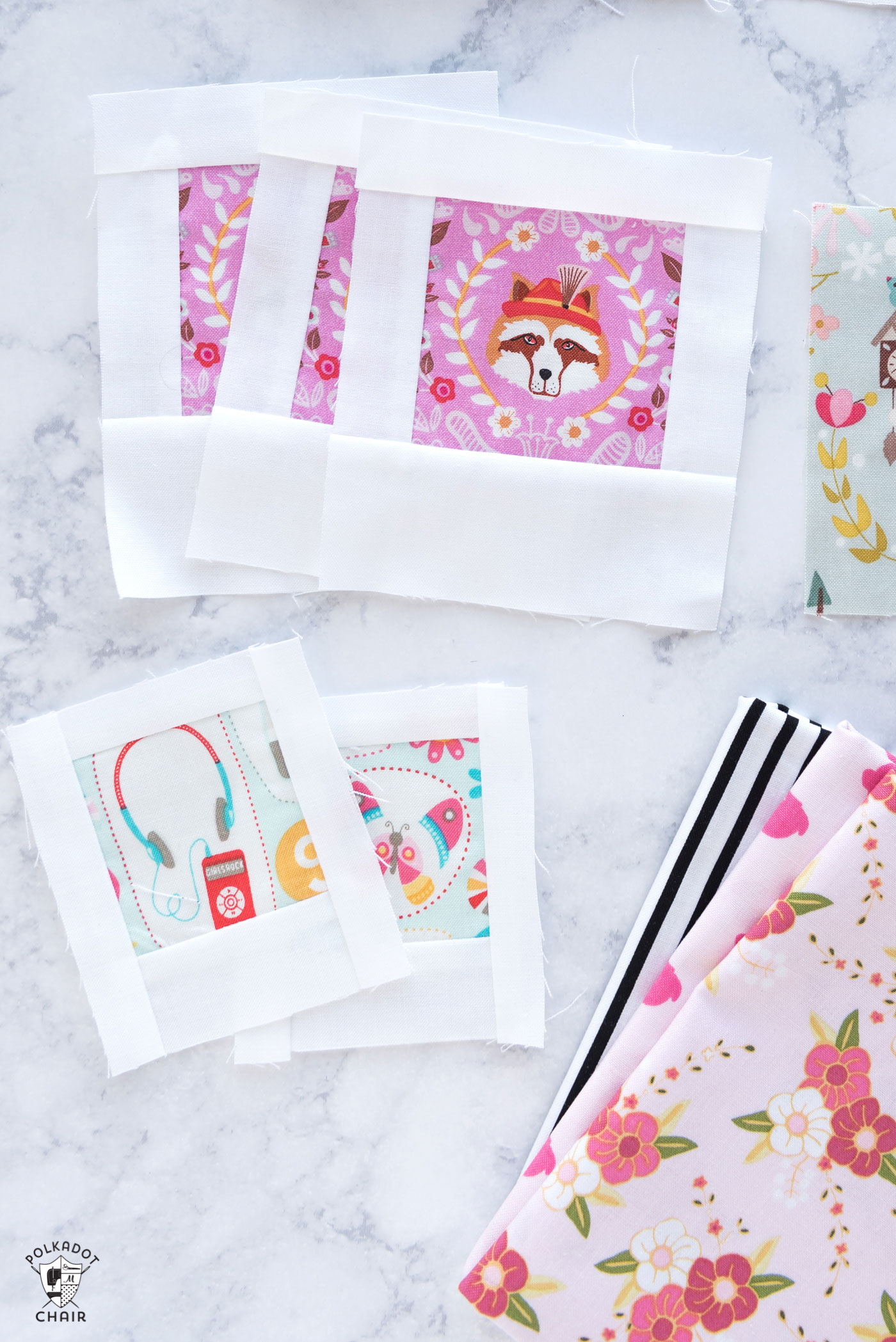 registration for Quilt Con came and went with me not registered for any classes. I messed up my registration and got the dates confused to renew my Modern Quilt Guild membership, so I wasn't able to register until it was open to the public. By then almost all of the classes were full.  I still had a hotel booked, and figured I'd wait to see what to do later.  An opportunity presented itself with Riley Blake to present a demo at the convention.  I figured that was just the excuse I needed to buy a plane ticket and fly down there.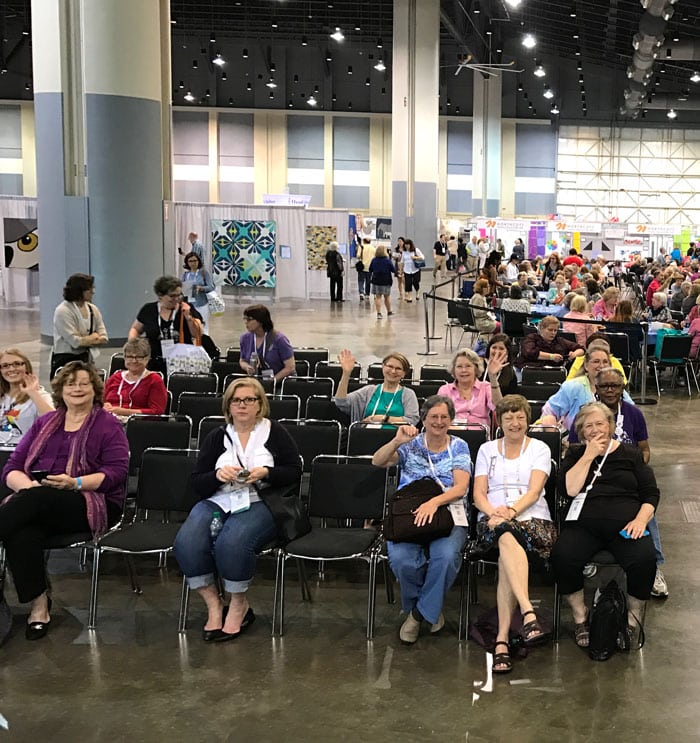 Honestly, I should devote an entire blog post to Quilt Con. I just don't seem to be very good lately and getting things written down in a timely manner, so I'll just sum up.
– Everyone was SO NICE, the environment was very welcoming.
-The vendors had a good mix of modern and traditional quilting items for sale, including apparel and bag patterns.
-I wish I had been able to take a class, they all looked fabulous.
-Many of the vendors had free make and takes for attendees.
My daughter is an art history major who is currently taking a contemporary art class. I texted her photos of several of the quilts since they were so good, and in my opinion belonged in an art gallery.  She was pretty excited about it all and told me they had studied modern quilting in contemporary art. I think I might tote her along with me if I go again. She's not a quilter but LOVES art and think would really enjoy viewing the show that goes along with the convention.
To see many of the quilts featured at Quilt Con you can CLICK HERE to see Caroline of Sew Can She's report, we hung out a lot and she did a much better job at taking photos than I did!
Okay, now on to the quilt blocks…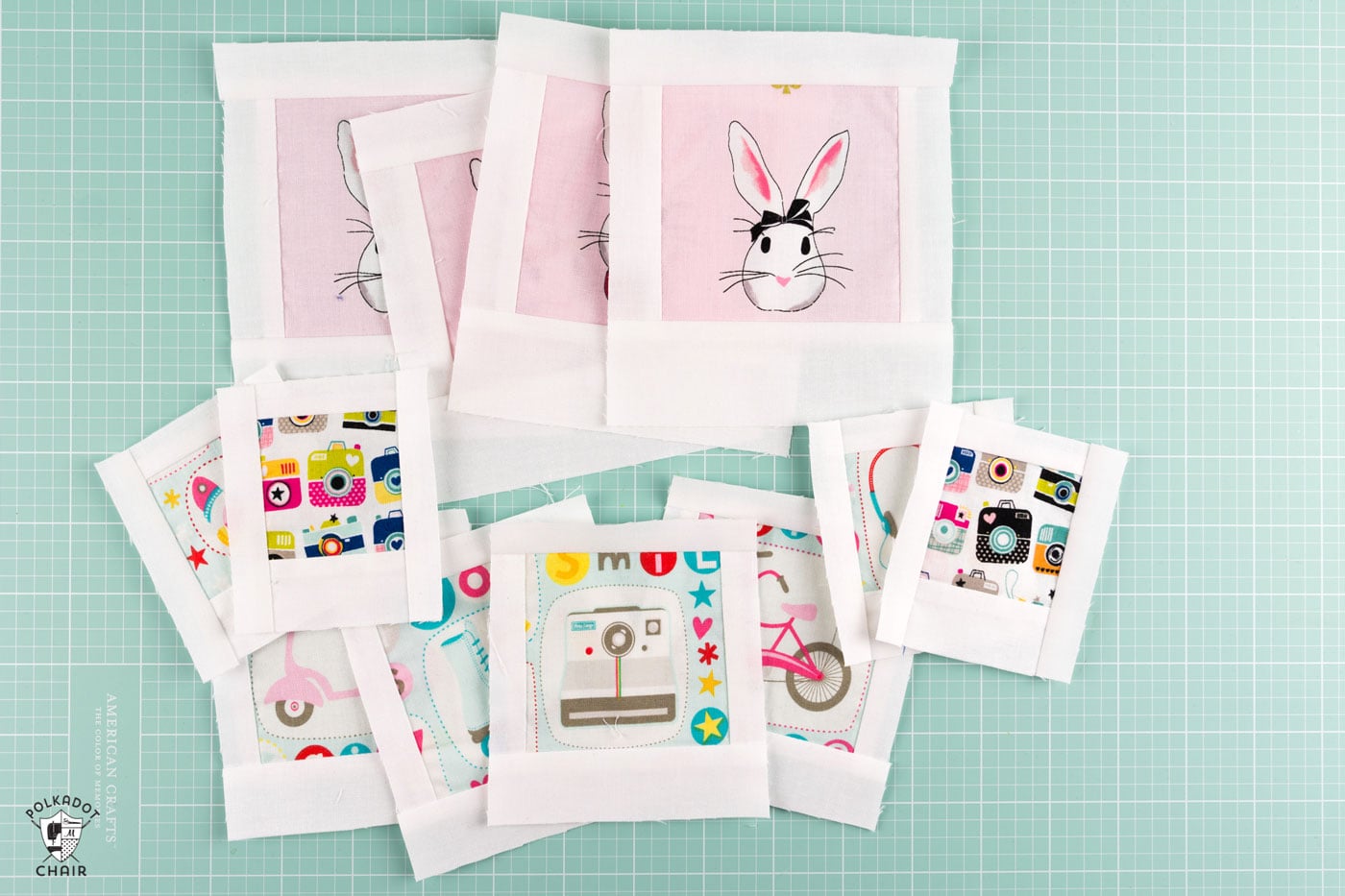 This tutorial will teach you how to make a Polaroid quilt block in ANY size without doing any math ahead of time! Don't get me wrong, I LOVE math, but if I can save myself some time I'm all for it.
If you want your blocks to be a certain size when they are finished, then you will need to do some math a head of time. However if you're willing to take a more improvisational approach to your project the only thing you need to know is:
1- How large the square is in the center of the block
2- How large you want your borders to be
Polaroid quilt blocks are called that because they look like old-time Polaroid photos. They most often have a center piece of fabric that has been fussy cut, and are surrounded by a white border that is larger on the bottom than on the sides.  I didn't invent them. This tutorial is just meant to teach you the way that I like to make them.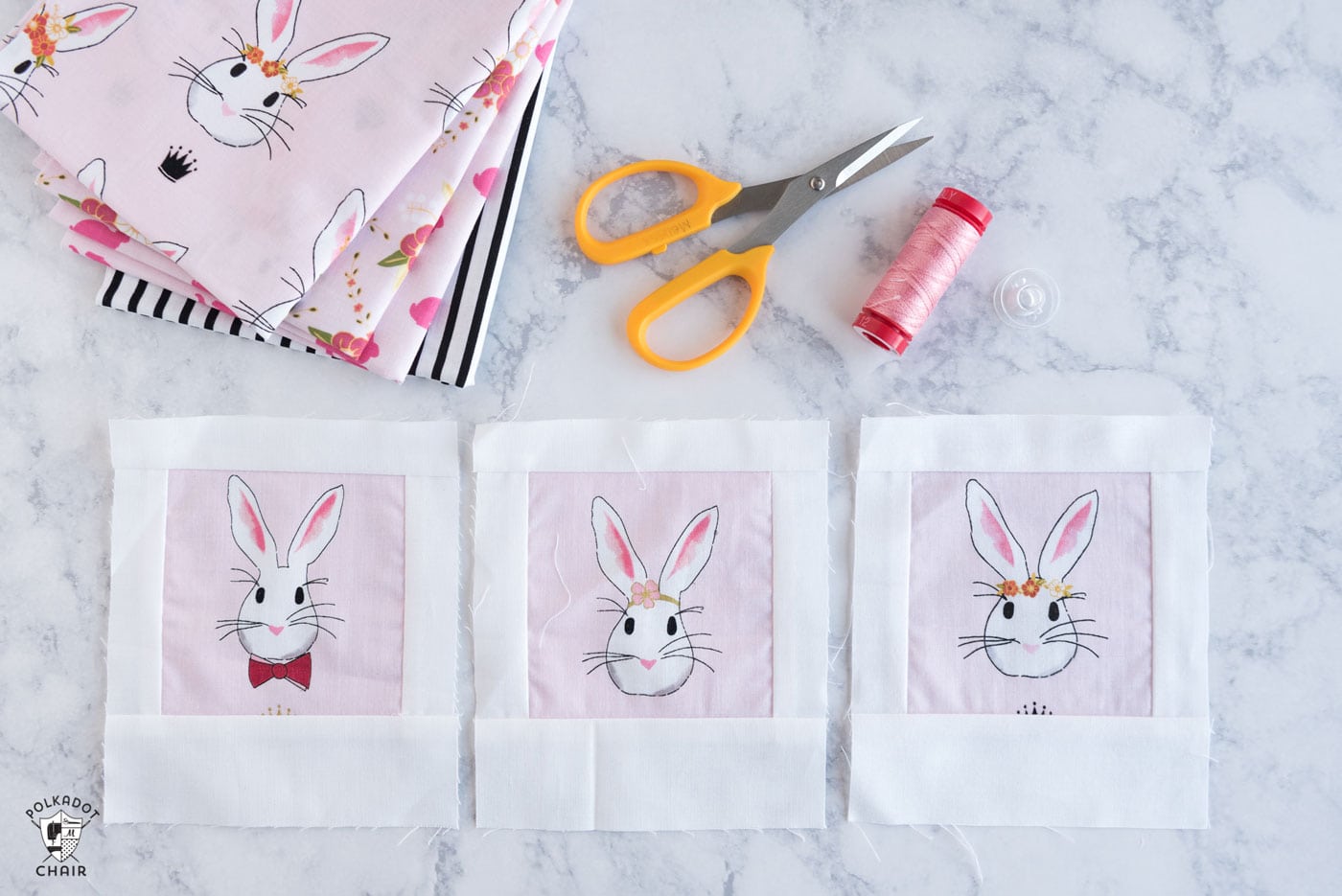 Okay are you ready to start?
To make this tutorial load faster on your screen, the tutorial has been moved to a 2nd page. Just click here for the tutorial.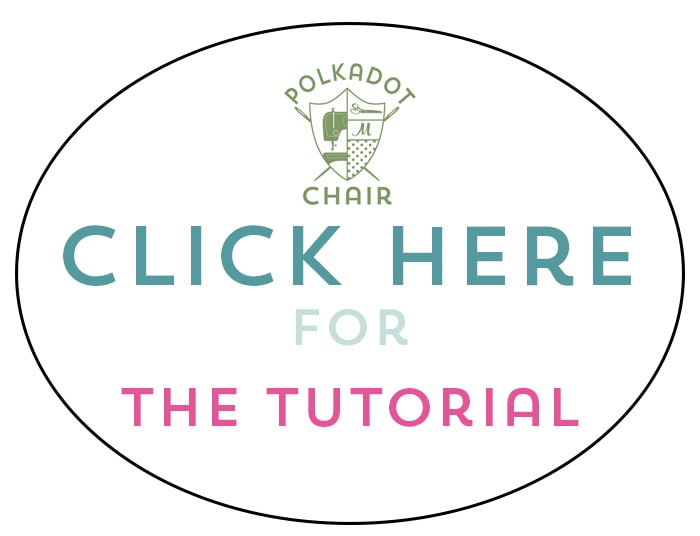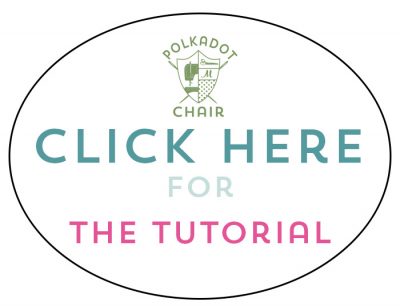 Print Friendly
74