A few weeks ago I attended QuiltCon in Savannah, Georgia and taught a mini class on how to make Polaroid quilt blocks. Today I'm going to share with you what I taught in my demonstration, and give you a few ideas of things to make with Polaroid quilt blocks.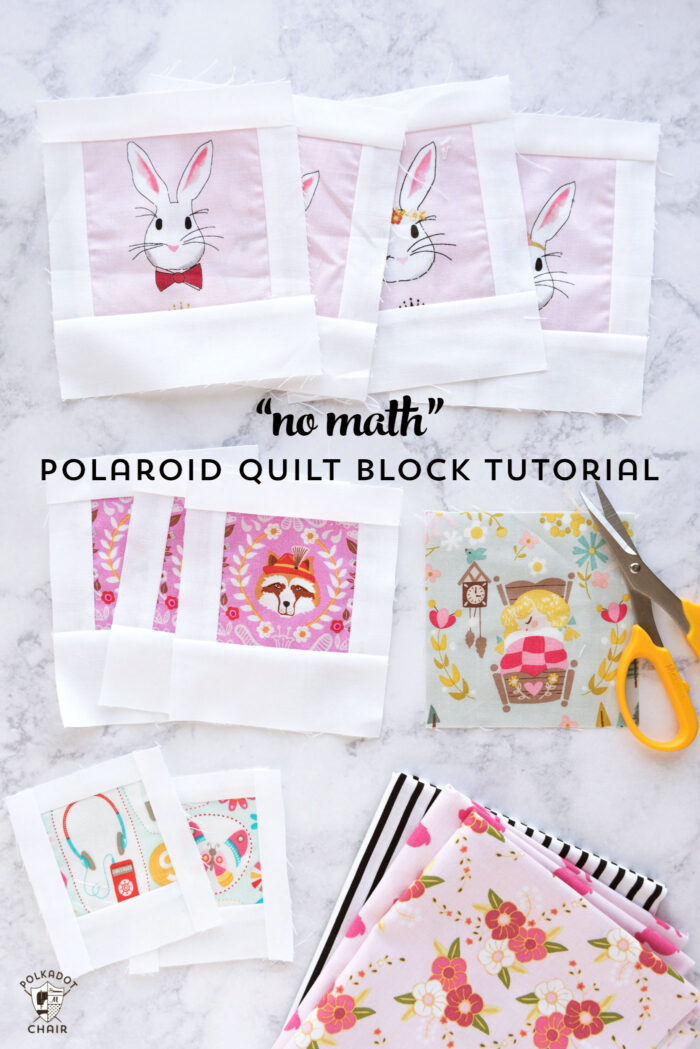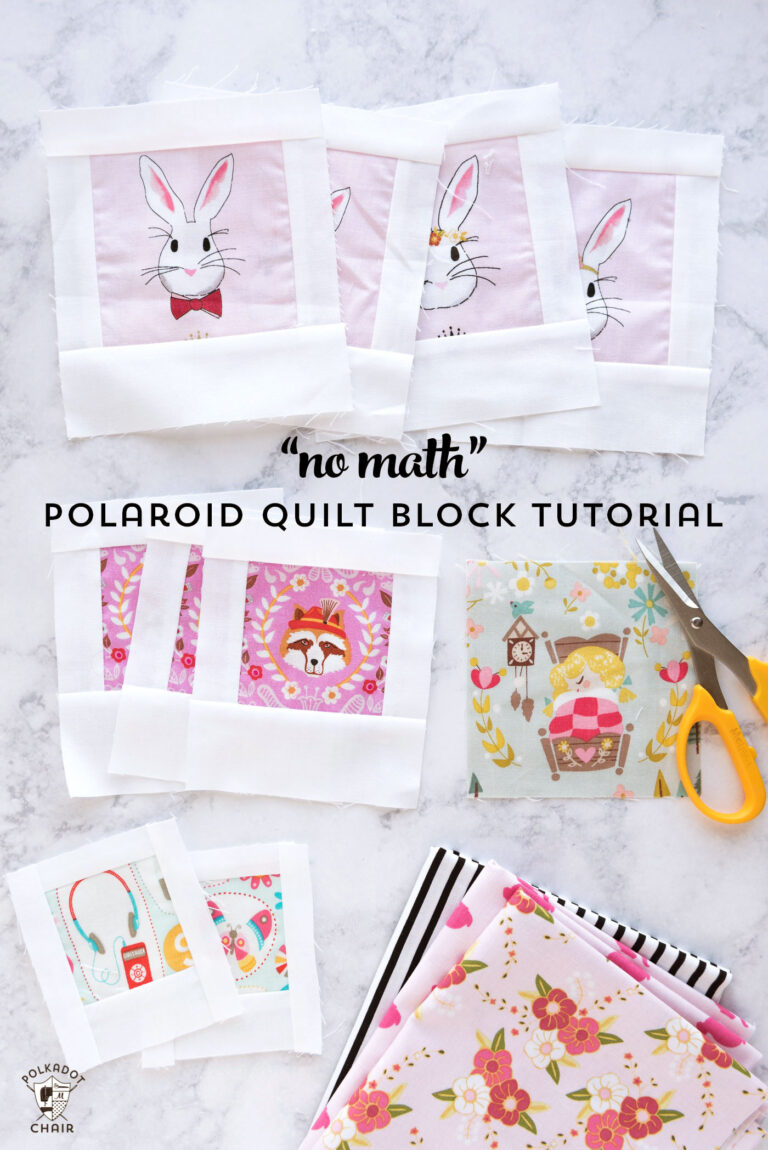 About QuiltCon in Savannah:
As I mentioned above, in late February I attended the Quilt Con convention in Savannah, Georgia. QuiltCon is a quilt convention that is open to the public and designed to appeal to those interested in modern quilting. For the past 5 years I've been wondering if I could be considered a 'modern quilter'. To be honest I'm still not sure if I am but I am not in a big hurry to figure it out.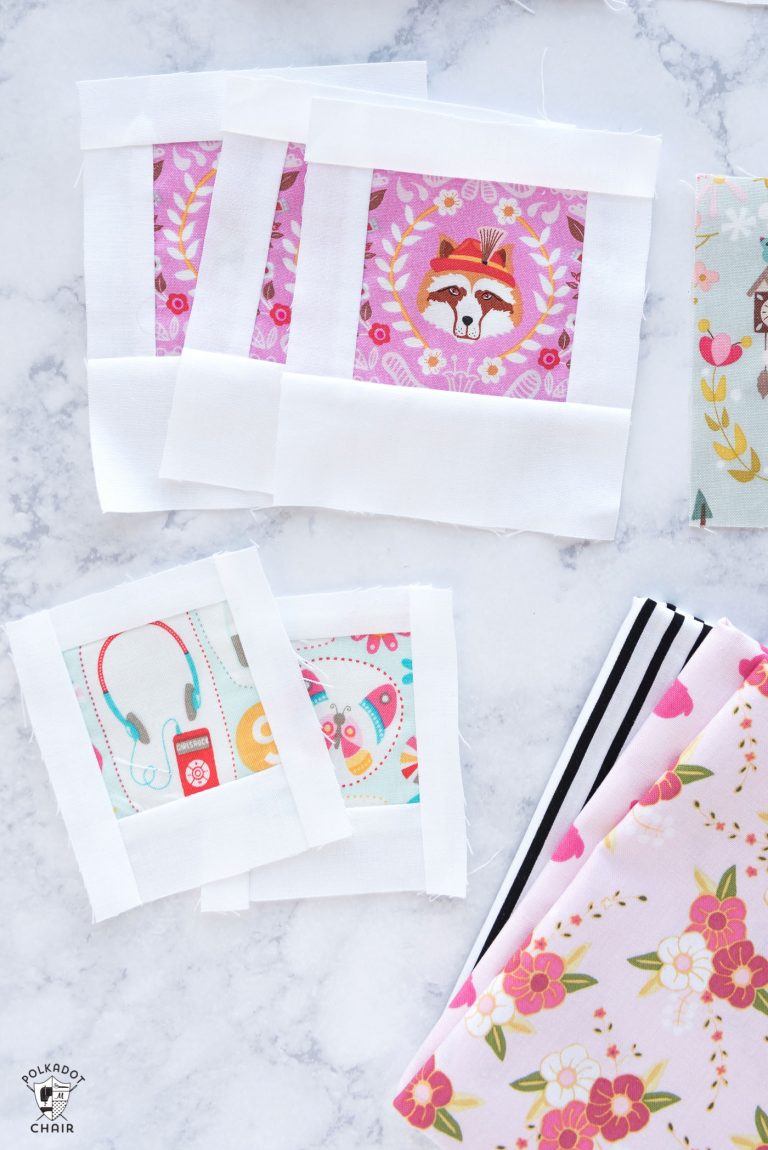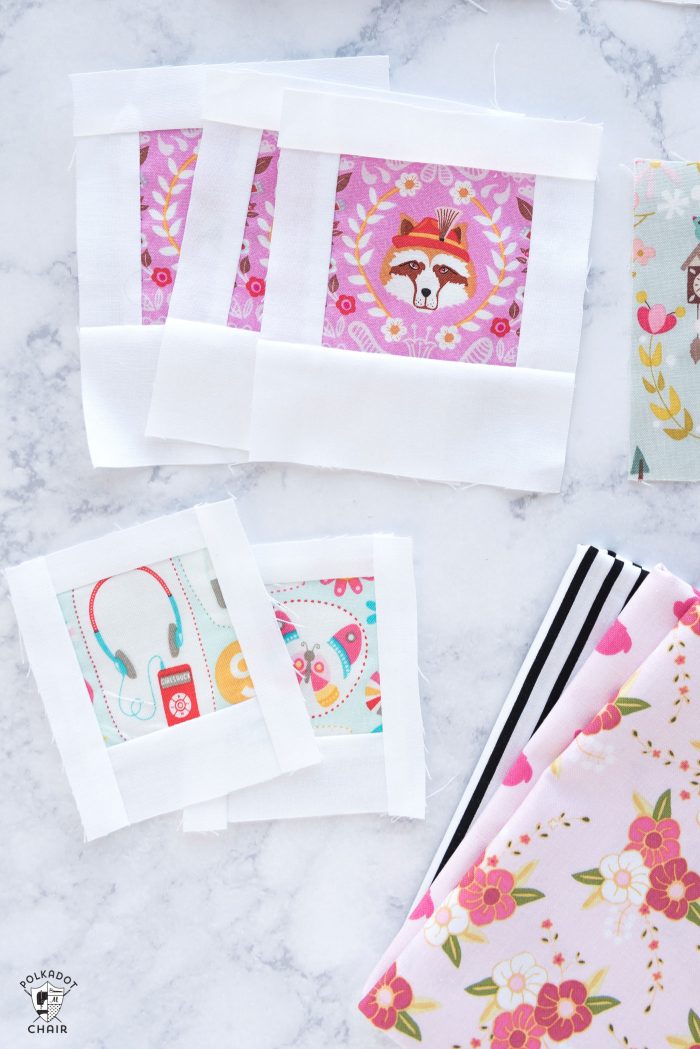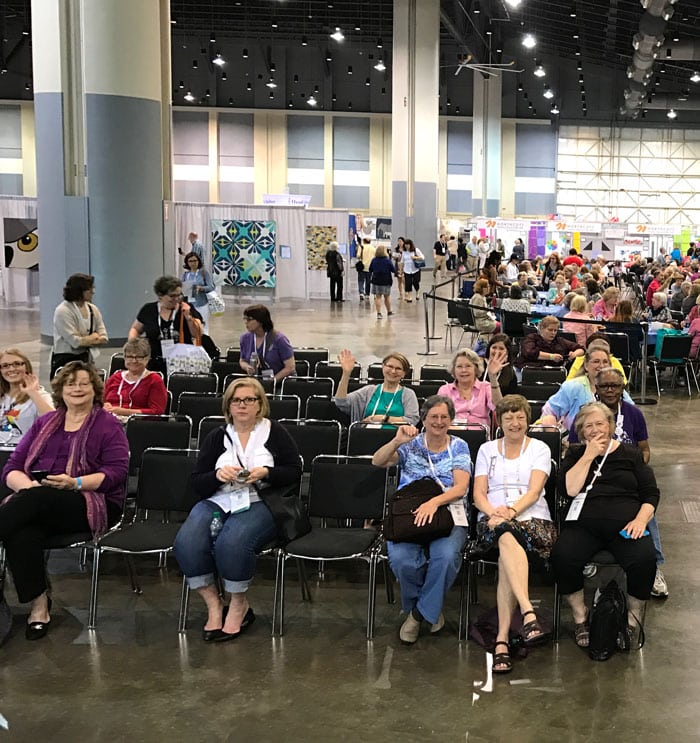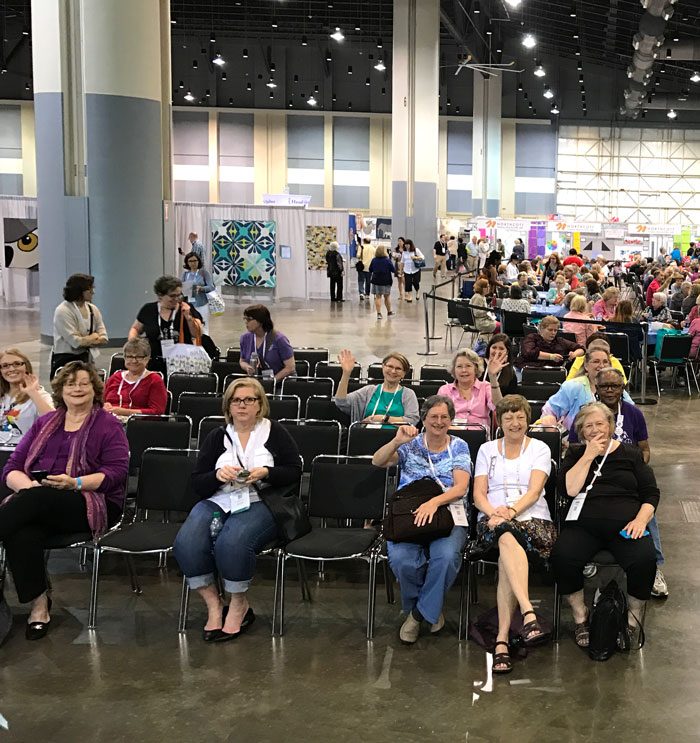 Honestly, I should devote an entire blog post to Quilt Con. I just don't seem to be very good lately and getting things written down in a timely manner, so I'll just sum up.
– Everyone was SO NICE, the environment was very welcoming.
-The vendors had a good mix of modern and traditional quilting items for sale, including apparel and bag patterns.
-I wish I had been able to take a class, they all looked fabulous.
-Many of the vendors had free make and takes for attendees.
My daughter is an art history major who is currently taking a contemporary art class. I texted her photos of several of the quilts since they were so good, and in my opinion, belonged in an art gallery. She was pretty excited about it all and told me they had studied modern quilting in contemporary art. I think I might tote her along with me if I go again. She's not a quilter but LOVES art and think would really enjoy viewing the show that goes along with the convention.
To see many of the quilts featured at Quilt Con you can CLICK HERE to see Caroline of Sew Can She report. We hung out a lot and she did a much better job at taking photos than I did!
About Polaroid Quilt Blocks: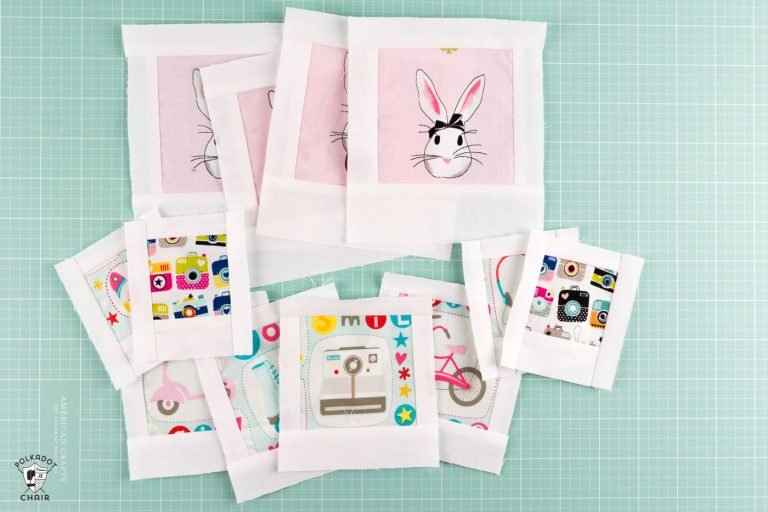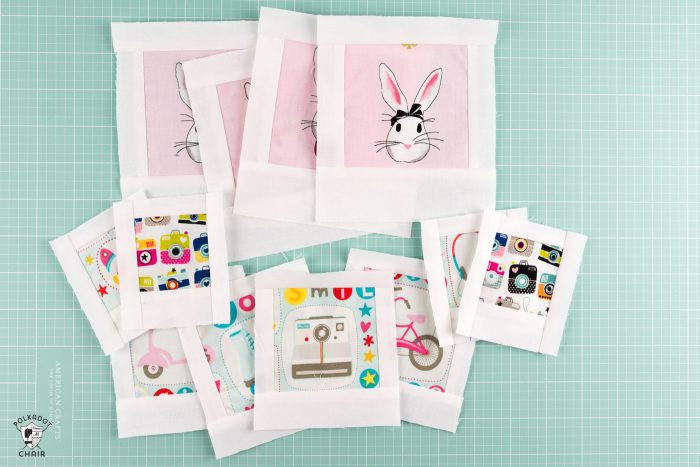 Polaroid quilt blocks are called that because they look like old-time Polaroid photos. They most often have a center piece of fabric that has been fussy cut, and are surrounded by a white border that is larger on the bottom than on the sides. I didn't invent them. This tutorial is just meant to teach you the way that I like to make them.
This tutorial will teach you how to make a Polaroid quilt block in ANY size without doing any math ahead of time! Don't get me wrong, I LOVE math, but if I can save myself some time I'm all for it.
If you want your blocks to be a certain size when they are finished, then you will need to do some math a head of time.
However if you're willing to take a more improvisational approach to your project the only things you need to know are:
1- How large the square is in the center of the block
2- How large you want your borders to be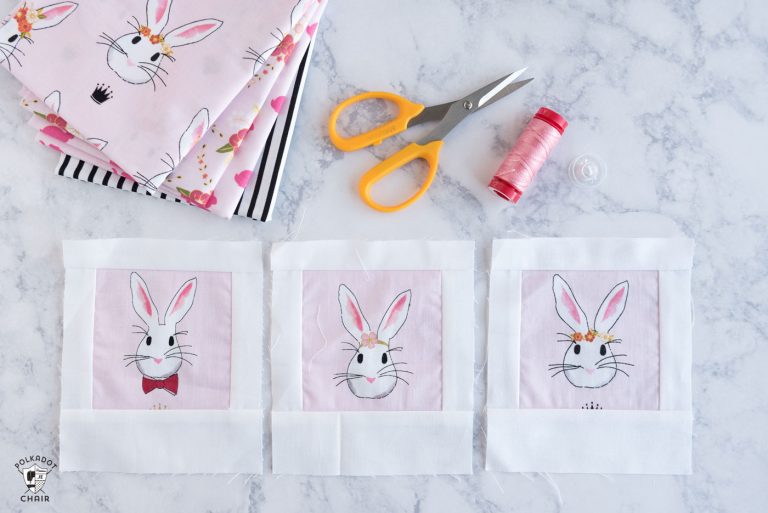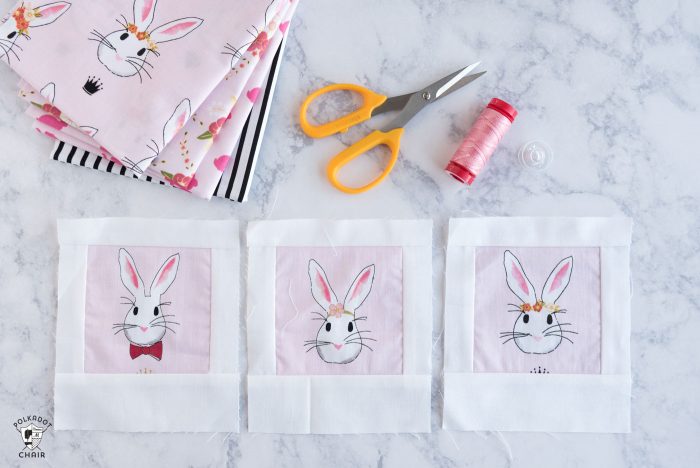 Okay are you ready to start?
How to Make Polaroid Quilt Blocks: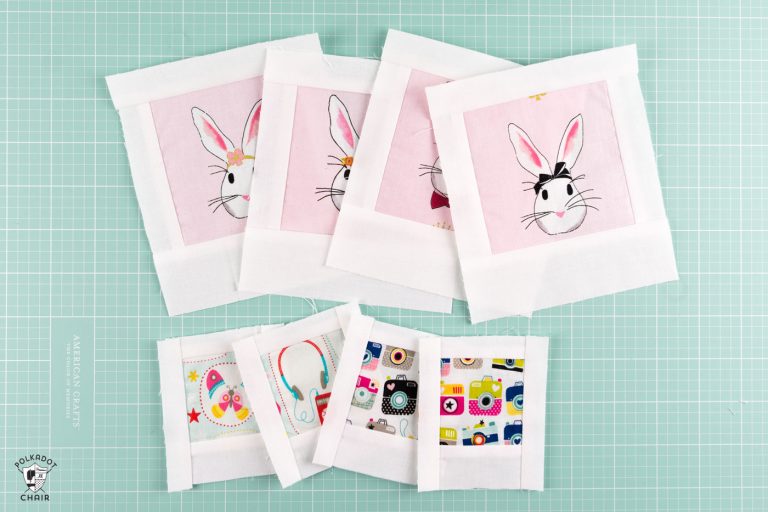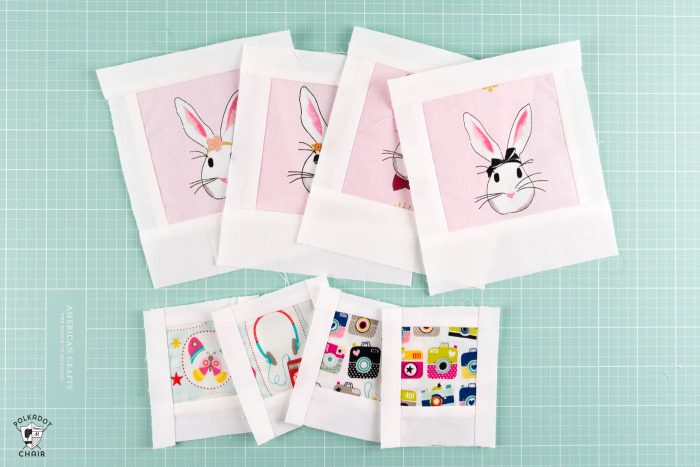 You'll need:
Various prints of novelty fabrics cut in to squares. For this technique I recommend squares from 2 ½″ x 2 ½″ to 6″ x 6″
White 2 ½″ wide strips of fabrics, usually referred to as jelly roll strips
Quilt Ruler that you can see through easily – this is the one that I used.
Basic Quilting Supplies
Also: I find a rotating cutting mat and a mini iron to be helpful when making blocks. Here are the links to the mini iron (CLICK HERE) and rotating cutting mat (CLICK HERE) that I use.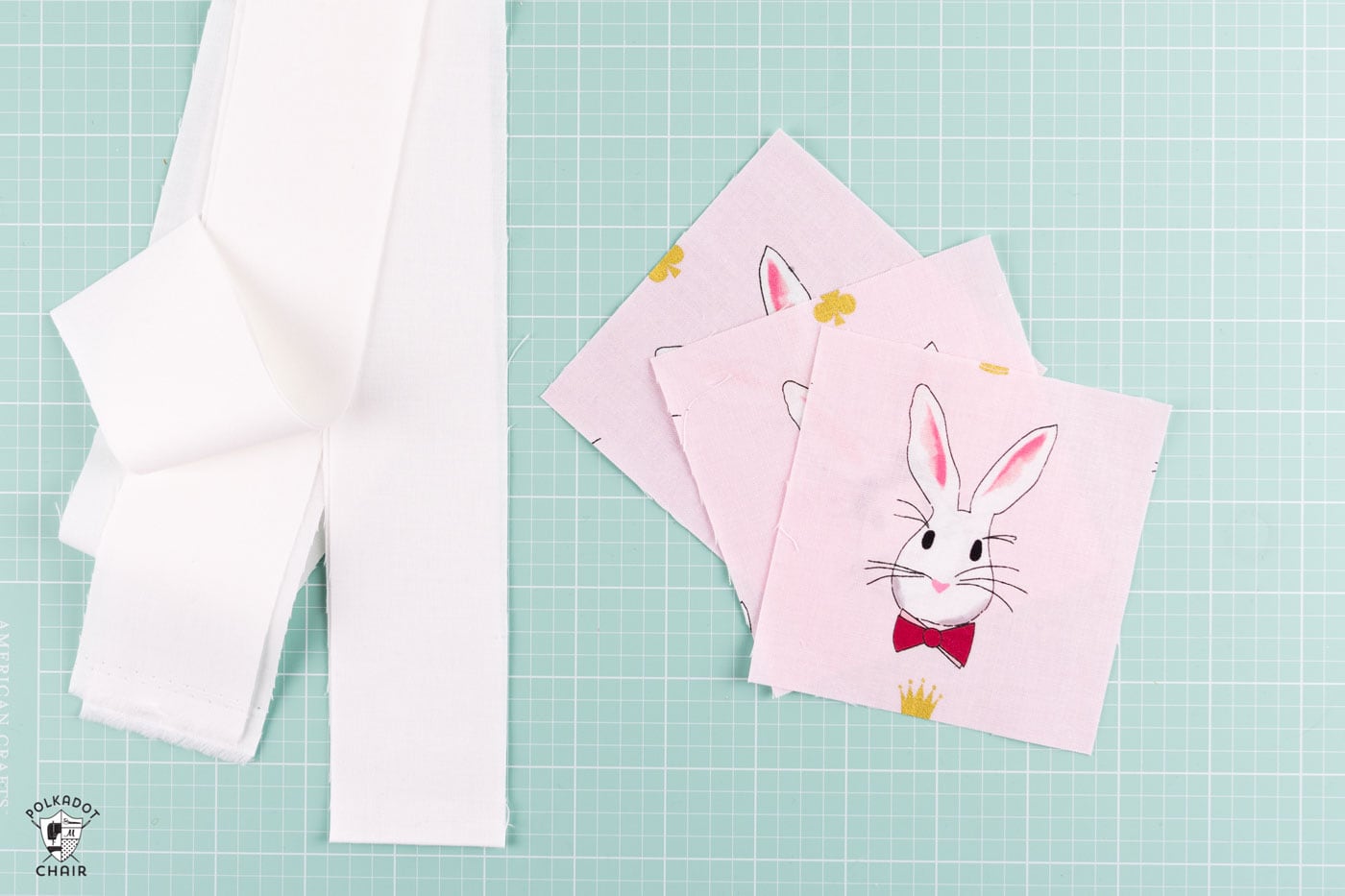 Step one:
Fussy Cut your fabric into squares. Fussy cutting simply means to cut a specific "scene" out of your fabric versus just cutting it off the end of the fabric.
Place one of your squares on top of one of your 2 ½″ wide strips right sides facing so that you will sew down the side of your square (not the top or the bottom). Stitch in place with a ¼″ seam allowance. Do NOT cut your thread or move the fabric off of the machine.
With the jelly roll strip still under your presser foot, place your next square ontop of the strip right sides facing. Stitch.
Repeat until you're out of squares or run out of jelly roll fabric.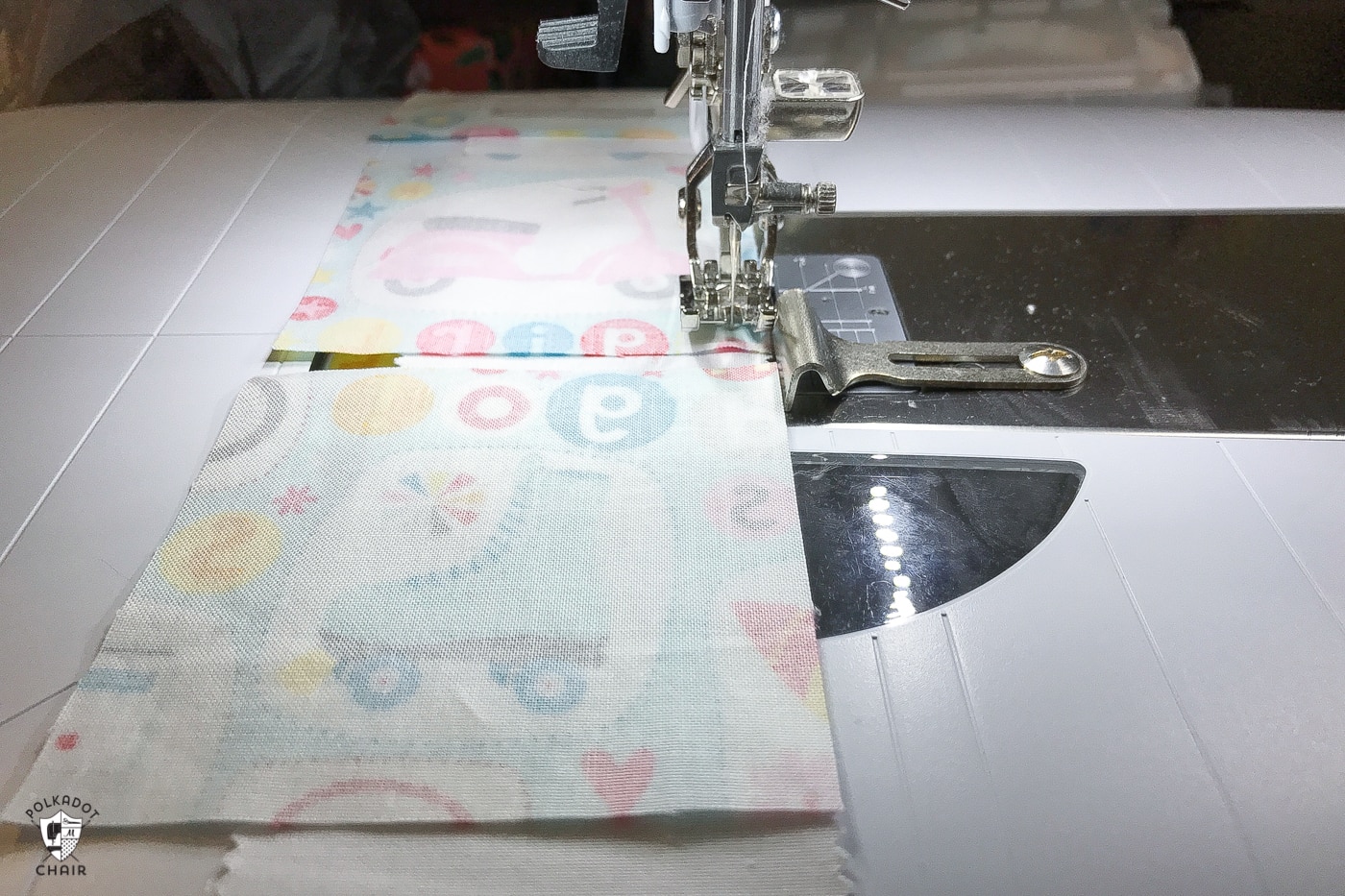 Step two: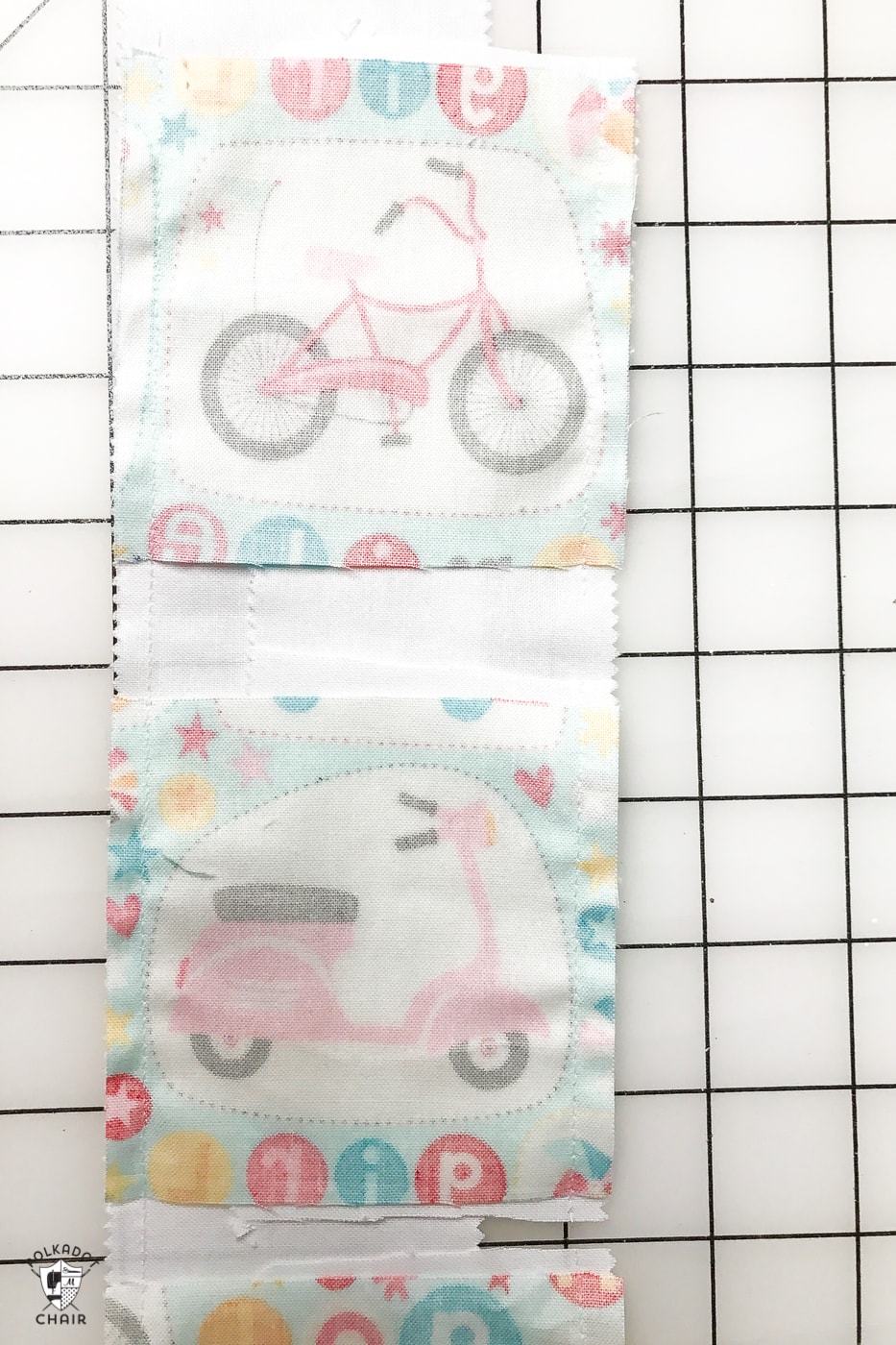 Repeat the process stitching the other side of the squares.
Step three: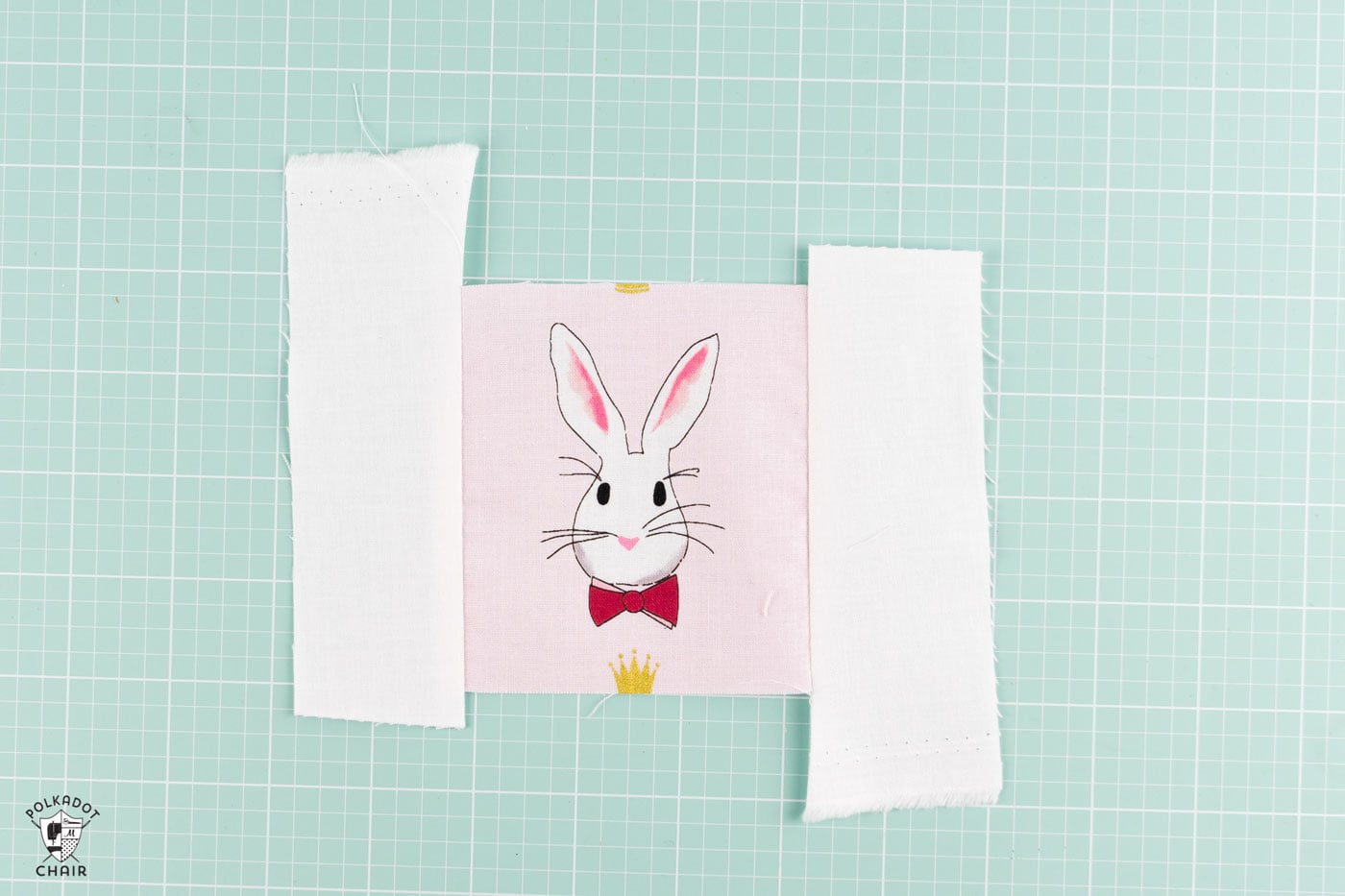 Cut the squares apart.
Using your iron, press the seams of the block to one side.
Trim the top and bottom of the white fabric so that it is flush with the top and bottom of your square.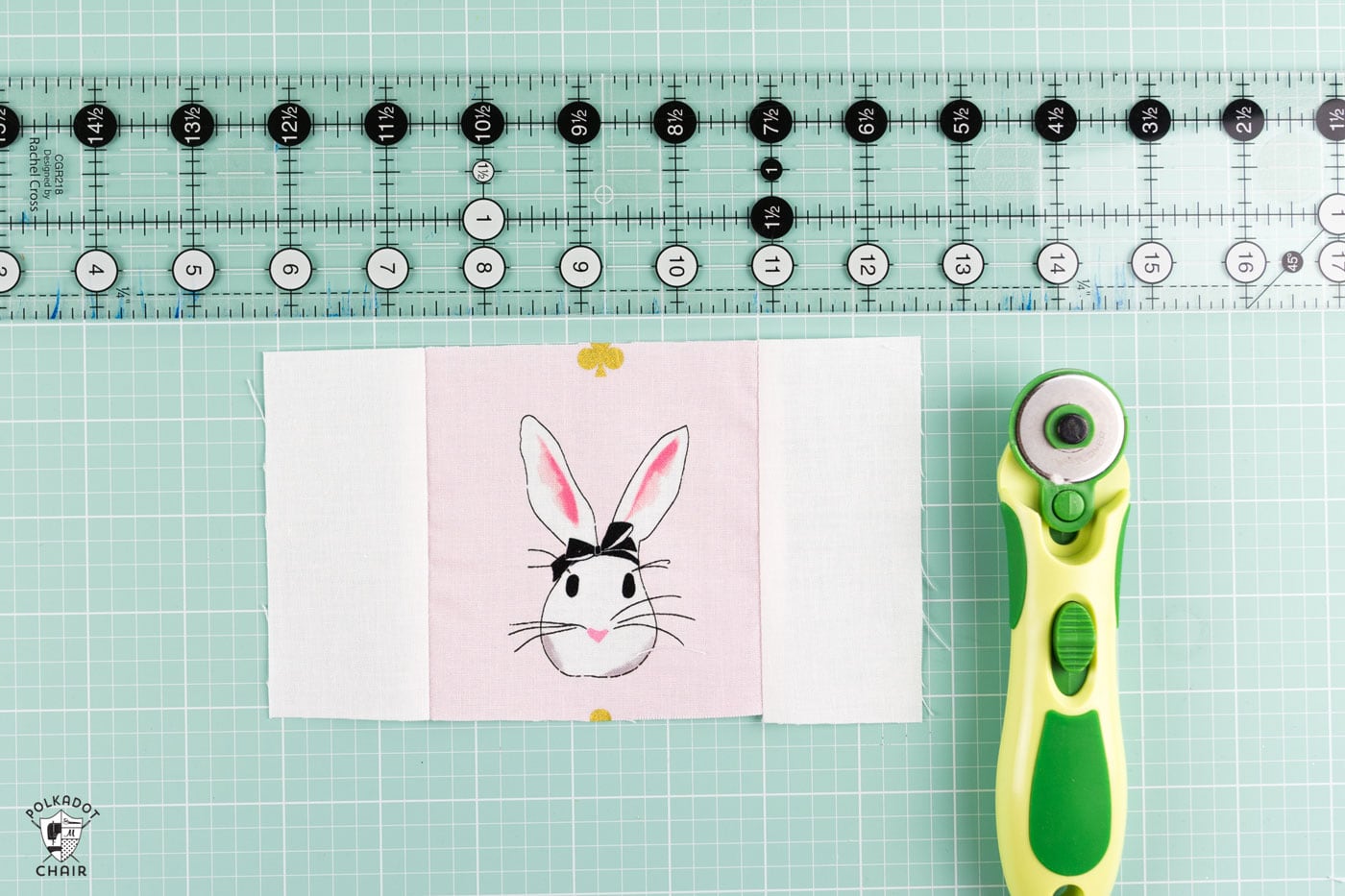 Next using your ruler as a guide, trim the white fabric to the width that you want. I recommend ¾″, but if you want a smaller or larger border you can do that too. Just remember that you will lose ¼″ of fabric when you stitch your block into your project.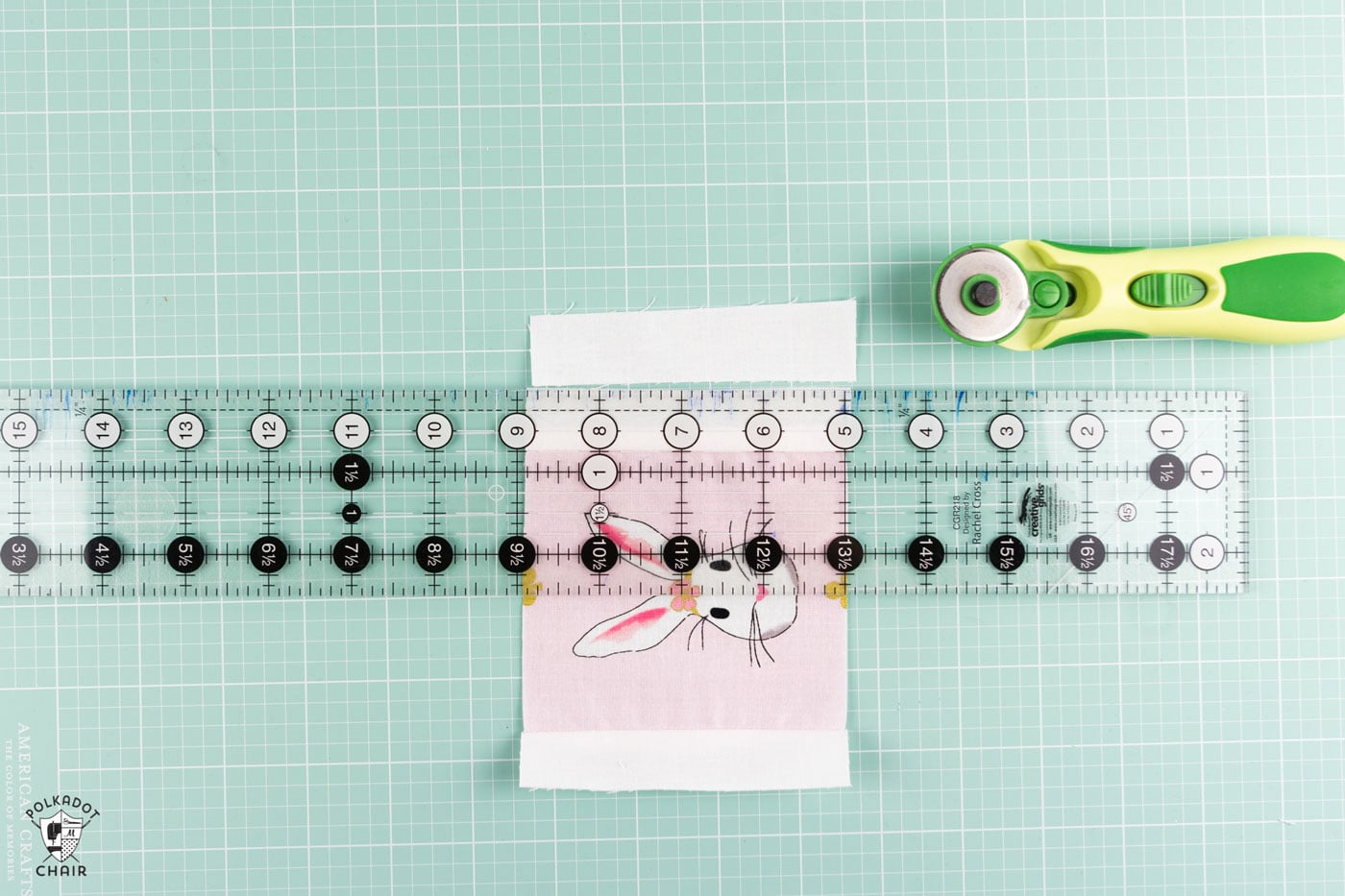 Step Four:
Repeat the process this time stitching the white strip of fabric to the top and bottom of the sewn blocks.
Press the seams to one side.
Trim white strips so that they are flush with the sides of the block.
Next, trim the TOP white border to the same width as your side borders.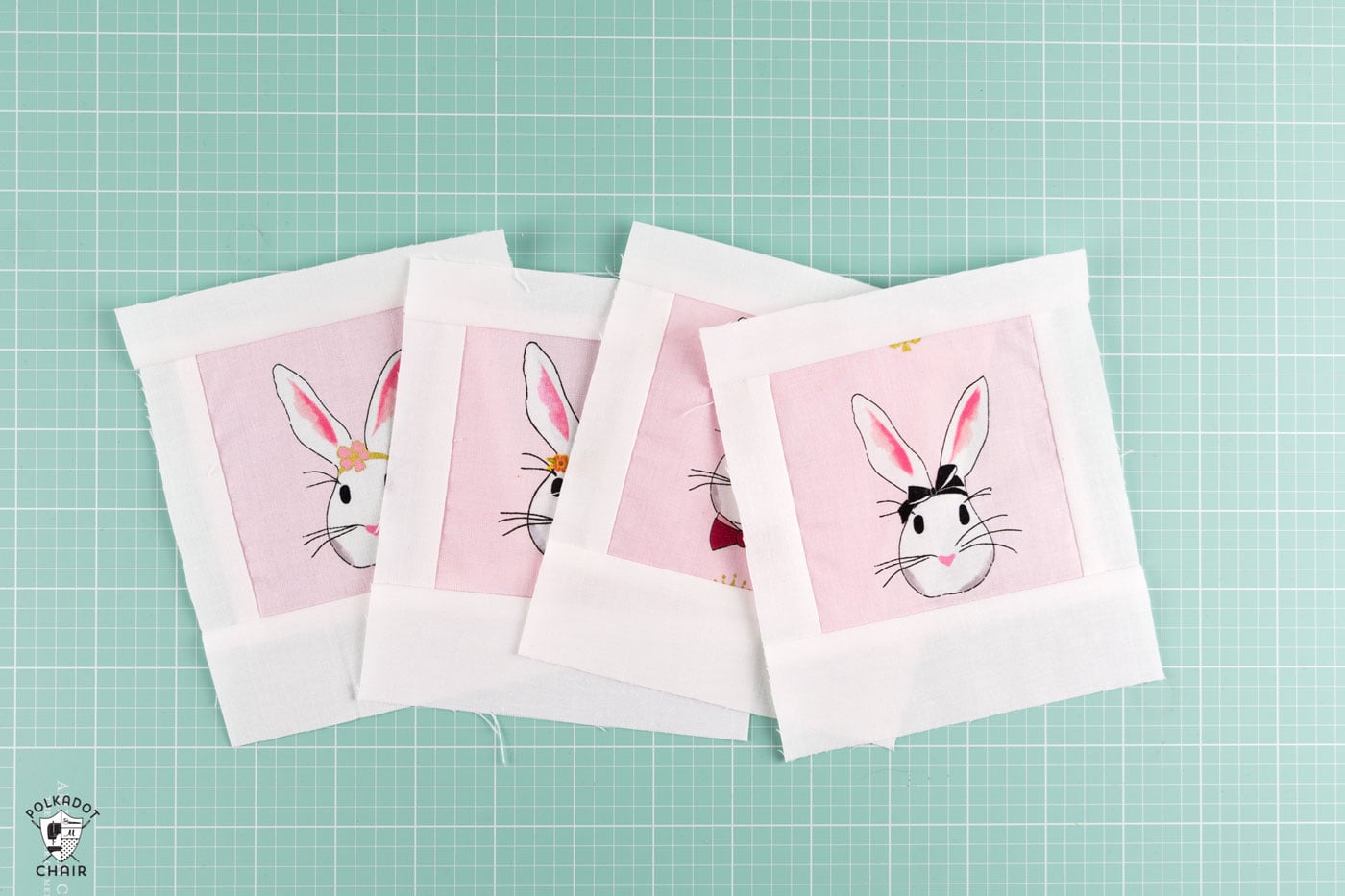 Trim the BOTTOM white border to double the witch of your side borders. For example if your side borders were ¾″ trim your bottom border to 1 ½″.
That's it!
This method is so easy that you can even stitch different size blocks at the same time.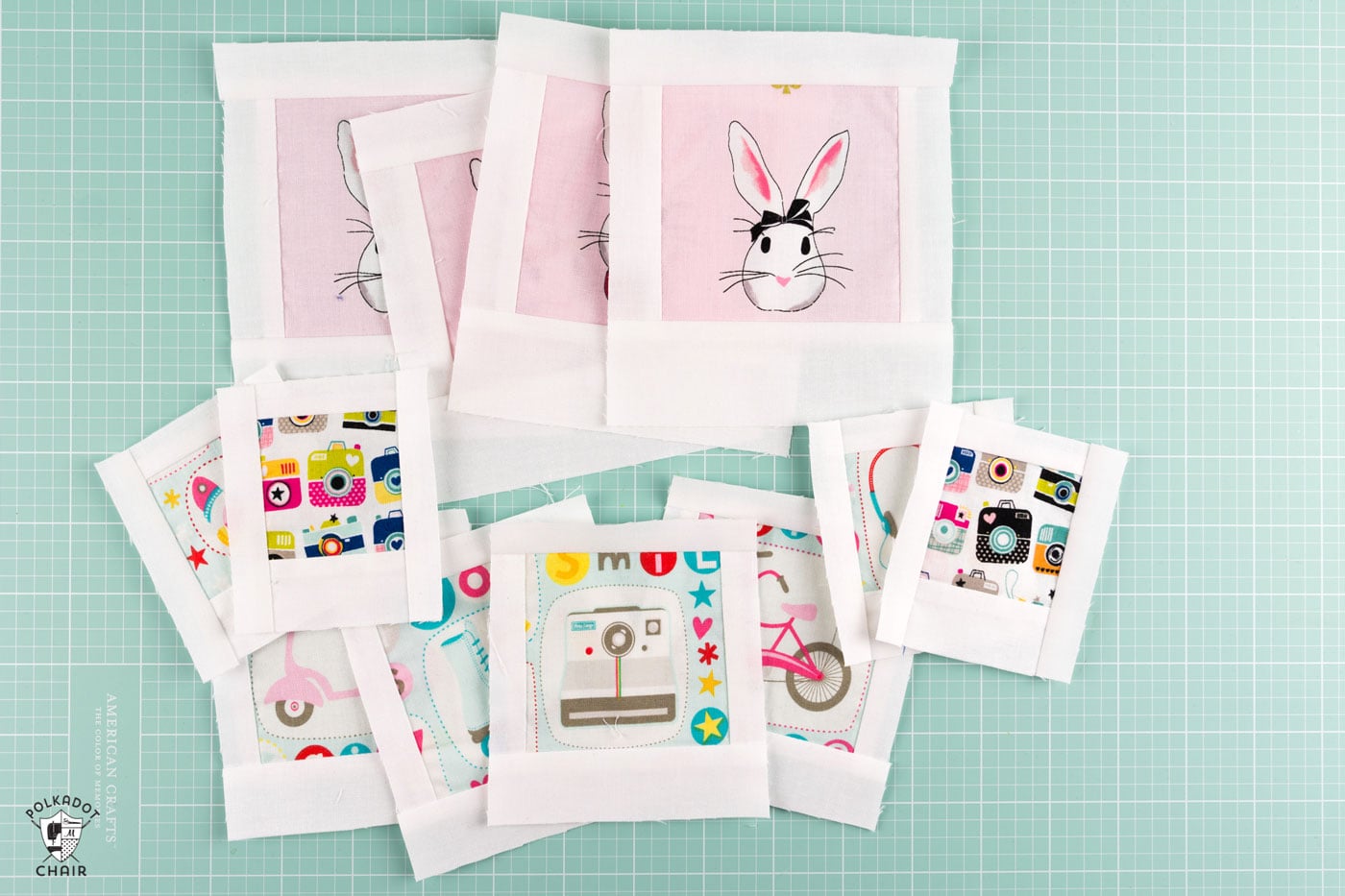 What to Make with Polaroid Quilt Blocks:
If you're wondering WHAT to do with the blocks when you are done, I have a tiny sneak peek of two projects I have planned for the next few weeks.
You can turn the blocks into a fun quilted zip pouch like this one (tutorial found HERE).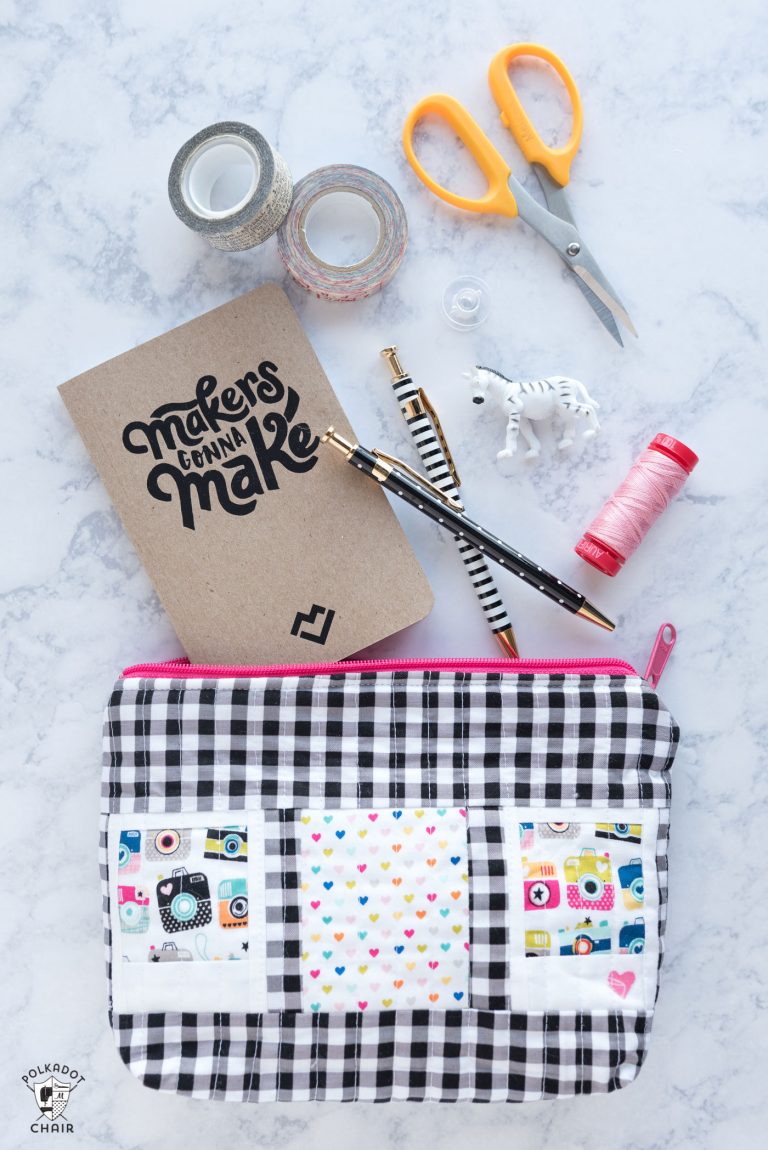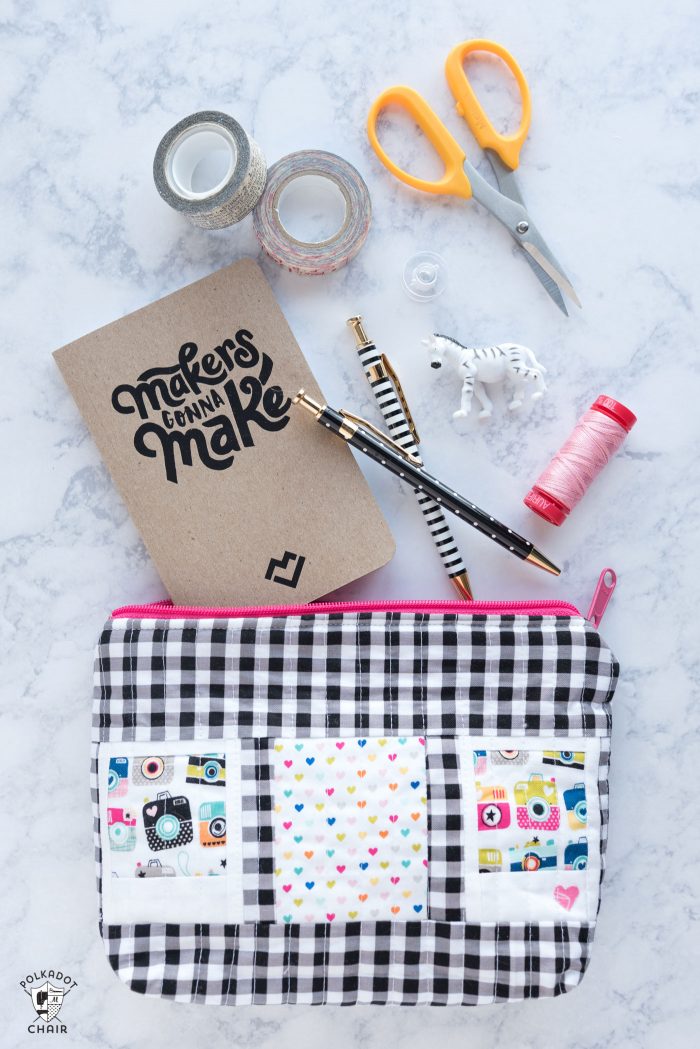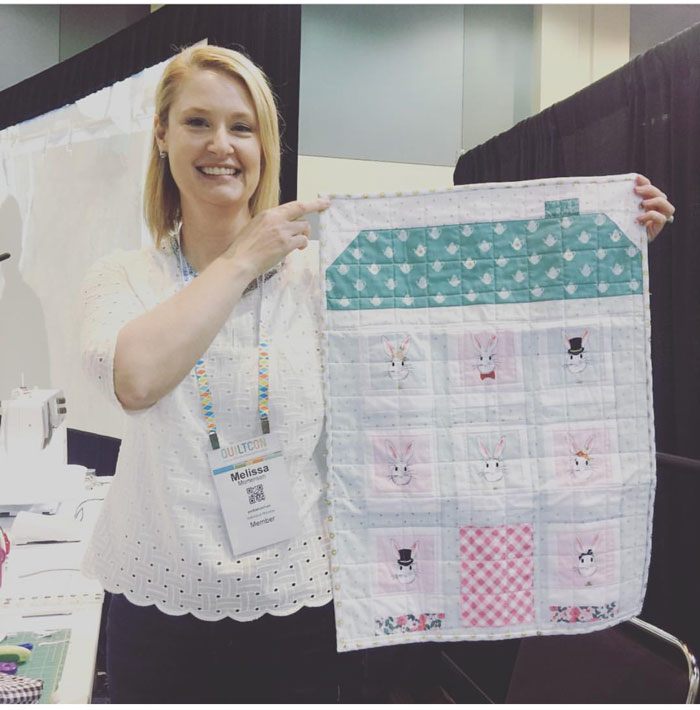 This photo is terrible I know, but it will give you a good idea of some of the things we have in store next month!