Today I'm excited to share with you photos of my completed Block of the Month Sampler Quilt AND the tutorial for the August Block; a Dresden Quilt Block. I've had a great time putting this series of blocks together for you and hope that you've enjoyed making the blocks.
If you missed it be sure to check out this post on Quilt Block Construction Tips. You can find an index to all the posts in this quilt block series to date by clicking here.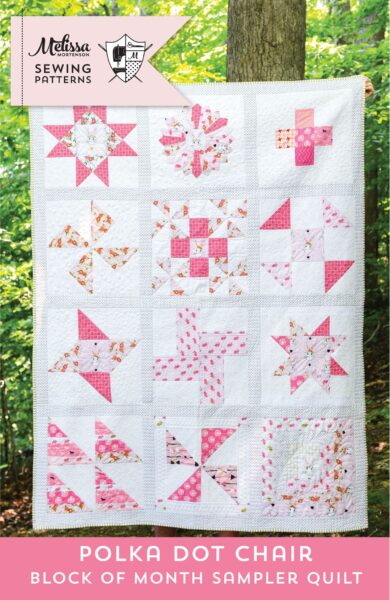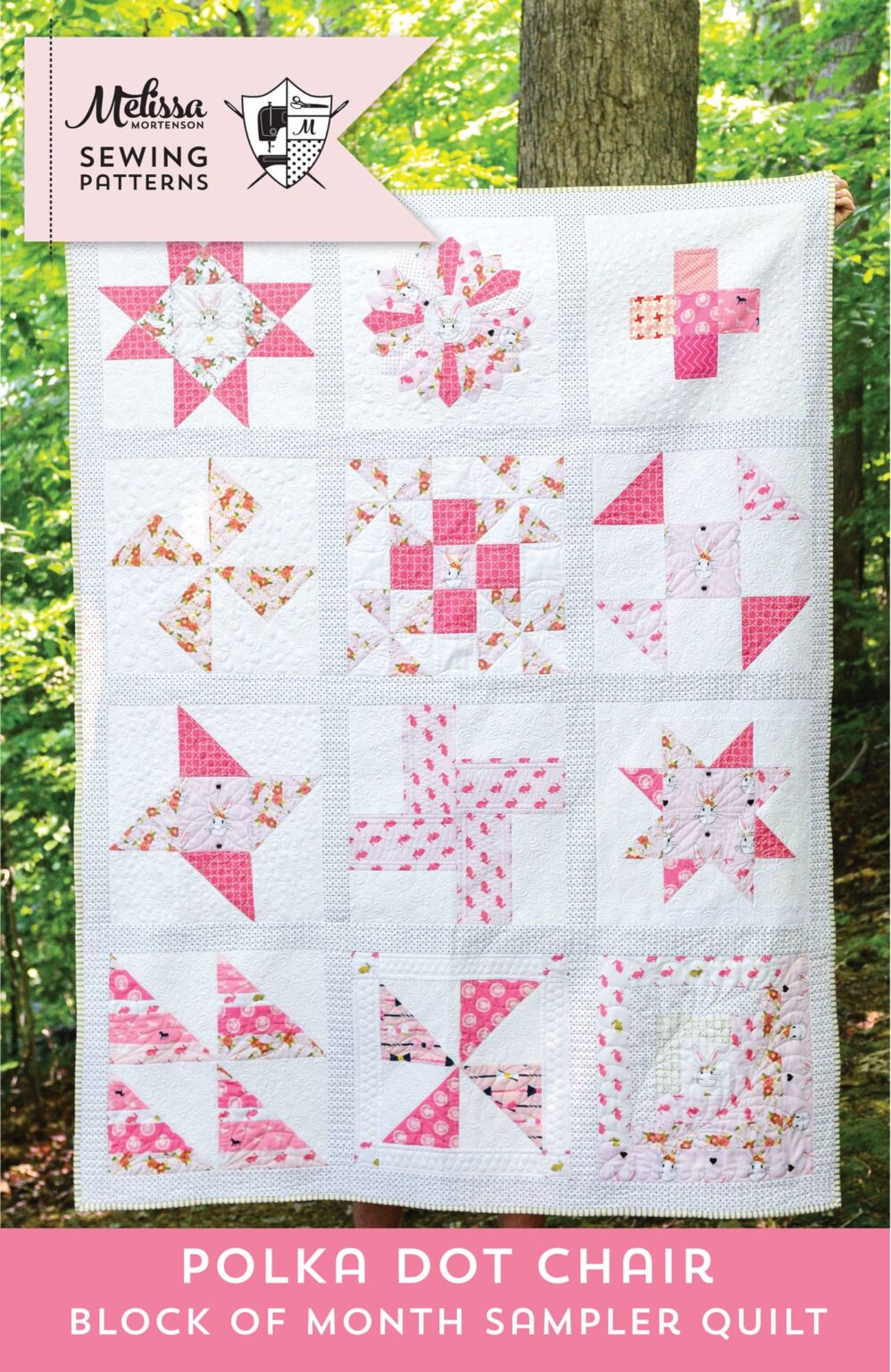 UPDATE: You can now purchase a PDF with ALL of the block instructions for each month in one place!! Click here to PURCHASE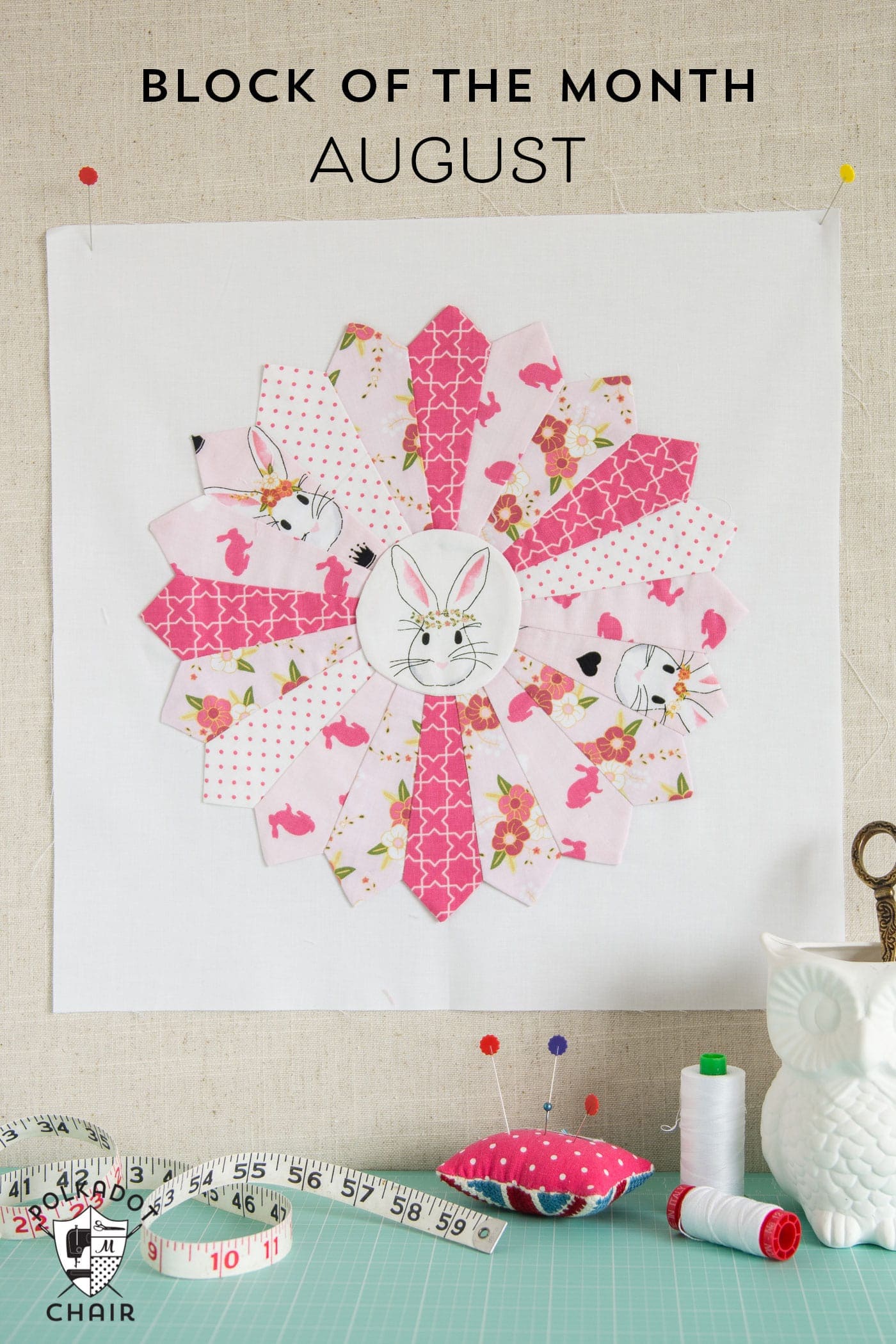 Today to round out the Block of the Month program, I'm sharing a tutorial teaching you how to make a Dresden Quilt Block.
This block is constructed in a slightly different manner than our other blocks. It makes use of applique and piecing.  I adore making Dresden blocks, I've added them to handbags, made baby quilts from them and even designed an entire quilt based on them (you can see it here).
My Finished Sampler Quilt:
Before we get to the "how to" construction of the block, I'm going to share with you photos of the finished quilt! I love how it turned out, this is the version of "pinks" that I made for my daughter.
I'm still working on the other 3 quilts. My son's quilt is all grays and navy and will be finished in the same way as this quilt is. The Christmas quilt will only have 9 blocks and be a square. I've also taken a "radical" departure with my other quilt (the pinks, greens and low volume fabrics). It's now going to be a medallion quilt because I decided I wanted a King Size quilt that is a square. Don't ask me how I'm going to do that, because I'm really not sure yet *wink*. Here's a sneak peek of it on my design wall.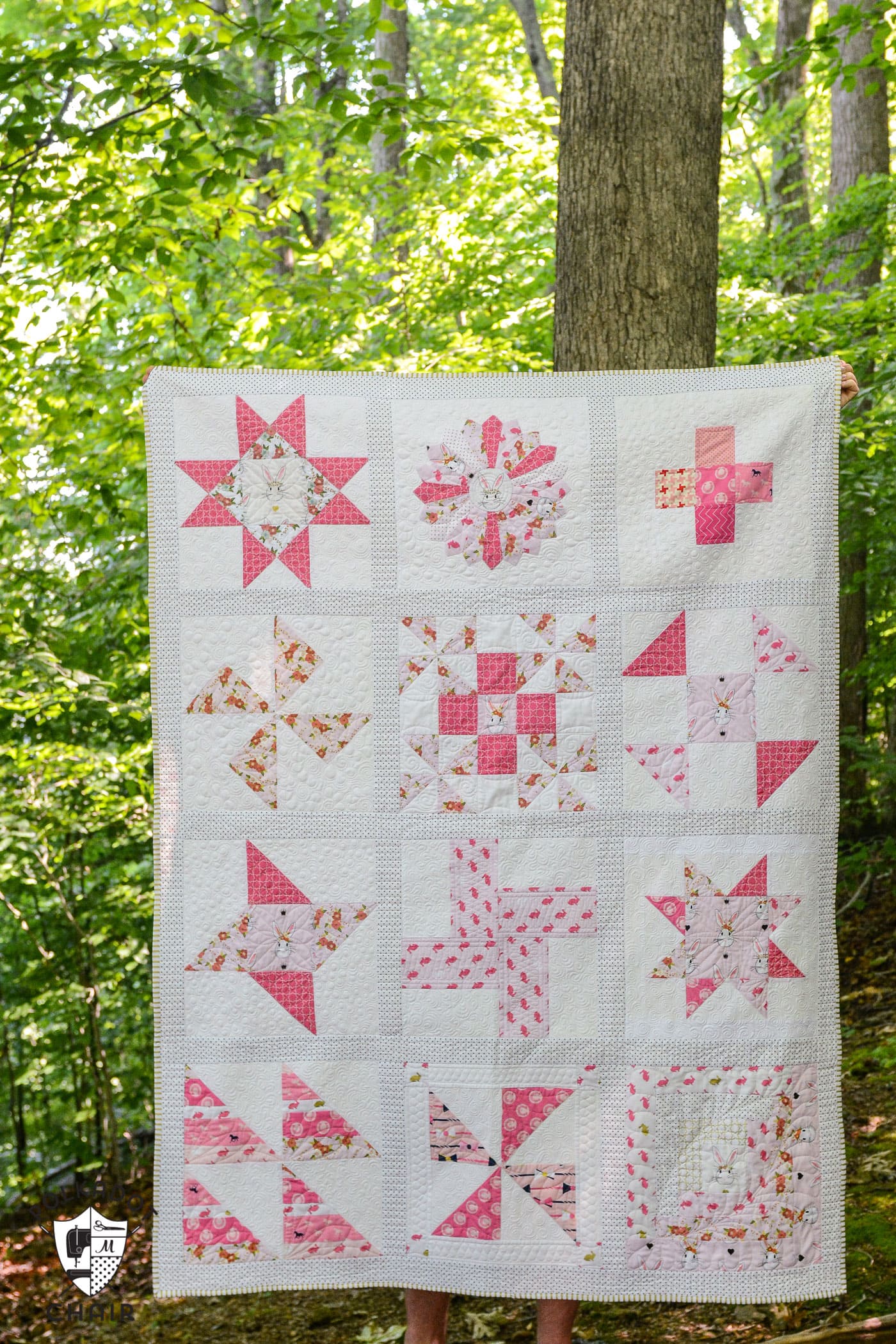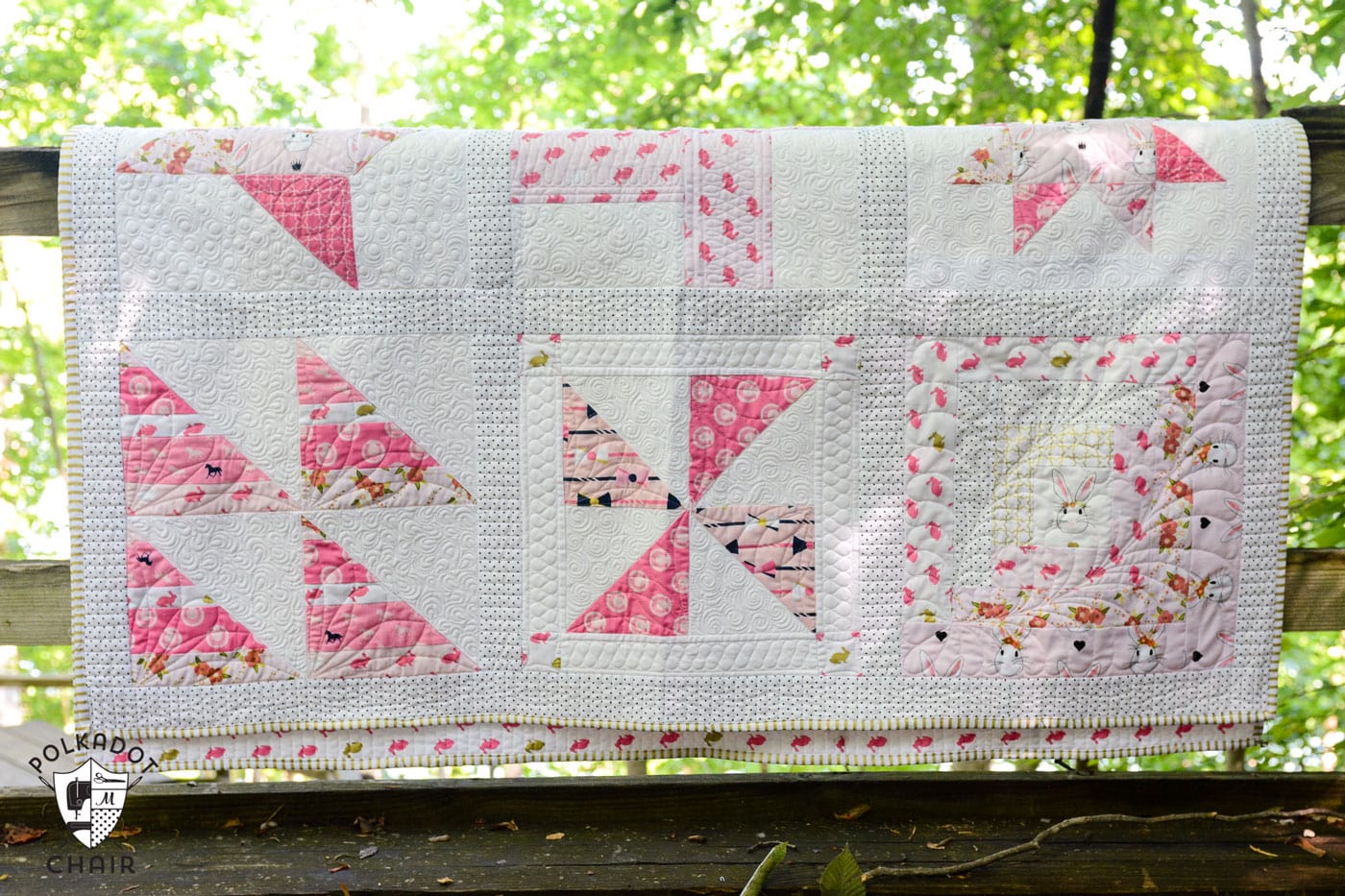 I snapped a few photos of the finished pink quilt on a camping trip last Memorial Day weekend. I really love how this quilt turned out. It's going in my daughter's room and I think will be perfect with the pink and black accents in there. It's made up almost entirely from fabric from my Wonderland Line, with a bit of Derby Style is thrown in.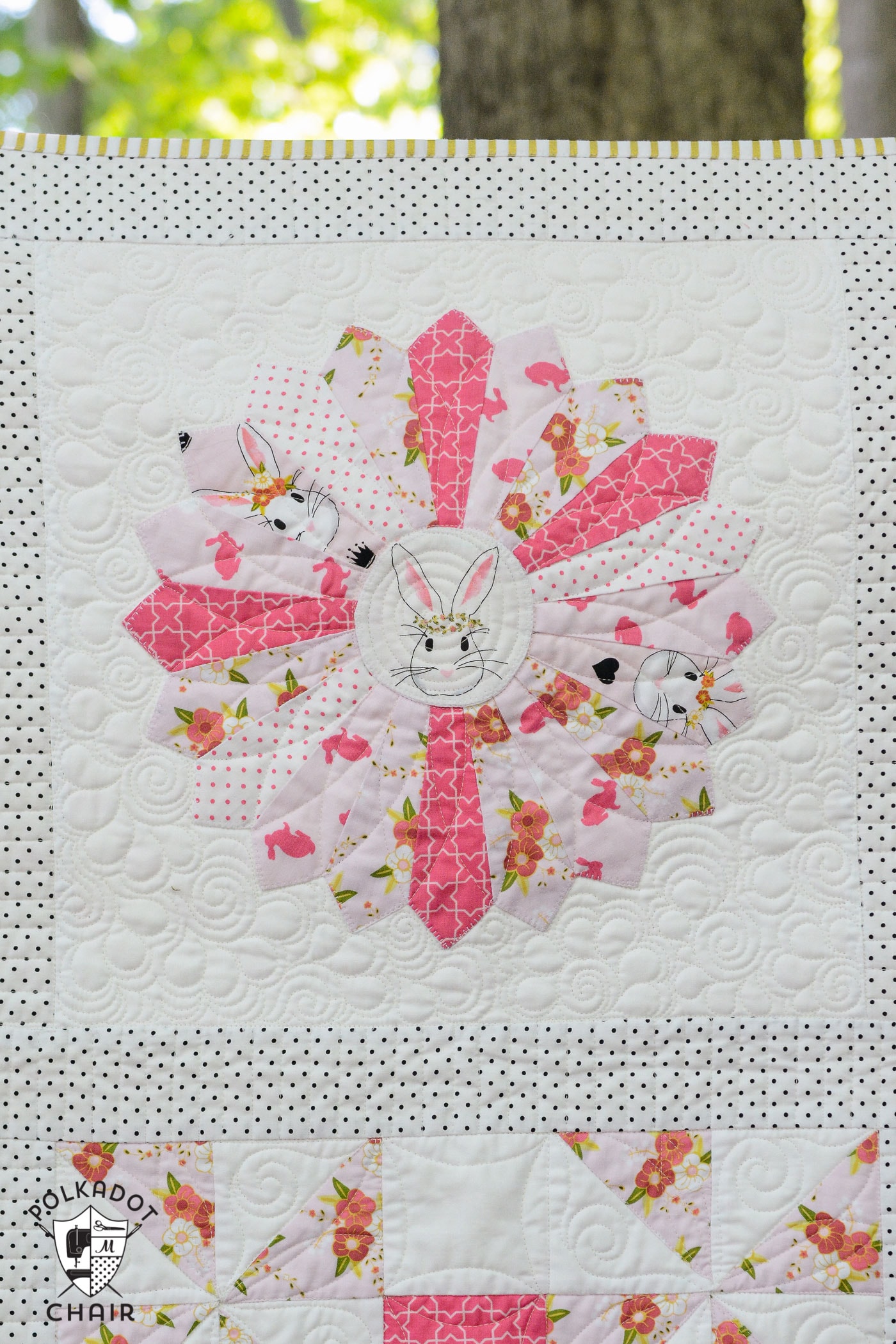 About the Dresden Quilt Block:
The August block is a Dresden block, I think it rounds out the other blocks quite nicely. If you're not too keen on making a Dresden block then you can remake one of the other blocks in another fabric to complete your quilt.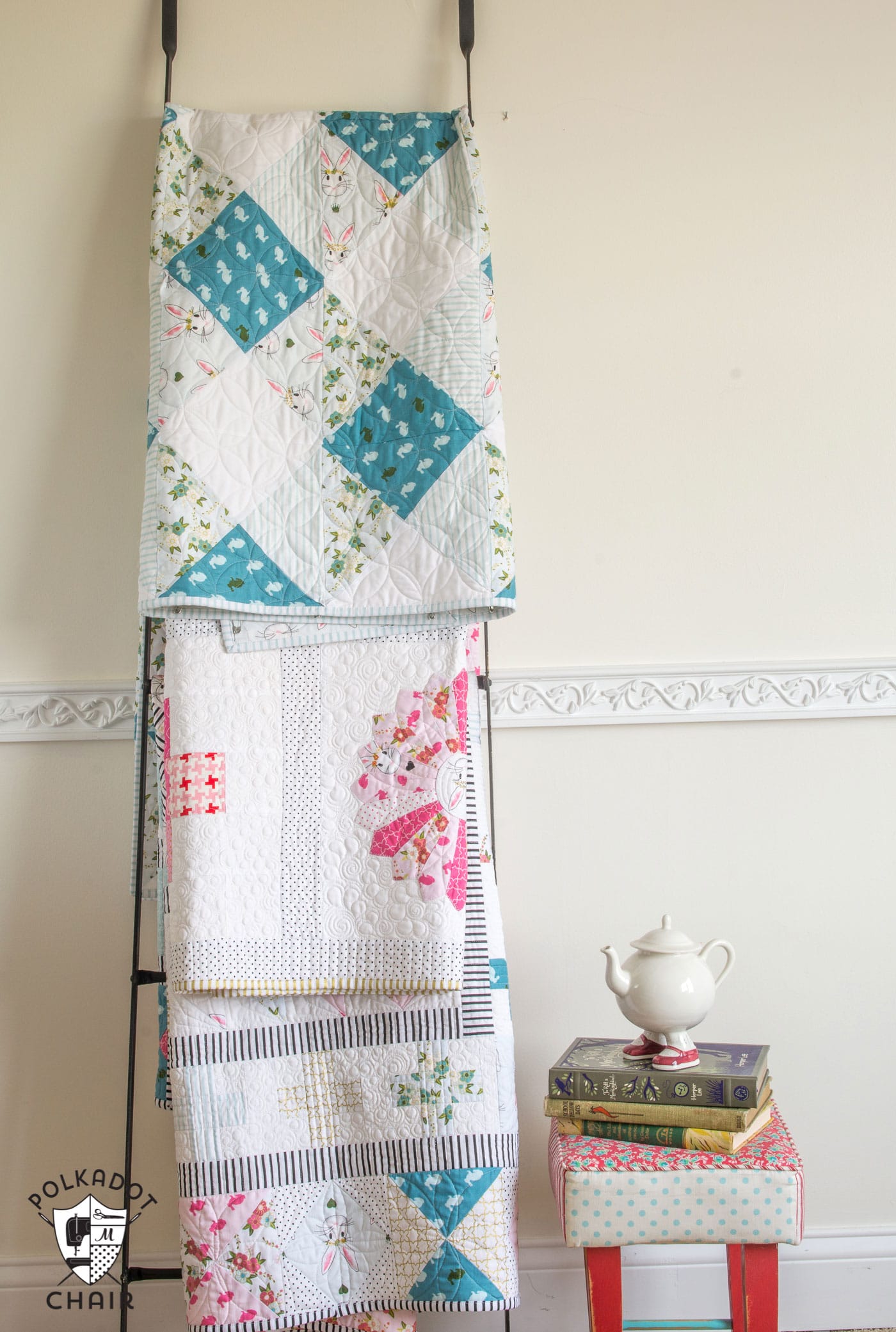 So what do you think? Do you like how the blocks all came together? Do you have a favorite one?
How to Make a Dresden Quilt Block:
Yields One 14 ½″ x 14 ½″ Finished Size Quilt Block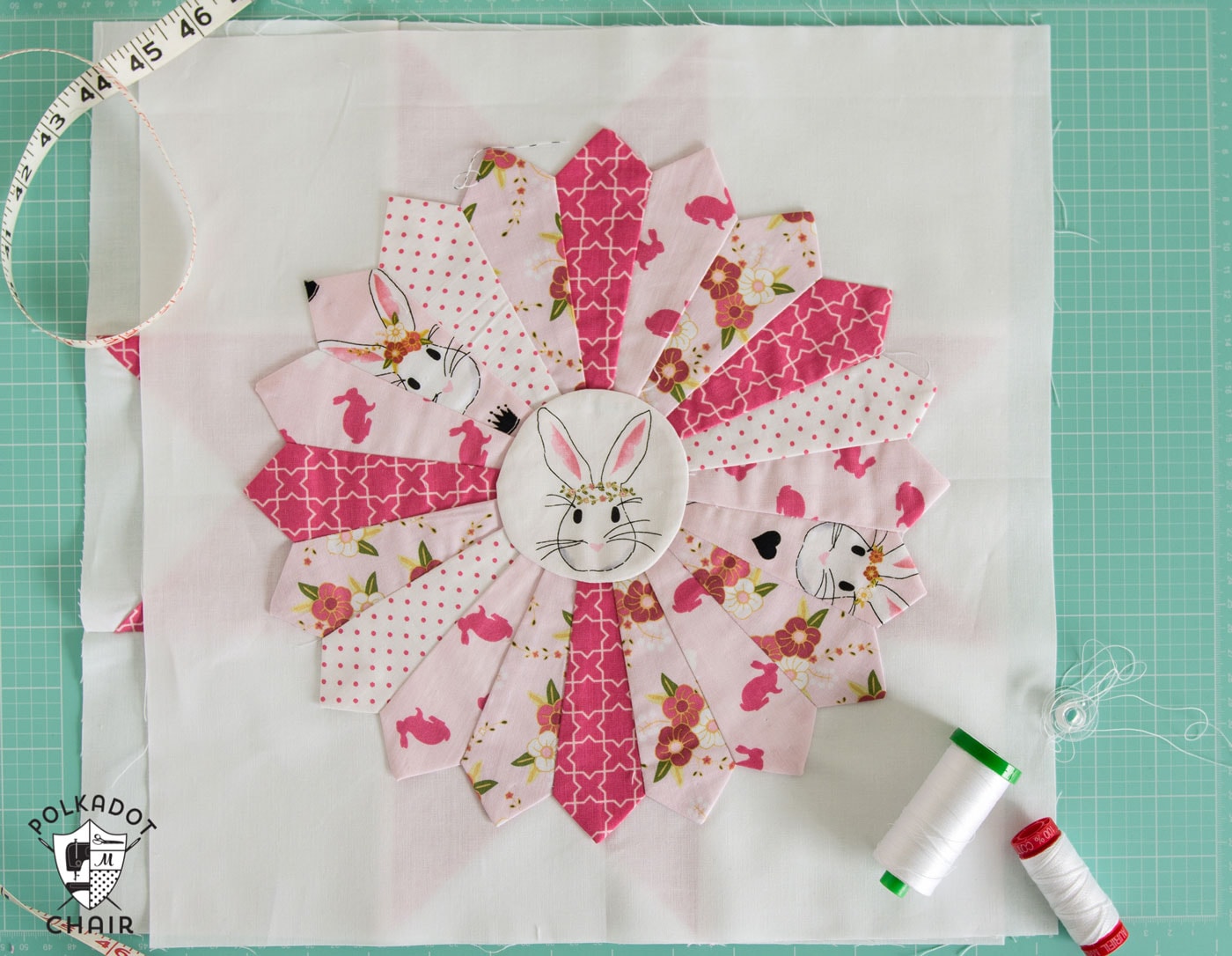 For this block you need an EZ Dresden Ruler, you can get one HERE.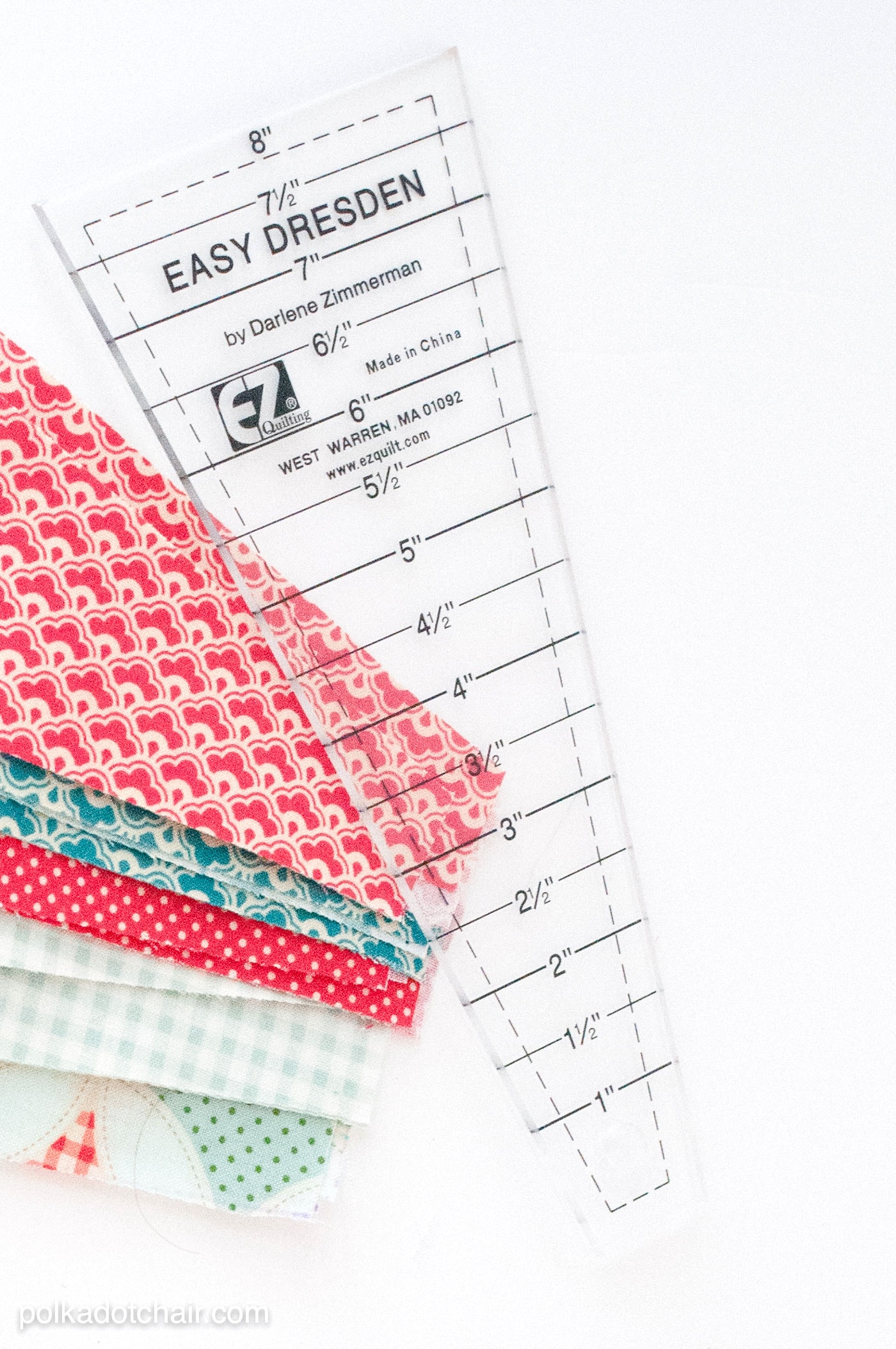 What is a Dresden Quilt Block?
Dresden Blocks are made from "blades" sewn together in a circle. The ruler has measurements on it, indicating the height of the blade. For our project, we are going to cut blades that are 5″ tall. (note: these photos are from another Dresden project, instructions are the same, only the fabric is different).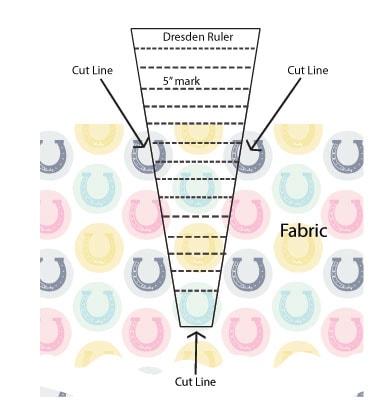 Cutting Directions for the block:
20 Blades each 5″ Tall from various prints
15″ x 15″ piece of fabric for the background
4″ circle for the center from main fabric
4″ circle for lining
1. Stitch the Dresden Blades
Begin by cutting 20 blades that are each 5″ tall. You're cutting from the bottom of the ruler to the 5″ mark. Cut the blades from different prints of fabric.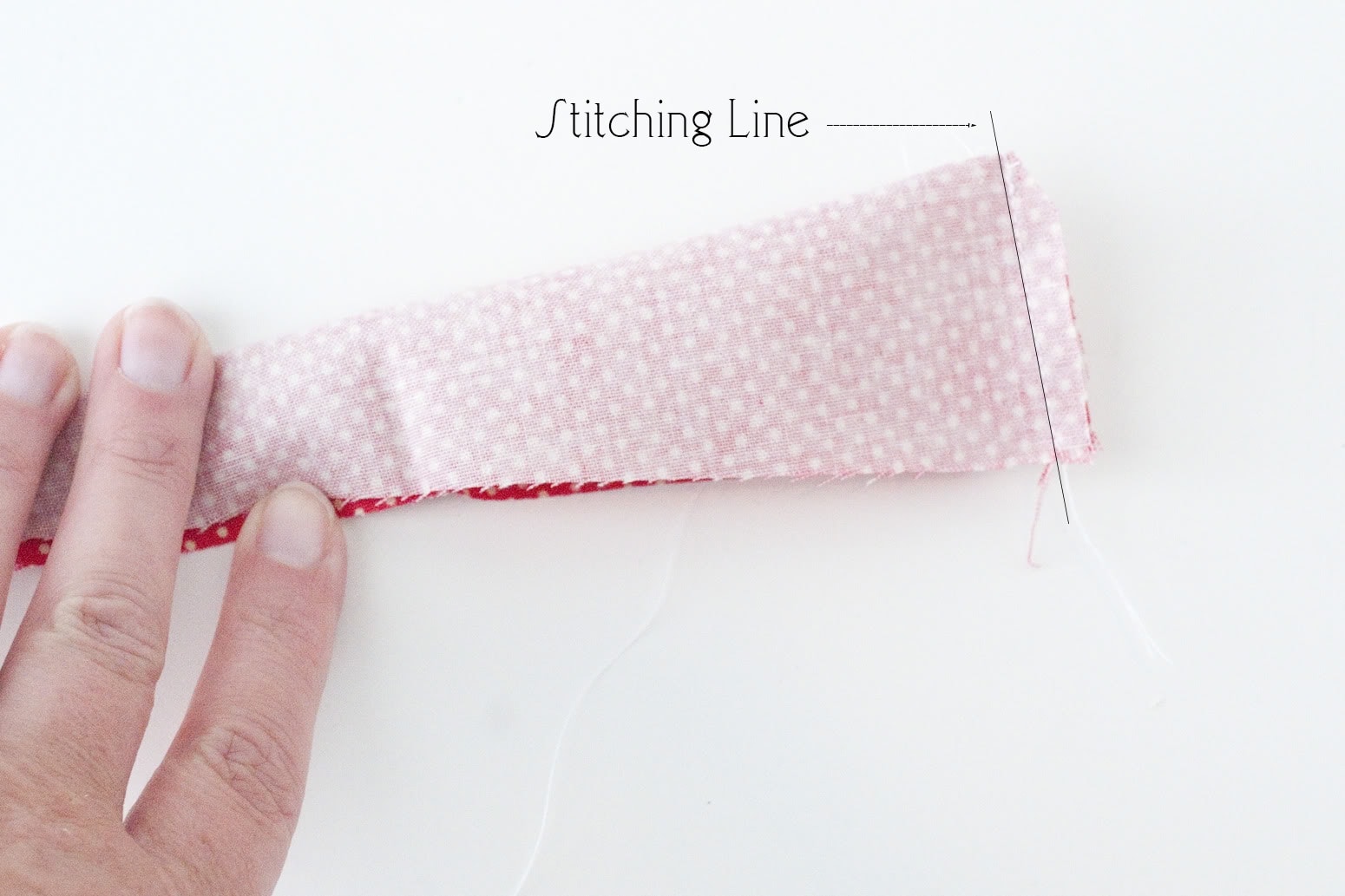 Fold a blade in half lengthwise and a stitch ¼″ seam along the top of the blade. Trim the corner off the seam allowance and turn the blade right side out and press.
Repeat 20 times. Lay out your blades in a pattern that you like.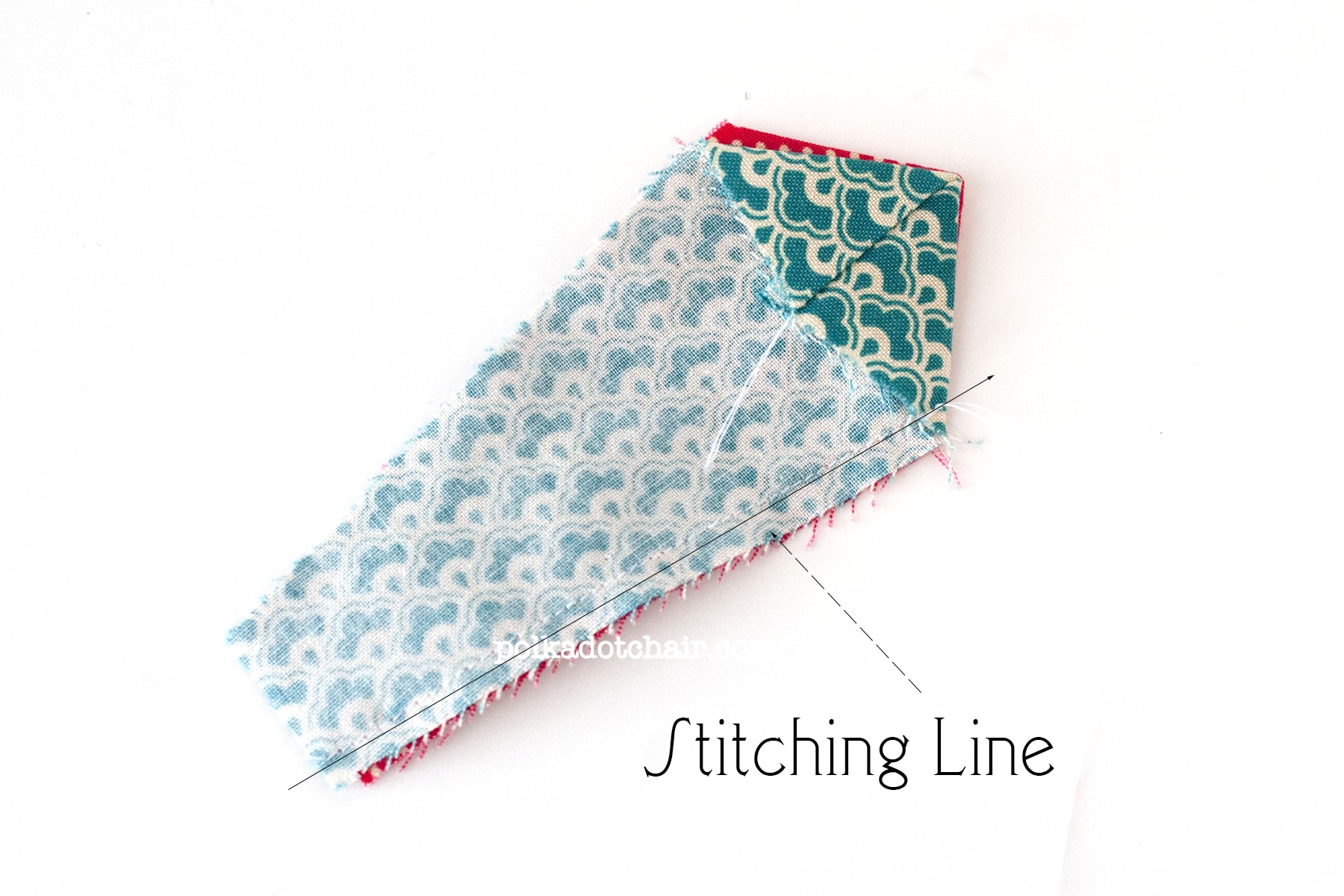 2. Stitch the Blades Together:
Now begin stitching the blades together. Place two blades on top of each other right sides facing. Stitch down one side with a ¼″ seam.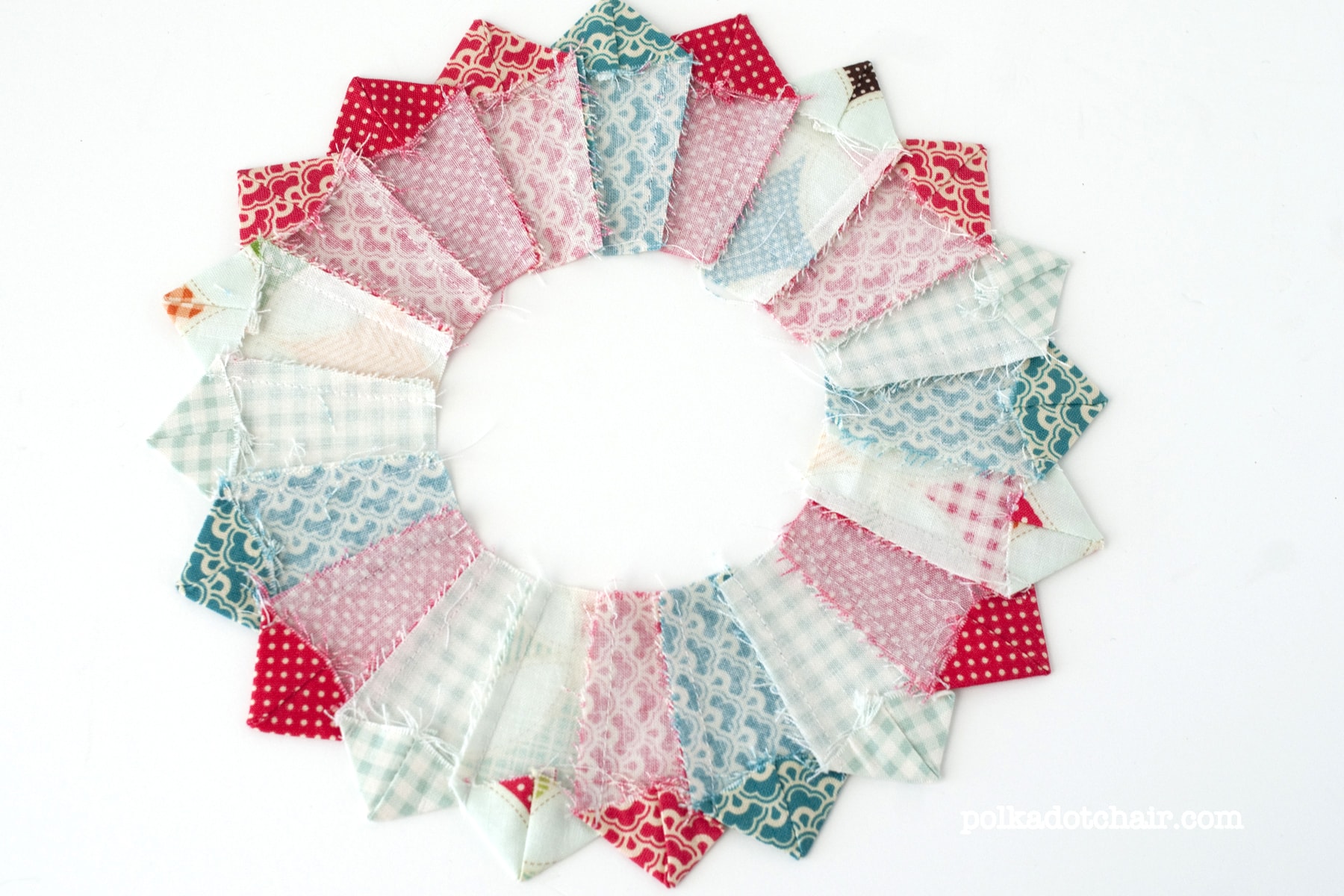 Keep stitching until all 20 blades are sewn together. Press.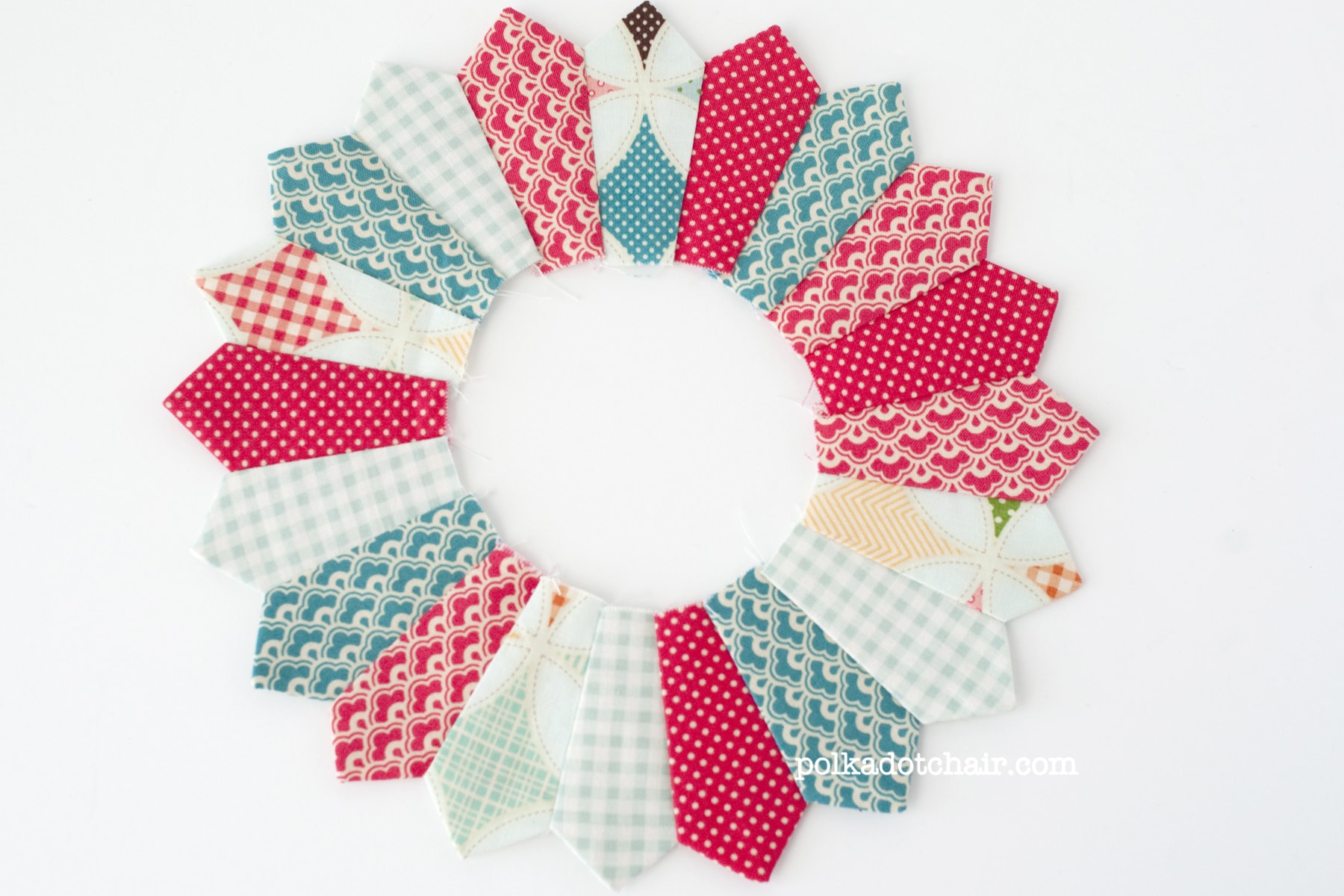 Now you may be wondering, why do I have a big "hole" in the middle. How do I cover that.
3. Create the Center Circle
Take your 4″ circles and stitch them together right sides facing. Use a ¼″ seam allowance.
Cut an "x" in the lining fabric and turn the circle right side out and press.
Now you're ready to lay out your block.
Fold the 15″ background fabric in half lengthwise and press lightly. Fold it again in the opposite direction and press lightly.
Now you've got your centers marked.
4. Attach to Background Fabric
Place the Dresden blades on top of the background piece centered.
Pin VERY well (you can also glue baste if you like, just use Elmer's school glue and an iron).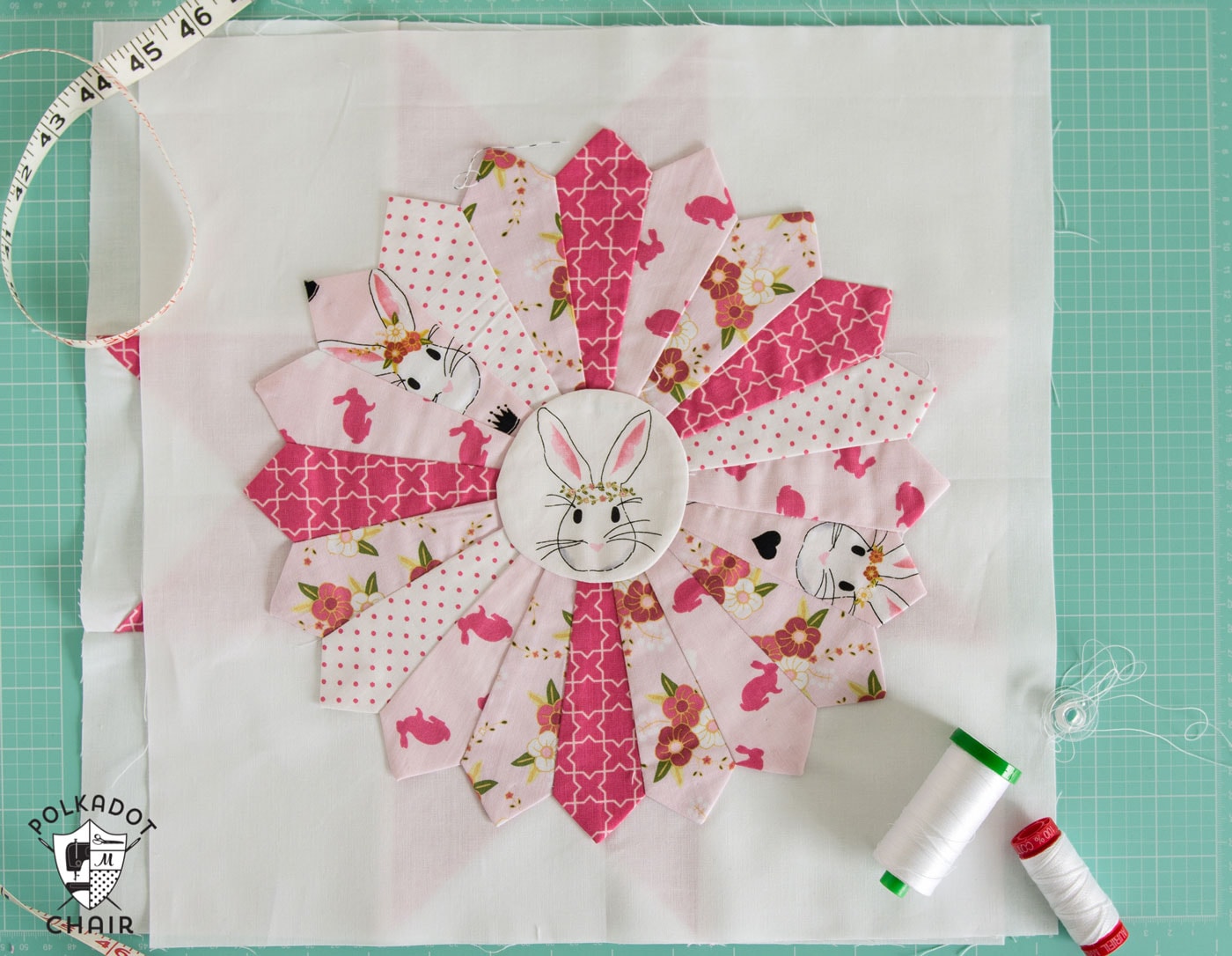 Place the sewn circle over the center of the block. Pin or glue baste in place.
To attach the plate to the block you have a few options:
1- Glue well and attach it with "stitches" when the quilt is quilted.
2-Stitch down using a simple zig zag or another decorative stitch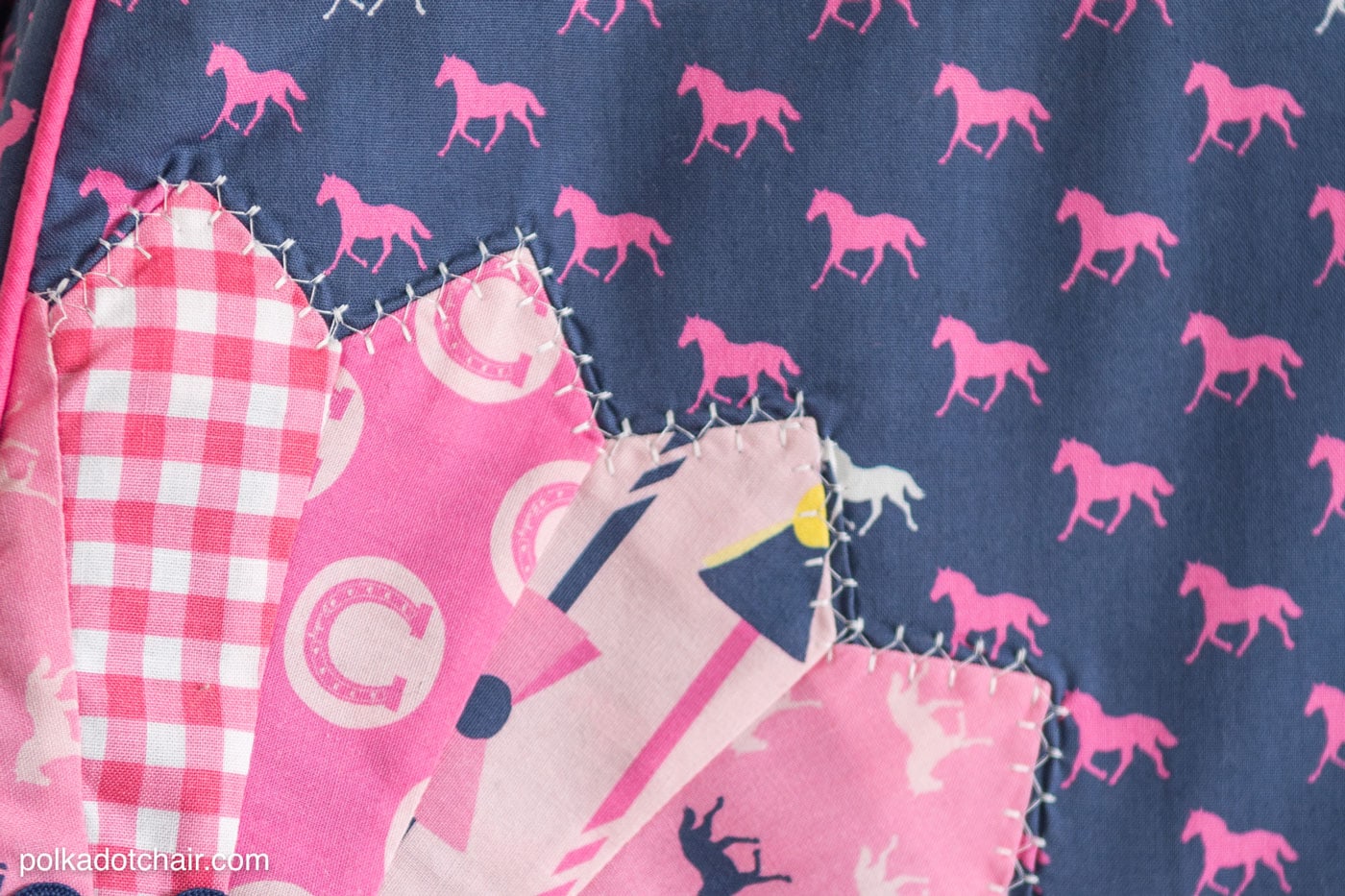 3-Hand Applique.
Pick which one you like the best. I go for 1 or 2. We could spend an ENTIRE post talking JUST about ways to attach Dresden blocks. If you're new, I recommend a simple zig-zag stitch.
Next month (September 2016) we will talk about all the different ways to stitch your blocks together to make a quilt!