Have you ever had a great idea for a design for a t-shirt or tote bag but didn't know how to GET the design onto the t-shirt or tote bag? Let me tell you that there is a very simple way to transfer your design onto your item, use Freezer Paper!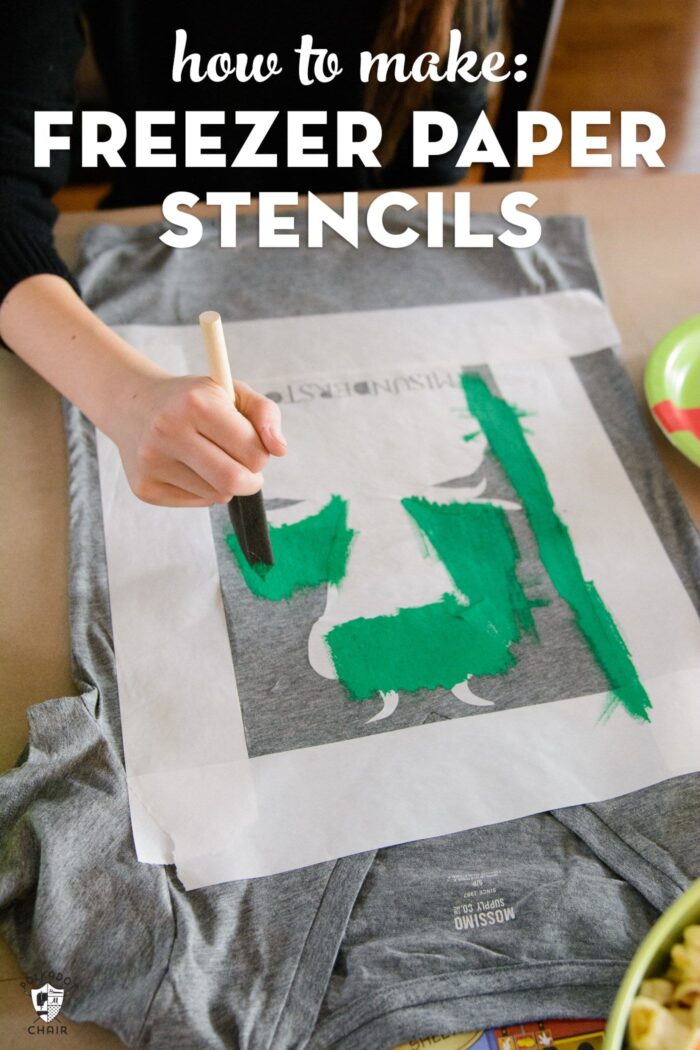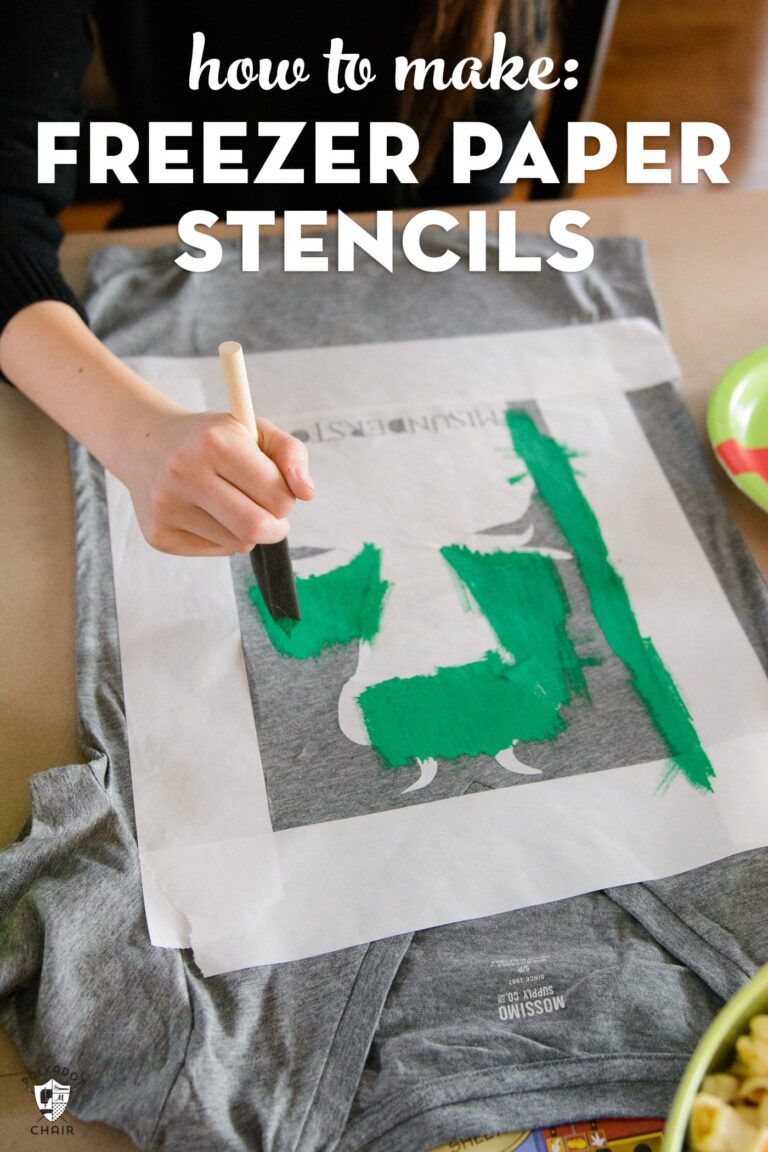 Yep, good old Freezer Paper, the stuff that your Grandma used to use to wrap meat back in the day… Turns out that the shiny side of the stuff sticks to things when it's ironed, and the paper front makes it a breeze to cut into custom shapes.
Table of Contents
I love to use Iron-On Vinyl for a lot of craft projects but notice at times it's not the best medium to use for my project. Sometimes (especially with t-shirts) I want a more "hand-painted" look and freezer paper allows me to do that.
How to Create a Freezer Paper Stencil
What to give it a try? Here's what you'll need.
Supplies Needed:
– Freezer Paper
– Fabric Paint, Acrylic Paint with Fabric Medium, or Fabric Spray Paint
– Foam Brush
– A plain T-Shirt or Tote Bag
– Cutting Instrument (see options below)
Option 1 to make your Stencil: a Cricut Machine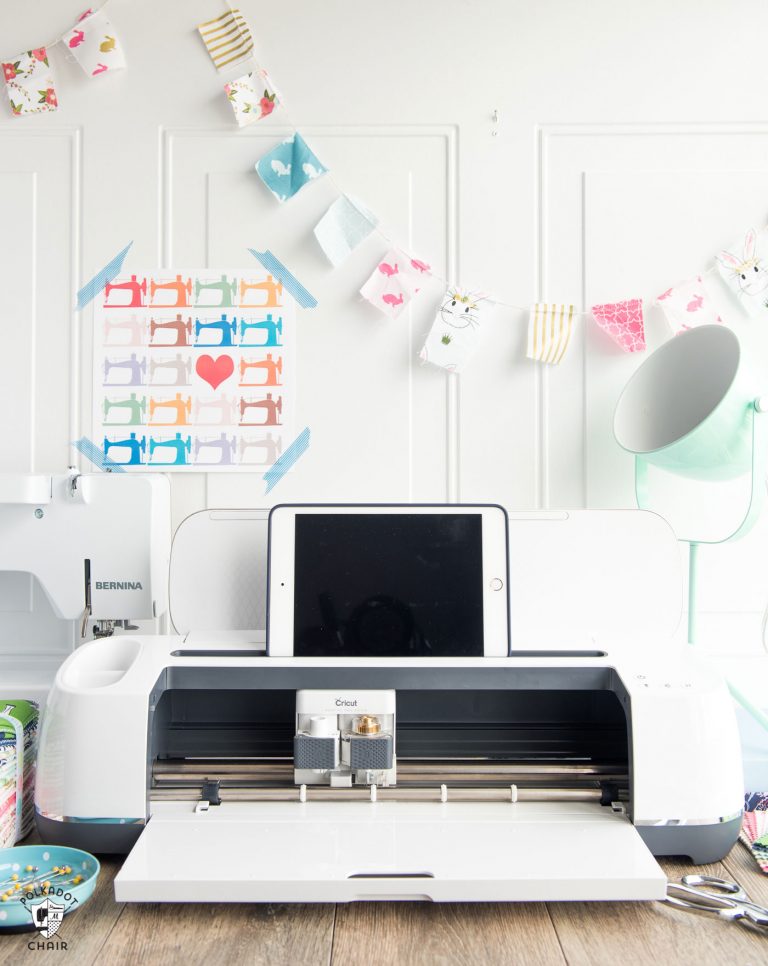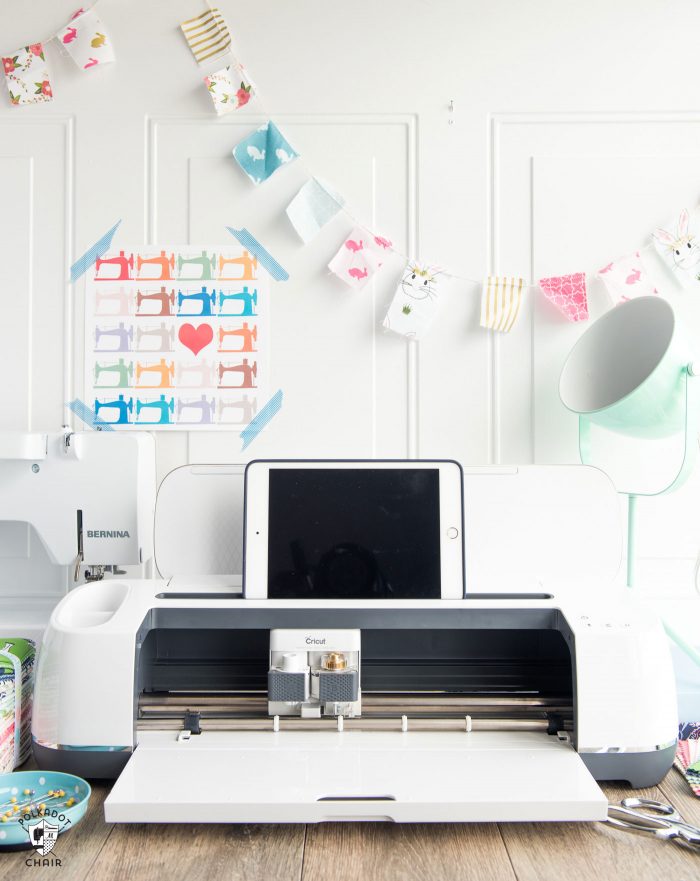 To cut your design on your freezer paper you have a few options. You can purchase one of the many "e" cutting machines on the market now. These things really are "magic". They hook up to your computer (or in the Cricut's case, your iPad or Tablet) and cut out what you design electronically. If you've been a long time reader then you know how much I love my Cricut machine. To see all of the Cricut posts on this site you can CLICK HERE.
Option 2 to Make your Stencil: Craft Knife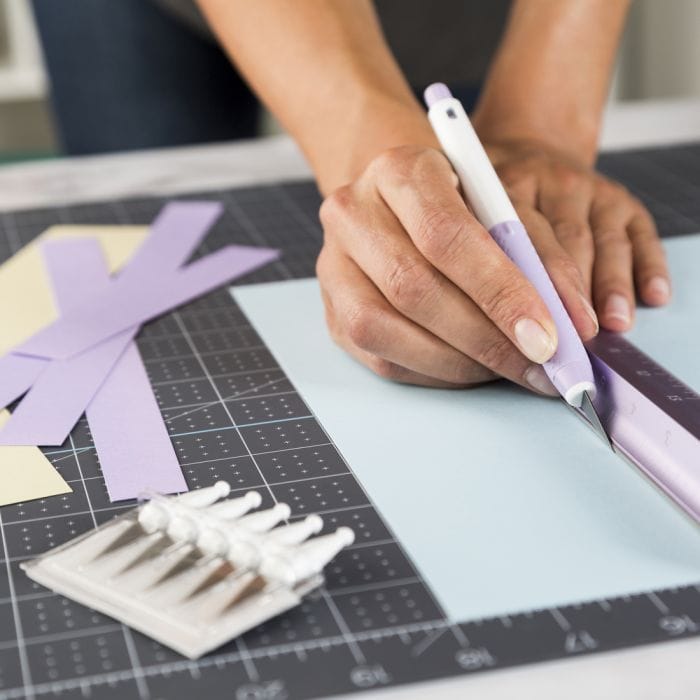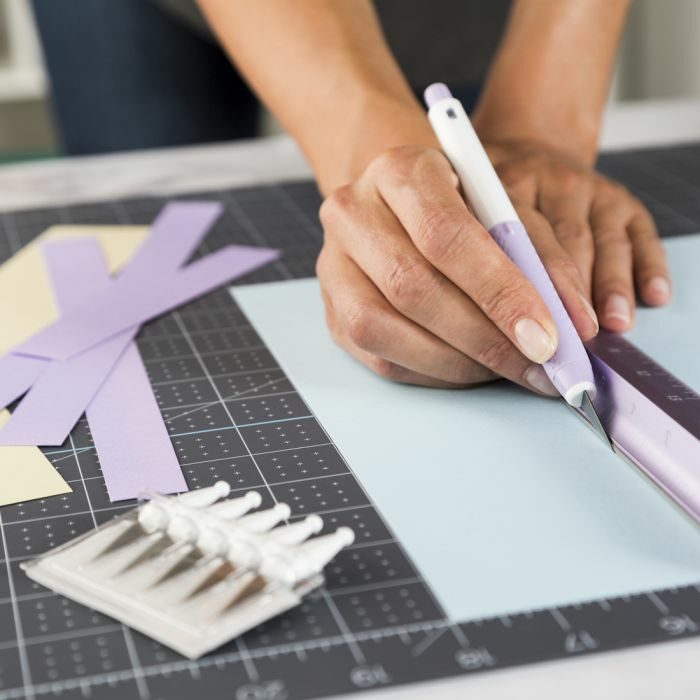 If you don't have a Cricut machine, you can still make your own freezer paper stencils. Freezer paper is VERY easy to cut with a sharp Craft knife (like the TrueControl Knife pictured above). I prefer the ones with a comfort grip. Use it with a cutting mat for best results. If you are cutting out your design with a knife, you can run the freezer paper through your printer (paper side up) and cut it out. Or if your design is not on your computer (maybe something you drew) you can trace onto the paper side of the freezer paper and then cut out your design. It may seem intimidating at first to cut out your stencil this way, but a friend of mine has created freezer paper stencils this way for years and swears by it!
How to Use the Stencil
Step One: Iron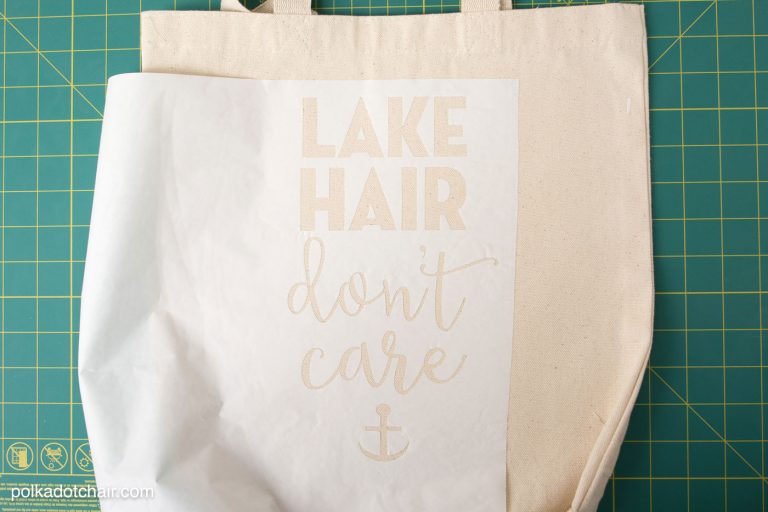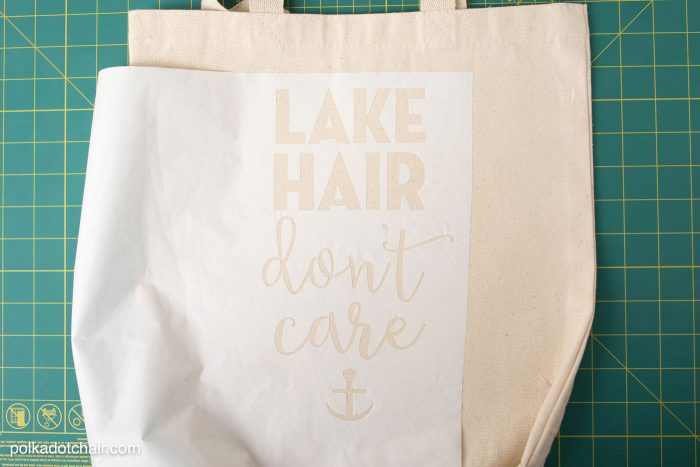 After you have cut out your design, iron the freezer paper onto the top of your fabric, shiny side down. The heat of the iron will melt into your fabric (but still peel off easily later, test a swatch first if you're worried about it).
Next, take the second piece of freezer paper and iron it to the back side of your fabric. This will help prevent too much paint from soaking into your fabric.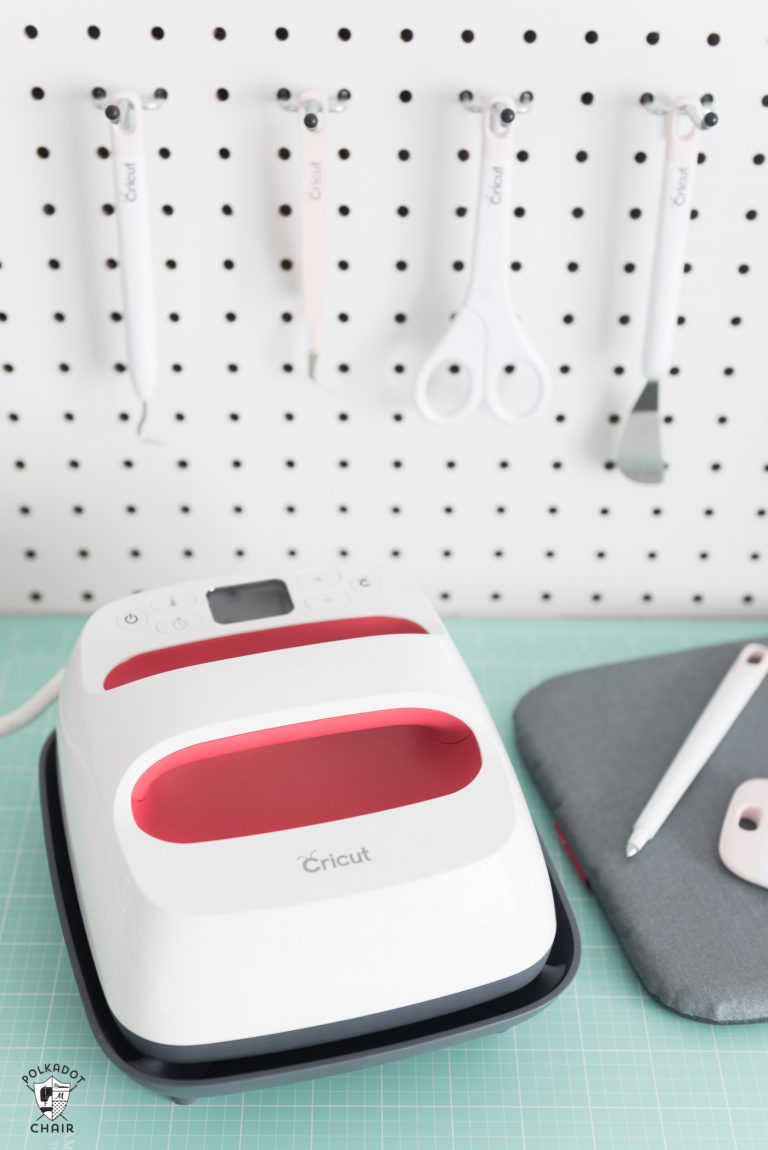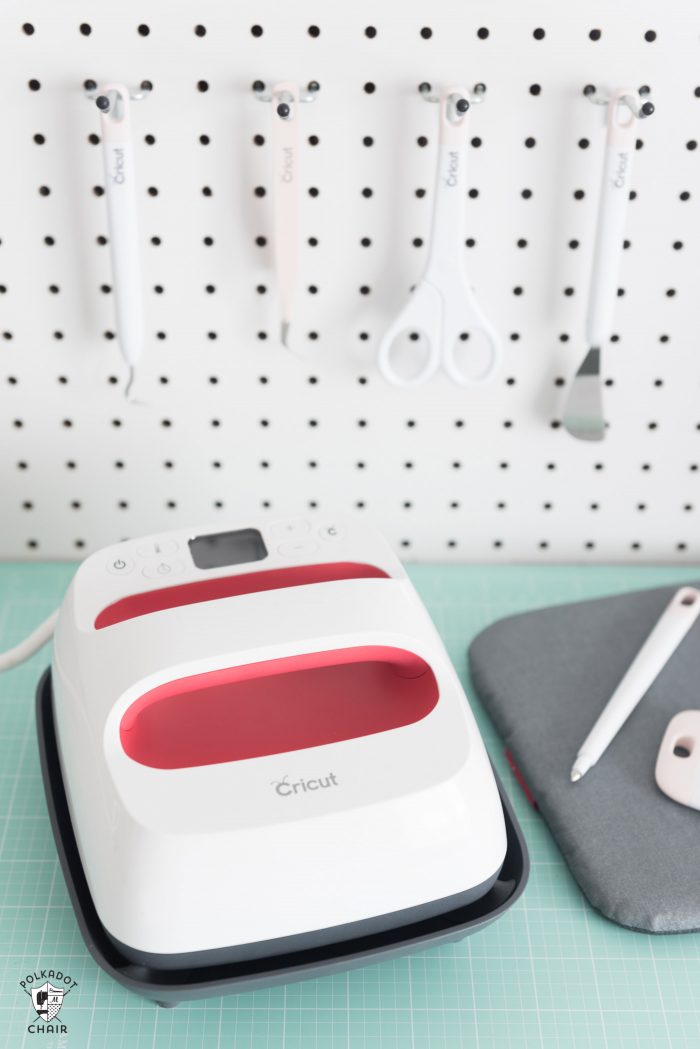 If you have a Cricut EasyPress it would be great for this step as well.
Step Two: Paint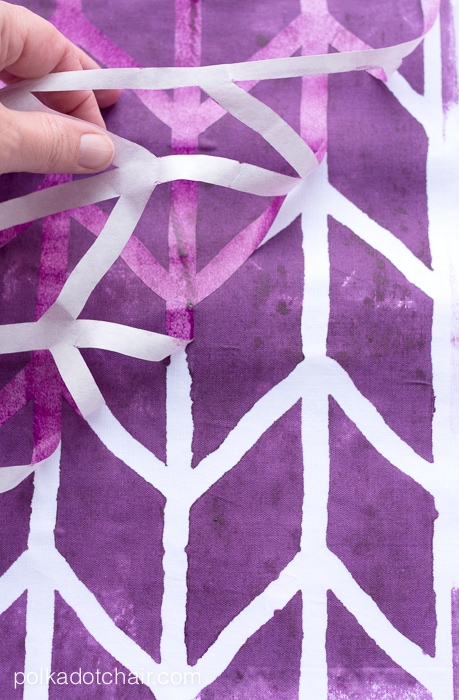 Using fabric paint and a foam brush dab the paint onto the fabric lightly. Don't use too much paint. Wait for the paint to dry and check to see if a second coat is necessary. Allow the paint to dry completely. If you can't find Fabric paint in a color that you like you can add Fabric Medium to any acrylic paint. You can also use fabric spray paint as well.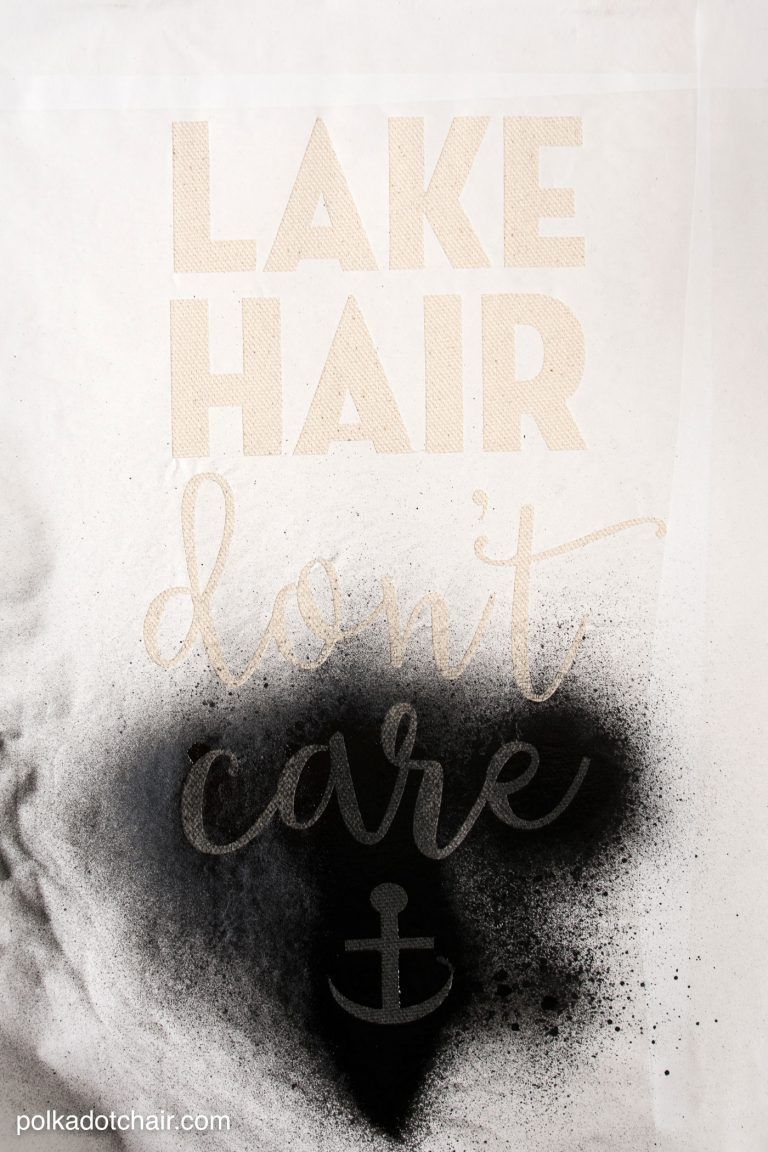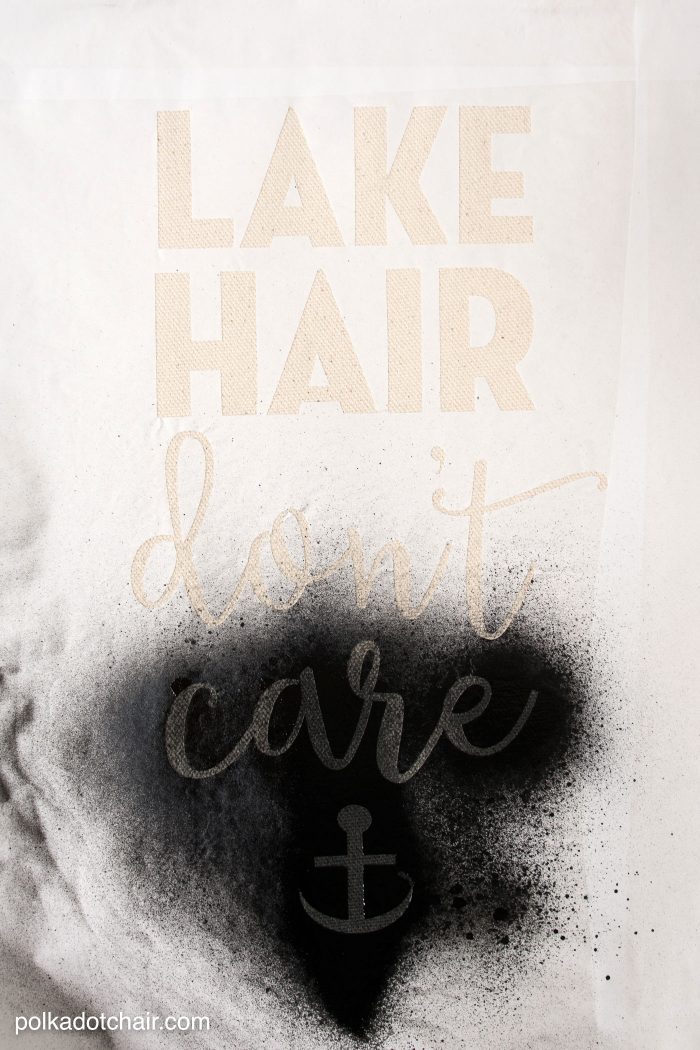 I've tried this a few times and think it's a great option.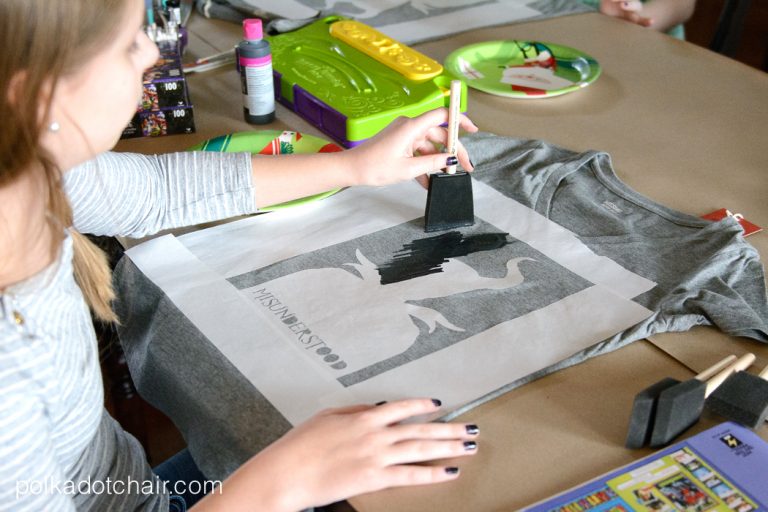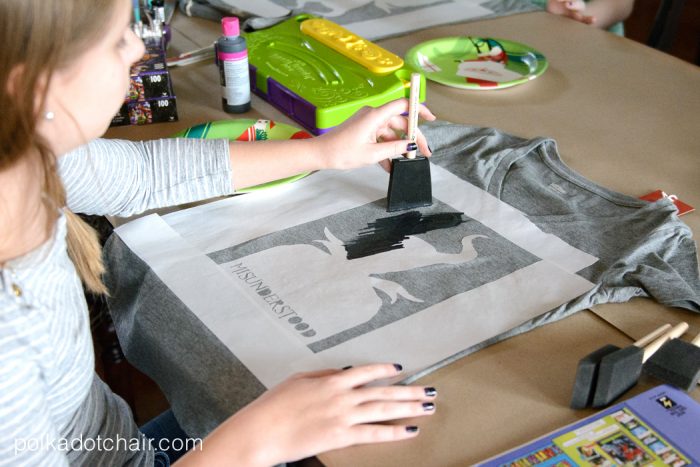 Step Three: Finishing
After your paint is dry, remove the freezer paper.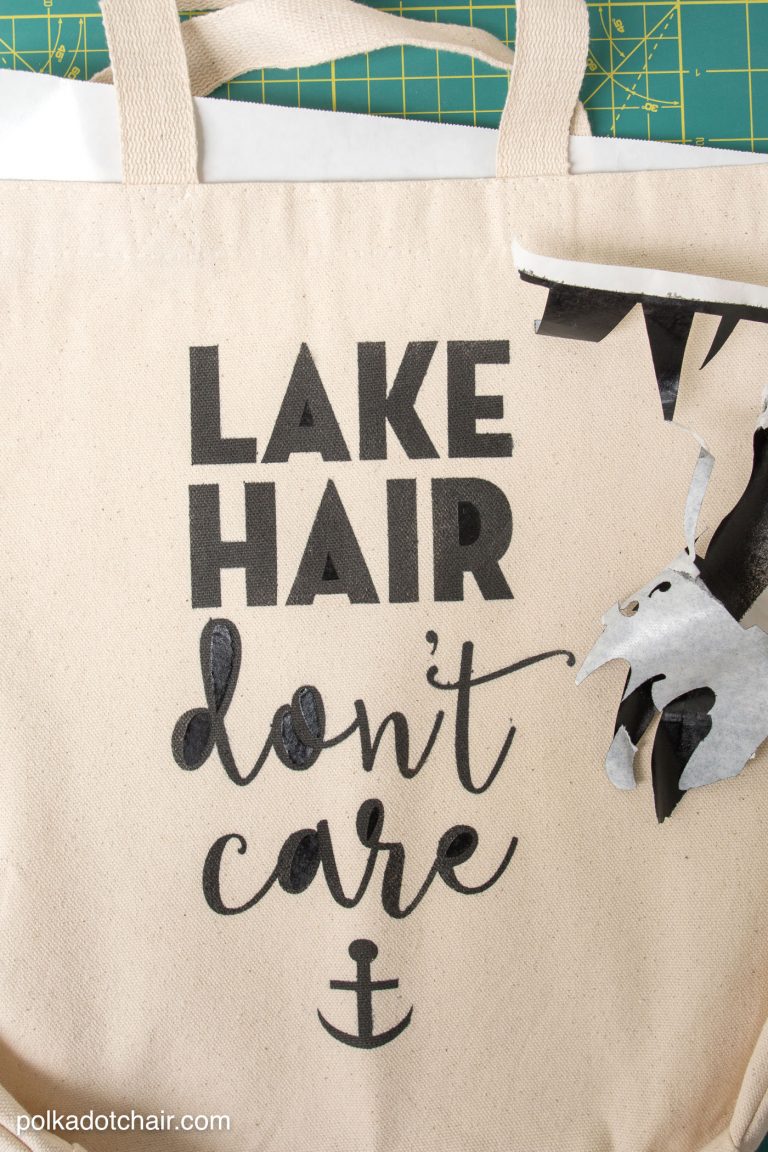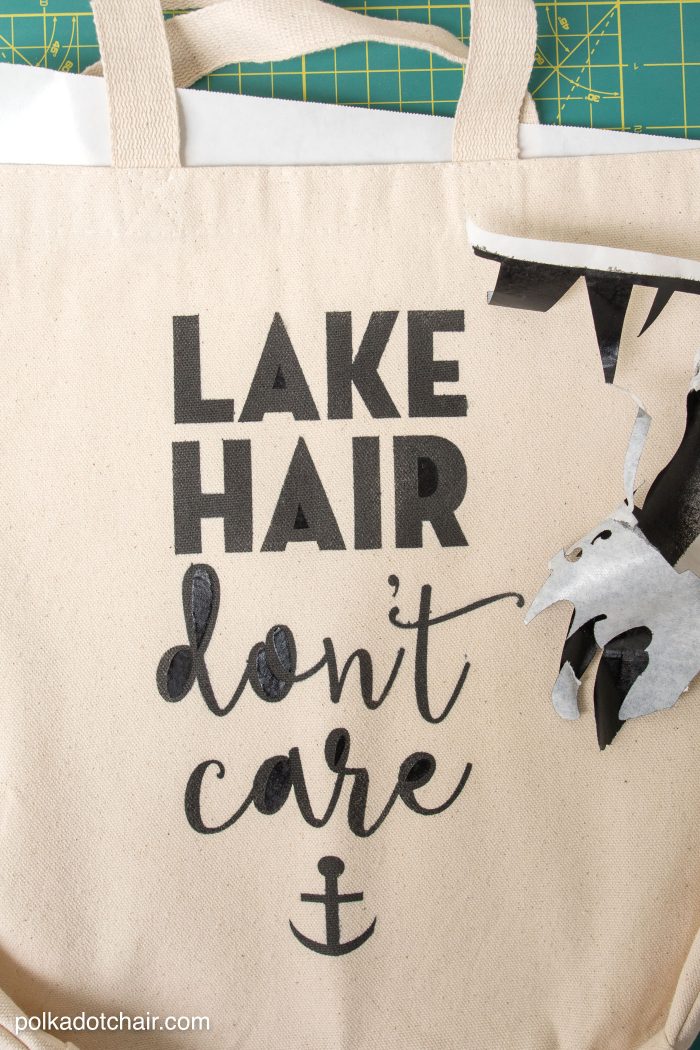 Use a dry iron to set the paint. That's it you're done! If you used good quality fabric paint you should be able to wash and dry your item as usual.
Freezer Paper Stencil Project Ideas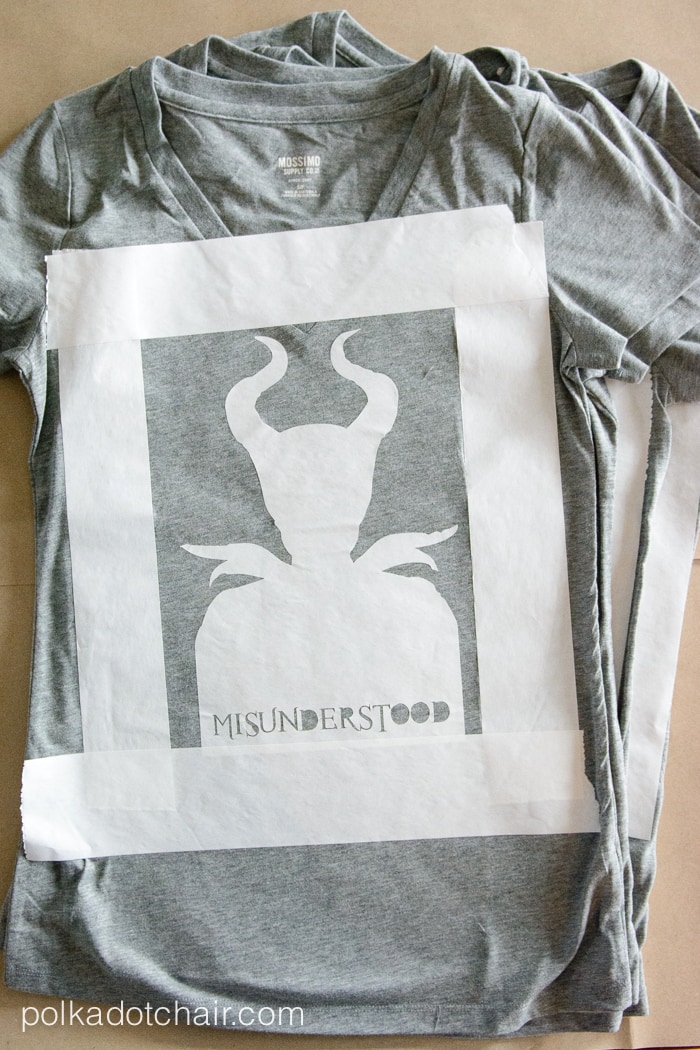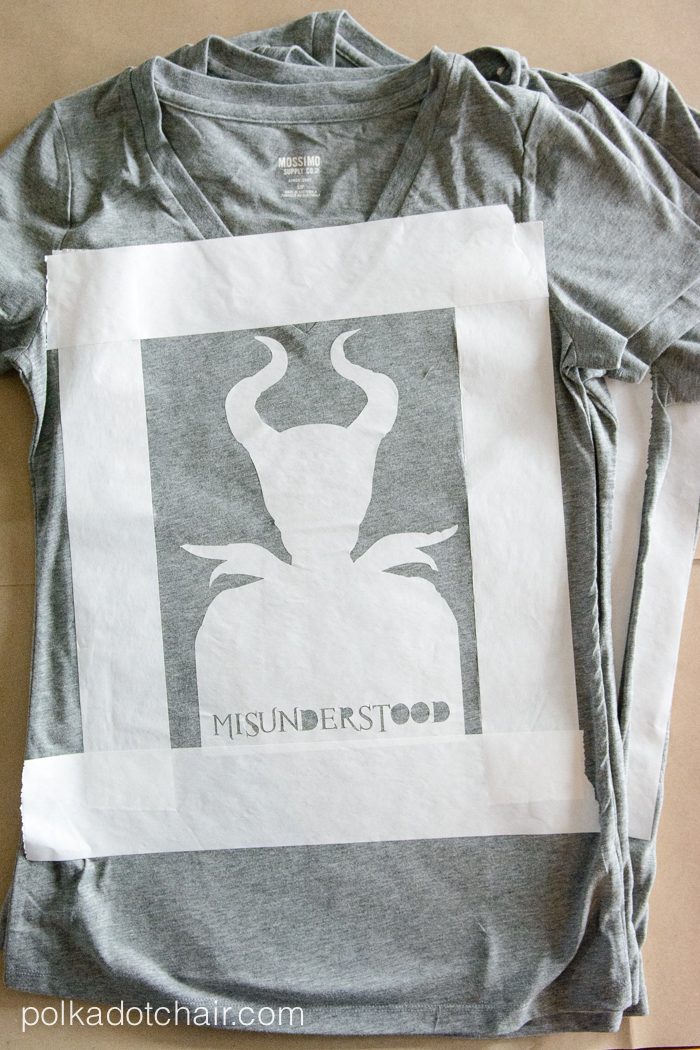 I love to use freezer paper to make t-shirts for Holiday or Birthday Parties. A few years ago I traced a silhouette of Maleficent to make t-shirts for a Disney Villians party we were hosting.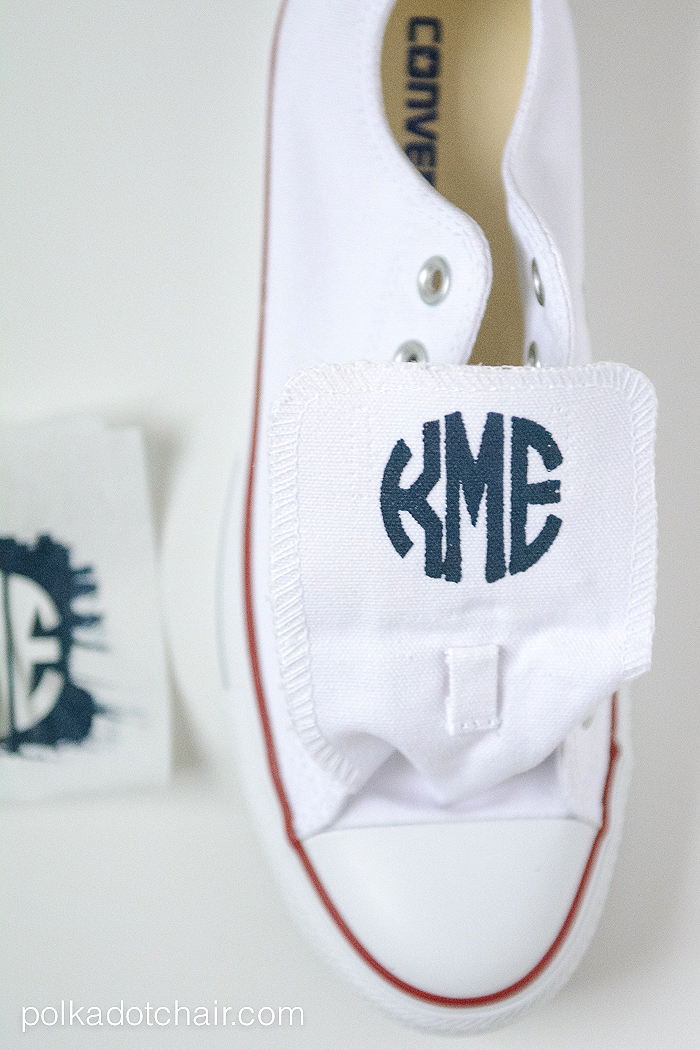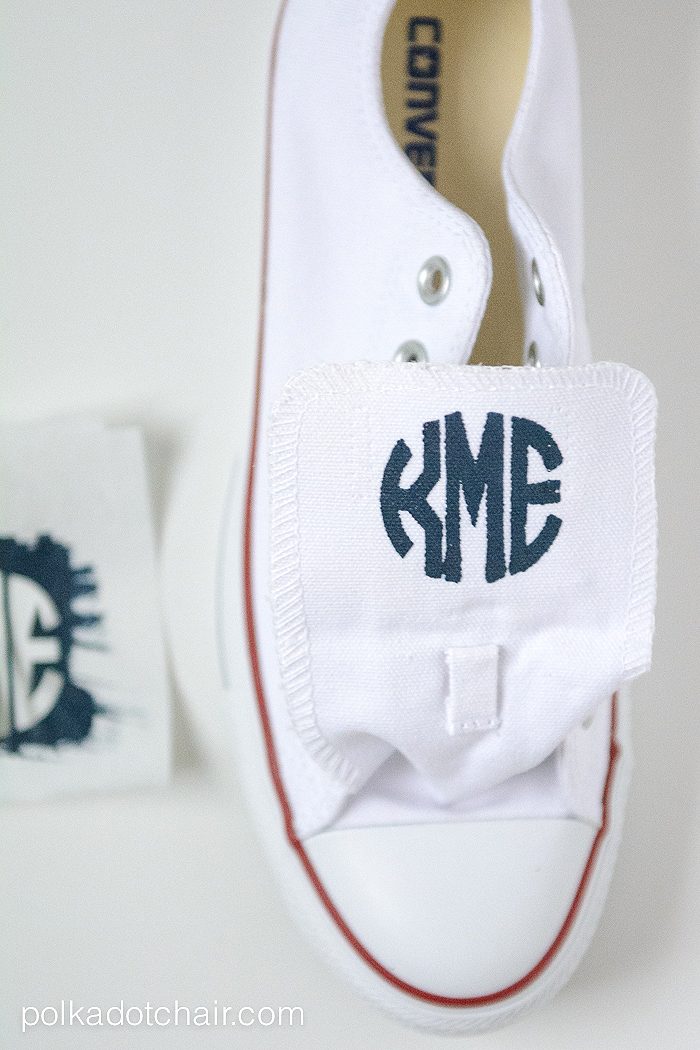 My daughter and I have even used it to add monograms to the tongues of her Converse Tennis Shoes.
You can use the same technique to make tote bags, canvas gift bags, onesies and more! The possibilities are endless!
More Freezer Paper Stencil Projects to Try:
Stenciled Fabric Infinity Scarf
You Are my Sunshine Burlap Pillow Sleeve