Hey guys! Today and I've got something a little bit different to share with you. Instead of a tutorial, I'm going to try to teach you something new!  I always get confused about the different types of knit fabrics and figured you did too. So today, I've got a glossary of knit fabrics to share with you.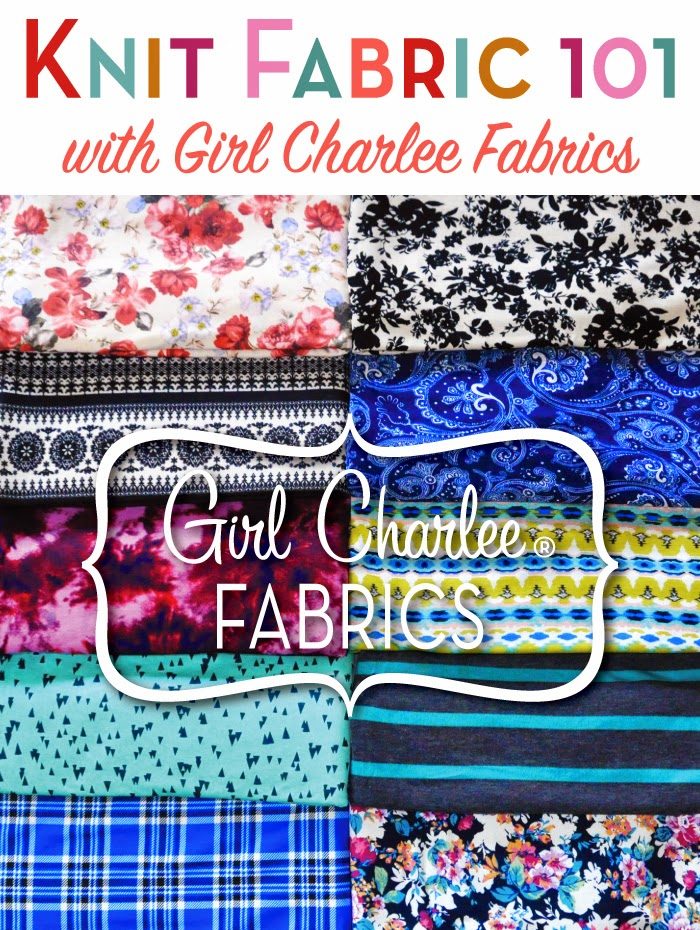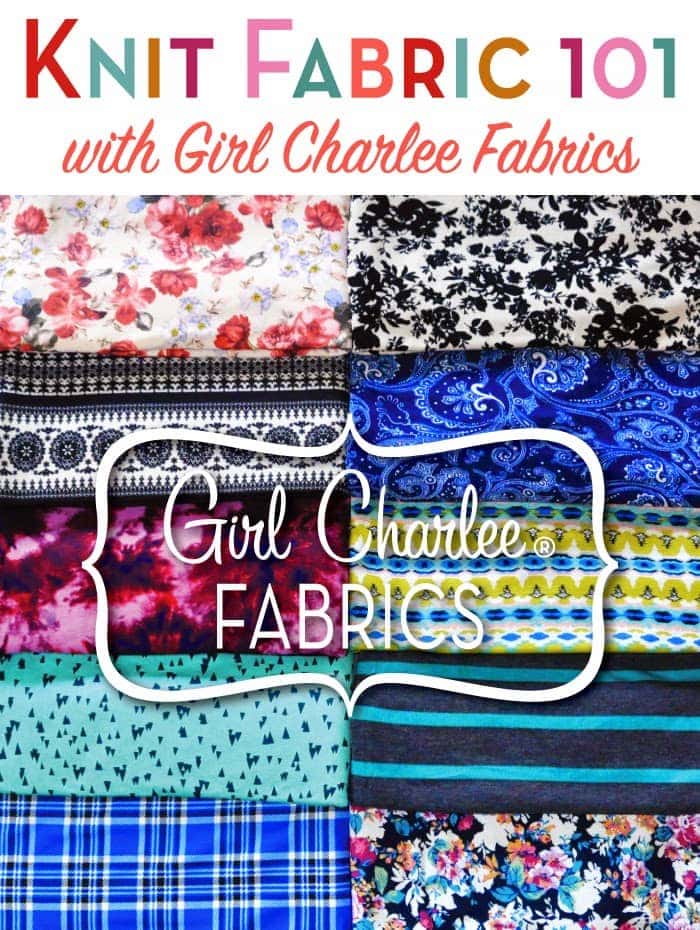 One of the biggest comments I get when I share a tutorial or project that features a knit fabric is, "how do I know what to buy"?  The terminology surrounding knit fabrics may seem confusing, especially if you are used to only buying woven fabrics.
Table of Contents
To help demystify knit fabrics a bit for you, I've asked Heather of Girl Charlee Fabrics to share some of her knowledge. She's sharing informing us on the different kinds of knit fabrics commonly available and what projects they are best suited for.
I met Heather at Quilt Market in Houston and had the best time getting to know her better and learning about her business. I think that you'll be able to tell that she has a passion for providing high-quality knit fabrics to us eager seamstresses.
So take it away Heather,
Knit Fabric Types Definitions
When out shopping for clothing you may notice that so many easy to wear and stylish fashions are made with knit fabrics.  You may also think to yourself, "I know I could make that myself, but I have no idea what kind of knit fabric to use!".  
There is a wide range of knit fabrics available that are perfect for sewing up many different everyday wardrobe items.  T-shirts, sweaters, hoodies, dresses, tops, pants, bathing suits… even underwear!  To get you started, we have put together a breakdown of the main knit fabric types and the best uses.
Cotton Jersey Knits:
Cotton Jersey Knits. These can be 100% cotton or blended with other fibers such as polyester or rayon.  100% cotton jersey is commonly used in t-shirt types as it has a sturdy hand and is worn with a minimal stretch.   These knit fabrics with polyester or rayon are trendy knits as they provide a more fluid drape and added stretch. This makes them suitable for a wider range of uses like tops, dresses, and more!
Cotton Spandex Knits:
If you are looking for a sturdy fabric that is good for leggings cotton spandex is a great "bottom weight" knit fabric choice. It has a high percentage of cotton combined with a small percentage of spandex for stretch and recovery.  
These knit fabrics also come in blends with rayon and other fibers that allow for a looser, drapey hand, and stretch. This allows for a more wide range of use in apparel and accessories.
Cotton Ribbed Knits:
Ribbed knits have wales or vertical rows of stitches that form ribs on both the face and the back of the fabric, making both sides appear the same.  Ribbed knit is usually 100% cotton but can also come with spandex and other fiber blends. They have a natural stretch that makes them very useful for cuffs, bands, and necklines.  Rib knits are also popular for use in infant wear and tops and dresses.
French Terry Knits:
French Terry Knits. These knit fabrics have a regular smooth jersey top side with a varying loop piling on the back (from long in length to very short).  Terry is typically 100% cotton, but can also be found with spandex and other fibers for increased stretch and recovery.  
These knits are currently trendy and can be used in many fashion applications in women's clothing. While traditionally used for swim coverups and athletic bottoms due to its moisture-absorbing capability.
Sweatshirt Fleece Knits:
Sweatshirt Fleece Knits. Cozy and soft sweatshirt knit fabric is a sturdy fabric with a smooth knit top side and a brushed soft fleecy wrong side.  These knits are great for the traditional hoodie or sweatshirt tops. They are also good for sweat pants and jogging bottoms, and shorts for both adults and children.
Hacci Sweater Knits:
Hacci Sweater Knits. Sweater knits, also known as Hacci, have a more loopy, open-knit texture than regular cotton knit fabrics and are usually made of blends of cotton and wool, polyester, or spandex. They are wrinkle-resistant and sew up just like regular knits!  The perfect knit fabric for making sweaters or cardigans and trendy flowy tops and dresses.
Lycra Spandex Knits:
Lycra Spandex Knits. When you think of swimwear and activewear applications, Lycra or Nylon spandex are the knits you want to use!  Usually found with nylon, rayon, spandex type of content, these knits have a very smooth hand and a four-way stretch.  Also a great fabric for making yoga pants, dresses, tops, dancewear, and much more!
Ponte De Roma Knits:
Ponte De Roma Knits. These knit fabrics are double knit fabrics usually made of cotton, rayon, spandex blend of fibers.  We love Ponte knits because they are stable, easy to sew knits as they are a good weight, resist wrinkles and creases. They also and have a soft hand and good stretch. Great for many different types of seasonless applications, including jackets, tops, bottoms, dresses, skirts, and more!
Other Speciality Knits:
Specialty Knit Fabrics. Many different types of knit fabrics are suitable for more specialized types of uses.  Such as vegan leather, lace, techno scuba, stretch-knit denim, stretch denim, twill, and many more.  
These fabrics all have different fiber contents that give them the characteristics you need to sew up items such as jackets, jeans, and other specialty items.  Just check the pattern instructions to determine the type of fabric you need.  Most importantly, if you want to use a specialty knit, test the stretch and make sure it will work for your pattern!
Project to Sew with Knit Fabrics
How to Make a T-Shirt Baby Blanket
Infinity Snap-Up Travel Scarf Tutorial