If you've wanted to learn how to quilt, but didn't know where to start, I hope that today's article helps you out! I'm breaking down how to make a quilt step by step in this beginner's guide to quilting!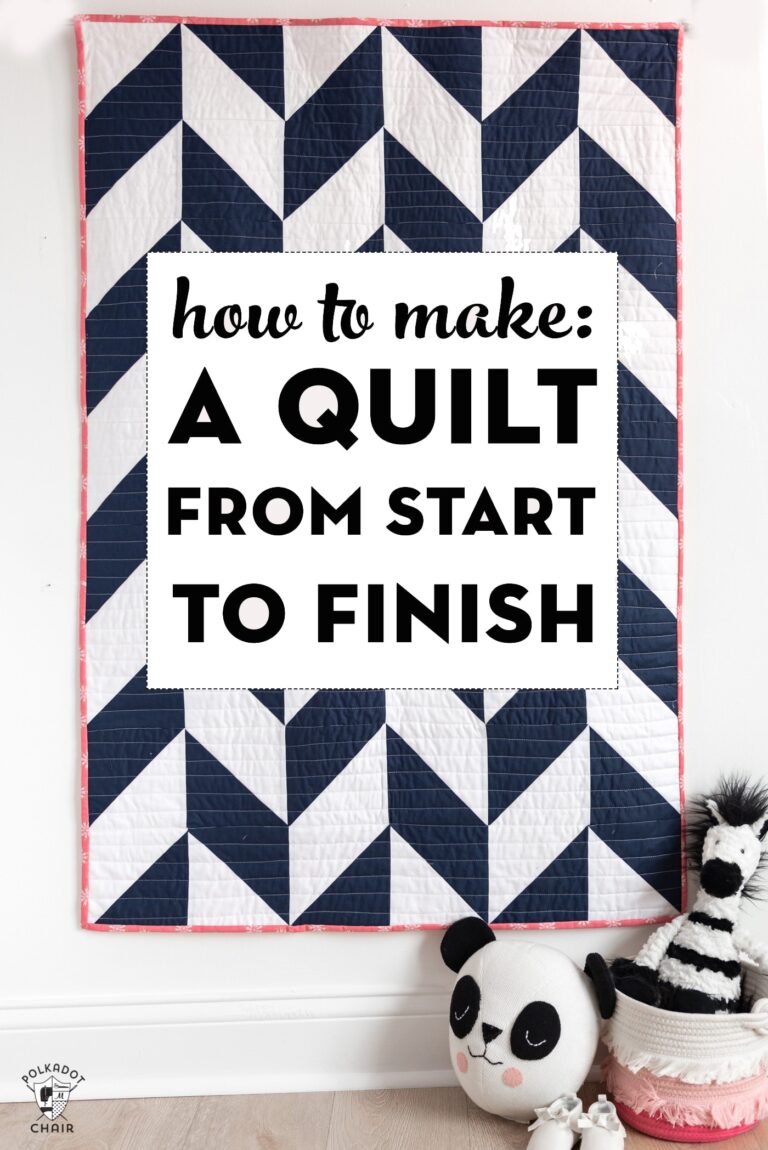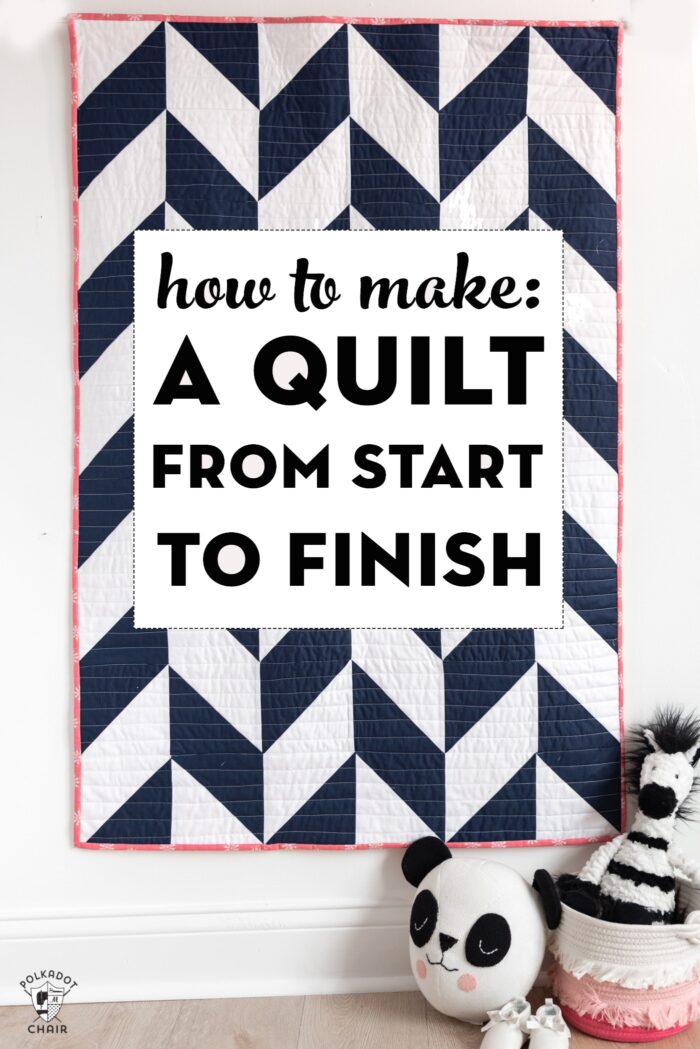 (Herringbone baby quilt tutorial found here)
Table of Contents
Recently I've been sharing a lot of quilt patterns and free tutorials. There are also quite a few quilt alongs that I'll be hosting this & next year. Because of all this quilt talk,  I have been getting a lot of messages from people who want to learn how to quilt. Some of them have been sewing apparel and bags and want to branch out into quilting and some are brand new to sewing.
I thought to help out the beginners in our community that I'd create a One-Stop source to help you know how to make a quilt from start to finish. I've broken down the process of making a quilt into 6 steps.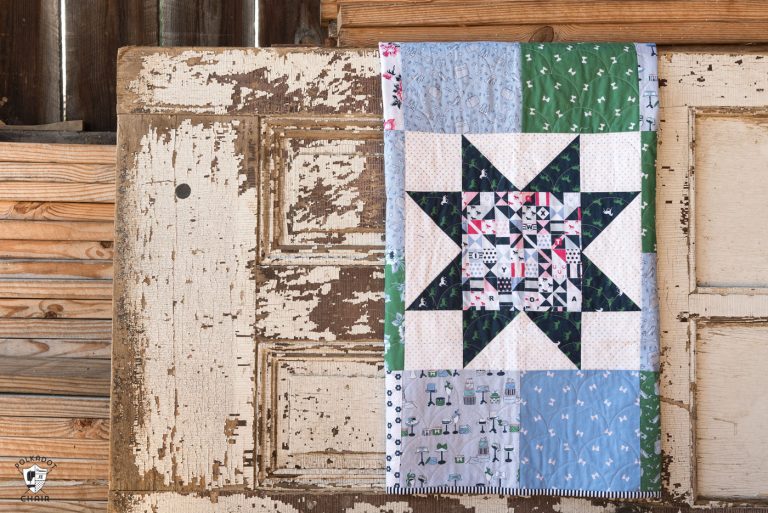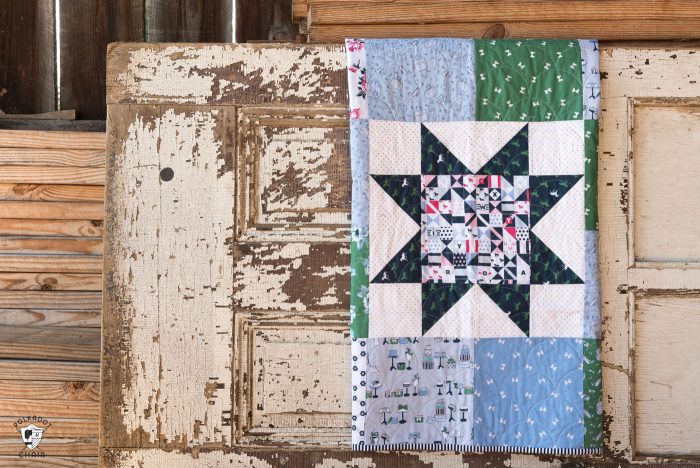 Since I've been blogging for so long, I've got a lot of quilting resources in the archives. Under each section, I've linked to helpful articles on this site. Each step is broken down for you. Under each section, you'll find a brief description of that step, followed by links to get more information and clarification.
I really hope this helps those of you wanting to learn how to quilt to learn. Quilting has brought so much joy to my life, and I love to share that joy with others. There is something magical about taking a pile of fabric an turning it into a cherished heirloom.
How to Make a Quilt:
Step One: Pick a Pattern
The first thing you need to do is decide what you want to make. There are thousands of quilt patterns and tutorials to choose from, so narrowing it down might be a little bit difficult. To help you narrow down your search I've written a post with more than 45 quilt tutorial suggestions for beginning quilters.
One of the simplest quilts to make for a beginner is a simple patchwork quilt. These quilts are stitched together using all of the same size squares. One of the fastest ways to create a simple patchwork quilt is to buy a pre-cut stack of squares.
You literally just take them out of the package and stitch them all together. SO EASY!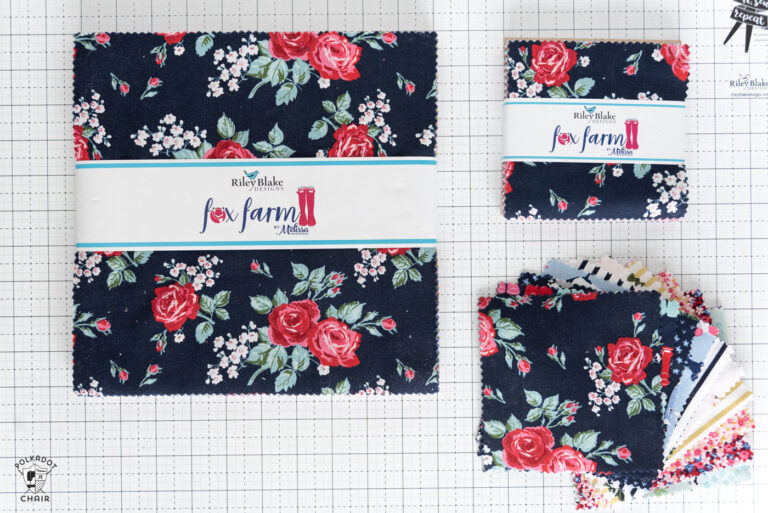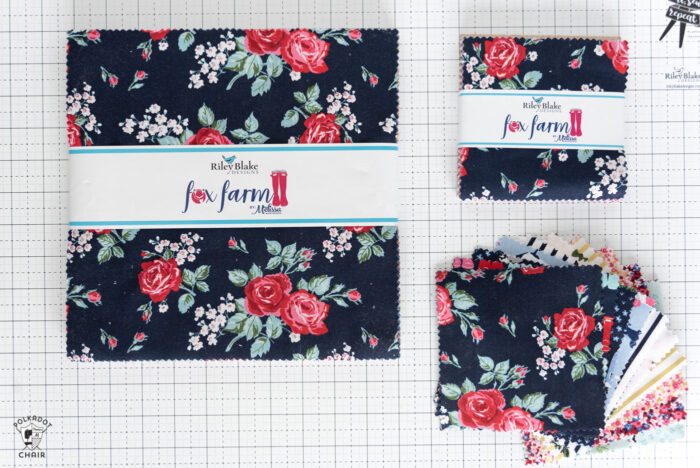 Here are a couple of examples of simple patchwork quilts: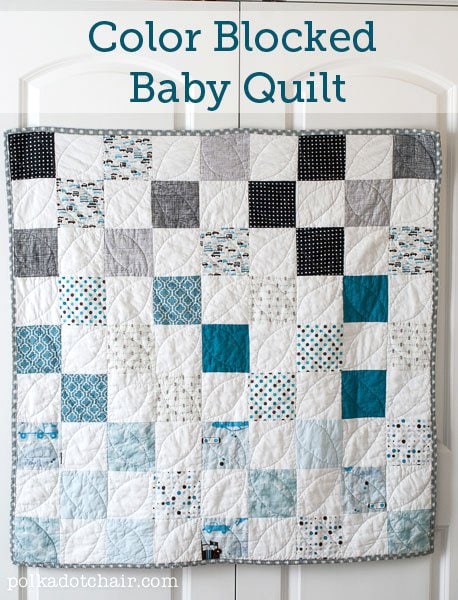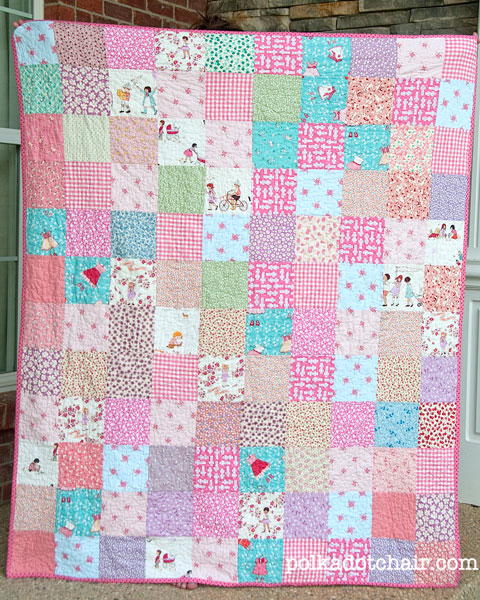 You can also create a quilt by sewing strips of fabric together.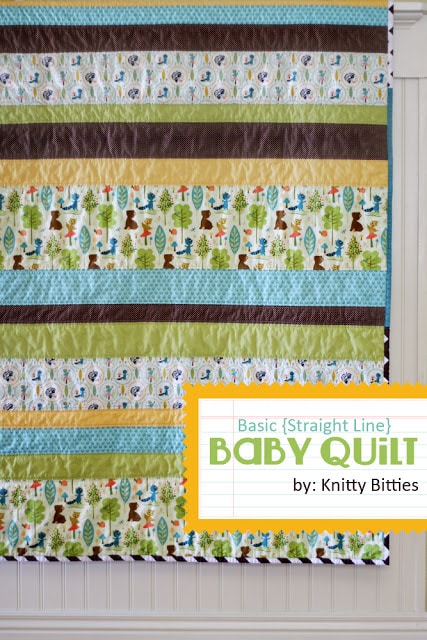 Basic Baby Quilt Tutorial – 30 Days Blog
This is one of the fastest and most beginner friendly ways to make a quilt. You can find a baby strip quilt tutorial HERE.
After you've mastered stitching simple squares together you can move onto more involved patchwork projects. When you do this you'll make individual quilt blocks then stitch them together to make a quilt top. If you're looking for a beginner friendly quilt block quilt, you might like our Just For Fun Quilt Block program.
Step Two: Choose your Fabric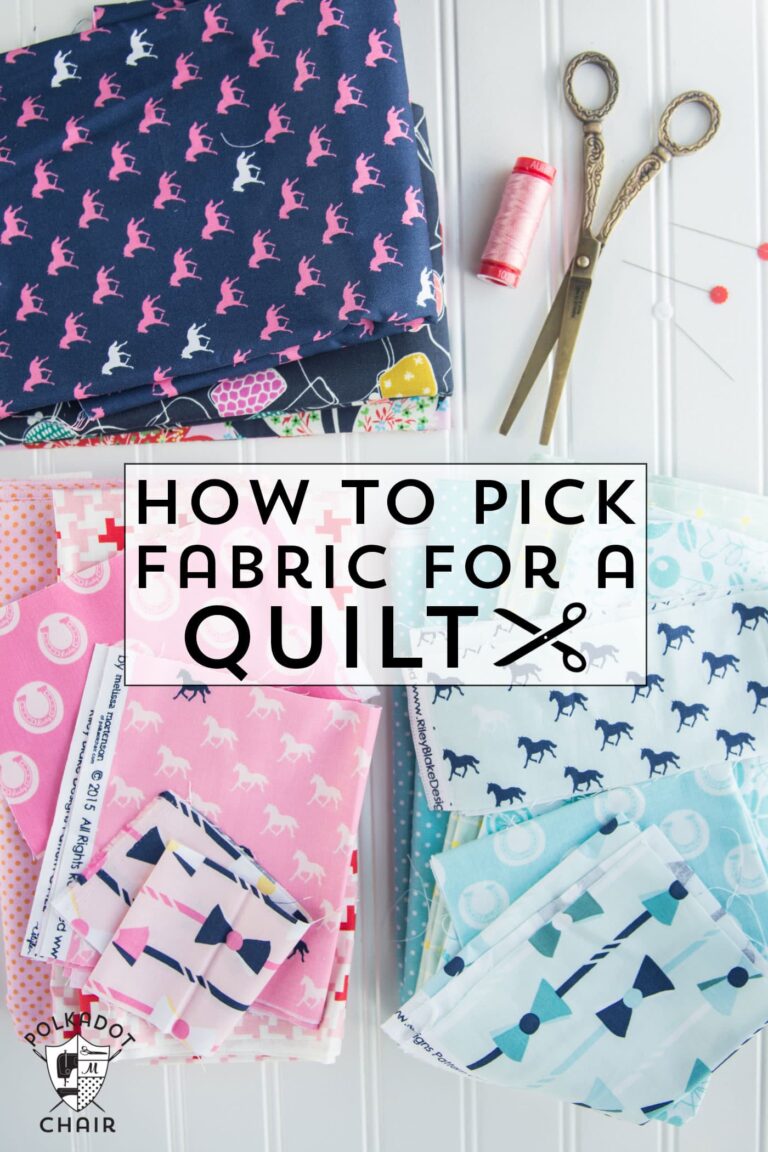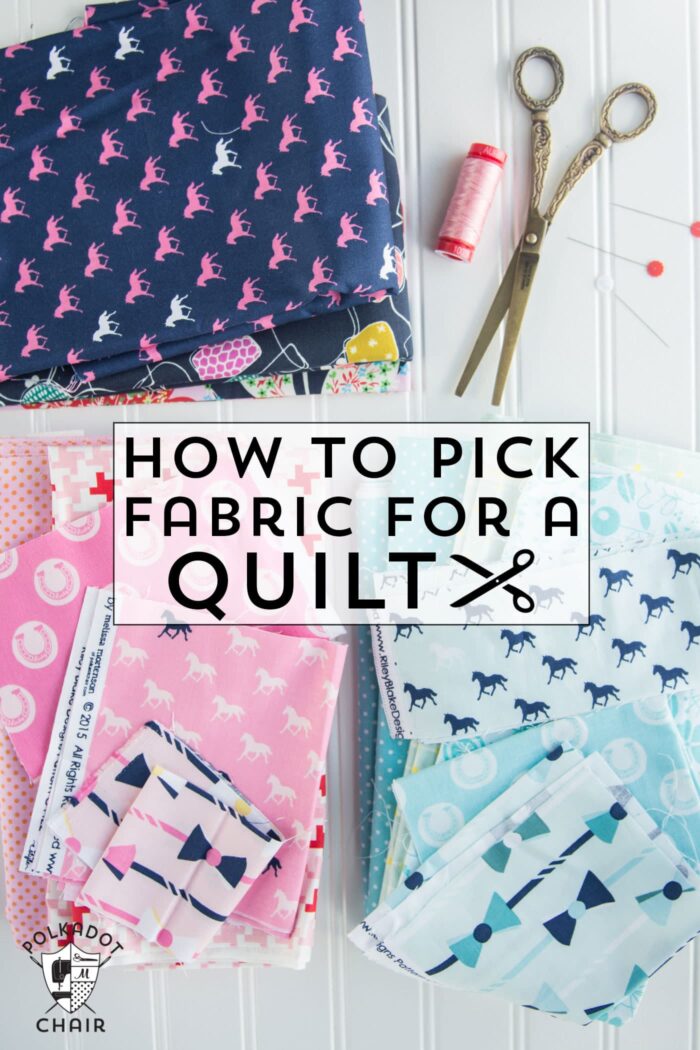 Tips for choosing fabric for a quilt
When you create a quilt, you want to use quilting cotton. It's a nice woven fabric that holds up well to being cut into small pieces and will wear well over time. I recommend purchasing high-quality quilting cotton from quilt shops online or in person. You want all of your hard work to hold up over time.
I've written an entire post with tips for choosing quilt fabrics. You can read it HERE. To "sum up":
-Pick your color scheme FIRST.
-Look in your existing fabric collection for color scheme ideas.
-Buy good quality quilting cotton.
-Decide on a neutral background fabric.
Step Three: Cut out your Fabric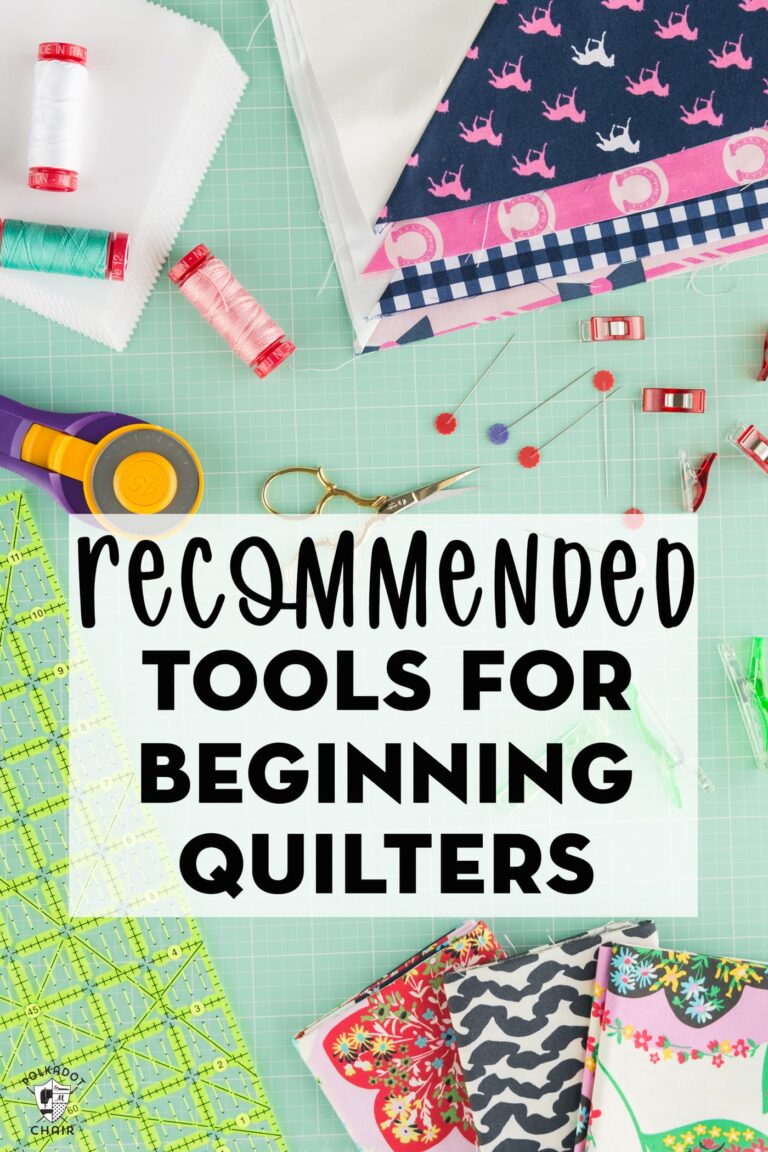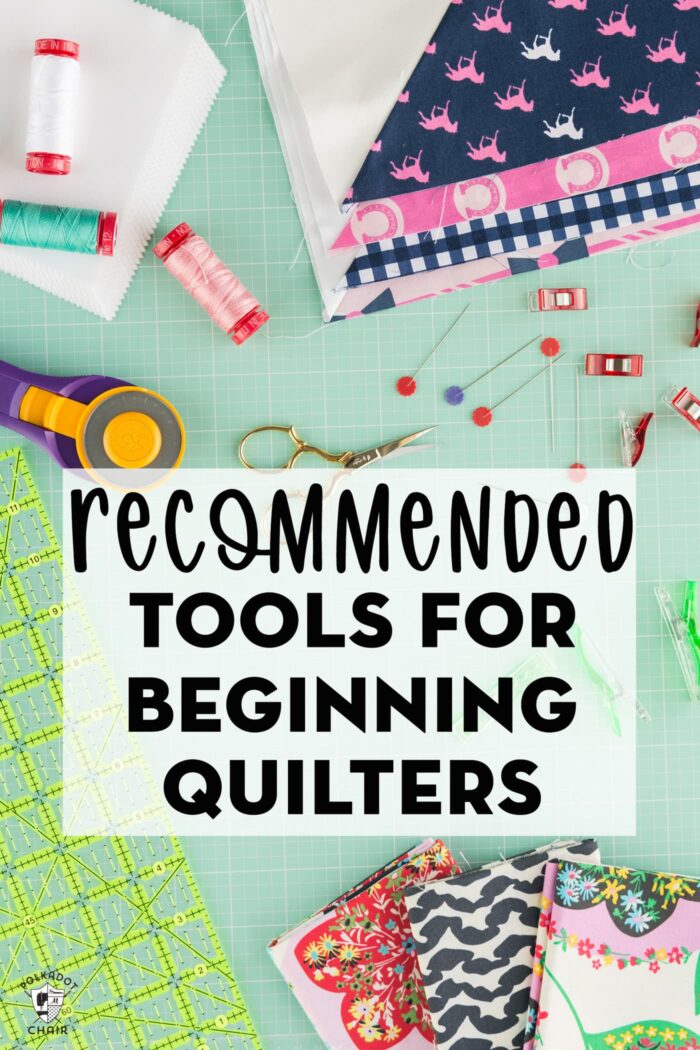 A lot of people ask me what they need to get started quilting. The tools used for quilting may seem intimidating at first but you only need a few simple supplies to get started. Here is my list of recommended quilt supplies you need to get started. These are just the bare minimum supplies you need to get started. After you get these you can start adding to your stash with more "fun" stuff.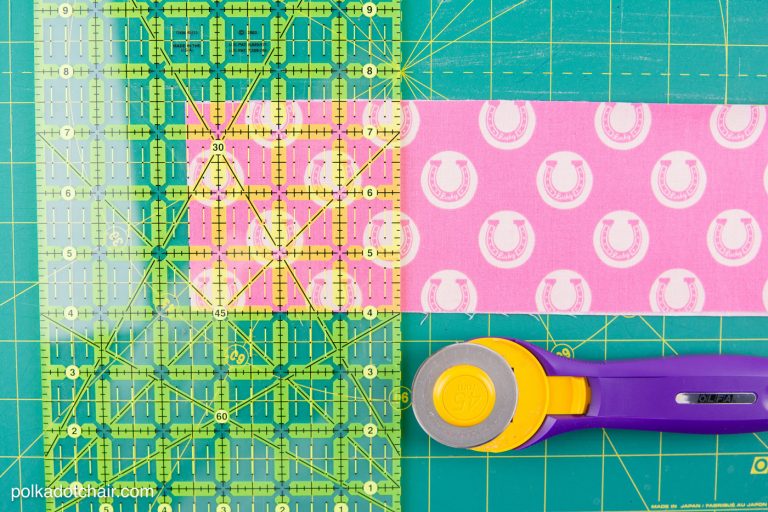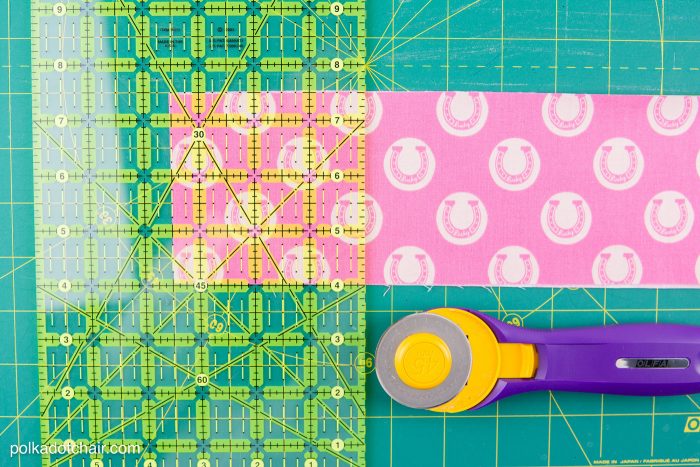 Follow the directions on your quilt pattern or tutorial to find out what sizes to cut your fabrics. Most quilts are sewn with simple rectangles and squares. Because of this, it's easiest to cut out quilt fabric with a rotary cutter and ruler.
To cut the fabric for a quilt you need a quilt ruler, rotary cutter and mat. It is VERY important to cut your pieces accurately. If you're off by even 1/16 of an inch it will mess up your construction. For tips on how to do this check out How to Cut Fabric with a ruler and a rotary cutter.
Step Four: Piece the Quilt and Construct the Quilt Blocks (if creating quilt blocks)
Quilt pieces are sewn with right sides facing with a ¼″ seam allowance. You MUST figure out on your machine where the ¼″ mark is. Once you think you've found it, stitch a test seam then measure it.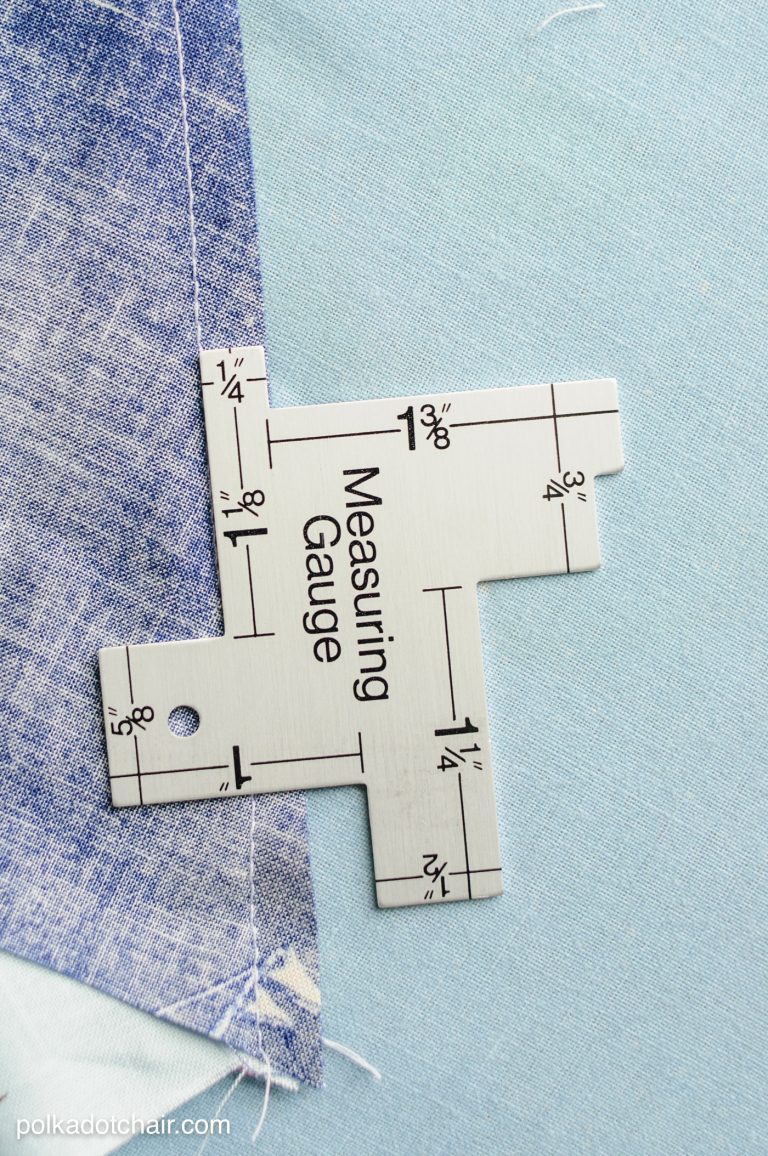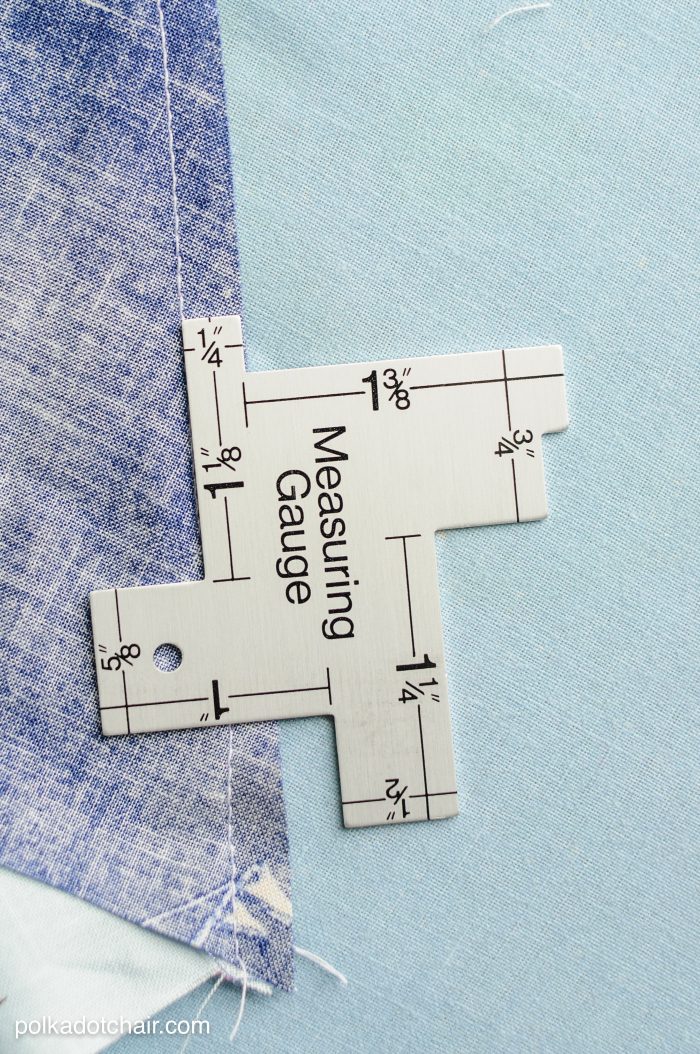 I find it helpful to then mark that point on my sewing machine with a strip of washi tape.
Always keep to the same ¼″ mark. Quilts are designed so that the "math" of it all adds up taking into account ¼″ seam allowances. If your seam allowance is ⅜″, for example, your quilt pieces won't fit together. Think of it like pieces in a puzzle. They have to be exact to fit together.
Construct the quilt according to the directions in the pattern. Each designer has a different way to construct their quilts and blocks. You may find over time that there are certain designers that you prefer based on their methods.
If you get stuck, go back and read the directions again. It's easy to miss things the first time around!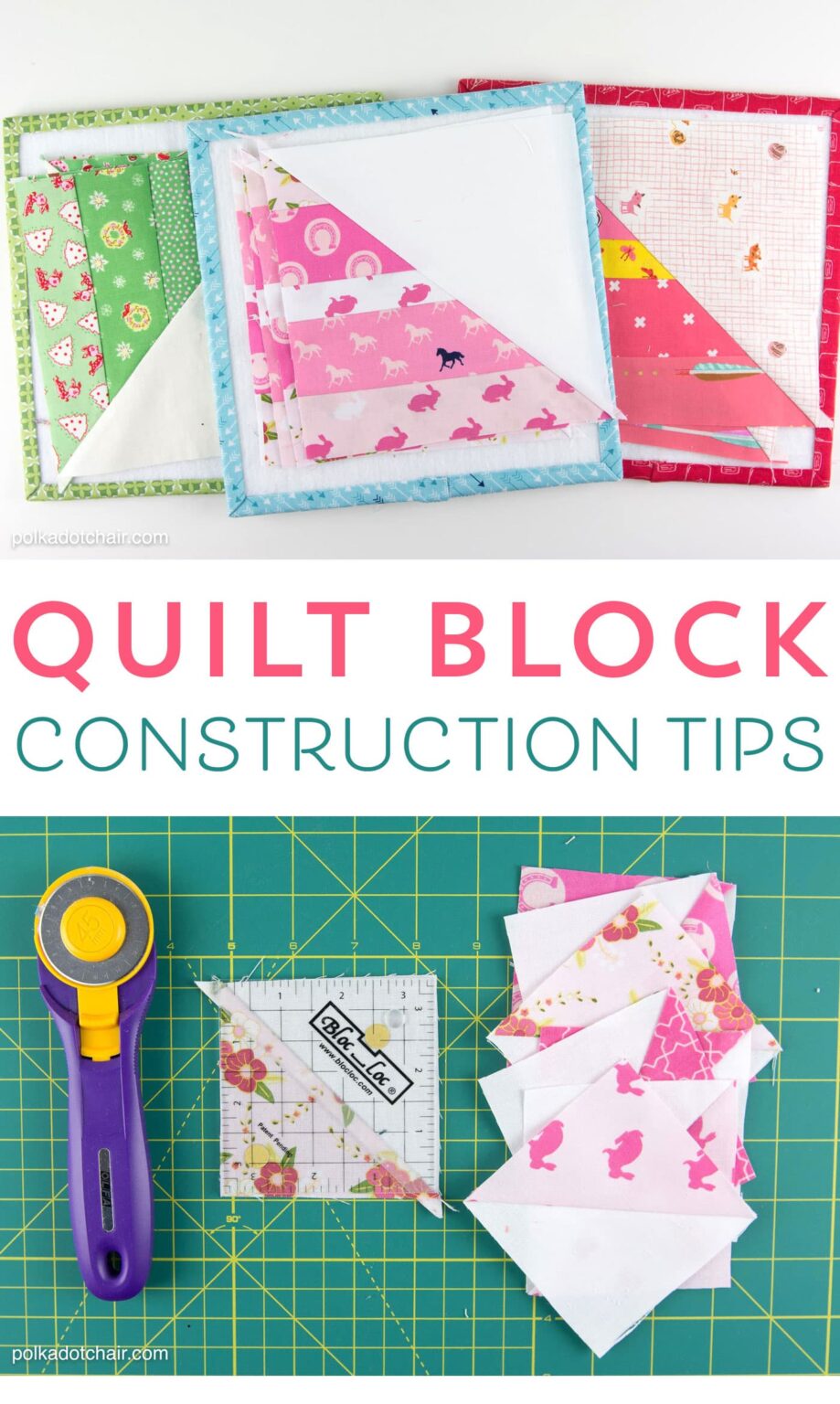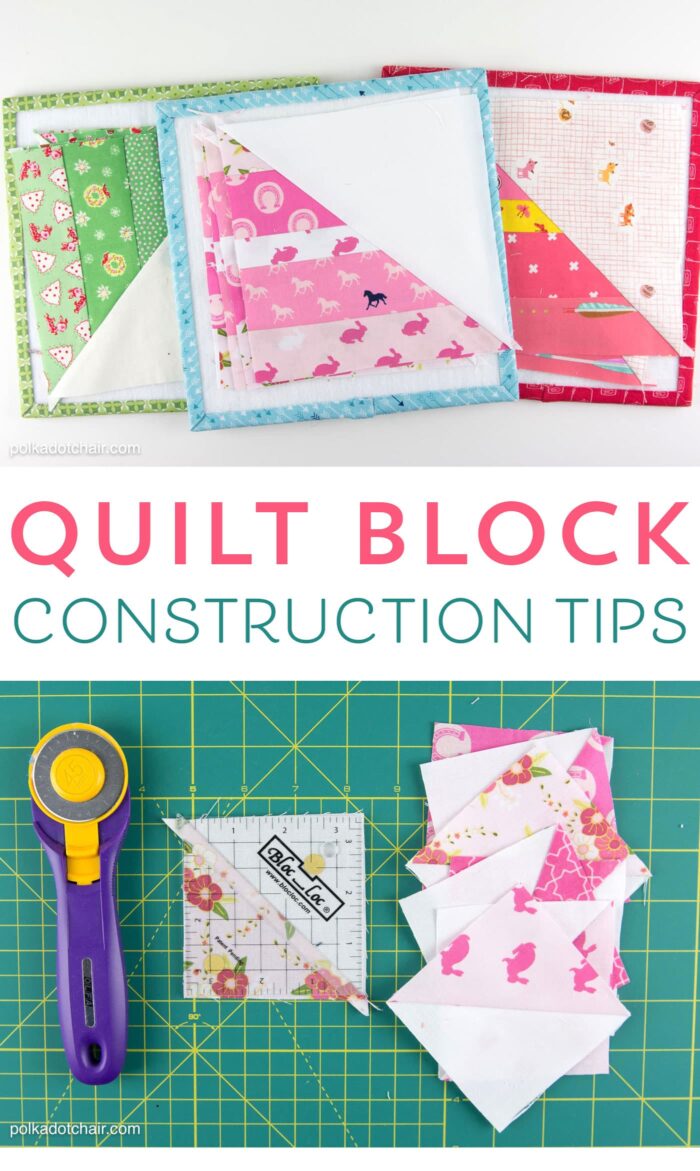 Quilting Tip: Press the Right Way!
You do not iron while you're quilting, you PRESS. Meaning you move up and down with your iron and not back and forth. The steam in the iron will loosen the fibers in the fabric and if you move the iron back and forth you'll change the shape of your fabric. Instead, move up and down and press the seams.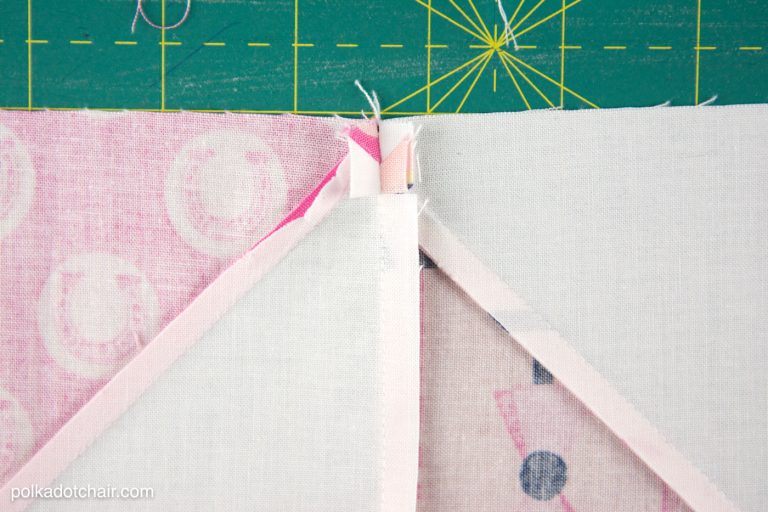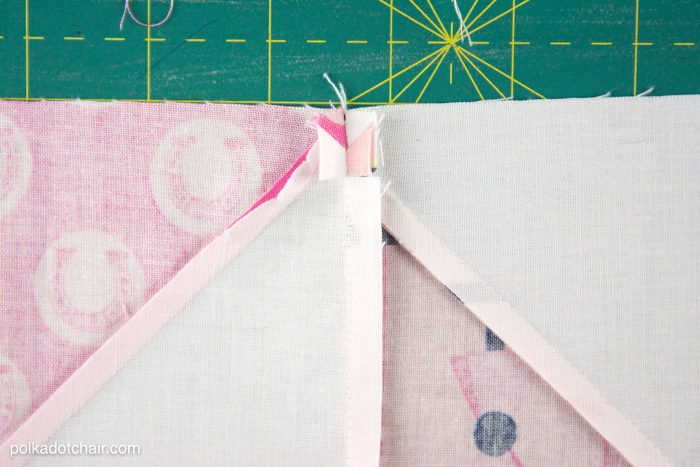 Also, seams in quilting (for the most part) are pressed to one side (as shown above).
For even more detailed instructions, check out this Quilting Basics for Beginners Post.
Also, if you're new to quilting I recommend this post with 3 MUST-KNOW tips for beginning quilters.
Step Five: Construct the Quilt Top and Quilt
If you haven't already, you need to stitch the quilt blocks from your quilt into a quilt top. Before you start sewing, however, I recommend that you lay out all of your blocks to make sure you've got a layout that you're happy with. To do this, you'll need a blank wall of some sort.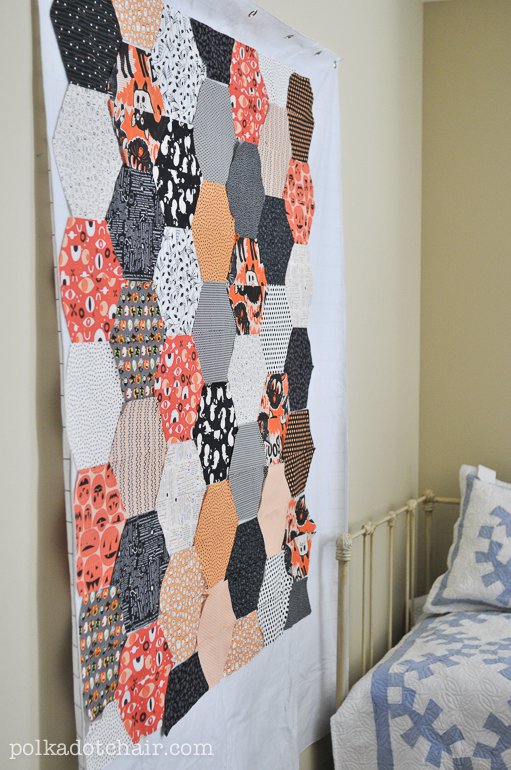 For my design wall, I have this one from Fons & Porter. It has grommets in the corners, so you can use command hooks to take it up and down if you don't have a dedicated wall.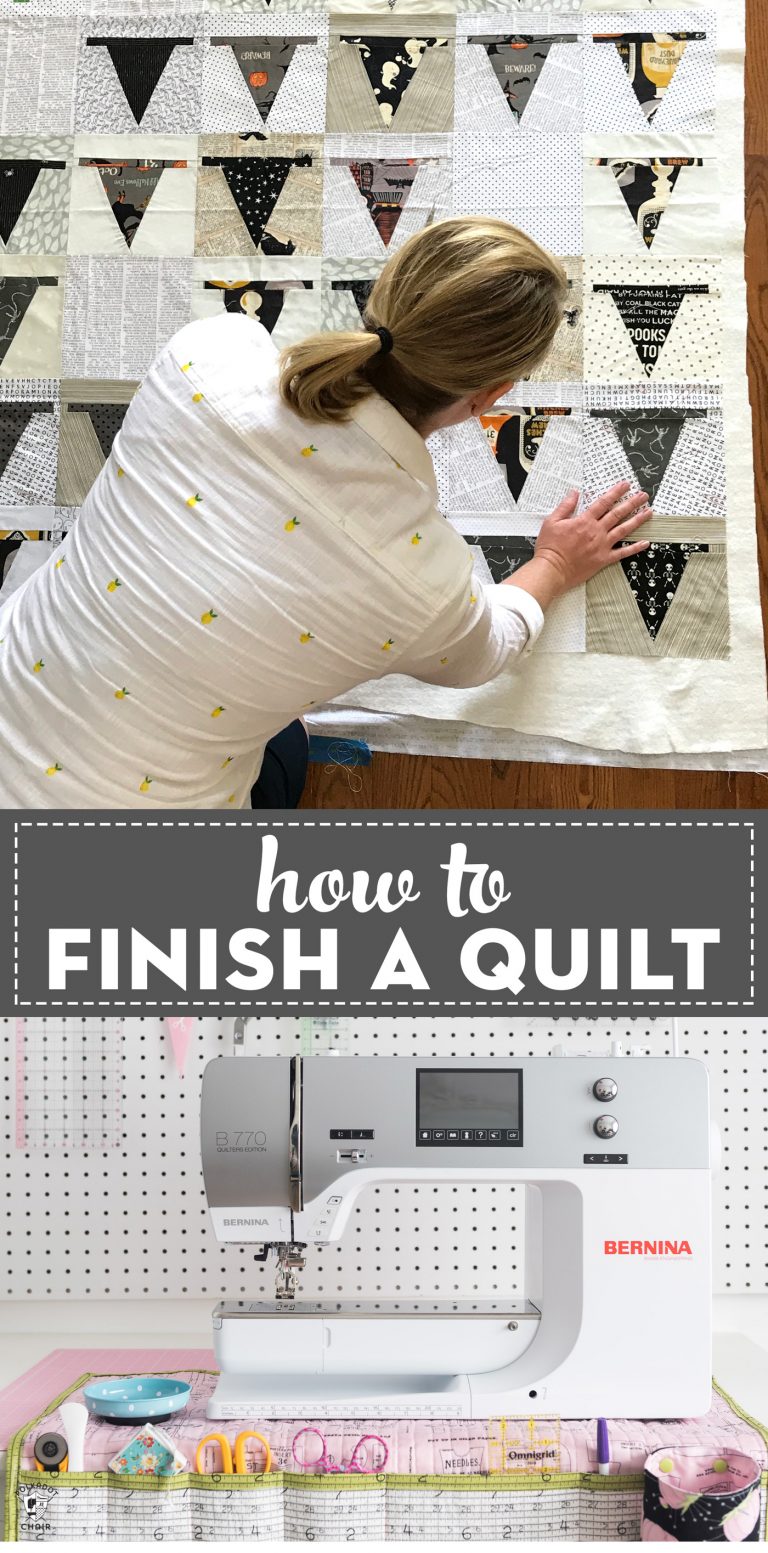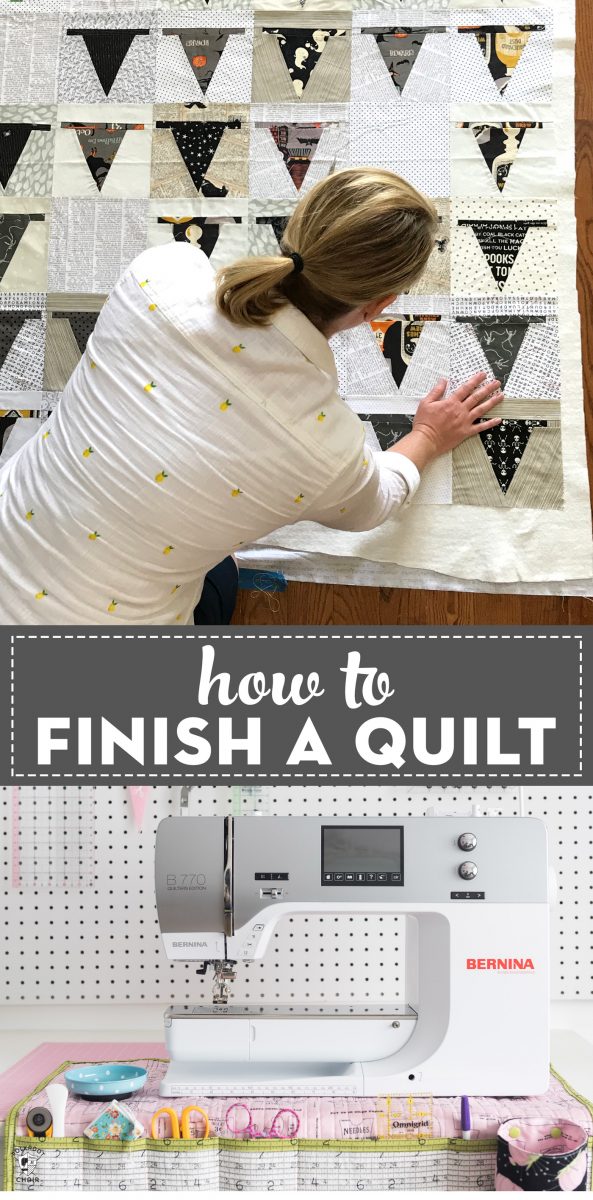 Finishing a Quilt Option 1: Machine Quilt at Home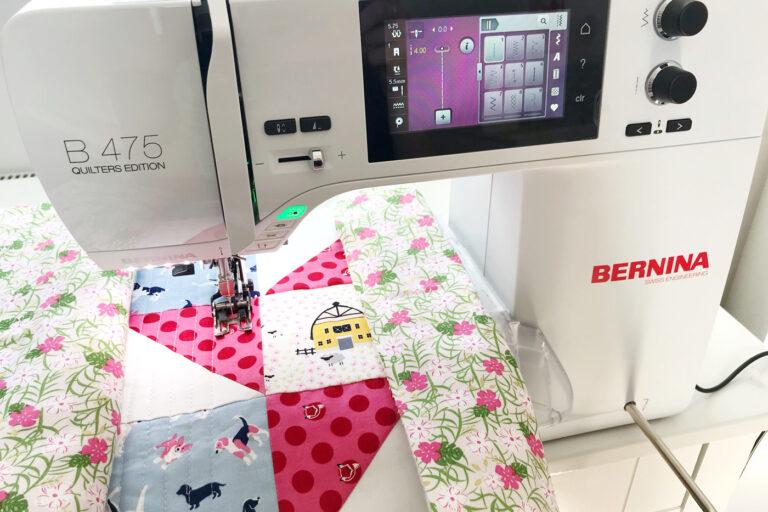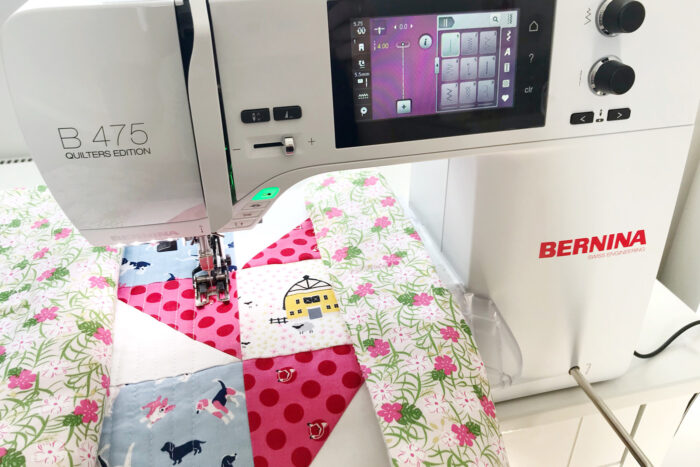 The first step to machine quilting is to make a quilt sandwich. I've found the best way to do this is on the floor (I've also used my design wall before for smaller quilts).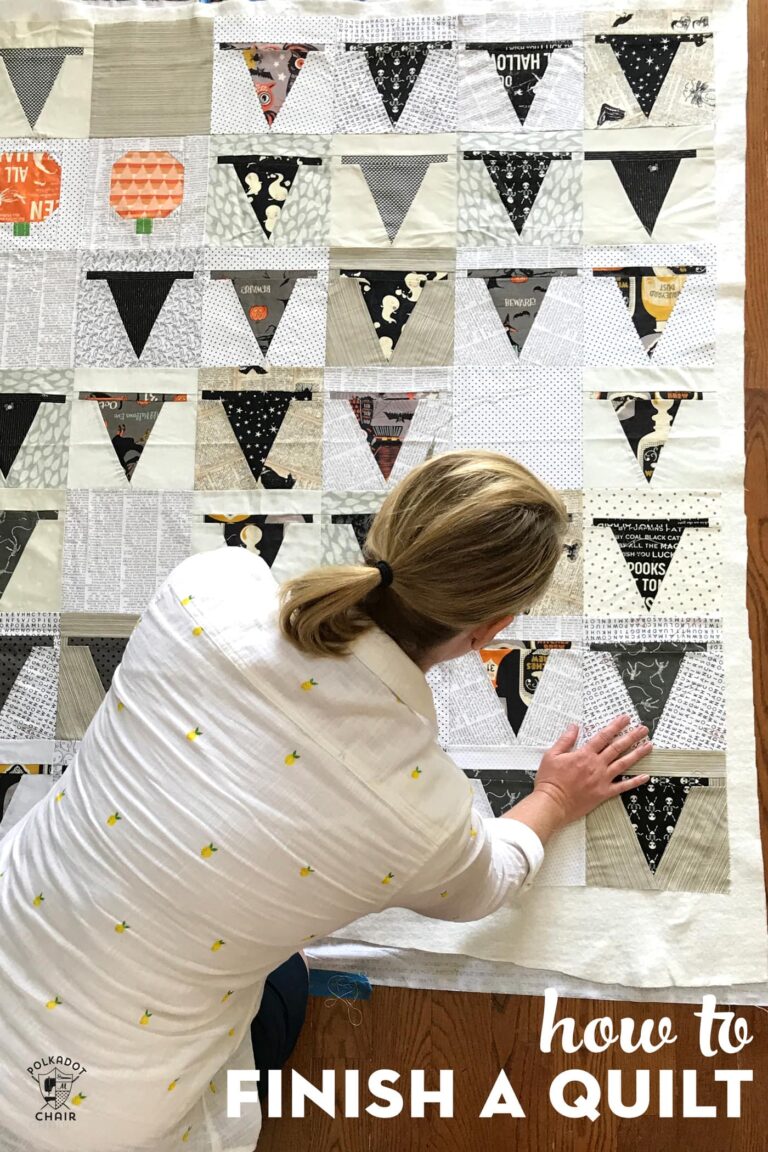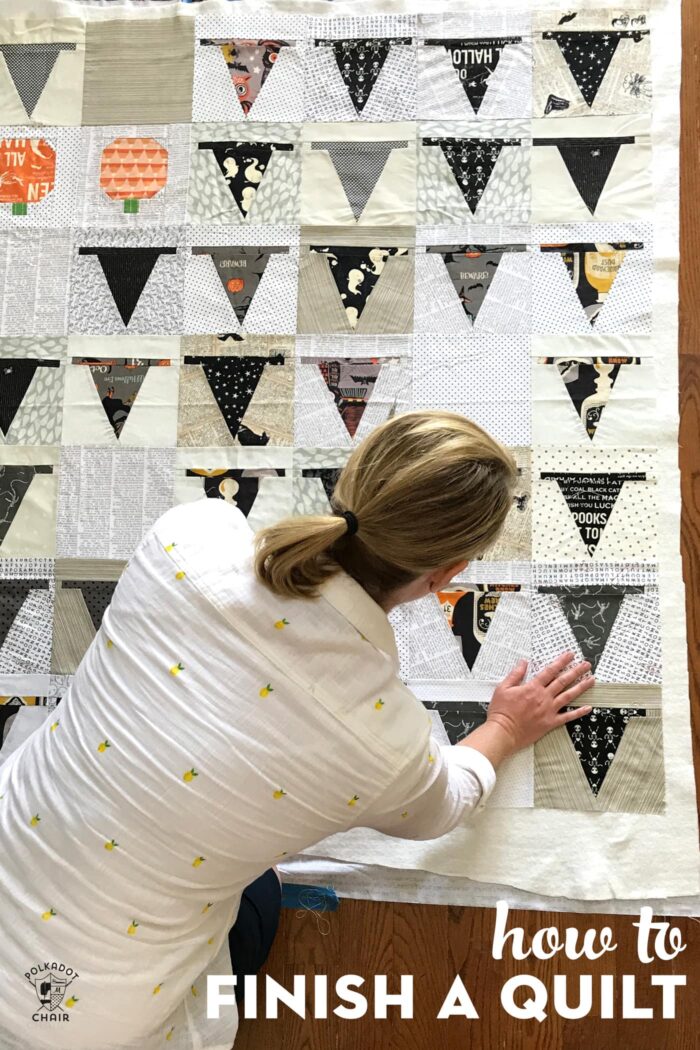 Begin by laying out your quilt backing on the floor, the wrong side up. Using painter's tape, generously tape down the sides of the quilt back to the floor. Your quilt back should be about 10″ larger in both directions than your quilt top.
You will then layer all the parts of your quilt together and roll it up to quilt it on your machine. There is a VERY detailed post about how to do this HERE.
For most of my quilt tops, I quilt straight lines 1″ apart. I use a walking foot on my sewing machine. Do not try to do this without a walking foot. You will get bunched up fabric and get very frustrated. For more information check out this Machine Quilting Basics post.
Finishing a Quilt Option 2: Send it off to a Long Arm Quilter
The second option is to send it out to a long arm quilter. This is my FAVORITE method since I don't have to mess with it, and the long-armer does all the quilting. They are true artists and can really bring your quilts to life.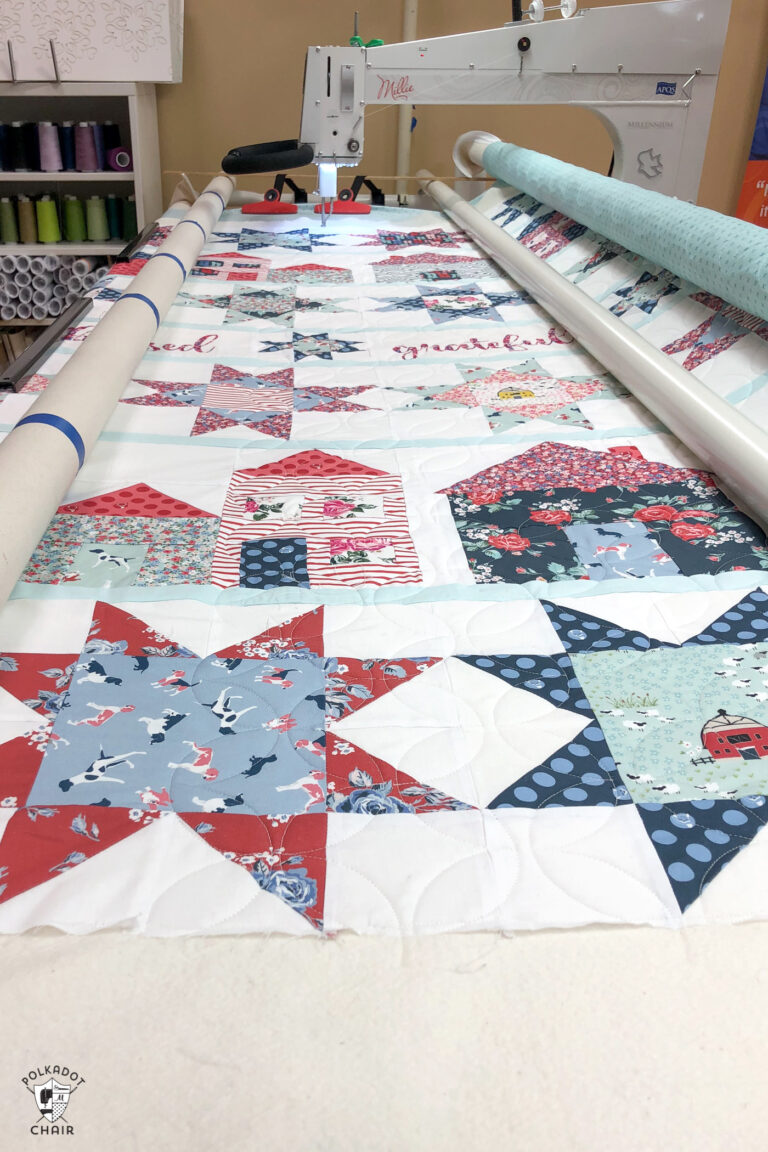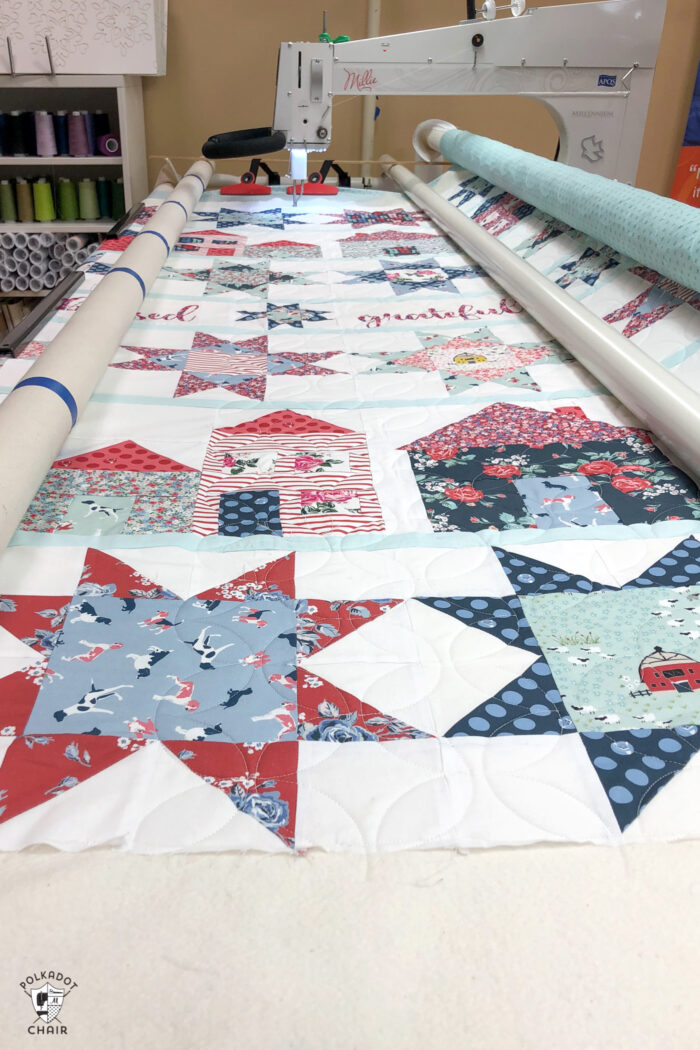 If you're going to do this, you'll need to make sure you have a quilt back that is larger than your quilt top (as your long-armer what size they prefer). Most long-armers will have batting that you can buy from them, so you don't usually need to buy batting as well. To find a long arm quilter, ask at your local quilt shop. You can also ask for recommendations from quilters you meet "online" through Instagram or other social media groups.
Step Six: Trim & Bind
After you've quilted your quilt. Square it up and trim all the layers even.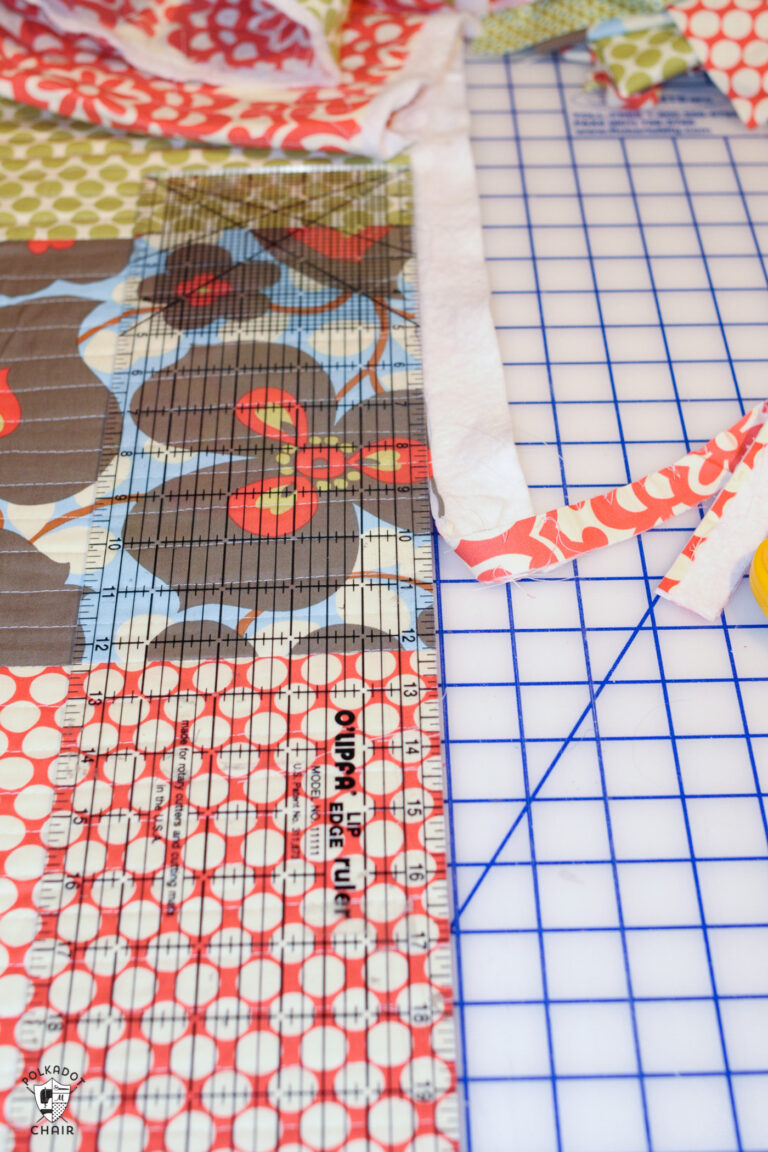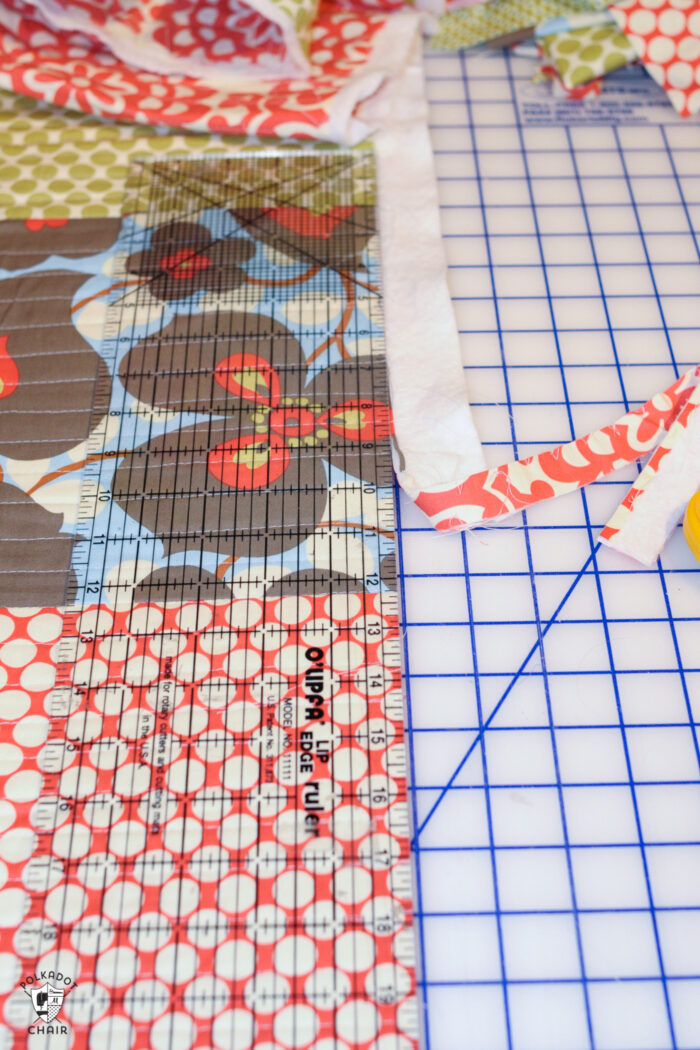 Now you're ready to bind it. Quilt binding is what finishes off the raw edge of your quilt. It is done by sewing an extra piece of fabric to the outside of the quilt.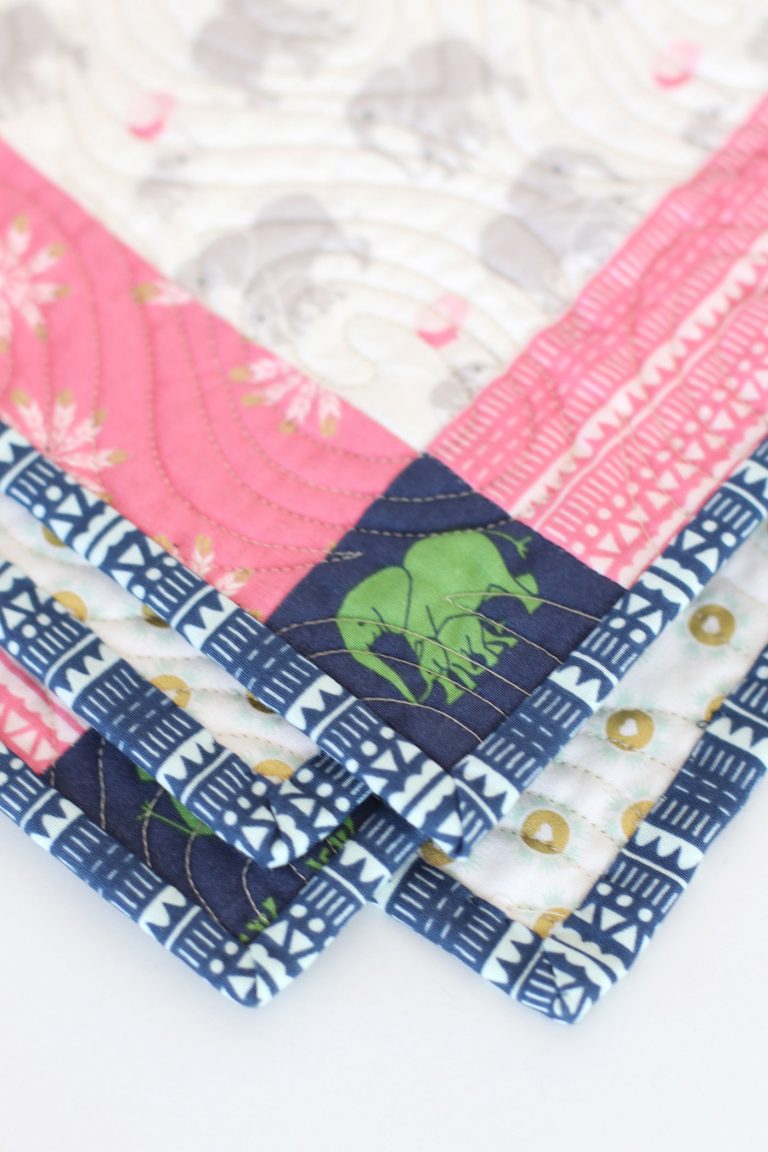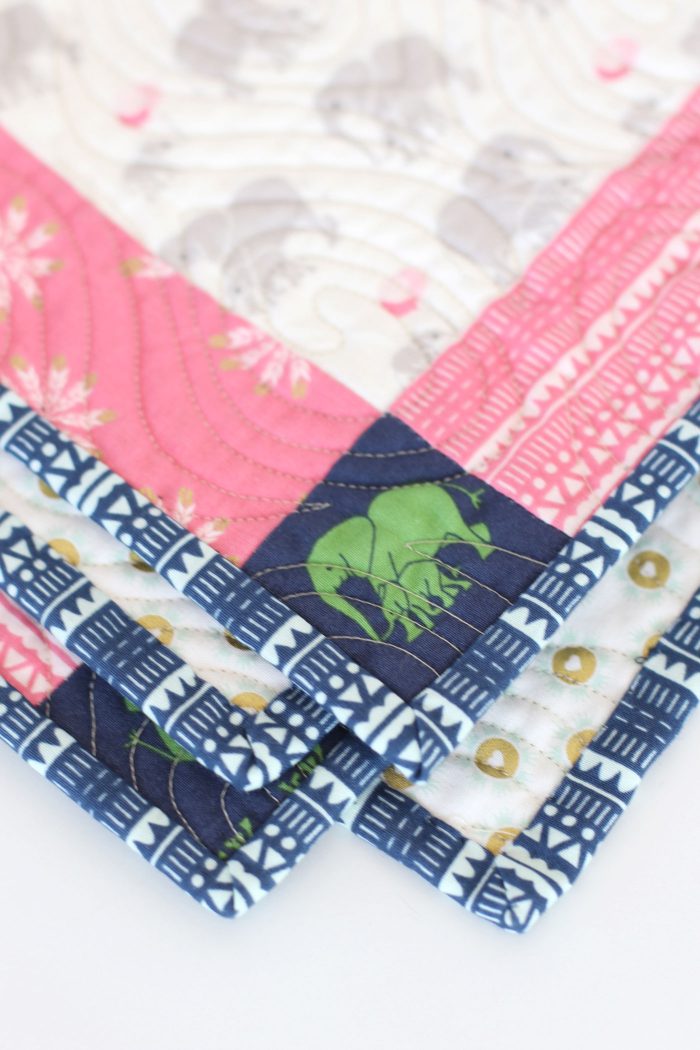 When you bind you normally start with a piece of fabric folded in half. You stitch that folded fabric to your quilt top then bring the binding to the other side of the quilt and hand stitch it down.
I actually prefer to machine bind my quilts, I'm working on a machine binding tutorial, I'll share it here when it's done. In the meantime, I recommend THIS tutorial by Amy at Diary of a Quilter.
Join the Quilting Community on Instagram:
If you're on Instagram I'd love to connect with you, I'm @polkadotchair.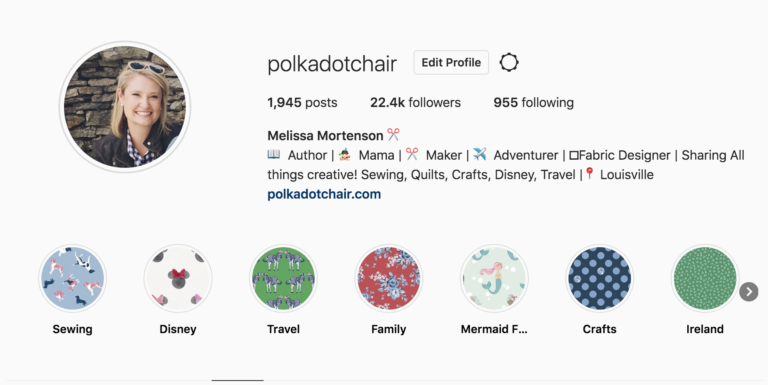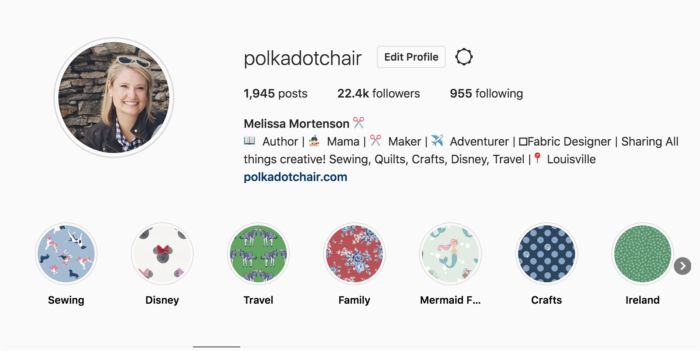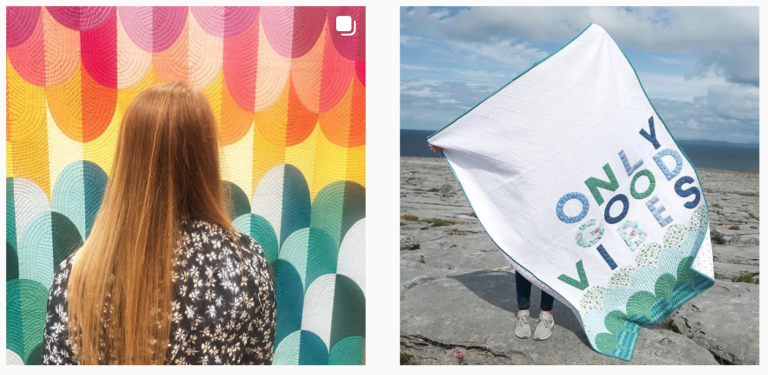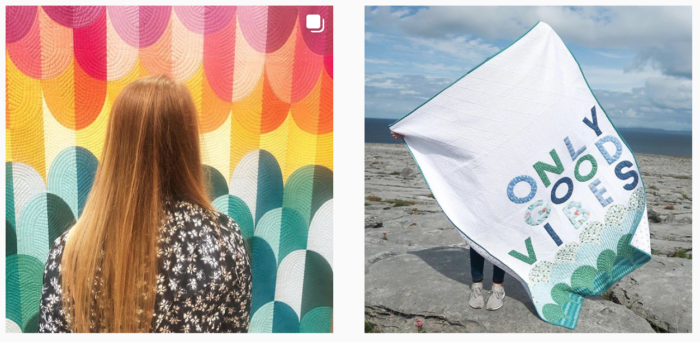 You'll find that it's a great platform for quilters. Many people are there sharing their quilt process and you can get so much inspiration from the community. Watch for fun quilt hashtags like #quiltersofinstagram, #modernquilt, #quiltblock for lots of great ideas!
Questions about Quilting? Leave them in the comments, I do my best to answer as many as possible.