With a bit of hand embroidery and our free printable template, you can easily create a sweatshirt inspired by your Hogwarts house. Learn how to do it with our Harry Potter Inspired embroidered sweatshirt tutorial.
I'm sure you've noticed the new trend of embroidering names or phrases onto the collar of a sweatshirt. I think it's such a fun trend and one that you can easily DIY yourself at home!
Table of Contents
One of the best parts of this trend is that you don't need a sewing machine or any special skills to complete the project. Just a needle, some stabilizer, and embroidery thread.
Last Fall, my husband and I visited the Wizarding World of Harry Potter at Universal Orlando. I've worked with Universal Parks in the past and then have fallen in love with the place. It's truly magical.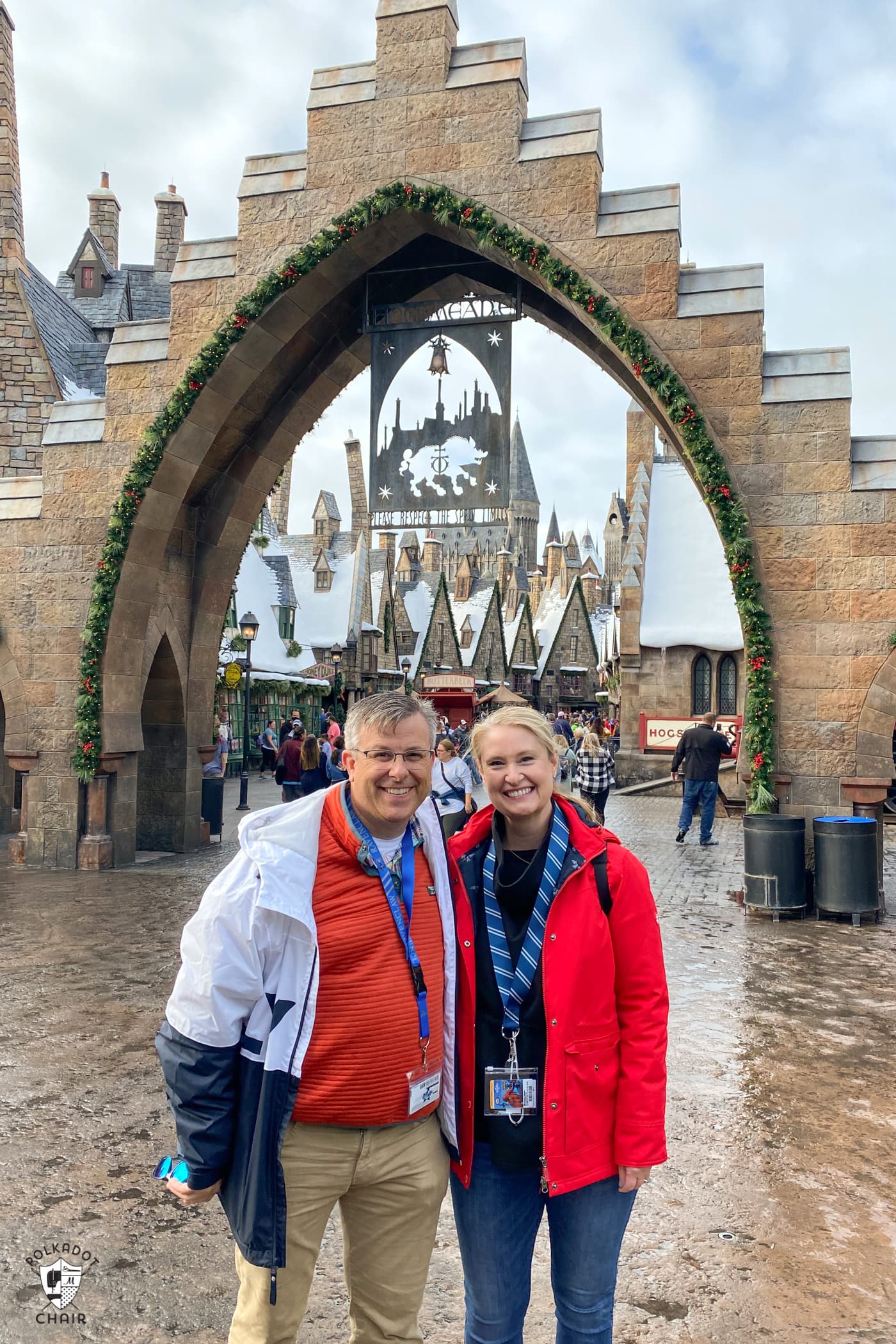 My husband and I are empty nesters, but we've decided that doesn't mean we have to stop enjoying some of the places we visited on our favorite family vacations. We had a long weekend in November, found a direct flight, and booked a 2-day pass to Univeral.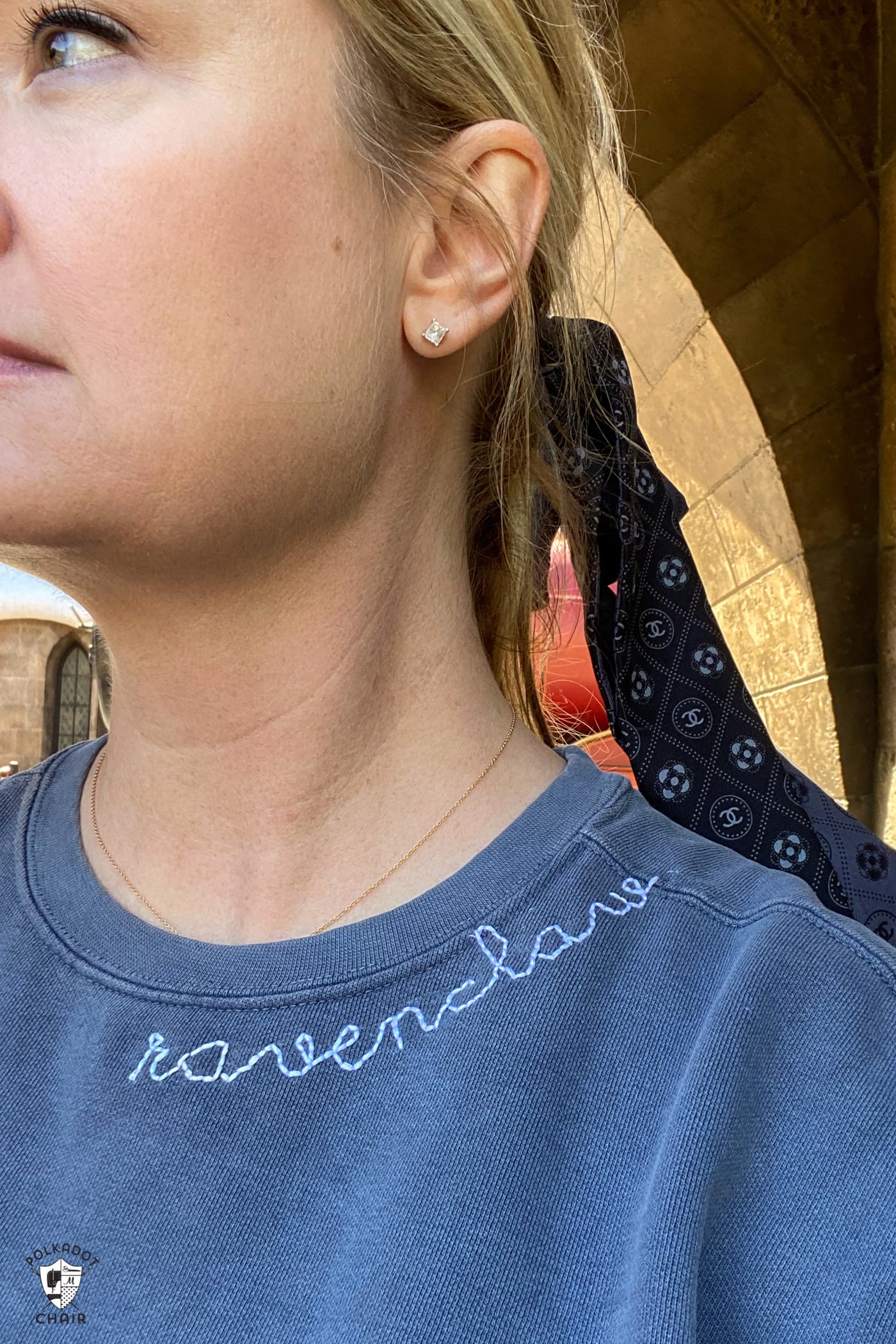 We had a great time. If you've followed the blog for a while, then you know that one of my favorite things when I go on vacation is to create something related to our trip to take with me on vacation.
I firmly believe you enjoy your vacations three times, once during the planning stages, on vacation itself, and reminiscing about it after you're home. Planning a little craft project helps make the planning part of that scenario even more fun!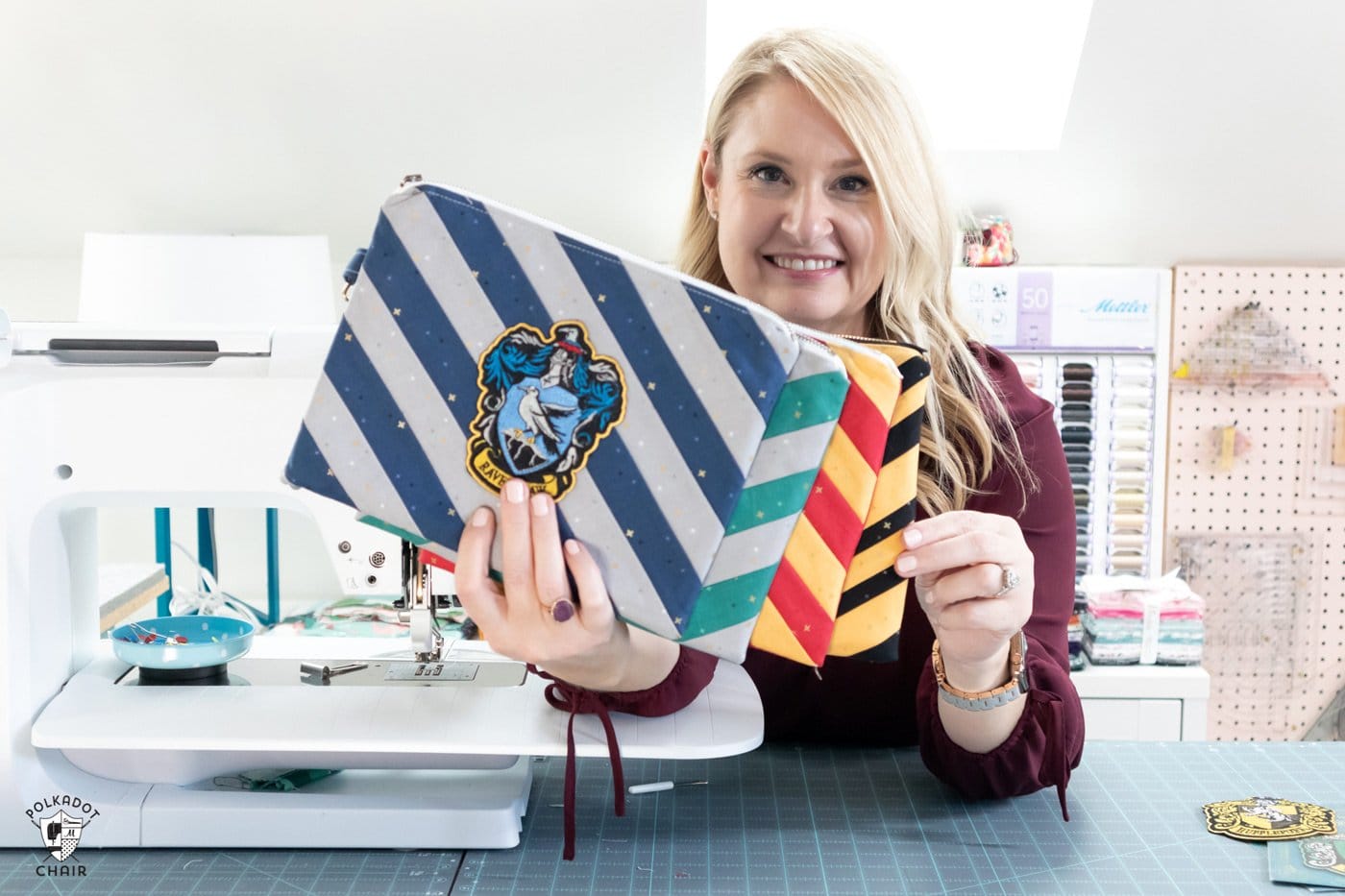 This is the second of two projects that I made for my visit. The first one is a Striped Zip Pouch inspired by the collegiate stripes on many Hogwarts school items.
About the Tutorial
The sweatshirt in this tutorial is created by tracing the name of a Hogwarts house onto a piece of water-soluble stabilizer and then basting it onto a sweatshirt. After it's basted on, you simply create the embroidery design using a simple backstitch.
Since the stabilizer is water soluble, it disappears when you're done, leaving only your design.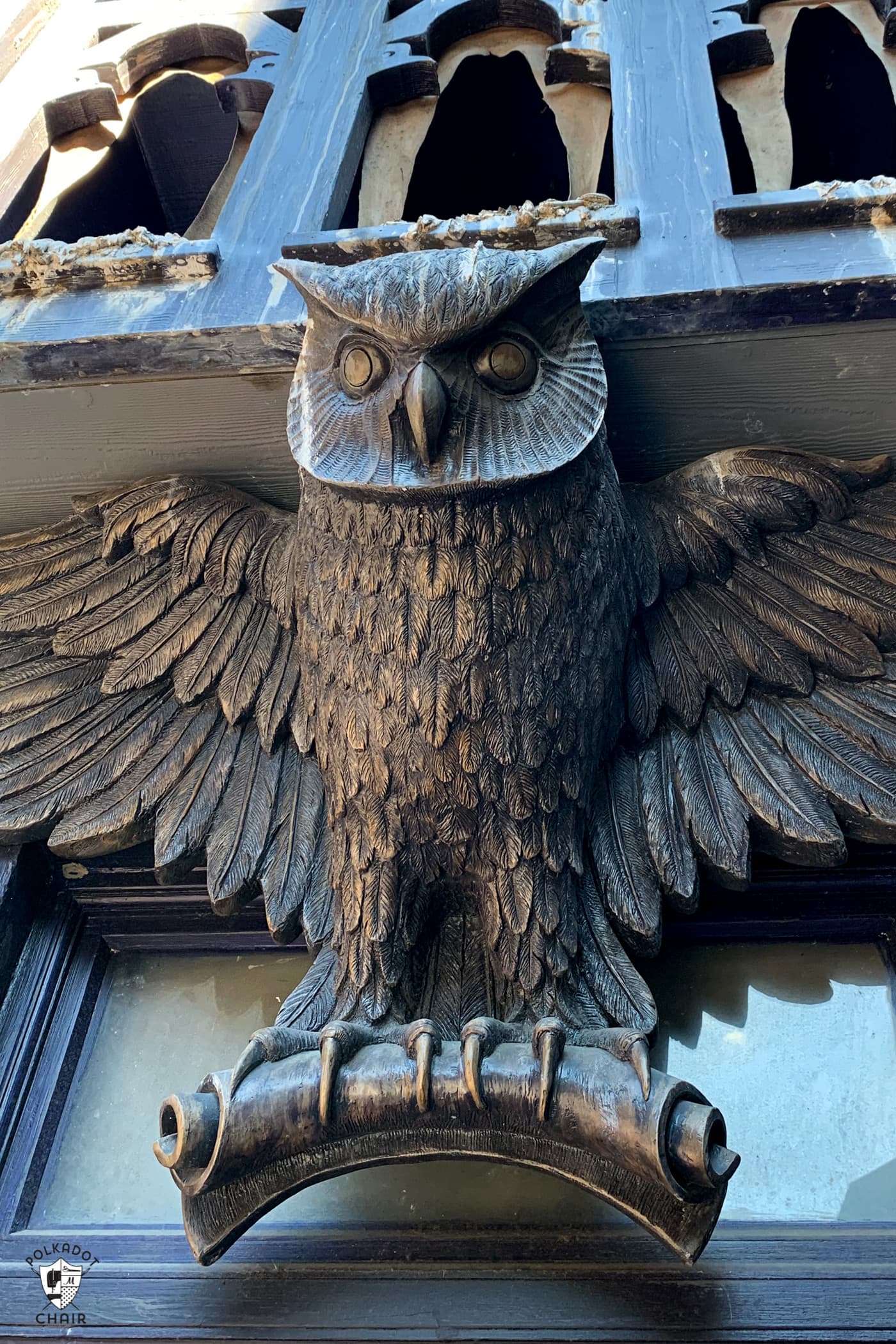 How to Get the Embroidery Pattern
I'm Ravenclaw house, but if you're a Gryffindor, Slytherin, or Hufflepuff, don't despair; I've created an embroidery template for all four Hogwarts Houses.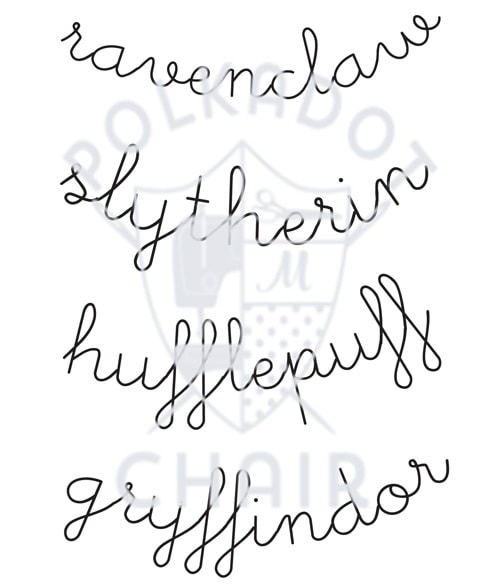 To get it, fill out the form below, and we will email it to you.
Supplies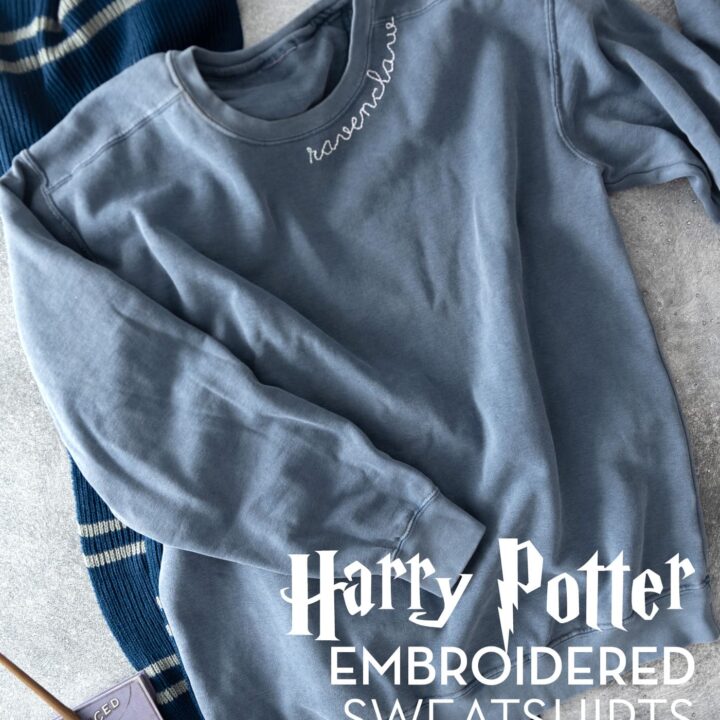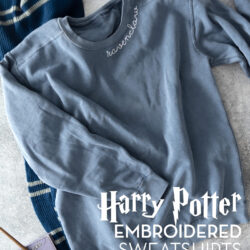 Hand Embroidered Hogwarts House Sweatshirt
Use a bit of hand embroidery and our free printable template to create a sweatshirt inspired by your Hogwarts house.
Instructions
Prep
Decide which word you'd like to embroider on your sweatshirt. Print out the pattern and check to see if it fits along the collar of your sweatshirt.

If it is too large, print the PDF at a smaller scale.

Trace the word using a permanent pen (do not use a non-permanent pen, it will bleed onto your embroidery) onto the piece of wash away stabilizer.

Pin the traced letters onto the sweatshirt in the location that you'd like. You can bend the interfacing a bit to fit the curve of your sweatshirt. Hand stitch or baste the stabilizer to the sweatshirt.
Embroidery
Using all six strands of embroidery floss, use a simple backstitch to embroider the word on the sweatshirt.
Finishing
Trim away all of the excess stabilizer. Make sure you get as much as possible trimmed away.

Following the instructions on the interfacing package, wash away the remaining stabilizer.
PRINT
You May Also Like