This Giant Hunter's Star Baby quilt pattern is a modern take on a traditional baby quilt. The oversized quilt block allows this quilt to be created quickly in a modern style that will appeal to many new mothers!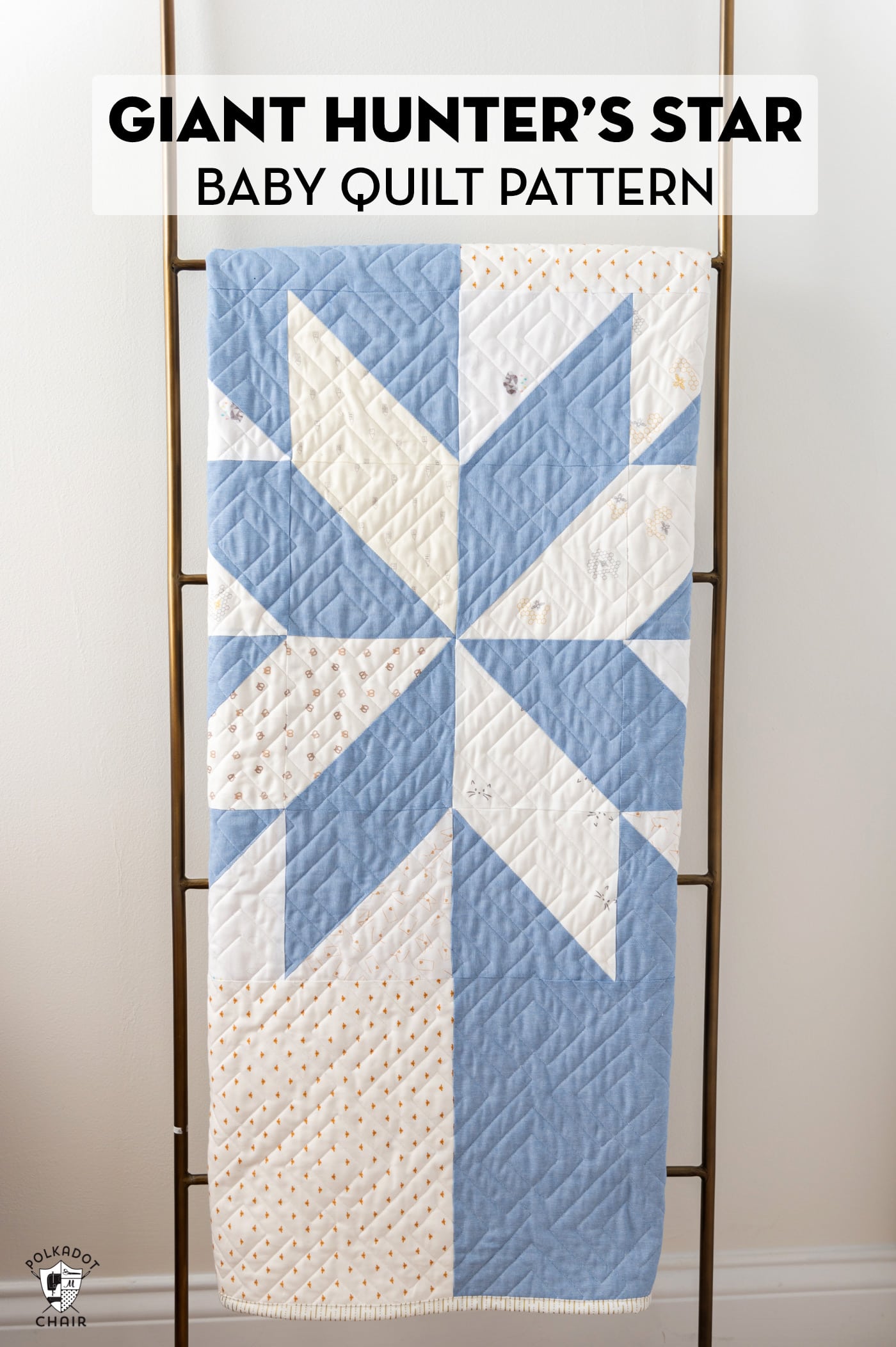 I'm excited to share another "Giant" baby quilt tutorial with you today! I didn't come up with the idea to create a baby quilt with one large quilt block, but I love the idea and have made many of these "giant" baby quilts over the years.
Table of Contents
Giant Quilt Block Baby Quilt Patterns
Typically quilt blocks range in size from 6″ – 14″ finished. There are many more sizes, but that gives you a general idea of the scale. Many small quilt blocks are then sewn together to create a design (similar to assembling a puzzle).
A giant block quilt features only one quilt block. The pieces are "oversized," yielding a larger quilt, which is the perfect size for a baby quilt. Since the blocks are oversized and play with scale they are great for quilters who prefer more modern baby quilt patterns.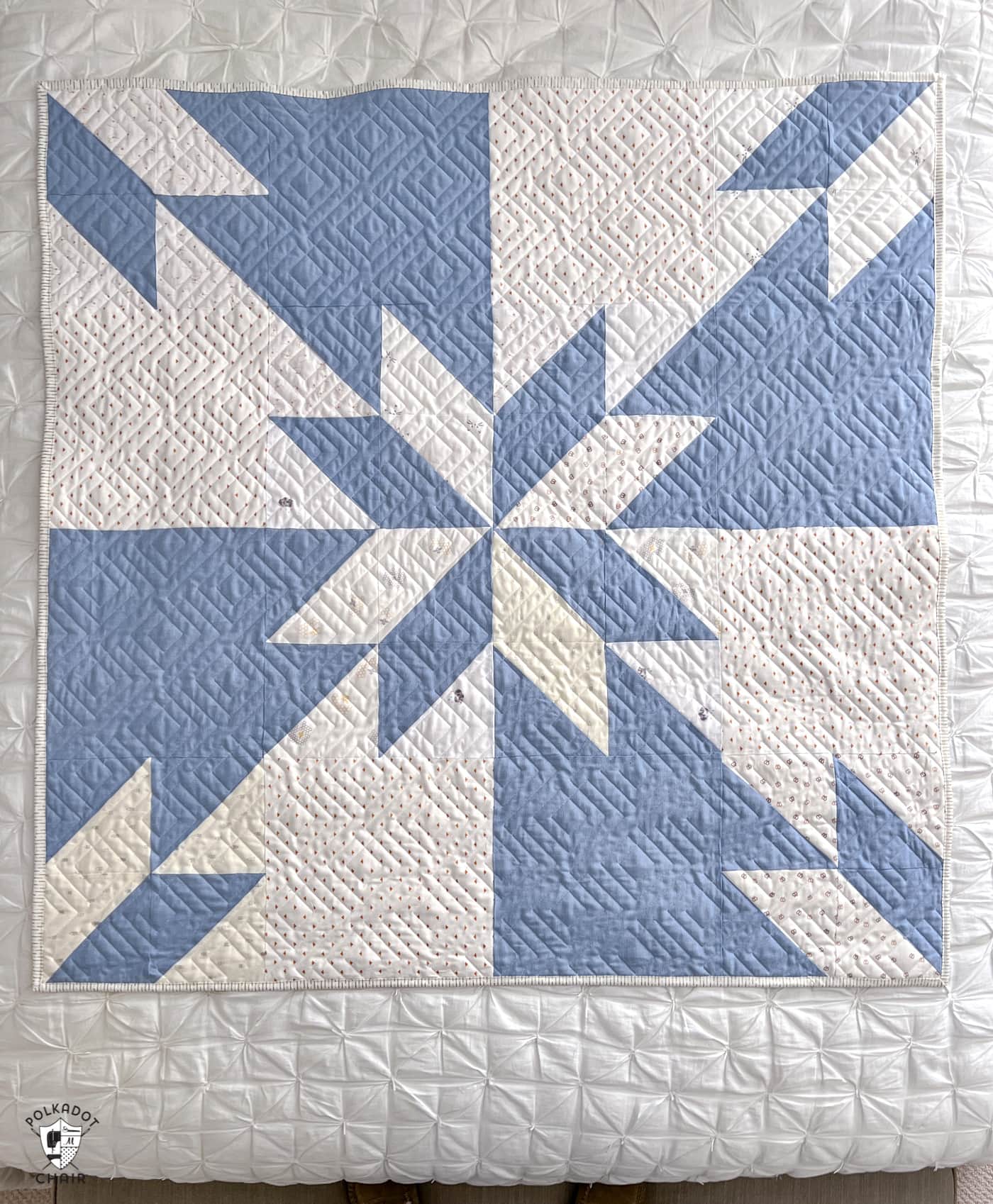 This quilt measures approx 48″ x 48″.
This quilt features a traditional quilt block design, generally referred to as a Hunter's Star.
Here are a few of the other giant quilt block baby quilts I've shared:
About the Quilt
One of my nieces is expecting a baby boy. She told me that she would decorate her nursery in neutrals with a bit of blue. If you've been a long-time reader, then you know I don't do much with neutrals. There are a lot of brightly colored projects on this site!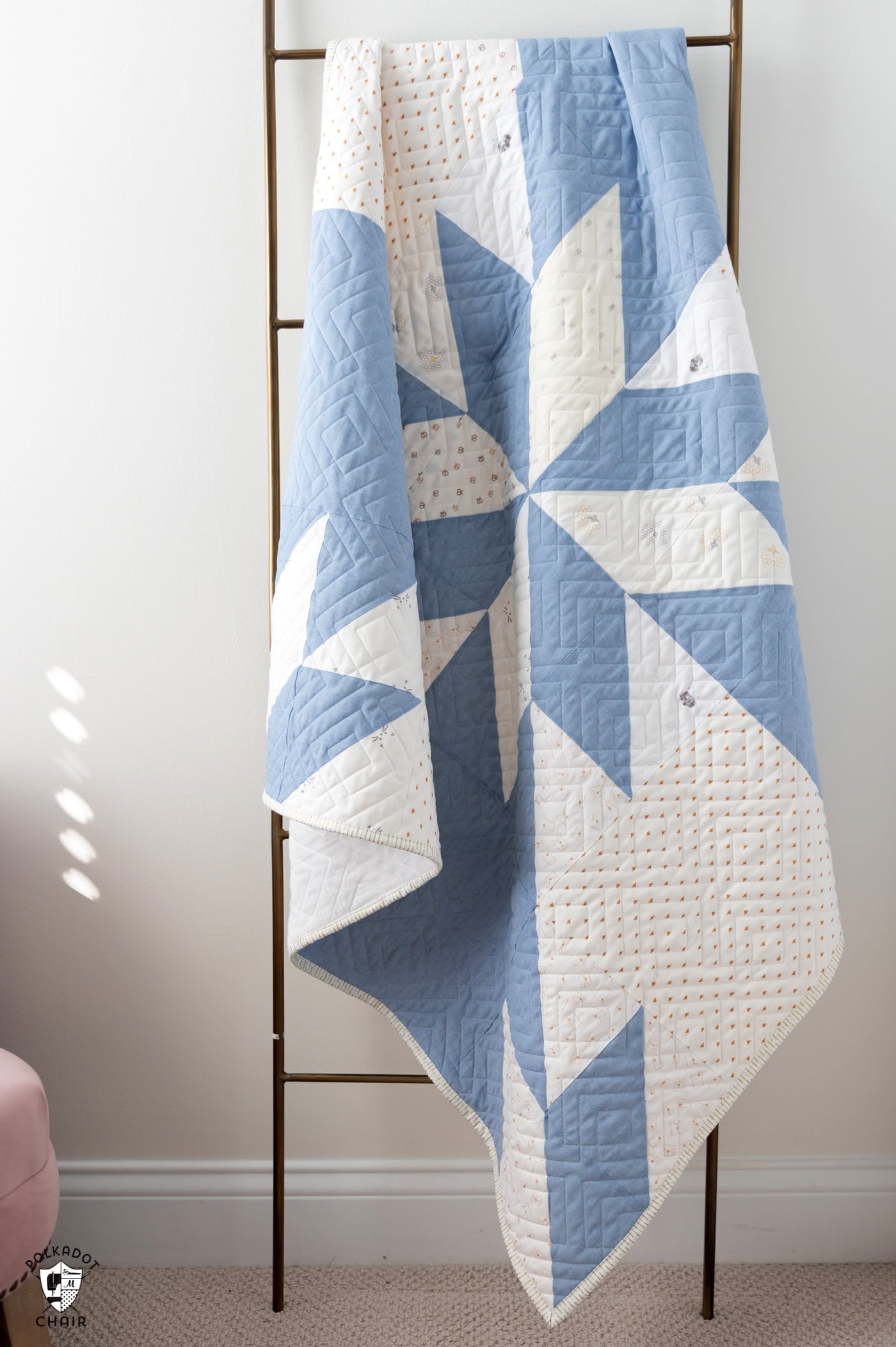 Enjoying the challenge to create something neutral for her new addition, I decided to make a quilt out of Chambray & Low Volume Fabrics.
Chambray is lightweight denim fabric. The chambray that I used is from Riley Blake. It's a lightweight woven fabric; I'd compare the texture to linen. It is a bit lighter than I expected when I ordered it, making it a very soft and fluffy quilt.
The back of the quilt is white Minky. The ivory fabrics in this quilt are all from the Hush and Hush 2 lines from Riley Blake.
About Low Volume Fabrics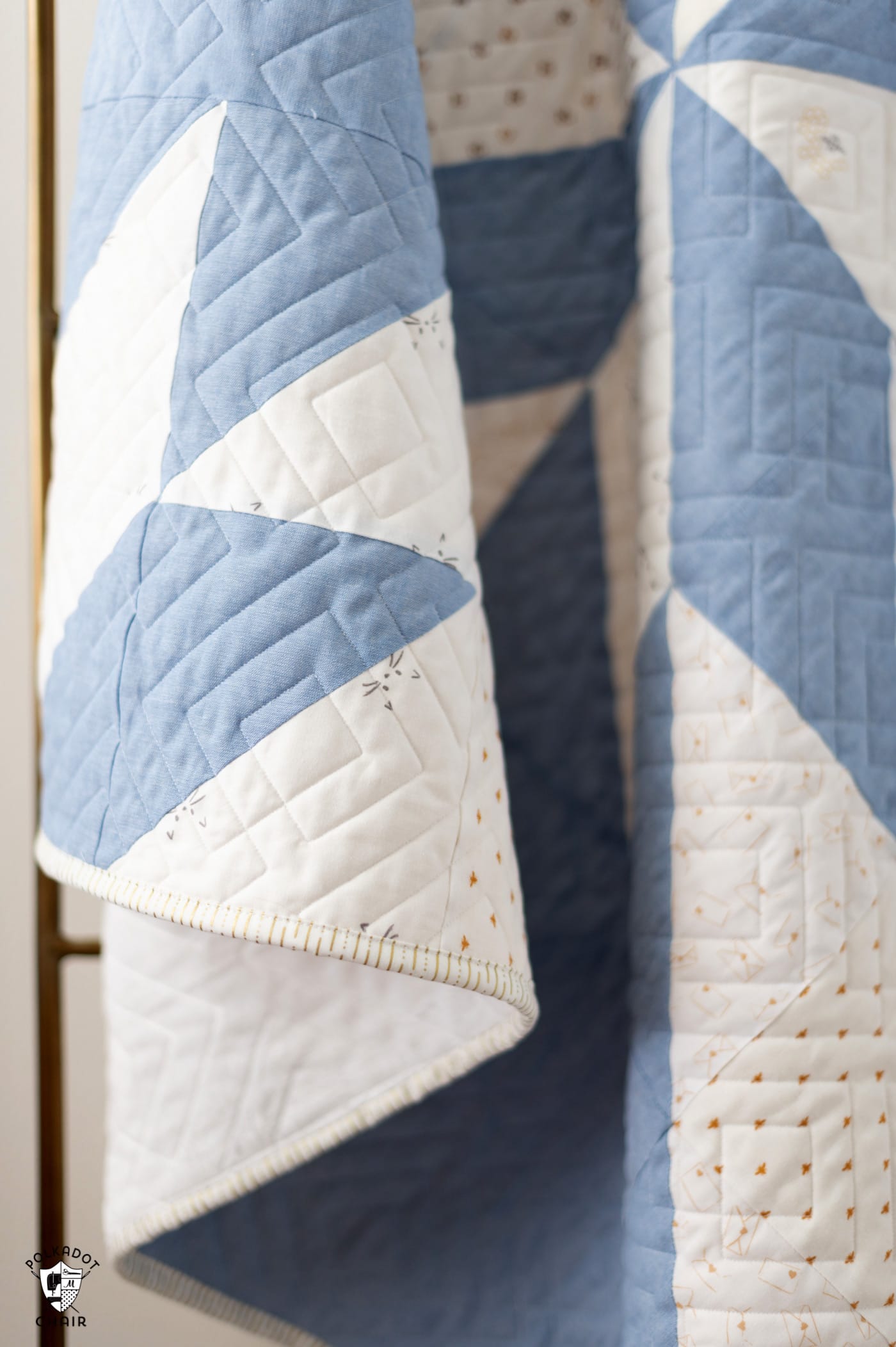 When you hear the term Low volume fabrics, people usually refer to a fabric design that is white or close to white that features an overall design.
The design features light colors or colors very low in contrast and is meant to blend into the background of a project. Using low-volume fabrics gives your project a bit of extra texture without competing with the main design of your project.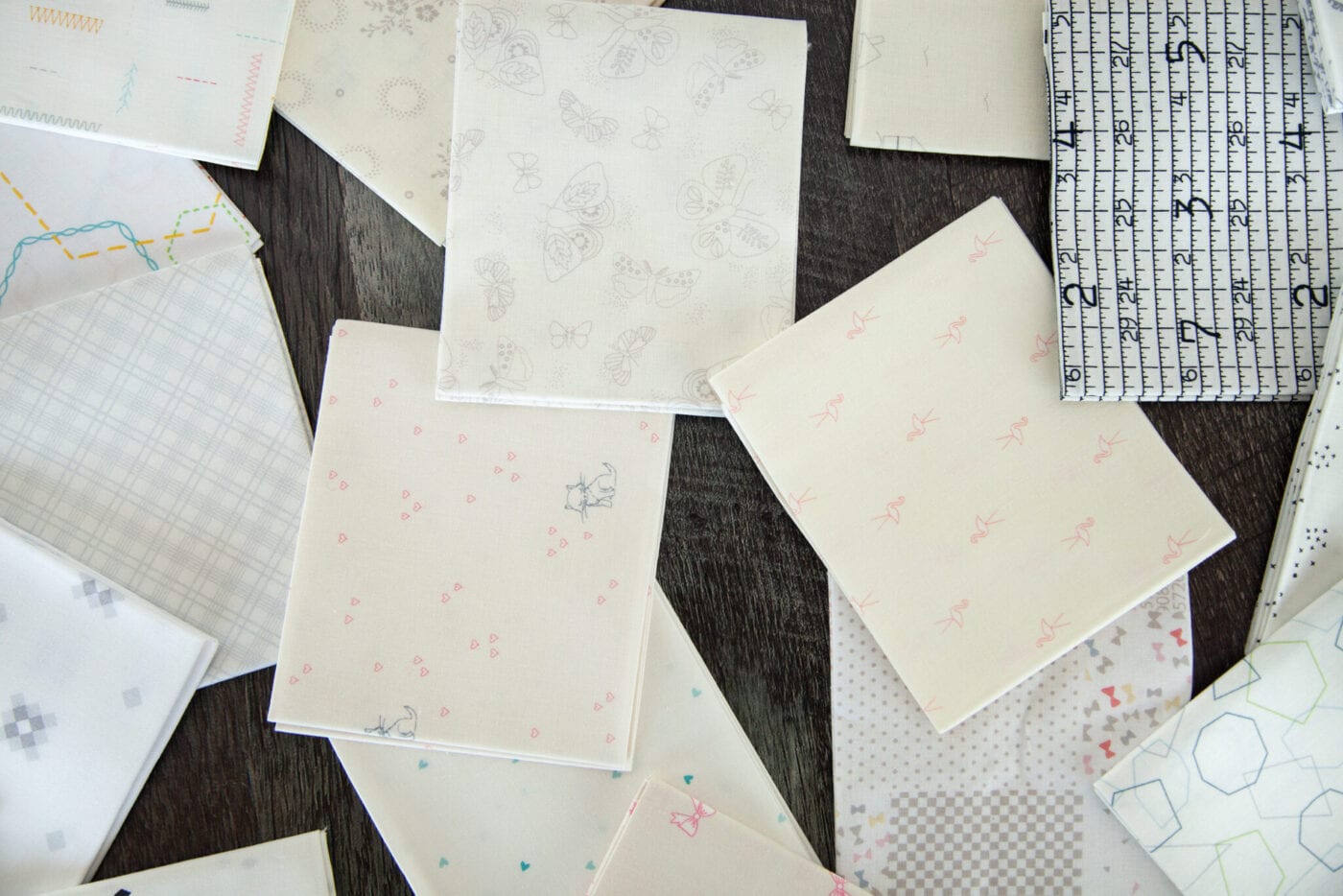 I selected low-volume fabrics with small illustrations, giving the quilt a bit of an "I spy" feel. Most of them are from the Hush 2 collection, which is coming very soon.
Finished Quilt Details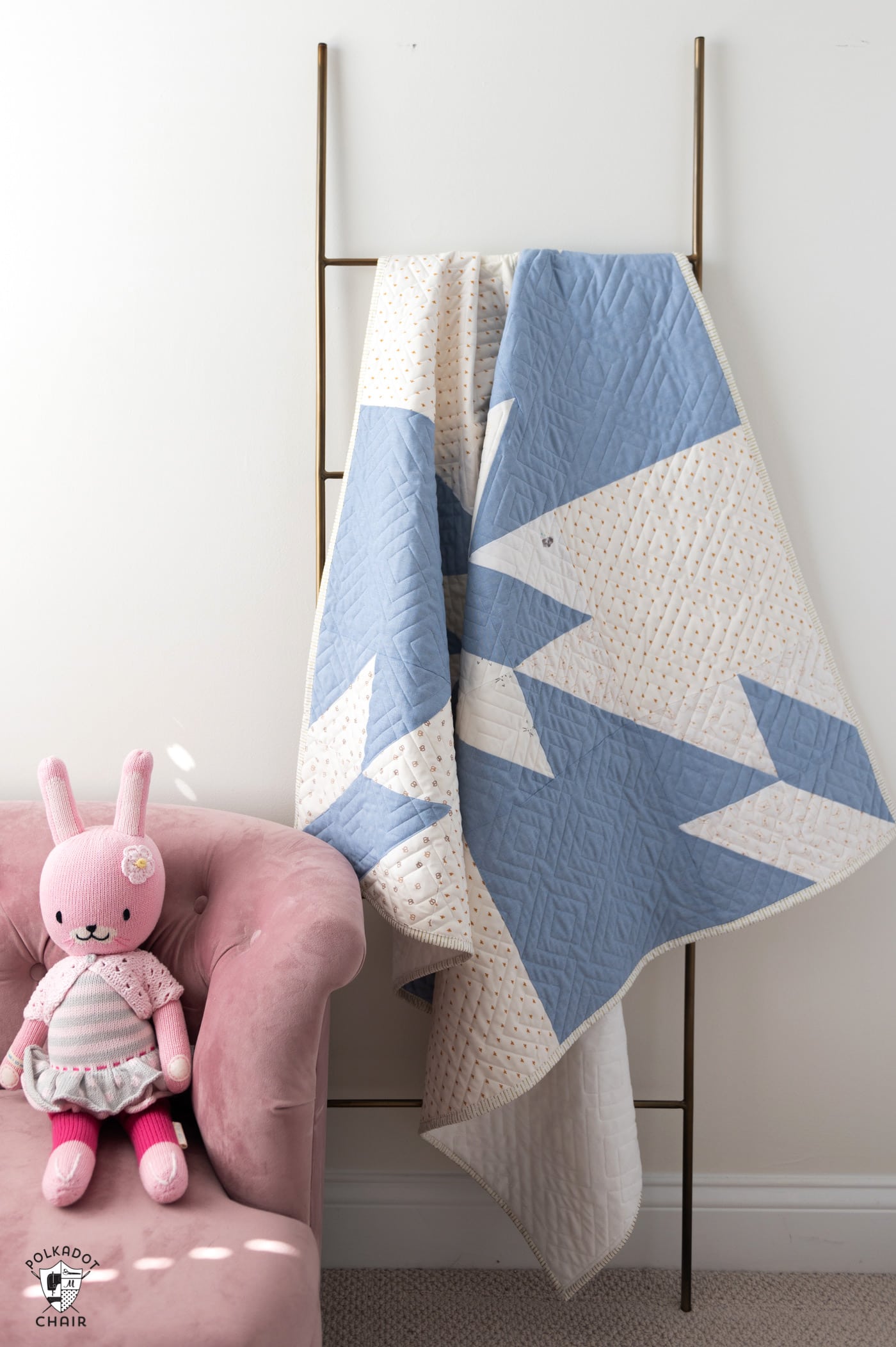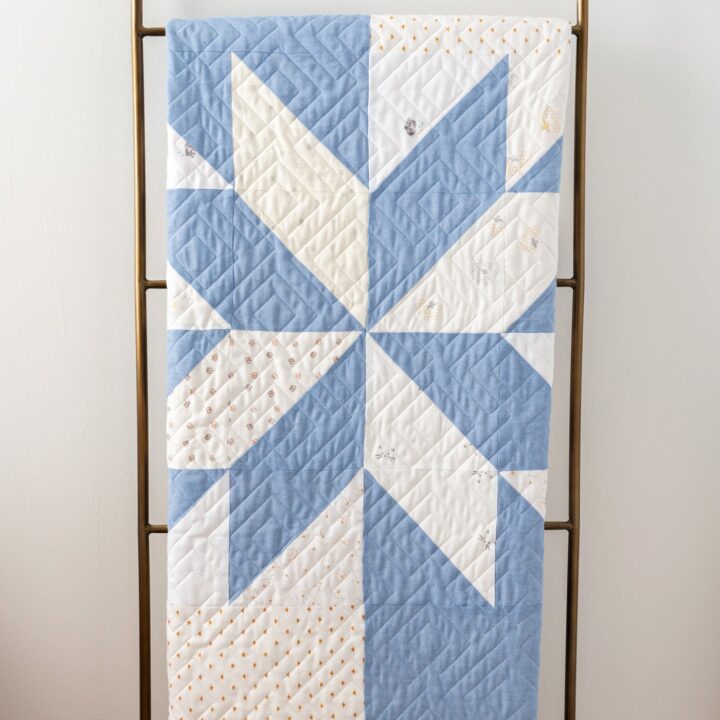 Hunter's Star Baby Quilt Pattern
Create a modern take on a traditional baby quilt with our free Hunter's Star Baby Quilt Pattern
supplies
Low Volume Fabric Options Choose 1
Instructions
Cutting Directions
From Blue Fabric Cut:

4 pieces 12 ½" x 12 ½"

16 pieces 7" x 7"

From Low Volume Fabric Cut (from various prints);

4 pieces 12 ½" x 12 ½"

16 pieces 7" x 7"
Construction
Using the 16 7"x7" pieces of blue fabric and 16 7" x 7" pieces of low volume fabric; create 32 Half Square Triangles.

To do this; Draw a line diagonally down the center of the low volume squares.

Layer one blue square on top of one low volume square; right sides facing.
Construct Block A
Sew four half square triangles together in the configuration shown.

Repeat until you have four sewn units.
Construct Block B
Sew four half square triangles together in the configuration shown. NOTE: this is a different layout than the Block A construction.

Repeat until you have four sewn units.
Assemble Quilt Top
Using the Block A units in the four corners of the quilt, and the Block B units in the center of the quilt; assemble the quilt top as shown.

I recommend sewing the rows of the quilt together first; then sewing the rows to each other.
PRINT
You May Also Like: