Create a stylish and oh so useful zippered pouch with our free Color-Blocked Zip Pouch Sewing Pattern. This clutch is simple to construct and makes a great gift!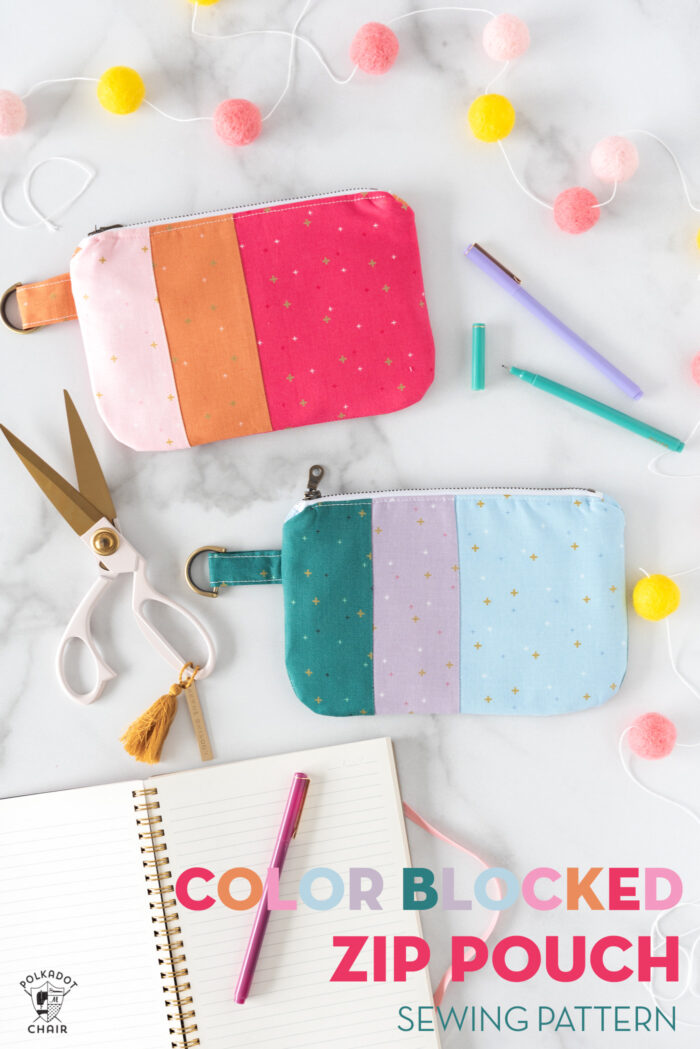 Oh, how I love a simple zip pouch! I think they may be one of my favorite things to sew! I remember the first time I made one and it turned out nicely, I felt a huge sense of accomplishment!
In the years since I stitched my first zippered clutch, I've made dozens more. I don't know if I can count how many. They are the perfect little project when you want to sew something quickly, but still fun and useful.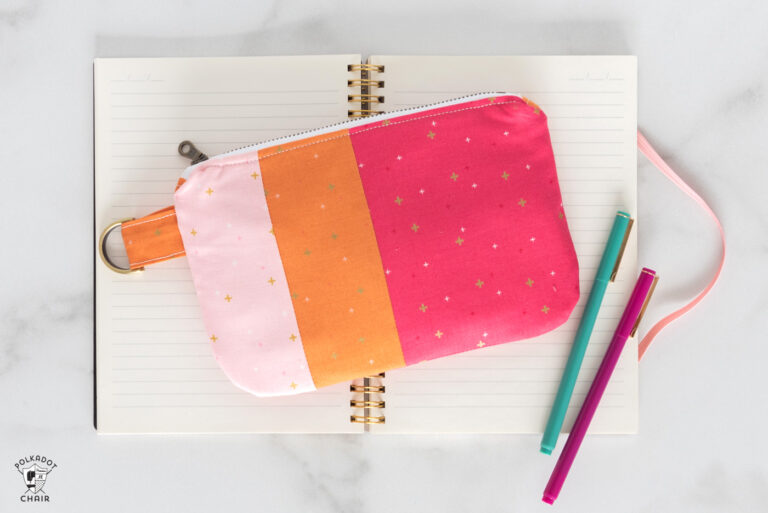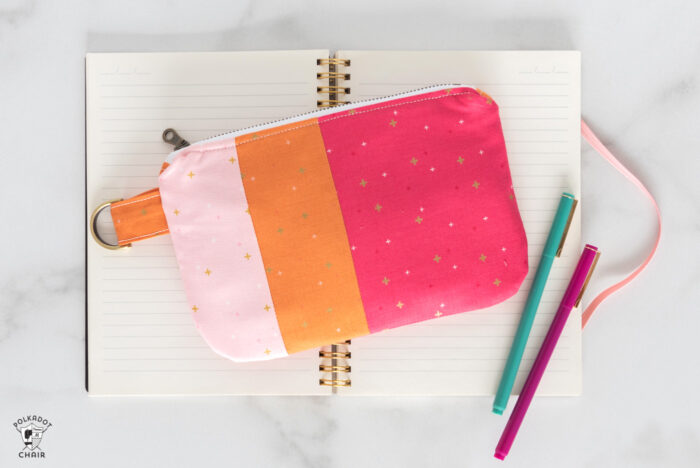 I have a bunch of similar zip bags that I carry with me when I travel. One for cords, another for gum, one for lip balm, etc.
About the Sewing Pattern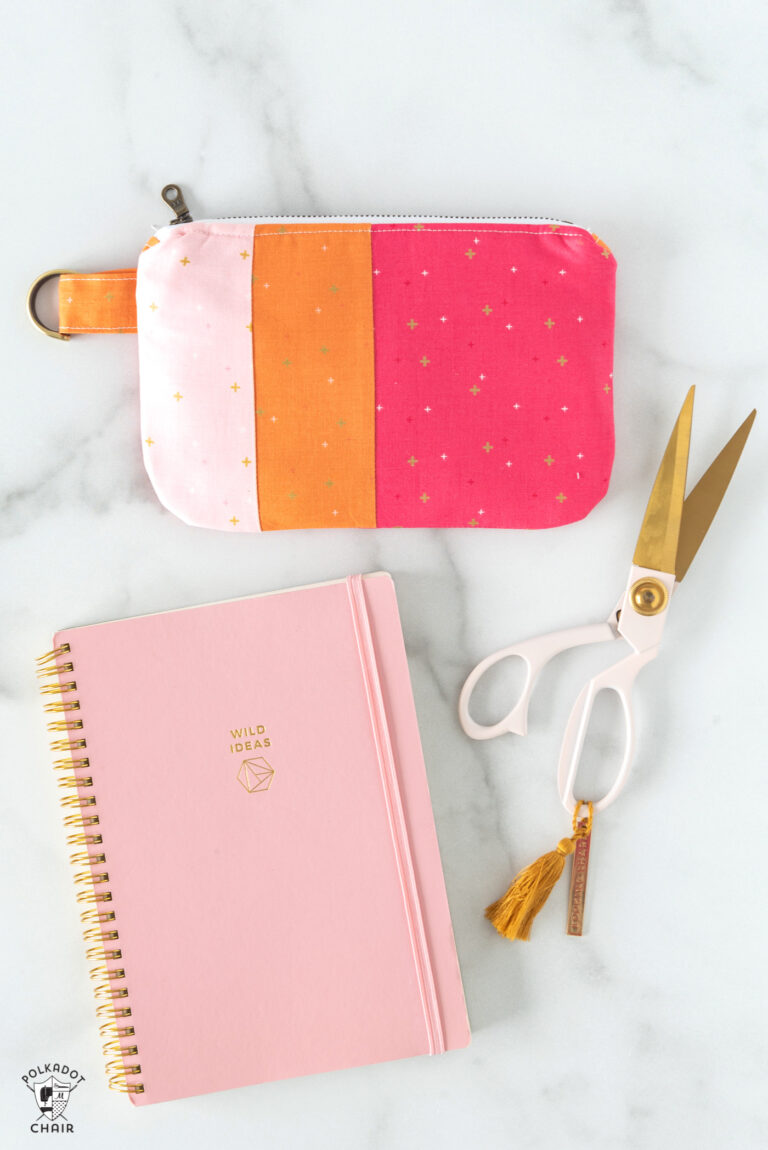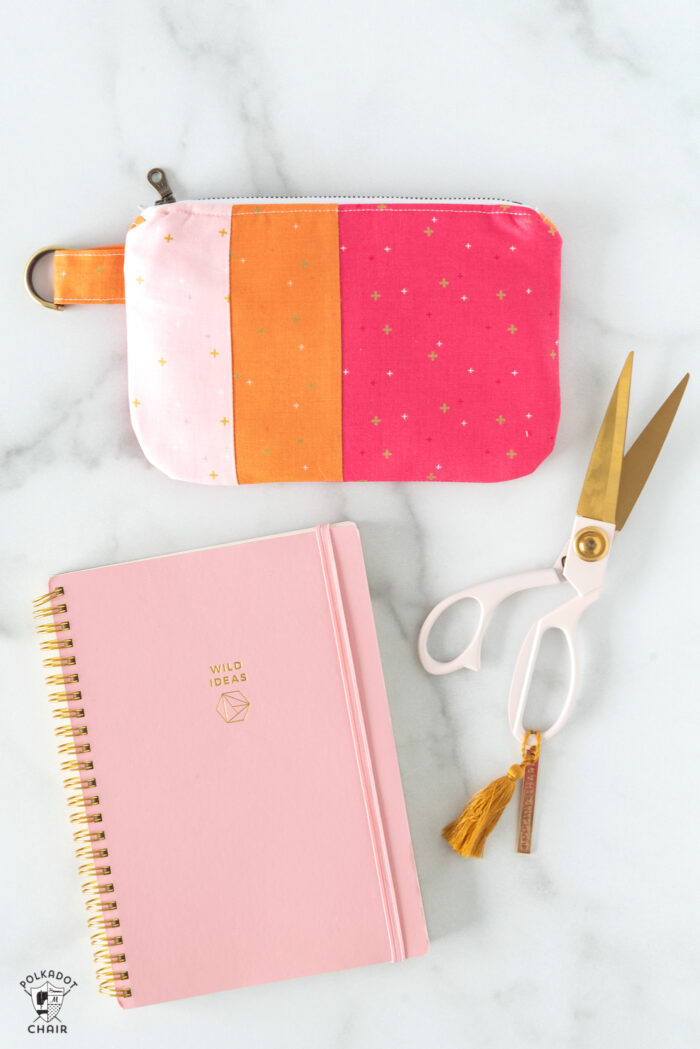 When finished, this zip pouch measures approximately 8″ wide by 5″ tall. It features a metal zipper and a D ring on the side so that you can attach a key ring or lanyard.
This bag is a little different than a few of the zip bag tutorials I've shared in the past in that it features rounded corners. I also added zip tabs to the ends of the zipper.
I created two color-blocked versions of this bag. One featuring pinks and orange, one in green, lavender, and baby blue.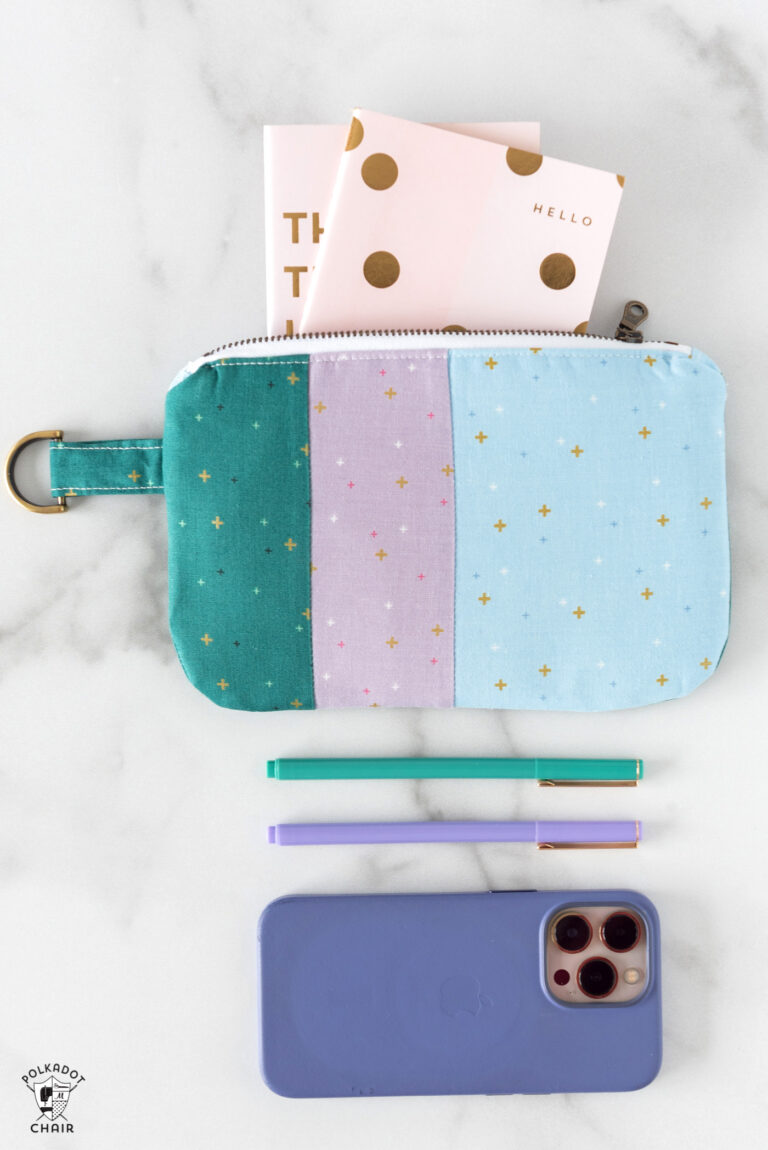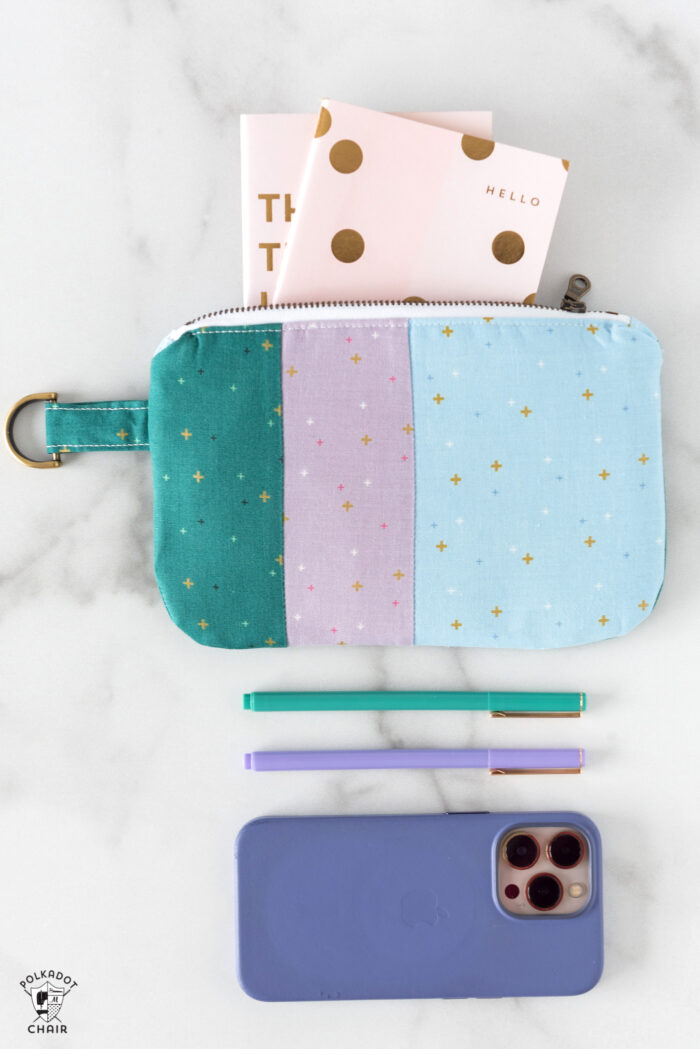 Fabrics are from my Sparkler collection and the exact colors are:
Baby Pink
Pumpkin
Raspberry
Jade
Lilac
Boy Blue
The bags are fully lined as well.
Supplies Required
For this project, you will need.
1 Fat Quarter of Fabric for Bag Lining
3 pieces of fabric at least 6″ x 9″ for the front and back of the bag
7″ metal zipper
Fusible Fleece
Lightweight Fusible Interfacing
Purse D Ring
Iron
Sewing Machine
Sewing Notions
If this is the first time you've created a zip pouch, you might want to check out the highlight bubble on my Instagram profile (@polkadotchair) called Bag Sew Along. I walk you through the steps to create a simple zip pouch.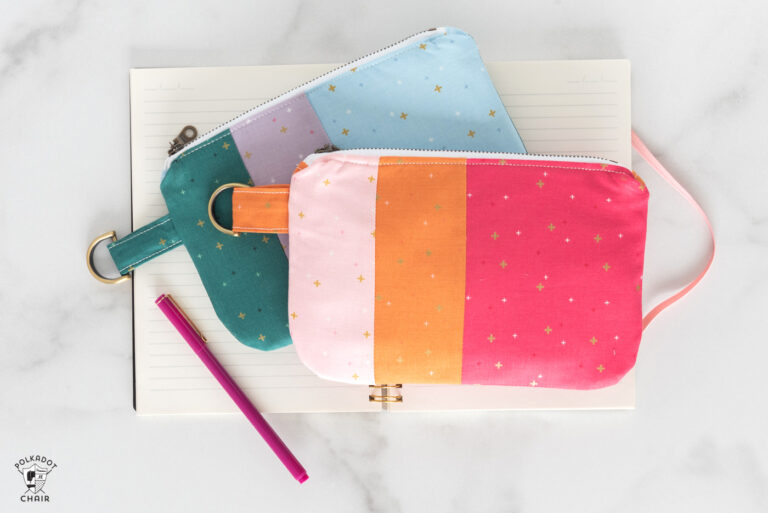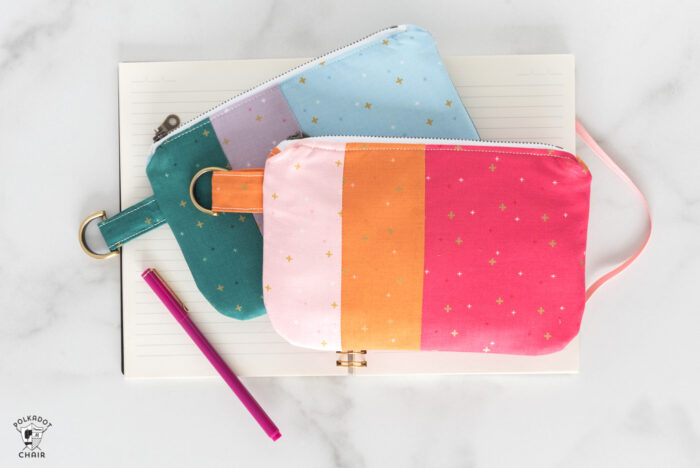 A few steps are different, but the portions of the tutorial that you may find a bit confusing are the same.
Color-Blocked Zip Pouch Sewing Pattern
Learn how to make a simple zip pouch with curved sides using our free sewing pattern.
Materials
1

piece

Fabric

6" x 9" for bag bag

3

pieces

Fabric

6" x 6" or larger for bag stripes

1

Fat Quarter

Fabric

For Bag Lining

1

package

Fusible Fleece

1

package

Lightweight Interfacing

I prefer Shape-Flex

1

Zipper

7"
Instructions
Cutting Directions:
For Left Stripe Cut: 1 piece 2 ¾" x 6"

For Center Stripe Cut: 1 piece 2 ½" x 6"

For Right Stripe Cut: 1 piece 4 ¾" x 6"

For Bag Back Cut: 1 piece 6" x 9"

For Bag Lining Cut: 2 pieces 6" x 9"

From Fusible Fleece Cut: 2 pieces 6" x 9"

From Lightweight Interfacing Cut: 4 pieces 6" x 9"

From Accent Fabric Cut:

4 pieces 1" x 2" for zipper tabs

1 piece 2 ½" x 4" for D ring attachment
Step One: Create the Bag Front
Sew the Left, Center, and Right bag front strips together using a ¼" seam allowance.

Press the seams and trim to 6" x 9" if necessary.
Step Two: Intervacing
Following the directions on the package, apply interfacing to the following pieces.

Lightweight Interfacing: Apply to the bag front, bag back, and lining pieces.

Fusible Fleece: Apply to the bag lining pieces on top of the lightweight interfacing.
Step Three: Round Corners
Using a round object (like a plate or an old CD), round the two bottom corners of the bag front piece.

I used a Curved Corner ruler, but if you don't have one just use any round object.

Repeat with the bag back and both lining pieces.
Step Four: Zipper
Pin one of the 1" x 2" zipper tab pieces to the end of your zipper, right sides facing. Pin another piece to the back of the zipper. Sew in place.

Flip the zipper tabs so that they are away from the zipper and the fabric is right side up, and press. Topstitch along the fold.

Repeat for the other side of the zipper.

Pin the zipper to the bag front piece, aligning the centers. The right side of the zipper will be facing the right side of the fabric.

Pin one of the lining pieces to the top of this. You will pin it so that the right side of the lining faces the zipper's wrong side.

Stitch in place using a zipper foot on your sewing machine with a ¼" – ⅜" seam allowance.

Repeat the steps with the bag's back and the other lining pieces.

Press the fabric away from the zipper and topstitch along both zipper ends. Be careful, as metal zippers can become very hot when ironed.

Trim the excess fabric from the zipper tabs.
Step Five: D Ring
Fold the 2 ½" x 4" piece of fabric in half lengthwise and sew with a ¼" seam allowance. Turn right side out.

Press the piece so that the seam is centered. Topstitch down both sides of the piece.

Feed the D ring through the fabric and pin to the bag front piece about 2" down from the top of the bag. Stitch in place. Pin the D ring so that it does not get in the way as you finish the bag assembly.
Step Six: Assembly
Unzip the zipper.

Pin the bag front and bag back pieces together, right sides facing. Pin the bag lining pieces together right sides facing.

Stitch around the perimeter of the bag with a ⅜" seam allowance. Be VERY careful when you are stitching over the area with the zipper. Make sure that you do not sew over any of the metal parts of the zipper.

Leave a 3" opening on the lining side of the bag.
Step Seven: Finishing
Trim the seam allowance of the lining down to ⅛".

Clip the curves on the bag.

Turn the bag right side out through the opening you left in the lining.

When you're sure that the bag is sewn correctly, close the hole in the lining with a zig-zag stitch.

Press the bag well. I recommend that you use steam for this step as it will help to smooth out any wrinkles that may have occurred during the construction process.
Copyright Notice
©www.polkadotchair.com – This is Copyrighted Content. You may NOT copy it, distribute it, sell it or package it with a kit. You may NOT teach a for-fee class using it. All items are for personal use only. No commercial use is allowed.
I can't believe how much blogging has changed since I started in 2008. I remember wondering at that point if this "new thing" ever could turn into a business.
How things have changed since then! The blogging world is ever-evolving and today I'm very excited to share with you that I am participating as a paid early tester for one of Google's new pilot programs, Thank with Google.
Thank with Google is an experimental feature that allows you to purchase a virtual sticker as a way to directly show your appreciation for the content on my website. There is so much that goes on behind the scenes and only a small percentage of that work actually shows up on my blog.
For example, with the zip pouch tutorial that I have for you today, there are countless hours of sewing, photography, editing, website maintenance, writing, and styling that have to happen before we have a quality workable tutorial to share with all of you at no cost.
I'm excited at the possibilities that this program has as a way for you to feel more connected and engaged with the content, tutorials, and free patterns that I'm providing you.
There are a variety of stickers to select from and every time you send a paid sticker, you can add a personal message to me as well. For me, these virtual stickers translate into direct revenue to support the work and cost that goes into running and maintaining the site.
I would love it if this type of support replaced traditional ad display at one point, but like I said it's just an experiment at this time, but the possibilities are exciting to me!
You can find the Thank with Google feature in multiple places on my site, including on my sidebar and at the top and bottom of each blog post. If you try it out let me know what you think! It's so nice to hear from you!
You May Also Like