I hope you're ready to play along with the Quilt Block of the Month series here on the Polka Dot Chair! This month we kick things off with a Plus Quilt Block Tutorial. It's designed to be a skill builder block. If you're playing along be sure to share your finished blocks on social media with the hashtag #PolkaDotChairBlocks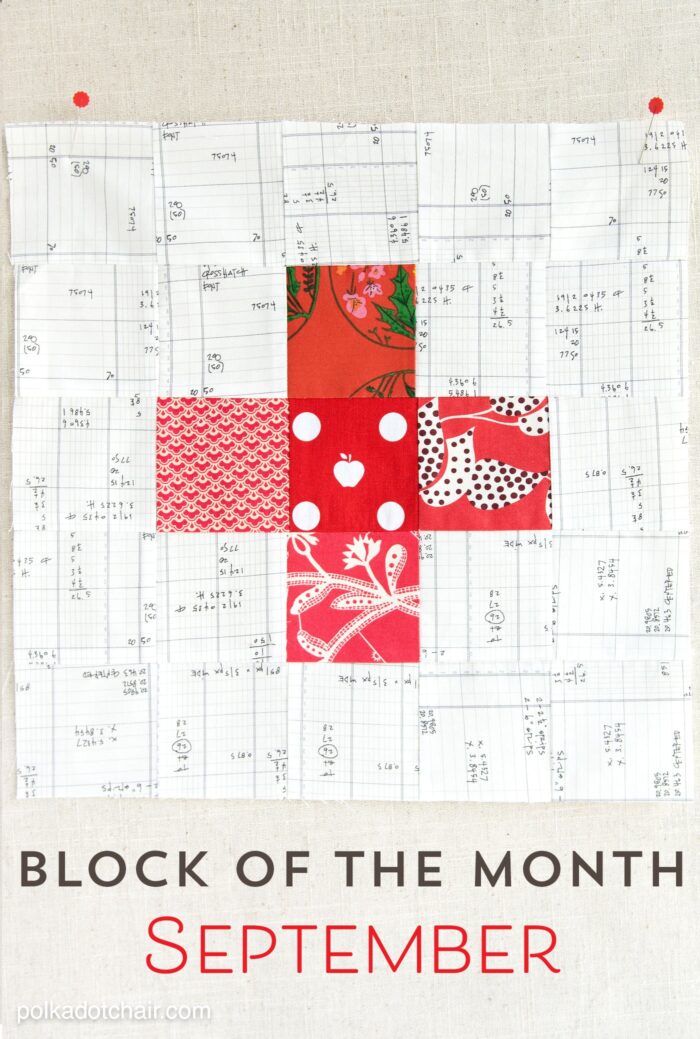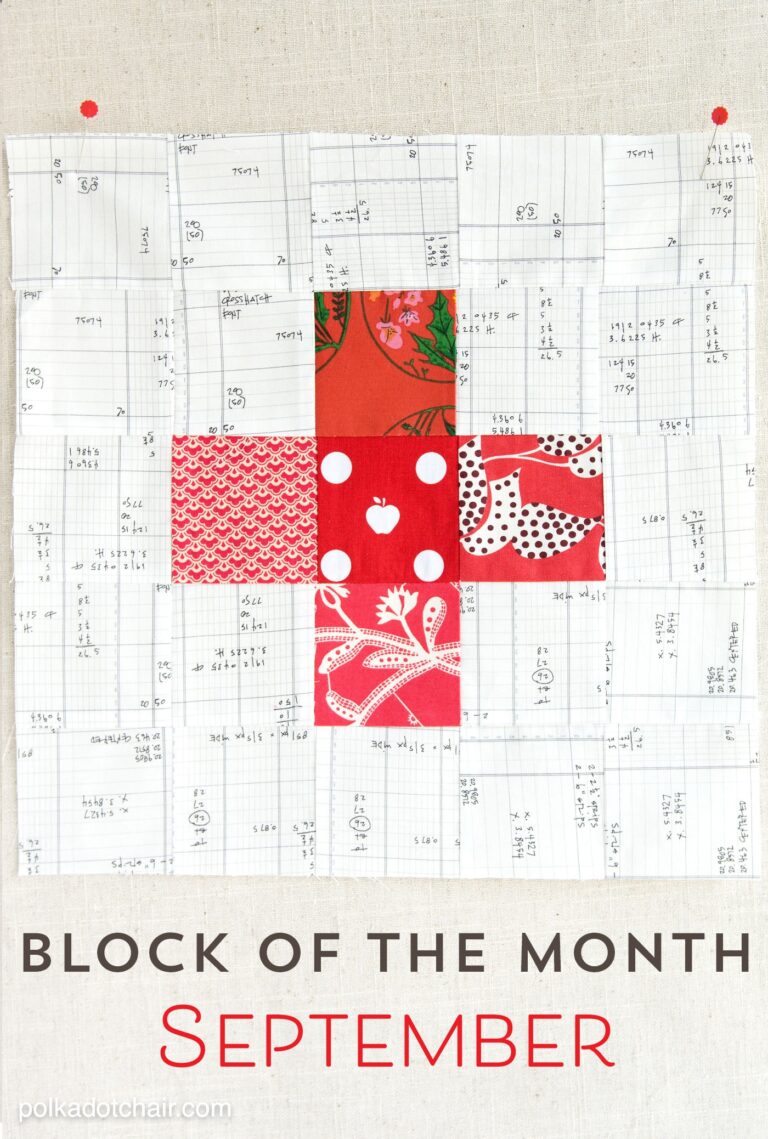 If you missed it be sure to check out this post offering tips and trick to picking out fabric for a quilt. You can find an index to all the posts in this quilt block series to date by clicking here.
Let's get this party started, shall we? The first block in our series is a Plus Block. I picked this block because I thought it would give you great practice stitching those ¼″ seams.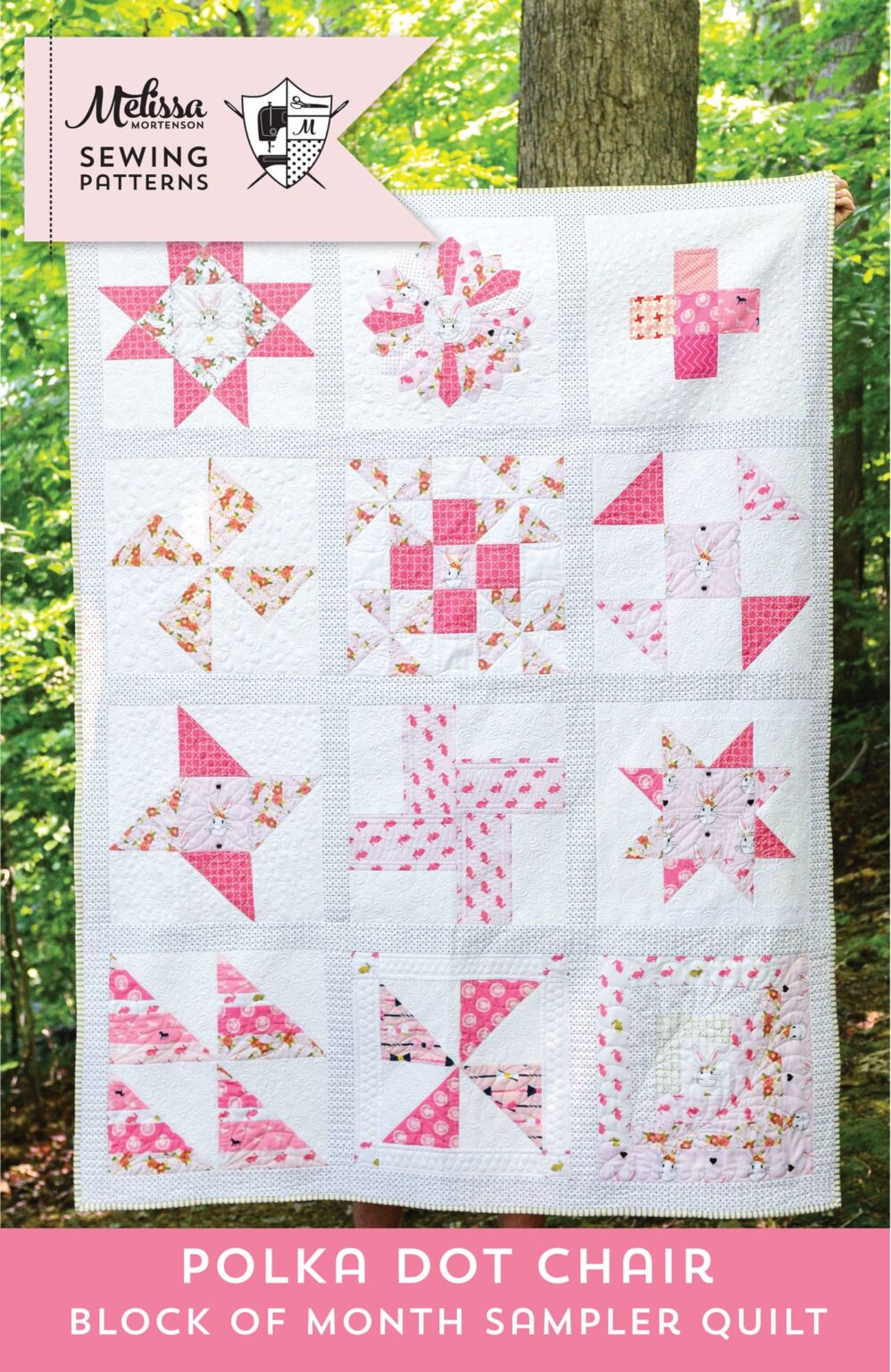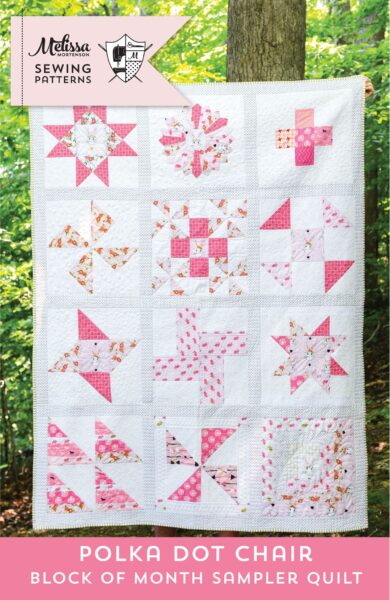 UPDATE: You can now purchase a PDF with ALL of the block instructions for each month in one place!! Click here to PURCHASE
About The Plus Quilt Block:
This block measures 15″ x 15″ and is composed of 25, 3 ½″ x 3 ½″ squares. It's just a simple grid, the pattern comes alive when you pick which fabrics go in which spot in the grid. Make sense?
I stitched it up in 3 different fabric variations to give you some ideas for ways to change the look of the block. There is a low volume version above. I'm calling this one my "hidden holiday" quilt… notice the Apple in the center there?
It's my "nod" to September. there may be a pumpkin hidden in the block next month 🙂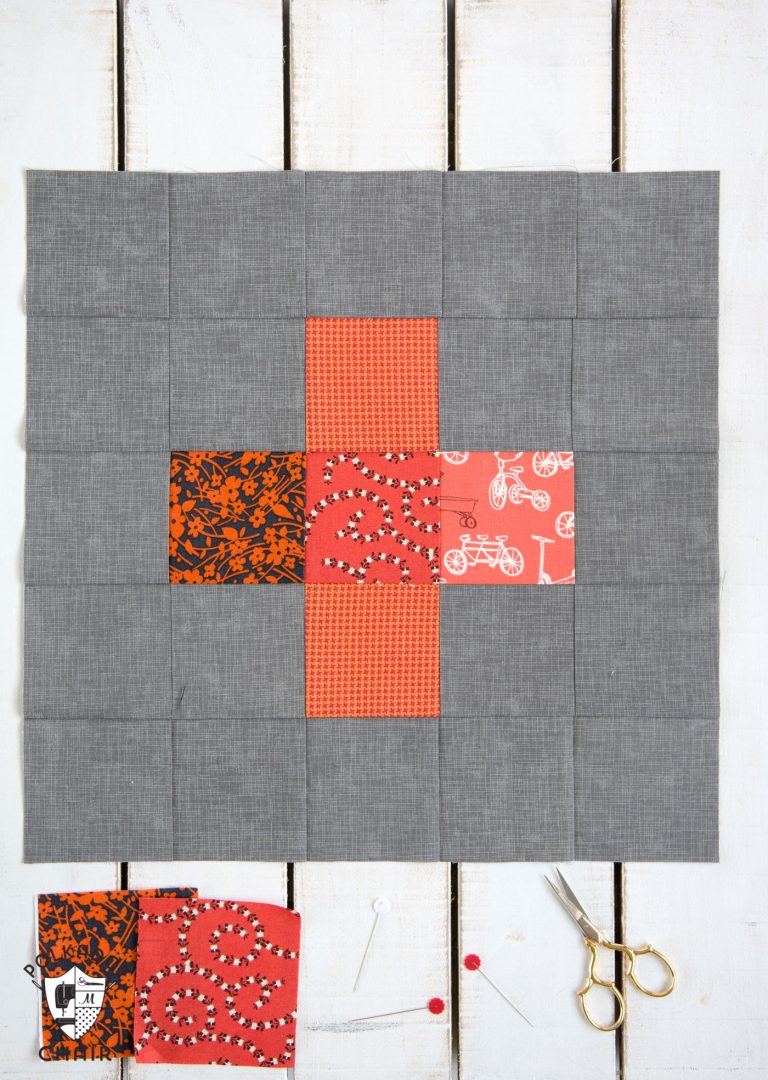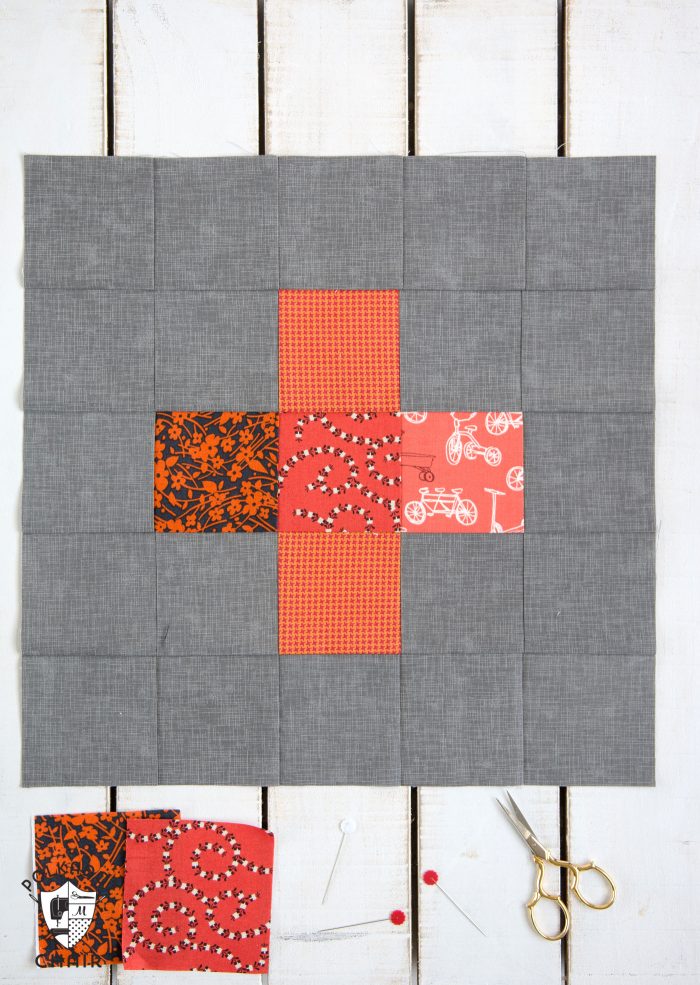 This version with a gray "linen look" background – working on this one for my teenage son, and this version with a simple white background.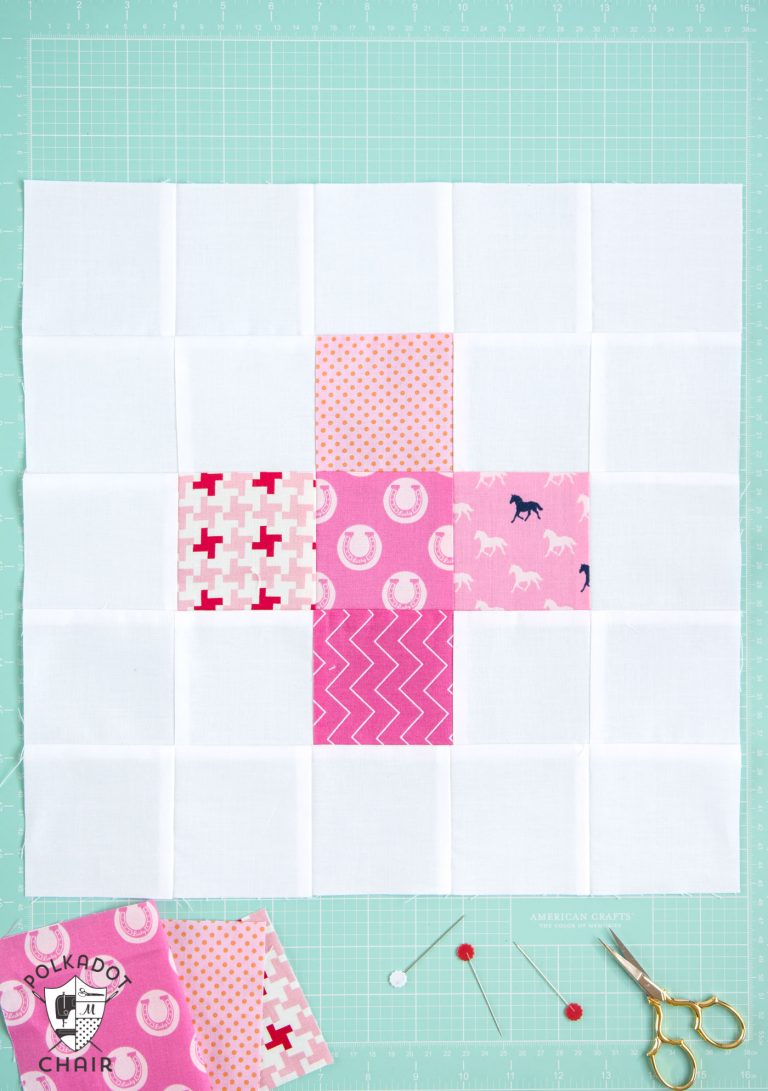 I'm also planning to make a Christmas themed set of blocks, but I'm going to stitch that one along with you guys this month.
Let's get started!
Plus Quilt Block Pattern: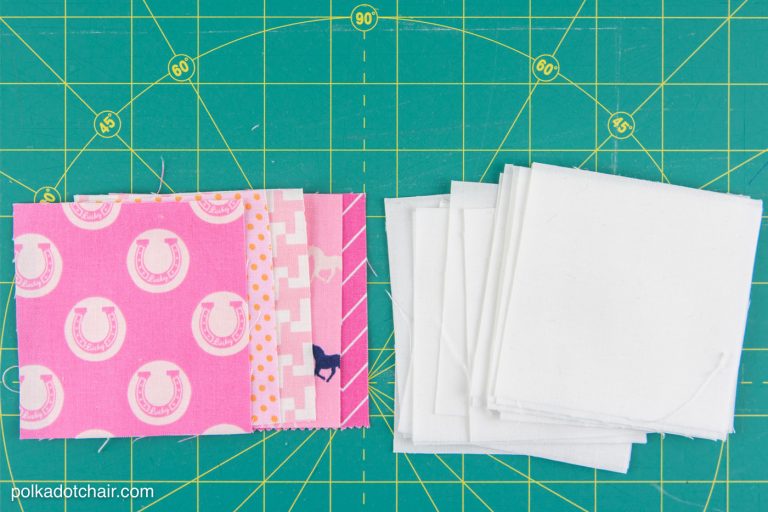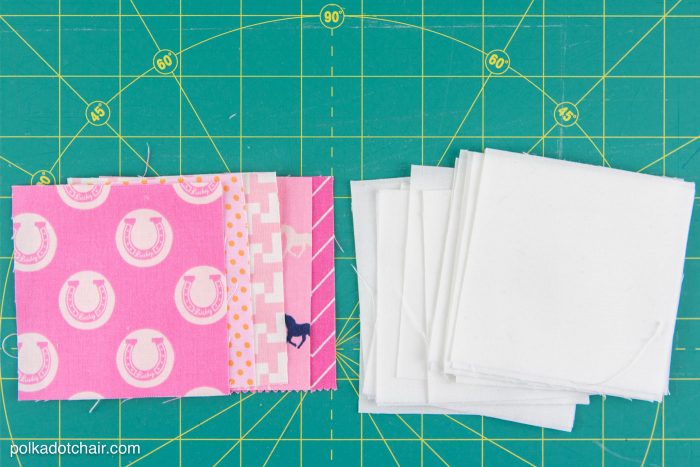 Begin by cutting:
20 squares from your background fabric each 3 ½″ x 3 ½″
5 squares of all the same color of fabric in various prints each 3 ½″ x 3 ½″ (you can repeat a print if you like, but keep them all the same basic color so that the "plus" shows up well in your block).
Plus Block Layout:
Lay out your squares in a grid with the colored pieces of fabric making a plus sign in the center.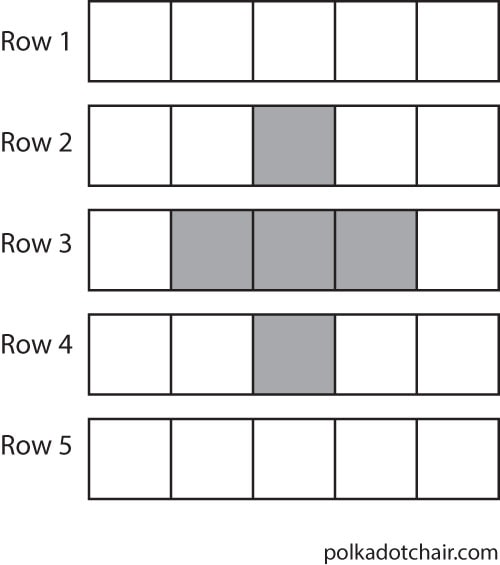 You are going to stitch this block together by rows.
Stitching:
Pick up the pieces in row 1 and pin them together. Stitch with ¼″ seam.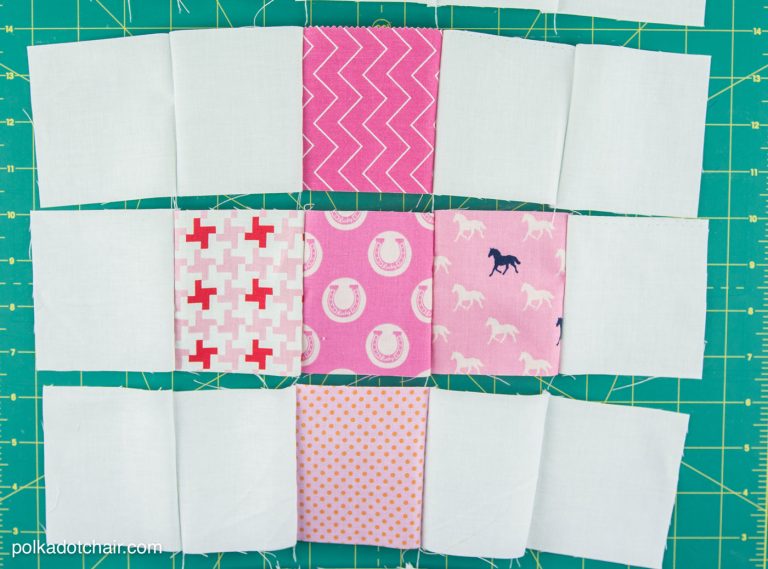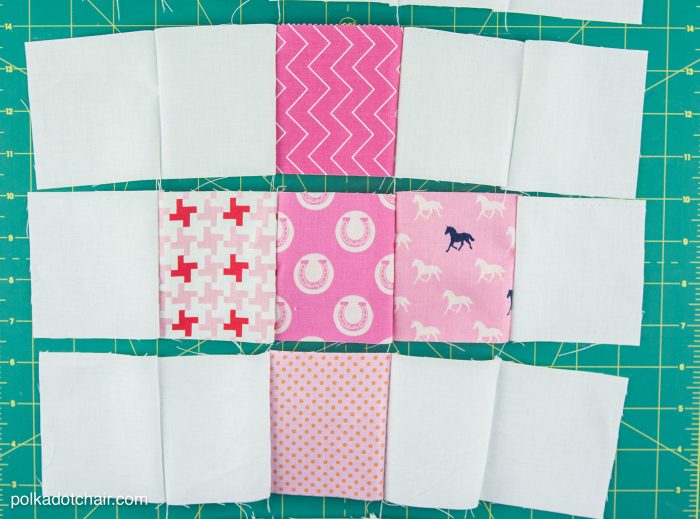 Repeat for all 5 rows.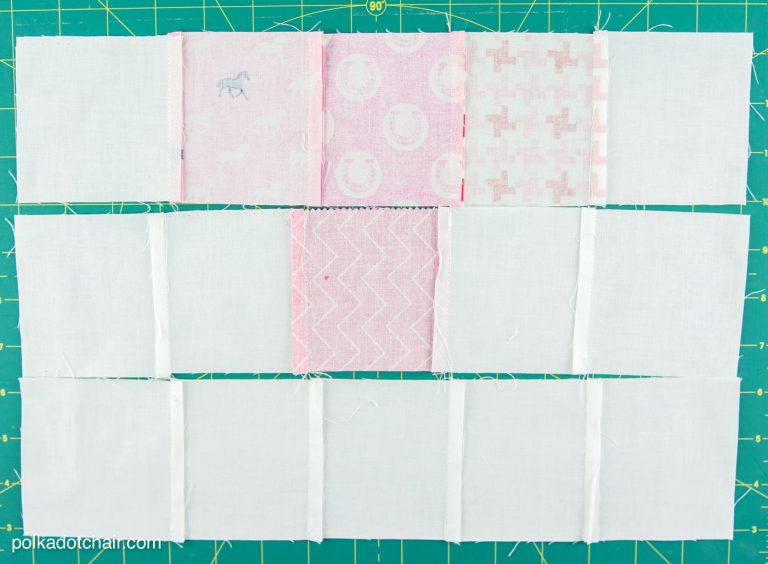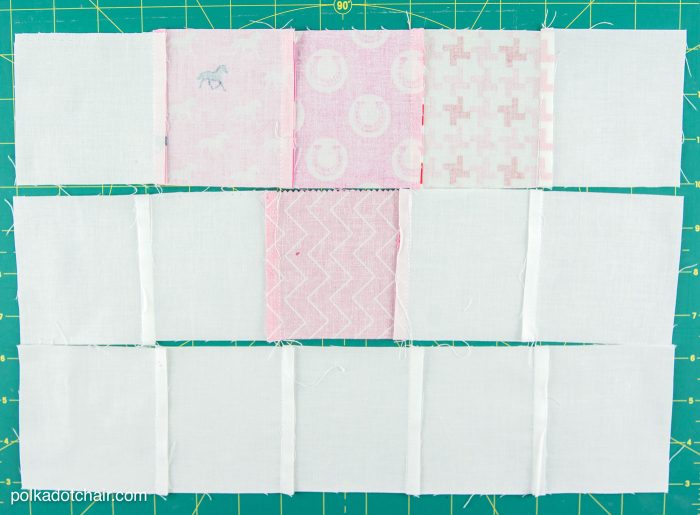 Press the seams of your block to one side alternating directions. For example, the even-numbered rows press to the right and the odd-numbered rows press to the left. This is a nifty trick that will help you line up your seams when you stitch the rows together.
Stitch the Rows Together:
Lay out your rows in order again.
Pin row 1 to row two right sides facing.
Quilt Tip!
"Nest" the seams next to each other, since the seams are pressed in opposite directions they will snuggle right up next to each other.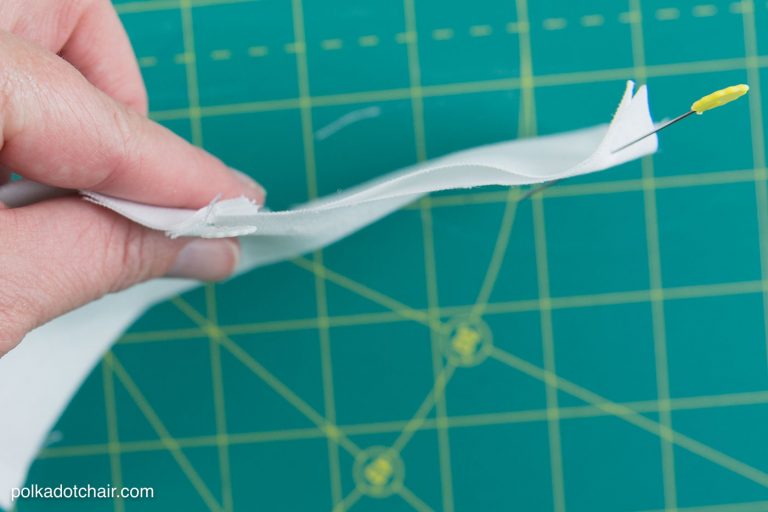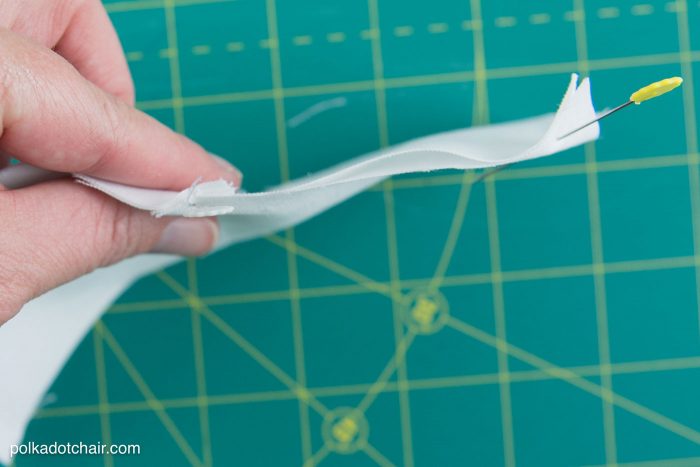 Place a pin in every seam.
Stitch with ¼″ seam allowance.
Next stitch row 2 to row 3 and so on until you've stitched all 5 rows together.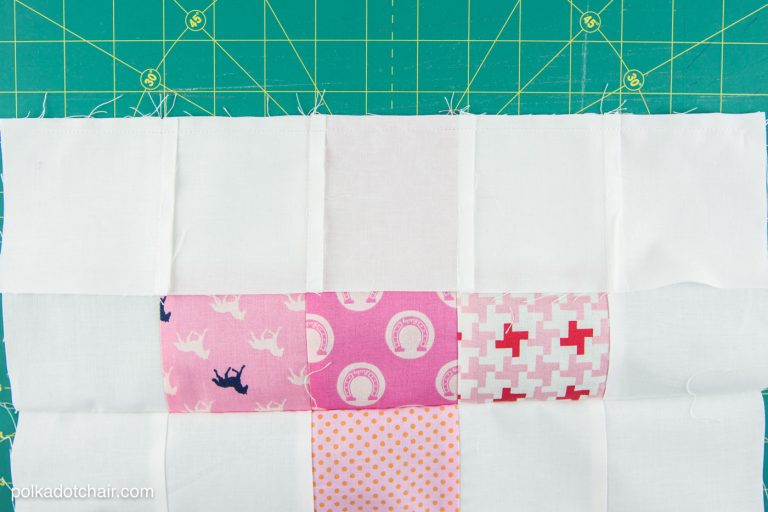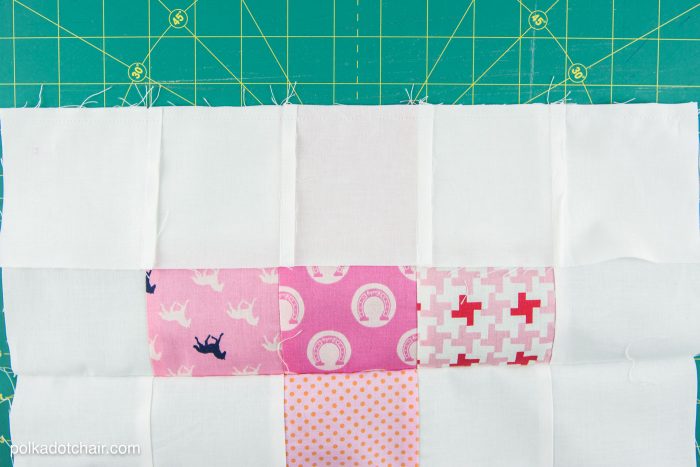 Press the seams all to one side again. Remember go "up and down" with your iron not side to side.
Square up and trim the block so that it measures 15″ x 15″ (it should be really close to that measurement when you're done)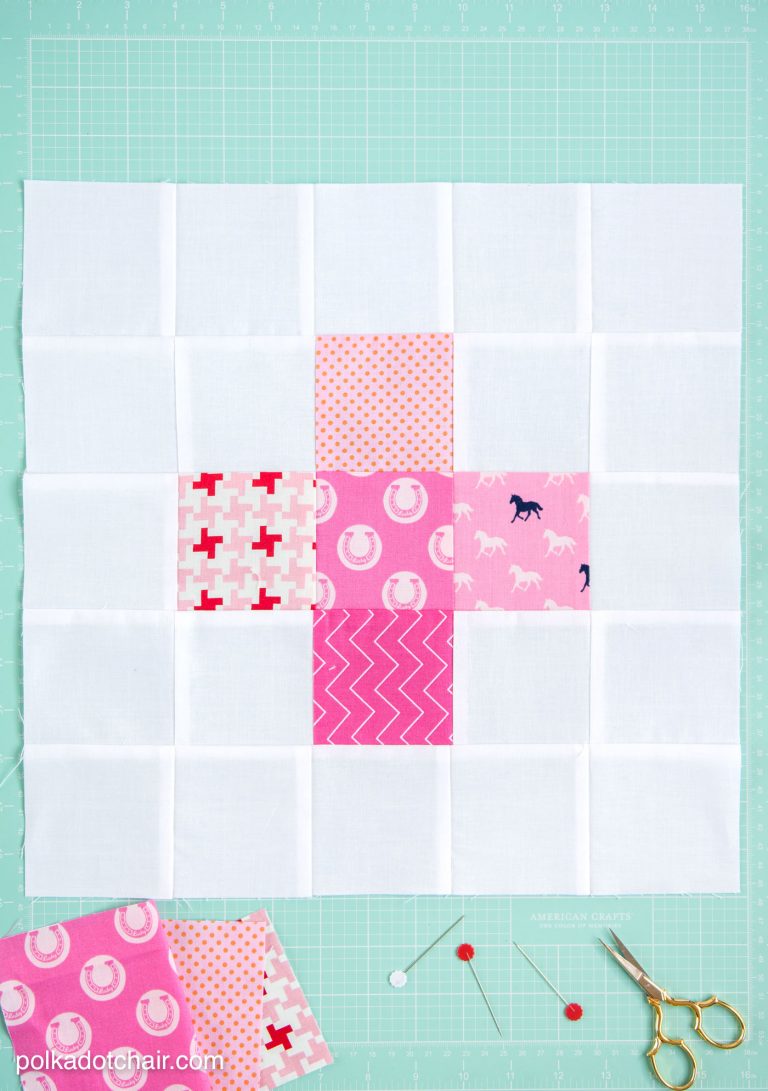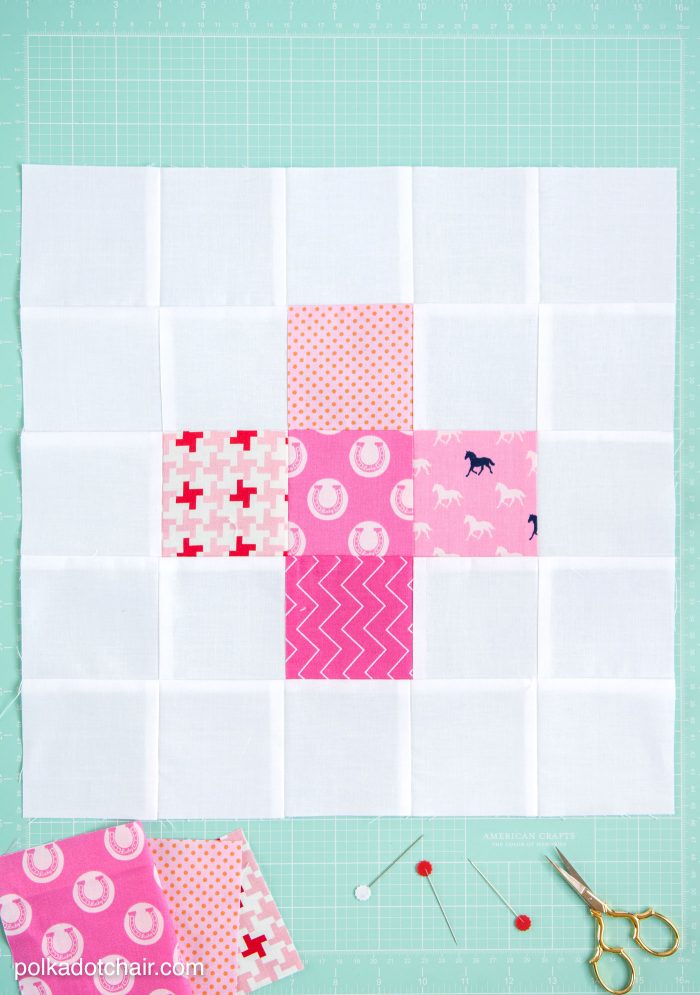 That's it!!
If you have questions about the block construction just leave them in the comments section, I'll answer them there. That way others will benefit from all of the answers.
More Quilt Block Tutorials:
How to Make A Dresden Quilt Block