Looking for a fun new project? Why not try sewing with laminate fabrics? If you've never sewn with them before and are looking for ideas, I have some for you today! Here are more than 35 things to sew with Oilcloth and Laminate fabrics.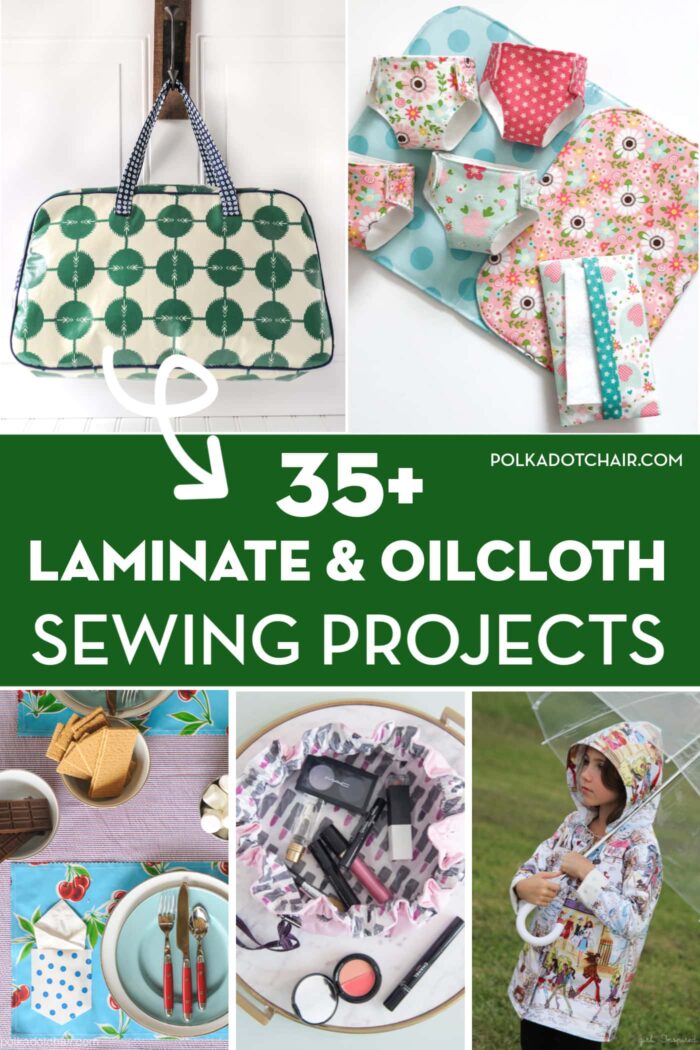 I've recently begun designing a new bag pattern that is perfect for laminated fabrics. It reminded me how much I love to sew with coated fabrics!
Table of Contents
If you love to sew with coated fabrics (i.e. vinyl, oilcloth, laminate) too and have some fabric burning a hole in your pocket, here are more than 35 sewing project ideas for you! And guess what? Most of the tutorials and patterns are free. Just click through to get more information about the project.
Can I Sew with Oilcloth on a Standard Machine?
Yes! There are just a few things that you need to do differently! If you've never sewn with laminated fabrics before, be sure to check out this post on "How to Sew with Laminated Fabrics." We cover most of the "must knows" when it comes to working with coated fabrics, including special presser feet and pressing recommendations.
What is the Best Needle for Sewing with Oilcloth?
I sew with a standard-size needle (and 80); however, if your oilcloth is particularly thick, you can also use a 90 or 100. I also love to use Microtex needles for sewing with coated fabrics. They are extra sharp and are great at puncturing the fabrics.
What Can I Sew with Oilcloth or Laminated Fabrics?
So many things! Since it's wipeable and durable, it's great for kids' items, beach bags, tablecloths, aprons & makeup bags.
Here you'll find more than thirty creative and cute projects, so sew with oilcloth or laminated fabrics!