While aprons are often used in the kitchen, they've taken on a new role in the crafting world. We've rounded up some of the most darling aprons for kids and adults, so you'll never have an excuse not to get in the kitchen.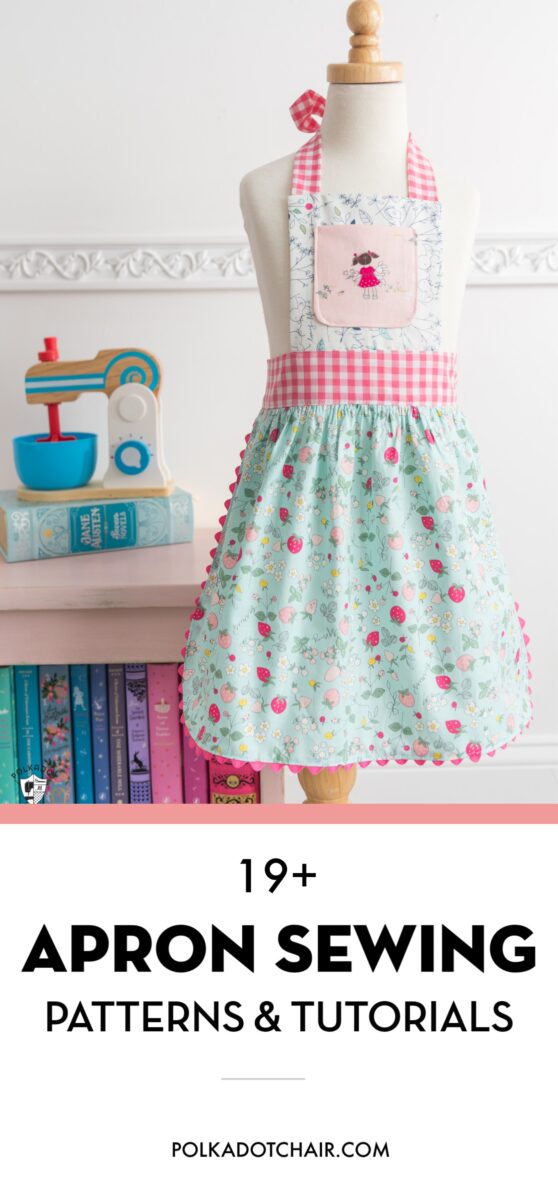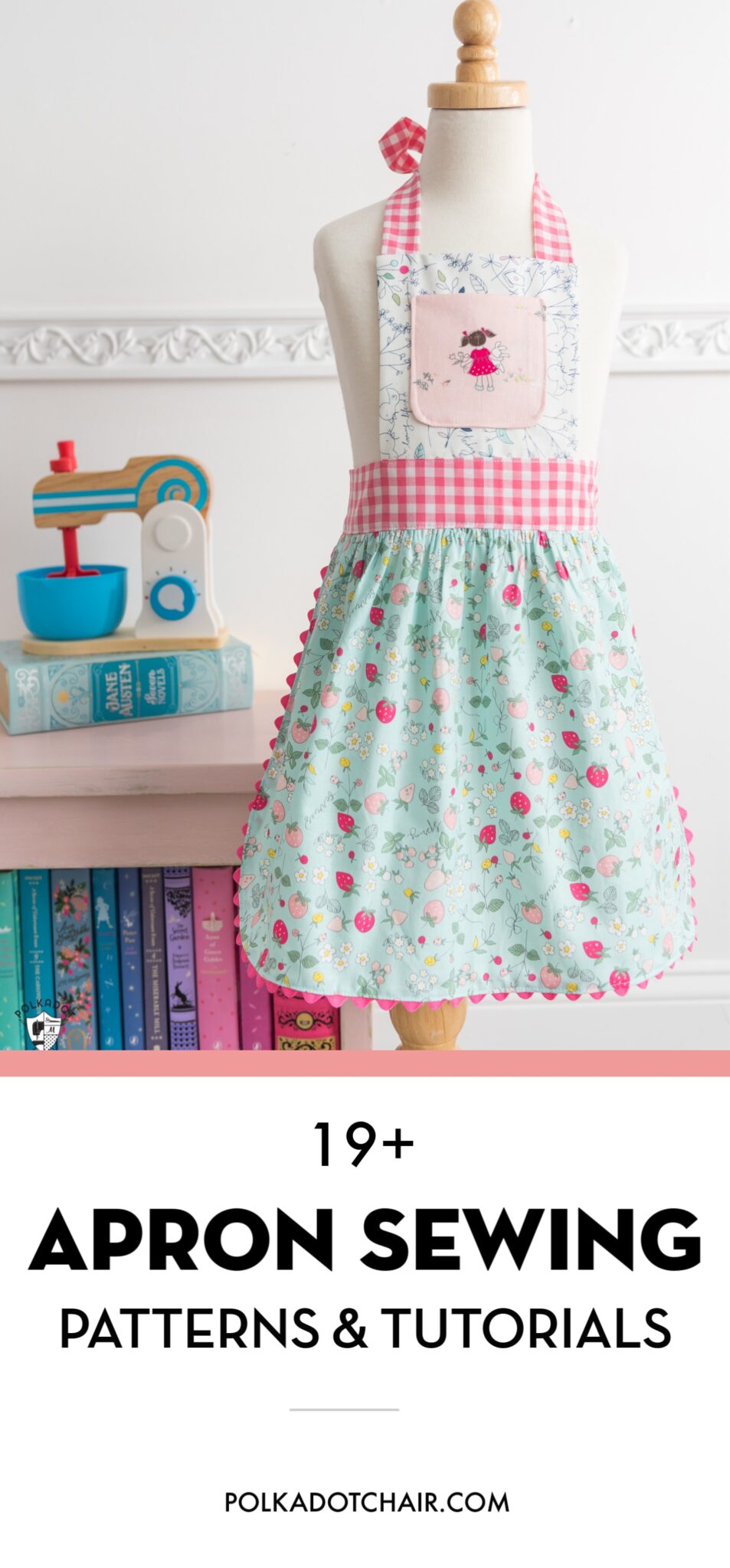 A few years ago, I was on an apron making kick! I stitched up aprons to give as gifts to most of my friends and family. Recently I've been toying with the idea of making another batch of aprons.
Table of Contents
I've been searching for Apron sewing patterns and thought I'd share with you what I've found. If you want to learn how to sew an apron, one of these free apron patterns would be a great place to start! It's a perfect gift idea for that hard-to-buy-for-person on your list!
If you're looking for an easy-to-follow, quick-to-finish sewing project, then why not try sewing an apron? They don't require a lot of fabric and can easily be customized for any season!
I've broken down the list into Free Apron Sewing Patterns for Kids and Apron patterns for Adults. Most of the kid's sewing patterns are for small children; if you're looking to make an older kid or tween apron, I recommend the adult apron sewing patterns.
3 Tips for Making Aprons
Before we get to the list of patterns, I thought I'd share a few apron sewing tips and tricks with you.
ONE: Use good quality fabric.
Aprons are meant to be used and will most likely be washed multiple times. Choose good quality fabric when you're making your aprons. I recommend high thread count cotton and cotton blends. Most fabrics you buy at quilt shops make great aprons. I also recommend using a ⅝″ seam allowance when creating an apron. Many quilters are accustomed to ¼″ seam allowances, however, the wear and tear that an apron is likely to take will require the large seam allowance.
Two: Consider Sewing with Laminated Fabrics.
Most of the apron tutorials on this list can be made from laminated (or coated cotton). The construction steps are mostly the same, with a few exceptions. If you've never sewn with laminated fabrics before, check out this post with Tips and Tricks for sewing with laminated fabrics. Laminated fabrics cut easily with scissors or a rotary cutter, working with them is very similar to working with quilting cotton, so don't be intimidated!
Three: Use a bias tape maker.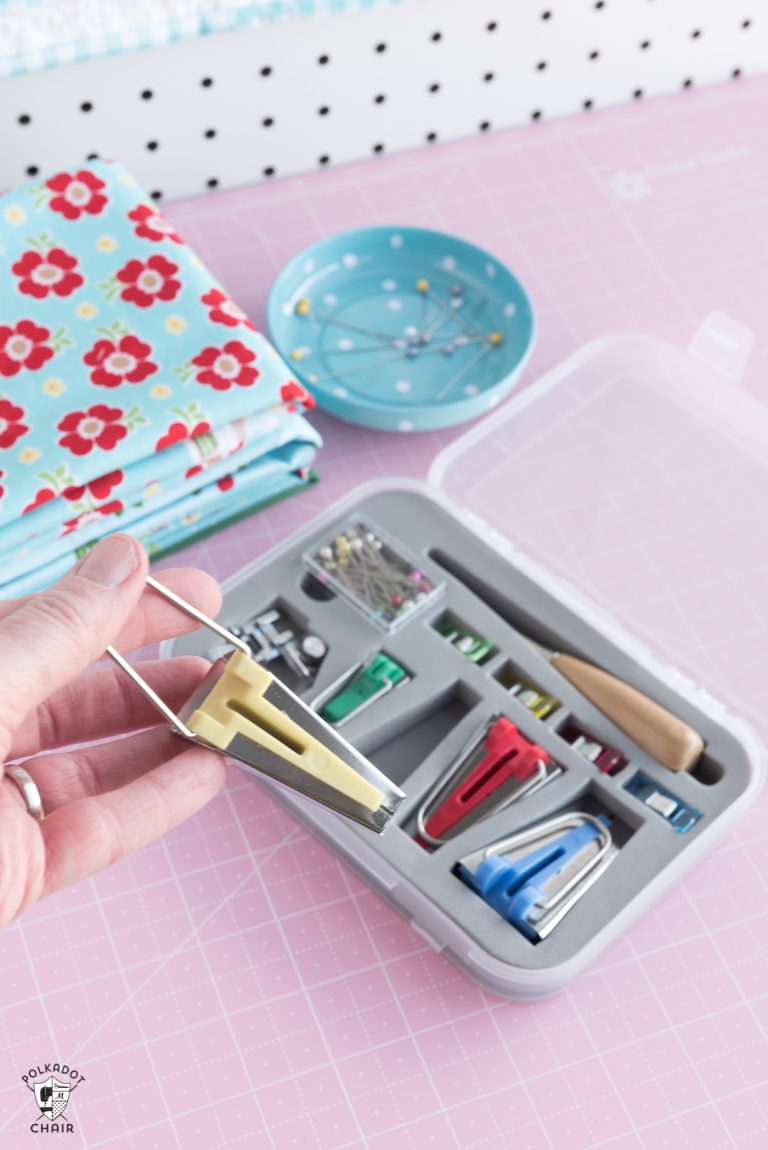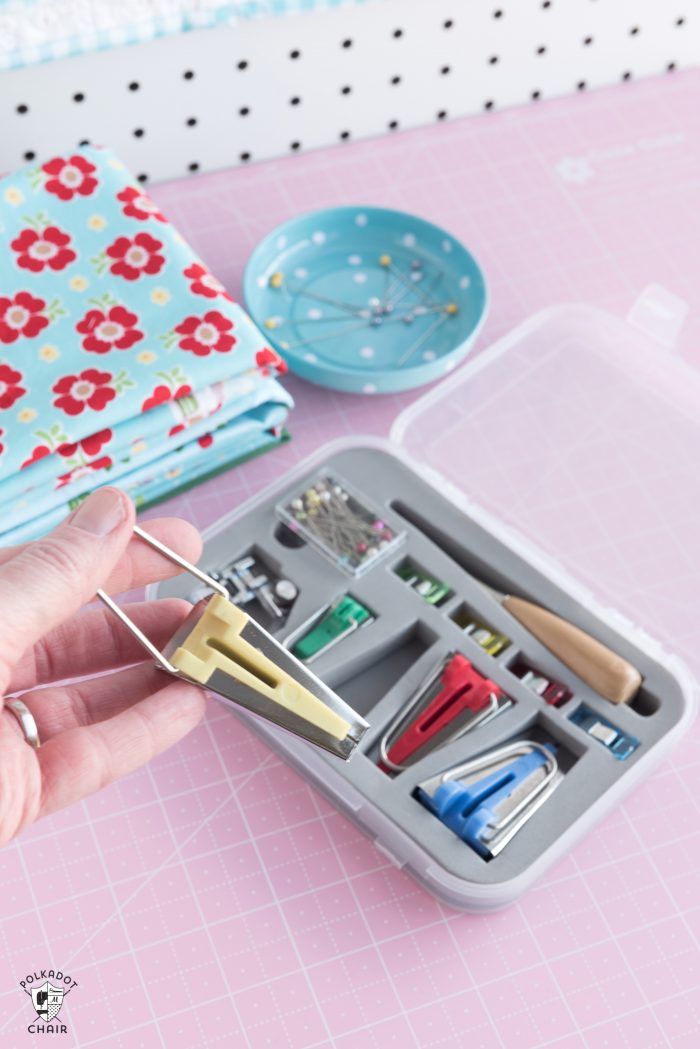 Many apron sewing patterns feature the use of bias to finish the edges. If you've never made bias tape before, save yourself some time (and headaches) and invest in a bias tape maker kit. This is the one I have, and I love it.
Four: Start Early
If you're planning to make aprons to give as Christmas gifts (or to sell at a craft show), do not wait until December to start sewing! Get a head start.
Anytime that I find myself in a hurry I start leaving out the little details from my projects. Things like vintage-inspired pockets, bias binding, and neatly pressed waist ties and neck straps, really make a difference when you're sewing an apron.
Five: Read the Directions Carefully
Many aprons are constructed using what seem like counter-intuitive methods. For example, the way that the waistband is attached to the apron might seem a little bit confusing at first. If you take the time to read the directions carefully before you begin sewing you'll be much happier with the process.
How to Sew an Apron without a Pattern
If you'd like to sew an apron without a pattern, I've included several free tutorials in the list. The best way to do this is to trace an apron that you already have to use as a template. Fold the existing apron in half lengthwise, and trace the shape onto 2 yards of fabric on the fold. This method works best with a little apron since you don't need a lot of tracing paper, but you can do it with a full-size apron (like a BBQ apron as well). If you'd like to add pockets to the apron, you'll need to trace those as well.
Free Apron Sewing Patterns & Tutorials for Kids & Adults
Included on the list:
Full Apron Patterns
Half Apron Patterns
Vintage Aprons
Cross Back Aprons Pattern
Aprons made from Laminate Fabric
Kids Aprons (both simple and frilly)
Cobbler Apron Patterns (a cobbler apron is an apron that goes over your head and ties on both sides)
Pioneer Apron Pattern
Some of these apron patterns may have a small fee, but I don't mind supporting another Maker and figured you would not either. So most of the patterns on this list are free.
Want MORE FREE TUTORIALS And Patterns?
Laminated Toiletry Bag Tutorial