Learn how to make a pinwheel quilt block in 6″ and 12″ finished sizes with this free tutorial that is a part of the Riley Blake Block Challenge.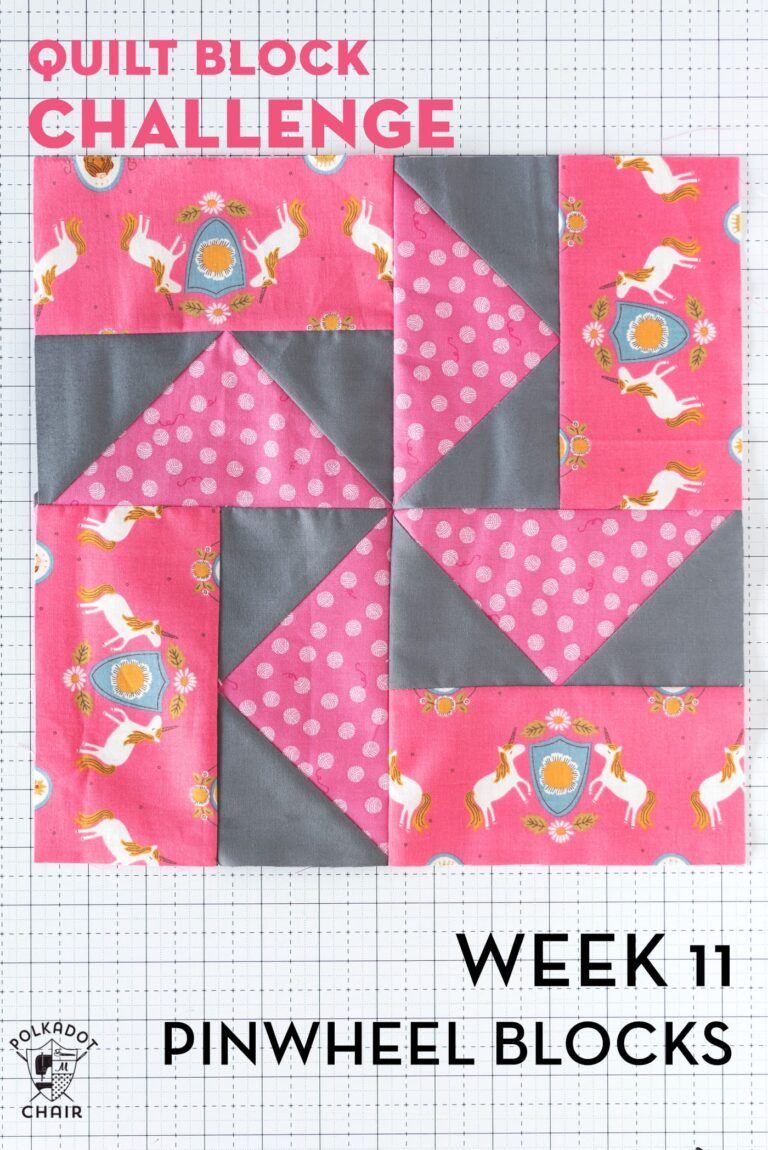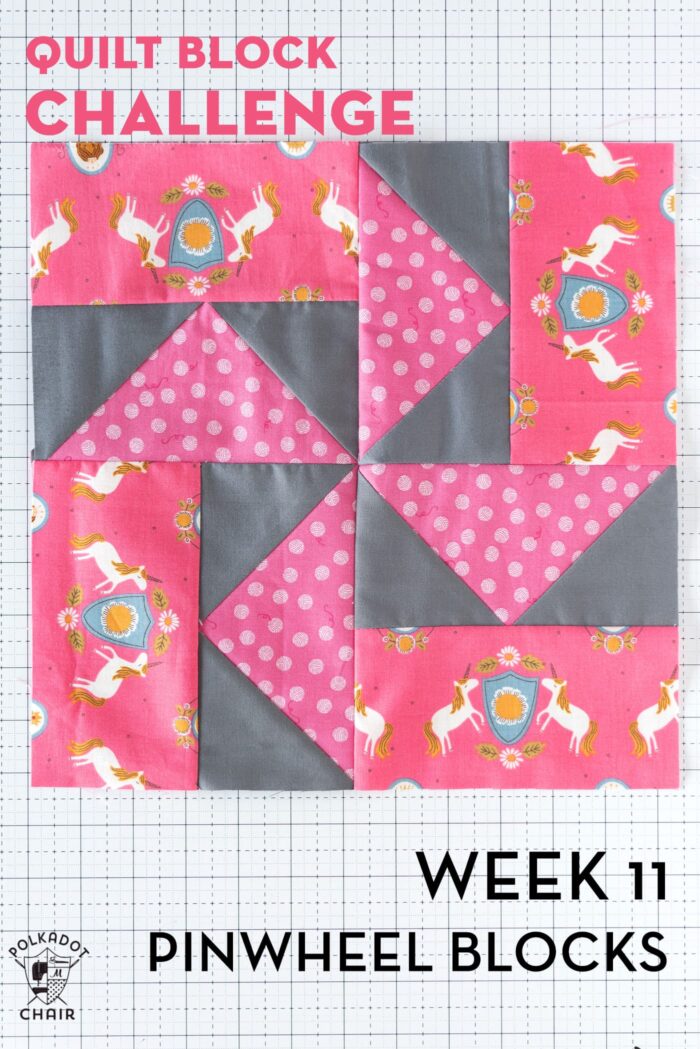 We are in the home stretch of the quilt block challenge. After this week there is only one more block tutorial to share. The week after the last block is shared, I'll share some ideas for turning your quilt blocks into a finished quilt.
Jump to:
About Pinwheel Quilt Blocks
This weeks blocks are pinwheel quilt block. I have to say that pinwheels might be one of my favorite quilt blocks. I feel like they just "scream summer".
A pinwheel quilt block can be made in a few different ways. The method being share today uses 4 flying geese blocks sewn to rectangles to get the finished shape. I have sewn a similar block, but it's constructed differently and usually called a Turnstile Quilt block.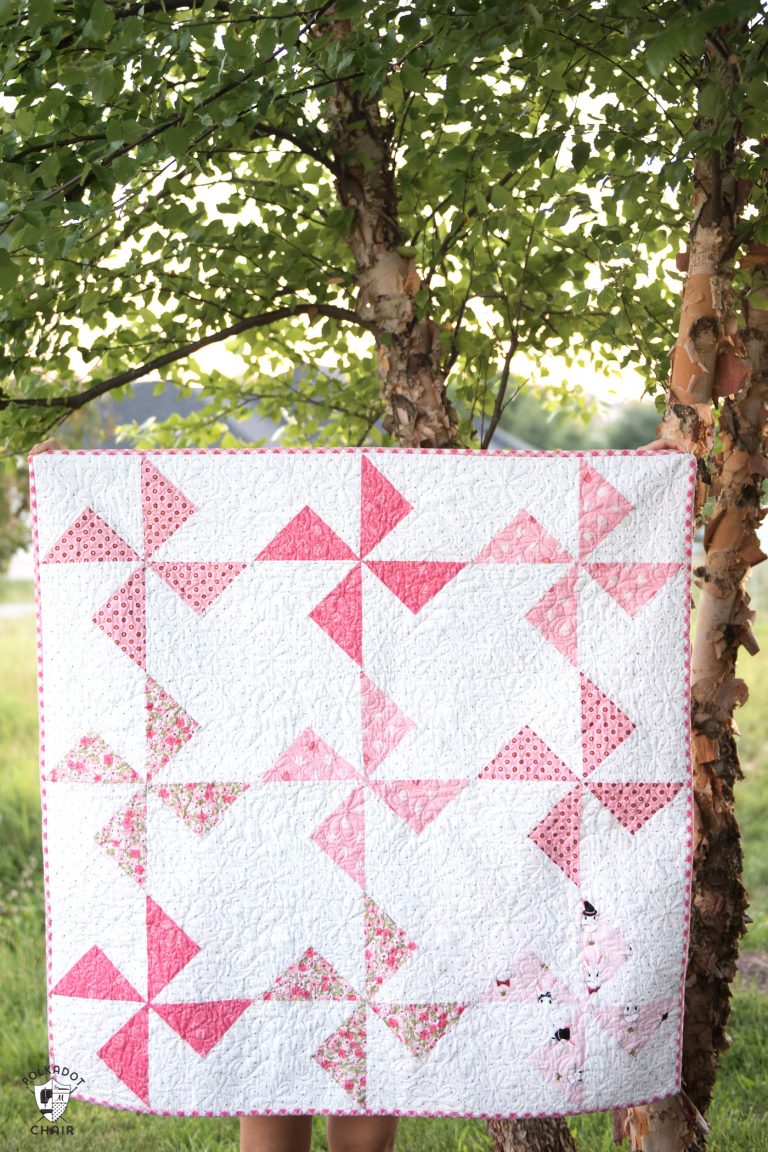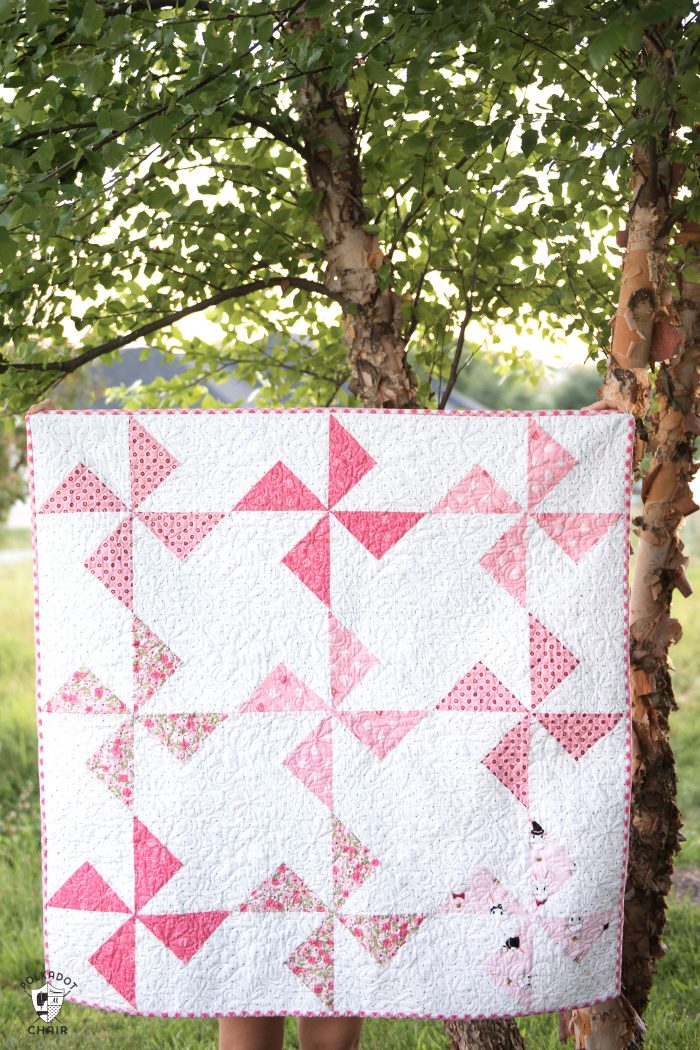 My summer pinwheel quilt from a few years ago featured pinwheels made out of Half Square Triangles. They were not set "on point" though as the blocks in today's pattern are.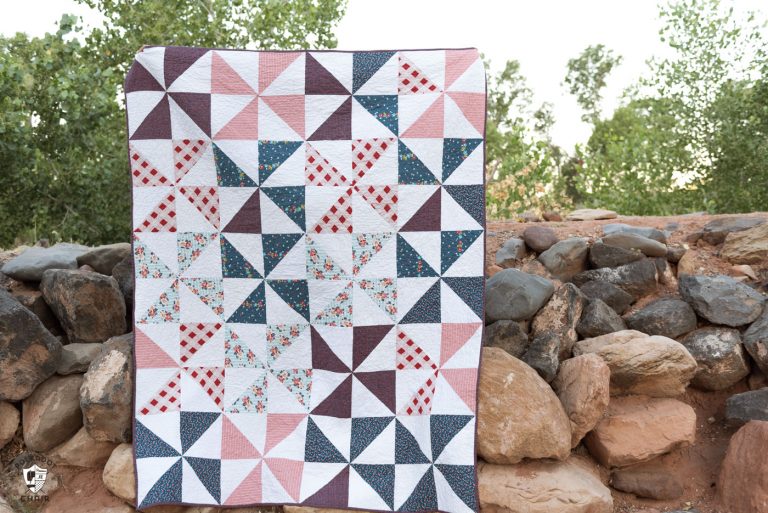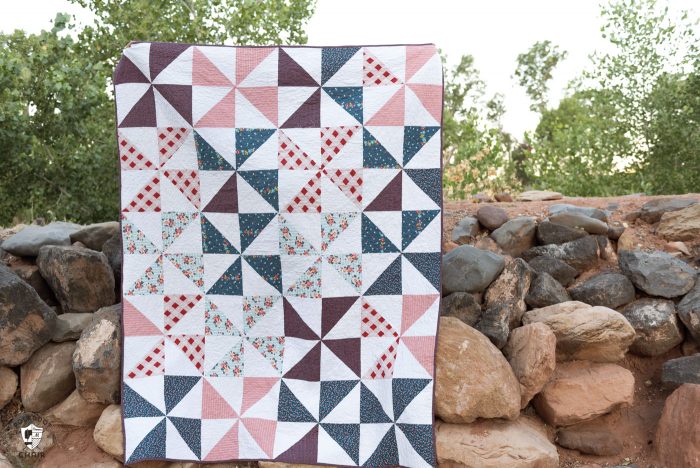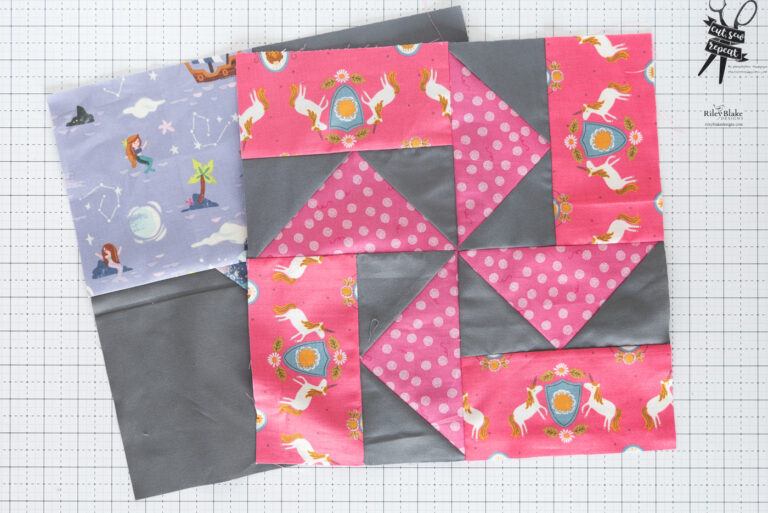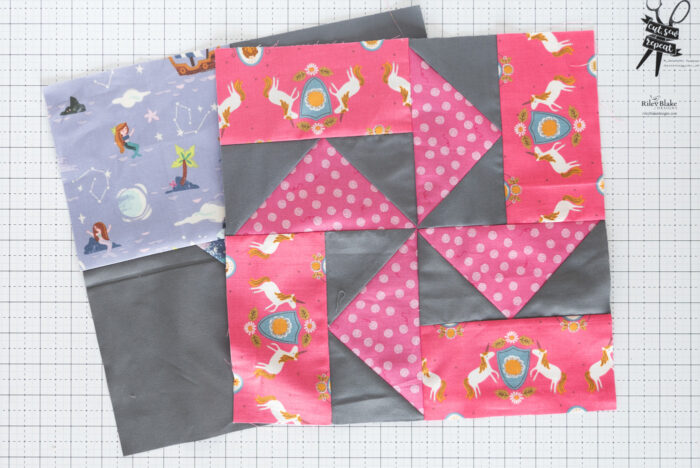 For my block this week, I decided that my quilt needed a brighter pink (in addition to the lighter pink from my Sawtooth Star block). I stitched my block with some pink from my Chloe & Friends line and a print from Lancelot & Guinevere by Citrus & Mint.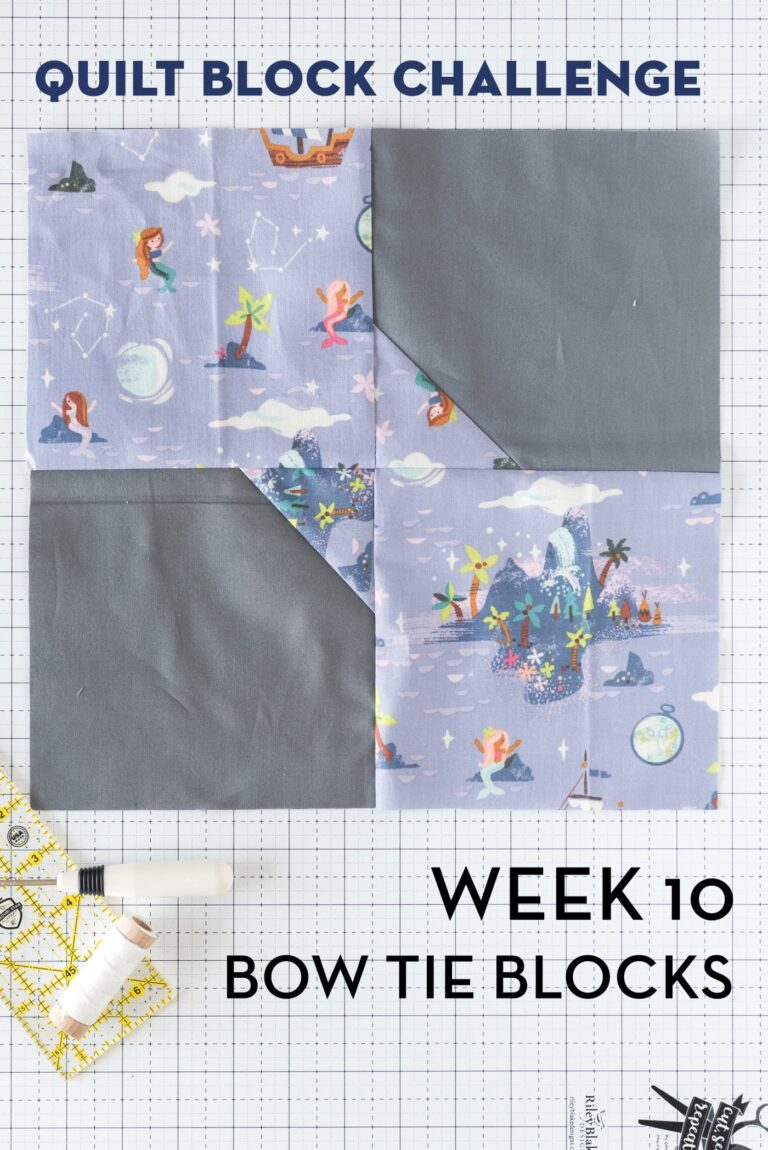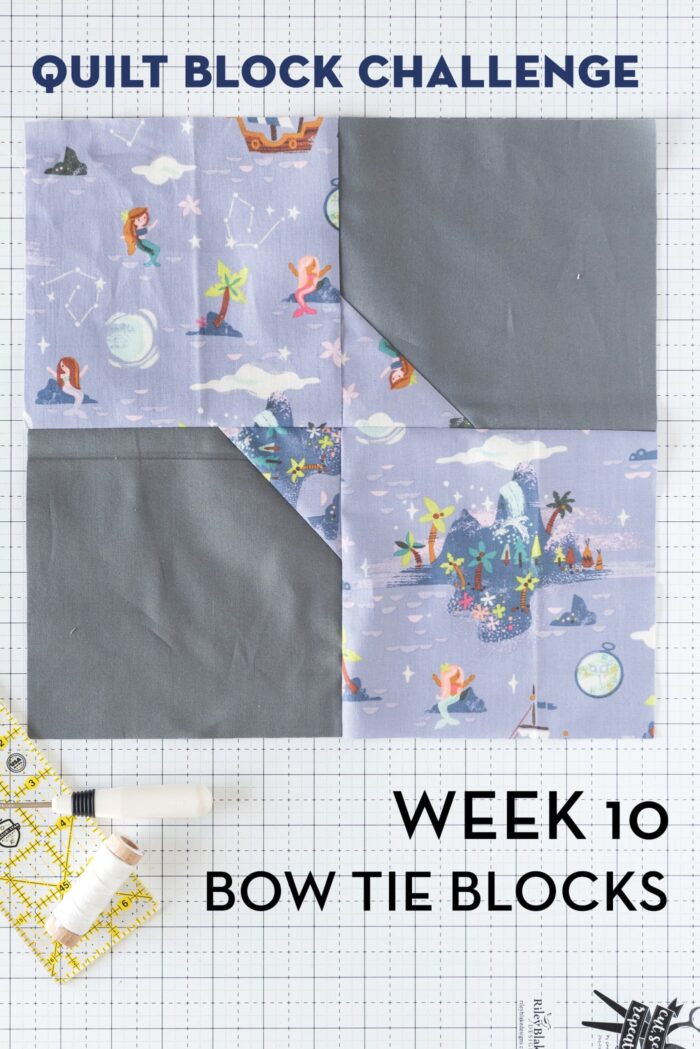 I also took the time this week to catch up a bit and made the bow tie block for last weeks challenge.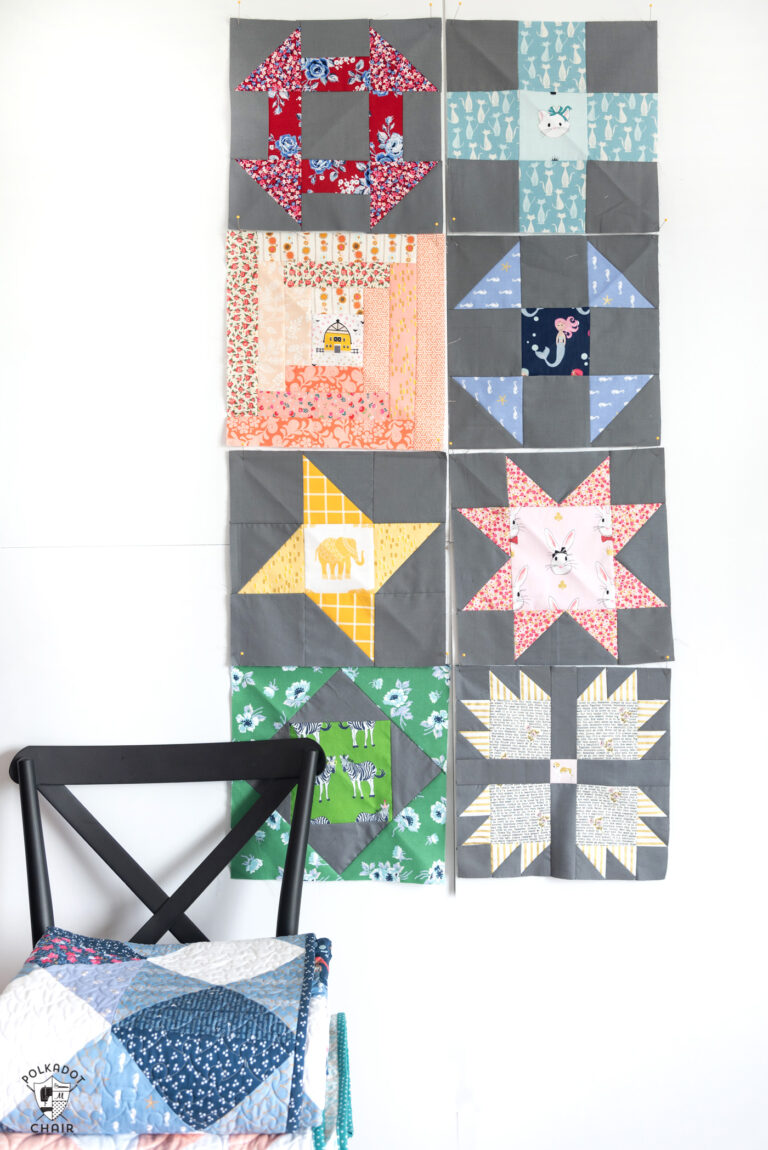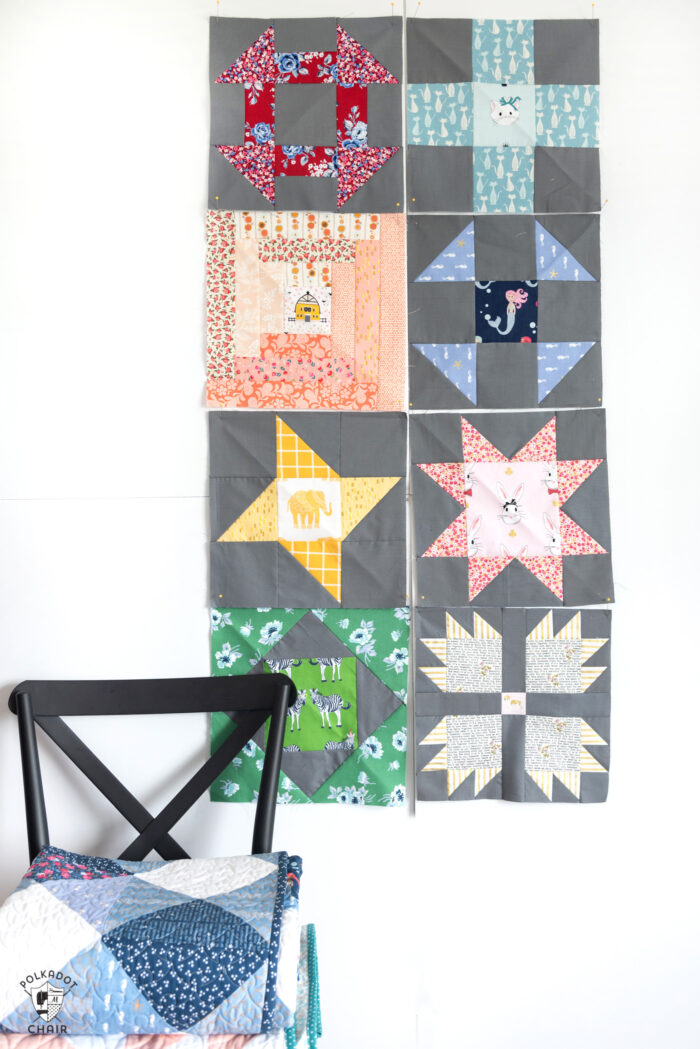 Here you can see how my other blocks are working together. I think the addition of the bright colors will be a nice balance.
Where to Find the Pinwheel Block Tutorial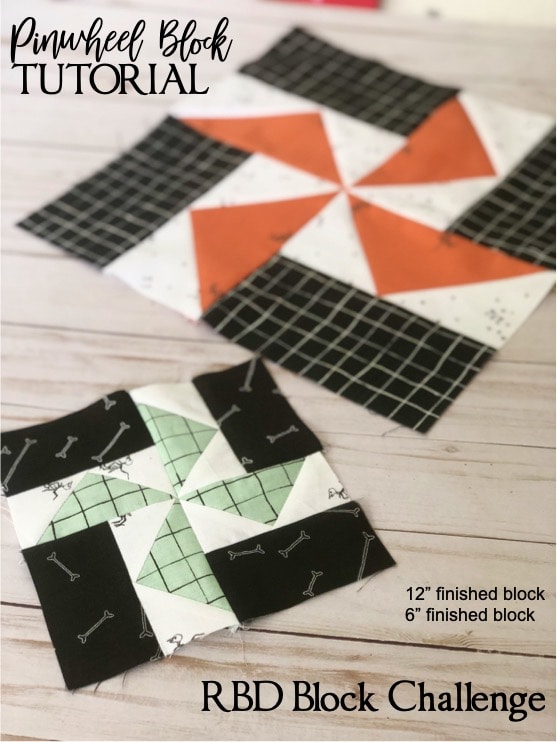 Amanda from Jedi Craft Girl is hosting the tutorial for the pinwheel quilt blocks. She has a free tuotrial in both 6″ & 12″ finsihed sizes.
She stitched up her blocks with her new line, Scardey Cat which was just released by Riley Blake. I have some of it in my stash and can not wait to start sewing Halloween projects with it later this summer!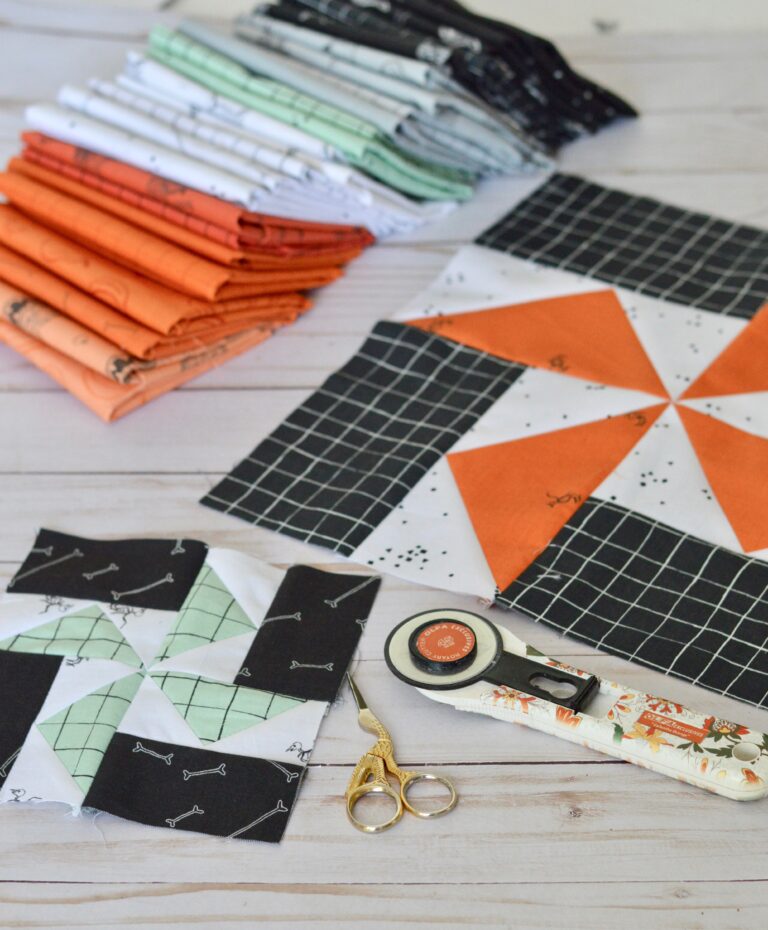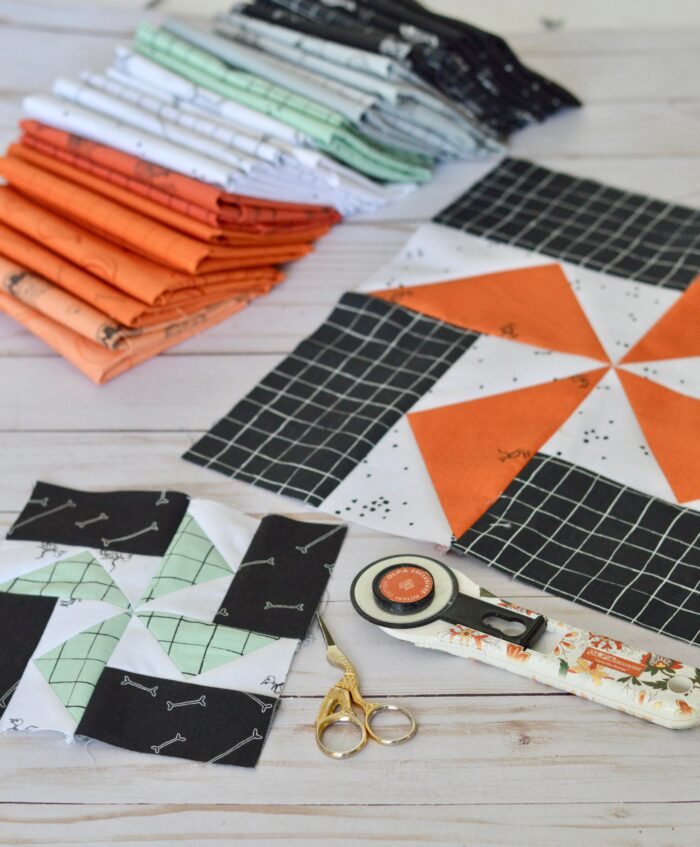 A few other designers shared their versions of the block this week as well.
More Pinwheel Block Ideas
Amy from Diary of a Quilter is all caught up with her blocks and is sharing an update on her blog.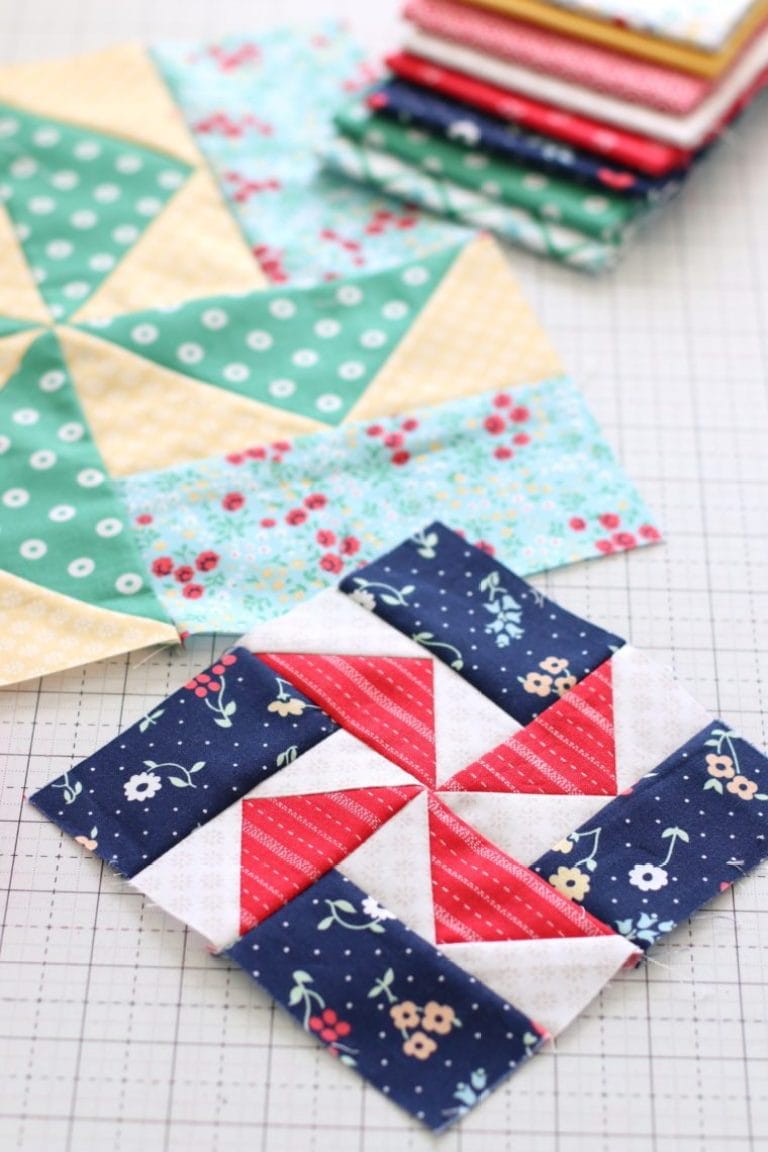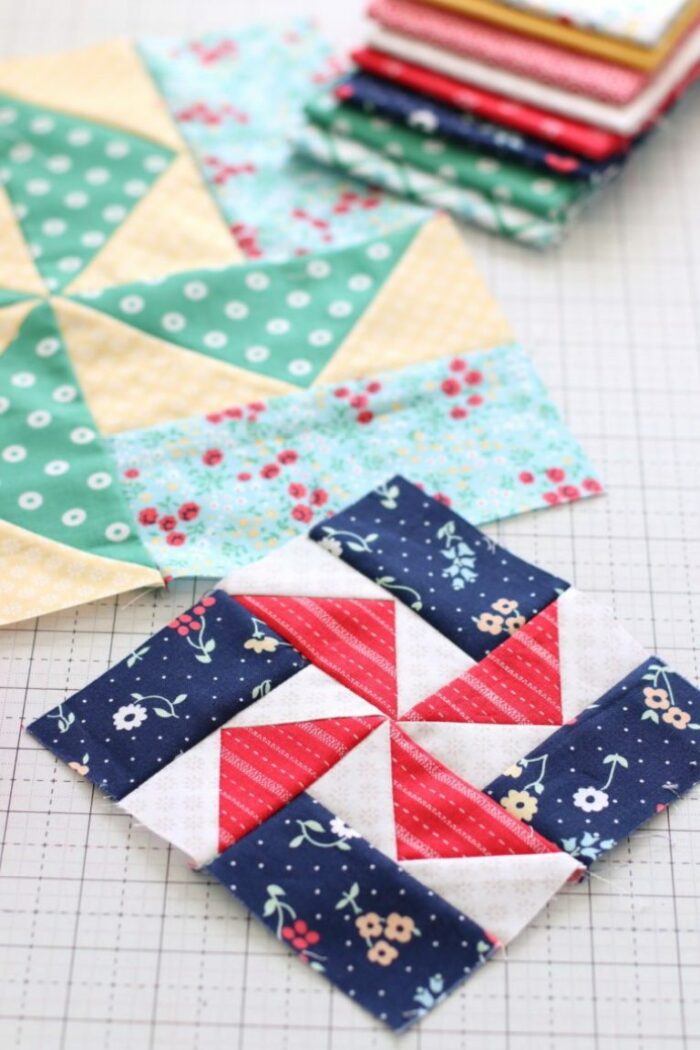 Bev from Flamingo Toes also has her blocks for this week completed.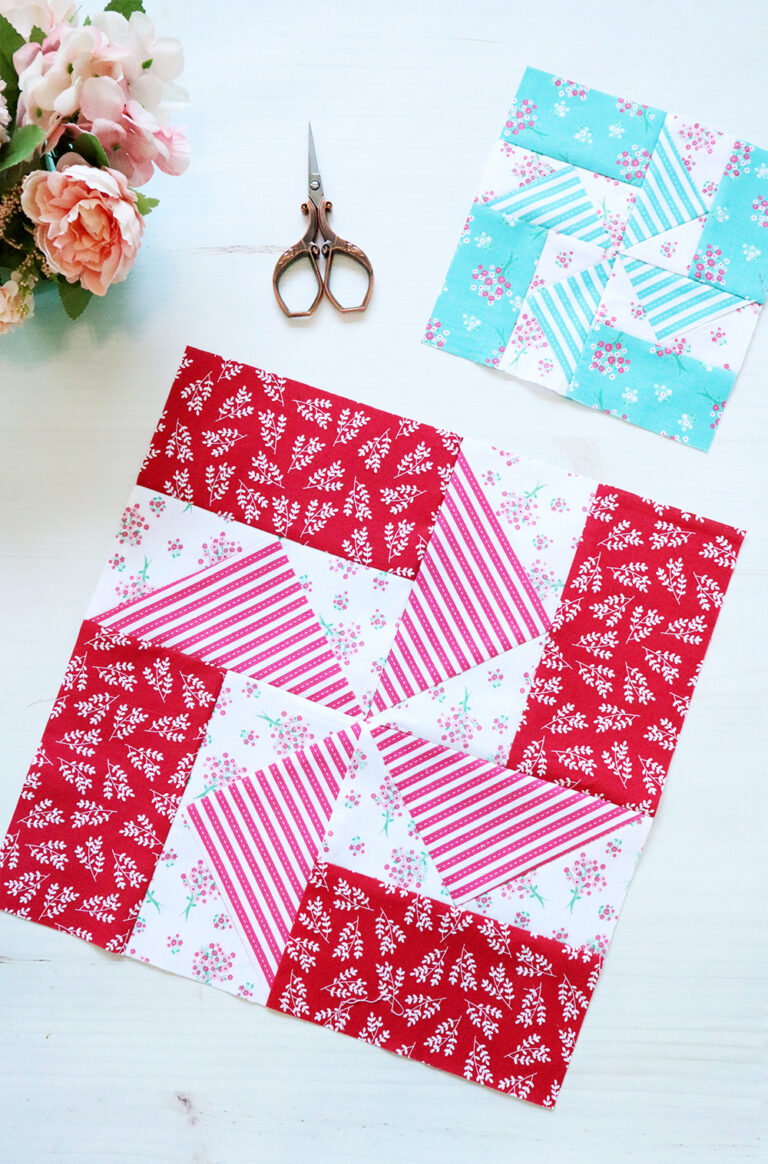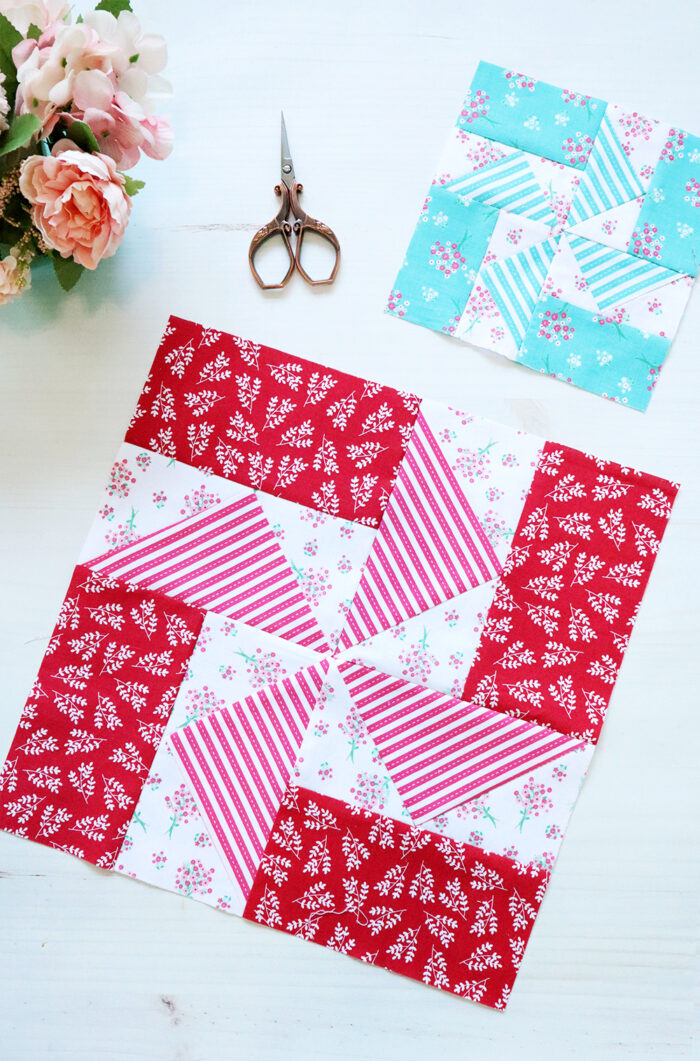 Here's the Quilt Block Schedule in case you missed it.
Quilt Block Challenge Schedule
How to Particpate
You do not need to use the block tutorial I've mentioned in this blog post. You can use any quilt block tutorial that you like. Just make a block! If you have an Instagram be sure to share the block on Instagram with the #RBDblockchallenge. You can find me on Instgram too! I'm @polkadotchair